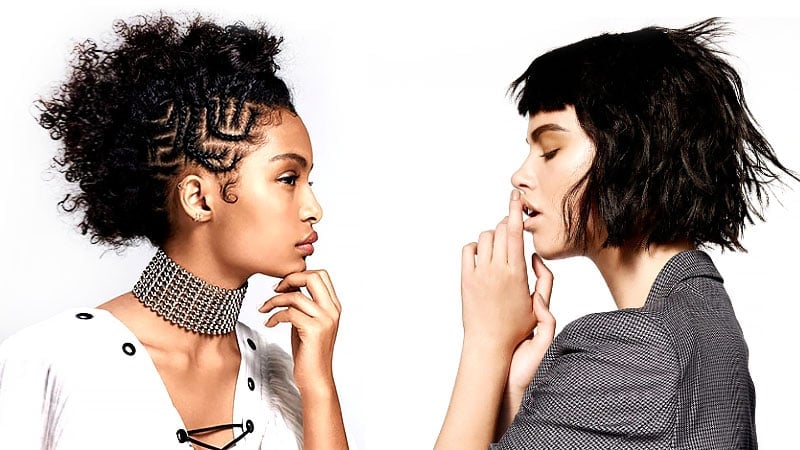 Are you tired of the same old, long hairstyle but worried about losing out on versatility? Fear not – short haircuts for women have just as much styling potential! From sleek bobs and lobs to edgy pixie cuts and shaggy layers, a short haircut can suit everyone's face shape. Add some texture with braids or waves, or keep it sleek and straight – there are endless possibilities! So if you're ready to take the plunge and embrace a shorter 'do, don't be afraid to experiment with different styles and find the one that makes you feel confident and fabulous.
Short Haircuts for Women
1. Short Layered Curly Hair
Adding layers can be a game changer if you have short curly hair. Not only do they accentuate your curls in all their bouncy glory, but they also give your hair some much-needed structure. It's no secret that short haircuts for women with curly hair can be challenging – it's all about finding the right balance between volume and shape. But with layers, you get the best of both worlds. They're a great way to break up the 'mass' of your curls while still keeping that soft and casual vibe. And let's not forget the retro '70s flair they bring to the table – it's the perfect look for anyone who wants to add a bit of chic to their hairstyle.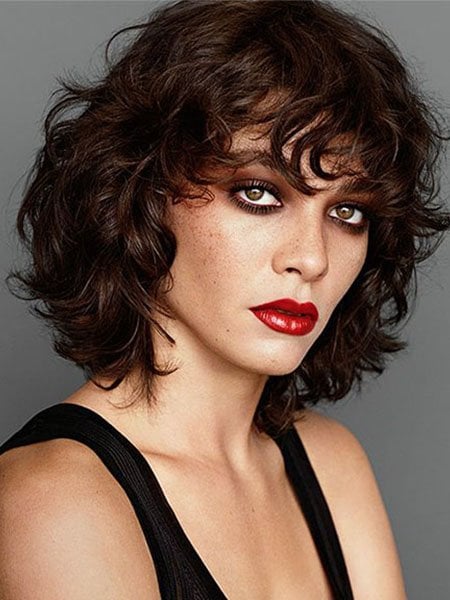 2. Braided Side With Natural Short Haircuts for
Braids add personality and unique touch to many short haircuts. For ladies with short natural hair, braiding the sides creates a striking visual contrast with your loose curls. It's also less time-consuming than cornrowing all your hair. At the same time – depending on the final effect you want – your stylist may not need to add any braiding hair to create the look.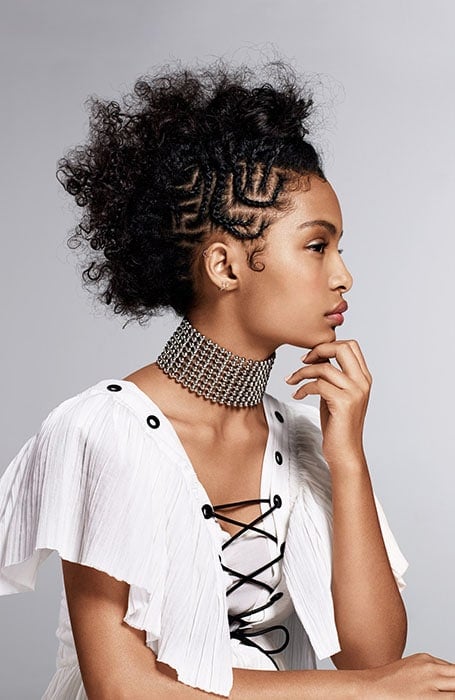 3. Short Messy Spikes
Short haircuts for women are not just for guys! For best results, the same rules apply, too. The key is ensuring your spikes aren't too structured or stiff. Instead, go for a tousled, textured look with all the angles and volume but without the rigid, 'crispy' look that using too much product can create. The result is a modern, gender-neutral haircut that works for every occasion.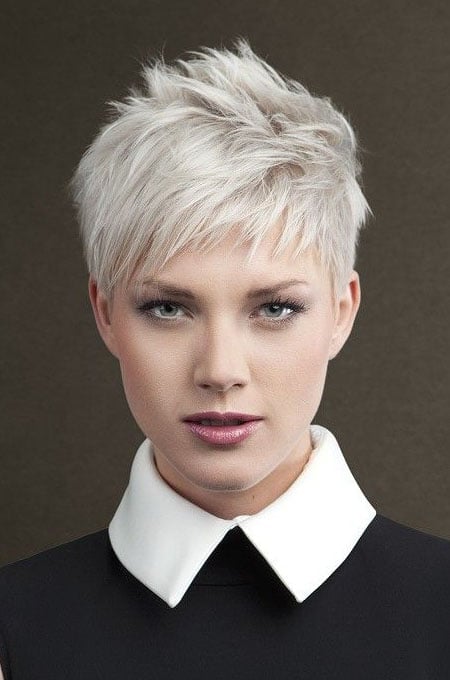 4. Short Crimped Hair
Crimping is one of the year's biggest hair trends, and it looks amazing on short haircuts for women. Even ladies with a pixie cut can get in on the crimping action! The best type of crimped hairstyle for shorter hair is 'accent' crimps – creating mini, kinky crimped sections that fall around your face rather than trying to crimp all your hair. It is quick and low-maintenance, and the short hairstyle has a throwback '80s vibe.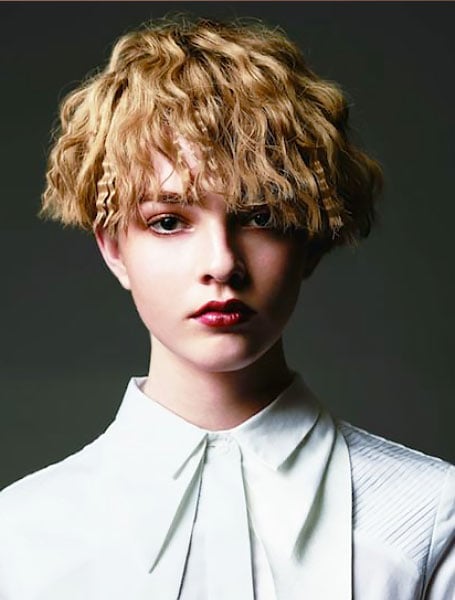 5. Short Shag Haircut
One of the coolest haircuts of all time – the shag – is back in all its glory. Perfect for those who love an edgy, '70s hairstyle, the shag haircut is all about attitude. Designed for short haircuts for women, the shag is a great way to add more body and volume to your hair. Plus, it can be adapted to suit your face shape depending on where the layers end and if you want to add a fringe.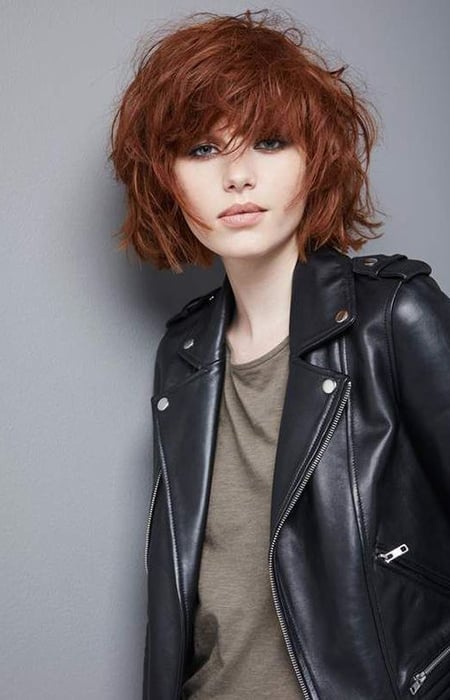 6. Short Mohawk
Want to show off your edgy, punk side? You can't go past a mohawk. To adapt the classic style for modern times, soften the central section by using fewer products. Instead of a rigid, pointy mass, style your hair into upright waves and curls for a stylish undone effect. Meanwhile, instead of skin-shaving the side sections, buzz them shortly. This creates an overall result that's more unique and less 'costume-y.'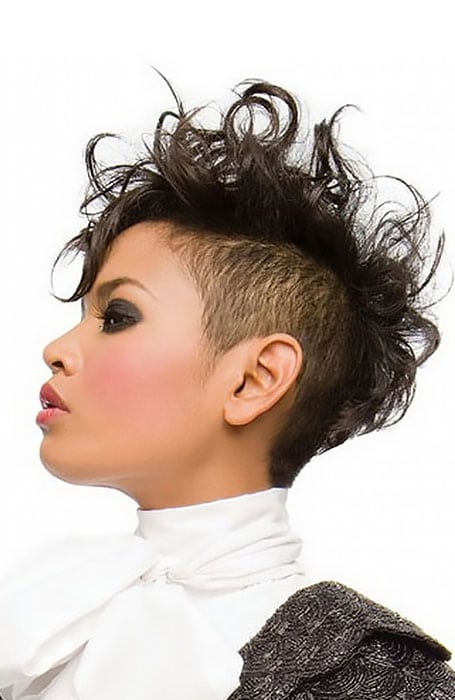 7. Dutch Braid With Short Ponytail
It's a common misconception that you need long hair to create amazing braided hairstyles. However, they look just as good on shorter hair lengths, such as a lob. Adding a Dutch braid element is one of the most striking options for short haircuts for women. Draw attention to your hair by braiding the central section, then create contrast by smoothing the other sections into a sleek ponytail.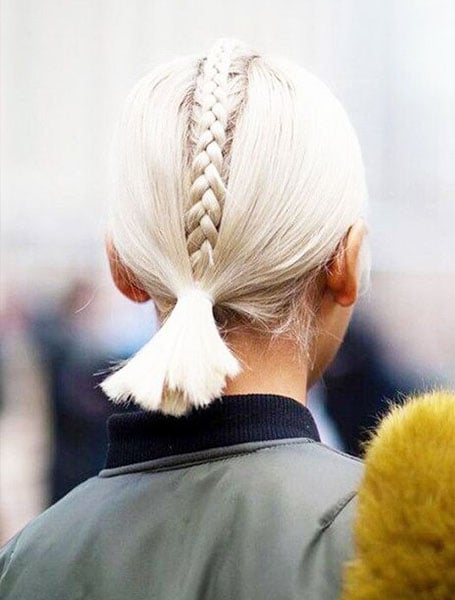 8. Micro Bowl Cut
The term 'bowl cut' might make you think of the hilariously awkward kids' haircut from the '80s and '90s. However, it's come a long way since then! The modern bowl cut for women is much shorter, creating a micro-bang effect. Bold, unique, and low-maintenance, a micro bowl cut is a great option if you want an alternative to the classic pixie cut.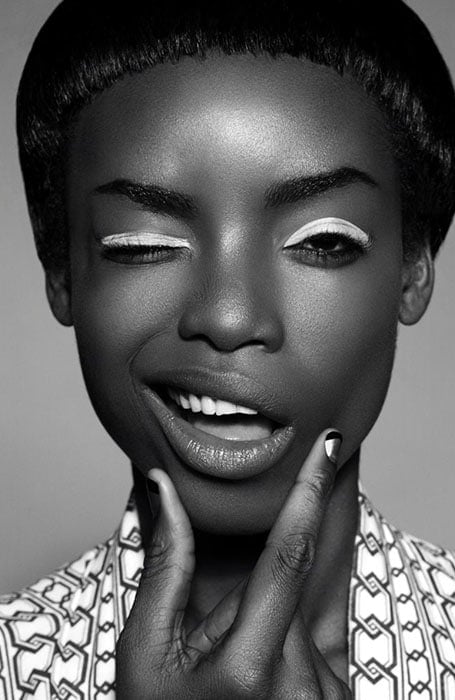 9. Short Dutch Braid Pigtails
Dutch braid pigtails – also known as double Dutch braids – are a cool and stylish short haircuts for women, especially if you are growing out bangs. Because all your hair is woven into the plaits, you won't have any pesky strands in your face. For that same reason, Dutch braid pigtails are ideal for showing off statement make-up and earrings. Dutch braid pigtails are a versatile hairstyle for short hair at home, on the catwalk, and in the gym.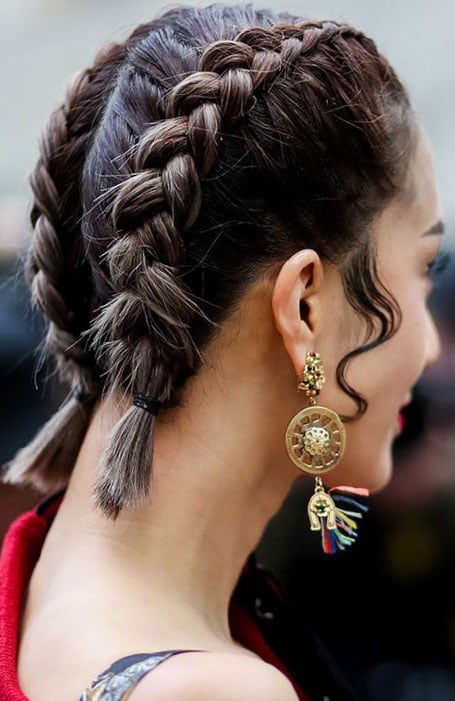 10. Inverted Bob Hairstyle
Inverted bob haircuts involve cutting hair on an angle so that the back section is shorter than the front. This creates a cool graduated effect that always turns heads. A short-stacked inverted bob is one of the most popular short haircuts for women and is visually striking. Also called an A-line stacked bob, this hairstyle has sharper angles than other inverted styles. It is a bold choice for ladies who want to stand out from the crowd while still looking chic, polished, and professional.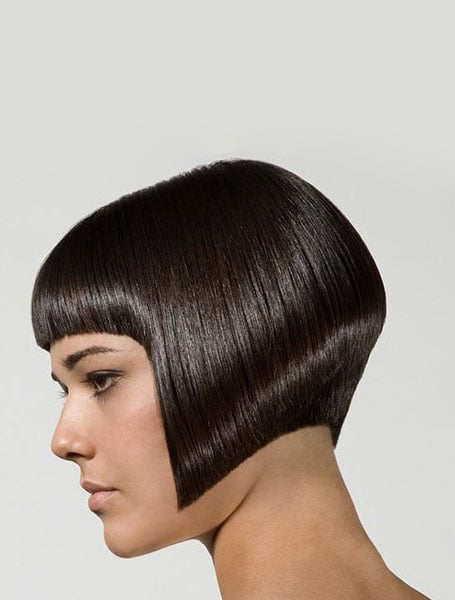 11. Short Ponytail Hairstyle
While short hair isn't long enough to create a classic mid- or high-ponytail, a low ponytail is a great option. Chic and sophisticated, the look hinges on creating lots of movement and texture. Leave some smaller sections loose at the front to frame your face, then pull the rest of your hair back into the ponytail. To avoid looking too severe, build up some volume at the crown with sea salt spray or texturizing spray.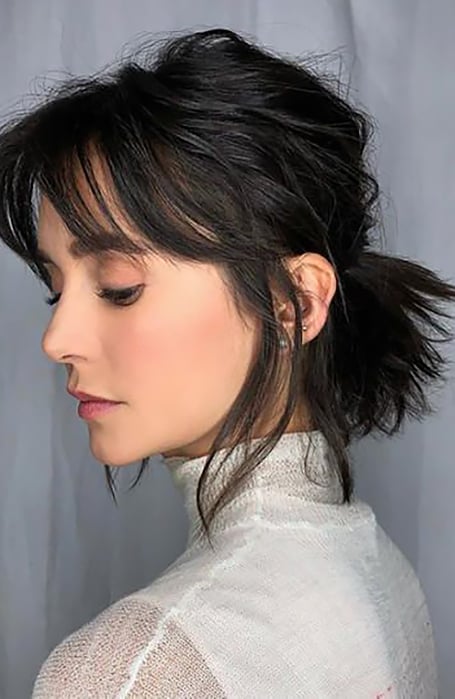 12. Messy Bowl Cut
For the bold types, a messy bowl cut is a great statement look for short hair. Cool and quirky, it's a short haircuts for womenthat stands out and attracts attention. Because it is such a bold choice, you can pair it with more avant-garde and eccentric make-up elements – like a glitter lip or graphic eye look. Ladies who love to express their offbeat and artistic side should consider a messy bowl cut.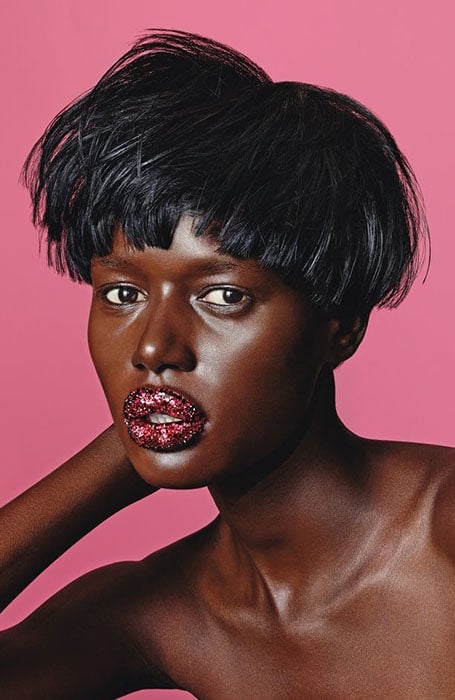 13. Short Layered Haircut for Fine Hair
One of the challenges for short fine hair is looking thin and wispy. Have your stylist add choppy layers to create the illusion of thicker, fuller hair. The different hair lengths create more dimension and movement, drawing the eye towards your hair's ends rather than the fine roots, where thinning is most noticeable. Pair the short layered cut with a mix of highlights and lowlights to create a more dynamic look.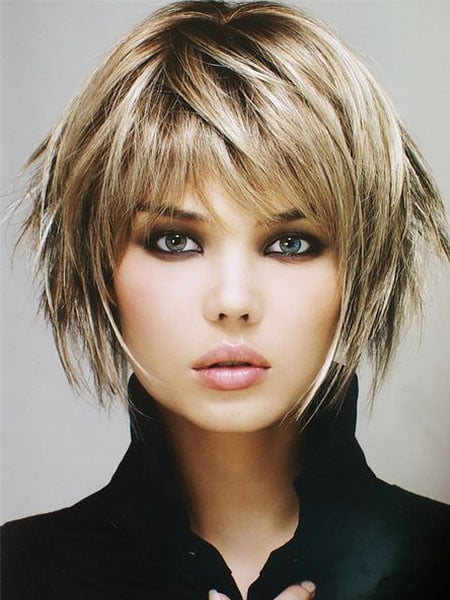 14. Temple Shave Pixie
It's all about attitude with the temple shave pixie cut, which suits bold ladies with a dramatic flair and those who prefer the androgynous look. It marries an undercut effect with asymmetric side bangs to create a statement hairstyle that defies expectations. The angle of the bangs makes it a particularly flattering cut for heart-shaped faces. Alternatively, ask your stylist to cut the pixie a little shorter and style it without the bangs.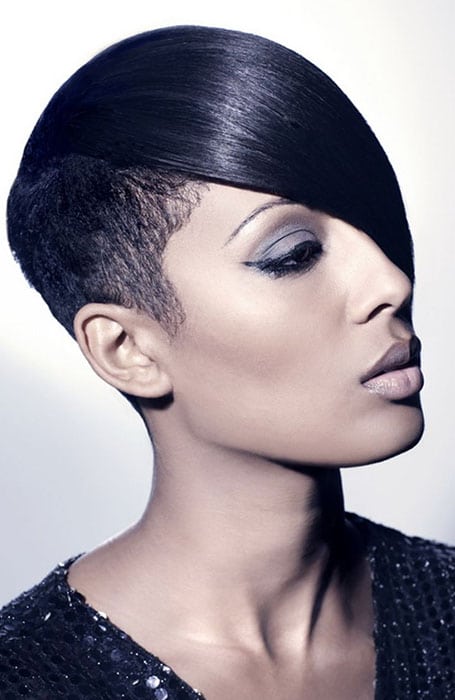 15. Short Loose Braids Platinum Blonde Hair
If you're considering going platinum blonde, it's important to keep in mind that it may worsen split ends and dryness. But don't let that discourage you! A short platinum blonde haircut can be absolutely stunning. Not only does it look striking and grab attention, but it can also add a touch of edge to your overall look. And if you want to take it up a notch, consider adding some loose braids. A side-to-side crown braid or plaited side sections can create an awesome undercut effect. So, if you're looking for some inspiration for short haircuts for women, keep the platinum blonde chop in mind and have fun experimenting with different braid styles.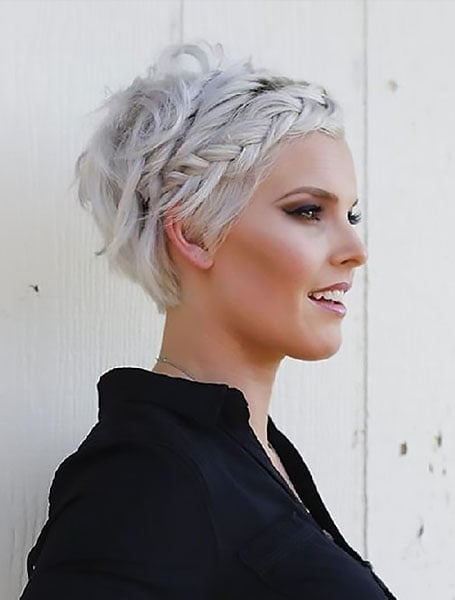 16. Fine Short Hair Updo
Looking for stylish options for short haircuts for women can be challenging. It can be tricky to style fine short hair; however, a twisted updo is one of the best options. Not only is the hairstyle pretty and playful, but it's also straightforward to do. Spritz through some texturizing spray to give your hair some extra grip, then divide into two sections and twist it into low mini buns. Use clear elastics or bobby pins to secure the buns in place. Add hairspray to hold everything in place, as fine hair tends to 'fall out' of styles more quickly than thick hair.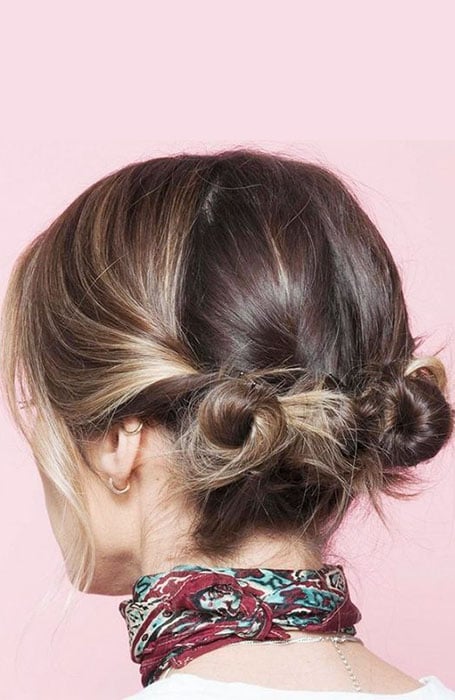 17. Buzz Cut
For those who want the boldest take on short hair, there's nothing like a full buzz cut. Cool, chic, and low-maintenance, the buzz cut is perfect for confident ladies who aren't afraid to take risks and stand out. Before getting a buzz cut, it's important to consider your face shape and features. A buzz cut exaggerates strong features and adds definition to soft ones. To predict how a buzzcut will look on you, tie your hair in a tight ponytail and take photos of your profile. With some planning, you, too, can pull off one of the most daring and stylish short haircuts for women.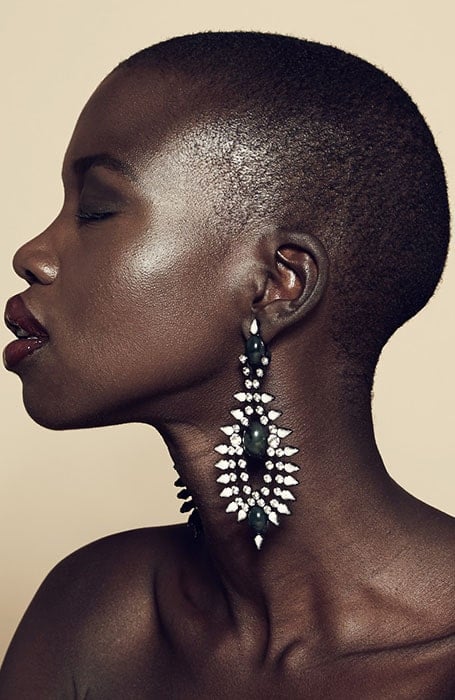 18. Tomboy Haircut
Short haircuts for women have been around for centuries but are now more popular than ever. The tomboy haircut offers an edgy, effortless look that is perfect for those who prefer a low-maintenance hairstyle. This cut is versatile and can be styled for any occasion, from casual to formal. The best part is that it looks amazing in bold colors like bleached blonde or platinum hair. So, if you're ready for a change, consider the tomboy haircut for a trendy and low-maintenance look. You won't be disappointed!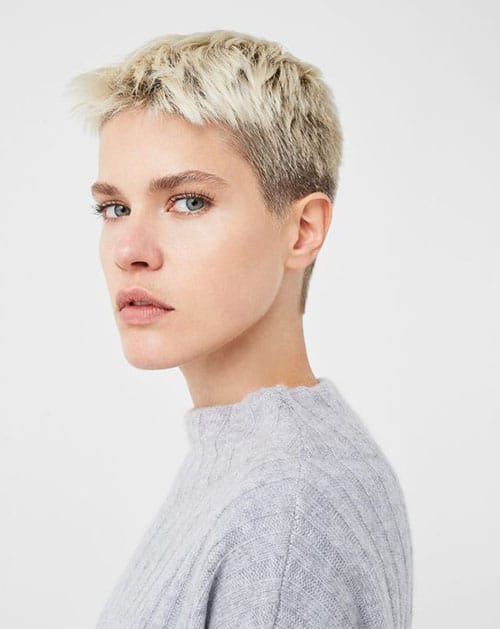 19. Pixie With Short Bangs
Short hair is an excellent way to create a fresh, modern look showcasing beautiful facial features. One popular short hairstyle is the pixie cut with short bangs. It is low maintenance, has been popular for decades, and is known for its edgy appearance. Additionally, bangs add volume and work well to highlight your facial symmetry, giving you a balanced and stylish look. With a pixie cut and short bangs, you'll feel like a brand new person and turn heads wherever you go.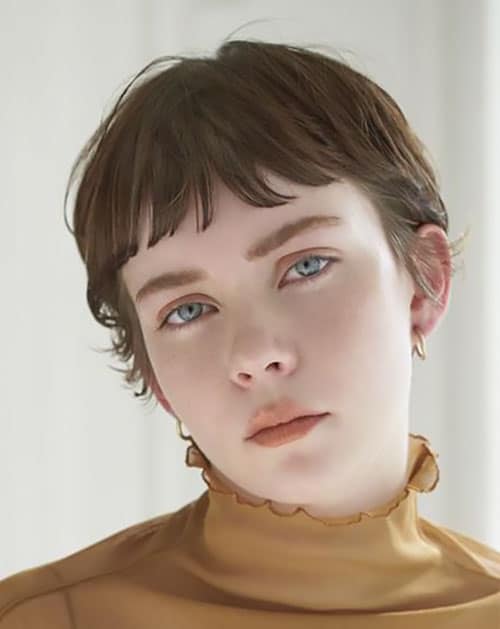 20. Short Curly Pixie with Bangs
Short haircuts for women have always been in fashion, and the pixie cut is one hairstyle that has stood the test of time. The fantastic thing about this haircut is that it is incredibly versatile, so that it can be recreated with various hair textures and types. If you have naturally curly hair, opting for a curly pixie cut can accentuate your locks, making it the perfect choice for anyone looking to embrace their curls. You can even add a fringe to frame your face, creating a messy and soft look. Plus, it's one of the easiest ways to keep your curls in check without spending hours detangling them every morning. Whether you're looking for a low-maintenance hairstyle or something more edgy, the pixie cut is a great option for all women.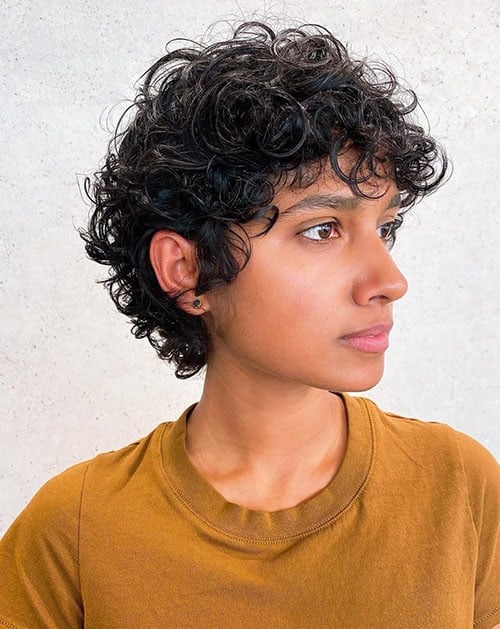 21. Long Pixie Cut
Are you considering a new hairstyle but hesitant to go too short? A long pixie cut may be the perfect option for you! It offers a fresh new look while still maintaining some length, making it an easy transition from long hair. The best part? It's incredibly feminine and frames your face beautifully. Plus, it's quick and easy to style, so you can spend less time on your hair and more time enjoying your day. With the added length, you also have more versatility in terms of styling, making it a practical choice for any occasion. If you're nervous about committing to a dramatic short haircut, a long pixie cut is a great option to dip your toes into the world of short haircuts for women.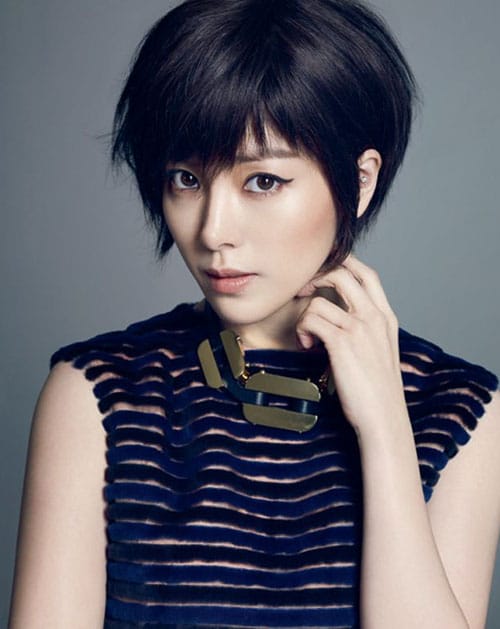 22. Short Layered Bob
If you're interested in new short haircuts for women, you might want to consider a layered bob. Not only is this style incredibly flattering, but it's also versatile and suitable for most hair types. Whether you have fine or medium hair, the layers will add movement and texture to your locks, and the framing effect will draw attention to your face. And the best part? It's not just for young women – women of all ages can rock a layered bob. It's true that this hairstyle requires some styling, but with a little effort, you can achieve a gorgeous look that's full of volume and texture. So, go ahead and try out a layered bob – you won't regret it!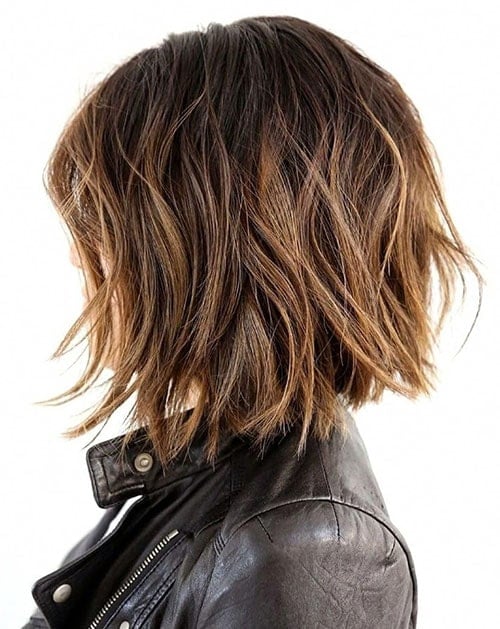 23. Short Voluminous Bob
The bob haircut is a popular choice for women because of its versatility. It is relatively low maintenance and can be adapted in many ways to suit your face shape and hair type. If you love big hair, then embrace the voluminous bob. It is all about movement and will make your hair look healthy and full. Undeniably one of the most glamorous looks you will find, this style will get you noticed and draw attention to your face. It can also soften your features.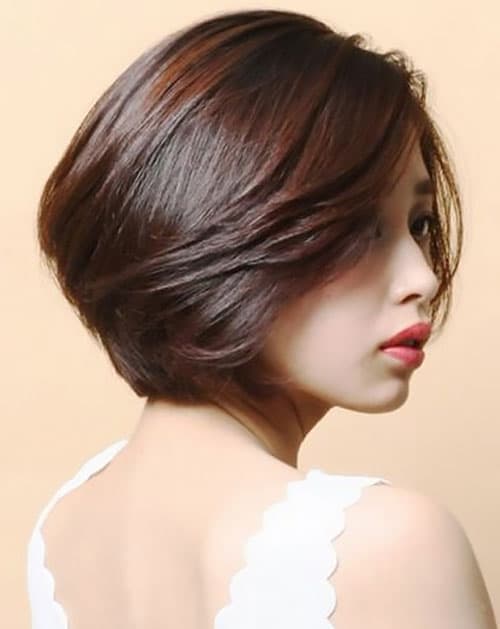 24. Angled Pixie Cut
What is not to love about the pixie cut? The beauty of this fuss-free short hairstyle is that it can be adapted to suit your face shape and hair type. An angled pixie cut is an excellent choice for someone who wants a look that makes a statement, and the way the hair falls draws attention to one side of your face. This can help balance your features and soften your face, but it can also say a lot about your personality. Keep it sleek and straight for an edgy appearance, or tousled for a more carefree approach.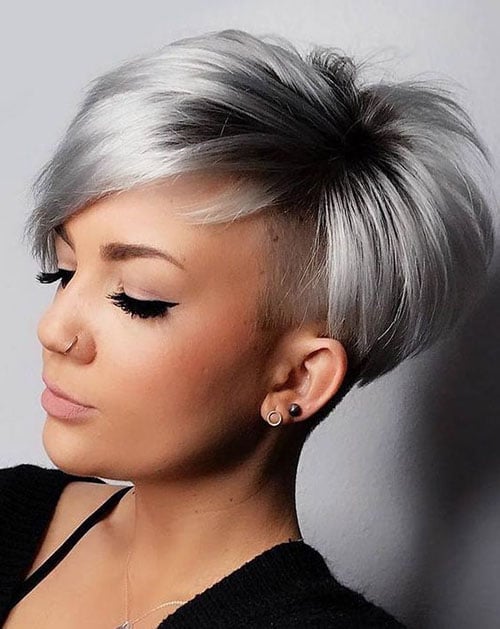 25. Short Pink Bob with Bangs
A pink bob with bangs is the perfect way to express yourself and show your personality. The bob is a classic because it looks fresh and can be adapted to suit your style, making it modern. Wearing it with bangs draws attention to your eyes and cheekbones and makes a stylish finish. Deciding to dye your hair a bold color will highlight your cut and hair texture, allowing you to show off your playful side. Pink hair is a color associated with femininity and love. Wear it confidently and enjoy the attention bound to come your way.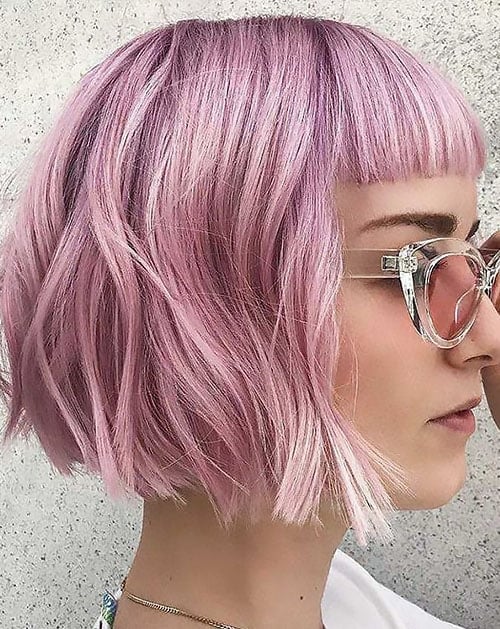 26. Feathered Pixie Cut
If you're considering a refreshing change to your hair, a feathered pixie cut might be a great option for you! This technique can add texture and depth to your hair, making it appear fuller and thicker. The best part? It's versatile and can be modified according to your preferences! In particular, feathering is an excellent choice for women with fine hair who desire a chic, fashion-forward look. So, if you're looking for short haircuts for women that are trendy and easy to style, a feathered pixie cut is worth exploring!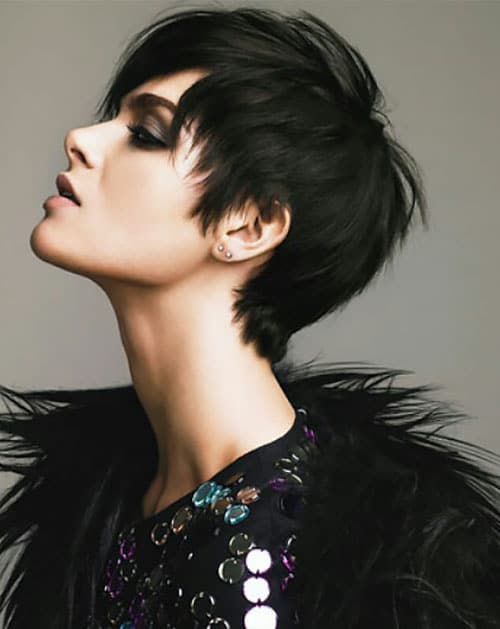 27. Wavy Short Bob with Bangs
The fantastic thing about wavy hair is that it is a texture that can be adapted to suit many different cuts, but it also has movement and dimension to it. If you are blessed with naturally wavy hair and are looking for a modern haircut, then a short bob with bangs is great. It is bold, draws attention to your face, and can have a soft and feminine appearance making it look like you have just stepped off the beach. Keeping your hair short is less maintenance and drastically reduces grooming and style time.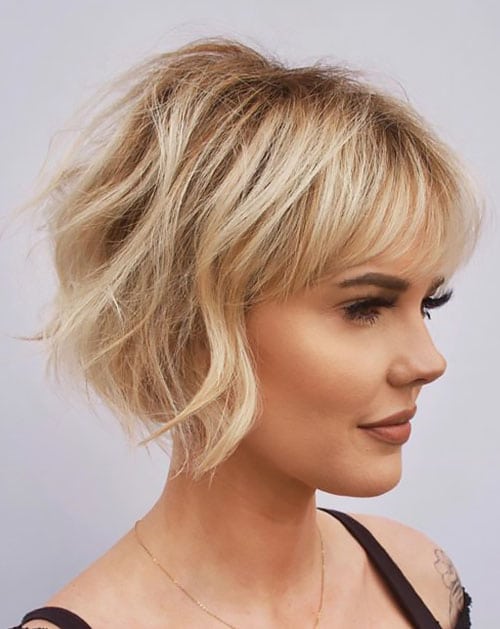 28. Short Bob with Nape Design
If you want a trendy and fashion-forward cut, look no further than a short bob with a nape design. The bob is versatile, suiting many hair textures and face shapes, but you can make it personal by opting for a nape undercut. The small shaved area at the top of the neck makes you look interesting and edgy. It also contrasts your hair and the neck, highlighting your natural texture.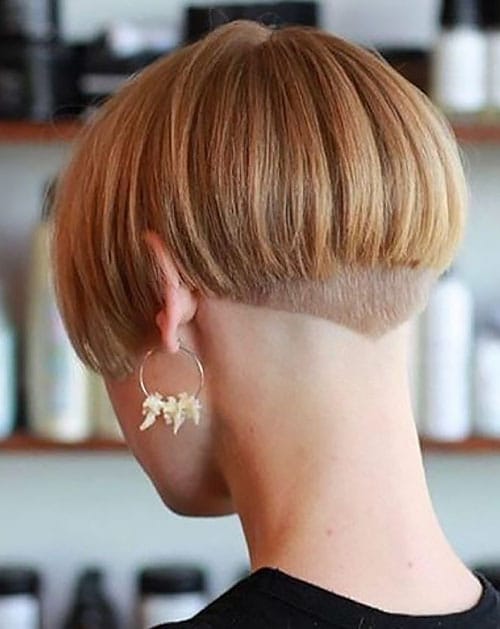 29. Short Graduated Bob
If you're looking for a short and sassy haircut that exudes femininity and style, look no further than the graduated bob. This chic haircut boasts longer front strands, cascading into stacked layers at the back, delivering lift and volume that's hard to miss. To inject an element of intrigue, why not consider adding some natural highlights that will elevate your look to new heights? With its versatility and uplift, the graduated bob is undoubtedly the epitome of short haircuts for women who want to look their best while empowering themselves.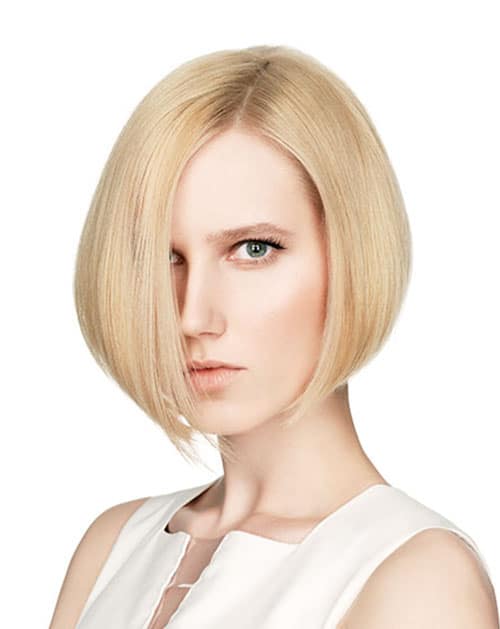 30. Side Parted Bob with Hair Barrette
If you're looking for a chic and effortless way to style your short haircut, look no further than the hair barrette. These accessories may have peaked in the 80s, but they are back and better than ever. Not only are they some of the prettiest accessories you'll find, but they're also versatile. One of the most flattering ways to wear a hair barrette is by pulling your hair away from your face in a side-parted bob. This style is perfect for softening your features and adding a feminine touch to your look.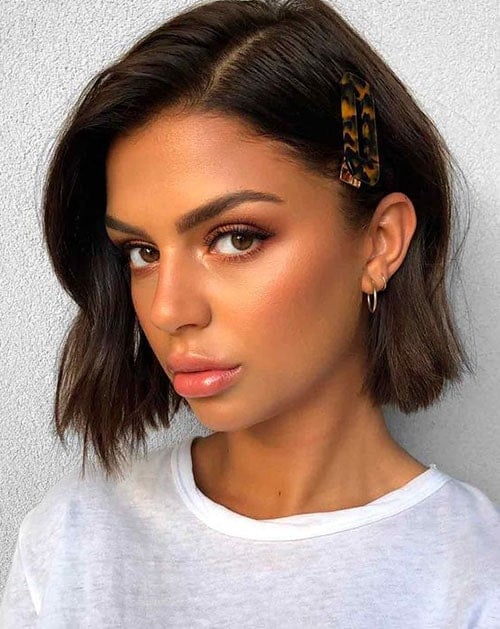 31. Short A-Line Haircut
An A-line haircut gets its name because it is longer in the front and shorter in the back. The transition between these two lengths is gradual and makes a stylish taper toward the face. The way the hair falls along your chin and towards your shoulders makes for a very chic and modern look, and this is the perfect option for a woman who wants to try out short hair without opting for something super short. It is less daring, but it is no less gorgeous.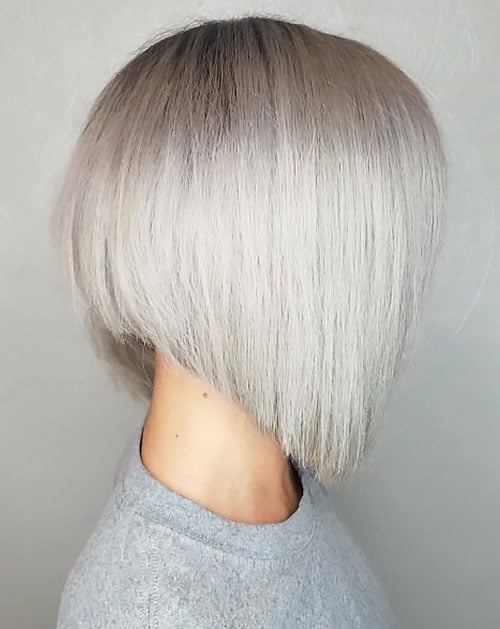 32. Short Platinum Blonde Bowl Cut
The bowl cut is a look that is the same length all the way around the head. It was popularized in the 80s but now has a modern twist. It is more adaptable and can be paired with disconnected sides for an edgy look or created in bold hair colors. Platinum blonde is undeniably one of the most noticeable hair colors. It makes an instant statement and is bound to get your hair noticed. If you have naturally textured hair, your appearance will be slightly messy, creating soft waves.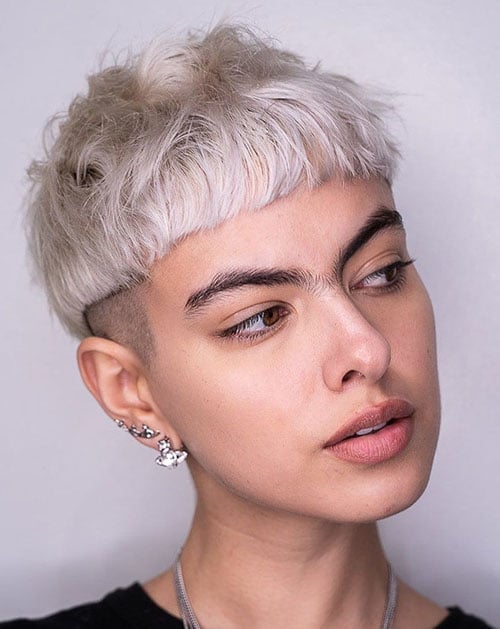 33. Asymmetrical Short Haircuts for Women
Asymmetrical haircuts are all about playing with lengths, creating a visually appealing and edgy appearance. Short haircuts for women, in general, are becoming more popular; and asymmetrical haircut is no exception. By having one side shorter than the other, the haircut draws the eye towards the jawline and eyes, creating a youthful and flattering look. It can also make your face appear thinner by adding asymmetry. The haircut's layered cut adds movement and can be styled in multiple ways. However, this look requires some styling time and requires readjustment if the hair falls in your eyes. If you want a bold and dramatic finish, pair your asymmetrical cut with statement accessories and interesting eye makeup.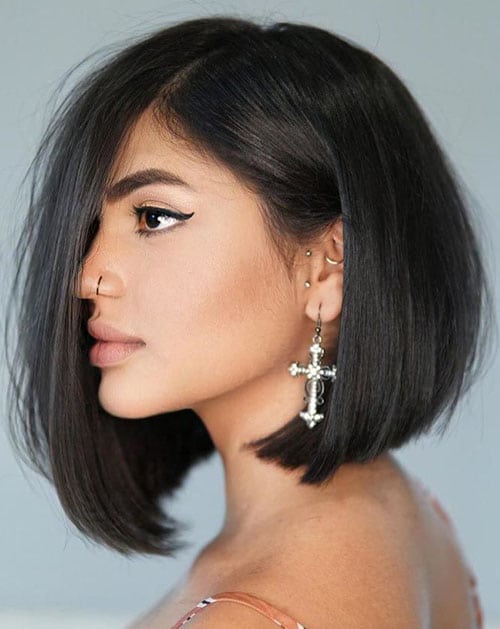 34. Short Green Pixie Cut
The pixie cut is one of the most versatile short haircuts for women around. Many women love it because it is adaptable and can be created on different hair colors and textures. For someone daring and edgy, opting for green hair dye is a wonderful way to make a statement and tell the world that you are a risk-taker. Green is associated with nature and growth, but it is also a rich color that is hair to miss and can show off your personality. Pair your pixie cut with an undercut or a semi-shaved hairstyle for an even more edgy appearance.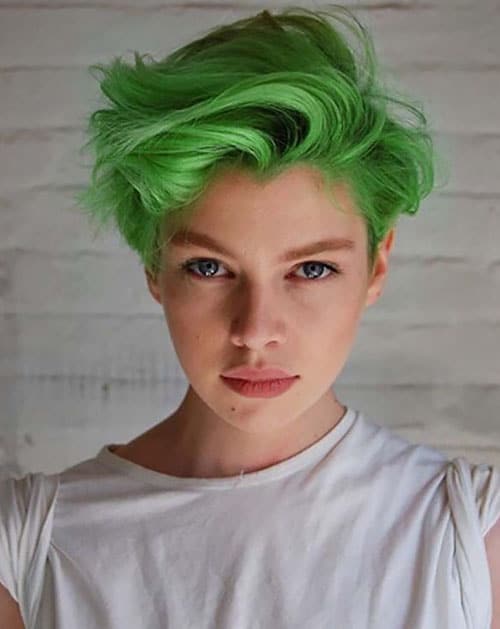 35. Short Blunt Bob
If you want to take the plunge and cut your hair but are not ready for it to be very short, then a nice in-between option is a blunt bob. The fantastic thing about this option is that it can emphasize the cheekbones and the jaw. It has a very sophisticated appearance but is incredibly versatile and can be adjusted to suit your preference and hair type. Blunt haircuts are low maintenance and one of the best short haircuts for women to choose from.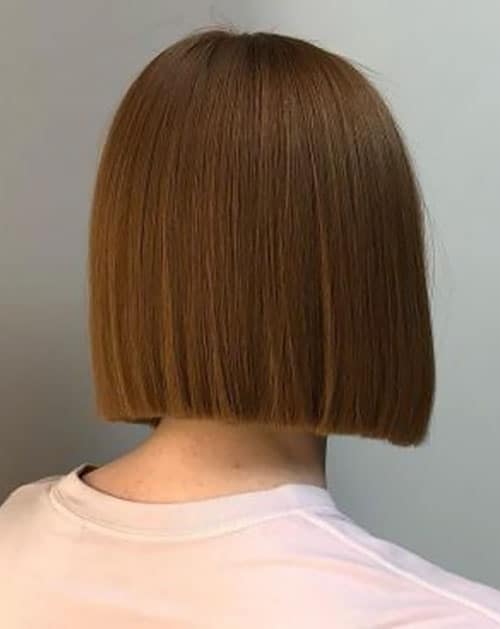 36. Pixie with Angled Undercut
The pixie cut looks daring and edgy when paired with an angled undercut. It has a rebellious vibe and can create an interesting contrast with the hair on the top of your head and the shaved underside. This can highlight your natural texture and make it appear more voluminous. The undercut can also flatter and elongate your face shape if created at an angular finish. Play around with different lengths and partings to find the look that suits you best.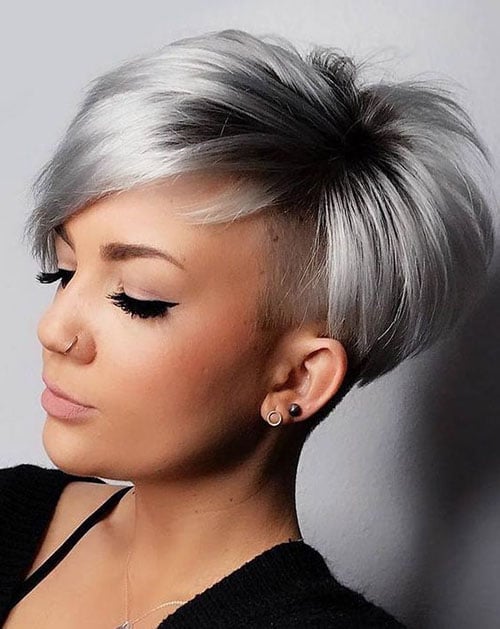 37. Wedge Haircut
The wedge haircut is so simple yet unmissable. The interesting shape that is created because of the length of layers makes the hair appear like it is stacked or wedged. This style can be created on multiple hair lengths and textures, but you can work with your hairstylist to find the perfect option for you. That said, it helps if your hair is longer than the chin for the most flattering appearance.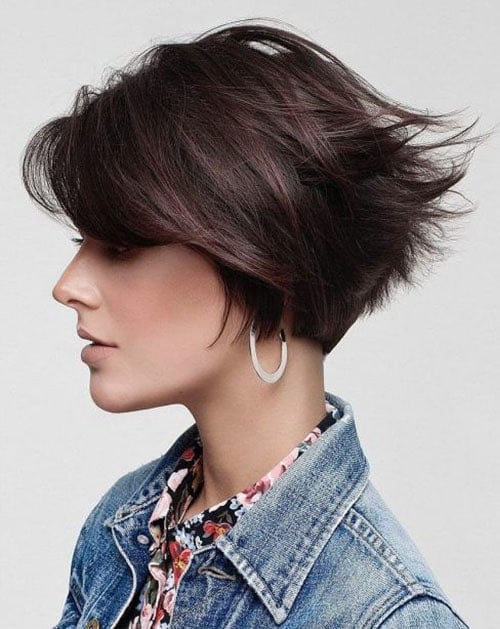 38. Short Bob with Wispy Bangs
Bob and bangs are a combination that should go hand-in-hand because they are so effortlessly stylish. The bob can be worn on women of all ages, making thin hair appear thicker and fuller. Bangs are fantastic because they can make you appear younger, add volume to your hair, and highlight your features, but opting for wispy bangs can create a more seamless transition with the rest of your hair. This can be created on all textures, including wavy and straight.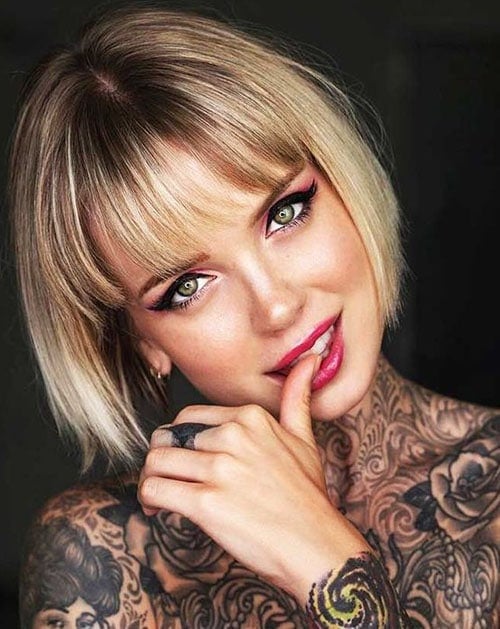 39. Pixie Cut with Bleached Hair at the Top
Bleached hair is hard to miss, but that is part of the appeal. Bleaching can be drying and damaging, but it can also create a very stylish and modern appearance and helps to make your hair appear thicker and fuller. The benefit of having a short haircut, like a pixie cut, is that the bleaching process is much faster and simpler; the heat from the scalp helps speed it up. Because of the dryness and breakage involved with bleaching, your hair can be kept in better condition if it is shorter. Deciding to bleach the top of your hair and leaving the rest your natural color creates a stunning contrast.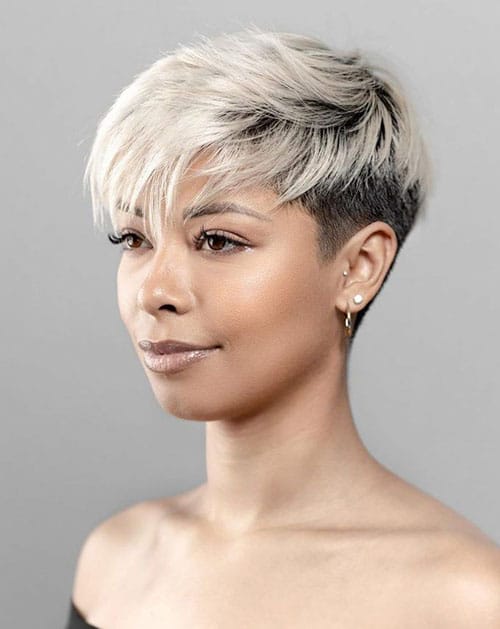 40. Short Lilac Bob
Bob haircuts are loved because they're versatile, stylish, and can make anyone look youthful. But what's even more exciting is the endless way you can customize the classic look to your personality and style. And the best part? You can do it with just a splash of color. Lilac is the perfect choice for anyone who's looking for a bold hair transformation without going over the top. Its cool and soft hue makes it suitable for every season, and it can enhance any hairstyle, from long locks to short haircuts for women.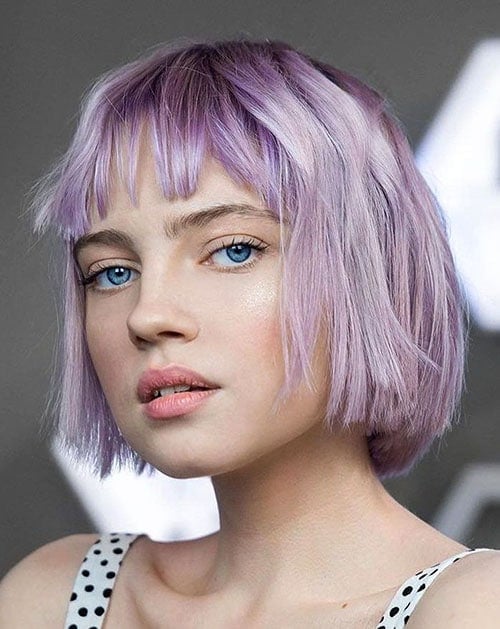 41. Short Tousled Bob
The appeal of a tousled bob is its disheveled, messy appearance. This creates softness and can beautifully highlight your features and frame your face. The cut needs to have layers to achieve this appearance, and it also helps if your hair is naturally textured. You can create this look on various hair textures and lengths, but a short haircut is the way to go if you want a more fuss-free and laid-back approach.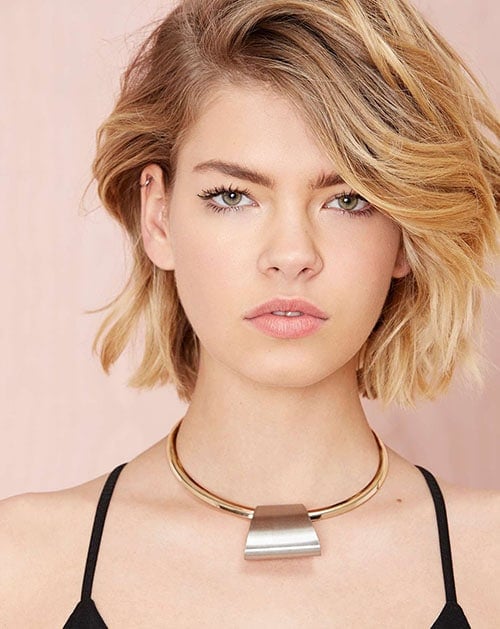 42. Blue Pixie with Undercut
If you want to give your pixie cut an edge, you can do it with an undercut. The beauty of the undercut is that it creates an interesting contrast between the hair on the top of your head and the shaved sides. It has a rebellious feel to it but can also highlight the volume and texture of your hair. That said, if you want an even more daring look, then dying your hair a bright color is a fantastic way to express yourself. Blue hair demands attention. There are many shades to choose from, from eclectic neon and teals to more muted tones and many coloring techniques. Pair blue hair with silver or platinum hair for an icy and cool approach to many short haircuts for women.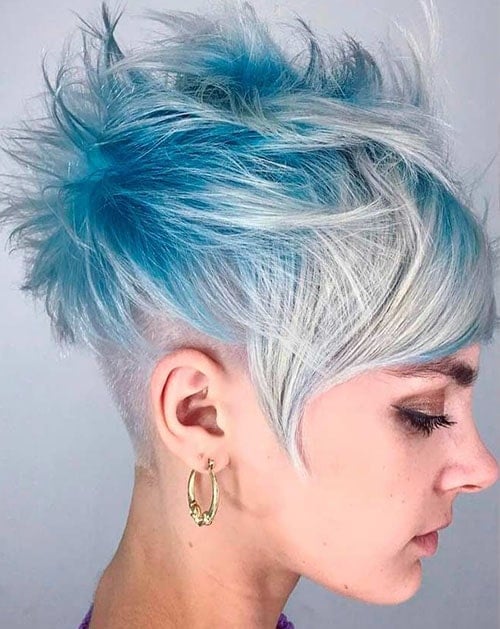 43. E-Girl Rainbow Short Bob
E-girl style is one of the biggest trends; brightly colored, eye-catching hair is an e-girl must-have. An all-over hue like pink or green will give you the standard e-girl look – but a rainbow short bob haircut takes it to the next level. A shorter haircut means your locks will take less time to dye and give you the edginess that the e-girl look demands – rather than long rainbow hair, which can veer into 'princess' or 'mermaid' territory.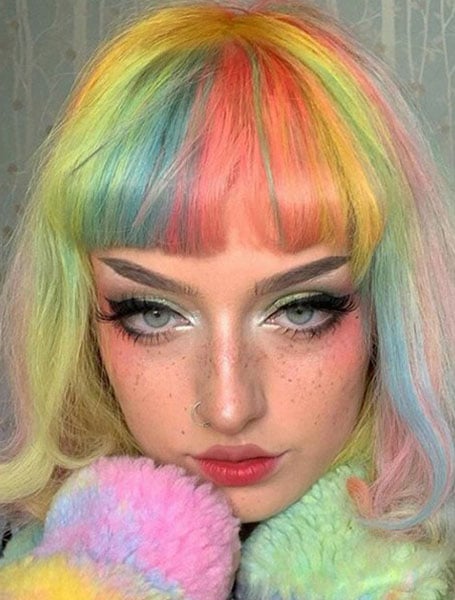 44. Short Yarn Braids
Yarn braids are a great alternative to traditional braiding hair. They are considered a protective style as the 100 percent acrylic yarn protects your natural hair from the elements. Plus, they are also stylish and versatile, coming in a rainbow of different colors. Short yarn braids can be plaited to create a wavy, freeform, almost-dreadlock look, or they can be braided flat for a bob or lob-style effect.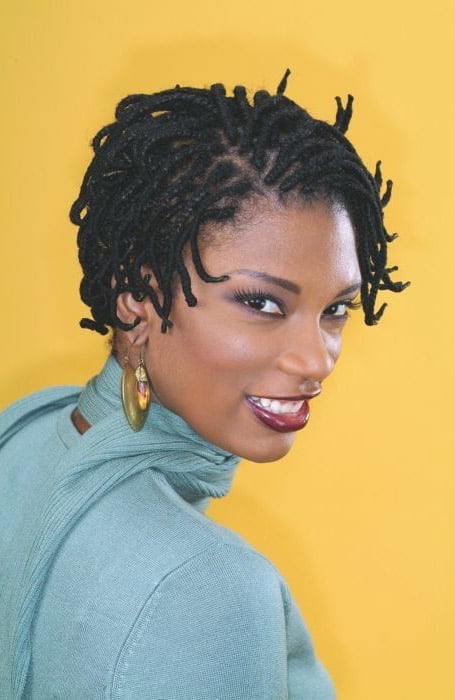 45. Curly Short Hair Updo
When it comes to styling short curly hair into an updo, it's best to work with your hair's natural texture and movement rather than fighting it. One beautiful and simple option is to twist your locks into a messy chignon, freeing some tendrils to frame your face. Add romantic and feminine accessories like ribbons, flowers, or pearls for extra style points for any short haircuts for women.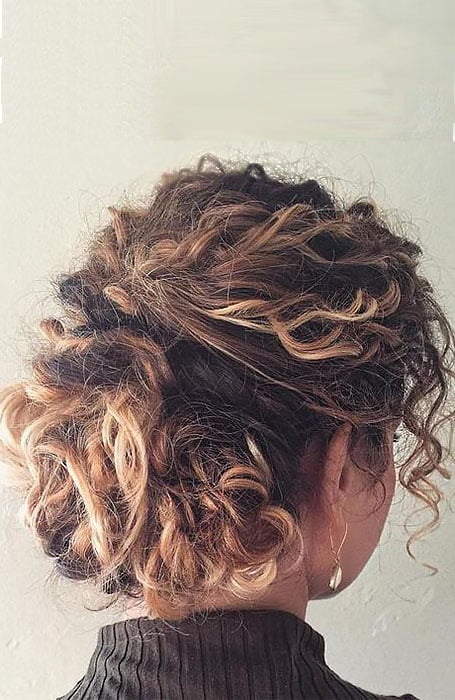 46. Short Knotless Braids
Box braids are one of the most iconic hair looks, and it's no wonder. Simultaneously cool, edgy, and pretty, these braids also have an on-trend '90s vibe. Short box braids create a gorgeous 'lob' effect that flatters many different face shapes. Meanwhile, knotless box braids are becoming more and more popular. While a little is more time-consuming and expensive than regular box braids, the knotless technique puts less tension on your scalp and does less damage to your natural hair.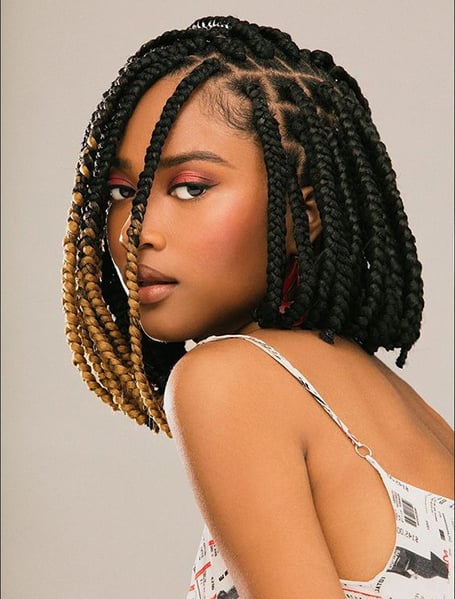 47. Short Side Part
There are few better short haircuts for women than a short pixie cut with a side part. Instead of traditional bridal hairstyles, the look takes its cues from '60s fashion icons like Mia Farrow and Jean Seberg. It's an ideal choice if you want to show off your wedding jewelry, such as a pair of statement earrings. However, remember that you won't be able to attach a traditional veil – instead, consider a fascinator or hat, or go without any headwear.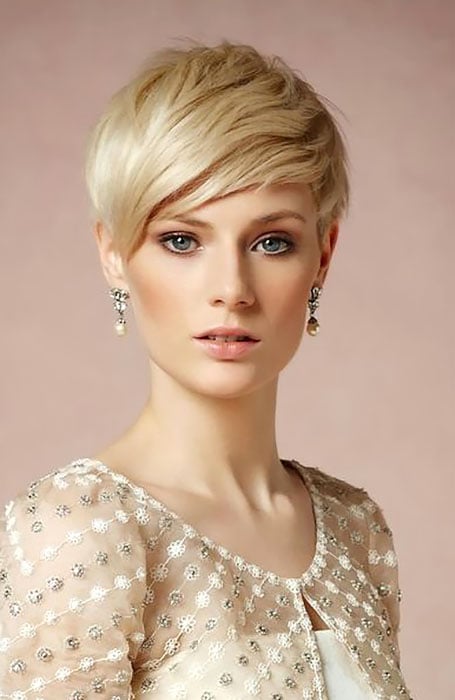 48. Side-Swept Pixie
The pixie is truly one of the most iconic short haircuts for women of all ages. Pixie cuts are a versatile option for a low-maintenance short haircut. Not only do they always attract attention, but they are also easy to style. They can be playful or sophisticated, romantic, or casual. A side-swept pixie cut flatters heart-shaped and square faces and is also a great way to add more dimension and direction to fine hair.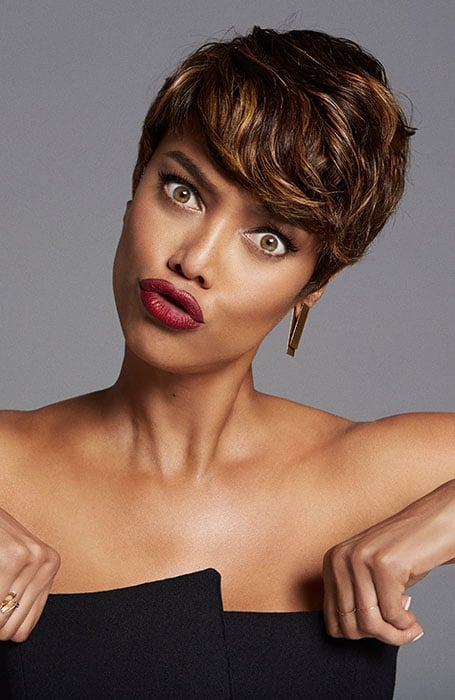 49. Elegant Short Hair Updo
Short haircuts for women often need minimal styling, but creating a pretty, sophisticated hairstyle for a formal event or romantic date can be fun. Similar to a ponytail, the key to an elegant short updo is in the positioning. Avoid styles that require you to pull your hair up to the crown of your head. Instead, opt for a low bun or low braided hairstyle and add beautiful hair accessories, such as pearls or ribbons, for a gorgeous finishing touch.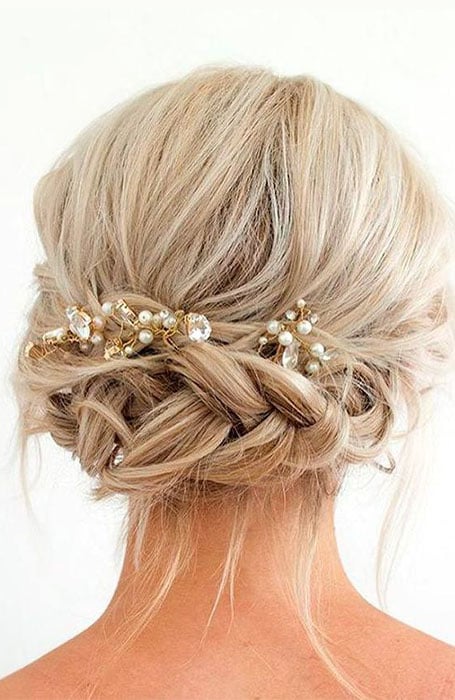 50. Short Tribal Twists
Short twists, like short box braids, create a flattering 'lob' effect on natural hair. Take your two-strand twists to the next level by adding a tribal element. Classic options like metal or wooden beads and cowrie shells pay tribute to culture and tradition while also making your twists stand out. You can customize your combination of tribal accessories to suit your unique style.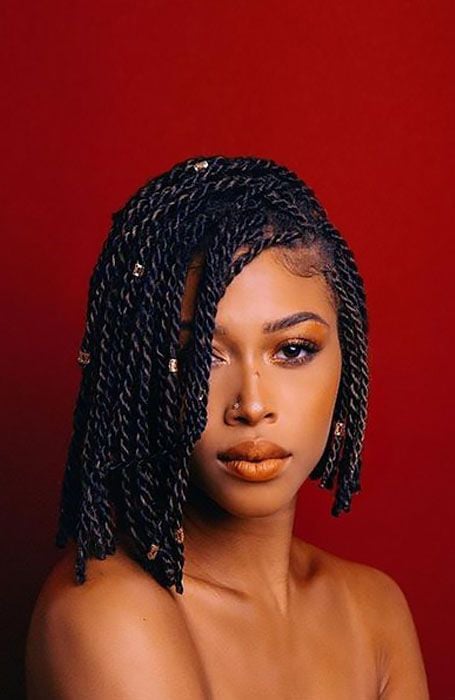 51. Short Bob With Green Highlights
Green is a big color trend for hair because of its unique, alternative appeal. Made popular by stars like Billie Eilish and the e-girl trend, green hair can be adapted to suit various skin tones. Because it's such a strong color, a little goes a long way – meaning it's ideal for short haircuts for women. If you have a short bob, you can get away with an all-over green look – whereas longer hair is better off with green roots or highlights.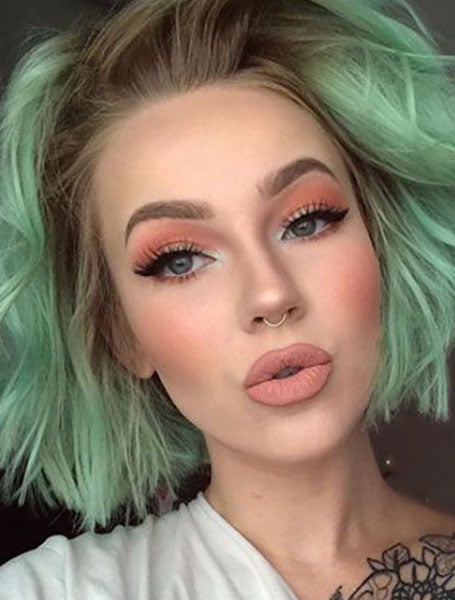 52. Short Twists
For ladies with natural hair, short twists are an amazing hairstyle. Perfect for growing out a buzz cut or just having the 'big chop,' these mini versions of a two-strand twist create a cool yet cute look. You can create a flattering lob effect with twists as your hair grows longer. Plus, as a protective style, they won't damage your hair and can be left in for days or weeks – meaning they're low-maintenance, too.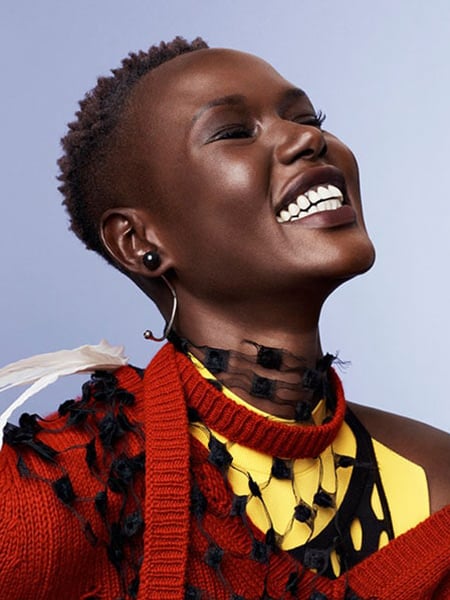 53. Wedding Updo for Short Haircuts for Women
Whether you're the bride, guest, or bridesmaid, choosing the perfect hairstyle for a wedding is essential. An updo is a classic option because it draws the focus toward your dress and jewelry. An elegant and romantic loose chignon is perfect for such a special occasion, and you can easily create one with a short haircut. Simultaneously polished and sophisticated without looking stuffy or overly 'done,' a loose chignon is a great option. Plus, you can add hair accessories or a veil with ease.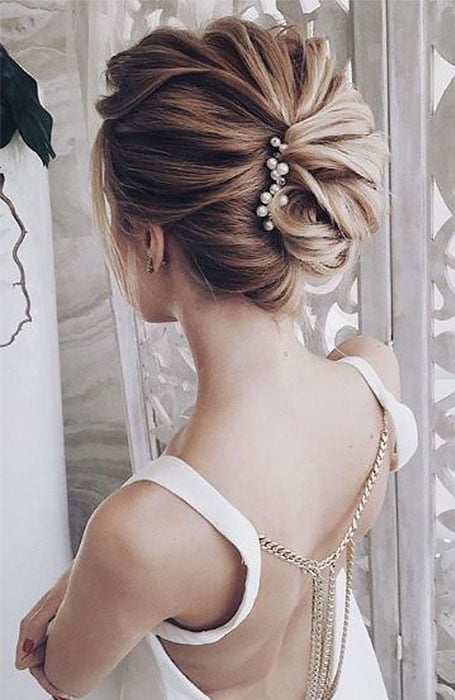 54. Geometric Short Afro Style
Make your short Afro stand out by creating a geometrically shaped cut with your stylist. Cool and modern, shaped Afros turn heads in the best way. Therefore, this look is the perfect short haircut for women with a strong sense of style who are happy to be the center of attention. While you could opt for an '80s throwback flat top or stepped cut, a triangle or wave-effect Afro is another great geometric option.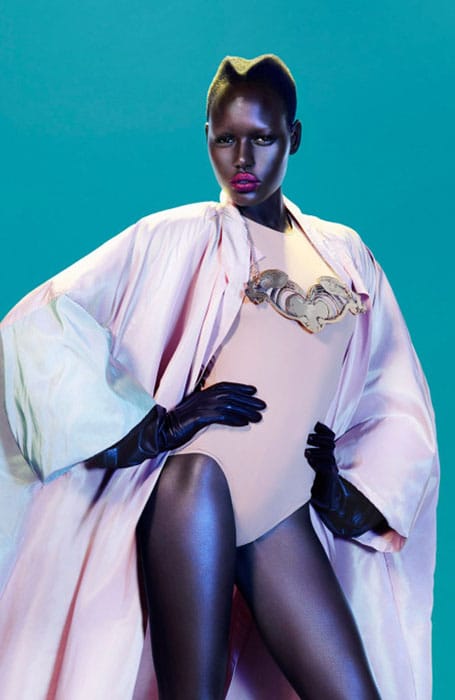 55. Short Rose Gold Hair
Looking for a fresh and trendy hairstyle? Look no further than rose gold hair! This stunning hue is one of the year's hottest color trends, and it's easy to see why. With a golden blonde base and a pinkish-copper tint, rose gold hair is the perfect choice for shaking up your look and making a bold statement. Plus, it's incredibly versatile and suits various skin tones. If you want to make a splash, pair your rose gold locks with any short haircuts for women,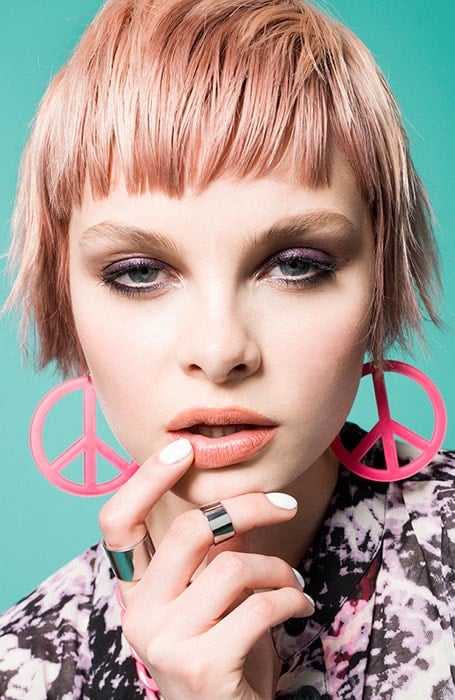 56. Short Bob with Curtain Bangs
The bob haircut is a timeless classic for women's hairstyles and remains a favorite because of its versatility. It looks great on women of all ages and can easily be adapted to suit your hair texture and type. You can pair it with curtain bangs if you want to add a modern twist. This fringe can be created on every hair type and length. A short bob with curtain bangs is exceptionally stylish and can frame your face. This fringe will highlight your features, but it also helps achieve a more youthful appearance and add a feminine touch to shorter hair.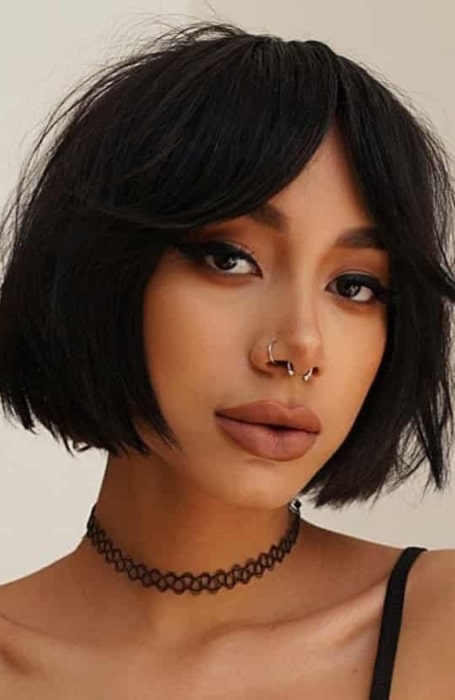 57. Half Green, Half Pink Short Haircuts for Women
Short haircuts for women are surprisingly versatile, and there is little that you cannot do with them. It also is excellent for those who want to experiment with color, as there is less dye, making the process cheaper and less time-consuming. The split-dye trend is common among alternative types and lends itself well to the E-girl aesthetic, which is incredibly popular on TikTok. The half-green and half-pink hair look is bright and bold, drawing attention to your face. It takes some serious confidence to pull off and will make you stand out of the crowd, but this is a fantastic way to express yourself and show the fun side of your personality. You can experiment with your makeup for a matchy-matchy look, choosing the same shade to make a striking appearance.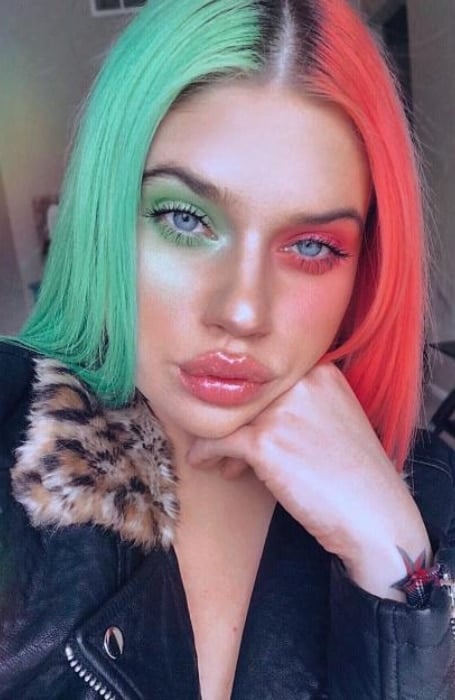 58. Short Blunt Bangs
Bangs are one of the best ways to transform your look. They can make even the most straightforward hairstyle more attractive. Plus, bangs are an excellent way to draw attention to your face and highlight your eyes. They can also make your face appear slimmer or longer. Blunt bangs, in particular, are great and cut across the face, creating a chic and feminine look. They can be incredibly flattering and make you look younger; how they fall across the forehead can also hide signs of aging, like fine lines or wrinkles.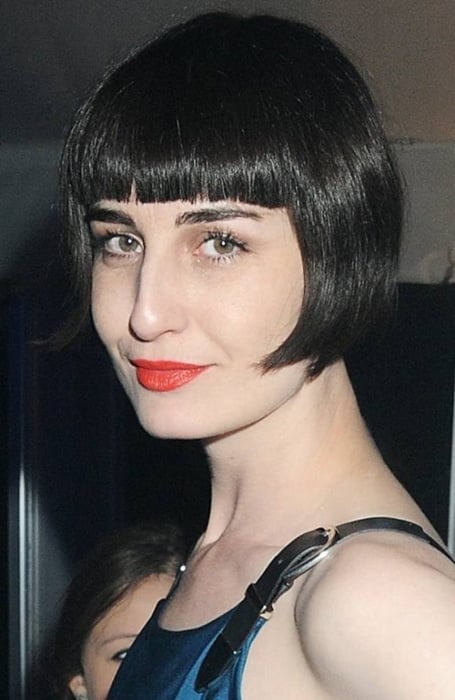 59. Short Ponytail Hairstyle
The ponytail is one of the most simple and versatile updos a woman can create. It requires little skill and minimal styling, and it is easy to dress up or down. The style also works with hair of all lengths and textures and can suit every face shape. Plus, a short ponytail can be an excellent way to flatter your cut and change up your look. For the best results, you should keep it loose and undone. This is also a great way to keep the hair out of your face and off your neck. Perfect for date nights, the gym, or even for more formal occasions, there is nowhere you cannot wear your ponytail hairstyle.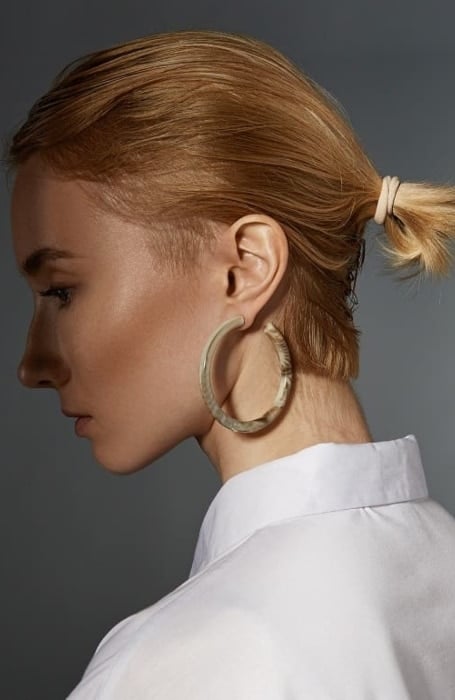 60. Pixie with Balayage
The pixie cut is one of the most versatile and flattering short haircuts a woman can choose. It is defined by short hair cropped in layers, is slightly longer on top, and features bangs. The pixie is highly adaptable and can be changed to suit your hair type and face shape. It can also be worn on all hair colors. That said, if you want a simple and natural hairstyle, opt for a balayage hair color. The coloring technique is a blending of color in a more graduated way and is a gorgeous, subtle approach to adding color to the hair. It can help achieve a sun-kissed appearance, brighten your locks, and add dimension.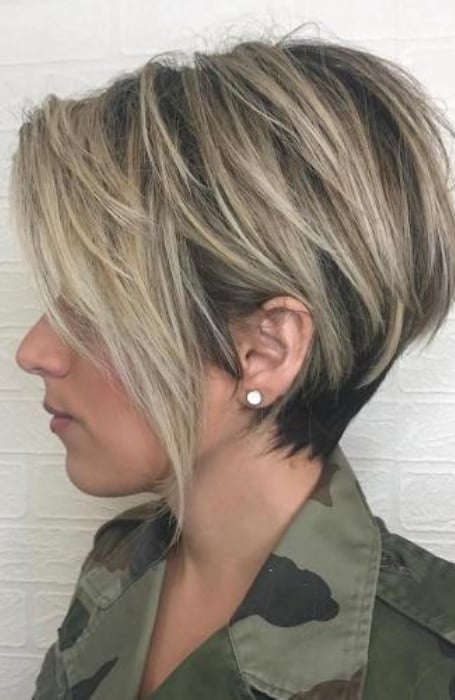 61. Viking-inspired Short Haircuts for Women
The Vikings are remembered for being fearsome warriors and plunders but have also inspired many people with their appearance. They are known for their tattooed skin and interesting cool Viking hairstyles; this could be your option if you want something bold and fierce. A braided part that features along the side of the head is an excellent choice for short haircuts. You can leave the hair longer on the top and pair it with an undercut or shaved sides for an edgy finish. This option takes confidence to pull off, but it also allows you to express yourself and have a lot of fun with your hair.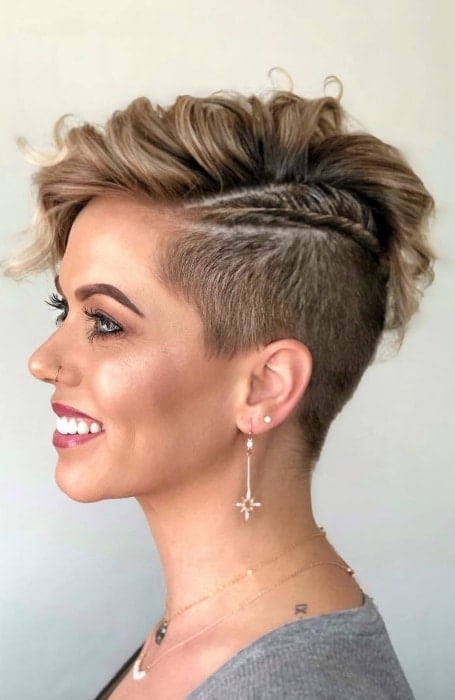 62. Short Bright Pink Bowl Cut
The bowl cut features hair that is relatively the same length throughout and has a straight fringe. The cut can be created on different hair textures but tends to be the most striking with straight hair; curlier hair will produce a softer finish. It is a cut that can be created in all colors and help achieve a fashion-forward and cool appearance. Bright pink hair is one of the most popular shades to choose from because it is bold and fun. It is a happy color to look at and a universally flattering shade that will suit most women. This look will bring you a lot of attention, so be sure to wear it with confidence.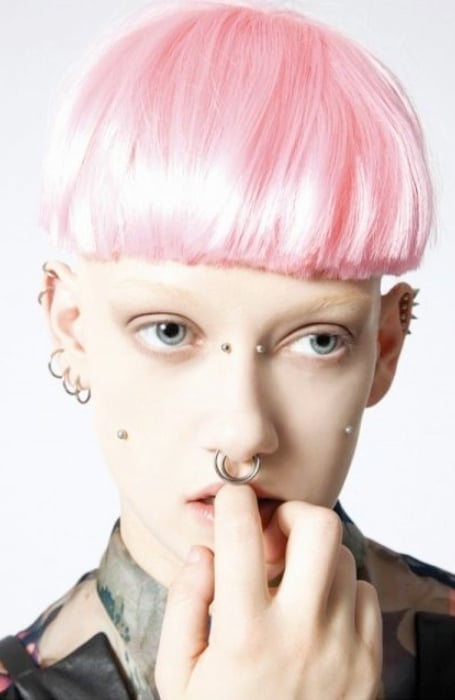 63. Dark Blue Short Haircuts for Women
If you are a woman who wants to experiment with colored hair but doesn't want to go too bold or bright, then a great way to do this is to dye your hair dark blue. The shade is easier to wear than some lighter hues because it is not as dramatic, especially if your hair is naturally dark. The deep color can give your short haircut a modern update and tends to be flattering on most skin tones. That said, dying your hair any color that makes a style statement will require changing your makeup because you do not want to appear washed out. Try out various lipstick shades and experiment with eyeshadows that best suit your preference and complement your new hair.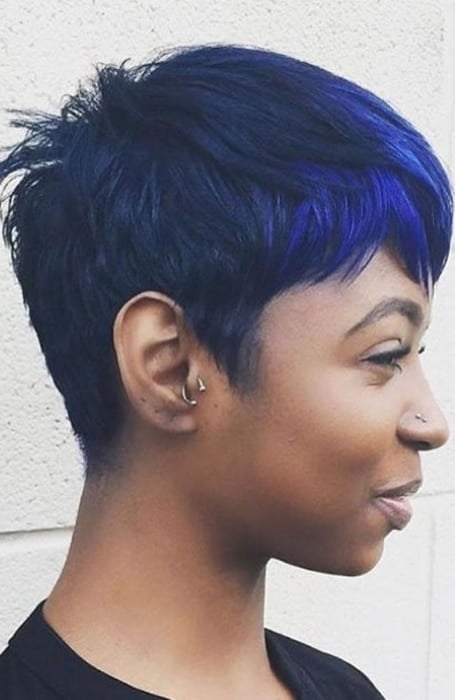 64. Short Layered Cut for Thick Hair
If you are a woman with thick hair, you may want to keep it short because it is easier to wear and much more manageable. A layered haircut is also a fantastic choice because it removes weight from the hair but still allows movement. Opt for layers around the face to highlight your features. Add highlights throughout for dimension and to make your hair appear lighter and brighter.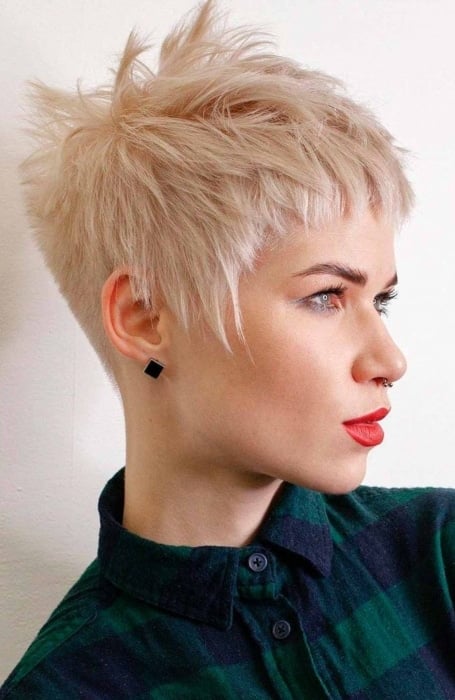 65. Short Bantu Knots on Natural Hair
Bantu knots are a protective style that can be traced back to the Zulu tribes in South Africa. They are a look that can be worn with pride because of their ancestral and cultural association. In addition, they can be styled on the hair of various textures and lengths. If you have a short haircut, Bantu knots will give you a simple yet stylish look. It is a fantastic option for natural hair, helping it grow and giving it a break from heat styling, which can help achieve stronger locks. Although you will not get much longer with these knots, it is more traditional and subtle.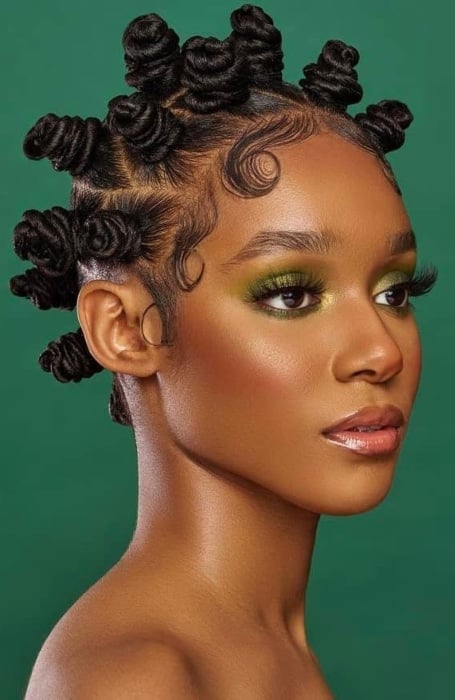 66. Short Curly Hair with Temple Shave
Curly hair is one of the best textures because it can lend itself well to many different looks, and for those who want an edgy and cool hairstyle, a temple shave is precisely what you have been searching for. This short haircut features a shaved section on the side of the head, while the rest of the hair is kept longer. This creates an excellent finish but also an interesting contrast. The temple shave can also be adapted to suit your hair type and preference, making no two looks alike. The style is gender neutral and a great way to show confidence and attitude to the world.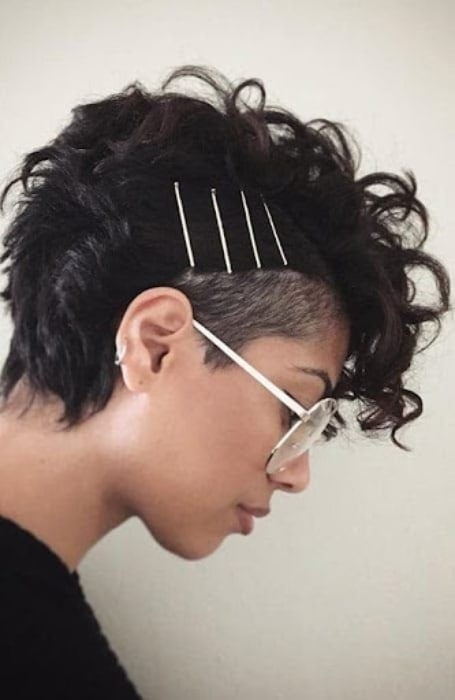 67. Short Haircut for Older Women
Older women may be drawn to a short haircut because it is versatile and stylish. In addition, shorter hair is much less maintenance and is easy to style. There are many haircuts for older women to choose from, including timeless classics like a pixie cut or a brushed-back look that is simple and chic. Work with your hairstyle to find a look that best suits your features and complements your hair texture. There is also no need to dye your hair, although there is no shame if that is what you want. Embrace your natural gray or white hair, and keep it in its best possible condition with a blue shampoo.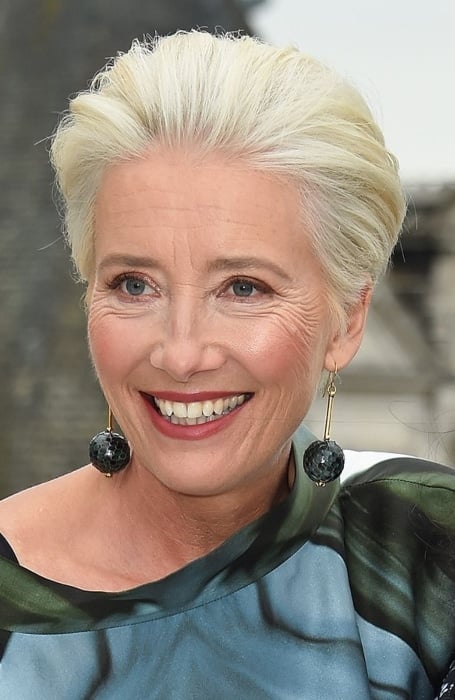 68. Short Blue Curly Mohawk
What is not to love about a curly mohawk? Mohawks are edgy and cool and have a rebellious feel to them. Traditionally, they are shaved on the sides with a long strip down the center of the hair, but these days they are adapted to suit various hair textures and your personal preference. Shaved sides provide less contrast; naturally textured hair, like curly locks, creates a softer appearance. To make it even more daring, you can add a bright color to your hair, like blue. Blue hair is a favorite of celebs and fashion icons, and there are many different hues to choose from. Whether you opt for neon or a more washed-out color, this is a wonderful way to have fun with your hair and express your playful side.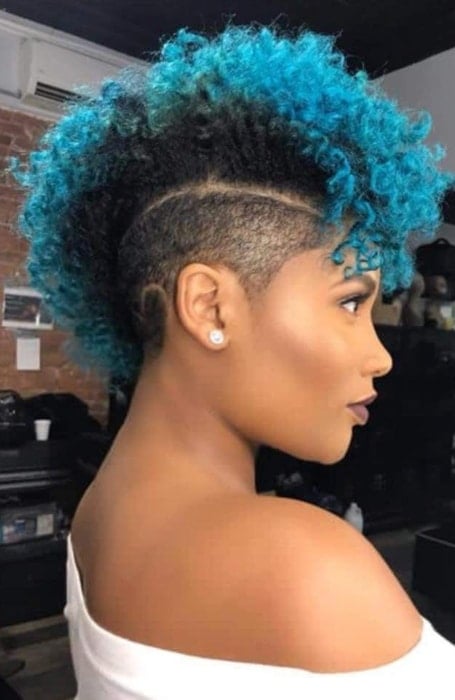 69. Light Pink Feathered Short Haircuts for Women
A light pink feathered short haircut is a hairstyle that is eye-catching yet simple and easy to style. Feathered hair refers to the technique used to cut your hair, which uses delicate layers and can add texture and volume. Wearing this cut with a bright color will highlight it even more. Pink hair color has been trendy for quite some time. This is because it is feminine and can give an androgynous hairstyle a more girly touch. It is also a happy color, bringing joy to you and brightening your mood. Plus, light pink hair is surprisingly versatile and will suit most women.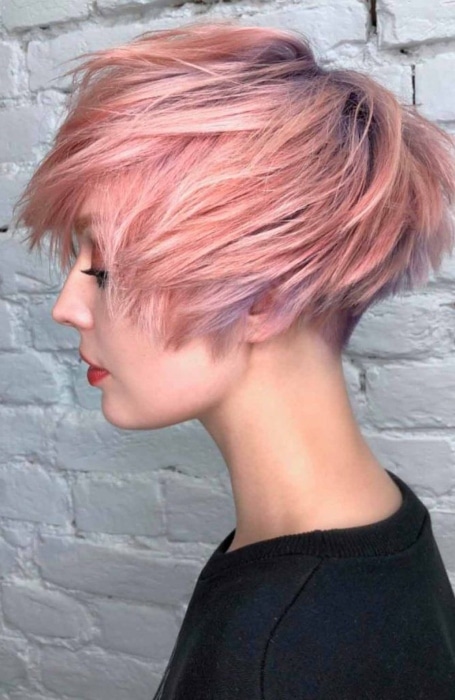 70. Short Bob with Wispy Bangs
The short bob haircut is a stylish hairstyle that can make your hair look thicker and healthier. It can be worn by women of all ages and adapted to suit your hair texture, face shape, and preference. A bob with wispy bangs is a fantastic choice for those who want a soft and pretty haircut. The bangs can draw attention to the face, but they are low-maintenance and require less styling time than many other fringes. Wispy bangs are also a great way to try out a fringe before committing to something thicker and fuller.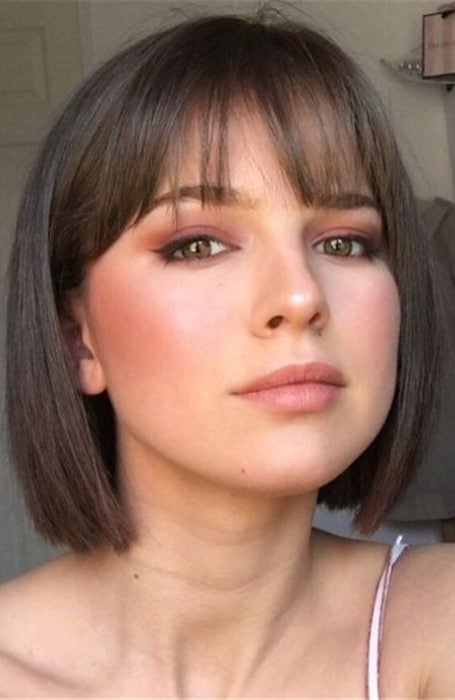 71. Short Spiky Hair
A Spiky short haircut has a decidedly 90s feel, but it is trending again because of how cool and textured the look can be. This is a fantastic choice for a woman who wants to have some fun with her hair and achieve a look with interesting angles and volume. Unlike the spiky hair of the past, which used too much product and produced structured spikes, a more modern update sees hair looking softer and more stylish. You can draw even more attention to your tips by opting for bold or light-colored hair, like platinum blond or bright pink hair.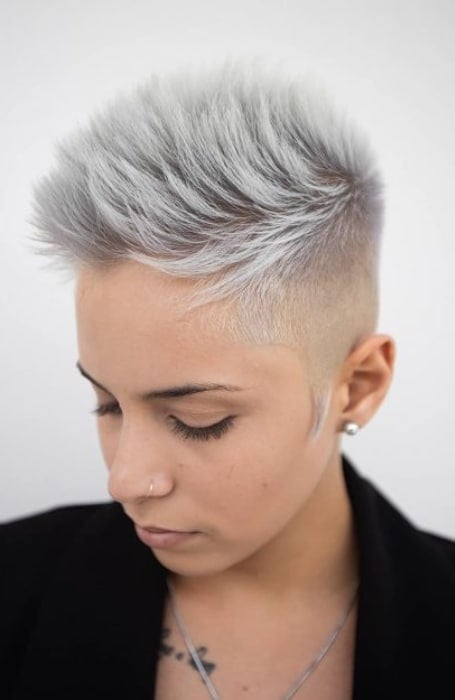 72. Short Punk Hairstyle
Short haircuts for women are not only practical but also offer a plethora of styling options to express your individuality. If you're feeling bold and rebellious, a short punk hairstyle with spiky, brightly colored hair on top and shaved sides can help you stand out from the crowd. On the other hand, for a more subtle yet modern approach, playing around with height and texture can add a touch of sophistication to your look. Regardless of your style, confidence is the key to pulling off short hair. So, whether you're rocking a funky punk style or a softer and chic look, wear your hair with pride and show the world that short hair is anything but boring.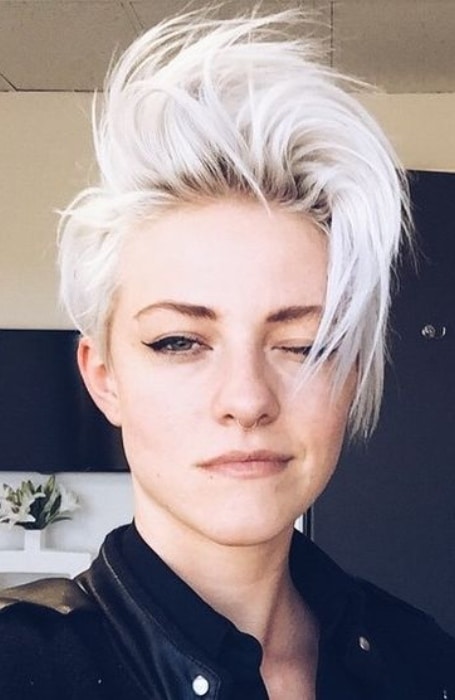 73. Short Hair with Hard Part
If you want a gender neutral haircut that is also simple and polished, then short hair with a hard part is the way to go. A hard part can be a great addition to any short haircut and helps achieve a structured and professional appearance. The hard part can be worn with many cuts, including fades and quiffs, which help play up the contrast. It can also be created on various hair textures and will suit most face shapes. That said, a hard part can be quite high maintenance, requiring regular trips to the barber to ensure it looks sharp and precise.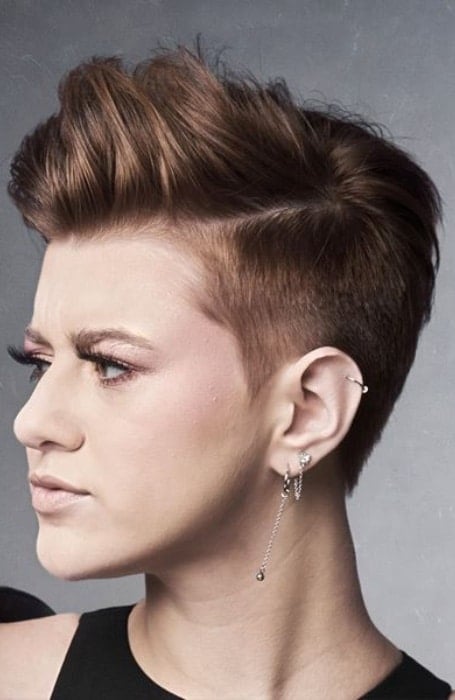 74. Fluffy Pixie Cut on Natural Hair
The pixie cut is a popular short haircut for women because it is so versatile. It can be adapted to suit all hair types, and you can play around with different fringes, colors, and other elements to make your look your own. Fluffy hair is one of the best textures because it is voluminous and soft, giving your hair dimension and making it appear healthy and full. You can create it with heat stylings, such as the use of rollers or blow-drying. Opting for a slightly messy and unstructured appearance helps to achieve a more relaxed aesthetic.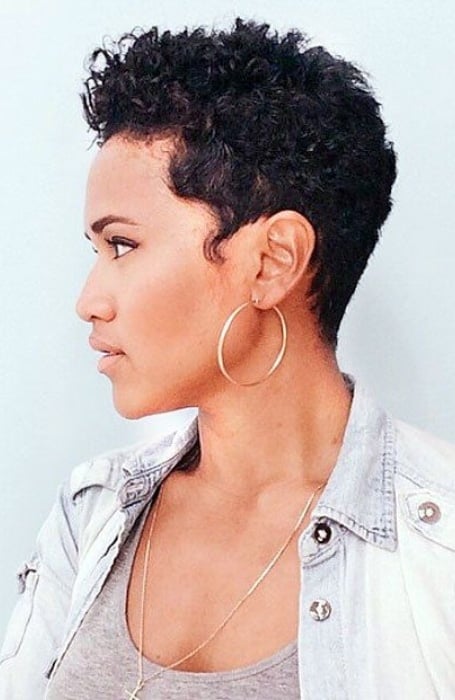 75. Layered Bob for Fine Hair
Fine hair can benefit from layers because they help create the illusion of thicker, fuller hair. The bob haircut is one of the most versatile short haircuts for women and can be worn on various hair textures and face shapes. Layering can also add dimension, shape, and movement and draw the eye toward the end of the hair. You may also wish to add highlights or balayage to the ends of the hair to create depth and brighten your appearance, giving a softer and more feminine finish.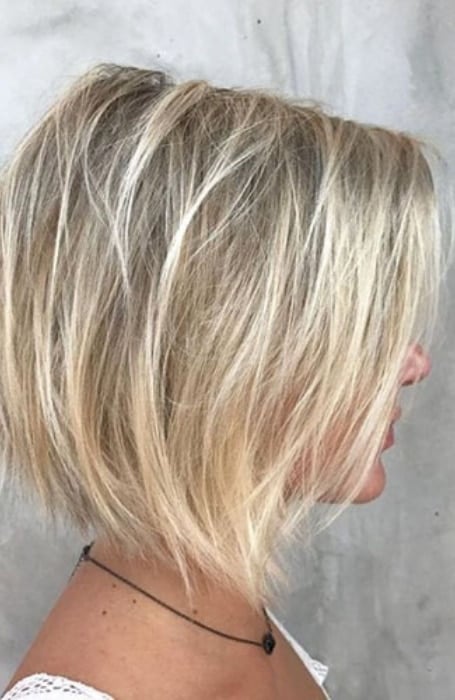 76. Short Shaved Sides with Hair Design
Hair designs are a versatile and exciting way to showcase your personality and creativity. Short haircuts for women are popular for those who want to make a bold statement and stand out from the crowd. The possibilities are endless, whether you choose a funky color or an eye-catching pattern. Embrace your edgy side with a statement fade or opt for something more whimsical, like animal prints or floral designs. Experiment with leaving the hair on top longer and shaving the sides for a bold contrast that will turn heads.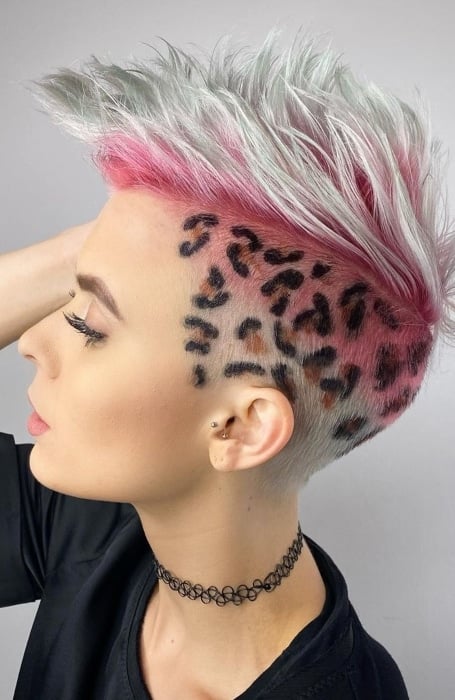 77. Platinum Blonde Short Haircuts for Women
Platinum blonde hair is one of the best colors for any woman to rock; it suits most skin tones, especially those with a warmish, neutral color, and complements all eye colors. Plus, it adds brightness to your appearance and will draw attention to your face, regardless of your hairstyle. The hue can also make your cut more noticeable, especially appealing if you have picked something interesting or edgy. There are some downsides to the color, though. It tends to be damaging, especially if you have naturally dark hair, and you need to minimize this by using nourishing products and treatments. The color can also be costly, lengthy, and require regular touch-ups.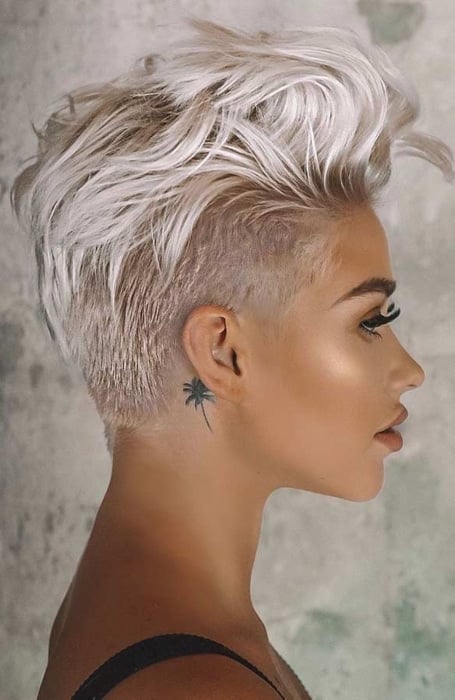 78. Short Bob with Middle Part
The short bob is effortless to wear and so versatile. Women of all hair textures can wear it, and those with fine or thick hair can also wear it with the right layering. The cut can also be adapted to suit fringes and different partings. If you want a parting that will draw attention to your face, the middle parting is a fantastic option. It is also practical and easy to style, keeping the hair out of your face and requiring very little maintenance. The middle part can balance your features but will not suit everyone and is best for those with ​​symmetrical face shapes.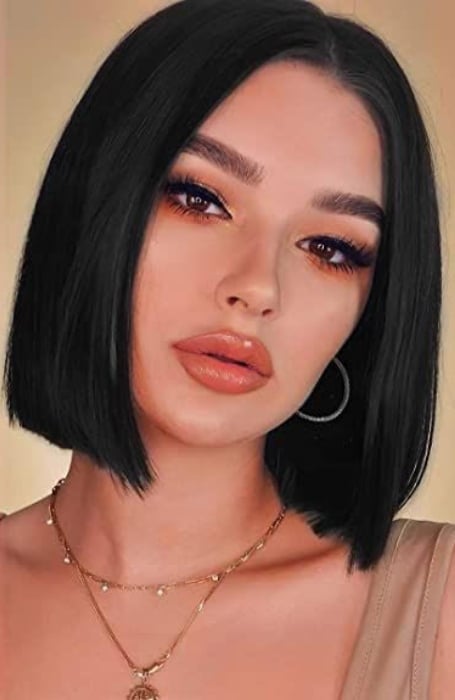 79. Short Retro Haircut
Retro hairstyles have something incredibly chic about them. These looks are often big and bold, creating volume and highlighting your facial features. A glamorous hairstyle could be anything from large waves to dreamy curls and could have side-swept bangs or face-framing layers to highlight your eyes and cheekbones. You can find a look that best suits your hair texture and face shape, but one of the most attractive options would be to channel Marilyn Monroe with tight tousled curls. This iconic look is ultra-feminine and seductive.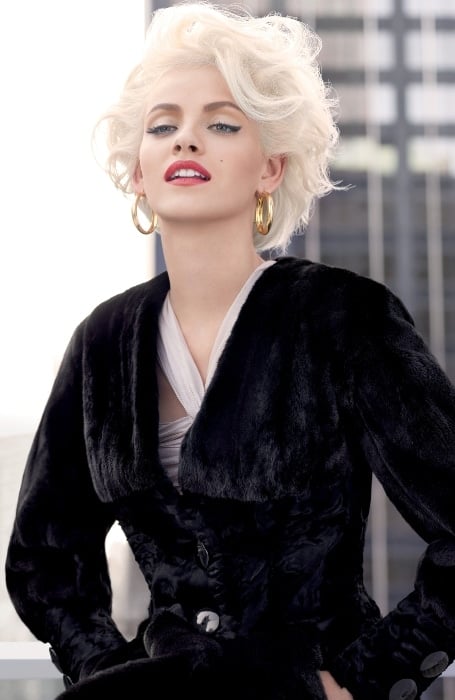 80. Simple Updo for Short Hair
You cannot create elaborate updos with short hair, but sometimes less is more. A simple updo can look elegant and chic and is just what you need for a special event or work function. Wearing the hair up lends itself well to formal occasions, creating a more polished appearance, but you can also opt for an undone approach for a more relaxed aesthetic. Ideally, it would be best if your hair fell just below your chin or longer, as this gives you more versatility. With shorte haircuts for women, you can opt for a crown braid, a half up half down hairstyle, or a low bun.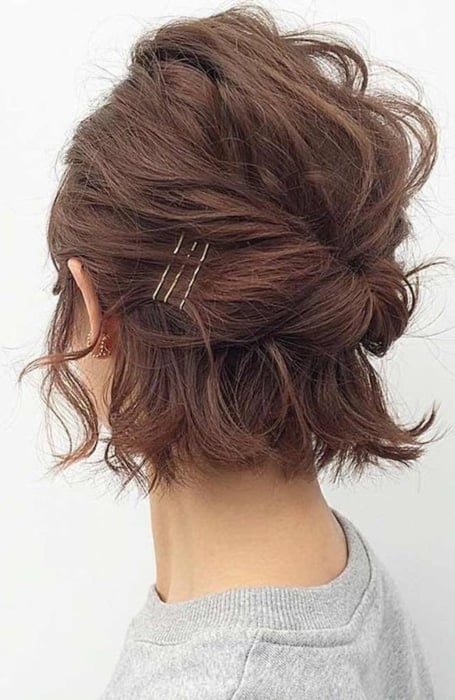 81. Short Bright Green Bangs
Straight across bangs are a great addition to your short hairstyle because they will draw attention to your face. The style can also be flattering to oval and heart-shaped faces. Do you know what else will turn heads? Bright green hair. The hue will highlight your cut, draw attention to your face, and show the world you are a woman who is not afraid to have fun and take risks. Dying your hair such a noticeable color takes confidence to pull off, but it is also surprisingly flattering, suiting most skin tones. This is a fun way to change up your look, and the color is not permanent. Green is also associated with life and rejuvenation.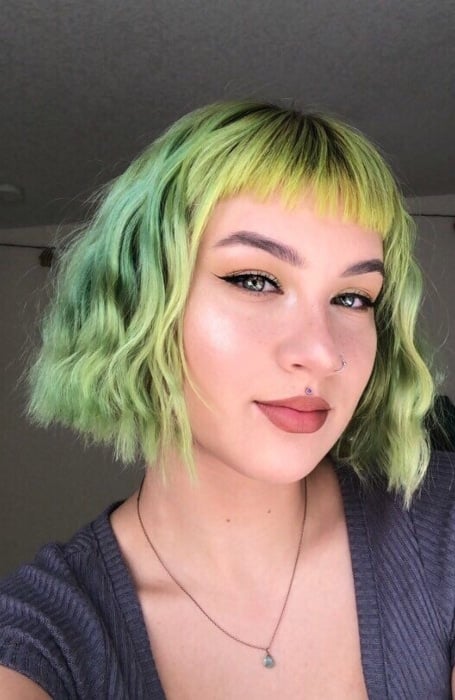 82. Short Orange Shag Haircuts for Women
The shag haircut is another timeless classic. It first gained popularity in the 70s and was loved by fashion icons and musicians because it is edgy and cool. It is defined by the choppy layered finish, which gives it volume and texture. This short haircut is surprisingly versatile and can be adapted to suit hair of all textures and most face shapes. You can also play around with proportions and your fringe, opting for something long or simple and subtle. There are many variations, which is why this cut is a firm favorite. Opting for orange hair is daring for those who like to be noticed. A short orange shag haircut will make a statement and demand attention. Pair it with bold lipstick for a matchy-matchy finish highlighting your lips.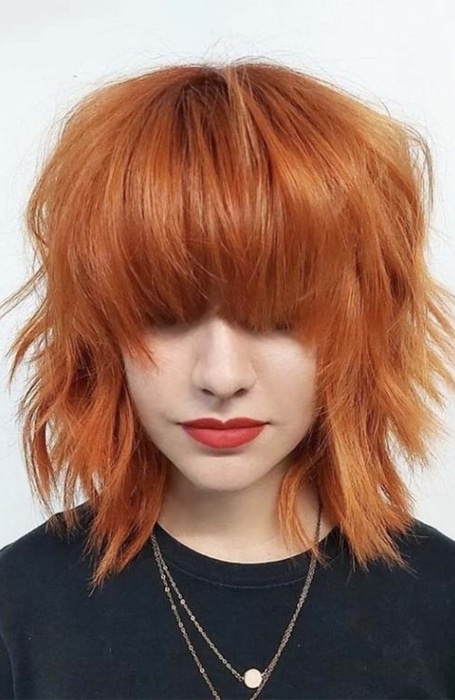 83. Tight Curly Short Afro
Afro hairstyles symbolize strength and power and should be worn with pride. Embracing your natural texture and wearing it in a big, bold hairstyle is empowering. Afros can be worn long or short, but tight curls, which feature small twisted ringlets and tend to be kinky, make for a fantastic choice. They are voluminous but can be prone to dryness and frizz, so wearing them short is more than stylish; it is practical. Short haircuts for women will also reduce style time.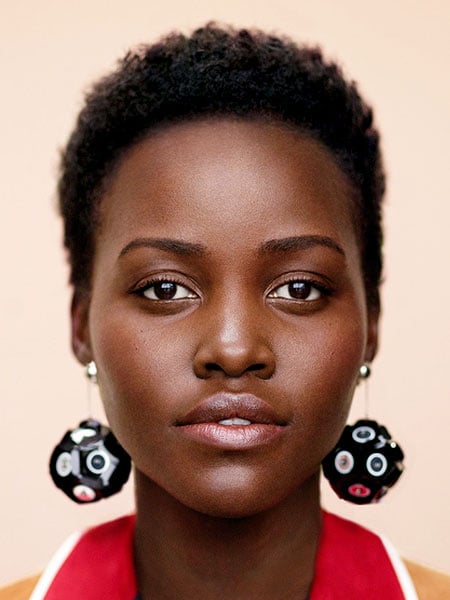 84. Short Vintage Hairstyle
Some of the most memorable things about the past decades are the hairstyles and fashion choices associated with them. A short vintage hairstyle is a fantastic choice for a woman who wants a gorgeous and ladylike look. Many great options for shorter hair include finger waves, tousled or angular bobs, and victory rolls. These looks can all be adapted to make them more modern and to work with your hair texture. There is something special about these styles, and they are perfect for special events and formal occasions. Pair your hair with winged eyeliner and a neutral lip or red lipstick for a bold option.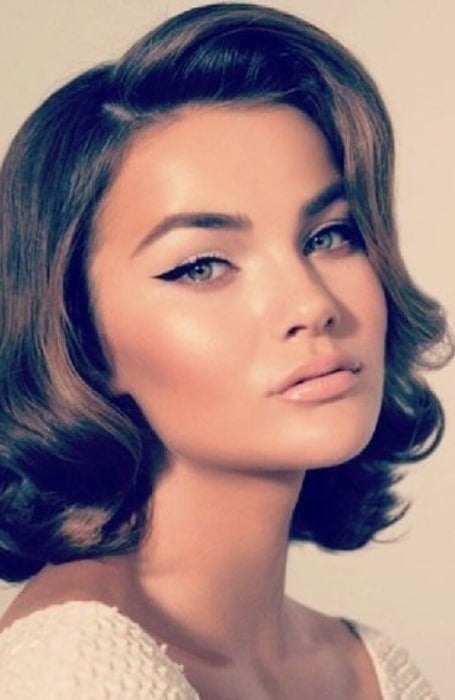 85. Short Pinned Up Curls
The rockabilly style is great; it is all about expressing your femininity and love of fashion. The hairstyles are some of the most fun and effortlessly cool looks around, specifically the pinned-up curls. This look is easier to achieve with hair with some length but not too long, as that would require a strong-hold product and be weighty. It is a fantastic summer updo, perfect with a bandana or silk scarf, giving it even more personality. The retro aesthetic is glamorous and girly, and you can play around with different ways to wear your hair. Some may want to keep it simple, while others want to make a statement with brightly colored curls.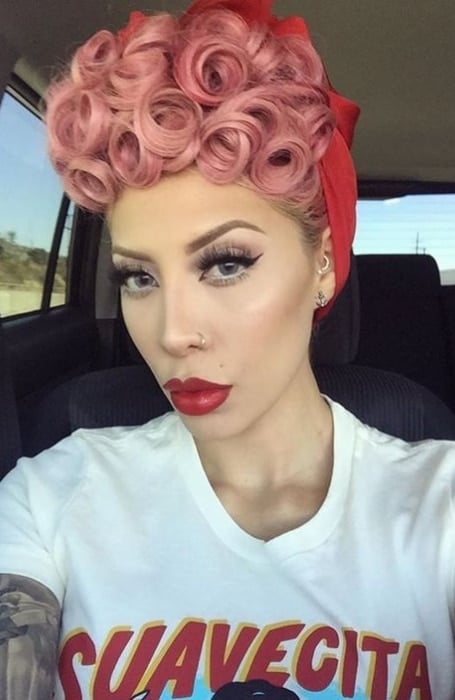 86. Short Hair with Curly Fringe
Short hair with a fringe can look great, and it is especially striking on those with naturally textured hair. Curly fringes are full of volume and can instantly make a statement, drawing the eyes to your face and highlighting your best features. The fringe, paired with the short backs and sides, produces a striking contrast. This is also an excellent way to show off your curl pattern while keeping your hair short and easy to maintain. You do not have to worry about detangling the rest of your locks but can enjoy how the curls fall around your face. There is also a softness to a curly fringe, making for a gorgeous, feminine look.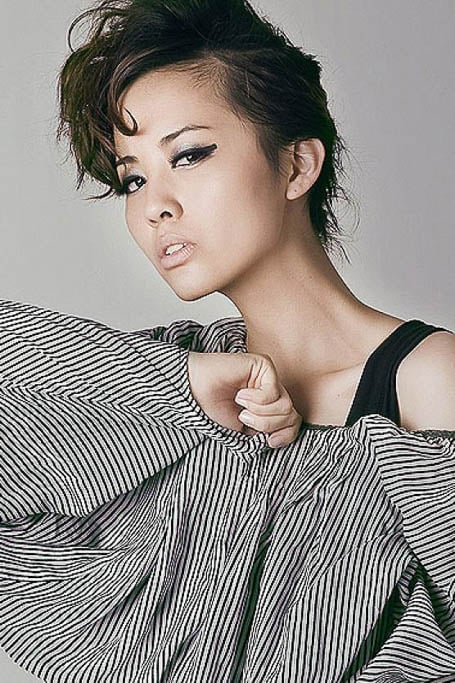 87. Short Slicked-Back Platinum Blond Hair
Platinum blond hair is undeniably stunning, but it can be challenging to maintain and expensive. Many women find the finished result well worth the effort, especially when paired with a short haircut. Short haircuts for women not only look chic but they also complement the boldness of platinum blond hair. If you want a versatile and sophisticated style, try slicking your hair back. This look highlights your unique features, like your cheekbones and eyes, and can be worn for any occasion, including formal events. Achieve the perfect hold with a wet gel or pomade, and give it a glossy finish for that extra touch of sophistication.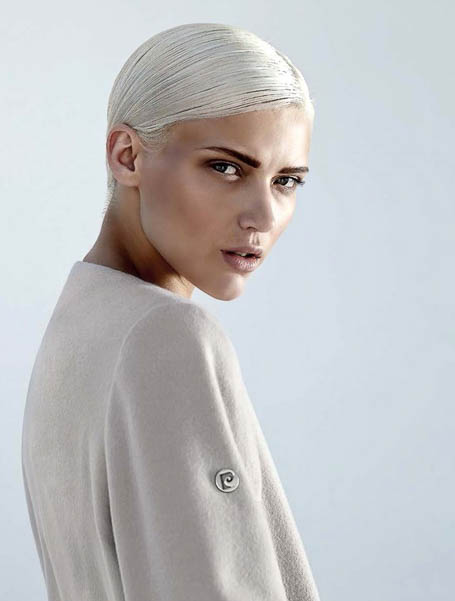 88. Short Gothic Hairstyle
Black hair, pale skin, and deep red lipstick. Is there any better or more sultry combination? If you want a very feminine yet gothic chic look, this can be achieved with black hair. The color is one of the most striking because it can suit all skin tones and makes your hair appear in better condition. Unlike lighter hues, black can mask any signs of damage and split ends. Short hair is practical but also incredibly feminine, especially when you style your look with a bold shade of lipstick. The contrast is daring and sexy.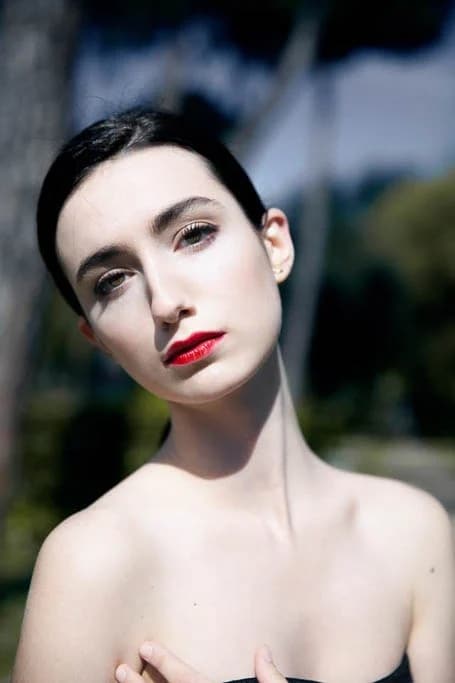 89. Voluminous Short Natural Haircuts for Women
Embracing your natural hair and taking a break from heat styling or braids is a wonderful choice. It allows you to show off your hair texture and wear it pridefully. It can also be healthy for your hair, giving it a break. There are many styles to choose from, but keeping it short makes it easy to manage and can also be surprisingly versatile. For example, you can add some volume to your locks by styling them upward at the front. This is a subtle yet excellent option for any woman and will draw attention to your face.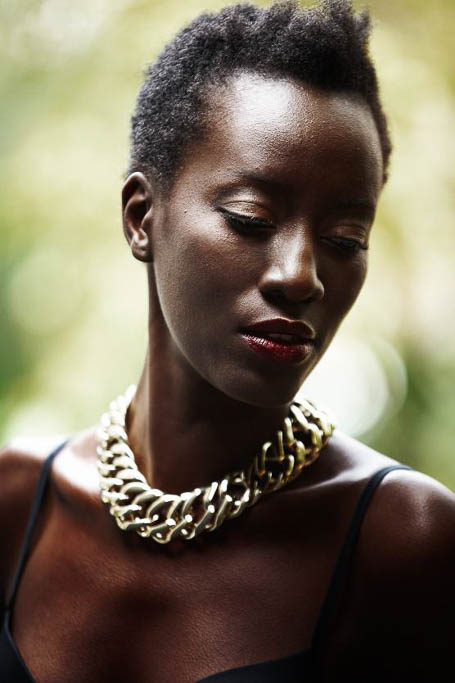 90. Bold Curtain Bangs On Short Blond Hair
The curtain hairstyle is one of the most popular short haircuts for women in recent years because it is stylish and flattering. Curtain bangs can be adapted to suit several hair textures, lengths, and cuts. The way the bangs fall around the face can also frame them and help highlight your features and give you a youthful appearance. Curtains on short hair look great, and you can choose a soft, wispy fringe or make it bold and dramatic. The choice is yours, so have fun with your look and find the option that best suits your hair type and personality.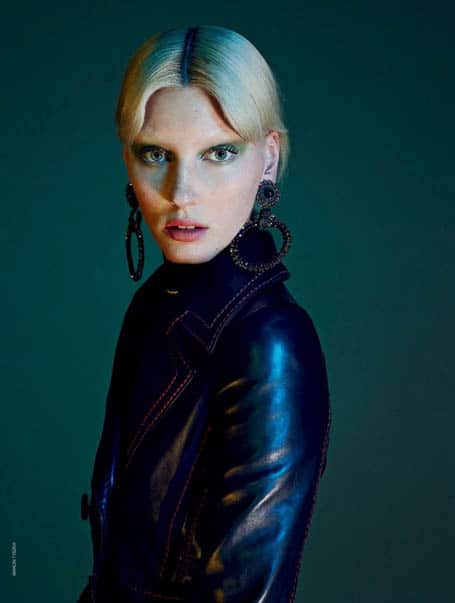 91. Short Bowl Cut
The bowl cut is a short haircut with relatively the same length around the head and features a short fringe. It was a popular style in the 80s but remains relevant today because there are many ways to adapt it to suit your preference. That could be with different hair types, and lengths or by embracing color. You can also make it much shorter than the classic approach, opting for a micro fringe that gives your look a modern twist. If you want your bowl cut to stand out, then black hair is the way to go. So if you're looking for short haircuts for women that are easy to manage and style, consider trying the bowl cut.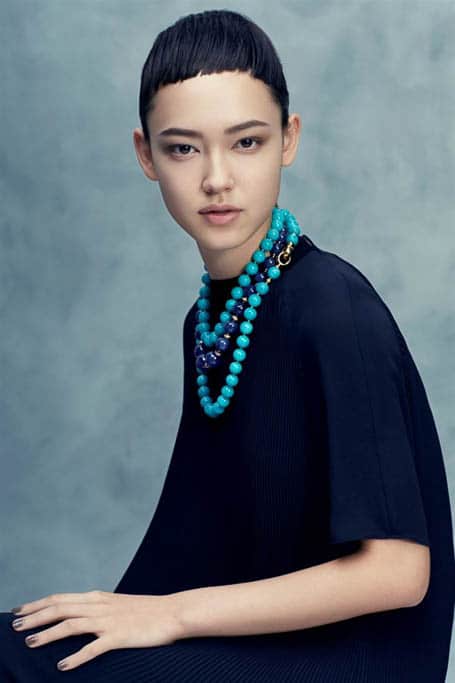 92. Fashion Forward Short Haircuts for Women
Artistic hair allows you to experiment and have fun. It is for the woman who desires to stand out from the crowd and wants a different but cool look. There are many ways to create something individual like this, allowing you to play around with proportions and details. Short haircuts give you less freedom than longer locks but are also easier to wear. Opt for a slicked-back look to draw attention to your face, and leave the hair at your forehead longer so you can create an interesting, fashion-forward fringe.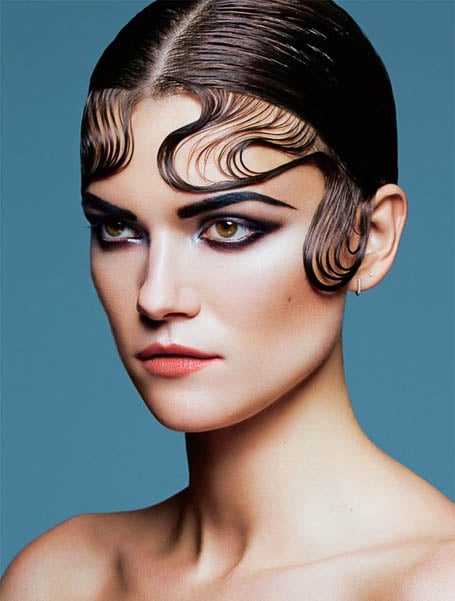 93. Glamorous 1920s Short Hairstyles for Women
The 20s brought us gorgeous fashion and hairstyles, and the decade continues to inspire us today. There is something incredibly glamorous and feminine about many of the styles to emerge from the era, including short looks that are fun and practical. One such look is the finger waves, which style the hair into S-shaped movements and create a voluminous look. It can draw attention to your eyes and cheekbones and is incredibly flattering on women of all ages. Th requires a lot of hairspray, but it can last several days if cared for correctly.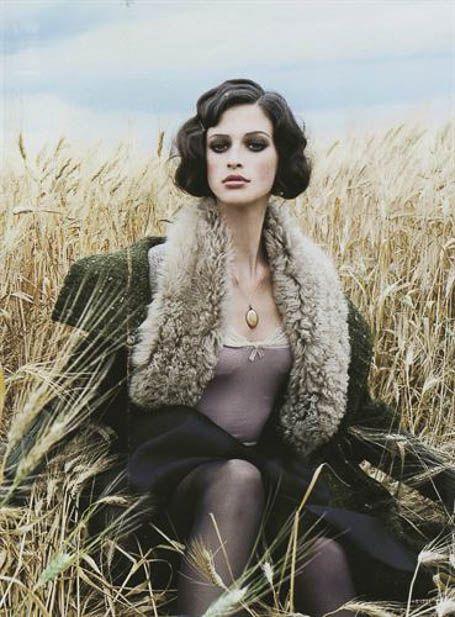 94. Short Textured Blunt Bangs
Blunt bangs are cut straight across the head, and it is a look that will transform your appearance. It can be a hard fringe to pull off, requiring regular trips to the hairdresser for touch-ups, but there is no denying that it makes for an edgy and cool look. You also don't need to have long hair to rock these bangs. It can also be adapted to suit various hair types. Typically these bangs can work best with straight hair; however, textured hair creates an interesting and more laid-back appearance, which softens the cut. The cut also looks fantastic on hair that is not thin or fine hair. It is lovely for the woman who wants to stand out from the crowd.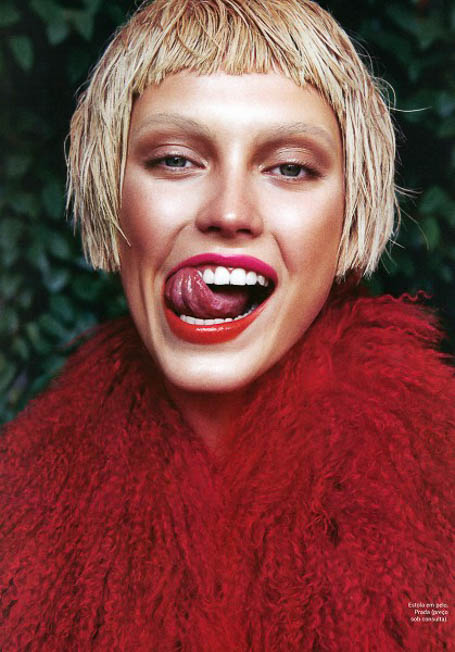 95. Short Haircuts for Women with Dramatic Fringe
Although fringes can be hard work to style and maintain, they have many pros. This includes transforming your appearance, highlighting your facial features, and making you look younger. Some women prefer a simple and classic fringe but pick a short hairstyle with a dramatic fringe if you want a statement look. This option is about volume and adds movement to your short haircut. It creates an interesting contrast between the long fringe and short back and sides, giving your hair a feminine touch. The downside is that you may have to regularly retouch your hair to avoid getting it in your eyes. It may not suit more corporate environments or workplaces with strict dress codes.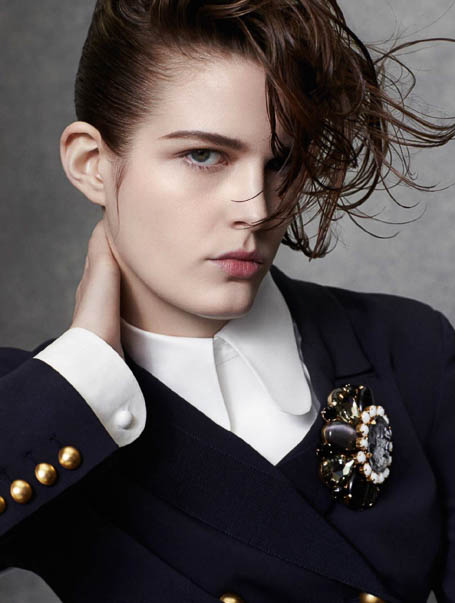 96. Short Elegant Updo on Natural Hair
While there are many stunning styles you can rock with natural hair, updos are a particularly great option. They offer a sophisticated and elegant way to show off your unique facial features, making them perfect for formal events or just a night out. One of the great things about natural hair is that it does not require harsh chemicals or relaxers to look amazing. This can help you avoid damaging your hair and even promote growth. If you're looking for a shorter style, consider exploring some chic and trendy short haircuts for women. Whatever look you choose, pair it with bold, deep red lipstick to add a touch of seductive allure to complete your gorgeous new 'do.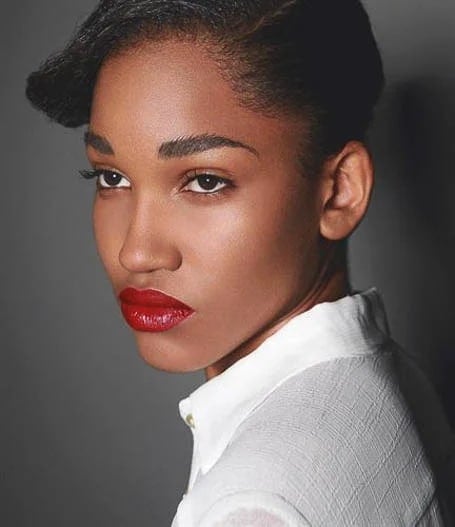 97. Asymmetrical Short Haircuts for Women
The asymmetrical haircut can be adapted to suit many hair lengths and textures, but keeping it short helps create sharper angles. This is great for someone who wants a look that will add dimension to their appearance and will draw attention to the jawline and eyes. Depending on how dramatic you choose to style your hair, it could be flattering and youthful, making your face appear slimmer. It can also be a way to express your fun side, although you probably don't want to wear it to the workplace if you work in an environment with very traditional views on what a woman's hair should look like. There is the option to keep your asymmetrical style simple and subtle or make a statement.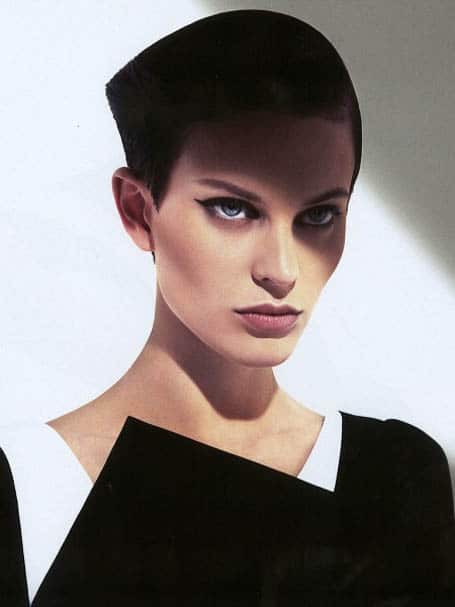 98. Mini Afro
You do not need long hair for an afro hairstyle; a mini afro can make just as much of a statement. Wearing your hair in an afro is a beautiful way to show off your curls, but it can also be worn with pride. In general, afros are not that much maintenance, although the smaller version is less and is not prone to breakage. It is easy to style at home, and you won't need to spend hours getting your hair braided or relaxed. If you want a stylish and cool look, this is that. But remember, it is important to regularly use hair masks and conditioners to keep your hair looking its best.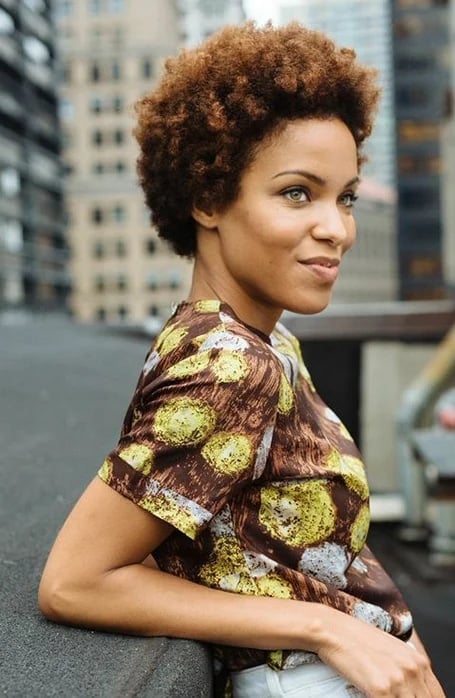 99. Short Haircuts for Women with Long Fringe
If you're looking to make a statement with your hair, a high-volume fringe is a great option, and the best part is that it works on women of all ages. It's particularly striking with short haircuts for women and draws attention to your face in a way that few other styles can. The key to making it work is achieving the right height, which you can do through backcombing and using wax or pomade. If you've got naturally textured hair like curls or waves, it'll make this look much easier to achieve. Of course, it'll require some maintenance and styling time in the morning, but the result is impressive and worth the effort. So go ahead and rock that fringe with confidence – you'll be turning heads everywhere you go!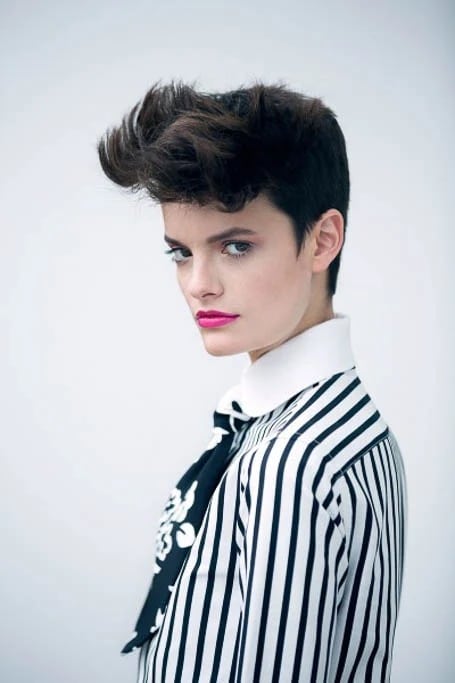 100. Curly Beehive On Short Hair
Who doesn't want a short hairstyle that is full of volume? You don't have to have super long hair for it to be big and bold; this curly beehive on short hair is the retro look of your dreams. It helps to achieve this look on shoulder-length hair, and you must backcomb or tease it for the best results. You can channel the 60s with this fun style that offers a lot of volume at the crown of the head and face-framing bangs. The bangs add a softness to the look, and the curly texture makes it easier to achieve volume. Another pro is that you can sleep with your hair like this; take care to wrap it in a silk scarf. This reduces style time in the morning.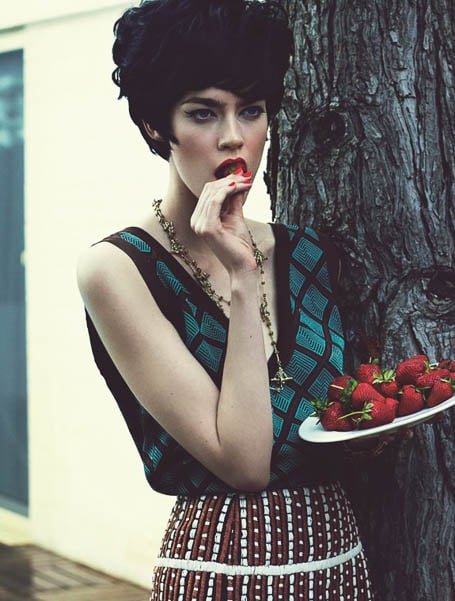 Short Haircuts for Women FAQs
What is the best short haircuts for women?
The best shorts haircuts for women are ones that incorporate movement, texture, and drama. The beauty of short hair is that it is versatile and easy to style – in fact, very simple short hairstyles such as spiky hair or a short up 'do are some of the most popular and flattering hairstyles.
Does short haircuts for women make you look older or younger?
Short haircuts for women can make you look older and younger, depending on your facial features. While there is a stereotype that women tend to opt for shorter haircuts as they age, a short cut can also give you a childlike, elfin look. Short hairstyles such as crimped hair or a rainbow bob may also make you look younger.
SUBSCRIBE TO OUR NEWSLETTER
Subscribe to our mailing list and get interesting stuff and updates to your email inbox.