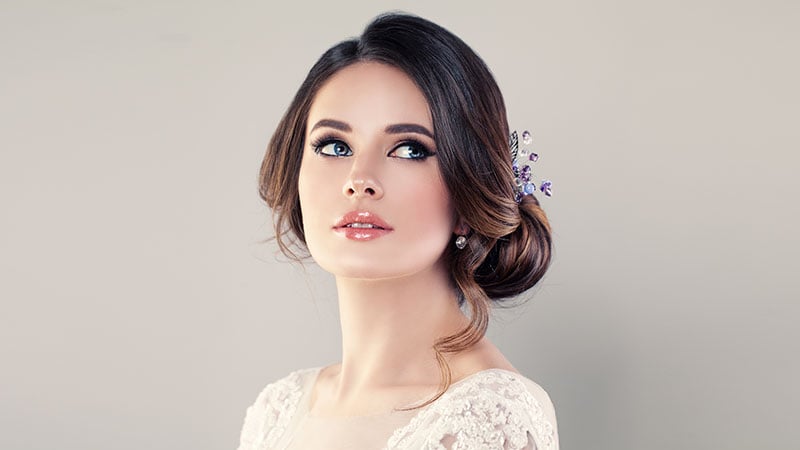 Your bridal hairstyle must not be boring, stuffy, or traditional. Instead, they can be trendy, chic, and fresh! From long, loose waves to pixie cuts and braids, we've collected the best of today's bridal hairstyles to suit every face shape, hair texture, and length. You're guaranteed to fall in love with one of these looks – so why wait until your wedding day to try them out?
RELATED: 15 Beautiful Hairstyles for Bridesmaids
1. Updo
If you've always wanted the hair of a fairy-tale princess, the romantic updo hairstyle is for you. These hairstyles are all about feminine details, like braids and flowers. However, they aren't too smooth or polished. Remember not to plait your hair too tightly and to leave some pieces out to soften the look and flatter your face. Tiny flowers like baby's breath suit the romantic updo because they are petite enough not to distract from the braided details. Pair the style with an equally romantic bridal gown.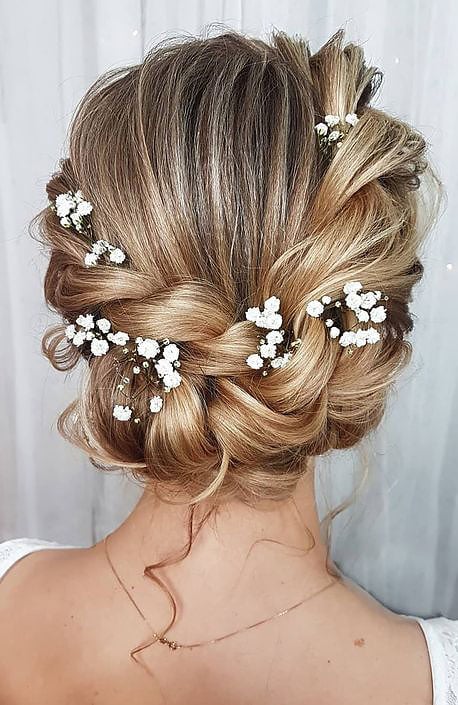 2. Chignon
A classic formal hairstyle, the chignon was a massive trend in the '90s. So, it's no wonder it's coming back now! The chignon adds a sophisticated and polished finish to any look. It goes well with a silk slip-style wedding dress, which is perfect for modern brides with a minimalist aesthetic.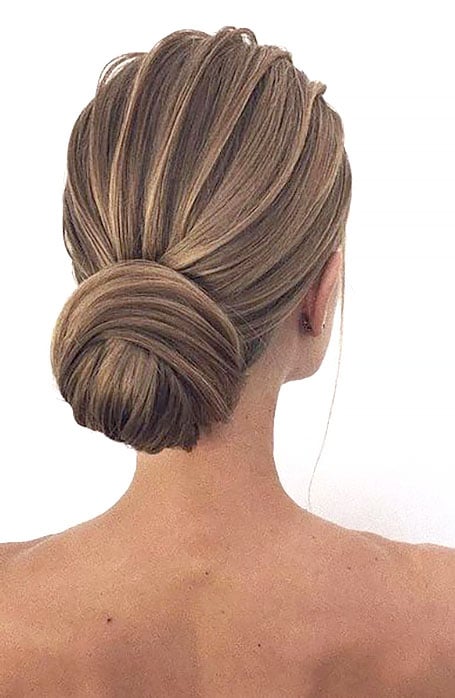 3. Long Braids
There are so many braided hairstyles out there; you're bound to find one you love. Better yet, some of them only require a brush and hair elastics to create. Your options are endless, from Dutch braids and French braids to classic three-strand and pull-through braids. Most look best with thick hair, so be sure to clip in hair extensions and take hair vitamins to get your mane in perfect condition for your wedding day.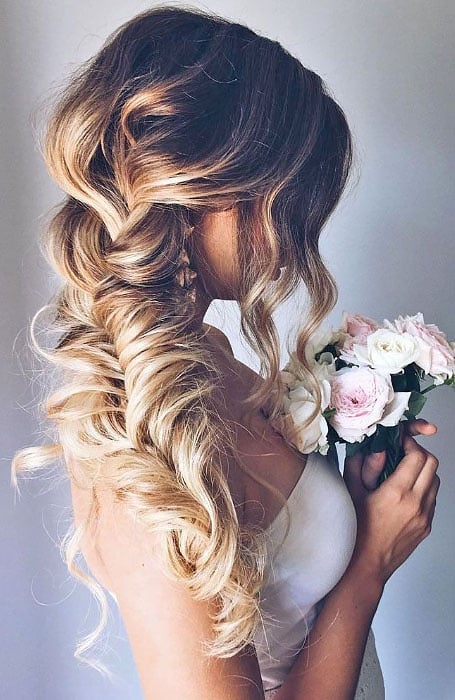 4. Half Braids
You can still show off a gorgeous bridal braid if you don't have ultra-long hair. Using just pieces from the top section of your hair, create two simple three-strand plaits starting from your temples. Braid it towards the back of your head, then secure them with a pretty floral clip. Leave the rest of your hair loose in soft waves, making it look thicker. The half-braided hairstyle is also a great choice if you're a bridesmaid or wedding guest.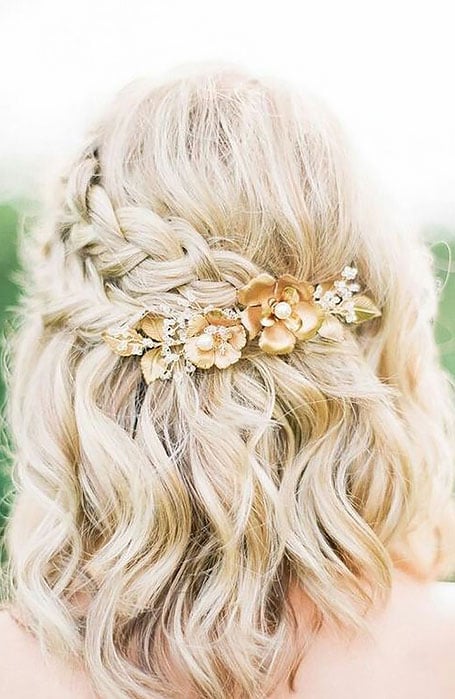 5. Ponytail
The ponytail is one of the most versatile hairstyles out there. Even on your wedding day, you can take this style to the next level by adding a few glamorous details. For an ultra-flattering look, be sure to create lots of volume at the crown of your head. Use hair extensions to give the ponytail extra thickness, and cover any hair elastics or pins by wrapping a piece of hair around it. The bonus of a ponytail is that there's no hair to hide or distract from your make-up, and you can show off a pair of gorgeous statement earrings too.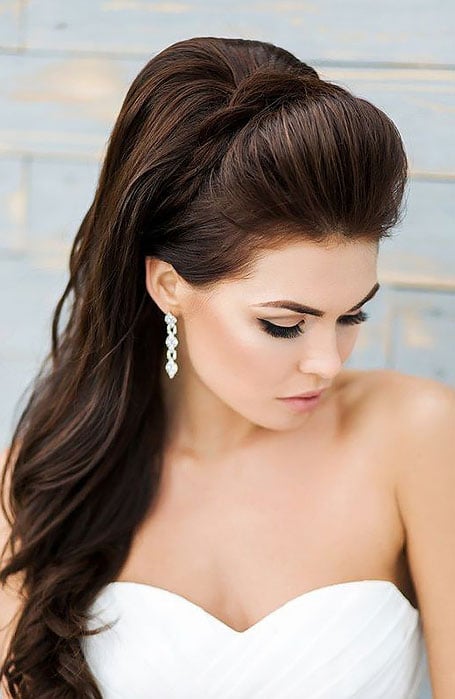 6. Side Braid
A side braid is a great wedding day hairstyle for the more bohemian brides. It's feminine and stylish without being too fussy or 'done up.' Because this style looks best when worn loosely and relaxed, you'll never have to worry about fixing your hair on your wedding day! A side braid is an effortless, romantic style that gets better the longer you wear it. It also won't fall victim to sudden weather changes, like wind or humidity.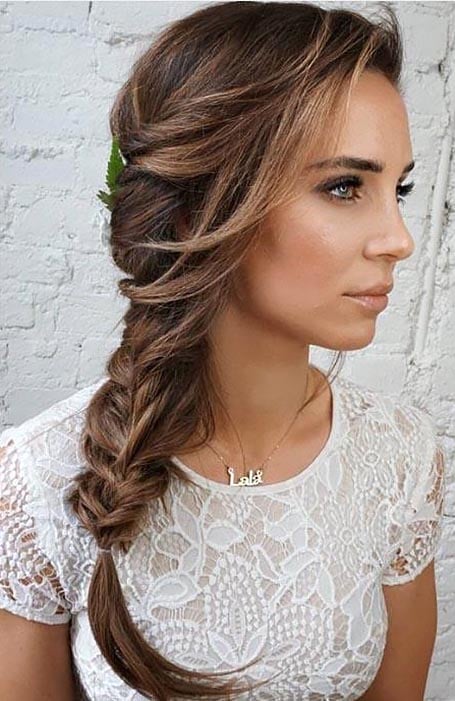 7. Loose Waves
Loose waves are the ideal hairstyle for brides planning a beach wedding. They also suit those with naturally long and thick hair with a wavy texture. To make the most of the style, dust your roots with volumizing powder and use a finishing spray to prevent your waves from getting fluffy. Loose waves also look beautiful when paired with hair accessories like clips, flowers, and headbands. Another popular choice is a half-up style with loose waves underneath.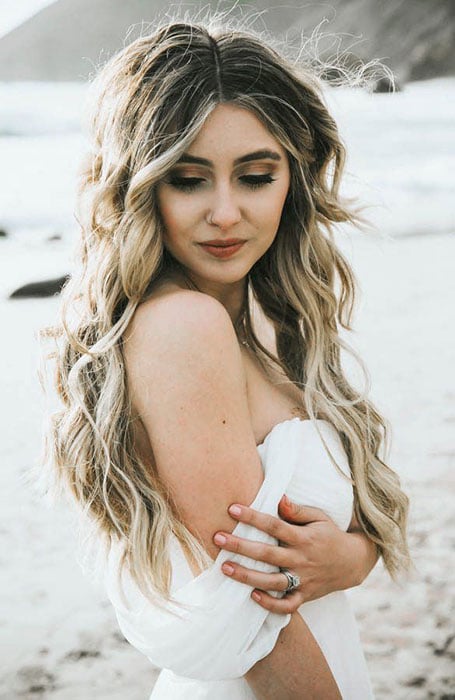 8. Ballerina Bun
A popular bridal style in the early 2000s, the ballerina bun is coming back. That's because this chic hairstyle is classically elegant and puts your make-up in the spotlight. It suits those with oval face shapes and high cheekbones. It draws the eye up, so it's the perfect partner for a bold eye makeup look. It's also a great bridal choice if you want to show off your jewelry, such as a statement pair of earrings or a diamond choker, as your hair won't hide them. Many brides choose to pair this hairstyle with a ballet-inspired gown, too – but make sure you don't go too heavy on the tulle, as you don't want to look like you're wearing a costume.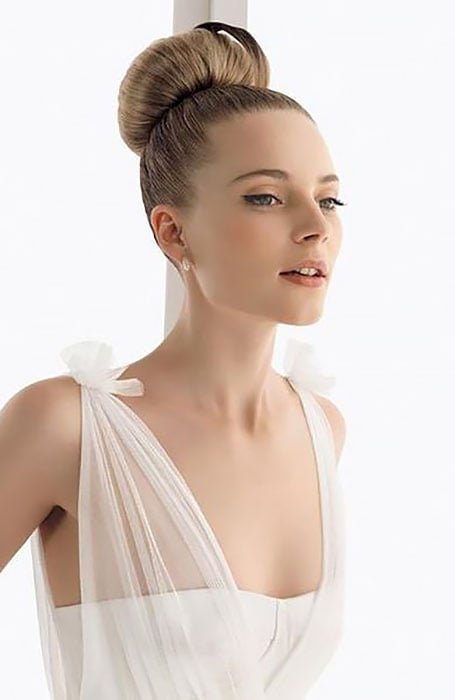 9. Natural Curls
There's no better time to let your curls shine than on your wedding day. Ensure your kinks and coils are on point by prepping with a moisturizing product and finishing with a curl-defining spray. While many curly-haired brides choose to let their mane run free, many styling options are also available. One popular choice is a half up half down look. It shows off your texture but ensures your face isn't overwhelmed with hair. It's also ideal if you're having a summer wedding and don't want to overheat!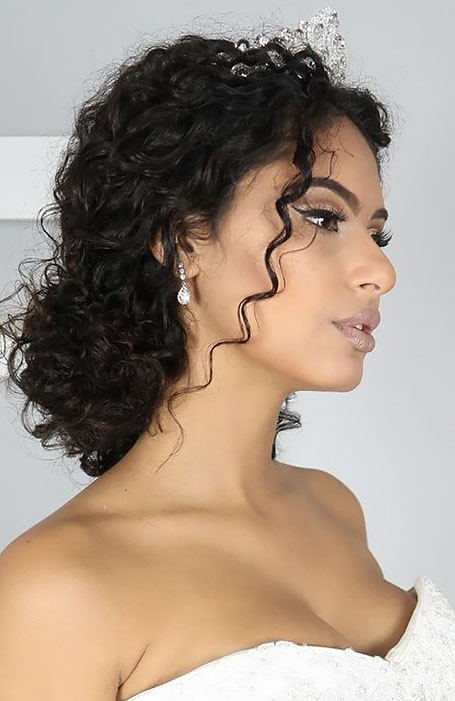 10. Vintage Updo
For brides who love vintage hairstyles, a style from a bygone era is the only choice on their wedding day. If your wedding dress is vintage or-inspired, opt for a hairstyle from the same decade. With the 100th anniversary of the roaring '20s just around the corner – and Downton Abbey back on the big screen – many brides are also embracing the finger wave updo.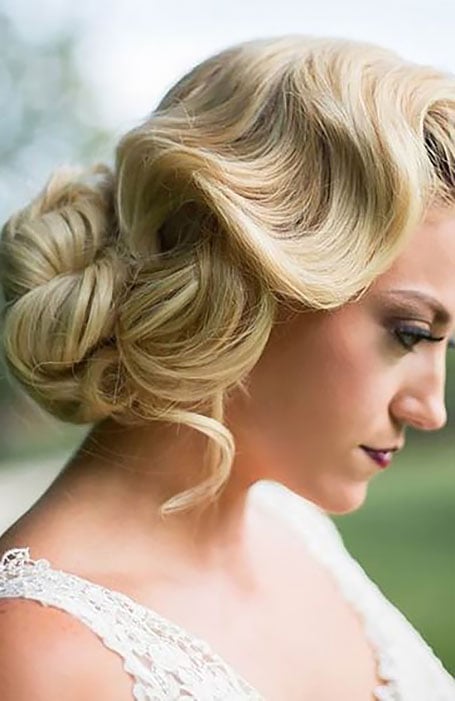 11. Golden Age Waves
Old Hollywood glamour never goes out of style, and a gorgeous vintage hairstyle is also super flattering on all face shapes. Also known as Golden Age waves, the look is polished, chic, and sexy without being overtly retro. The key elements are the side parting and smooth, structured waves. Add a classic 1950s red lip, and you're a bombshell bride.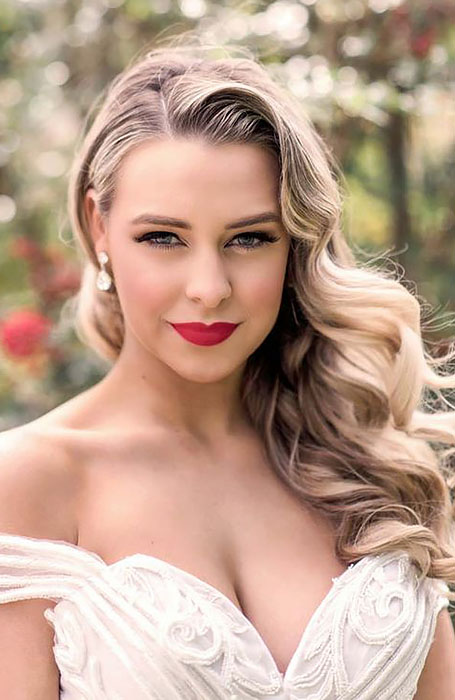 12. Low Bun
The low bun is sleek and chic. That makes it ideal for brides who want a modern, on-trend hairstyle to go with their equally understated gown. Pearls are one of the significant trends in hair accessories this season and make a great addition to a low bun hairstyle. Because all your hair is pulled back, it's also important to remember that all eyes will be on your face. As a result, glowing skin and perfect makeup are essential when wearing a low bun.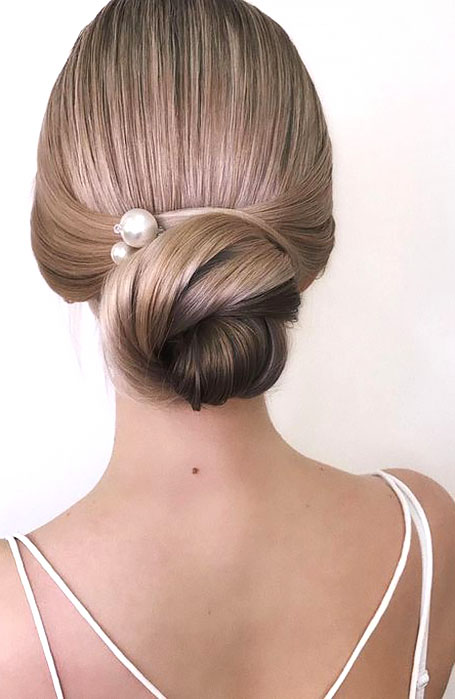 13. Half Up Half Down
The half up half down hairstyle gives you the best of both worlds. First, you'll get to show off your hair's natural length and volume with soft and pretty waves, giving you a romantic and feminine finish. Second, the pulled-back top section of your hair means you get to show more of your face. Plus, you can add beautiful details like braids, twists, and slide-in hair accessories to improve your bridal style.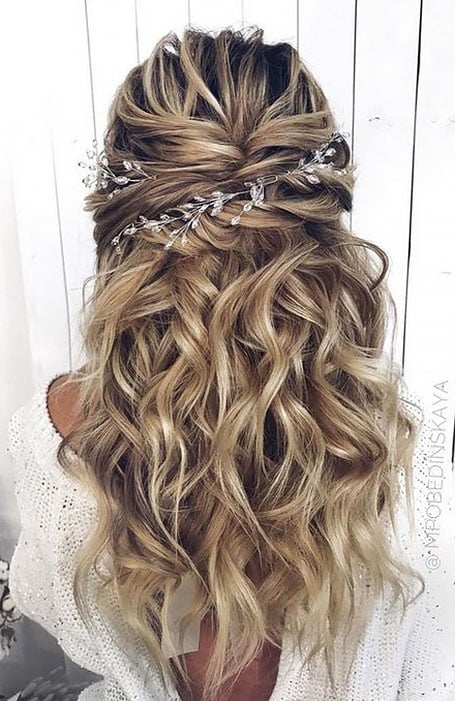 14. Side Part
Where you part your hair can give your face a completely different look. It's flattering on many different face shapes, drawing attention to the eyes and cheekbones. The side part hairstyle is sultry and sophisticated, so it's perfect for brides who want to look extra alluring. While a side part looks beautiful on any hair type, tousled waves are the classic way to style it.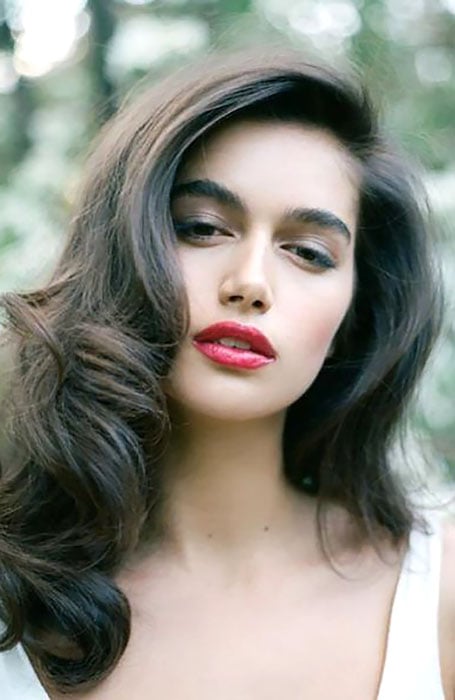 15. Pixie Cut
Brides with a pixie cut have a surprising amount of flexibility regarding their wedding day hairstyle. Short hair looks fantastic when accessorized with headbands and flowers, but altering the texture can also give you a completely new feel. For a slick look, add some texturizing clay to your hair and part it to the side, sweeping forward to create a subtle angled look. It will draw attention to your eyes and balance your features – perfect for your wedding photos.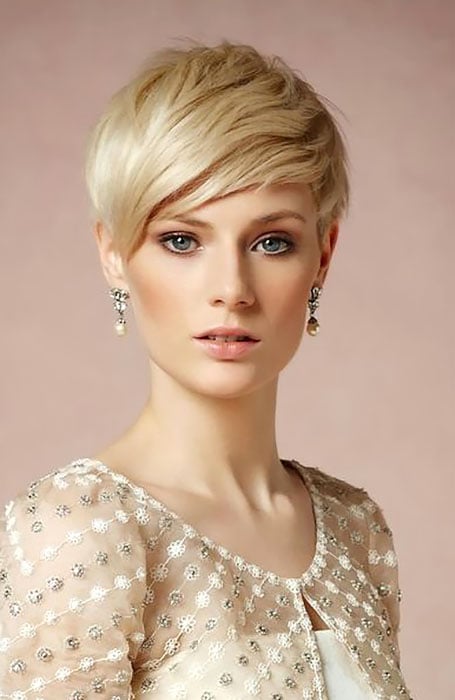 16. Braided Halo
Brides who want a beautiful and angelic wedding day look should try the braided halo. The hairstyle is supposed to look effortless – soft, romantic, and imperfect – so there's no need for advanced braiding skills. A braided halo is also an excellent choice for brides with highlighted or balayage hair, as it beautifully shows off the different tones. It's so pretty; you will want to wear this style daily.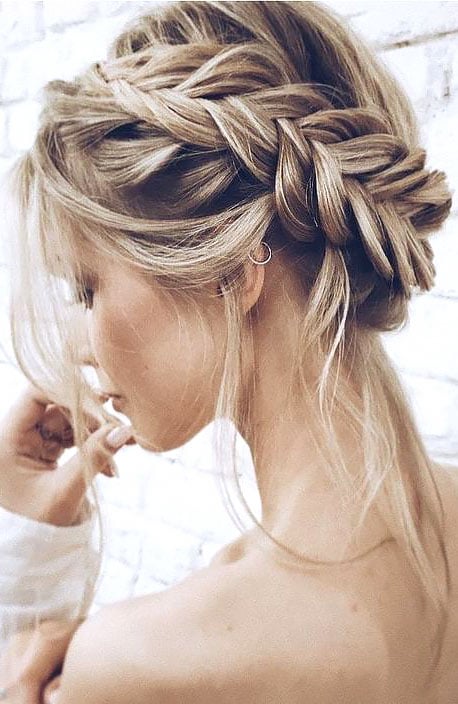 17. Fishtail Braids
Fishtail braids are some of the most popular plait options for brides. That's because they look intricate – but they're effortless to create. Fishtail braids also have a more bohemian feel than other braids, like French braids or Dutch braids. For a beautiful bridal twist on the style, weave silk ribbon through your fishtail braid or add hair accessories and flowers.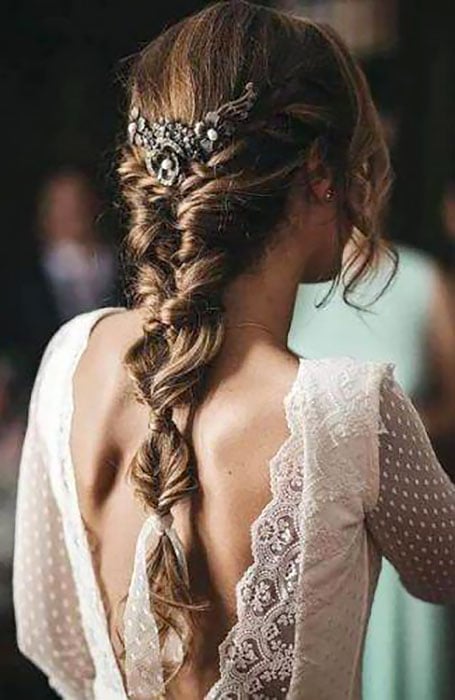 18. French Twist
Like the chignon, the French twist is a gorgeous bridal hairstyle that's classy and sophisticated. Initially, it was popular in the 1950s, '60s, and '70s and is now returning to fashion. The French twist is a more formal hairstyle, which suits brides who want a polished, traditional wedding look. Best of all, it's a relaxed style to create as it merely involves gathering and twisting the hair until it folds in on itself, then securing it with pins, slides, or a comb.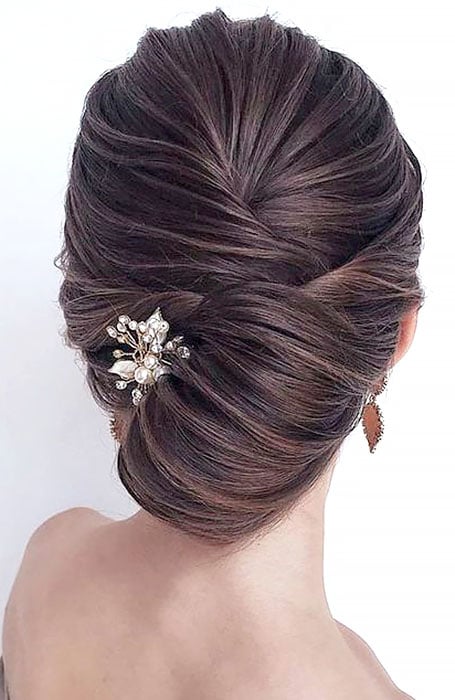 19. Middle Part
Oval, long, and heart-shaped faces suit the middle part hairstyle. Many consider it a casual look for every day. However, nothing stops fans of the hairstyle from embracing it for their wedding too! Many brides contrast the razor-sharp central parting with soft, bohemian waves framing their faces. If you choose that type of hairstyle, opt for a long veil.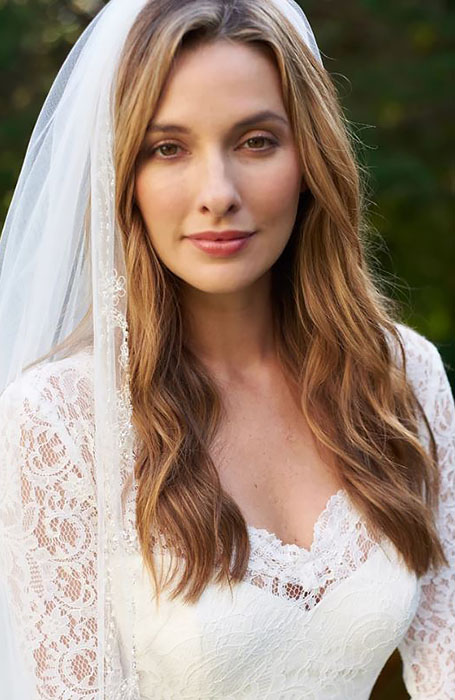 20. Bridal Hairstyle with Headband
Headbands have been coming back into fashion recently. The latest trend is a pearl – or faux pearl – versions. For fashion-forward brides, it's the must-have accessory on the big day! To stop the headband from looking too childish, team it up with a chic updo rather than long, loose hair. Also, keeping your hairstyle minimal means the headband itself can make a bold statement – and you won't have to worry about restyling your locks halfway through the night.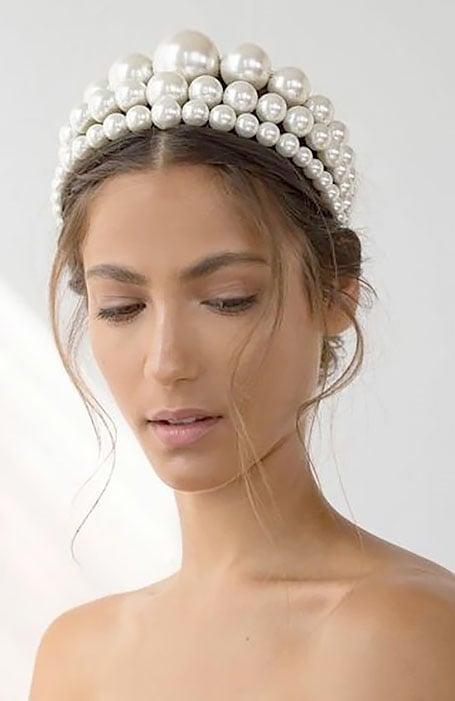 21. Bridal Hairstyle with Flowers
A flower-embellished hairstyle is a wedding classic for a reason. It works with long, short, or medium-length hair. Plus, it's a beautiful addition to all types of hair, from fine to thick, caucasian or Afro texture. One option is to use fresh flowers that match your bouquet and decorations. Otherwise, opt for silk or faux flowers on a hair slide so you don't have to worry about the bloom wilting or shedding.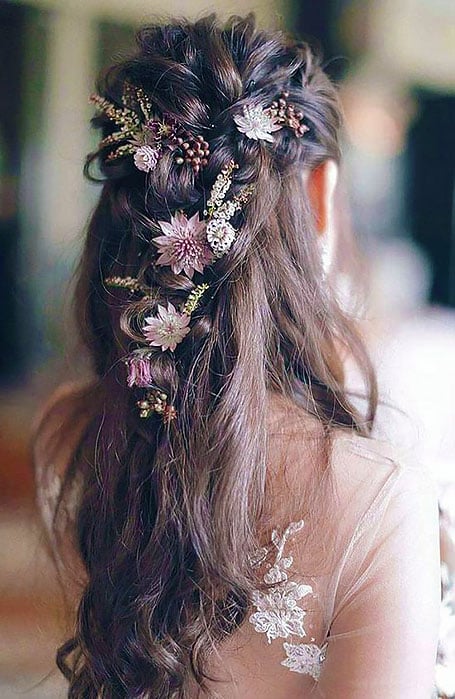 22. Bridal Hairstyle with Tiara
Every woman deserves to feel like a princess on her wedding day. So what better way to show it than with a tiara? You can pair this elegant and pretty accessory with most hairstyles to create your desired effect. Long, loose waves with a tiara will give you a beauty queen look, while a half up half down hairstyle is more understated and modern.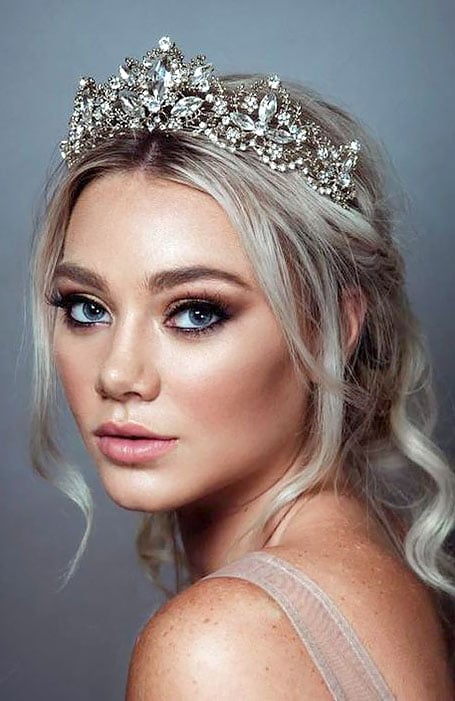 23. Bridal Hairstyle with Hair Comb
A hair comb is a quick and simple way to boost your bridal hairstyle. Look for accessories that match the details in your dress – like flowers, feathers, or beads – or elements of your wedding decor, like tablecloths or centerpieces. The best part is that you can use a decorative hair comb, whether styled up or down. Just be sure to add styling spray or even a little clay so your hair has enough texture to hold the comb. If your hair is too slippery, it could slide out!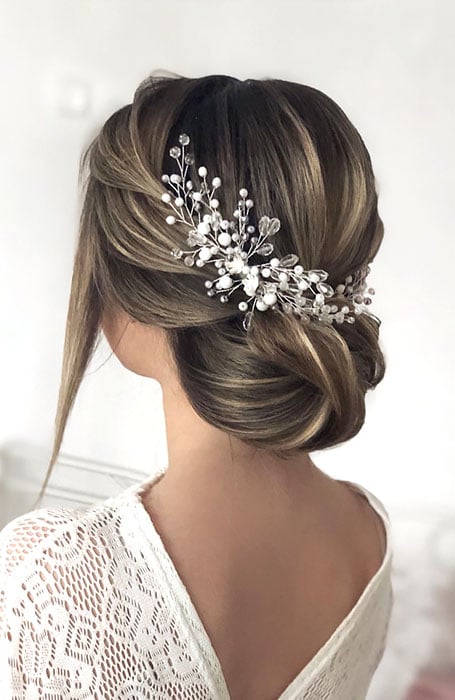 24. Bridal Hairstyle with Crystal Hair Clips
Crystals are a gorgeous addition to your bridal hairstyle. That's because they catch and reflect the light, creating a glittering and glowing effect. Because crystals can be a little heavier than other hair accessories – like flowers, for example – it's best to opt for hair clips instead of a comb. The clip will secure them to your hair, ensuring they don't fall off. Many brides choose to pair crystal hair clips with a side-parted hairstyle for a romantic, vintage vibe.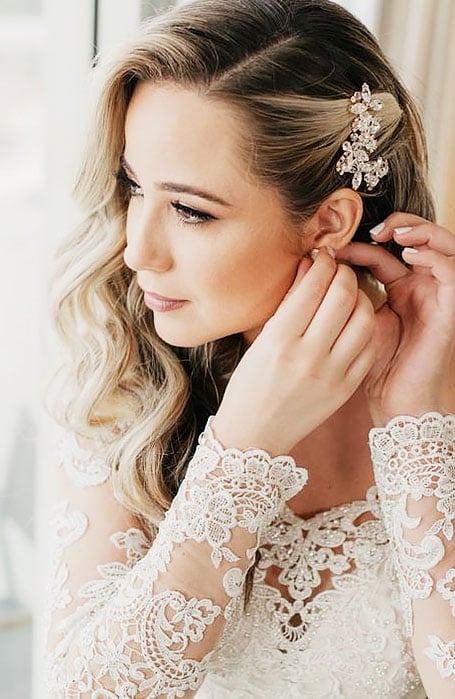 25. Bridal Hairstyle for Long Hair
Long-haired ladies have plenty of options when it comes to bridal styles. One popular choice for those with thicker locks is a soft wave look. Even if your hair is naturally dead straight, curling tongs and firm-hold hairspray will help you to achieve this pretty style. If your hair isn't long enough or thick enough to create the wavy effect, clip in some human hair extensions and blend them with your real hair, then style away!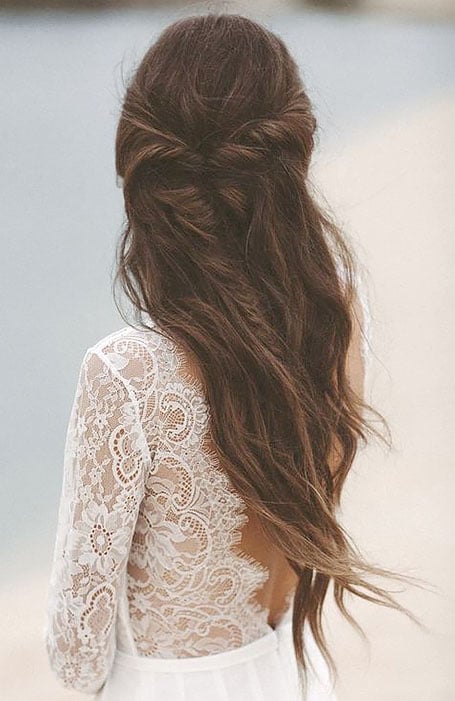 26. Bridal Hairstyle for Medium Length Hair
Medium hair looks excellent with some volume and texture, particularly when styling for a wedding. One of the most popular ways to wear this length is in a subtle half-up, half-down hairstyle. Leave some pieces out to frame your face, then twist and pin the top section to create a semi-braided effect. Meanwhile, gently curl and brush through the bottom part for a romantic result.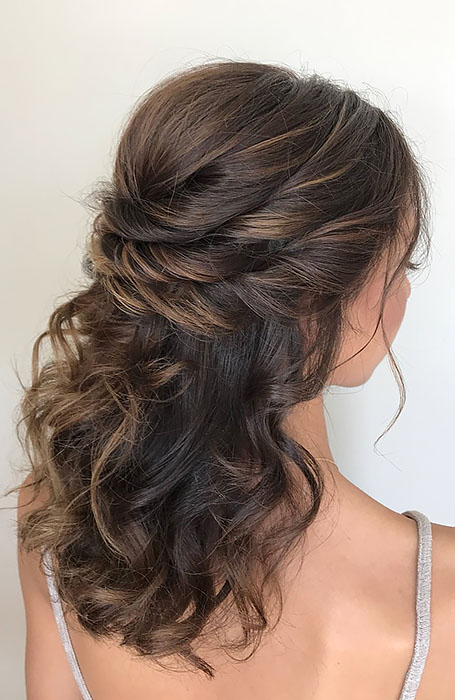 27. Bridal Hairstyle for Short Hair
With the lob cut back in style, the options for short-haired brides have never been better. When you don't have a lot of lengths to work with, it's important to add volume, bounce, and dimension to your cut. Start by heat styling your hair to create waves and curls, then add lots of texture spray for a modern yet polished finish. Add a statement headpiece such as a hairband or fascinator for the final' cool bride' touch.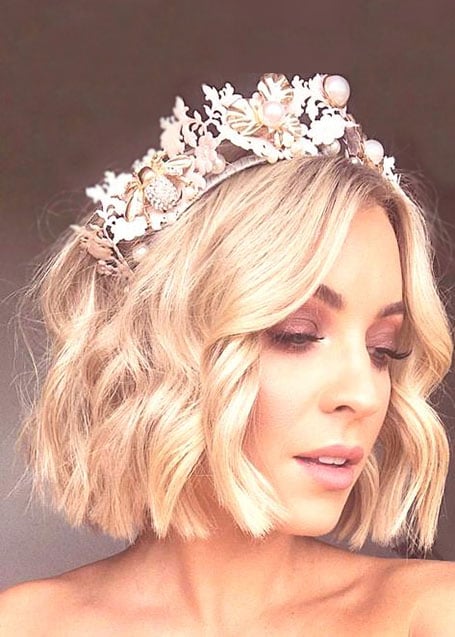 28. Natural Black Bridal Hairstyle
Brides wanting to show off their natural hair have lots of styling options. Lemonade braids or a faux hawk might be a perfect choice for the more daring. Otherwise, an Afro or natural updo could be ideal. Many brides with natural hair choose not to have a veil, so their curls and kinks can take center stage. In that case, you could keep the bridal feel by wearing a lacy or floral hair clip instead.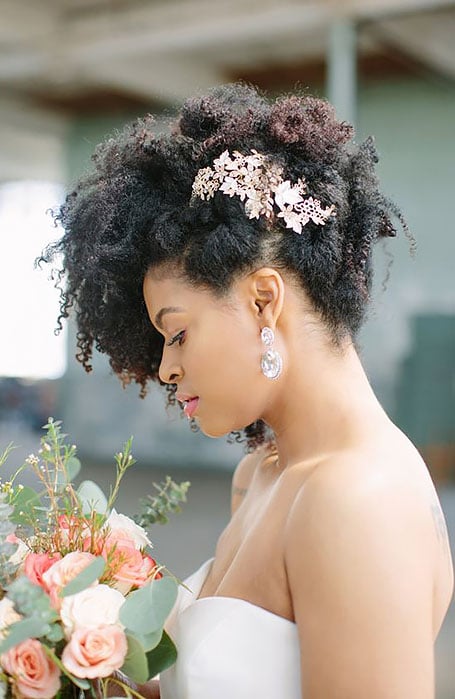 29. Bridal Hairstyles with Veil
Once you've chosen your veil, you can decide how to style your hair to show it best off – and vice versa! Your hairstyle should be firm and tight enough to secure your veil to it without getting a headache. Updos are a popular choice because they provide a solid base for the veil. If you pin your veil on top of a bun, it will have more height and volume. It's also essential to remember that some veil lengths go better with certain hairstyles, too – for example, mantilla and cathedral veils suit a low bun.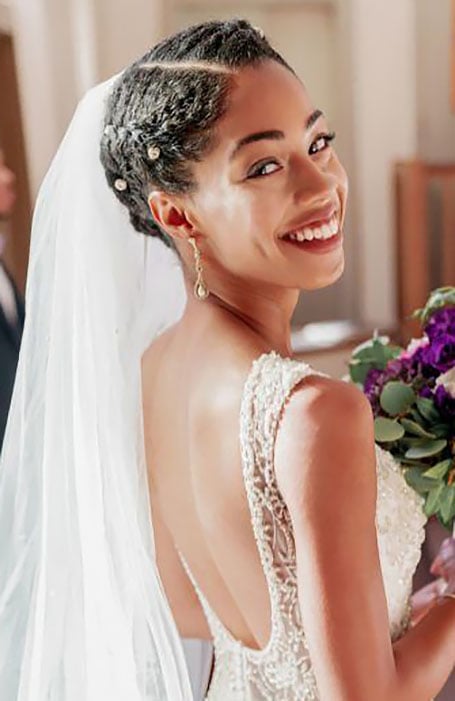 30. Simple Bridal Hairstyle
A simple bridal hairstyle is perfect for brides who want an easy and quick look for their big day. One of the best choices for low-maintenance brides is to opt for a blowdry. After that, you can run a straightener through your locks for a sleek finish or create a subtle wave effect in just a few minutes. However, remember that a simple bridal hairstyle puts more focus on your haircut, so make sure you book in for a trim.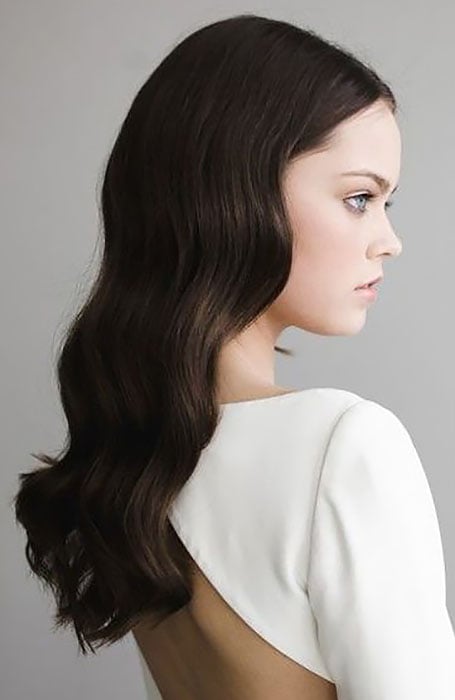 31. Dutch Braid
The Dutch braid is a classic three-strand braided hairstyle created underhand. This makes the braids appear raised instead of smooth like the French braid; for this reason, it is sometimes referred to as the reverse French braid. The braid can be styled in various ways, including updos, worn to the side, or plaited to be loose and voluminous. The appeal of the Dutch braid is its versatility, it is a wonderful option for women of all ages and can complement all hair textures and lengths.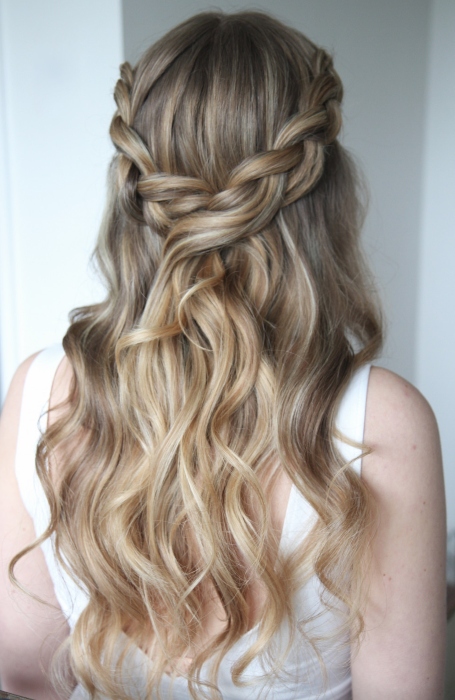 32. Crown Braid
If you are looking for a romantic bridal hairstyle, look no further than a crown braid. This braided look wraps around the head. It is usually created with a French braid and can be made in varying thicknesses. The appeal of this braid is that it will draw attention to the top of the head and can make it appear fuller and thicker. This is also a style that is versatile and can be worn as an updo or a half up half down hairstyle to show off your hair texture. It looks best with hair that has not been freshly washed, making styling easier.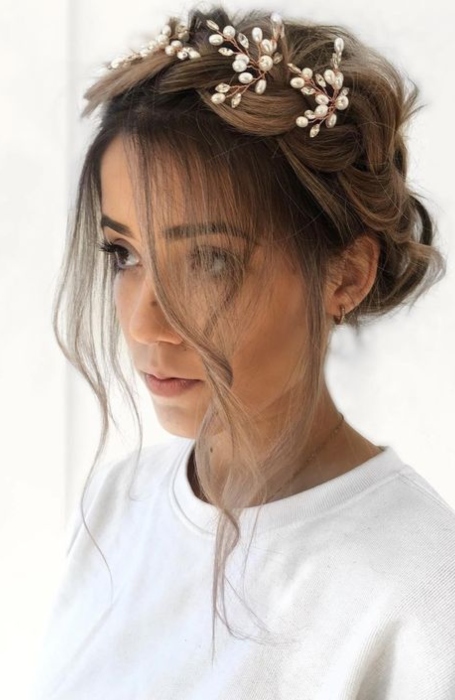 33. Romantic Waterfall Braids
Waterfall braids are a gorgeous option for your wedding day and will show off your hair texture. These braids are created at the front of the head and gradually work backward, with loose pieces cascading down. This effect is why it is called a waterfall braid. The result is a pretty and romantic half-up, a half-down hairstyle that can be worn with all hair textures and most lengths. You can add florals or vines just above the braid to give your bridal look a boho feel.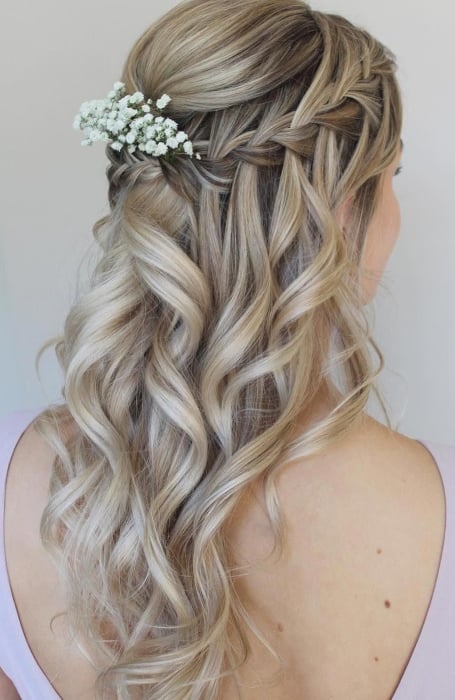 34. Snake Braid
The snake braid is simple and stylish. It is a three-strand plait with an unusual pattern created to resemble the appearance of a snake. It is a wonderful alternative bridal look for those who want something more exciting than the classic French and Fishtail braids. The snake braid can be added to hair of all textures, but it is easier to achieve on straight hair. It can also be worn in various ways, including a half up half down hairstyle, or you can work it into a braided updo.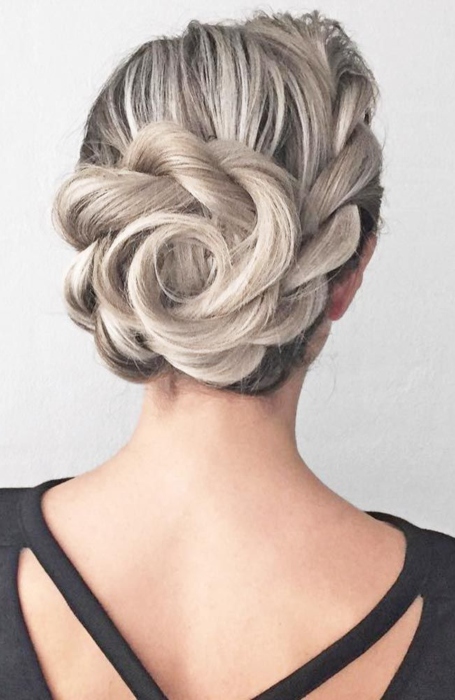 35. Chic Braided Updo
Braids are a gorgeous option for a wedding, and they can be worn down or styled into a chic braided updo hairstyle. This is a stunning option for drawing attention to the face and neck and complementing your features. It is also a fantastic way of showing off a statement necklace or a pair of pearl earrings. For a soft and romantic appearance, pull a few strands of hair out at the front and let them fall around your face for a face-framing effect.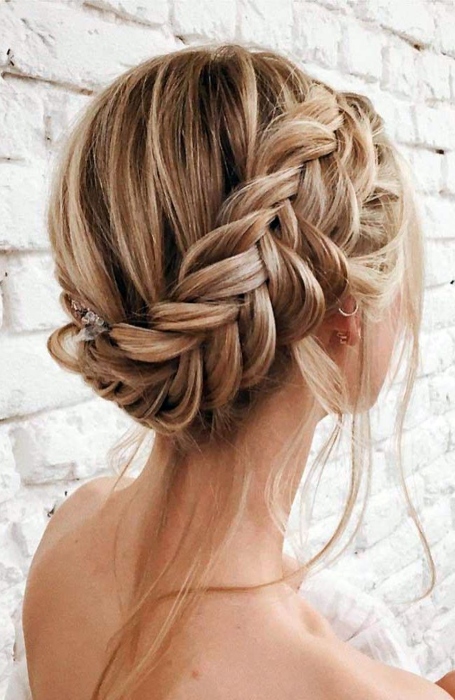 36. Brushed Back Wedding Hairstyle
Brushing the hair back at the front of the hairline will create a voluminous appearance. This is a fantastic option for hair of all lengths and can make the hair appear thicker and fuller. It can be worn on the hair of all lengths but works best on naturally textured hair for better hold. Keeping the hair out of the eyes is a practical and stylish choice for a bridal hairstyle and will draw attention to the eyes.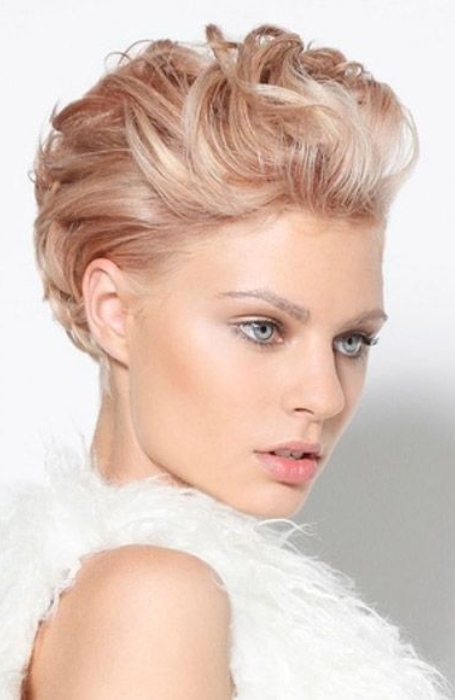 37. Timeless Bob Haircut
The bob haircut is a classic hairstyle for women and is universally flattering. The traditional bob is cut just below the chin and can be easily adapted to suit your hair texture and preference. You can style the bob in various ways, including simple braids or adding hair accessories to the hair. The cut also looks great when paired with bangs for a youthful appearance, or you can experiment with different finishes, including a side or middle part.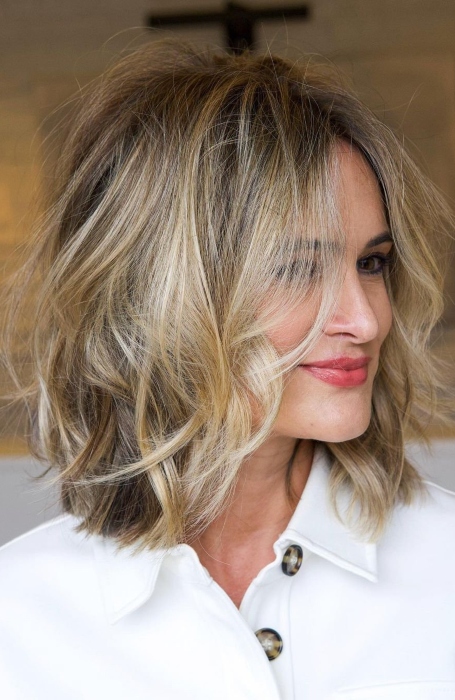 38. Finger Waves
Finger waves are a curled vintage hairstyle bringing glamor to your wedding day. It is a popular look for short hair but can be created with medium length. It works best on straight and fine hair but can be adapted to suit other textures. The hairstyle emerged in the 20s but has remained relevant because of its sophisticated appearance. Finger waves will also last several days, making them perfect for the day after celebrations.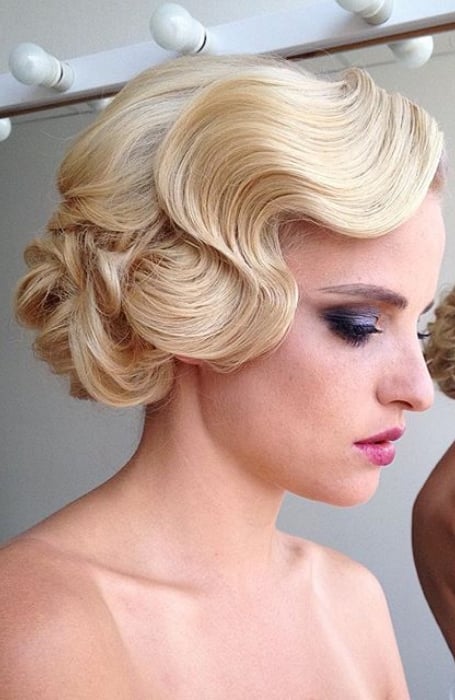 39. Pinned Back Hairstyle
Pinning the hair so that it is not in the eyes is a practical and stylish way to wear it. This can be done in various ways, including pulling the hair back at the front, creating a voluminous appearance. Or you can pin it at the side; choose either the right or left, or pin both, depending on your desired outcome. Multiple clips and hair combs can be used to achieve this look, and this could be a nice way to include a family heirloom, or if you like to stick to traditions, this could be your "something borrowed."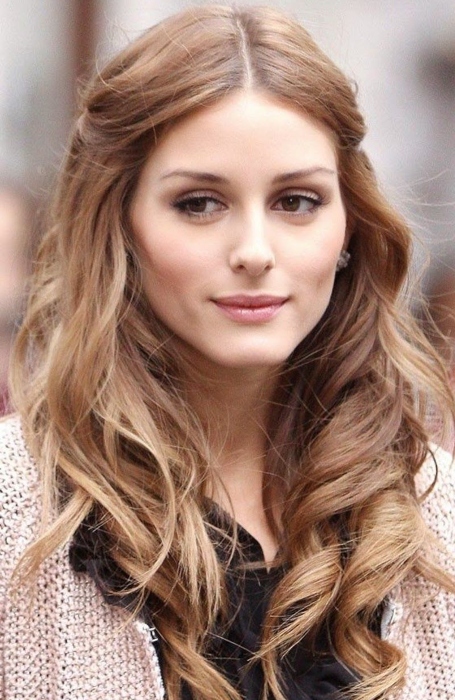 40. French Braid
The French braid is one of the most popular braided hairstyles and is incredibly versatile and chic. It is a three-strand plait created with the overhand braiding technique. This makes the hair appear flat and smooth against the head. It can be made with various hair lengths and textures, and you can style it as you wish, including leaving the hair up or down. It is perfect for all occasions and will be a gorgeous bridal hairstyle. You can also add flowers or vines throughout the hair for a soft and romantic finish.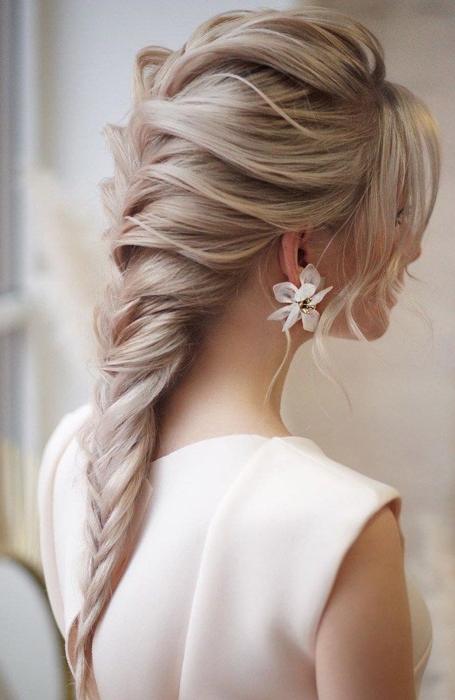 Bridal Hairstyles FAQs
What is the best hairstyle for a wedding?
The best hairstyle for a wedding is unique to each bride. It should be flattering, complement the style and cut of your gown or suit, and express your personal style, as well as fit with the overall theme of your day – whether it be modern, traditional, boho, or something else entirely. Some of the most popular bridal hairstyles include an up 'do, chignon, and soft waves.Why do brides wear their hair up?
Why do brides wear their hair up?
Besides having a glamorous and feminine look, up 'dos and chignons are generally chosen by brides because they form a stable base for attaching a veil. These styles also allow you to show off the neckline of your wedding gown as well as your jewelry, such as a pair of earrings or a necklace.
How do I choose my wedding hairstyle?
To choose the perfect hairstyle for your special day, think about your favorite hairstyles to wear – being comfortable and feeling like yourself is as important as looking beautiful and photogenic on your wedding day! Next, consider the cut of your dress or suit, the type of jewelry you want to wear, and if you will be wearing a veil or not. This will allow you to eliminate some hairstyles that are unsuitable. Once you've narrowed it down to a few options, schedule a hair and make-up trial to help you pick your final look. 
SUBSCRIBE TO OUR NEWSLETTER
Subscribe to our mailing list and get interesting stuff and updates to your email inbox.