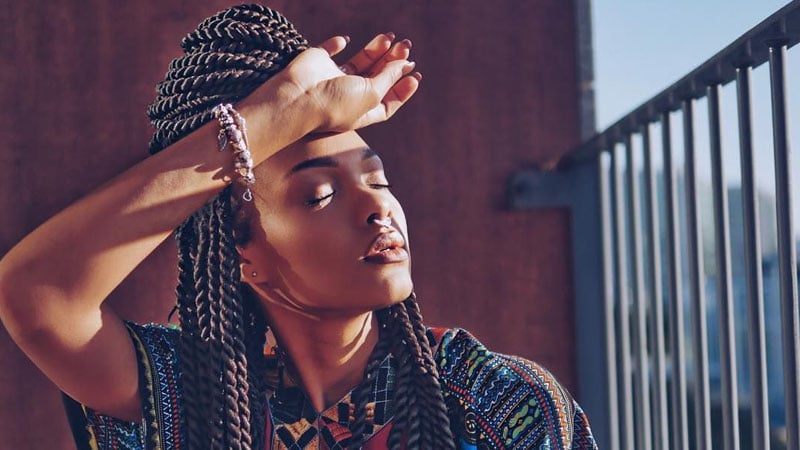 Sick of killing your locks with straighteners, curlers, and other chemical products? Senegalese twists can be a great way to protect your hair and give it a much-needed break from some of your damaging daily styling practices. You can easily achieve this versatile and elegant look at home or at the salon. As well as being a protective style, twists also are stunning, unique, low maintenance, and easy to style. So whether you're wanting to wear your twists up, down, knotted, long, short, straight, or curled, we have you covered. Check out these Senegalese twist hairstyles for stylish women.
RELATED: Passion Twist Hairstyles That Will Protect Your Hair in Style

1. Small Senegalese Twists
Get a cool breezy look with these stunning micro Senegalese twists. This charming style is perfect if you're after no-fuss #wokeuplikethis look.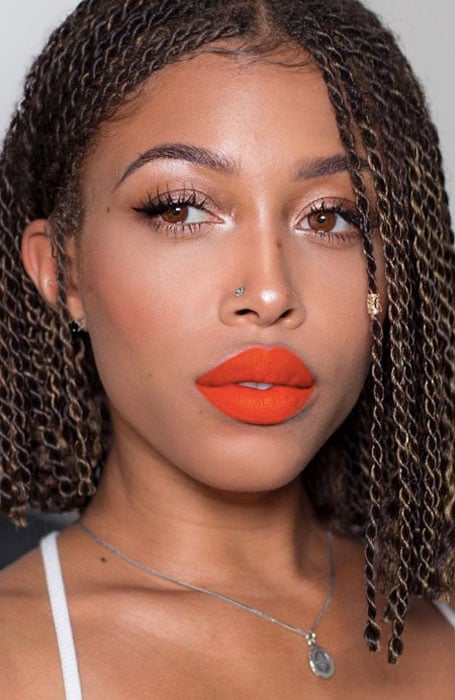 2. Medium Senegalese Twists
Medium Senegalese twists are great if you have thin to medium thick hair, but still, don't want to go too big with your twists. Try these pretty medium twists which can be styled just about any way you like.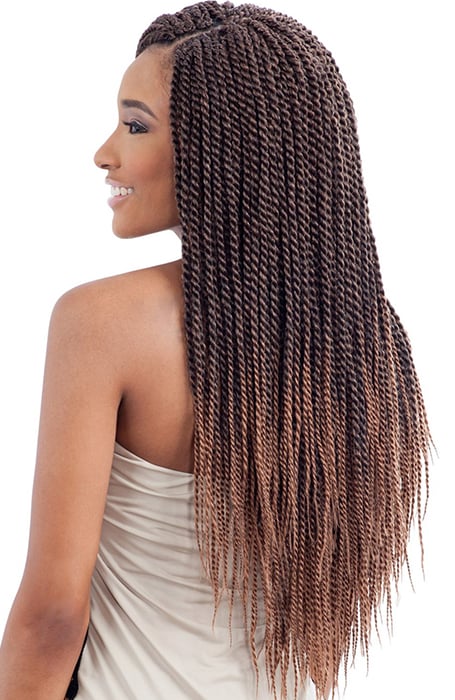 3. Big Senegalese Twists
Big Senegalese twists are the perfect protective style to keep your natural hair healthy. This look helps you avoid constant straightening, heating, and styling with chemical ingredients.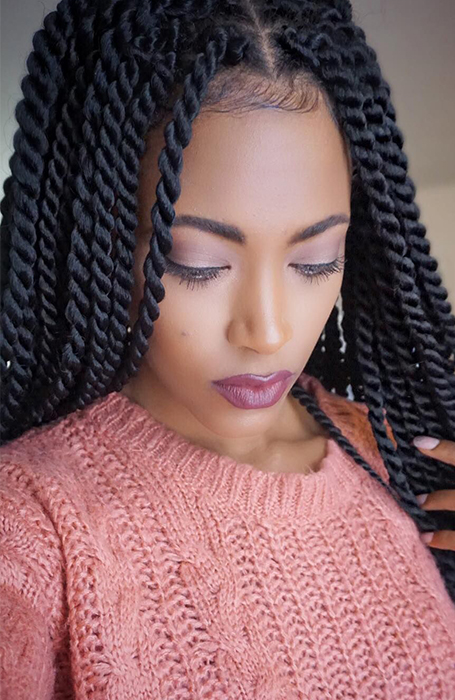 4. Jumbo Senegalese Twists
Try out these jumbo twists for a striking, statement-making look. For an elegant and minimal touch, keep your twists sleek and straight, let their size do the talking.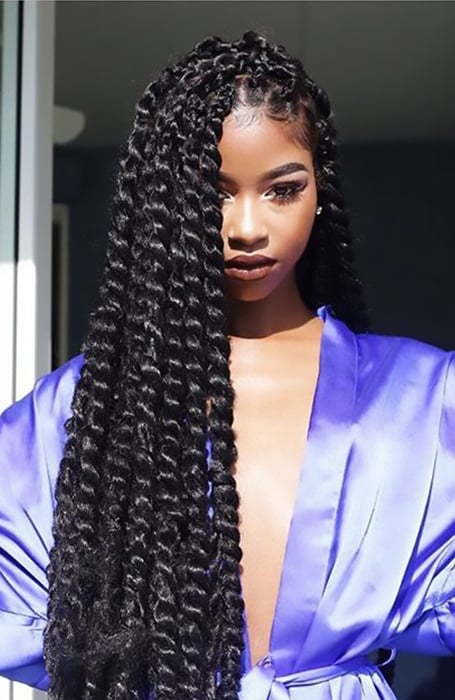 5. Short Senegalese Twists
Twists are a great way to edge up your short style. This cool asymmetric pixie cut will work best with small twists and will help draw attention to your facial features.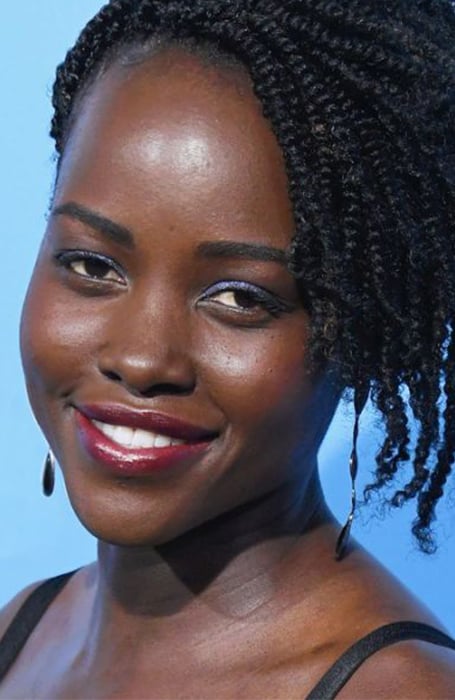 6. Long Senegalese Twists
Long hair and Senegalese twists are a match made in hair heaven. For the ultimate reggae vibes go for this super long style with thick twists. If you don't have the length, you can always rock clip-ins extentions.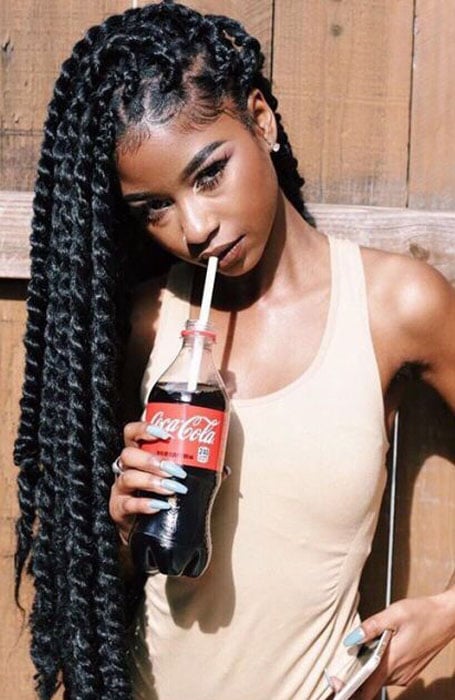 7. Senegalese Twist Updo
You could go for a simple bun, but why not try something a little more extravagant? Try this unique braided updo for an extra elegant style with plenty of wow factor.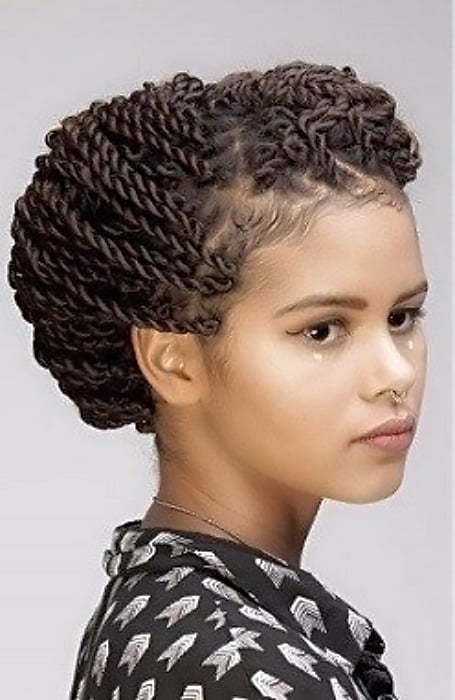 8. Half-Up Half-Down Senegalese Twists
This half-up half-down do is super easy to achieve with twists. It is also ideal for the low-maintenance lady who still wants to add some flair to her hair.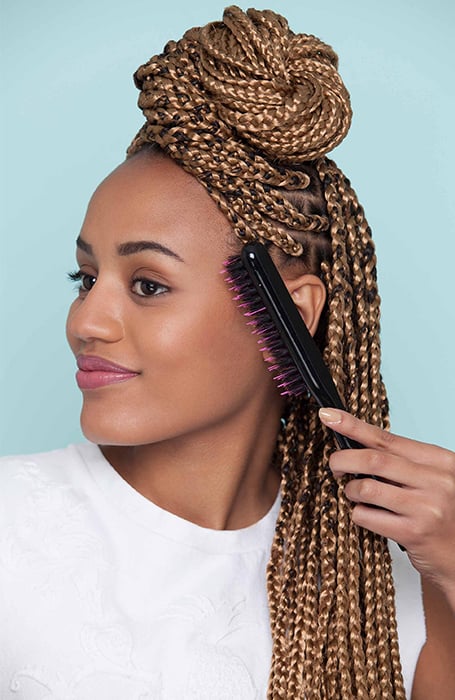 9. Burgundy Senegalese Twists
Fire up your twists with this hot burgundy shade. This is a subtle yet striking color that works best in dark hair to create a stunning contrast.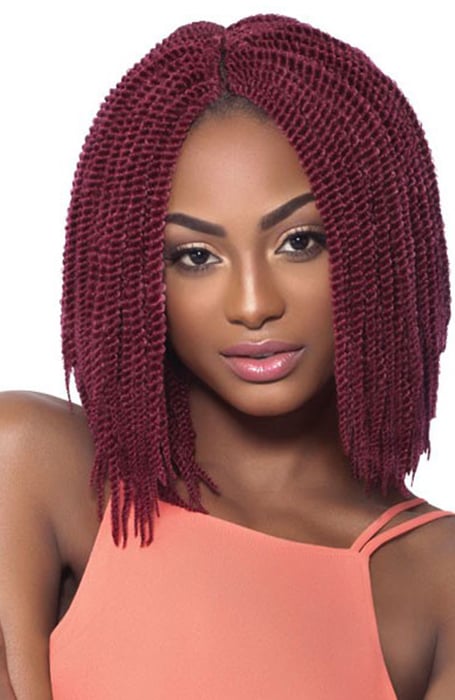 10. Senegalese Twist Top Knot
You can never go wrong with a simple top knot, and the Senegalese twist is no exception to this. It is an effortlessly pretty style that helps keep the hair off your face while still looking chic.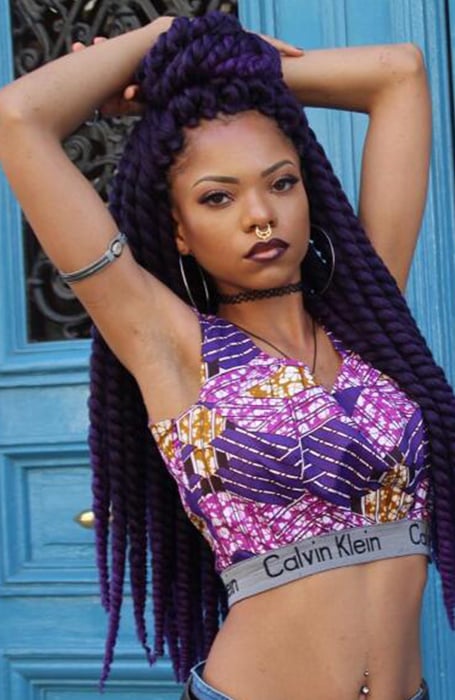 11. Senegalese Twist Ponytail
To get this cool ponytail, flip your hair to the front and take two sections from the base of your neck. Wrap them around the hair to hold the pony. Tie the pieces with a clear elastic or clip underneath to secure. Add some cornrows or braids to the top and side.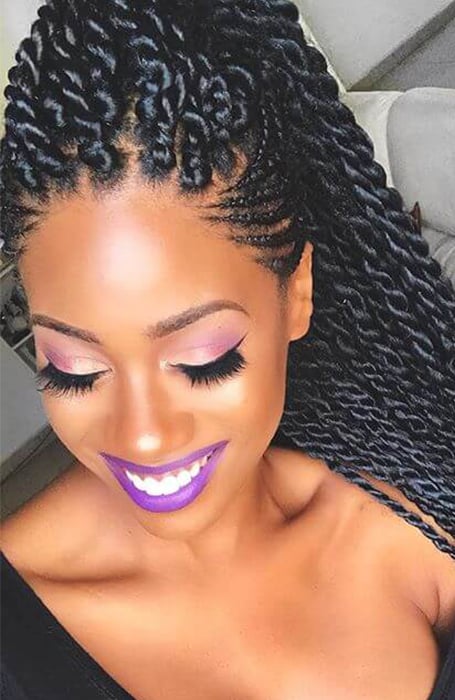 12. Blonde Senegalese Twists
Senegalese twists are the ultimate protective style, which is why they work so well for bottle blondes. Twists will make your hair look healthier while giving it much need break from styling so it can repair and grow naturally.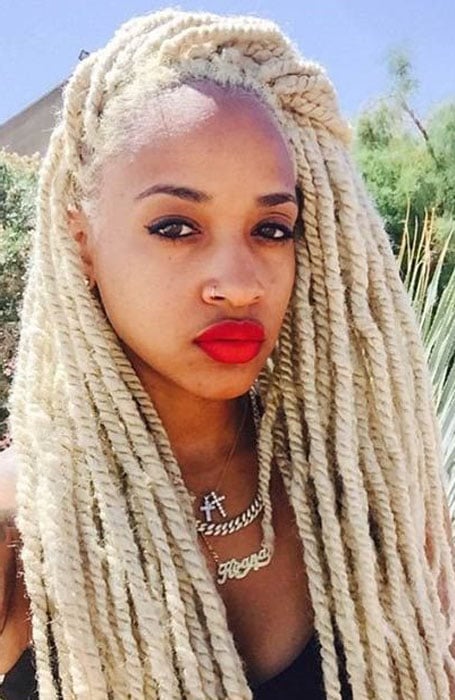 13. Senegalese Twist Cornrows
Cornrows just scream cool, as do Senegalese twists which is why this combo makes the perfect hair pair. Cornrows at the top and side of your head falling back into your twists will edge up your sleek Senegalese style.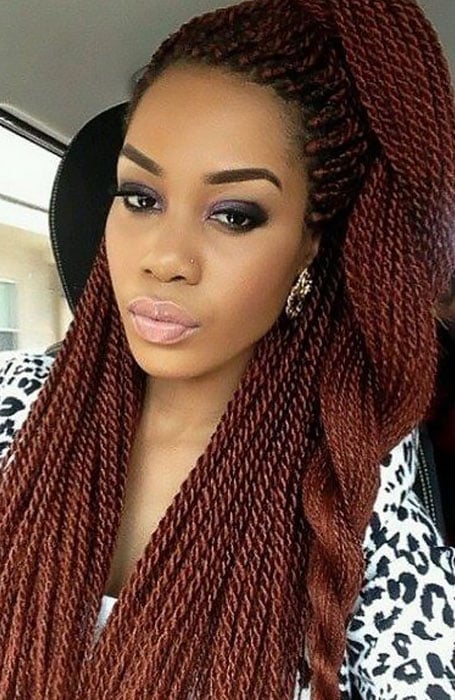 14. Red Senegalese Twists
Burgundies bolder sister, red is for those who want to stand out. This fiery shade is a great way to keep your hair nourished and healthy, while adding a little bit extra wow.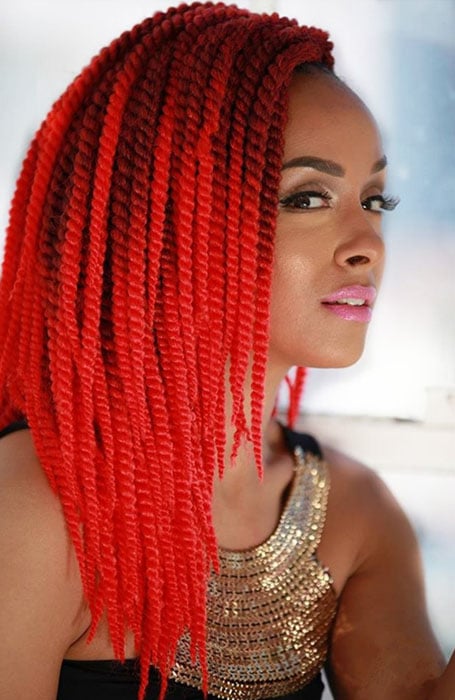 15. Ombre Senegalese Twist
Ombre has been a huge hit for years now. Try this cool boho ombre look by twisting some colored extensions into your own hair. By using extensions, you can swap your look as you please.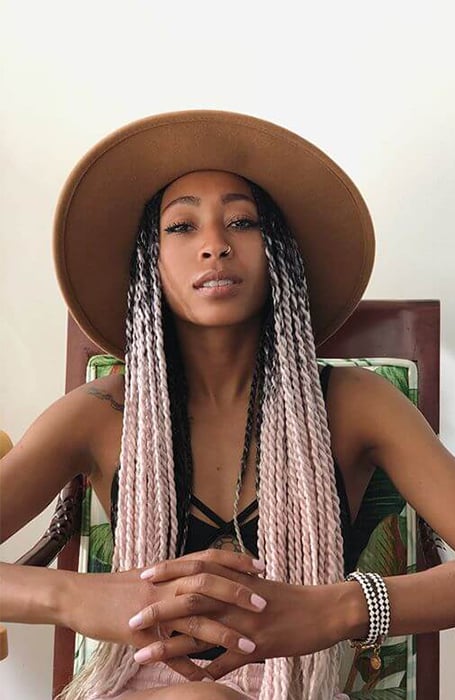 16. Curly Senegalese Twists
Twist and curl, girl. Just because you're already rocking twists doesn't mean you can't also curl your locks for special occasions. Go for a beach or sleek look, depending on the occasion.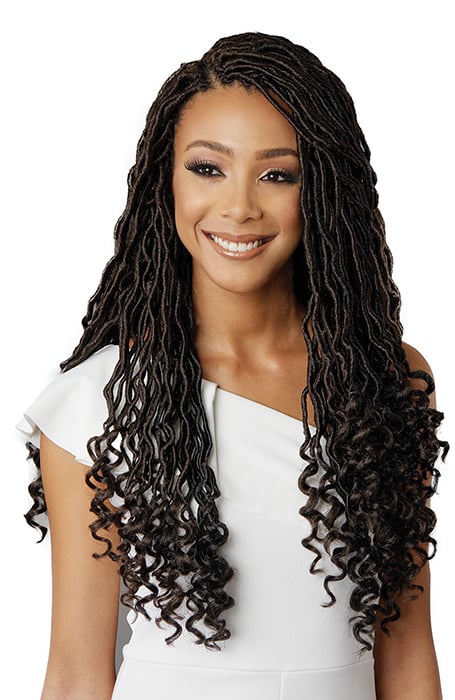 17. Senegalese Twist Bun
Steal Lupita Nyong'o's style with this creative Senegalese twisted bun. Pull your hair into a pony and twist a section around the base. Drop the rest of the hair to one side and lightly secure with pins.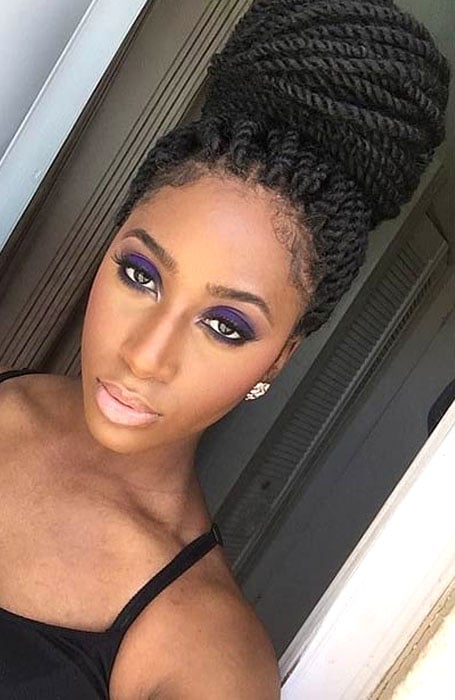 18. Senegalese Twist Bob
Bob's and Senegalese Twists is the perfect combination of an edgy yet pretty look. Try this trendy lob length with medium Senegalese twists, or go for a short bob haircut with smaller twists.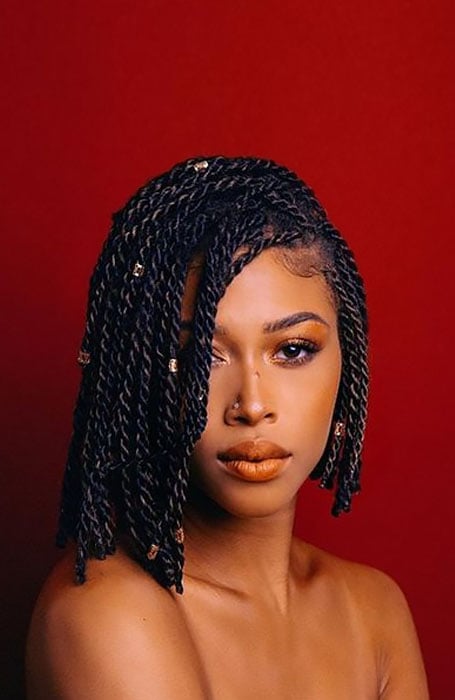 19. Purple Senegalese Twists
This stunning amethyst color is very flattering, especially on those with olive skin. Compliment this deep purple with bright makeup using pinks, reds, and browns on your eyes as well as dark purple or nude shades on your lips.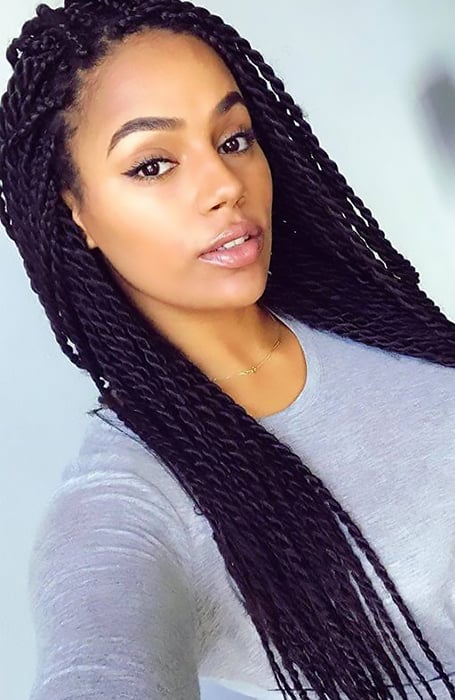 20. Brown Senegalese Twists
Senegalese twists are a protective style, so why not give your hair an added dose of nourishment. This rich golden brown will keep your hair healthy while not going too dark.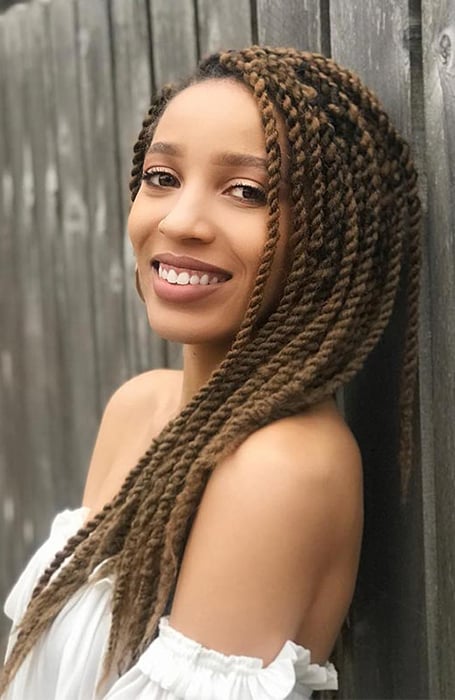 21. Shoulder Length Senegalese Twists
Keep your twists small to medium if you're going to go for a shoulder-length style. However, if your hair is thicker you could also carry off big twists. We love this simple pushed back style.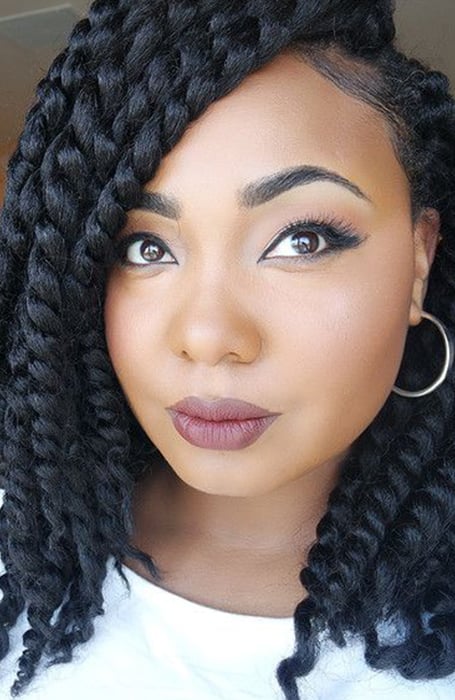 22. Wavy Senegalese Twists
Wavy Senegalese twists are the ultimate laid-back style. This simple beach wave will have you looking fresh off the coast of Columbia.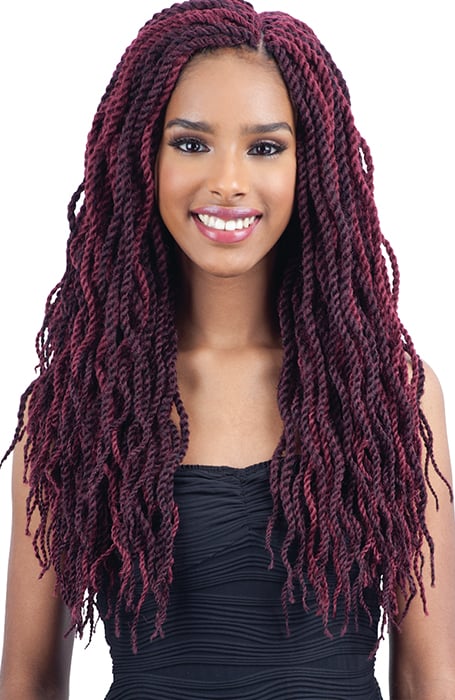 23. Two-Tone Senegalese Twists
Need some summer hair inspiration to heat up your winter? Add golden highlights to freshen up your locks with this stunning two-tone Senegalese twist style.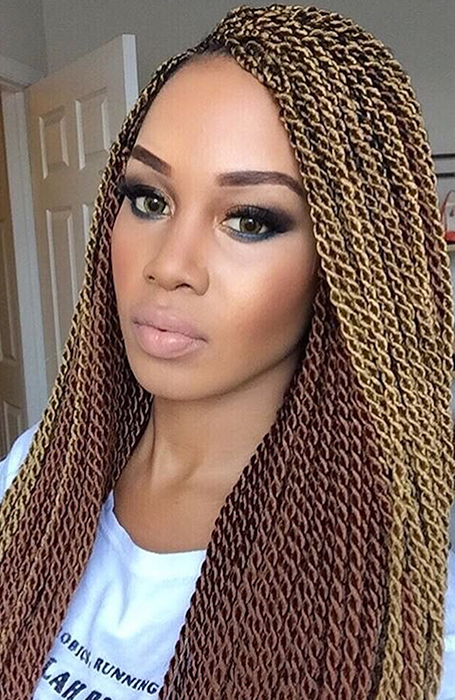 24. Senegalese Twist With a Deep Side Part
A deep side part is an easy way to change up your twisted style and show off your face. Throw on some statement earrings like hoops or something sparkly to dress up your look.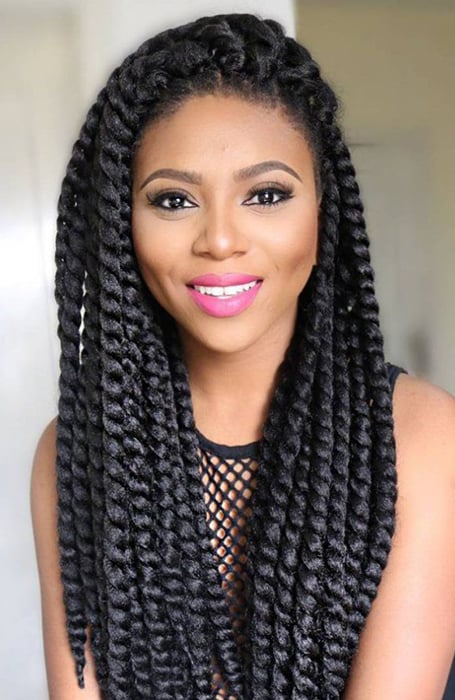 25. Long and Natural Senegalese Twist
Senegalese twists on their own are simple, pretty, and super easy to maintain. Let your long locks flow naturally and let this style speak for itself.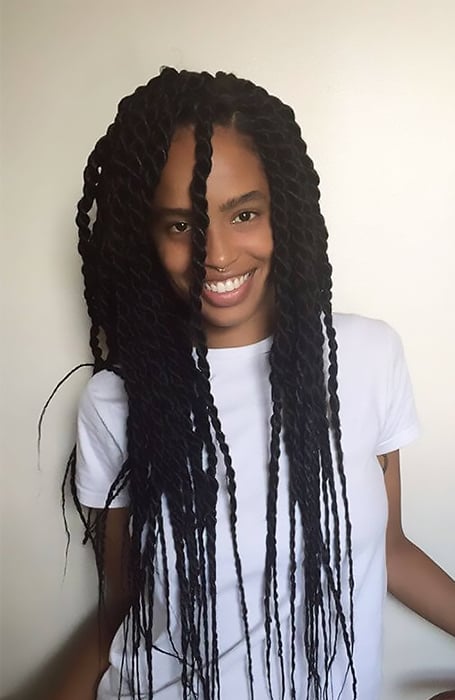 26. Senegalese Twists With Charms
Hair jewelry is an easy way to add some boho flair to your style and let your personality shine through. This look is perfect for festivals and summer get-togethers.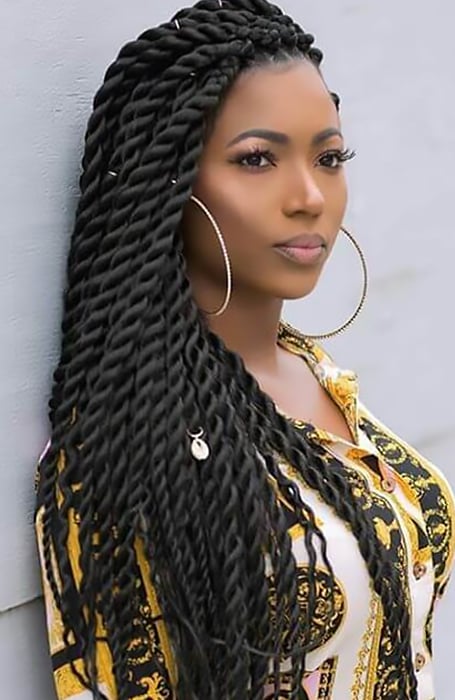 27. Swept Up Senegalese Twists
Keep your hair off your face with this cute simple style. Simply pull all of your hair to one side, creating a swoop across your forehead,v and pin it.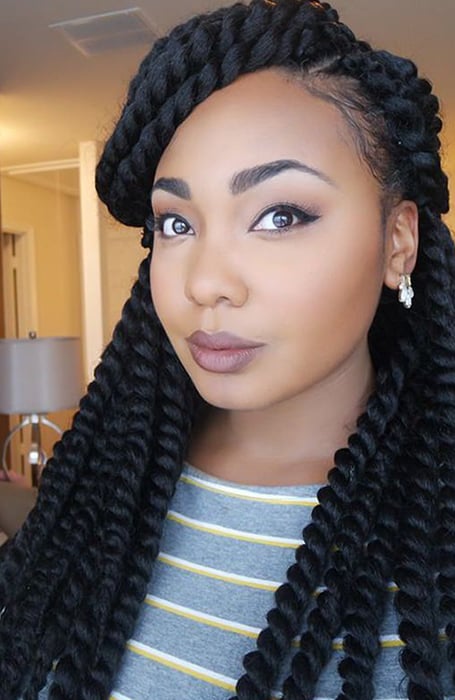 How to Do Senegalese Twists
FAQs
What's the difference between Marley twist and Senegalese twist?
Marley twists use Marley hair, which has a coarser texture. The twists are often chunkier and can resemble dreadlocks. On the other hand, Senegalese twists tend to be thinner and tighter looking because of the texture of the Kanekalon and Toyokalon hair.
Which is better box braids or Senegalese twist?
Both box braids and Senegalese twists are excellent hairstyles. Box braids can be a bit heavier but generally will last longer. On the flip side, twists can require a bit more maintenance, so they're less appealing if you're limited on time or play a lot of sport. However, they are lighter and can be less expensive. It's a personal choice as to which is better, and it can be worth trying both the see which works best with your hair and lifestyle.
How long does it take to do Senegalese twists?
On average, it can take around six hours to do Senegalese twists, but it's not uncommon for it to take longer depending on the length and thickness of the twists.
What is the best hair for Senegalese twist?
Synthetic hair is the better choice for Senegalese twists as it grips well and prevents the twists from unraveling too quickly. The two most popular brands are Kanekalon and Toyokalon.
Are Senegalese twists bad for your hair?
Similar to braids or yarn braids, Senegalese twists are a great protective style for Afro-textured hair that can help retain moisture, protect your locks from environmental damage, and allow your hair to grow longer. However, just like other protective styles, they need to be looked after properly, and you do need to give your hair and scalp a break occasionally.
How do you keep Senegalese twists from frizzing?
Avoid over washing your hair, aiming for only once or twice a week. You also need to protect your hair at night, using a satin scarf or bonnet and applying an anti-itch spray to stop sleepy scratching. Finishing products such as mousse can also help prevent frizz. If your twists have gone frizzy, you can apply a small amount of good gel to your damp twists, running it over the strand, flatting the hair down in the same direction as the twist.
How do you keep Senegalese twist at night?
At night, you want to use a silk scarf, bonnet, or pillowcase to help prevent hair catching and frizzing. You can also apply an anti-itch spray to your scalp before bed to help avoid any sleepy nighttime scratching, which can affect your braids.
Can you wash Senegalese twists?
Yes, you can wash Senegalese twists. Dilute some shampoo into a spray bottle, then separate your hair into four sections. Work through one area at a time, and soak your roots with the spray bottle, massaging it really well into the scalp. Rinse it out in the shower, allowing it to run through the ends. Squeeze out any excess water, then apply a good conditioner and oil blend from roots to the ends, avoiding the scalp. Rinse thoroughly and squeeze out excess water before gently towel or air drying.   
SUBSCRIBE TO OUR NEWSLETTER
Subscribe to our mailing list and get interesting stuff and updates to your email inbox.