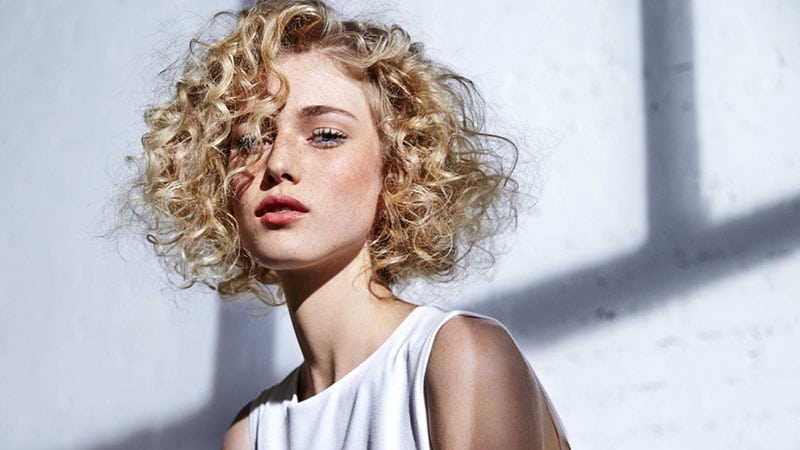 If you feel like your long curly locks are weighing you down, why not be brave and go the chop? Cropped, short curly hairstyles can appear seriously stylish and is entirely practical thanks to its limited length and manageability. Additionally, short strands are easy to style and surprisingly versatile, and, as such, are an option that all curly-haired ladies should consider. From gorgeous pixies to bouncy bobs, here are the best short curly haircuts for women.
Short Curly Hairstyles for Women
1. Short Curly Pixie Cut
Ladies, if you're looking for the ultimate way to style your short curly hair, you cannot go wrong with a pixie cut. This classic short hairstyle for women is loved because it is low-maintenance and effortlessly chic. At the same time, it is also flattering on different textures and can be created to complement your face shape.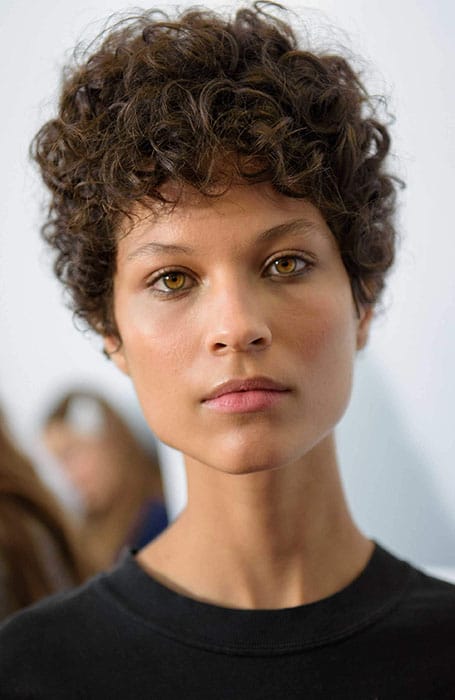 2. Short Curly Lob
Short curly hairstyles like the lob are an excellent choice for those who want a cute haircut without the hassle. Styling your locks can be challenging at the best of times, so opting for a simple cut like the lob (essentially a long bob) is an excellent choice because it gives you the maintenance of short hair but the illusion of length.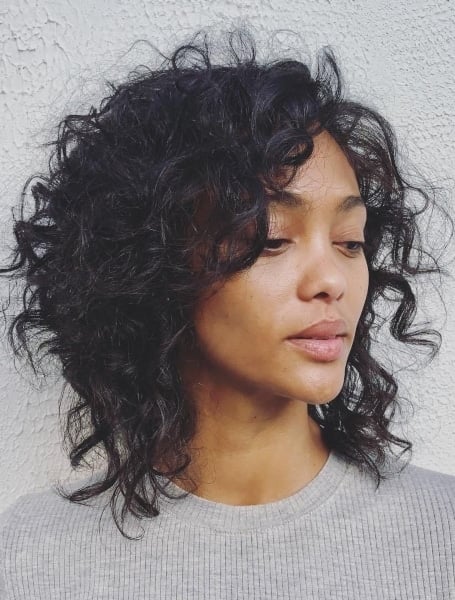 3. Short Curly Hair with Undercut
For those who love to experiment with their locks and want something a little more daring, look no further. Short curly hairstyles with an undercut are undeniably cool and a great way to ensure you stand out from the crowd. Keeping the hair full at the top and shorter on the back and sides is also practical, as it removes weight and bulk.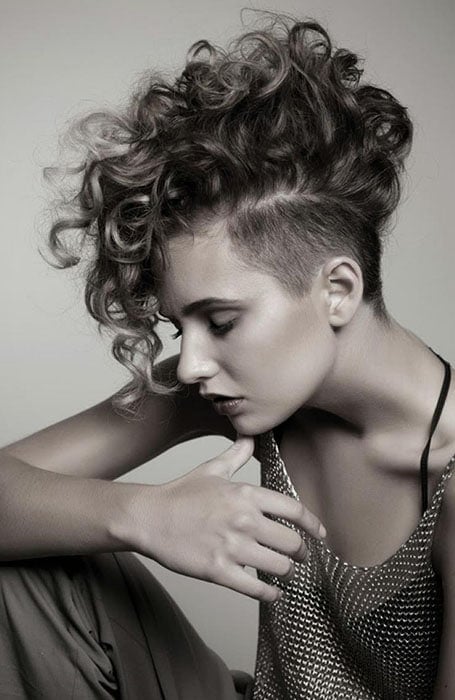 4. Short Curly Updo
You may think hair styles for short curly hair is restrictive when it comes to wearing it in updos, but we are here to prove that you can go wild if you have the imagination and creativity! A simple ponytail or high bun hairstyle will look cute and practical (especially in warmer weather). Leave a few strands loose to frame the face for a flattering finish.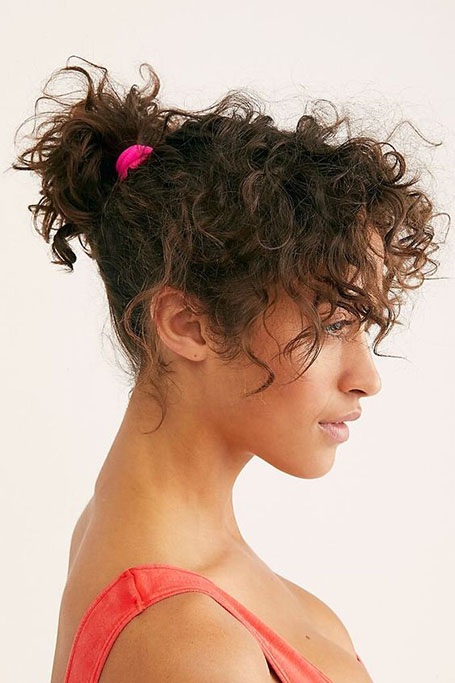 5. Short Platinum Blonde Hair
You don't need an edgy haircut to draw attention to your short curly hair. Sometimes all you need is a great color. Platinum blonde hair is a hue that is made to be seen because it is so light. Does it take effort to achieve and maintain? You bet, but the hassle is worth it because this cool hue can be super flattering and a great way to highlight your locks.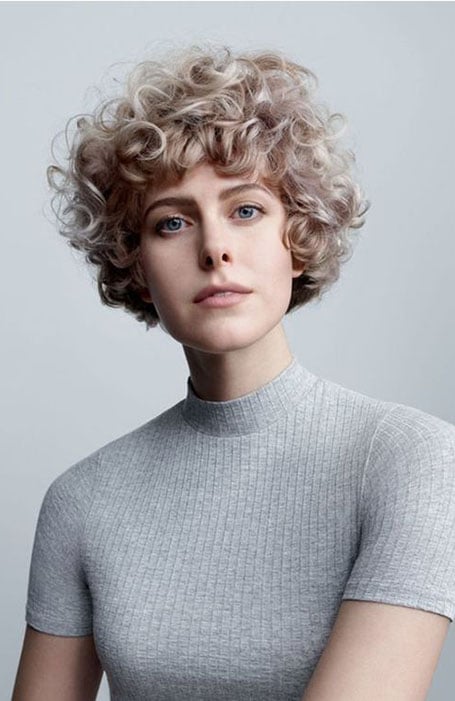 6. Short Curly Hair with Bangs
There are many short curly hairstyles for women, including wavy hair with bangs. These loose curls can be easier to style, giving you a soft, windswept finish that is complemented by bangs. Want a full fringe? No problem. Or style the hair to the side to create balance and highlight your features. Whatever you choose, you'll look gorgeous.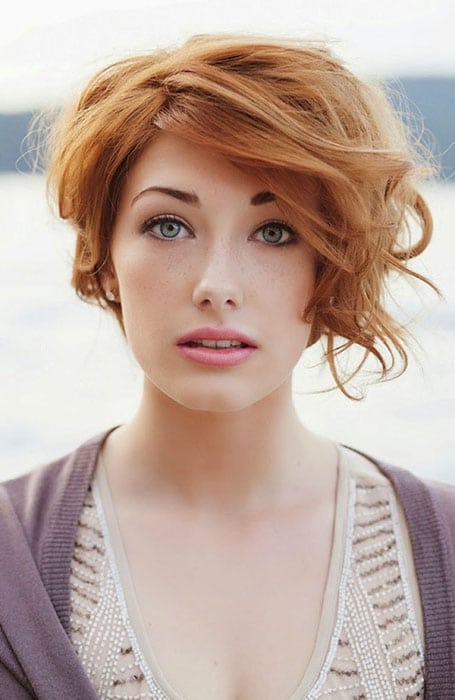 7. Short Curls with Temple Shave
We love short curly hair because it makes styling a breeze. Cutting your curls takes some weight off them while opting for a temple shave will remove some of the bulk. This combination goes well together and accentuates the fullness on the top while also letting you express yourself and show off your fun side.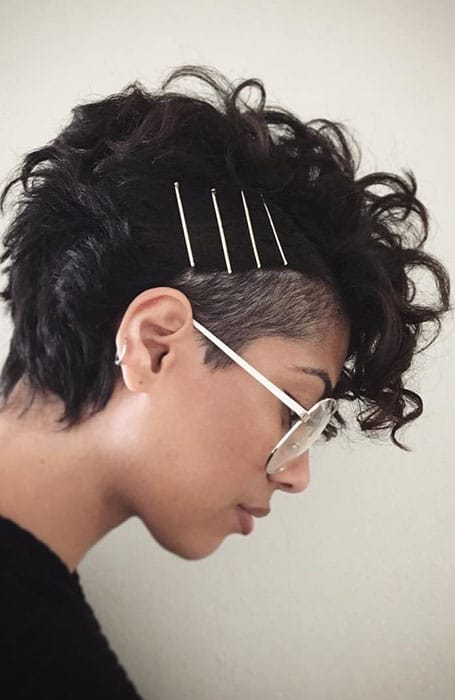 8. Messy Curly Bob with Bangs
There's something incredibly sexy about messy hair, and when it comes to styling, the simpler the haircut, the better. A bob with bangs is a match made in heaven because it is super flattering and easy to style on all textures. You can adapt your short curly haircuts for women to suit your preference and experiment with different finishes; for example, face-framing layers for a youthful effect.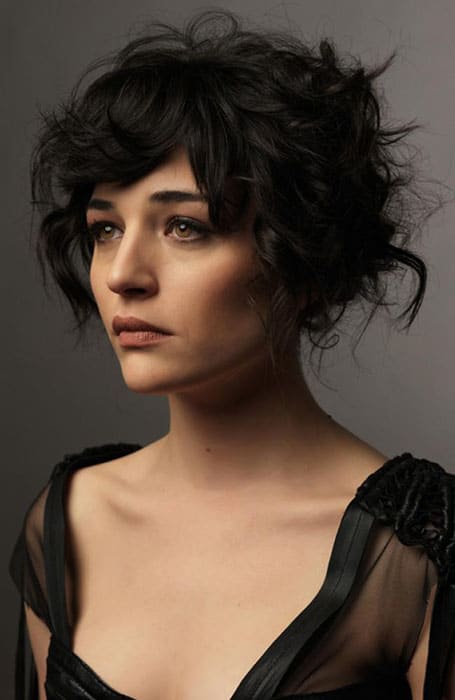 9. Messy Short Curly Hair
If you've been looking for a way to style your short curly hair, grab some styling mousse and create that effortlessly cool messy texture. We love the softness and femininity of the finish, and you will too. Plus, not having to style with precision is so much more fun and will complement layered locks. Leave strands to fall on your face for a super chic look.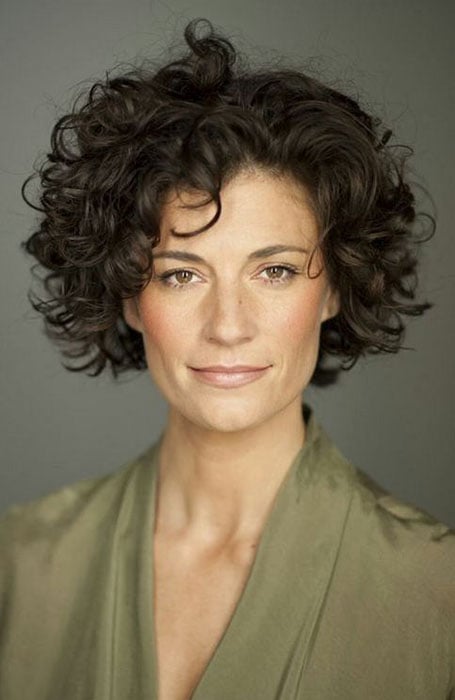 10. Very Short Curly Hairstyle
Do you have very short curly hair? While there are fewer options for styling, this can also be a blessing because it will give you a chic but low-maintenance finish – say goodbye to hours of detangling and expensive styling products! This super cute look works best when there is some length on the forehead, which can be super flattering.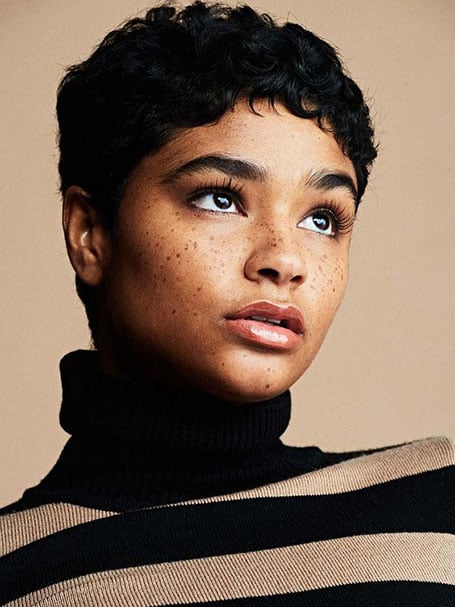 11. Vintage Short Curly Hair
Short curly hairstyles like this vintage haircut can be modern or have a more timeless effect. Channel your inner Marilyn Monroe with this look by adding volume to your strands for extra fullness – and you can do this with big, loose curls. Focus on the styling so that you frame the face (a side-swept bob is stunning and will highlight your features).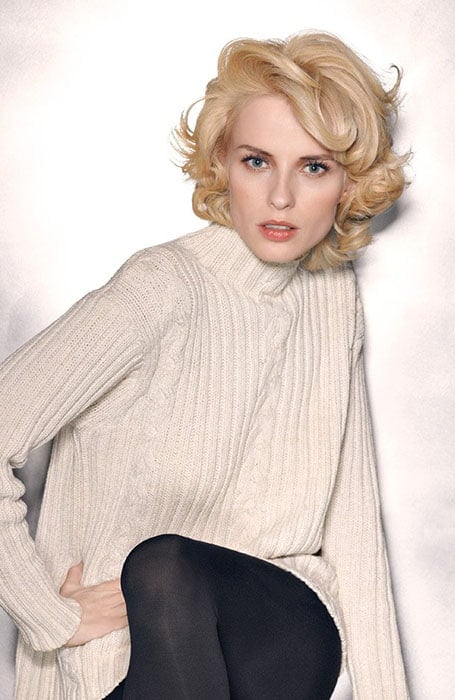 12. Short Curly Bob with Bangs
There are many short curly haircuts, but sometimes the classic finishes are the most popular. Say hello to the bob with bangs, the perfect combination for every woman who wants a low-maintenance haircut that is also exceptionally chic. A full fringe is an excellent option for those wishing to achieve a youthful glow (plus, it's great for hiding signs of aging or problem skin).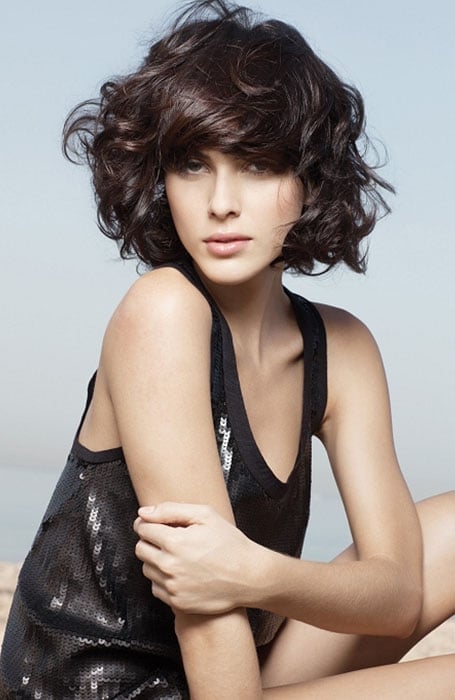 13. Edgy Short Curly Haircuts for Women
Are you looking for something different? If you have been dreaming of the perfect way to style your edgy short curly hair, this is it! Keeping the volume at the top is a great way to achieve fullness, while opting for a fade or undercut will let you express yourself and have some fun with the haircut. Don't believe us? Try it for yourself.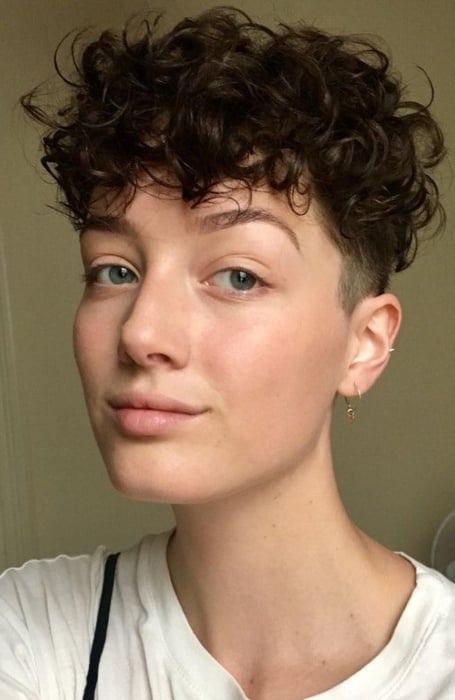 14. Natural Short Curly Hair
If you are blessed with naturally curly hair, then embrace it! Short curly hairstyles are a broad term for a range of looks suited to your texture and curl type (and you don't need long locks to rock them). Brush the hair up and away from the face to achieve more fullness, but remember before cutting your strands to account for shrinkage.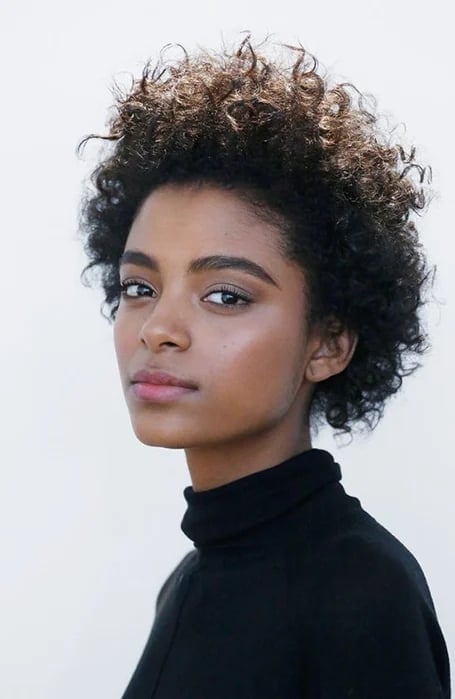 15. Short Red Curly Hairstyle
What's not to love about red hair? This is one of the most striking hues because of its richness and rarity, making it a fabulous choice for those who want to turn heads. Short curly haircuts can be layered and messy for a cute yet effortless finish that gives your locks movement and added volume.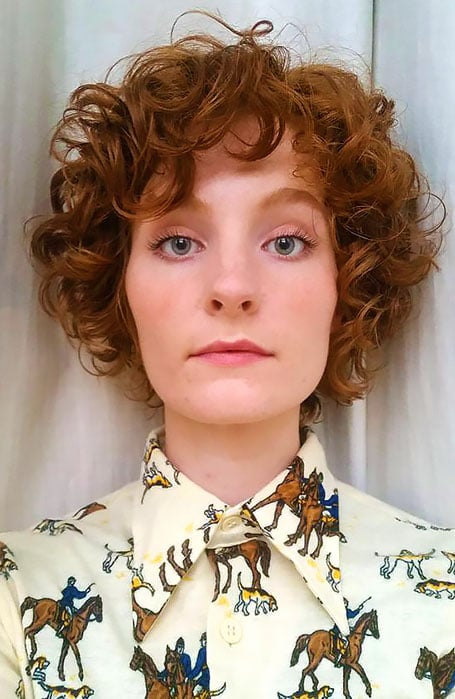 16. Short Curly Layered Hair
Short hair cuts for curly hair look gorgeous when they have layers added to them. Layered hair is super flattering, versatile, and great for achieving movement and direction. It also makes styling a breeze, and it will remove some of the bulk for really thick locks. Focus your layers around your face to complement your features.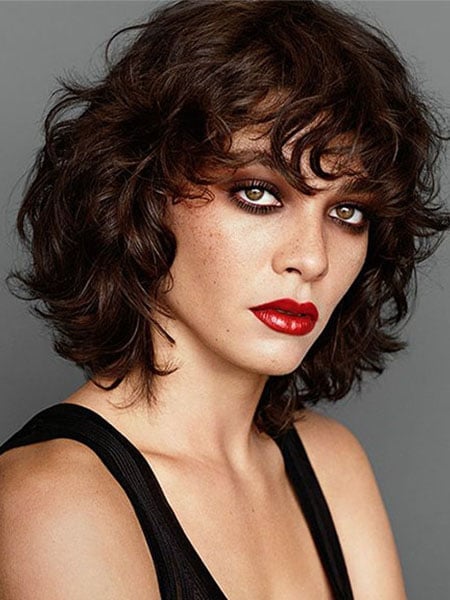 17. Short Curly Shag
Are you a cool girl looking for the best pick out of short curly haircuts? While choosing one is impossible, the shag hairstyle is definitely up there with the best. Why, you ask? The heavy layers are stunning for creating movement and volume, and they make styling super simple (forget precision and embrace the deliberately unstructured finish).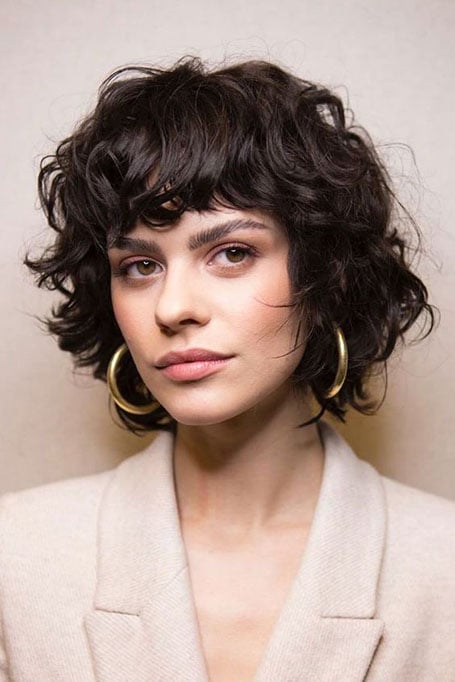 18. Choppy Short Curly Hair
What better way to make your short curly hairstyles stand out and feel unique to the wearer than experimenting with styling? For some women, perfectly sleeked locks are the way to go, while others want to embrace their texture and opt for a messy finish. A choppy cut has that laidback elegance and is a guaranteed way to achieve movement.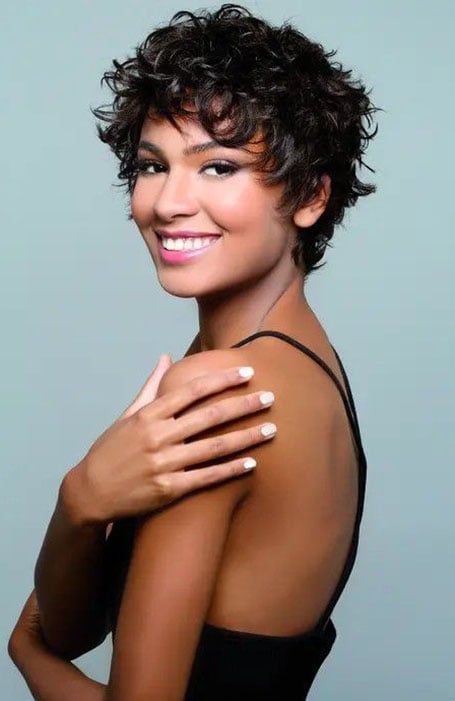 19. Short Curly Wolf Cut
With the best short curly haircuts, the wolf cut is right up there, and we are here to tell you why. The style gives you volume and texture thanks to the layers (which provide fullness on top and thinness toward the ends), but it is also oh-so-stylish and youthful. Plus, it is excellent with all face shapes, giving you a super-flattering finish that makes you feel confident and look gorgeous.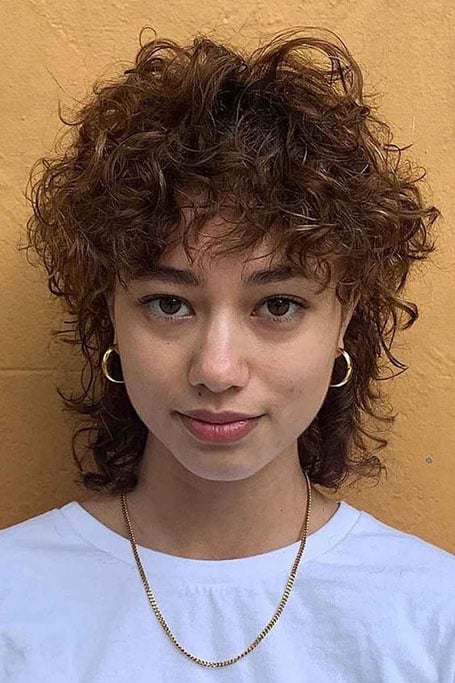 20. Short Curly Middle Part
Sometimes something as simple as a middle part can revolutionize short curly hairstyles. What we love about this styling is how it can draw attention to the face and highlight your features. While the parting is great for symmetry and elongating the face, it's not always the most forgiving (consider this before opting for this parting).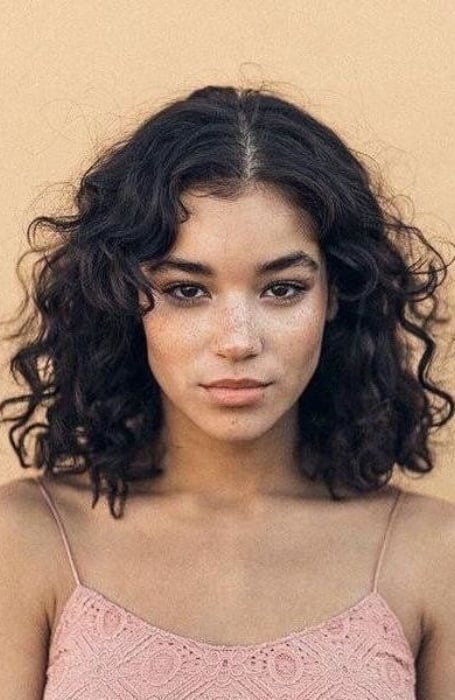 21. Short Curly Bleached Hair
Short curly hairstyles don't have to be modern or adventurous because sometimes all you need is a bright hue to breathe new life into them. Is bleached hair the most practical option? Absolutely not, and it will cause damage to your strands, but it's also an exceptional way to highlight your texture and really make it the focus of your cut.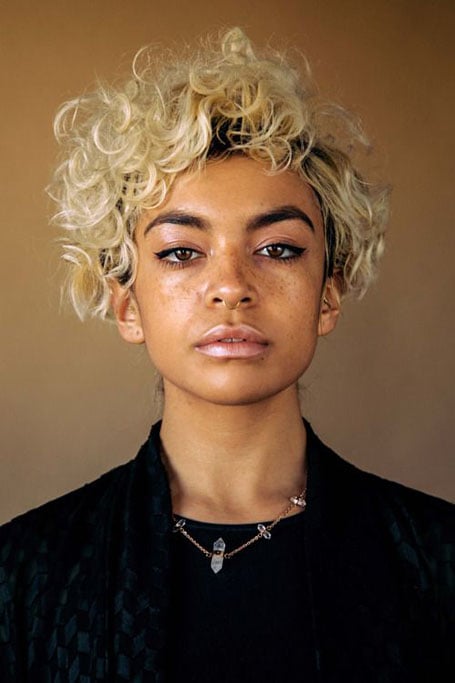 22. Short Curly Silver Bob
Silver hair is one of the most stunning ways to bring attention to your curls, especially if it results from aging. Short curly haircuts are super flattering for older women but also a practical choice because the natural growth rate slows, and hair becomes more dry and brittle. Keeping it on the shorter side will counteract this.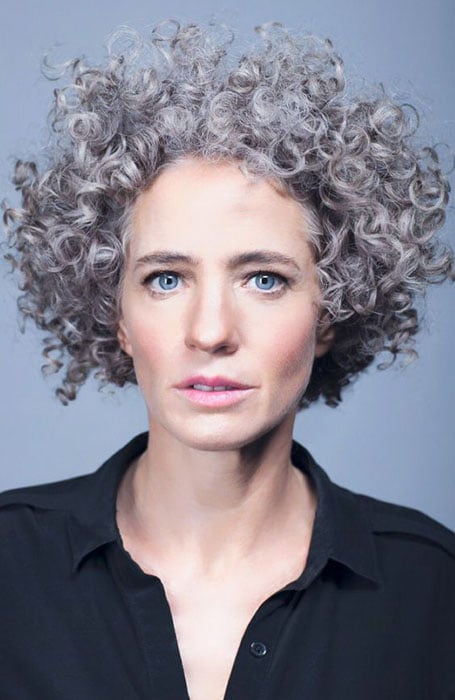 23. Short Curly Hair with Long Fringe
Short curly haircuts with a long fringe look feminine and are an attractive way to soften the features. Plus, a long fringe is an excellent way to create the illusion of length while benefiting from all the pros of shorter strands. Whether you're styling your hair up or down, leave the fringe loose to create a contrast.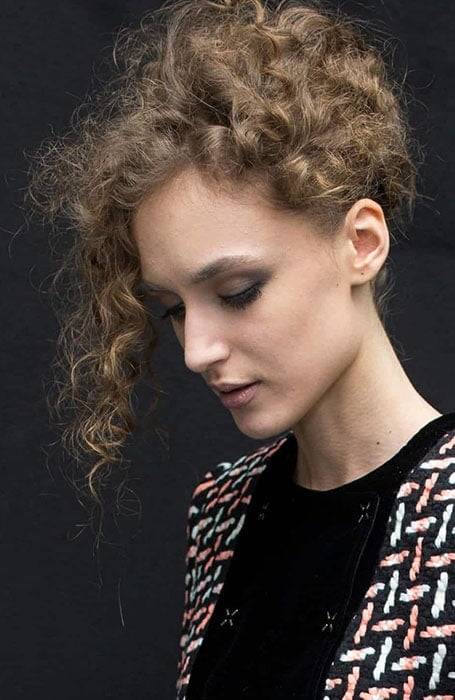 24. Marilyn Monroe Short Curly Hair
Marilyn Monroe was a Hollywood icon and is still celebrated for her stunning style and beauty. Her look is one of the most famous options for short curly haircuts, and it is brushed away from the face (to really open up the features), dyed really light blonde, and textured at the roots. It's the perfect marriage between elegance and modernity, and you'll look gorgeous!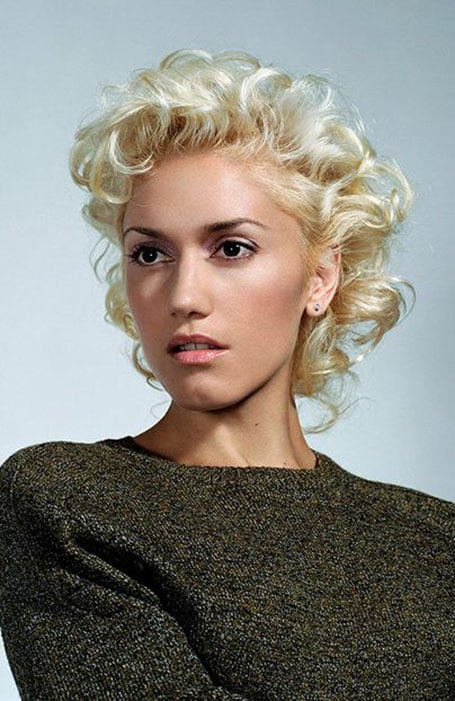 25. Short Curly Hair with Fade
Short curly haircuts for women can be styled differently, letting you experiment with the look and find something that says, "hey, this is me!" A classic combination is opting for fullness at the top and styling it with a long fringe, but for added cool points, why not pair your look with a fade? It will require more regular trips to the salon, but the effort will be worth it!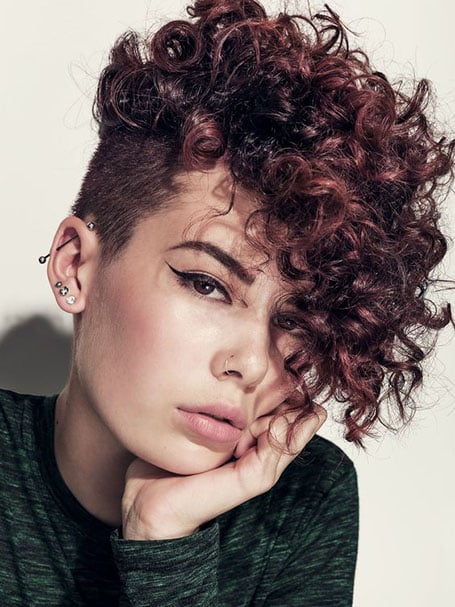 Short Curly Hairstyles FAQs
Does curly hair look good short?
Curly hair is well suited to short cuts because it has natural volume and can be styled in many ways. There's so much versatility, from pixie cuts and bobs to shaved sides and curly buzz cuts. Plus, because curly hair can be more prone to breakage, sometimes chopping off the ends can make your hair look and feel much healthier.  
What is the best haircut for short curly hair?
The best haircut for short curly hair will depend on your face's shape and curl pattern. You want a style that will flatter your features and suit your lifestyle. Pixie cuts look great on women with heart, oval, round, and triangle faces. Meanwhile, side-swept bangs and part lines on a bob are great for heart and square faces, as it balances your forehead out. Shorter hairstyles are also great if you have a long face, as it creates more width in your look.
How can I style my short curly hair?
Short curly hair can be left natural, embracing your curls as they are. Alternatively, it can look exquisite pulled into an updo, particularly for special occasions. Just remember that hairpins will be your best friend to keep everything where you want. Side braids are great for pulling curly hair away from the face while still looking stylish. Alternatively, opt for an edgier look by shaving the side of your head, either to the back or just at the temple.
How do you sleep with curly hair?
A few methods for sleeping with curly hair ensure you wake up looking like a goddess rather than a frizz ball. First is to hydrate your hair by using a leave-in conditioner or treatment. This will help prevent moisture loss and breakage. When it comes to sleepy hairstyles, pineapples, top knots, and braids are popular choices to prevent damage and frizz. Lastly, sleeping on silk is another good tip – you can use either a silk bonnet or pillowcase. The smooth texture won't grab your hair as you snooze like cotton or synthetic options.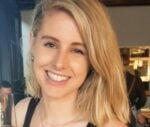 Taylah Brewer holds a bachelor's degree in fashion and business and is a skilled writer with several years of experience in the world of online content creation and copywriting. She is passionate about fashion, beauty, and all things lifestyle-related and has been writing for The Trend Spotter since 2016. She currently works as the Head of Digital & Ecommerce at White & Co.
SUBSCRIBE TO OUR NEWSLETTER
Subscribe to our mailing list and get interesting stuff and updates to your email inbox.