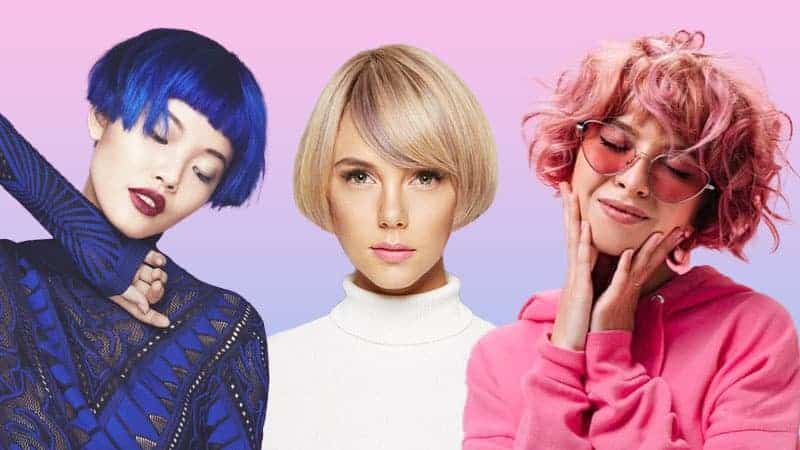 The short bob haircut is a classic hairstyle for women, and while we love a good classic, the appealing thing about this cut is also how chic it is. It can be easily adapted to suit your preference, including experimenting with the length and opting for a shorter cut can create a modern version of this look. This option will give you all the benefits of the original bob haircut but is far less maintenance and hassle. If you want to try this exciting new hairstyle, check out these best short bob haircuts for an effortlessly cool look.
RELATED: 40 Bob Haircuts & Hairstyles Ideas
Short Bob Haircuts
1. Short Bob with Bangs
The short bob haircut is a super cute and universally flattering style that women of all ages can rock. There are also different ways to try it out, including wearing it with bangs. The right bangs will be able to soften your features and let you modernize your cut. Choose from a full fringe to a wispy one, depending on your preference.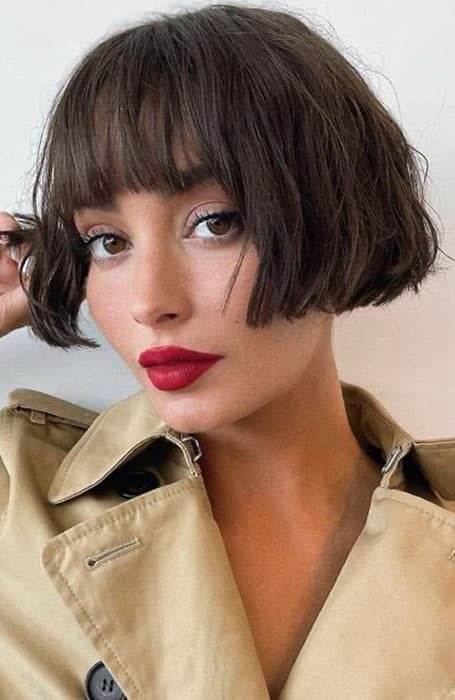 2. Short Layered Bob
A short layered bob is an excellent choice for your next haircut. Layers will give your hair movement and can be created differently, including cutting them around the face to achieve a face framing effect. Another pro of layering is that it can be added to all textures and is great for making thin strands appear fuller and thicker, while on thicker locks, it will remove weight.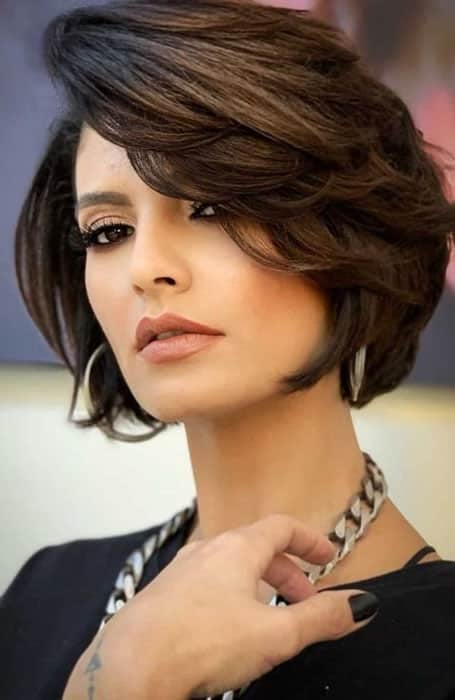 3. Short Bob with Fine Hair
With fine hair, your styling options can seem limited. However, wearing it shorter can often be a more flattering choice, and the ends will not appear scraggly. The bob haircut is a classic, and it's loved because of its versatility and styling options. It also looks great, no matter how thick or thin your strands are.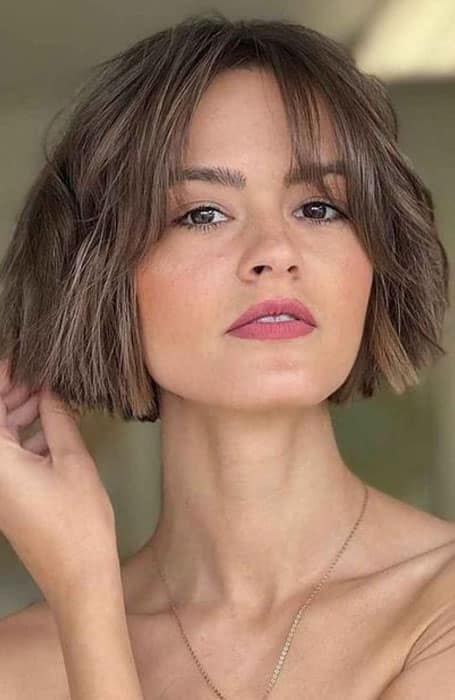 4. Choppy Short Bob
We love the choppy finish on a short bob haircut because it gives such a texturally interesting appearance. It is an excellent way to add movement to your locks while giving them greater depth and dimension. The unstructured result also makes the style feel edgy and modern, and who doesn't want that?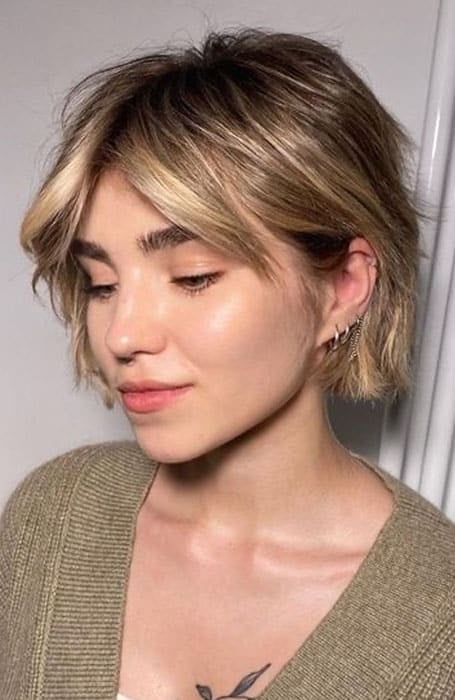 5. Funky Short Stacked Bob
Your hairstyle is a way to have fun with your appearance and express yourself. The right style should speak to your personality, and a funky short stacked bob will show you are a daring and adventurous woman. The pro of the stacked layers at the back is the illusion of length at the front but the carefree finish of shorter strands at the back.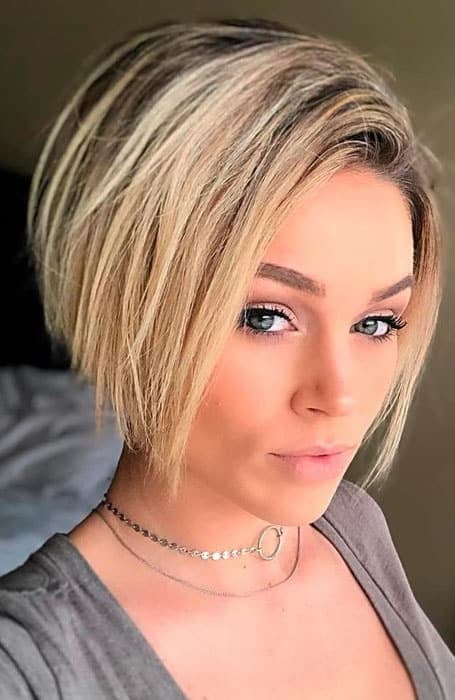 6. Short Curly Bob
Curly hair is one of the most desirable textures because it appears full and thick. Many women may feel it's risky to style their locks short because they can appear too voluminous and even poofy. But the right cut will let you embrace the texture and a short hairstyle. The short bob haircut could be just what you've been looking for!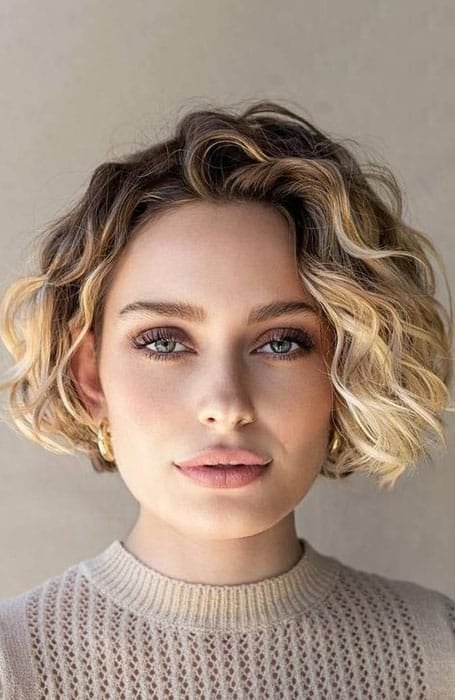 7. Short Shaggy Bob
The short shaggy bob combines the layers of the shag haircut and the classic feel of the bob. Together creates a fresh finish that is full of movement and effortlessly chic. There will be fullness and volume on top, thinning toward the ends. If you prefer a more textured approach to styling and want a laid-back look, there is no better option.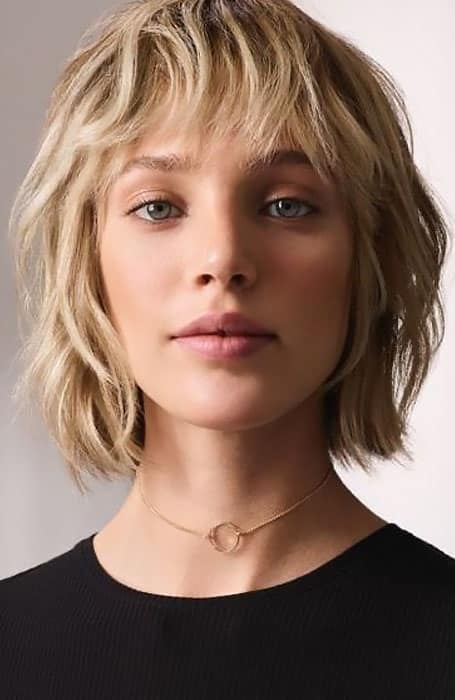 8. Low-Maintenance Short Bob for Thick Hair
Thick hair benefits from looking full and healthy, but it can also be challenging to care for, especially when worn long, as it will be prone to tangles. A low-maintenance short haircut is chopping off your strands and opting for a style like a bob haircut. Effortlessly chic and universally flattering, what is not to like?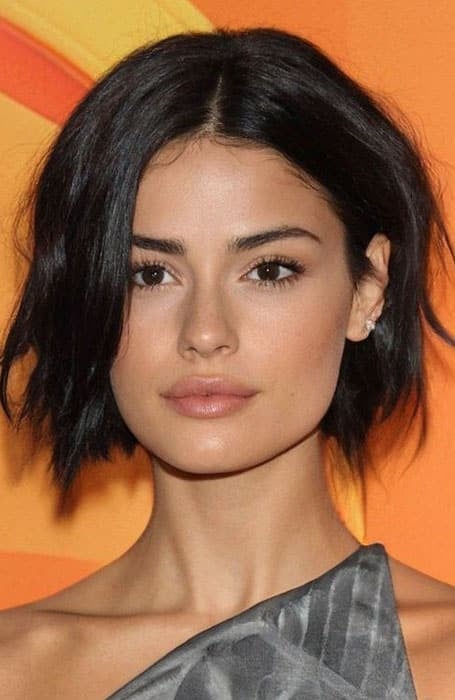 9. Short Asymmetrical Bob
The asymmetrical bob is a haircut that is every bit as cool as you would imagine it to be: the interesting angles of the cut, which are worn with one side longer than the other, makes it the perfect choice for those wanting an edgy and modern finish. How the hair falls against the face can also be very flattering and detract from any imperfections.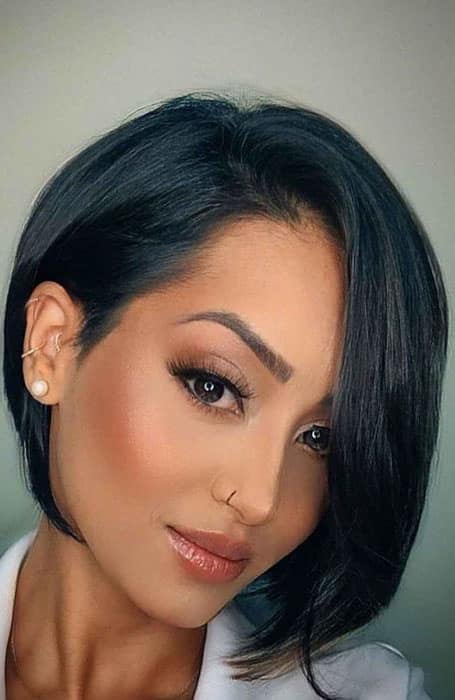 10. Short Blonde Bob
If you want to change your appearance with a new hair color, consider blonde hair. It is a brilliant option because it will lift your hair and brighten your appearance. It will also make your chosen short bob haircut more noticeable and show off your texture better. All these reasons and more make it one of the most popular choices.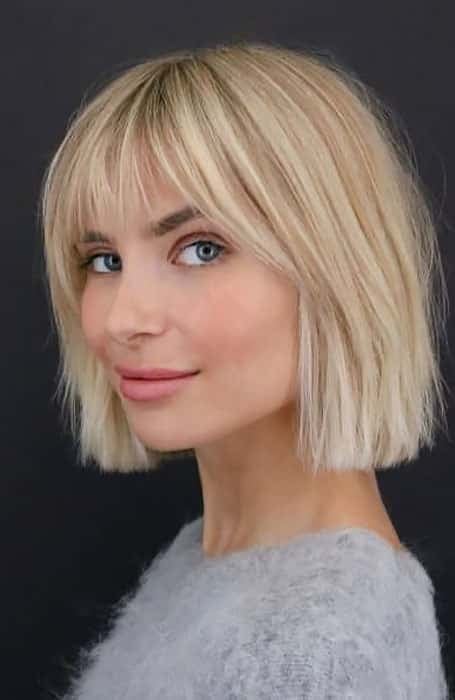 11. Pixie Short Stacked Bob
The short bob haircut can stick to the classic approach or be combined with other styles for a modern interpretation of the look. Opting for a stacked bob with layers at the back, styling it so that it is slightly longer on top with a fringe will also take your hairstyle into the pixie-cut territory. This is an excellent option for women who love short styles.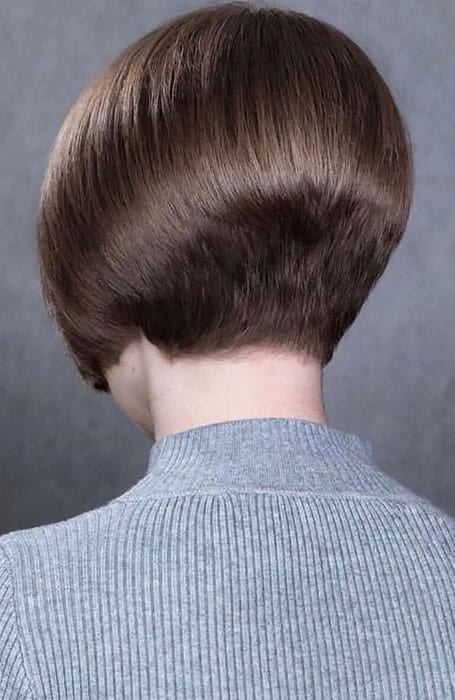 12. Short Bob with Curtain Bangs
What we love about the short bob haircut is its versatility; it can be created in many ways. This includes how you style it, and curtain bangs are one of the best additions to the cut because they are incredibly flattering. The way they part in the middle creates a face framing effect that will draw attention to your features and give you a youthful glow.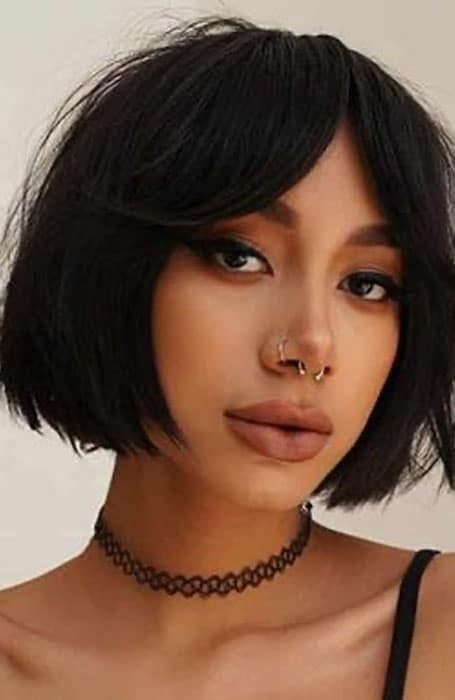 13. Short Inverted Bob
The inverted bob is a hairstyle with longer hair on the front and shorter length on the back. It is an edgy and effortlessly chic look often favored by older women, although all ages can rock the curved cut. The combination of different lengths will give you a youthful and playful finish that draws attention to the face.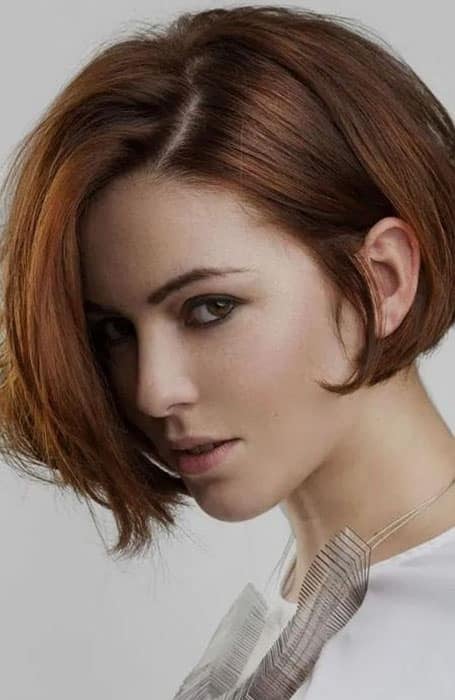 14. Blunt Short Bob
The blunt bob is created without any layers, making a precise cut that feels sleek and sophisticated. The look is best on straight textures, making it more noticeable, whereas it would achieve a blended finish on curly strands. The great thing about this short bib haircut is that it can be glamorous, making it perfect for formal occasions.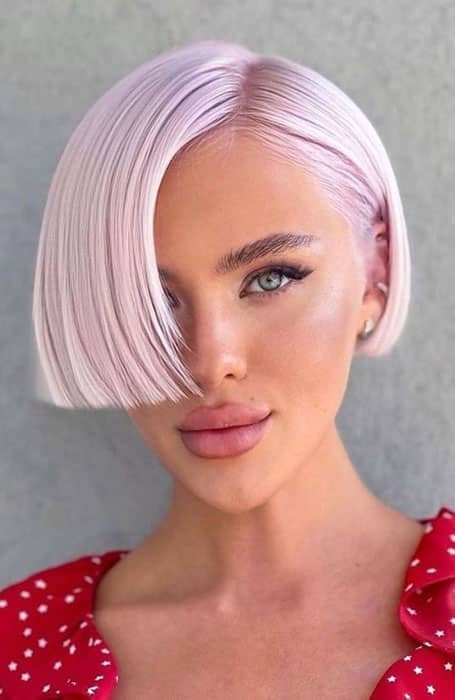 15. Short A-Line Bob
The unique shape of the A-line bob makes it an appealing choice for those who want something different from the classic bob haircut. The hair in the back will get gradually longer toward the front so that the longest pieces will hang on either side of your face. This is a stunning way to play up the angles, and although it will require more regular trips to the salon, you'll find the effort is worth it.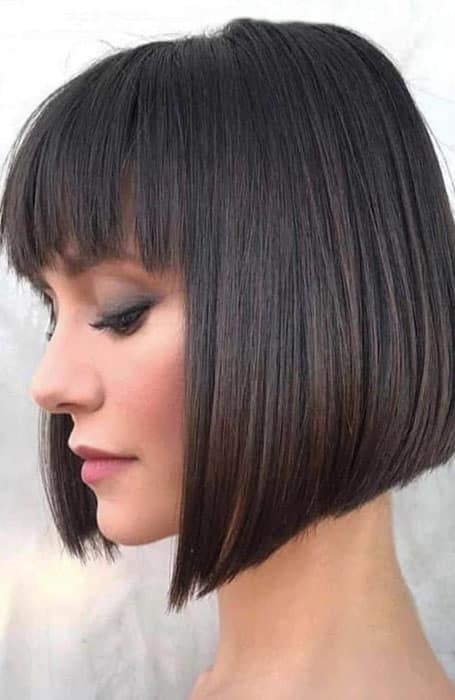 16. Edgy Short Bob
For those who want something different, try an edgy short bob haircut. What does this mean? It is usually cut with interesting angles and a lot of texture, but it can also be a way to experiment with color or add modern elements to the cut, like a fade or undercut. This will add personality to your hairstyle and make you stand out from the crowd.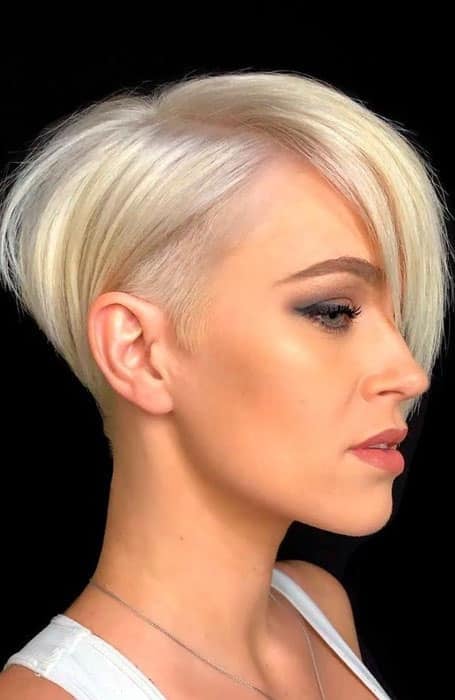 17. Short Angled Bob
As the name suggests, a short angled bob is a haircut that features angles. This is a brilliant way to let you play with proportions and give you a modern and fun style. It is often worn shorter on the back and longer in the front, giving the illusion of length without the hassle and all the benefits of short strands.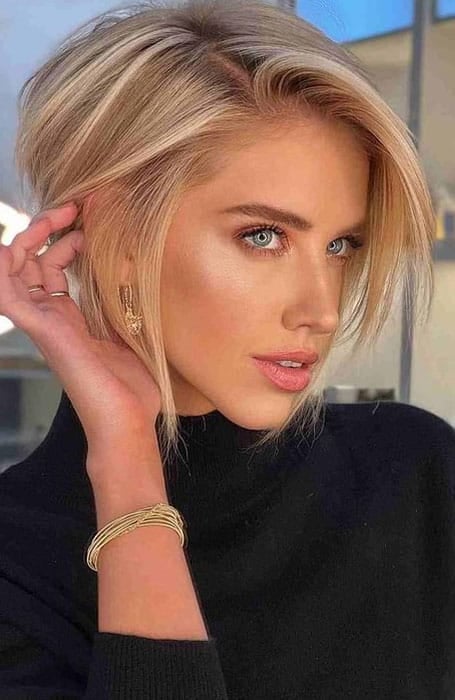 18. Short Bob with Undercut
The undercut is an edgy and undeniably cool addition to your short bob haircut. Instead of a classic approach, this look feels modern and daring. When paired with the hair on top, the contrast in length on the sides can make your strands appear fuller and thicker, or it could remove bulk and weight from already thick hair. Make it even more of a standout finish by experimenting with bold colors.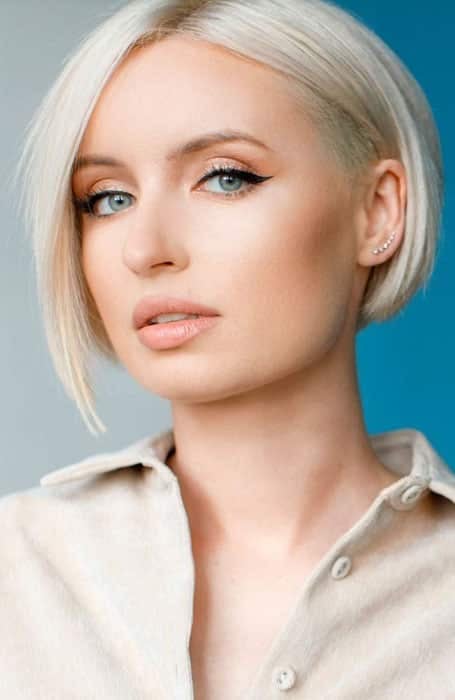 19. Short Bob for Women over 60
The short bob haircut is nothing if not versatile and has been favored by women of all ages. This is because it looks great on all face shapes and can be easily adapted to complement your texture. For women over 60, it is not just stunning. It is also practical. This is because the natural growth rate slows with age, and the strands can appear brittle or dry. A short style will counteract this.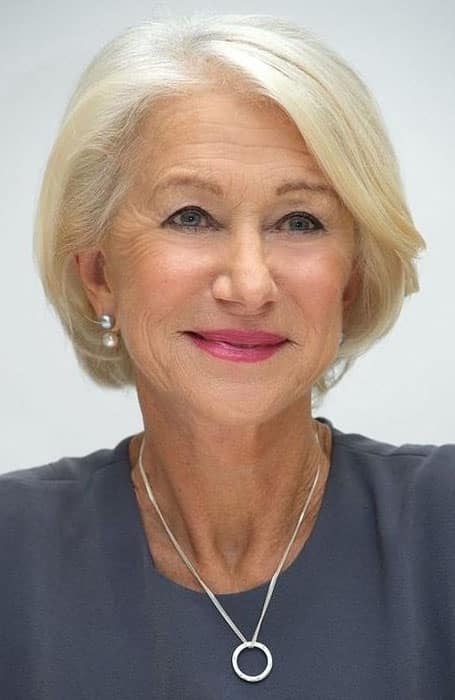 20. Short Neck Length Bob
The short bob is typically cut between the ears and chin length and is not often worn longer. That is not to say you cannot experiment with length, though; some women prefer slightly more length, ending around the neck. This option highlights the cheekbones and is stunning when paired with a middle part.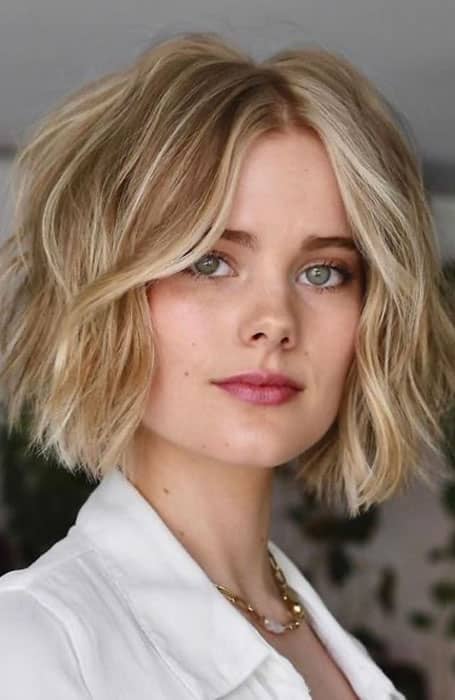 21. Ear Length Short Curly Bob
Cutting your short bob haircut to ear length can be a brilliant way to make your eyes pop and highlight your best features. This cut will work with all textures, but try it on curly locks and bangs for a soft and blended finish. Bangs are a brilliant way to draw attention to the face and are youthful.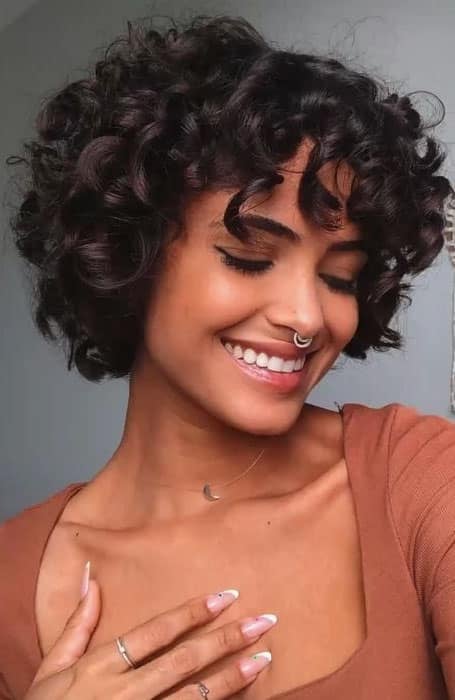 22. Bob with Short Bangs
We love the short bob haircut when paired with bangs, but there is no one option to suit all. Every face shape and texture benefits from a different look, and while some want wispy strands, others want something full and thick. Short bangs are cute and modern, and when they are cut straight across and paired with an angled bob, there is no combination that is more fashion-forward.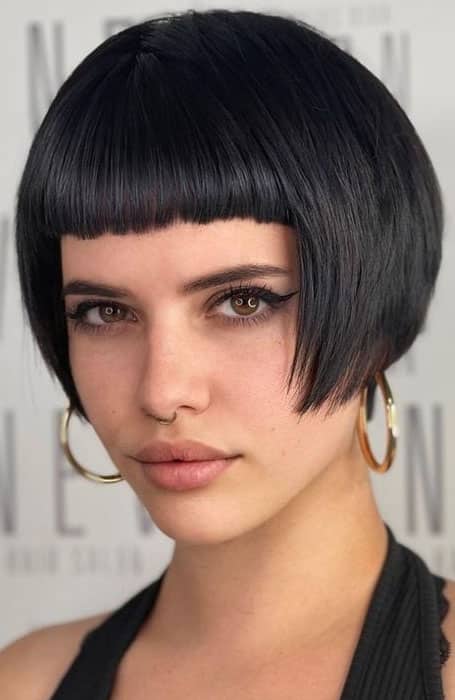 23. Short Bob with Side Bangs
What better way to update the classic bob than with side bangs? This fringed style can be incredibly flattering and is much easier to wear than blunt or full bangs. The way they are worn to one side can also balance the features and will complement those without perfectly symmetrical faces. Plus, they are great for disguising signs of aging or a receding hairline.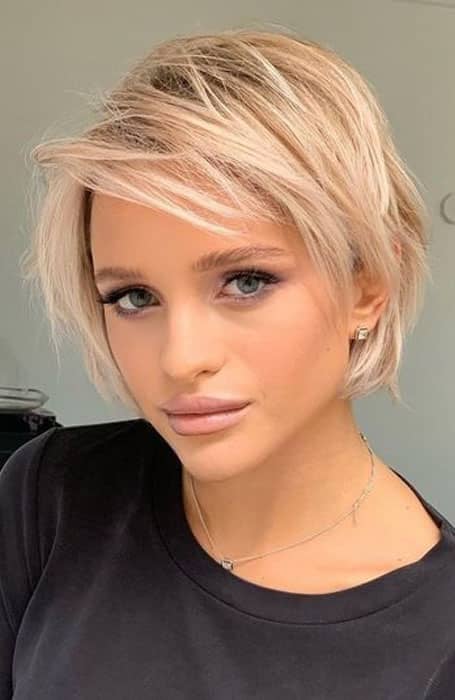 24. Short Passion Twists Bob
Passion twists are one of the most gorgeous protective styles to choose from. They are a modern approach to two-strand twists, often created to have a wavy and voluminous finish, making them super flattering and feminine. You can wear them however, you want, cutting them shorter and styling them into a bob.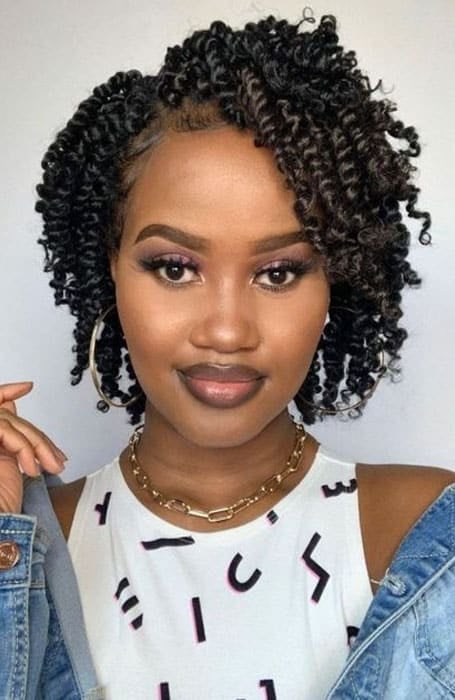 25. Short Bob Braids
Braided hair is a great way to aid natural growth and take a break from heat and chemical styling. It is also a fun way to experiment with your look without having to cause damage to your curls. Whether you love jumbo braids or prefer small, thin strands, a classic way to style them is with a short bob haircut. It is universally flattering, and the braided texture gives you a modern finish.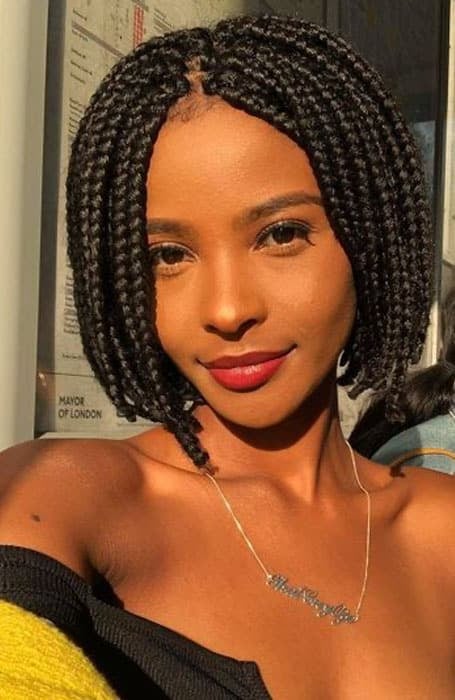 26. Short Bob with Natural Black Hair
What better way to embrace your natural texture than by styling it in a chic but simple look like the short bob haircut? You do not need much length to rock this look, and your curls will appear full and voluminous, making them look healthy. The bob haircut does not require much maintenance and will complement most face shapes.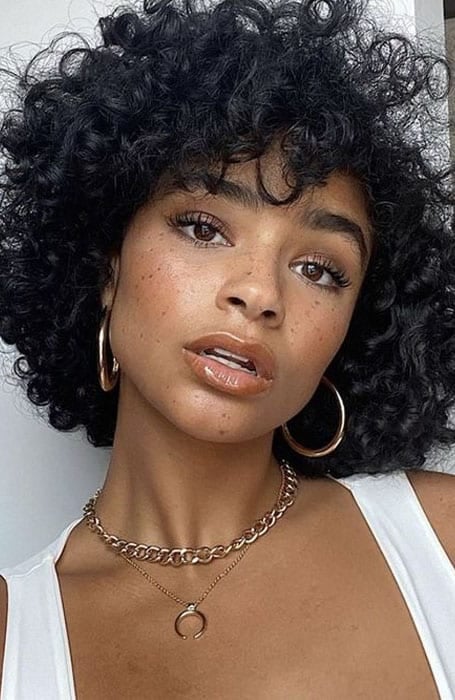 27. Short French Bob
The French bob or Parisian cut is a popular short hairstyle that is cut shorter than the traditional bob and often worn with blunt bangs. It feels incredibly chic and sophisticated and is an excellent way to show off your features. The cut is typically suited to straight textures but can also look stunning with wavy or curly locks.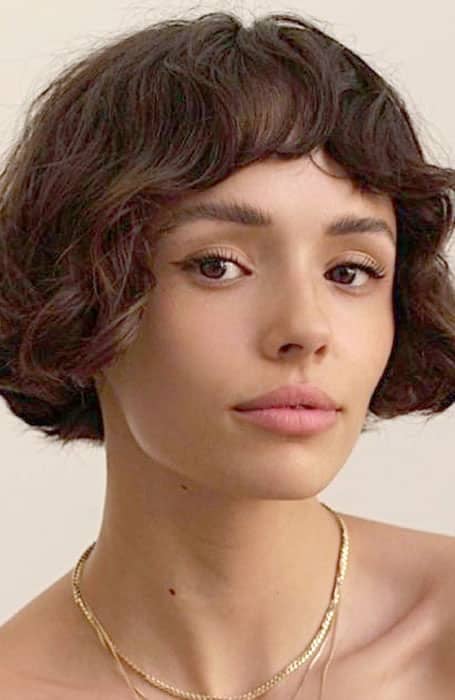 28. Short Quick Weave Bob
A weave comprises of natural or artificial hair extensions that can be added to the scalp using different techniques. Some of the most popular methods include sew-in or gluing (you can work with your stylist to determine which method is best for you). It is a great way to experiment with length and textures, letting you try the cut you dream of.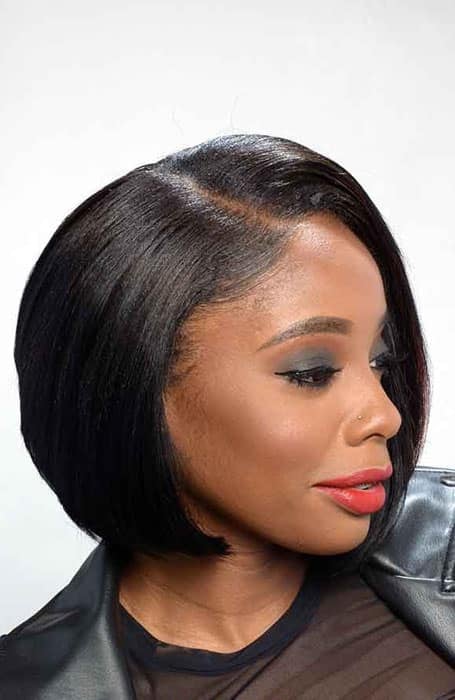 29. Short Textured Bob
It is incredible how texture makes even the simplest cut look more interesting. A textured finish does more than make the hair appear full and voluminous; it also gives you that unstructured and deliberately messy aesthetic that is so desirable. If you have naturally straight hair, it will take more time to style, so the look is best suited to wavy or curly strands.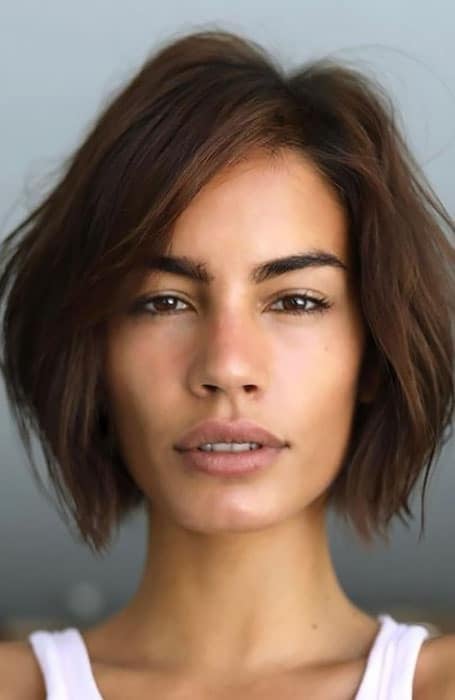 30. Cute Short Bob
The short bob haircut can look super cute and youthful, depending on how you style it. This can also be achieved with your accessories, and a pretty clip or headband will help show off your style. Do not be afraid to experiment with your look to let it reflect who you are. Color is another way to make it feel more youthful and fun, and pink hair is one of the best choices.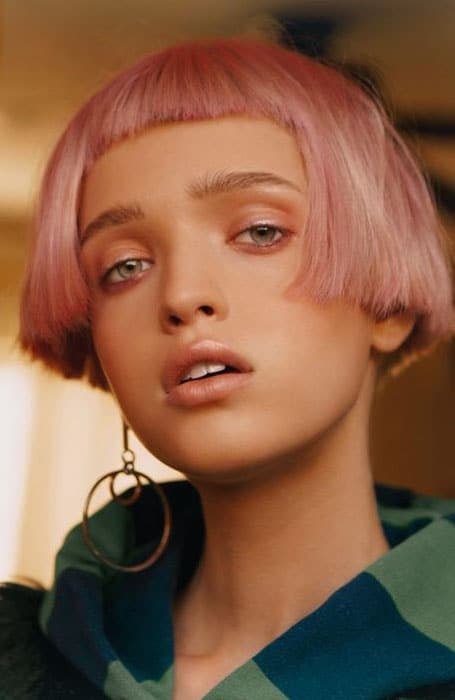 31. Middle Part Short Bob
The middle part is one of the more challenging partings to pull off, but for those who can, you should. It is best worn by those with symmetrical features (it can, unfortunately, highlight any imperfections) and is excellent for framing the face. Try to wear the front of the bob so that it is long enough that the hair can be tucked behind the ears, making it a practical yet chic option.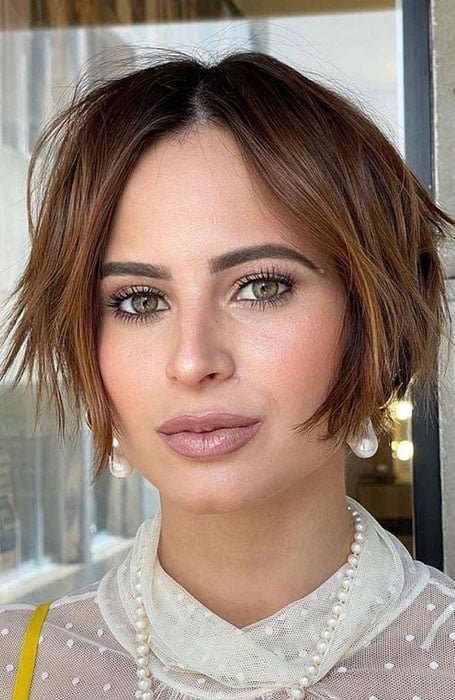 32. Very Short Bob
Different versions of the bob let you play up proportions and experiment with length. For those who want a cute hairstyle that is easy to maintain, opt for a short cut. It will fall above the ear and highlight your cheekbones, making your features stand out. This is a great alternative to keep your hair looking healthier if you have fine strands or dry and brittle locks.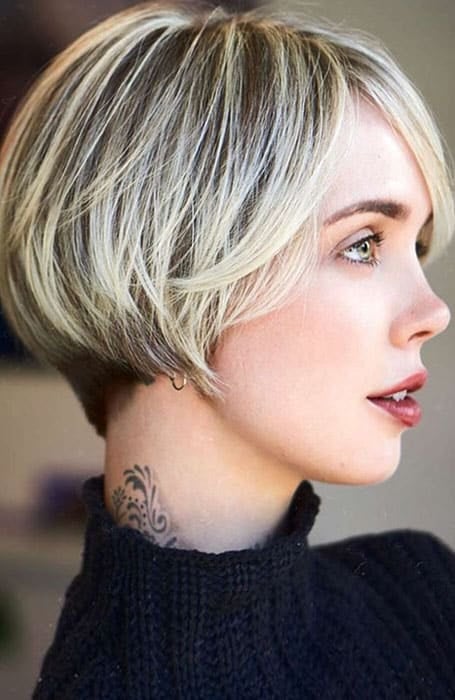 33. Voluminous Short Bob
We love volume because it makes the short bob haircut look full of life and gives it movement. This can be achieved with heat styling and products, or you may have naturally voluminous locks, making this the perfect look. Part your strands to the side for a flattering finish to soften the face and balance the features.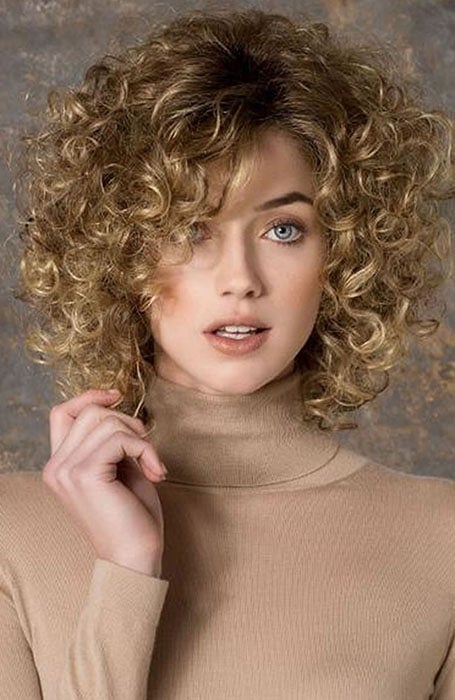 34. Short Bob and Bangs with Red Hair
Red hair is one of the easiest ways to draw attention to your appearance. This is because of the boldness of the hue but also its rarity. A short bob haircut with bangs will be complemented by the richness of your chosen color and is a great way to ensure you stand out from the crowd and your cut gets the attention it deserves!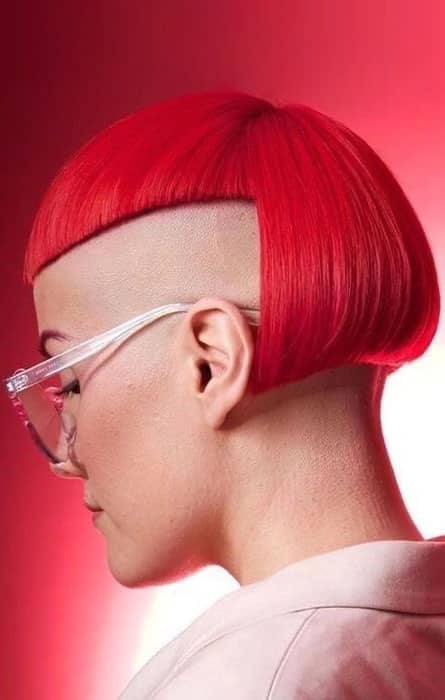 35. Hair Design Undercut with Short Bob
Do you want something that makes you look and feel great when it comes to the right hairstyle for you? There is no denying that the bob is a classic haircut that is flattering on most people, but for those who want to breathe new life into the style, try wearing it with a hair design and undercut. The combination is expressive and edgy for those who are daring.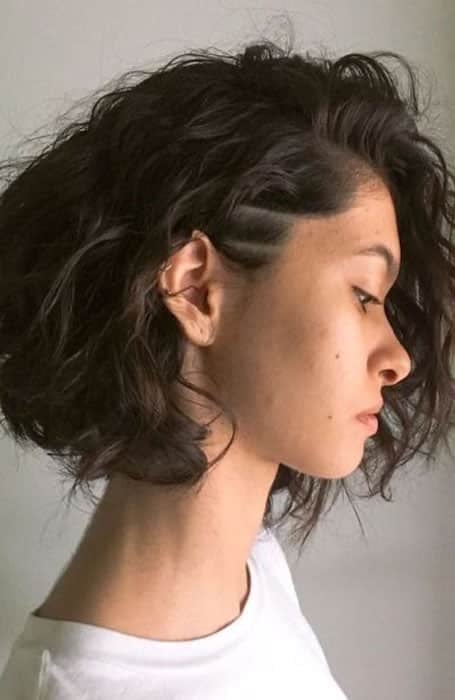 Short Bob Hairstyles FAQs
Does a bob make you look younger or older?
The bob is a universally flattering haircut that will complement women of all ages. One of the reasons is that it can make you look much younger than your years, and for older women, a shorter cut is also practical. This is because our natural hair growth rate slows as we age, and the texture can appear dry and brittle. A great alternative is to cut your hair shorter, like with a stylish bob, and wear it with a fringe that can disguise signs of aging like fine lines and forehead wrinkles.
What is a very short bob?
A very short bob is a shorter version of the classic cut that is often cut above the ears. There are slight variations, which can be as long as chin length.
What face shape suits a short bob?
The bob haircut is universally flattering and will suit all face shapes. It can be easily adapted to suit your preference, including hair texture and type. You may want to style it so that it is angled or pair it with bangs, and your hairstylist will help you find the best option to complement your features and face shape. That said, oval faces are best suited to bob haircuts and most styles because this is an incredibly versatile face shape.
What is the Italian bob haircut?
The Italian bob haircut is cut below the chin but above the shoulders. It will often have a longer length at the front, which is great for framing the face and highlighting your features. It is not the shortest version of the bob, but it is undeniably chic.
What is a French bob?
The French bob, also called the Parisian bob, is one of the most sophisticated ways to wear hair. It is cut around chin level and paired with blunt bangs, which are flattering, but also so cute. This look works with all textures, but straighter strands will create a more sleek and precise finish.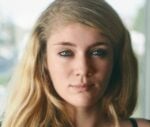 Cailyn Cox holds a degree in journalism and has been working with The Trend Spotter as a writer for over ten years. She has worked with some of the most prestigious women's and men's lifestyle publications. For her, writing is not just a job; it's a passion, which is why each article she writes is approached with such enthusiasm and dedication. She has extensive knowledge of hairstyles, tattoos, and beauty and has made a career out of creating informative articles that appeal to women and men of all ages.
SUBSCRIBE TO OUR NEWSLETTER
Subscribe to our mailing list and get interesting stuff and updates to your email inbox.