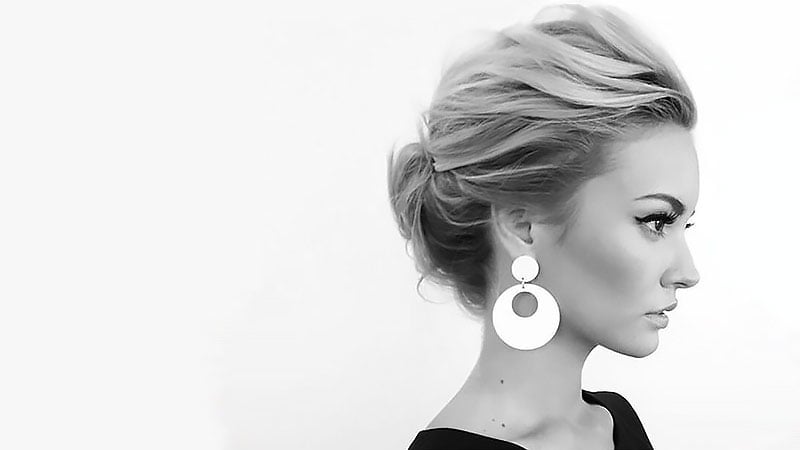 Having short hair doesn't mean you can't create a stylish and elegant updo! All hair lengths and textures can be styled into a fashionable updo; you only need inspiration! From chignons to Dutch braids, those with short hair aren't short of styling ideas. Whether you're heading to prom, your wedding, or just the beach, these stunning updos for short hair are ideal for all occasions!
RELATED: 55 Easy Updo Hairstyles for All Hair Lengths
1. Summer Updos For Short Hair
The summer months are known for their higher temperatures, which is something to remember when determining which hairstyle is best. Updos are great because they look pretty and romantic, but they are also practical, keeping the hair away from the face and off the neck, which will help you to stay cool. When it comes to the right style, you are spoiled for choice. Try a simple look like a low ponytail or a bun, or go for something more intricate like a crown braid.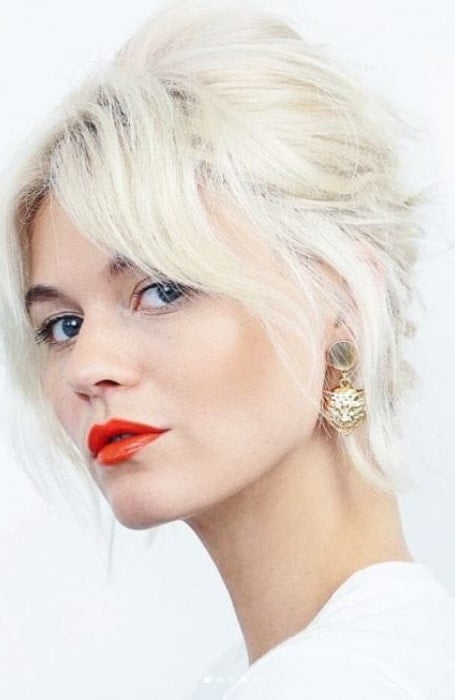 2. Easy Short Hair Updo
Intricate updos can be challenging to create on short hair because there is not enough length to create them properly. This is why simpler styles are often best. For short hair, you want to find a look that will complement your hair texture and suit your length. An excellent hairstyle to choose from is the half up half down hairstyle, or a simple braided style like the side braid or waterfall braid. Feel free to experiment with several looks before finding the one that suits you best.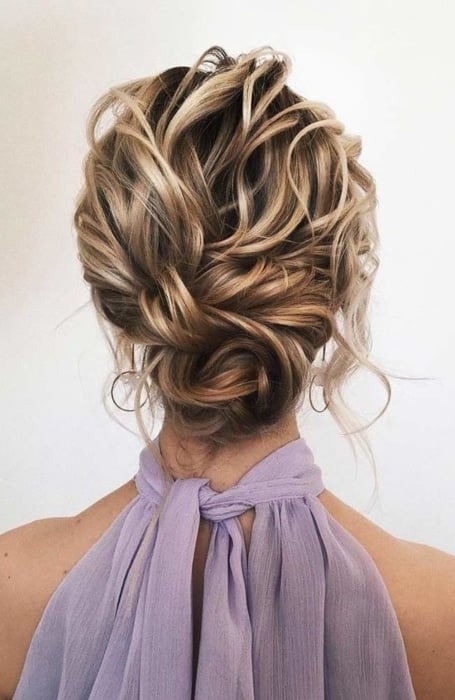 3. Simple Updo Short Hair
A simple updo is a look that will require little time to create and will not need to be touched up throughout the day. This is ideal for women who want a fuss-free hairstyle that will complement their short hair and make them look and feel incredible. There are several options to choose from, including simple buns and twists.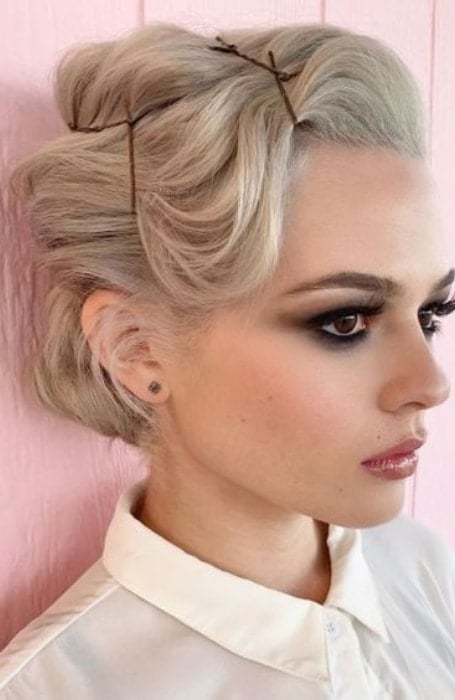 4. Half Updo for Short Hair
The half up and half down hairstyle is one of the most beautiful and versatile looks you can choose. As the name suggests, the style is created by wearing the hair half up and half down. This will let you pull the hair away from the face and open up your features while also leaving it down to show off your hair texture. You will get the best of both. It works with all textures and lengths, including short hair.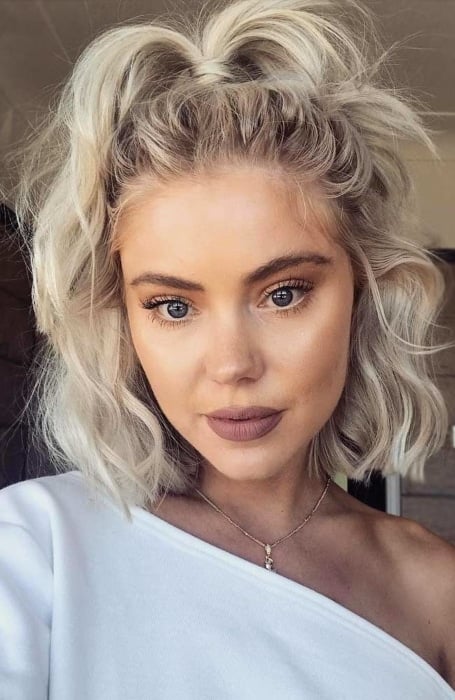 5. Updos For Shoulder Length Hair
Shoulder length hair is gorgeous and manageable and will look good on women of all ages. It is much easier to maintain than long hair but has more versatility with styling than shorter styles. The added length will give you more options for your updo, and you can create slightly more detailed and intricate looks. Or, show off your length with a side braid or a pretty pinned-back hairstyle.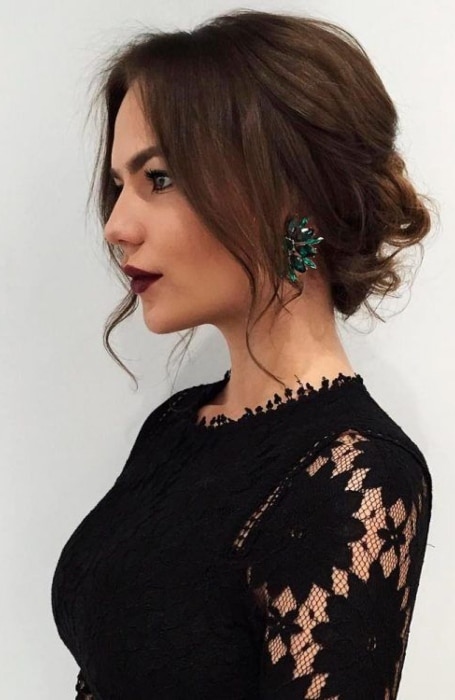 6. Low Ponytail Updo
The ponytail hairstyle is a favorite because it is stylish, classic, and versatile. It is a great choice for women with short hair because you need very little length to create it. You can style the ponytail in several ways, including high or low. The ponytail is also practical and will lend itself well to various occasions, including work parties and functions. Or it can be worn as you go about your daily activities.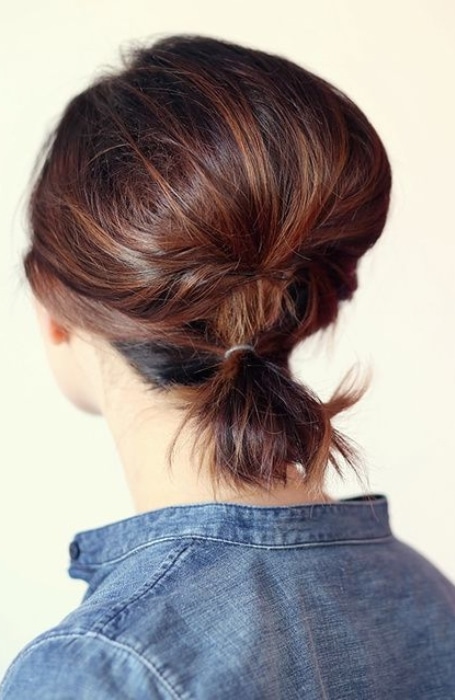 7. Easy Bun Hairstyle
The bun hairstyle is a classic updo and looks great on all hair textures and lengths. It is incredibly practical and is a great way to keep the hair out of your face and off your neck, which will draw attention to your face. You can also style it in different ways. Some prefer a sleek look that is perfect for formal occasions. Others choose a messy and deliberately unstructured bun that will look soft and romantic.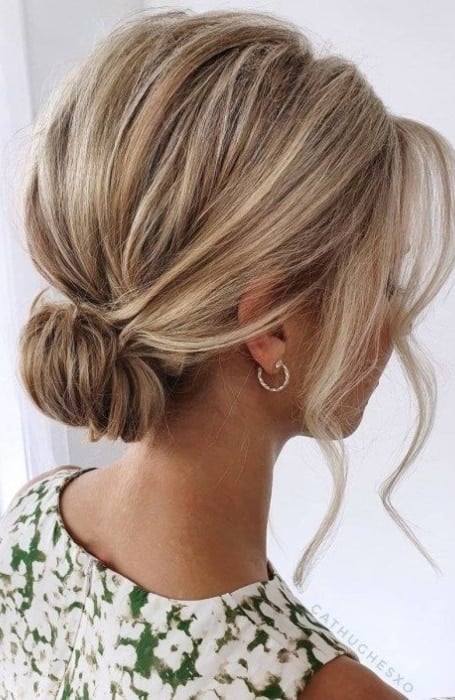 8. Braided Updo for Short Hair
What is not to love about braids? There are different styles to choose from depending on your preference and skill level, but for short hair, a simple three-strand plait is best because it does not need as much length as some of the more intricate braiding techniques. You can braid the back of the hair and pin it up or add a braid along the crown or side for a romantic finish.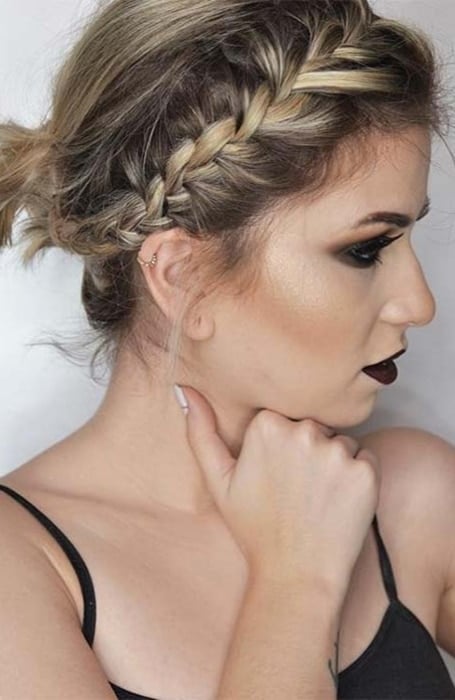 9. Pinned Back Updo
The pinned-back hairstyle is one of the simplest updos there is. It is easy to do and will complement all hair lengths because you only need to pin the hair in the front backward. This is a great look for drawing attention to your face and highlighting your features and will allow you to experiment with your hair accessories. You can opt for a few bobby pins for a subtle finish. Alternatively, you can create an eye-catching finish with multiple or larger, colorful clips.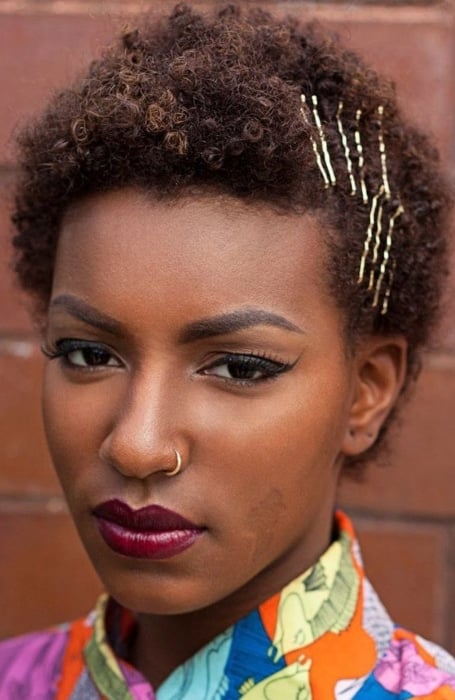 10. Romantic Twist Updo for Short Hair
Twists are not braided and less intricate, requiring less hair length to create them. This makes twists the perfect option for women with short hair looking for an elegant updo ideal for special occasions and important events. The result will be a feminine and romantic hairstyle that is simple to create and will look good on women of all ages. Pairing it with hair pins and floral accessories will look gorgeous.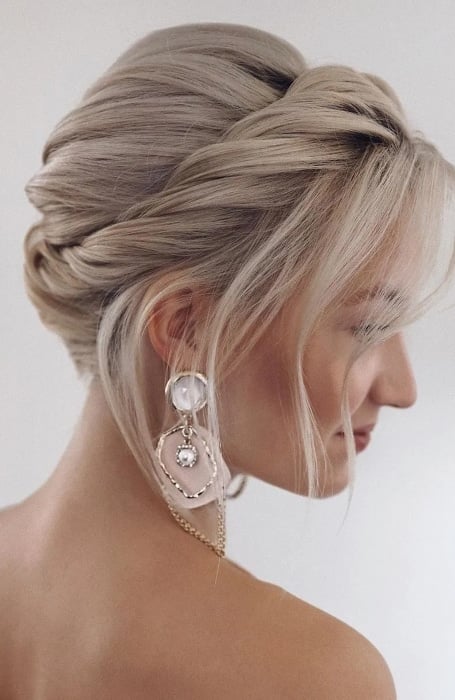 11. Top Bun for Short Hair
The top bun is a simple hairstyle that can be created quickly and will look effortlessly chic. The bun is worn higher on the head than the classic style, although you may have to experiment with the positioning depending on the length of your hair. You can pull all of your hair into a top bun or leave out tendrils for a modern finish. Or opt for a half-up half-down style for a more relaxed look.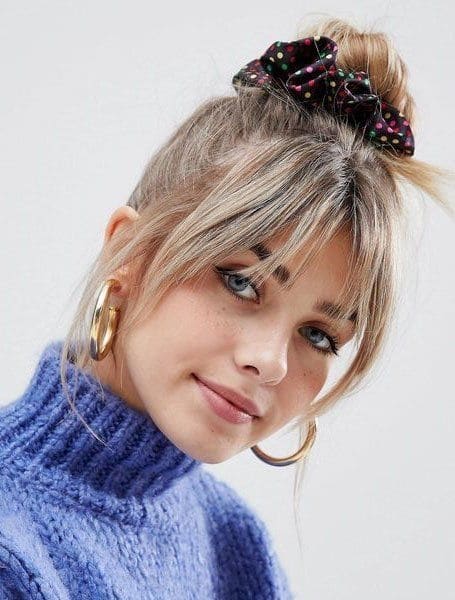 12. Cornrow Braided Updo
Cornrows are a protective style that is braided close to the scalp using the underhand braiding technique. This gives them a raised appearance. The appeal of cornrows is that they can be created on hair of all lengths and textures. It is a versatile look that you will adapt to suit your preference. A braided updo is an excellent option because it is gorgeous and functional. The braids will give your hair a break from heat and chemical styling.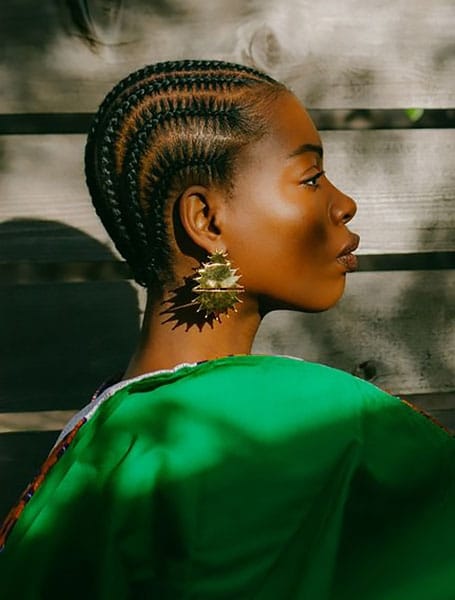 13. Bantu Knots
Bantu knots are an excellent option for those with very short hair because they can be created on the hair of all lengths. To create Bantu knots, you will section the hair, twist it, and wrap it to create a knotted appearance. How big the knots appear will depend on the thickness of your hair and the length. This protective style can be traced back to the Zulu tribes in South Africa and has great cultural importance, making it a look to be worn with pride.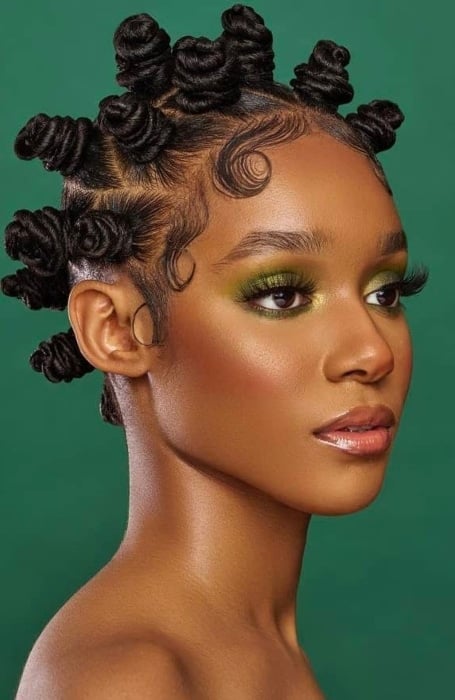 14. Cute Space Buns for Short Hair
Space buns are undeniably one of the cutest and most youthful options for styling hair. It is a simple style with a bun on either side of the head. How big the bun is will depend on your hair texture and length. For short hair, your look will comprise two small buns, and you can style them to sit lower on the head if you do not have enough length. Get creative with this look and feel inspired to accessorize it to show your sense of style best.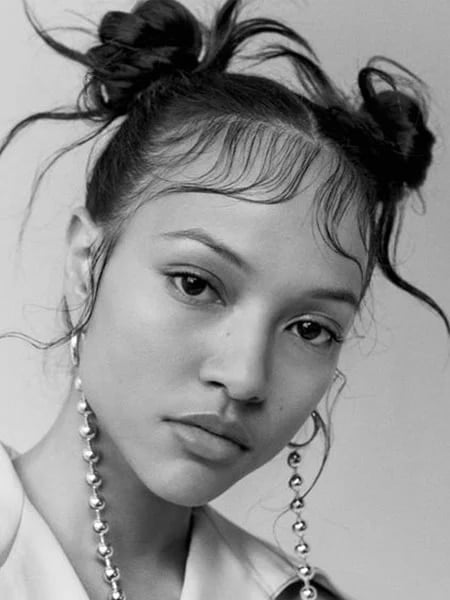 15. Side Braid Updo
When deciding on the perfect updo, you do not have to pull all of the hair up and off the neck. Many versions of the updo include the half up half down hairstyle or trying braided looks like the side braid. As the name suggests, the side braid is simply a braid created on one side of the head. This is a great option for short hair because you do not need as much length as you would if you were to create this look at the back of the head.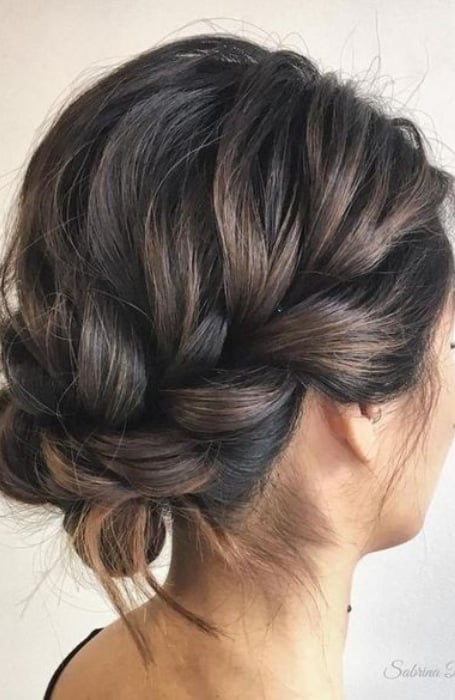 16. Crown Braid
The crown braid is a look that is gorgeous for all occasions, including special events like a wedding or proms. You can overlap two Dutch braids and secure them with hair clips for short hair. Depending on your hair texture and length, you may wish to opt for a messy and deliberately unstructured finish. This will be more forgiving if your hair is cut at different lengths or is too short of tying up properly.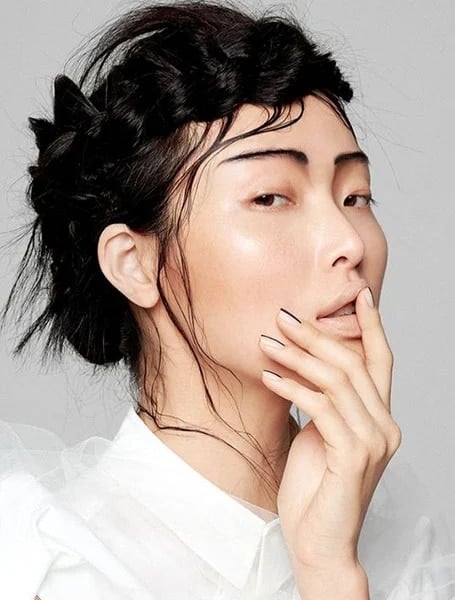 17. Half-Up Waterfall Braid for Short Hair
The waterfall braid is often worn for special occasions like weddings or proms because it is stunning and an excellent way to show off your hair texture. The braid is a half French braid that cascades down to leave the rest of the hair loose. As the braid is created at the crown, you do not need as much length as you would with many other braided styles. It will complement all hair textures, including thin and fine hair.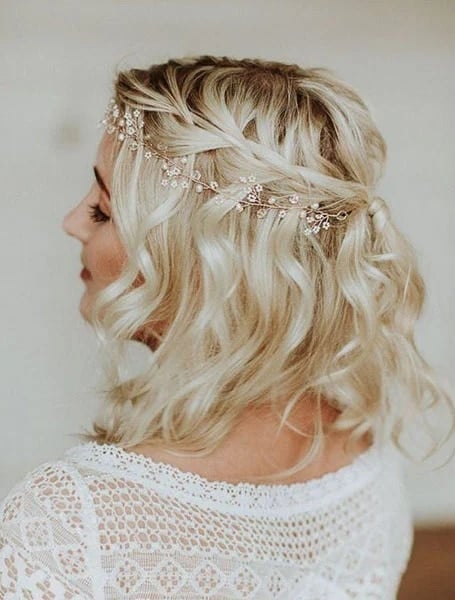 18. Bubble Braid for Short Hair
The bubble braid is a simple and expressive look that has been trending on social media recently. It is super easy to create, and you will place the hair into a ponytail and add elastics to the length of it. This look will complement all hair textures and types and can be adapted to suit varying lengths, including short hair. With short hair, you have less versatility with styling than with long hair.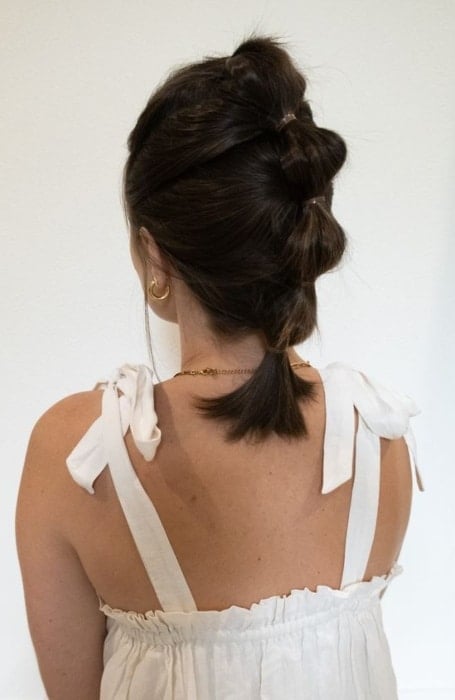 19. Pigtails
The pigtail hairstyle is a cute and youthful style. You create it with a ponytail or braid on either side of the head. It is a great look for women with short hair who want something simple but fun, and there are several ways to create the style. This will include opting for a half up half down look with thin pigtails on top of the head, and the rest of the hair left loose. This is an excellent way to show off your hair texture and will require less length to create.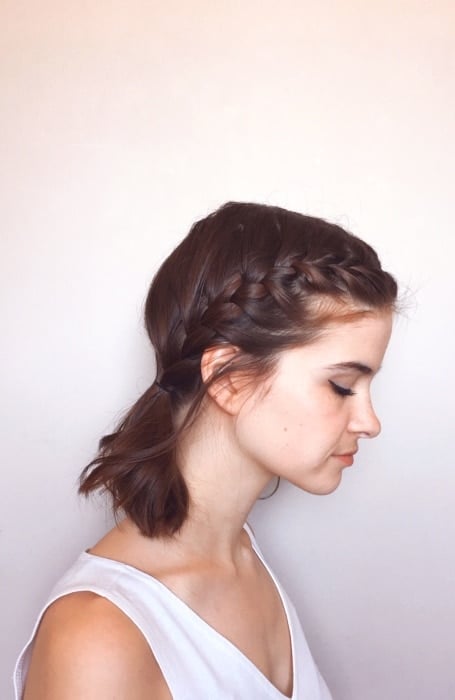 20. Braids with Beads
For short hair, there are several protective styles that will complement this length. Protective styles are ideal because they are long-lasting and will give the hair a break from the heat and chemical styling and aid natural growth. This is best achieved with accessories to personalize your look and create a pretty and unique hairstyle. Try beads, cuffs, or even pearl details, and have fun with your look.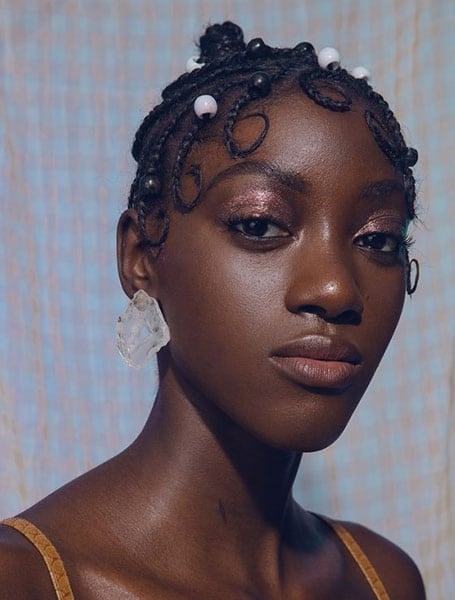 21. Cute Updo for Short Hair
For the days when you haven't washed your hair, or it's too hot to keep it down, this is the style for you. Perfect for ladies with shorter hair, a Double Dutch Braid is on-trend, easy to create, and super cute. Much like a French Braid, you begin with three main locks of hair but reverse the braiding technique, leaving the twist on top of the head rather than underneath. Continue until you reach the nape of your neck, and then finish off the braid like a regular plait. This style is super cute and effortless so that you can wear it anywhere!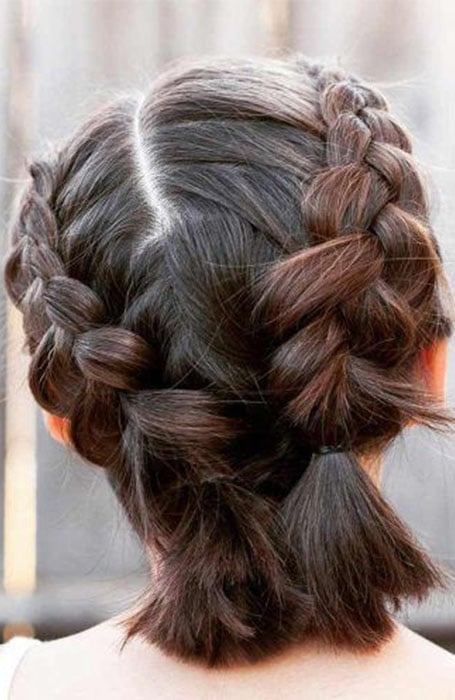 22. Short Prom Updo
You've got the perfect dress; now get the fabulous prom hairstyle with this elegant updo! Begin with dry shampoo for extra volume and create a side part. Add a fishtail braid, wrapping over the side of your head into the bun. Pull out any loose tendrils to frame your face, and curl them to add extra volume.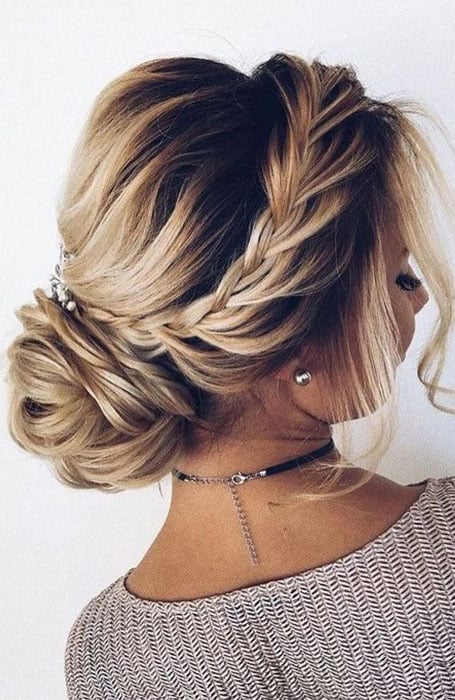 23. Easy Updo for Short Hair
Getting ready in the morning just got easier with this hairstyle. Chic and stylish, it is perfect for those with short hair. Create a plait and tuck the ends of your hair underneath, securing it with a bobby pin. This style is ideal for every day but is so fabulous that you could wear it to a special event or a night out with the girls.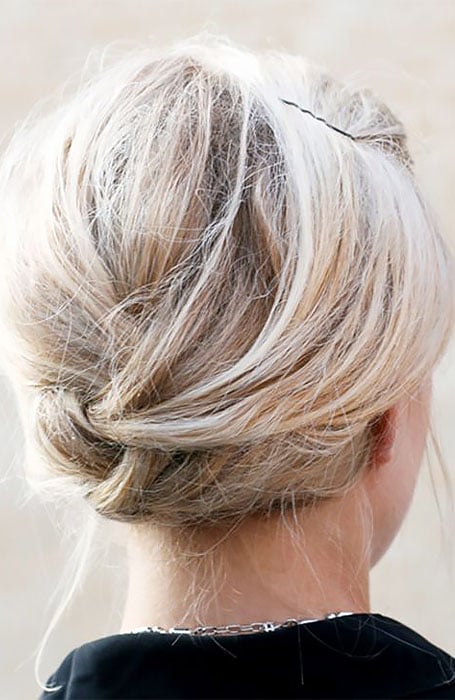 24. Short Curly Hair Updo
You don't have to have straight hair to create stunning updos; short curly hair is perfect for it too. Bring the front sections to the back, pinned down to the middle part of the crown of your head. Depending on the length of your hair, you can pull the rest into a low bun or leave it out. This style is simple yet so beautiful. It's an ideal hairstyle for running errands, going to work, or the beach.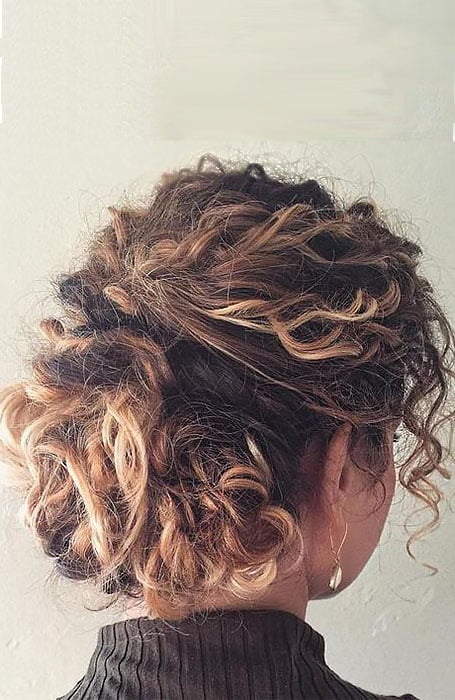 25. Very Short Hair Updo
Updos aren't for people with medium to long hair only. Pixie cuts and bobbed hair can create the most beautiful updos in the blink of an eye! Twist small locks of hair into the back of your head, pinning them down. Add some dry shampoo to the roots of your hair for extra volume, and release some face-framing tendrils. This style is ideal for those with very short hair and is perfect for any event or gathering.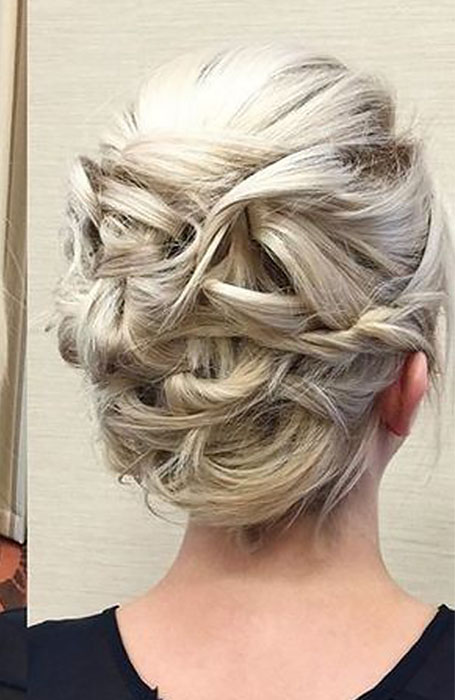 26. Medium Short Hair Updo
If your hair is somewhere between short and medium, have no fear, an updo is just as easy for you to create. Braid a large, loose plait on the side of your head and work your way across to the back of your head. From there, fix the remaining hair into a low bun at the nape of your neck. This style is casual and elegant all at once.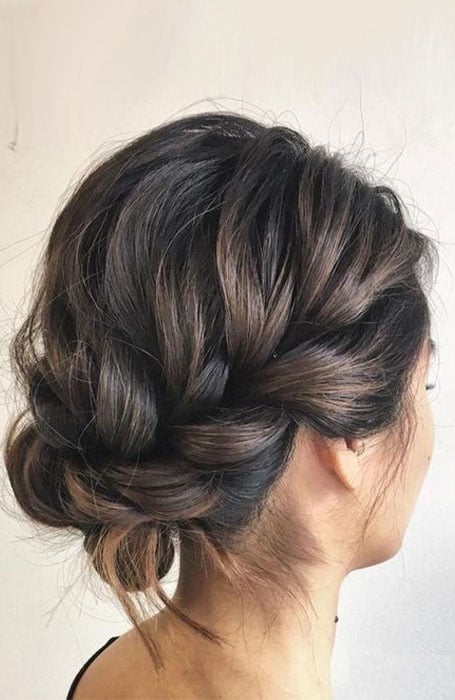 27. Short Updo for Wedding
Opting for an elegant hairstyle is a go-to for any bride. You never have to sacrifice having a delicate and graceful hairstyle if you have short hair – this updo is perfect for all hair lengths. Curl the hair and strategically place tendrils underneath each other into a full and voluminous chignon, creating an illusion of long, flowing hair. Add a small bouquet or a comb above the bun for a stunning bridal look.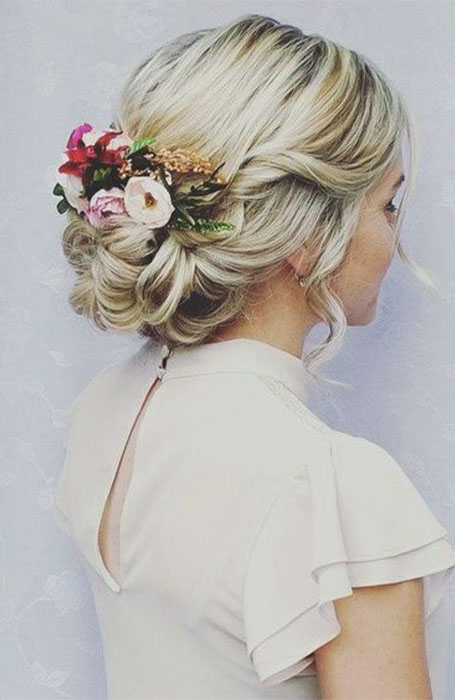 28. Updos for Short Fine Hair
Thin or fine hair can create beautiful and stylish updos like those with thick hair. Part your hair in the center, and pull the two large locks to the back of your head. Just twist the sections into two buns and pin them back. This style is perfect for those in a rush or who are trying to look fancy without commitment. On-trend and super easy to create, you'll turn heads everywhere you go.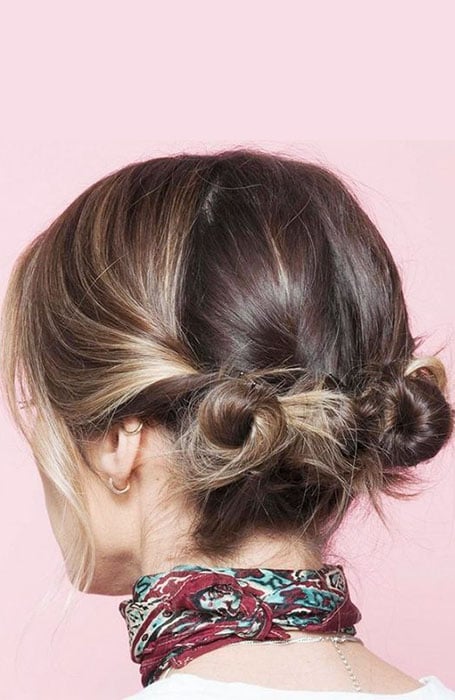 29. Short Curly Hair Updo
Hair of any texture can create the perfect updo, no matter the length. Pull your hair into the top of your head, pin some in place, and let the rest fall naturally. This faux-hawk is the perfect solution for those who want to switch up their style but don't have the commitment to shave their head or want to grow their hair. This style adds volume, and it is ideal for any event.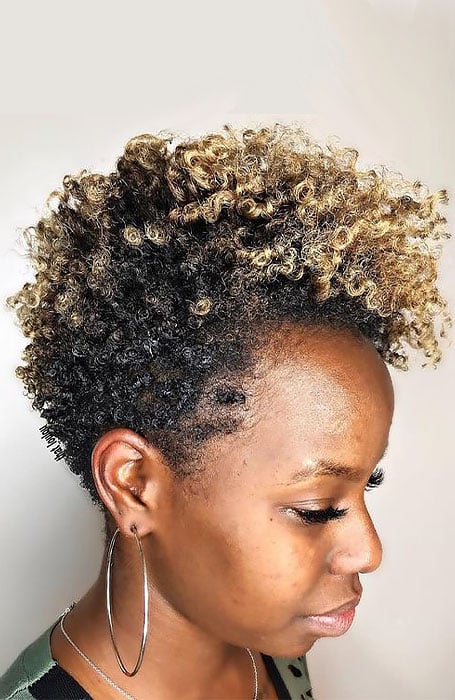 30. Short Straight Hair Updo
A low bun or chignon is the best way to utilize your short, straight hair. Begin by brushing your hair into two little pigtails, and create loose braids. Then wrap them together into a low bun, with any loose strands pinned down to the back of your head. This style is ideal for those who don't wish to curl their hair or are in a rush to get out of the house. Despite being so easy to create, it's a beautiful style that would be perfect for a wedding guest, party, or just a night out. Frame your face by pulling out some loose tendrils at the front, and watch the compliments flow in.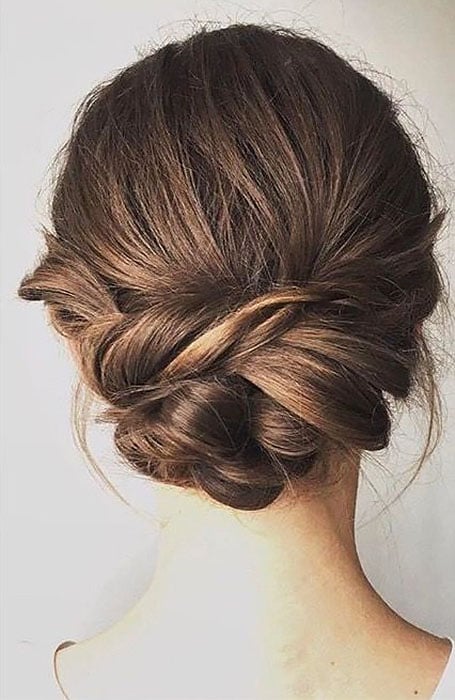 31. Short Messy Updo
You don't have to look polished 24/7 to look stylish; this hairdo proves just that. A short messy hairstyle is super cute and casual, ideal for day-old hair. Use some dry shampoo to add volume and sweep your hair into a low ponytail. Be sure not to flatten down your hair, and don't be afraid to leave some strands of hair loose. Add further volume by pulling some of the hair out from the temple of your head, and zhush it up by making it look a little messier. Bed hair is always in style, so don't be afraid to get a little messy!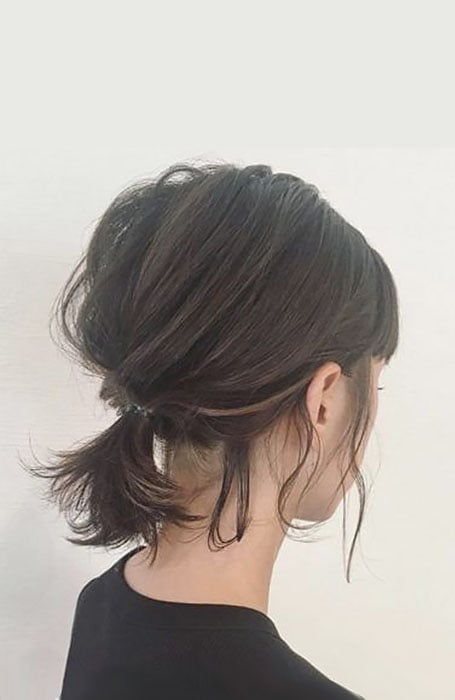 32. Short Bridesmaid Updo
No matter the length of your bridesmaid's hair, these styles will create a universally flattering look for your whole bridal party. Tease a small section of the hair at the top of the head to create volume, then wrap curls into a French twist. This style may look complicated, but it's a simple and stunning solution for anyone who doesn't know what to do with their hair. Combined with a delicate comb on the side, your bridesmaids instantly take people's breath away.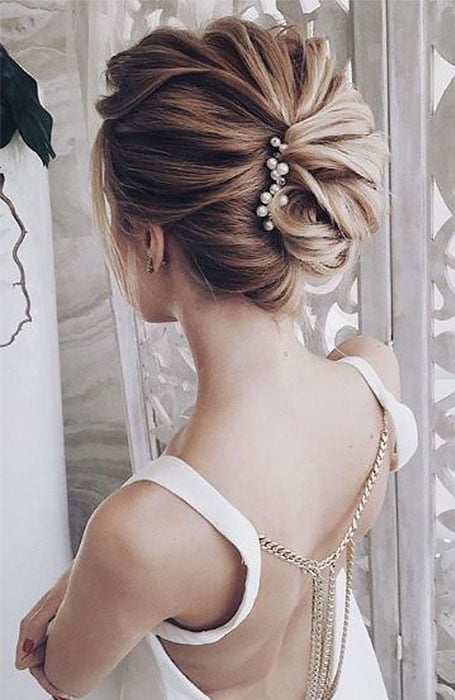 33. Short Quick Updo
In a rush? This quick and easy updo is the perfect answer – a low bun or chignon is a simple yet effective style for those who are in a flutter without looking like you got ready in the dark. Pull your hair into a loose bun, and secure it with a few pins. If you're feeling a bit fancy, be sure to add a flourish or two, such as a decorative bun pin or a comb. No one will ever know you were in a hurry with style this cute!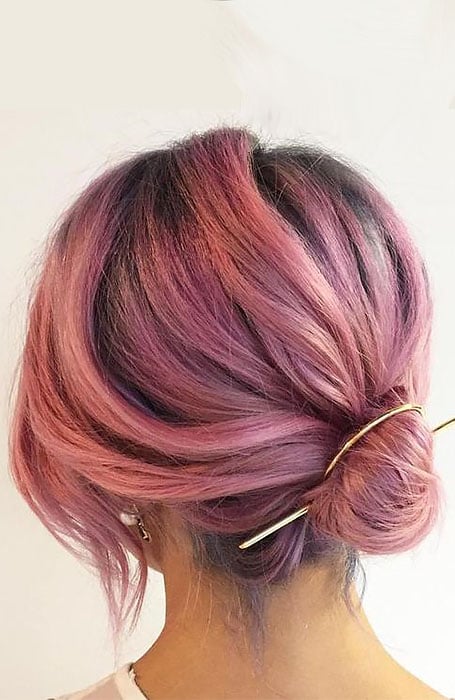 34. Short Casual Updo
Having brunch with the girls just got cuter with this hairstyle. Mix up the classic ponytail with a French braid on the side of your head. When nipped in at the nape of the neck, the braid will add extra volume to the lower half of the ponytail, giving a chic appearance without too much effort. Keep the casual flow going by pulling out some tendrils to soften your features and add more volume to your hair. This casual style is perfect for days out shopping, having lunch with friends, or university.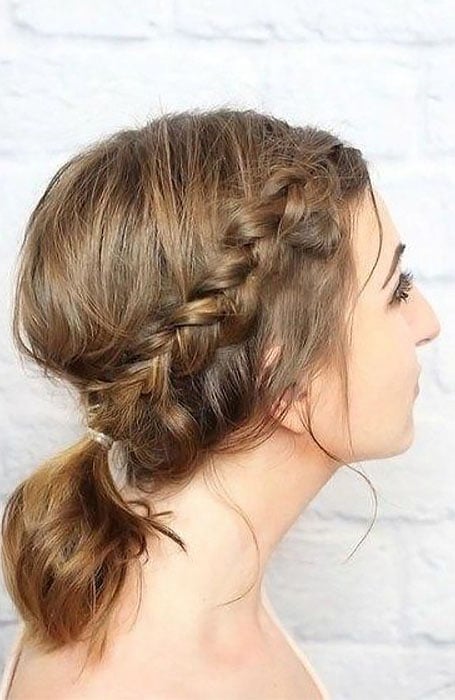 35. Short Formal Updo
If you have an event coming up, this style is essential to test out. Like previous chignons, it looks like long, flowing hair, even if you have shorter locks. Using a volumizing mousse, pull your hair into two low ponytails. Twist one into a low bun, and wrap the second ponytail over the top, placing tendrils over the first bun. This style may take some practice, but the finished effect is show-stopping. Curl your hair before adding extra volume to give it a formal feel.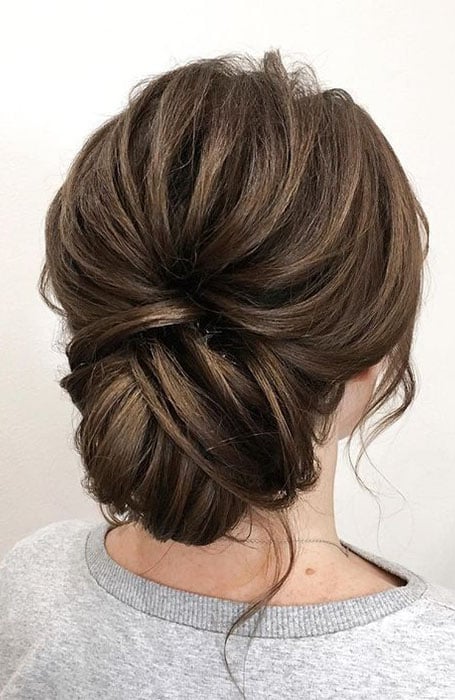 36. Short Elegant Updo
You don't have to have a chignon to create an elegant updo. Two fishtail braids are all you need to produce a delicate and tasteful updo for those with short hair. Wrap them around the back of your head, and secure them with several decorative bobby pins. This style is ideal for a special event or night out. Create a boho-chic look by twisting out some loose tendrils under the braid and at the front, giving a lived-in appearance.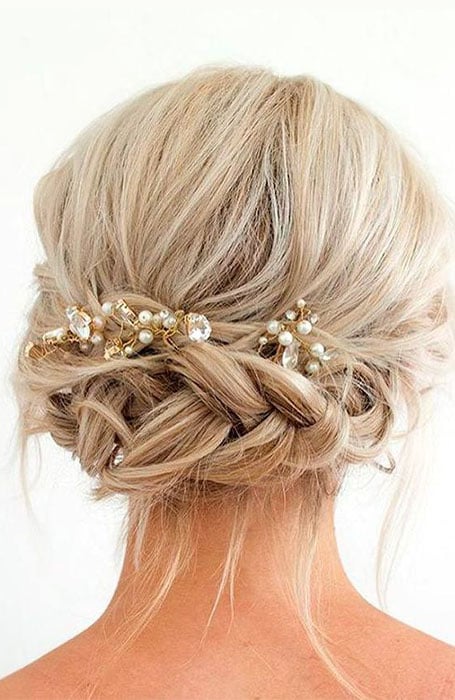 37. Short Fancy Updo
A zesty update to the classic French twist, this style is perfect for those with short hair. Begin by parting your hair and teasing the ends for extra volume. Pin the right side to the middle of your head, securing it in place. Then gather the left side of your hair and twist it into the center. Be sure not to create a bun, but wrap it, so it looks long and sleek. Begin pinning your hair in place from the bottom, and keep pinning until the hair is locked in place. This style is a classic Audrey Hepburn-inspired updo and works for any event or gathering.
38. Short Bohemian Updo
A bohemian-inspired updo is all about texture. Before styling, add dry shampoo and beach spray to your hair, giving it a full and textured finish. Create two loose Dutch braids on each side of your head. With the remaining locks of hair, finish it off with a messy low bun. Pin it up, and don't be afraid if some tendrils fall out. You can add some flower pins to the plait if you wish, but be sure to keep it messy and beachy. This style is a stunning summer updo and is ideal for a festival or beach day.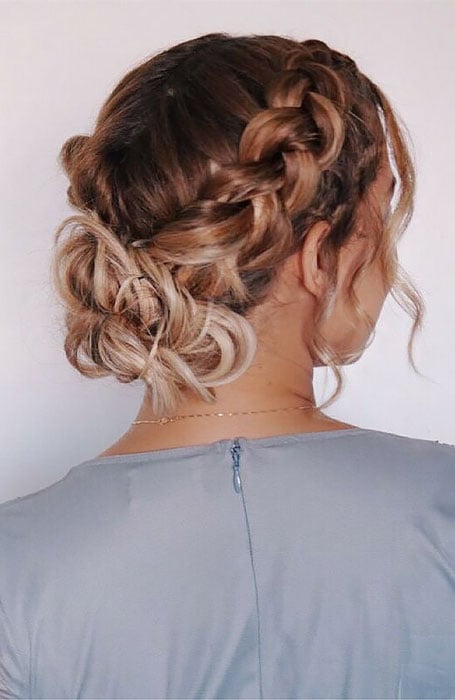 39. Short Flat Twist Updo
Flat twists are an essential style for those with afro hair. Begin with sectioning your hair and braiding each section individually. Continue this until you have covered all sections, and finish by wrapping the twists underneath each other. This style is perfect for keeping your hair off your face, ideal for fancy events or everyday events.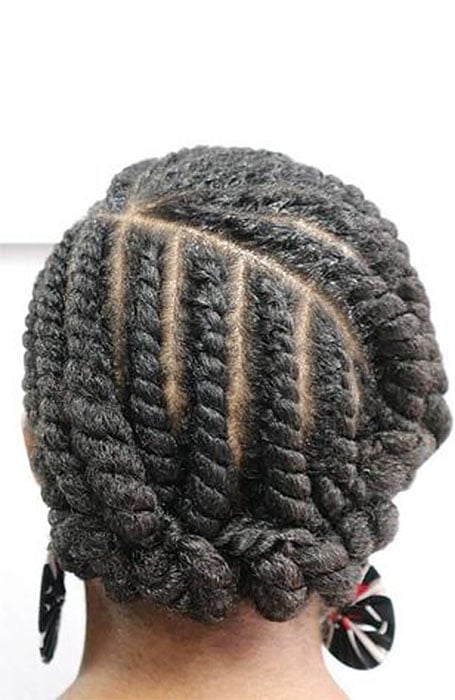 How to do an Updo with Short Hair
Short hair is easy to maintain and often looks healthy and full. However, some women may feel restricted when it comes to styling their hair. The good news is many updos will complement short hair and can be created within minutes. Whether you want a polished and elegant style for formal events and special occasions, or something messy, unstructured, and romantic, there is an option to suit every preference. If you want inspiration and an easy and versatile hairdo, watch the YouTube video below.
Updos for Short Hair FAQs
How do you do an updo with short hair?
How you do an updo will depend on the style you're aiming for. However, regardless of the style, a few tools will always help. Use a texturizing spray or paste to help your hair grip, and invest in a good hairspray to keep everything in place once your look is complete. Hairpins and mini-elastics will also help to tidy strays and hold smaller sections of hair.
How do you do a half updo with short hair?
There are heaps of ways to do a half updo in short hair. YouTube has a treasure trove of inspiration and follow-along videos. Channels like Milabu, Claudia Sulewski, and Jordan Lipscombe have some beautiful ideas and useful tutorials. Some methods involve twisting and pinning, braiding, or keeping it simple with a hair tie. Just because your hair is shorter doesn't mean you're stuck with the same routine of two or three looks. Get creative and start exploring your options.
How long does your hair have to be for an updo?
Ideally, you want your hair to sit at least a couple of inches below your chin, brushing the very tops of your shoulders. This will give you enough length to be able to twist, tie, and pin. You can still create updos and half-up styles when it's shorter, but this length will give you the most versatility.
SUBSCRIBE TO OUR NEWSLETTER
Subscribe to our mailing list and get interesting stuff and updates to your email inbox.