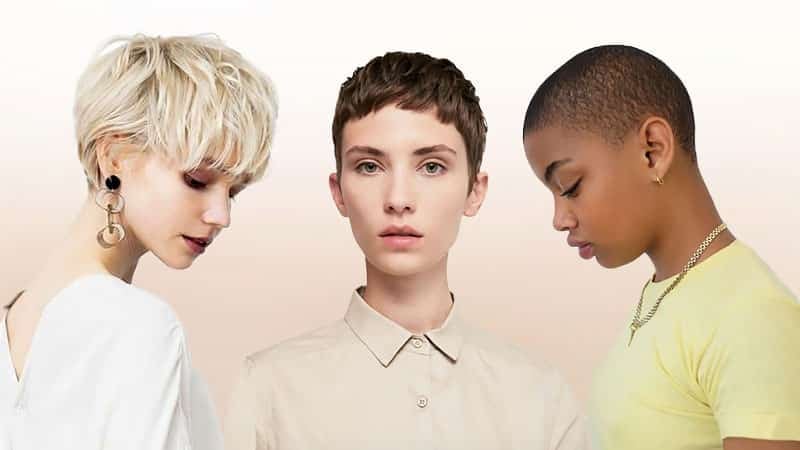 We love short hair because it is low-maintenance and a great way to reduce the hassle of styling and grooming. But short does not mean boring, and there are multiple ways to style it; whether you want something edgy and cool (and you can experiment with your favorite bold choice of dye) or something classic but with a modern twist, there is an option to suit everyone. Not only this, but shorter strands are often more practical, letting you remove bulk and weight from thick locks and making dry strands appear healthier and fuller. Don't believe us? Then keep reading to find the best low-maintenance short haircuts for all textures, and who knows, chopping off your tresses may also be a freeing and expressive experience for you!
RELATED: 100 Best Short Haircuts and Hairstyles for Women
Low-Maintenance Short Haircuts
1. Edgy Short Pixie Cut
What we love about the low-maintenance edgy short pixie cut is how much texture it has, which creates movement and fullness. You can wear it with thin or thick hair, and there are multiple ways to style your fringe, including opting for side bangs that are youthful, stylish, and ultra-flattering.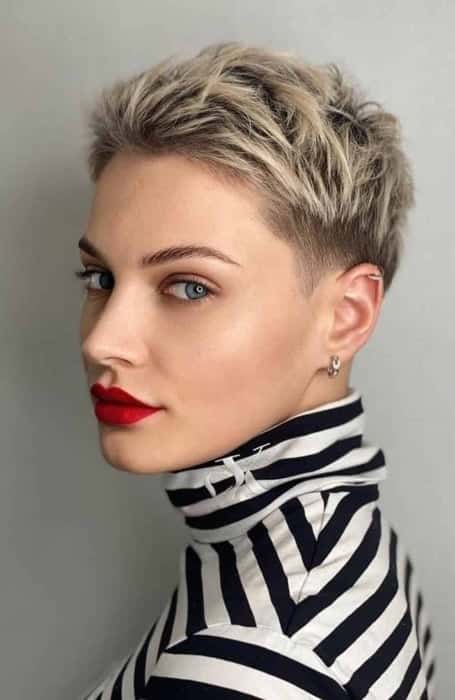 2. Curly Bob with Short Bangs
Curly hair is super cute when cut short, and this is a great way to remove some of the bulk and weight from your locks. The bob haircut is one of the most universally flattering options, but how do you make the classic look feel more updated and modern? The answer is simple, and it is all about styling! For example, keeping your bangs extra short creates a more fashion-forward finish and low-maintenance short haircut.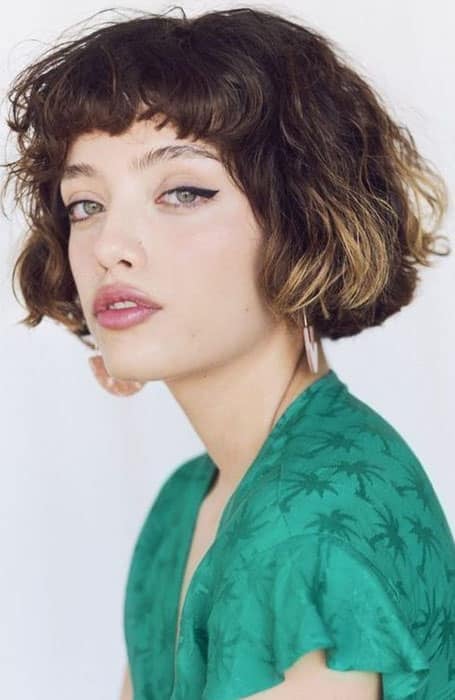 3. Short Messy Spikes
Short, messy, spiky hair looks great on women and is a low-maintenance short haircut. The key is ensuring your spikes aren't too structured or stiff. Instead, go for a tousled, textured look with all the angles and volume but without the rigid, 'crispy' look that using too much product can create.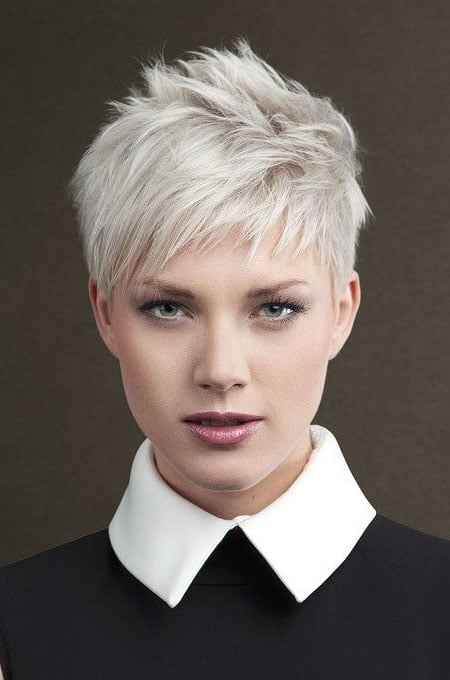 4. Short Blunt Bob
Hair can come in many textures and types, but to reduce the thickness and cut back on the volume, a great idea is to cut your strands shorter, and the blunt bob is the ultimate choice. This low-maintenance short haircut is created without layers and is complemented by straight strands giving it that sleek and sophisticated finish.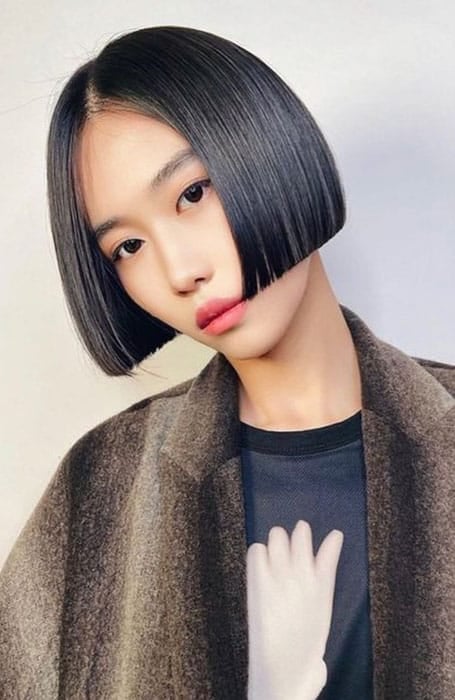 5. Short Pixie with Fringe
Do you love the idea of the classic pixie cut but feel it is just a little too short and daring for you? The good news is that you can experiment with how you wear this haircut, including adapting the length and playing with proportions. Wearing it slightly longer on the top and styling it with a fringe is a great way to update your look while creating a low-maintenance short haircut.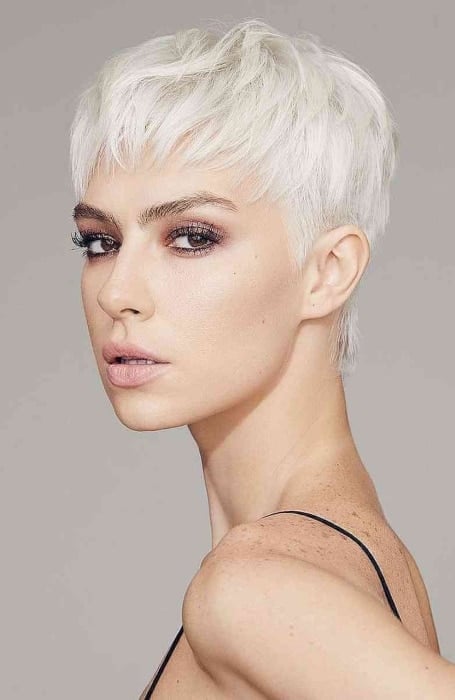 6. Short Wolf Cut
The wolf cut is one of the hottest hair trends in recent years and combines the mullet and the shag. The heavy layers create movement, give texture, and will thin your strands toward the ends, keeping the top full and thick. For a chic finish, you can style it with a fringe, like curtain bangs. But the best part? Minimal styling because this is a look designed to be unstructured and messy.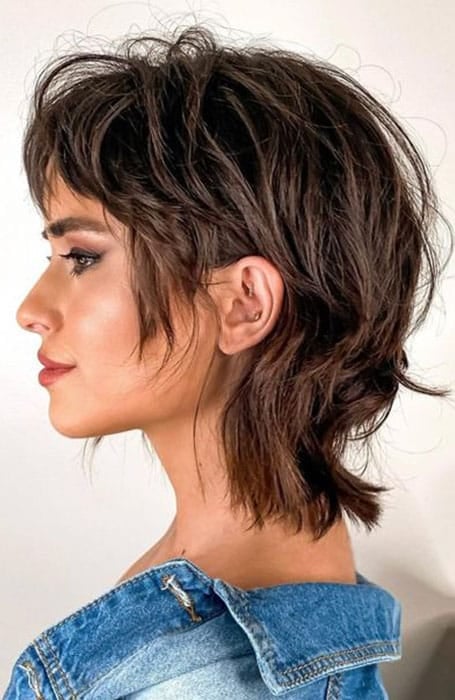 7. Short Natural Haircut
Natural hair is gorgeous when kept short and is full of volume and fullness. Shorter strands also mean less maintenance and fewer salon trips, saving time and money. If you are looking for a cute style while you grow your locks or prefer the no-hassle approach, this is your ultimate low-maintenance short haircut!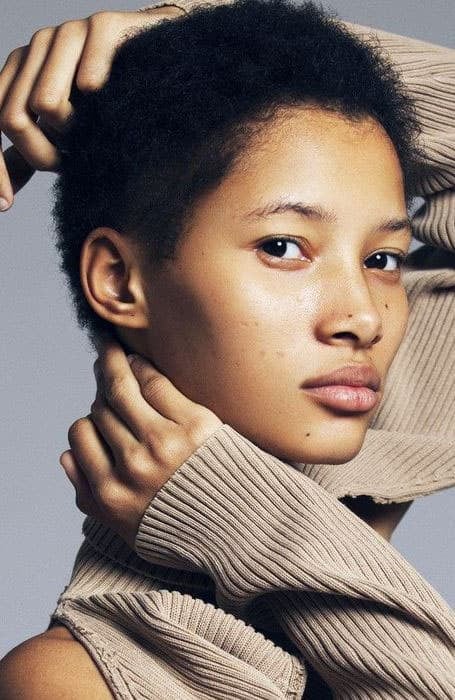 8. Short Curly Blonde Bob
Women with curly hair are often reluctant to cut it short for fear that it will look too poofy or full, but the good news is that the right low-maintenance haircut means you can cut your strands as short as you want. The bob is an excellent choice and will look feminine and soft with your texture. And what better way to make your locks come to life than by dyeing them a gorgeous shade of blonde hair?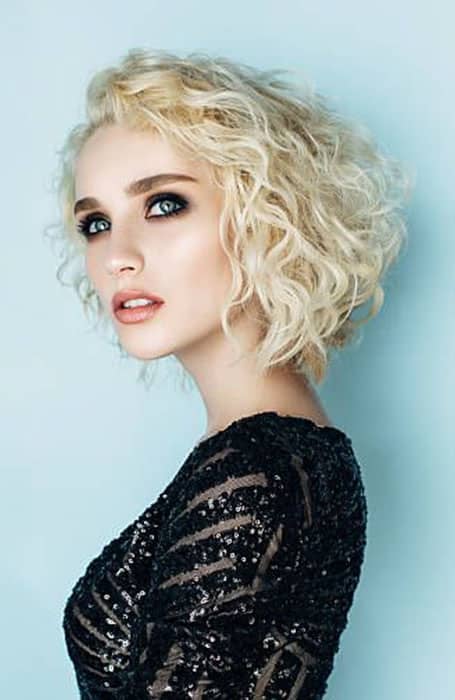 9. Short Mullet
Not everyone is a fan of the mullet, and that's a shame because the modern version of the cut is as cool as it can be! There is still a distinction in length, with the top and sides being kept shorter with more length in the back, but by opting for a look that creates less contrast, you will have a blended finish. This is incredibly flattering on wavy and curly textures, giving you a softer appearance, and is low- maintenance.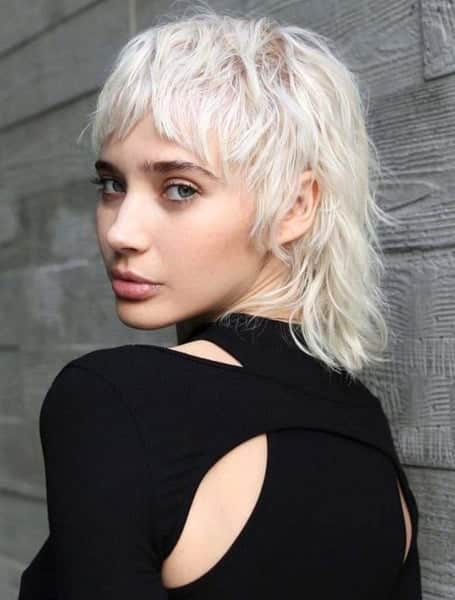 10. Short Bob For Fine Hair
Fine hair can be challenging to style because too many layers or wearing it too long can make it look even thinner. A great balance would be to cut it into a short bob (around chin length or shorter) and style it with a side part. This is a great way to balance the features and frame your face. Not to mention it is a super flattering and low-maintenance.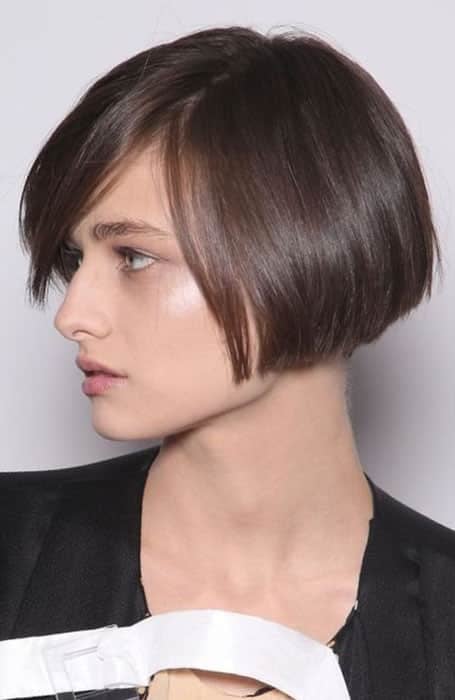 11. Buzz Cut
There is no reason not to try out the buzz cut today. This is a short hairstyle that men often favor, but more women are experimenting with shaving their locks off (and find that the process can be incredibly freeing). This is an effortlessly cool and incredibly low-maintenance short haircut but also flattering on most face shapes. For those women with soft features, it can help make them appear more defined.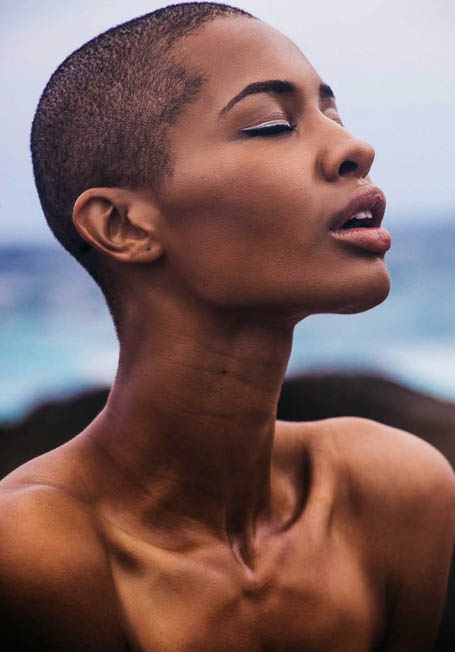 12. Short Pixie with Micro Bangs
The pixie cut is styled with a fringe, but the style you choose is entirely your choice. For those who want something fashion-forward and downright edgy, ditch the longer fringe for something cute and super noticeable, like micro bangs. These baby bangs are only an inch or two on the forehead, and while they are great for drawing attention to the face, they are also expressive and low-maintenance.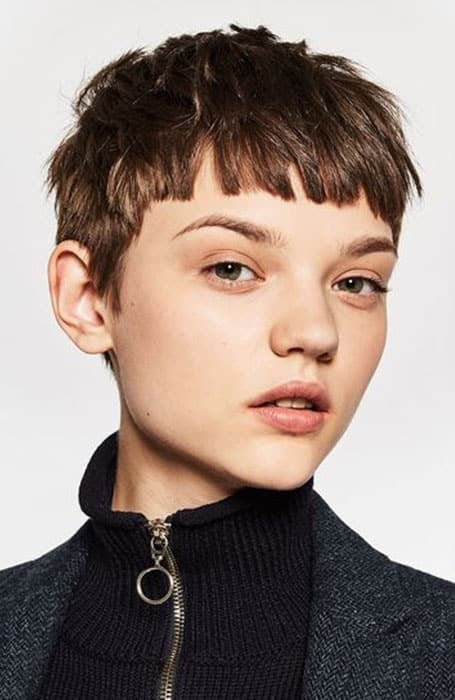 13. Short French Bob
The French or Parisian bob is one of the chicest ways to style your hair. Unlike the classic version of the cut, it is shorter in length, sitting around chin length (and a gorgeous way to draw attention to the features), and styled with soft, brow-grazing bangs. It is often worn with wavy textures, adding to the look's softness and femininity.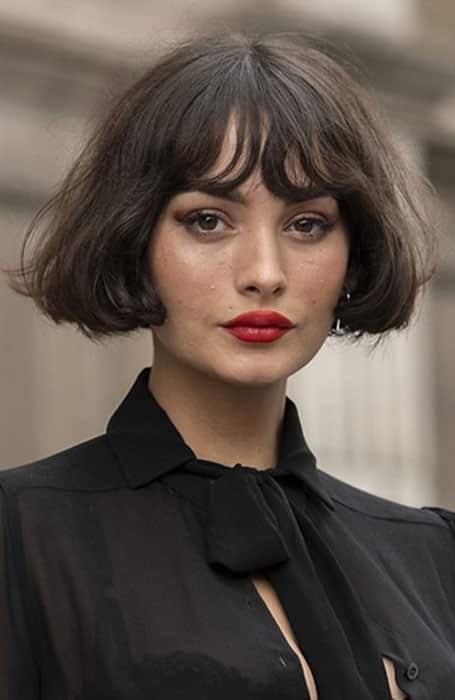 14. Short Jumbo Braids
Jumbo braids are a protective style designed to aid natural hair growth and give you a break from the heat and chemical styling. The great thing about this look is the thick, chunky finish, making the braids more noticeable. Some women wear them longer, while others prefer to style them short; the choice is yours! But shorter is sometimes better as it eliminates the weight and reduces the tension of the scalp.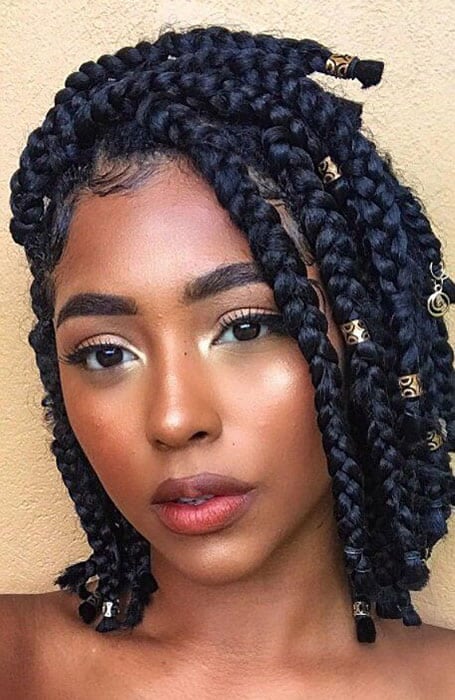 15. Short Shag Haircut
Ready for an edgy look? The short shag is back, and it's all about attitude! Perfect for shorter lengths, this '70s-inspired hairstyle adds body and volume – plus, you can customize layers to suit your face shape, and it is low-maintenance.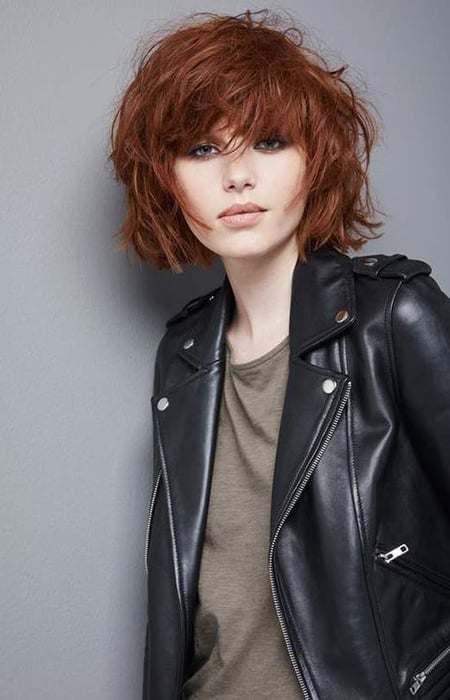 16. Short Coils
Coils are a type of curly texture that is tight and with a noticeable zig-zag pattern. Curls are often prone to shrinkage, so a shorter style can be easier to manage and more flattering. But short haircuts do not mean boring, and you can experiment with various options, including opting for a daring color change like pink hair.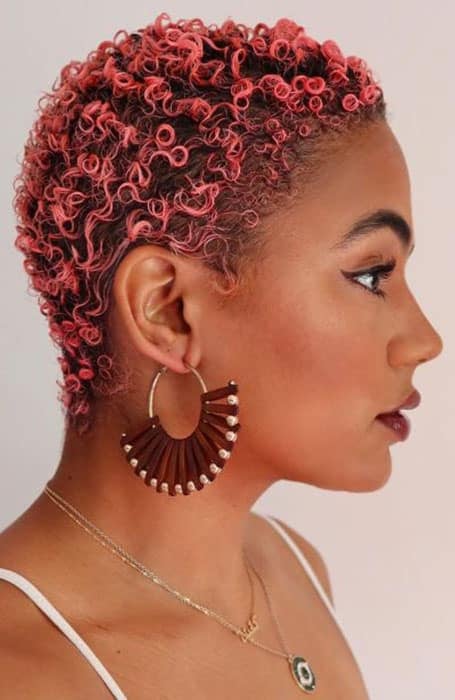 17. Short Side Parted Bob
The bob haircut is nothing if not versatile, and there are many ways to style it. This is why it remains one of the most popular low-maintenance short haircuts for women. If you want to balance your features and add some oomph to your style, consider a side part with a wet hair finish. This can be achieved with a gel or similar product and is excellent for securing your strands.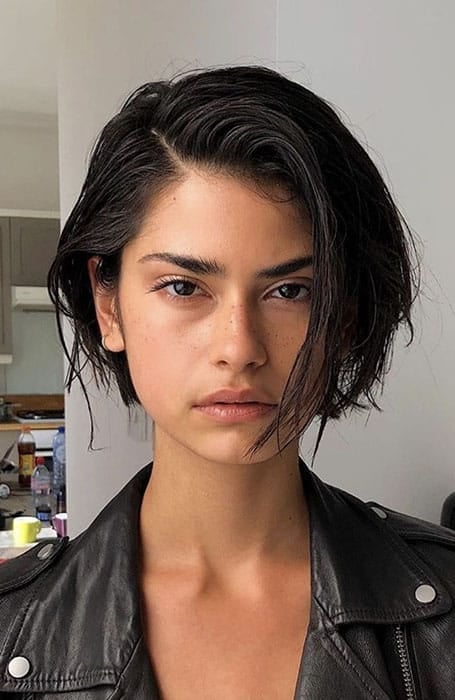 18. Short Asymmetrical Blunt Bob
The bob haircut is a classic, but because there are many ways to style it, it also feels modern and can be easily adapted to suit your preference. This includes trying an asymmetrical hairstyle defined by the length being visibly longer on one side of the face. This is the perfect way to create the illusion of length without any hassles.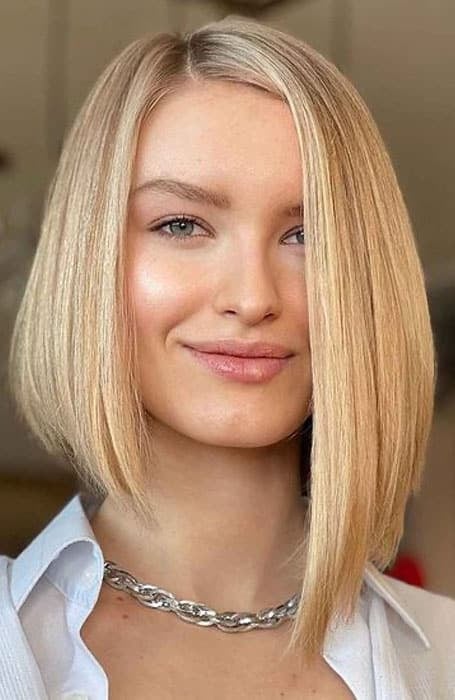 19. Short Afro with Fade
Natural hair can be styled in several ways, including keeping it short and experimenting with your finish. This could include shortening the backs and sides by opting for a fade, leaving the strands on top slightly longer. The result is a low-maintenance short haircut that is easily styled and structured.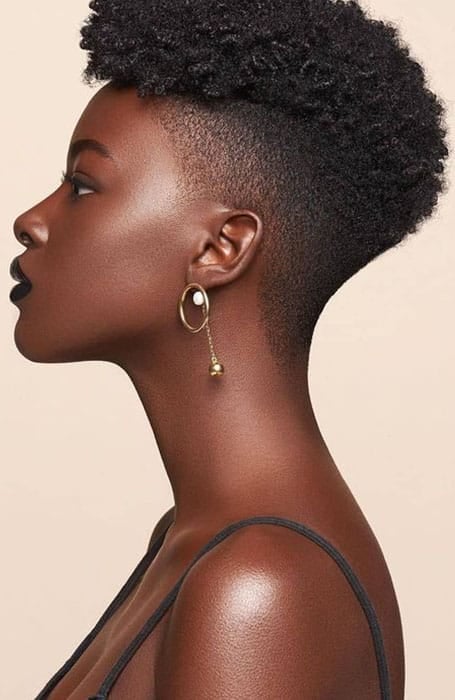 20. Short Straight Blonde Pixie Cut
The pixie cut looks incredible on all textures and is a great style, regardless of your age. It is a straightforward cut, so some women experiment with their hair in other ways, including trying a daring color like platinum blonde. This lightest shade of blonde is a cool hue that is expensive to maintain. But the result is worth it because even the simplest haircut becomes noticeable.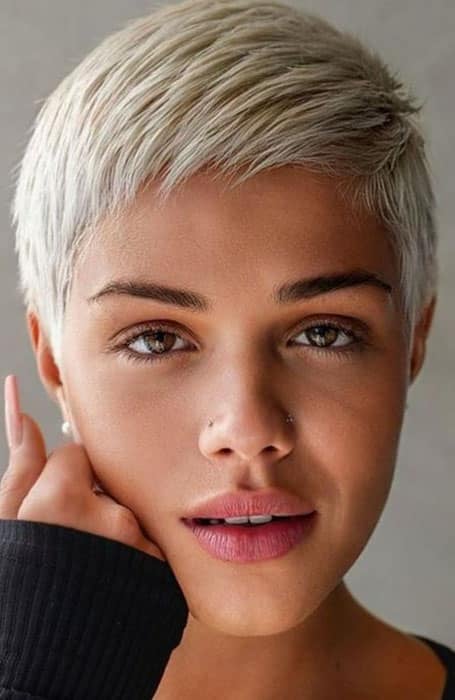 21. Short Wave Haircut
A wave haircut is an excellent option for curly hair and is created to achieve a ripple-like pattern. Not only is this beneficial for achieving an interesting pattern on the scalp and brilliant texture, but it is also super chic and long-lasting. This is a brilliant way to focus all the attention on your facial features and can even enhance them.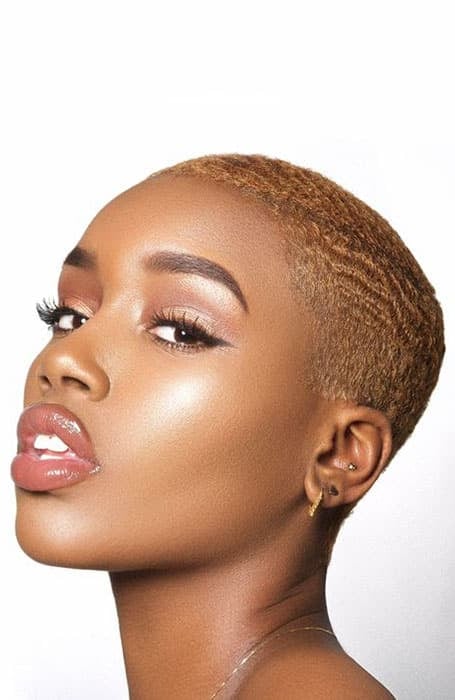 22. Short Wavy Bob With Bangs
Wavy hair can be styled differently; you can wear it long or short. If you want to chop off your strands before a more low-maintenance approach to caring for your tresses, then a bob with bangs is a great choice. It is simple but cute and feminine and is an excellent way to frame your face.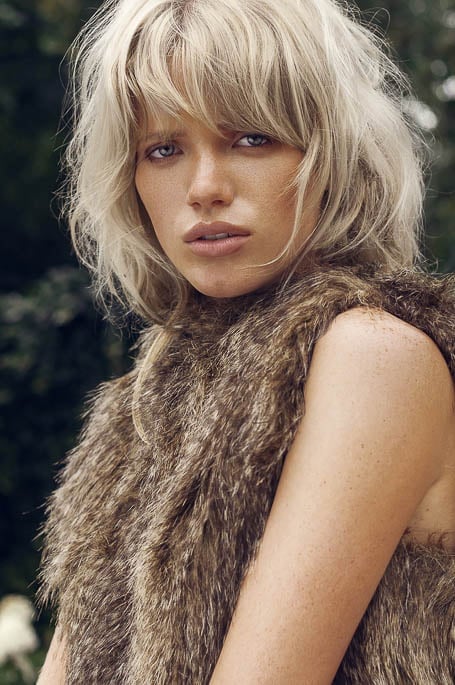 23. Bowl Haircut
The traditional bowl haircut was a daring cut, but it also was not the most flattering. The modern approach is much more wearable, and gone is that mushroom-like appearance. In its place is a cut that edgy and cool but still cut with a straight fringe. You can easily adapt the low-maintenance short haircut to suit your preference, including pairing it with an undercut or styling it to look choppy and textured.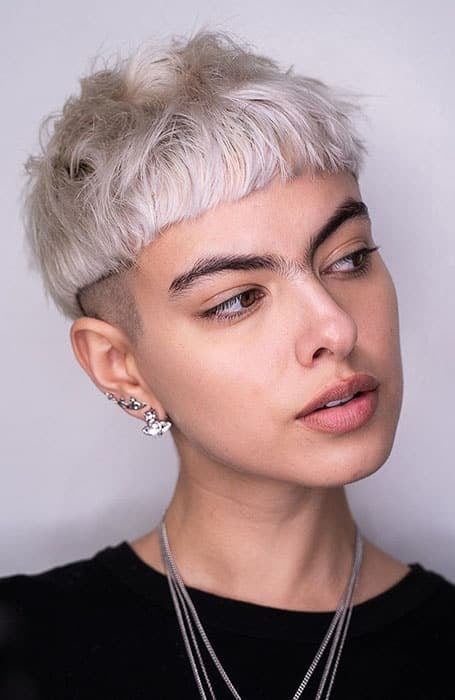 24. Short Inverted Bob
The inverted bob is a low-maintenance short haircut for women who want something cute and flattering. It is a look created with strategically placed layers and is cut so that the front of the hair is longer than the back. This makes the illusion of length as your strands brilliantly frame your face. It is a hairstyle that can be adapted to most textures but arguably looks best on straight strands, highlighting the precision of the cut.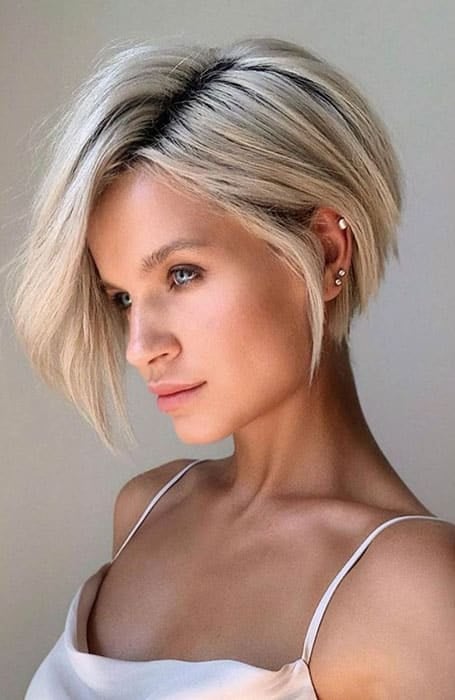 25. Short Slick Back with Hair Design
The short slick back with hair design perfectly blends daring and edgy. The classic short hairstyle for women gets a modern update by cutting the back and sides shorter, which, at the same time, makes the hair on top appear fuller. When choosing a hair design, this can be a pattern or shape you love. This is one of the best ways to let your personality shine.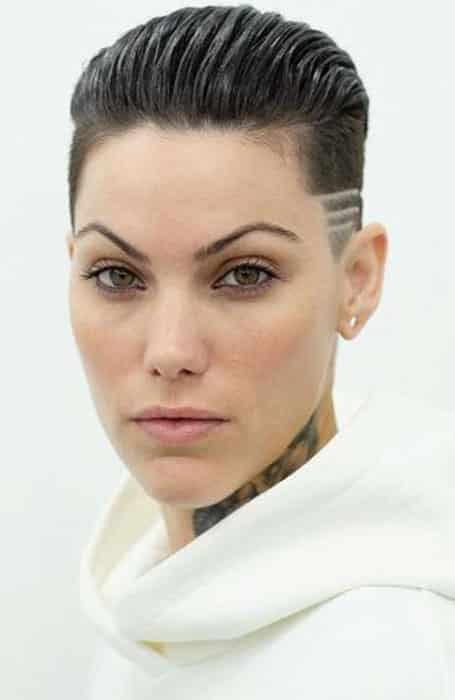 Low-Maintenance
What is the easiest low-maintenances short haircut?
There are many short haircuts that are easy to maintain and will grow out nicely if you want to change your length. Among the top choices are the classic bob haircut and the lob haircut. The pixie is also a popular style. If you add interesting angles or heavy layers to the hair, they may need more maintenance than a simple blunt cut (your hairstylist will be able to talk you through the various options).
What haircut requires no styling?
There are several haircuts for women that require no or minimal styling, and these include the buzz cut which is clipped very close to the scalp. The shag and wolf cut are deliberately unstructured and messy in appearance, and the classic pixie cut.
Is short hair cheaper to maintain?
The answer as to whether short hair is cheaper to maintain really depends on your chosen cut. If you have chosen a style that requires regular visits to the salon for touch-ups, it will not necessarily be cheaper. Some looks also require more styling than others. The one thing you will definitely save on though is styling products, shampoos, and conditioners, as you will require much less.
SUBSCRIBE TO OUR NEWSLETTER
Subscribe to our mailing list and get interesting stuff and updates to your email inbox.