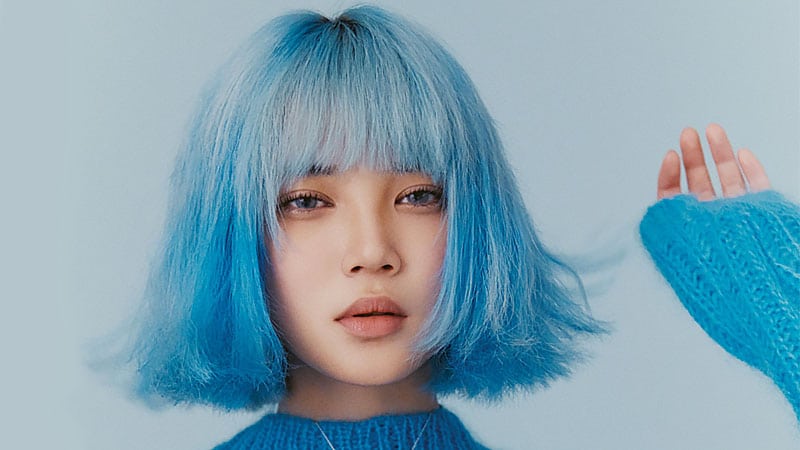 You've seen it on your favorite celebs, including Lady Gaga, Katy Perry, and Rihanna, and there is no denying that if you choose to rock blue hair, you are going to get noticed. After all, that is the point, and it takes a lot of confidence to pull off this color trend. The good news is there are many different shades and techniques to choose from, allowing you to tailor your look to suit your preference; some like it bold and bright with electric neon blue or teals, while others opt for a more simple and subtle approach. Blue hair can be incredibly flattering and will suit many different complexions. It is also an excellent way to express your playful side and show that you are a woman who doesn't conform or likes to take risks.
1. Dark Blue Hair
Opting to dye your hair dark blue can be an excellent way to ease into the blue dye trend because it is not as dramatic as lighter tones. The deep hue is flattering and can give your appearance a modern and fun update. It is also a fantastic way to have fun with your hair and express yourself.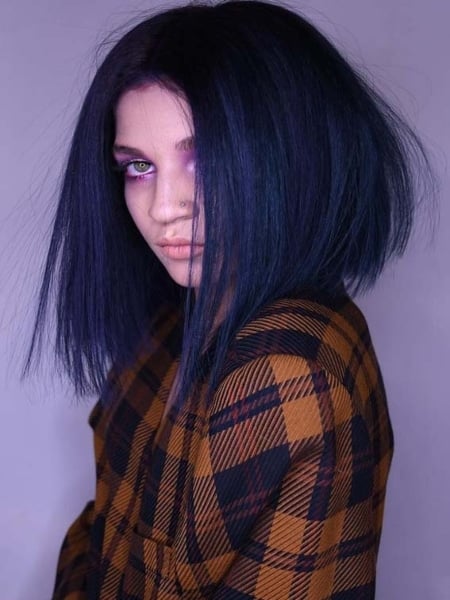 2. Light Pastel Blue Hair
Light pastel blue hair is a gorgeous and dreamy choice. The softness of the pastels makes it an easy to wear shade and can suit women of all skin tones. There are some things to consider beforehand, including that the color will fade fast, and you need to have light hair as a base before dying it your favorite pastel hue. This makes it an appealing choice for those with naturally light hair tones as you will not have to spend as much time and money at the salon.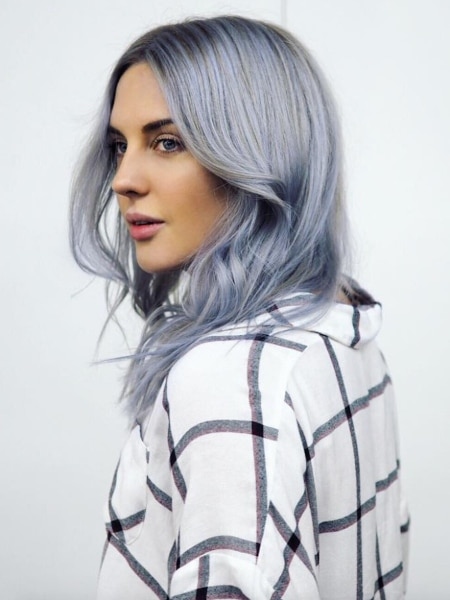 3. Midnight Blue Hair
Midnight blue hair has a rich and luxurious appearance and is perfect for the woman who wants to make a statement. The color is often associated with sophistication and strength and can make you appear confident and cool. When dying your hair, either a permanent or semi-permanent shade of blue, it is important to take proper care of your hair as the dying process can be damaging and drying.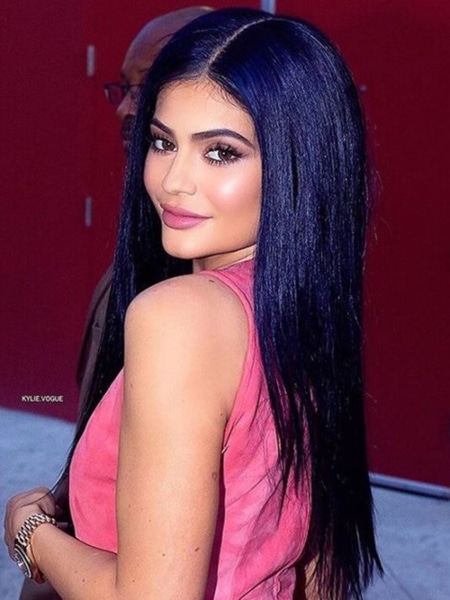 4. Silver Blue Hair
Silver blue hair is the perfect combination of color and metallic hues, making for a fun and edgy appearance. The shade is hard to maintain, and you will likely need regular touch-ups, but there is no denying it makes a statement and is an easy way to turn heads. It can also work with various hair lengths and textures. How you choose to create your look is entirely up to you; perhaps you want highlights, a color blend, or plan to focus on just the tips. There is so much choice, so have fun with your decision.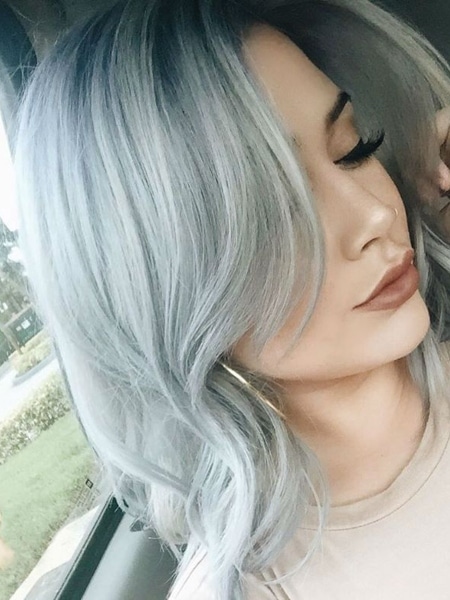 5. Electric Neon Blue Hair
No color is bound to stand out of the crowd more than electric neon blue. Yes, it is not for the faint-hearted or those who prefer to blend in because this look demands attention, but that is the point. Dying your hair is a fantastic way to express yourself. It can be a chance to show the world you think outside of the box or have a daring sense of style. You should limit how often you wash your hair, and you may wish to alter your makeup routine to complement your striking new locks. If you are someone who likes taking risks, this is the color for you.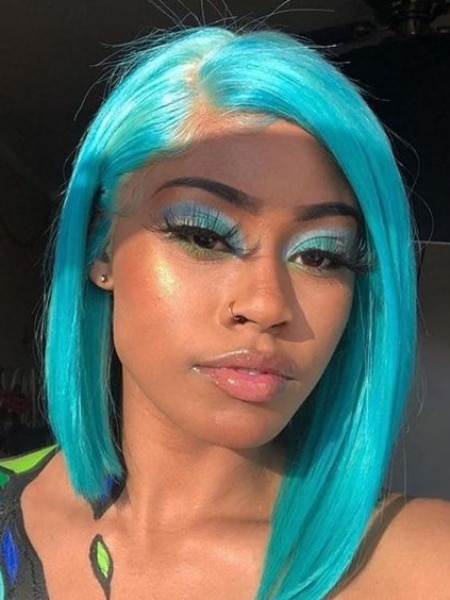 6. Indigo Blue Hair Dye
Indigo is a deep shade of blue that can make for a dramatic change, but there is also an indigo hair dye that you could use to color your locks. The natural hair dye comes in a powder form and is derived from the indigo plant. It contains no PPD and chemicals. If you are using a true indigo product, it should not cause any damage to the hair and can last for around 8 weeks. It will help darken naturally dark hair and give a slight blue tint to lighter tones.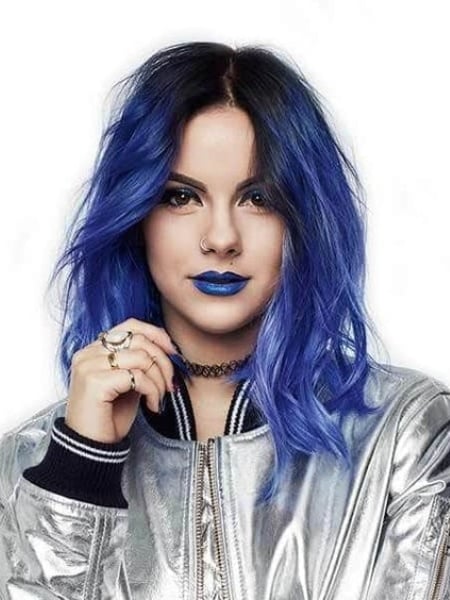 7. Sapphire Blue Hair
Sapphire blue is a rich shade of royal blue that often symbolizes luxury, strength, power, and good fortune. So, what better way to express yourself and your emotions than by dying your hair with this striking shade? There are many options to choose from, depending on how intense you want the color to be. Some may prefer to opt for highlights or dye the tips, while others want to rock an entire head of sapphire blue. The gorgeous tone pairs especially well with dark hair, creating a more blended appearance.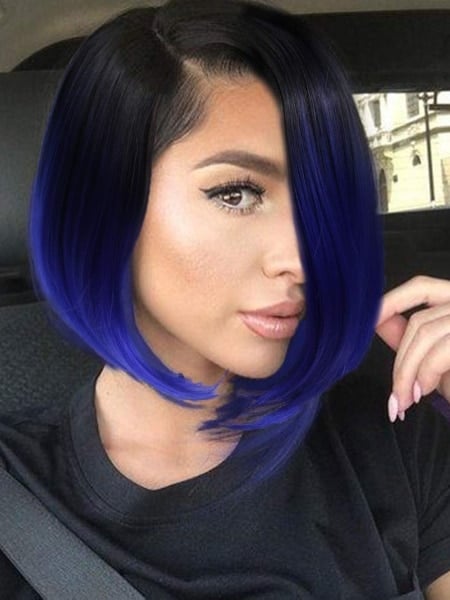 8. Metallic Blue Hair Dye
There is something incredibly sexy about metallic blue hair. The cool tones look fantastic on lighter hair and create a glossy and bold hue. This option is less vibrant than electric neon or sapphire blues and is much easier to pull off because of the dusty tones. It can also reflect the light and will look shiny in the right setting.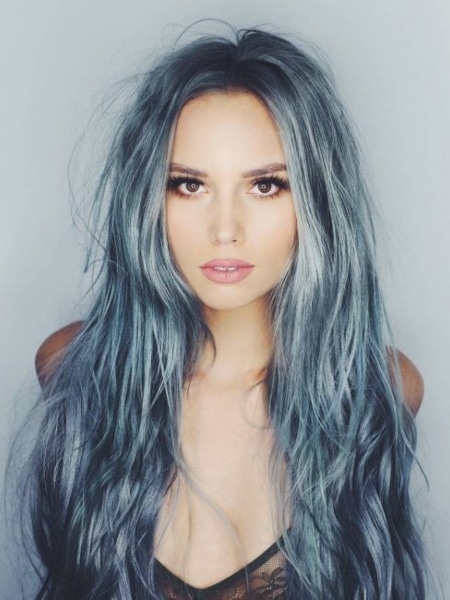 9. Smokey Blue Hair
Smokey blue hair is another fantastic option for a woman who wants to try the blue color trend without being too dramatic. This option has a gray undertone and is not as bright and intense as other shades of blue, making it easier to wear and style. The color looks great on multiple hair textures and lengths and will be a fabulous change to your natural locks.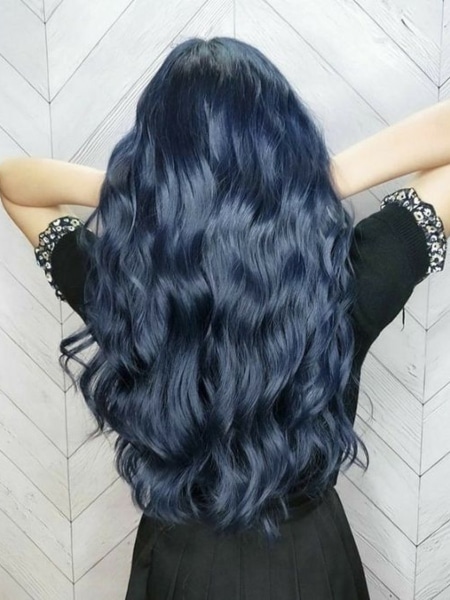 10. Teal Blue Hair
Bright and bold hair color trends are having their moment in the spotlight, and teal blue is a shade that is hard to miss. It can be a rejuvenating color and add youthfulness to your appearance. It is the perfect choice for women who want a vibrant look, but you can also tone it down by opting for highlights or an ombre approach. Remember that this hue will draw much attention to your hair because it is so striking; thus, you need to make sure it is in excellent condition as any dryness or split ends will be magnified.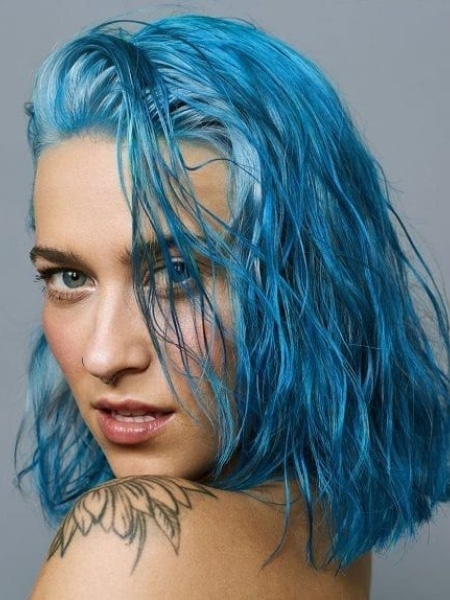 11. Aqua Blue Hair
Aqua blue hair will remind you of the ocean, and if you are a lover of the deep blue sea, this is undoubtedly the shade for you. The hue is a mixture of green and blue and can add youthfulness to your appearance. It is also often associated with feelings of calm and has a very refreshing feel to it. There are several techniques and tones to choose from, each with different vibrancy levels. Work with your colorist to find the shade that will best complement your features. It's the perfect color for summer and an excellent way to have some fun with your hair and channel your inner mermaid.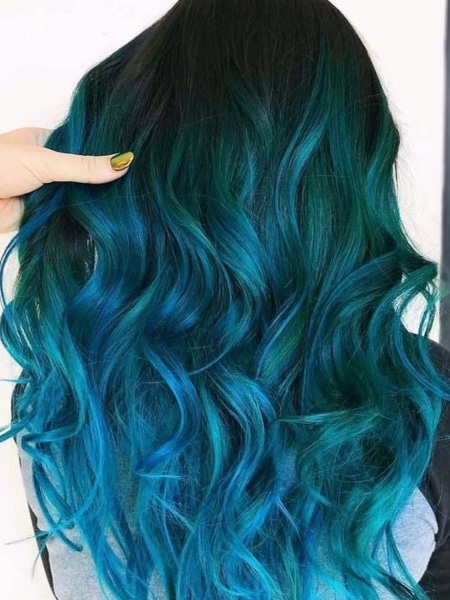 12. Blue Ombre Hair
The ombre hair technique means shaded and seamlessly blends two colors, one lighter and the other darker. Typically, the roots are left darker, and the hair gradually gets lighter further down. When opting to do this with a bold color, there are many variations to choose from, allowing you to tailor your look to suit your personal preference. Some women may want a very vibrant appearance and can combine blues such as teal and dark blue, while others may prefer a more subtle color combination. This is a fantastic opportunity to work a bright color dye into your hair without committing to coloring your whole head fully. It can also be less maintenance.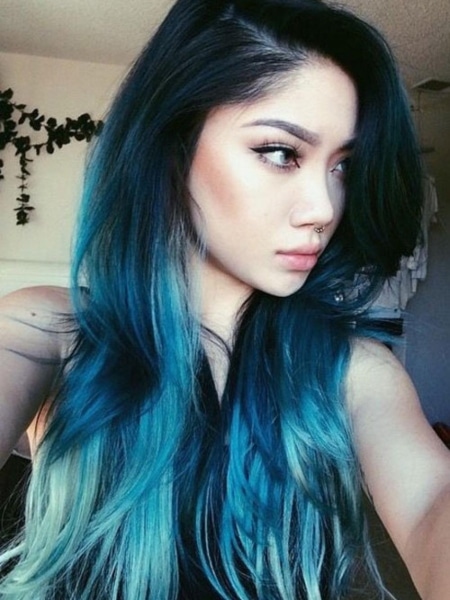 13. Half Pink Half Blue Hair
Why settle for one hair color when you have two? The split dye look has become a popular trend in recent years and is a fantastic way to experiment with hair dye and channel your inner Harley Quinn. Half pink hair and half blue hair is a popular choice because the two colors compliment each other while at the same time creating a contrast. It can draw attention to your face and highlight your features. But more than anything, it is a way to express yourself and the fun side of your personality.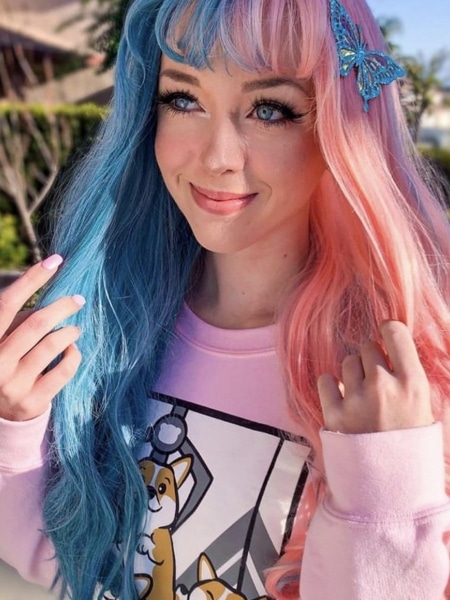 14. Half Blue Half Black Hair
There are so many variations of the split hair dye trend that you can have fun with the look and really find a combination that works best for you. One of the more subtle yet just as cool options is the half black and half blue look. The shades are so similar, especially if you opt for a dark blue, that it is not as contrasting. There's a lot to love about this hair trend, which has a particularly alternative appearance, inspired by punk and E-Girl aesthetics. Wear it with confidence, and for a matchy-matchy look, you can even try out the same shade of eyeshadow or nail polish.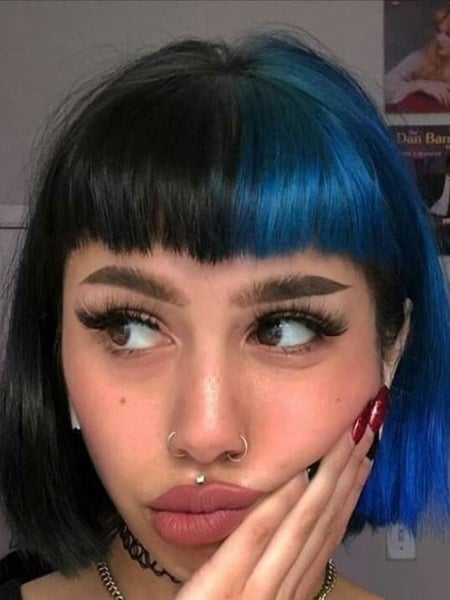 15. Black Hair with Blue Tips
You've probably seen some of your favorite celebs and fashion icons rocking black and blue hair, and it is a color trend on its own. It can be a fantastic way to add a pop of color to your naturally dark locks and lends itself well to a variety of techniques, including opting for blue tips. This look is more subtle and easier to achieve than a split dye option and will not need as much maintenance or style time. It is best to head to a colorist for more complicated looks; That said, many women can achieve blue tips with a DIY approach, making this a more affordable option.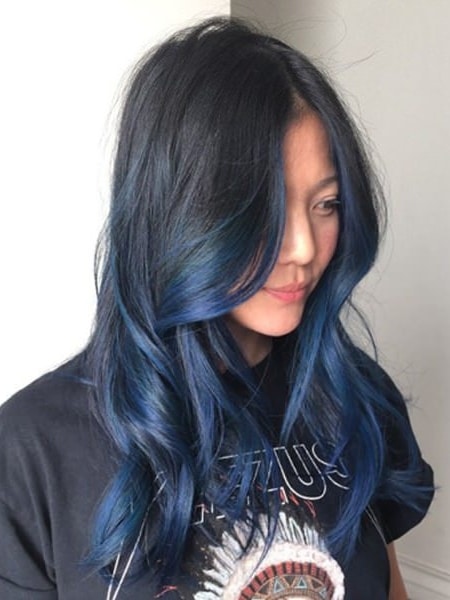 16. Brown Hair with Blue Highlights
If you want to add a playful touch to your naturally brown hair, you can do so by adding blue highlights. This is a wonderful way to experiment with bold color without fully committing to dying your entire head. It is also a less costly option and will not be as damaging to your hair. Depending on the shade of blue you choose and the vibrancy you want to achieve, you may need to bleach some of your strands before coloring. You can work with your colorist to strategically place the blue in your hair to frame your face and add texture and dimension to your locks.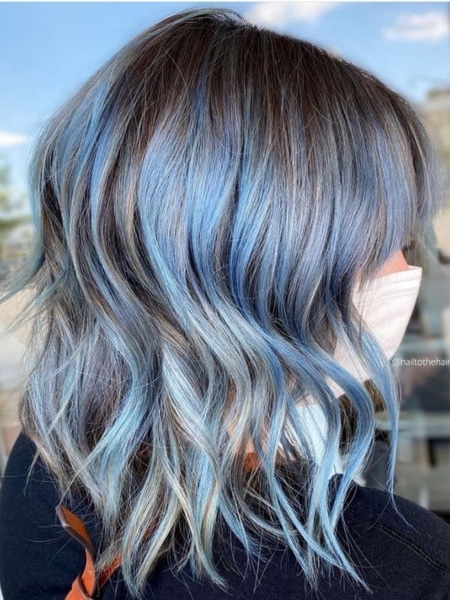 17. Blonde and Blue Hair
If you have blonde hair, the good news is that dying it blue is extremely simple. The light base allows colors to show up much better, and you have a lot of choice in terms of which shades you want to try and how. For a subtle option, you can add blue tips or opt for a few bold highlights. Or, for the more daring option, you may be drawn to the split dye trend, leaving half your hair blonde and the other half a vibrant shade blue. Pastel shades are universally flattering and pretty, while teal and aqua can give you a more youthful and fun appearance.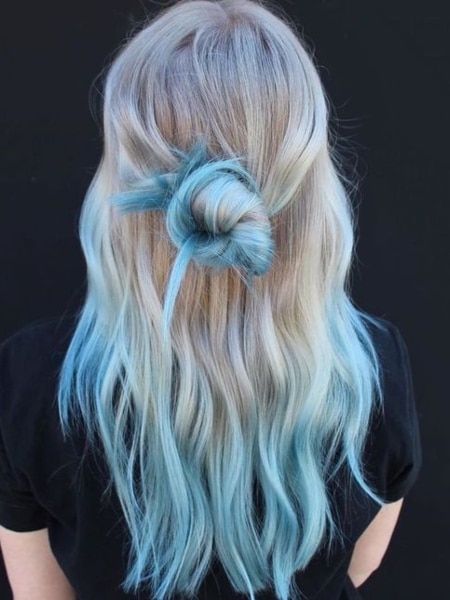 18. Blue Bangs
Bangs are a fantastic way to transform your look, highlight your features, and add dimension or contrast to certain parts of your face. This can help to create a flattering and more balanced appearance. There is so much to love about them, but deciding to dye them blue makes them even more fun! Blue bangs will instantly draw attention to your face, and this is a beautiful way to let the world know that you are a woman who loves to take risks and have fun. There are many colors to choose from, and you can opt for thin highlights for a more laid-back approach. Or dye your bangs with one intense, solid shade. The choice is yours!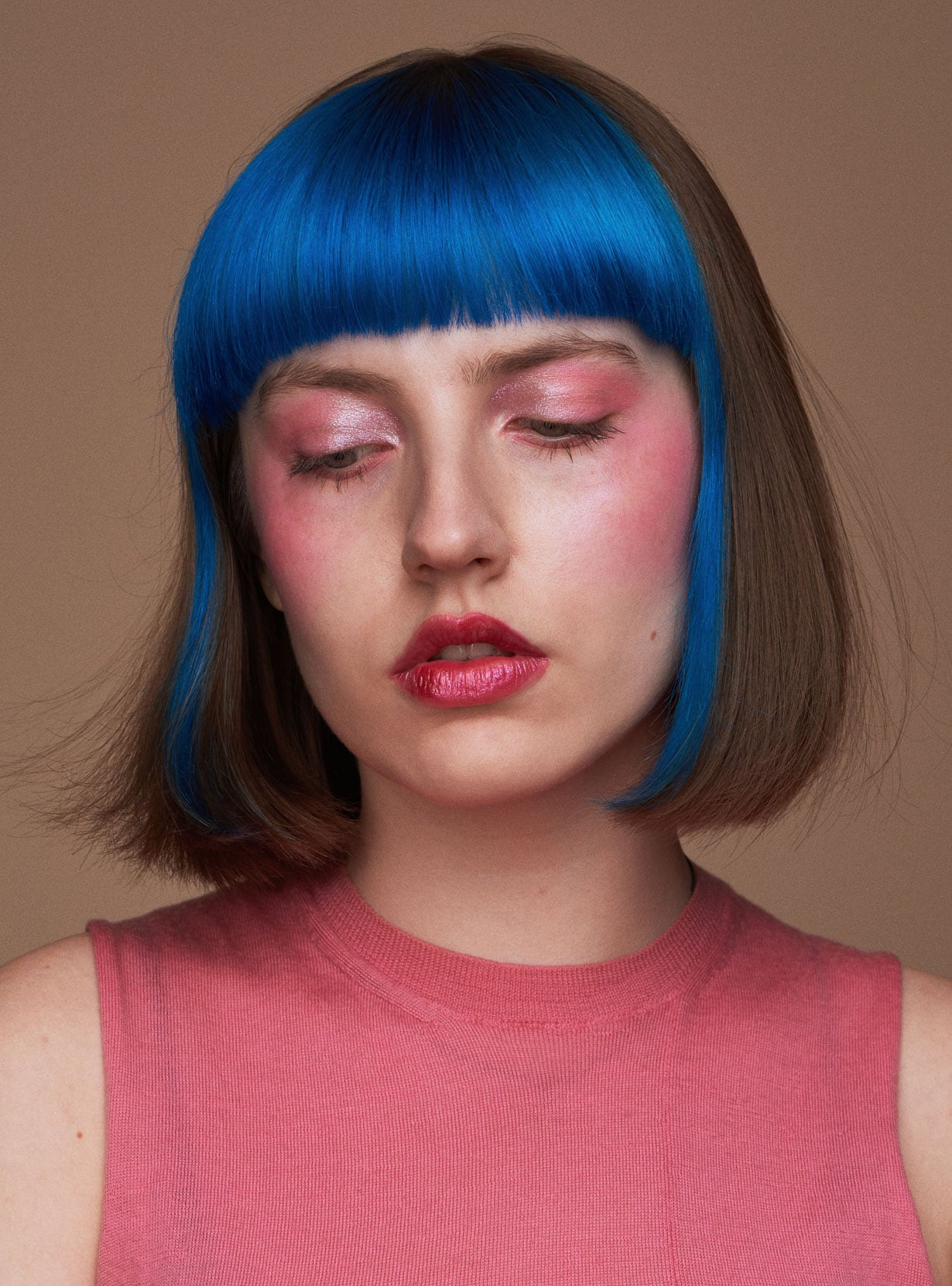 19. Royal Blue Hair
Royal blue is a color that is associated with elegance, sophistication, and loyalty, so why not embrace these qualities and opt for this bold shade for your hair? It demands attention and is such a rich and luxurious color that it is hard to miss. Plus, it is a beautiful way to draw attention to your face. Although dying your locks bright colors can be done in many ways, color your whole head with this hue for the best results. To achieve a rich and pure color, you will need to bleach your hair beforehand. It is best to work with a colorist to achieve the desired results with minimal damage.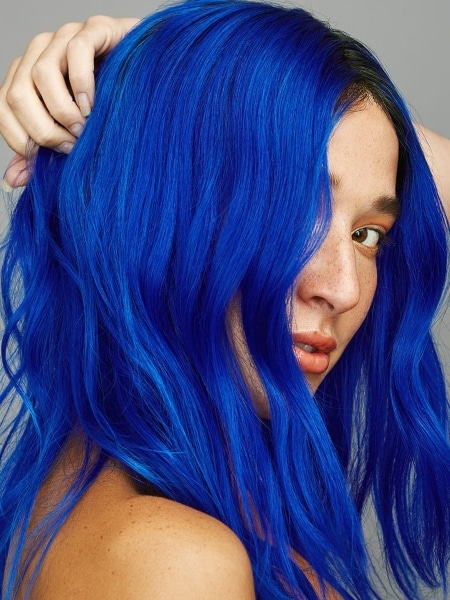 20. Blue and Purple Hair
Few color combinations work as well together as blue and purple hair, which is why it is such a popular pairing for those who want bright hair that they can have fun with. This is a look that has a very mermaid-esque appearance and is incredibly pretty. You can create it with highlights or opt for an ombre hair color approach, but the result is stunning regardless of the technique you choose. Decide on pastels for a girly and softer look or rich hues for a more striking blend.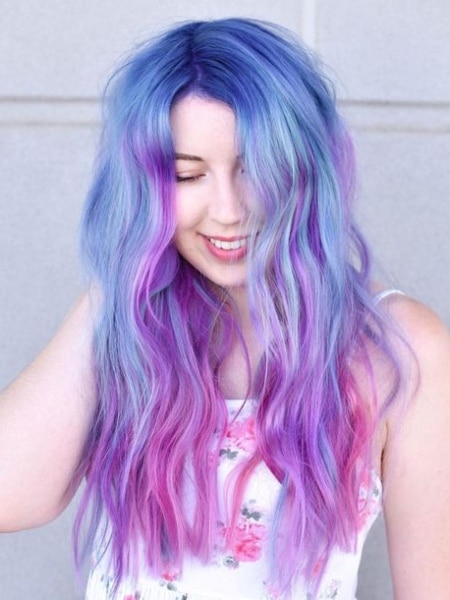 21. Blue and Green Hair
Another color combination that works well together is blue and green hair. The pairing makes for a very oceanic appearance, is vibrant, and helps you project the image of someone who is fun-loving and carefree. There are many options and shades to choose from, including bold hues and then more muted tones. What you pick can depend on your skin tone and how much of a statement you'd like to make.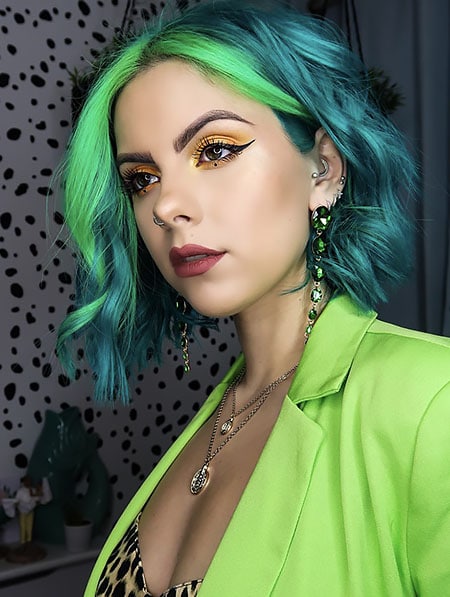 22. Blue Curly Hair
Taking the plunge and dying your curly hair blue can really highlight the natural texture of your locks. There are many colors to choose from that flatter different complexions and will create a stylish and fresh finish. Just keep in mind that unless your hair is light, to begin with, you will need to use bleach. This can be damaging and drying, so purchase a good quality product that can help to protect your curls from breakage.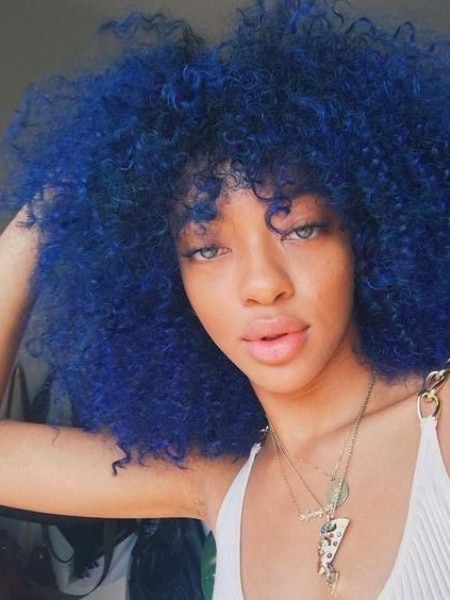 23. Blue Straight Hair
Blue looks just as good on straight hair as it does on curly and wavy locks and is a wonderful way to add movement and dimension to your hair. The great thing about blue dye is there are so many different colors to choose from, whether you want something vibrant like electric neon or royal blue, or prefer the more ashy tones, which are easier to wear but just as fun. After choosing your favorite shade, take care to ensure that your hair is moisturized and in its best condition. It is easier to see damage on straighter hair, so you want a sleek finished result.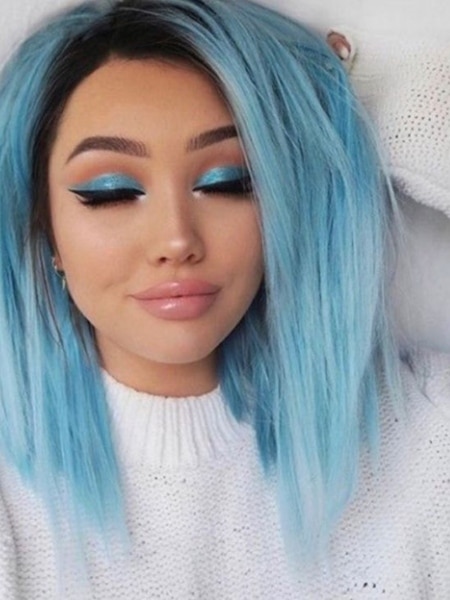 24. Blue Natural Hair
Coloring natural hair can be a complicated process that needs the right person to do it. If you work with a talented colorist, you can achieve the blue hair of your dreams with minimal damage. It is also worth noting that bleach can alter the texture of your hair. So ask all the questions and raise every concern with your hairstylist so that you're happy with the result, which is likely to be gorgeous and flattering. You may also want to experiment a little before taking the plunge; you can do this with highlights throughout your hair that are less maintenance and easier to pull off.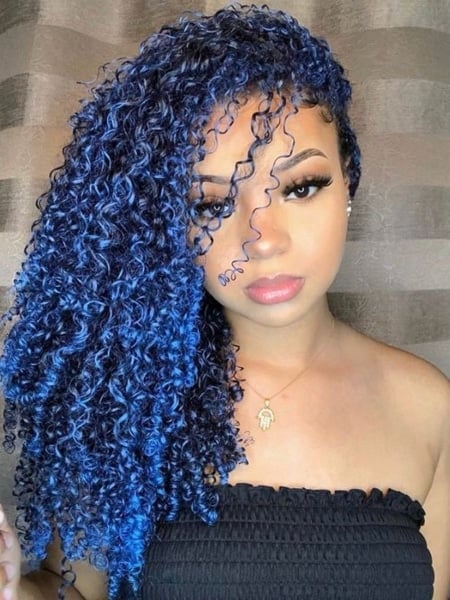 25. Faded Blue Hair
For less intense color, faded blue hair is pretty and soft. For this hue to take, you need very light hair and may need the help of bleach to attain it. If your skin has cool tones, this can look exceptional. For the best results, you should color your entire head. However, those who want a subtle approach can opt for highlights or an ombre hair color effect, which will work well if your hair is naturally light. This will create a gorgeous blended look.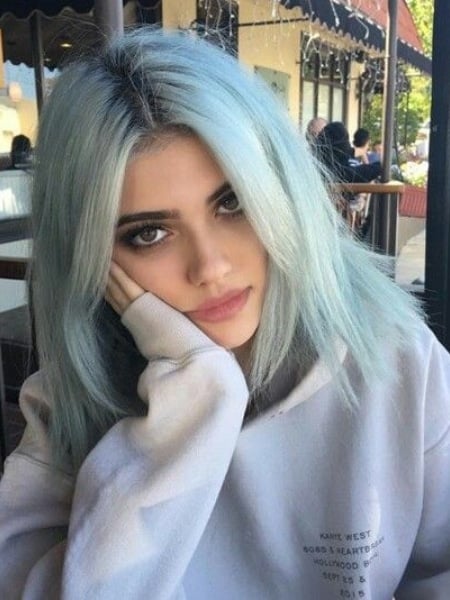 26. Ash Blue Hair
Ash blue is a gorgeous mix of silvery and blue tones. Therefore, it is not a vibrant shade and is easier to wear and a more subtle approach to trying out the mermaid hair trend. It looks great, but it can be hard to maintain and will fade fast, often to produce a stony and gray look. The icy appearance is perfect on those with fair skin and cool undertones.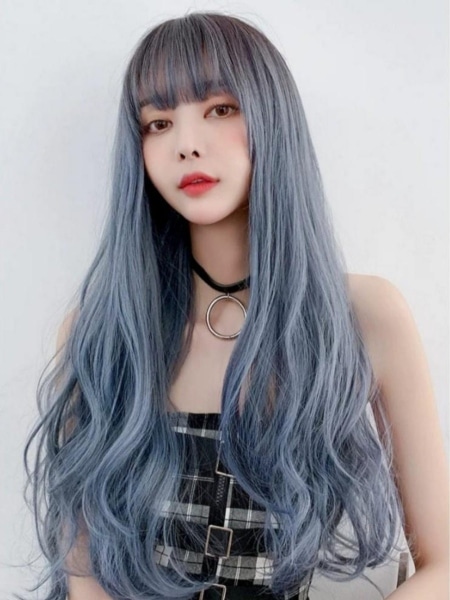 Of all the blue shades, navy is one of the easiest to pull off. This is because it is such a dark, matte color that it can look closer to black. It is not so vibrant that you will have to make drastic changes to your hair and makeup routine, and it is a hue that tends to be exceptionally flattering on medium skin. Deciding to color your hair navy blue can create dimension and movement. The color can fade quickly, and be aware that the dye can stain everything; this may be your new favorite look.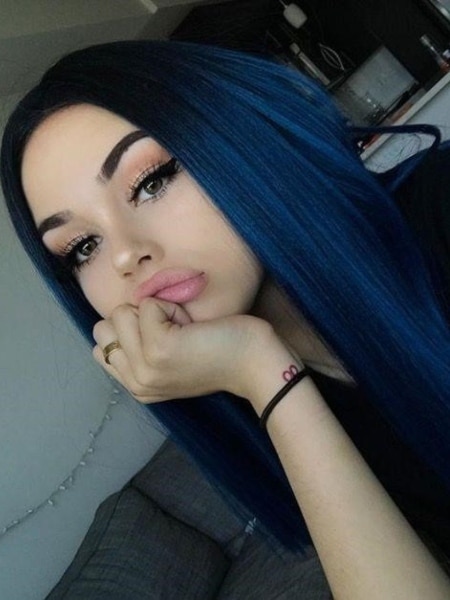 28. Blue Peekaboo Hair
If you love the idea of trying out bright hair color but are not ready to commit to dying your entire head, then blue peekaboo hair is the look for you. Peekaboo color is applied to the underneath of the top layer of your hair; when you wear your hair down, they can be disguised. This is a fantastic option for someone who doesn't want the blue to be seen all the time. It is a low-maintenance option and one that is not as daring; therefore, it lends itself well to various settings. When deciding on which dye to use, it is best to opt for semi-permanent color. It will fade faster, but this is a more versatile option.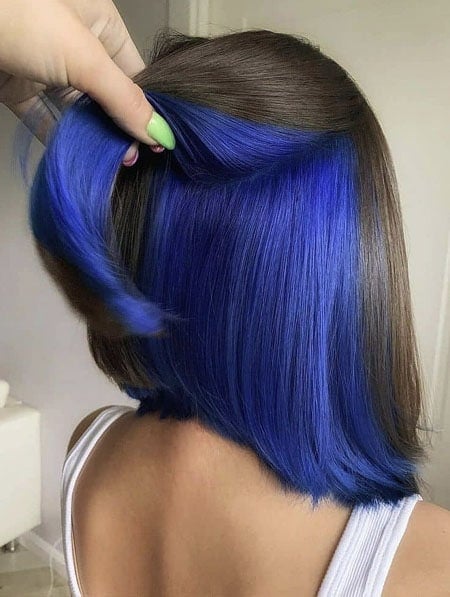 29. Blue Braided Hair
Braided hair can look great with a little pop of color. If you are a woman who likes experimenting and wants hair that turns heads, why not try out a bold shade? Hair dye will color the exposed surface of the braids. You can have fun with different hues, creating an effect that appeals to you. Darker colors will blend better with dark braids, but you can also opt for an ombre approach. Or blend light and dark blues for a pretty and striking appearance.
​​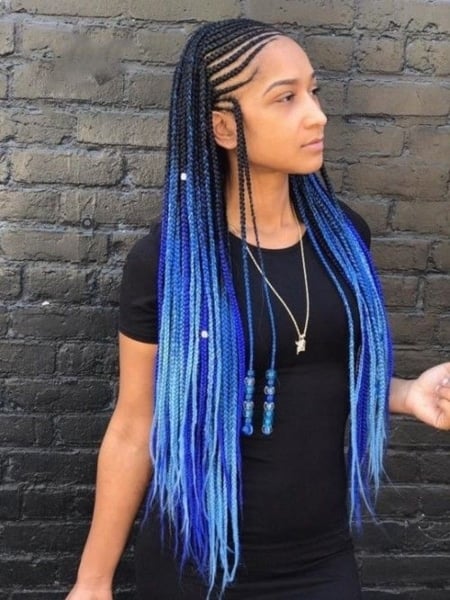 30. Barbie Blue Hair
If you are a fan of the Barbie mermaid doll, you may want to recreate the color at home. When you were younger, you may have got creative with food coloring or Kool-Aid to dye your doll's hair, but it is a little different this time. You need light hair, so if you are not already blonde, you will have to bleach it; this is time-consuming and damaging to your locks, so it is best to get it done by a professional. Opt for a light color that has an icy finish and can make a bold statement. This is a fantastic way to honor your childhood and have some fun. Blue hair fades quickly, so it is not a commitment you must make forever.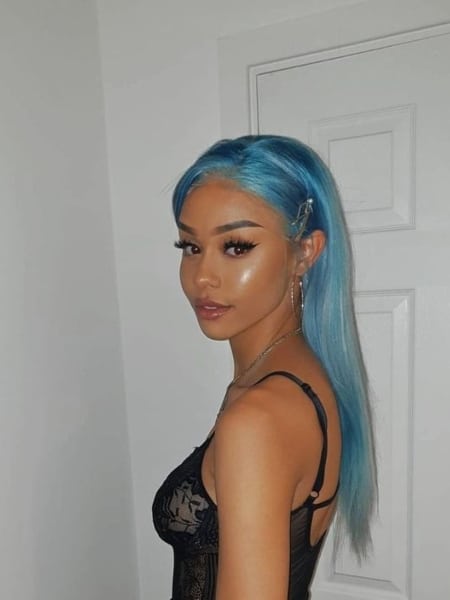 What You Need to Know Before Dying Your Hair Blue
Before dying your hair blue, there are some things that you should know; the biggest one is probably that the color will fade fast. The vibrancy of your look will only last a few weeks and even less if you will be spending a lot of time in the water. It can be a very damaging process, especially if you do not have naturally light hair to start. You will need to bleach your hair to lift it and may require several color corrections. Whether you choose permanent or semi-permanent hair dye is another factor. It is important to remember that even with semi-permanent dye, it can take a long time to get back to your natural color; blue is hard to get out of your hair. Plus, Your makeup and clothing routine may have to be altered slightly to complement and highlight your new shade.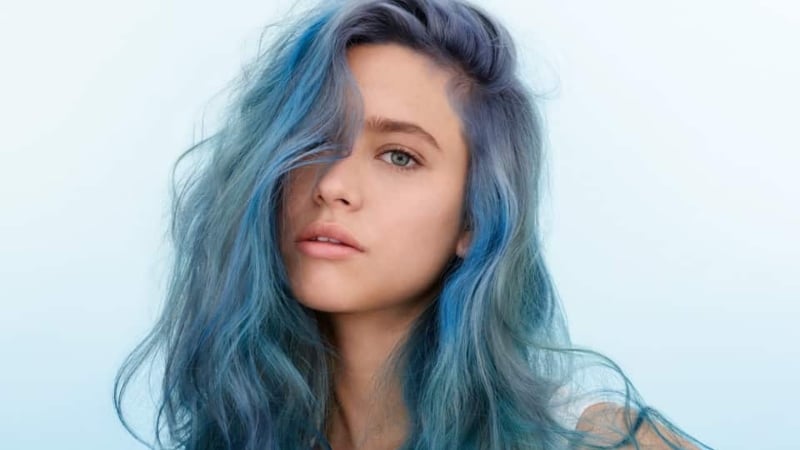 How to Dye Your Hair Blue
When dying your hair blue, you have several options and can opt for semi-permanent or permanent hair dye. The difference between the two is that semi-permanent hair dye should ideally wash out or dramatically fade within several washes as if it only coats the outer hair shaft. In contrast, permanent dye colors deep into the hair. It often contains ingredients such as peroxide or ammonia, and they last much longer. You can use semi-permanent coloring if you have light hair, but those with darker tones need to use bleaching to lift the color to create a more vibrant finish.
FAQs
What does blue hair mean?
Blue hair means you are someone who is daring and wants something different from the norm. It is a fantastic way to make a statement and appeals to your playful side. It can tell the world you are someone with a unique sense of style and not afraid to stand out from the crowd.
What does blue hair mean in slang?
Some people use the term 'blue rinse' or 'blue hairs' to describe elderly women. It is a derogatory term and is a reference to their use of hair products, which often gives their white or gray hair a blue tinge.
What do you call someone with blue hair?
You can call someone with blue hair exactly that. Or perhaps you wish to refer to them as having mermaid's hair or use a catchy term. Individuals who have blue hair are often daring and different. It is a wonderful way to express yourself and have fun with your appearance.
What colors go with blue hair?
There is no denying that blue hair makes a statement, and you may have to alter your hair and makeup routine to compliment it. Neutral colors like black, white, cream, beige, and gray, look good with everything, so you may want to stick to a wardrobe of solid, neutral tones. That said, blue can also complement certain colors such as purple, yellow and tan.
What does blue hair say about you?
Your choice of hair color can say a lot about you, but opting for bright and bold shades usually suggests that you are playful and confident. You can also be seen as a risk-taker, a creative, or someone who is unique and daring. Blue is a color that is associated with calmness and tranquility, and you may give off these qualities, too.
Is blue hair natural?
Blue hair is not a natural color and is achieved by artificially coloring your hair. That said, some individuals are born with hair described as being 'blue black' with a slightly blue tinge under lighting.
How do you know if you look good with blue hair?
If you want to try out blue hair but are unsure if it will look good on you, it is best to opt for a more subtle approach. Darker blue such as navy is easier to pull off because it is less vivid and flattering on most skin tones. You can also try blue highlights, blue tips, or an ombre technique for a more naturally blended appearance.
What hair color do guys find most attractive?
Individuals with bold and bright colored hair get attention, but research has shown that men prefer more natural colors. Brown hair shades are considered to be the most attractive. That said, each person has their own preferences.
What makeup goes well with blue hair?
The makeup you pair with blue hair is dependent on several factors, including the shade of blue you choose and your complexion. That said, in general, pinks, reds, browns, and orange-browns look great with blue hair. The color is usually very striking, so you may want to opt for slightly more makeup than you'd normally wear, but it's all about achieving a balance. For example, if your eye makeup is more dramatic and visible, then keep your lips natural.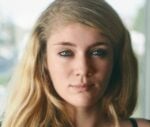 Cailyn Cox holds a degree in journalism and has been working with The Trend Spotter as a writer for over ten years. She has worked with some of the most prestigious women's and men's lifestyle publications. For her, writing is not just a job; it's a passion, which is why each article she writes is approached with such enthusiasm and dedication. She has extensive knowledge of hairstyles, tattoos, and beauty and has made a career out of creating informative articles that appeal to women and men of all ages.
SUBSCRIBE TO OUR NEWSLETTER
Subscribe to our mailing list and get interesting stuff and updates to your email inbox.