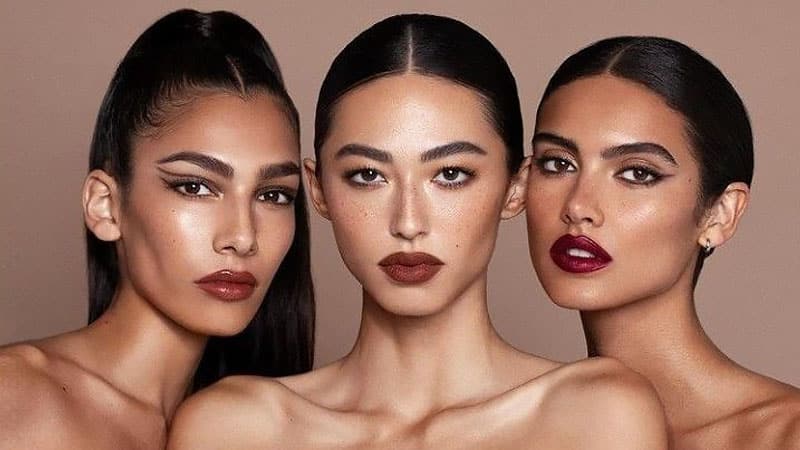 The middle part is the name given to a parting in the middle of the head. It is effortless to achieve, taking a classic haircut and turning it into something modern. There are various ways to style the parting, including protective styles like tribal and box braids or with a timeless finish like the bob. You can wear it at different lengths and with all textures, so it is not hard to see why this is one of the hottest additions to your strands. Although this look is a beautiful way to frame the face and highlight your features, it is not the easiest parting to pull off. Find out everything you need to know and get inspired.
Middle Part Hairstyles
1. Middle Part Bob
The bob haircut is one of the most effortlessly chic looks. It is the type of cut that suits women of all ages, and although it is a classic, some women are reluctant to try it out because it can also feel dated. What better way to give the cut a modern update than pairing it with a middle part?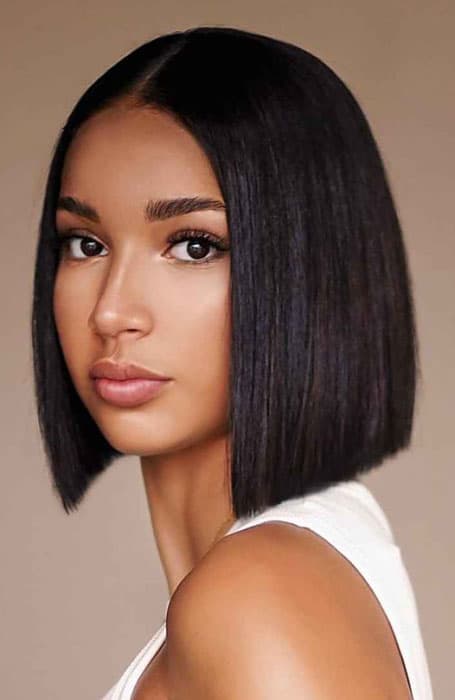 2. Middle Part Tribal Braids
Tribal braids are a protective style that lets you express yourself and show your individuality. The appeal of this look is that it can reduce grooming time and enables you to take a break from heat styling, but it is also a super fun way to introduce colorful or symbolic accessories. Pairing the style with a middle part will highlight your features.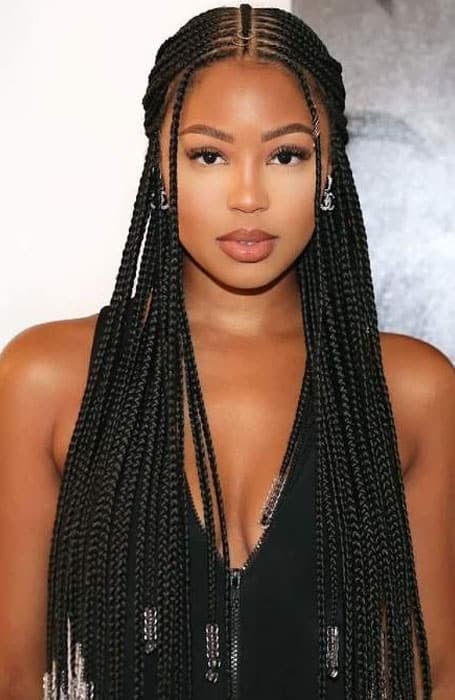 3. Middle Part Sew-In
A sew-in refers to the method of adding extensions to the hair, either real or artificial. It will typically be added to a base of cornrows and is an excellent way to change your texture, add fullness, or achieve longer lengths. You can also style your weave how you want, and this could include a middle part for extra style points!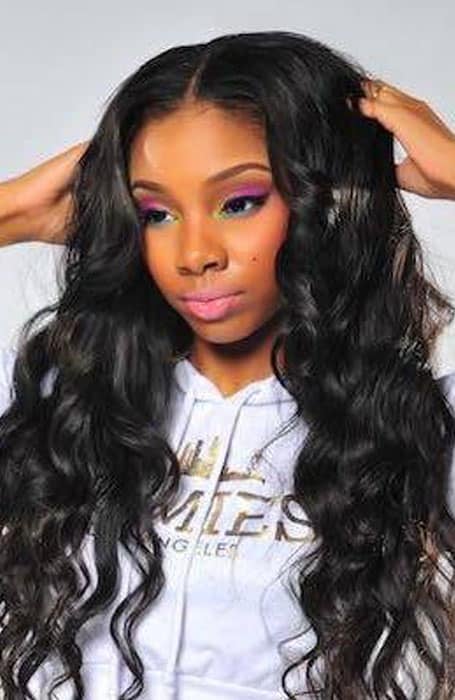 4. Short Middle Part
Have you been looking for a way to frame your face and highlight your features with minimal effort? Let us introduce you to the middle part, a very stylish yet practical way to wear your hair. The best part is that it looks great on all textures, from curly to straight, and can be adapted to all lengths, including shorter locks.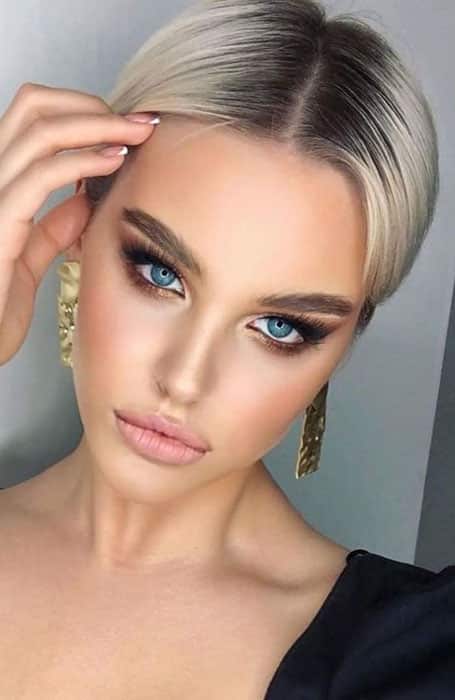 5. Middle Part Ponytail
The middle part can be trickier than others because it is less forgiving. What it is, though, is stylish and practical, letting you tuck your hair behind your ears to keep it out of the face while also creating a framing effect. There are also endless ways to style it, including a ponytail. Opt for a high ponytail for a sophisticated finish or a low ponytail for a more carefree and laid-back aesthetic.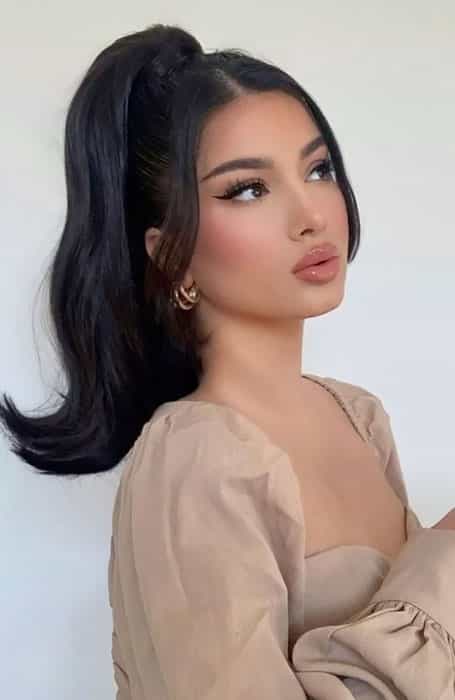 6. Middle Part Quick Weave
The great thing about a weave is it gives you unlimited ways to style the locks. If you find that your natural hair needs to be longer to create your desired style, adding these extensions (which can be natural or artificial) will help. They are added to the scalp in several ways, including sewing, clipping, and gluing. You will get length and fullness, which can be incredibly flattering.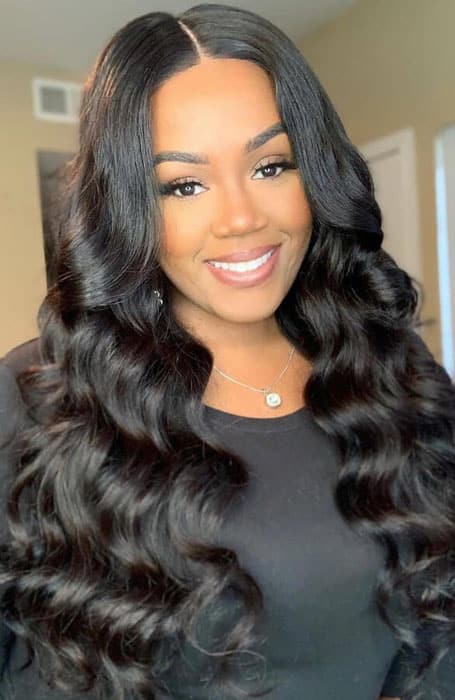 7. Wavy Middle Part
The best thing about the middle part is its adaptability to different lengths and textures. While we can all agree it is not the most flattering way to style your strands, especially if your features are not symmetrical, pulling it off with wavy hair can be easier. This is because of the brilliance of the textured pattern, which will soften the sharpness of the parting.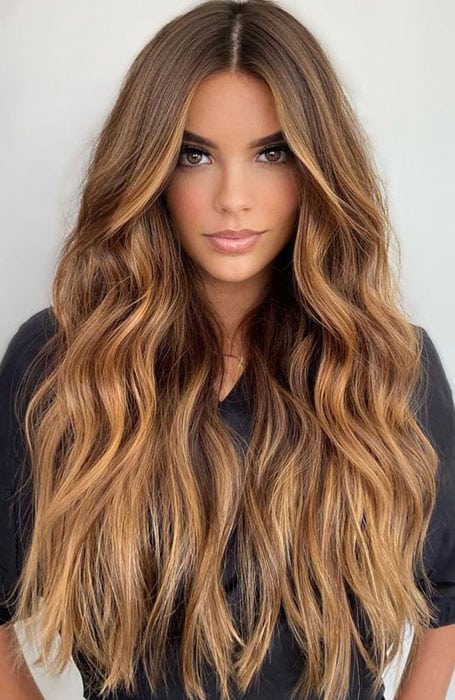 8. Korean Middle Part
Korean hair and beauty are gaining popularity worldwide because of how chic and effortless it is to style. When creating a middle part based on this approach, you will often keep the strands long but thin around the face to create a framing effect. This is a look that works best with naturally straight or wavy strands.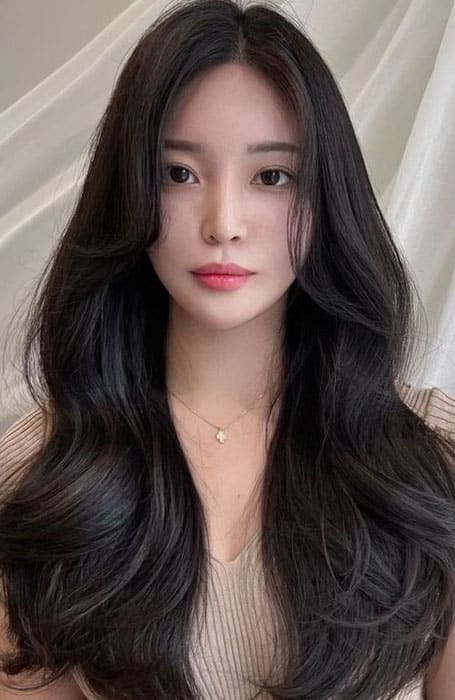 9. Fluffy Middle Part
Fluffy hair is arguably one of the most desirable textures because it is voluminous without feeling poofy. The result is hair that feels windswept and is created to be deliberately messy and unstructured, which can be incredibly flattering and will make the middle part more wearable. How does it do this? The answer is simple, the less precise the parting is, the softer the appearance.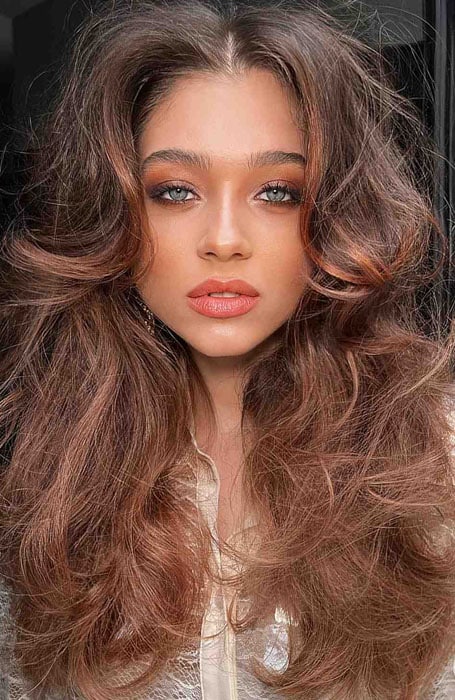 10. Middle Part Quick Weave Bob
Hair extensions are great for altering your length or trying out new textures. They also do not damage your natural locks, which appeals to those who want to change their style but are not ready to commit to it long-term. Use a weave to combine a bob haircut with a middle part perfectly. Keep it sleek for a sophisticated finish.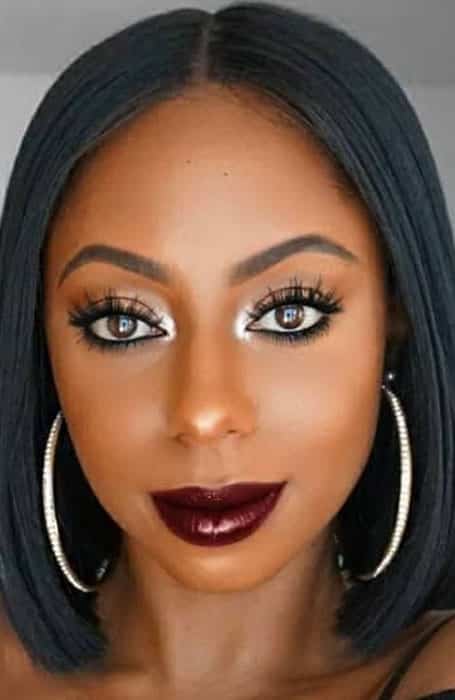 11. Messy Middle Part
We love messy hair because of how gorgeous and textured it looks. But it is also a style favored for the middle part because it makes it appear less harsh. There is a lot to like about this parting, but it is known for being unforgiving on those with less symmetrical features, and it does not suit all face shapes.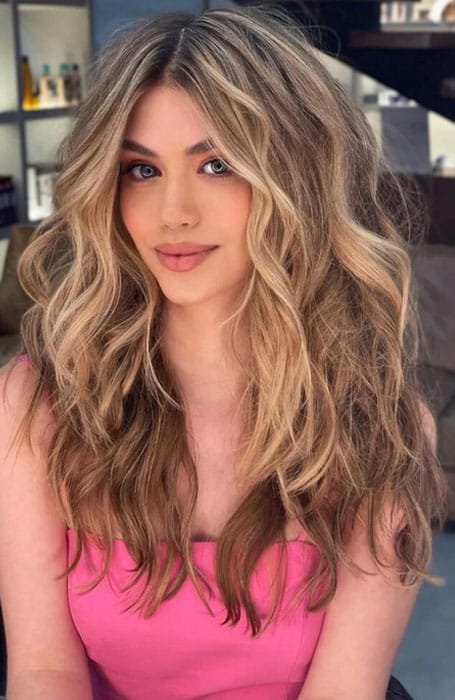 12. Curly Hair Middle Part
How do you rock the middle part but create a more blended finish? The answer is by styling it on curly hair. This is one of the most desirable textures because it looks full, healthy, and has movement. Combining the parting and your texture will create a beautiful result and will frame the face. Keep your strands long to really show off the curl pattern.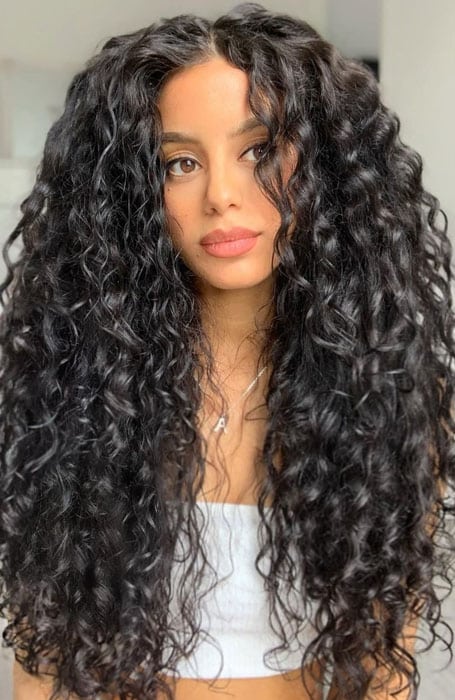 13. Long Middle Part
Long hair is a brilliant way to show off your texture, but it also gives you so much versatility in styling. The options feel unlimited and let you get creative with how you choose to wear the hair; this can include a middle part. The parting is also practical when worn longer, allowing you to tuck your strands behind the ears to keep them out of your face.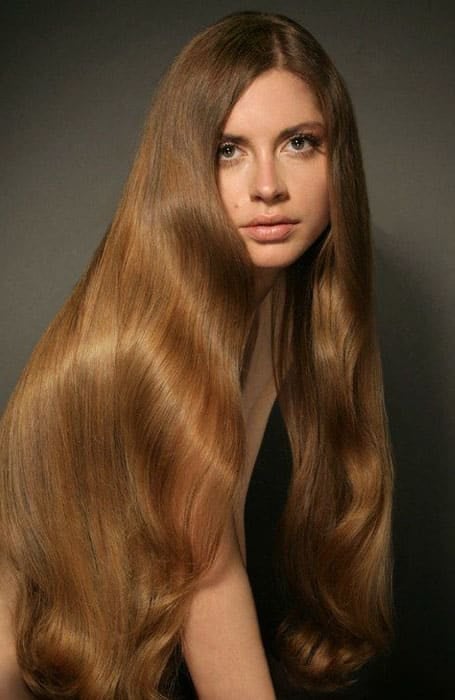 14. 90s Middle Part
The 90s was an expressive decade, and we are excited that many 90s hairstyles are returning, but with a modern twist. These approaches make the looks we loved more wearable and versatile. For this style, your parting will include tendrils with butterfly clips, which are super chic and an excellent way to highlight your features.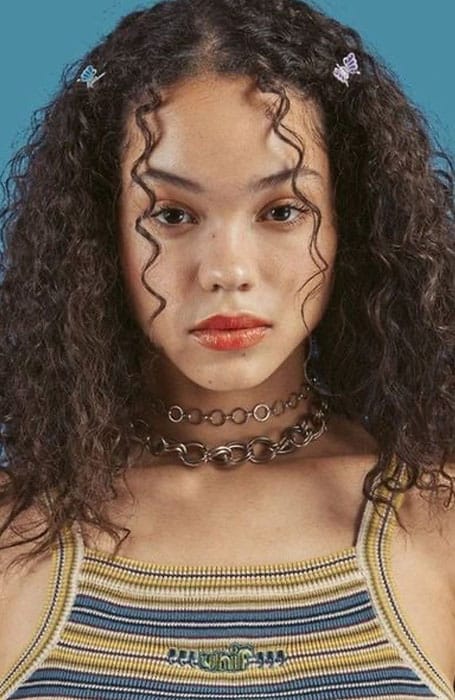 15. Blunt Cut Middle Part Bob
A blunt cut is a haircut with no layering. It is cut straight and horizontally and can be an excellent option for those who want a sharp and precise look, especially when created on straight hair. For a sleek and ultra-stylish finish, cut the hair into a bob hairstyle and pair it with a parting. Chic and youthful, you will definitely turn heads.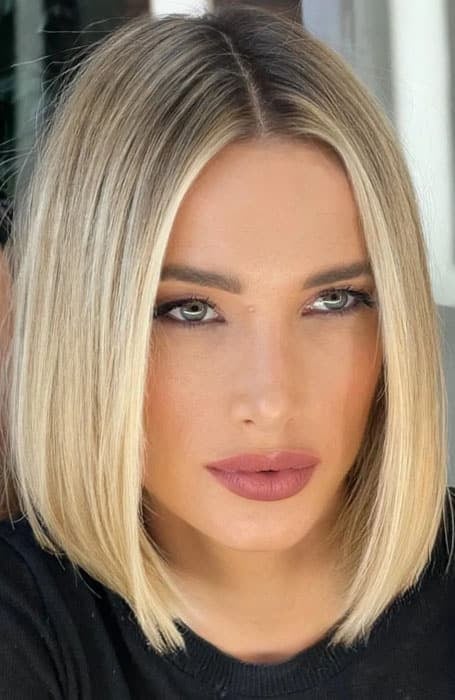 16. Middle Part Slicked Back
Consider this middle part for a sleek finish ideal for formal events and special occasions. What you will love about this look is how chic it is. All you need to do is ensure all your strands are perfectly in place and secured with a stronghold product, and this is made much easier if you have a naturally straight texture.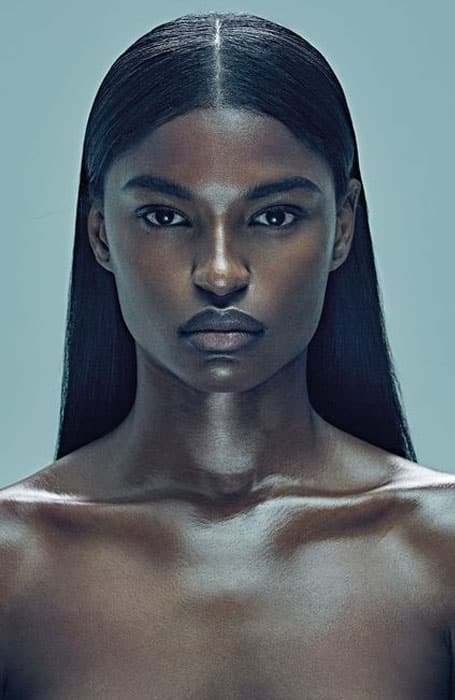 17. Middle Part with Bangs
The middle part can be paired with bangs for a stylish and more blended finish. This is a way to make the parting more wearable and create a softer look. At the same time, you benefit from all the pros of the parting, including creating a face-framing effect that highlights the features and gives you a youthful glow. If you want to take years off your appearance, this is the way to do it.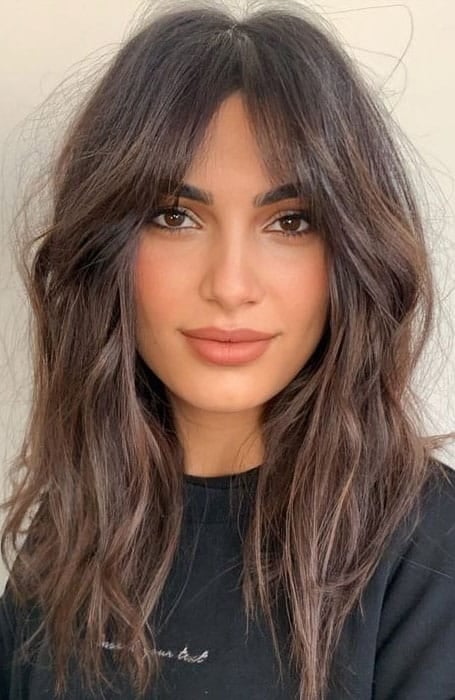 18. Quick Weave with Middle Part
A weave is an excellent way to achieve a middle part and lets you style your hair exactly as you want. This includes creating your look with different lengths and textures and experimenting with color. There are few looks as effortlessly stylish and cool as pink hair, a hue often associated with love and femininity.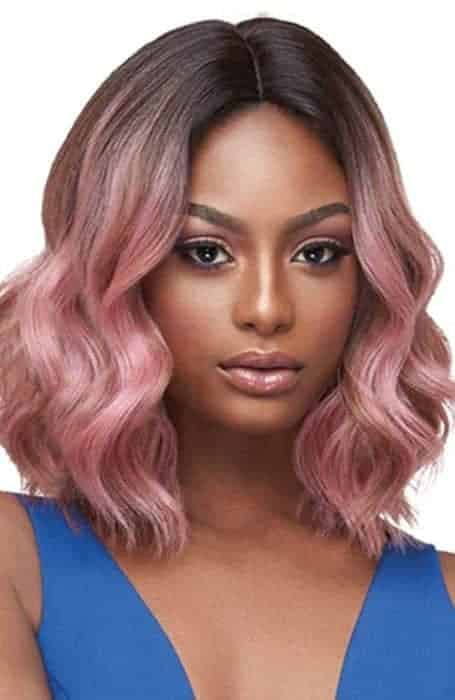 19. Straight Hair Middle Part
Straight hair is one of the best options for a middle part because it helps you create a more defined look. The parting is definitely more noticeable with this texture, but that is the beauty of it, and it will effortlessly highlight your features, including your eyes and cheekbones. If you want a modern addition to your haircut and want to make a statement, this is how to do it.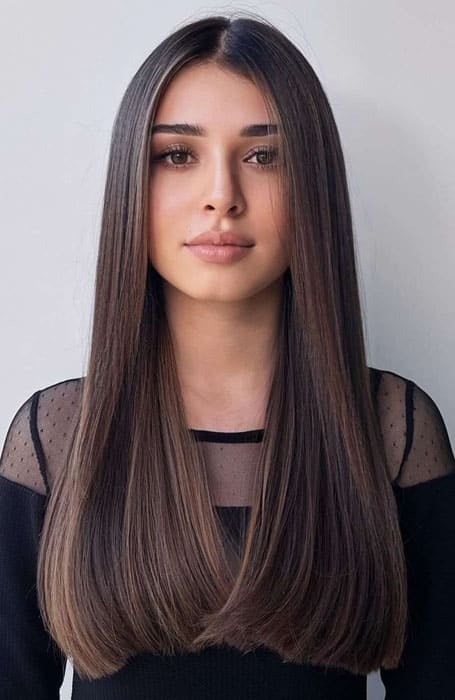 20. Layered Middle Part
Layered hair is an excellent way to add volume and movement to your strands. It can be added to all textures and styled in various ways. This includes wearing it with a middle part, and because of how your strands are cut, it gives a more natural and blended finish that feels softer. This can make it easier to pull off a parting which is traditionally quite harsh for most face shapes.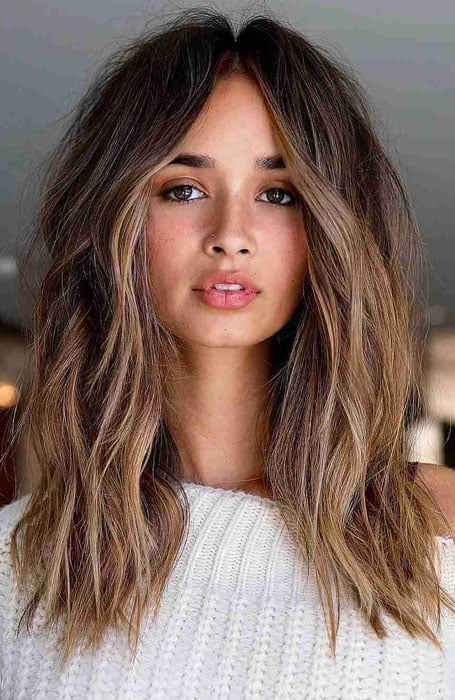 21. Middle Part Slick Back Ponytail
We love the slick back ponytail because it looks sophisticated and eternally stylish. You would think it would take hours to create this high-fashion look, but it is super simple and can be achieved within minutes. When paired with a middle parting, it will highlight your features and create a face-framing effect.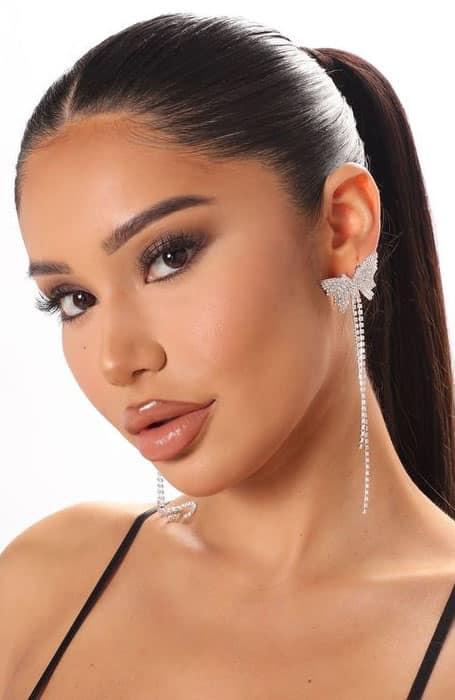 22. Perm Middle Part
What is not to love about a modern perm? Gone are the days when perms felt stiff and coily because the new approach to creating them gives you more versatility with the curls or waves you want. It is also less damaging to the hair. It perfectly combines softness and precision when paired with a middle part.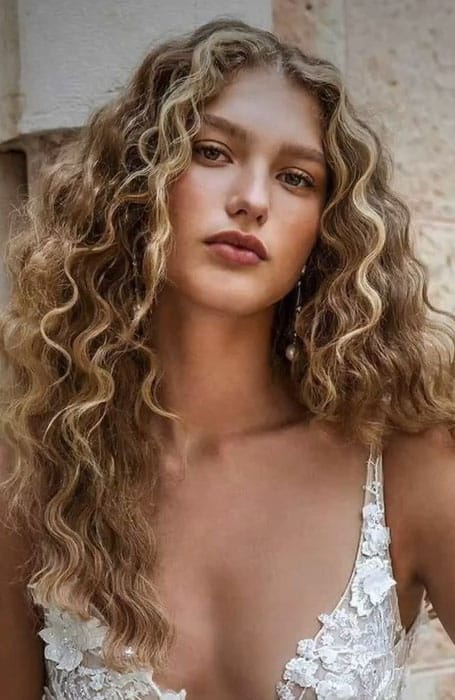 23. Side Bangs Middle Part
Side bangs with a middle part may seem counterproductive, but combining this look is a great way to benefit from the stylishness of the parting, and the flattering effect that is styling the hair to the side can have. This will create a soft and feminine finish and, when worn longer, will give your strands movement.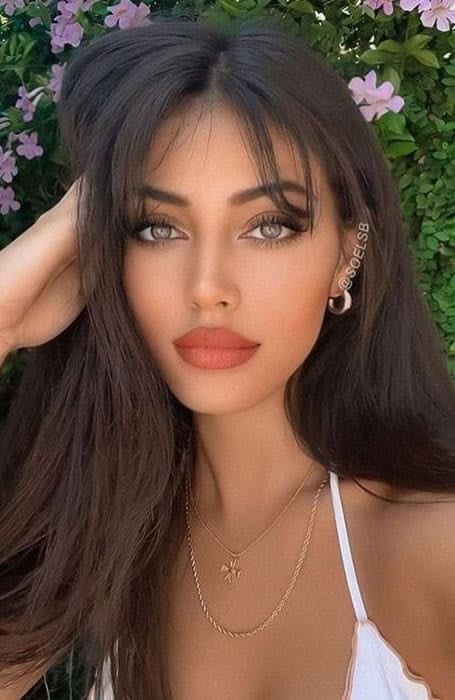 24. Blonde Middle Part
By now, we think we have stressed just how versatile a middle part is, and it can be added in many ways. While it is not the most flattering parting, it is still a great look to try out for those wanting to experiment with a modern finish or highlight their features. It can be even more noticeable on blonde hair thanks to the lighter strands.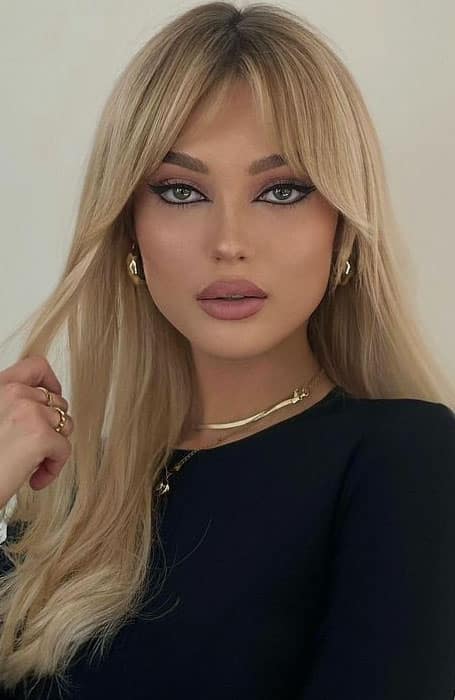 25. Middle-Parted Bun
The bun hairstyle is one of the simplest updos, which is why it is so loved. It can be achieved within minutes and worn on hair of various textures and lengths (for shorter strands, you will style it so that it sits lower on the head). Pair the bun with a middle part to highlight your features and give yourself a sleek and fashionable finish.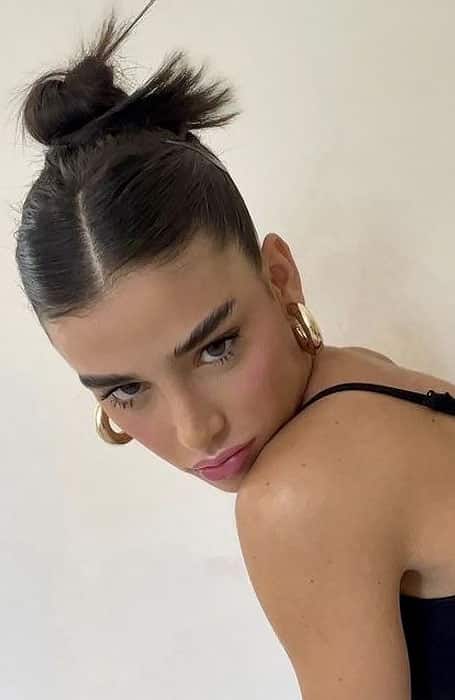 26. Curly Bob Middle Part
The bob hairstyle is flattering on all face shapes and remains one of the most popular looks for women of all ages. Another pro to this cut is that it can be worn with different textures and altered to suit your preference. This includes modifying the cut with a parting like the middle part, giving it a more modern feel. At the same time, your curly locks will create a more blended finish.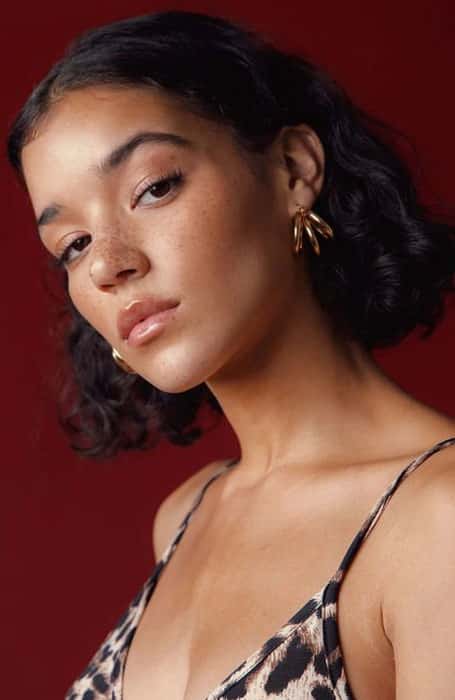 27. Middle Part Round Face
The middle part is surprisingly flattering on those with a round face and can actually work to make your features more visible, and the shape appears less round. The great thing about this look is that it will frame the face. Despite being unforgiving to those who do not have symmetrical features, it is versatile in the ways that it can be easily adapted to suit your preference.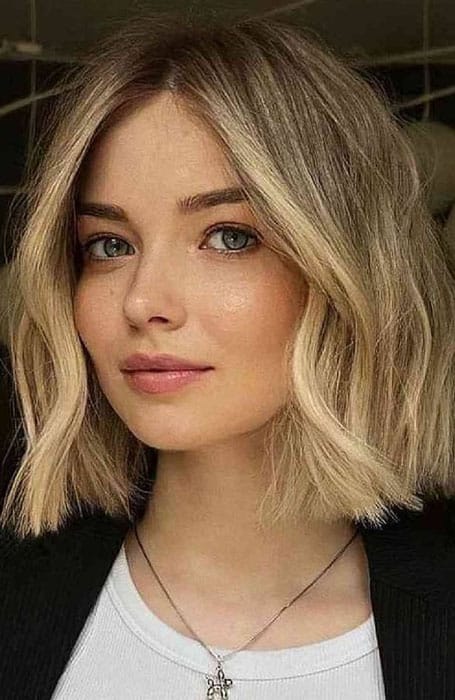 28. Straight Weave Middle Part
Weaves are hair extensions that are added to the scalp using various methods. They are a great way to experiment with different textures and lengths, making finding a look that appeals to you easy to find. If you want a style that shows off your middle part, create it with straight strands.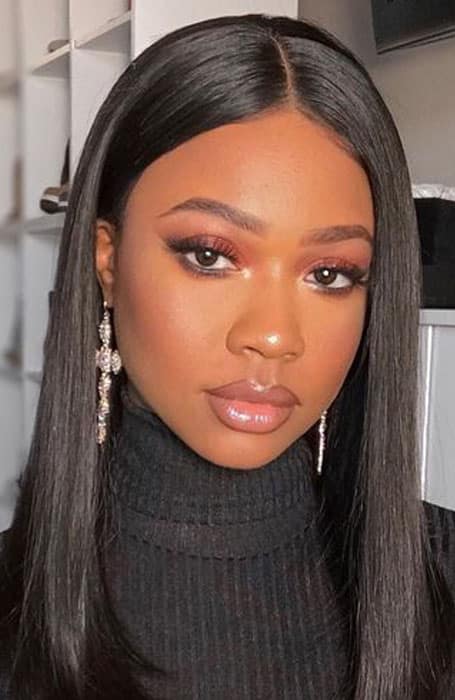 29. Blonde Middle Part with Tribal Braids
There are many reasons to love blonde hair: how flattering it is on most complexions and how bright the hue is, making your chosen hairstyle even more noticeable. When deciding on the perfect middle part, there are several ways to wear it, including tribal braids. This expressive protective style can be created with various patterns and thicknesses.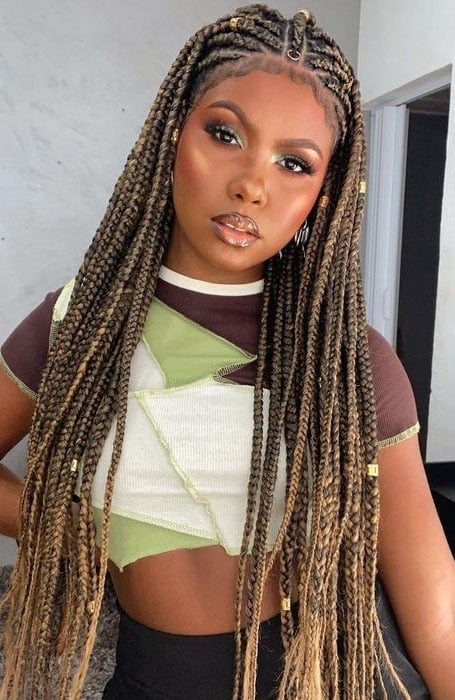 30. Middle Part Box Braids
Box braids are one of your hair's most popular protective looks because they are versatile and effortlessly cool. The name is given to the look because of how the strands are sectioned, creating a boxy appearance. Style them with or without the space buns and a middle part to highlight your features and show off your face.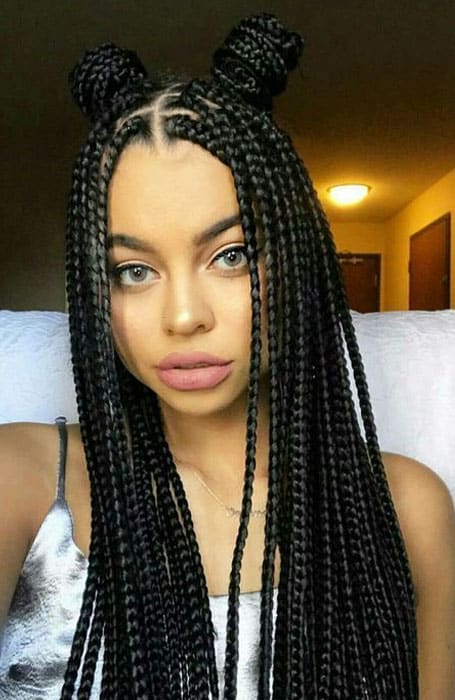 31. Black Hair Middle Part
Consider a middle part if you want a simple addition to style your natural hair. The sleek parting paired with your voluminous strands is an ideal combination. You can opt for an elegant finish to create a more formal look or leave the hair in its natural state to give your appearance softness and show off the contrast between the parting and the curls.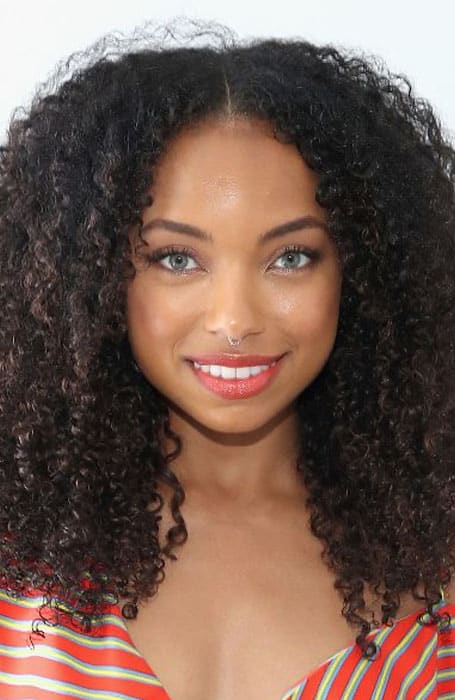 32. Pink Hair Middle Part
Pink hair is fun and adventurous. The color is often associated with femininity and love and is a beautiful way to achieve a youthful finish. This is a hue that is going to get you noticed and, as such, will also highlight your chosen hairstyle. So, if you want to make your middle parting even more noticeable, this is it.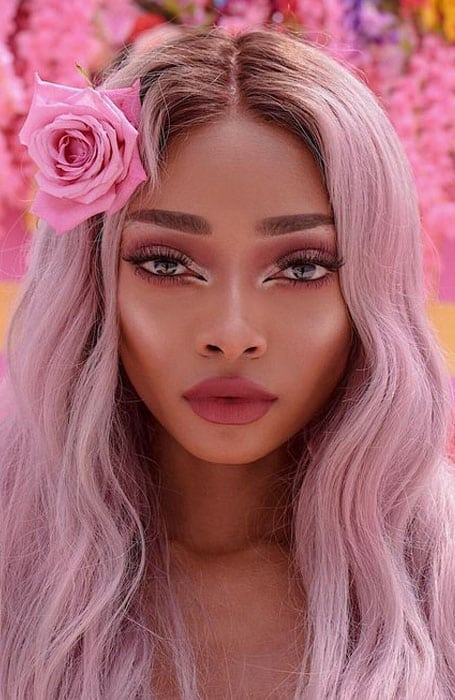 33. Middle Part Shoulder Length Hair
The middle part is nothing if not versatile and can be worn at various lengths. It also looks gorgeous with all textures, and although it can be a bit more challenging to pull off and restricted to those with specific face shapes, we do love how easily it can be adapted. For those with shoulder length hair, try a middle part with soft, beachy waves for a romantic finish.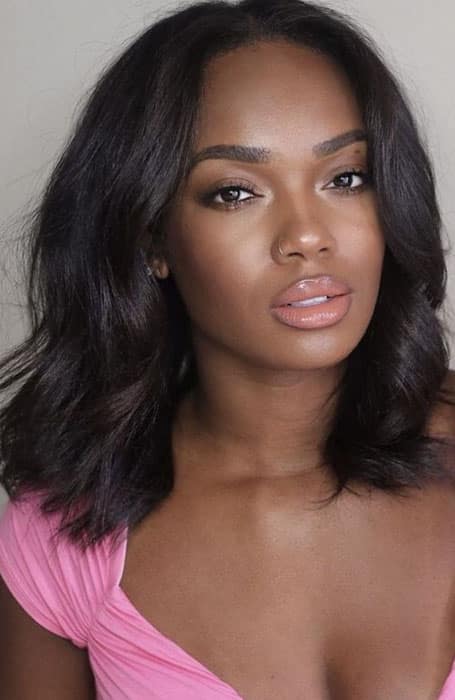 34. Asian Middle Part
The Asian middle part refers to the parting worn on Asian hair. The texture and pigment can vary but are generally considered thick and straight. This is an excellent combination for those wanting to achieve a hairstyle that will frame their face and look sleek and sophisticated at the same time. What are you waiting for?!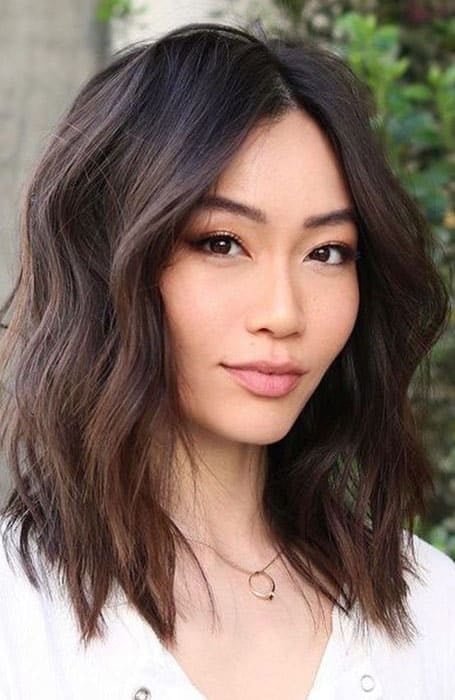 35. Middle Part Bob with Closure
The middle part looks excellent when worn with the bob hairstyle, and this is one of the most popular choices. Not only is this classic cut flattering, but it can also be styled in different ways! Rock the sleek finish with blunt ends for a brilliant, modern finish that will get you noticed and make you feel glamorous.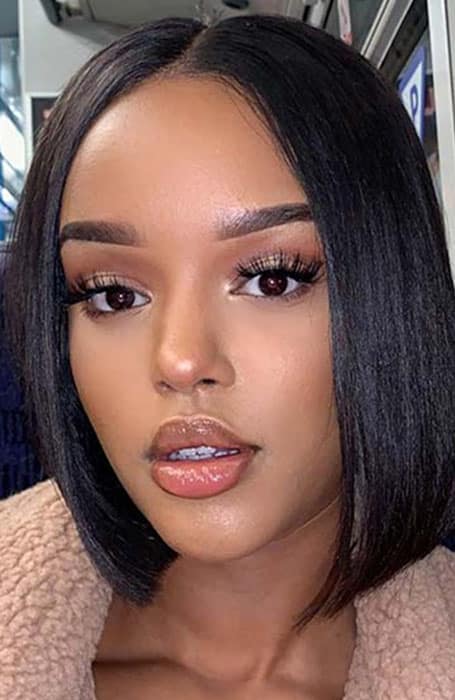 How to Do a Middle Part
This is one of the most popular parts because it is incredibly chic and versatile. It can be added to various hairstyles and looks good when paired with tribal braids, classic bob, and many other styles. It is also great on different textures with straight strands making for a sleek finish, while curly locks give you a softer, more blended appearance. If you have been looking for inspiration to try this parting yourself, check out the YouTube video below to help you achieve the perfect middle part.
Middle Part Vs. Side Part
The middle and side parts are both partings added to the hair but with very different results. As the name suggests, the middle part is worn in the middle of the head. It is used to frame the face and highlight the features, but it can also be less forgiving on specific face shapes and will not suit everyone. In contrast, the side part, worn to the side, is more universally flattering and easier to wear. It is excellent for complementing strong features. Both looks have pros and cons, but they are a simple way to alter a haircut.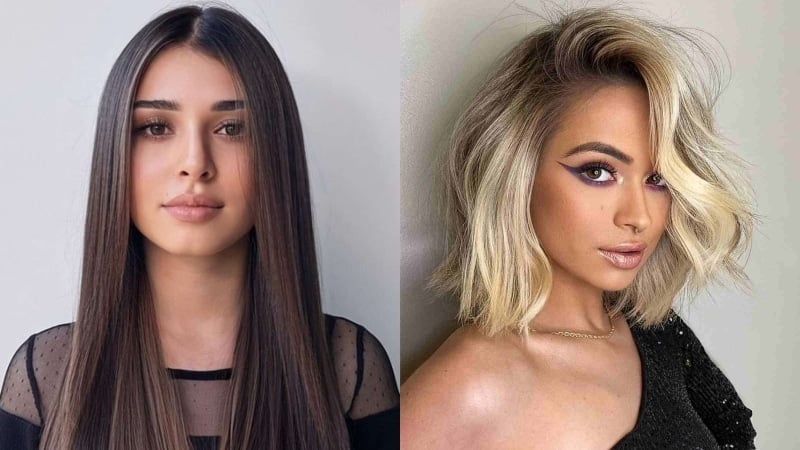 Middle Part Hair FAQs
What face shapes look good with the middle part?
The middle part is typically best suited to those with oval, diamond, heart, and round faces.
What is the middle part hairstyle called?
The middle part hairstyle is defined by a parting in the middle of the head. It is great for framing the face and highlighting your features. It can be added to various cuts, including the bob haircut or protective styles like braids.
SUBSCRIBE TO OUR NEWSLETTER
Subscribe to our mailing list and get interesting stuff and updates to your email inbox.