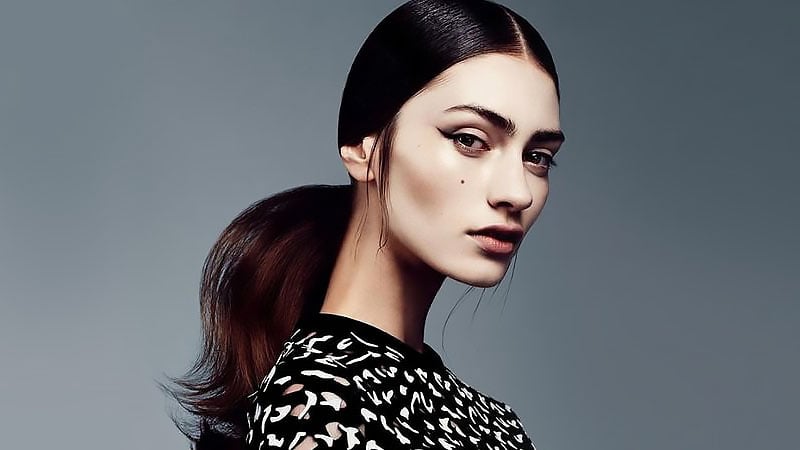 The ponytail is one of the most versatile and popular hairstyles today. The look requires minimal styling, equipment, or special techniques, and you can dress it up or down with ease. Even better, there's a ponytail – whether high, mid-height, low, or on the side – that suits every face shape and hair texture. From the gym to date night and even your wedding, a ponytail can be the perfect hairstyle to make you look your best.

1. Short Ponytail
The classic ponytail is long and flowing, but short hair suits this style too. While you won't be able to do a high ponytail with short hair, a low pony will flatter your cut and give you a fresh look in seconds. Keep the ponytail very textured and undone for the best results. It looks even better when teamed with a fringe, which creates a chic, French feel.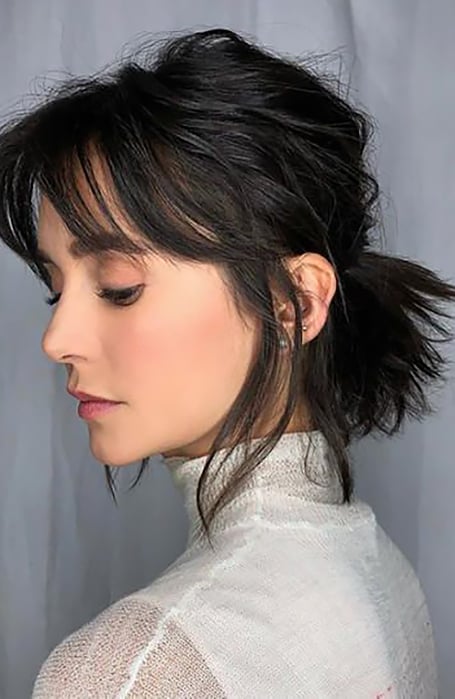 2. Long Ponytail
If you have long, thick hair, you're in luck: the classic ponytail is an effortless style for you! It's incredibly versatile because you can wear this style everywhere from the gym to a lunch meeting and for a night out. Whether you style it sleek or wavy, the long ponytail never goes out of style. To keep it looking its best, make sure you maintain your long locks with regular treatments and trims. For those who love this look but have fine or thinning hair, clip-in extensions are a great option to fake it.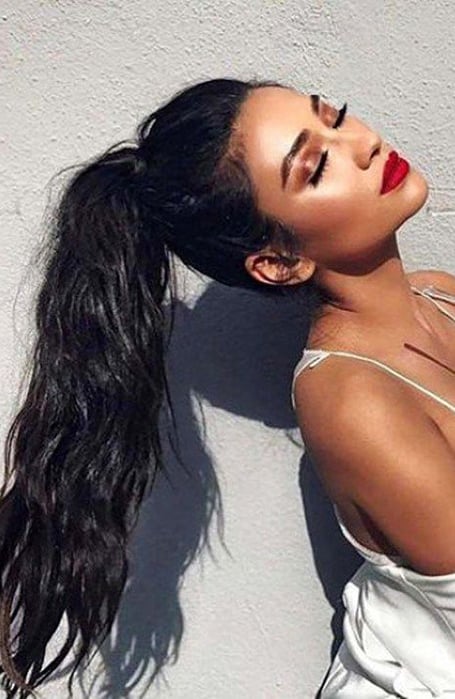 3. Cute Ponytail
A short hair classic, the cute ponytail is sweet and sassy. It is a youthful, playful take on the hairstyle. While you can keep it simple, adding accessories will look extra cute. Think scrunchies, bows, ribbons, or a brightly colored scarf. You can also try colorful hair clips or decorative hair slides.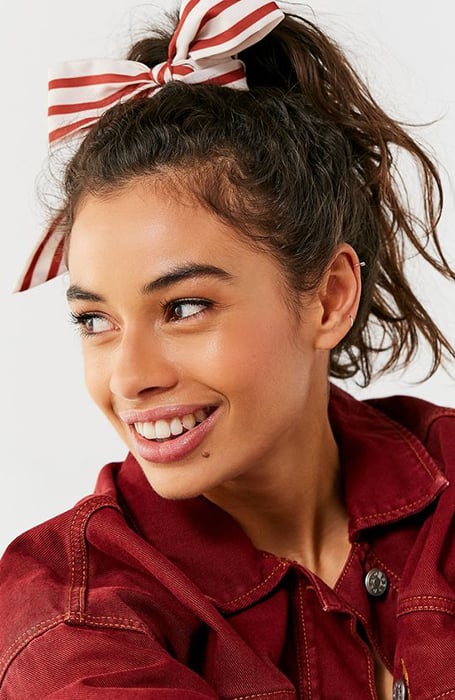 4. Easy Ponytail
It couldn't be more simple to upgrade your everyday ponytail. The first step is to cover the hair elastic around the base of the ponytail. Take a section of your hair and wrap it around the elastic, then secure it in place. While you could use a bobby pin, using a cute clip will give your simple ponytail some extra personality and make the hairstyle look more polished.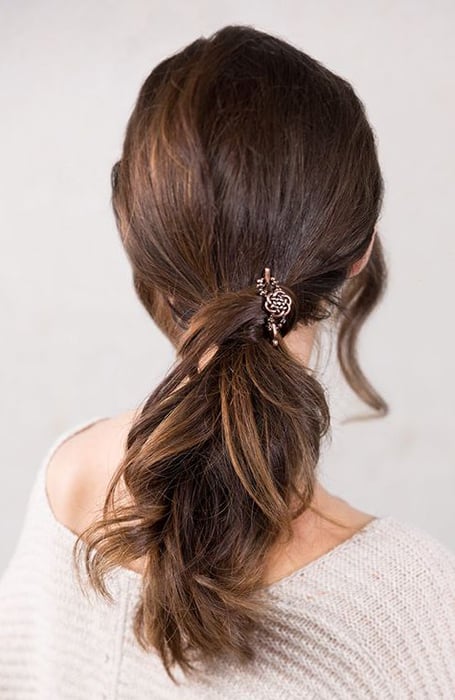 5. High Ponytail
The high ponytail hairstyle has been popular for decades because it's a sexy, confident look that also lifts and tightens your face. To nail this style, make sure your hair has some grit and texture to it; spritz in some dry shampoo if your hair is too clean and slippery. Don't worry about keeping your hair too sleek, either, as this type of ponytail is supposed to look tousled.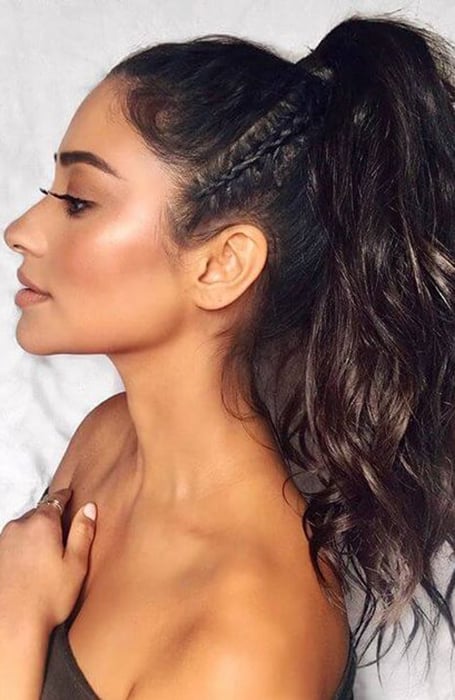 6. Medium Ponytail
Medium hair is usually around shoulder length, which means it's just long enough to turn into a stylish mid-height ponytail. If you're growing out your locks or have fine hair, it is an excellent option for making your mane seem thicker and longer. Keep this ponytail soft, wavy, and romantic, as a sleek ponytail will only emphasize the length and fineness. Ask your stylist to give you long bangs, too, as this will create the illusion of more hair.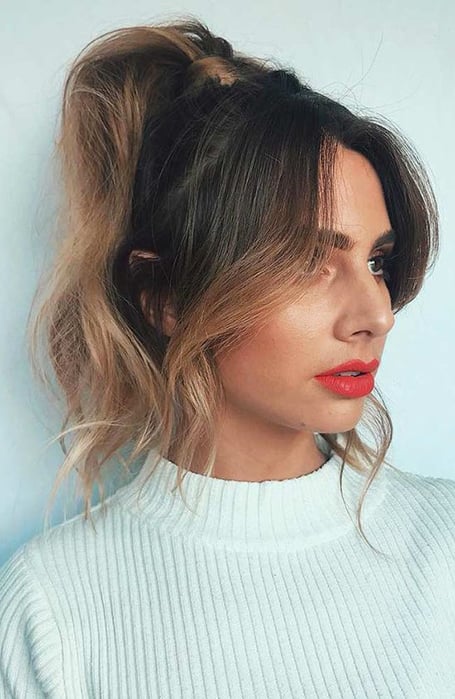 7. Low Ponytail
The low ponytail is a very chic hairstyle that's favorite with models. It has a cool '90s appeal and will suit you if your hair is naturally straight and fine. It's also a very professional hairstyle that is great for work or meetings. Oval and heart-shaped faces look great with this style. You can change it up by switching from a center parting to a deep side part.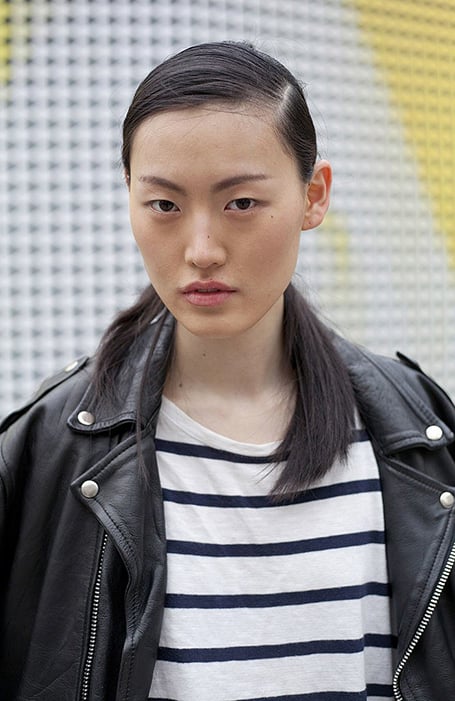 8. Side Ponytail
There's one trick to nailing the side ponytail: don't go too high. The hairstyle looks best when the ponytail starts at the top of your neck or mid-height. The easiest way to style a side ponytail is with loose waves and unstructured pieces that frame your face. Use sea salt spray to give it texture and help the waves form. However, this look requires thick hair, so if yours is fine, a sleek side ponytail could be the way to go. Straighten and smooth down your hair with a gel or styling cream, then create a side parting and secure your ponytail on the opposite side.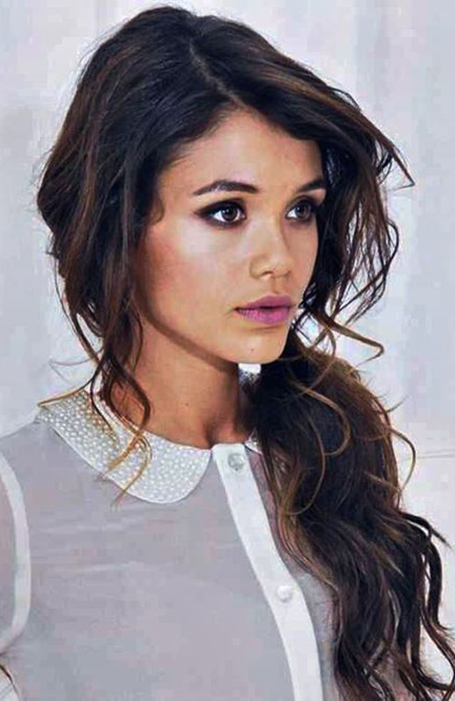 9. Half Ponytail
The half ponytail – also known as the half-up, half-down style – is coming back into fashion. It is one of the most versatile hairstyles because it works on any hair length or texture. Only the top section ties into the ponytail, and you can choose how high or low you want it. The higher the ponytail section, the more volume you will create at the crown of your head, which makes a round face look longer. Meanwhile, the loose lower part of your hair creates a beautiful frame for your face.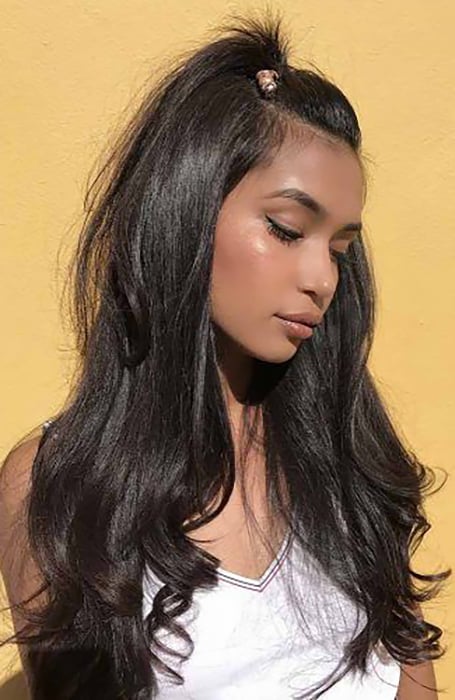 10. Braided Ponytail
If you have a little more time, combine your ponytail with a loose braid. Doing so gives your look a soft, romantic, and summery feel. For these reasons, this is a great hairstyle for weekend brunch or a casual date night. This hairstyle is also very flattering on ombré hair or highlighted hair, as it will show off all the different tones. Braids require thick long hair, so clip-in hair extensions could be a good option if you're combining them with your ponytail.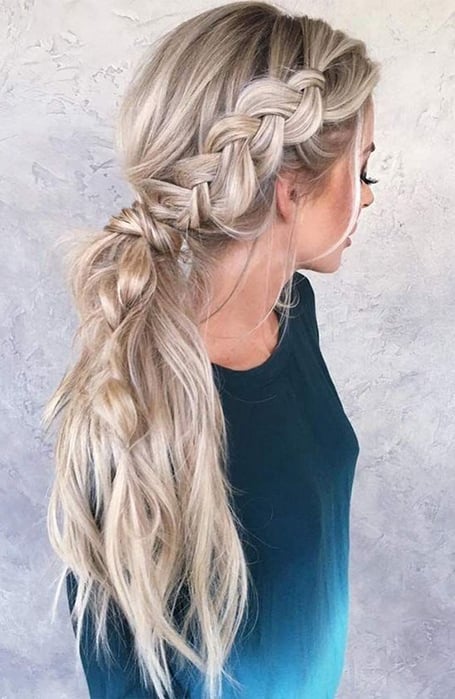 11. Ponytail + Weave
Sewn-in weaves are not only great for protecting your natural hair, but they are also fantastic for creating a standout ponytail look. The sleek front, textured back version of the style creates a cool contrast that ensures all eyes will be on you. Gluing in a weave can damage your hair, so it's usually best to avoid it. Instead, have the bundles sewn in by your stylist. To create a bold ponytail, make sure you ask for more bundles of hair and body wave or deep wave, so the hair doesn't look thin or flat and is long enough to stand out.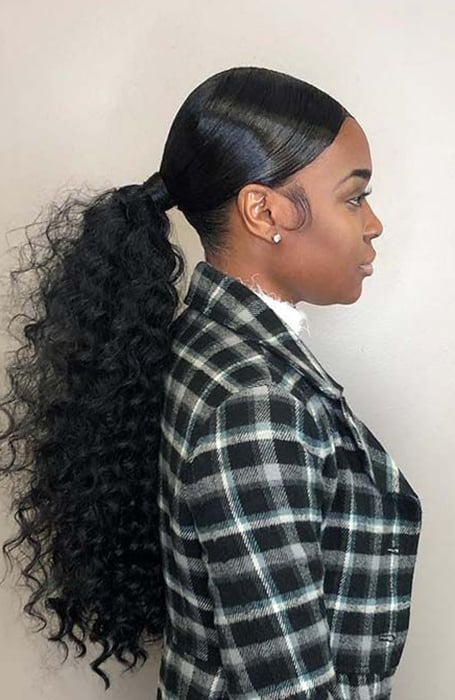 12. Black Ponytail
Because it's such a simple hairstyle, some people can mistake a ponytail for being boring. However, this take on the classic is full of personality and is sure to turn heads. It combines the fresh, sporty feel of a high ponytail with the glamour of long, flowing curls. As a result, you can wear this style for day or night. It is a great way to show off your hair's natural texture, volume and bounce or to try out extensions.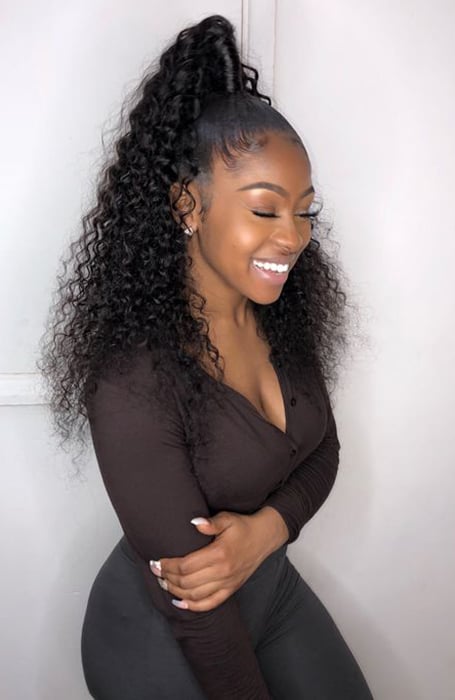 13. Prom Ponytail
The ponytail is known for being a casual, everyday hairstyle. However, it can look fabulous for more formal events like prom night. Tease the roots of your hair from underneath, so the top still looks smooth and elegant. Once you've secured your ponytail, use tongs to create soft waves. Finally, twist a small section of hair around the elastic, so your ponytail looks seamless. You need long, thick hair to create this look so opt for real human hair extensions if you don't have this hair type.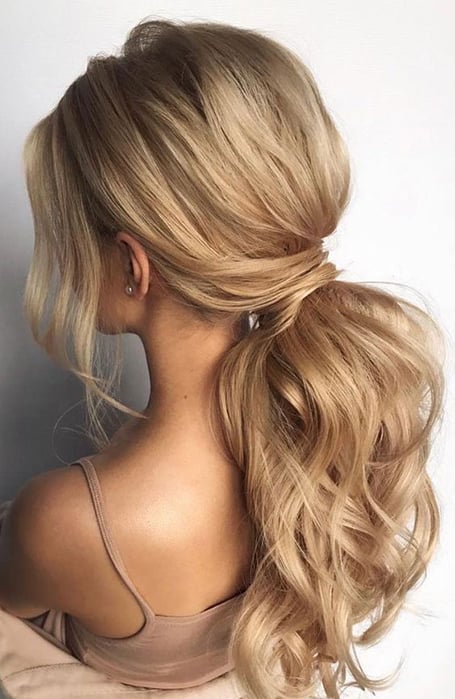 14. Braided Ponytail for Black Hair
A striking and protective style for Afro-textured hair is the braided ponytail. It combines braiding techniques with a long rope of hair, which you can either braid or leave loose. Cornrows and Fulani braids look amazing when paired with a chunky fishtail braid ponytail. To get a thicker ponytail, consider a weave or hair extensions.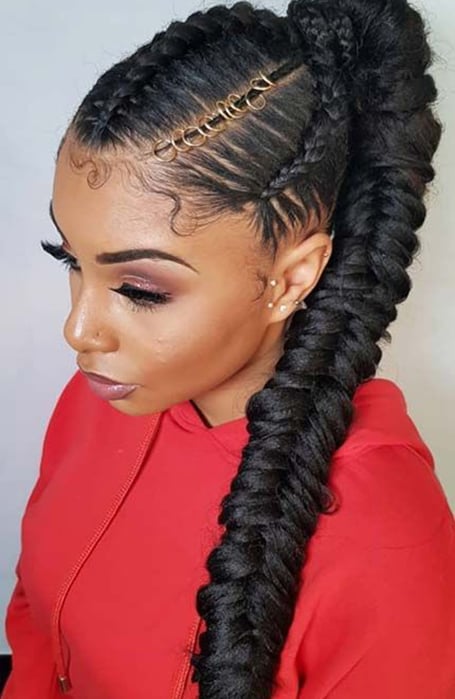 15. Two Ponytails
What's cuter than one ponytail? Two! This look can be tricky to get right because it can make you look like a schoolgirl. To turn it into a fun and fabulous night out hairstyle, make sure you work plenty of volume into your locks and add body and movement with beachy waves. Attention to detail is also crucial: make sure you disguise the hair elastic with a section of your hair, keep the ponytails even, and leave some strands of hair out to frame your face. This hairstyle looks fun and flirty when teamed with a smokey eye and a bold brow.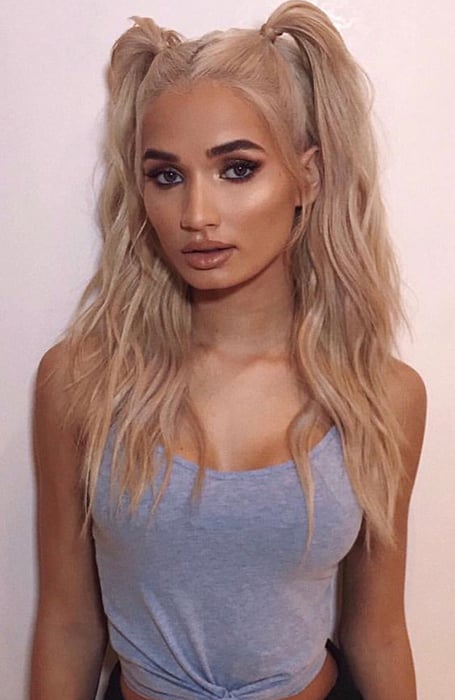 16. Natural Ponytail
Natural curls, kinks, and coils look fantastic when styled into a high ponytail. However, because natural hair has so much volume and bounce, the hair won't 'fall' the way straight hair does. Instead, the natural hair ponytail ends up looking like an up 'do. You can take this style to the next level by wrapping a scarf around the base of the ponytail.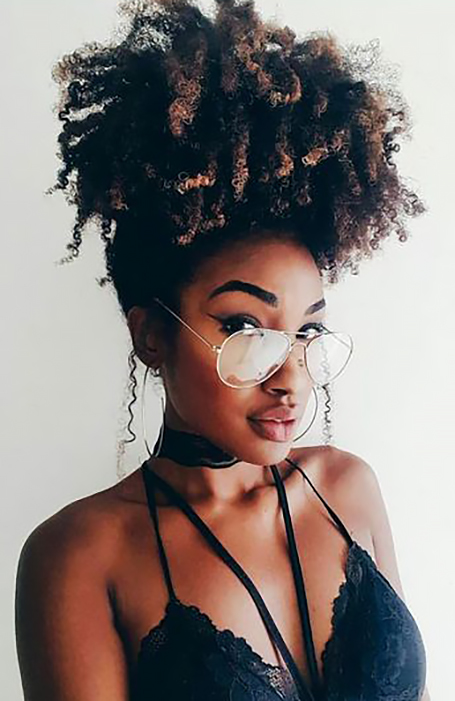 17. Unique Ponytail
Adding a braid to your ponytail can give it a fresh twist. This helix braid – also called a DNA braid – is eye-catching and unusual and provides the hair with a feeling of movement purely through its structure. It's a three-strand braid where the middle section is thinner than the others, and it naturally begins to twist as you work your way down. If you're not a confident braider, try plaiting your ponytail. You can also braid it with a ribbon running throughout for another unique take on the style.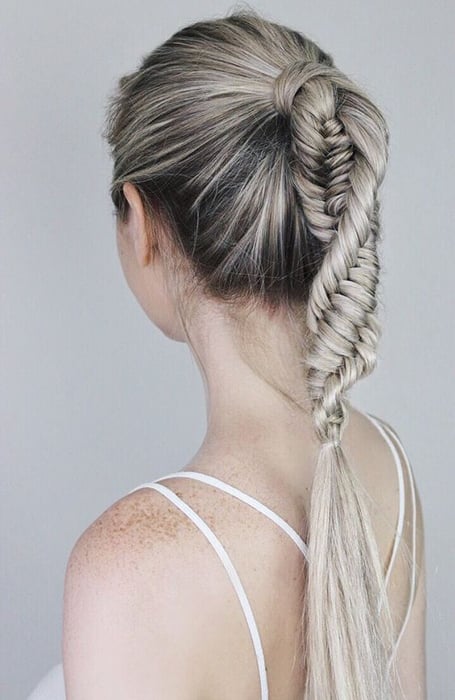 18. Crochet Ponytail
Crochet braids are becoming more and more popular because they make it easy to get the hair of your dreams without spending hours in the barber's chair. Your hair is initially braided into cornrows – though the tension is not as tight as with regular cornrows – before hair extensions are threaded through and secured with a crochet hook, rather than being sewn in like a weave. You can have any texture hair you want when you opt for crochet braids. Once the hair extensions are attached, you can style them into a ponytail as usual.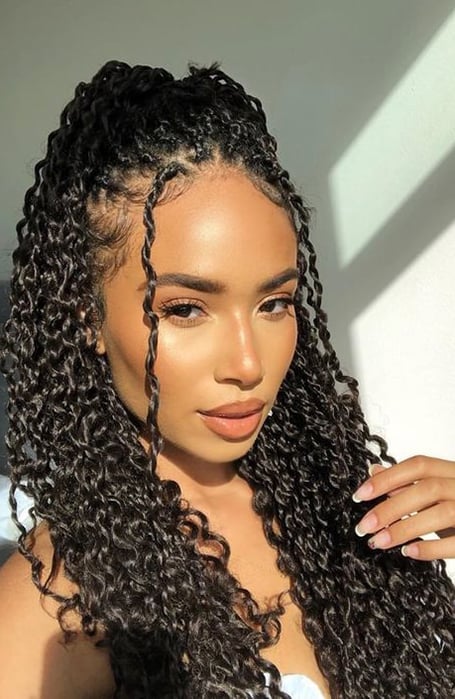 19. Bangs with Ponytail
Bangs and a ponytail are a match made in heaven. This low-maintenance hairstyle is still glamorous and romantic and works day or night. While a fringe pairs well with a ponytail of any height, a low pony is a particularly beautiful combination. Layered curtain bangs frame your face while the rest of your hair is pulled back; this also draws attention to your eyes, making this style the perfect complement to a bold eyeshadow look.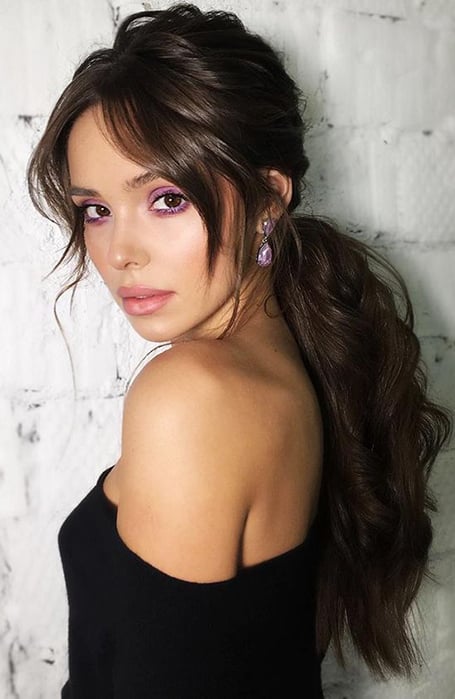 20. Curly Ponytail
Curls look beautiful when set up in a ponytail. The look can be very stylish and sophisticated, but ensuring your mane has plenty of definition is crucial. Without defined curls, your hair can look like a halo of tangles and flyaways. Apply a smoothing, curl defining styling cream before you put it in your ponytail, and spritz through a finishing spray at the end to ensure everything looks polished. Because curly hair doesn't fall as far as straight, your earrings will be visible, so it's a great way to show off a statement pair!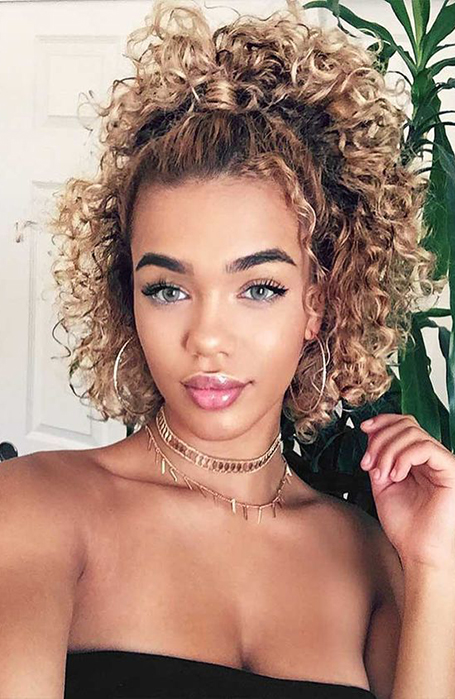 21. Urban Ponytail
The urban ponytail look is an ultra-sleek high ponytail with brushed baby hairs. You can get this look with real human hair extensions, as these can be heat-styled, just like normal hair. Non-human extensions can melt if exposed to heat, so they aren't the best choice for this look. The urban ponytail has been a popular look for years as it not only has plenty of attitude but puts the focus on your face. Statement makeup is a must when you try this style – even if you team it with streetwear or athleisure outfits.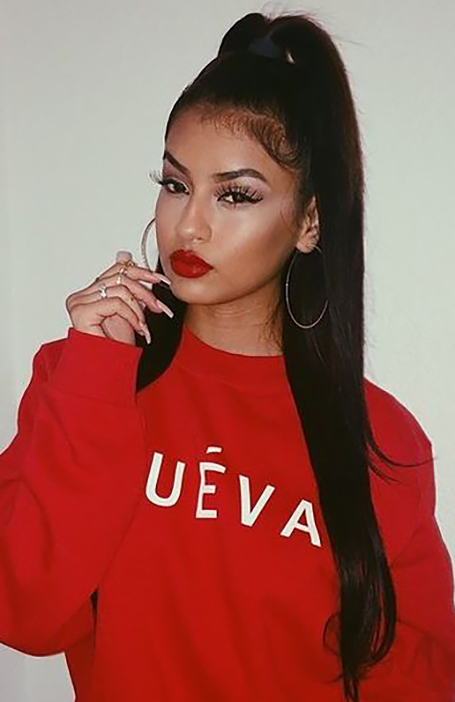 22. Drawstring Ponytail
A drawstring ponytail is a type of hair extension that will give you a gorgeous ponytail in seconds. However, you must prep your natural hair before you clip it in if you want the fashionable, super sleek look. Use extra-hold gel and brush your hair smoothly, gathering it into a high ponytail or bun. Like most ponytail extensions, the drawstring piece then clips onto your real hair. The difference is that you can then pull the drawstrings to create a secure, tight ponytail rather than a weft of hair. You can choose whatever hair texture you like, from sleek and straight to tight curls and coils.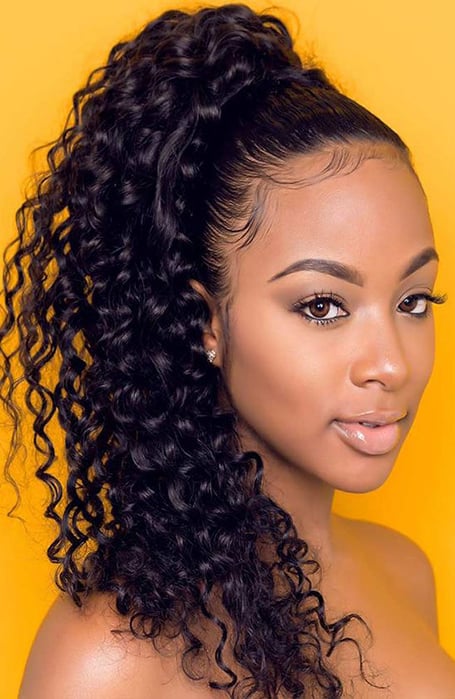 23. Formal Ponytail
A ponytail can be the perfect understated yet elegant choice for a formal occasion like a wedding. You'll need to ensure that your hair is perfectly smooth with no flyaways, as this style is simple. Then add some subtle, loose waves – the finish should be bouncy and natural but not curly or beachy. Leave some pieces free around your face, then secure the rest of your hair into the ponytail. Add a luxurious hair accessory, such as a velvet ribbon, pearl barrette, or flowers, to complete the look.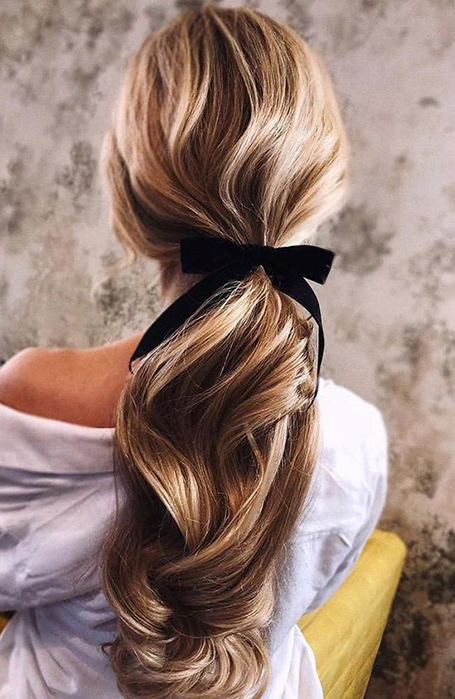 24. 50s Ponytail
The 1950s was the era of the ladylike ponytail. Sandy famously wore this cute, wholesome hairstyle in the musical Grease. While the hair is carefully styled and smooth, it also has a wave to it. You can create the style with tongs or other heat tools. The final essential element to creating a '50s ponytail hairstyle is the fringe. If you already have bangs, curl them to fit the rest of the haircut. If not, create faux side-swept bangs and blend them into the rest of your hair.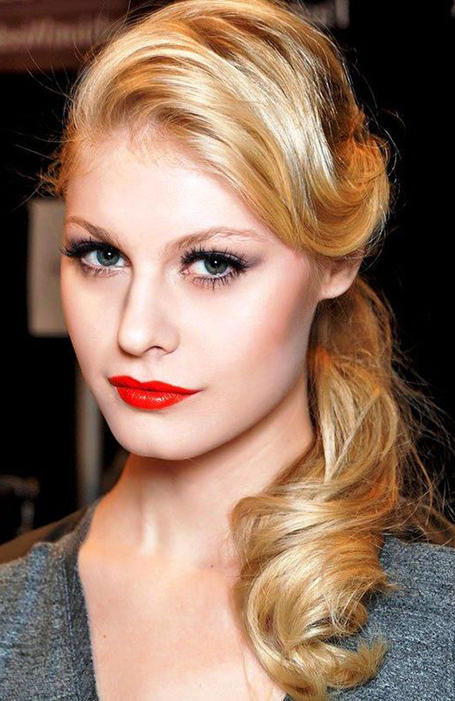 25. 80s Ponytail
The '80s ponytail is all about height and the essential accessory of the era: the scrunchie. Whether you choose to place your ponytail at the crown of your head or to one side, you will nail the '80s look. Another trend that was popular at the time was crimping. For a modern take on the style, crimp small sections of your ponytail rather than the whole thing. Plus, choose a scrunchie in a neutral color rather than neon.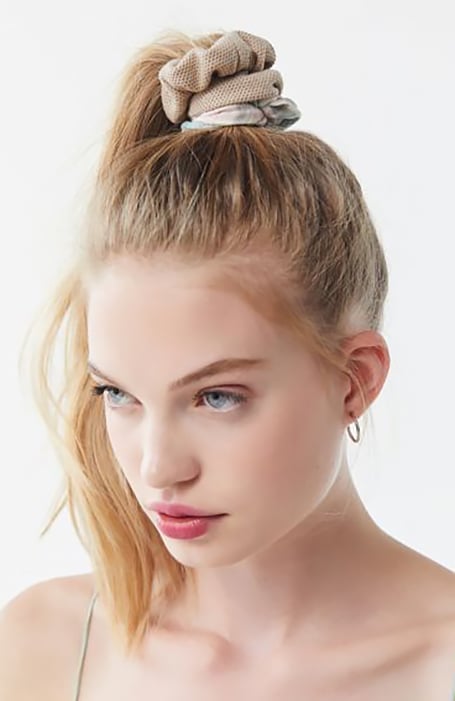 26. Bubble Ponytail
The ponytail is one of the most versatile hairstyles you can try, and it can be worn in several ways. You can channel the 80s with the bubble ponytail for a fun approach. This look is achieved by adding hair elastics to the length of a standard ponytail to create a textured bubble effect. It is ultra-cool, effortlessly chic, and can be added to hair of varying textures but works best with medium to long hair lengths. This is a great way to tame your hair and keep it in place, and it is also playful and youthful; there is nothing to not like about the bubble ponytail.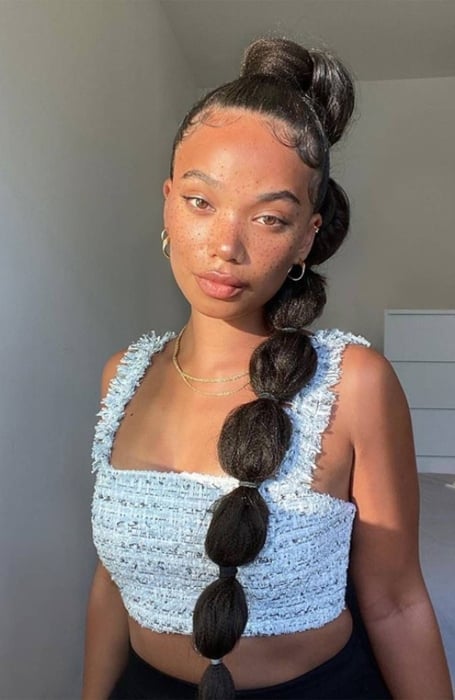 27. Wavy Ponytail
Ponytails can work with all hair textures but look gorgeous and romantic on wavy hair. This is one of the most sought-after hair types because it is texturally interesting and can be styled in various ways. A wavy ponytail can look feminine, and the unstructured appearance can be incredibly flattering and soften your features. You may also wish to keep a few strands loose to fall around the face, creating a face-framing effect and highlighting your features. To let your style show, you can experiment with different hair accessories, including a hair scarf or a floral headband for a boho finish.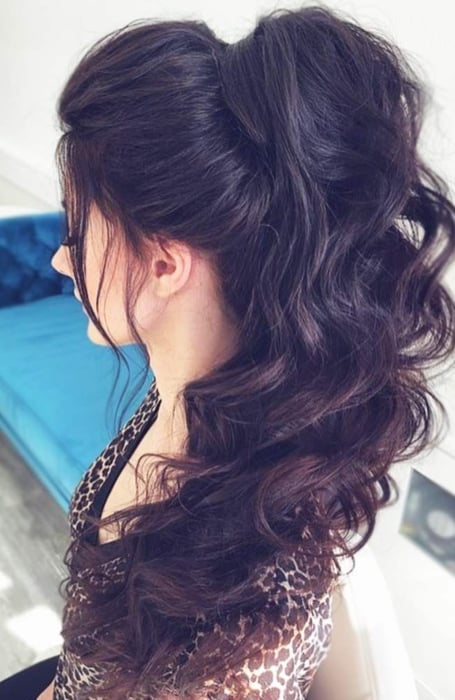 28. Half Up Half Down Hairstyle with Ponytail
The half up half down hairstyle is one of the most versatile updos you can try. It is gorgeous, giving you the best of both worlds as it pulls the hair away from the face and lets you show off your hair texture. Try out this hairstyle in several ways, and it can be easily adapted to suit your preference, including hair length and texture. Try pulling the top half of the head into a ponytail for a simple and chic look. You can add braids on either side of the head for a more detailed and boho finish.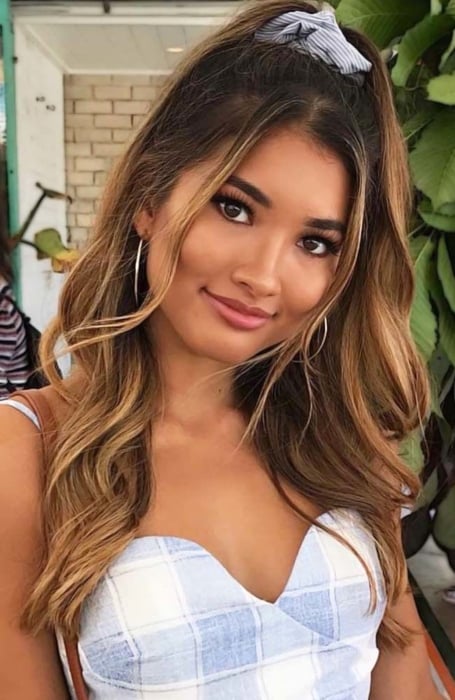 29. Sleek, Straight Ponytail
For a sophisticated approach to the classic ponytail, you can style it so that it is sleek and straight. Pull the hair back, away from the face, and make sure it is tightly secured. You also want to wear your ponytail higher to create a more daring finish. This simple look makes for a gorgeous updo that is ideal for formal occasions or special events. The ponytail will also show off your hair texture and keep the hair out of your face, which can be incredibly flattering.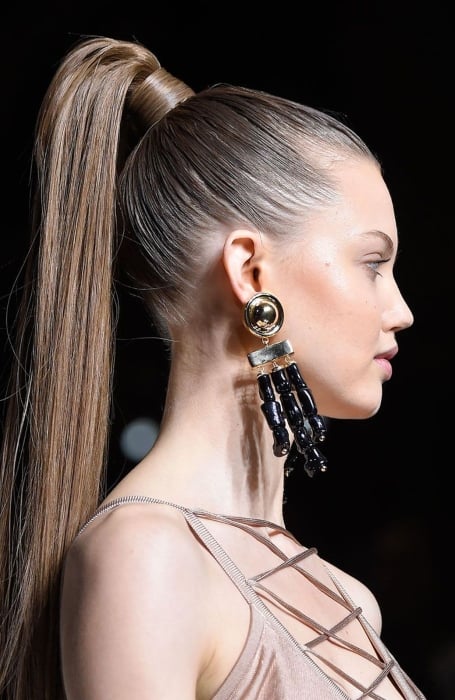 30. Viking Ponytail
You can opt for a Viking-inspired ponytail for an edgy and expressive look. The Vikings were feared warriors and plunder, but their style has also inspired hair trends in recent years, giving you an effortlessly cool look. This approach to the ponytail will also feature braids on either side of the head, creating an interesting contrast. It is a look that is ideal for keeping the hair in place, making it a practical look for the summer months. It can be created with all hair textures. This ponytail hairstyle is made to stand out, so wear it with confidence.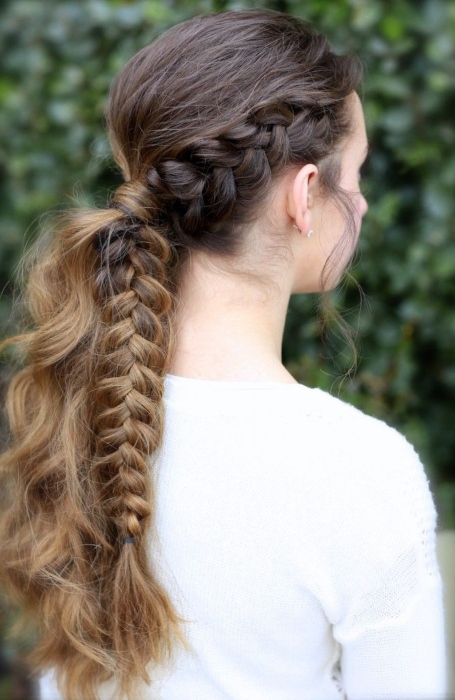 31. Cornrow Ponytail
Cornrows are one of the most popular braided hairstyles. They are created using the underhand braiding technique and braided close to the scalp, making a raised appearance. The braids are a protective style, helping to reduce friction and prevent breakage, and will last for around four weeks. You also have versatility with how you style your cornrows; wearing them in a ponytail is incredibly fashionable and practical. A ponytail will keep the hair off of your neck and away from your face. You can style it low for a laidback aesthetic or high for a more polished finish; the choice is yours. This look can also be personalized to reflect your preference, including with cuffs or beads.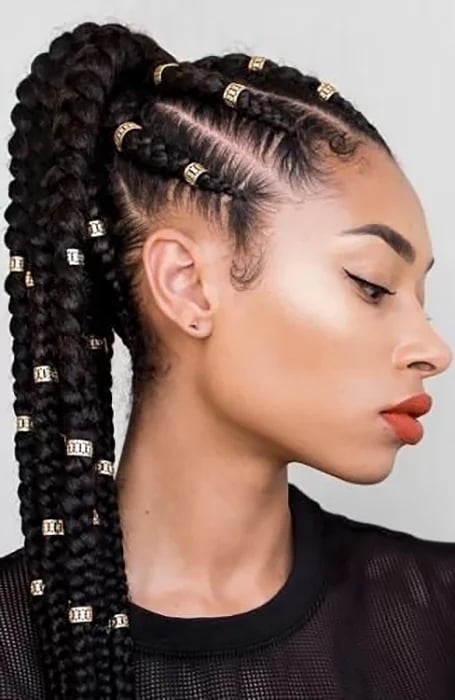 32. Passion Twist Ponytail
Passion twists are another excellent protective style that can be adapted to suit your preference. These braids were created by Miami hairstylist Kailyn Rogers aka The BohoBabe, and are made using Freetress Water Wave extensions, which give them their gorgeous, curly appearance. Passion twists can be styled long or short, thin or jumbo, and worn in various ways, including a ponytail. Depending on how you care for them, they can last up to eight weeks. Wearing long hair in a high ponytail for a look that demands attention and will get your hair noticed. It is also an excellent option for showing off your neck and face and is ideal for warmer months.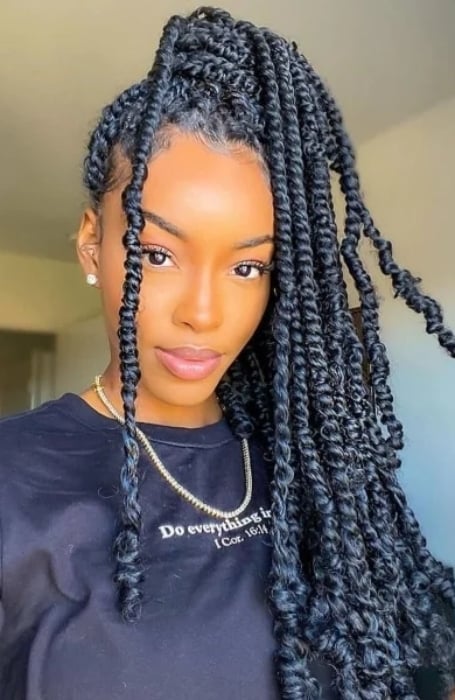 33. Ponytail with Flipped Ends
For a retro approach to your ponytail, create it to have flipped ends. The flipped look gained popularity in the 60s but has made comebacks in the decades since because it is fantastic for achieving a neat and polished appearance. This ponytail is ideal for special events and formal occasions, and how the hair flips upward at the ends can create volume. It is best achieved on hair that is medium or thick, which will hold better. Complete your look with a colorful headband to let your personality show.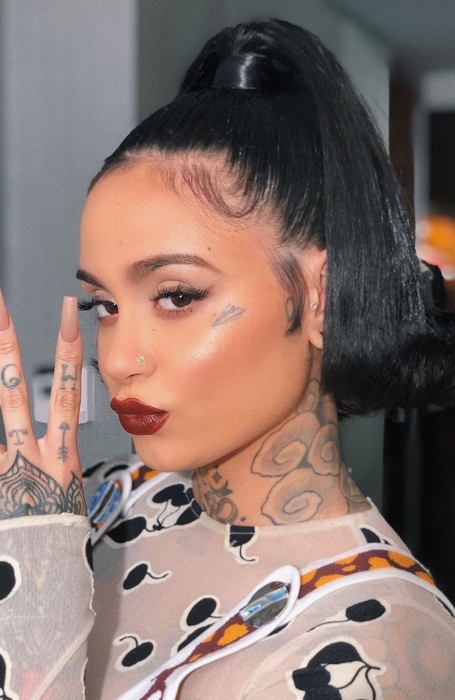 34. Ponytail with Interesting Accessories
The ponytail is effortless to achieve and is a hairstyle that works with all hair textures and lengths. But the look's appeal is that it can be adapted to suit your preference, from messy, unstructured styles to sleek and polished looks. You can also let your personality shine with the hair accessories you add, whether pearl details for a formal event or to give your hair a luxurious finish. Or bright and bold headbands and scarves to add a pop of color to your appearance.
35. Ponytail with Side Swept Fringe
Wearing the hair swept to one side is a great way to balance or soften your features and can be incredibly flattering. A side-swept fringe looks great with an updo, including something simple like a ponytail, and will create a relaxed and romantic appearance. This is a great look for all occasions, is perfect for every day, and can be styled to look unstructured. Or you could create a sleek finish with a tight ponytail for a more formal event.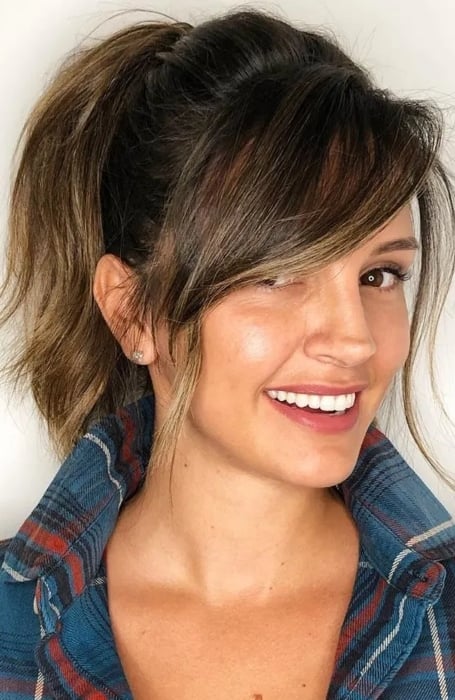 36. Messy Ponytail
A messy approach to a ponytail is incredibly flattering and ideal for creating an effortlessly chic and romantic look. You want to create a deliberately unstructured finish by tying the hair loosely and leaving a few strands of hair loose to fall around the face and soften the features. This look works best with hair that is naturally textured, like curly or wavy, because it has a lot of movement. You can also experiment with how you tie it up, opting for a wrapped finish or adding simple side plaits.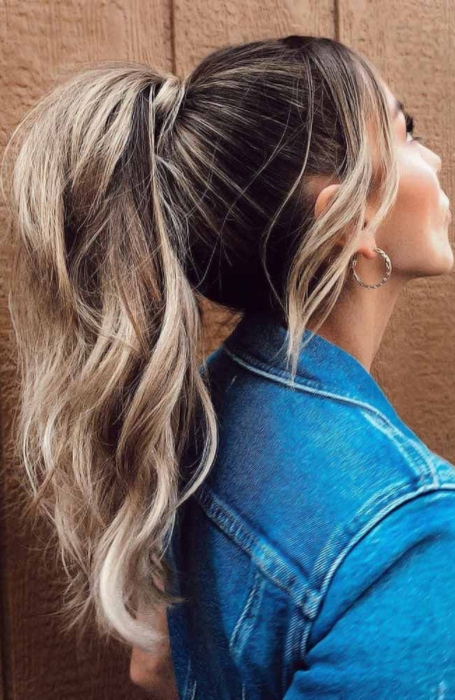 37. Vintage Ponytail
The ponytail has existed for decades and is one of the most stylish and fun looks. It is effortless to achieve and adaptable to all hair lengths and textures. For a sophisticated finish, you can opt for a retro hairstyle with tight curls on the top of the head and a gorgeous, curled ponytail. The goal is to achieve height and volume. This is a stunning look for formal occasions or special events, including a wedding hairstyle. Try pearl details, a bejeweled clip, or flowers to finish it off.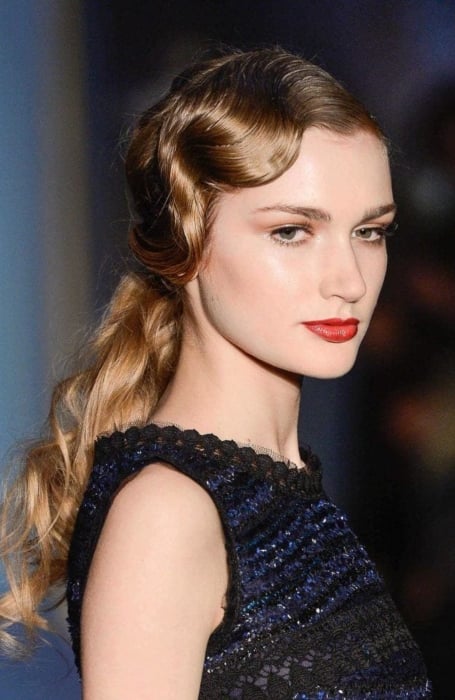 38. Half Braided Ponytail
For a more detailed and creative approach to the standard ponytail, you can style it, so the top half is braided. This is a great way to experiment with different braiding techniques and produce a texturally interesting result. The braid can be loose and messy for an unstructured finish or be styled to be tight for a polished appearance. You can also opt for braids of varying difficulty, from simple three-strand plaits to something more intricate. This is great for keeping the hair in place and looks best with wavy hair.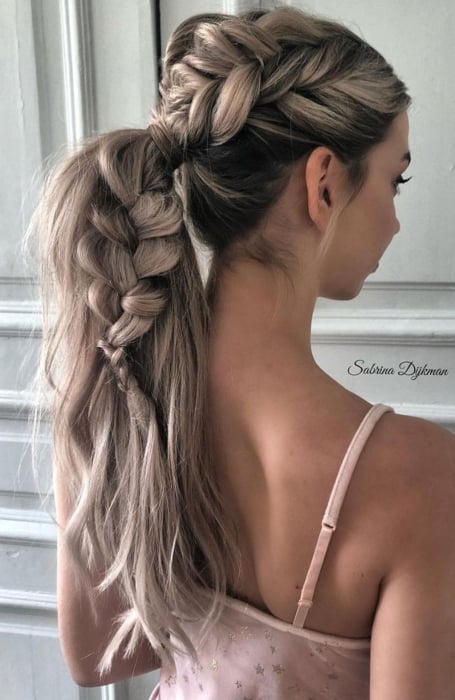 39. Ponytail with Scarf
The right hair accessory can transform your look, making even the most simple hairdos appear eye-catching and stylish. A head scarf updo is fun and practical, letting you keep the hair away from the eyes and preventing frizz. It is also a way to add a pop of color to your appearance, and you can experiment with different patterns, prints, and colors. If you prefer to wear the scarf off the head, you can focus it just around the hair tie of your ponytail for a cute and girly finish.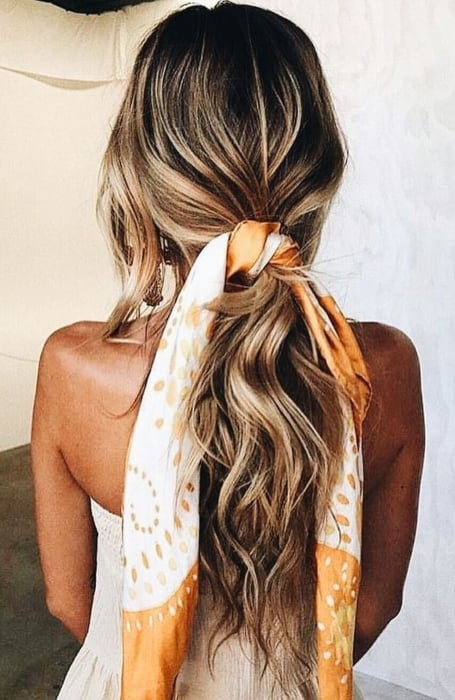 40. Wrapped Ponytail
You can opt for a wrapped effect to hide your hair elastic and create a pretty and feminine finish. This is easy to do, as you will use a strand of hair to wrap around the hair tie and can make a more polished appearance. The wrapped ponytail can be worn by medium to long hair and all textures and is ideal for those who want a simple but effortlessly chic hairstyle.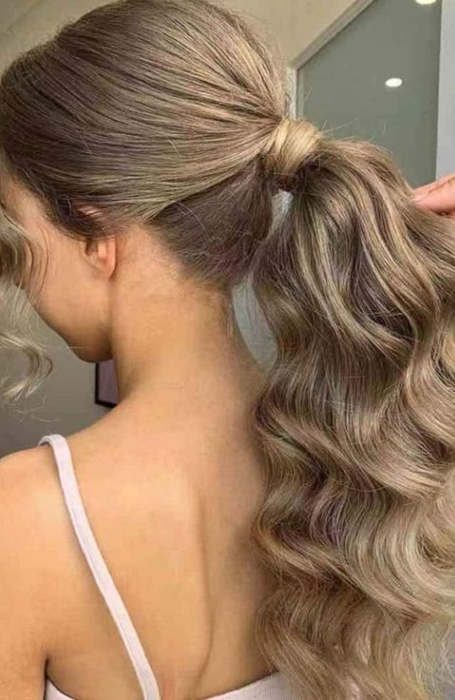 How to do Ponytail Hairstyles
Ponytail Hairstyles FAQs
How do you get the perfect ponytail?
The secret to a perfect ponytail is to make two ponytails. First, divide your hair into equal top and bottom sections, clipping away the top. Use a hair tie to secure the bottom half close to the part, pulling tightly. Next, pull the top section towards the bottom elastic, and join the two together in a single ponytail. Alternatively, you can tie it separately, then merge it with the bottom using a third elastic. By using two sections, you help to keep the base tidy and reduce the weight dragging on a single hair tie, which makes your style sag. Other optional steps include teasing the crown for more volume, putting a claw clip in the center of the pony, and wrapping the elastic with hair so it's hidden.
What hairstyles can you do with a ponytail?
Ponytails are very versatile and can be adapted for any situation, whether you want a casual daytime vibe or a glamorous look for a formal event. For beginners, a sleek high ponytail is a simple yet sophisticated option. Alternatively, you could elevate a simple wavy ponytail with cute accessories like a scrunchy, scarf, or hairband. Double ponytails, a half-up, half-down look, braids, bangs, and extensions are some other styling options for your ponytail. 
How do I get my ponytail to stick out?
Using the two ponytail method will automatically create more volume and give you a perky pony. However, there are some other tricks as well. Separate the ponytail in half and secure a claw clip in the center, close to the base. The top half will hide it, but it'll give it extra oomph. Alternatively, you can gently tease the hair in the center as well to create additional volume. Just remember to be careful, particularly if your hair is already damaged or prone to breaking.
Why does my ponytail sag?
Your ponytail will sag if there's too much weight and not enough structural support. To counteract this, you need to reduce the amount of weight pulling on a single hair tie. One of the easiest methods to do this is to use the two-pony method of splitting your hair into a top and bottom section and securing them separately before joining them together.
Why is my ponytail so thin?
A thin ponytail can result because of thin hair or hair loss. You can try thickening shampoo and conditioner if your hair is just naturally thin. However, if you're suffering from hair loss and you're not sure why it's a good idea to chat with your general health practitioner to find out what's going on. Layers can also make the ends of your pony less substantial, so if you often style up, rather than down, it might be best to forgo layers next time you head to the hairdresser.
How can I make my ponytail stylish?
The key to a stylish and polished ponytail is to avoid messy flyaways, choose a ponytail that suits your face shape, and disguise your hair elastic. Apply a smoothing serum before you start, then use a soft brush to position your ponytail – high, medium, or low – so that it balances and flatters your features. Leave some pieces loose at the front to frame your face for extra stylish points. Finally, wrap a section of your hair – or a pretty ribbon – around your hair elastic so it's not visible.
What are 2 ponytails called?
Two ponytails – one on the left and right side – are often called pigtails, 'twintails', or bunches.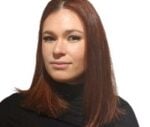 Arabella Roden is a skilled writer and sub-editor with over ten years of experience across print, digital, and B2B. She holds a Bachelor's Degree in Journalism and specializes in beauty, hairstyles, fashion, tattoos, and lifestyle topics. Arabella is currently the Chief Sub Editor at Mecca Brands and has been writing for The Trend Spotter since 2019.
SUBSCRIBE TO OUR NEWSLETTER
Subscribe to our mailing list and get interesting stuff and updates to your email inbox.