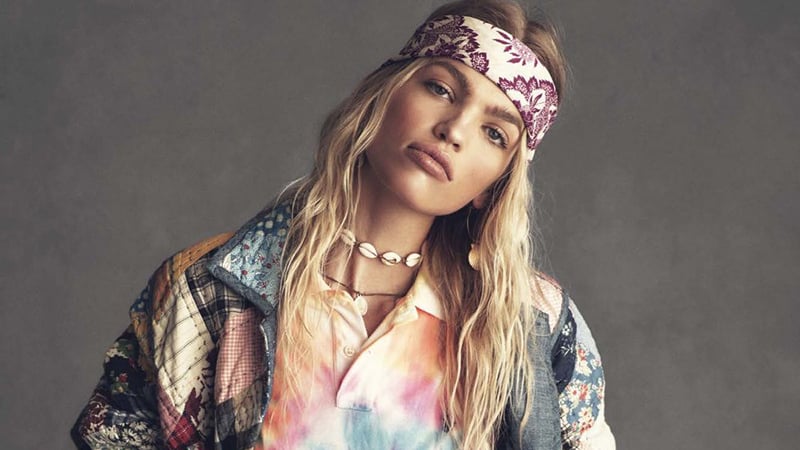 Bandanas are back! An icon of the '70s and '90s, the versatile bandana adds a touch of unique flair to any hairstyle. From natural hair to a fringe or even locs, a bandana will instantly upgrade your look. Plus, it's the perfect accessory for disguising a bad hair day. Discover all the best ways to rock a bandana today.
1. Top Knot Bandana Hairstyle
Knotting your bandana at the top of your head is one of the cutest and most feminine ways to style this accessory. It creates a similar effect to a hairband with a bow. Because it's a more dainty look, choose a bandana with a pretty print, such as florals. To make the style flattering and minimize a larger forehead, leave some sections of hair free at the front to frame your face.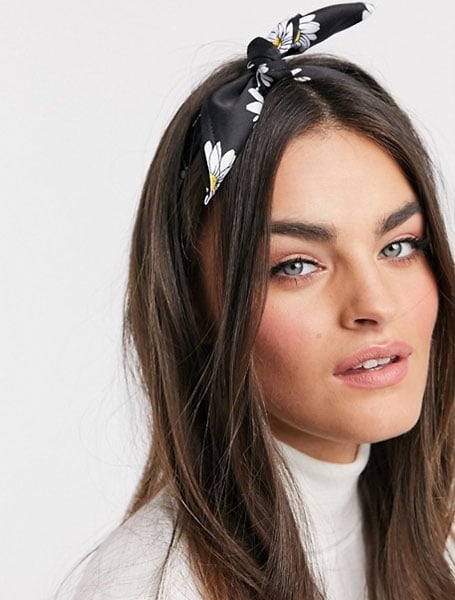 2. Bandana Updo + Natural Afro Hair
The bandana is the perfect accessory to pair with natural Afro-textured hair. There are so many styling options to choose from, depending on your hair's length and whether you want to protect your curls or show them off. One classic style that never seems to go out of fashion is the natural puff with a thick bandana wrap. Try one in silk or satin fabric to keep your curls intact.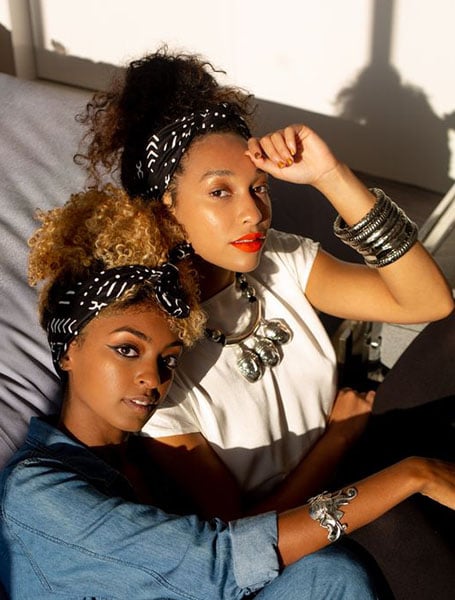 3. Bandana Updo + Wavy Hair
Wavy hair looks great when styled in an updo, but a bandana takes it to the next level. The bandana helps hide any flyaways or frizz while adding structure to a messy bun or other updos. Plus, the soft twists of wavy hair create a natural tendril effect, which looks beautiful when contrasted with the bandana structure. Pair your bandana updo with a pair of statement earrings to take your look from day-to-night.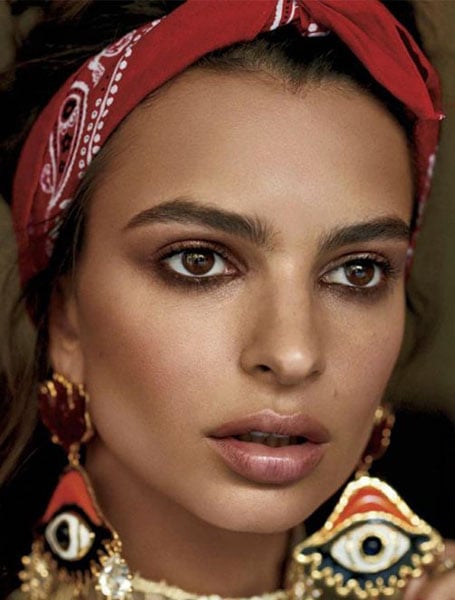 4. Bandana + Long Hair
Shake up your everyday long hairstyle by adding a printed bandana. It has more impact than a simple headband while helping to keep your hair out of your face. At the same time, it's a great option when you are between washes as it covers greasy roots and cuts down on your styling time with your flat iron or a curling wand.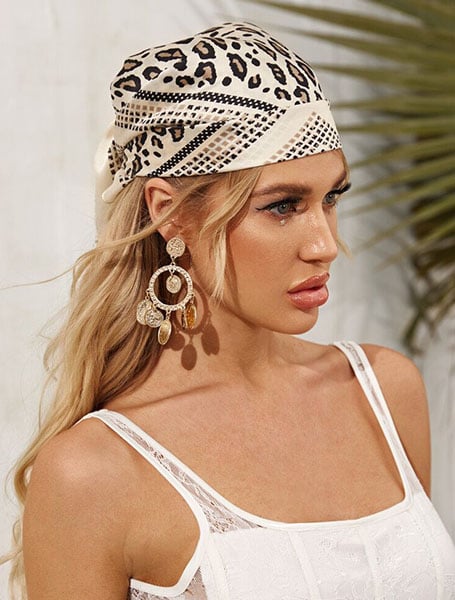 5. Bandana + Medium Length Hair
Medium-length hair – which includes everything from a lob to collarbone-length – is perfect for pairing with a bandana. One of the chicest options is the classic '90s bandana look. Fold it in half diagonally to create a triangle shape, then tie it around your hair. For a glam finish, use a silk scarf or kerchief and pair it with gold jewelry and '90s-style shades.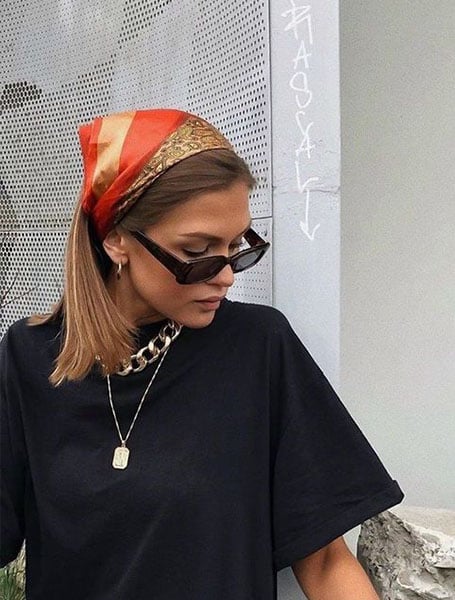 6. Bandana Hairstyle + Bangs
Make your fringe pop with a pretty bandana headband. This style draws attention to your bangs and visually separates them from the rest of your hair, creating a lovely headband/headscarf effect. This hairstyle looks great when paired with soft make-up and a cute cardigan or sundress, perfect for creating a relaxed yet feminine, French-girl vibe.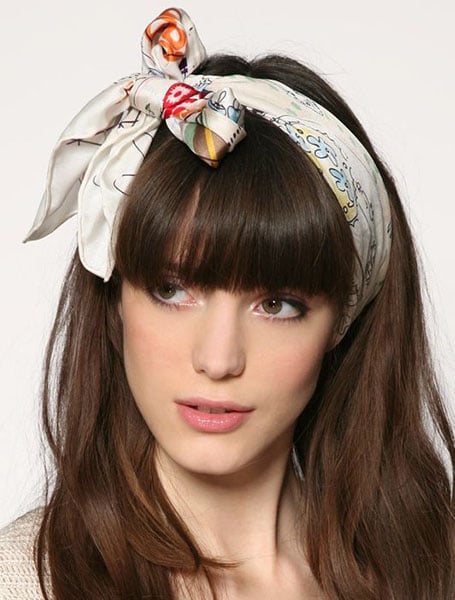 7. Tied Back Bandana + Natural Afro Hair
One of the coolest and most iconic bandana hairstyles is a tied-back scarf with loose natural hair. It combines the gorgeous, feminine appeal of long, mermaid-style curls with a silk or satin bandana that's sleek yet full of attitude. Lean into the '90s beach vibes by pairing this look with oversize hoops and your hottest bikini.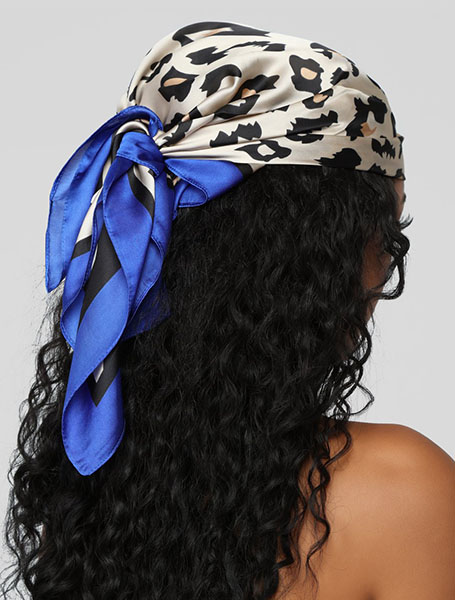 8. Messy Top Bun + Bandana
No time to style your hair? No problem – add a bandana to your messy top bun. Ideal for a chill weekend brunch date, picnic, or day at the beach, the hairstyle takes just minutes to put together. The hairstyle looks even better the messier it is, so you don't need to be too precise. It's also a great option when you're a few days between washes or want to avoid heat-styling your locks.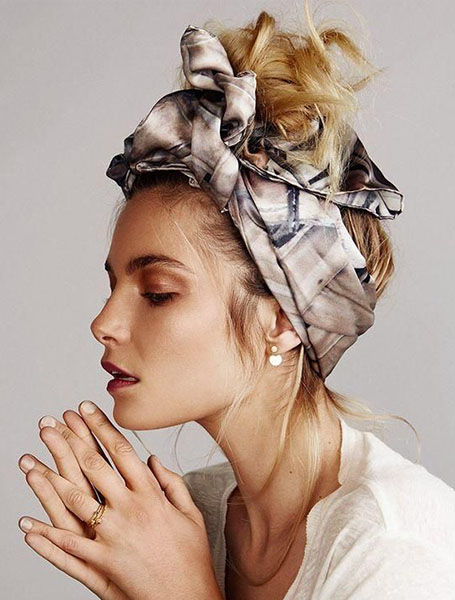 9. Retro Hairstyle + Bandana
The '70s was known as the bandana decade, so why not take your hair cues from this stylish fashion era? One of the most iconic and versatile hairstyles was the simple headband wrap with loose ends. If you use a silk bandana or scarf, it adds an instant glamorous touch to any outfit – even jeans and a T-shirt.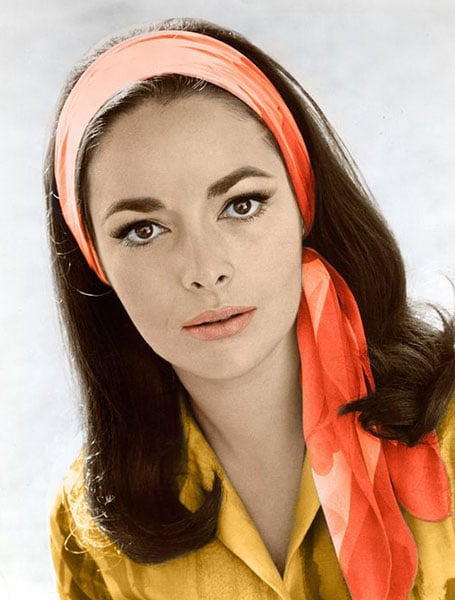 10. Bandana + Top Bun
Give your top bun a fresh new look by swapping your scrunchie for a bandana. Knot the bandana around the bun's base to create a cute and carefree look that's perfect for school, brunch, the beach, or a picnic. Coordinate the color with your outfit and add earrings to create a fun yet polished effect. A blue or red bandana pairs well with denim and white.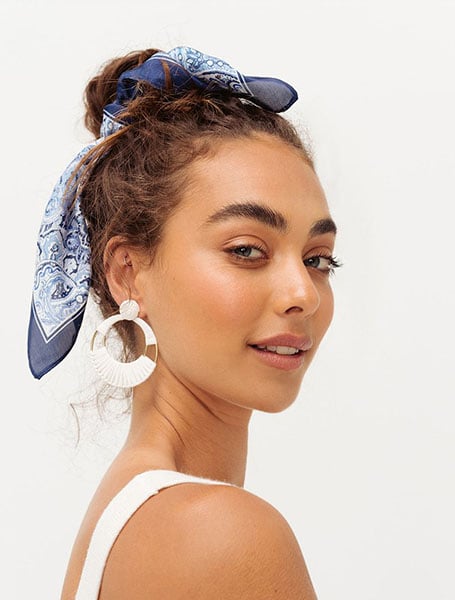 11. Bandana + Short Hair
Bandana hairstyles are versatile and suit hair of all lengths, from pixie to waist-length. If your hair is on the shorter side, one of the chicest options is a kerchief-style triangle bandana hairstyle. This retro look was popular in the '60s and still has a relaxed, bohemian feel today. As it covers most of your hair, it's also the perfect option for when you're between washes or are short on styling time.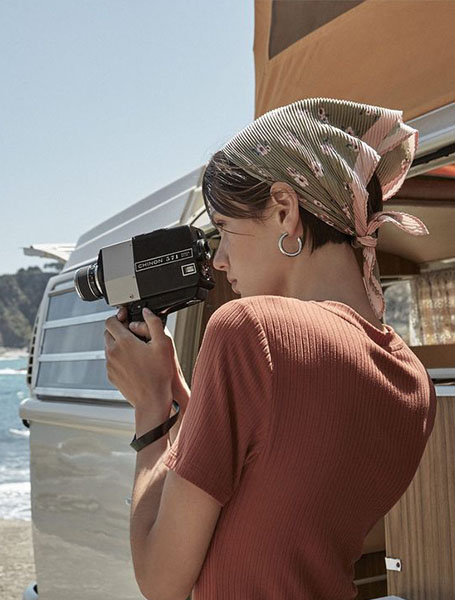 12. Bandana Twist + Beach Waves
A bandana twist is the perfect bohemian accessory to pair with beachy waves. The bandana adds personality and a unique, stylish touch to a simple hairstyle. The '70s vibes of a bandana also bring out the relaxed, retro feel of wavy hair. Try choosing a bandana with a summery print, like florals, watercolors, or paisley, and pair it with boho jewelry such as tassel earrings and stacked necklaces.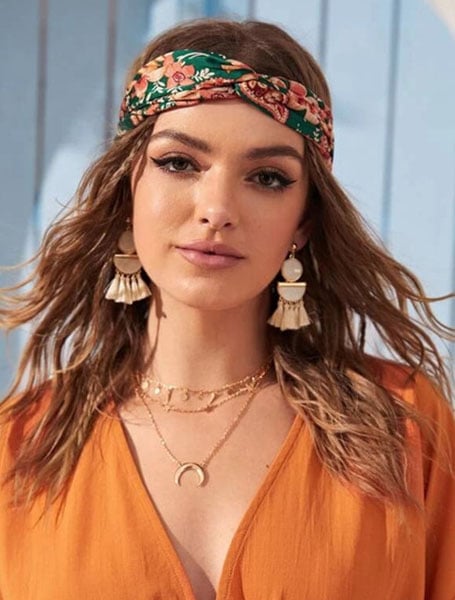 13. Bandana + Dreadlocks
Looking for a fresh and unexpected way to style your locs? Consider a bandana. The classic triangle kerchief look adds a retro, feminine 1960s vibe and creates a great contrast with thick or thin dreadlocks. Plus, it holds your locs in place. Ensure you leave a few dreadlocks free at the front to create a flattering frame for your face.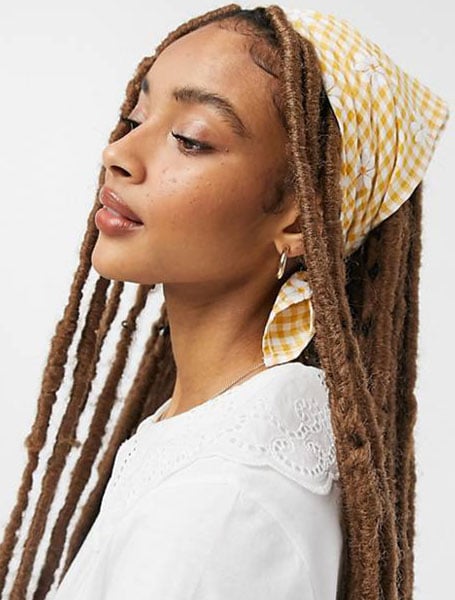 14. Babushka Bandana Style
Love the Gucci look? Then take your style cues from Russian grandmas and try a Babushka bandana style! A silky floral scarf is ideal for creating the Babushka hairstyle, which has a kitsch, Soviet-chic vibe. While modest – it covers most of your hair – the look still makes a bold style statement and is perfect for those who love an avant-garde, off-beat fashion that expresses their individualism. It's also great for cold, windy weather and days between washes.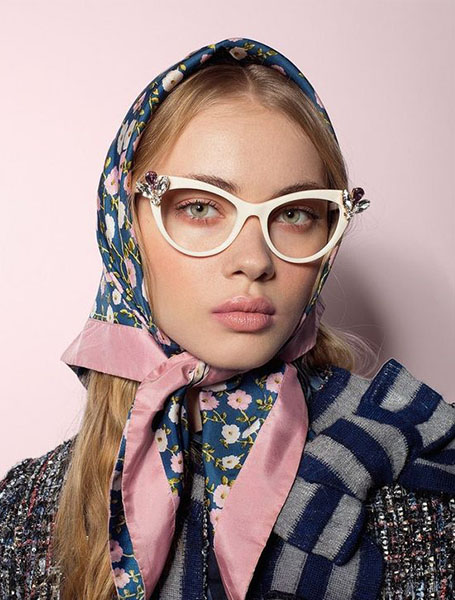 15. High Ponytail with Bandana
The ponytail is a classic hairstyle for a reason. Simple, chic, and endlessly versatile, it's the perfect base for fun hair accessories. Instead of a simple scrunchie, try tying a colorful, printed bandana to a high ponytail base, leaving the ends loose. It makes your ponytail look thicker, and the bandana adds some personality and flair to your hairstyle, meaning you can keep the rest of your outfit simple.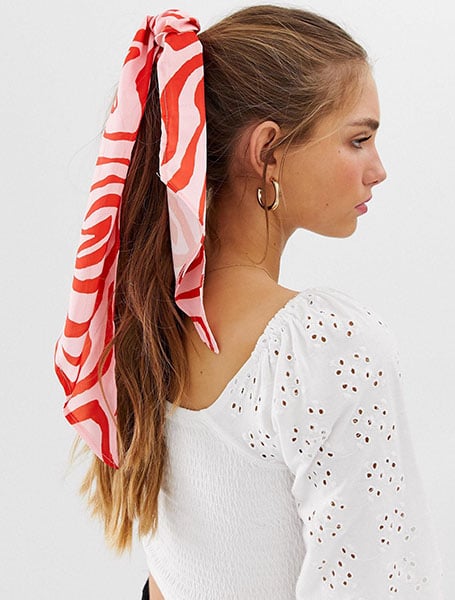 16. Bandana + Low Loose Bun
Try pairing your bandana with a low, loose bun for the ultimate cool-girl look. The ideal style for medium-length hair is quick and easy to style and immediately elevates even the simplest looks. Ideal for a casual date, brunch with friends, or a day at the beach, the bandana with a low loose bun has effortless appeal and simultaneously gives you major style points.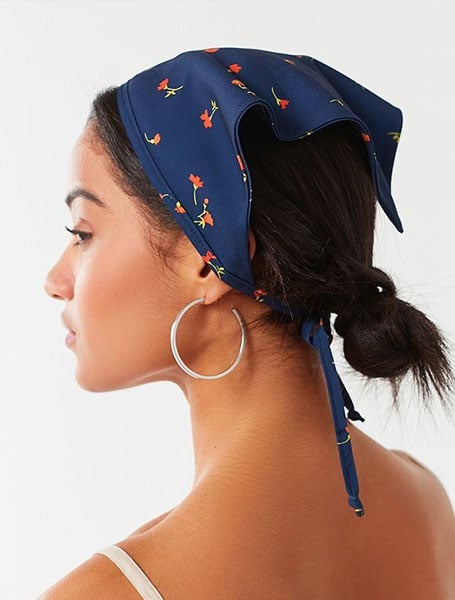 17. Bandana Twist + Curly Lob
The curly lob is a gorgeously chic and understated hairstyle beloved by fashion editors everywhere – and adding a bandana twist takes it to the next level. Like a silk hairband or headwrap, the bandana twist adds a 1970s vibe to your look and glam touch. Pair it with a bold lip for a stunning look you can wear day or night.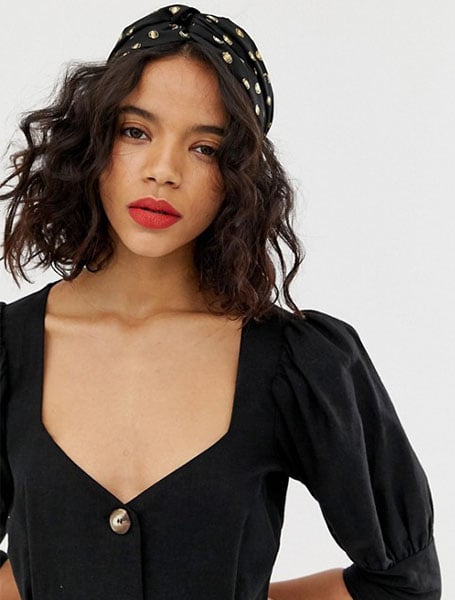 18. Bandana + Side Ponytail and Tendrils
Side ponytails look best when they are unstructured, wavy, and textured, with loose tendrils to frame your face. A bandana is a beautiful addition to this style as it gives your look some structure and a pop of color. There are many different options, including a classic kerchief style, folded headband, or overtop tie around the ponytail base.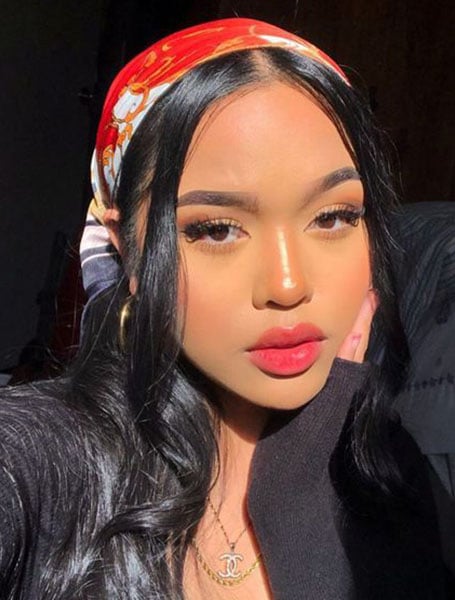 19. Bubble Ponytail + Bandana
The bubble ponytail is one of the easiest yet most attention-grabbing styles for straight hair. It's a versatile option that's equally appropriate for school, a daytime date, picnic, or a glamorous night out, depending on how you style it. Adding a chic bandana amps up your bubble ponytail, giving it a gorgeous vacation vibe that pairs well with boho accessories like tassel earrings.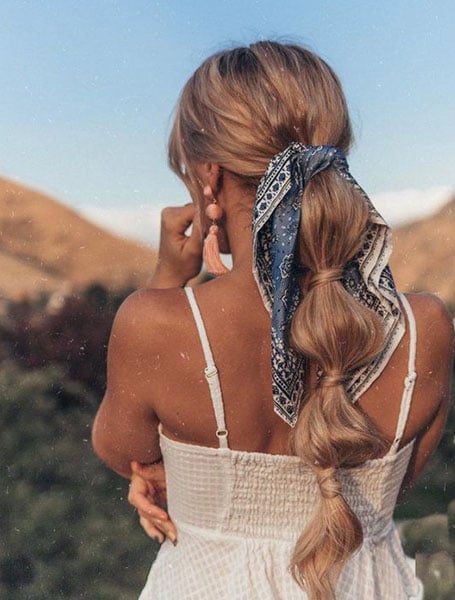 20. Bandana Hairstyle + Side Bangs
If you adore the retro look, you can't go past a 1950s-inspired bandana hairstyle with side bangs. Half wrap, half hairband, the bandana helps create a pretty and polished updo hairstyle that's also practical. It's neat and professional enough to wear to work, and it holds your hair in place. Side bangs are incredibly flattering on round face shapes.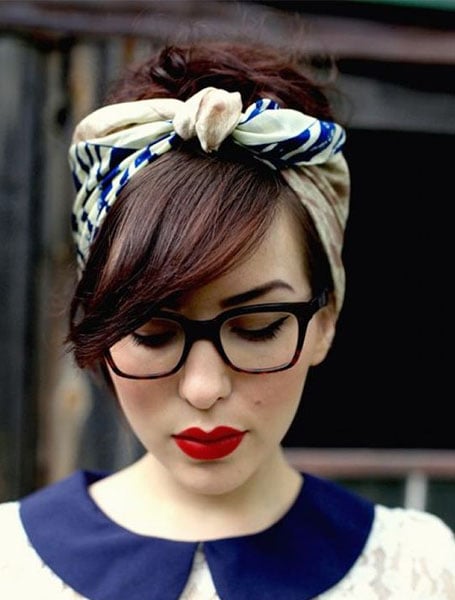 21. Bandana Tied in a Top Knot
Feeling bold? Stand out for all the right reasons by tying your bandana in a top knot. This headwrap hairstyle is ideal if you have thin or short hair as it completely covers your head. It's also a great option if you're short on time or between washes. Instead of worrying about curling, straightening, or waving your locks, twist them up under a gorgeous silky bandana, and you're good to go.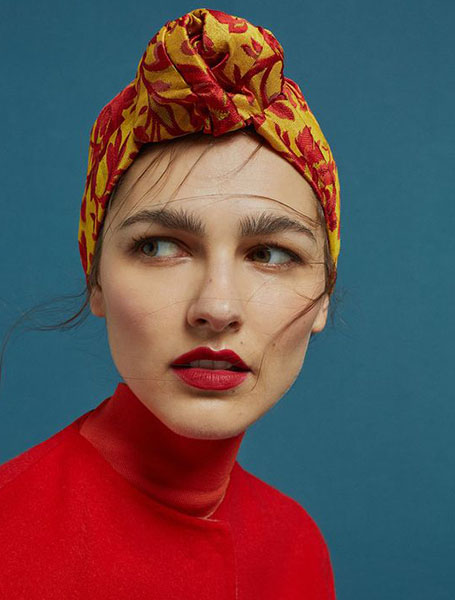 22. Bandana Updo + Tendrils
Soft and gorgeously romantic, a bandana updo with tendrils is the ideal hairstyle for your next date night. A silk or satin bandana adds a relaxed and feminine touch and stops your updo from looking too messy. Choose a print or color that complements your outfit to make the whole look more cohesive, and make sure the tendrils frame your face – rather than getting trapped under your bandana.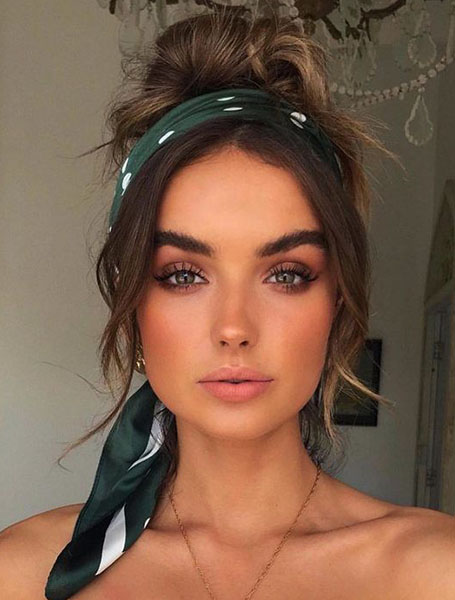 23. Ponytail Hairstyle + Bandana
If you're dreaming of a romantic daytime date or summer vacation, a ponytail with a bandana is the perfect hairstyle for you. To make it work, give your hair plenty of texture by spritzing through some sea salt spray. Leave a few pieces loose at the front and sides to create a flattering frame for your face, then choose a pretty fabric and loosely knot it around the base of your ponytail. Next stop, Amalfi.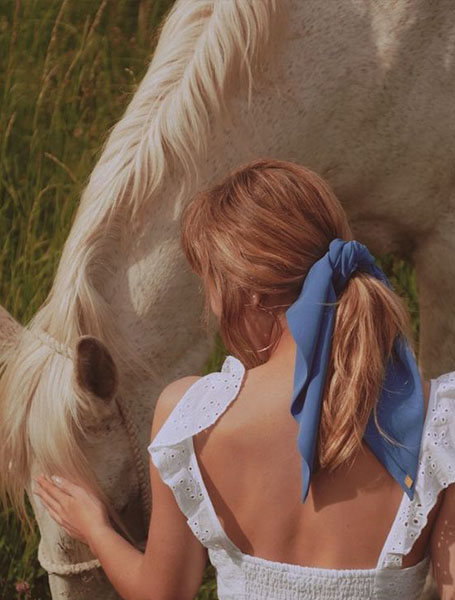 FAQs
How do I style my hair with a bandana?
There are many different ways to style your hair with a bandana. This versatile piece of fabric can be twisted, knotted, or wrapped to create an almost endless number of styles. Experiment with different types – including the simple bandana hairband, kerchief wrap, and loose knot – to see which work best for your face shape and hair length. 
How do you style a bandana with long hair?
The easiest way to style a bandana with long hair is to add it to a classic style, like a ponytail. For a simple yet pretty option, twist your bandana into a hairband. If you're feeling bold, try a Babushka bandana style.
Are bandanas good for your hair?
In general, bandanas have a neutral effect on your hair. While a cotton bandana can cause friction, which leads to frizz, wearing one won't damage your hair and protect your scalp from the sun. On the other hand, silk and satin bandanas can protect your hair from environmental pollution and stop the sun from fading your color without causing friction.
How do you do Tiktok bandana hairstyles?
One of the most popular bandana hairstyles on TikTok is the '90s-style kerchief tie. First, center-part your hair, then fold your bandana in half to turn it into a triangle, loosely tying the ends together so you can adjust the tightness. Slip the bandana over your head, so it sits around your neck, with the tied end at the back and the pointed end facing down. Take two small sections of hair from the front of your part, and pull them through the bandana. Slip the rest of the bandana over your head, flipping it, so the pointed end is at the back. Adjust the tightness of the knot, so the bandana stays in place. 
SUBSCRIBE TO OUR NEWSLETTER
Subscribe to our mailing list and get interesting stuff and updates to your email inbox.