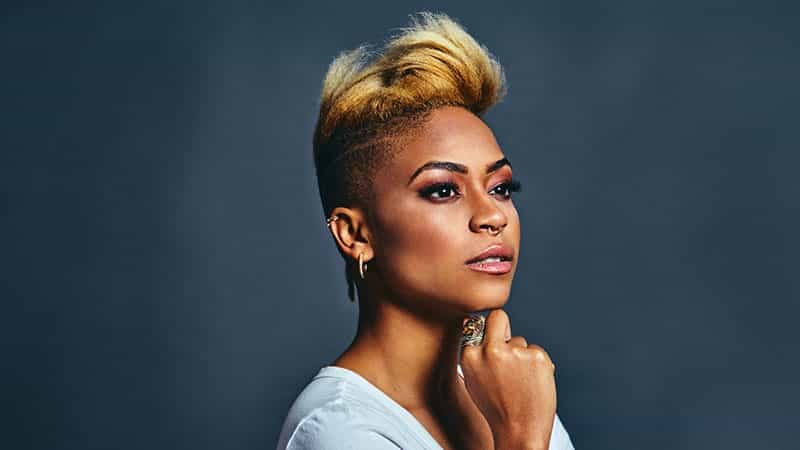 Ladies, it is time to update your hairstyles and try something modern and expressive: the fade. There are multiple faded styles to choose from depending on your preference, and while some are subtle, others are daring and create a distinct difference in length between the hair on the top and the back and sides. The great thing about fades is their adaptability, letting you add them to the haircut of your choice (whether you have long locks or short strands). If you are daring enough to try something undeniably cool and even rebellious, then let us introduce you to the best fade haircuts for women in 2023.
1. Choppy Pixie Cut with Fade
The pixie cut is one of the most universally flattering short haircuts for women. It is also one of the most adaptable, letting you easily modify it to suit your preference. And what better way to ensure an effortlessly cool and modern finish than by pairing it with a faded hairstyle? This look will gradually shorten the hair on the back and sides, leaving the top untouched.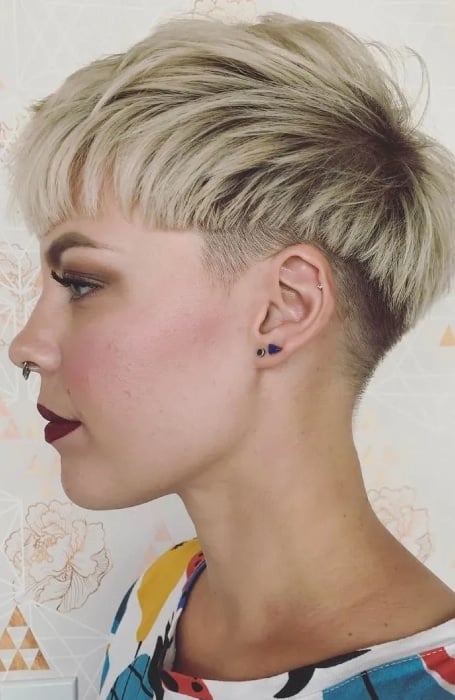 2. Short Afro Fade
Go big or go home may be the motto for many things, but even short styles are cool when it comes to afros. Keeping your afro short makes it easier to style while still letting you enjoy the benefits of volume. When paired with a fade, it gives an edge to your hairstyle by gradually shortening the back and sides.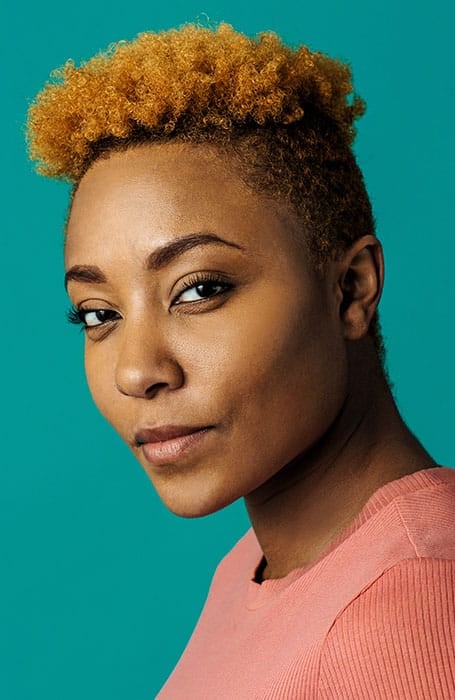 3. Buzz Cut with Skin Fade
The buzz cut is a popular short hairstyle for men and women and is cut close to the scalp. The lack of hair can make your face more noticeable and is an excellent look for women with strong facial features. To modify the cut to something you love, pair it with a bald fade and a hair design.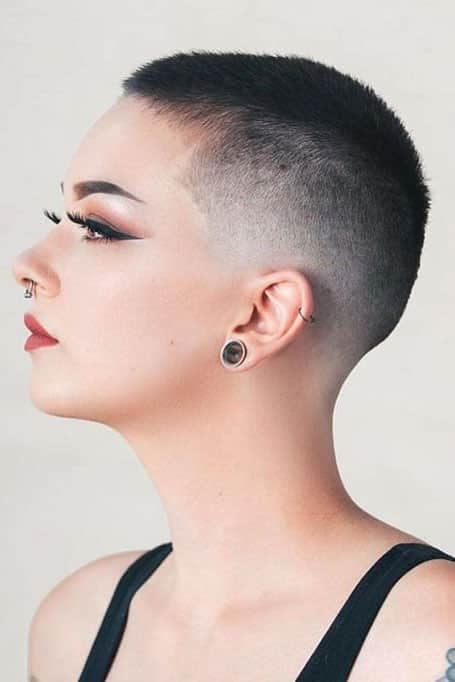 4. Dreadlocks and Fade
Dreadlocks are rope-like strands of hair and are celebrated for their brilliant texture. Despite looking carefree, they take a lot of time and patience to create, but the result is often worth it. You can style them in updos, wear them long or loose, or remove some of the bulk and weight by pairing them with a fade. The choice is yours, so have fun with it.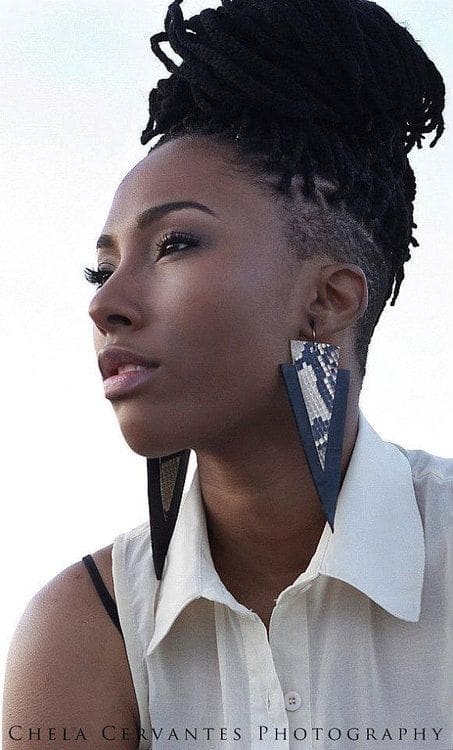 5. Taper Fade
The taper fade is one of the most popular fades because it is easy to add to different hairstyles. It is also not as bold as some other styles and instead will create a more gradual shortening of length on the back and sides of the head, contrasting slightly with the hair on top. Gorgeous and understated, this could be the look for you.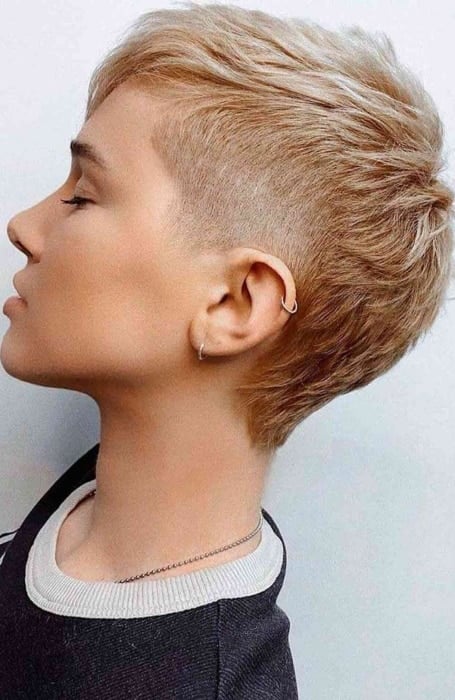 6. Mullet with Low Fade
The mullet is a hairstyle that's all about length in the back, with the top and sides cut short. It can be challenging to style, despite being flattering on most face shapes and all textures. The good news is that the mullet is very versatile, which means you can adapt it to how you want, whether with shaved sides or a fade for more contrast or adding layers to create a blended finish.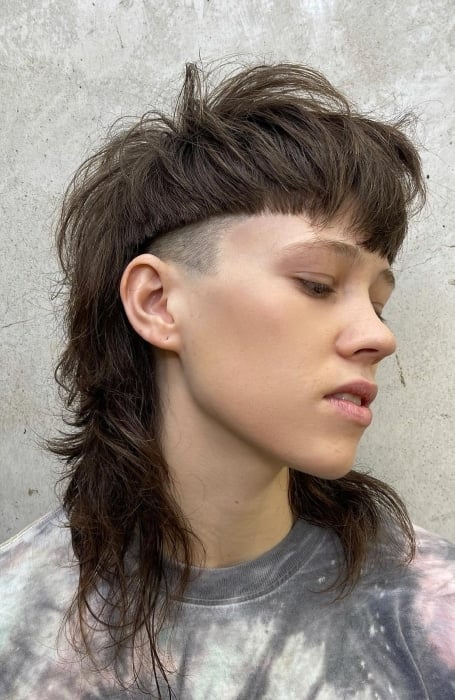 7. Curly Hair with Drop Fade
Faded hairstyles work with all textures, making them so popular. But curly hair can be especially flattering because the fade and texture combination creates a softer finish. The drop fade will make your haircut look neat, modern, and effortlessly cool thanks to the way it drops low and behind the ear to create an arc-shaped appearance.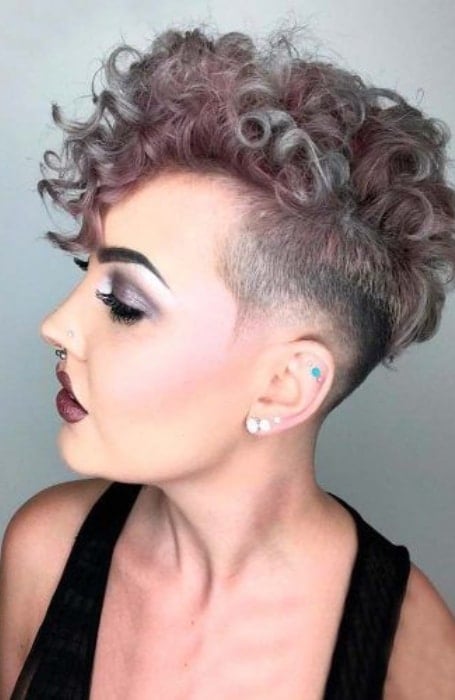 8. Skin Fade
Some faded styles are subtle, whereas others like the skin fade, have a more dramatic finish. This look gets its name because it reduces the length of your hair on the back and sides all the way down to skin level. The appeal of this is an effortlessly cool finish and the removal of bulk and weight from your strands.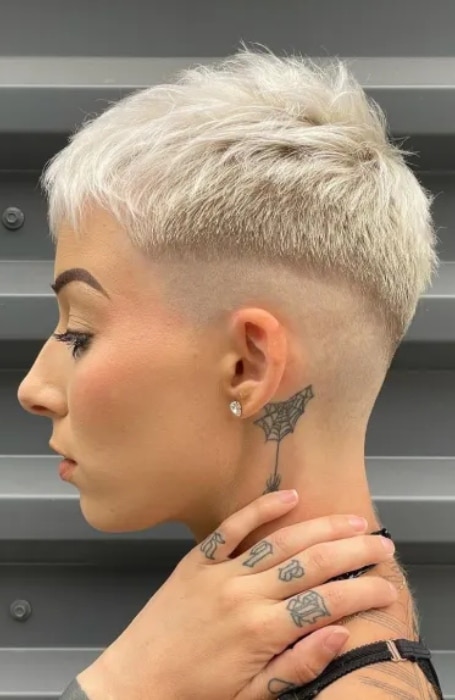 9. Ponytail Hairstyle with Fade
You don't have to have short hair to rock a fade, and with longer strands, it will actually create more of a contrast in length. This is a great option for women seeking a rebellious and expressive hairstyle. The ponytail is one of the most effortless updos to achieve and can be worn everywhere, whether to do errands or attend a fancy event.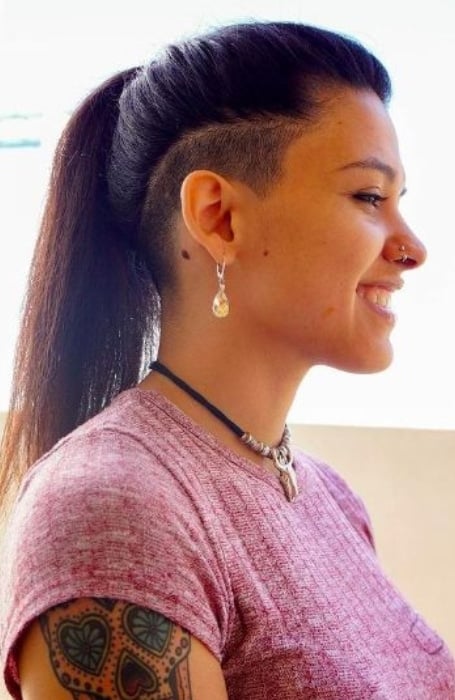 10. Asymmetrical Haircut with Taper Fade
The asymmetrical haircut is an excellent choice for women who want a bold cut because the angles it creates make it interesting and modern. One side will be distinctly longer than the other, which can frame the face and balance the features. Pairing it with a taper fade will gradually fade your strands on the back and sides, starting from around the middle section of the head.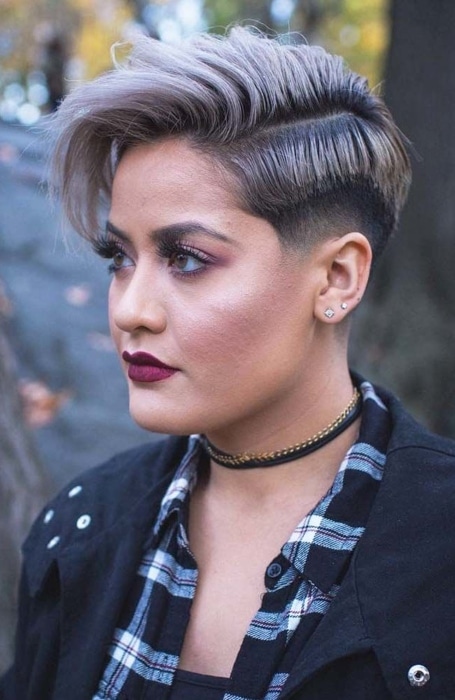 11. Jumbo Braids with Fade
Jumbo braids are created to be seen thanks to their extra-large size. They can also be great for the scalp because there will be less tension on the scalp and faster installation and removal. As for how you style them is entirely up to you, but some women like to pair their braids with a fade to remove some of the weight.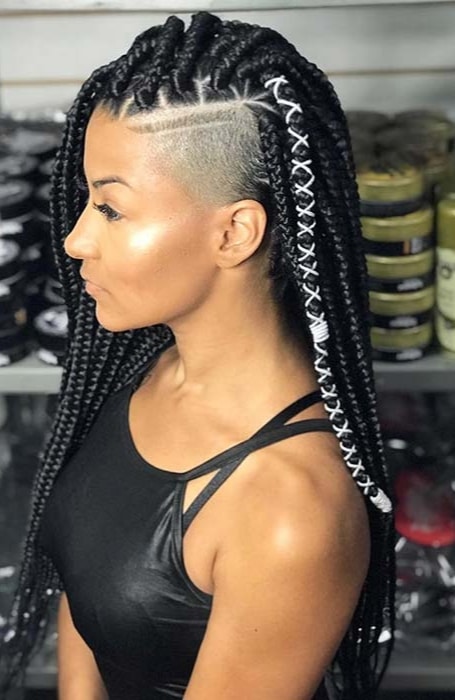 12. Mohawk with High Fade
The traditional mohawk sees the hair shaved from the sides with a long strip running down the middle of the head. There is no denying this hairstyle will demand attention, but it can be challenging to style and takes bucket loads of confidence to pull off. Alternatively, you can try a fade, which has less contrast in length, which tones down the look.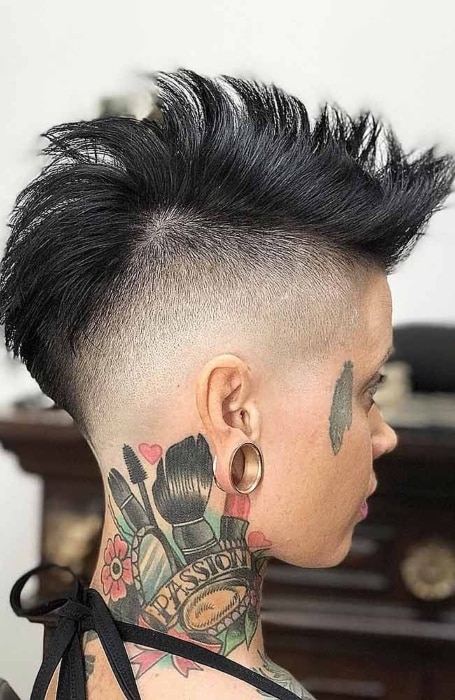 13. High and Tight with Fade
The high and tight haircut is an edge hairstyle for women. It is an excellent way to embrace short hair and is super low-maintenance. But just because it is simple and short does not make it boring because you can play with different finishes, including adding a fade.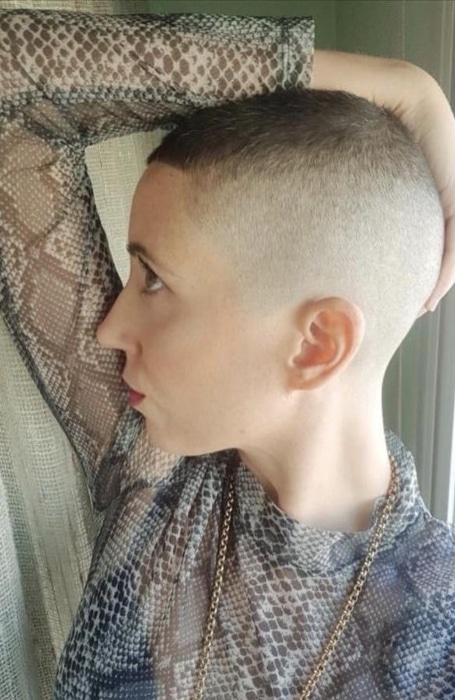 14. Long Hair with Fade
What better way to achieve contrast and give your hair structure than by pairing it with a fade? Faded styles are popular because they are edgy and expressive but add sharpness and structure to your haircut. With longer locks, the difference in length is more noticeable and, dare we say, cooler!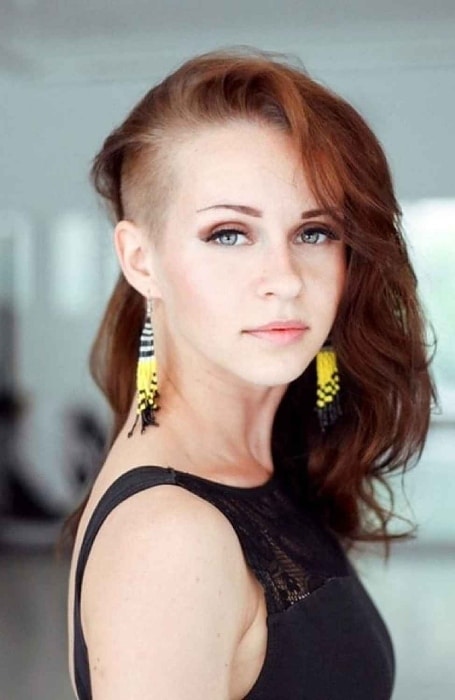 15. Box Braids with Shaved Sides
Protective styles like box braids are an excellent choice for those wanting to give their natural hair a break from heat and chemical styling. The appeal of box braids is that they are sectioned into square shapes, giving them their box-like appearance. They give you many options for styling and can be worn in different thicknesses, colored, or paired with a fade or undercut.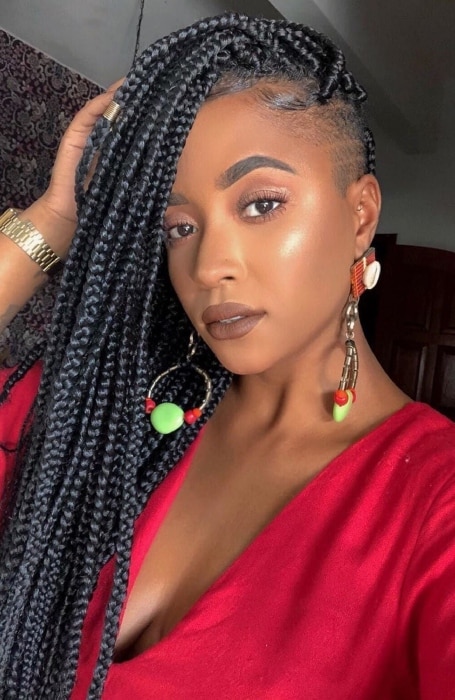 16. Fauk Hawk with Taper Fade
The faux hawk t is a popular men's hairstyle, but who says women can't rock it? This is it if you want a low-maintenance short haircut requiring little styling or grooming time! The strands on the top will be short but longer than the back and sides, which can be clean-shaven, or you can experiment with different fades to create less contrast.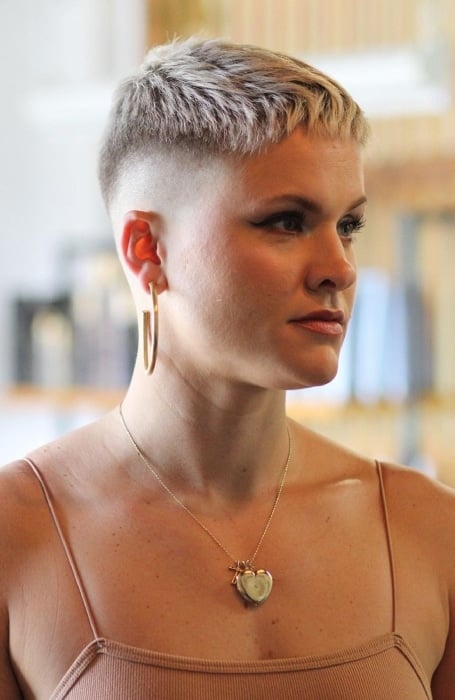 17. Short Curly Hair with Fade
Curly hair is a fabulous texture because it is full of movement and can make even the most simple haircut interesting. But it is also more maintenance because it can be difficult to care for and detangle. It may also feel heavy and bulky, so one great way to eliminate this is to pair your short curly hair with the fade of your choice.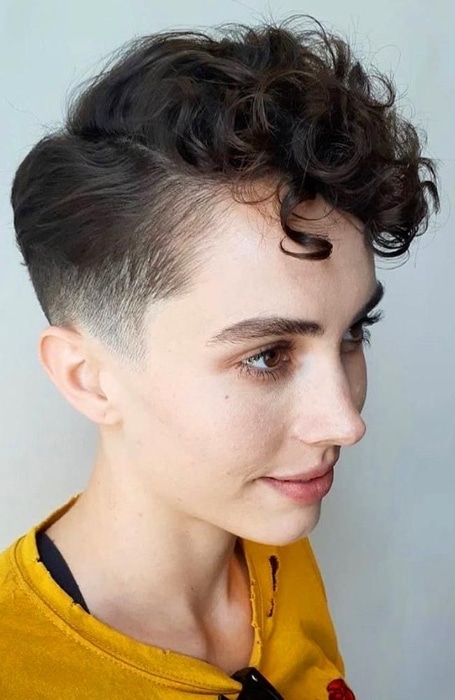 18. Long Afro Fade
Embrace your natural hair with a gorgeous afro hairstyle. If you have patience and hair growth, then the bigger and longer, the better. Not only is this an excellent way to show off the health and volume of your locks, but it's also symbolic and associated with blackness and pride. To give it a modern finish, wear it with a fade.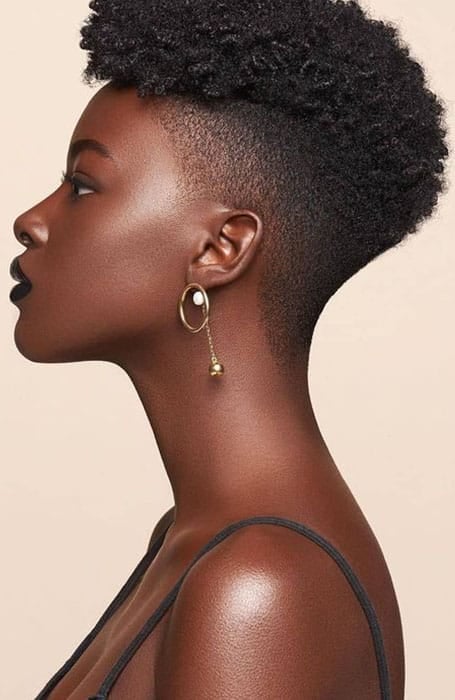 19. Bowl Cut Fade
Ah, the bowl cut. It was once a mushroom shape with a bad reputation, but the modern interpretation is quirky and cute. It is still daring, having been cut the same length all around the head, but you can easily adapt it; this includes trying out a fade. This is an excellent option for showing off your features, so go bold with your makeup if you want to make a statement.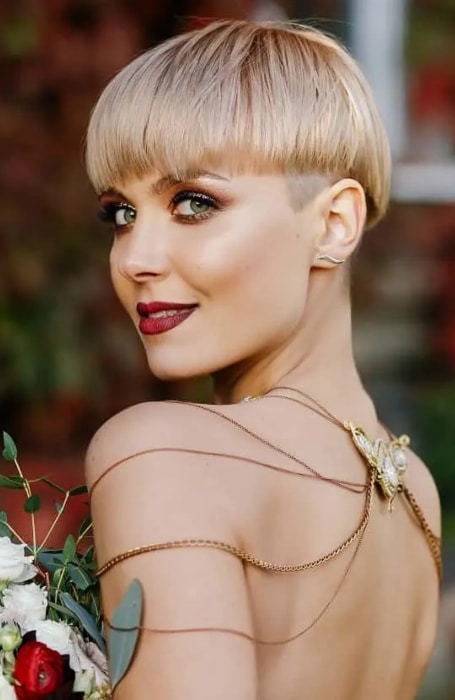 20. Bob Haircut with Fade
The bob haircut is a classic hairstyle for women who want to cut their hair shorter but still have the appearance of length (this is achieved with how the cut frames the face). There are multiple ways to style the bob, and it looks great on all textures, but to really breathe new life into it, why not wear it with a fade? Your choice can be as subtle or as daring as you wish!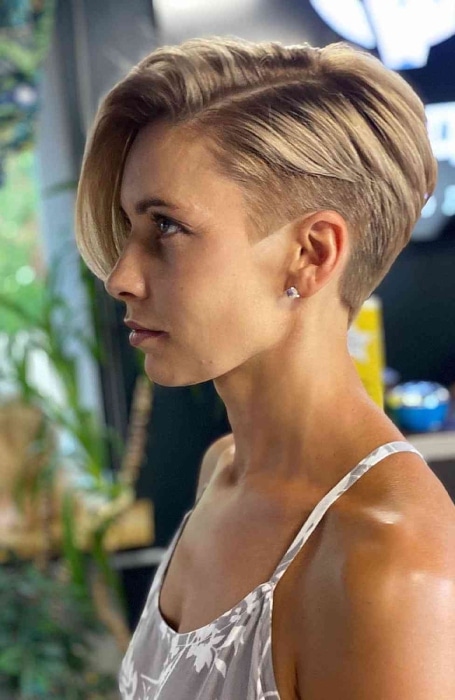 21. Spiky Hair Fade
Spiky hair is an excellent way to achieve texture. You can style them to be rigid and noticeable (although this is the less popular option) or soft for a more natural finish. Short spikes look incredible, but there are not that many ways to wear them. Or is there? Next time you are looking to modernize your haircut, try a fade.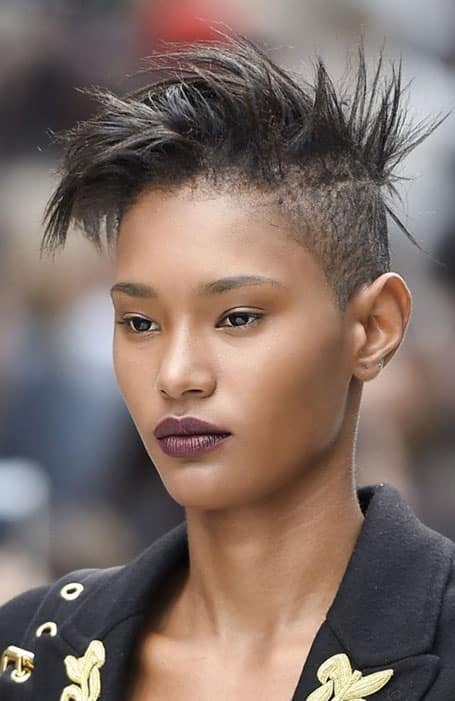 22. Blunt Fringe Fade
There is something super cute and fashionable about a blunt fringe that can make even the most basic hairstyle suddenly more interesting. These bangs are great for making you look younger by hiding signs of aging like fine lines and forehead wrinkles. The problem, however, is that it can feel dated, so styling your strands with a fade will counteract this, adding a modern element to your hair.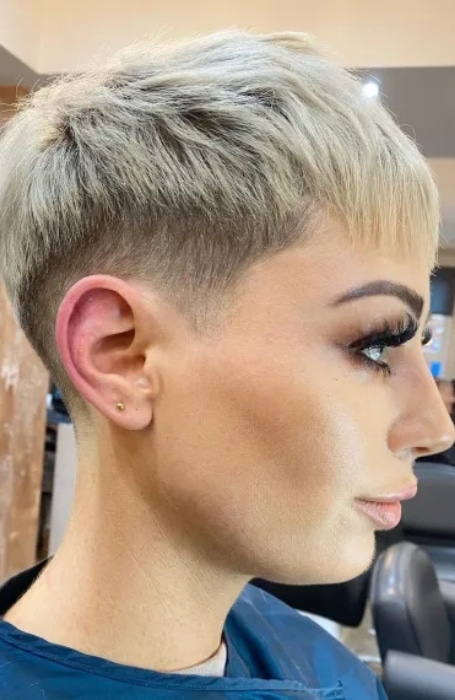 23. Mid Fade with Quiff
The mid fade gives you the best of the high and low fade as it starts somewhere in between. It ends between the temple and the ears and has a tapered appearance, which is great for creating structure. Choose the perfect short hairstyle and have fun with it by adding a fade, which will help personalize the look.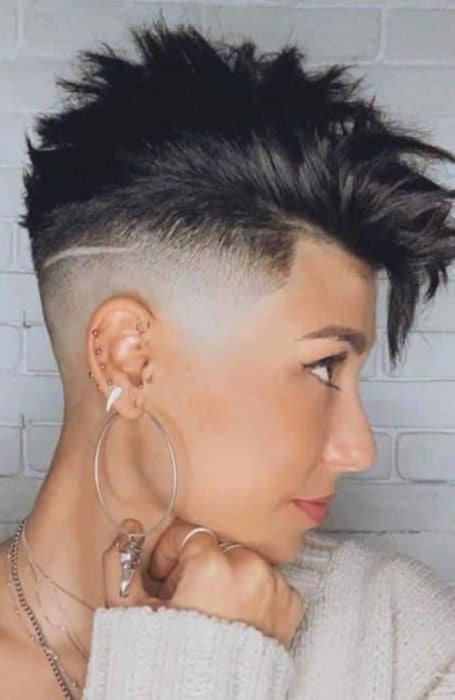 24. Blue Hair with Faded Arch
There is no denying blue hair will get attention, but why are women drawn to this color? Dyeing your hair a bright shade is an excellent way to show off your playful side, but the hue symbolizes calmness, imagination, and freedom. This makes it a beautiful choice for a woman who wants to channel these qualities. It's also going to make your strands more noticeable!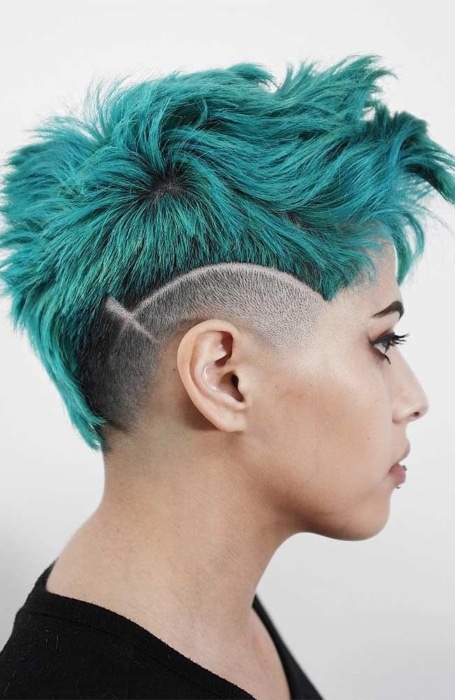 25. Curly Short Hair with Volume and Fade
Curls are a brilliant way to give hair movement and volume; wearing them short can make them much easier to style and care for. There is a lot to love about curly locks, including their ability to soften your facial features, but for a less feminine finish, why not pair your hairstyle with a fade? It's all about structure and contrast and is incredibly cool.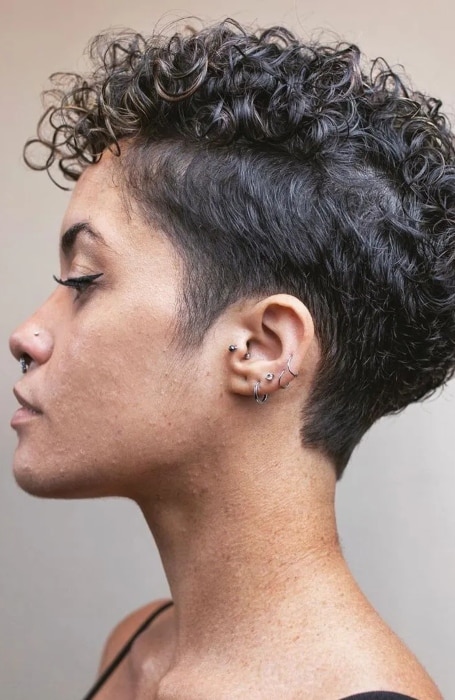 26. Flat Top Fade
The flat top is easily recognizable by how it is styled to be high and flat. It has a boxy finish and is unmissable, making this the perfect look for women who want something different and a hairstyle that better reflects their personality. The fade will make you look neater while creating the illusion of more volume on the top of the head.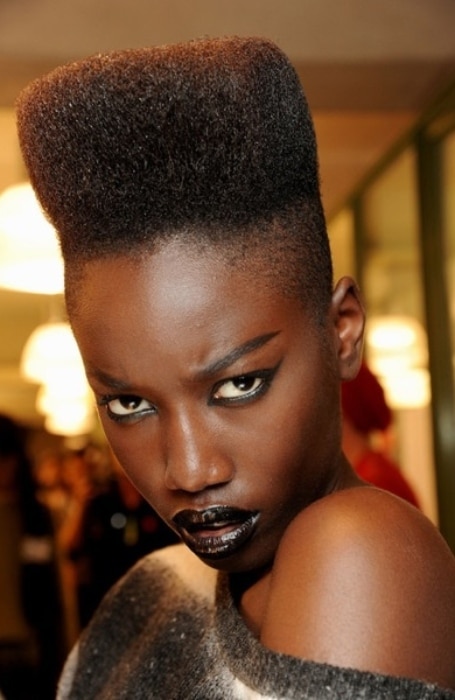 27. Bun Hairstyle with Undercut Fade
The bun hairstyle is undeniably one of the easiest updos to achieve and can be done within seconds. You don't need super long locks to try it out either, and it will complement all textures. But to take a classic updo and make it modern, pair it with an undercut fade, which will shorten the hair at the back of the head.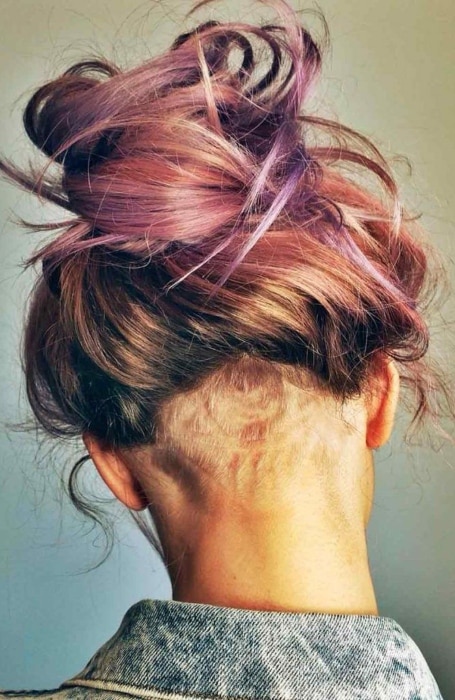 28. Pink Hair with Fade
Pink hair is associated with femininity and love. There are also multiple shades to choose from, including bold hues like hot pink to soft, easy-to-wear hues like pastels and baby pink. Regardless of the shade you choose, this is a beautiful way to make your hair the focus of your appearance, which is why choosing the right hairstyle is so important. Short strands worn with a fade are modern and edgy.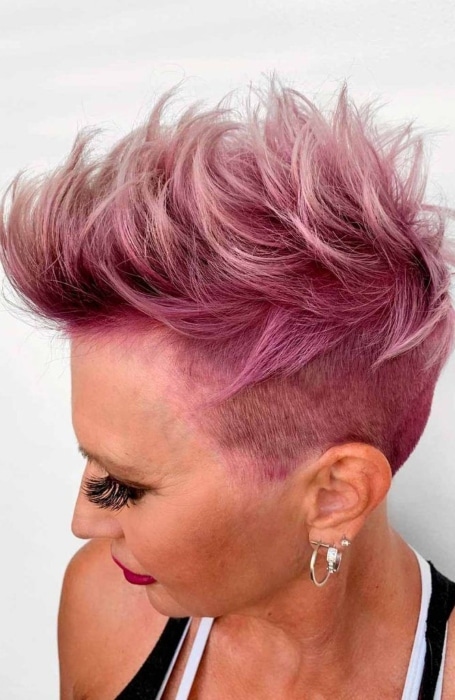 29. Viking Hairstyle with Fade
The Vikings are celebrated as formidable warriors, but their Viking hairstyles have also influenced many hair trends. It is effortlessly cool and can be created in various ways, letting you experiment with braids, fades, an undercut, and different lengths. For those who want something fierce, try a braided hairstyle with a fade along the sides to give it an edgy finish.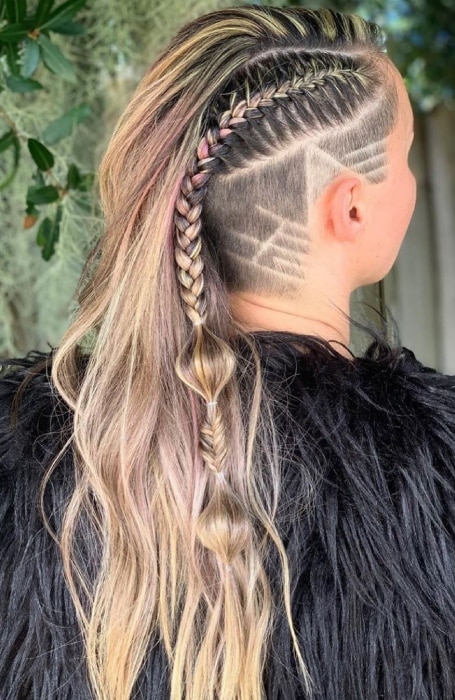 30. Undercut with Straight Black Hair
Black hair is a beautiful color because the dark, rich hue can make the hair look healthier and glossier. The great thing about the undercut fade is that it complements all textures and is easily added to the underneath of the hair, which makes the strands on top appear fuller. To really highlight the look, you can take it one step further and wear it with colors and patterns.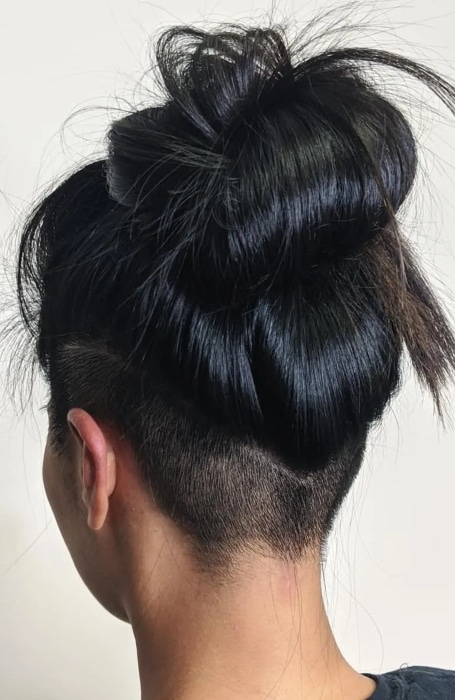 31. Drop Fade with Edgy Pixie Cut
The pixie cut is a popular short hairstyle for women because it is incredibly flattering on all face shapes and textures. It is great for women of all ages but can also feel dated. This is why adapting it to suit your preference by experimenting with edgy elements like a drop fade will give it a modern finish. The drop fade is fantastic for drawing attention to the face.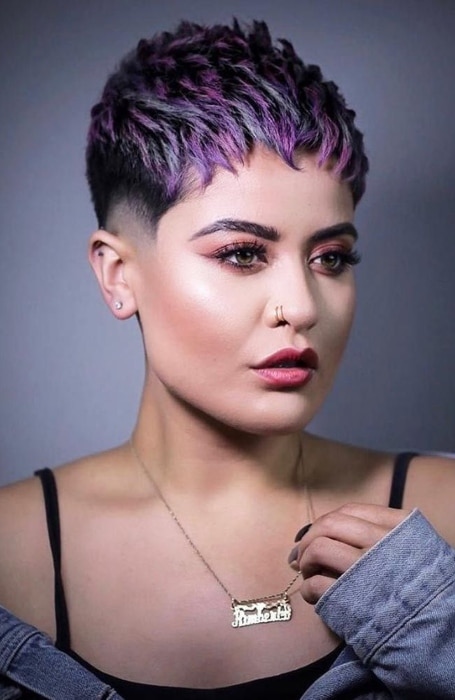 32. Fade with Hard Part
The hard part can be added to the hair by shaving a clean line down the side. This is a simple addition, but it does so much as it gives the haircut more structure and also works to create a balanced finish. When paired with a fade of your choice, this will be the perfect, modern finish that is great for women wanting to experiment with their hair.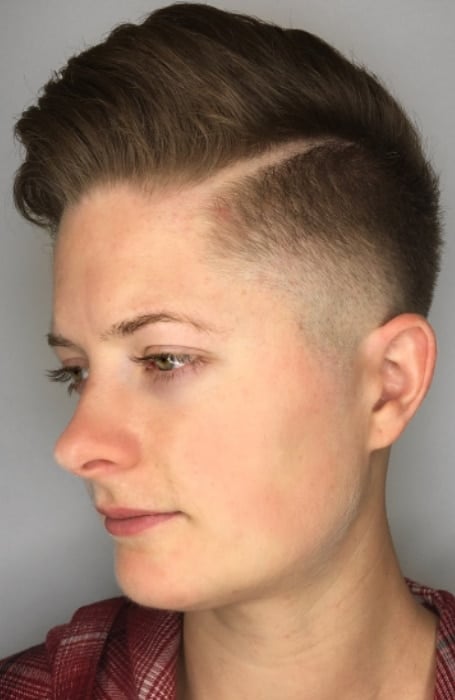 33. Slick Back with Fade
Something as simple as a slick back is a great way to draw attention to your face and leave you with a sophisticated finish. You want to brush the hair away from the hairline to create a slick back. Secure it with a stronghold product (if you want it to appear less sleek, try to use hairspray instead). Shaved sides or a fade will make the look feel even more streamlined.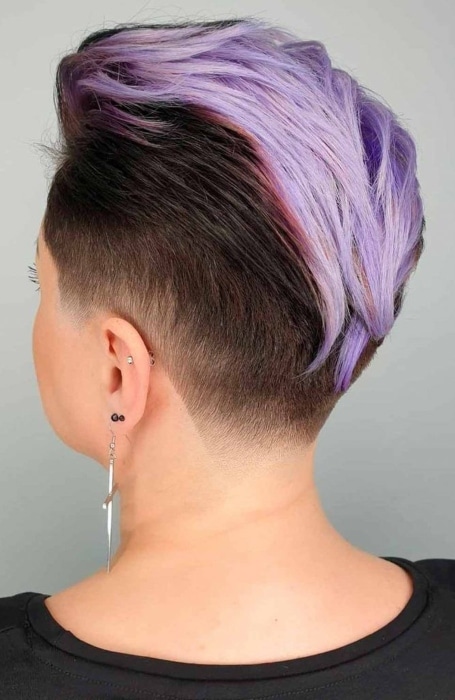 34. Fluffy Hair Fade
Fluffy hair texture is voluminous and soft and is an excellent way to make your strands appear full and healthy. There are many ways to create it, including using heat to achieve the desired effect. But how do you style it? By opting for a deliberately unstructured finish, this look will ooze femininity while the fade will add sharpness and structure (giving you the best of both worlds).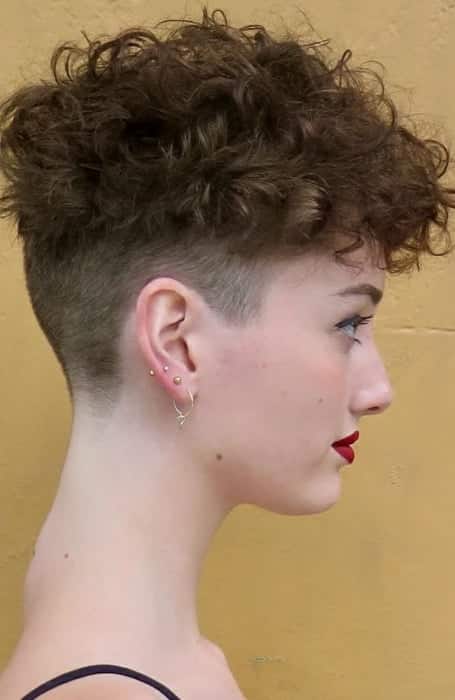 35. Hair Design with Fade
Hair designs are a remarkable way to express yourself and show off your personality. There are multiple options to choose from, some as simple as angles and lines, while others create brilliant patterns or images like a diamond. This is a fun and eye-catching way to change your appearance; a fade will make it even more noticeable.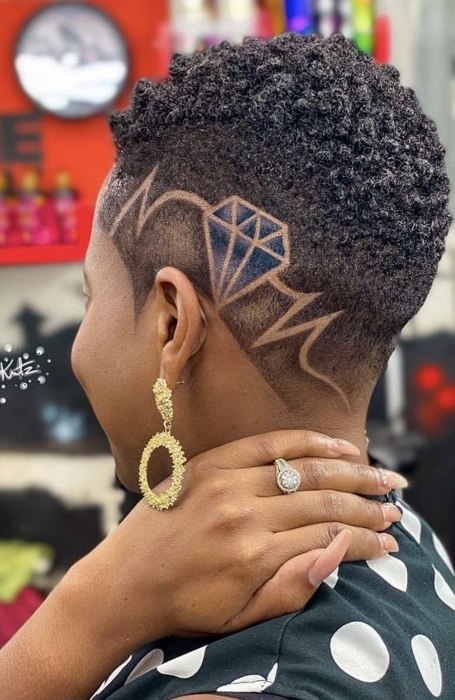 Fade Haircuts for Women FAQs
What is a fade haircut for women?
A fade haircut is a term used to describe one of several types of faded styles. This is when the hair gradually shortens around the back and sides while leaving the hair on top. The pros of a fade are that it can create structure and give you a neat and polished finish. It also adds personality to your haircut and makes it feel more unique and modern.
What is the most attractive fade haircut?
For most people, the taper is the most attractive fade haircut because it is more subtle than many other styles. This makes it easier to wear and versatile, letting you add it to hair of various textures and lengths. The taper will gradually shorten the hair on the back and sides, starting from around the middle section of the head.
SUBSCRIBE TO OUR NEWSLETTER
Subscribe to our mailing list and get interesting stuff and updates to your email inbox.