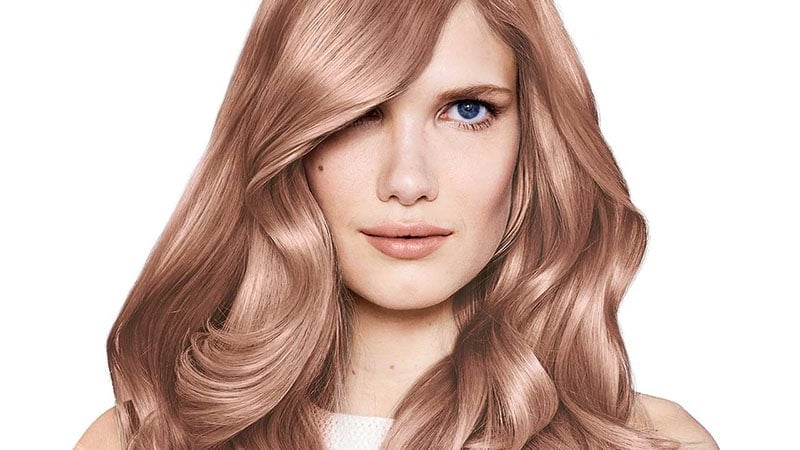 From rainbow locks to denim tresses, unnatural hair colors have been continuously catching our attention and imagination in recent years, and thanks to their exciting and eye-catching nature, these out of the ordinary colors are here to stay. After all, simple shades of blonde and brunette can feel a little boring next to gorgeous pastel pinks and vibrant mermaid greens. As for this year's hottest hair color, rose gold is reigning supreme. The stunning color features golden undertones mixed with copper to create a reddish or pink tinge, and the result is incredible. Best of all, this gorgeous trend has an option for everybody, and you'll find all the inspiration you need right here. Below we show you the most stylish rose gold hair colors to inspire you.
Rose Gold Hair
1. Copper Rose Gold Hair
For an intense take on the rose gold trend, try a shade with a copper tint.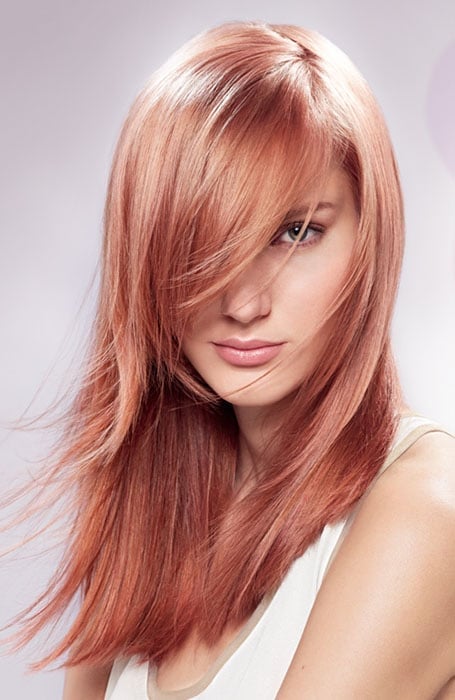 2. Rose Gold Bob
A rose gold bob can be cool, edgy and elegant all rolled into one.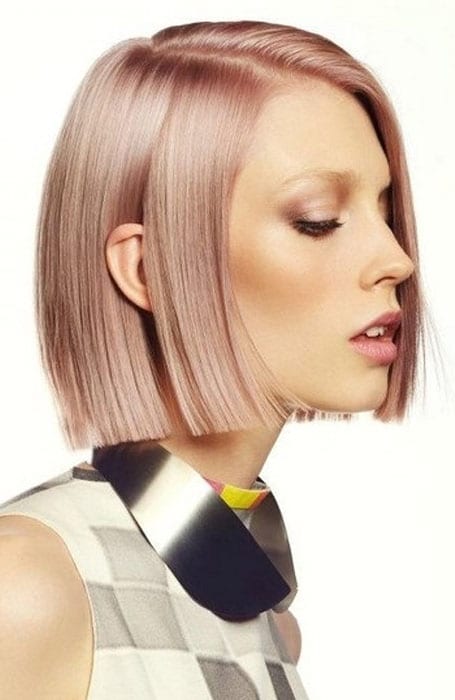 \\

3. Rose Gold Waves
Adding soft waves to rose gold strands creates an almost magical appearance.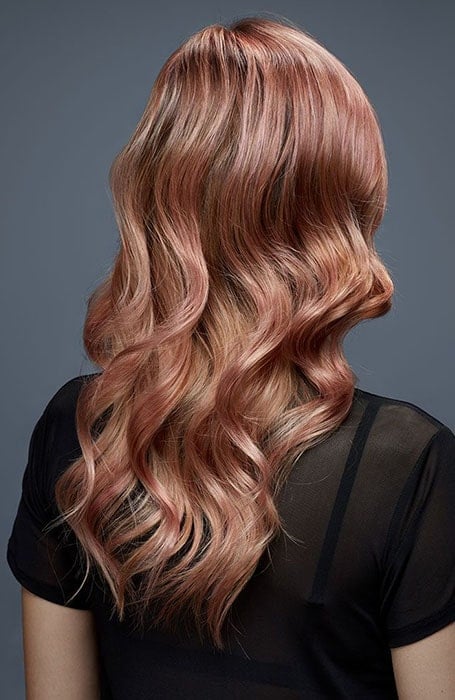 4. Rose Gold Pixie Cut
While a pixie cut is already a bold style, adding a rose gold color will make it even more exciting and eye-catching.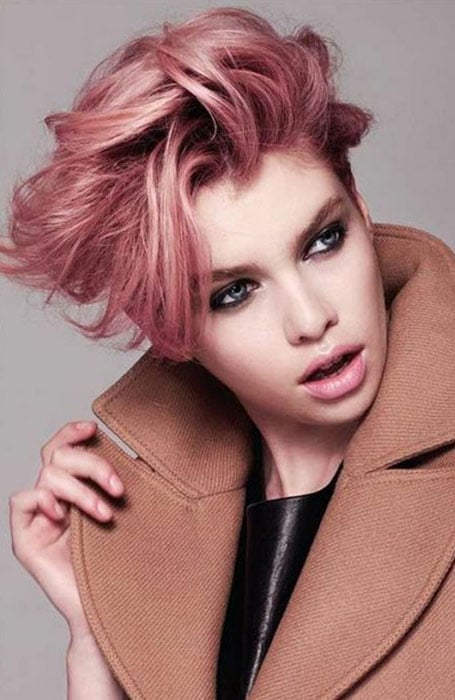 5. Warm Rose Gold Hair Color
If you have a warm complexion, try opting for rose gold colors that are more red than pink.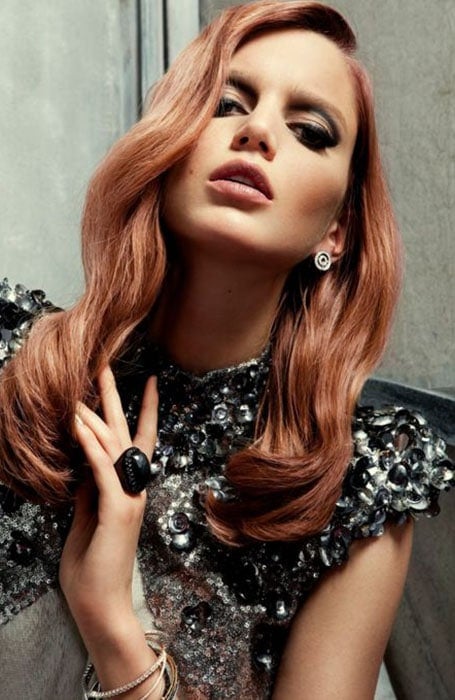 6. All-Over Rose Gold Color
Opting for a rose gold color all over can create a stylish statement look.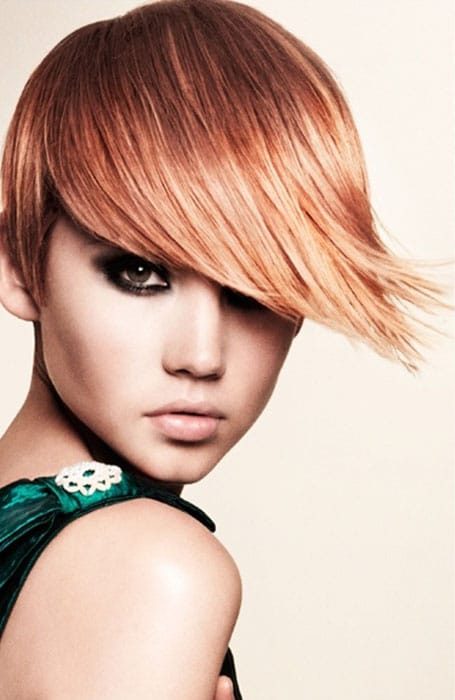 7. Rose Gold Ombre
If your style is more grunge than girly, opt for dramatic ombre look such as this.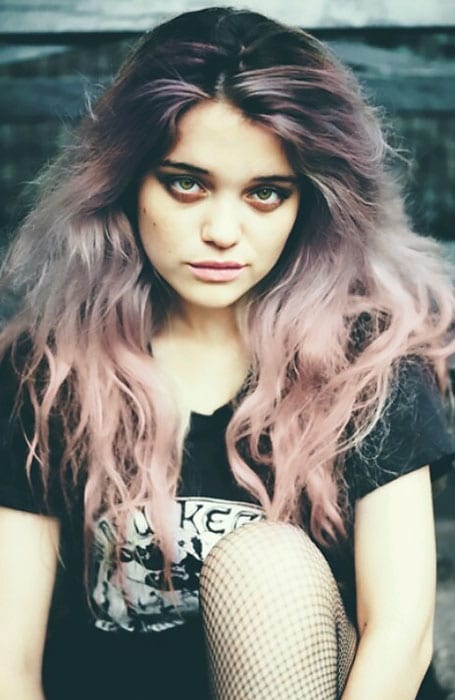 8. Warm Brown Hair with Rose Gold Ends
Pairing warm brown locks with rose gold ends can create a lovely look that's perfect for any time of the year.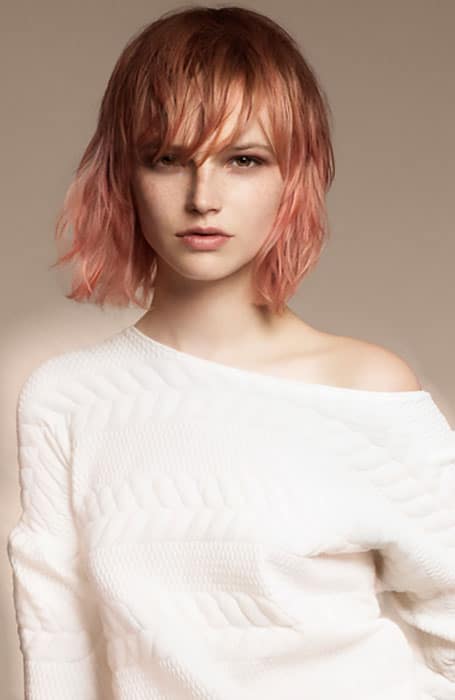 9. Straight Rose Gold Hair
If you plan to wear your hair straight, ensure your rose gold color is blended well as any sudden variations will be more noticeable.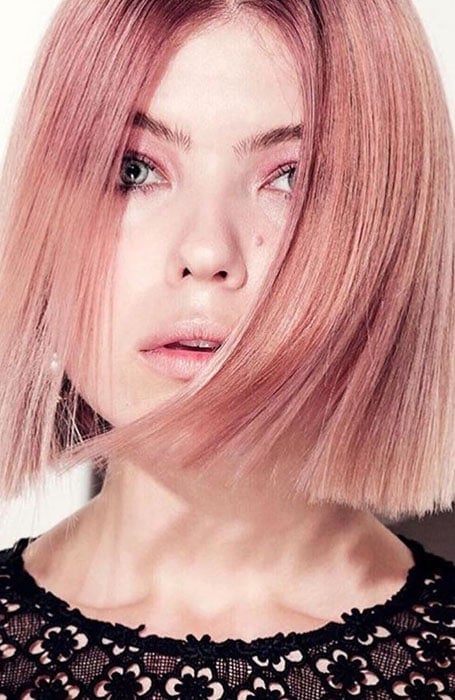 10. Soft Rose Gold Glow Hair Color
This soft rose gold color appears to almost glow from within.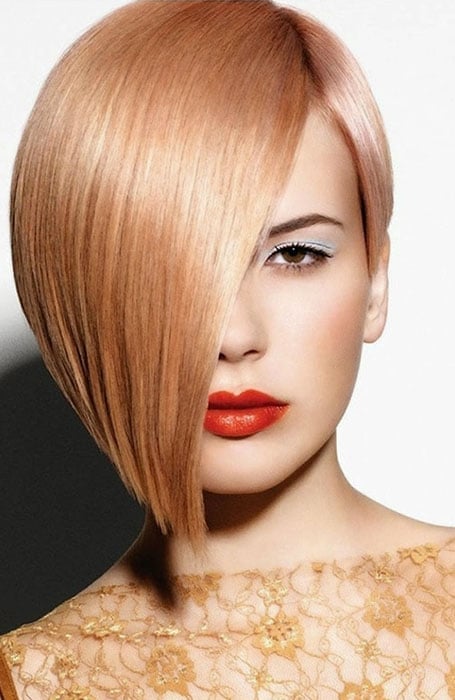 11. Rose Gold Hair with Pink Highlights
This chic and feminine look combines rose gold hair with pink highlights for a statement-making style.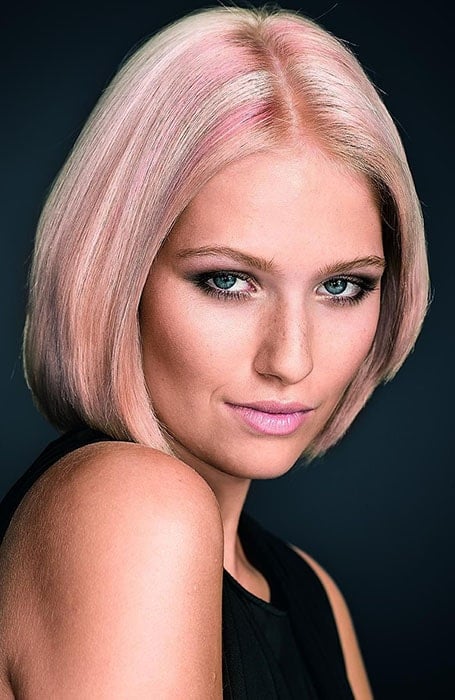 12. Short Rose Gold Curls
While these short curls have a lovely vintage feel, the rose gold color keeps things contemporary and on-trend.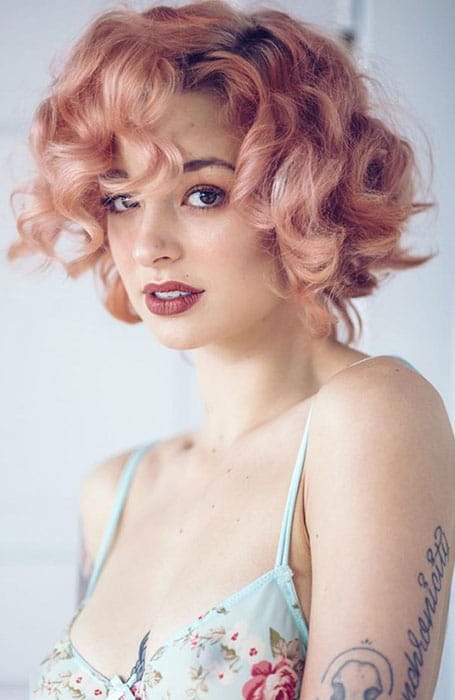 13. Light Rose Gold Highlights
If you have a fair complexion and light hair, soft rose gold highlights can make an excellent choice.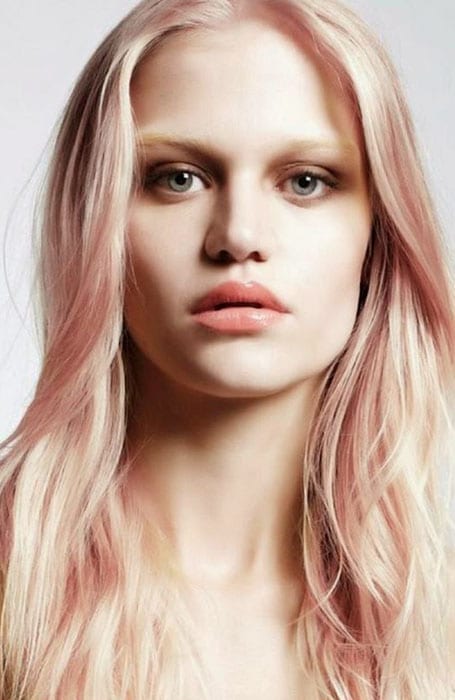 14. Rose Gold Hair with Platinum Blonde Highlights
Rose Gold Hair with Platinum Blonde Highlights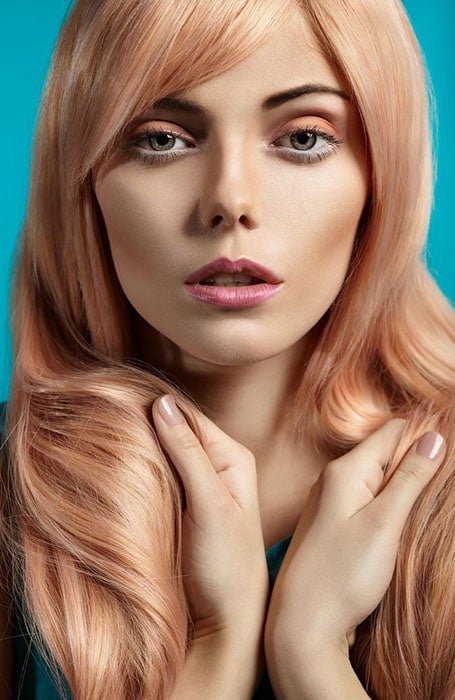 15. Rose Gold Ends on Dark Blonde Hair
Give dark blonde hair a new lease on life with some rose gold ends.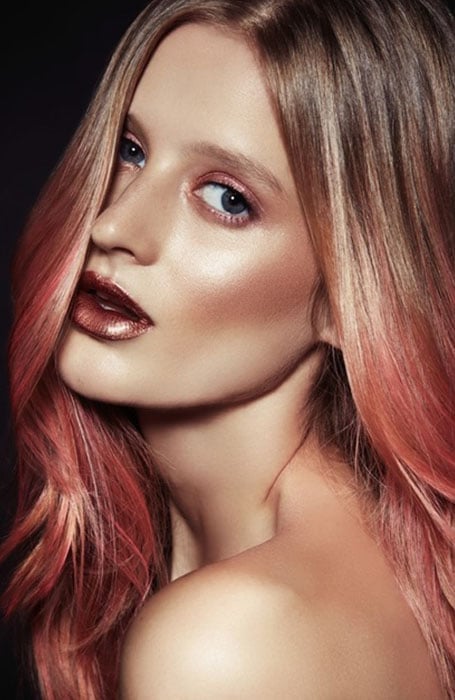 16. Rose Gold Sunset Color
This gorgeous rose gold look features soft orange and pink tones that resemble a sunset.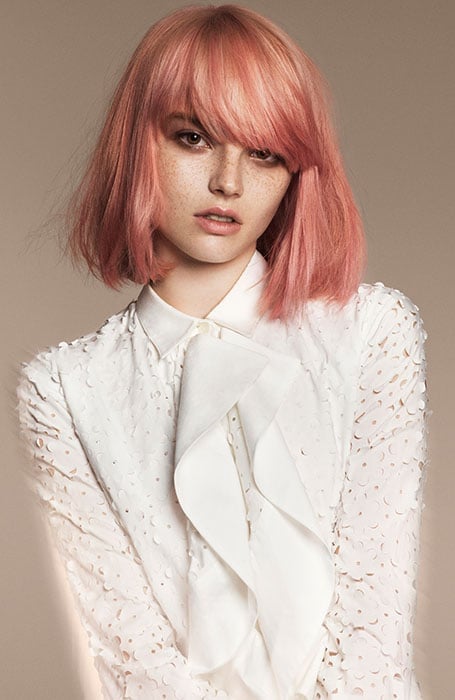 17. Short Rose Gold Hair
Fashion-forward ladies will love this stylish and short rose gold look with baby bangs.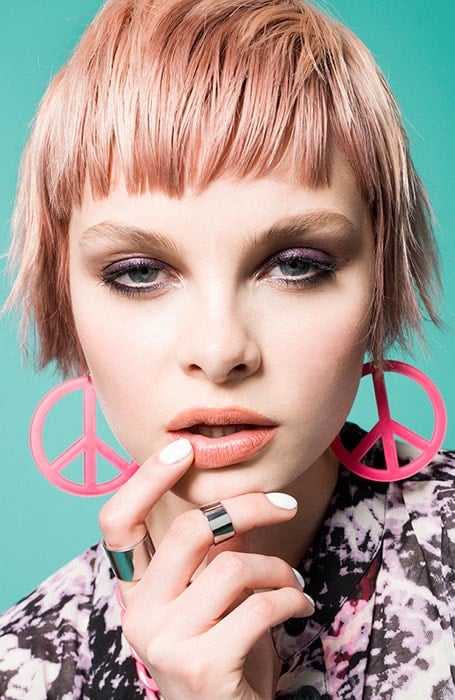 18. Rose Gold Hair for Brunettes
Don't be fooled into thinking that rose gold hair trends are just for blondes.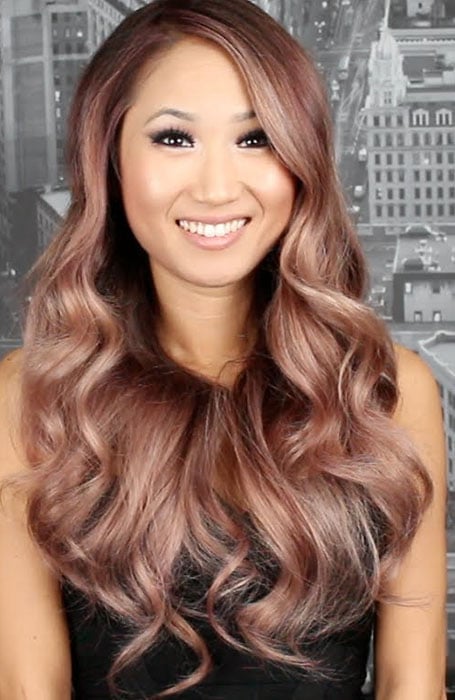 19. Rose Gold Highlights
This edgy bob features gorgeous rose gold highlights for a feminine touch.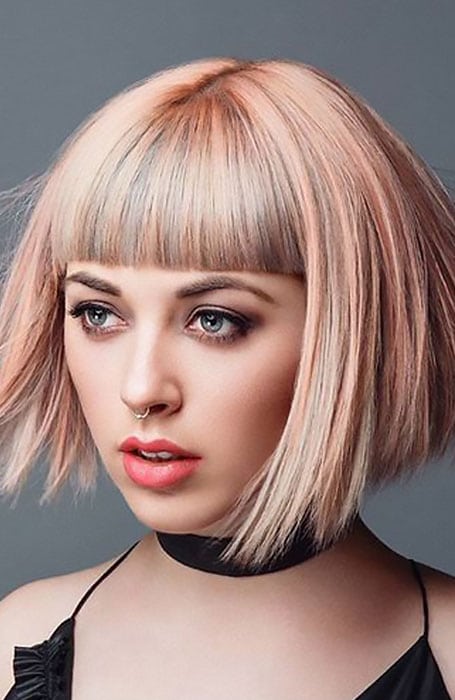 20. Rose Gold Hair with Dark Roots
Not only will keeping dark roots natural create a flattering look, but it will also reduce the need for touch-ups of your rose gold color.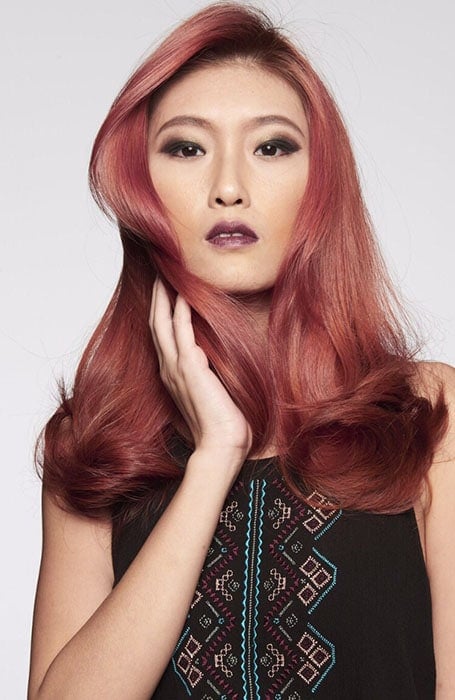 21. Rose Gold Hair with Bangs
Combining full bangs, a blow wave, and rose gold tresses is a sure-fire way to turn heads.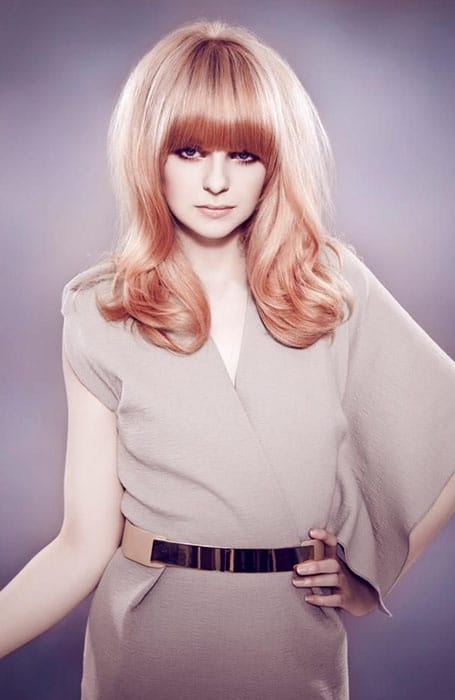 22. Rose Gold Hair for Redheads
Natural redheads can also get on board with this lovely color.

23. Pink and Rose Gold Highlights
With colors as bold as pink and rose gold, all you need is a few highlights to completely change your look.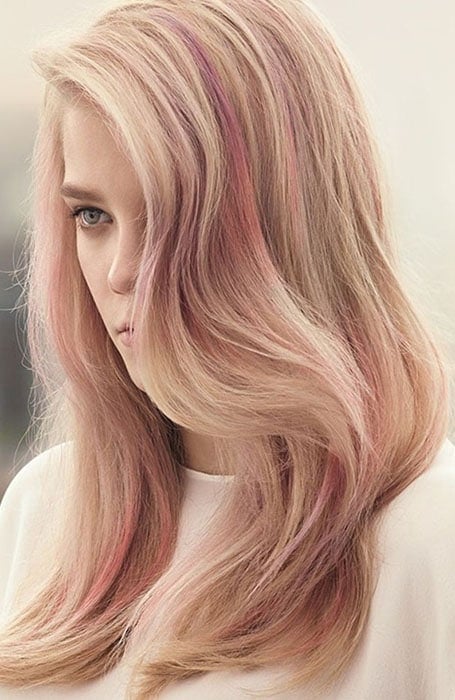 24. Natural Blonde with Rose Gold
Keeping your roots a natural color will mean fewer salon visits and touch-ups for your rose gold locks.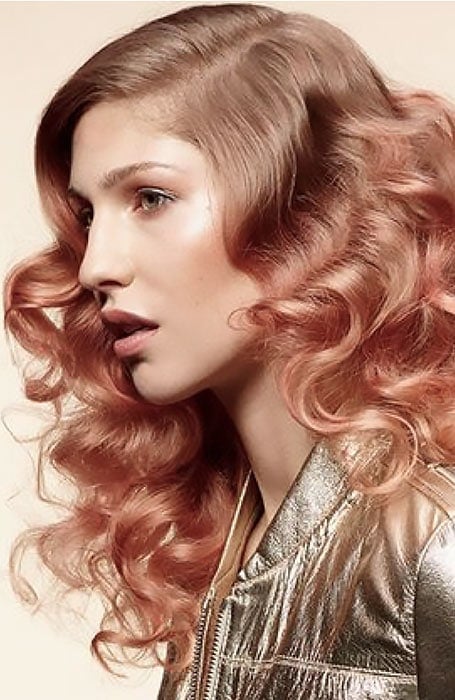 25. Rich Rose Gold Hair Color
If you want to really embrace the rose gold trend, forget highlights and opt for a rich golden red hue all over.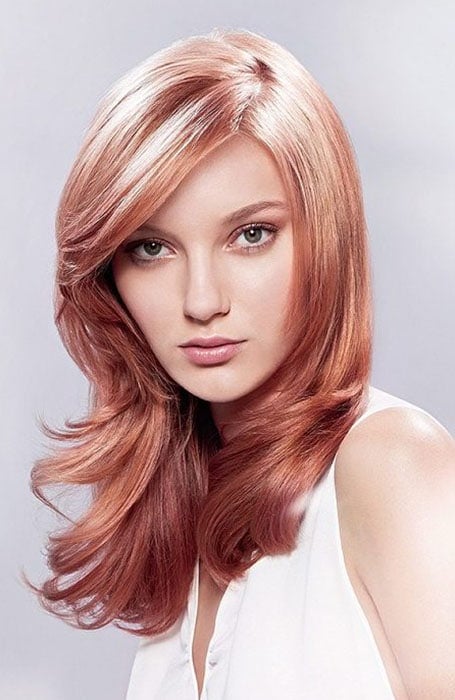 26. Platinum Rose Gold Hair Color
This rose gold tinted platinum look is subtle yet utterly gorgeous.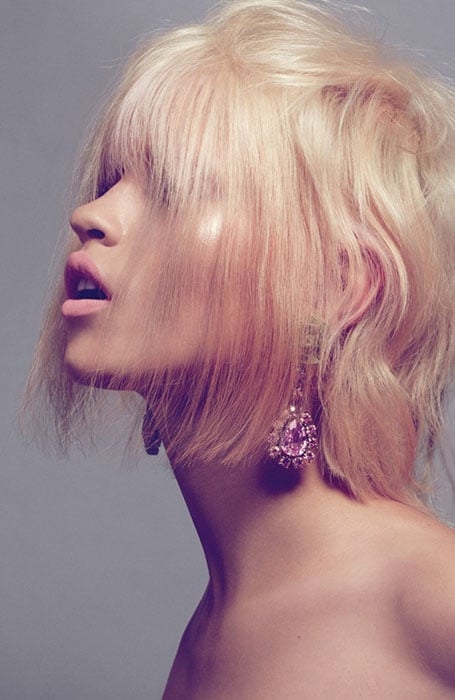 27. Pink, Lilac and Rose Gold Highlights
For those who love a bold hair color, this mixture of pink, lilac, and rose gold highlights on a platinum blonde base is definitely a look to try.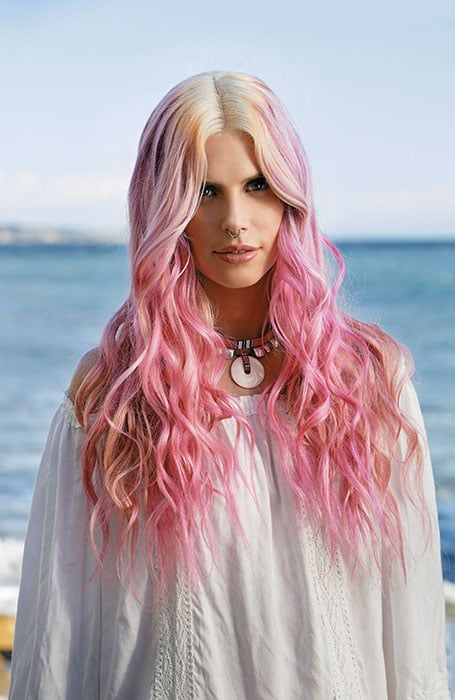 28. Pastel Rose Gold Hair Color
Pastel rose gold hair blends two trends into one and is sure to be a hit on Instagram.

29. Pastel Pink Hair with Rose Gold Lowlights
Combining pastel pink locks with rose gold lowlights beneath creates a dimensional and trend-worthy style.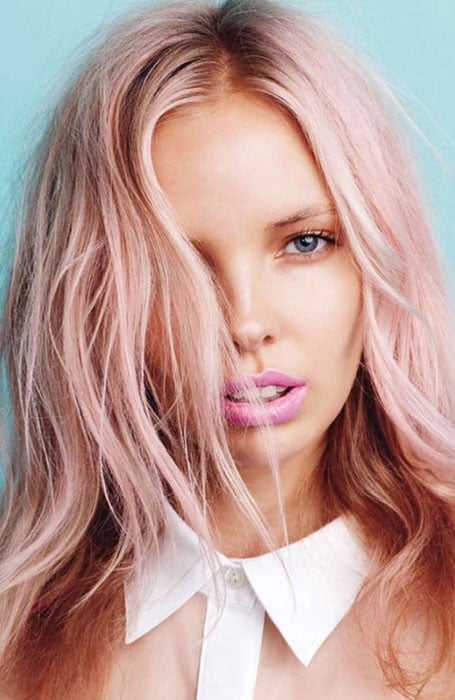 30. Orange and Rose Gold Hair
This hair color blends light orange with a subtle touch of pink and blonde for a bright rose gold look.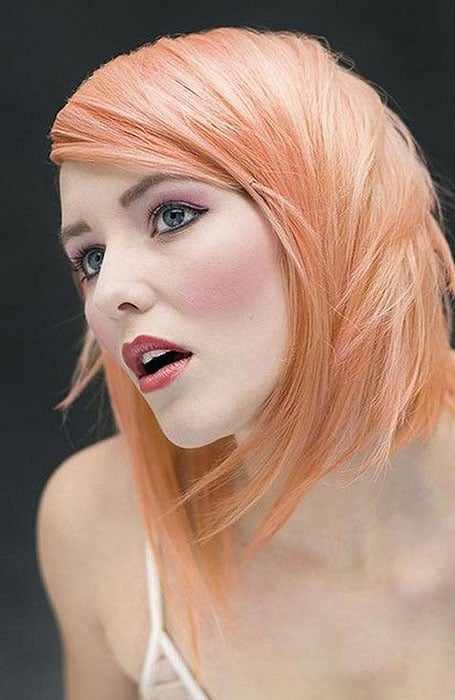 31. Natural Light Blonde with Rose Gold Highlights
Add a fashionable touch to naturally light blonde locks with some pink-hued rose gold highlights.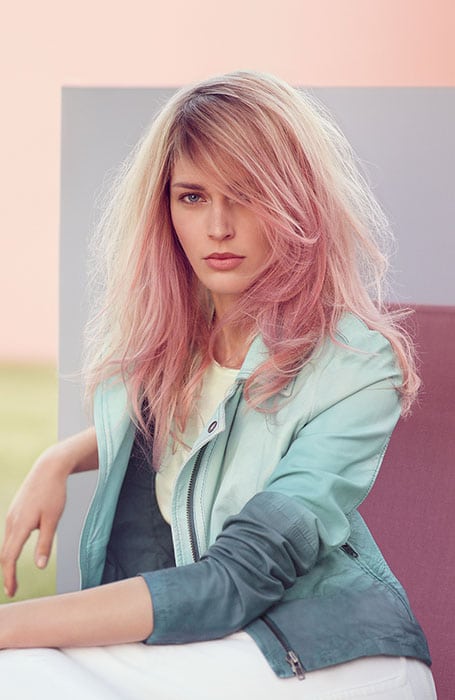 32. Natural Blonde with Rose Gold Highlights
Whether you opt for a semi-permanent color or something more long-term, adding some rose gold highlights to your natural hair is a great way to update your look without completely changing it.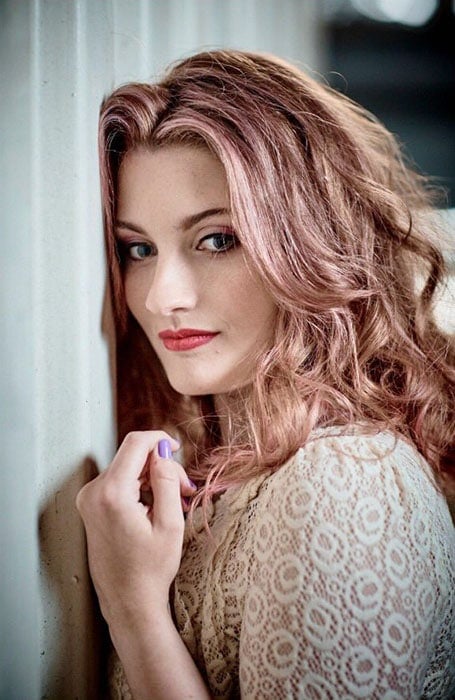 33. Metallic Rose Gold Pixie Cut
Color is an excellent way to change up a pixie cut without growing it out.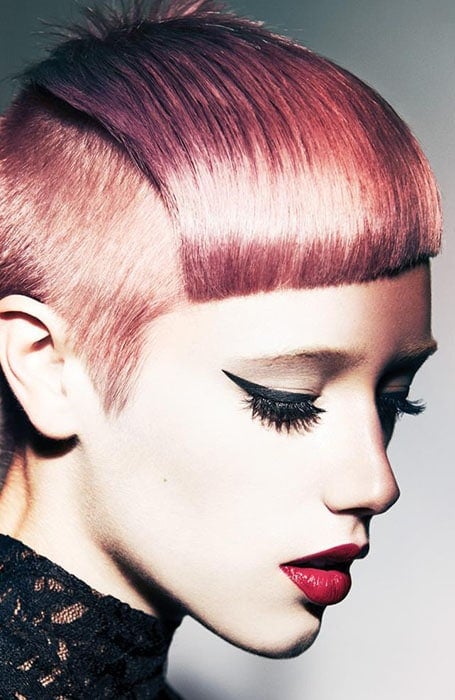 34. Metallic Rose Gold Highlights
This rose gold highlighted look has a beautiful metallic touch with plenty of shine.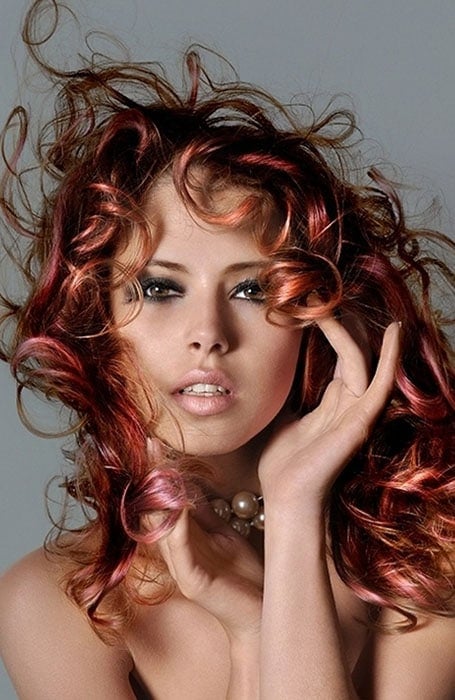 35. Faded Rose Gold Bob
This gorgeous bob is made extra pretty thanks to a faded rose gold hue.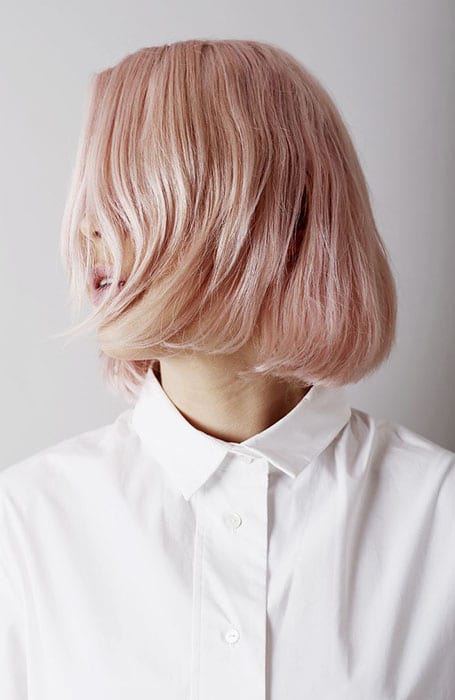 36. Dark Rose Gold Hair Color
Although going rose gold may be difficult for those with dark hair, the result is well worth the extra time in the salon.

37. Chocolate Rose Gold Ombre
This chic ombre look starts with chocolate roots before fading to light rose gold ends.

38. Chocolate Rose Gold Hair Color
Chocolate rose gold hair appears rich, warm and beautiful.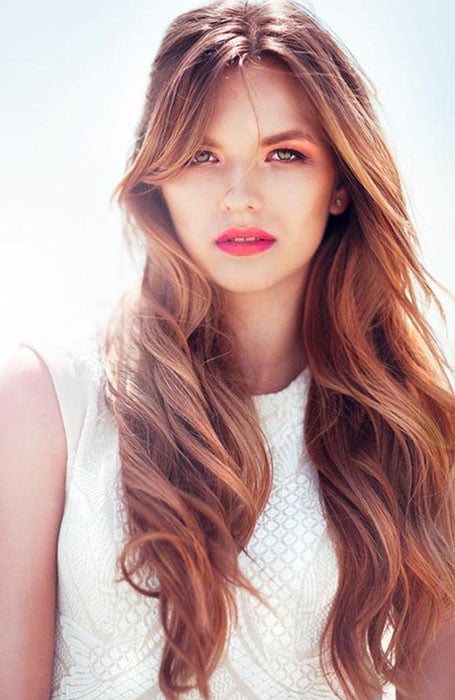 29. Black Hair with Rose Gold Ends
If you have naturally black hair, try opting for rose gold ends for a complementary look.

SUBSCRIBE TO OUR NEWSLETTER
Subscribe to our mailing list and get interesting stuff and updates to your email inbox.