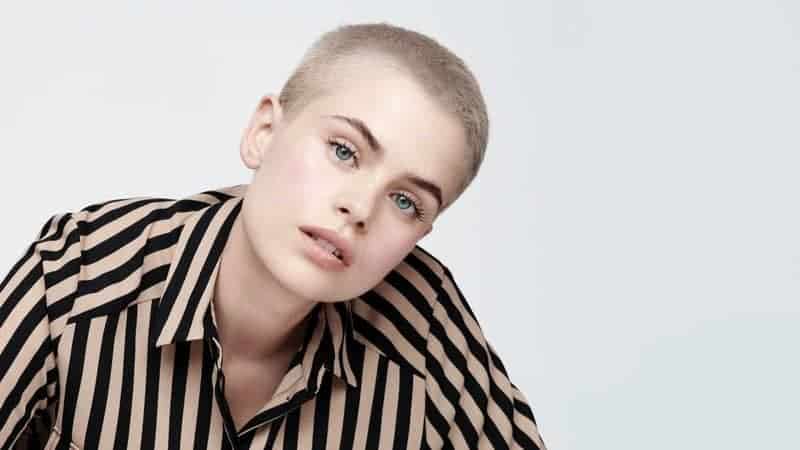 The buzz cut has long been a favorite short hairstyle for men, but women are increasingly embracing the style because it is expressive and undeniably chic. The classic version is usually cut relatively the same length all over the head, but who is to say you cannot modify it to suit your preference and complement your hair texture? It is time to show off your features and ditch the lengthy styling and grooming routines in favor of something simple. Find out everything you need to know about the best buzz cuts for women that will transform your appearance.
1. Buzz Cut with Fade
One of the easiest ways to personalize your buzz cut is with a fade. The hair will be relatively the same length on the top and back, but the sides will be slightly shorter to give you a more structured and polished appearance. Choose a subtle faded look for a blended look, or go bold with something that creates more contrast; the choice is yours so have fun with it.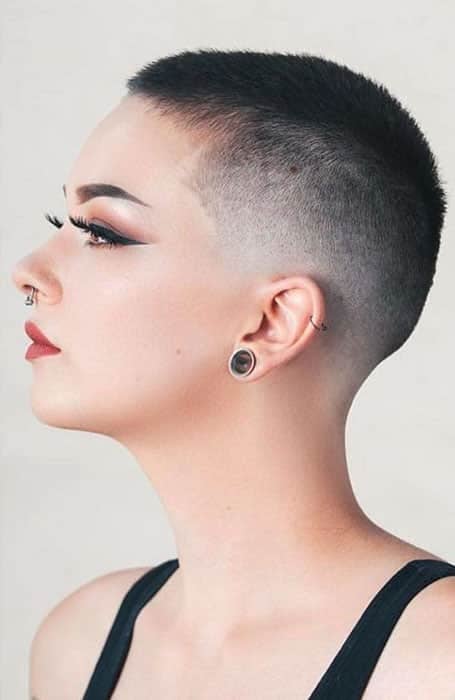 2. Long Buzz Cut
The buzz cut is a classic short hairstyle and is fuss-free yet trendy. There are several ways to adapt the look to suit your preference best and complement your texture, including experimenting with different lengths. If you want to create the illusion of longer locks while still benefiting from the low maintenance that comes with shorter strands, then try a long buzz cut. The hair will not be clipped as close to the scalp, giving you more versatility.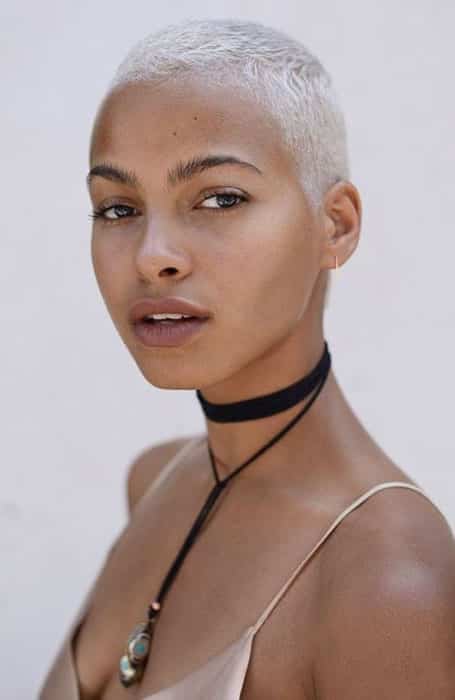 3. Taper Fade Buzz Cut
The taper fade will gradually shorten the strands around the sides and back of the hair until they reach skin level. It is one of the best choices for faded looks because it has a natural appearance and is great when paired with a buzz cut, giving you a more structured finish. If you are looking for a way to modify your haircut, this is the ultimate way to do it. It will also show you are a woman with attitude.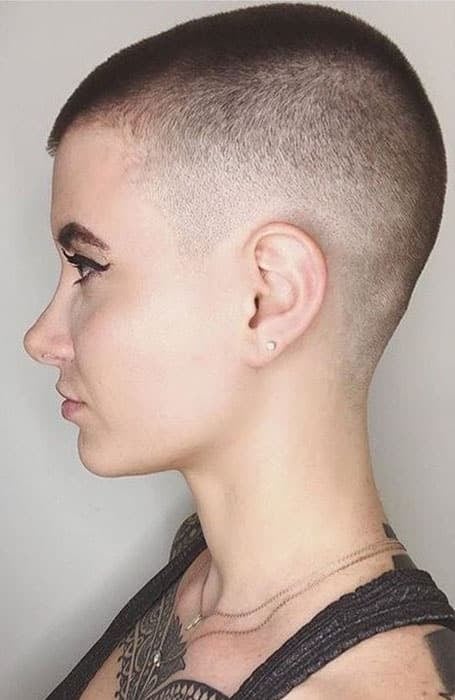 4. Buzz Cut with Bangs
What better way to adapt the buzz cut to suit your preference than by pairing it with bangs? A fringed look has many pros, including softening your features, highlighting your cheekbones and eyes, and creating a youthful finish. There are many styles to choose from, but for the best results and to complement the rest of your short strands, opt for mini bangs that fall well above the brow line.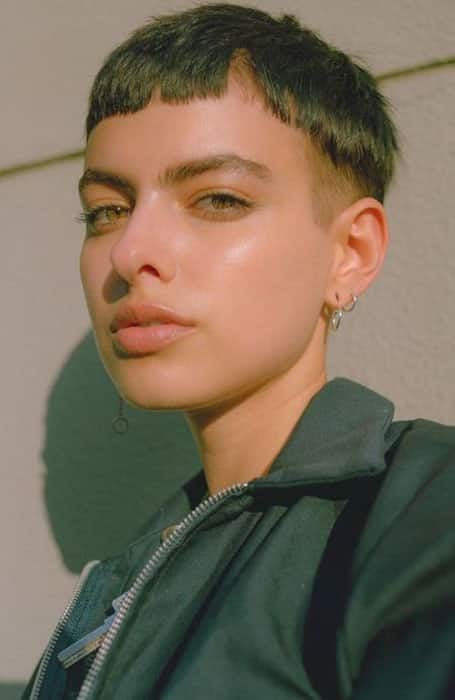 5. Buzz Cut for Older Women
Women with soft features will look gorgeous with a buzz cut, but rocking this short hairstyle has many benefits. This includes having no limit on age, and older women can try out this trendy look. In addition to highlighting your face, the haircut is practical because it will counteract any signs of damage or dry and brittle hair. It is also super easy to style and will reduce your daily grooming.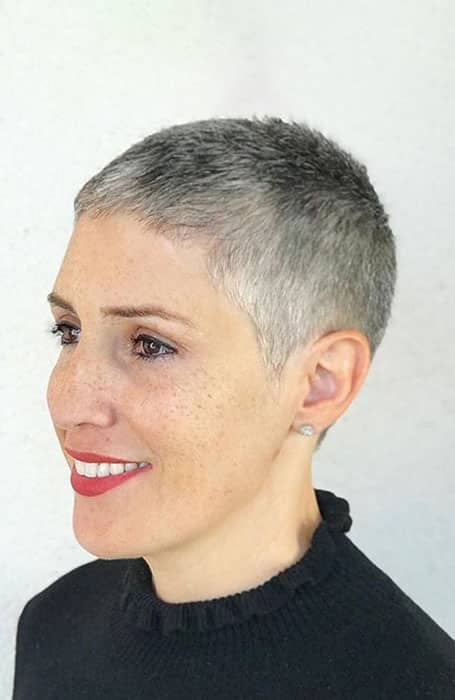 6. Bleached Buzz Cut
Bleach will make your buzz cut even more visible because the lightness of the color will draw attention to your strands. This is an excellent option for someone who wants to experiment with their appearance. It can also be incredibly flattering, making your hair appear fuller and thicker. The bleached blonde will suit most complexions and is ideal for the summer months, although the truly daring among us can try out the hue at any time.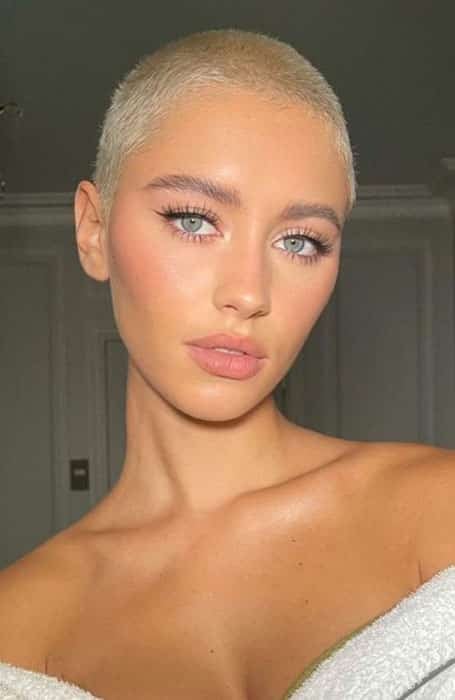 7. Dyed Buzz Cut
At first glance, the buzz cut may seem like a simple hairstyle, but that is not the case because this is one of the easiest haircuts to modify. If you have been searching for a way to show off your attitude and get creative with your hair, then dyeing it is a great choice. You can opt for a vibrant natural shade to let your features pop. Or an artificial color that is designed to be noticed.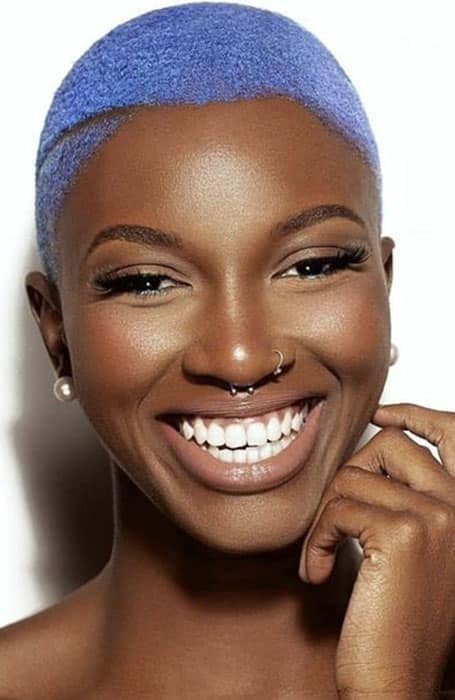 8. Asian Buzz Cut
The buzz cut will look great on almost everyone and is stunning in various textures and face shapes. Asian hair is diverse but is often considered to be thick and straight. If you are looking for a way to update your appearance or reduce your daily style time, consider this fresh and modern cut that will bring out your features.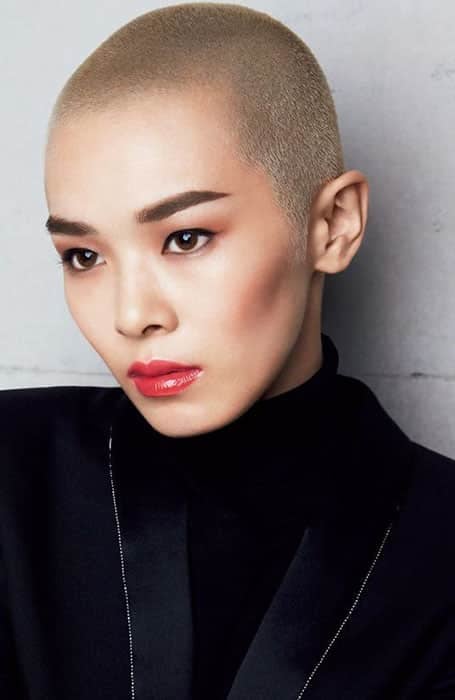 9. Blonde Buzz Cut
Blonde hair comes in a range of shades from light to dark and is a favorite color for women who want to update their look and embrace something different. The lighter your strands are, the more noticeable the cut will be. Blonde will go well with most skin tones and is an exceptionally versatile hue, ideal for showing off your face. For maximum cool points, pair it with bold red lipstick!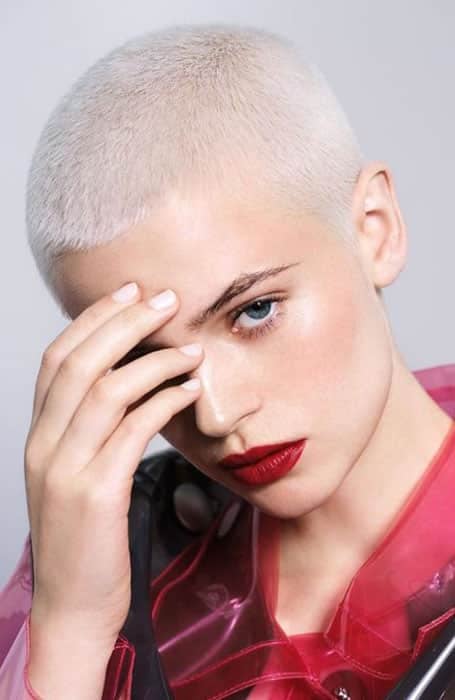 10. Low Fade Buzz Cut
Stylish and sophisticated, there are many reasons to love the low fade. It tapers lower on the head, resulting in a subtle contrast with the hair on top. But why combine it with a buzz cut, you ask? Well, the answer is simple as the pairing is sleek and will give your strands more structure. It lets you keep the classic feel of the hairstyle but also allows you to adapt it, giving you an edgier finish.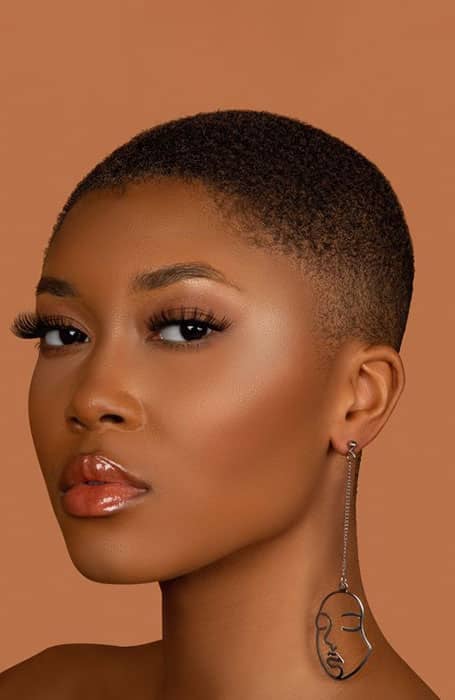 11. Buzz Cut with Hair Design
What could be more expressive than a buzz cut with hair design? This is the ultimate cool girl look for someone wanting to experiment with their appearance and make a statement. It will send the message to the world that you are daring and rebellious. There are various patterns and shapes to choose from, letting you find the ideal option to complement your haircut. In fact, the shorter strands of the buzz cut will provide the perfect canvas to get creative.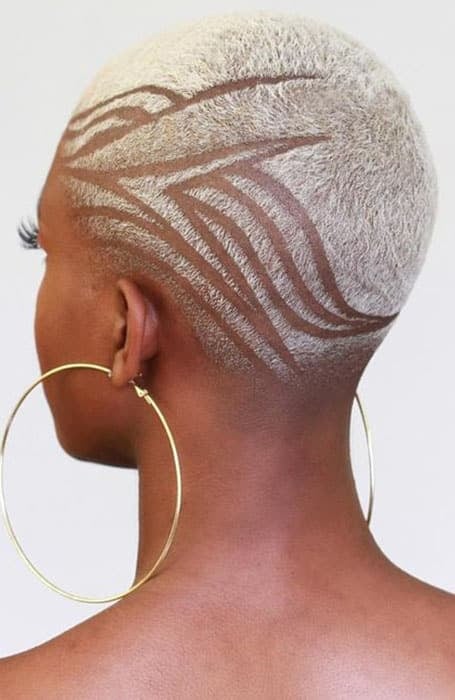 12. Buzz Cut Round Face
Most people with round faces are reluctant to cut their hair shorter because the shape is often complemented by the length around the face, for example, nuanced layers or a shaggy bob. This is not your only choice though and a short look like the buzz cut can be incredibly flattering. It is especially true if you have a strong jawline or cheekbones. This will distract from the roundness and instead focus on the strengths of your features.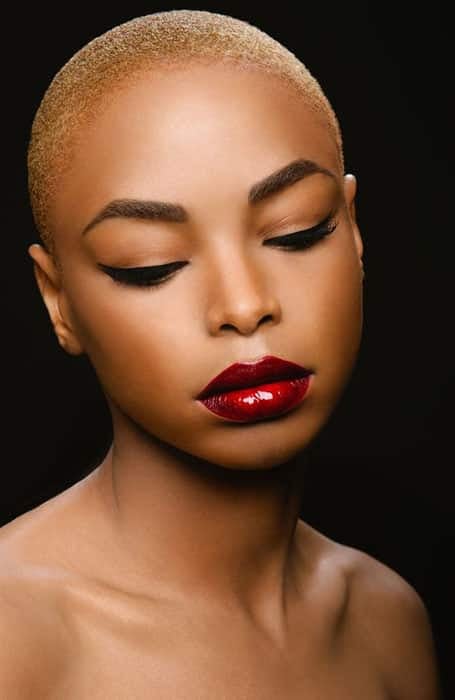 13. Military Buzz Cut
Military hairstyles are known for being short, no-nonsense looks that will require no effort to care for. They are practical yet cool. The same can be said for this style, which is clipped or shaved close to the head to leave you with soft stubble. This is undeniably one of the more daring choices for women, but chopping off your strands can be a freeing experience.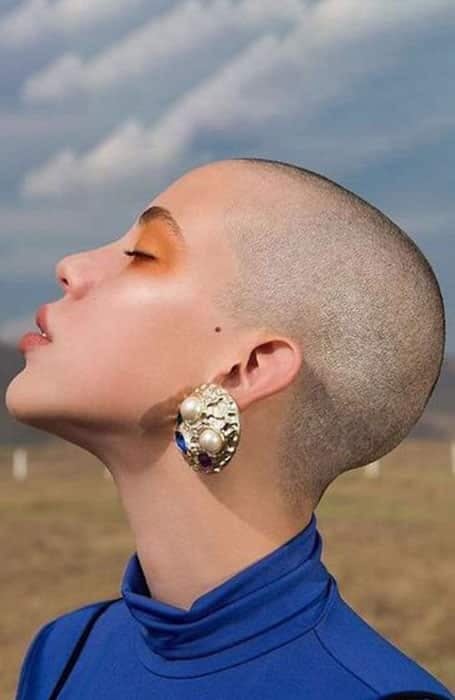 14. Skin Fade Buzz Cut
The buzz cut and a fade style are classic pairings, but you can personalize your look by deciding on what faded finish you want. The skin fade is one of the more noticeable choices because there is more variation in length as it gradually reduces to skin level on the back and sides, with more length on top. This can help to create contrast, making the hair on top appear fuller.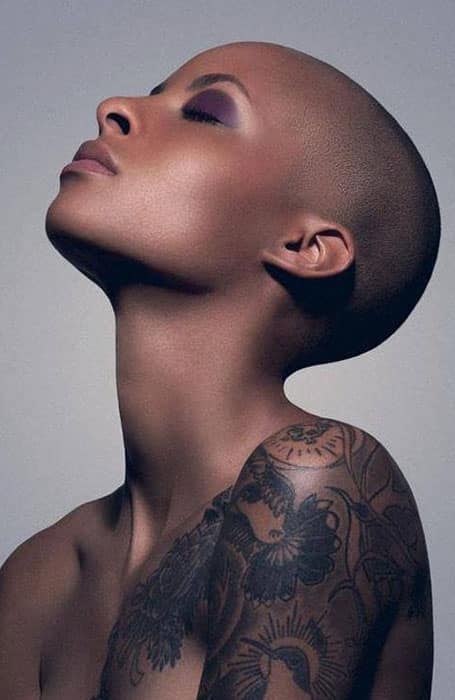 15. Buzz Cut Mullet
The standard buzz cut is effortlessly cool, but for those wanting to change up the classic cut for something more daring, try it with a mullet. Combining the short hair on the top and sides and the longer length in the back will create an interesting contrast. It is also a surprisingly flattering hairstyle that complements multiple textures and face shapes.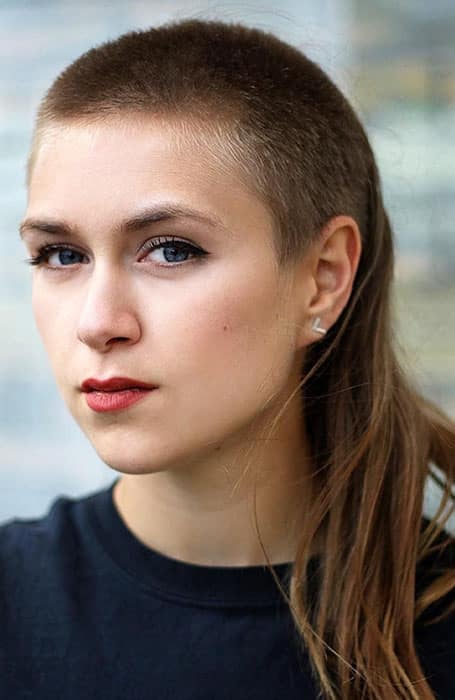 16. Pattern Dyed Buzz Cut
Are you looking for an edgy way to express yourself? One of the easiest ways to do this, without permanently altering your appearance, is to try out a cool new look, and the pattern-dyed buzz cut is just what you need. There is no denying this is a style that is going to ensure you stand out from the crowd. But you also have a lot of creative freedom, letting you experiment with different colors, shapes, and angles.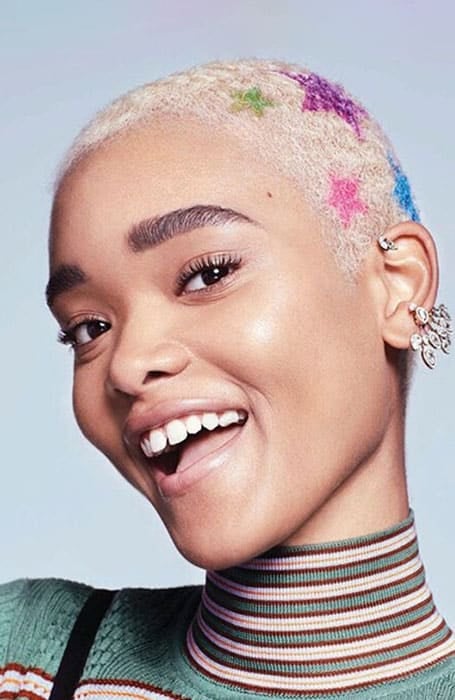 17. Buzz Cut Mohawk
The mohawk is rebellious, defined by the hair being shaved on the sides and leaving a long strip through the top and back. It is a look that grabs attention and is an excellent way to show off your texture, color, and cut. If the punk-inspired appearance is what you are after, but you prefer a more balanced and less daring finish, then play with proportions. Keep less length on the top and opt for faded sides.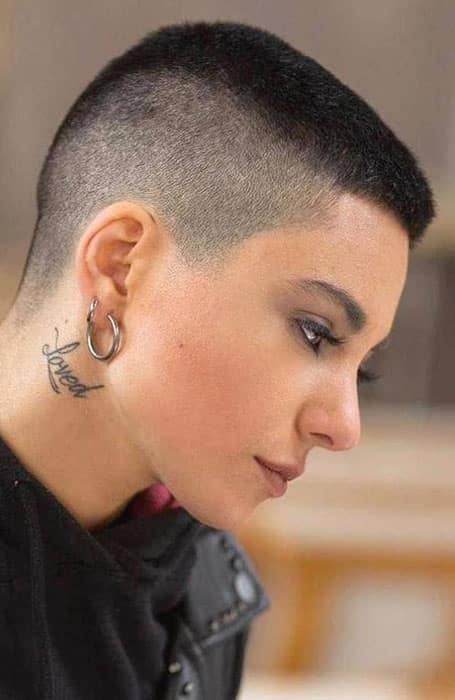 18. Buzz Cut Grey Hair
There is no denying there is something special about grey hair. Whether yours is a result of aging gracefully or it was dyed, it does not matter, as this hue is perfect for showing off your buzz cut and will complement most complexions. Do not be afraid to break away from the classic finish in preference of something more individual. For example, a buzz cut with faded sides or a patterned design.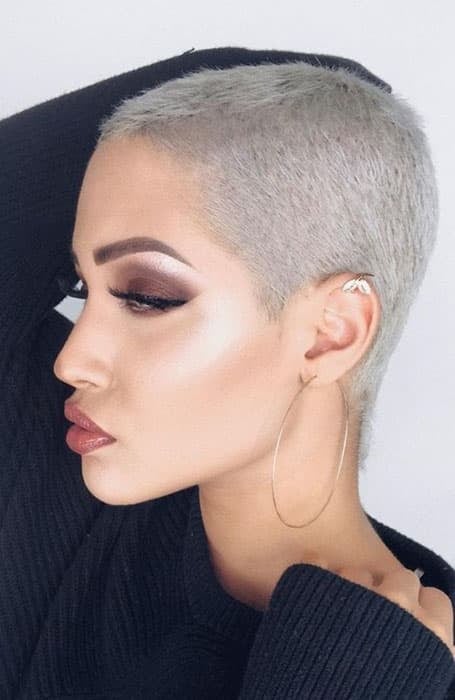 19. Ginger Buzz Cut
A mixture of strawberry blonde and red with rich orange undertones, the ginger hair color is eye-catching and gorgeous. There was a time when the hue was not popular, but in recent years this has changed as more people embrace the beauty of this shade. It is particularly flattering on those with light eyes and skin tones and can be styled in various ways to suit your preference.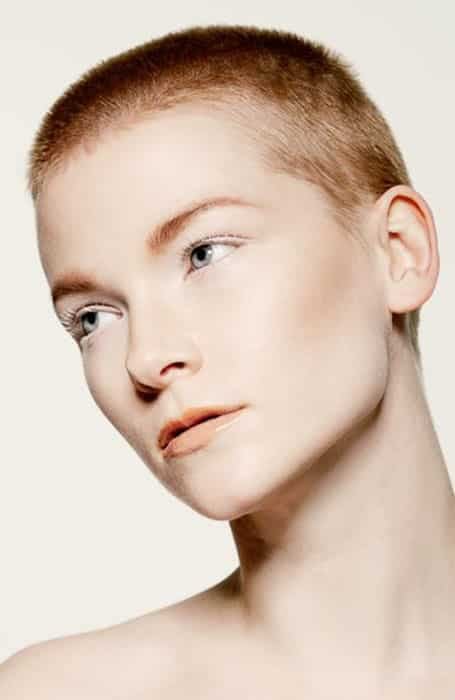 20. Platinum Blonde Buzz Cut
Platinum blonde is the hue associated with attractiveness and sex appeal. It is an undeniably gorgeous shade that will make even the simplest haircut appear interesting. It is the perfect way to lighten your strands and brighten your appearance. There is a downside, though, and that is the color is very hard to maintain. You will require regular trips to the salon to keep it looking its best.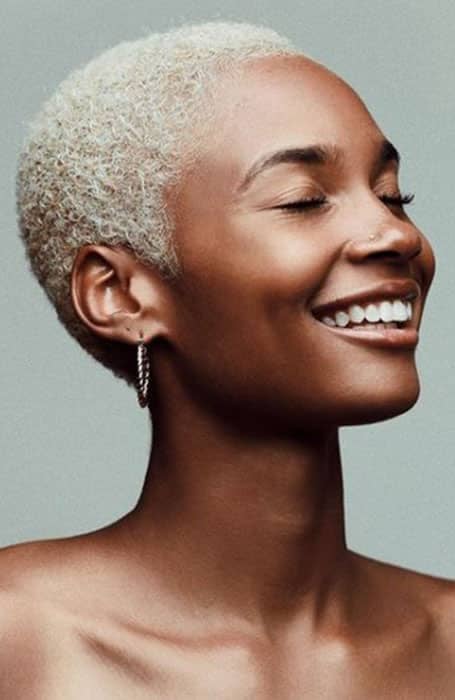 Buzz Cuts for Women FAQs
What is a buzz cut?
A buzz cut is a name given to a short hairstyle that is clipped close to the head. The classic approach will cut the hair around the same length all over, giving you a neat and fuss-free finish that is great for reducing daily styling time. However, the look can be easily modified to suit your preference including complementing your texture.
What length is a buzz cut?
The buzz cut can vary in length, with some preferring to play-up proportions. However, in general, it is a short haircut clipped close to the head. The shortest type of buzz cut is an induction cut, but you can also get a much longer version like the mohawk buzz or the long buzz cut.
Should I get a buzz cut?
If you are looking to transform your appearance and reduce your daily style time, then a buzz cut could be the ideal cut. It is flattering on most face shapes and will complement all textures and hair types. It is also gorgeous on women and will let you express yourself or show off your attitude. The thing to consider before cutting the hair so short is the shape of your head and if there are any imperfections on your scalp, as these will be highlighted.
What would I look like with a buzz?
It can be challenging to know with certainty what you would look like with a buzz cut. The look will complement those with soft features because it can make them more defined. It could be very flattering to your face shape. The best way to get an idea of what you would look like with a short cut would be to experiment with filers on photo apps.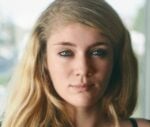 Cailyn Cox holds a degree in journalism and has been working with The Trend Spotter as a writer for over ten years. She has worked with some of the most prestigious women's and men's lifestyle publications. For her, writing is not just a job; it's a passion, which is why each article she writes is approached with such enthusiasm and dedication. She has extensive knowledge of hairstyles, tattoos, and beauty and has made a career out of creating informative articles that appeal to women and men of all ages.
SUBSCRIBE TO OUR NEWSLETTER
Subscribe to our mailing list and get interesting stuff and updates to your email inbox.