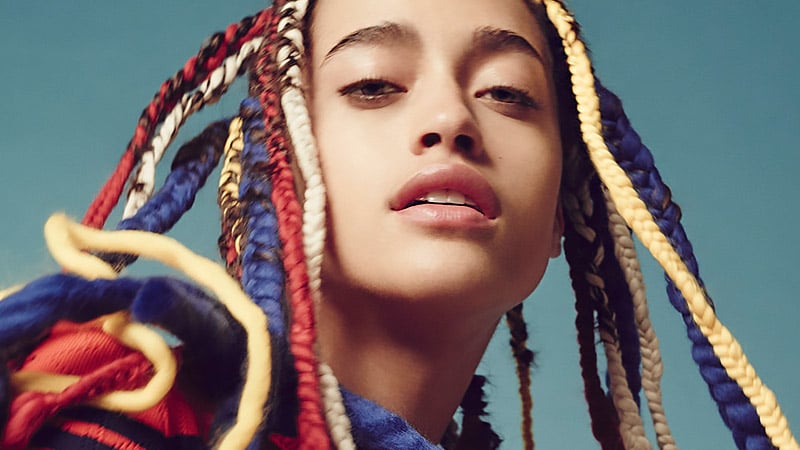 Looking for a hairstyle that's chic and cool? Yarn braids are the perfect way to add a unique touch to your overall look. Versatile, bold and low-maintenance, this style is suitable for a number of different occasions. Whether you have a special event coming up, or you're simply heading to work, these yarn braid hairstyles are sure to spice up your look!
RELATED: 60 Best Braided Hairstyles for Women

1. Short Yarn Braids
If you have short hair, don't think that you can't do anything with it. Yarn braids work well on short hairstyles. There are many creative styles that will easily change up your look and show off your gorgeous face shape.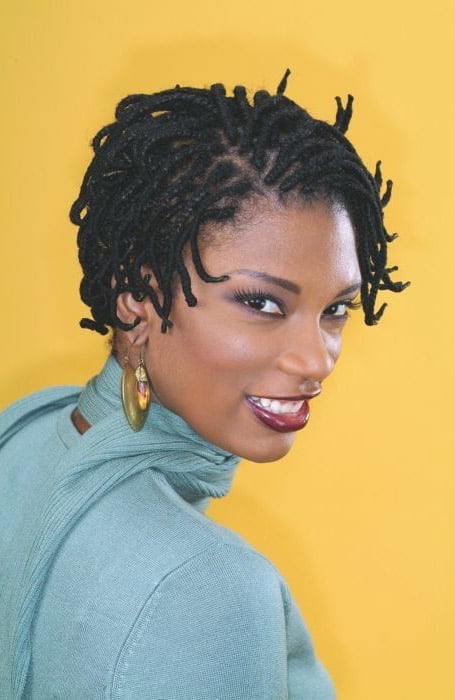 2. Long Yarn Braids
There are various ways to style your long hair. But if you're looking to try something chic and new, why not go for yarn braids? On long hair, this style provides a striking look. Not only will their rope-like appearance look great, but opting for supersized braids will also save you a lot of time during the creation process. Plus, once your braids are finished, you can keep them in for up to eight weeks, depending on your hair type. Just be sure to take them out when your hair begins to frizz!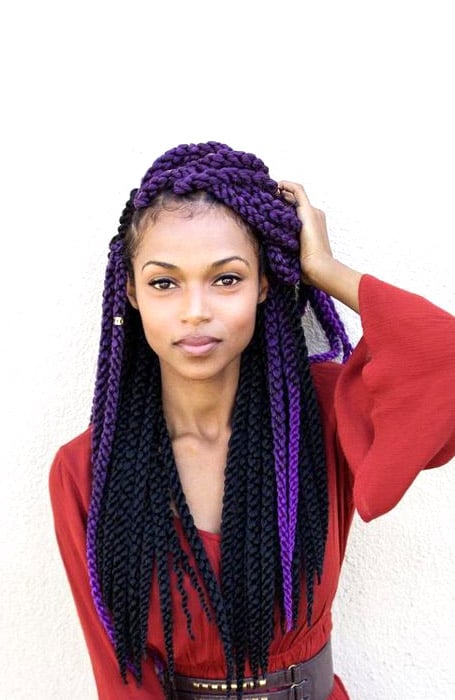 3. Jumbo Yarn Braids
If you have a liking for thick hair, then jumbo yarn braids are the perfect option for you. This chunky and funky style looks especially stunning on those with big eyes and full lips. Not only is this hairstyle fun, but it's also incredibly versatile. It can give you full, healthy-looking locks without needing to use an abundance of hair products.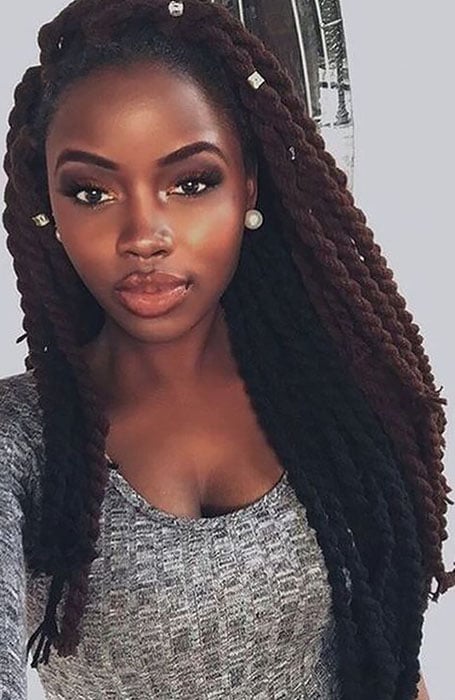 4. Thick Yarn Braids
Yarn braids are a very trendy hairstyle and look great on almost everyone. Plus, they are also suitable for everyday wear. So if you're after a chic day-to-day look, why not try thick braids? For the most long-lasting style, we recommend using a volumizing powder at the roots.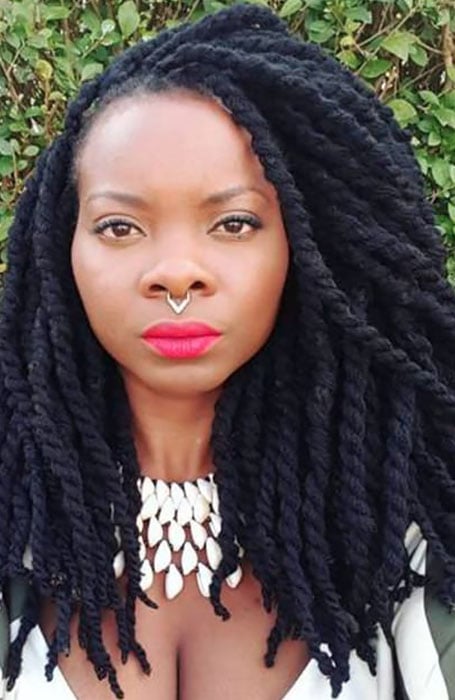 5. Yarn Braids Updo
Braided updos are mesmerizing, and yarn braids are no exception. Plus, they are a great way to beat the heat while looking fabulous! There are so many different options when it comes to updos, from a simple high ponytail or chic and sleek bun to a spunky mohawk or top knot, it just depends on your style! Don't be afraid to play around with your hair until you find a style that suits you.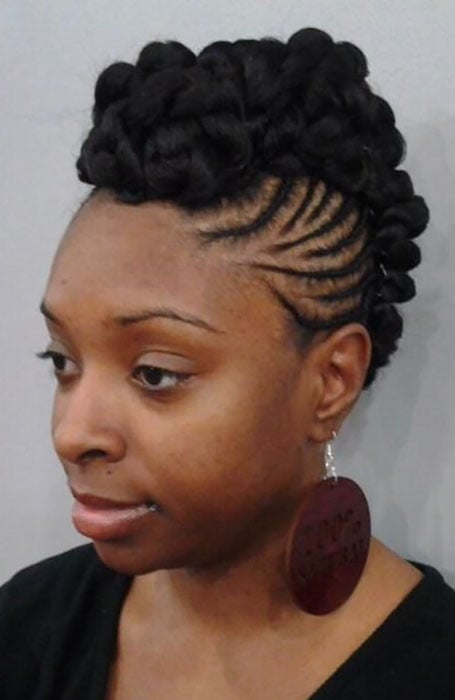 6. Yarn Braids Bun
Yarn braids not only account for funky and crazy hairstyles, but they can also be gathered into an elegant and chic bun. Long hair is best for this style, but short hair will work, too. Not only is a braided bun graceful, but it is also oh-so-simple to do. Just tie your locks up into a ponytail, then twist the hair clockwise until it's formed into the shape you desire. Once the hair is fully twisted, bring the strand towards your head and secure it with a hair tie. Styling it with beaded accessories and colored extensions will add even more vibrancy to it.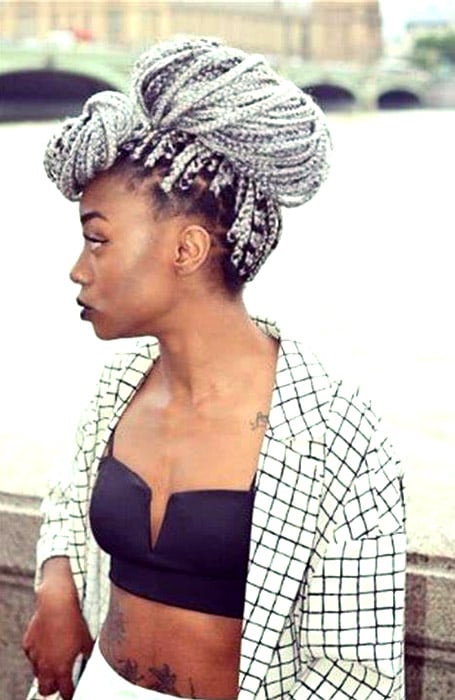 7. Yarn Twists
Creating yarn twists can be heaps of fun, especially if you mix in some exciting colors! Finding yarn that matches your exact hair color may be difficult, so try to get them as close as possible to your own. And accessorize, it'll take your hairstyle level up a notch. Delve into the world of headscarves, hairpins, headbands, beads, and more to revamp your yarn braids. Or if you like edgy looks, try shaving patterns on your head. They look tremendously cool!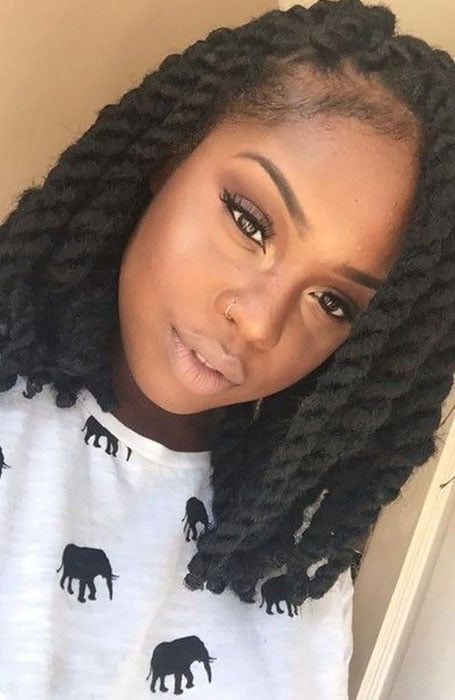 8. Pastel Yarn Braids
If you're after a bold hairstyle, why not try pastel yarn braids! Great for newbies and hair-dye fanatics alike, all kinds of women can rock this gorgeous and girly style! Plus, there are so many shades to choose from, from pink to peach and blue to green.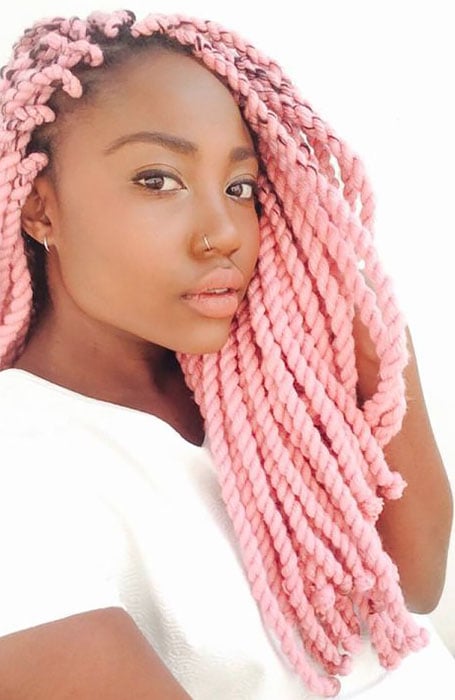 9. Brown Yarn Braids
Looking to add a low-key yet unique twist to your everyday hairstyle? Why not try brown yarn braids! It's an excellent option for those after more natural-looking braids, resulting in a style that is equal parts fresh and simple.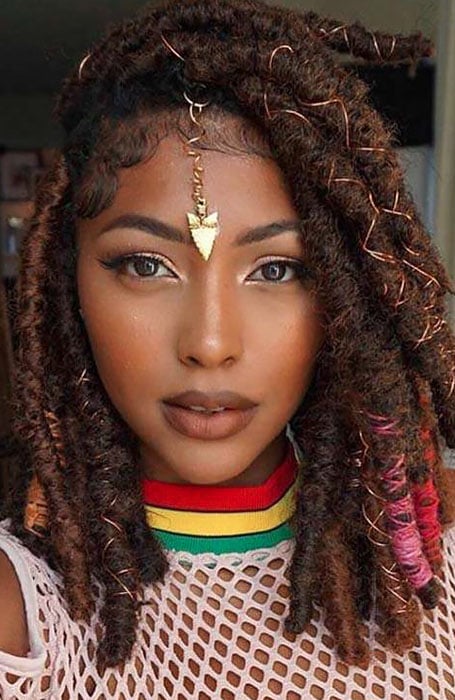 10. Colorful Yarn Braids
For those who like a statement-making style, colorful yarn braids are a fantastic option. All you need to do is choose your perfect hue. Additionally, don't forget to think about the intensity of the color you pick. While vibrant shades are undoubtedly fashion-forward, more subdued tones may be better if you work in an office environment.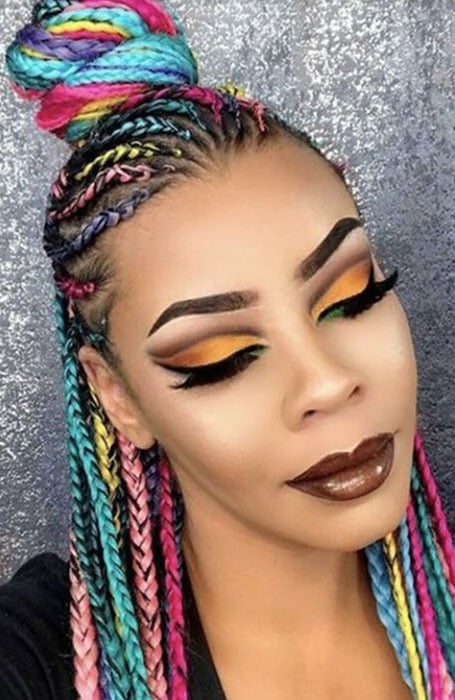 11. Yarn Braids Bob
For a chic and cute hairstyle, a yarn braids bob haircut is the perfect option. Both elegant and versatile, this style looks great on all hair types. What's best is you can wear this style for a few weeks without needing to touch it up. Just add some serum to your braids to ensure a sleek and long-lasting style.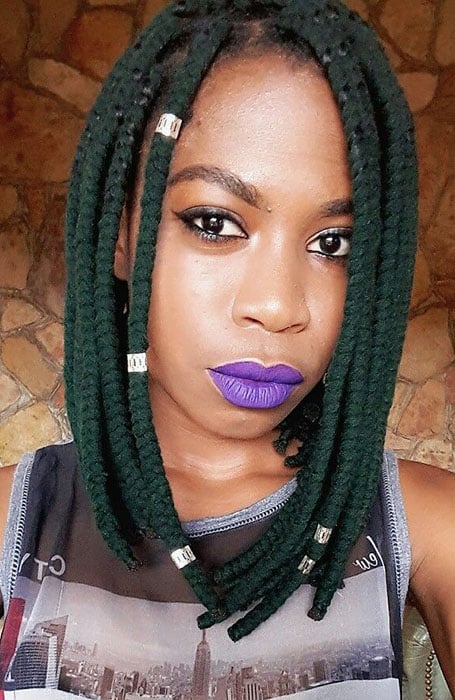 12. Natural Yarn Braids
For a more subtle looking braided style, we recommend choosing a yarn that's closest to your natural hair colour. This will result in a hairstyle that's both stylish and low-key. What's best about this style of braids is that its very effective in protecting your hair during the colder months.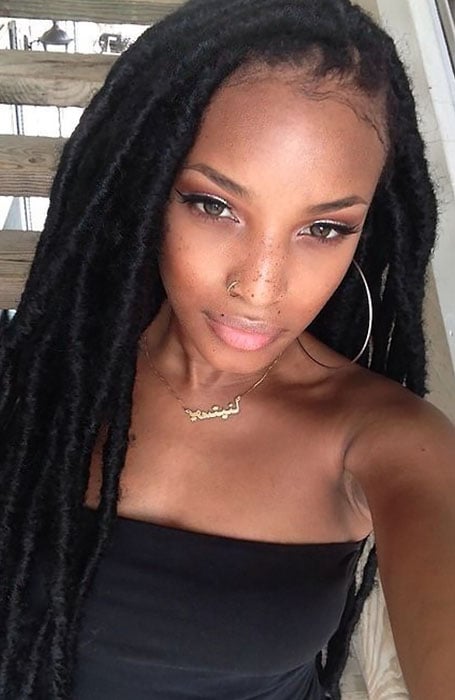 13. Ombre Yarn Braids
Make your yarn braids stand out with ombre effect. If your hair is dark, then make an impression with a grey/white ombre hairdo by braiding in the lighter shade of yarn past your natural hair length. Let your hair flow for everyone to see the mix of dark and light that is a delicious treat to anyone's eyes.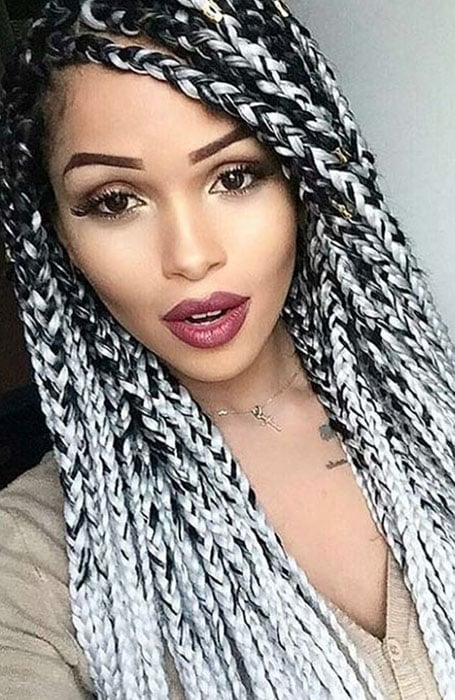 14. Box Braids with Yarn
Box braids are a very popular style due to their ability to protect the hair from damage. Plus, if you choose to braid longer extensions into your hair, you are giving yourself the versatility to rock almost any style. For a more modern update, things like beads and colorful highlights are sure to grab attention.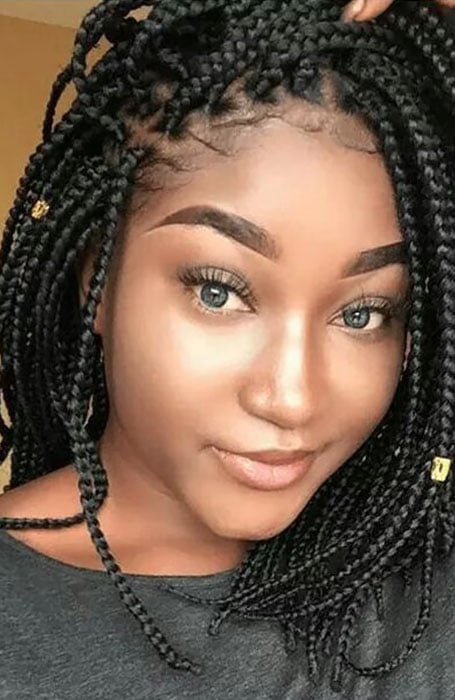 15. Yarn Box Braids
Yarn braids are created from yarn and have a rope-like appearance. They are incredibly versatile and can be worn in various lengths and thicknesses and styled as you wish. You can also create different protective styles using yarn, for example, box braids. Box braids are a gorgeous style done by sectioning the hair into squares which gives them a boxy appearance. These braids are long-lasting and can last for around four to six weeks, letting you take a break from heat styling and reducing daily grooming.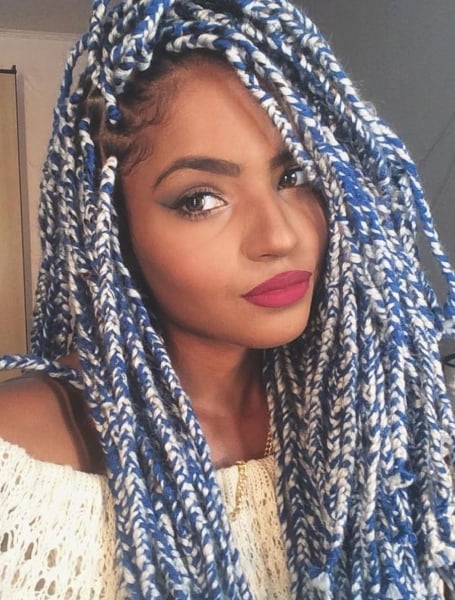 16. Honey Blonde Yarn Braids
Yarn braids last for around eight weeks, and during this time, you can find the protective style of your dreams. These braids look great in different colors, but choosing honey blonde is a wonderful way to brighten your complexion. Honey blonde is a warm hue that is incredibly versatile and suits most skin tones. Yarn braids in this hue will draw attention to the hair and let you express yourself.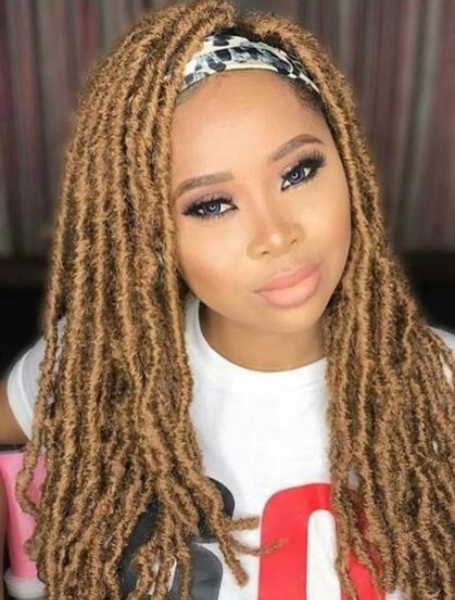 17. African Yarn Braids
African yarn braids refer to a style that can be traced back to Africa. There are several braided styles with origins in various parts of Africa, and these traditional braiding patterns can inspire your protective style. Yarn braids are versatile and can be created in multiple lengths and sizes and styled as you wish. You may want to distinguish them with your choice of hair accessory, which can include cuffs or beads.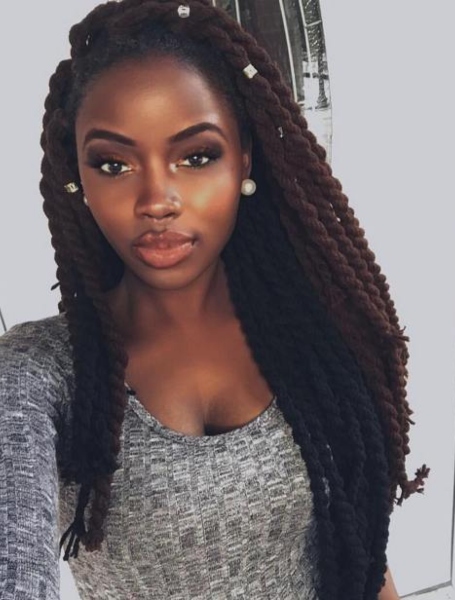 18. Yarn Braids Cornrows
Cornrows are braided close to the scalp using the underhand technique, giving them a raised appearance. Cornrows can be worn on their own or form the foundation for many other braided styles, including yarn braids. The appeal of these braids is that they are lightweight and effortlessly cool. They are also incredibly versatile, long-lasting, and a great way to express yourself with color.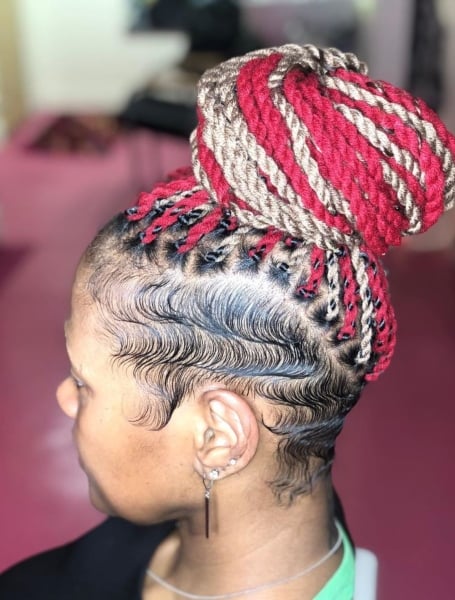 19. Knotless Yarn Braids
Knotless braids refer to the technique used to create them. While many installation methods use knots, this approach is installed seamlessly by braiding extensions into the natural hair. It is much more comfortable and will reduce tension on the scalp. This, in turn, can prevent breakage and damage, making it an appealing option for those with thin or fine hair. Yarn braids are lightweight, making this a fantastic choice. They can be styled as you wish, including in an updo, let loose, and in varying thicknesses and lengths.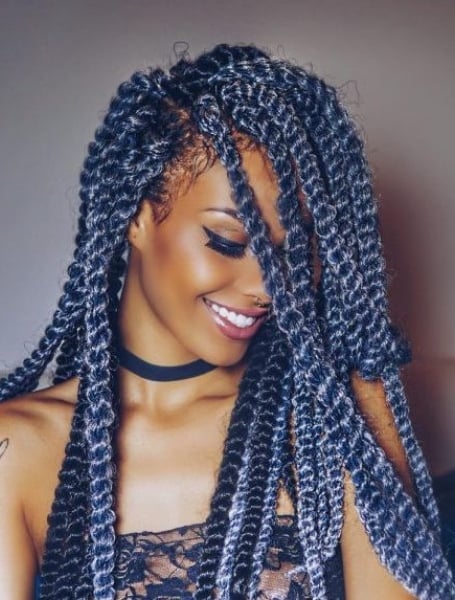 Yarn Braid Hairstyles FAQs
What are Yarn Braids?
Yarn braids are hair extensions that you can add to your locks. They come in a variety of colours and styles, giving you the freedom to experiment with a number of different hairstyles. As well as being quite affordable, this braiding style has become a very unique fashion statement. On top of that, they help to retain moisture in the hair, keeping it safe from damage.
Is yarn braids good for your hair?
Yarn braids are a great protective style for Afro-textured hair that can help retain moisture, protect your tresses from environmental damage, and allow your hair to grow longer. It's also a great way to experiment with style and color. Try to use acrylic yarn rather than wool or cotton, as they can be drying and too heavy. Of course, like any hairstyle, it needs to be looked after, and your hair will need a break everyone once in a while.
How Much Yarn to Use for Yarn Braids?
It depends on the length of your style. We recommend using around 20 strands for each braid, creating anywhere between 30-40 braids, depending on your hair type. Unlike hair extensions, the price of your yarn doesn't necessarily make it better for your hair. In general, we advise staying away from any wool blends and instead choose 100 per cent acrylic yarn. Some, however, go the wool route for their braids and find it protects their kinky curls from frizziness. As a rule, we recommend having two bundles of yarn to braid your hair.
What hairstyles can you do with braids?
From short to long, there are endless styles you can do with yarn braids. Wear them up in a bun, a half bun, braided into an updo, twisted, box braided, or even as an ombre style. You can also wear them thick, thin, or jumbo, as well as any color under the sun, plus you can add accessories such as clips and beads, which look fabulous for special occasions.
Can you swim with yarn braids?
Ideally, you'll want to avoid swimming with your yarn braids unless you're wearing a swimming cap to keep them dry. The water will soak them through, making them extremely heavy, and it takes ages for them to dry. The weight of the water can also cause the braids to pull out of your hair, not to mention give you a headache. If you're washing your hair, only wash and condition your roots with diluted products.
Can yarn braids turn into dreads?
You can use yarn braids to start dreads, but it's not for everyone and won't always look great. The process involves braiding the hair, then as it grows out, continuing to twist the new growth until it locks up. Keep in mind, though, while some locking may happen over time in the braid, the shape will still be visible, so ideally, as the hair grows, you'd cut off the braided ends. As such, it works better for starting dreadlocks in shorter hair. Alternatively, you can use yarn to create faux dreadlocks, which look amazing.
How do you seal yarn braids?
There are multiple ways to seal the ends of yarn braids; however, the most common involve fire or heat. You can twist or knot the ends and melt the yarn with a lighter, trimming off any excess. Alternatively, you can tie off, then trim, and melt the ends with a flat iron, which is a slightly less risky option. Finally, for a non-fire choice, brush out the last inch of the braid to matte it slightly, and then plait to the end, giving it a final twist between your fingers. The matting will help the strands hold together.
How to Style Yarn Braids
There are a number of cute and fashionable ways to style your yarn braids. From updos and dreads to box braids and twists, the sky is the limit! Got a special occasion coming up? Yarn can easily be dressed up and accessorized just like synthetic braids. Funky clips and beads are super easy to mix into your braids. You can also try dressing them up with different colors of yarn. The key to pulling off this style is to keep your braids moisturized. Just use a leave-in conditioner or treatment oil. And don't forget to keep your scalp protected in the rain or on particularly cold days!
SUBSCRIBE TO OUR NEWSLETTER
Subscribe to our mailing list and get interesting stuff and updates to your email inbox.