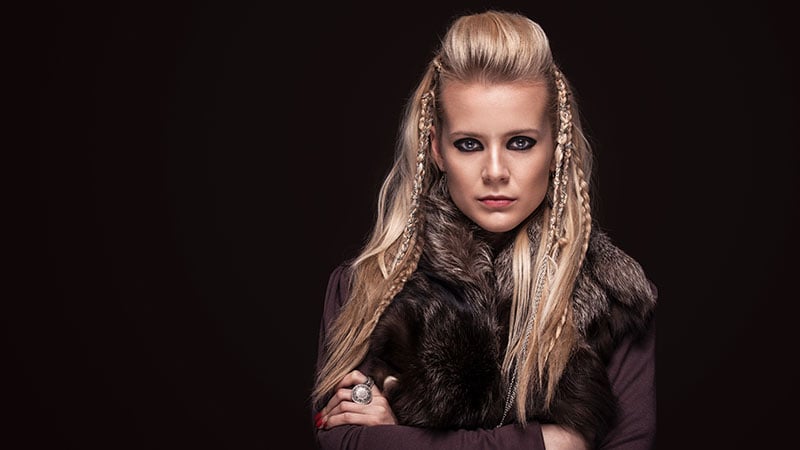 The Vikings are celebrated for being travelers and formidable warriors. Their perceived lack of fear and eagerness for battle has made them synonymous with strength, power, and resilience. This is why their images and likeness have inspired body art trends. But their unique hairstyles, often worn long and braided, are also exciting and fun, letting you get creative with your hair. You may need to practice your braiding skills because many of the Viking hairstyles for women involve intricate braids, but you can pair them with an undercut or a fade or try out hair accessories like beads (or even a crown). Be bold and enjoy the attention your new look will bring with one of these badass Viking hairstyles for women.
Viking Hairstyles for Women
1. Viking Hairstyle With Double Side Braid
You'll need to practice braiding skills to create a Viking hairstyle with a double-side braid. The brilliance of this hairstyle is its perfect balance of simplicity and complexity; the braids are the defining feature, while the rest of your strands are left loose. It can be worn anywhere: wear it to go about your errands like a girl boss, or style it for a special event like a wedding. You make the rules, and don't let anyone else tell you otherwise.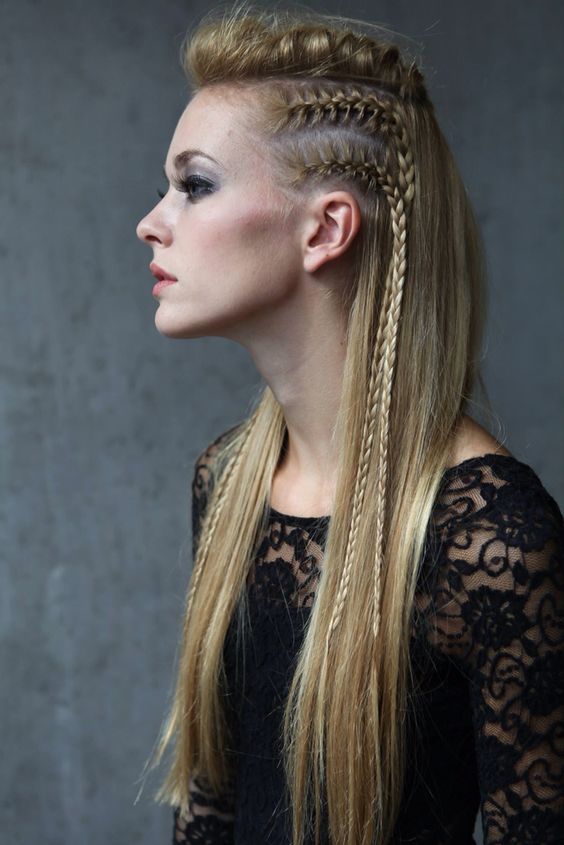 2. Shield Maiden Braids
If you are looking for an undeniably cool and badass look, try replicating one of history's most powerful female warriors, the shield maiden. Their hair was expressive and could be functional (to keep the strands out of the eyes) or used to intimidate. An excellent option would be to pair your braids with an undercut, creating a contrast but also making the hair feel less bulky and cooler.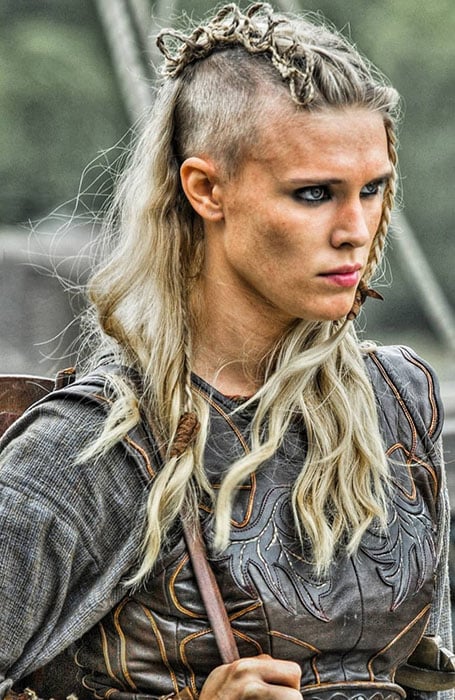 3. Short Viking Hairstyle
Viking hairstyles are often worn long and with multiple braids. But that is not to say you cannot replicate the look with short hair. While you will have fewer options to get creative with your braids, the appeal is how effortlessly chic a short Viking hairstyle will look. Cornrows are a great option as they are braided close to the scalp using the underhand technique. Take them one step further by adding beads or feathers to the ends.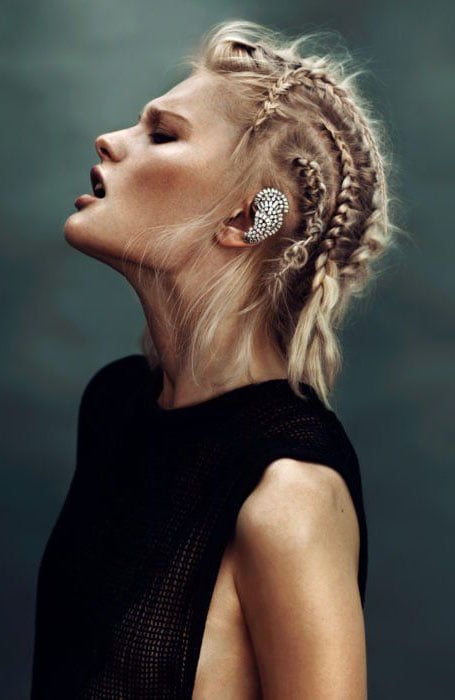 4. Traditional Viking Hairstyle
Never fear if a standard updo or a simple braided hairstyle is not to your liking. A much cooler alternative will let you have fun with your hair and get creative. Let us introduce you to the traditional Viking hairstyle, a look inspired by the formidable warriors of the past and a great way to channel your inner strength and resilience. Experiment with different braids in varying thicknesses to create your perfect look.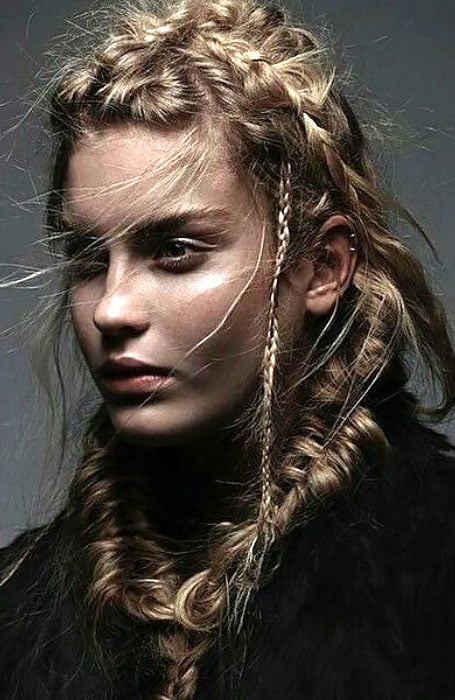 5. Viking Bubble Braid Ponytail With Side Braids
We love the bubble braid ponytail because of how easy it is to create, but if you're looking for a more daring way to style it, why not transform it into a Viking hairstyle? This can be done by adding side braids and adorning the hair with beads or other gems to give it a unique finish. Don't be afraid to go bold. This look is about standing out from the crowd and embracing your uniqueness!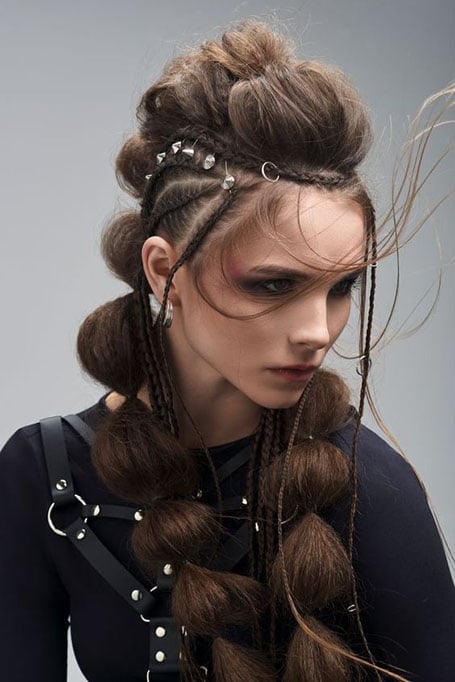 6. Viking Crown Braid Hairstyle
Why not try a crown braid for a more romantic approach to the Viking hairstyle? This braided style is defined by how the hair wraps around the head, creating the appearance of a crown. But to give it a more unique twist, you can add thin, individual plaits to the rest of the hair, adding to the texture and creating a gorgeous, carefree finish.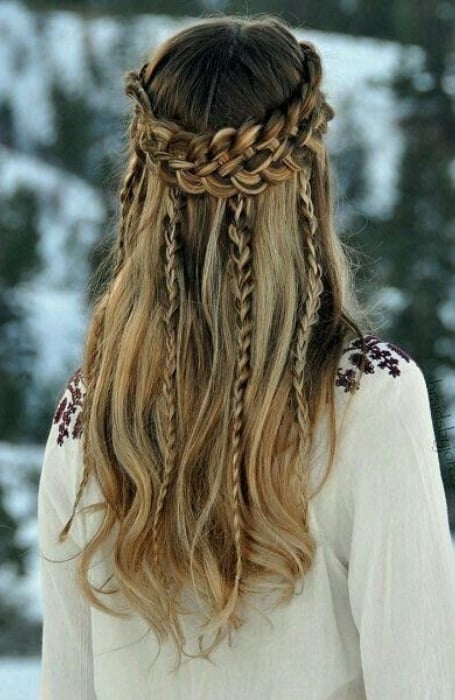 7. Viking Lagertha Hairstyle
Viking legend states that Lagertha was among the most powerful and skilled warriors. She was a shield maiden, and although historically, it can be challenging to know exactly how she would have worn her hair, we can take inspiration from the series and documentaries created around her. This look works best with naturally textured hair and paired with top braids (keeping the hair out of the face).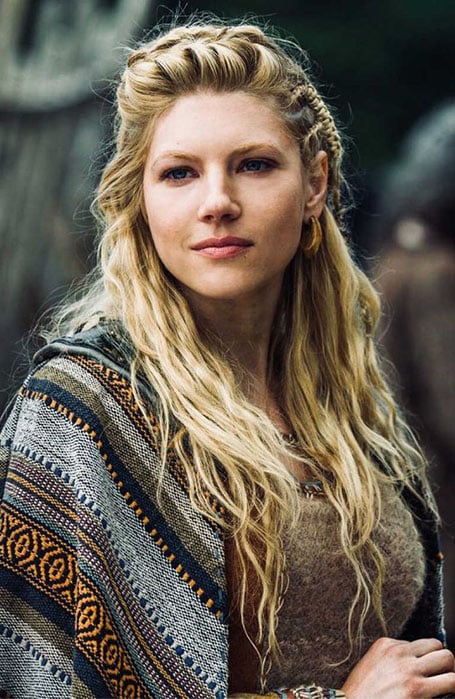 8. Viking Dreadlocks
Dreadlocks take time and patience to create, but if you have that in you, you may find they're worth the effort. These rope-like strands are incredibly interesting and are a great way to draw attention to your appearance. But they can also feel heavy and bulky, so counteract this with an undercut to give you the ultimate Viking dreadlocks. You can also pull the hair into a ponytail at the back for a more practical finish.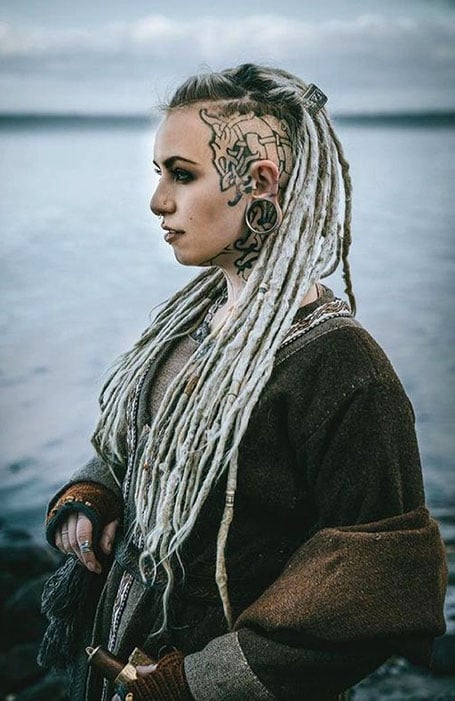 9. Long Straight Hair With Head Crown
When you see pictures of Viking women, you may see their hair long and flowing. It could be wavy and deliberately messy, but don't let anyone tell you you cannot create the ultimate style with straight hair and a head crown. It's one of the easiest ways to style your strands and will make a beautiful, romantic finish. Keep this look for your wedding day and wow your guests!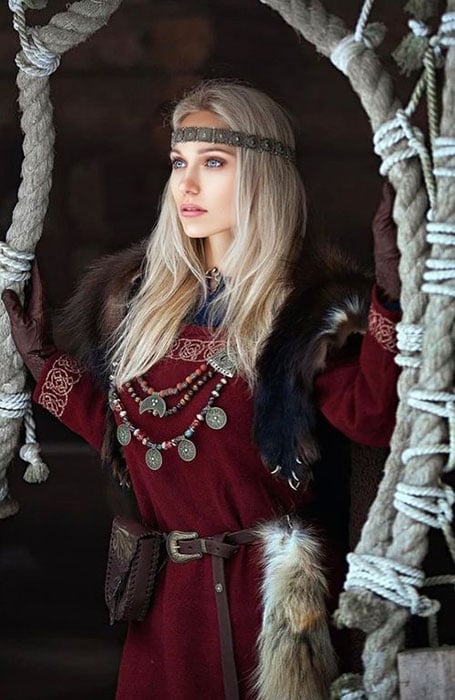 10. Ginger Viking Hairstyle
The Vikings are of Scandinavian descent and are often thought to have had blonde hair. But this is not the only hue that can replicate the hairstyles. Ginger hair is a stunning blend of red and orange hues and is an excellent way to make your Viking hairstyle more noticeable. Have fun with your braids, and know that they will turn heads!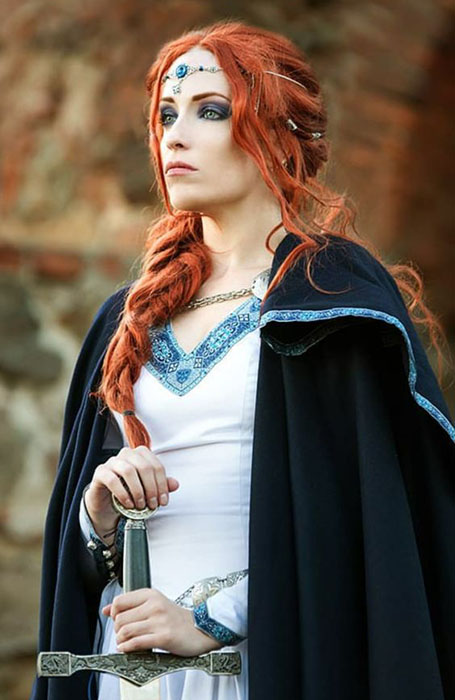 11. Decorated Braids Viking Braids
Viking hairstyles can be a bit intimidating, but this is what makes them so great. They are one of the most expressive looks you can try, and there is no right or wrong way to wear them. This gives you the opportunity to get super creative with styling, and decorated Viking braids are an excellent way to add meaning. Choose beads with rune symbols or mix and match different metals.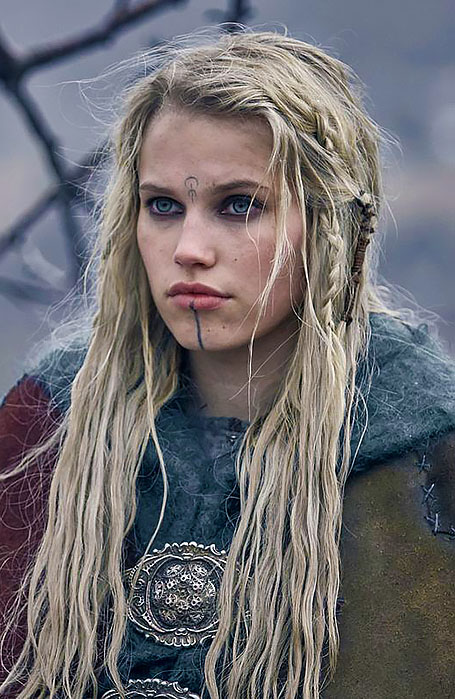 12. Viking Half Up Half Down Hairstyle
What we love about the Viking half up half, down hairstyle is its practicality. The top part of the hair is pulled up and away from the face. This can be done with a top braid and side braids, then contrasted by leaving the rest of your strands loose. Try loops, twists, or tight plaits. If you don't have naturally textured hair invest in a good texturizing spray to create a more voluminous and carefree finish.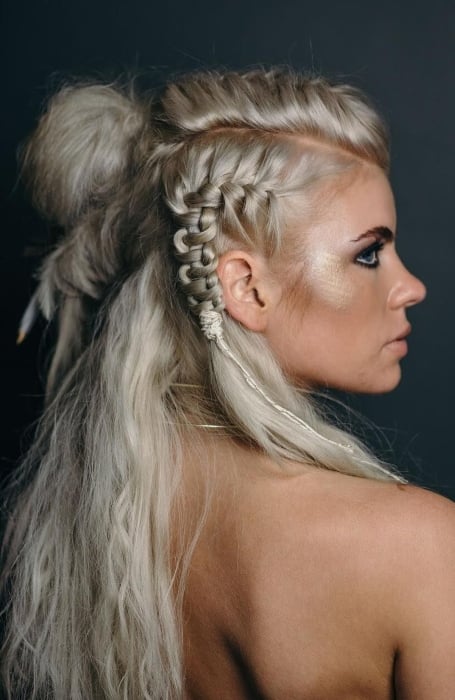 How to do a Viking Hairstyle
There are so many Viking hairstyles to choose from, but almost all involve some braided hairstyle. This could be intricate loops, thin and long plaits, chunky braids, or crown braids. If you have been looking for inspiration to help you get started, this YouTube video could be just what you've been searching for, and adding the string also creates a unique finish.
STEPS:
First, you want to split the hair so that the hair on the crown is sectioned and tied up (you will complete the look here later).
Then split the hair into two sections on either side of the head. Make a rope braid using the bottom section of the hair. Then make another using the top section with a thin strand (you can watch how this is done for a better understanding). Once you have completed the one side, begin on the other.
This next part is complicated to create but involves a snake braid (creating a brilliant contrast with the rope braid beneath it).
Once the hair on either side of the head is finished, you will focus on the hair on the crown. This will be transformed into a half-French braid. It will eventually feed into the hair on the sides to create a more blended finish.
The look works best with textured hair. If your hair is not naturally wavy, you can use a heat tool to create this effect.
Viking Hairstyles Women FAQs
What hairstyle did Viking women have?
Historically there is not much evidence to pinpoint the exact hairstyles that Viking women wore. However, it is a commonly accepted idea that they braided their hair. The modern interpretation lets you get creative with your own hairstyle, combining several braids and styling your hair as you wish. This includes loops, chunky plaits, ribbon knots, and crown braids. It is also an excellent opportunity to incorporate accessories like beads.
How did female Vikings wear their hair?
It is believed that female Vikings wore their hair long and in braids. It could be a combination of wearing the hair half up and half down or all up with intricate braiding. There is also the suggestion that how they wore their hair differed depending on their marital status. Married women wore it up, while unmarried had their hair down with braids.
Is it OK to wear Viking braids?
Many braided styles can be traced back to African tribes, and replicating these hairstyles is considered cultural appropriation. The same does not apply to Viking braids, as many of the hairstyles you will try have been inspired by the looks rather than an exact replica.
SUBSCRIBE TO OUR NEWSLETTER
Subscribe to our mailing list and get interesting stuff and updates to your email inbox.