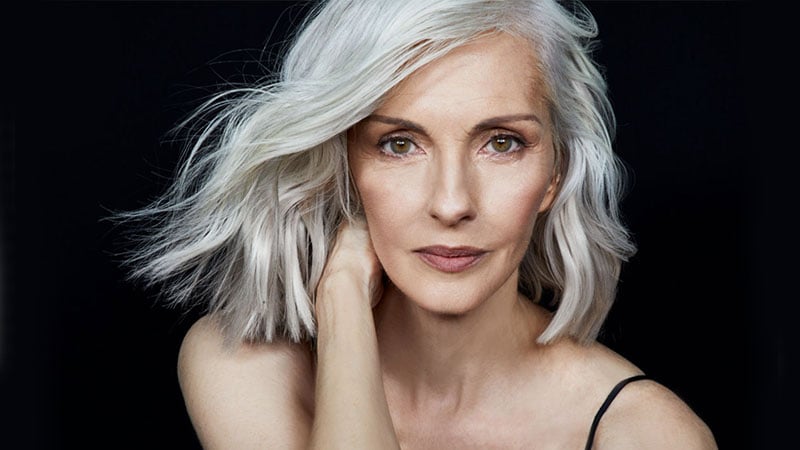 Our hair naturally becomes thinner as we age, and the growth rate slows. You may also find that your hair has become more brittle and challenging to style, but these problems can be eliminated with the right look. From cute, short hairstyles that are low-maintenance and effortlessly chic to long hair that looks glamorous and sophisticated, there is a hairstyle to suit every preference. You will find the perfect look to complement your hair texture and length and draw attention to your face, highlighting your features. Instead, you do not have to stick to the classic hairstyles and can opt for something modern and fun. Interested? We have all the inspiration you need with these best hairstyles for older women.
RELATED: 50 Glamorous Hairstyles for Women Over 60
RELATED: 60 Youthful Hairstyles for Women Over 50
1. Bob Haircut
The bob haircut is one of the most classic and versatile hairstyles and is great for women of all ages. The cut can be easily adapted to suit your hair texture and type and can be personalized with different bangs. For older women, side bangs or a side part are particularly flattering because they are low-maintenance but will also draw attention to the face and highlight your features.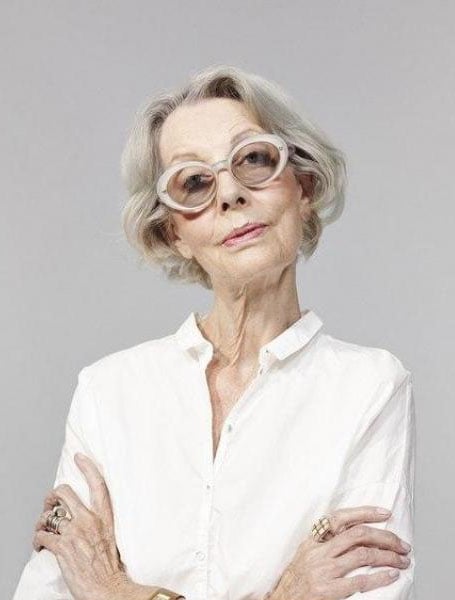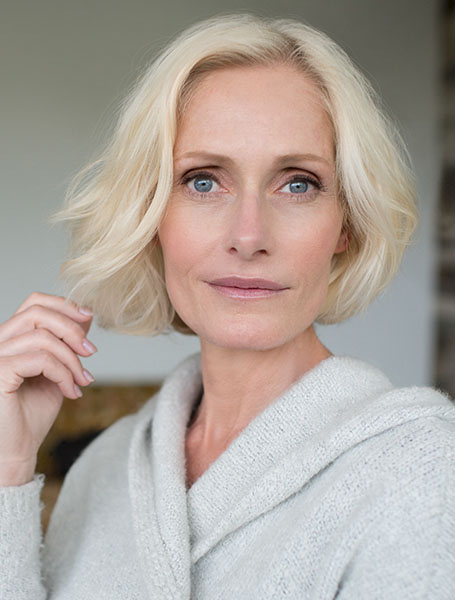 2. Lob Haircut
The lob haircut is a longer bob cut to shoulder length. This gives you versatility with styling and is an excellent choice for someone who wants to keep their hair short but still has the illusion of length. The lob can be easily adapted to your hair type and can be styled to complement your face shape. Adding layers to the hair is also beneficial because it can make it look fuller and thicker.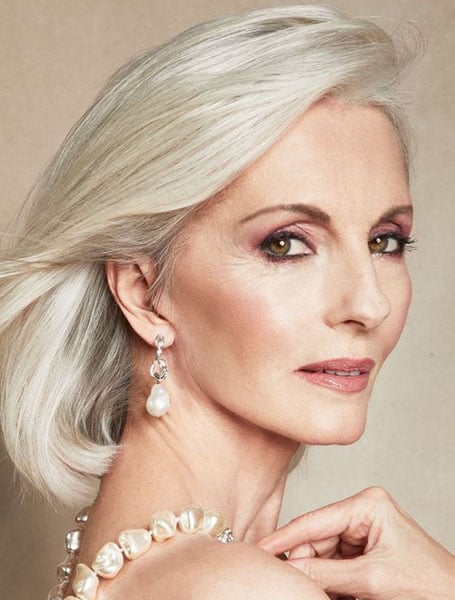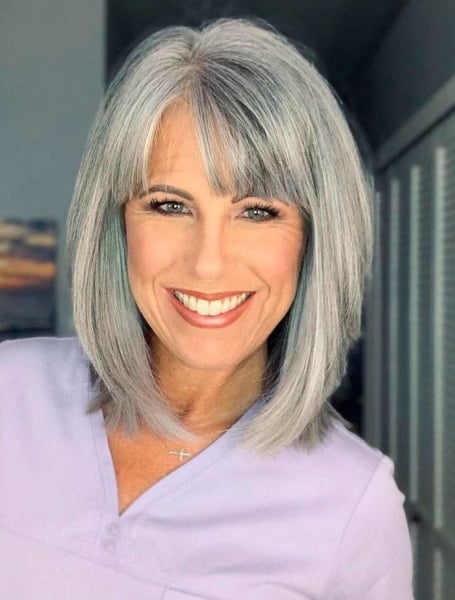 3. Pixie Cut
One of the chicest hairstyles for older women is the pixie cut. The cut is defined by keeping the hair short on the back and sides and longer on the top. It is flattering on most face shapes and works well with all hair types. It is also low-maintenance and easy to care for. As we age, our hair naturally thins, and the pixie cut can be an excellent way to ensure the hair is kept looking full and healthy.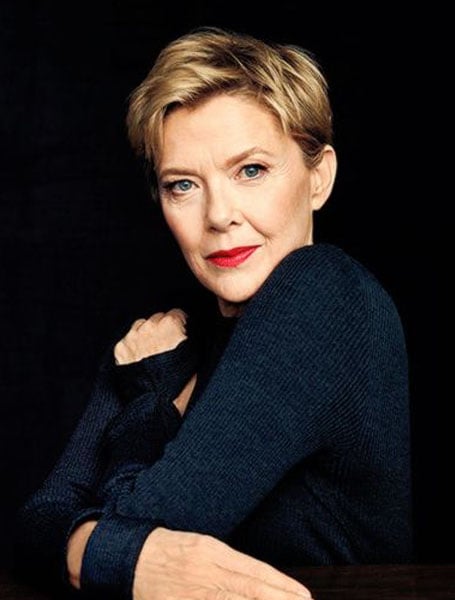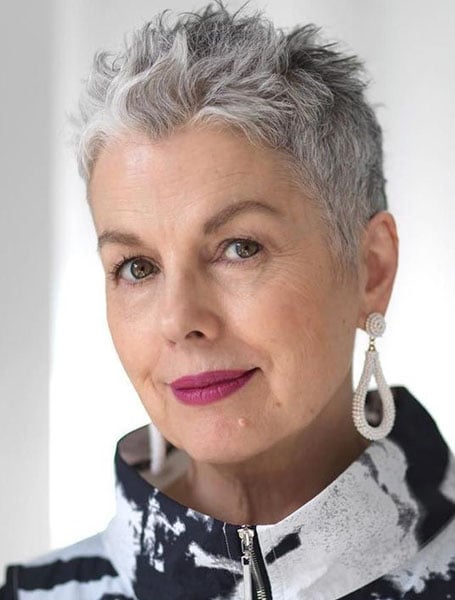 4. Shag Hairstyle
What is not to love about the shag hairstyle? This cut is defined by the choppy layers that give the hair movement. The shag also keeps fullness at the crown, making the hair appear thicker and fuller, which can be incredibly flattering. The appeal of the shag is that it is low-maintenance and easily adapted to complement your hair type.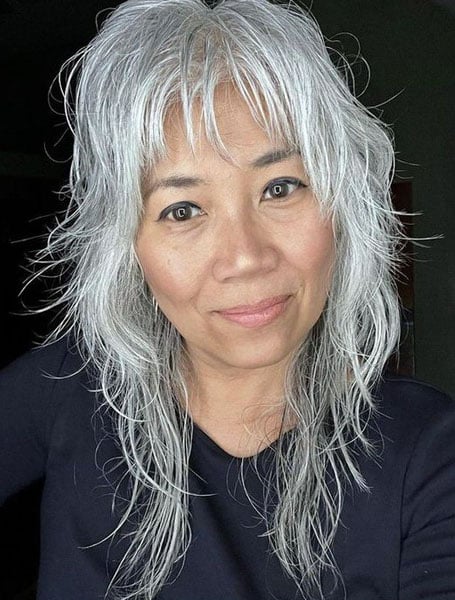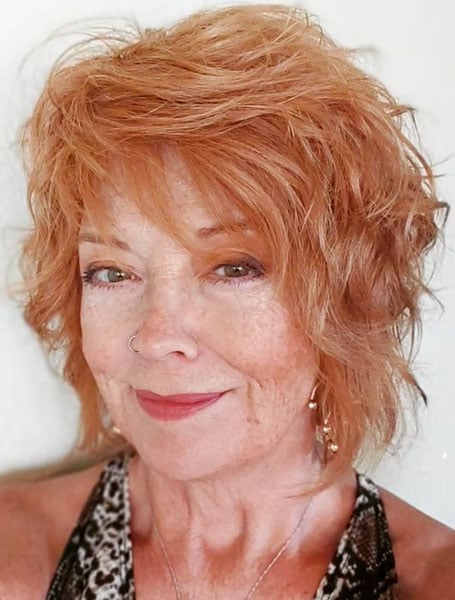 5. Voluminous Natural Curls
Natural curls refer to hair that has not been chemically or heat styled. Embracing your natural hair can make a powerful statement, but it is also a gorgeous way to wear it because it will give you voluminous curls full of bounce. As women age, most decide to cut their hair shorter because it looks fuller, and thicker, and requires less maintenance.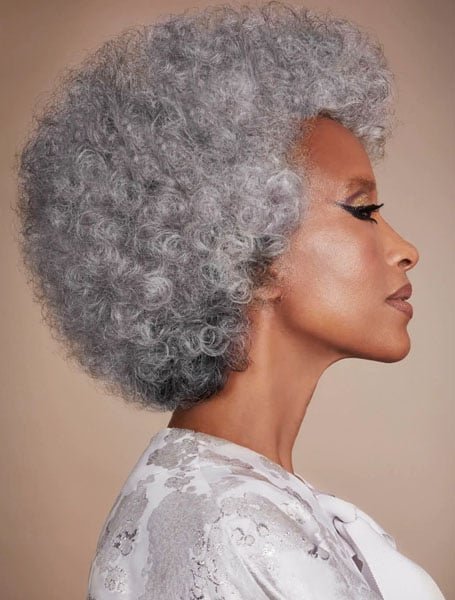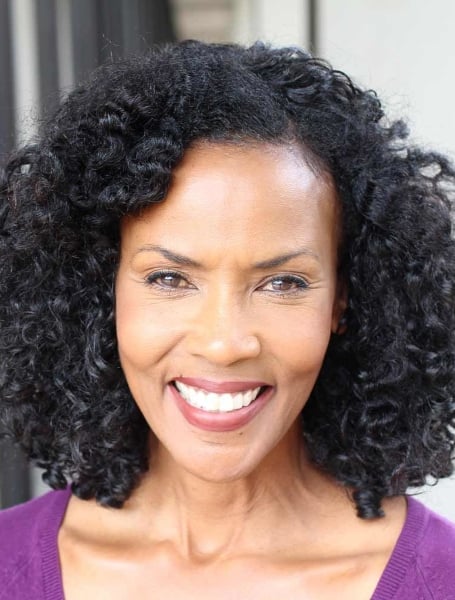 6. Layered Hair
Layering is an excellent addition to most haircuts and is beneficial for creating movement and fullness. Layered hair can remove some of the bulk and weight for thick hair, whereas, for thin and fine hair, it can make it appear thicker. Strategically placing the layers around the face can also be flattering and draw attention to your features.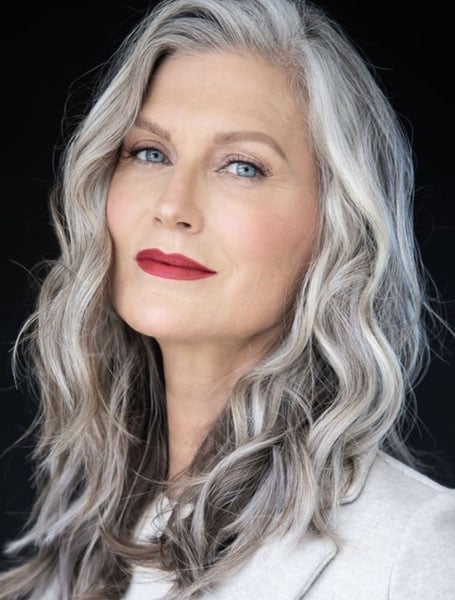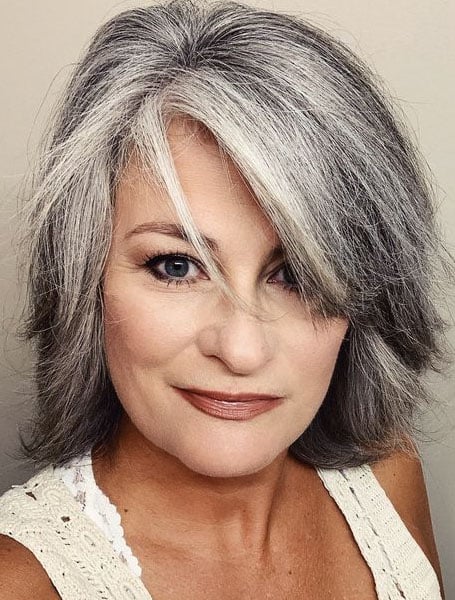 7. Loose Curls
Few hairstyles are as romantic as loose curls, which can soften your features. You can wear your curls long or medium length, depending on your preference. Curly hair looks fuller but is also excellent for achieving movement. You can sweep the hair backward, opening up the face, or let the curls fall gently against it. You may also wish to cut long layers into the hair to give it more shape.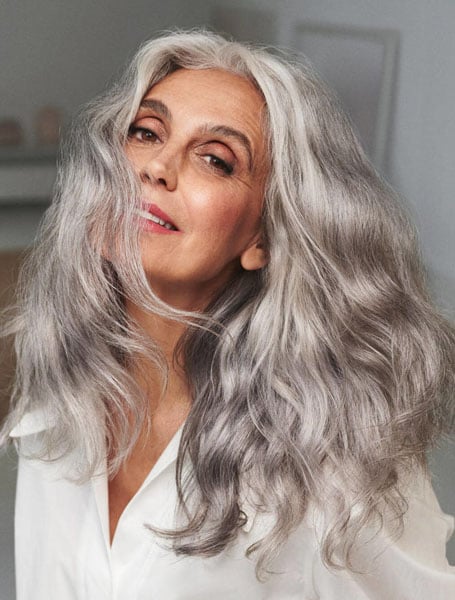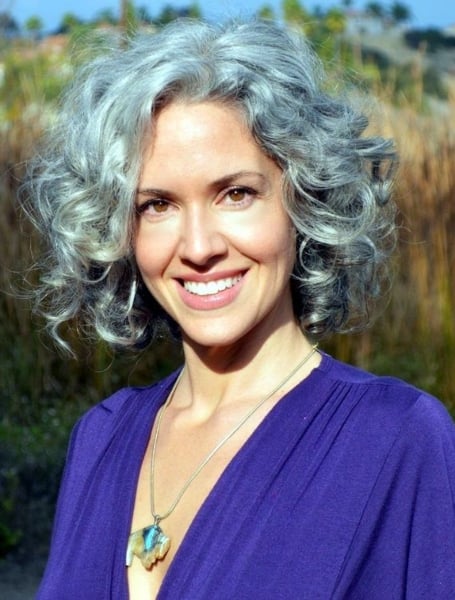 8. Modern Perm
The traditional perms featured stiff, coily hair, but the modern approach is more wearable and versatile. You can create beachy waves, soft, loose curls, and everything in between. The appeal of the modern perm is that you can alter your natural hair texture or enhance your curls, and your chosen texture can create fullness and thickness. This is flattering for older women as the hair naturally loses thickness with age.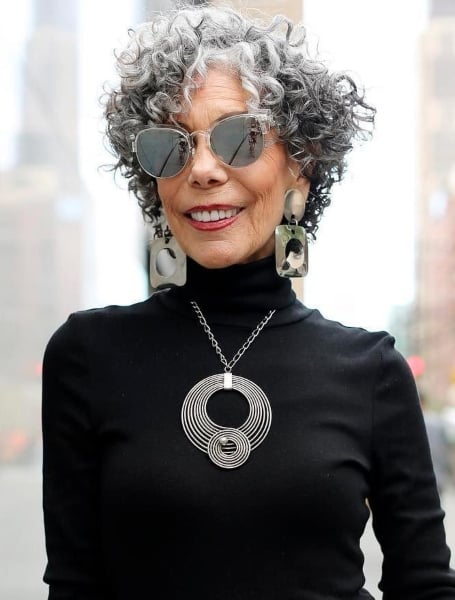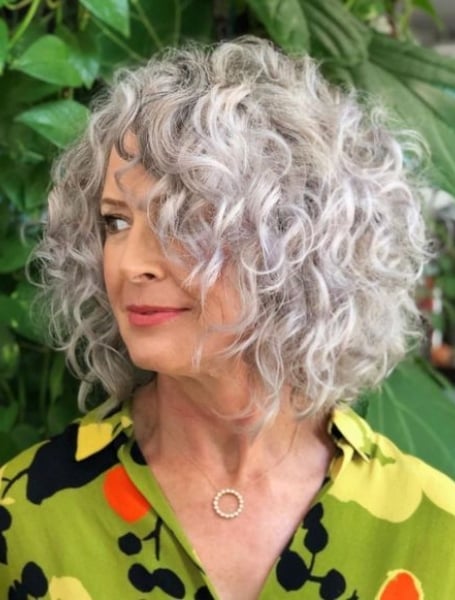 9. Blunt Bangs
Bangs are an excellent addition to most hairstyles. They can also create a youthful finish and are fantastic for drawing attention to the face. Blunt bangs are cut straight, without layers. They work best on straight hair textures and are one of the highest maintenance bang styles, but they are appealing because they can make a statement and highlight your facial features.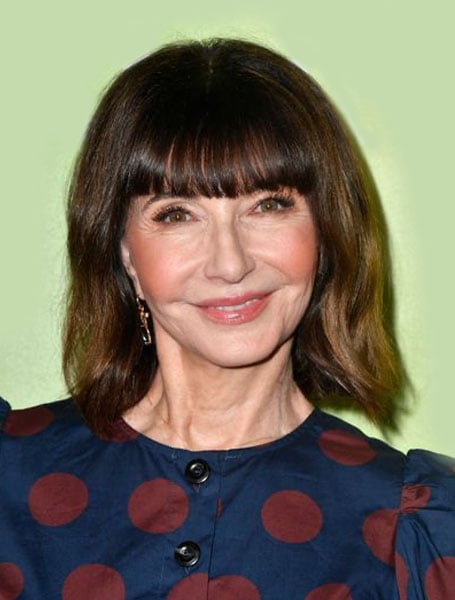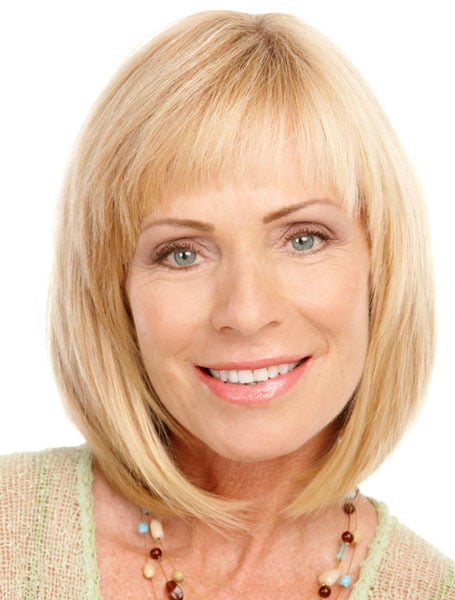 10. Soft Curtain Bangs
One of the easier fringed styles to pull off is curtain bangs. These bangs are parted in the middle or slightly to the side, which helps to frame the face. It draws attention to the cheekbones and eyes, specifically. The appeal of curtain bangs is they can be adapted to suit all hair textures and worn at different lengths, depending on your preference. They are great for older women and can give you a youthful glow.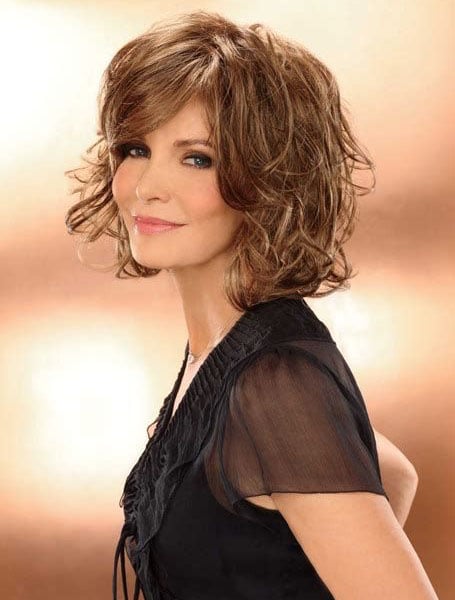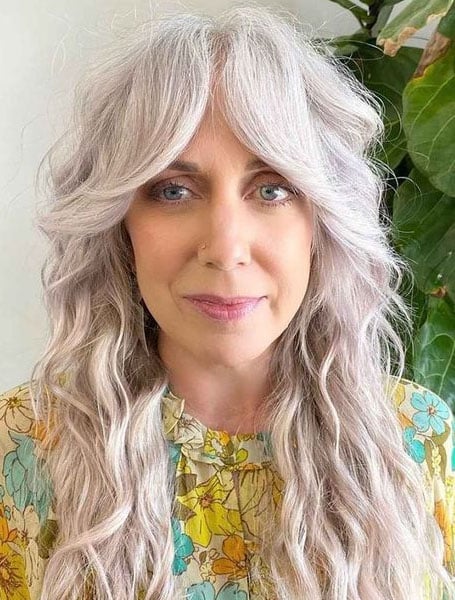 11. Combed Back Hairstyle
The combed-back hairstyle is simple and easy to achieve. It is done by combining the hair backward, away from the hairline, which will make your face more open and highlight your features. It is also an excellent way to give your hair volume, making it look fuller and thicker at the crown. The style can be achieved with most hairstyles and textures.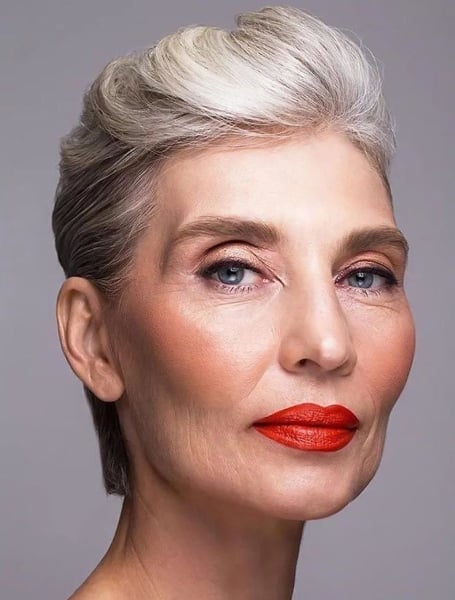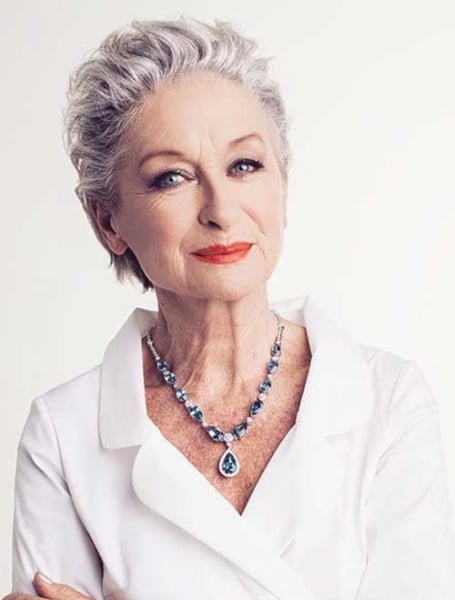 12. Wolf Cut
The wolf cut is a modern style that combines two haircuts; the shag and the mullet. This hairstyle has a lot to like, and the heavy layers give the hair movement and volume. The hair tends to lose volume and fullness with age, and this hairstyle will counteract that. It is also easy to style and effortlessly chic.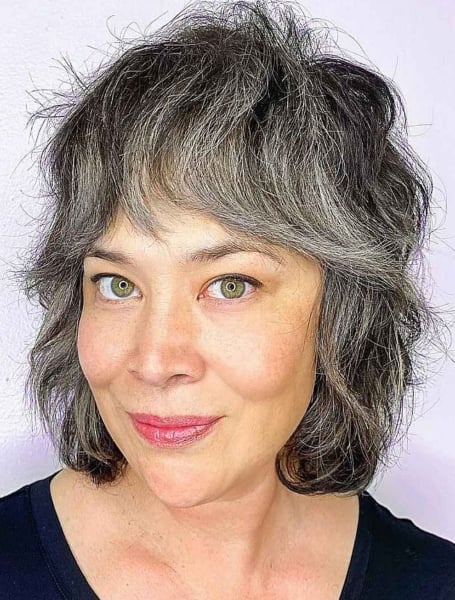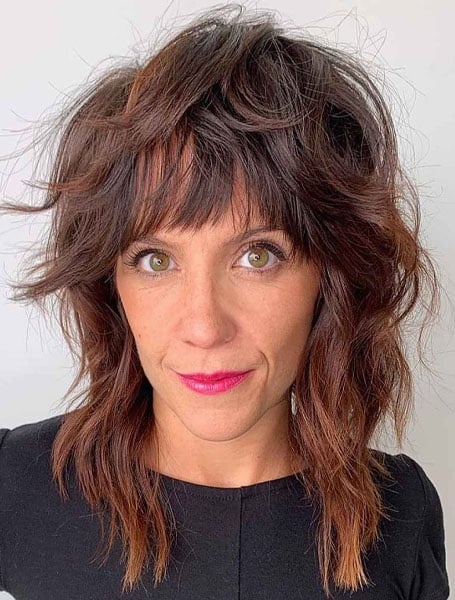 13. Long Wavy Layered Hair
Wavy hair is one of the most sought-after hair textures because it is full of movement and creates natural volume. Depending on your preference, you can wear short or long hair and add long layers to it to give your hairstyle more shape. Layered hair is also flattering on thinning hair, creating the illusion of thickness.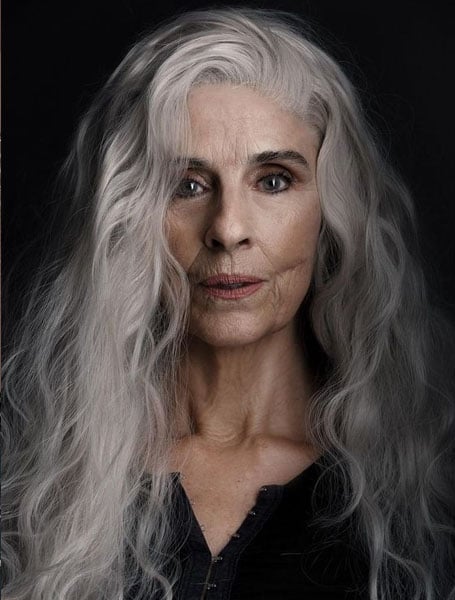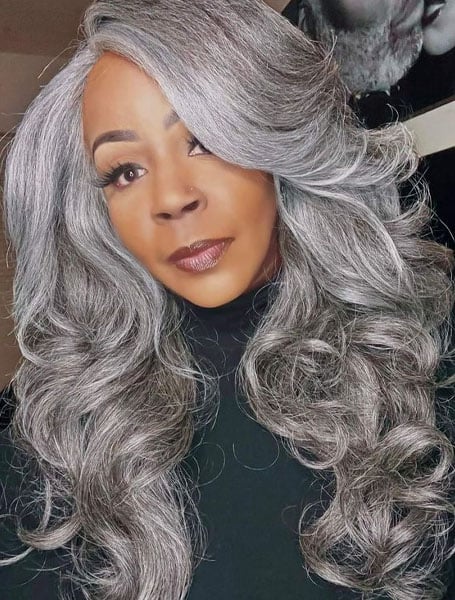 14. Low Ponytail
The ponytail is a simple, versatile hairstyle ideal for all occasions. There are many ways to style the ponytail, including wearing it low. This is appealing as women with shorter hair can wear it, which will not put as much tension on the scalp. Your ponytail can be styled to be sleek for a classic finish or deliberately messy for a laidback aesthetic.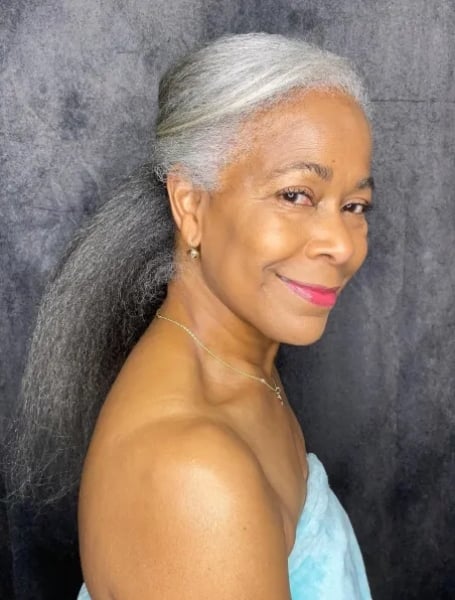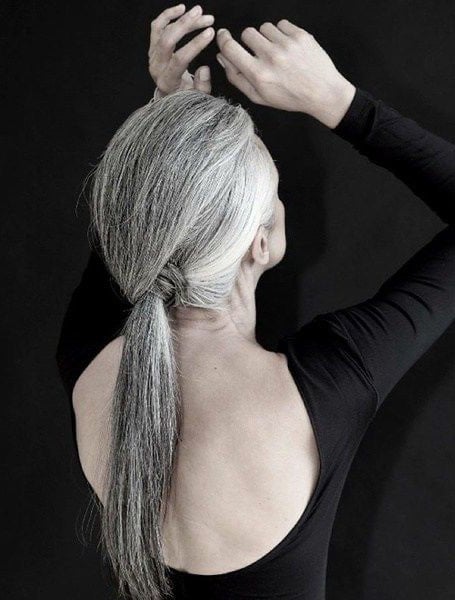 15. Side Swept Bob
The bob haircut is ideal for women of all ages and can be adapted to suit your preference and complement your hair texture. Despite the classic shape of the cut, you can personalize it with how you wear the hair, including styling it to the side, which will draw attention to one side of the face and can be incredibly flattering. It will also bring the focus away from wrinkles and fine lines, giving you a youthful glow.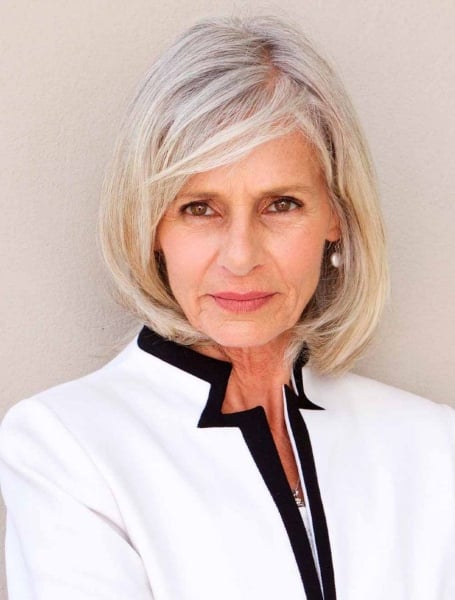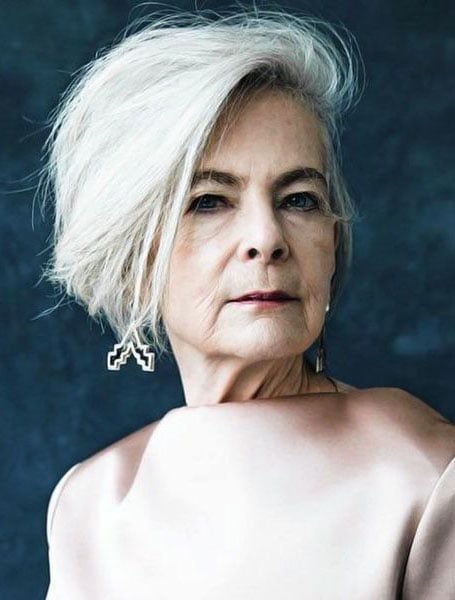 16. Messy Updo
Creating a deliberately undone hairstyle can be great for casual settings or for those who prefer a more laid-back aesthetic. The messy updo is also appealing because it works well with naturally textured hair. The texture will give the hair volume and fullness. Updos are gorgeous for drawing attention to your face, and you can highlight your lips with a bold shade of lipstick.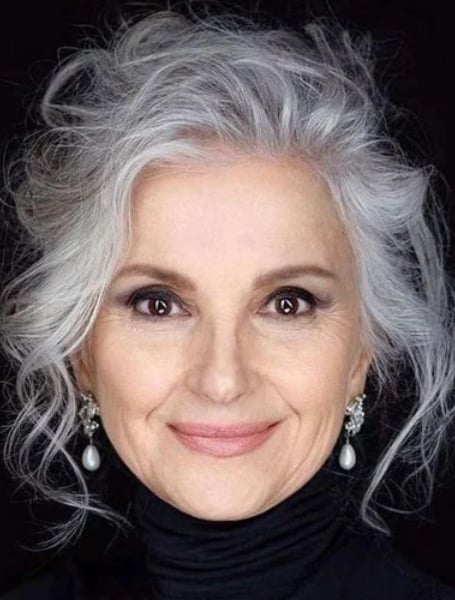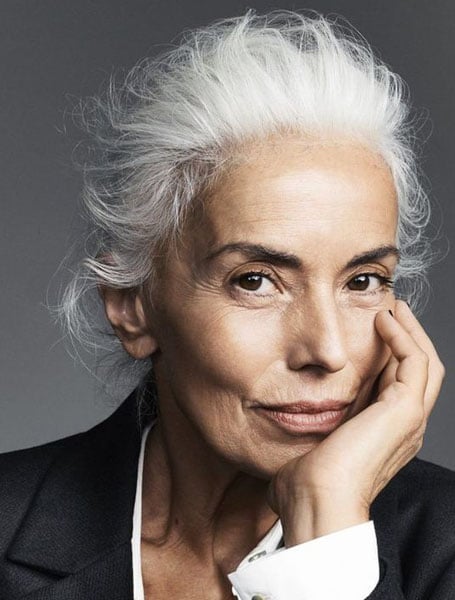 17. Slicked Back Hairstyle with Volume
The slicked-back hairstyle is gorgeous and an excellent way to keep the hair out of the face and achieve volume. It will also open up your face and draw attention to the features. The look is created by brushing the hair away from the hairline and securing it with a strong-hold product like gel. It will give you a slightly wet or glossy finish.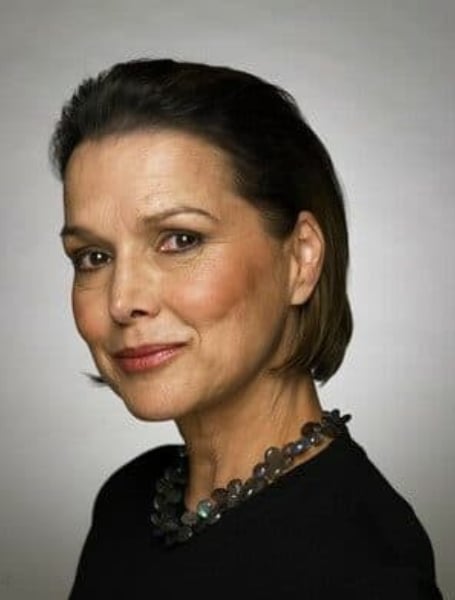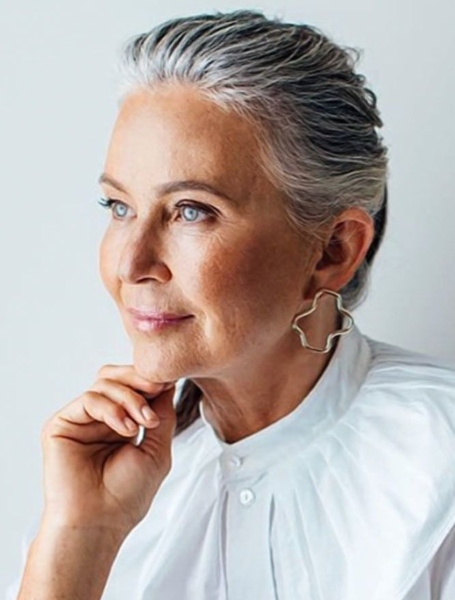 18. Messy Spikes
For an older woman who wants a fun and youthful look, messy spikes are a great choice. They are easy to achieve and effortlessly cool. You want to avoid stiff spikes and create a soft, tousled look instead. Spikes are best with short hair and will make the hair look thicker and fuller. It will also add volume. You can personalize the look by adding a side fade for more structure.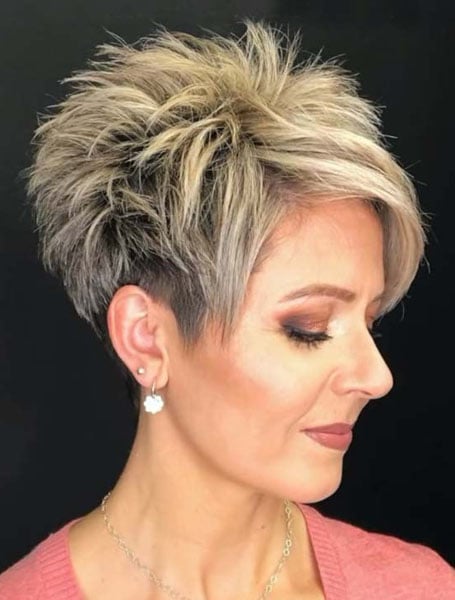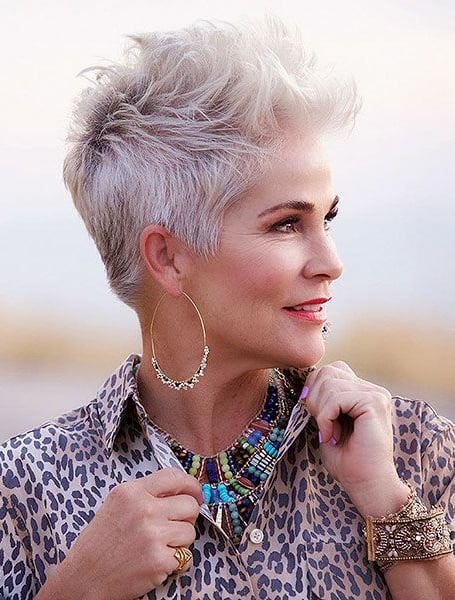 19. Wispy Bangs
For soft bangs that draw attention to the face and give you a youthful glow, look no further than wispy bangs. These barely-there, piece-y bangs are created with thin stands of hair that fall against the face. It is ideal for women with thin or fine hair who may not be able to wear some of the more full-fringed hairstyles. The bangs are also flattering and a great addition to most haircuts.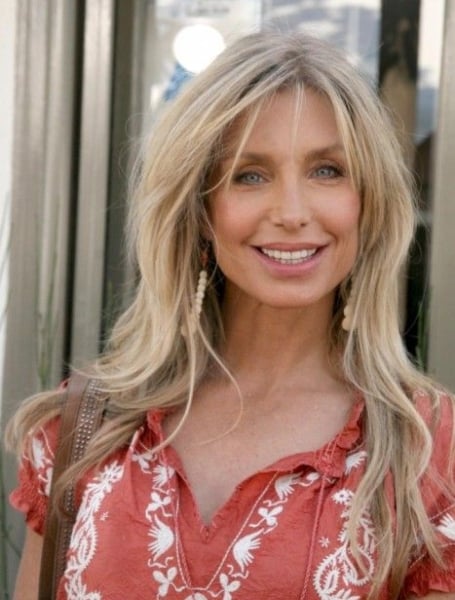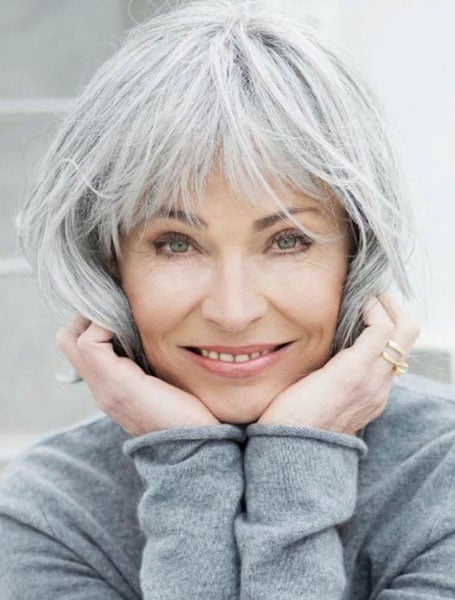 20. Classic Chignon
If you want a classy way to wear your hair, consider the chignon. The updo features a low bun at the nape of the neck and is a classic look that is gorgeous on women of all ages. The way the hair is worn lower also gives you more versatility, as you do not need long hair to create the look. The chignon can be adapted to suit all hair textures.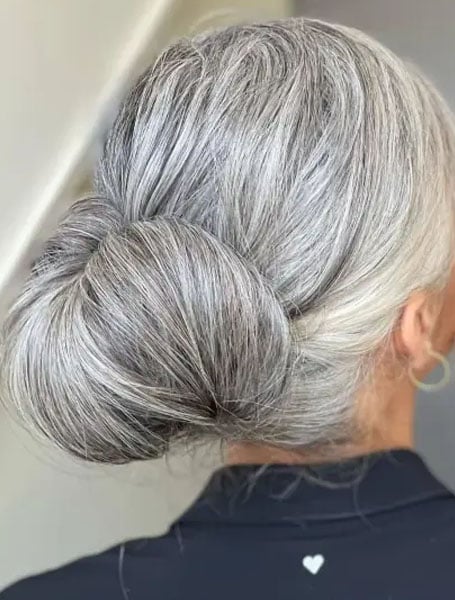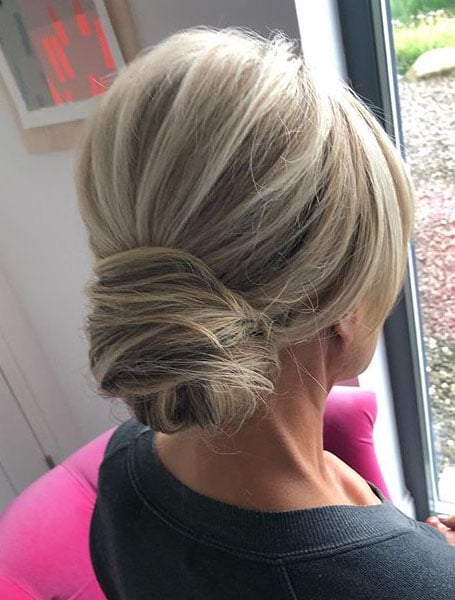 21. French Braid
A French braid is an easy and ultra-feminine way to style your hair. This is one of the most popular braided hairstyles because of its simplicity, and it is created using three strands and the overhand braiding technique. It works best on medium to long hair lengths, giving you more styling versatility. The French braid can look neat and polished, making it ideal for formal occasions, or you can leave pieces out for a deliberately messy and effortlessly chic vibe.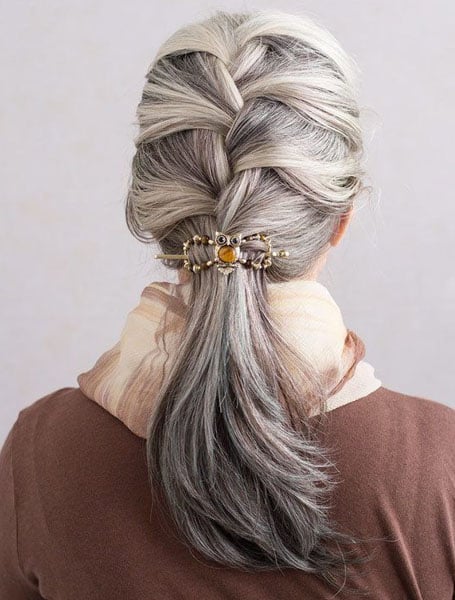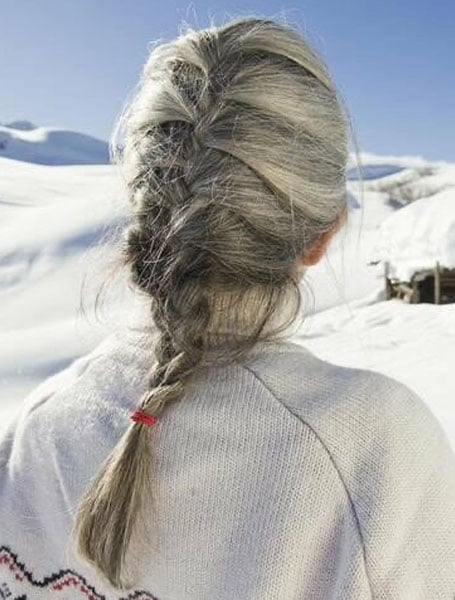 22. Buzz Cut
Many women decide to cut their hair after a certain age because it naturally thins, and the growth rate slows with age. You can also shave it all off for a daring look that is stylish, practical, and will draw attention to your face shape. If you have good bone structure and want a low-maintenance hairstyle that requires no styling time, the buzz cut is the look for you.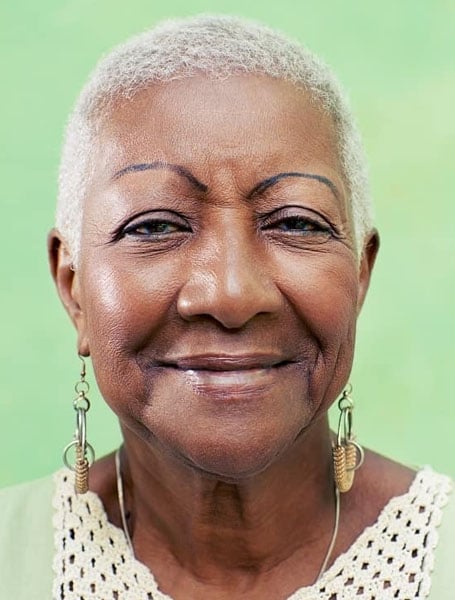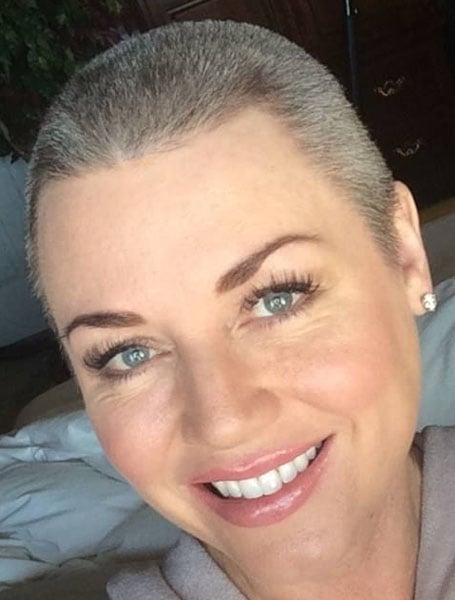 23. Modern Bowl Cut
The hair naturally thins with age, and the growth rate slows; for this reason, short hairstyles are often favored. Many choices include an edgy and fashion-forward look like the modern bowl cut. The hairstyle has the same length all around the hair, but you can experiment with different lengths and fringed options and adapt it to suit your texture. This is ideal for a woman who wants a quirky style that reflects her bold personality.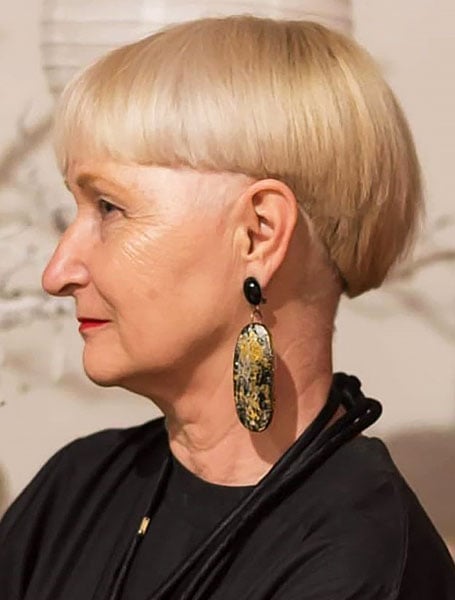 24. Asymmetrical Hairstyle
The asymmetrical hairstyle is created, with one side being longer than the other. It is a modern and chic look and an excellent choice because it can balance the features. The cut will also draw attention to the eyes and jawline. The asymmetrical cut lets you play with proportions and will be more defined on straight hair, although it can be adapted to suit all textures.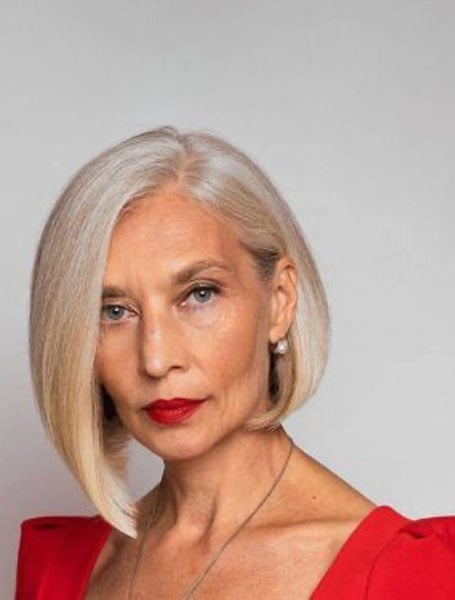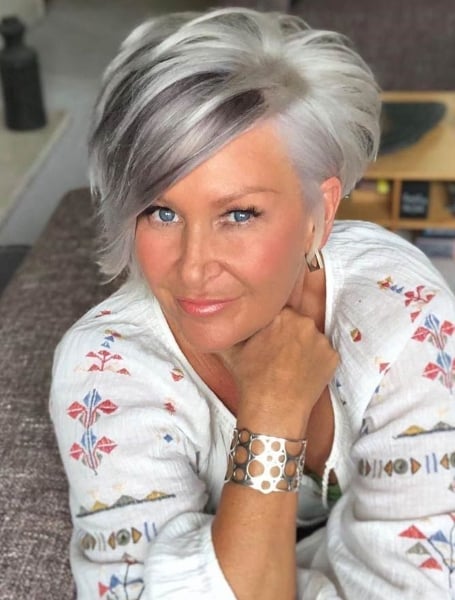 25. Fluffy Short Hairstyle
If you want your hair to look full and voluminous, then fluffy hair is the ideal way to achieve this. The texture can be achieved with heat styling, including blow-drying and rollers, and is great for giving your hair volume and a soft, bouncy texture that can be incredibly flattering. You can create fluffy hair on various lengths, but keeping it short will deliver the best results. This is also less maintenance.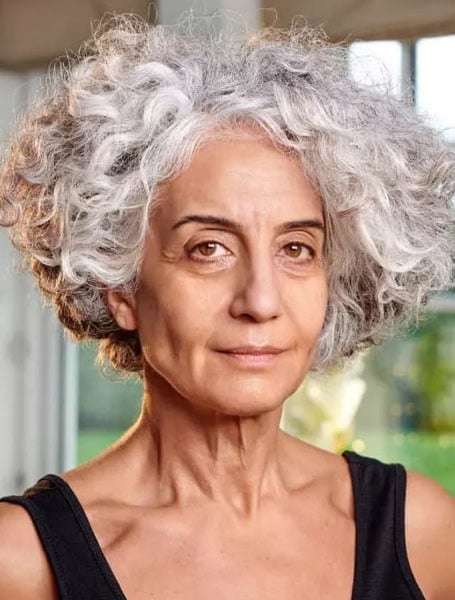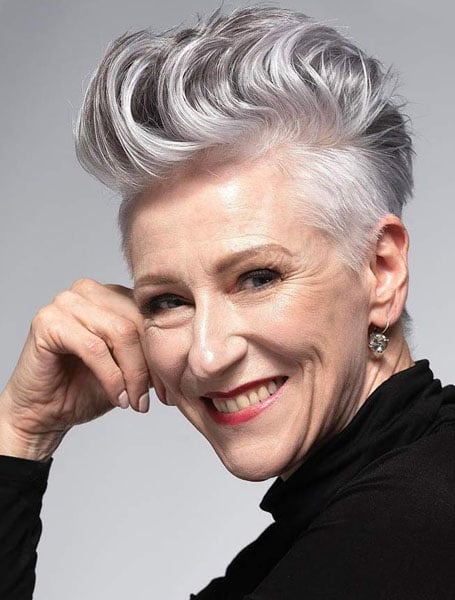 Hairstyles For Older Women FAQs
What hairstyle is best for older women?
There are several great hairstyles for older women, including the shag, lob haircut, bob haircut, and wolf cut. These haircuts can all be adapted to suit your preference and complement your face shape and hair texture. You can also experiment with different fringed looks including curtain bangs and wispy bangs which will draw attention to the face. The right styling and cut can make you look youthful and will detract from natural hair loss.
Does long hair make an older woman look older?
Most women cut their hair shorter after a certain age because it can be challenging to maintain. As we age, our natural hair growth rate slows and you will likely experience some hair loss or thinning. This is normal, but shorter hairstyles can be more flattering because they will look fuller and thicker. Long, straight hair without bounce or movement can age you. Older women can still have long hair, it just depends on your hair texture and type, and the style you choose.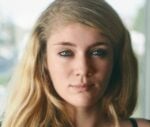 Cailyn Cox holds a degree in journalism and has been working with The Trend Spotter as a writer for over ten years. She has worked with some of the most prestigious women's and men's lifestyle publications. For her, writing is not just a job; it's a passion, which is why each article she writes is approached with such enthusiasm and dedication. She has extensive knowledge of hairstyles, tattoos, and beauty and has made a career out of creating informative articles that appeal to women and men of all ages.
SUBSCRIBE TO OUR NEWSLETTER
Subscribe to our mailing list and get interesting stuff and updates to your email inbox.