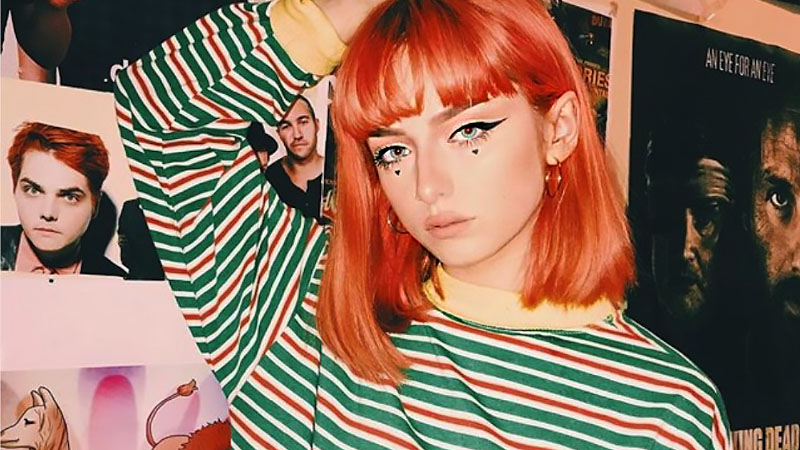 Apps like TikTok have introduced the world to one of the biggest trends of the season. This online trend is taking over teenagers and young adults everywhere and is showing no signs of slowing down. While there's no specific definition for this aesthetic, it comes off as more of a vibe than a style, yet is instantly recognizable. Strictly speaking, this is the new age of the electronic girl, and within this realm, there are plenty of subcategories, with many crossover accessories and ensembles. From black striped long-sleeve shirts to sharp winged eyeliner and oversized band shirts, there are plenty of ways to pull off this look effortlessly. Find your perfect lighting, prepare your camera, and strike a pose – here are the E-girl outfits that are trending right now.
RELATED: 10 Cool E-Girl Hairstyles That You Need to Copy
RELATED: 30 Cool E-Girl Makeup Looks To Copy
1. Plaid Skirts
The humble plaid skirt is one of the critical items in an E-girl's wardrobe. You can wear a cute crop top with chunky sneakers or even an oversized T-shirt and chunky sneakers. Keep the colors neutral by sticking to black or grey for a winter feel, or add a pop of blue or pink to brighten up the ensemble. When the temperature drops, add a pair of tights with polka dots or stars on it – this will up the ante for any winter get up and is absolutely adorable. If you're feeling a bit edgy, hang a chain belt off the side, and you'll look like a walking doll.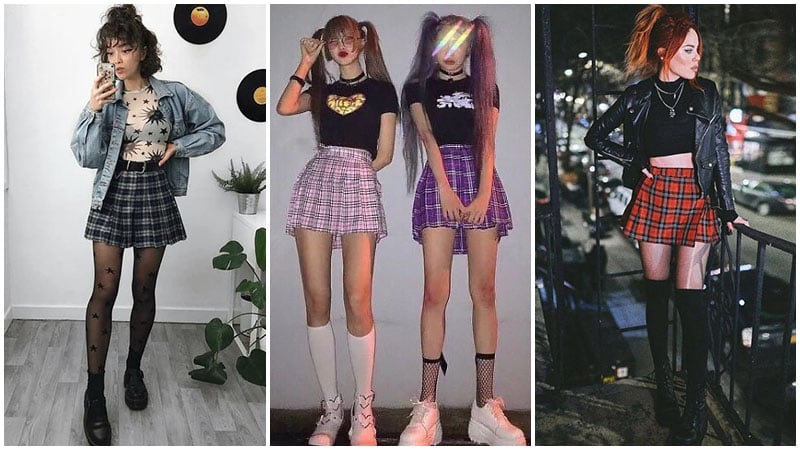 Get the Look
2. Oversized T-shirts & Jumpers
Whether you're chilling inside all day or you're having an impromptu shoot for Insta or TikTok, why not do it in something comfy? These oversized T-shirts are insanely cute, and they keep you feeling fresh in any situation. For fans of BTS, The 1975 or any other band, why not rock their merch in a few sizes up? You can try a sweater with a metal band or a quirky scene from your favorite film. When styling these tops, opt to add a long sleeve shirt underneath – striped jumper looks great with a black shade, but it's always a good idea to try something bright like yellow or orange. If it's getting chilly, swap the long sleeve for a turtleneck and keep yourself warm. Throw on a pair of high waisted mom jeans and sneakers, and you're good to go.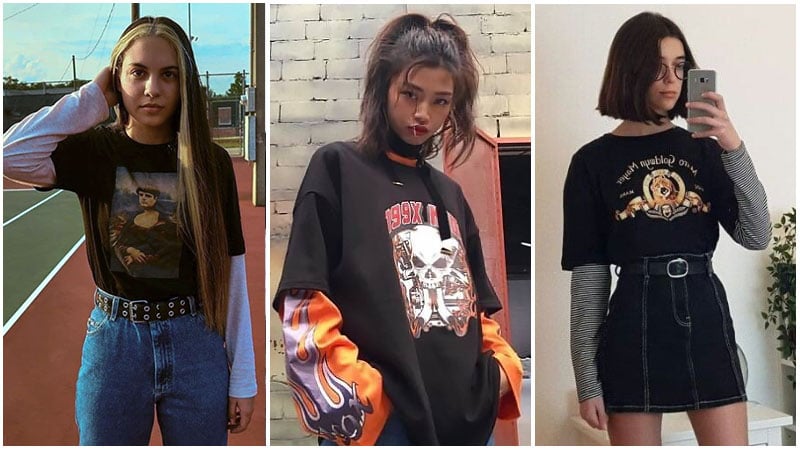 Get the Look
3. Pop Color Trousers
Why blend in when you were meant to stand out? These colored cargo pants aren't for the faint of heart, so get ready to turn heads as soon as you put them on. When choosing a size, ensure that they're a little loose across your legs – you can cinch in your waist with a studded belt or have them sit at your hips. For petite girls, opt for high waisted trousers – this will elongate your legs and give the illusion of an hourglass shape. Choose colors like neon green, fire engine red or sapphire blue – there are so many options, and all look fantastic. The E-girl aesthetic is all about emulating a Bratz doll, so play with proportions and keep your top half sleek and fitted. Add a rollneck, sheer crop top, or a long sleeve bodysuit with the pants, and you'll be the queen of every scene.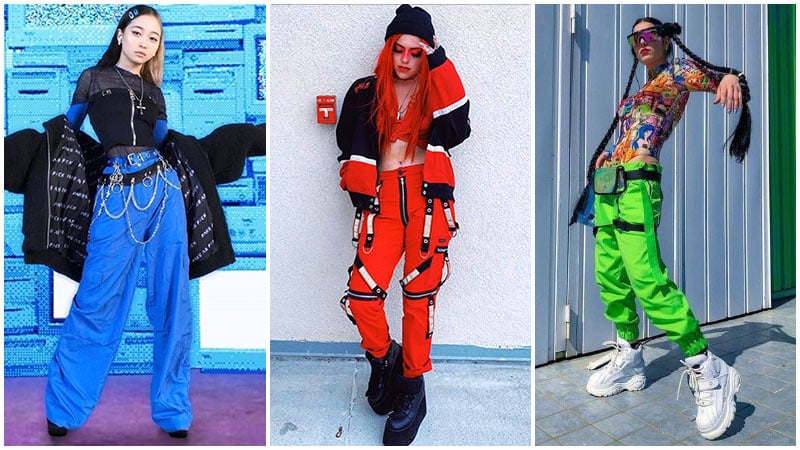 Get the Look
4. Crop Tops
Accentuate your waist and showcase some skin with a crop top. There are plenty of styles to choose from, and you can wear them with a vast range of outfits. These shirts are typically worn with high waisted pants or skirts, as they create the perfect hourglass figure and look amazing on everyone. Opt for a bold flame print mesh top or a slinky spaghetti strap cami. Throw a few different patterns into the mix with your ensemble – try spots, stripes, hearts, and everything in between. This isn't a style that's specific to one season, either. Try this out with oversized jackets, chunky belts, layered shirts, and heaps of accessories. It's all about self-expression, so make sure you have fun with it.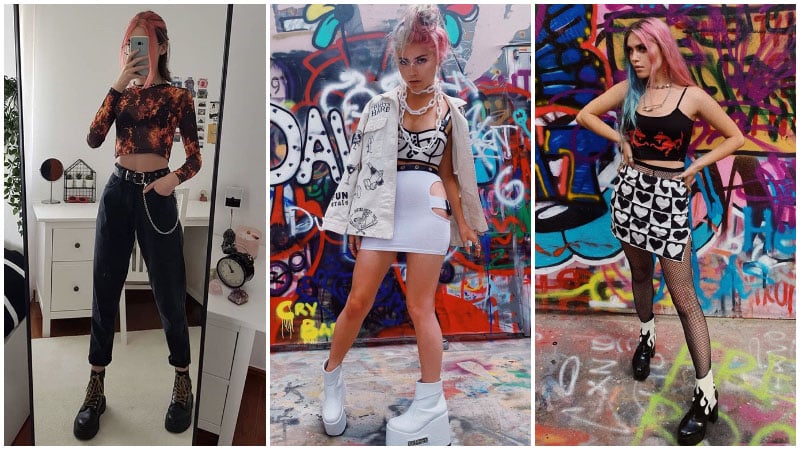 Get the Look
5. Platform Sneakers
This trend has made its way from the '90s back into the present day. These chunky sneakers feature a colossal platform that keeps you feeling tall and stable all at once. When choosing a color, it's best to opt for something that goes with your current wardrobe. A great option is white or black – they match almost everything and bright up an outfit instantly. If you prefer a more vivid hue, why not try neon yellow or even hot pink? Soft shades work well too, and they're the perfect alternative for someone who favors delicate styles. Rock them with a pair of oversized jeans or a mini skirt. You can even try your hand at dark leggings and an oversized shirt. There is unlimited potential with these shoes, and they look fantastic in every context.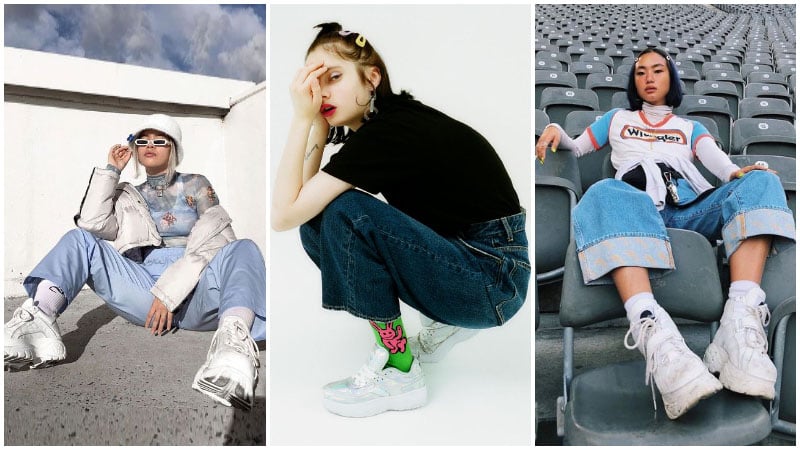 Get the Look
6. Butterfly Hairclips
Another trend from the late '90s and early '00s is the butterfly hair clip. These adorable accessories can instantly elevate your outfit. When styling these barrettes, place two on either side of your temple, situated directly at the outer corner of your eyes – this will elongate your features. You can keep it simple with one or two, or spread more out sparingly down the length of your locks. Choose shades that compliment your current hair color, or match your outfit by calling out one or two colors. These delicate additions to your get up are easy ways to emulate the E-girl aesthetic and are the perfect throwback to your childhood.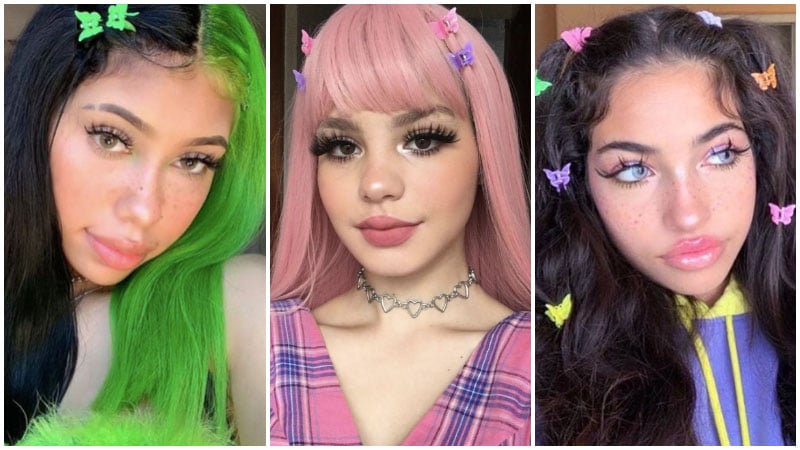 Get the Look
7. Beanie
The simple beanie is the ultimate accessory for an E-girl. These versatile and cozy hats look great on everyone and can keep you feeling snug and stylish. The most typical style is the fisherman design, with an oversized fold at the center of the headpiece – however, you can also rock a simple design with a logo or print across. Choose colors that you prefer – an all-black accessory is an adaptable hue that goes with almost everything in your wardrobe. If you're a fan of bright or pastel shades, why not try green, blue or even orange? Keep your hair out when styling it – it will help frame your face and keep your neck warm if it's chilly outside.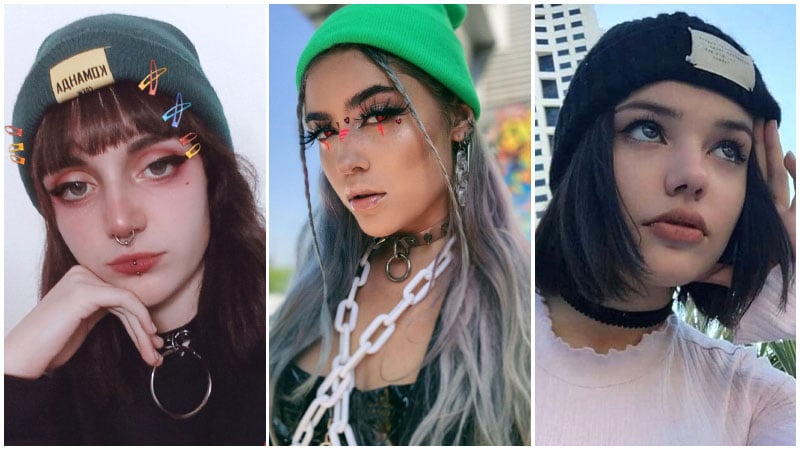 Get the Look
8. Choker Necklace
Simple and striking, chokers are some of the essential accessories for an E-girl. This throwback to the '90s has made its way into style again. You can choose something skinny and subtle that doesn't stand out too much – it's the perfect option if you're layering other necklaces. If you prefer something that draws more attention, try a chain around your neck or something with studded leather. To style this piece of jewelry, rock it with a high-neck T-shirt. You can also style this with a low-cut cami or mesh shirt – it's a great reason to add more pieces to accentuate your aesthetic.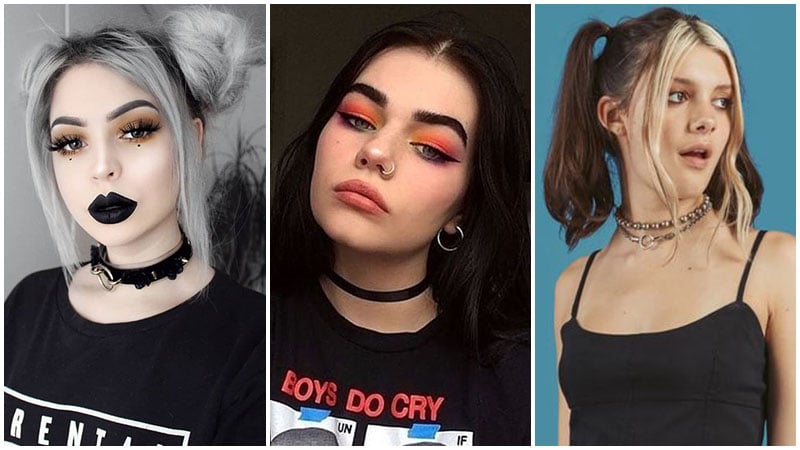 Get the Look
9. Belt Chains
Take your style game to the next level with a chain belt. Although this accessory looks simple, it's an excellent way to elevate your outfit and add a whole extra layer of E-girl to your aesthetic. Try a single piece of metal attached to the leather belt, or combine several of them. You can have them sit below your hip, or keep them dangling a bit higher for a more subtle finish. Style it with a pair of high-waisted cargo pants, a plaid skirt, or oversized jeans – the added metallic touches to your ensemble create dimension to your awesome getup.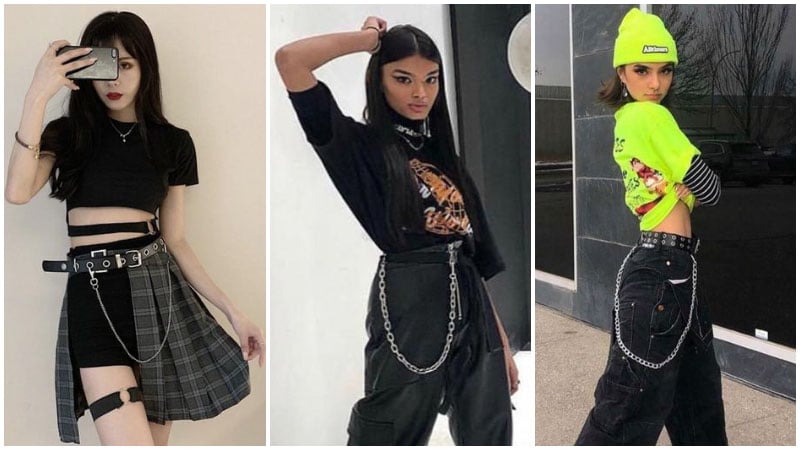 Get the Look
10. E-Girl Makeup
One of the most recognizable characteristics of an E-girl is her makeup. The aesthetic is an array of soft pastel shades brushed delicately across the nose and cheeks, sharp winged eyeliner, and face stamps. You can sparingly apply highlighter to the tip and bridge – this will shape your face to appear lifted. Overline the shape by drawing upwards slightly higher than your natural Cupid's bow. This raises the mouth and gives the appearance of a fuller pout. Arguably one of the biggest trends of the season is blush – apply it to the apple of your cheeks and across the tip of your nose for a soft and cute feel. The goal with this look is to blend the delicacy of the hues with the snatched simplicity of black liner. Add a couple of heart stamps under your eyes for the finishing touch.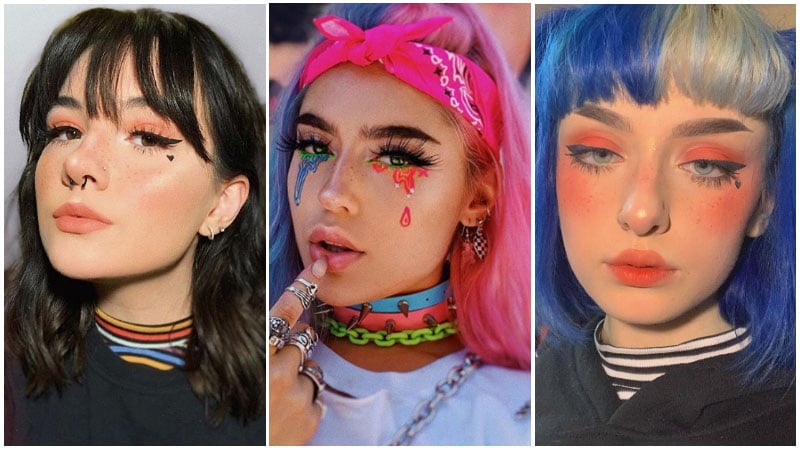 Get the Look
FAQs
What is an e-girl
An e-girl is a popular trend that started on the internet and is a sub-culture of the scene aesthetic of the 2000s, KPop and rave culture This style typically consists of plaid mini skirts, striped long-sleeved shirts, heart stamps under the eyes and bleached hair. The overall trend is a blend of doll-like anime aesthetics with the darker styles from the skater scene. This style is commonly seen on social platforms like TikTok, creating e-girl celebrities like Doja cat. Musicians such as Billie Eilish and Lil Peep have influenced the sub-culture.
How to be an e-girl?
For those wishing to dress like an e-girl, opt for a plaid mini skirt and fishnet stockings, striped long-sleeve shirt and T-shirt over the top. Makeup includes winged eyeliner, heart stamps and anime-inspired blush on the apple of the cheeks. Add some black nail polish for a skater-inspired touch. There are multiple different ways e-girls can wear their hair, including pigtails, space buns or styled into a bob. Typical styles include bleached front locks or can be dyed bright shades like pink or blue. Accessories often include butterfly clips, chain necklaces - finish the look with a pair of chunky combat boots.
SUBSCRIBE TO OUR NEWSLETTER
Subscribe to our mailing list and get interesting stuff and updates to your email inbox.