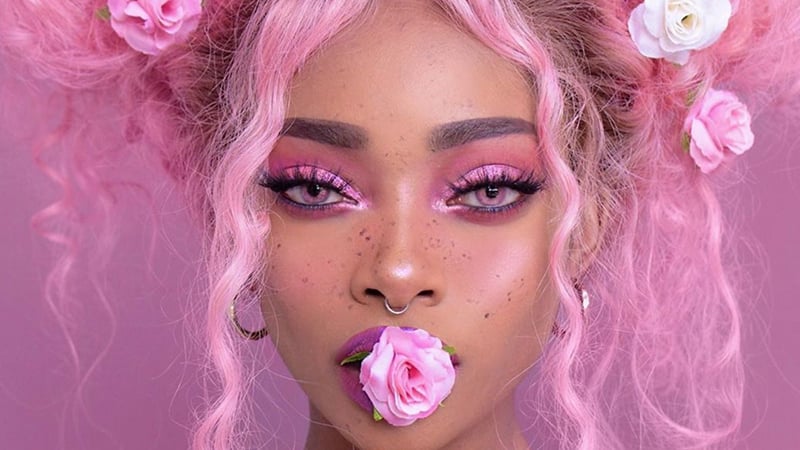 The e-girl look is everywhere online after becoming a major trend on TikTok. Inspired by anime, goth, and skate subcultures, it's a fun alternative style that combines cute and feminine touches with edgy and ironic vibes. When it comes to achieving the e-girl aesthetic, one of the most important elements is hair – think bright colors, bleach, and '90s-inspired pigtails and bangs. Here are some of the best e-girl hairstyles that are trending right now to inspire you.
RELATED: 10 Cool E-Girl Outfits That Are Trending Now
1. Blonde Highlights
One of the most popular e-girl hairstyles is chunky blonde highlights. These lightened pieces look great when combined with a center-parted hairstyle as they frame your face and make you look younger. Blonde highlights still make a strong statement buat are more wearable than bolder colors like purple or green. That makes them the ideal first step into e-girl hair if you're trying it for the first time.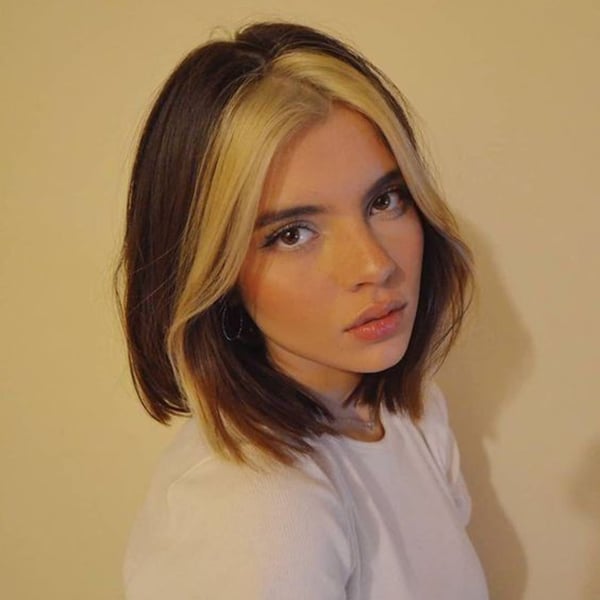 2. Pink Highlights
Pink highlights are popular among e-girls everywhere for their cute, quirky, yet feminine look. Depending on your skin tone, you can experiment with more vibrant hues like hot pink or go for a soft and subtle rose shade. Bear in mind that if you have naturally dark hair, you will need to bleach some sections first before highlighting pink hair.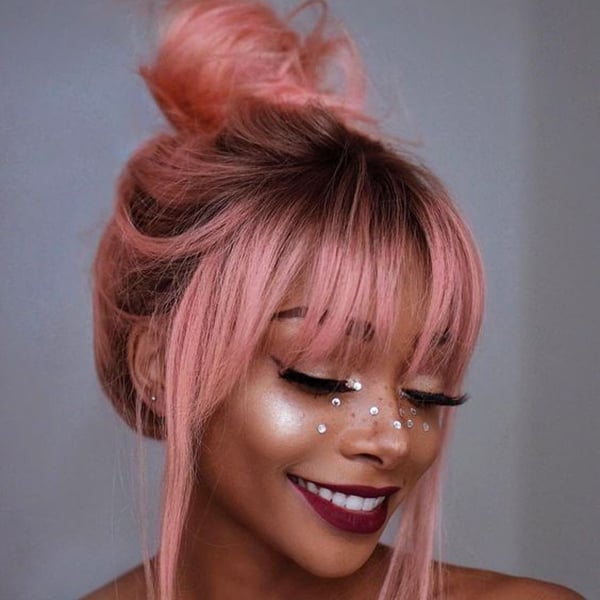 3. Green Highlights
For bolder e-girls, green highlights are a growing trend. Made famous by stars like Dua Lipa and Billie Eilish, green hair has an edgy and alternative vibe that contrasts beautifully with more feminine e-girl make-up and fashion. To get vibrant neon-green highlights, you'll need to bleach sections of your hair first or have naturally light blonde locks. Alternatively, those with darker hair can opt for deep shades like emerald or forest green, which look equally good.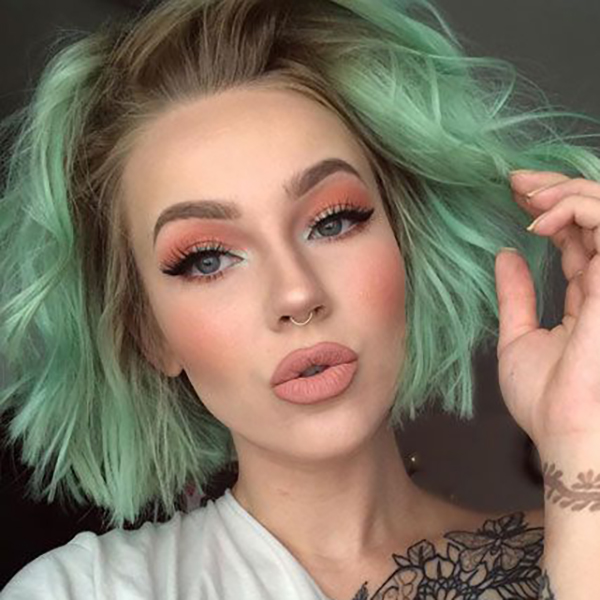 4. Blue Highlights
Blue hair is a bold choice when it comes to coloring your hair as it's one of the most unnatural shades. It can also be tricky to maintain, as blue dye tends to fade, turn green, or turn 'muddy' very quickly. However, blue highlights give you all the impact of blue hair without as much maintenance as a full-color treatment. Even better, e-girl highlights look better with time, when they've had time to grow out and fade down. Try dying your roots blue for a pretty and unusual twist.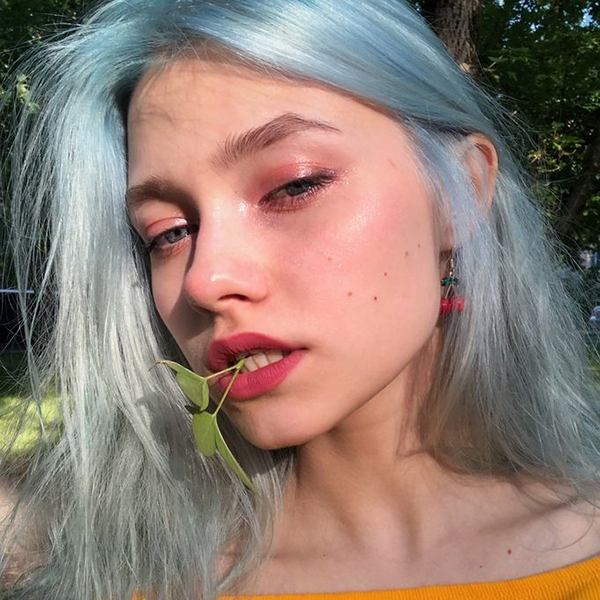 5. Purple Highlights
Like blue and green, purple highlights always attract attention for their bold and unnatural look. Because purple has both warm and cool tones – as it is a combination of red and blue – it flatters a wide variety of skin tones. To give purple highlights more of an e-girl twist, try a dip-dyed look and concentrate the color around your face and bangs. Doing so gives your hair a graphic cartoon-style look.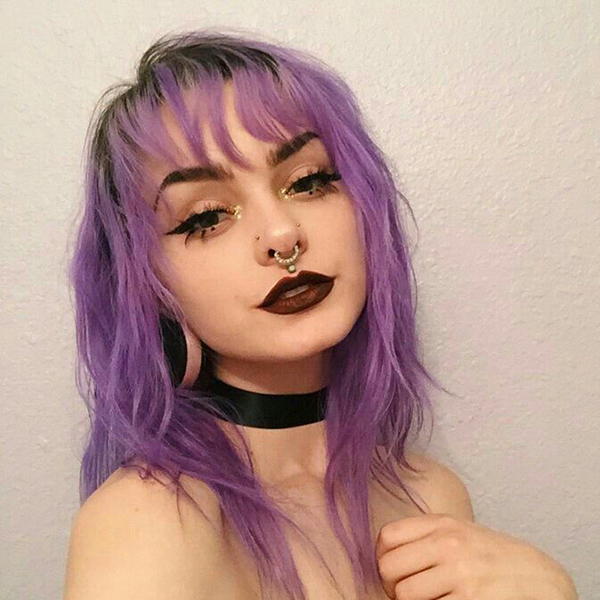 6. Platinum Highlights
Chunky platinum blonde highlights are a huge e-girl trend, particularly when contrasted with darker, deeper colors for an eye-catching anime-style finish. Think black and platinum or platinum and dark red. Not for shy types, platinum highlights look sexy, bold, and stylish, making them ideal for women who love to stand out.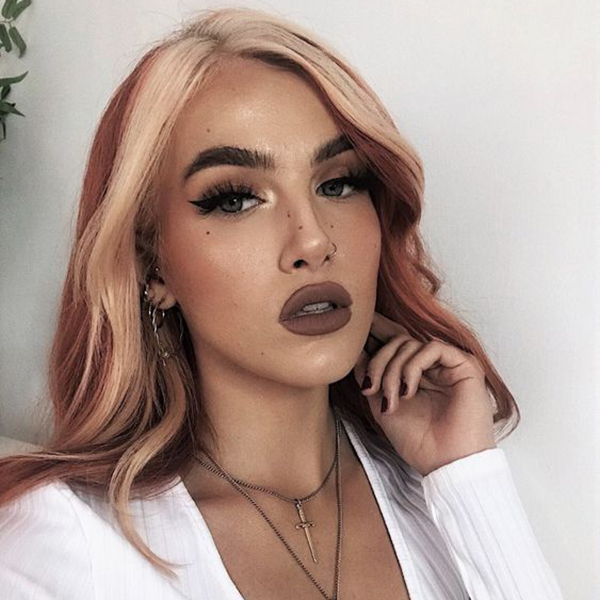 7. Rainbow E-Girl Highlights
E-girl hairstyles always have a playful side, and there's nothing more cheeky than a rainbow. This cute and youthful look creates the perfect contrast with more sultry, feminine make-up like winged eyeliner and arched brows. To get rainbow e-girl highlights, have your stylist blend pastel shades through platinum blonde hair to create a beautiful multi-tonal finish.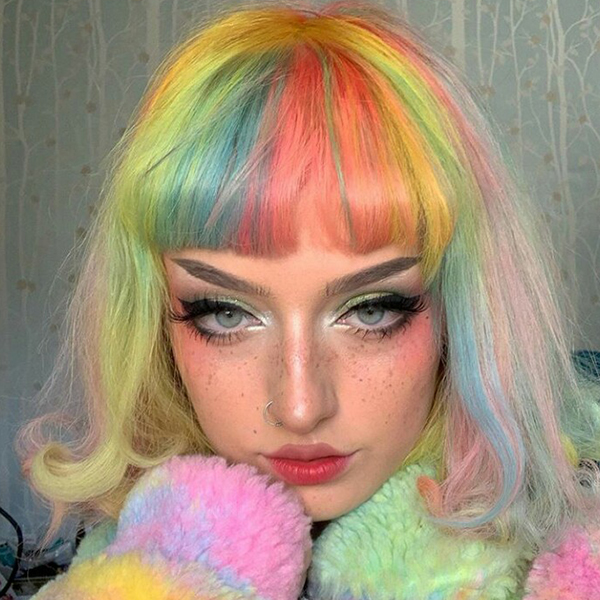 8. E-Girl with Pigtails
E-girl hairstyles aren't just about quirky colors. The way you style your hair is also important. Pigtails are a popular trend because they look youthful, playful, and sweet. Try adding extensions to create extra-long wavy pigtails, or keep it short and sweet with a half-up, half-down pigtail style. For an extra e-girl touch, add cute accessories like barrettes and butterfly clips.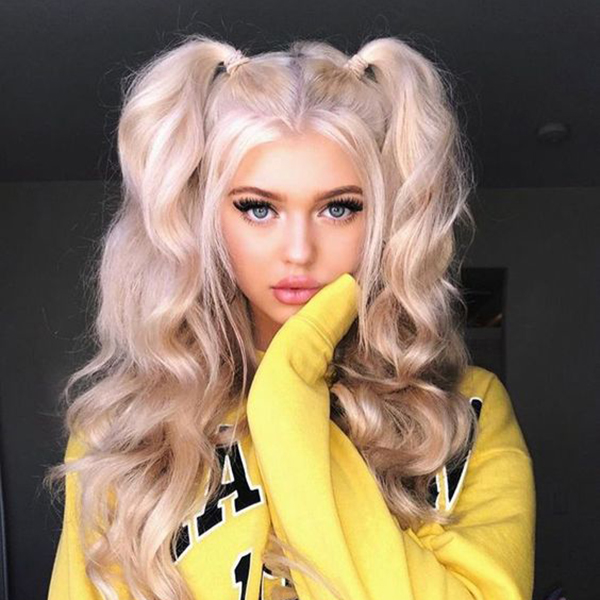 9. E-Girl Hair with Bangs
Bangs are a popular e-girl hairstyle because they can make you look younger, frame your face to make it seem more feminine, and add a cool '90s or early 2000s vibe to your haircut. However, the e-girl twist is to add a touch of color or bleach to the bangs to make them stand out and show off your style. To get the e-girl look, choose a feathery straight fringe or center-parted 'two-strand' bangs.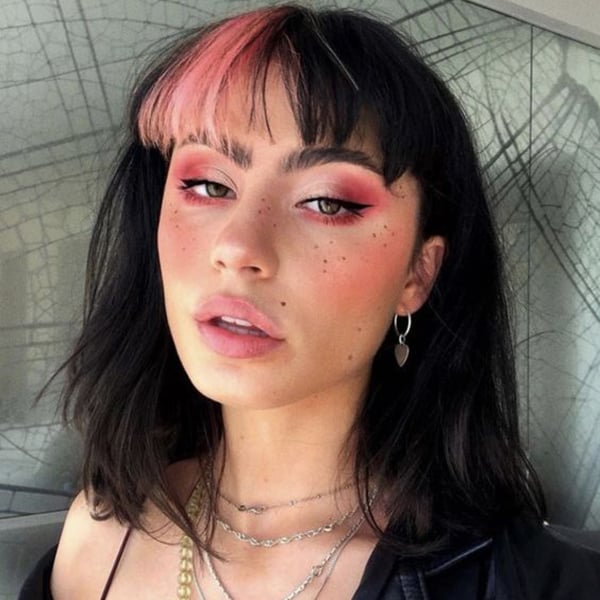 10. E- Girl Two Shades Hair Color
Two-shades hair takes the bold, graphic, and cartoon-inspired elements of the e-girl trend to the next level. Dividing the hair into two sections along the center part, your stylist will dye each half a different hue. While black and white – or black and platinum – is a popular combination due to its sharp contrast, you could also choose a softer option. Pastel pink and purple make for a sweet and pretty finish that is less intimidating and easier to grow out.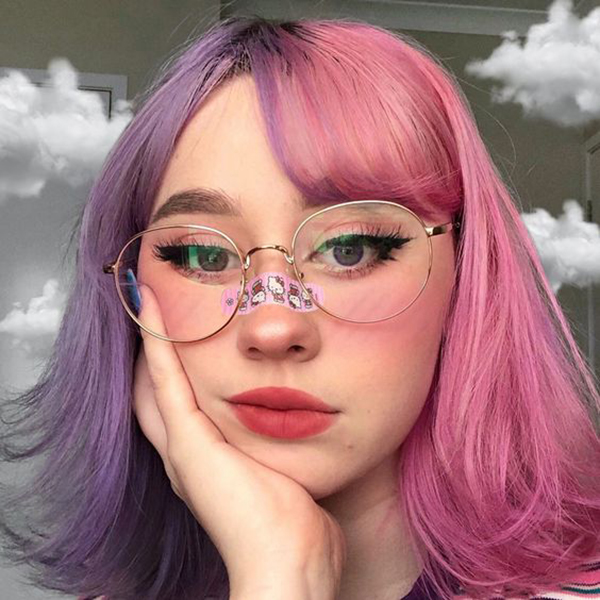 11. Skunk Stripe
The skunk stripe hair is a bold approach to color and is done by adding a chunky highlight around the face. The original approach to this color is to add a white or platinum color on a black base, to create a contrast. However, there have been many variations of the hair trend, letting you experiment with color, including trying out pinks, blues, and reds. This is an excellent way to make a statement and draw attention to your facial features.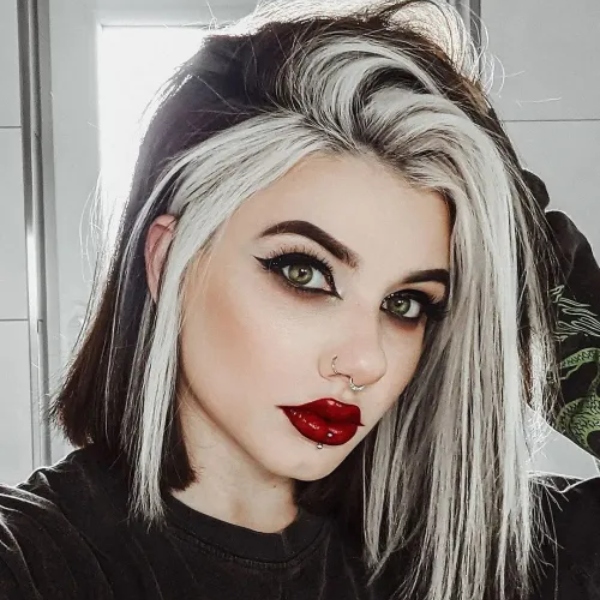 12. Neon Green Money Piece
The money piece is an excellent way to draw attention to your face. It is created by focusing the color only around the front of the hairline, which results in a framing effect that is incredibly flattering. For an expressive and fun approach to the money piece, you can try bold colors like neon green. This is a cute and youthful finish but it is also an excellent way to enhance your features and highlight your hair texture.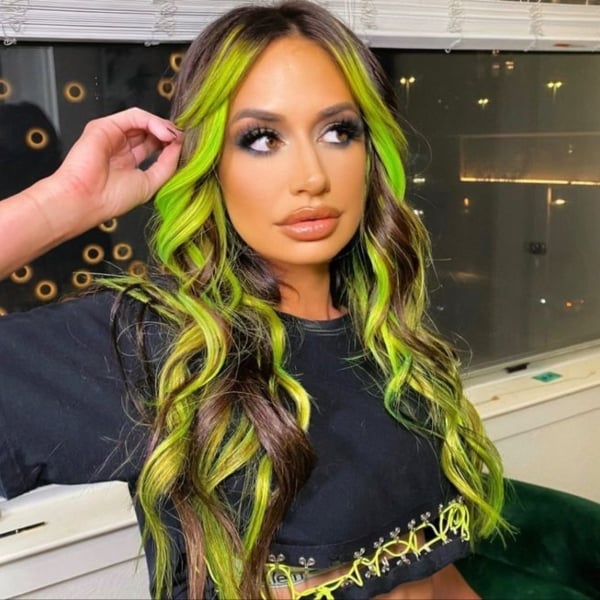 13. Space Buns
One of the simplest yet trendiest E-girl looks is the space bun. The style was popular in the 90s but has made a comeback in recent years because of its youthful appearance. The buns are created on either side of the hair and are incredibly easy to do and versatile. You can create them with hair of various lengths, thicknesses, and textures. The look also lends itself well to color.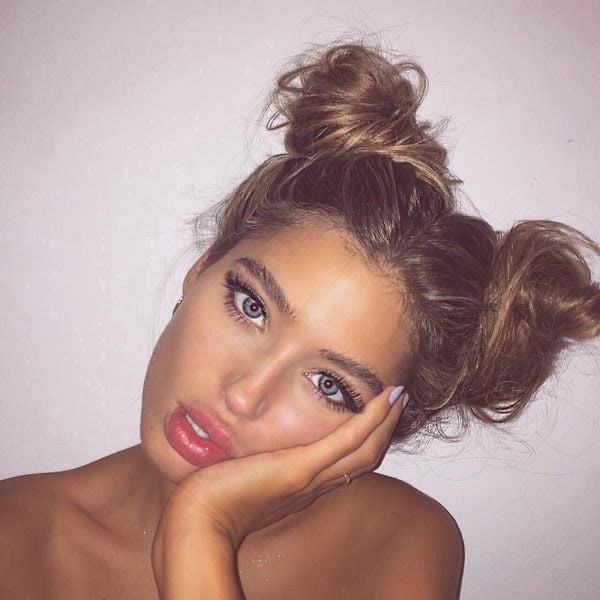 14. Color on the Bangs
The E-girl hairstyle is about so much more than bold hair colors, it is youthful and it is a great way to express yourself and show off your playful side. Bold, bright colors take confidence to pull off and there are various ways to add them to your hair. This includes focusing the color on your bangs only. This is an excellent way to make a statement because your bangs are front and center.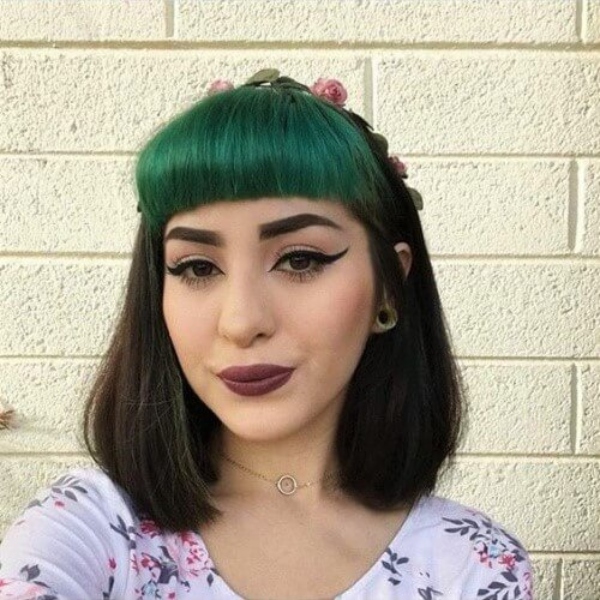 15. Bold Braids
Braids are a protective style that can facilitate natural hair growth. They can also be a great way to change your look and you can experiment with various thicknesses, lengths, and colors. For an E-girl-inspired finish, you can try the split dye trend, with each side of the head a different color. This can be two vibrant and complementary hues like pink and blue or two natural colors like blonde and black. Your choice will depend on how much of a contrast you wish to achieve.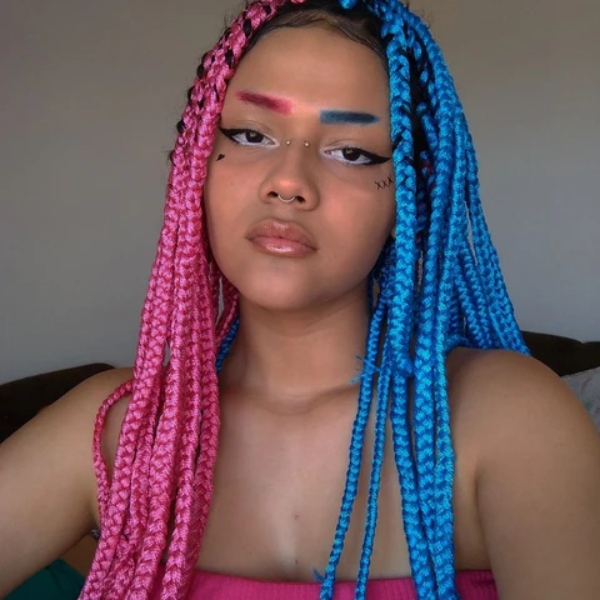 16. Half Up Half Down
The half up half down hairstyle is one of the most versatile looks you can try. It gives you the best of both worlds, letting you keep the hair away from the face, but also showing off your hair texture. Space buns are a 90s favorite but are also loved by E-girls because they are fun and youthful. Adding space buns to the top of the hair is super cute and will work with most hair lengths. Keep a few strands of hair loose to frame and soften the face.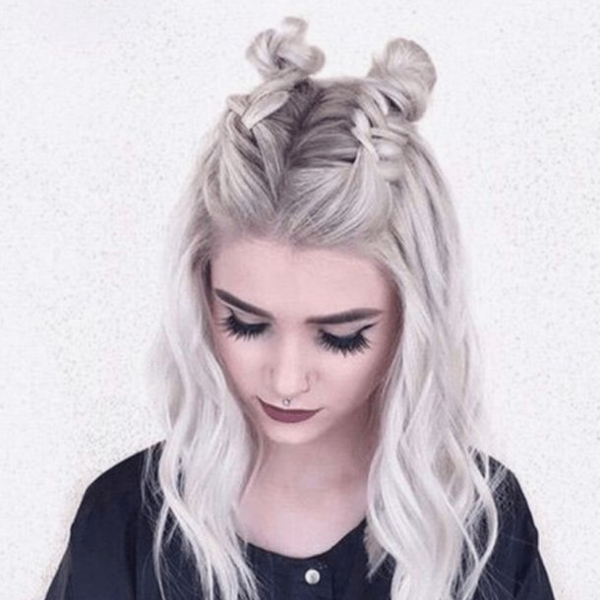 17. Whalesprout Ponytail with Color
The appeal of the E-girl hairstyle is how individual it is. It can be easily adapted to suit your preference and complement your hair length and texture. There are several hairstyles to choose from, most of which have the addition of bright and bold colors. Adding a simple streak is an excellent way to show off your playful side. The whale spout ponytail is also easy to do and will give you a youthful finish.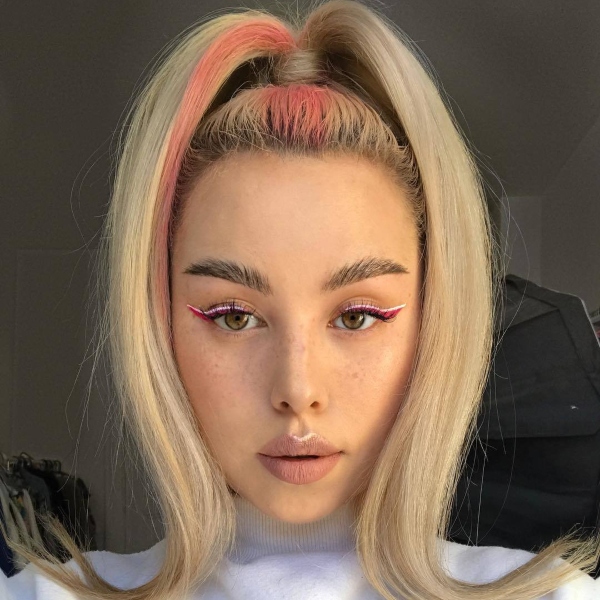 18. Peekaboo Hair Color
The peekaboo coloring technique is a more subtle approach to color and will give you versatility with how you wear the hair. The color is placed under the top layer of the hair, making it less visible. This gives you the freedom to be expressive and experiment with different colors but it is low-maintenance and less restrictive than dyeing your entire head of hair.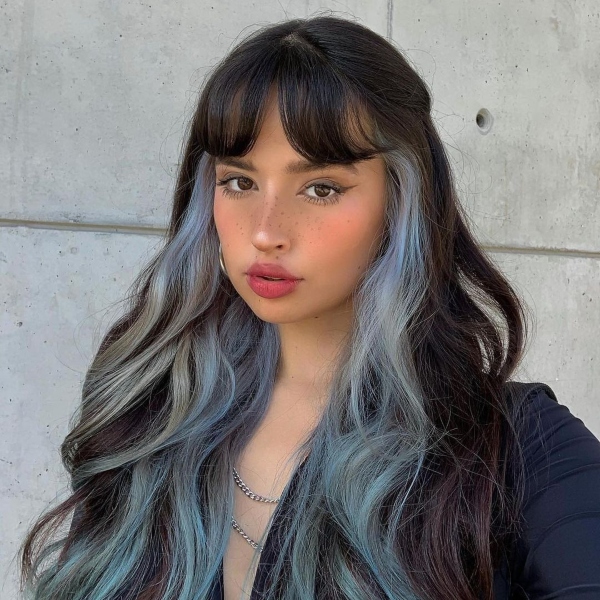 19. Face-Framing Bangs
The E-girl hair trend has been inspired by social media and TikTok and is a fun, expressive, and youthful style. There is so much freedom with how you style and color your hair, making this an incredibly appealing option for someone who wants a change. An excellent choice for your hair is to style your hair with face-framing bangs. This is an incredibly flattering look and will draw attention to your features. To make your hairstyle even more personalized, experiment with bold colors, like the split-dye trend.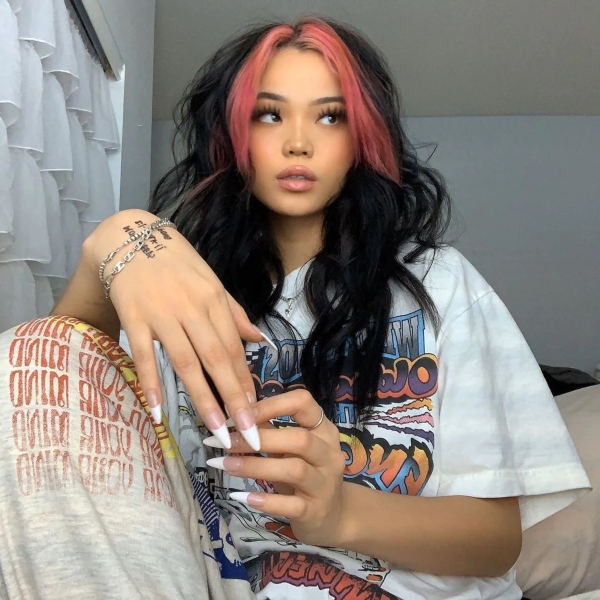 20. Wolf Cut
The wolf cut is another haircut that has been trending on social media. It is an edgy and rebellious style that is defined by its heavy layers. It looks like a mixture of the shag and the mullet, and has volume at the crown, thinning toward the ends. This is a great look for making the top of the hair appear fuller and thicker. The versatility of the cut makes it perfect for all lengths and hair textures, and it's full of movement which adds to the effortlessly cool vibes.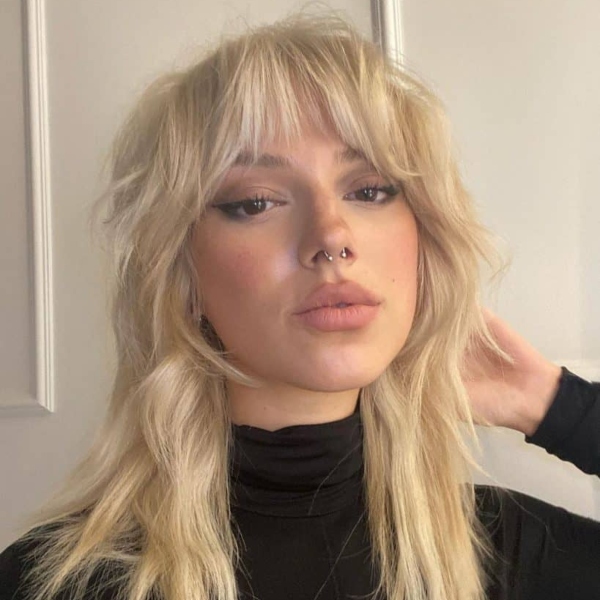 21. Baby Hairs
Baby hairs are an excellent look that has been a big trend on social media and has been favored by some of the hottest celebs and style icons. They are defined by the thin, delicate hairs around the hairline and can be styled in different shapes and lengths. Baby hairs may be time-consuming to style, especially if you are opting for an interesting pattern, but they are super cute and will create a youthful finish.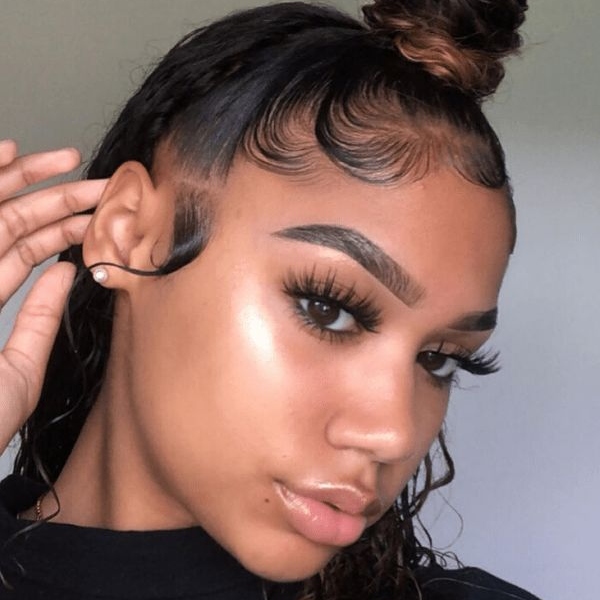 22. Dipped Ends
Experimenting with color is a big part of the E-girl style and it is a great way to get your hair noticed. Trying out bold and bright colors takes a lot of confidence and dedication because they fade fast and are high maintenance. A more subtle approach that is just as fun would be to focus the color only on the ends. The dipped effect is also a way to draw attention to your haircut.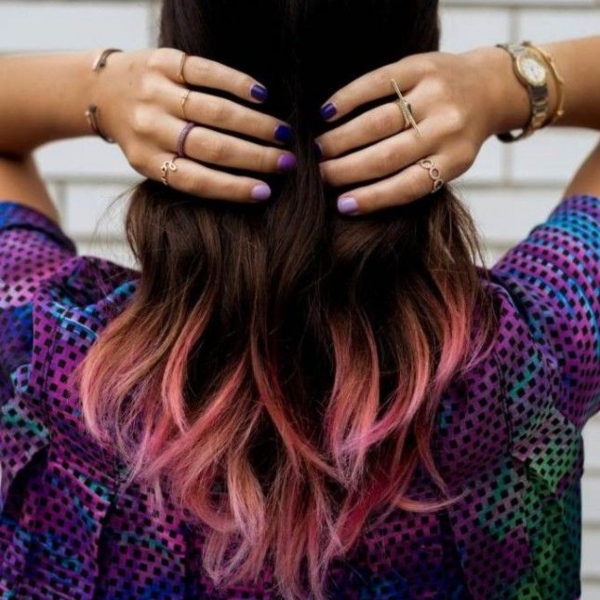 23. Shag Haircut with Colorful Highlights
The shag haircut is versatile and has made a big comeback since the 70s. This is because it is effortlessly cool and incredibly versatile. It is heavily layered, creating volume at the crown, and can be great for hair of all types including thin and fine hair. It also looks great on all textures, from straight to curly. For a youthful approach and to make the hairstyle more suited to your preference, add your favorite colored highlights. This will create contrast while also giving your hair a pop of color.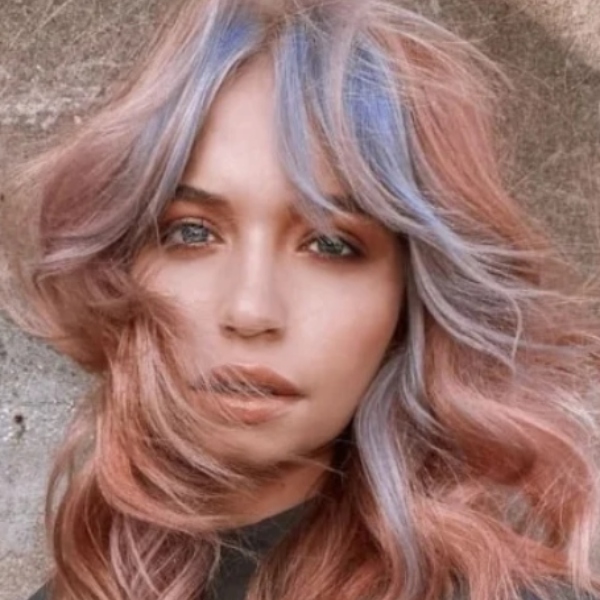 24. Cute Butterfly Clips
The right accessories can be an excellent way to show off your playful side. Butterfly clips were a 90s favorite and are a fun and youthful finish to any hairstyle and you can experiment with different sizes and colors. Create a half up half down hairstyle and add clips to the top part of the hair, or add multiple clips throughout the hair for a more colorful finish. This is also a great way to add a pop of color to your hair without dyeing it.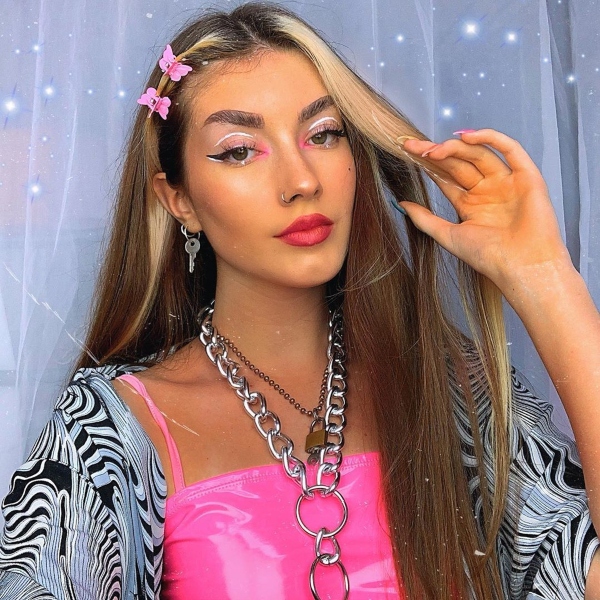 25. Wispy Bangs
For a simple but super cute approach to a fringe, wispy bangs are it. These piece-y, barely-there bangs can be created on all hair types, including thin and fine hair. They are also lower maintenance than full fringes and look great at different lengths. The lack of structure makes them appealing, but the way the hair falls on the face can also be incredibly flattering. You can pair the bangs with the hairstyle of your choice, and color them or embrace your natural hair color.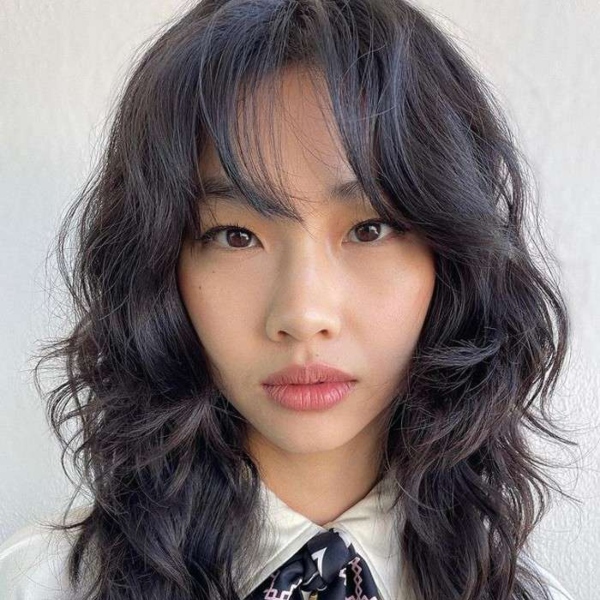 Egirl Hair FAQs
What is e-Girl hair?
E-girl hair is often brightly colored, with 90s inspired styling such as pigtails, space buns, bangs, and highlights. It's a youthful, fun aesthetic that doesn't take itself too seriously.
What does an e-Girl look like?
The E-Girl aesthetic originated online and is nowadays synonymous with TikTok, Twitch, and Instagram. The look often involves vintage clothes, colored hair, and winged eyeliner, mixed in with feminine yet edgy styling, and a good dose of irony. The style is a mix of punk, gothic, skater, and Harajuku styles.
SUBSCRIBE TO OUR NEWSLETTER
Subscribe to our mailing list and get interesting stuff and updates to your email inbox.