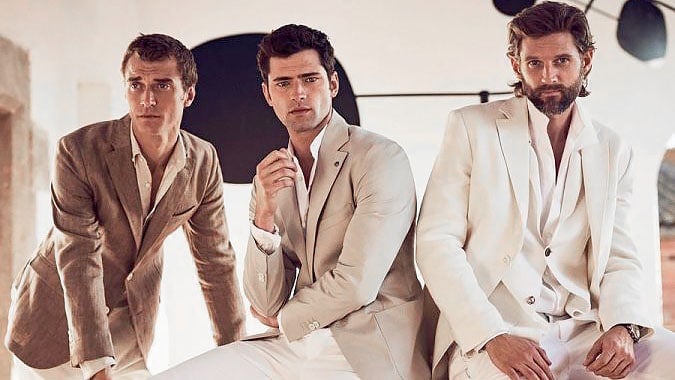 Today, gents have more choices than ever when it comes to their hair. Far more complicated than just selecting whether you want long, medium or short strands, choosing a haircut can be a daunting task. Luckily, this guide is here to help you decipher the difference between even the most confusing of cuts. From pompadours and quiffs to buzz cuts and blowouts, this guide will show you the different haircut types for men so that you can find the perfect look for your locks.
Types of Haircuts for Men
Bald Fade
The bald fade is a masculine and sleek look that can be stylish on men of all ages. It adds a smart appearance and can be paired with a wide range of cuts; you can opt for a low bald fade for a subtle, understated look or a high bald fade for contrast.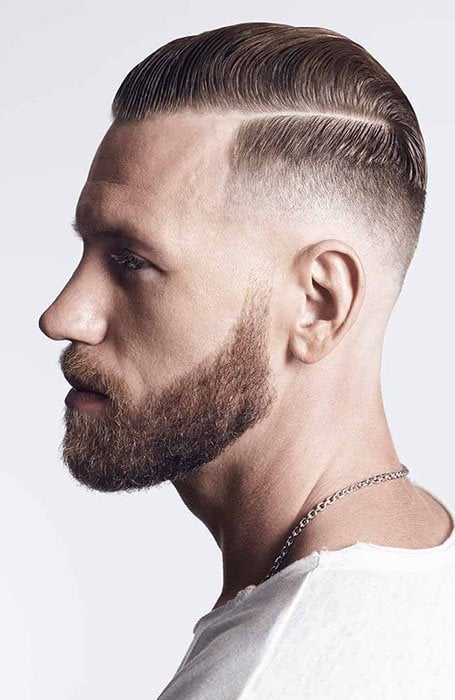 Blowout
A blowout is a type of men's haircut designed to appear wind-blown and a little wild. The look is characterized by a full-volume top, which is styled tall, and short or faded sides.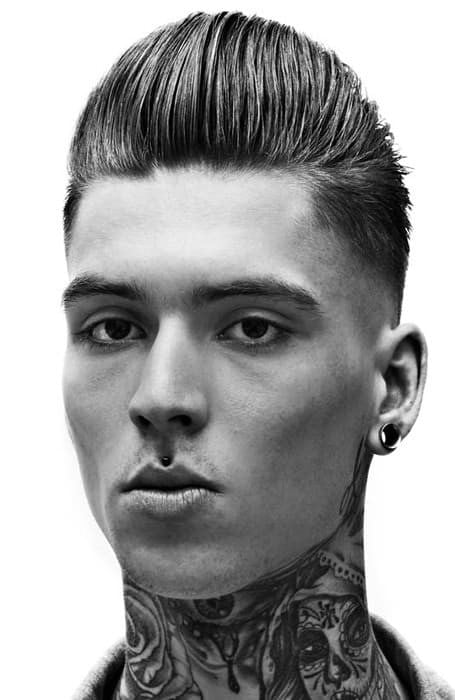 Box Braids
Box braids have a boxy appearance and are made using square-shaped hair divisions. They have such an effortlessly cool vibe and are versatile; they can be created in different lengths and sizes.
Bowl Cut
For those who don't recall the '90s bowl cut, the style features a straight-cut fringe with the sides and back of the hair cut to the same length. Today, the modern bowl cut is messier than its predecessor, with a less severe undercut.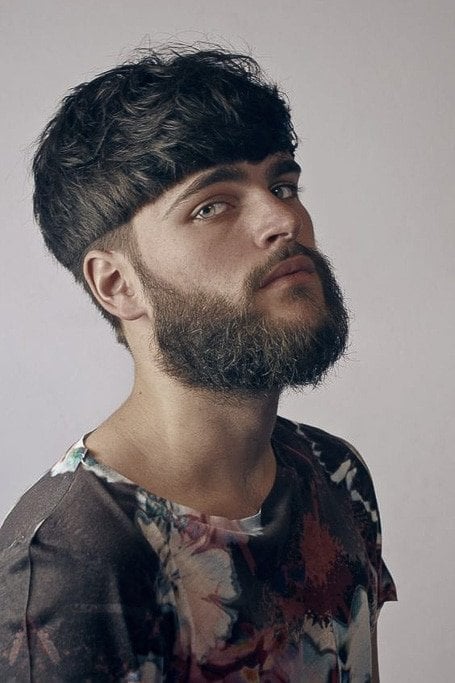 Burst Fade
The burst fade haircut is versatile and cool and lends itself well to various lengths, styles, and textures. The look can be defined by the hair tapering around the ear and the back of the head, creating a rounded, semi-circular appearance. It is often left longer at the neck.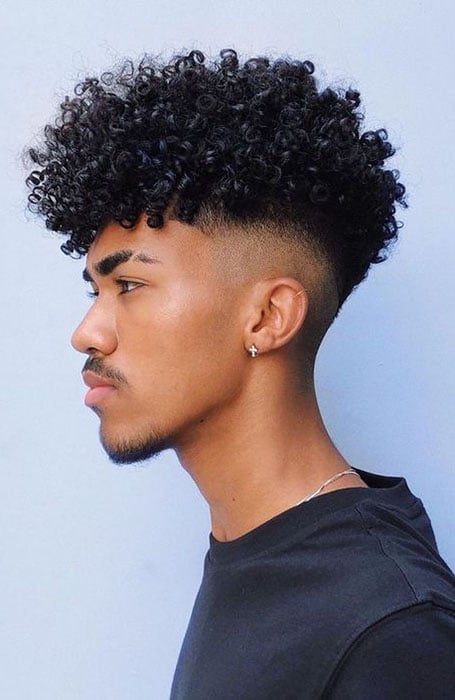 Cornrows
Cornrows are one of the most popular and iconic braids you can get and are created very close to the scalp. They have a distinct appearance, feature a raised row, and are a great protective hairstyle that can help prevent moisture loss and breakage.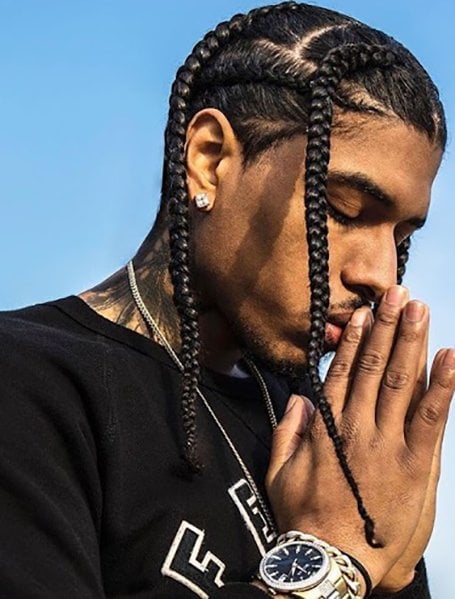 Buzz Cut
A buzz cut is a simple and short haircut for gents. It is identifiable by its length, clipped very close to the head with electric clippers. Thanks to its ultra-short length, buzz cuts are an effortless hairstyle to wear and maintain; it requires no styling and needs a quick trim when the length starts to grow out.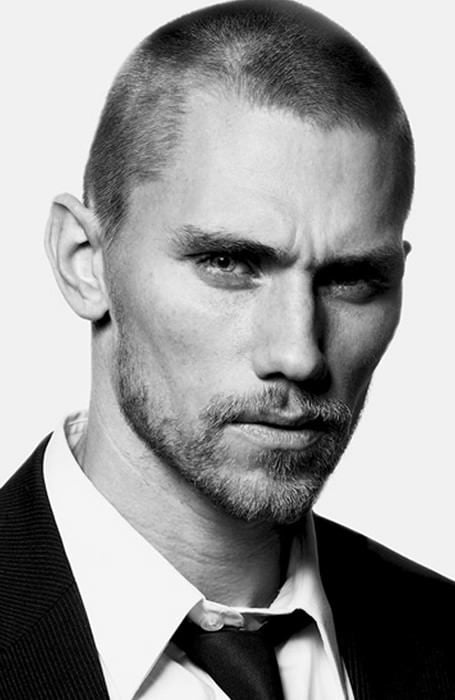 Caesar Cut
A Caesar haircut may be one of the oldest and most traditional hairstyles, but the stylish cut is a popular choice for men today. The hairstyle originated with the Roman Empire and is attributed to Julius Caesar, after whom it was named. The cut, which features a short length, is characterized by hair styled forward with a small, horizontally cut fringe.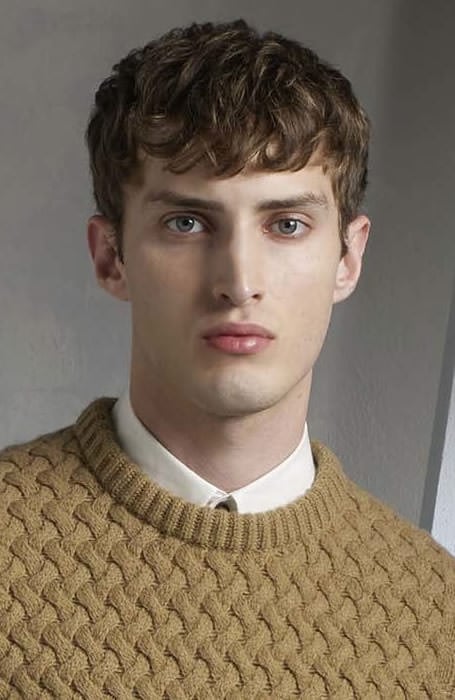 Comb-Over
A comb-over is a classic men's hairstyle that consists of a long section of hair on top of the head that is parted to one side and combed toward the other. The cut, which can help make the hair appear full, is often popular with gents with fine hair.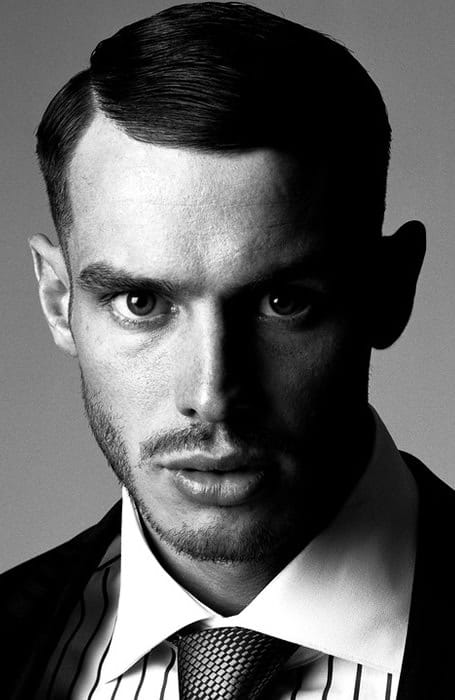 Crew Cut
A crew cut is a type of men's haircut where the upright hair on the top of the head is cut short. Additionally, the sides are cut or tapered exceptionally short to create a neat and tidy appearance.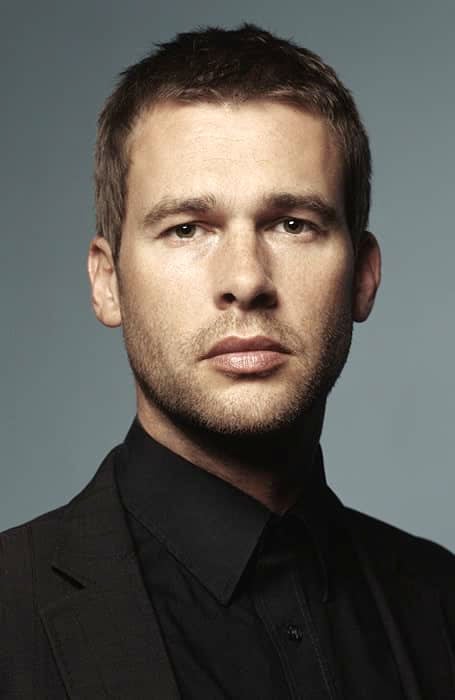 Curtains
The curtain haircut has a 90s grunge aesthetic and features a long fringe but short sides and back. It can be worn with a middle parting or a side parting. Nowadays, the hairstyle has a more modern approach and lends itself well to personalization; this can be with different colors and lengths.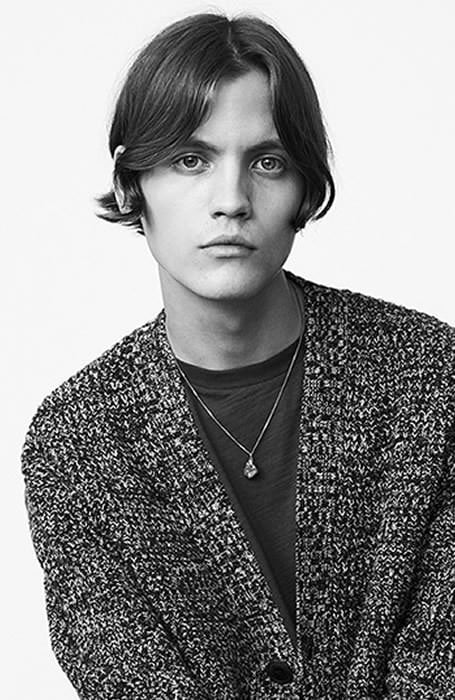 Disconnected Undercut
Today, a disconnected undercut is one of the most popular hairstyles for daring gents. The cut features a longer length of hair on top and significantly shorter sides. Unlike taper and fade styles, the disconnected undercut forgoes any gradual change in length and opts for a bold contrast instead.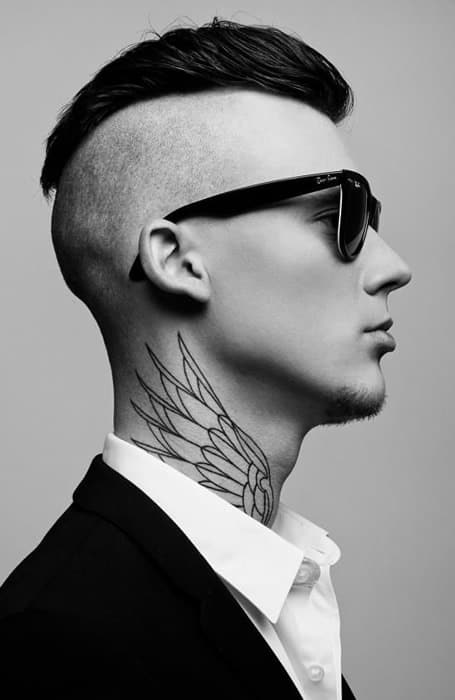 Dreadlocks
Dreadlocks are a type of hairstyle where long strands are matted or braided into ropelike locks. The unique look is most often associated with the Rastafarian movement and can be created by twisting hair while wet into tight braids or ringlets.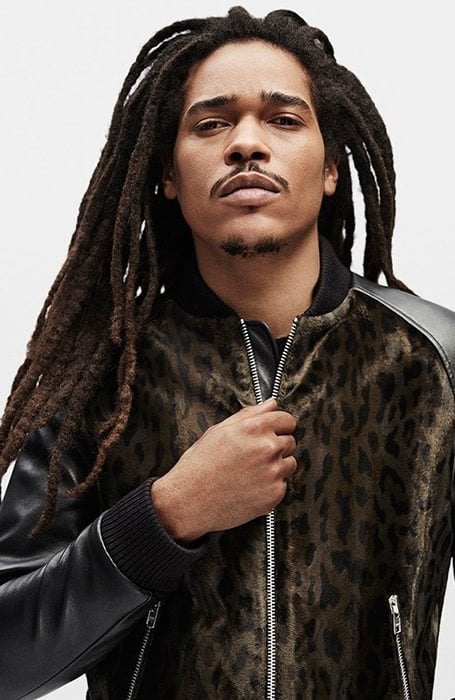 Drop fade
The drop fade drops low and behind the ear, hence the name, and the arc shape creates a natural appearance. This makes it easier to wear and more subtle. It is versatile, and it can be paired with a vast range of looks, such as a disconnected undercut or with a pompadour.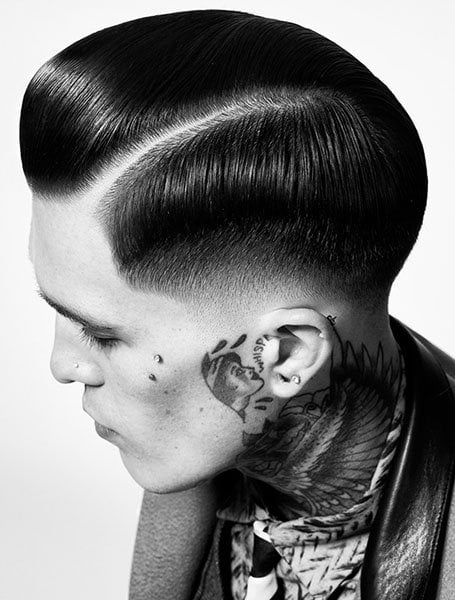 Edgar
The Edgar haircut is fantastic for men with long, oval, and angular faces who want a fresh, masculine look. Depending on your preference, the Edgar can be created with various hair textures and types and can be worn with fades and facial hair.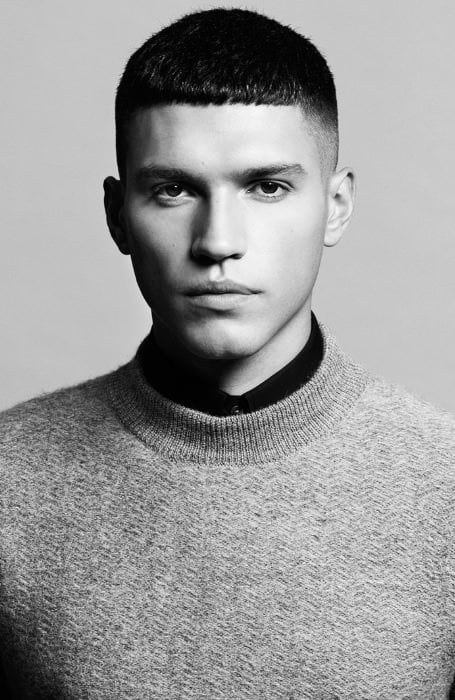 Faux Hawk
A faux hawk, which aims to emulate a mohawk without actually being one, is a great modern interpretation of the classic punk trend. The look features short sides and a longer strip of hair on top that is styled upwards.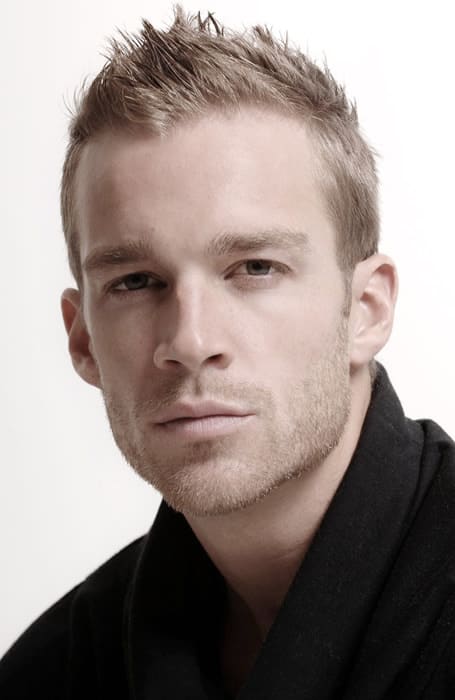 French Crop
A French crop is a minimalist cut with short sides with a similar or slightly longer length. The cut is styled forward on top to create a small fringe along the hairline. A French crop is similar in appearance to a Caesar haircut, and the two are often confused.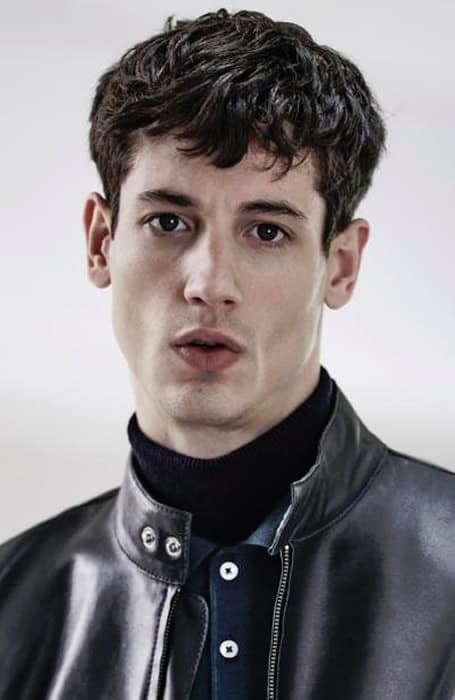 Fringe
Adding a fringe to your hairstyle can completely transform your look. Choose between front bangs for a retro style or a side-swept fringe for a more contemporary appearance.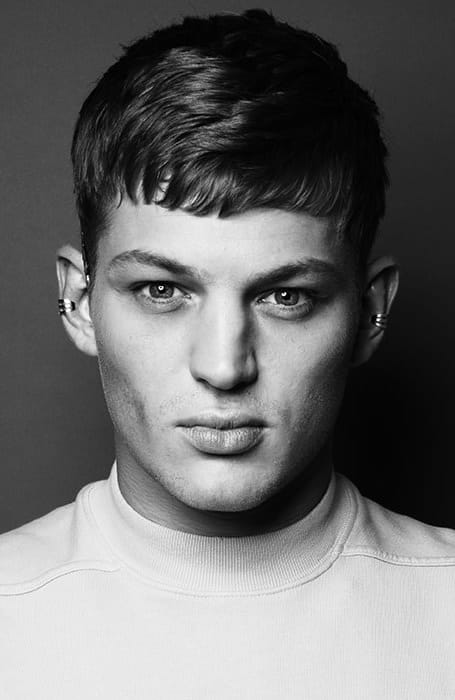 Frohawk
Frohawk is a hairstyle style similar to a mohawk but created with afro-textured hair. The result is a full and voluminous top with shorter sides. This creates a brilliant contrast and is a great way to show off your texture and embrace its natural volume.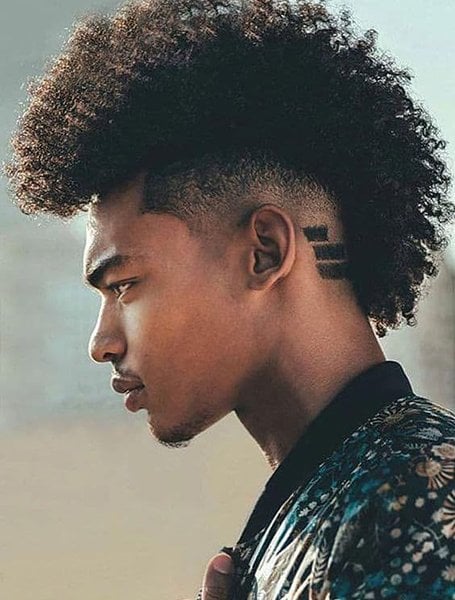 Hair Design
Hair design is a great way to show off your personality and fun side. The fantastic thing about this look is that there are so many options to choose from, some simple and subtle, others daring, and they will all grab attention.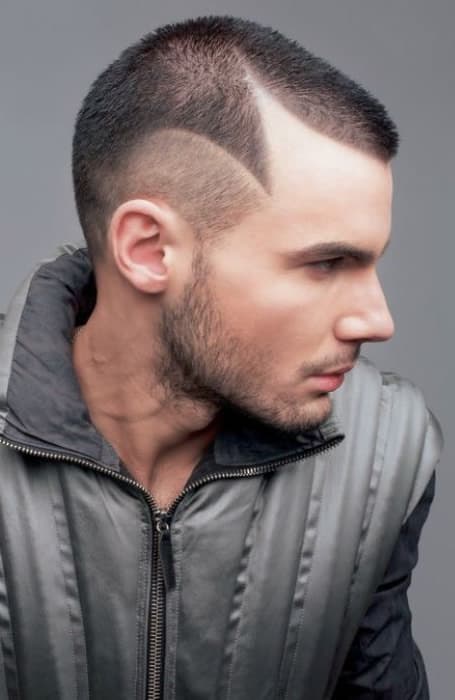 Hair Twist
Hair twists are achieved by twisting hair strands and are a fantastic option for Afro-textured hair because they are easier to create than other protective styles. They work on various hair lengths and can be paired with different fades and even other braids for a fresh and masculine appearance.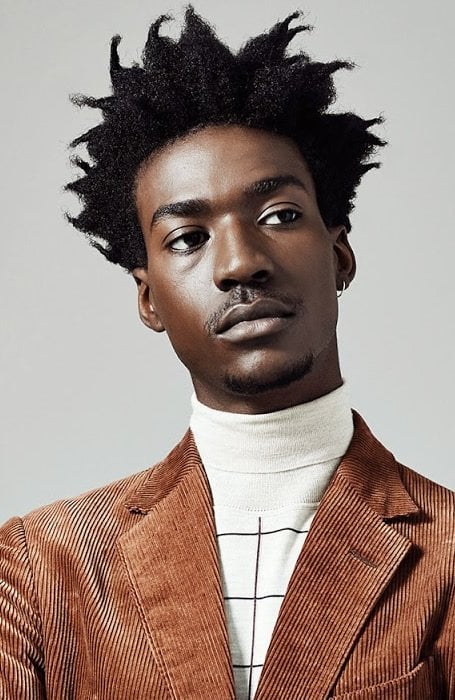 High Fade
The high fade is a more daring hairstyle than its smaller counterparts. The look quickly decreases from a long top to completely short sides for a contrasting and blended appearance.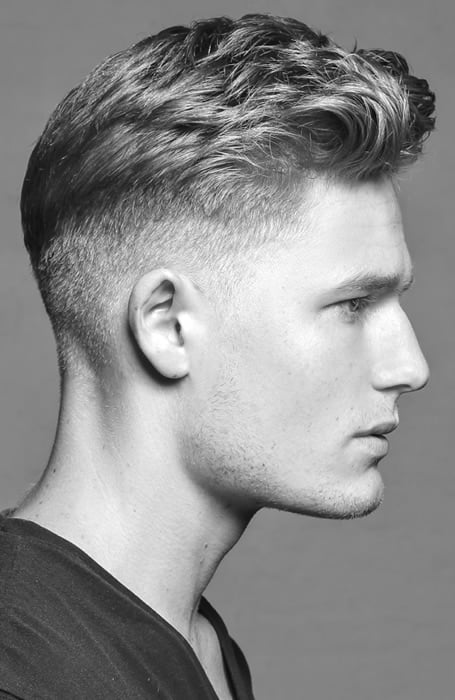 Ivy League
An Ivy League haircut sometimes called a Princeton or Harvard clip, is a slightly longer version of the traditional crew cut. The cut features hair on top of the head that is long enough to wear with a side part.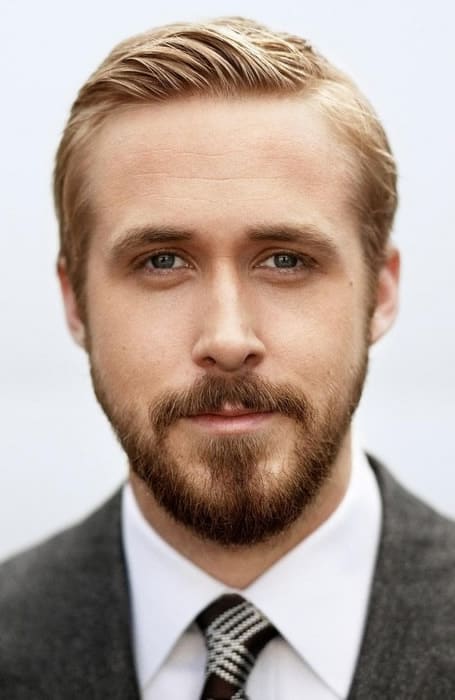 Low Fade
The low fade quickly graduates from short buzzed strands around the ears to longer sides. The look appears neat and tidy while remaining subtle and stylish.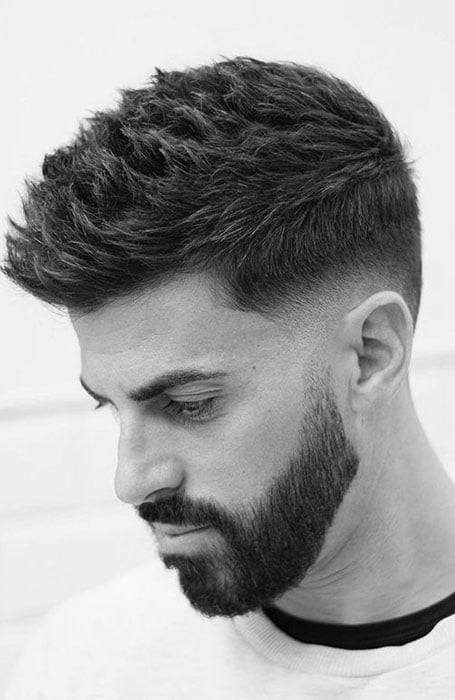 Man Braid
Man braids are the latest trending hairstyle for gents. Part of their appeal is their ability to create a range of different stylish looks. From bold, all-over braids to a subtle braided part, this look has an option for everyone.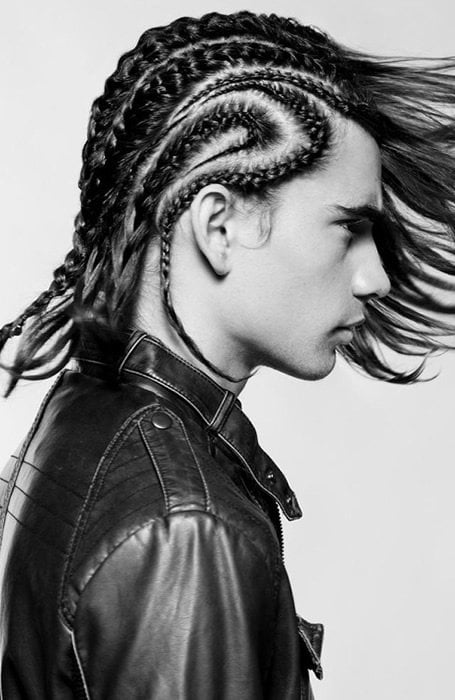 Man Bun
The hipster haircut known as the man bun was introduced several years ago and is still going strong. The stylish look is ideal for medium-length and long locks and involves tying all hair up into a single bun at the back of the head.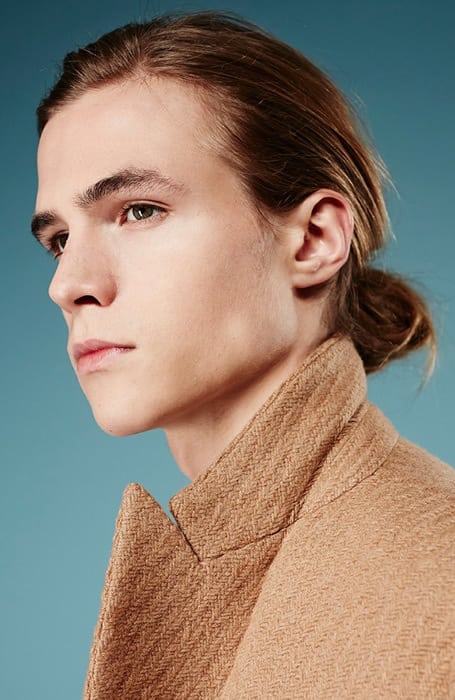 Mid Fade
The mid fade features faded sides where the hair graduates from long to short in between the crown and the ear. This stylish cut is a great option for any gent who is looking for something bolder than a low taper fade but more subtle than a high version.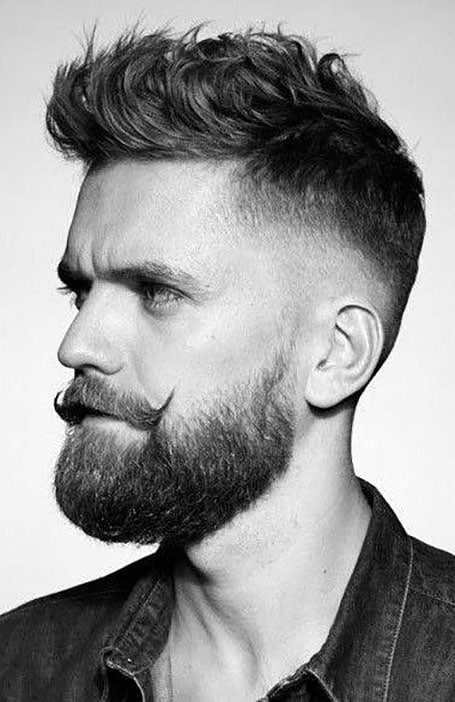 Military Haircut
Along with the traditional military haircut, which features a side part and is neatly gelled in place, this category includes many other styles. The buzz cut, military fade haircut, Ivy League, crew cut, regulation cut, undercut, and flat top are all considered military and army hairstyles.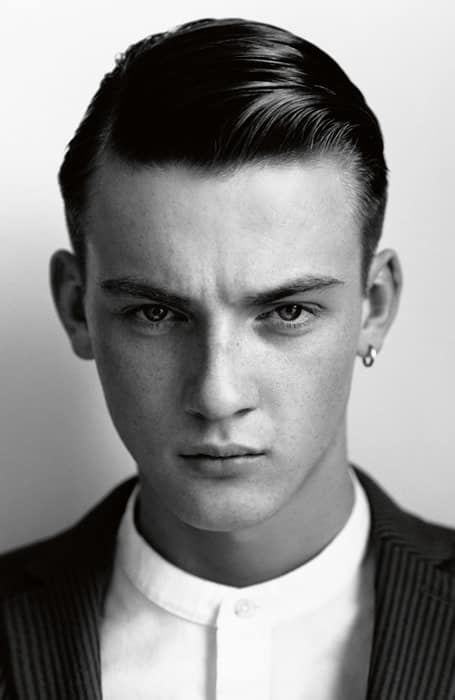 Mohawk
A mohawk is a punk-inspired hairstyle that features a strip of long hair running from the hairline to the back of the head and contrasting short sides. Although the look traditionally features sharp spikes, it can be styled in many ways for a more modern appearance.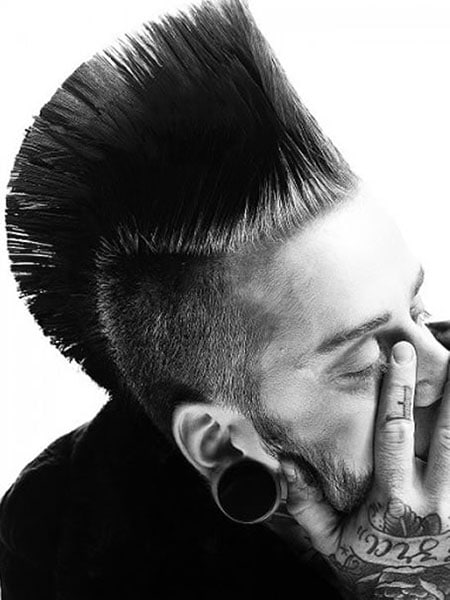 Mullet
The mullet is a controversial style first popularized in the 80s; it is kept short on the sides and the top of the head and left longer in the back. That said, it is surprisingly versatile and low-maintenance, suiting a wide variety of face shapes.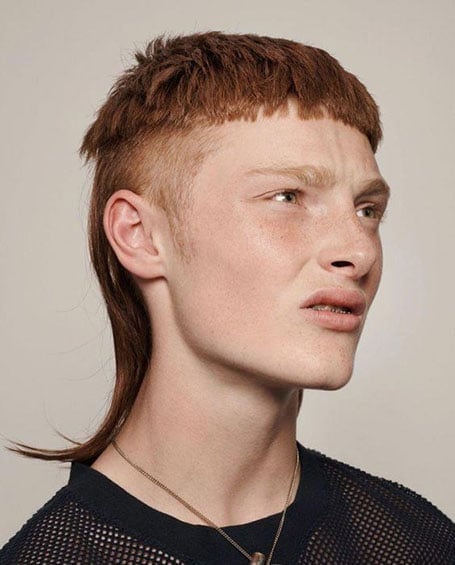 Pompadour
A pompadour is a classic men's hairstyle that dates all the way back to the 1700s. Although it originated as a hairstyle for women, celebrities like Elvis made this style a key look for men. Today, the cut, which features hair styled up and back off the forehead, is a highly popular choice for gents.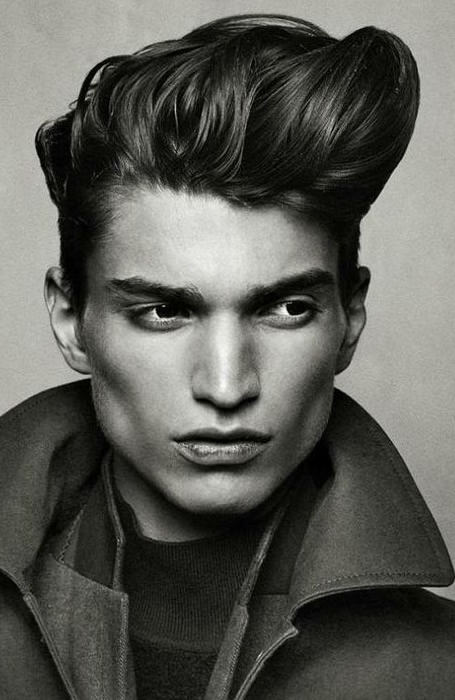 Quiff
A quiff hairstyle is similar to a pompadour and also features hair that is brushed up and backward from the forehead. Unlike a pompadour, which features all hair on the top of the head-styled back, a quiff is created by first brushing all the hair forwards before styling it into a wave shape.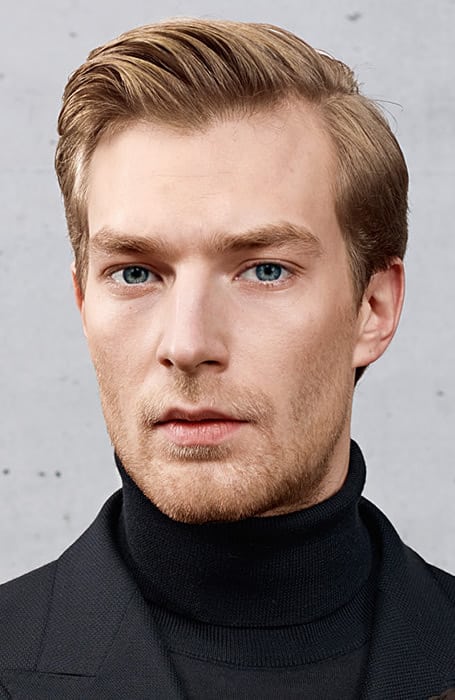 Shaved Sides
Many of today's most popular hairstyles feature shaved sides. You can rock the look with either a long length on top for an extreme contrast or a shorter crop for a more subdued style.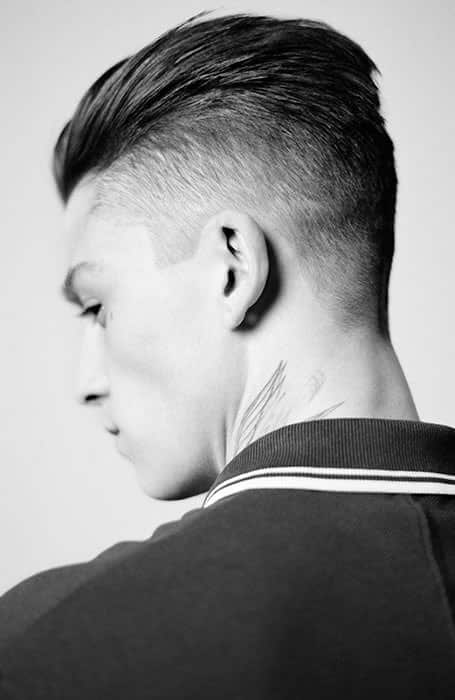 Short Back and Sides
Haircuts featuring a short back and sides are some of the most popular styles for gents today. The look can include many hairstyles, such as the French crop, faux hawk, side part, pompadour, crew cut, and more.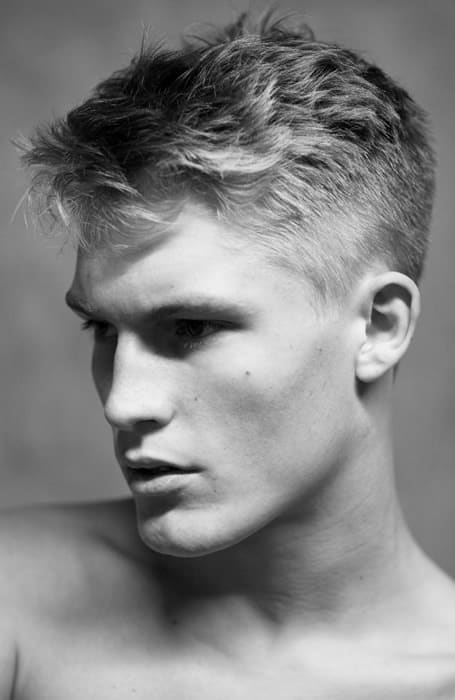 Short Sides Long Top
A haircut that is short sides long top is exactly as the name suggests. There is more length kept at the top of the head, while the sides are shorter. This could be a gradual shortening with the use of a fade, or they could be shaved to create more of a contrast. The appeal of this look is that the top of the hair appears thicker and more voluminous.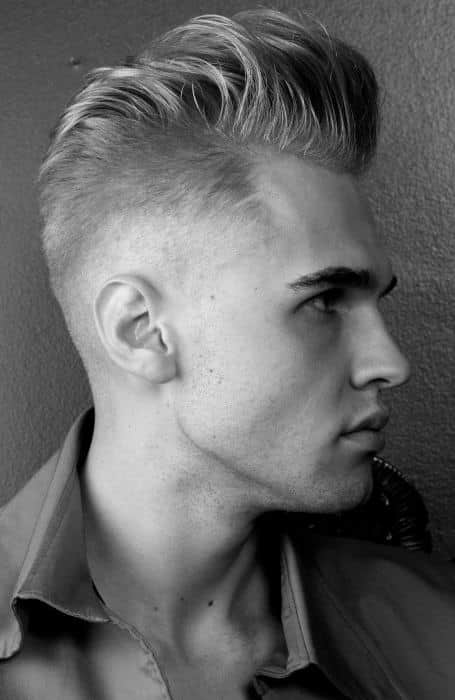 Side Part
Just as it sounds, a side part hairstyle for gents is a look where the hair has been parted off to one side. The look is ideal for creating an appearance that is neat and polished. For a classical take on this style, keep your hair combed and sleek. Add plenty of texture and volume for a more modern interpretation, and keep things a little less structured.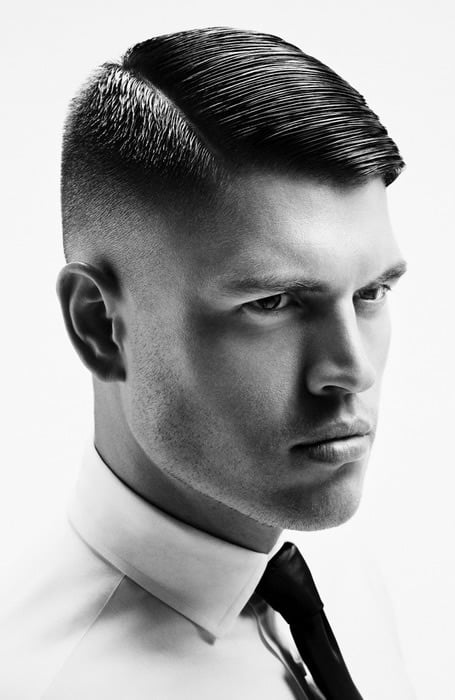 Skullet
The skullet is halfway between the mullet and skull; hence the name; A clean-shaven skull defines the cut, and hair is left on the back of the head. It is not for the faint-hearted, which is why it's not a mainstream look that you see every day but is edgy and has a rebellious vibe.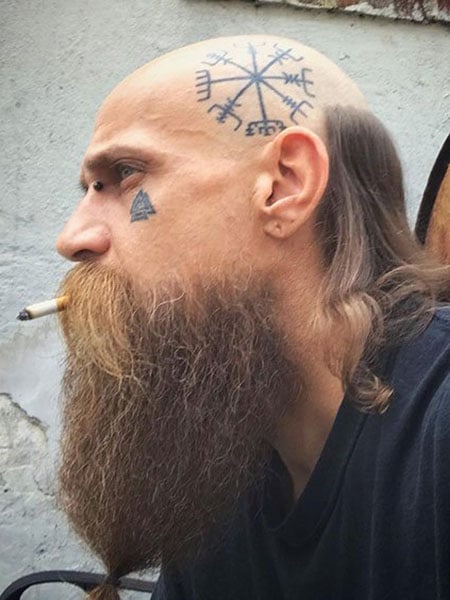 Slicked Back
A slicked back look is a traditional business hairstyle for men that appears sharp and sophisticated. You can create the style by combing all your hair backward while using some pomade or gel to secure the shape. While using a small amount of pomade will create a more modern appearance, a decent dollop of wet-look gel will lead to a cool rockabilly hairstyle.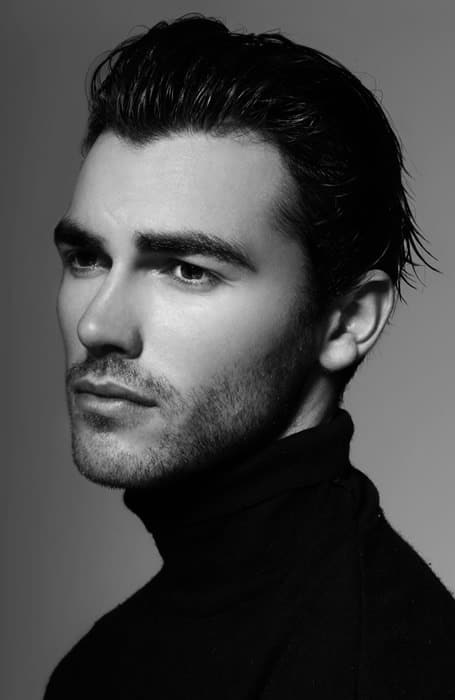 Southside Fade
The southside fade haircut originates from the southside of Houston, Texas. It is a fresh and edgy approach to a fade which sees the hair cut short on the bottom and left thicker on top.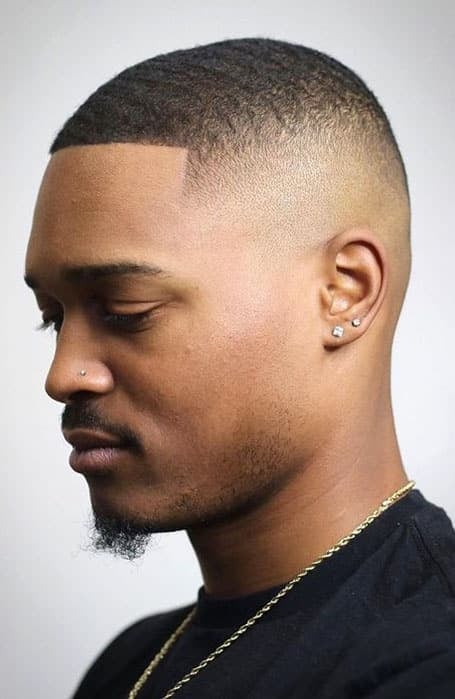 Spiky Hair
Spiky hairstyles are styled, so the hair appears as sharp points and sticks up. The edgy look can be created by working gel or wax through the hair and pulling small sections into points.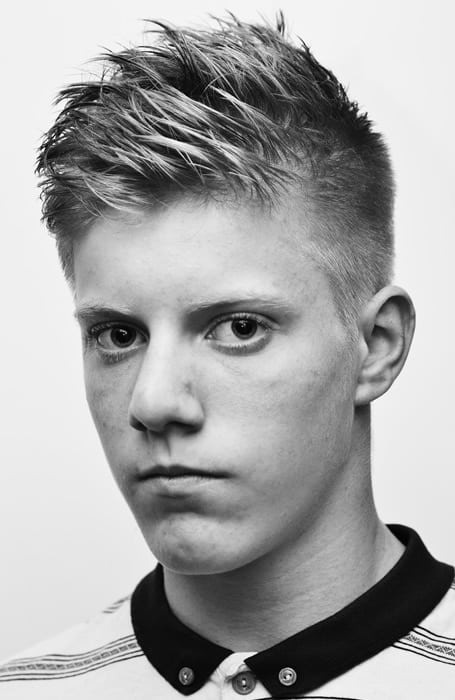 Taper Fade
A taper fade – often referred to as a taper – differs from a classic fade in several ways. Both involve gradually cutting the side and back of the hair short while leaving the top section longer. However, a taper fade is cut shorter and can result in fading down to the skin at any point.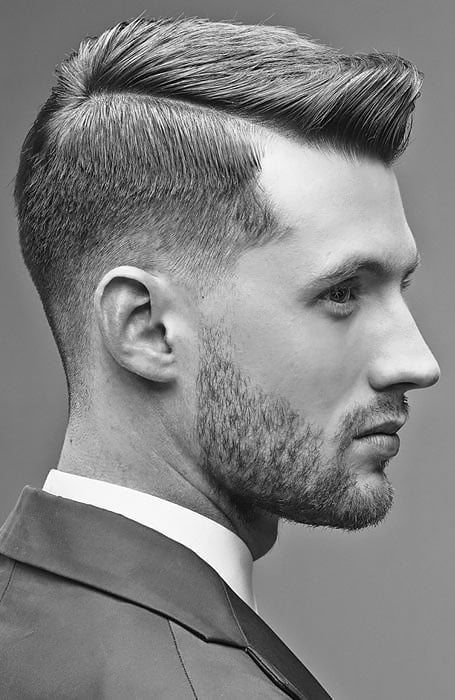 Top Knot
Similar to a man bun, a top knot is a hairstyle that features a bun on the top of the head. It is also commonly paired with shaved sides for a more powerful appearance.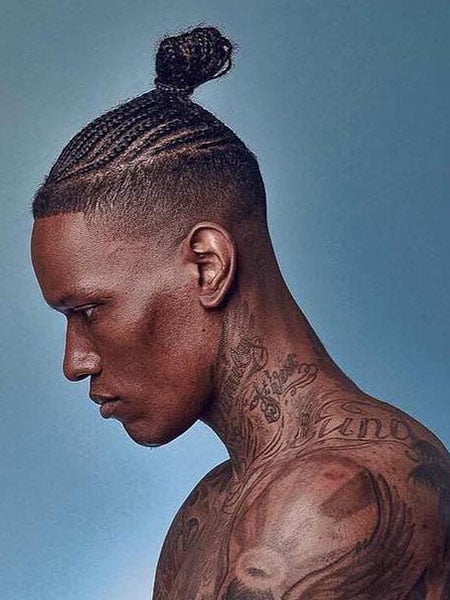 Undercut
Undercuts have seen a significant resurgence in popularity in recent years. The look, which encompasses both disconnected and faded versions, features long hair on top of the head and shortly buzzed sides and back.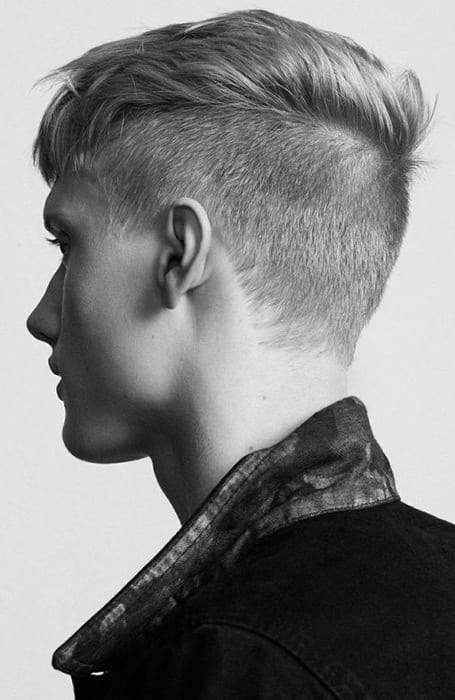 If you liked this article, check out the best men's haircuts for all face shapes and hair types!
Haircut Styles FAQs
How many types of haircuts are there for men?
There are at least 30 different kinds of haircuts for men, then dozens of variations within that. Starting at the top of the alphabet there is: blowout, bowl cut, buzz cut, Caesar, comb-over, crew cut, disconnected undercut, dreadlocks, fade and taper, faux hawk, French crop, fringe, high fade, Ivy league, low fade, man braid, man bun, mid fade, military haircut, mohawk, pompadour, quiff, shaved sides, short back and sides, side part, slicked back, spiky, taper fade, top knot, and undercut.
What is the most popular haircut?
Some of the most popular styles at the moment are the undercut, short back and sides, fades, slick back, quiff, side part, and pompadour.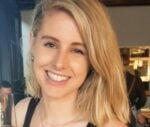 Taylah Brewer holds a bachelor's degree in fashion and business and is a skilled writer with several years of experience in the world of online content creation and copywriting. She is passionate about fashion, beauty, and all things lifestyle-related and has been writing for The Trend Spotter since 2016. She currently works as the Head of Digital & Ecommerce at White & Co.
SUBSCRIBE TO OUR NEWSLETTER
Subscribe to our mailing list and get interesting stuff and updates to your email inbox.