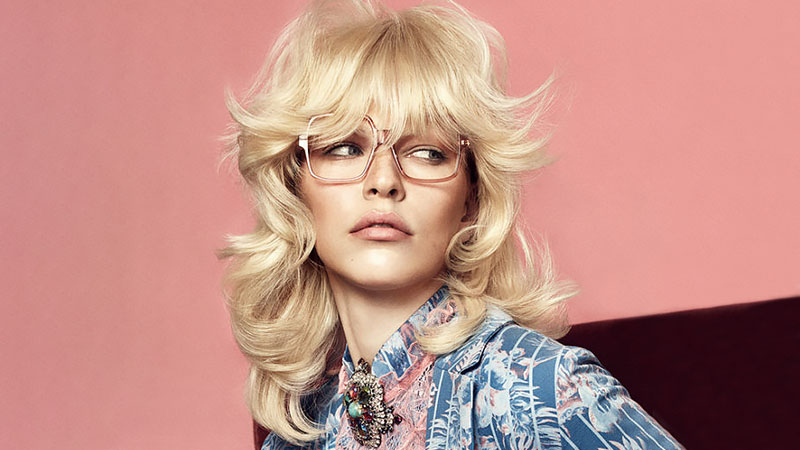 The 70s was an important decade marked by a counterculture movement and campaigns for political change. But it was also an expressive time for fashion, beauty, and hair, and the 70s have given us some of the most influential hairstyles which remain relevant today for their versatility. Whether you want to embrace your natural hair in a glorious afro that makes a statement or have fun with disco hair or hippy-inspired braids, there is something to suit every preference. Opt for full drama and volume, or sleek and straight hair that is perfect for all occasions; Keep reading to become inspired by the best 70s hairstyles for women.
RELATED: What to Wear to a 70s Party
1. Layered Hair
The 70s were all about haircuts with interesting layers, helping achieve depth and dimension. Layers can be added to any hairstyle and give hair movement. For thick hair, layering can help remove some of the weight, while for thin and fine hair, layers can create the illusion of thicker, fuller hair. You can experiment with the placement of your layered hair, but an excellent choice would be to focus them at the front, around the face, creating a framing effect. This is an incredibly flattering approach to layering and will complement women of all ages.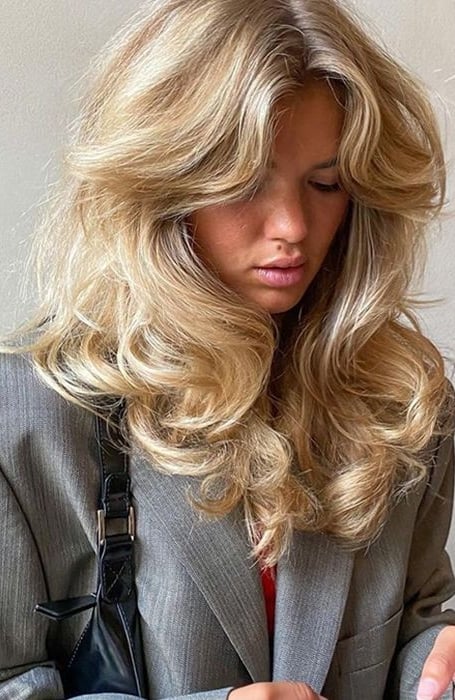 2. Beehive Updo
Look no further than the beehive if you want a hairstyle that demands attention and will get you noticed. The hairstyle is believed to have been created by Chicago stylist Margaret Vinci Heldt in the 60s and has been favored by some of history's most glamorous women. The look continued to be popular throughout the decade and into the 70s. This style is about volume, styling the hair high on top of the head and in a conical shape. The result is a stylish updo that feels glamorous and lets you have fun with your hair. The beehive works with all hair textures, but you must have medium-length or longer hair.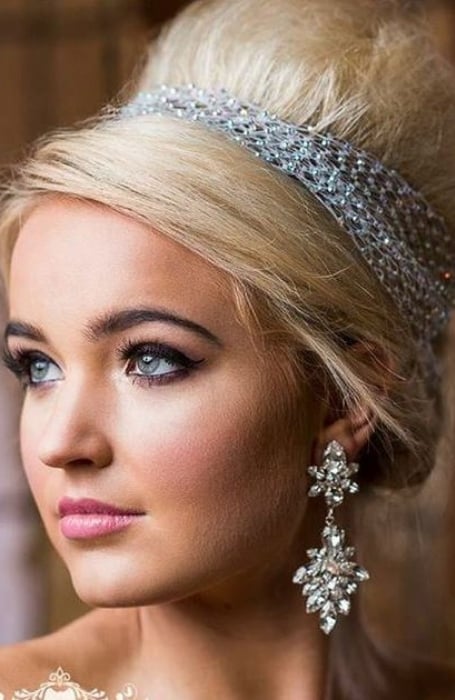 3. Natural Afro
The natural afro hairstyle is an attractive way to embrace your curls and show them off. The fullness of this look makes it instantly noticeable, but there are several ways to style it, depending on your desired length. The 70s approach was about creating volume, opting for brilliant, voluminous, and perfectly circular hair. This look is about more than making a style statement; it also celebrates Black women and encourages political change.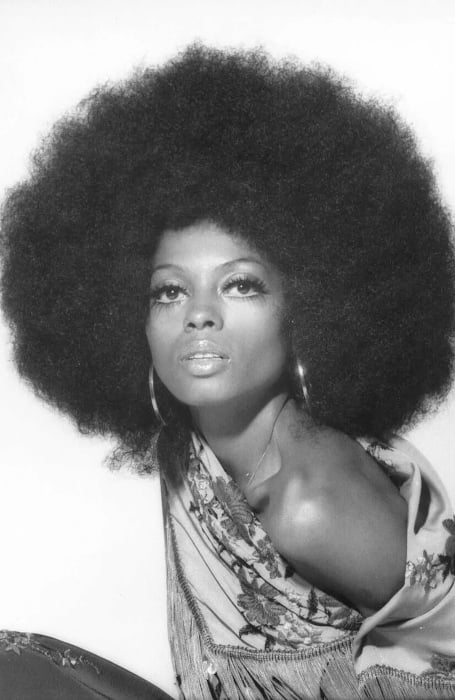 4. Feathered Hair
Feathering is a layering technique but is created more delicately. Soft layers give the hair movement and can be added to the hair to achieve a more subtle finish. Feathering is excellent for giving the hair depth and dimension and can be used to remove weight from thick hair or make thin and fine hair appear fuller and thicker. This approach to layering is incredibly versatile and can be added to hair of all lengths and textures, including short hairstyles like the pixie cut or 70s classics like the shag haircut.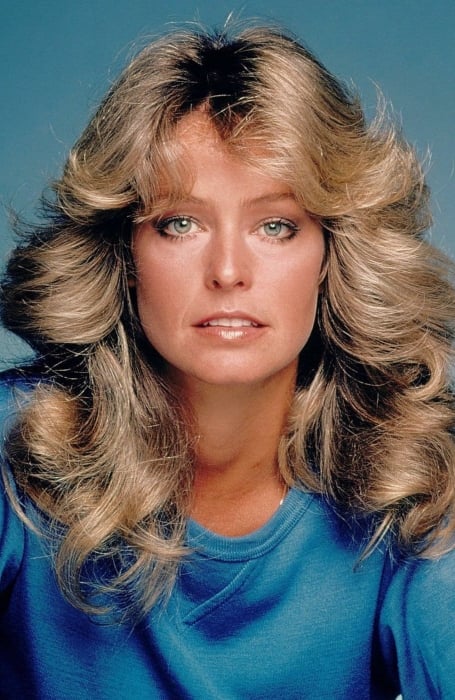 5. Curly Shag
The shag is one of the most versatile and stylish haircuts, defined by its heavy layers. It has fullness at the crown and thins toward the ends. This hairstyle can be adapted to suit your hair texture and is great with curly hair because it removes some of the bulk and weight from the hair. The curls also give the shag a softer and more blended appearance.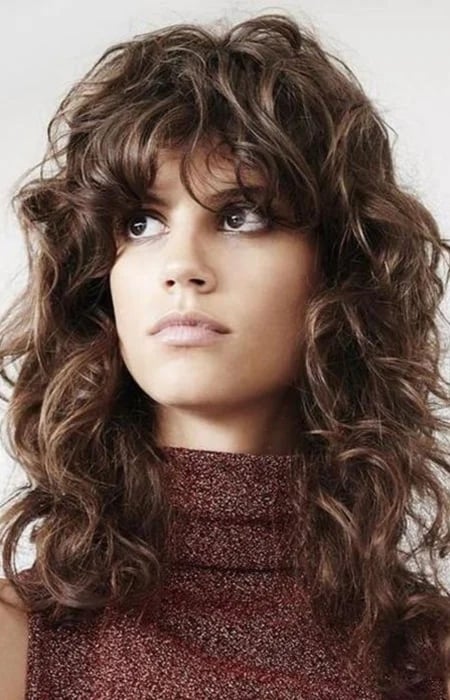 6. Hippy
The 70s was an influential decade with a definite shift, including the counterculture and youth movement, in which individuals were referred to as hippies. Hippies were all about spreading love and encouraging openness. They avoided violence and promoted the love, not war slogan. The movement also influenced style, and hippie hair can include braided styles, wearing long and loose hair, and using stylish accessories like scarves or flower crowns. This expressive hairstyle can be adapted to suit your preference, hair type, and length.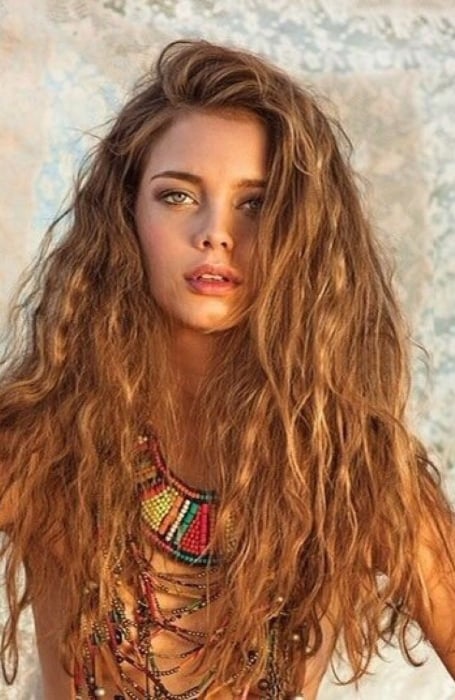 7. Disco
The 70s was a time for dancing the night away at one of the local discotheques. The nightlife also inspired fashion and beauty trends; disco hair is big, curly, and fun. This look is easier to achieve on naturally textured hair, but the right styling and products – you need lots of hairspray regardless of your texture – can help you transform your locks into this statement style. It's an expressive and youthful hairstyle and will give the hair volume.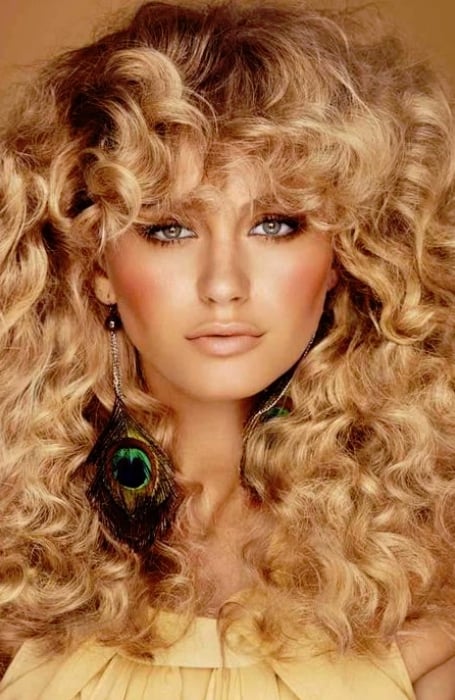 8. Bangs
Bangs are a great addition to any hairstyle and are an excellent way to draw attention to your features. They are also ideal for disguising imperfections on the forehead, including problematic skin, and can hide signs of aging like fine lines and wrinkles, giving you a youthful finish. The 70s approach to bangs could be curtain bangs with gorgeous, flipped ends for a face-framing effect while also creating volume. Or you could opt for blunt bangs, cut straight across the face, which are high drama and extremely chic. You can wear bangs on all hair textures, often looking sleeker and more noticeable on straight hair and soft and blended on curly hair.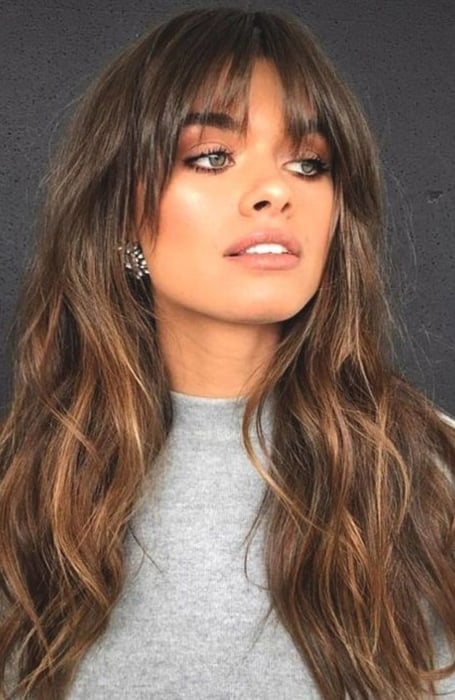 9. Braids
Braided hairstyles were popular in the 70s. There are multiple styles to choose from, including adding thin braids to the hair for a hippie-inspired look or trying out bohemian box braids, which are a beautiful and versatile protective style. Accent braids were also popular during this decade and were a cute and girly addition to the hair and can be created to frame the face. Braids are incredibly versatile, letting you choose the most appealing look. Braids can also be worn with all hair textures, created with natural hair, or added with artificial extensions.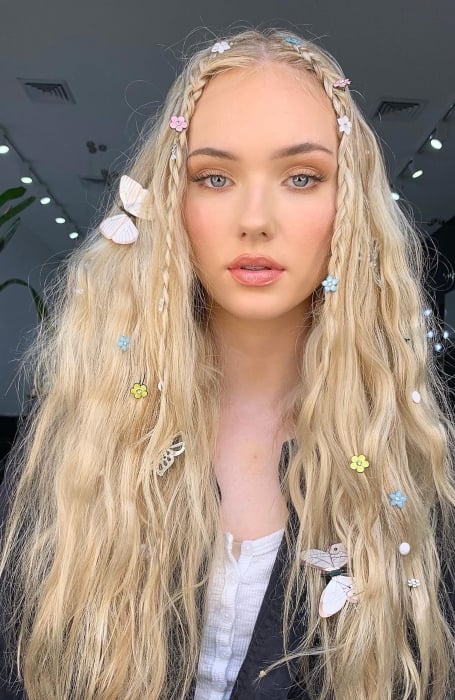 10. Classic Shag
The shag haircut gained popularity in the 70s. Although this cut has many versions because it is easily adapted to hair texture and length, the classic approach is created on medium-length hair and is heavily textured, and features choppy layers. The hair is full at the crown and layered toward the back, creating an interesting contrast. The hairstyle should also have bangs and be parted in the center. The result is an edgy and chic haircut that will look great on women of all ages.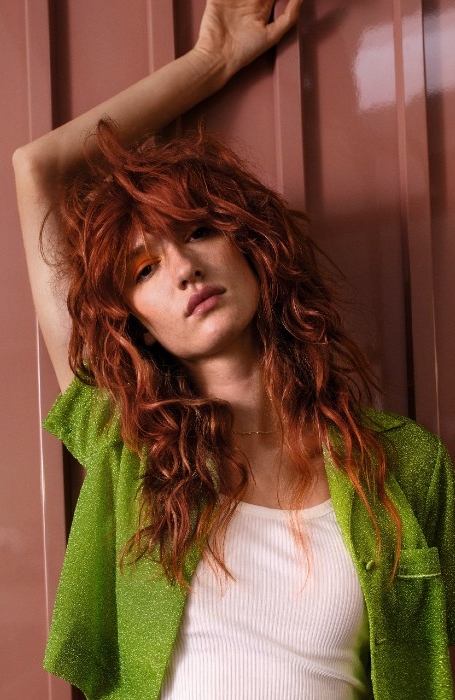 11. Shaggy Mullet
The mullet haircut is controversial and has an unflattering reputation, but this cut has a lot to like. It is defined by the hair being short at the top and sides and longer at the back, which creates a brilliant contrast. The hair will be heavily layered for a shaggy approach, giving you an effortlessly cool appearance. The hair on top of the head also appears fuller, thicker, and more layered at the back, making this an easier version of the mullet to try out and more versatile. This hairstyle takes confidence to pull off, and it is not for everyone, but it is surprisingly flattering on most face shapes.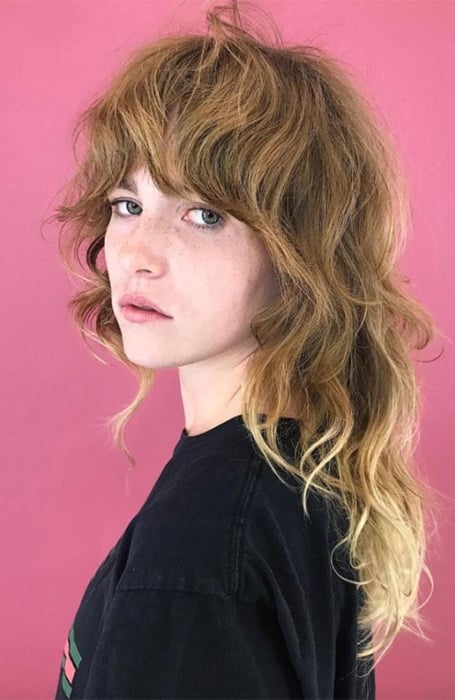 12. The Blunt Cut
The blunt cut is defined by its blunt ends and lack of layers. Instead, the hair is cut at one length, giving it a sleek and chic finish. This is an excellent style for removing dead ends and will look healthy. It can also be created on various hair textures and lengths, but shorter styles are bolder and create more drama. The blunt cut is also complemented by bangs, drawing attention to the face and highlighting your features. Blunt bangs are also great for creating a youthful appearance.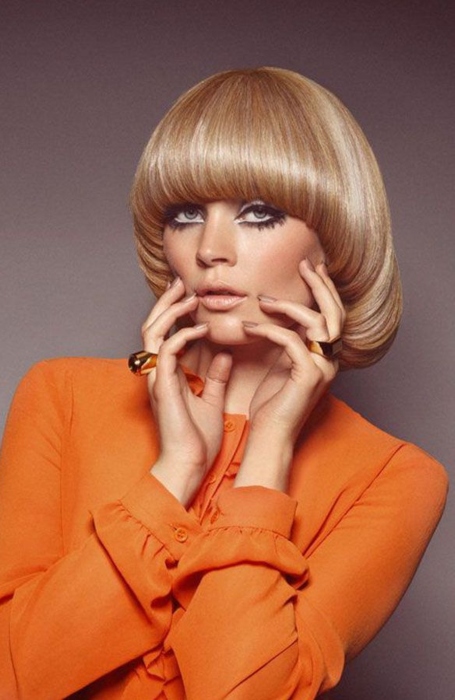 13. Low Pigtails
For a fun and youthful hairstyle, the low pigtails are ideal. This style is created by parting the hair into two sections and fastening each side. Wearing the pigtails lower is more versatile, looking less girly and chicer. They appear looser and can be achieved with medium-length or long hair. Low pigtails are also a style that can be adapted to suit your hair texture. It is great when paired with bangs or to leave some of the hair loose at the front to create a soft and romantic finish. Or brush the hair back to achieve slight volume at the front of the head.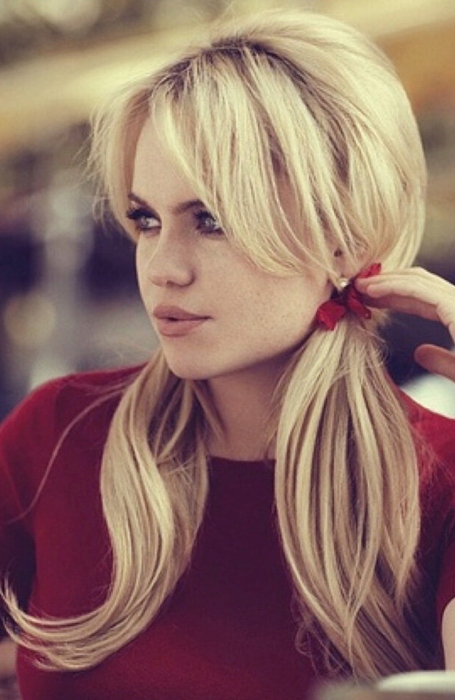 14. Half-Up Beehive
The beehive hairstyle is defined by its conical shape, which resembles a bee hive, hence the name. It is a great style for achieving volume and will make a statement. For an alternative to the classic beehive, you can style it in a half up half down style, which is a pretty alternative to the classic look and more wearable, leaving some of the hair loose to show off your texture. The hair falling around your face is also incredibly flattering and will create a framing effect. How big your beehive will depend on your hair length and texture, and thicker, longer hair will make even more of a statement.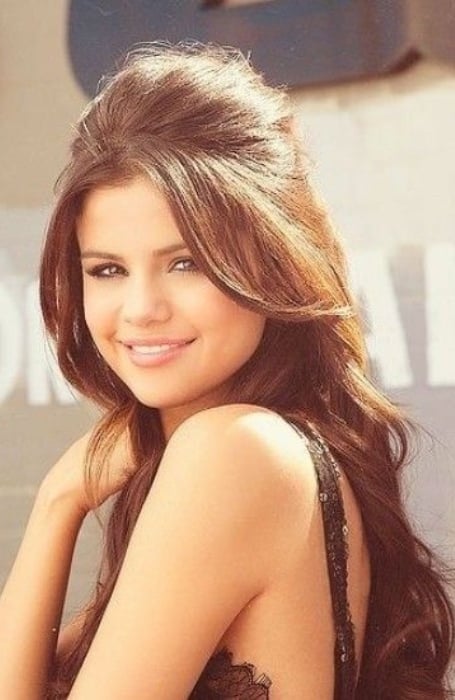 15. Scarf in the Hair
The right accessories can transform your hairstyle, and a scarf can be added to various looks. This is a great way to show your style, and you can choose scarves in different patterns, prints, and colors. There are also a wide variety of sizes to choose from and ways to add the scarf to your hair, whether it is tied over an updo or to keep the hair out of the eyes when wearing it long and loose for a free-love-inspired appearance. Scarves can also help tame the hair, preventing tangles and reducing frizz and breakage. The best fabrics to choose from are satin and silk.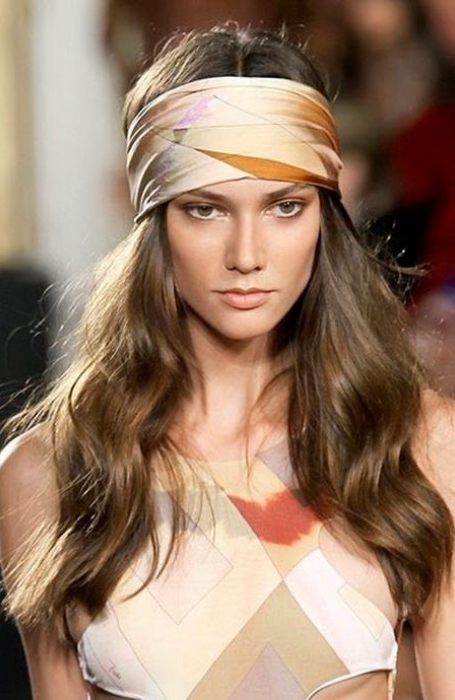 16. Long and Wavy with a Center Part
The center part is one of the most stylish ways to wear your hair and looks great on most hairstyles and hair textures. If your hair is long and wavy, wearing it with a center part can add more structure to your hairstyle. The parting will naturally create a face-framing effect, as hair will fall to either side. This can be incredibly flattering and give you a youthful appearance. Despite the many pros of the center part, there are some downsides, and it is challenging to pull off because it is unforgiving to those who do not have symmetrical features. Instead of complementing imperfections, it will draw attention to them.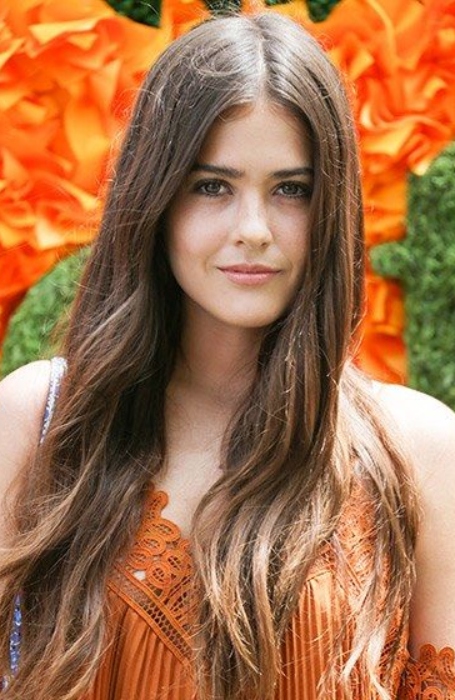 17. Long Shag
The shag is a 70s favorite, loved for its heavy layers and deliberately messy and unstructured appearance. This hairstyle can also be adapted to suit different hair types, but the classic shag is created on medium-length hair. For a more modern approach and to style the hair so you can still retain your length, opt for a long shag. The shag hairstyle is effortlessly cool and will give you a youthful appearance. However, the longer length can also help you achieve a slightly less choppy look.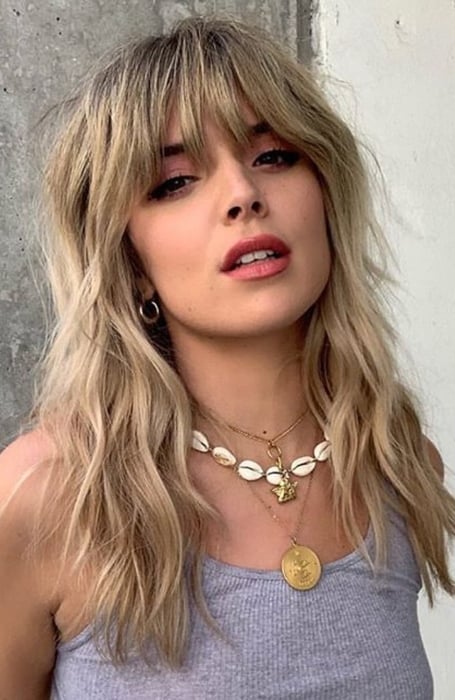 18. Long Flipped Out Curtain Bangs
One of the best styles to emerge from the 70s was curtain bangs. These bangs are one of the most versatile and universally flattering options and can be added to most hairstyles. There are many versions of curtain bangs, depending on how you wish to style them, but the common feature is that they are middle parted, creating an incredibly flattering face framing effect. It is also an excellent way to highlight your features and draw attention to your face. For the ultimate 70s approach, you want to wear them long and flipped at the ends. Flipping the ends has an upturned appearance and gives the hair volume and movement.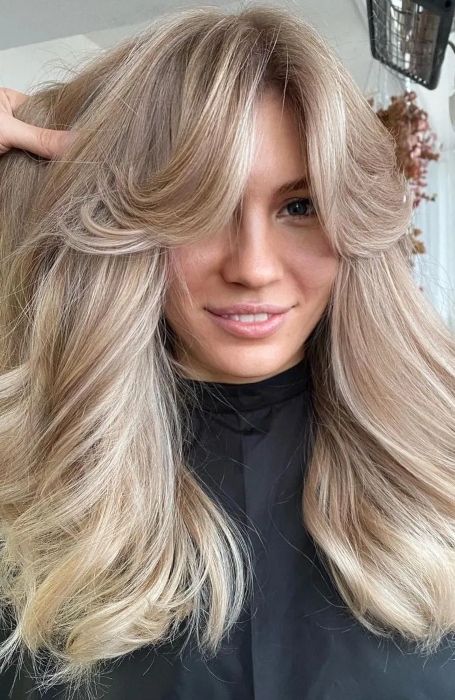 19. Voluminous Roller Curls
Rollers are fantastic for achieving the curly hair of your dreams and can be created in different sizes depending on your preference. It is a fantastic alternative to heat styling and an effortless way to change your hair texture or make your curls look more defined. Try rollers on medium or long hair to show off the curls for the best results, but the look can work with all hairstyles. You may wish to keep a few strands of hair loose around the face, which can soften your features and create a romantic and feminine finish.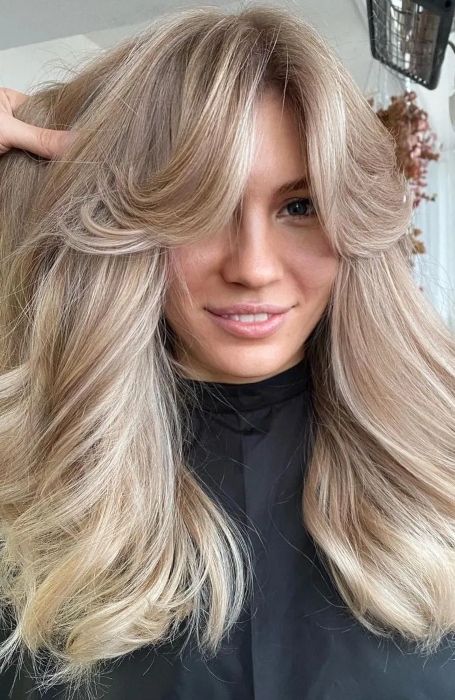 20. Brow-Skimming Bangs
Bangs look great on women of all ages because they are versatile and flattering. They give you a youthful glow and can be excellent for hiding signs of aging. Bangs are also fantastic for drawing attention to the face and highlighting your features. There are many fringed looks to try out, but brow-skimming bangs are soft and feminine and were a 70s favorite. The length is ideal as it sits just above the eyebrows, shifting the focus to your eyes without being too high-maintenance and impractical. It can also be particularly flattering on those with square or round faces. Cutting the bangs to be wispy will give you a feminine finish. Or style them with horizontal, blunt bangs for a bold appearance.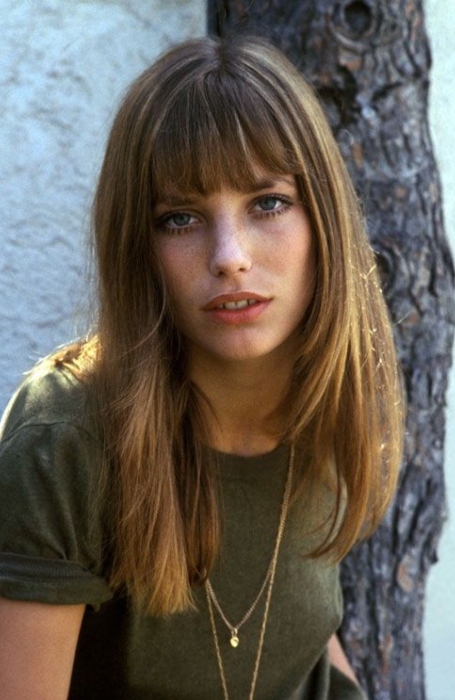 21. Accent Braids
One of the sweetest looks to emerge from the 70s is accent braids. This hairstyle is defined by small braids that are added to the hair. How many and how you choose to incorporate them depends on you. This includes braids on either side of the face. The beauty of these braids is they can be added to any hairstyle as long as the hair is long enough. You can leave them loose or pull the hair into an unstructured updo for a romantic and soft finish. Accent braids look great with most textures but will be more noticeable on straight or wavy hair.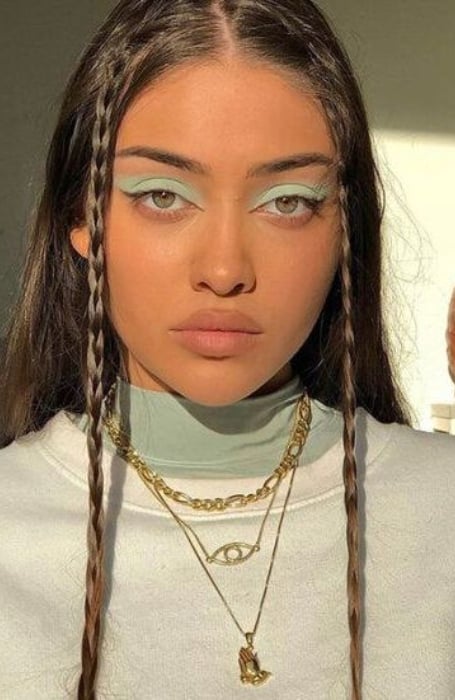 22. Sleek, Long, and Straight
Wearing the hair to appear sleek and straight can be incredibly stylish, giving you a sophisticated look that is ideal for all occasions. If you have naturally straight hair, this look is effortless to achieve; if not, you can use heat styling to achieve this simple but beautiful hairstyle. For long hair, there is also more versatility with how you style it; this could include trying out curtain bangs, blunt bangs, or any other fringe that appeals to you. Or style it in a middle parting, which can be incredibly flattering with straight hair.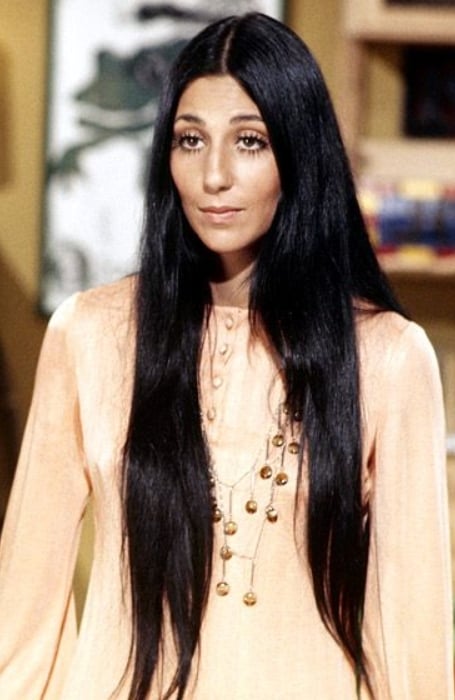 23. Voluminous Ponytail
The ponytail is one of the simplest updos to achieve, taking little time or effort. It is excellent for all occasions, depending on how you style it and can be achieved with all hair textures. The 70s version of the ponytail was all about volume, creating a practical ponytail that kept the hair away from the face and off the neck but also made a statement. The hair should be curled and worn high on the head, but how much drama your hair makes will depend on the length. You can also accessorize it as you wish, including with hair scarves or ribbons to give your hair a feminine finish.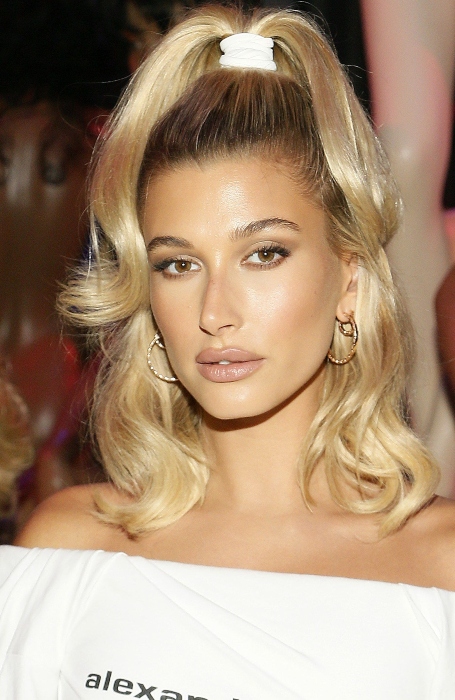 24. Long and With a Side Part
Long hair is great because you have unlimited styling options. This is a great length to try out more complicated braiding patterns and intricate updos, or it will make a statement when worn sleek and straight or pulled into a high ponytail. The appeal of long hair is more than its versatility; it is also a wonderful way to show off your texture. Consider a side parting if you want a stylish way to wear it. To achieve this look, you want to part the hair to one side so that it is focused on that side of the face. This parting is flattering and can be added to most hairstyles.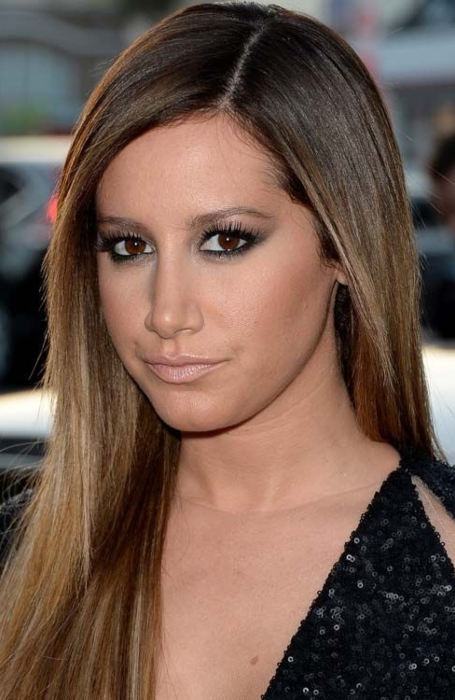 25. Puffy Bob
The bob haircut is a timeless style for women. Cut just above chin length, the bob is versatile and flattering on most face shapes and suits women of all ages. The cut can also be adapted to your hair texture, and you can experiment with slightly different lengths. However, it looks great when cut with layers to create depth and dimension. The puffy bob will be voluminous and full but also has movement, making it an incredibly chic option for any woman who wants to stand out from the crowd. You may also want to pair it with blunt bangs that are brow-skimming and exaggerated. Or opt for stylish curtain bangs that add a softness to your look.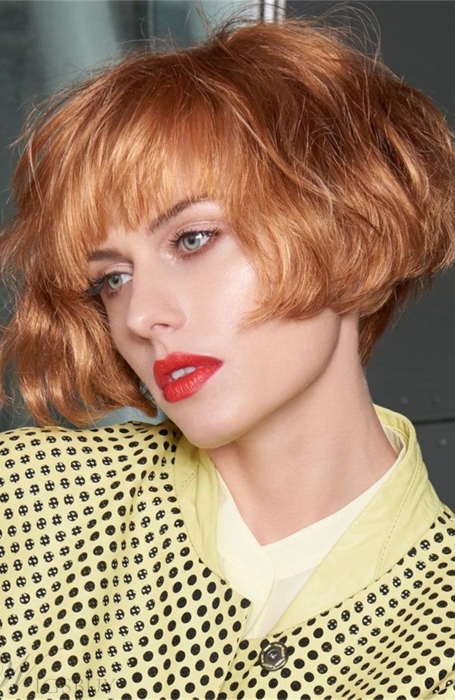 70s Hairstyles for Women FAQs
What is a 70s haircut called?
There are many different 70s haircuts to choose from, depending on your preference. Some are bold and make a statement because of their voluminous appearance, while others are sleek and sophisticated. Some of the most popular 70s haircuts are the shag, curtain bangs, flipped hair, hair with rollers, the beehive, and disco-inspired hairstyles.
What Hairstyle was popular in the 70s?
The 70s was an important and influential decade for political and social change but also for fashion and beauty. Many iconic hairstyles emerged from the 70s, but arguably the most popular was the shag. The shag is a haircut that is defined by its heavy layers. It has volume at the crown and thins out toward the back, creating a textured hairstyle that is fantastic for achieving movement. Other popular options included curtain bangs, layered and feathered hair, voluminous styles like the beehive or roller curls, and braided hairdos.
Are 70s hairstyles coming back?
70s hairstyles are coming back, and some have always remained popular. Several styles are enjoying a resurgence in popularity because of their versatility. There are other looks that are great for making a statement or embracing your hair texture, and then there are sleek and sophisticated hairstyles.
What hair accessories were famous in the 70s?
Hair scarves were a popular accessory in the 70s and remain a fantastic addition to your hair. This is a great way to add color to your appearance and show off your style, letting you choose from a wide range of colors, prints, and patterns. The hair scarf is also practical and can help tame your hair and prevent frizz and breakage. There are multiple ways to add it to the hair, and it looks great with most hairstyles, whether you are opting for a simple and unstructured updo or leaving the hair long and loose. Other accessories include barrettes, flower clips, and hair ribbons.
Why was long hair so fashionable in the 70s?
Long hair is expressive and can be styled in different ways. It is often associated with femininity and youth, and in the 70s, women also used their hair as an act of rebellion. Growing it long and leaving it loose or styling it with braids and hair accessories was a way to express themselves. Long hair was also associated with hippies, a counterculture movement that protested against violence and encouraged inclusion and free love.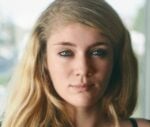 Cailyn Cox holds a degree in journalism and has been working with The Trend Spotter as a writer for over ten years. She has worked with some of the most prestigious women's and men's lifestyle publications. For her, writing is not just a job; it's a passion, which is why each article she writes is approached with such enthusiasm and dedication. She has extensive knowledge of hairstyles, tattoos, and beauty and has made a career out of creating informative articles that appeal to women and men of all ages.
SUBSCRIBE TO OUR NEWSLETTER
Subscribe to our mailing list and get interesting stuff and updates to your email inbox.