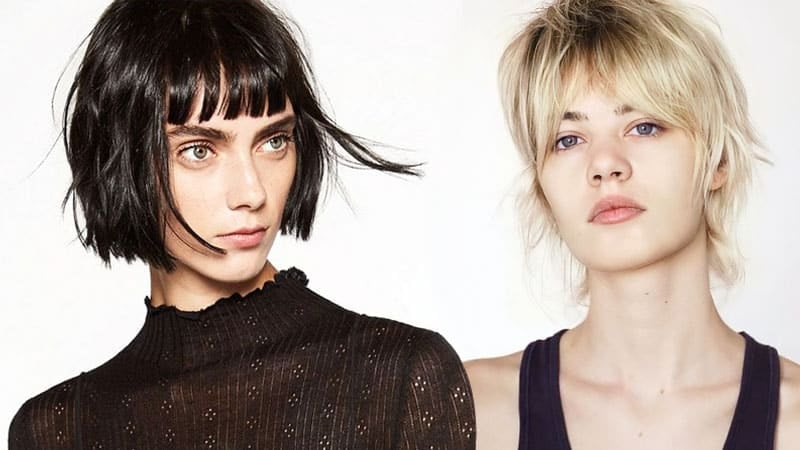 Short hair for women is gorgeous because it is effortless to style and looks great, regardless of age. But styling your cut with bangs will transform your look, giving you a fresh and modern finish to even the most classic cut. What is not to love about fringed looks? They bring attention to your face, often highlighting your features, and are great for achieving a youthful glow. If you have been looking for inspiration on updating your strands or contemplating chopping them off, we have just what you are looking for with these short hair with bang ideas.
RELATED: 100 Best Short Haircuts & Hairstyles for Women
RELATED: 60 Best Hairstyles & Haircuts With Bangs
1. Curtain Bangs Short Hair
Short hair with bangs is the ultimate combination, creating the illusion of length without all the hassle. But not all fringed styles are equal; some are much more challenging to pull off, while others are universally flattering. Curtain bangs are your choice if you are looking for the latter. They will update your appearance while also framing your face (this is because of the stylish middle part).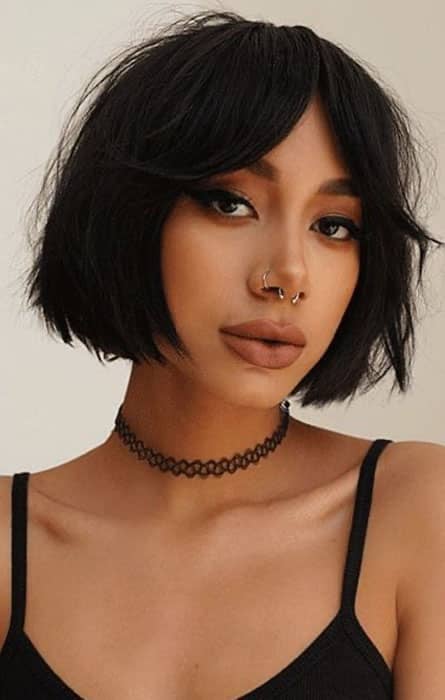 2. Short Bob with Bangs
The short bob haircut is one of the cutest styles you can choose. It is flattering on everyone, and the length, which falls around the mid-neck or collarbone, is an excellent way to highlight your features. The best part about this ultra-chic hairdo is that you can style it in various ways, including with bangs for a youthful and modern finish.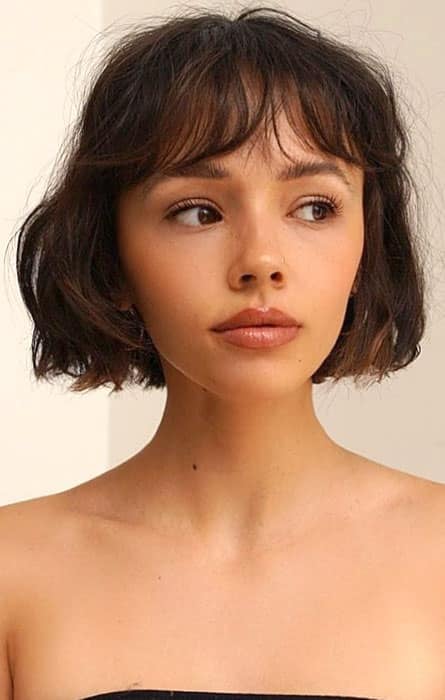 3. Medium Short Hair with Curtain Bangs
Medium hair is slightly longer than your standard short cut. This makes it an ideal choice for someone considering chopping their hair but not quite ready to take the plunge. It can also be a beneficial style for those with very thick or curly hair. Style it with curtain bangs for a soft and feminine finish that will make your eyes the center of attention.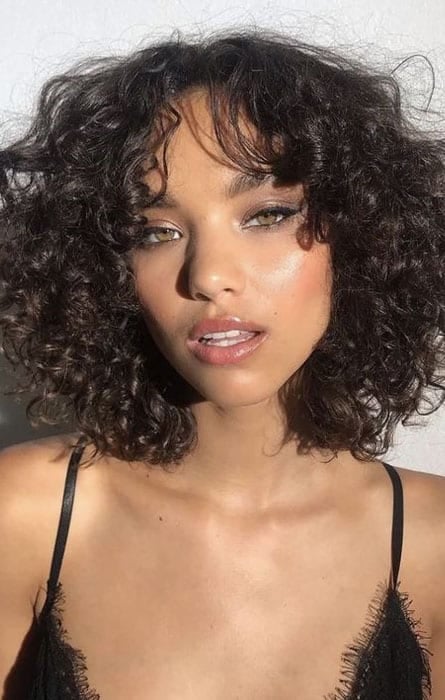 4. Short Layered Bob with Bangs
A short layered bob is a hairstyle you have been looking for because it has so much going for it. The length is flattering on women of all ages and will suit different hair types, while the layers give your locks movement and direction. The finishing touch is bangs, which can hide signs of aging and give you a youthful flow.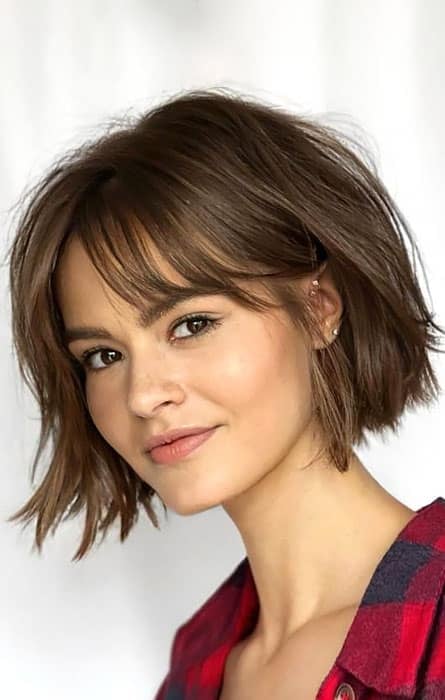 5. Short Wavy Hair with Bangs
Wavy hair is one of the gorgeous textures because it is full of movement. The natural pattern, which has a loose S-shape, gives you that brilliant blend of softness and texture that can be styled in various ways. With bangs, the way they fall against the face in a less precise and unstructured way makes them super flattering. But why cut your strands short? The answer is simple; it is less maintenance.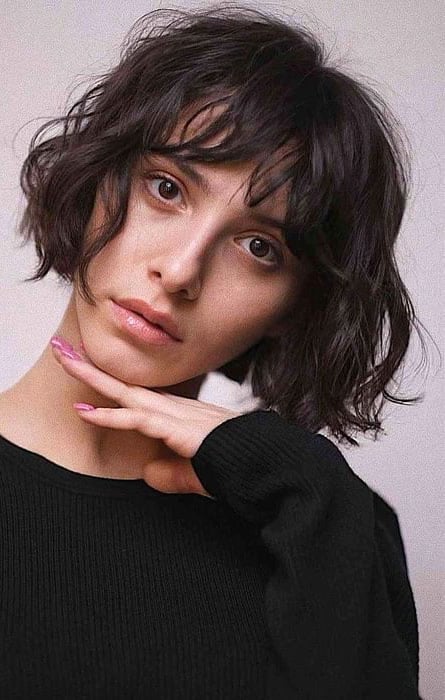 6. Short Wolf Cut with Curtain Bangs
Let us introduce you to the wolf cut for those who love expressive and fun hairstyles. This style is beloved for its choppy layers, which create movement and gives the hair direction. The layered effect of your strands will give you the volume you want on the top of the head and thinly toward the ends, giving you that ultimate rock goddess vibe.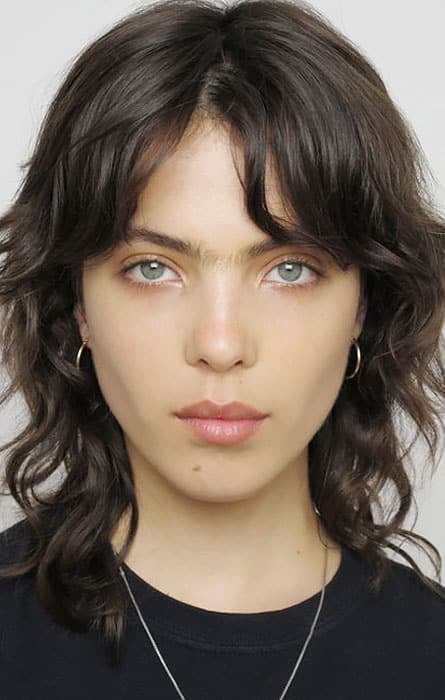 7. Cute Short Haircuts with Bangs
You are wrong if you feel short hair is limiting because it can be created in some of the most effortlessly chic and cute styles. Opt for a choppy cut with bangs to give yourself the texture you have always dreamed of. Or why not try styling with layers to create volume and movement? Whatever you choose, wear it with confidence!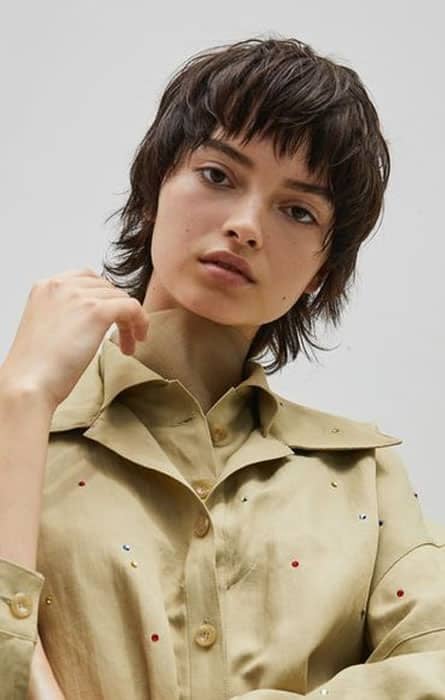 8. Layered Bob with Bangs Short
The layered bob with short bangs combines some of our favorite styles into one. You get the classic effect of the haircut, the volume and texture from the layers, and the attractive, youthful finish of the bangs, an excellent great option for younger women but can be just as flattering for older ladies. The shorter fringe will highlight your eyes and give you the attention you deserve!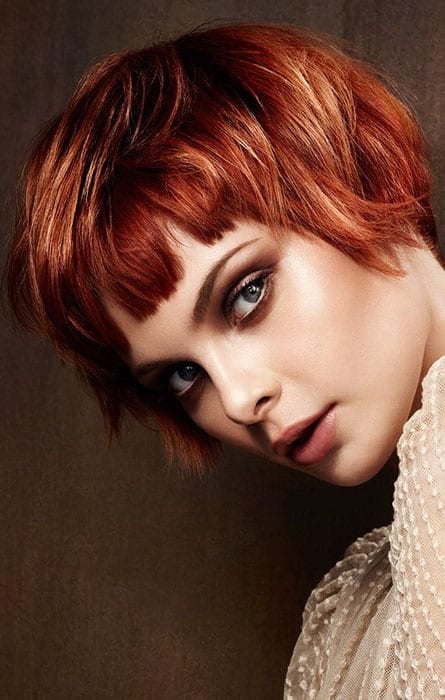 9. Layered Short Hair with Bangs
Layered short hair is stunning because the way it is cut gives your strands movement and shape. It can also be excellent on thin and finer textures because the layers will create volume and give you the illusion of fuller, thicker locks. There are multiple ways to make this cut to suit your face shape and appeal to your style, whether with a classic bob or a wild wolf cut.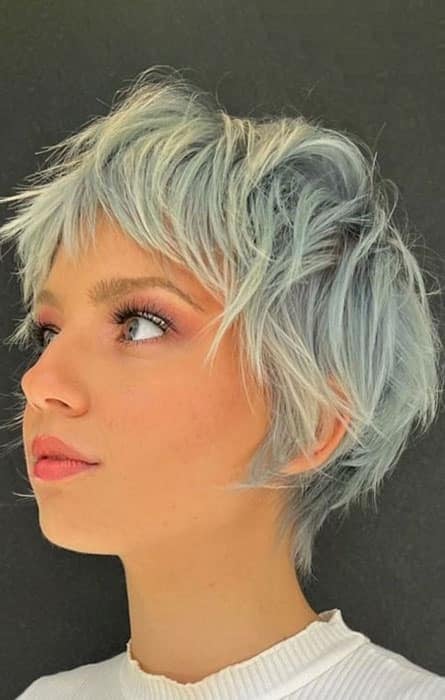 10. Wispy Bangs with Short Hair
We love wispy bangs because the piece-y, barely there strands that fall across the face are undeniably flattering. They also have a softness; they can balance the features and bring attention to your eyes. Wearing it with short hair is the perfect combination, and your fringe can create the illusion of length.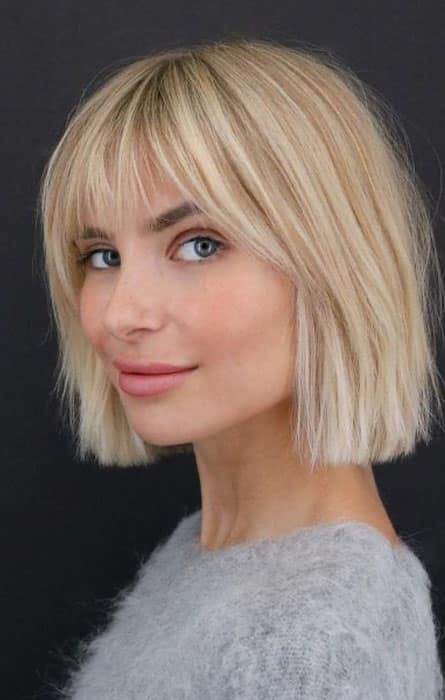 11. Round Face, Short Hair with Bangs
Round faces can benefit from short hair with bangs; you need the right cut. This will frame the face and offset the roundness, like a bob hairstyle with textured full bangs. We love this look because of how flattering and youthful it is, and we bet you will too. Pro tip: It will work best with naturally textured strands.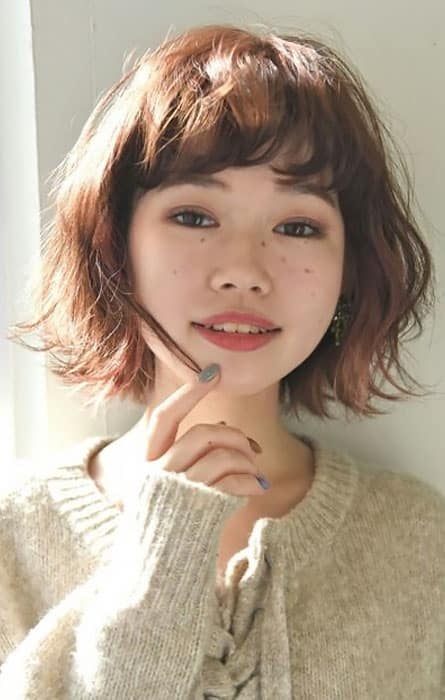 12. Short Pixie Cut with Bangs
The pixie cut is a classic short hairstyle for women and is loved because it is undeniably one of the most versatile and universally flattering styles. It is defined by the shorter strands on the back and sides, with length on the top. It is also worn with a fringe, which softens the features and highlights your beautiful face.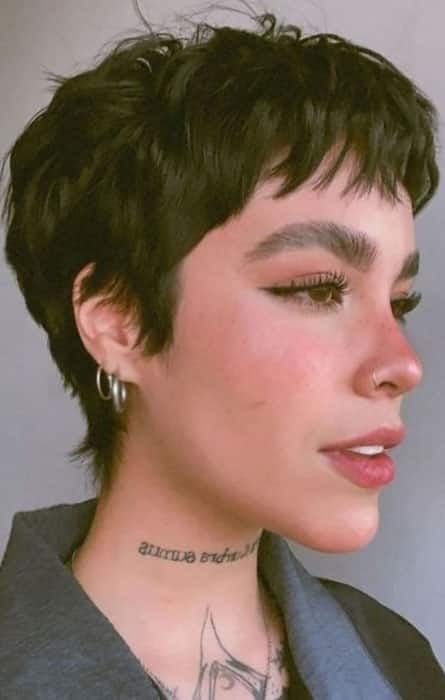 13. Edgy Short Bob with Bangs
Some women prefer classic and cute haircuts, and others want something different that feels modern and exciting. This edgy short bob with bangs is the perfect look for those who want to experiment with their short hair, creating an eye-catching and rebellious look. Shave the sides to give it contrast and attitude, and go bold with your hair dye choice for the ultimate cool-girl finish.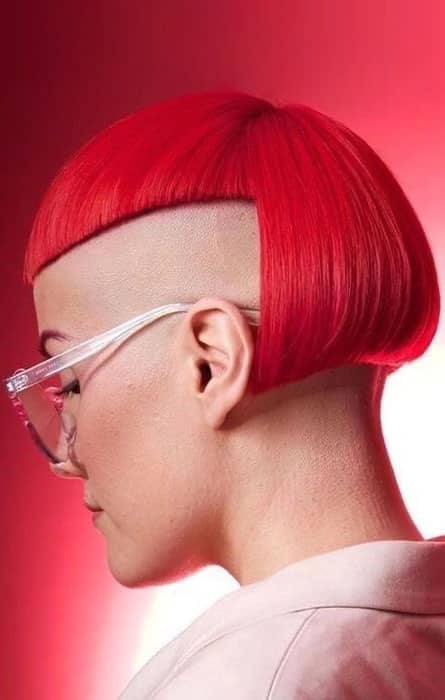 14. Korean Short Hair with Bangs
South Korea has inspired countless hair and beauty trends, and now this short hairstyle with bangs will appeal to you too. If your hair is thick and straight, this is the perfect way to style it, giving it texture. The way the piece-y bangs fall against the forehead is incredibly flattering, adding a softness and femininity to your appearance.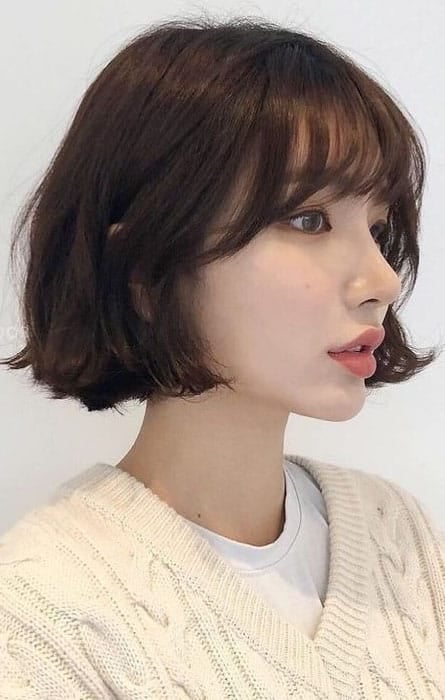 15. Short Black Hair with Bangs
Short strands complement all textures and look gorgeous in various colors, including black hair. This gives you plenty of opportunity to experiment with your cut, creating it to reflect best the goddess you are. Bangs are an excellent addition because they are flattering and youthful. They can also transform your cut, making it feel modern or adding to your cuteness.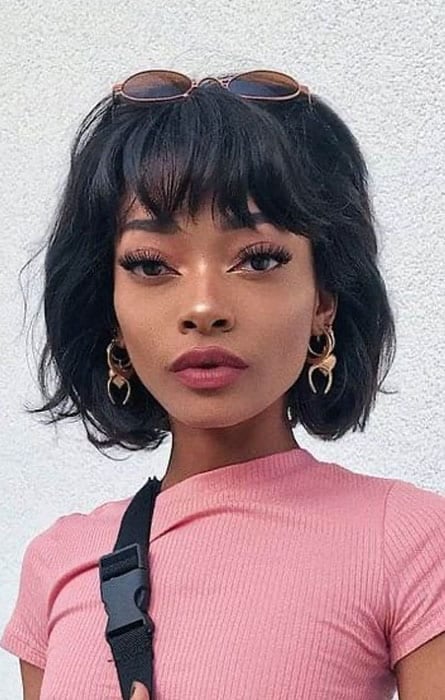 16. Blonde Bangs Short Hair
Blonde hair is one of the most eye-catching hues because of its lightness. It is ideal for brightening your strands and will make your chosen cut all the more noticeable. What better way to show off your new short hair with bangs hairdo than by dyeing it a brilliant shade of blonde? Try platinum for a cool and daring finish or something warmer like honey for a natural result.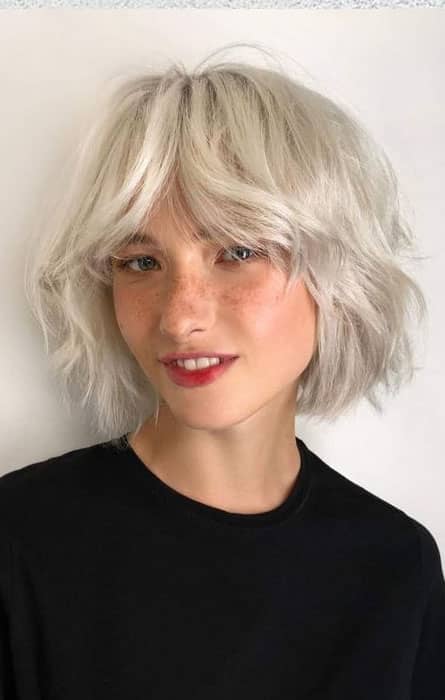 17. Fringe Bangs Short Hair
Fringes are one of the easiest ways to update a classic haircut. The right bangs will highlight your features and give you a soft finish. Or they can be used to give you an edgy and effortlessly cool look that feels daring and adventurous. With so many styles, finding the best option to complement your short hair is easy.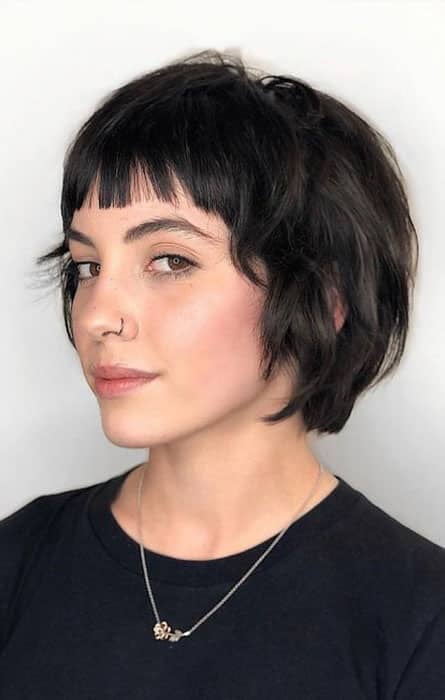 18. Bangs For Short Forehead
For those with a short forehead, you do not want to overwhelm it with your bangs. For this reason, fine, wispy bangs are often preferred because they will give you the benefit of having a fringe but are easier to style. If you are set on a fuller version, cut your strands so they are not perfectly straight and have texture. You can also try side or sweeping looks to create the illusion of a longer forehead.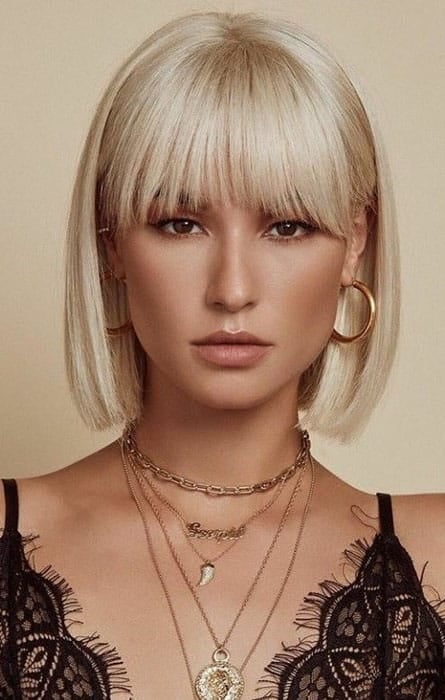 19. Short, Fluffy Hair with Bangs
Fluffy hair is a desirable texture because it feels soft and voluminous. It is a great way to make your strands appear healthy and full and looks good on everyone and almost all haircuts. Plus, it has brilliant texture and movement, which is gorgeous. Style your look with bangs that make it all the more exciting and flattering.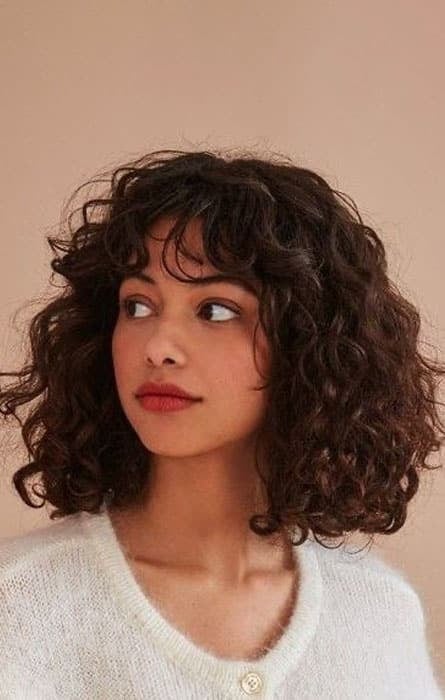 20. Straight Bangs Short Hair
Straight hair is the ideal texture for bangs that are blunt cut and will complement the precision of the look. Keeping your strands short is an effortlessly cool way to style them and make them easier to care for. Create a thick, full fringe for a dramatic result, or opt for a more piece-y finish to soften your face; the choice is yours, babe!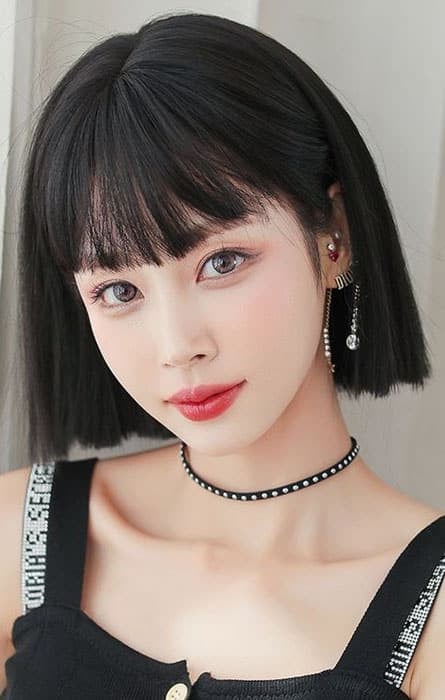 21. Shaggy Bangs Short Hair
Shaggy bangs are the ultimate cool-girl hairstyle because they are full of volume and movement. The way the hair is cut creates different layers, which are an excellent way to give your strands texture. The relaxed and unstructured finish is also incredibly flattering and makes styling a breeze. If you want a fresh and fun way to style your haircut, this is it!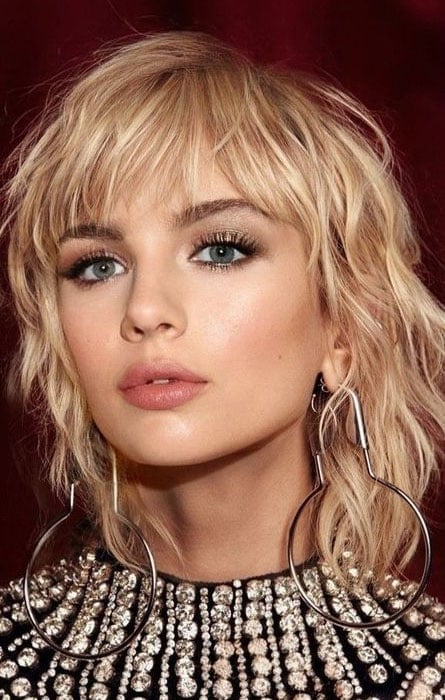 22. Choppy Bangs Short Hair
Textured and piece-y, these choppy bangs are every bit as chic as you would imagine. This haircut works great with all lengths and hair types because it is effortless to style and gives you the fullness and volume you desire. But why should you ask your stylist to cut your strands this way? That is because it will complement all face shapes, including long and round, which it will offset.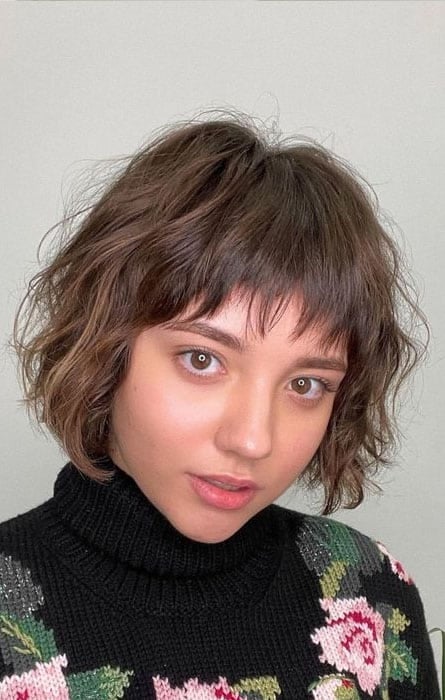 23. Short Blunt Bob with Bangs
We love the classic pairing of the blunt bob with bangs, a look that feels very sophisticated and benefits from the polished appearance. If there was ever a short hairstyle that was office-approved, this is it, and how it is styled will highlight your haircut. This finish is best achieved with naturally straight hair, but even those with curly locks can create it with the right tools.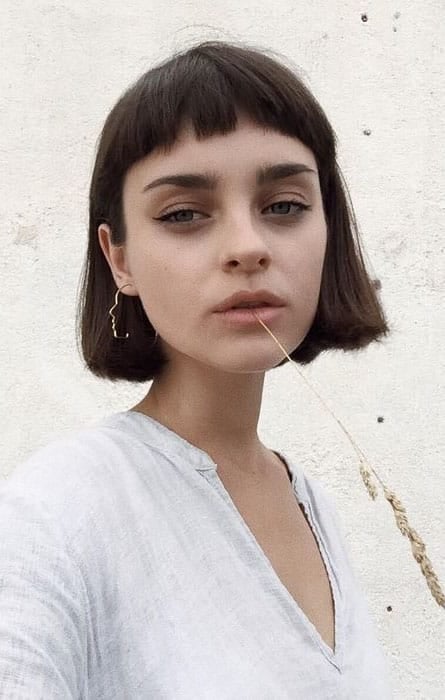 24. Short Red Hair with Bangs
Some hairstyles are made to stand out, and this just happens to be one of them. The boldness of the red hair highlights the combination of the short strands with bangs. Naturally, this is one of the rarest colors, which makes it a guaranteed way to turn heads and will give your appearance an instant lift.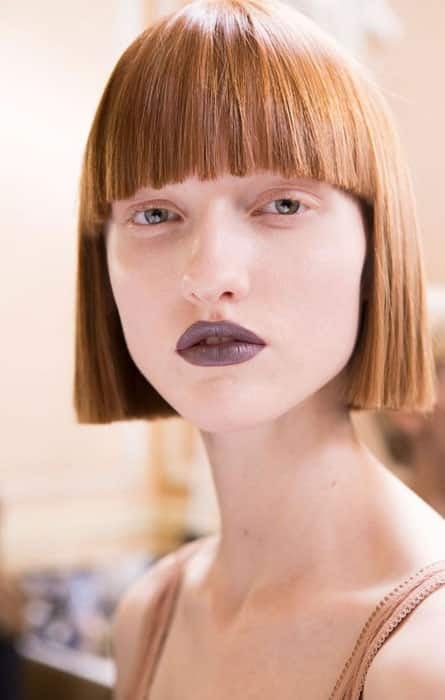 25. Face Framing Bangs Short Hair
There are many pros to adding bangs to your short hair. For starters, they can create the illusion of longer locks, but they are also fantastic for giving your hairstyle a little more attitude; this can be achieved with everything from choppy cuts to blunt ones. Fringed looks can be stunning and used to frame the face, making your features pop and getting you noticed.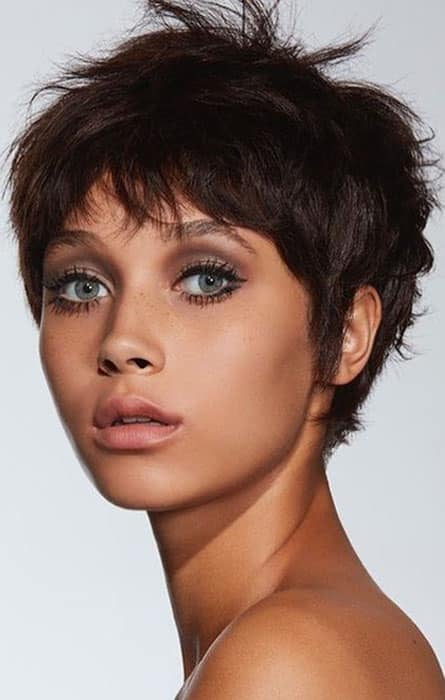 Short Hair with Bangs FAQs
Do bangs look good with short hair?
Bangs look amazing with short hair. It's a great way to add extra dimension and shape to cropped locks, drawing attention to your eyes and cheekbones.
How do I style short hair with bangs?
There are different ways to style your short bangs depending on your chosen cut, hair texture, and type. Some women prefer full bangs cut horizontally across the face and are great for drawing attention to your features. However, they are more maintenance. Others want a look that brings your face softness and balance, like curtain bangs or wispy bangs, which are often easier to style and effortlessly chic.
How do I know if bangs will suit me?
Anyone can wear bangs; it's just a matter of choosing a type that suits your face shape and committing to the styling requirements. The best way to decide if getting bangs is the right choice is to determine your shaped face. The options are rectangle, oval, square, heart, triangle, round, and diamond. Once you've determined this, you'll be able to determine what style of bangs is best for you. Alternatively, you can consult your hairdresser to get a professional opinion on what will work best.
How many types of bangs are there?
There are ten main types of bangs. These are side, short, thick, straight across, curly, curtain, eye-grazing, swept-back, blunt, and thin bangs.
Do bangs make you look fatter?
Some bangs can make your face rounder, especially if you already have a round or square-shaped face. As such, it's about choosing the right bangs for your look. The blunter the fringe, the more it draws the eyes across the face, having a widening effect. To counteract this, choose something longer and more framing like curtain bangs. This will elongate your face for a slimming effect.
Do bangs make you look younger?
Bangs can make you look younger if you choose the right style. They make your face appear smaller and can hide fine lines while drawing attention to your eyes. Choose a longer length that sits around your eyebrows, as too short can draw attention to the wrong places, and too long will cover your eyes.
SUBSCRIBE TO OUR NEWSLETTER
Subscribe to our mailing list and get interesting stuff and updates to your email inbox.