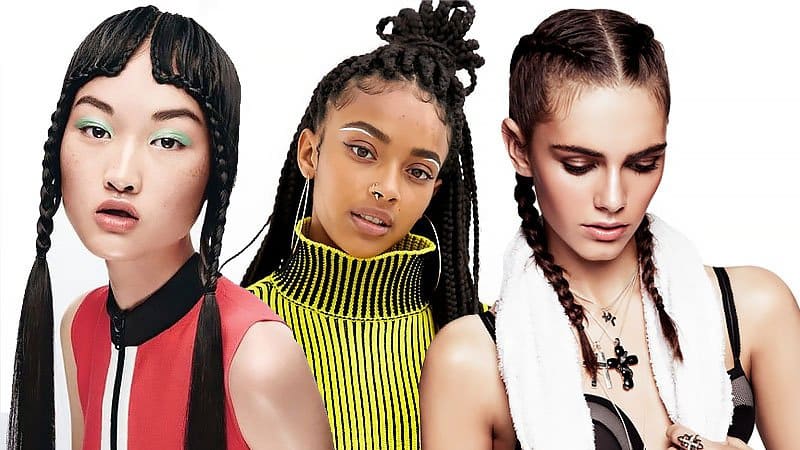 Women have worn braided hairstyles for thousands of years all over the world. The style is one of the most versatile, running from incredibly intricate patterns to simple plaits. Braids are also perfect for almost every occasion. Whether you're in the office, at school, in the gym, or even at a wedding, braided hair is ideal for you. Even better, depending on your hair type, braided hair can protect your strands from damage and help you grow your mane longer. Keep scrolling to discover all the different types of braids for women.
Braided Hairstyles for 2023
1. Box Braids
Classic box braids are one of the most iconic types of braids for Afro-textured hair. All your hair will be sectioned into squares and worked into individual plaits to get this look. You can use your hair or have extensions braided in, giving you head-turning long full locks. They are considered a protective style and can be any length or thickness; however, if you have naturally thin or fine hair, opt for smaller box braids so your scalp has less tension. While box braids take a long time to put in, once finished, they last for weeks and are very low-maintenance.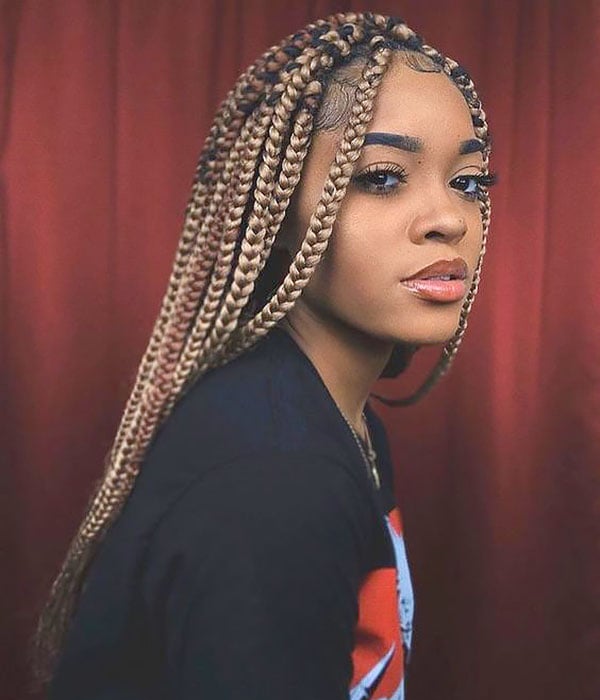 2. French Braids
The French braid is timeless and one of the best hairstyles for women that offers versatility. It can be worn for various occasions, including a casual brunch, the gym, or the office. You have the option to maintain a smooth and professional look or create a soft and romantic vibe by pulling out a few face-framing layers. Additionally, you can combine it with a fishtail braid or a half-up half-down hairstyle. French braids are also a popular wedding hairstyle.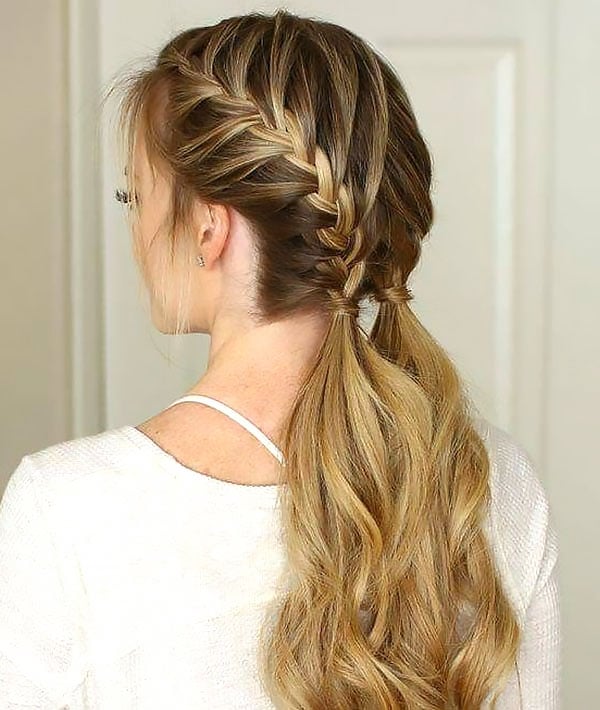 3. Braided Ponytail
If you're looking for a new way to style your braided hair, the simplest option is a high ponytail. The style is popular because it draws the eye up, making your face seem longer. It's also versatile, working equally well for the office, school, gym, or date night. To make your braided ponytail look perfectly polished, secure it with a clear, snag-free elastic and wrap some of your hair braids around to cover it. Finally, add hair accessories for some extra personality.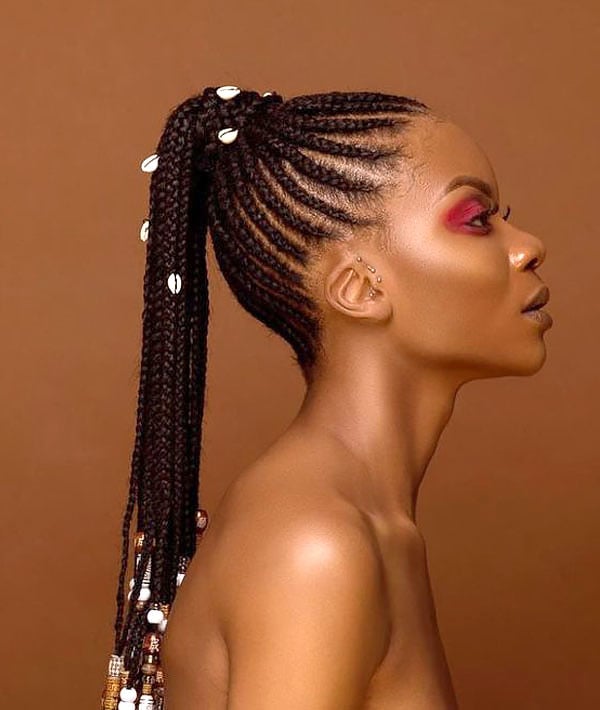 4. Dutch Braids
Dutch braids are underhand types of braids, meaning your hair will stand out from your head rather than lying flat. It's a classic three-strand technique, which means if you're familiar with creating a standard plait, the Dutch braid follows the same pattern. Because both plaits require you to add sections of hair gradually, the Dutch braid is sometimes called the 'reverse French braid.' It's a great way to take a standard plait hairstyle to the next level or create double braids and crown braids for a formal occasion.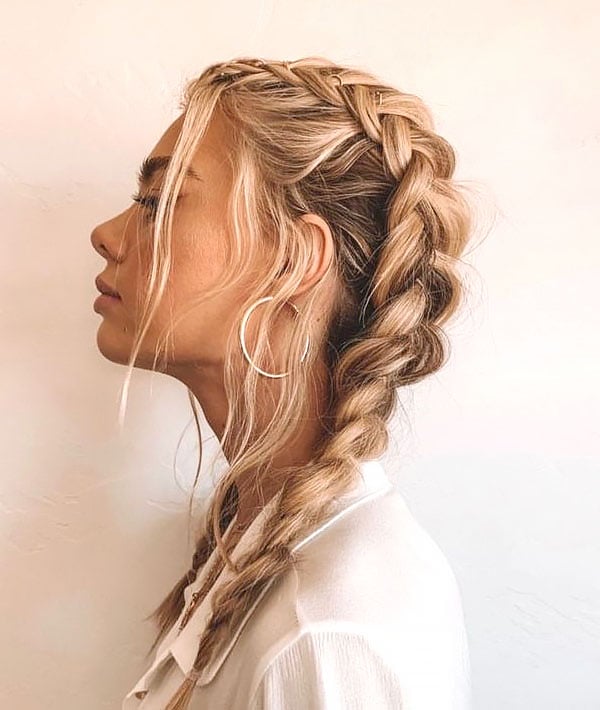 5. Crochet Braids
The crochet technique is one of the simplest and easiest ways to get extra-long braid styles. Like a weave, crochet involves first braiding your hair into loose cornrows. This cornrow pattern forms the foundation for your crochet braids. Next, hair extensions are threaded through and secured using a crochet hook before being plaited into your braid hairstyle of choice. You can also have ready-made braids secured, such as box braids which dramatically cut the time it takes to put in your hair. That makes it a convenient option if you don't have an extra day to spend in the stylist's chair.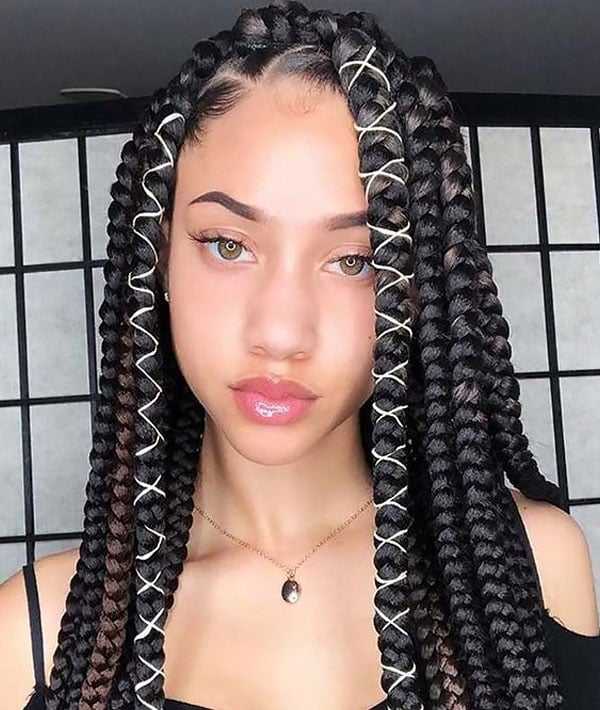 6. Lemonade Braids
Lemonade braids were made famous by Beyoncé, who wore them on the cover of her smash hit album Lemonade. The style involves creating neat, even, and close cornrows that go from left to right rather than straight back. Lemonade braids are a versatile look as they can be any size or thickness, and you can also combine them with other cornrow styles like zig-zag or add accessories like rings and beads.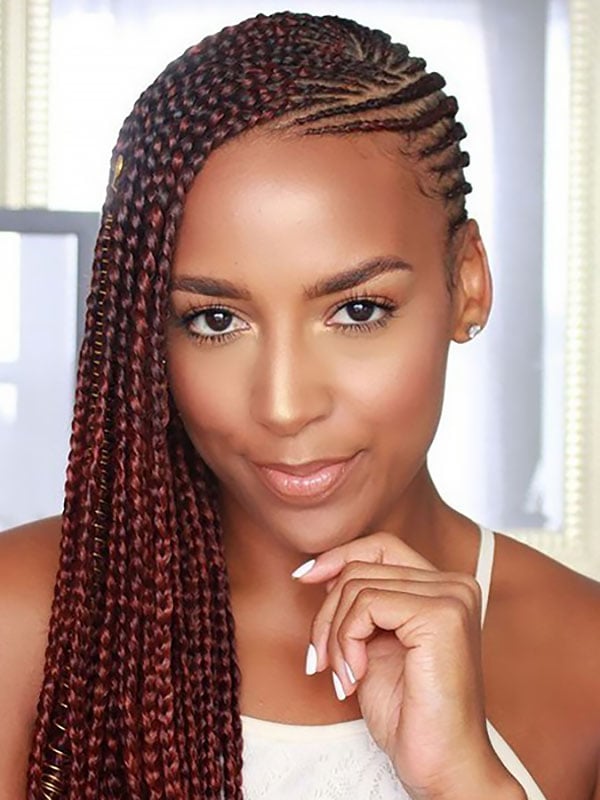 7. Fishtail Braids
A festival classic, the fishtail braid brings a touch of boho to any look. It's one of the simplest types of braids to create because it doesn't involve a complicated pattern. However, you must separate your hair into small sections – about half an inch – and keep the tension throughout the braid to avoid it falling apart. You can begin the fishtail at any point on your head, using a French or Dutch braiding technique, which means it will work on short hair as well as long. A double fishtail is also a great way to wear this look.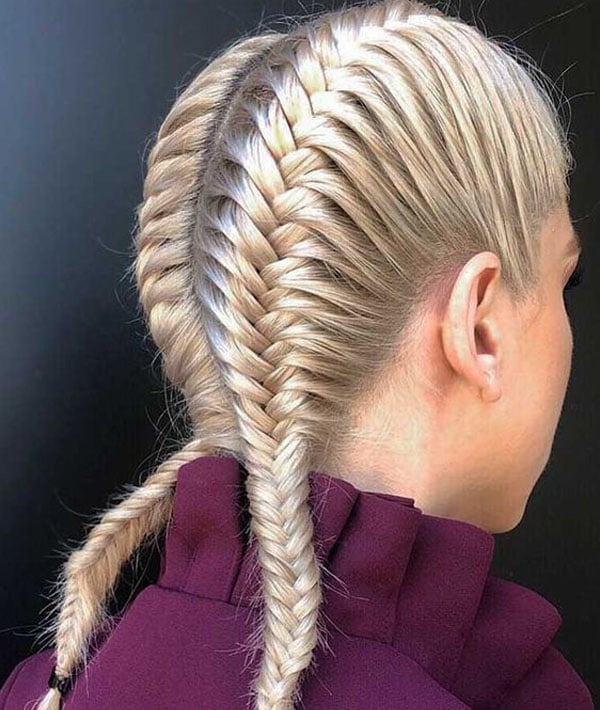 8. Feed-in Braids
Also known as 'knotless' braids, feed-in braids are even better for protecting your hair than most other styles. To create super long box braids or cornrows, the stylist will usually secure extensions to your natural hair with a knot. With this technique, the stylist will gradually 'feed' the extensions in – plaiting them together with your real locks for a seamless blend. The result? Braided hair that have less bulk and put less tension on your scalp. They will also flow like real hair, giving you all the extra length you want with a natural finish.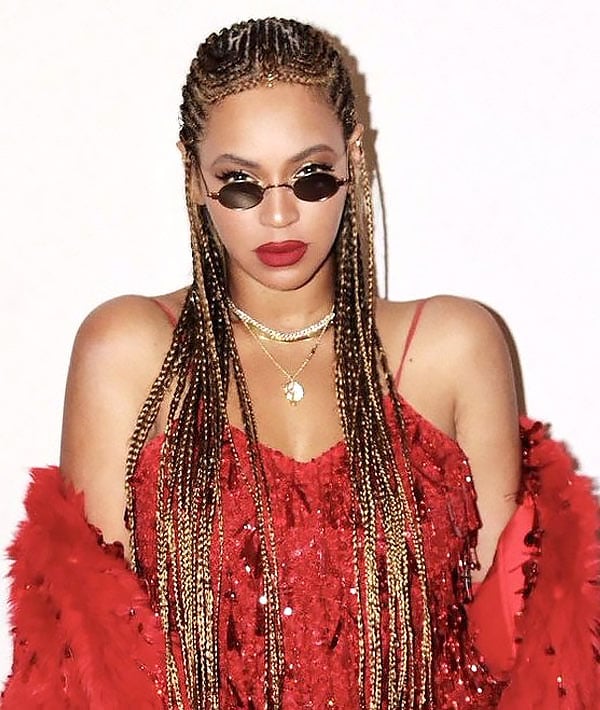 9. Goddess Braids
Goddess braids are a thicker version of cornrows, and are equally versatile. The underhand braiding technique is used to create this style, with the braids then formed into a ponytail, updo, or left loose. Whatever you choose, your goddess braids will stand out from the crowd. Make sure your hair gets the attention it deserves by decorating the braided hair with accessories; beads, rings, and wires have been trending recently.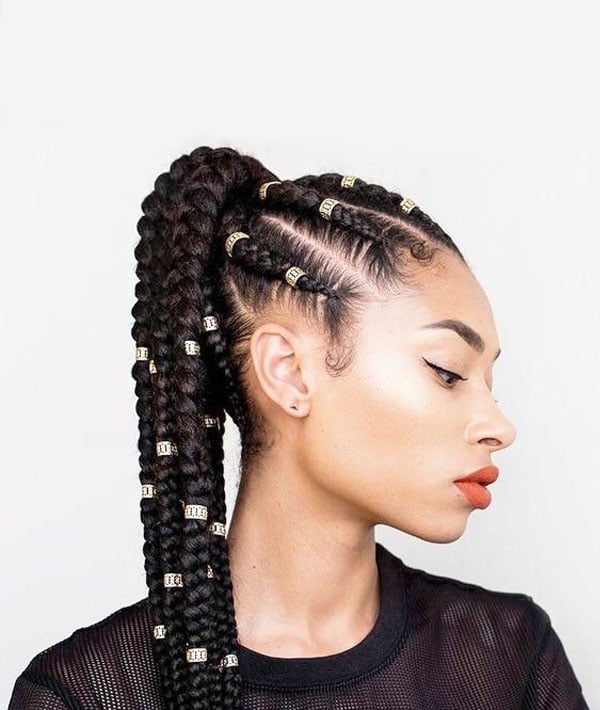 10. Braided Buns
Braided buns are a festival favorite with '90s vibes. There are so many options when it comes to this versatile style. For an on-trend take, try combining buns with double braids. Section your hair down your center parting, then create two Dutch braids at the nape of your neck. Work your way up to the crown of your head, then secure the hair so it's in double ponytails. Then create double Dutch braids starting at the front of your head and braid back to meet the other braid. Secure the remaining hair into a mini ponytail, then twist all the loose hair into two buns. =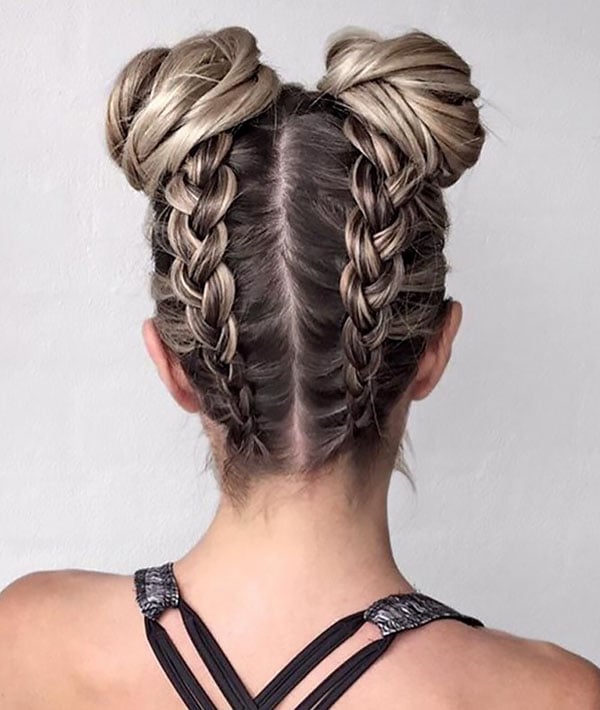 11. Tribal Braids
Tribal braids are all about combining different techniques and braid sizes to create unique patterns and styles. These types of braids have their roots in the tribes of Africa. Traditionally, hair braiding styles were used as a way to express an individual's heritage and status. Today, they can also be about showing off your personal style.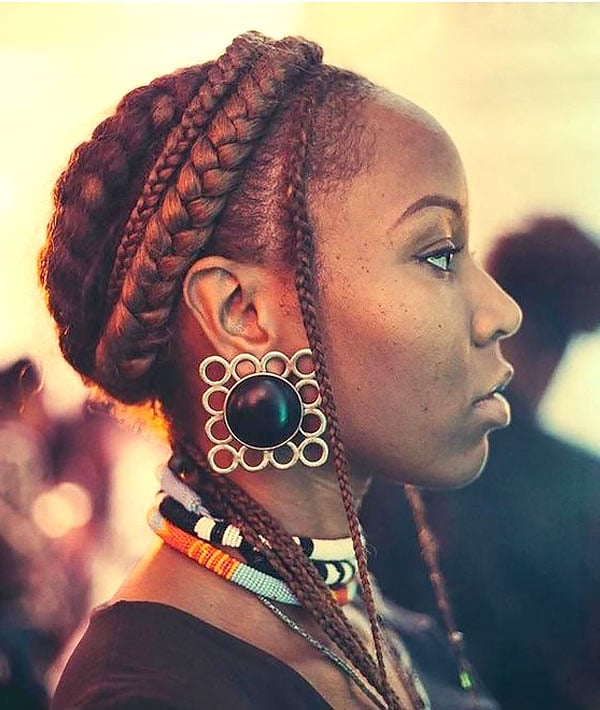 12. Cornrow Braids
Cornrows are currently one of the most popular women's hairstyles. This style involves braiding the hair close to the scalp using the underhand technique to create raised plaits. The braids are neatly arranged in rows, hence the name "cornrows". One of the great advantages of cornrows is their versatility; they can be created in various thicknesses, combined with other braided hairstyles such as box braids, or used to achieve a faux undercut or fauxhawk look. Furthermore, cornrows serve as a protective hairstyle that can last for several weeks with minimal upkeep.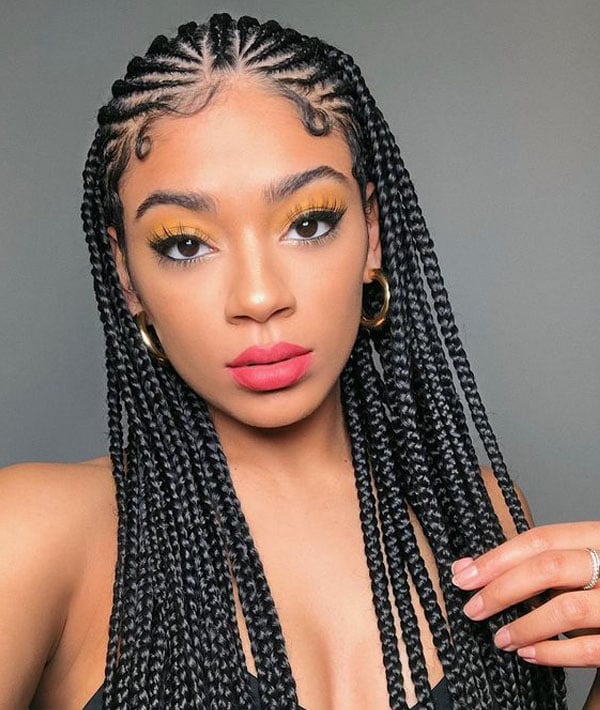 13. Fulani Braids
Fulani braids are the signature type of braids of the Fula people in West Africa. The style involves braiding thin to medium plaits in rows along the sides of the head while leaving a central twist at the crown. The central braid is then decorated with accessories – beads and rings are traditional, but hair cuffs are a chic option. Place the braided hair and accessories strategically to maximize your face shape. Fulani braids can also be combined with other braided hairstyles to make a statement.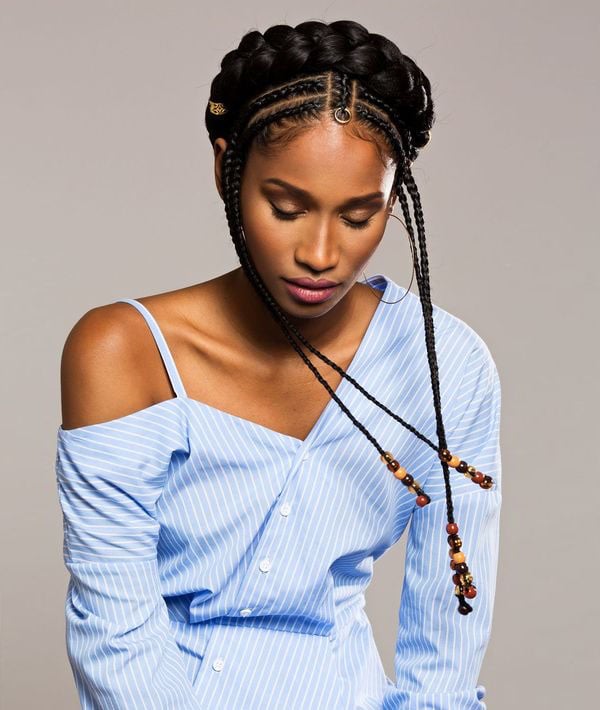 14. Waterfall Braids
One of the most beautiful and feminine braid styles is waterfall braids. It's a modified form of the French braid. The difference is that instead of pulling in sections to work all of your hair into the plait, you will only braid across the top part of your hair, leaving the rest free. The braid creates a 'cascading' effect, which means it looks perfect paired with a soft wave hairstyle. The gentle, romantic vibe makes waterfall braids a popular bridesmaid hairstyle.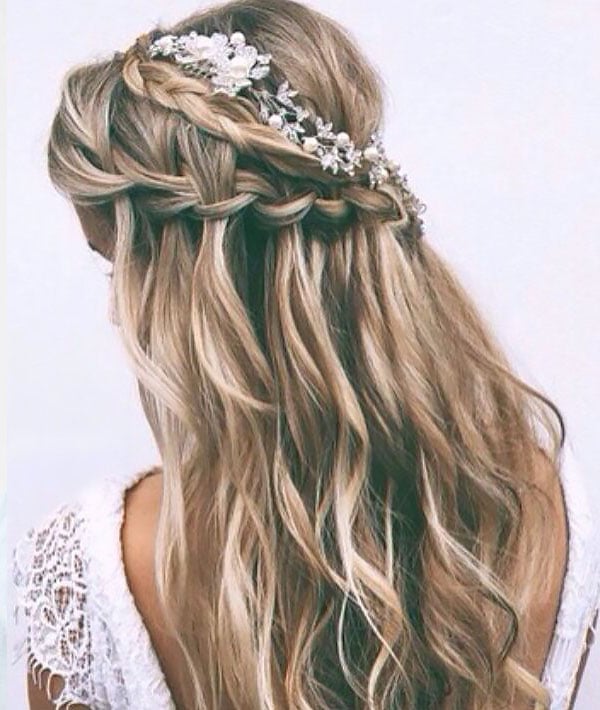 15. Yarn Braids
Yarn braids are an extension made from acrylic – a non-wool fabric. They are a great protective style for Afro-textured hair, especially during colder months like autumn and winter. They also make a bold statement because the material comes in a rainbow of colors; pastel pink, peach, and color-pop shades like deep green and red are on-trend. An extremely versatile styling option, yarn braids work with all hair lengths. They can be as thin or as thick as you want, so opt for anything from mini to jumbo, depending on your hair's strength. You'll also have to consider how much patience you have when braiding – the bigger the braid, the longer it takes!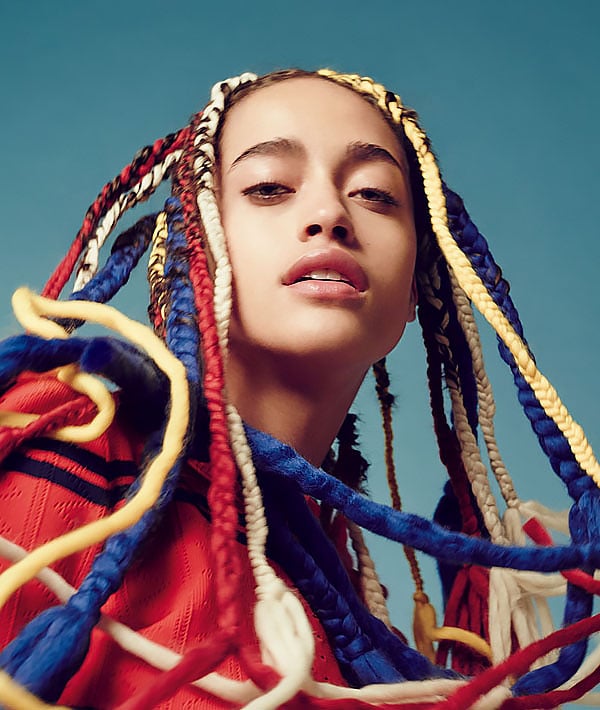 16. Crown Braids
The crown braid is a widely favored choice for prom hairstyles due to its ability to evoke a royal aura. This style is particularly suitable for unwashed or troubled hair as it requires a bit of grit and texture. To create a crown braid, one can start by Dutch or French braiding the hair and then securing each braid to the opposite side, ultimately forming the crown. Within minutes, you'll exude a regal presence and experience a boost in confidence.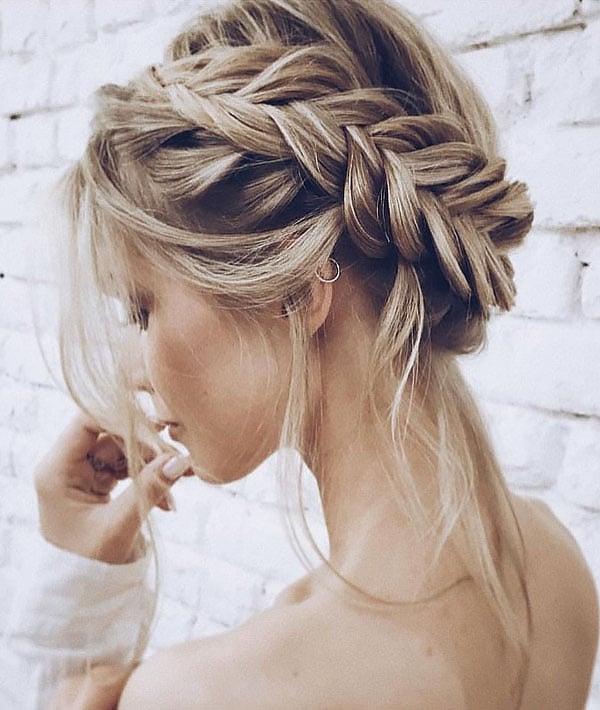 17. Butterfly Braids
The butterfly braid is a unique and eye-catching braid style that will have all eyes on you. It's an oversized and slightly fluffy underhand braid, which should look natural and not too 'done.' Because it's so thick, the butterfly braid almost always requires hair extensions, and you may need to sew the braid in place too. Once you've finished braiding, stretch and pull sections of the braid to make it even thicker and fluffier. You can also add hair cuffs or jewelry. Keep the rest of your hair smooth or in smaller cornrows and stitch braids. Doing so keeps the butterfly braid the focus of the look.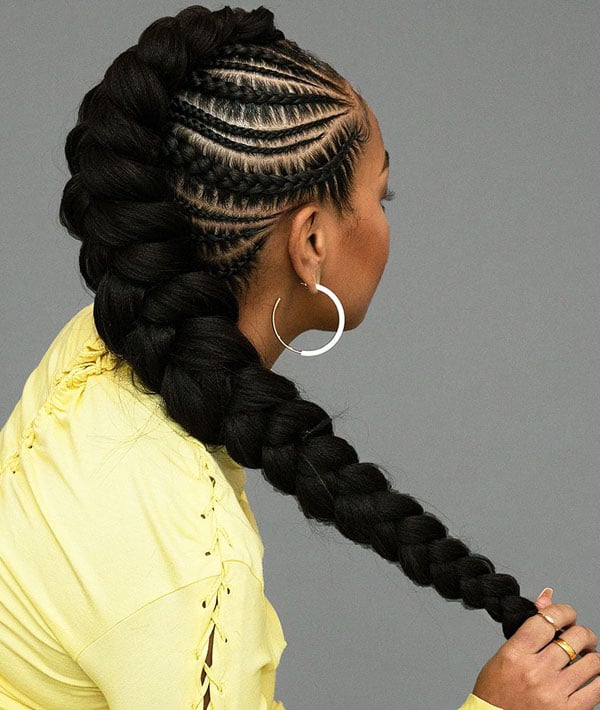 18. Mohawk Braids
For a bold and attention-grabbing hairstyle, look no further than the mohawk braid. To achieve this style quickly, create a thick Dutch braid down the center of your head and secure the remaining hair in a ponytail. This effortless technique will give you a mohawk-like effect without much hassle. However, if you want to take your mohawk braid to the next level, there's a more striking method. Cornrow the side sections of your hair and start a Dutch braid at the nape of your neck, moving it towards your forehead. Once you've braided it all the way, fold it back on itself to form a rounded mohawk. This edgy style works best on thick and exudes a punk vibe.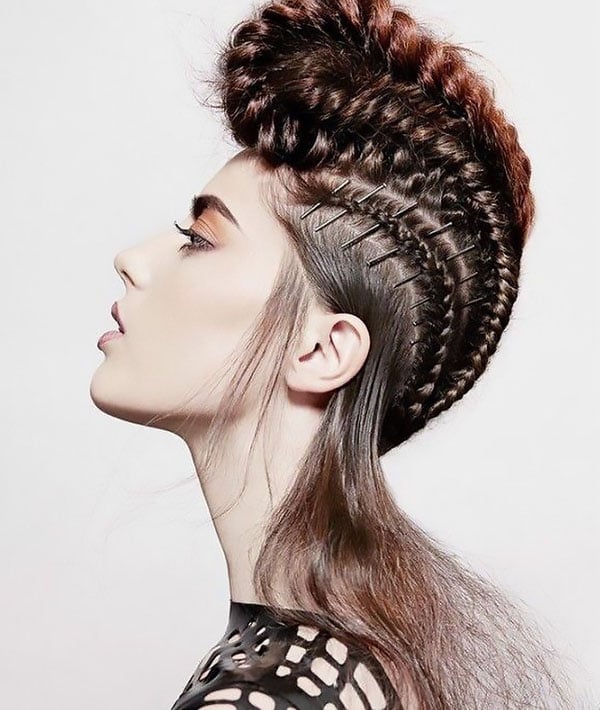 19. Jumbo Box Braids
If you're looking for a braid style that makes a statement, jumbo box braids are it. These thick plaits will have all eyes on you. They take less time to put in and take out than other box braids, and they are also the perfect canvas for showing off bright new hair colors or accessories like rings, beads, and jewels. Jumbo box braids are a great choice if you have naturally thick hair or can put in extensions to create thicker ones.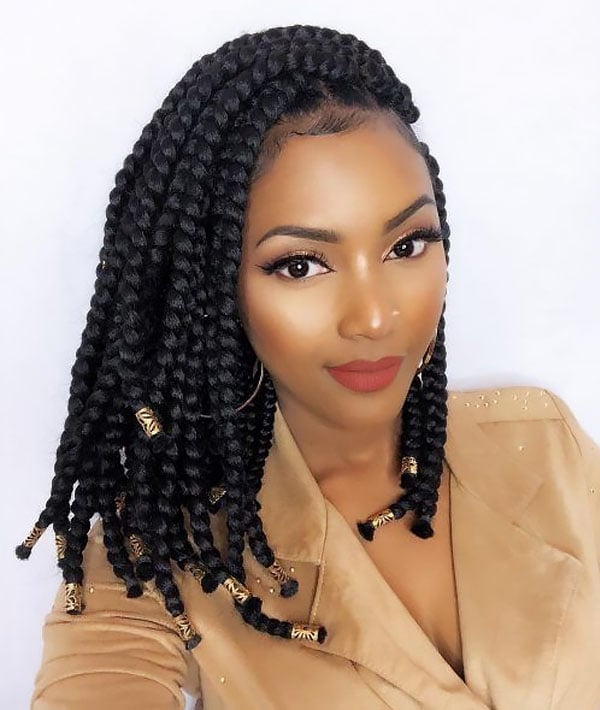 20. Snake Braids
If you know how to do a standard three-strand plait, you can easily transform it into a snake braid. This simple braided style is commonly used to give a half up half down look a new twist. To create a snake braid, start by plaiting a small section of hair at your temple. Braid it back until you reach the end of your hair, then hold one strand and push the other two upwards. After that, gently pull the braid out to reveal the snake pattern. Repeat the process on the other side, then tie the two snake braids together in a ponytail at the back of your head, using a section of hair to hide the joint.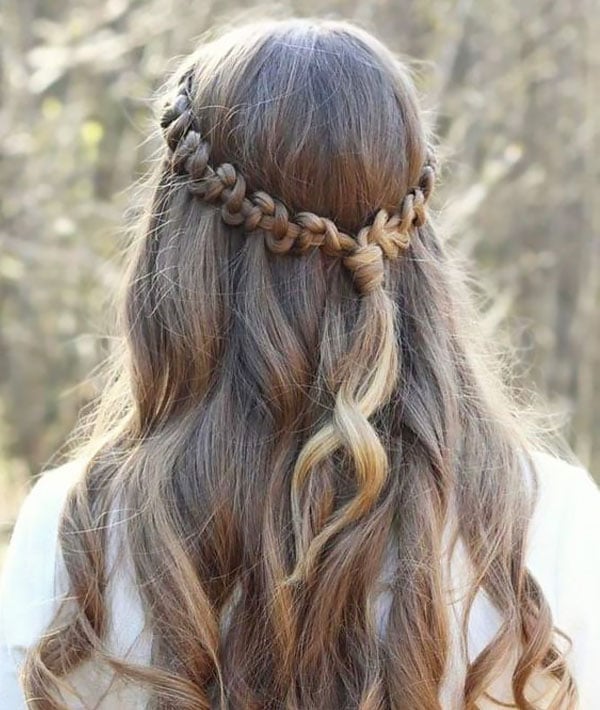 21. Triangle Box Braids
Triangle box braids get their name from the shape of the hair sections. Instead of the classic square – or box – each one forms a triangle. It's a unique twist on the usual box braid style and is a fun way to shake it up if you want a fresh look. Thicker braids are best as they will hang down lower, showing off the triangles. Like other box braids, triangle box braids last up to eight weeks.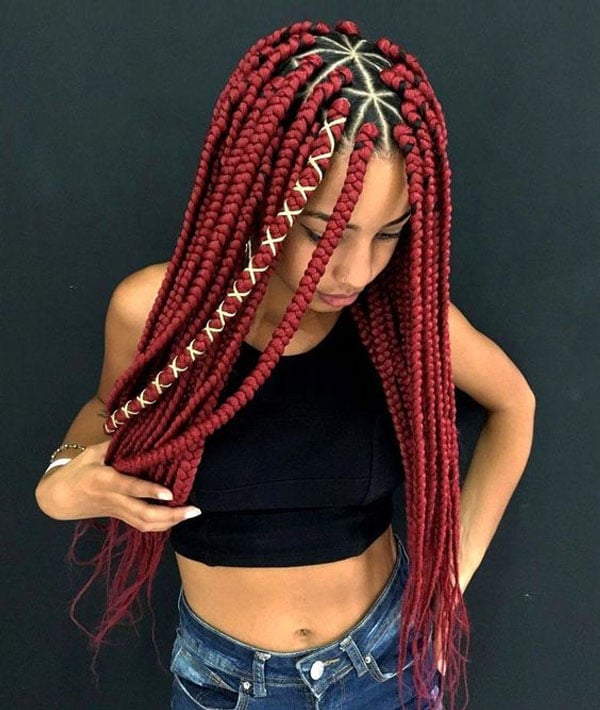 22. Side Braids
Side braids can easily create a faux undercut or take a side swept hairstyle to the next level. These braided hairstyles start at the hairline and move up towards the crown of the head instead of straight back. As a result, they have an unusual and striking appearance. Adding hair extensions to the braids and leaving the rest of the hair free gives the side braids style an on-trend asymmetric angle. It's a bold contrast, resulting in a modern, chic look that's flattering to most face shapes.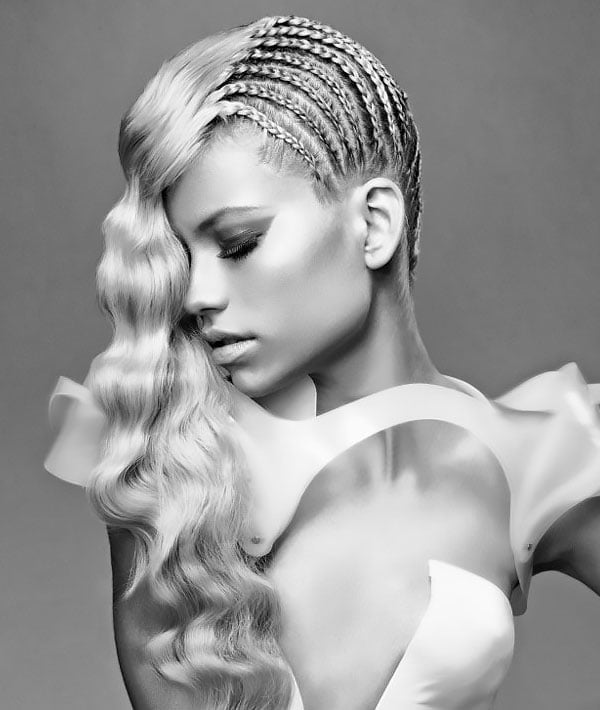 23. Senegalese Twist Braids
Senegalese twists are also called rope twists because of the thick, rope-like braids that form using this technique. The twists are a protective style because the process involves wrapping hair extensions around your natural hair before the twisting begins. As a result, your hair won't be exposed to environmental pollution, and there's no need for heat styling or chemical treatments. Plus, the twists can last up to four months! Using synthetic hair rather than human hair extensions is recommended to get Senegalese twists' signature ultra-smooth and silky finish. You'll need to dry your hair with a hairdryer thoroughly – on a cool setting – every time you wash it.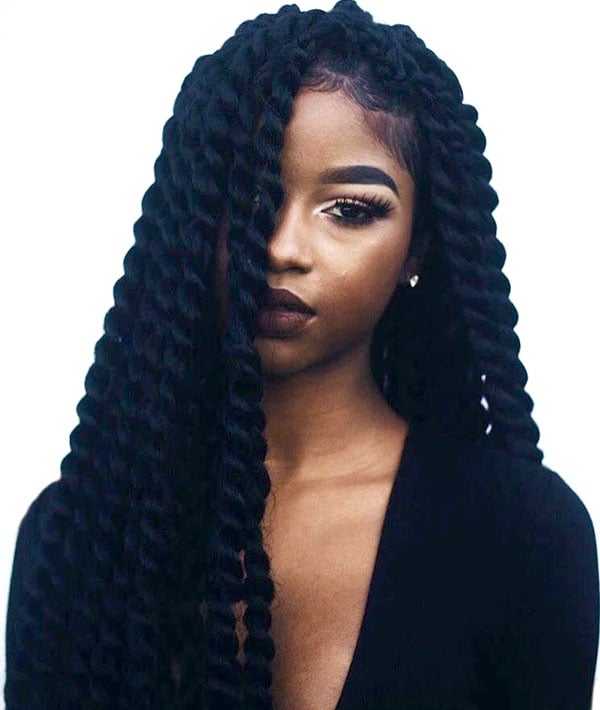 24. Halo Braid
A more advanced version of the crown braid, the halo braid, sits much higher on your head. To create the braided hairstyle, sweep all your hair to one side and begin Dutch braiding it from left to right, starting at your temple but about an inch back. Starting there will make the halo look more raised and less like the crown braid. The braid will begin to coil around your head as you add more and more sections. Once you've run out of hair to braid, twist the final pieces of hair and tuck them away. A halo braid is one of the most beautiful braided hairstyles for a formal events.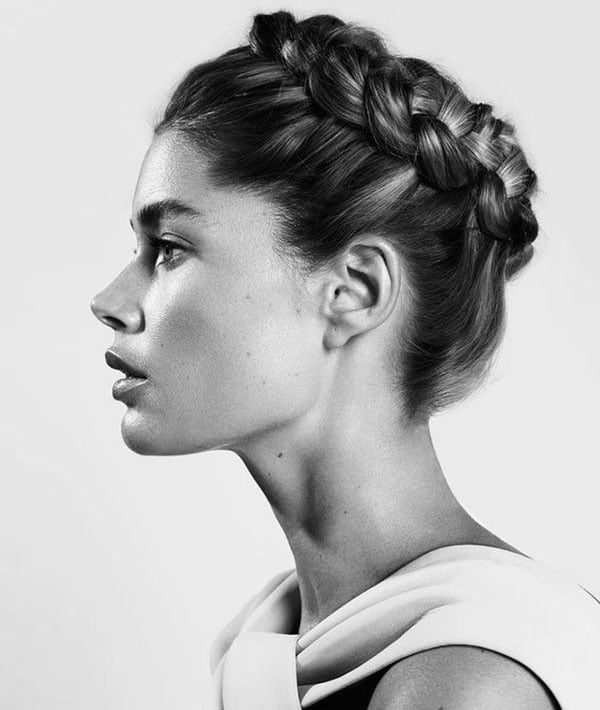 25. Ghana Braids
Ghana braids are versatile and intricate types of braids. While the term 'Ghana braids' can apply to various braiding patterns, each one starts with micro braids, which slowly taper back, getting wider and fuller as more hair is added. The classic way to wear them is to braid front to back, but you can also start at the crown of your head or go side to side.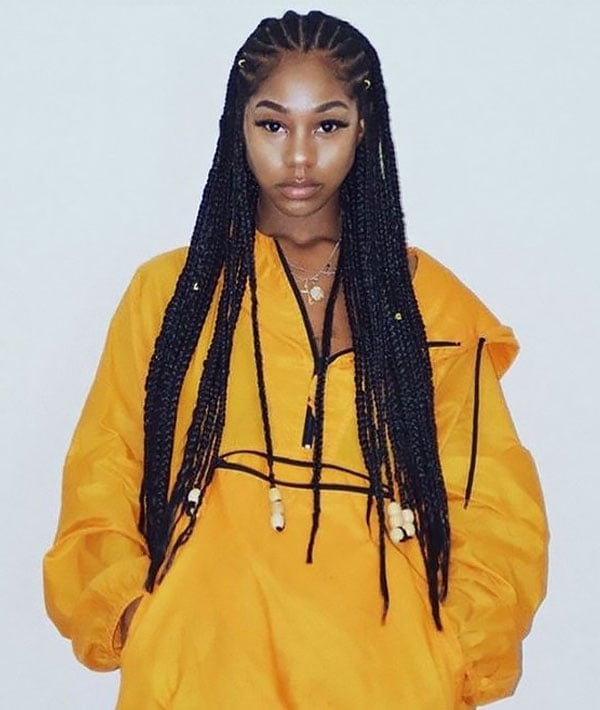 26. Micro Braids
As the name suggests, micro braids are tiny and delicate. But while it may seem like they are the most gentle braiding style because they don't weigh down the scalp, they can cause more breakage than bigger plaits. The reason is that they have to be braided very tightly and close to the head. They aren't suitable for those with dry or brittle hair and can cause hair loss if left in too long. However, when properly maintained, these types of braids create a cute and cool effect with a lot of attitude.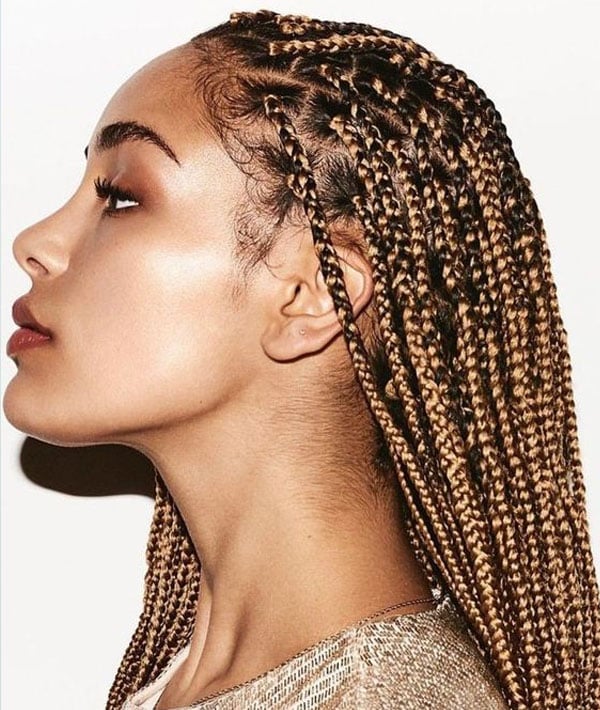 27. Ombre Braids
Braids and ombré hair are a perfect match because the natural weaving pattern makes the transition between colors look soft and seamless. Whether your color transition is the classic blonde brunette or something more out there, like green-blue, braids will complement it perfectly. One excellent option is the six-strand braid. While more complicated than a standard three-strand plait, it's sure to get you plenty of compliments.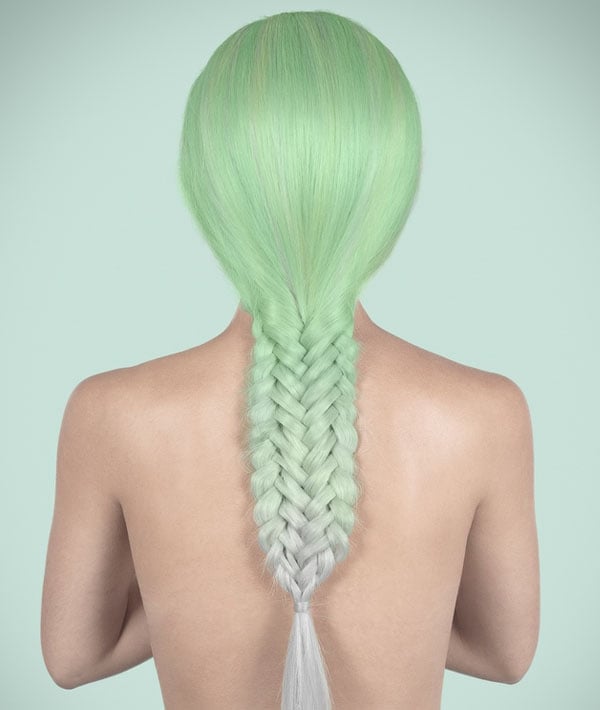 28. Tree Braids
Tree braids are one of the '90s hairstyles and early 2000s hair trends that are making a comeback. The braid style involves creating mini cornrows braided back from your hairline about an inch or two. The rest of your hair is left free, either loose or in a ponytail or updo. If you don't have time or prefer not to braid all of your hair, tree braids are an easy way to try the braided hairstyle without going all the way. At the same time, tree braids show off your natural kinks and curls.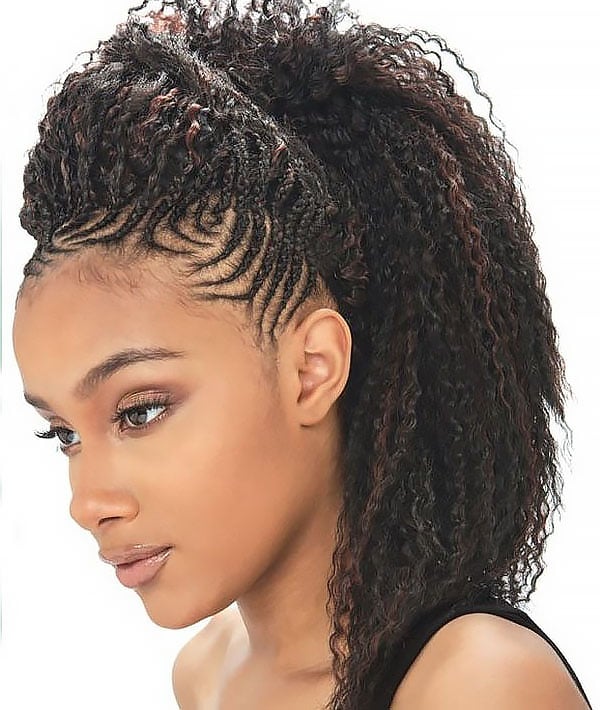 29. Half-Up Half-Down Braids
If you love your long hair and also want braids, the half braided hairstyles give you the best of both worlds. A fresh take on it is to double French braid the center section of your hair halfway, then twist it into a messy bun. It adds an extra cool factor to the standard bun hairstyle while maintaining its beachy vibe. You could also braid more sections of your hair into the up section. To nail the look, make sure you leave enough hair loose so the style doesn't look half-finished.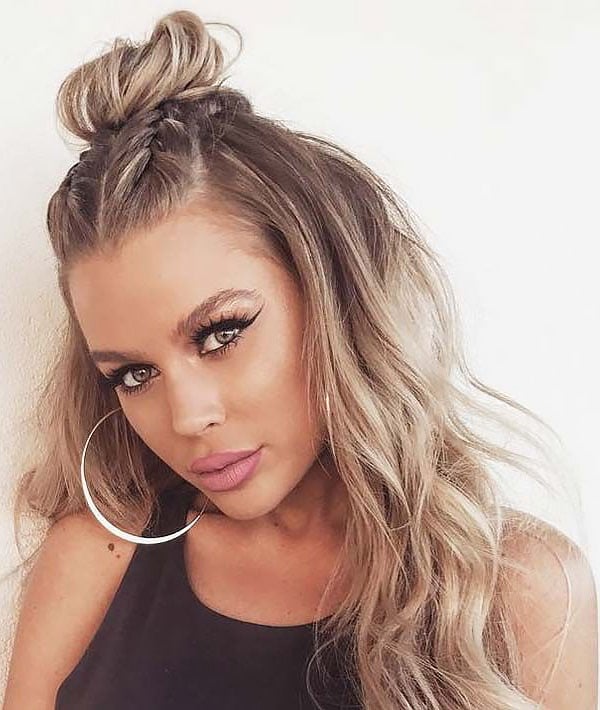 30. Braided Updo
A braided updo is a clean, polished look with a vintage appeal. If you're a skilled braider, try a serpentine French braid that moves from one side of your head to the other. For beginners, an easy option is to create a double Dutch or French braid and twist the two plaits together to create a braided bun effect. Alternatively, you could turn and pin the braids for a different finish.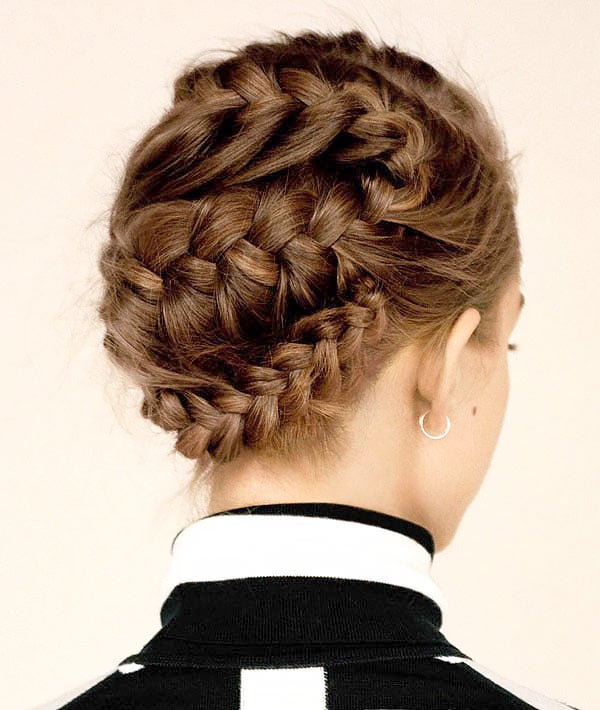 31. Pop Smoke Braids
Pop Smoke braids are one of the most protective braided hairstyles for natural hair, inspired by the late rapper Pop Smoke. This hairstyle is incredibly versatile and can be worn by men and women in various lengths. They are created using stitch-in knots, and the traditional approach has a middle parting with four feed-in braids on either side of the head. That said, you can get creative with your look by experimenting with different partings and hair accessories, such as beads and various colors.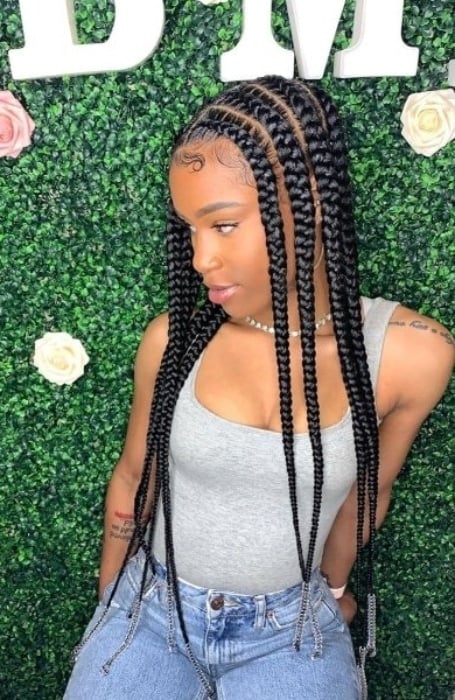 32. Small Box Braids
If you want a stylish way to wear your hair, look no further than small box braided hairstyles. These types of braids are a great protective style and reduce grooming time daily. Box braids have been a favorite of many celebrities and can be worn with different hair textures and lengths. Small braids are the best option if you have thin hair. It will also not be as heavy as thicker options, thus causing less damage to your roots.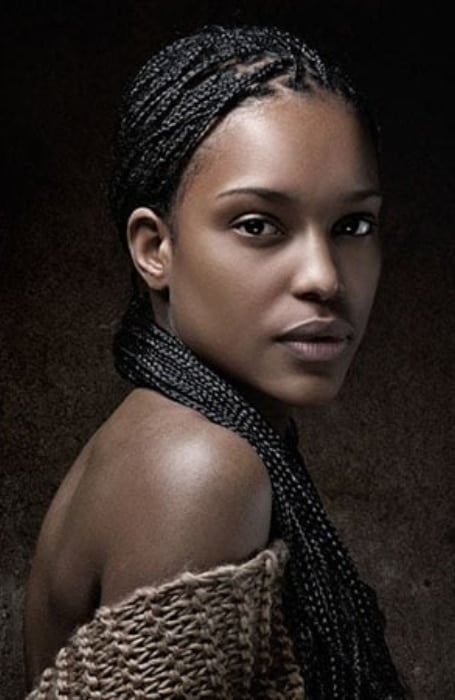 33. Natural Hair Braids
Some braided hairstyles require a longer length; you can use hair extensions or weaves to achieve this. There are braids for women who want to keep it simple and embrace their natural hair. Depending on the length of your locks, you may be somewhat restricted with which styles you can choose, although most can be adapted to suit your hair texture and length. Braids are a great protective style that can aid hair growth and will also reduce styling time.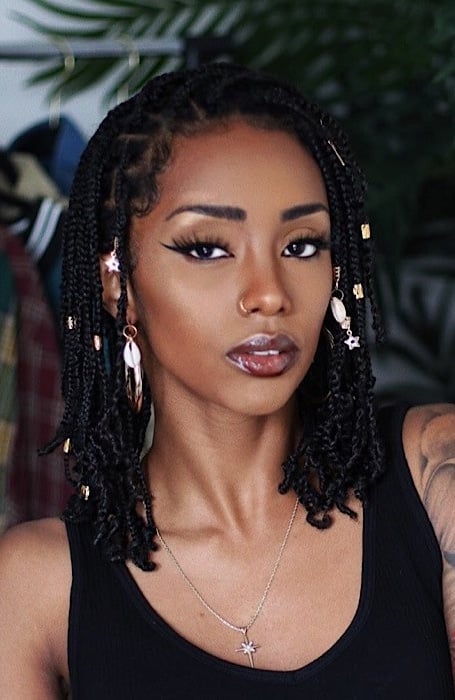 34. Black Braids
Braids look great in various styles, from long and dramatic to short braided hairstyles. You can also experiment with various colors, including blonde, red, or an ombre approach. That said, one of the gorgeous choices is black hair, which is a striking color that can be adapted to suit all skin tones. This dark hue can also make your hair appear in better condition because it will mask signs of damage and dryness, whereas lighter colors will highlight this. You can work with your hairstylist to find the most quick braided hairstyles for black hair.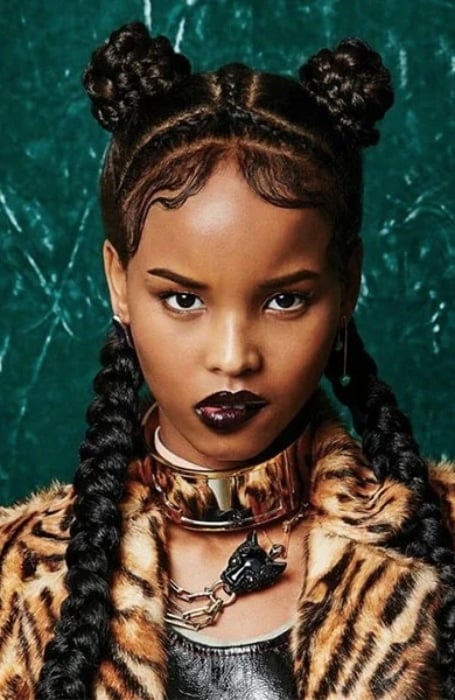 35. Updo Braids in a Bun
The appeal of updo braids is they create a more sophisticated appearance. They are perfect for formal occasions and can have a very feminine feel. They can also be easier to style and are a great way to keep your braids off your neck, therefore offering a cooler alternative, especially for the warmer months. Updos can also draw attention to your neck and face and be incredibly flattering, highlighting your best features. Many different braids can be pulled into a bun, and you can work with your hairstylist to find the look that best suits your hair texture, length, and face shape. Add beads or other accessories to make the style more personal.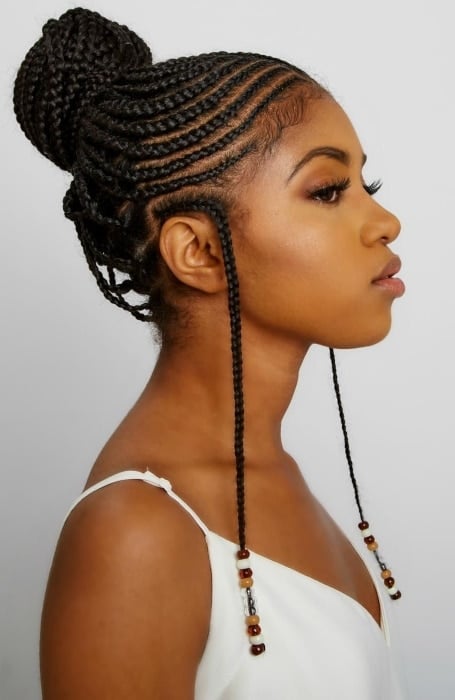 36. Unique Braids
Unique braids can be anything if they allow you to express your personality and preference. Braided hairstyles lend themselves well to accessories, and this is an opportunity to make your look individual and reflect your style. Play around with different patterns, cuffs, beads, and hair rings, and opt to create your braids in various lengths and sizes, from small to jumbo. Another way to personalize your hair is with the parting you choose; it could be simple and standard with a middle part, or you could get creative with a zig-zag parting.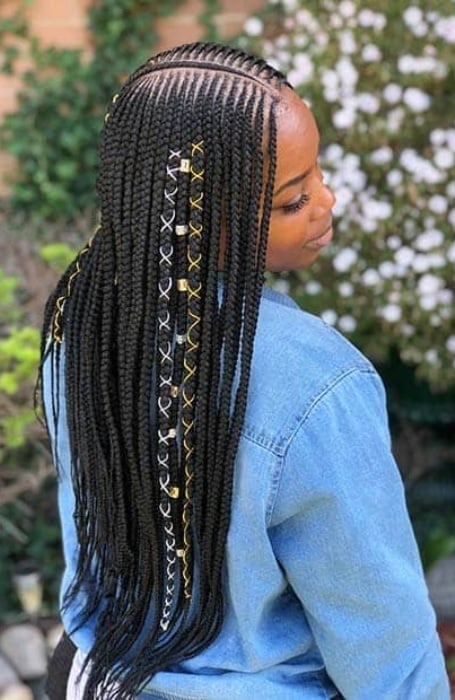 37. Bob Braids
The bob haircut has stood the test of time as one of the most popular and universally flattering haircuts for women. And now, with the addition of braids, the classic bob gets a fresh and trendy update. Braided bob hairstyles are perfect for women with Afro-textured hair who want a protective style that is easy to manage and gives a youthful appearance. This edgy twist on the classic bob adds an extra level of confidence and personality to your look.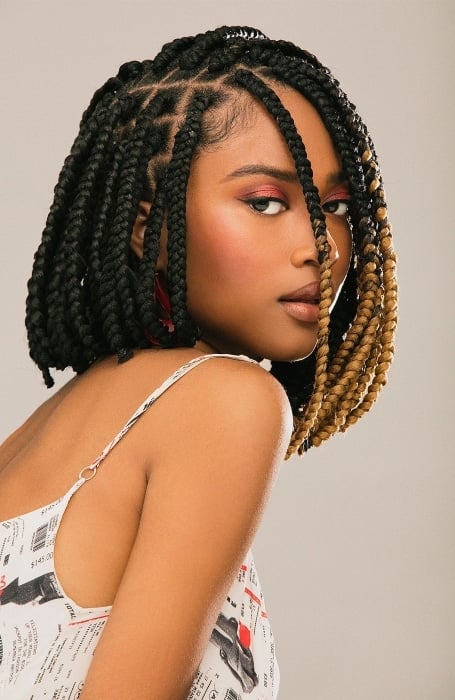 38. Braided Hairstyles for Kids
There are several stylish and practical braided hairstyles for kids. Braids are a protective style that will aid hair growth and drastically reduce style time, perfect for a little one who is always busy and on the go. Many super cute options include a top braided bun or cornrow with beads. The idea is to pick something casual and comfortable, but you can also let your kids make them more personal with bright colors and interesting hair accessories.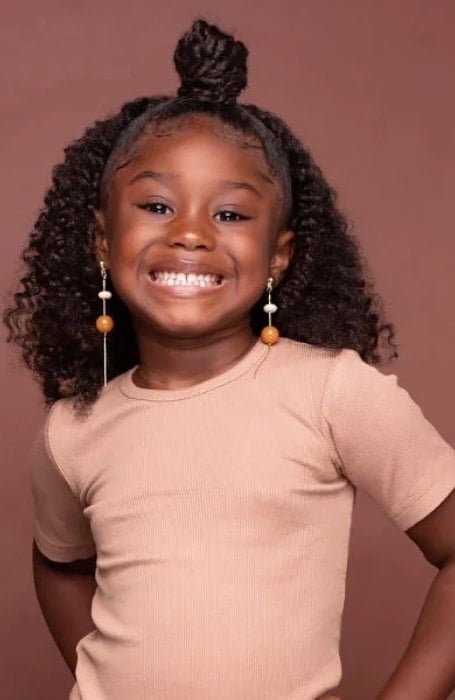 39. Knotless Braids
What is not to love about knotless braids? They can help achieve a stylish yet relaxed aesthetic and are incredibly versatile. These types of braids are protective, locking in moisture and aiding natural hair growth. They also will not put tension on your scalp like a few other styles would, and how the braids and your natural hair are infused will create a seamless finish that is not prone to breakage. They are also feminine and flattering, lasting around four to six weeks. You want to avoid leaving them in too long as this can damage your natural hair.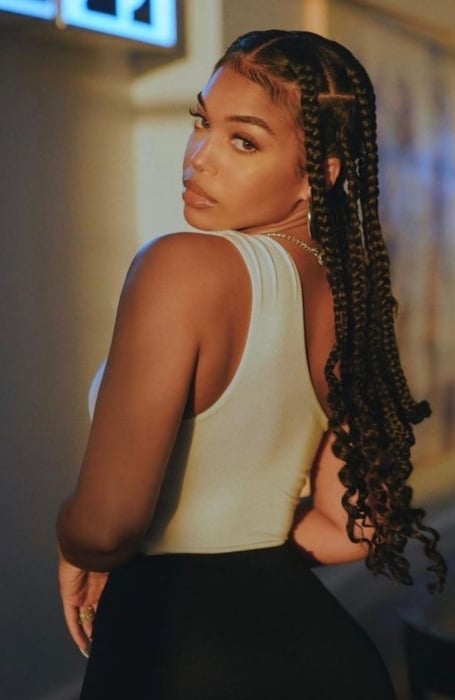 40. Medium Box Braids
Box braids are one of the most popular types of braids for women because they are so incredibly versatile. Medium box braids are easier to wear than the longer and thicker versions and complement your facial features. They can also be adapted to suit various hair textures and styled in multiple ways, including cute updos. The pros of braids are that they are a protective style with lower maintenance and can last several weeks.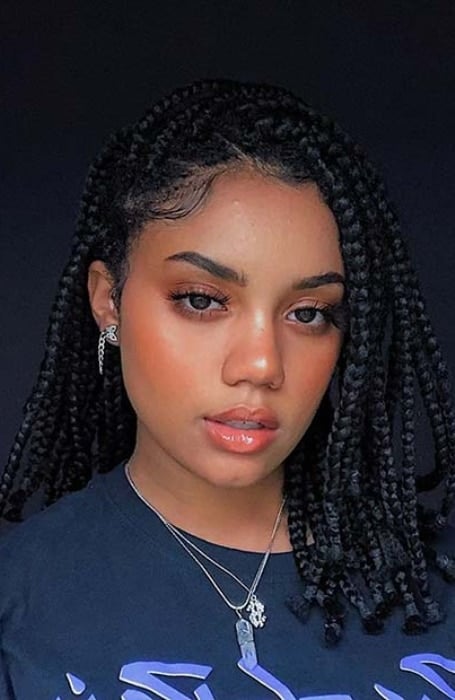 41. Twist Braids
There are different forms of twist braids, but the most common are Senegalese twists or rope twists. They get their name because of their appearance, which uses thick braids resembling a rope. They are created by wrapping hair extensions around your natural hair before twisting. This look has several types of braids, and it can be made in various lengths and styled to reflect your preference; this could be by opting for jumbo braids or keeping them small. You can also try bright colors and styles, like updos and accessories. Another pro of twists is that they are one of the longest-lasting braids and can last up to four months.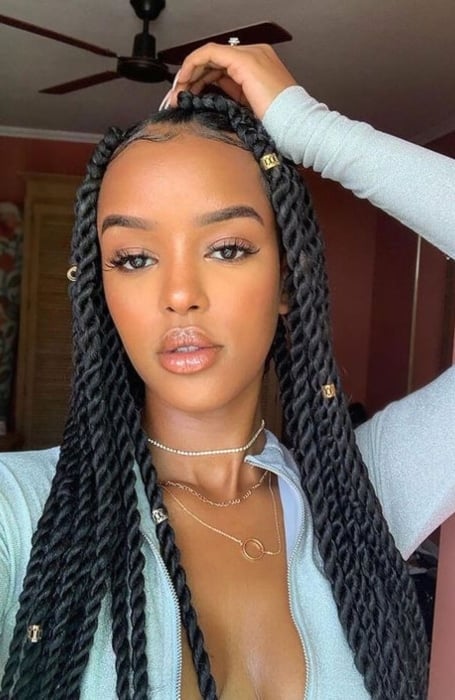 42. Long Box Braids
The great thing about box braids is they are versatile hair braids for long hair, and you can create them for various hair types. These types of braids are ideal for women who want a feminine protective style that can make a statement. Long box braids take more time and effort to create, requiring more hair. They will also be heavier and more expensive. That said, the finished look is truly stunning. Just be aware that the braided hair can cause tension and pull at your scalp.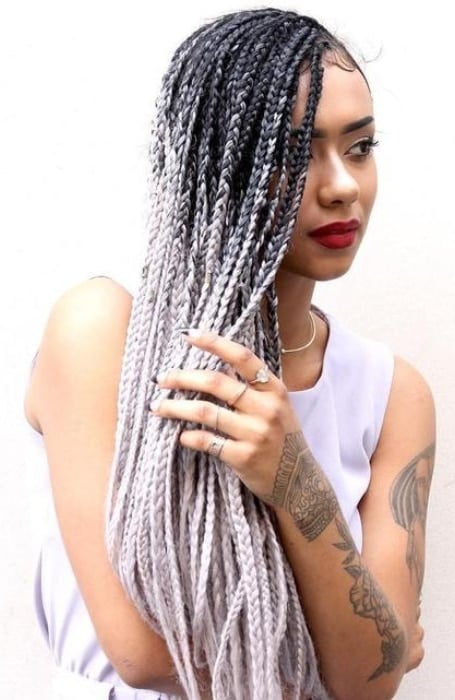 43. Large Knotless Braids
Knotless braids can help you achieve a stylish appearance but are also practical. These types of braids are a protective style designed to help your natural hair grow, give you a break from heat styling, and reduce your grooming time. A major pro of knotless braids is that they tend to be more gentle on the scalp; they cause less tension, making it easier to wear lengthier or larger braids. Large knotless braids can make a statement, and you don't have to worry about them giving you a headache because the weight of the braid is distributed over a larger area.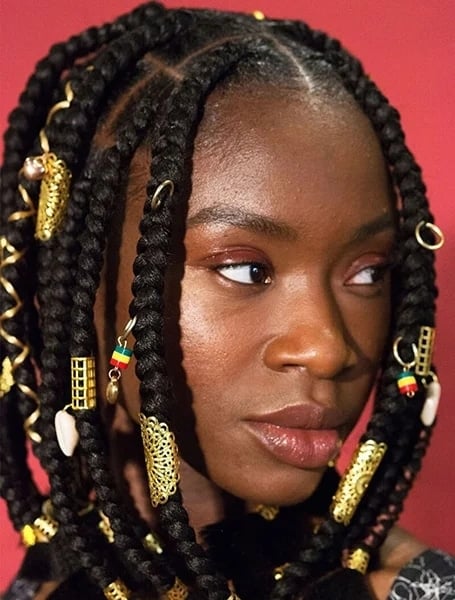 44. Box Braids with Curls
If you want to add a feminine finish to your box braids, why not opt for curly or wavy braids? When you unravel your braids, they will produce a wonderful curly texture, but you can also opt to braid them and leave the ends curly. This is a great way to change the protective style and add your signature to it, making it more personal. This gives them a unique finish, and the combination makes for a softer appearance. If you opt for medium-length braids, the curls can fall around your face, framing it and highlighting your features. It is important to remember that the curly ends can require more maintenance, as you will need to care for them appropriately.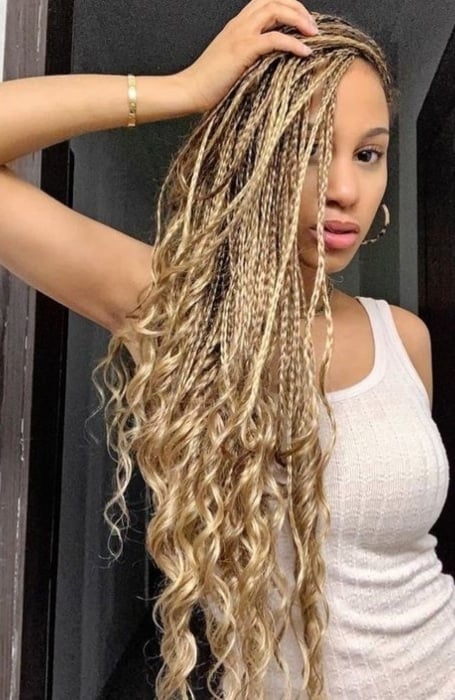 45. Braided Bun
When it comes to types of braids that are both easy and elegant, few options are as effortlessly chic as the braided bun. Whether you're attending a fancy dinner party or a wedding, this classic bun hairstyle can help you achieve a look that is both sophisticated and stunning. With so many options for size and design, you can add beads or thread to make your bun even more prominent.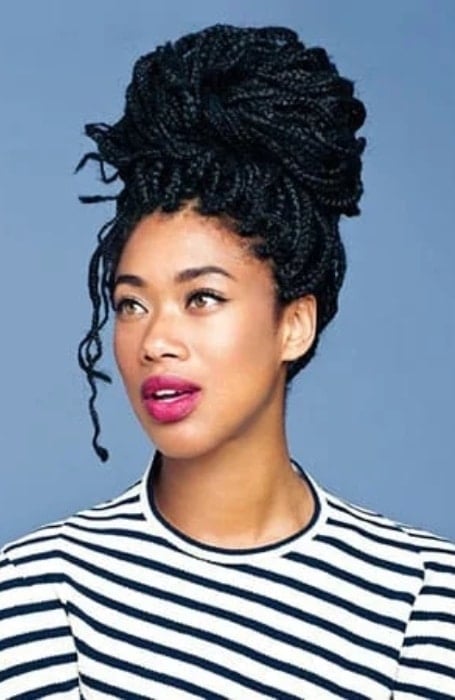 46. Braids with Beads
Braids offer great opportunities for personalization, and one way to achieve this is by incorporating beads. In African culture, beads hold special cultural significance and can serve as a way to pay homage to your ancestors and connect with your heritage. Beads have historically been used to symbolize social status, marital status, and much more. Additionally, there is a wide range of bead types available, including glass, wooden, and vibrant options, each offering a distinct aesthetic.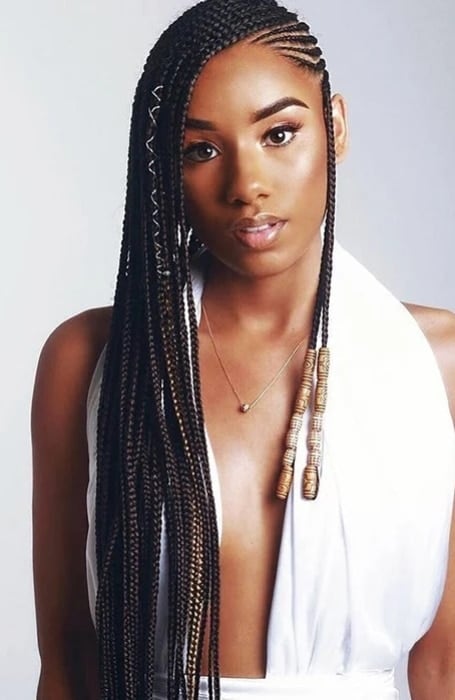 47. Braids with Curls
If you want braids with an interesting and voluminous finish, then you can opt for braids with curls. Either created using curly extensions or done so that the ends of the braid are left curly, the choice is yours. There are many different options, and this look can create a soft and feminine finish. The fantastic thing about braid hairstyles is that they are protective, allowing you to lock in moisture and facilitate your natural hair's growth.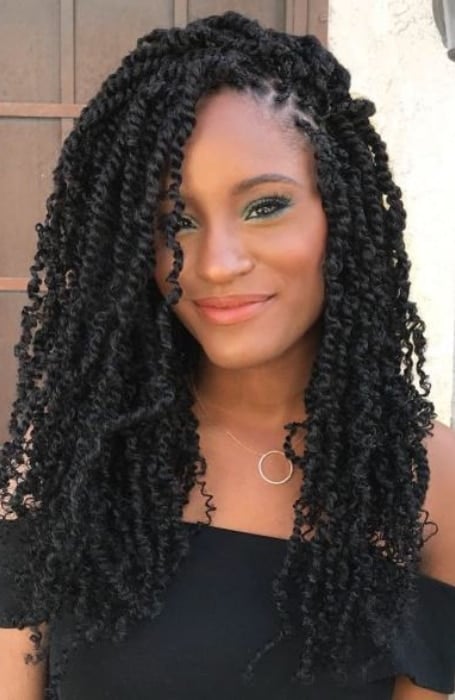 48. Passion Twist Braids
Passion twist braids are a relatively new hairstyle, only created in 2018 by Miami hairstylist Kailyn Rogers. It is a modern approach to wearing two-strand hair and can be adapted to various lengths and look great when left loose or styled into an updo hairstyle. These gorgeous braids are comfortable, practical, and water-friendly, making them the perfect option for the summer months or if you live in a hot climate. For the best results, use Freetress Water Wave hair.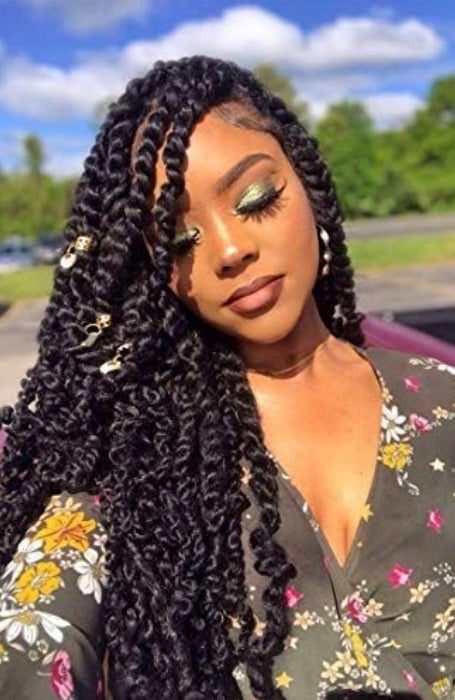 49. 2 Feed-in Braids
Feed-in braids are yet another stylish protective braid style that lets you express yourself and are practical and cool. The idea is that a hairstylist will use extensions for length and volume and feed them in by plaiting them together with your natural hair. This approach can help achieve a more natural look and will put less tension on the scalp. Take care of your braids to preserve them for as long as possible and prevent breakage and frizz.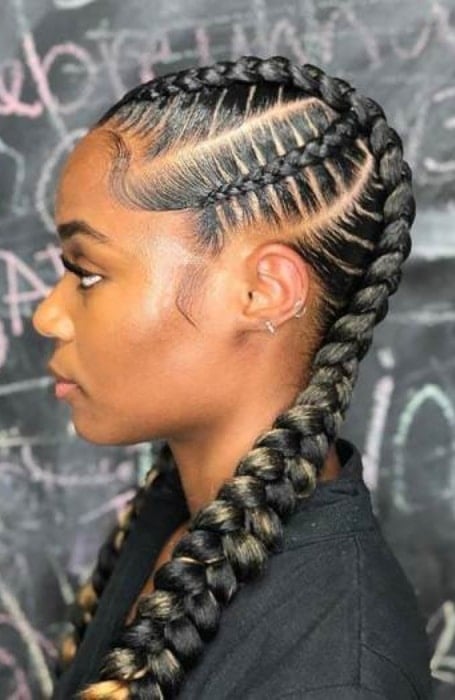 50. Ponytail Lemonade Braids
Beyoncé is a goddess and a style icon, and her hair on the 2016 Lemonade album cover has even inspired a protective style. Lemonade braids get their name after Queen Bey herself and are created with close and even cornrows that go from left to right. These types of braids are versatile and can be done with various lengths, on different textures, and varying thicknesses. To add a personal touch to it, you can experiment with bold colors, as Beyoncé did with her golden-colored locks. Or try out attractive accessories like beads or cuffs.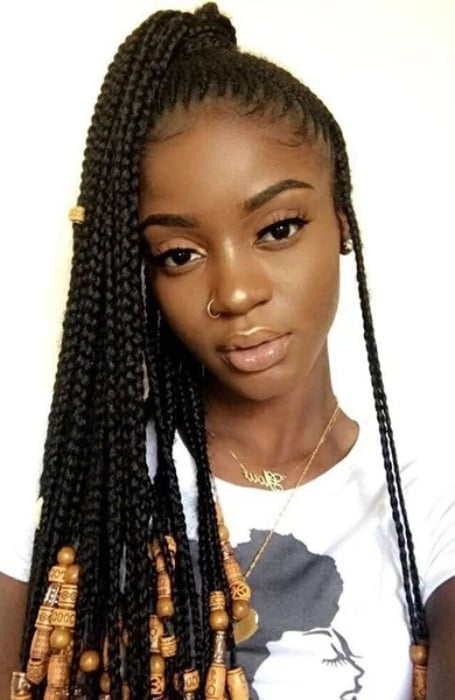 51. Straight Back Braids
As the name suggests, straight-back braids are created to go straight back and away from your face. This can be an incredibly flattering option as it can draw attention to your face and highlight your features, particularly your cheekbones. The braided hair can be adapted to suit various lengths but tends to work best on longer hair. Another pro of the straight-back braid is that it can last a long time, up to two months. Exactly how long they will last depends on how well you care for your braids; you will need to protect them at night and keep them conditioned. Your natural hair growth is the other thing that will impact your longevity.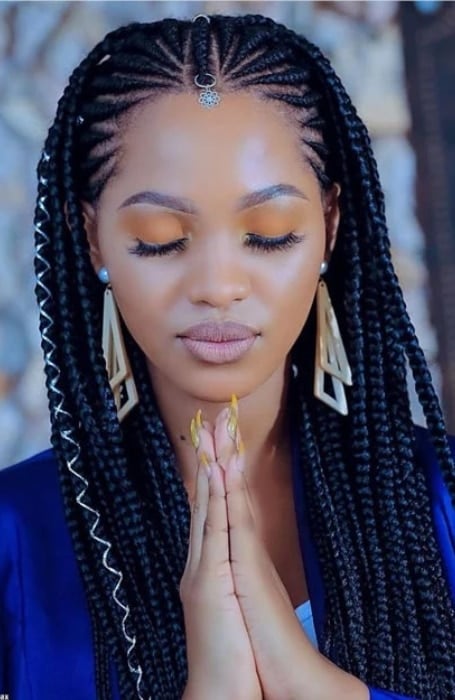 52. Butterfly Box Braids
The butterfly braid is oversized and created with hair extensions and creates a dreamy and feminine finish with a thick and fluffy braid. It can also be personalized with cuffs, beads, or other hair accessories. Or, you could opt for a 90s hairstyle look such as butterfly box braids. Instead of focusing on the butterfly braid, this look is all about the accessories you choose to style it with, and it will make a big statement. Box braids are versatile and highly adaptable and will look super cute with colorful butterfly clips; these can be small or large, depending on how dramatic you want your look.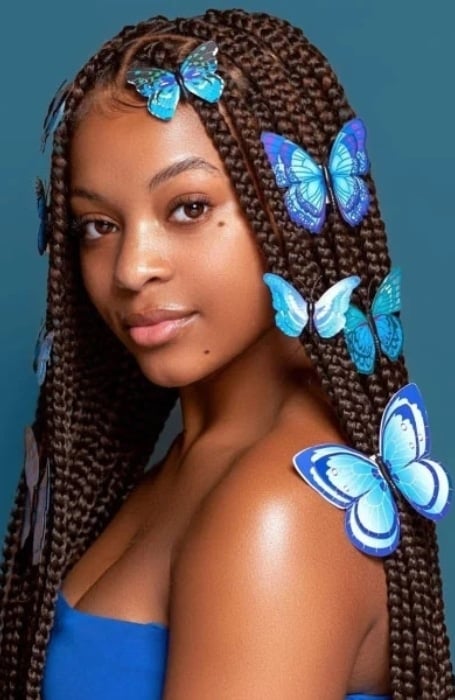 53. Fishbone Braids
The fishbone braid is a protective hair braiding style created close to the scalp, not to be confused with the fishtail braid. It features several thin cornrows on the scalp, which support the two large braids running down the head's sides. You can also wear it in an updo or a high ponytail. The look can be worn on women of all ages, including young kids, and lends itself well to personalization. You can add beads or cuffs, or a bright thread of your choosing, allowing you to add a pop of color to your appearance.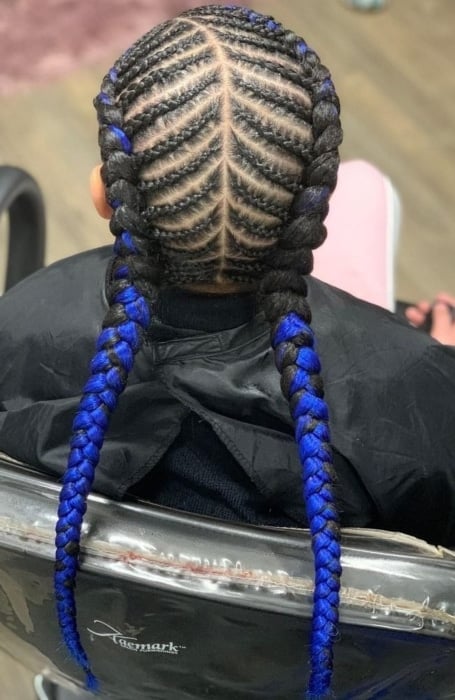 54. Long Tribal Braids
Tribal braids refer to many different techniques, focusing on the patterns that have significance to African cultures. These braided hairstyles for long hair are inspired by the methods used by tribes and are an excellent way to honor your heritage and feel closer to your ancestors. They are much more than a protective style and have been used by tribes to indicate many things, including social standing, age, and marital status. Opting for long braids is a look that can be achieved by those with naturally long hair or using extensions or feed-ins. The finished result is gorgeous and feminine and can be personalized with beads, shells, or cuffs for a more individual approach.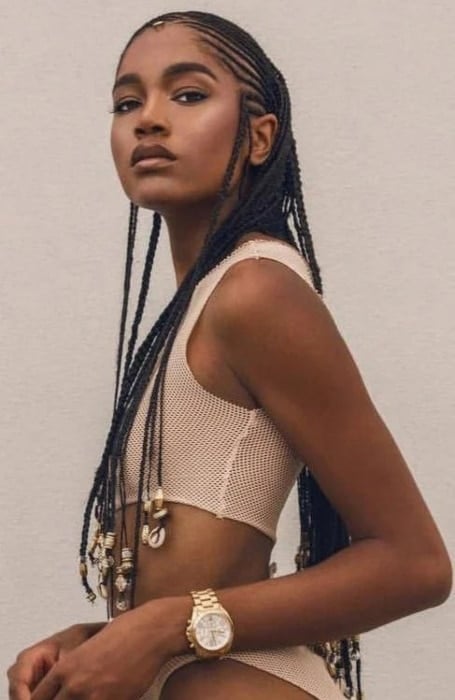 55. Poetic Justice Braids
Inspired by Janet Jackson's braids in the 1993 film Poetic Justice, these braids are still a favorite style today. The braids are thick and long and are a great protective style for natural hair, helping to lock in moisture. They will also reduce your style time every morning and give you a break from using heat styling. The downside is that they can be time-consuming to create and expensive, but many women find that the result is worth it. Feel free to add accessories you choose to give your look a more personal touch.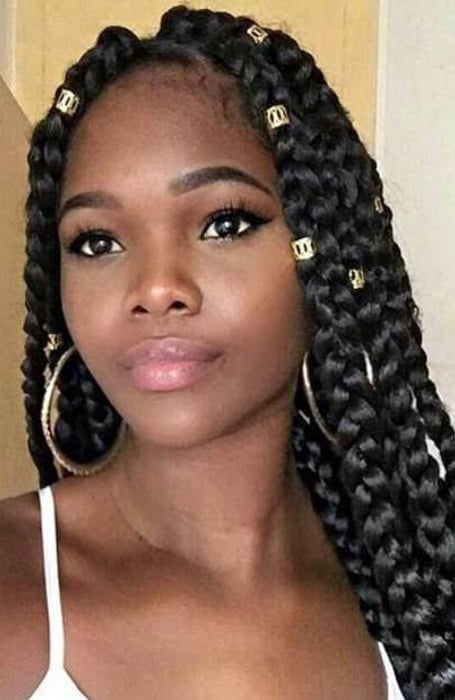 56. Cornrow Goddess Braids
In the 90s, goddess braids were the go-to option for many women, and they have since had a resurgence of popularity and have been seen on some of the hottest celebrities and style icons. The look is very similar to cornrows but is thicker. They also make a statement lasting for two to four weeks. This may not be as long as some other types of braids, but the goddess braids are often much less time-consuming to install. There are many ways to wear them, including down or a stylish loose updo. You can also experiment with different lengths and thicknesses.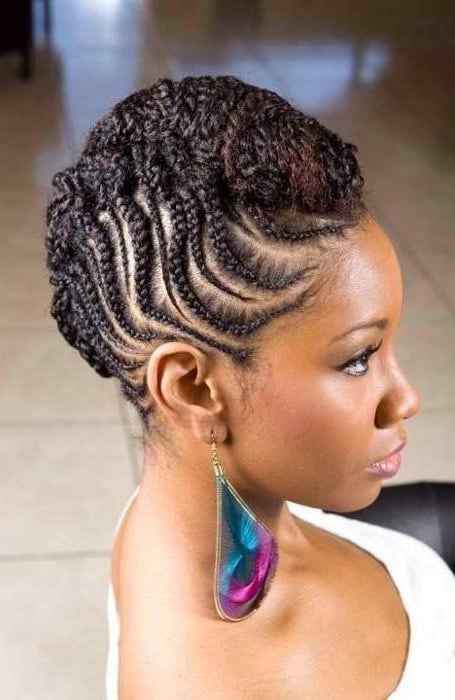 57. Dookie Braids
Another 90s hairstyle favorite is the dookie braid, a perfect look for women who want large braids hanging loose. Style icons like Rihanna have worn them, and there are many ways to adapt the look to make it suit your preference. You can opt for just a few or many braids and style them up or leave them down. You can also experiment with different colors and coloring techniques, such as ombre, for a hairstyle that reflects your personality and style.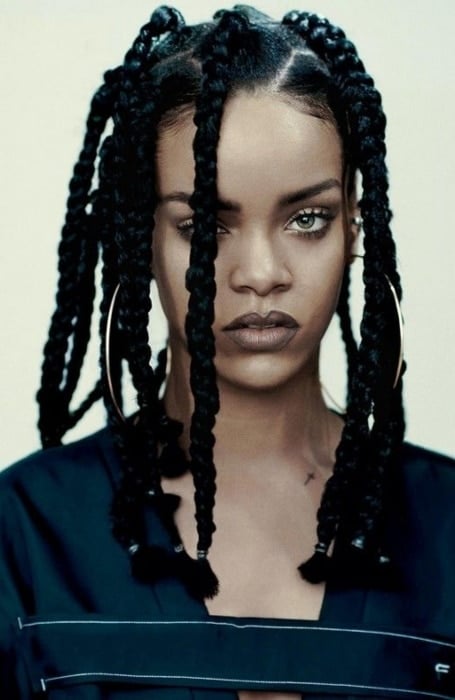 58. Triangle Braids
Triangle braids are sectioned into triangular shapes. They are similar to box braids, and the result is a protective style that is also practical and flattering. These types of braids will lock in moisture, help prevent breakage, and can aid natural hair growth. They can also be done using multiple hair textures and on various lengths and tend to be a little edgier than some other hair braiding styles. This is great for the woman who wants to stand out from the crowd. To make even more of a statement, experiment with different hair accessories and coloring techniques to add your personal touch to this fabulous look.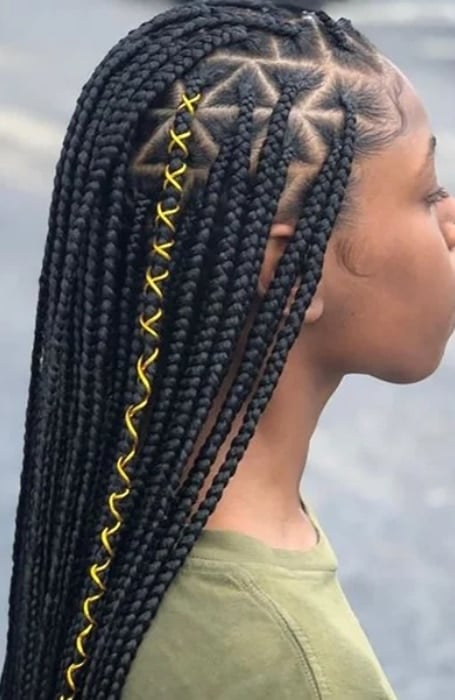 Types of Braids FAQs
What braids are in style 2023?
Cornrows are one of the most popular braids for 2023. Its popularity is thanks to both its ability to protect the natural hair and for the braider to get creative. Cornrows are the base for many other braided styles, including crotchet, Lemonade, feed-in, and goddess braids.
What hairstyles can you do with braids?
You can do almost any hairstyle with braids. Tie them up into a ponytail, high bun, cute space buns, or rock them as a pony. Half-up styles that use additional twisting look incredible, and you can get really creative. When it comes to more Eurocentric techniques such as French and Dutch braids, you can also style these as pigtails, as part of updos, or even upside down. Waterfall, crown, and fishtail braids are a great way to mix these up as well.
How do you make a braided hairstyle?
The basic technique for braids involves dividing a section of your hair into three parts and crossing those around each other. You'll gradually add more hair in as your progress down. French braids are done overhand, bringing the strands over, while Dutch and cornrow braids are done underhand, bringing additional hair underneath. Of course, the more intricate you get, or the different styles you try, the technique will vary.
What is the easiest type of braid?
A simple three-strand plait is the easiest braid to do. It uses all of your hair divided into three parts and pulled over each other to create the braid. It doesn't add additional hair, but can be more limited in its versatility for styling.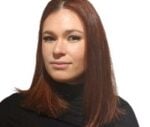 Arabella Roden is a skilled writer and sub-editor with over ten years of experience across print, digital, and B2B. She holds a Bachelor's Degree in Journalism and specializes in beauty, hairstyles, fashion, tattoos, and lifestyle topics. Arabella is currently the Chief Sub Editor at Mecca Brands and has been writing for The Trend Spotter since 2019.
SUBSCRIBE TO OUR NEWSLETTER
Subscribe to our mailing list and get interesting stuff and updates to your email inbox.