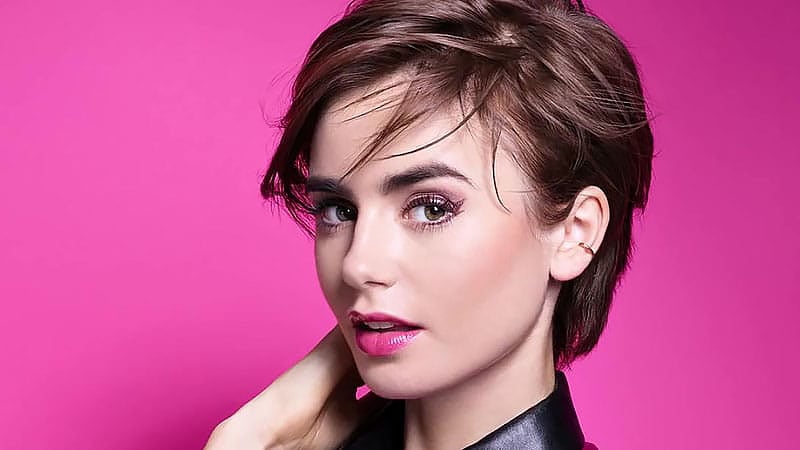 Pixie haircuts are a timeless, classic look beloved by women of all ages. Easy to maintain and style, a pixie is perfect for women who are short on time but still want a haircut that stands out. Pixie cuts are also versatile – they can be cute or sophisticated, feminine or androgynous, and can be adapted to suit every face shape. Keep reading to find some pixie cut inspiration for your next dramatic hair change.
1. Short Pixie Haircut
The classic pixie haircut is a timeless look. Short all over, it looks flattering on most face shapes and makes a bold style statement. A short pixie haircut doesn't require much styling or maintenance. However, you can add some messy texture with styling products for a casual feel, or try a sophisticated side part for a more polished look.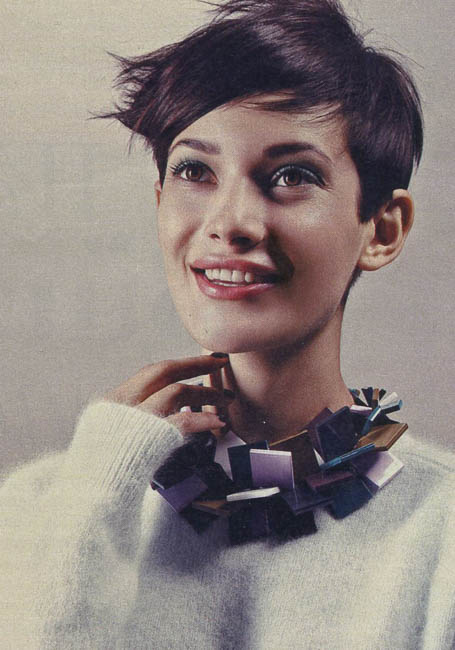 2. Very Short Pixie Haircut
A very short pixie haircut will give you a bold, modern, and fashion-forward look. Longer than a buzz cut but shorter than a classic pixie, the very short pixie suits those who have naturally thick hair and angular features. Pair it with glam make-up for a feminine look, or keep it natural and androgynous with a bare-faced look.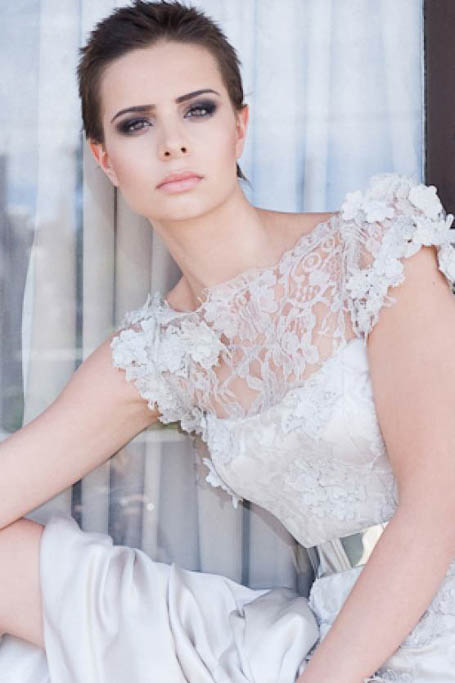 3. Long Pixie Haircut
A long pixie haircut is an excellent option if you want to transition into a cropped style gradually. The hairstyle is slightly shorter than the bob and looks stylish and feminine. Usually, these haircuts are longer at the front to create face-framing layers and give you more styling flexibility than a shorter pixie cut.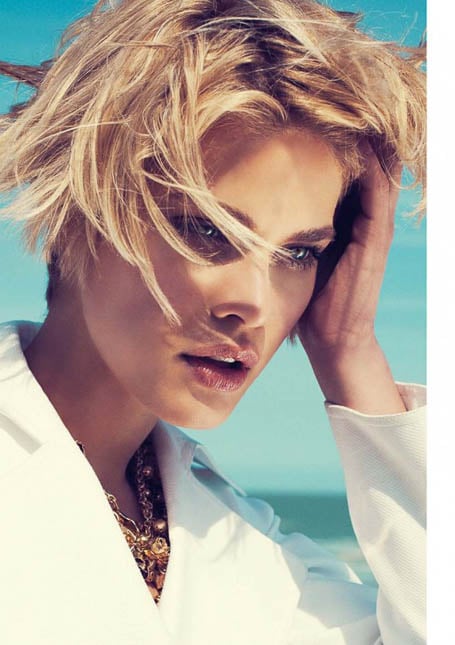 4. Pixie Bob
Love the 60s look? Try a pixie bob. Ideal for those with fine hair and round faces, the pixie bob haircut will give you a simple, fresh, and feminine look. Style it by adding on-trend hair clips or a hairband. It also looks great slicked back for a super sleek finish.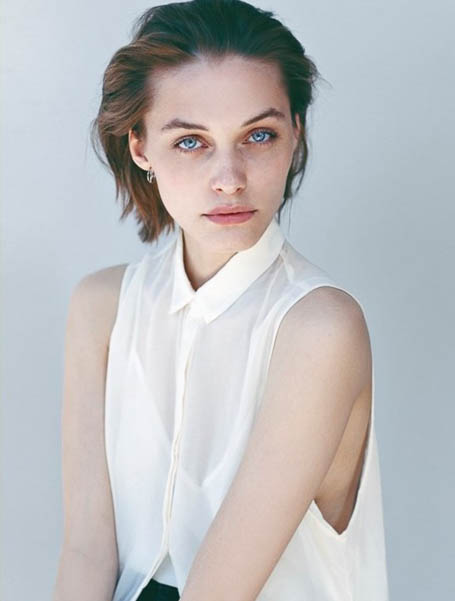 5. Pixie Haircut with Bangs
Add bangs to your pixie cut to adapt the super-short style to your face shape – particularly if you have angular features or a strong jawline. A side-swept fringe flatters a heart-shaped or square face, while short, blunt bangs suit oval face shapes and give the overall haircut an elfin look.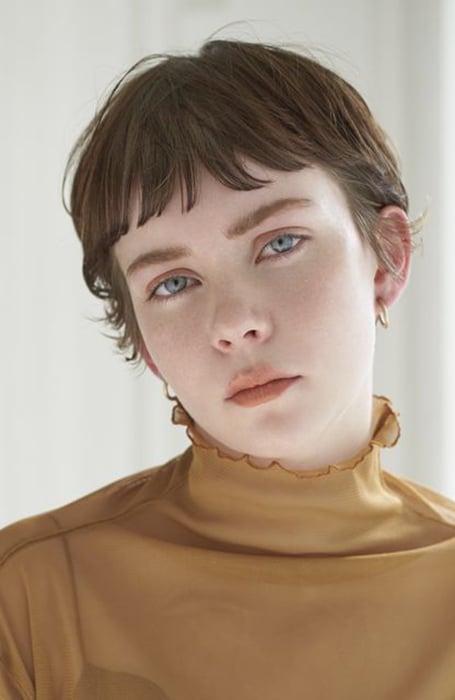 6. Asymmetrical Pixie Cut
One of the most iconic haircuts is the asymmetrical pixie. A cool and edgy style, the asymmetrical pixie cut is longer on one side than the other. It makes your face seem slimmer and longer while drawing attention to your eyes and jawline.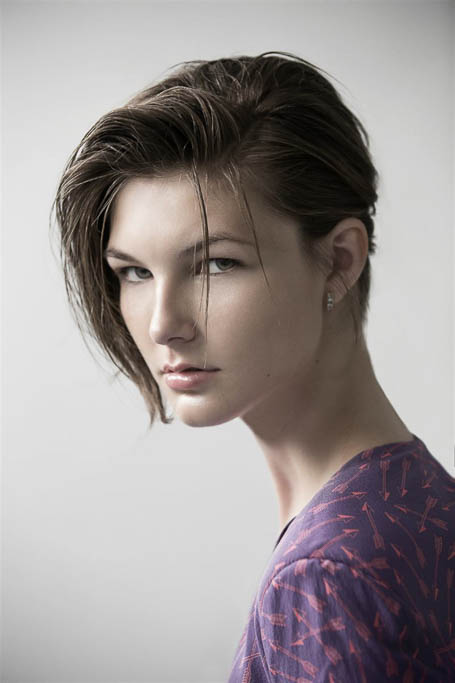 7. Pixie Cut for Older Women
A pixie cut is a sleek and stylish look for women of any age but looks particularly striking on older women with grey hair. Plus, pixie cuts are low-maintenance and easy to style. Choose a long, short, or spiky pixie cut depending on your hair texture and face shape.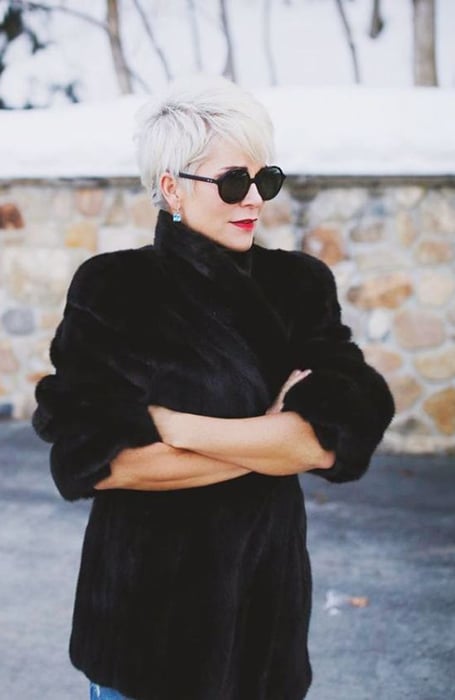 8. Pixie Haircut for Black Women
Black women have many options when it comes to pixie cuts. If you'd like to embrace your natural hair, go for the 'big chop' with a short pixie. Short natural curls are on-trend right now and look fantastic. Otherwise, a pixie cut looks just as good on relaxed hair. Alternatively, braid down your natural hair and try out the pixie look with a short wig – that way, you won't need to cut or damage your curls at all.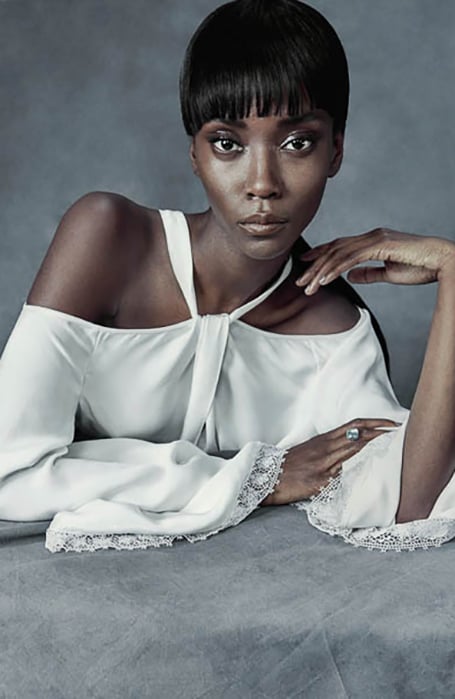 9. Pixie Haircut for Fine Hair
A pixie haircut is ideal for fine hair with the right elements and styling products. The challenge is to give the hair more body, texture, and lift, so it doesn't fall flat. Choppy pieces and disconnected layers create the illusion of more volume will giving your hair some dimension. A side-swept fringe is also a great way to embrace the pixie style if you have fine hair.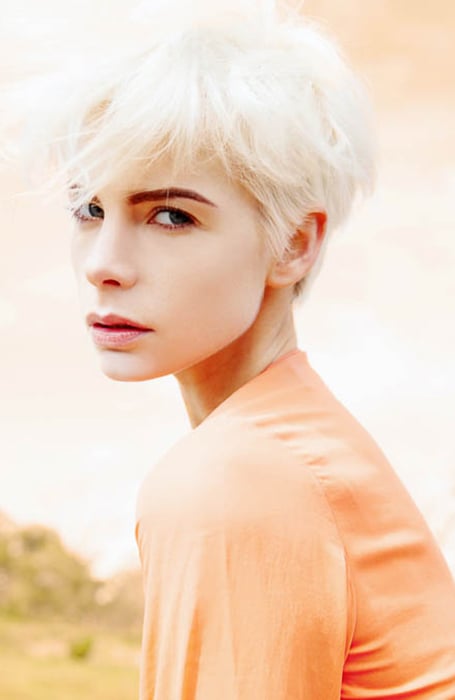 10. Pixie Haircut for Thick Hair
Thick hair and pixie haircuts are a match made in heaven. A classic pixie haircut or very short pixie cut is an excellent option for those with thicker hair, as the cropped length makes the hair more manageable, helps it dry more quickly, and makes it simpler to style. Highlights and choppy pieces may be added to give the hair some dimension.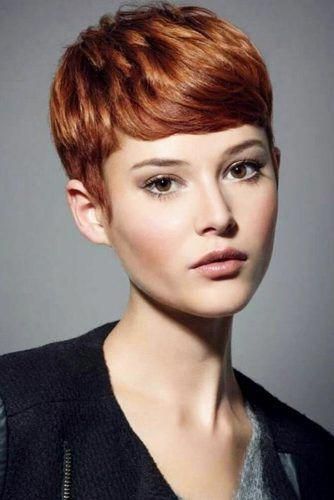 11. Undercut Pixie Haircut
Give your pixie cut an edge by adding an undercut. A popular men's hairstyle, the undercut has a cool and rebellious vibe and involves shaving down the lower section of the hair. For a flattering contrast, make sure your stylist leaves your pixie cut longer on top so you can style it with plenty of volume and texture.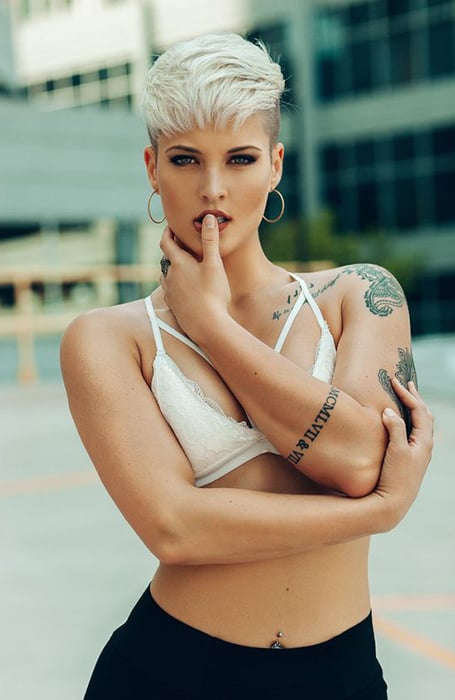 12. Pixie Haircut for Curly Hair
A pixie haircut looks great with curly hair. It will give you a cute, fresh, and youthful look. Depending on your curl pattern, your stylist will cut your locks into a flattering shape that makes the most of your hair's natural bounce and volume. Like all curly styles, frizz is the enemy, so use a curl-defining product to make your coils look their best.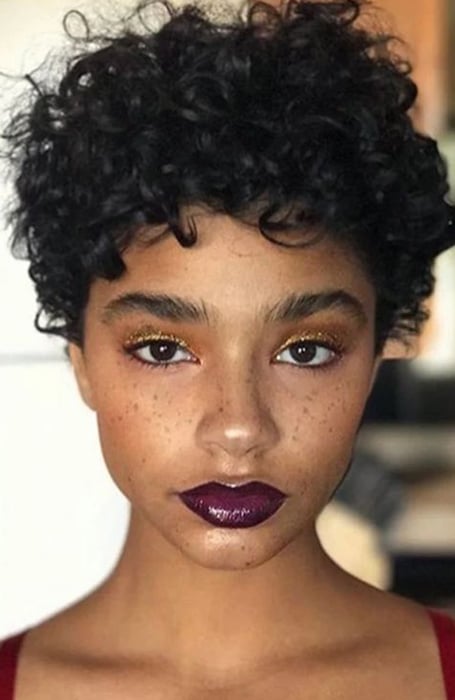 13. Pixie Cut Faux Hawk
There are plenty of options when it comes to styling your pixie cut, but one of the boldest options is the faux hawk. It's ideal for women with a long pixie cut who are looking to freshen up their look without cutting their hair shorter. To get the look, tease the center section while combing the sides flat.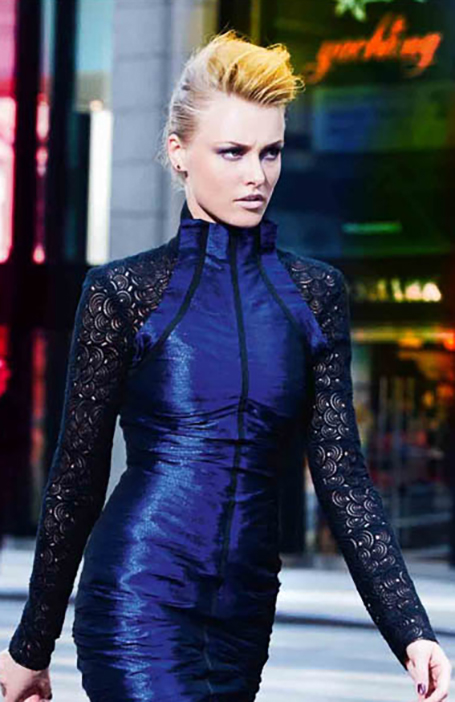 14. Shaggy Pixie Haircut
A shag haircut is all about choppy ends, volume, and layers at the crown, with a textured and deliberately messy appearance. Considered to be the epitome of '70s cool, a shaggy pixie haircut will give you that rock'n'roll vibe. It's also a great option if you are growing out your pixie cut to a bob or lob.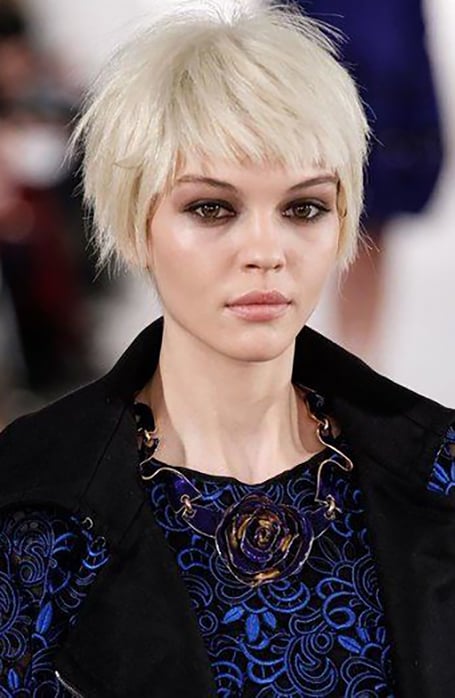 15. Edgy Pixie Cut
Because they are so eye-catching, pixie cuts are the natural partner for edgy elements like bold colors, asymmetrical fringes, and undercuts. If you want to make a truly dramatic change to your hair, opt for an edgy pixie cut. Pink is an on-trend color choice and looks great with a short, semi-shaved hairstyle.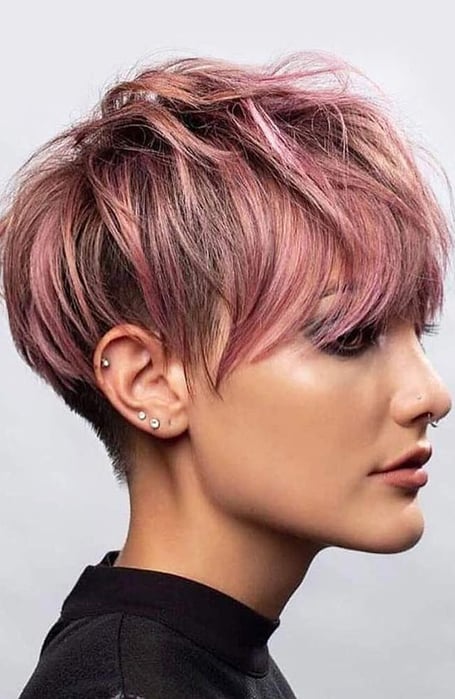 16. Textured Pixie Cut
A textured cut has lots of dimension and direction, achieved through well-placed choppy layers. It makes hair look thicker and gives it more volume and life. For that reason, a textured pixie cut is perfect for women with fine hair. A textured pixie cut has a deliberately undone feel, so it's ideal for those who love a more casual, bohemian look.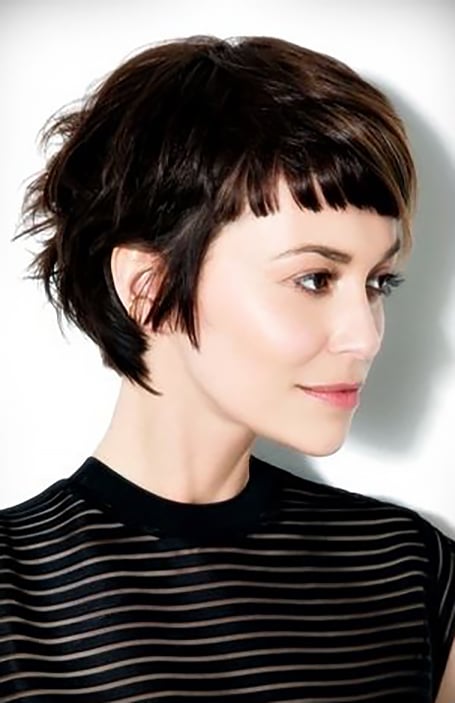 17. Spiky Pixie Haircut
Spiky pixie haircuts are not for wallflowers. Bold and filled with attitude, they are ideal for women who love to stand out, push the boundaries, and have fun. Use strong-hold gel and a hairdryer to create the spiky look; the key is not to make them look too neat or uniform.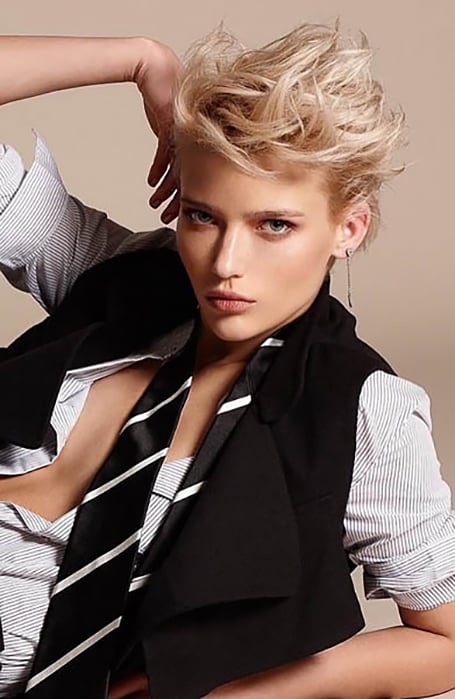 18. Asian Pixie Haircut
Asian hair tends to be thicker, stronger, smoother, and straighter than other hair types. For that reason, the hair can seem to stick out when it's cut short. However, that doesn't mean you can't get the perfect pixie cut! A hairstylist with experience cutting Asian hair can develop the style, so it works with your hair's natural texture, creating a beautifully soft, face-framing result.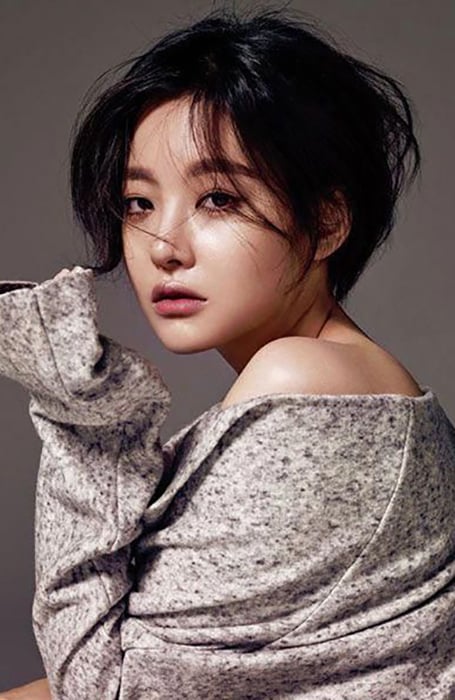 19. Messy Pixie Haircut
A messy pixie cut is the ultimate casual yet cool style. Most pixie cuts can be styled in a messy way using products like matt clay or putty. Because your hair is shorter in a pixie cut, it won't take long to style. Pair your messy hair with a more structured outfit, like a blazer and jeans, for a stylish contrast.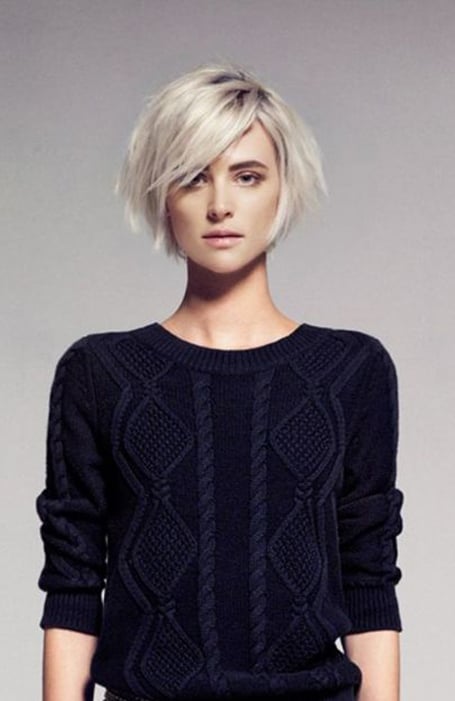 20. Pixie Haircut with Highlights
Highlights add dimension to a pixie haircut and work exceptionally well on thicker hair, helping to break up the 'mass' of color. Brunettes looking for an on-trend highlight, could try red or auburn instead of blond. The rich, autumnal tones give your complexion more warmth and make your base color seem brighter and fresher.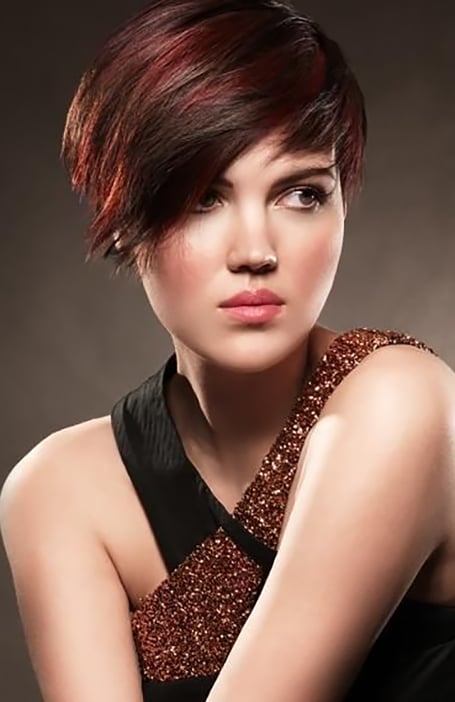 FAQs
Are pixie cuts in for 2021?
Pixie cuts are definitely in for 2021. It's the kind of hairstyle that's incredibly versatile, makes a statement, and is perfect for women who are low on time. Plus, there's so much variety in styles that there's the perfect cut for every woman.
What face shape can pull off a pixie cut?
Pixie cuts can be adapted for pretty much any face shape. However, women with heart, oval, round, and triangle faces will have the most choice for styles that work with their shape.
Is a pixie cut low maintenance?
Pixie cuts are low maintenance when it comes to styling. They're quick to wash, dry super fast, and are easy to style with the right products. However, they do need regular trims every six to eight weeks to maintain the shape of the style, which gets lost quickly with your natural hair growth. 
What faces look good with short hair?
Ladies with heart, oval, round, and triangle-shaped faces look great with short hair. Shorter hair also draws attention to your facial features, highlighting angular cheekbones, large eyes, and full lips.
SUBSCRIBE TO OUR NEWSLETTER
Subscribe to our mailing list and get interesting stuff and updates to your email inbox.