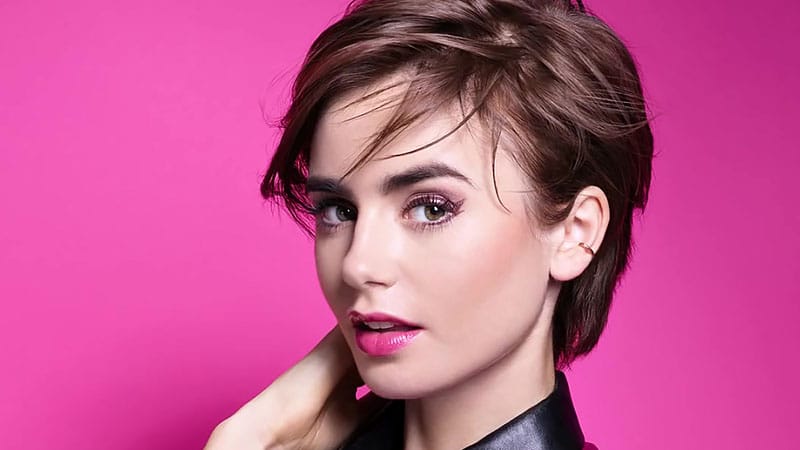 When you're stuck in a style rut, a dramatic haircut can be just what you need to revamp your look. The simple act of chopping off your long locks for a short crop can make you look and feel like a whole new woman. The idea may seem like a scary thought, but with lobs and bobs so popular at the moment, a pixie cut is the natural next step. Plus, with the number of compliments, you'll receive after this chop, you'll wonder why you didn't do it sooner.
Pixie Haircuts
The trick to pulling off a great pixie cut is as simple as finding the right style to suit your face. Choose between pixie cuts that are long, short, asymmetrical, shaved, or with bangs, to find your perfect cropped 'do. Use length to balance out long oval and round face shapes, sweeping bangs to soften sharp features, and short styles to reveal delicate faces.
Long Pixie Cut
A long, pixie haircut is a great stop-off point between a bob and a short pixie. The style is short enough to create dramatic impact but long enough to maintain its feminine appeal. The extra length of a long pixie cut, which is often concentrated at the front, helps to frame the face and soften the style.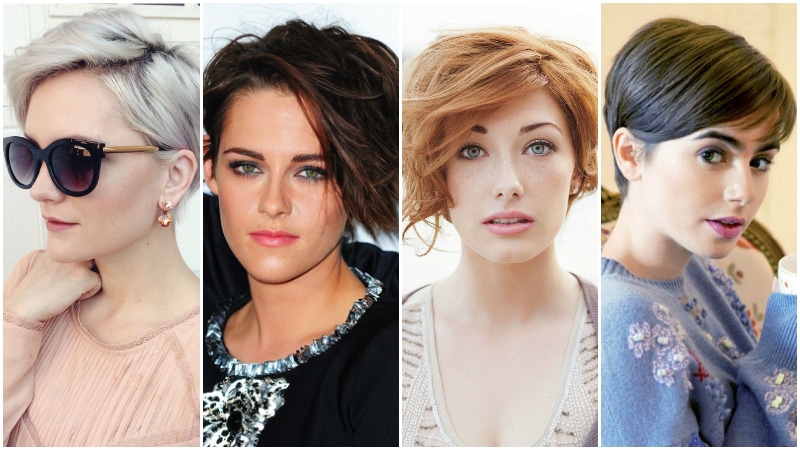 Short Pixie Cut
Cutting your hair into a short pixie style can be a serious decision, especially if you're used to having long locks. The style will dramatically change your look and take considerable time to grow out. If you do decide to cut your hair, it may be the most beautiful style you've ever had. Like hitting a giant refresh button, this style will lift and brighten your face and mood.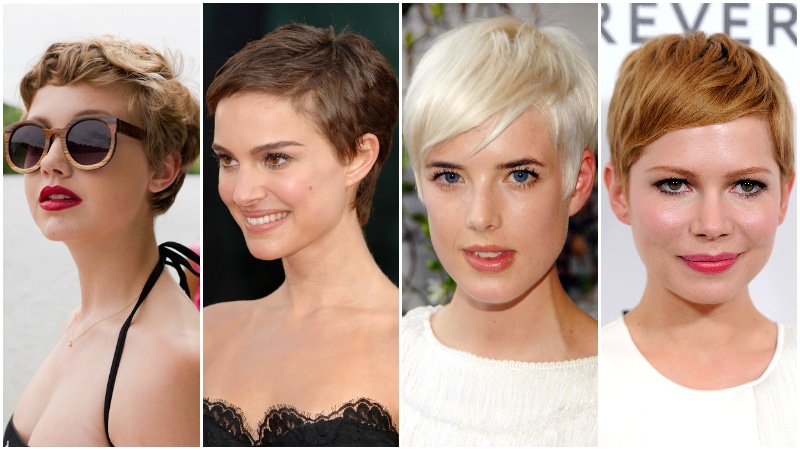 Pixie Cut With Bangs
Bangs can help give a plain pixie cut an extra boost of style. Choose side bangs that swoop across the forehead to give short hair a feminine touch. Keep the look light with choppy layers as a blunt fringe can appear too severe in a pixie cut.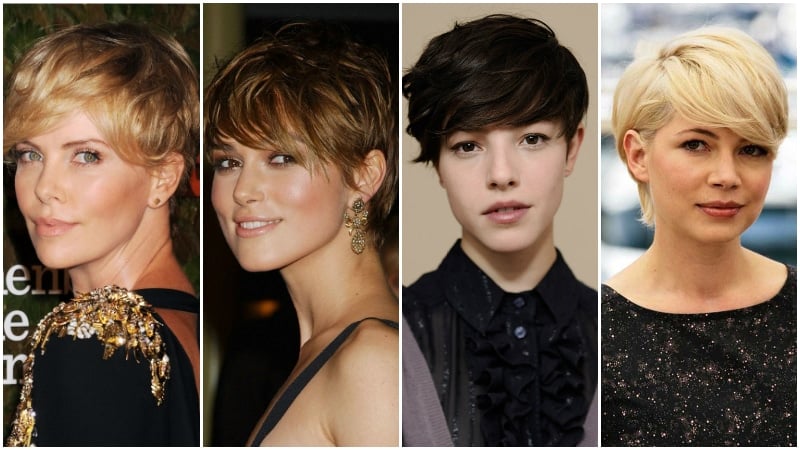 Asymmetrical Pixie Cut
Like a pixie cut with bangs, an asymmetrical pixie adds a healthy dose of feminine length while keeping the overall style short and cropped. Long on one side and short on the other, the asymmetrical pixie cut looks best when combined with a deep side part to ensure that volume is maintained on top.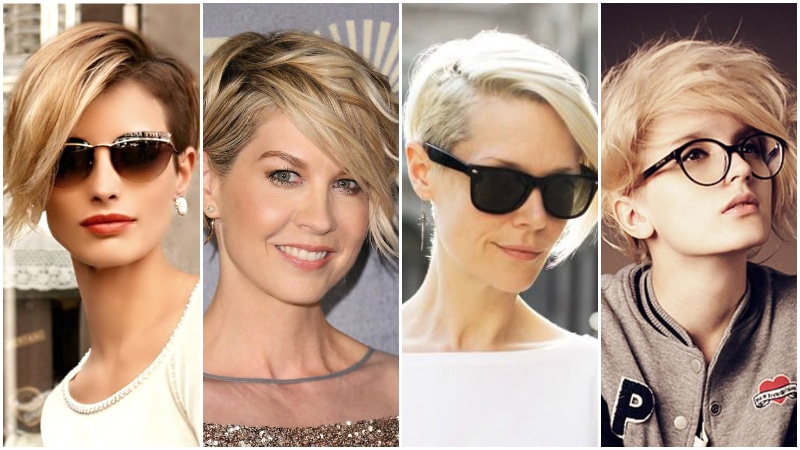 Shaved Pixie Cut
Shaved pixie cuts are one of the most recent trends to emerge from this hairstyle. Once reserved for the boys, shaved haircuts are now popular and cool for women as well. Choose between a shaved side (asymmetric cut), undercut (bottom half shaved), or whole head shave to rock this style.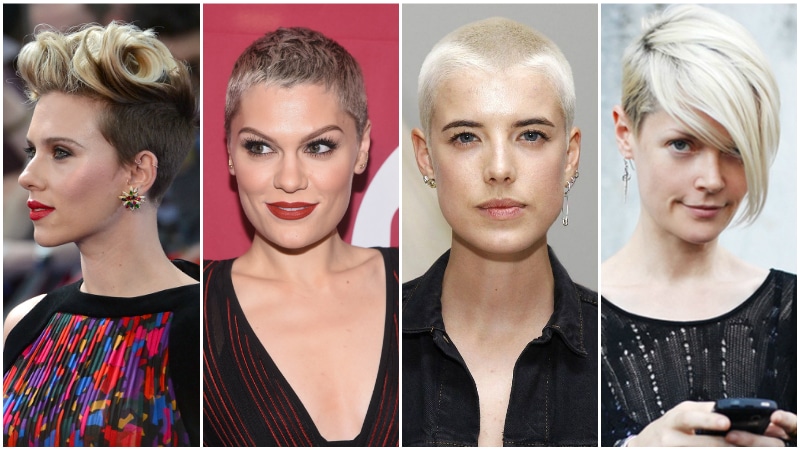 How to Style a Pixie Cut
Many people believe that once you cut your hair short, there's only one way to wear it, but that's just not true. Although updos may be out of the question, there are still many ways to style your short hair and change your look. Whether you're headed to the office, on a date, or out for Sunday brunch, there's a way of styling your pixie cut to suit your needs.
Straight Pixie
After washing hair lightly apply a heat protectant to strands.
Blow-dry hair using a small-barreled round brush. Use the brush to pull roots up as you blow-dry, to maintain volume, and curl the ends gently inward to add shape.
Finish the look by lightly running a flat iron through any parts that won't stay down and adding serum.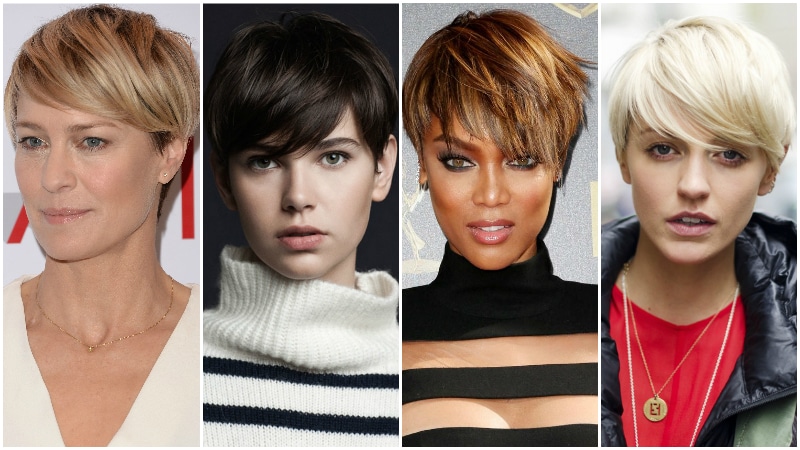 Curly Pixie
After towel-drying, sparingly apply curl-enhancing mousse to damp hair.
Allow hair to air dry in order to keep curls intact and frizz at bay.
Once completely dry use a curling wand to add definition to curls and create volume at the roots.
Finish by lightly scrunching anti-frizz serum through your strands.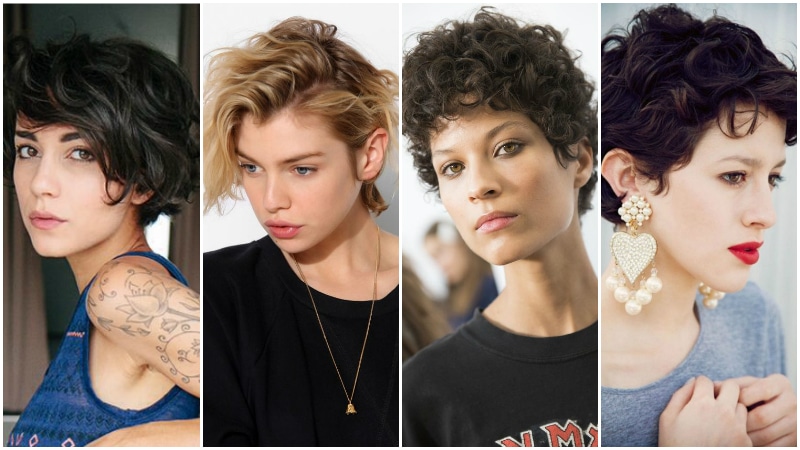 Messy Pixie
When washing hair skip the shampoo and head straight for a light dose of conditioner.
Once washed, apply texturizing spray to damp hair, focusing on the longer strands on top.
Blow or air dry hair while using hands to scrunch and shape hair into the ideal messy crop.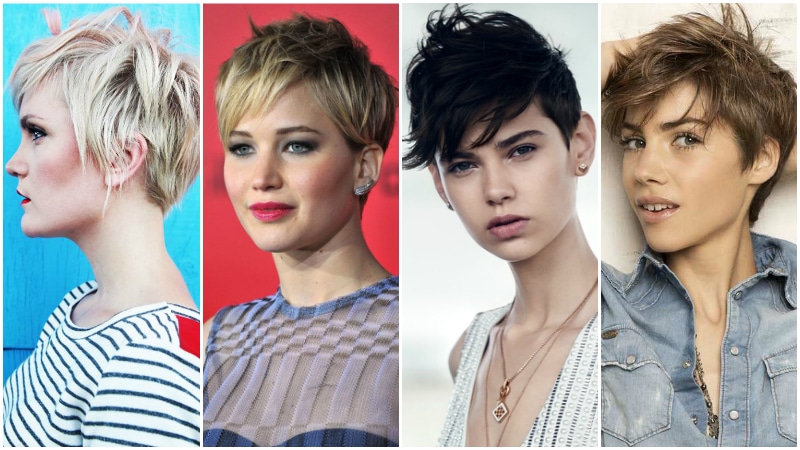 Swept Back Pixie
After washing, apply a lightweight volumizer to wet hair.
Blow-dry hair using a round brush, curling bangs and the front of the hair up and backwards as you go. To achieve high volume, turn head upside-down as you blow-dry roots.
Finish the look by running styling pomade through the ends of hairs with your fingers. Lift up and separate strands as you go.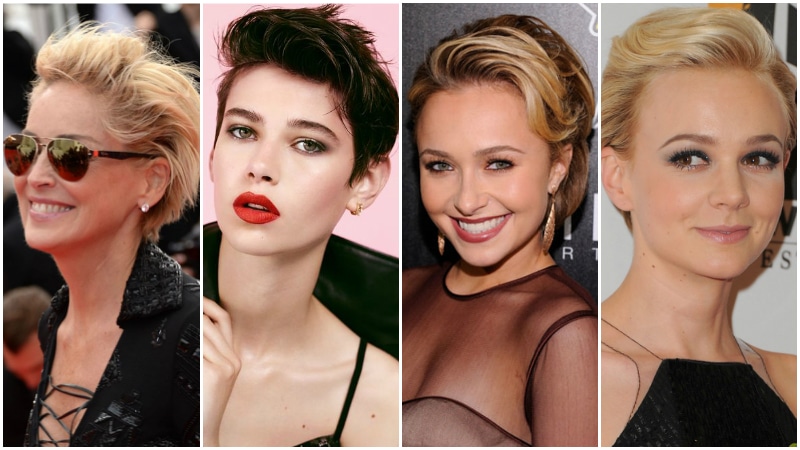 Celebrity Pixie Cuts
Pixie cuts can be just as chic as any long hairstyles, if not more so! Just look at many celebrities who have adopted the striking look and made it their signature style. From Rihanna to Anne Hathaway, pixie cuts are dominating red carpets and magazine shoots everywhere. Channel your favourite star by finding inspiration in their killer crops.
Rihanna
Rihanna boldly chopped off her long locks years ago and never looked back. The singer is a champion of short hair with pixie cuts being her go-to look. Whether she's rocking brown, black, blonde, red or purple hair, Rihanna slays a pixie cut. If you're feeling fierce and fearless, try one of her many short styles for yourself.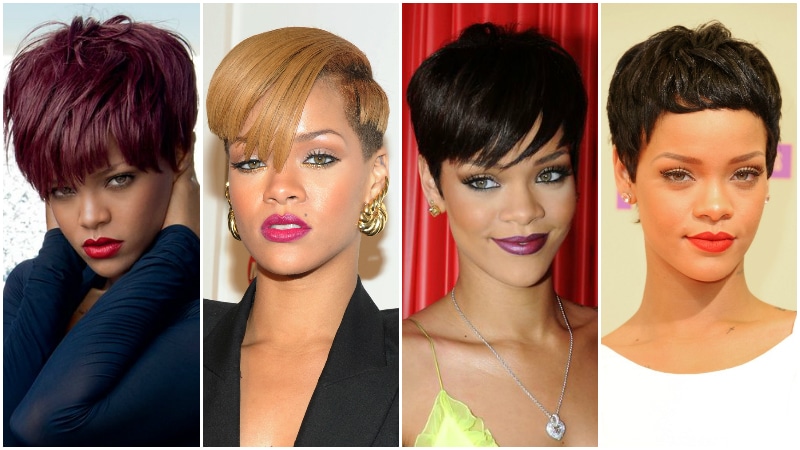 Emma Watson
Emma Watson's ethereal looks are perfectly suited to a pixie cut. While her delicate facial features are swamped and lost with long hair, a short crop highlights her beauty and brings it to life. Whether she chooses a long pixie cut with bangs for a sultry look or a short, choppy cut for a cute style, Emma always matches her hair to her makeup for an unforgettable look.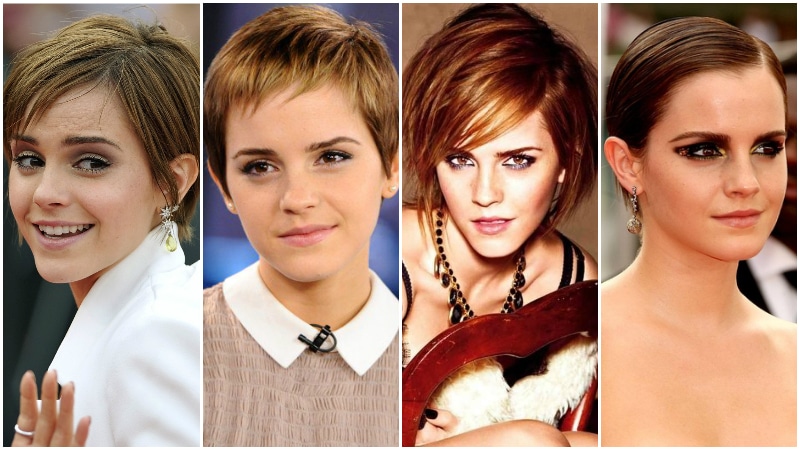 Anne Hathaway
Since Anne Hathaway dramatically cut off her long hair in 2012 for her role in Les Misérables, her career and style credit have been booming. The actress not only won an Oscar for her role in the film but also created a hairstyle revolution. Her photo was clutched by many women heading to their salons for a chop and still is today.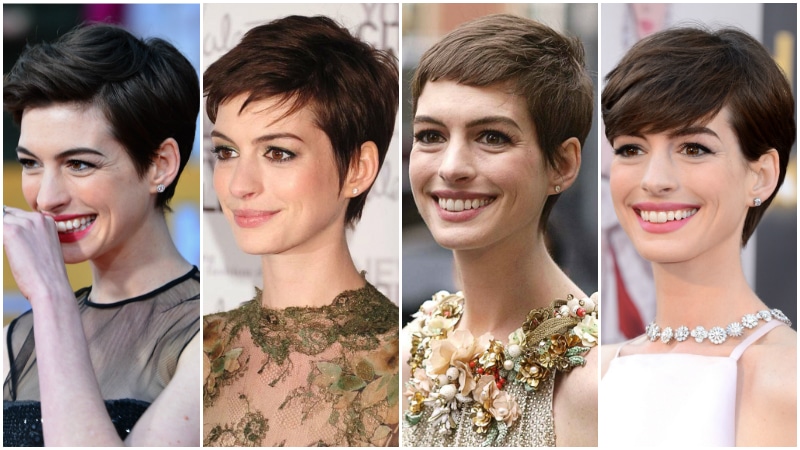 Julianne Hough
When it comes to hair inspiration, Julianne Hough is one celebrity that we look to. Her signature blonde locks transform from long to short and back again while always remaining impeccably stylish. Like any other hairstyle, Julianne nails the pixie cut to perfection.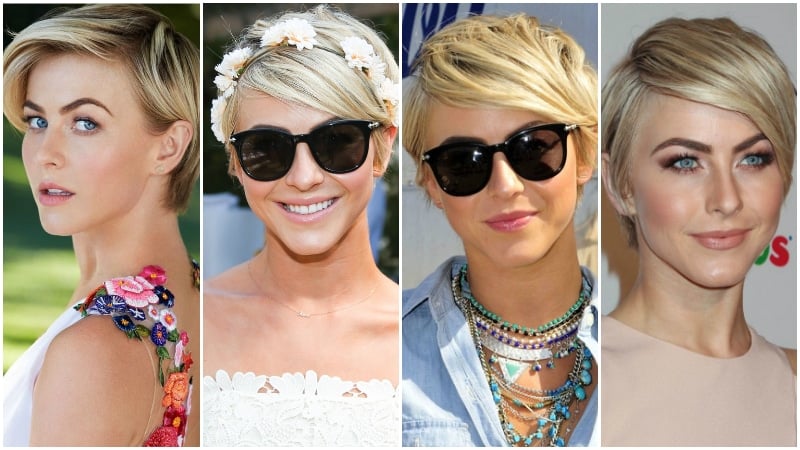 SUBSCRIBE TO OUR NEWSLETTER
Subscribe to our mailing list and get interesting stuff and updates to your email inbox.