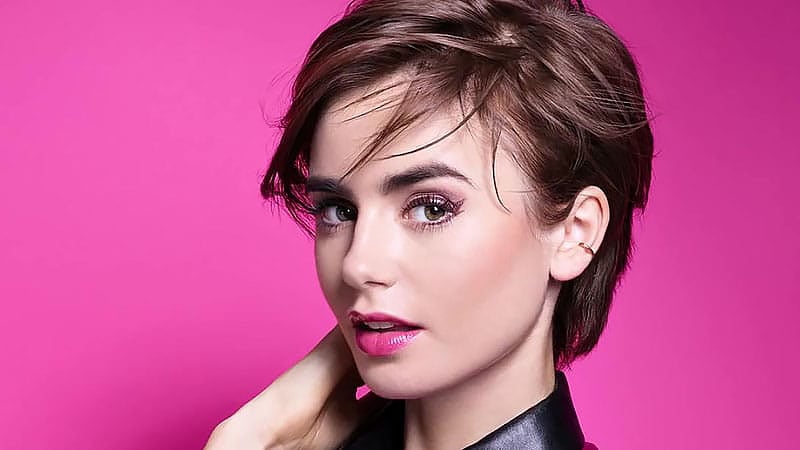 Pixie haircuts are a timeless, classic look beloved by women of all ages. Easy to maintain and style, a pixie is perfect for women who are short on time but still want a haircut that stands out. Pixie cuts are also versatile – they can be cute or sophisticated, feminine or androgynous, and can be adapted to suit every face shape. Keep reading to find some pixie cut inspiration for your next dramatic hair change.
1. Short Pixie Haircut
The classic pixie haircut is a timeless look. Short all over, it looks flattering on most face shapes and makes a bold style statement. A short pixie haircut doesn't require much styling or maintenance. However, you can add some messy texture with styling products for a casual feel, or try a sophisticated side part for a more polished look.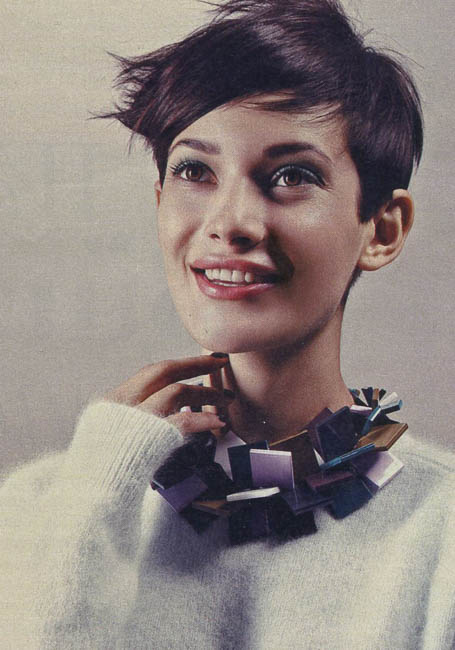 2. Very Short Pixie Haircut
A very short pixie haircut will give you a bold, modern, and fashion-forward look. Longer than a buzz cut but shorter than a classic pixie, the very short pixie suits those who have naturally thick hair and angular features. Pair it with glam make-up for a feminine look, or keep it natural and androgynous with a bare-faced look.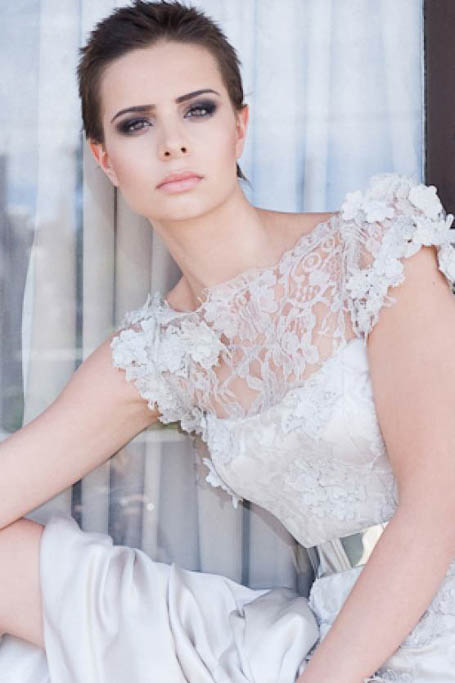 3. Long Pixie Haircut
A long pixie haircut is an excellent option if you want to transition into a cropped style gradually. The hairstyle is slightly shorter than the bob and looks stylish and feminine. Usually, these haircuts are longer at the front to create face-framing layers and give you more styling flexibility than a shorter pixie cut.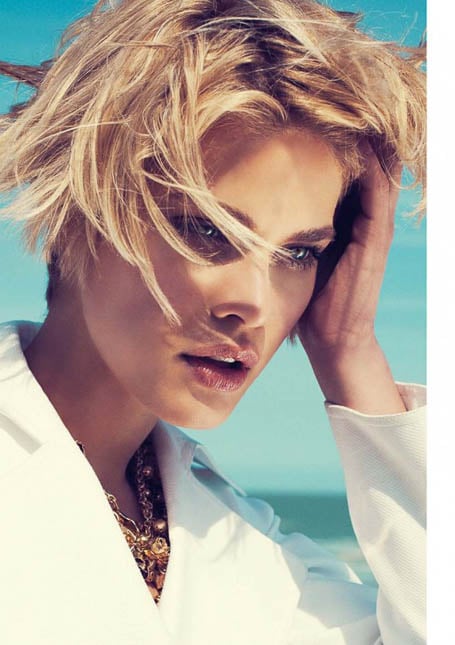 4. Pixie Bob
Love the 60s look? Try a pixie bob. Ideal for those with fine hair and round faces, the pixie bob haircut will give you a simple, fresh, and feminine look. Style it by adding on-trend hair clips or a hairband. It also looks great slicked back for a super sleek finish.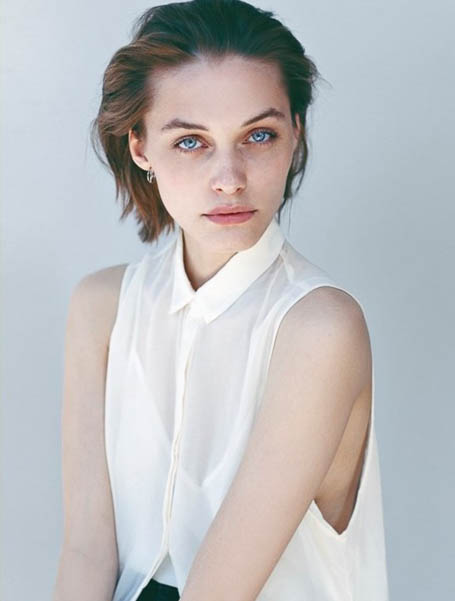 5. Pixie Haircut with Bangs
Add bangs to your pixie cut to adapt the super-short style to your face shape – particularly if you have angular features or a strong jawline. A side-swept fringe flatters a heart-shaped or square face, while short, blunt bangs suit oval face shapes and give the overall haircut an elfin look.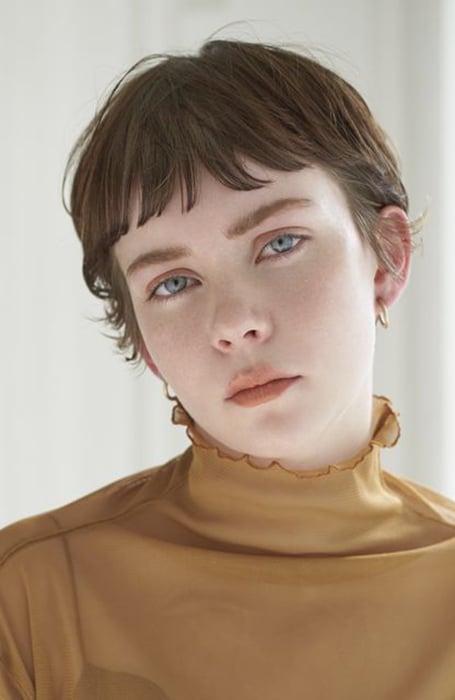 6. Asymmetrical Pixie Cut
One of the most iconic haircuts is the asymmetrical pixie. A cool and edgy style, the asymmetrical pixie cut is longer on one side than the other. It makes your face seem slimmer and longer while drawing attention to your eyes and jawline.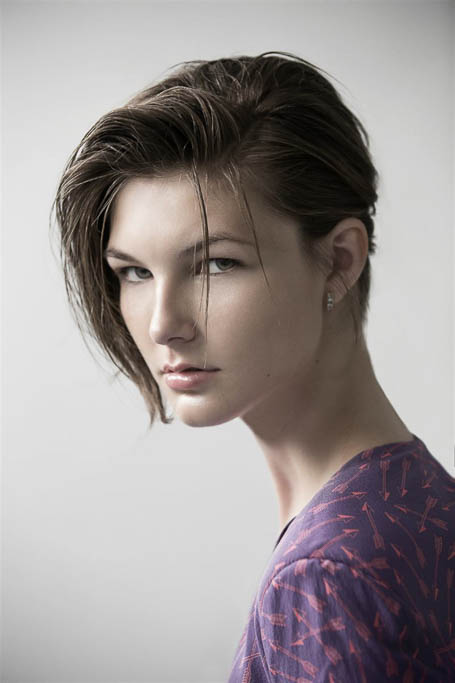 7. Pixie Cut for Older Women
A pixie cut is a sleek and stylish look for women of any age but looks particularly striking on older women with grey hair. Plus, pixie cuts are low-maintenance and easy to style. Choose a long, short, or spiky pixie cut depending on your hair texture and face shape.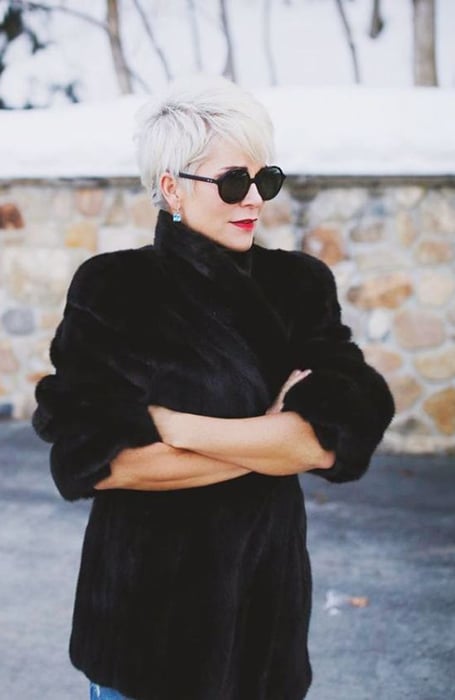 8. Pixie Haircut for Black Women
Black women have many options when it comes to pixie cuts. If you'd like to embrace your natural hair, go for the 'big chop' with a short pixie. Short natural curls are on-trend right now and look fantastic. Otherwise, a pixie cut looks just as good on relaxed hair. Alternatively, braid down your natural hair and try out the pixie look with a short wig – that way, you won't need to cut or damage your curls at all.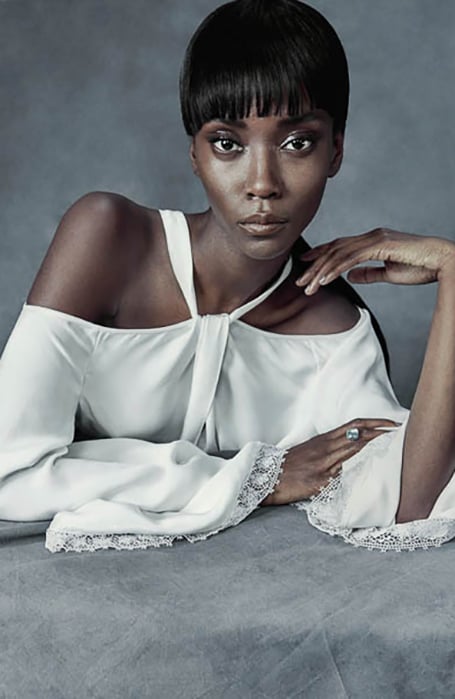 9. Pixie Haircut for Fine Hair
A pixie haircut is ideal for fine hair with the right elements and styling products. The challenge is to give the hair more body, texture, and lift, so it doesn't fall flat. Choppy pieces and disconnected layers create the illusion of more volume will giving your hair some dimension. A side-swept fringe is also a great way to embrace the pixie style if you have fine hair.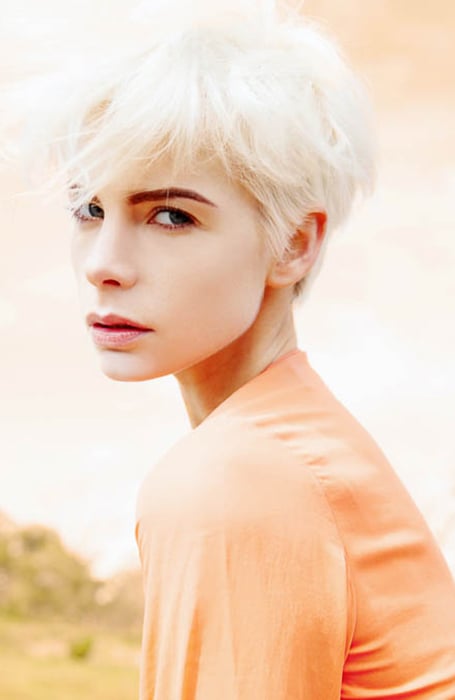 10. Pixie Haircut for Thick Hair
Thick hair and pixie haircuts are a match made in heaven. A classic pixie haircut or very short pixie cut is an excellent option for those with thicker hair, as the cropped length makes the hair more manageable, helps it dry more quickly, and makes it simpler to style. Highlights and choppy pieces may be added to give the hair some dimension.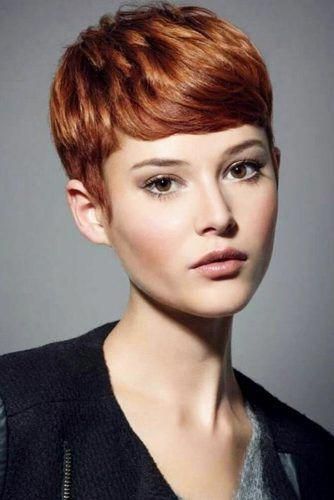 11. Undercut Pixie Haircut
Give your pixie cut an edge by adding an undercut. A popular men's hairstyle, the undercut has a cool and rebellious vibe and involves shaving down the lower section of the hair. For a flattering contrast, make sure your stylist leaves your pixie cut longer on top so you can style it with plenty of volume and texture.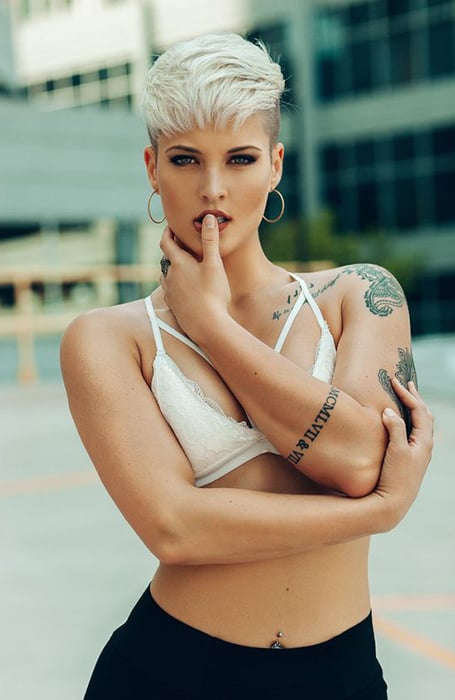 12. Pixie Haircut for Curly Hair
A pixie haircut looks great with curly hair. It will give you a cute, fresh, and youthful look. Depending on your curl pattern, your stylist will cut your locks into a flattering shape that makes the most of your hair's natural bounce and volume. Like all curly styles, frizz is the enemy, so use a curl-defining product to make your coils look their best.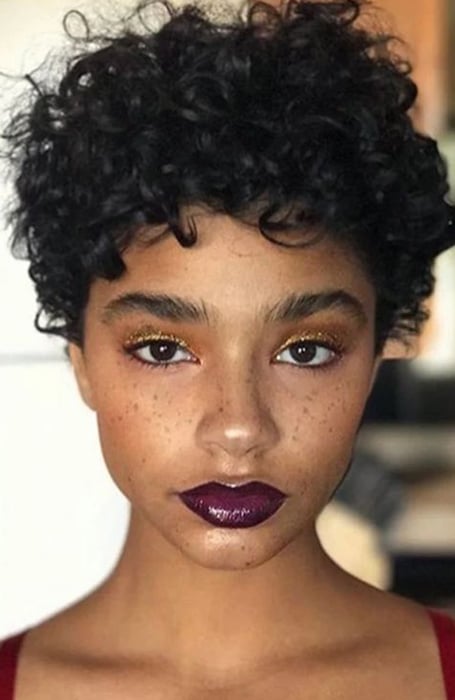 13. Pixie Cut Faux Hawk
There are plenty of options when it comes to styling your pixie cut, but one of the boldest options is the faux hawk. It's ideal for women with a long pixie cut who are looking to freshen up their look without cutting their hair shorter. To get the look, tease the center section while combing the sides flat.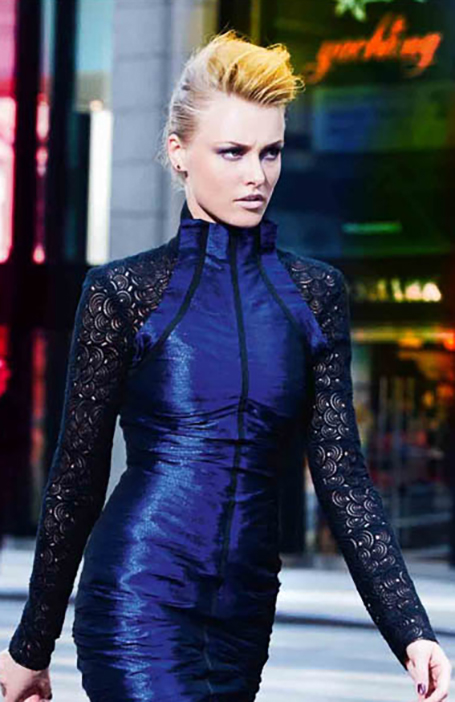 14. Shaggy Pixie Haircut
A shag haircut is all about choppy ends, volume, and layers at the crown, with a textured and deliberately messy appearance. Considered to be the epitome of '70s cool, a shaggy pixie haircut will give you that rock'n'roll vibe. It's also a great option if you are growing out your pixie cut to a bob or lob.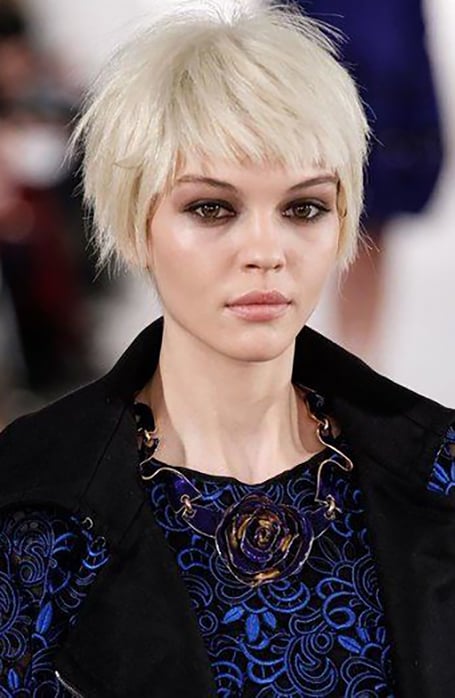 15. Edgy Pixie Cut
Because they are so eye-catching, pixie cuts are the natural partner for edgy elements like bold colors, asymmetrical fringes, and undercuts. If you want to make a truly dramatic change to your hair, opt for an edgy pixie cut. Pink is an on-trend color choice and looks great with a short, semi-shaved hairstyle.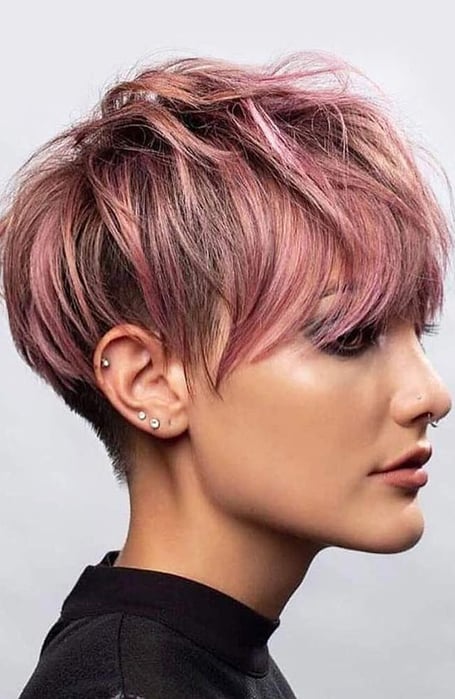 16. Textured Pixie Cut
A textured cut has lots of dimension and direction, achieved through well-placed choppy layers. It makes hair look thicker and gives it more volume and life. For that reason, a textured pixie cut is perfect for women with fine hair. A textured pixie cut has a deliberately undone feel, so it's ideal for those who love a more casual, bohemian look.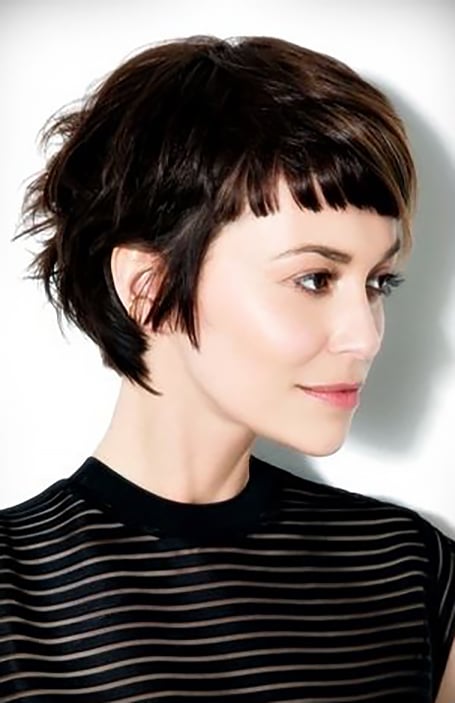 17. Spiky Pixie Haircut
Spiky pixie haircuts are not for wallflowers. Bold and filled with attitude, they are ideal for women who love to stand out, push the boundaries, and have fun. Use strong-hold gel and a hairdryer to create the spiky look; the key is not to make them look too neat or uniform.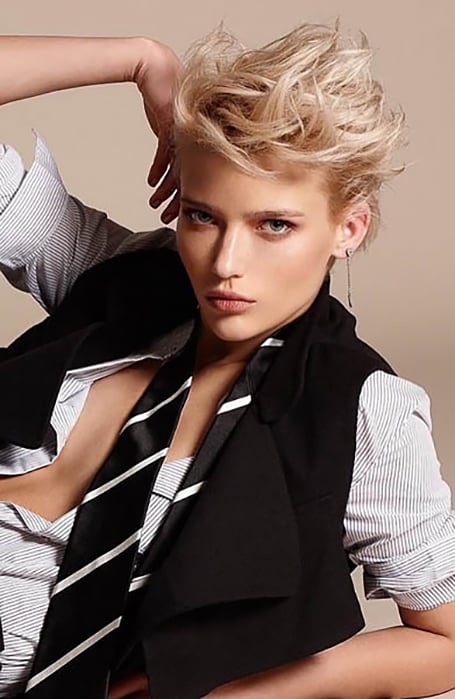 18. Asian Pixie Haircut
Asian hair tends to be thicker, stronger, smoother, and straighter than other hair types. For that reason, the hair can seem to stick out when it's cut short. However, that doesn't mean you can't get the perfect pixie cut! A hairstylist with experience cutting Asian hair can develop the style, so it works with your hair's natural texture, creating a beautifully soft, face-framing result.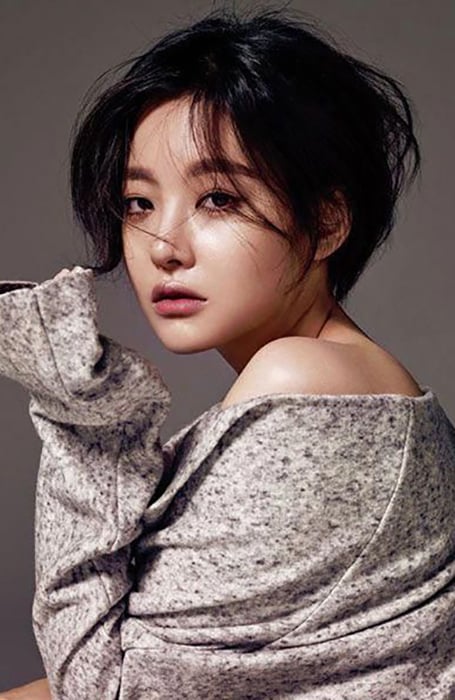 19. Messy Pixie Haircut
A messy pixie cut is the ultimate casual yet cool style. Most pixie cuts can be styled in a messy way using products like matt clay or putty. Because your hair is shorter in a pixie cut, it won't take long to style. Pair your messy hair with a more structured outfit, like a blazer and jeans, for a stylish contrast.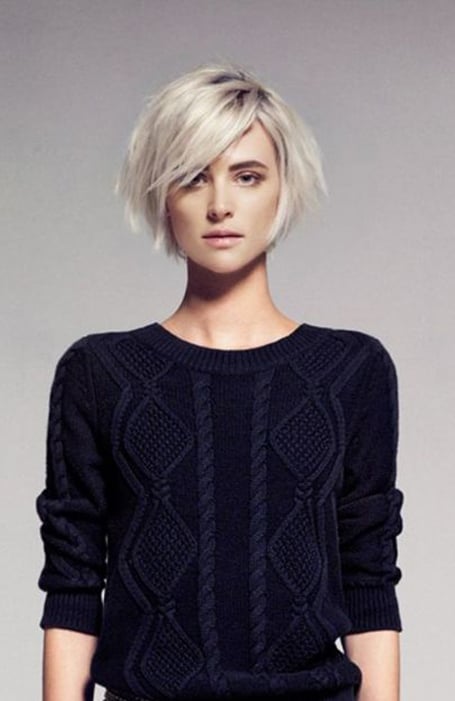 20. Pixie Haircut with Highlights
Highlights add dimension to a pixie haircut and work exceptionally well on thicker hair, helping to break up the 'mass' of color. Brunettes looking for an on-trend highlight, could try red or auburn instead of blond. The rich, autumnal tones give your complexion more warmth and make your base color seem brighter and fresher.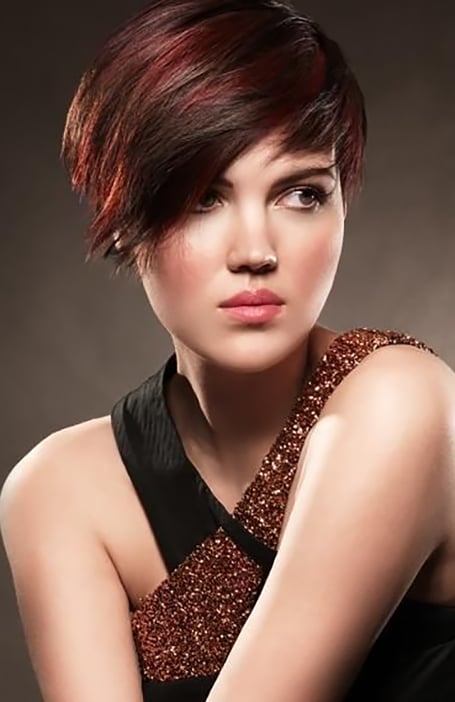 21. Sassy Pixie Haircut Black Hair
For the woman who wants a look that is interesting and cool, there is no better option than a sassy pixie haircut. The hairstyle is defined by the short length on the back and the sides and slightly more length on the top, and it works well with various hair textures and colors. Black hair is a fantastic hue because it does not show off split ends or damage like lighter colors do. Embrace the short locks, and show the world you are a woman who is not afraid of bold and fun styles.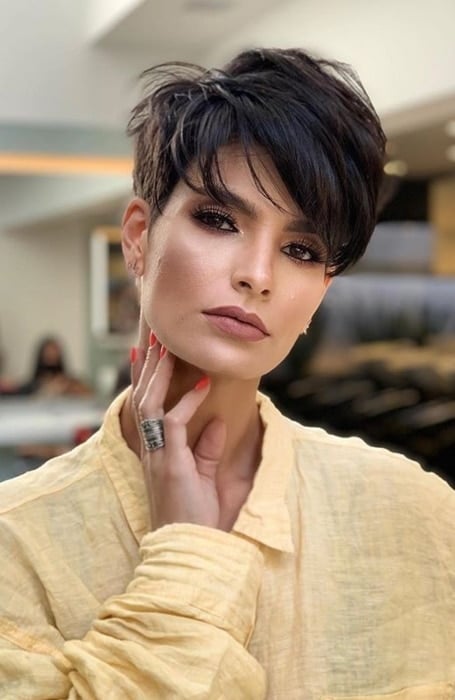 22. Edgy Pixie Cut for Round Faces
One of the best things about the pixie cut is that it can work with most face shapes and various hair textures. It can also be particularly flattering on women with round faces and can help balance the proportions of your face and even make it appear slimmer. Work with your hairstylist to find an adaptation of the pixie cut that will best suit your face and personality, but keeping the sides and back shorter and the top slightly longer is a good choice for this face shape. An edgy cut is a fresh and modern approach for playing around with texture and even bold colors.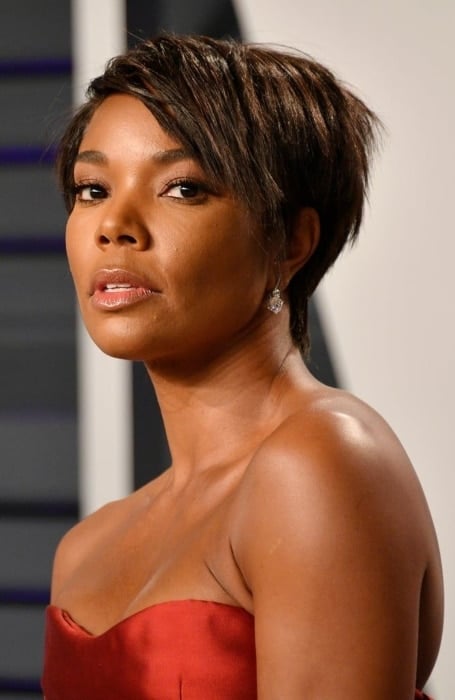 23. Pixie Haircut with Long Bangs
There are so many ways to wear this versatile style, including with a stylish fringe. A pixie haircut with long bangs can be a youthful option, making you look younger and hiding fine lines or problem skin on the forehead. It is also a fantastic choice for someone who wants short hair but wants to give the illusion of longer hair. Bangs can be exceptionally flattering and have the ability to transform your face. Depending on the cut you opt for, they can be feminine or edgy and can frame your face and draw attention to the eyes.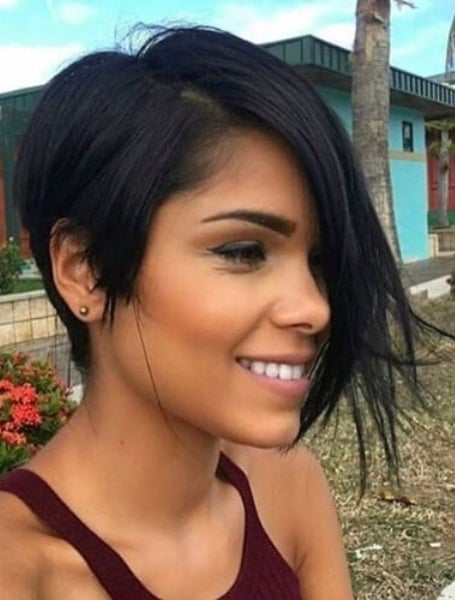 24. Shaggy Pixie Cut
A shaggy pixie cut has a messy and unstructured appearance and is incredibly sexy. The style is short with choppy layers and can make thin hair appear thicker and give the hair movement and volume. This is a great short hairstyle for women and can suit various hair types and textures; plus, it can be adapted to suit your face shape and highlight your features. So, if you want to channel the 70s or look like a rock god, this is the hairstyle for you!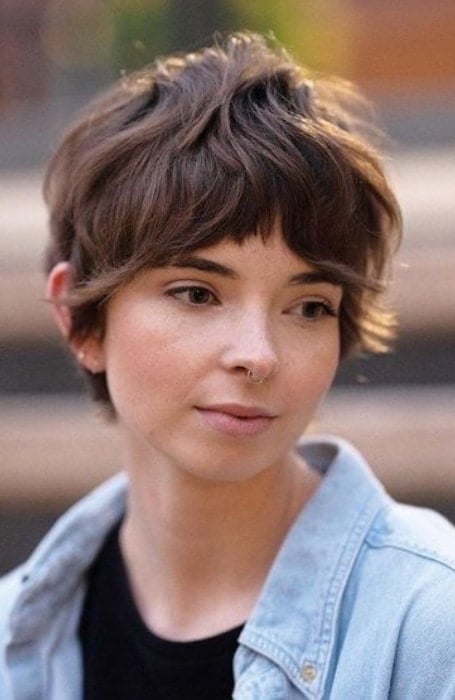 25. Pixie Cut for Black Women
What is not to love about the pixie cut? It is a timeless classic for short hairstyles for women and can be adapted to suit all hair textures. If you have naturally curly locks, the pixie cut could be a way to show off your texture but also keep it short enough so that the hair is manageable. It is also a way to remove weight from very textured or thick hair. You can experiment with different lengths and bangs to highlight your features.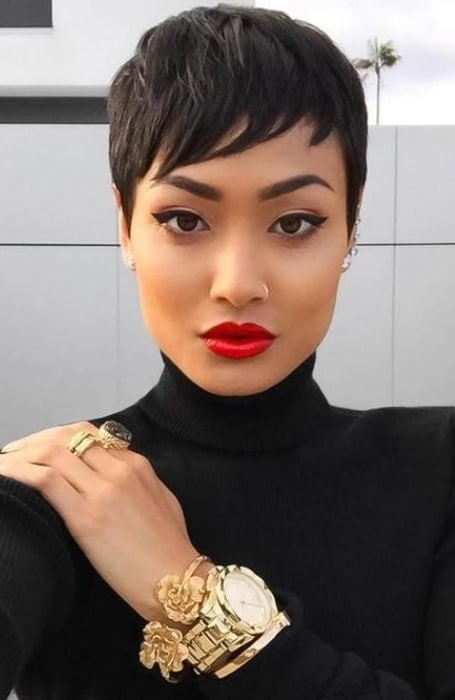 26. Pixie Cut Wavy Hair
The fantastic thing about wavy hair is that it is a texture that makes even the most simple cut look interesting and textured. The pixie cut works well with wavy hair and can be an incredibly flattering option, as the way the hair falls around the face can soften your features. Or it could help achieve a messy and unstructured appearance. It is also a fantastic choice for someone who wants to cut down on grooming and styling time.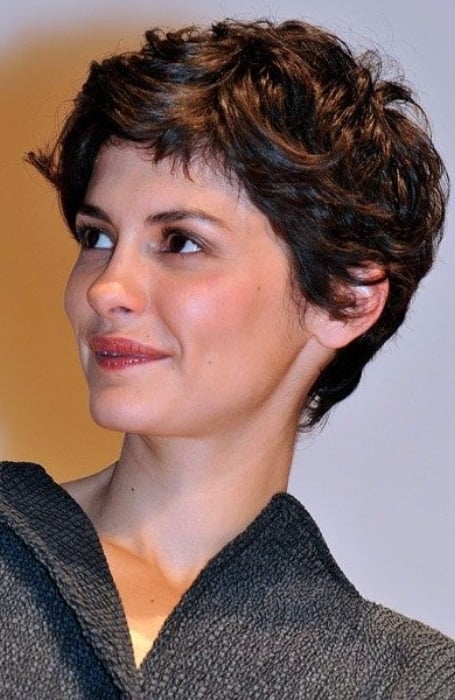 27. Blond Pixie Cut
Do blondes have more fun? Those who are rocking a blond pixie cut undoubtedly make us think so. There are many pros to having lighter hair because it can look sexy and glamorous and make you appear younger. Plus, it is more noticeable than dark hair. That said, darker hair is better at hiding damage such as split ends. However, the major pro with a short hairstyle like a pixie cut is it helps to keep your hair in the best possible condition, and this is a fantastic haircut to wear with blonde or platinum locks.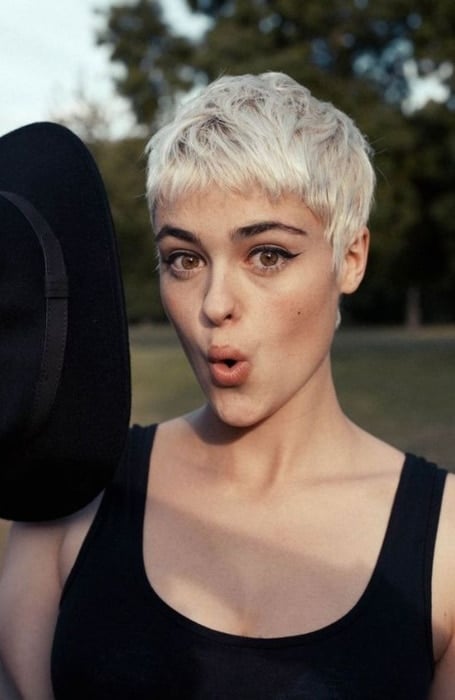 28. Natural Curly Pixie Cut
The pixie cut is incredibly versatile, lending itself well to different hair textures and types. The great thing about naturally curly hair is that it can be styled in various ways, but opting to cut it short makes it easier to manage and gives it an edgy and cool appearance. The right cut will highlight your curl pattern and give you a lot of volume and movement. Opt for a sweeping fringe or bangs if you want to provide the cut with a modern update and draw attention to your face. Finish with an excellent curl-defining product to help enhance your texture and reduce frizz.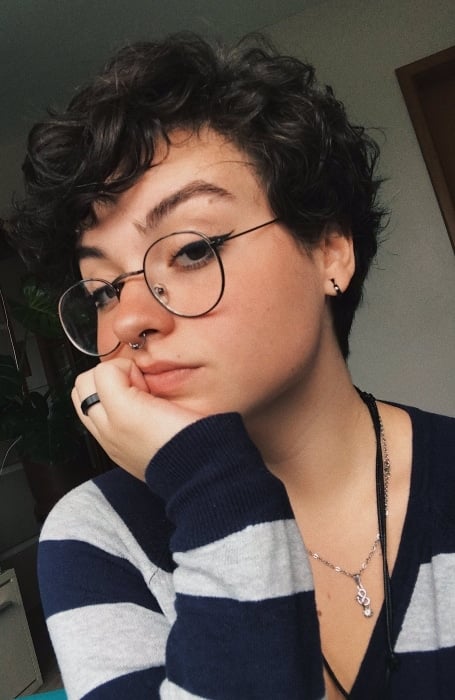 29. Chubby Face Long Pixie Cut
If you're looking for a style to suit your face shape, then look no further. A chubby face looks great when paired with a long pixie cut. This is an incredibly flattering pairing, and the proper styling and cut can help elongate your face or make it look more narrow. Diagonal bangs or sideburns work well, and hair with texture should be kept slightly longer on top. Work with your hair texture and enhance it, creating volume and fullness.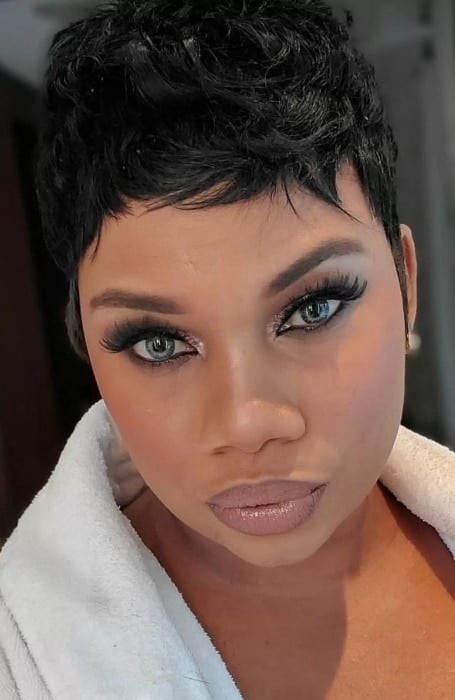 30. Edgy Rocker Pixie Cut
If you want a look that stands out from the crowd, then try out an edgy rocker pixie cut. Deciding on elements like bright colors, unusual angles in the cut, and shaved sides will help achieve a unique style that allows you to express yourself. Pixie cuts can be changed to suit your hair texture and face shape but can also play around with different lengths. Create contrast with a shaved side or undercut and leave more length on top. This hairstyle is more about attitude and having fun with your hair.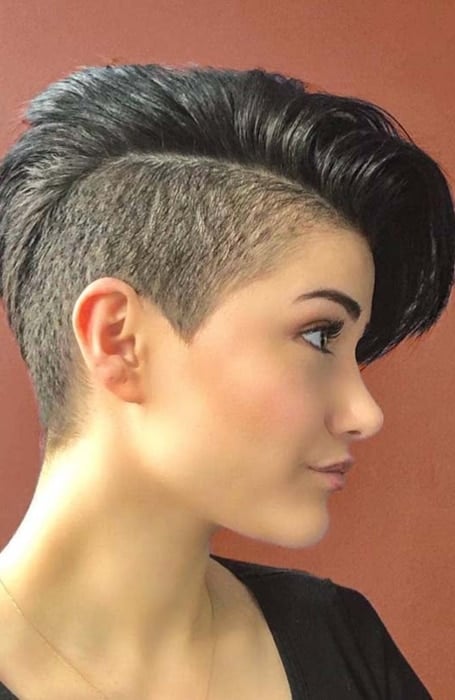 31. Shaved Pixie Cut
The shaved pixie cut features shaved sides and longer hair on top. It is a bold and daring choice for a woman who wants to stand out. This can be exceptionally stylish with textured hair, helping to enhance the contrast. The shaved sides give the classic pixie a modern update, make it incredibly easy to wear, and reduce style time. Although it is slightly more maintenance, you will need to get the sides clipped regularly; the overall effect is edgy and surprisingly versatile. Wear it with bold hair colors or natural hues for a more subtle approach.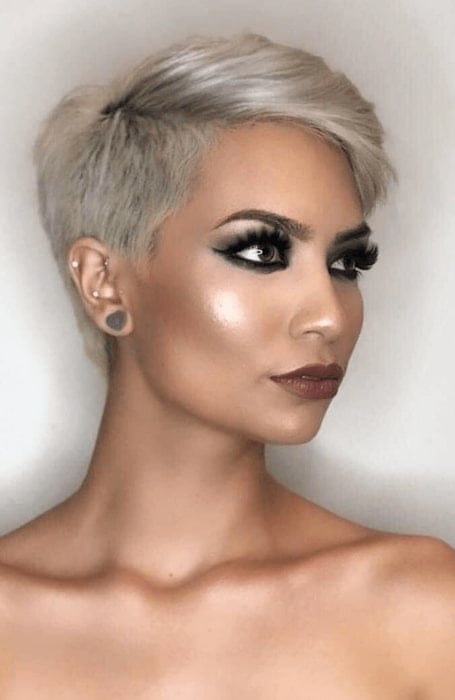 32. Short Curly Pixie Cut
Short hair is incredibly versatile and can suit many hair types. Curly hair can be hard to care for and style, and that is why keeping it short and opting for a cute pixie cut is such an appealing option. It also gives the classic pixie a modern update because now you can play around with textures and proportions. For a fun and youthful approach, longer bangs are great. Or you can opt for shaved sides or an undercut to create contrast. There are so many possibilities that the choice is entirely yours.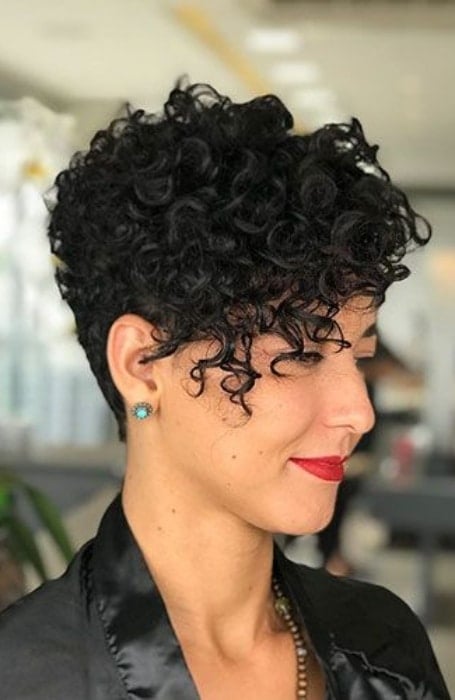 33. Cute Pixie Cut
The pixie cut is incredibly versatile, and you can opt for an edgy and rebellious look or something fresh and cute. The cute pixie is a fuss-free short style with a girly appearance and can make you look younger. Keep it simple, sticking close to the classic pixie, but you can experiment with length and opt for choppy bangs to frame the face and draw attention to the cheekbones and eyes. It can be adapted to suit various hairstyles and textures.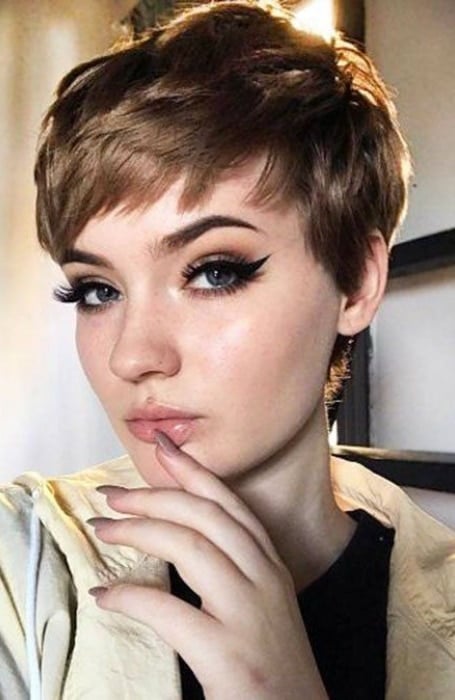 34. Long Pixie Cut with Face Framing Bangs
If you want to take the plunge and cut your hair short, but are not ready to fully commit to very short locks, then the long pixie cut with face-framing bangs is a fantastic alternative. You are getting all the pros of short hair, and it is fuss-free and relatively low-maintenance, but at the same time, the added length in the front can be beautiful and feminine. Cutting your hair in a way that frames your face also highlights your features. This look can be adapted to suit multiple hair types but is best with textured hair to give the appearance of volume and movement. This can also give it a more relaxed aesthetic.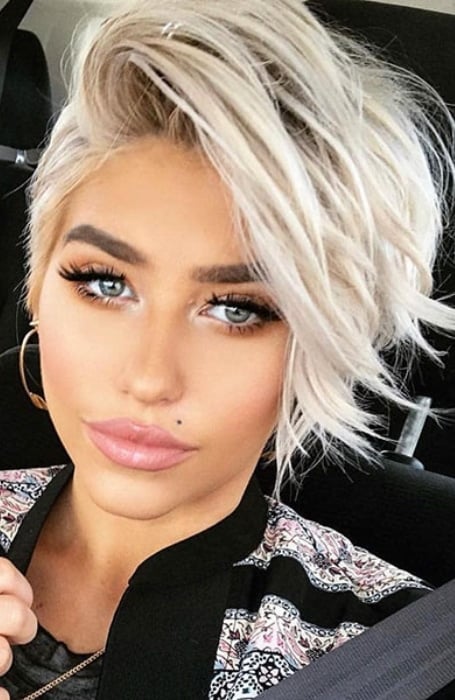 35. Medium Pixie Cut
The pixie cut is a timeless look. It can be feminine or androgynous, and it can be adapted to suit multiple hair textures and face shapes. While the short pixie has its appeal and doesn't need much styling or maintenance, longer cuts are easier to wear. A medium pixie cut is a perfect balance and often has more length at the front, creating layers that can soften and frame your face. It also gives you more styling flexibility than shorter cuts, and you can play around with layers and the angles of your cut.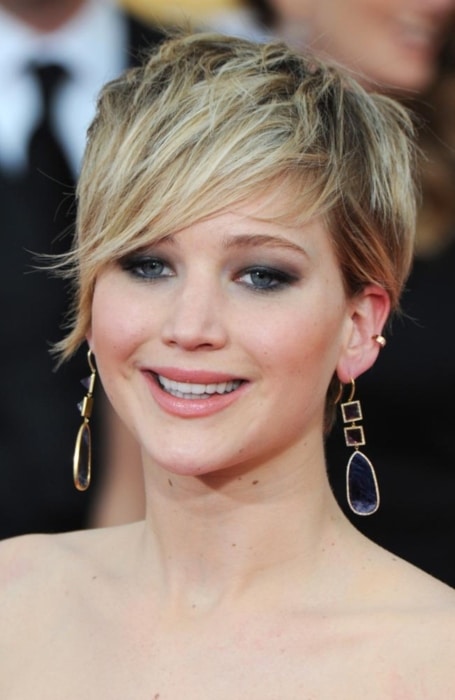 36. Pixie for Oval Face
Among the many benefits of the pixie cut is that it suits most face shapes, but it can really flatter an oval face. This face shape is incredibly versatile and can pull off most hairstyles. So, whether you prefer a super short pixie or one with face-framing bangs, the choice is yours. The cut can highlight your facial features or create balance and symmetry. Work with your hairstylist to achieve a look that best suits your hair texture and personality.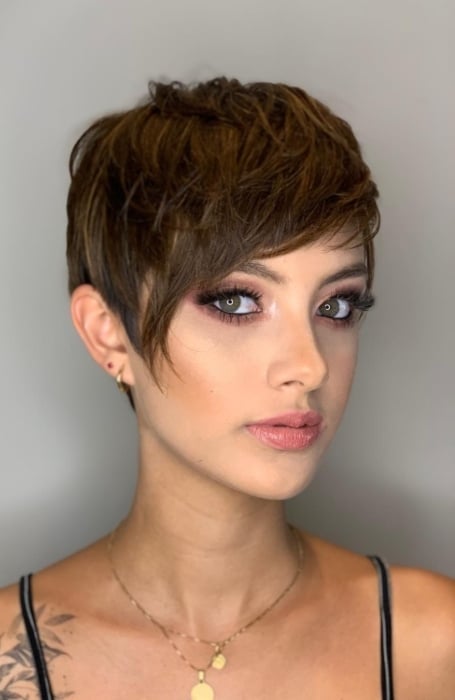 37. Pixie Cut Natural Hair
A pixie cut on natural hair is gorgeous. The style is defined as short on the back and sides and slightly longer on the top, creating volume and showing off your naturally textured locks. This can make a messy and unstructured appearance and helps to achieve a casual and cool aesthetic. Or, you could pair it with an undercut for contrast. The pixie is nothing if not versatile, and it can also help remove weight from thick and bulky hair.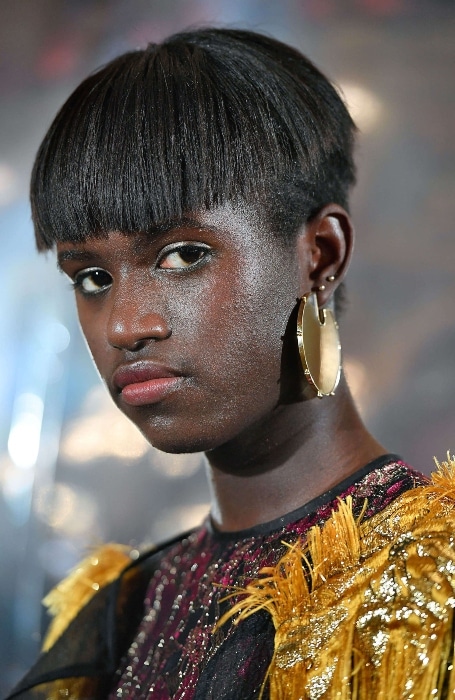 38. Fluffy Pixie Cut
Fluffy hair is a sought-after trait because it looks so dreamy and voluminous. There are many appeals for a soft, fluffy pixie cut because it creates dimension and makes you full and thick. There are several ways to achieve this texture, but this depends largely on your hair type and length. A few options include using rollers, blow-drying the hair, brushing back the roots, and using products that help to boost volume.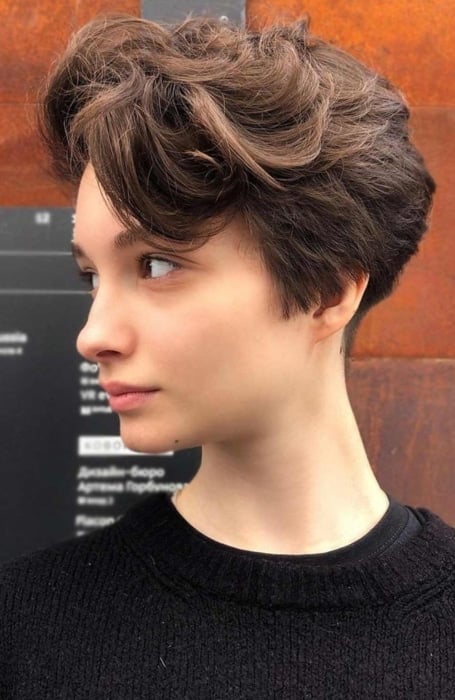 39. Pixie Haircut Grey Hair
Women of all ages can try out the pixie cut, and it looks great on older ladies who want to embrace their natural grey hair. There is no need to dye your hair another shade because a short hairstyle can make you look youthful and keep the hair in excellent condition. To keep the color looking luscious, invest in an excellent blue shampoo.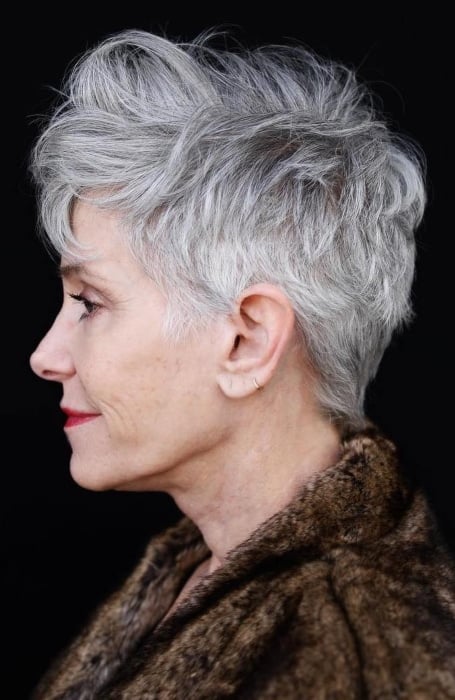 40. Punk Pixie Cut
If you are a woman who likes to stand out and loves the punk aesthetic, then tailor your pixie cut to show this off. The punk pixie cut can take on many forms and depends on how you want to express yourself, but, in general, it is dyed brightly in unnatural colors like greens or blues. You can also opt for shaved sides or spikes, both popular looks in the punk subculture. That said, there is no right or wrong way to style your hair. So have fun, and enjoy the attention it is bound to bring.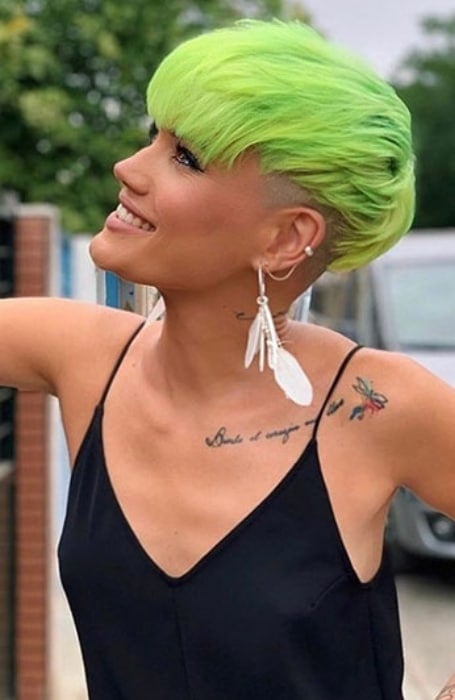 41. Silver Pixie Cut
Dying your hair bright or bold colors is a fantastic way to express yourself, and silver hair will make a statement. A pixie cut is short, so it looks best when the whole head is dyed silver. It will look gorgeous on women with warm skin tones. Another pro of dying your hair when it is short is that the process is much easier and will not show damage. To achieve silver hair, you may need to bleach it to get a lighter base shade, and this can be drying and cause breakage. However, with short hair, it appears healthier and less brittle.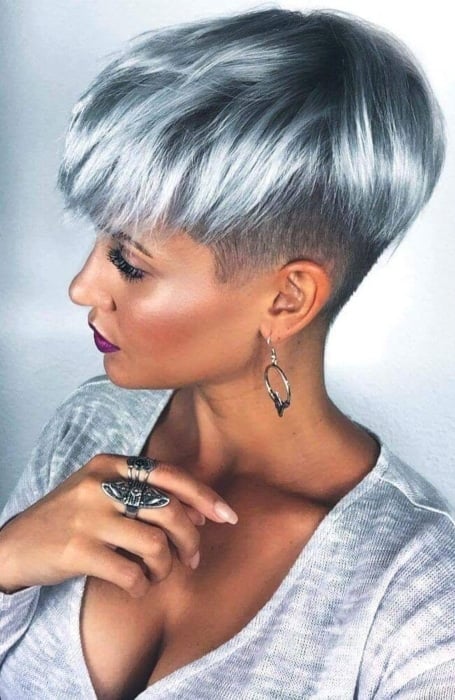 42. Pixie Buzz Cut
A pixie buzz cut is a daring option because it is so short. It has masculine elements, but it is a fantastic option for a woman with strong features and will draw attention to the face, cheekbones, and jaw. This is for someone who wants a haircut that is cool, light, and incredibly easy to style; but it does take some confidence to pull off.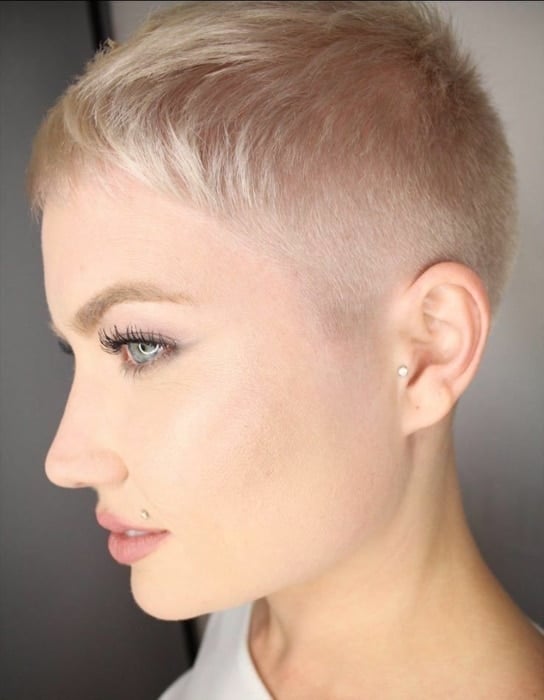 43. Low Maintenance Pixie Cut
The pixie cut can be incredibly low maintenance, especially if you opt for a simple cut. The style is versatile and can be altered to suit various hair types and textures, but it can also be changed to suit your face shape or age with different lengths and bangs. The simpler your cut, the less maintenance because styling is easier; you can also go longer between appointments at the hair salon. In addition, it is easy to wash and dry and does not require much product.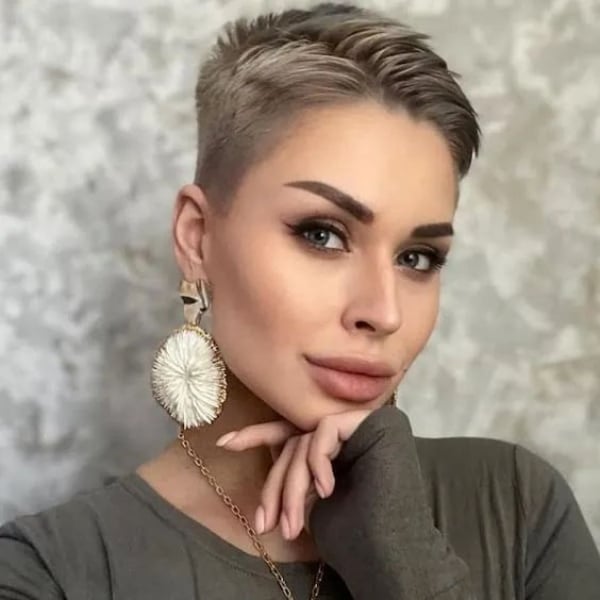 44. Choppy Pixie Cut for Thick Hair
Women with thick hair are sometimes concerned about cutting it short, but this is a stylish and modern option with the right cut. A choppy pixie cut has an unstructured and almost messy appearance, creating a very relaxed aesthetic and making this the perfect look for more casual settings. It is also great for thick hair as the layers help to remove weight and give it volume and movement. Work with your hairstylist to ensure there are many layers to reduce the bulk and find the right hair products to achieve this textured look.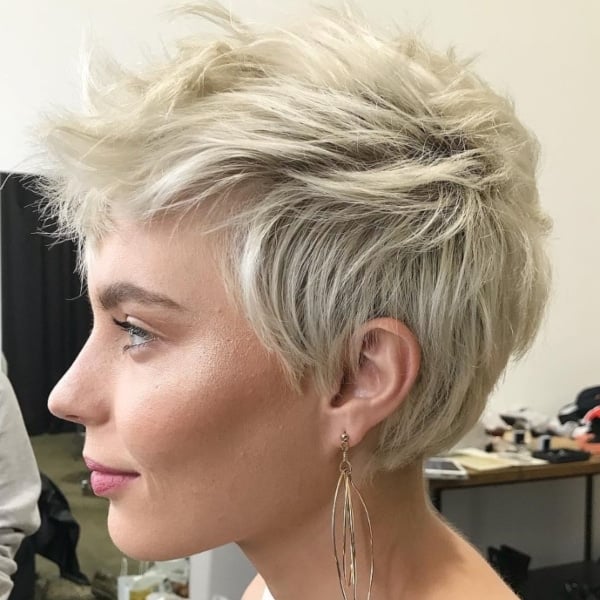 45. Feminine Curly Pixie Cut
There are many pros to a feminine curly pixie cut. For starters, the short hairstyle challenges the traditional notion of what makes women feminine. It is not long hair or a particular hair texture, and this can be an incredibly empowering realization. That said, the cut looks very pretty with curly locks as it can create softness around the face and highlights your features. This is also the perfect option for someone who wants to embrace their curls without worrying about tangles and weight; shorter hair is much lighter. Opt for bangs for a youthful and girly appearance and enhance your natural hair with curling products.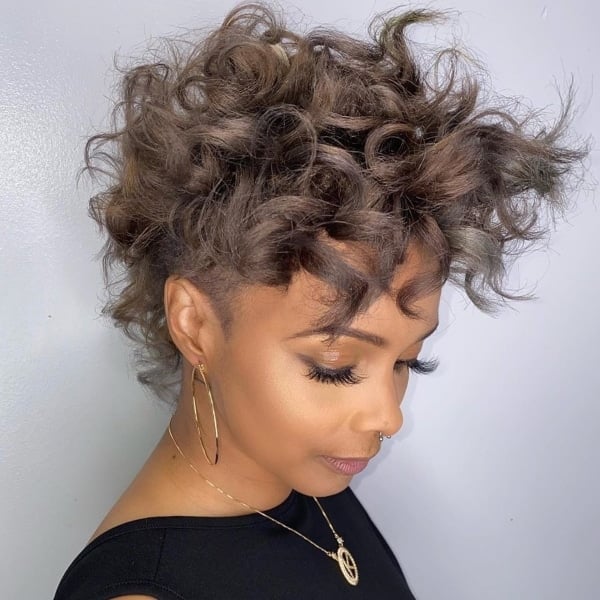 46. Asymmetrical Pixie Cut
The pixie cut can benefit from an asymmetric approach. This can be achieved in a few ways, but by far, the simplest would be with bangs; one side is longer than the other. This creates an edgy and cool appearance but also draws attention to the eyes. Asymmetrical elements can make a face appear thinner, and they are incredibly flattering. It is an excellent choice for women who want slightly longer hair, making it easier to define their desired proportions. That said, it does require more style time than a classic short pixie cut, and you may find yourself playing with your hair and readjusting often. Still, it is a daring look that will get you noticed.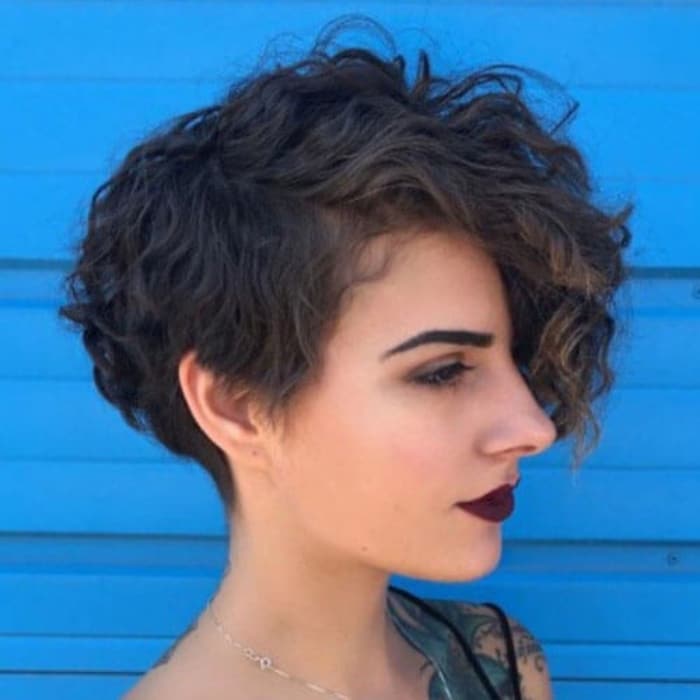 47. Short Pixie Cut for Fine Hair
A short pixie cut can have a very 60s appearance and works great with fine hair. The style can make your hair appear fuller and thicker. This is a fantastic choice for someone who wants to create the illusion of volume. It also lends itself well to accessories, so embrace a hairband to channel a more retro look or keep it simple and sleek for a more professional appearance.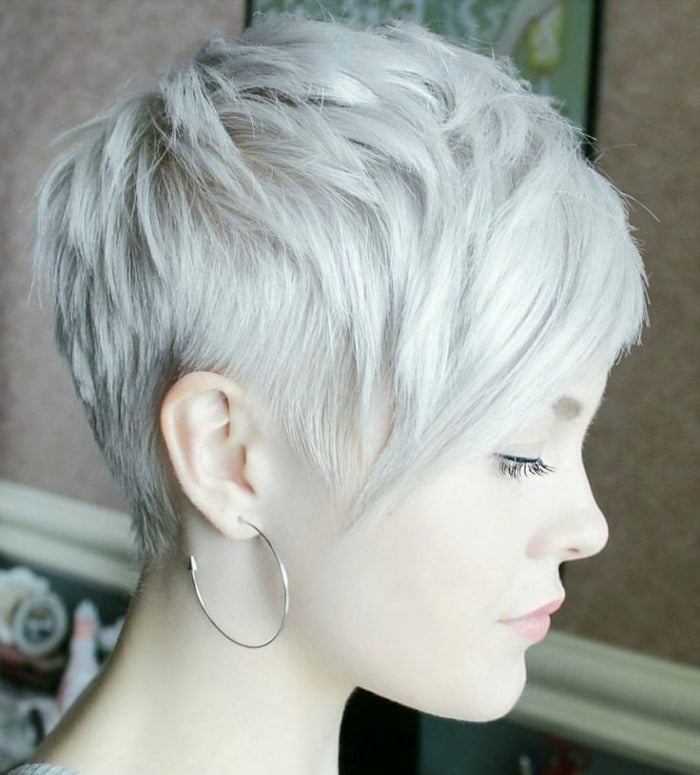 48. Thick Hair Long Pixie Cut
Reduce your style time with a pixie cut! Those with thick hair need to be strategic with short hair because it can appear very bulky. The great thing about a long pixie cut is that it can be styled to suit thick hair, and adding layers can remove the weight and make lighter locks that are full of movement. The added length will also allow you to frame the face. Cutting your hair short can help improve its overall condition.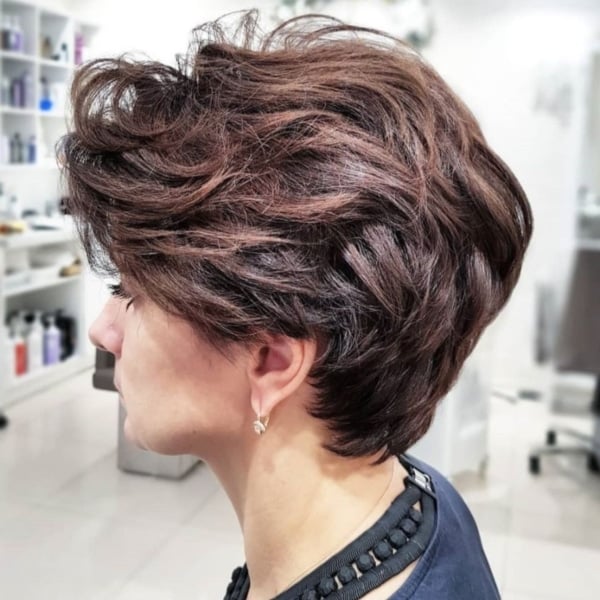 49. Pixie Cut for Older Ladies
The pixie cut is easy to maintain and a breeze to style, and it suits women of all ages. It is also perfect for older ladies because short styles can be healthier and disguise wiry or dry hair. The cut can also create a youthful appearance and is incredibly flattering, drawing attention to your eyes and hiding wrinkles. Don't opt for a very short look, as this can age you, but embrace your natural color. You can also work with your hairdresser to alter the cut to suit your face shape and hair texture.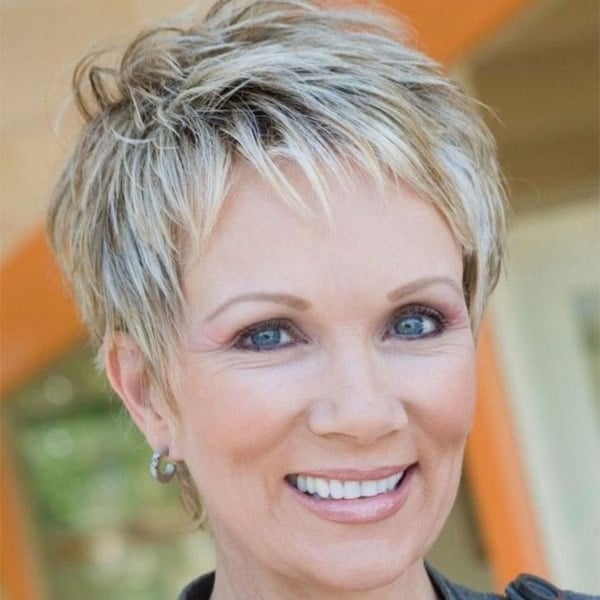 50. Layered Long Pixie Cut
There is a lot to love about the pixie cut, including how versatile it is. It can be adapted to suit your preference, and for those who want short hair that is lighter but still textured, opting for a layered long pixie cut is a perfect choice. The slightly longer length makes it easier to wear, especially if it is your first time trying a short hairstyle. It is stylish and gorgeous and can look feminine. Opt for layers around the face to frame it. Layering also lets you enjoy movement, making thin hair appear fuller and taking some weight off thicker locks.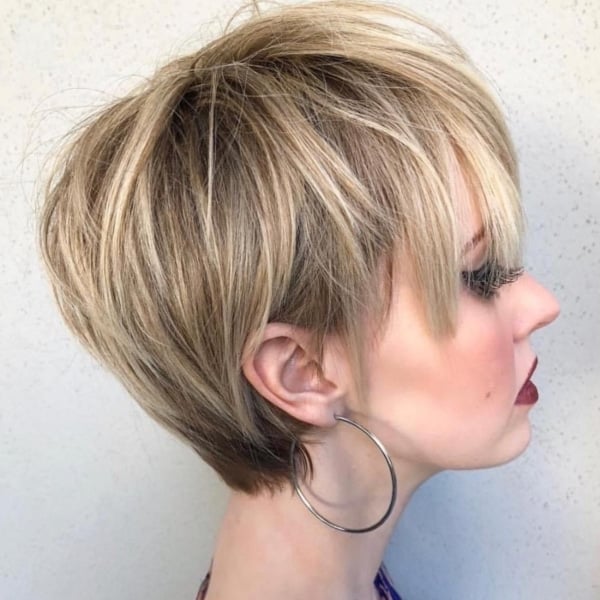 FAQs
What is a Pixie Cut?
A pixie cut is a short hairstyle for women defined by short hair on the sides and back and longer length on top. It is incredibly versatile and highly adaptable and can be created on multiple hair textures and types and in various lengths. For a more wearable look, some women opt for long pixie cuts and bangs. Others prefer bold styles that are super short, shaved, or brightly colored.
What face shape can pull off a pixie cut?
Pixie cuts can be adapted for pretty much any face shape. However, women with heart, oval, round, and triangle faces will have the most choice for styles that work with their shape.
Is a pixie cut low maintenance?
Pixie cuts are low maintenance when it comes to styling. They're quick to wash, dry super fast, and are easy to style with the right products. However, they do need regular trims every six to eight weeks to maintain the shape of the style, which gets lost quickly with your natural hair growth. 
What faces look good with short hair?
Ladies with heart, oval, round, and triangle-shaped faces look great with short hair. Shorter hair also draws attention to your facial features, highlighting angular cheekbones, large eyes, and full lips.
Are pixie cuts in for 2021?
Pixie cuts are definitely in for 2021. It's the kind of hairstyle that's incredibly versatile, makes a statement, and is perfect for women who are low on time. Plus, there's so much variety in styles that there's the perfect cut for every woman.
How to Grow Out a Pixie Cut?
If you want to grow your hair long again after a pixie cut, there are several steps that you can take to ensure it is an easy transition. Be patient, as it can take a minimum of six months to grow out. You will need regular trims and work with your hairstylist to adapt the cut into a bob. Use cute accessories like a headband or barrette to help make your hair more manageable and change the look.
Does a pixie cut work with thick hair?
Many women with thick hair are hesitant to cut it short for fear that it will look too bulky and poofy. The good news is that a pixie cut can look good on thick hair; you need to work with your stylist to find the right cut for your texture and face shape. Layers can help take weight from the hair and make it lighter and more manageable.
Does a pixie cut age you?
A pixie cut can be worn by women of all ages and often helps achieve a youthful appearance. That said, a super short style can age you. Your hair texture also plays a part in this, and those with wavy or curly hair can look younger with short hair, while some styles with straight hair can be aging. This is why it is important to consider several aspects, including the face shape and hair type, and work with a stylist to achieve the best look for your style.
SUBSCRIBE TO OUR NEWSLETTER
Subscribe to our mailing list and get interesting stuff and updates to your email inbox.