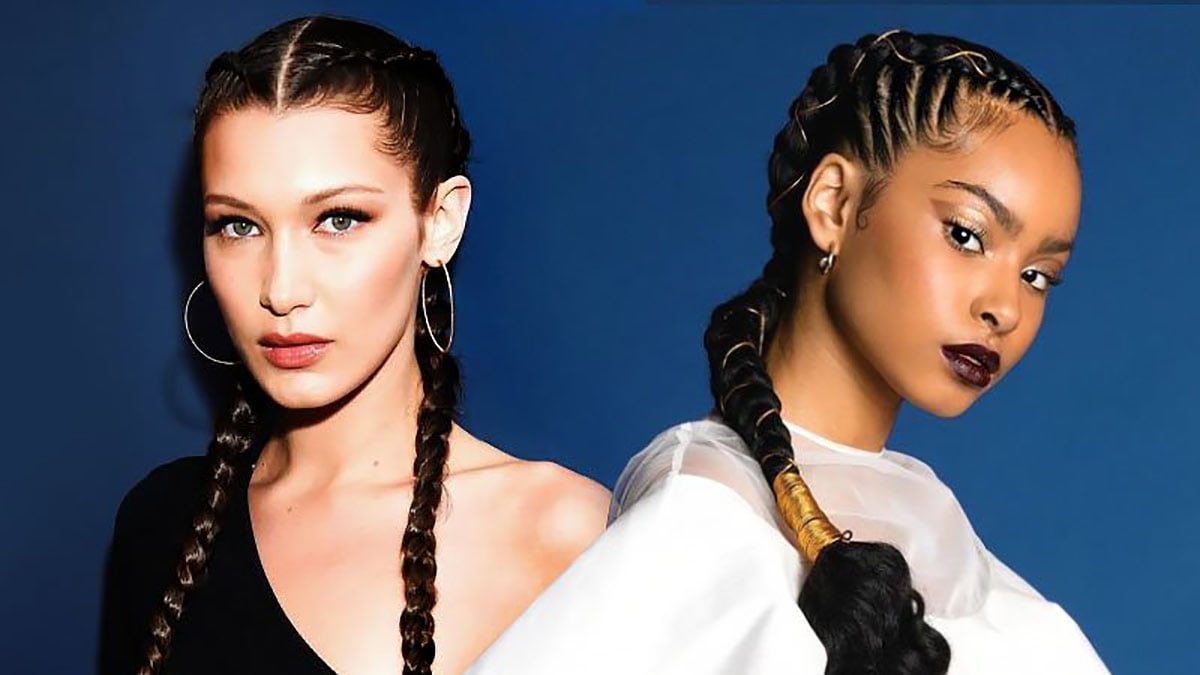 Have you seen the stunning style sported by the red carpet elite? Whether it's on a magazine cover or featured in an editorial feature, Dutch braids have made their way from runways to everyday looks. With their intricate patterns and tight braid structure, Dutch braids are equal parts striking and stunning. Not only are they beautiful, but they're also easy to do yourself with just a few basic steps! In this blog post, we'll show you how to create gorgeous Dutch braids in no time at all. You'll be rocking this sought-after look in no time!
Dutch Braid vs French Braid
One of the most well-known types of braids is the French braid. The technique shares some key similarities with Dutch braids. Both are three-strand braids that gradually add more hair as they taper down. However, they have some key differences. While French braids use an overhand weaving technique to create a smooth and seamless look, Dutch braids use an underhand method. You can think of a Dutch braid as a reverse French braid, as the braid stands up rather than lying flat.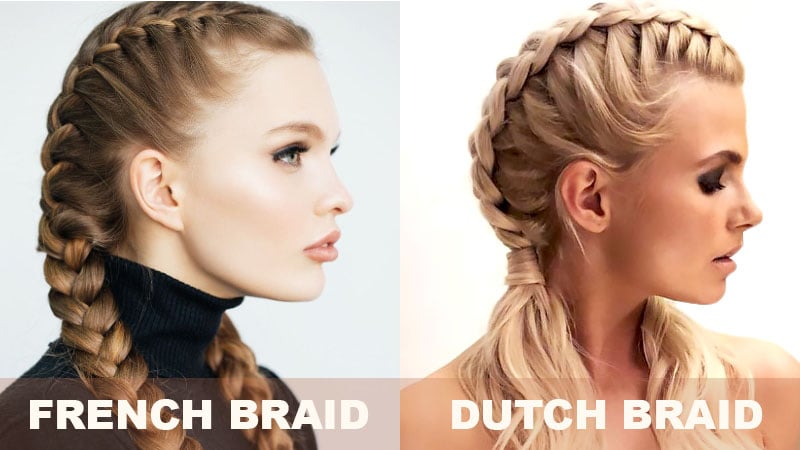 Dutch Braid vs Cornrows
Dutch braids and cornrows are similar, as they are both created using the underhand braiding technique. This gives both styles a raised look, unlike the flat appearance of French braids. However, the key difference between these two underhand braids is the plait's tightness and volume. When braiding cornrows, all of each section of hair is braided by pulling the hair tightly closer to the scalp; meanwhile, Dutch braids are looser and have more volume. This difference is what gives cornrows their distinctive look, with visible 'rows' of skin. In contrast, a Dutch braid looks more like an inverted French braid.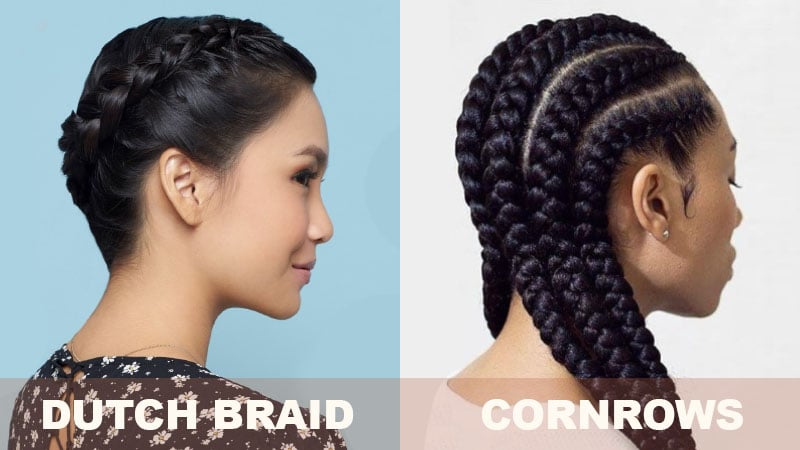 Dutch Braid Hairstyles
1. Two Dutch Braids
One of the most classic takes on Dutch braids is the double-braid style. Sometimes known as 'boxer braids,' these plaits start at your hairline and taper back in a diagonal direction. Sophisticated yet cool, these braids have an undeniably edgy attitude while still looking chic.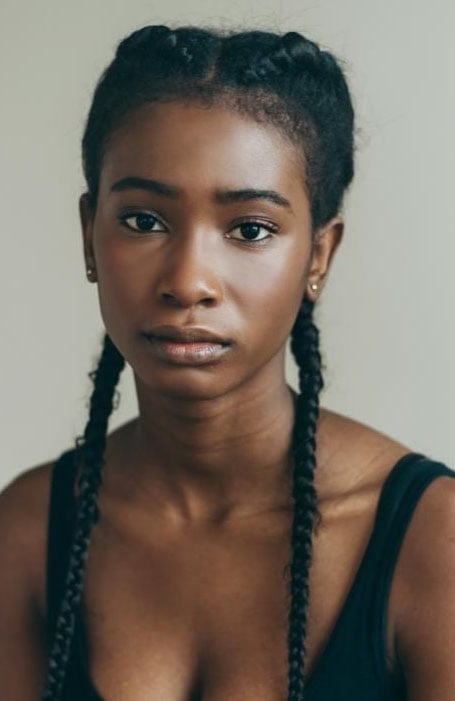 2. Dutch Braid Crown
Romantic and formal, a Dutch braid crown makes for the perfect princess moment. Like most crown braids, it has a traditional feel while remaining timeless. For that reason, many women choose it as their wedding day hair or for their bridesmaids. Try accessorizing the feminine, understated style with flowers or pearl accents.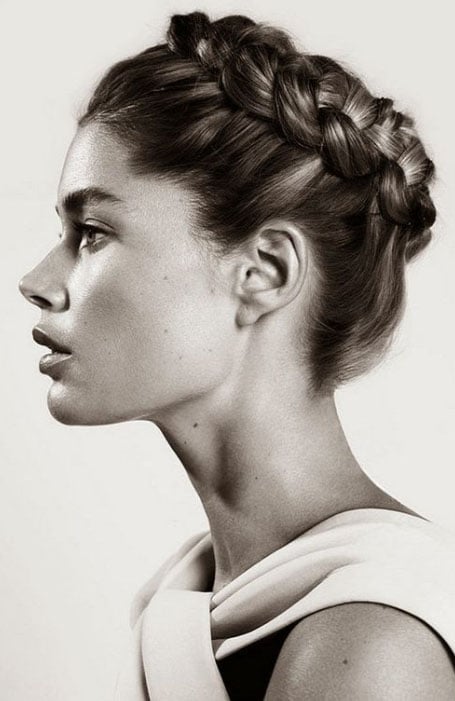 3. Dutch Braid Pigtails
A more casual version of the double Dutch braids style is Dutch braid pigtails. The critical difference is that these plaits are looser, with less tension on the scalp. As a result, the braids have a larger and more consistent size, rather than tapering from thin to thick. Unlike other Dutch braids, you don't need to braid all your hair. Leave the ends loose for a carefree and effortless finish.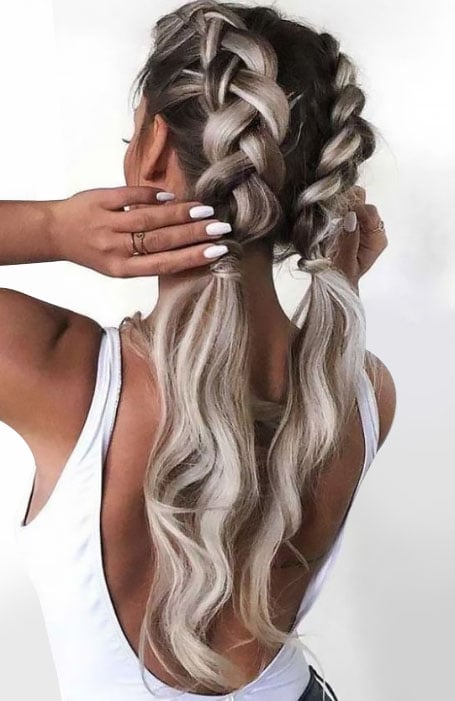 4. Four Dutch Braids
Like two Dutch braids, the four Dutch braid styles have a fresh, edgy look. However, a double braid can be plaited in a diagonal direction; four braids need to be woven front to back, with careful hair parting. The key to the style is ensuring your braids stay smooth and defined, so using a styling cream and maintaining tension as you plait is essential.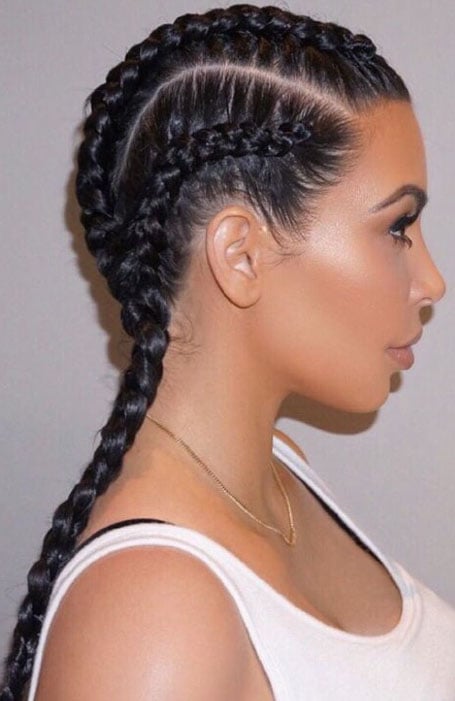 5. Dutch Fishtail Braid
The Dutch fishtail braid blends two stunning hairstyles into one. Start by braiding your hair into a loose side plait using the Dutch weave. Once you get to the nape of your neck, switch to a two-strand fishtail braid. The resulting hairstyle has a gorgeous boho look with understated glamour.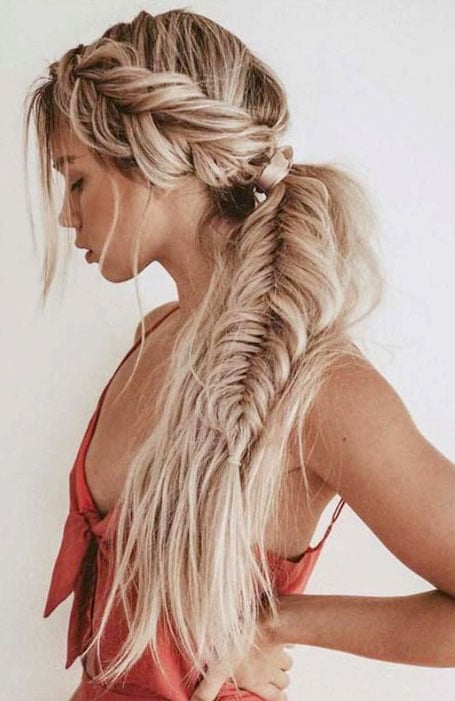 6. Dutch Braid for Short Hair
Cutting your hair short doesn't mean you must say goodbye to braids! Because you start at your hairline and add sections as you work your way down, Dutch braids are a great style for short hair. They look edgy and cool yet chic and are a great way to shake up your style if you have a lob.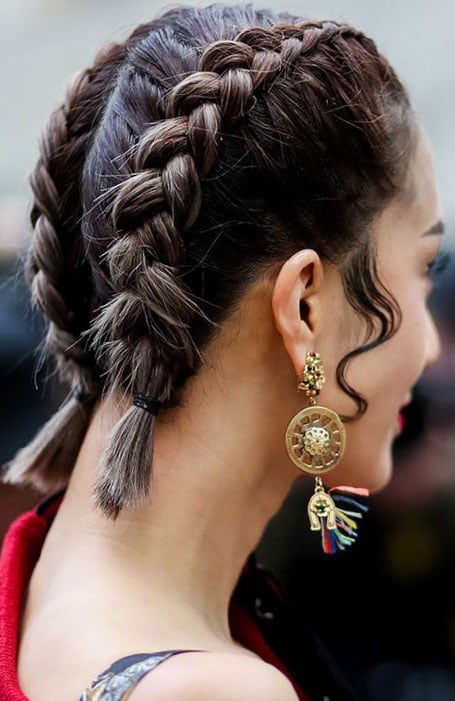 7. Dutch Braid into Ponytail
A simple way to dress up your ponytail is by adding a Dutch side braid to the front section of your hair. Ensure your Dutch braid isn't too tight for a casual and feminine look. Instead, opt for a flat style that delicately wraps around the back of your head, where you can secure the rest of your hair into a ponytail. Use clip-in hair extensions to create a curly, bouncy ponytail if you have short or mid-length hair.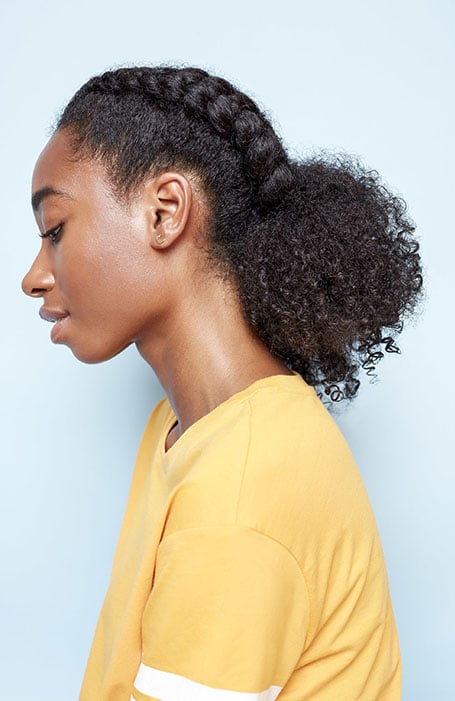 8. Two Dutch Braids with Buns
Braided buns are a classic style, particularly for festivals. Braids give simple buns a more complex and intricate look without much effort. To create the Dutch braids with buns, start braiding at the nape of your neck rather than your front hairline. Once you get to the crown of your head, twist the remaining hair into buns.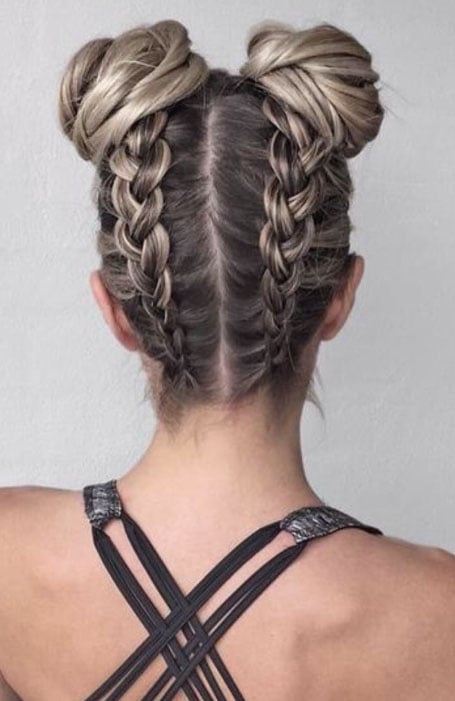 9. Half Up Half Down Dutch Braid
The Half up half down hairstyle is trending now, and adding Dutch braids to the style gives it a unique twist. Working with your natural parting, start the braid at your hairline. Next, weave your hair towards the crown of your head. Secure your hair into a high bun to make your face seem longer. Alternatively, you could try a high ponytail.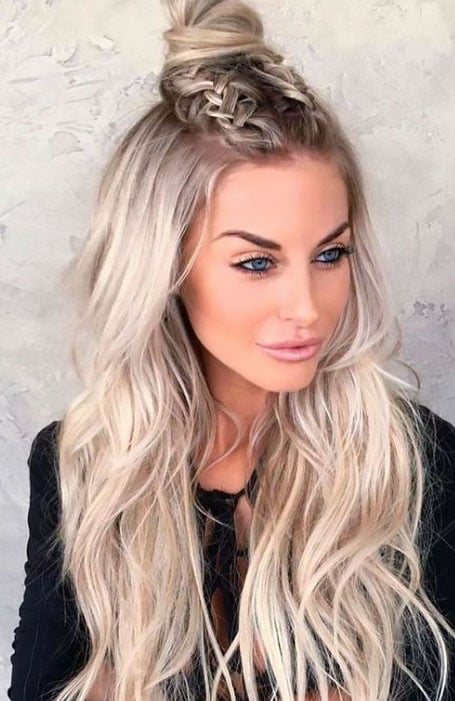 10. Dutch Braids with Extensions
If you have short or shoulder-length hair, adding extensions can give your braided hairstyle extra impact. Extensions allow you to get more creative from a single extra-long braid to a half up half down haistyle. One hairstyle that stands out from the crowd is Dutch braids braided into a high ponytail. It gives a classic, elegant everyday look a modern and fresh update.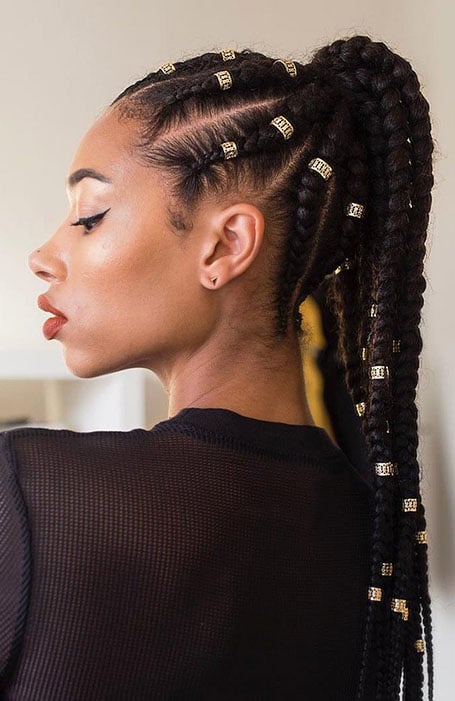 11. Dutch Braid Bun
Pretty and delicate, a Dutch braid bun is an ideal style for a romantic occasion. It's popular among brides, bridesmaids, and wedding guests, and is also an excellent option for your prom. Like other updo hairstyles, it complements dresses with a high neckline or statement jewelry like earrings.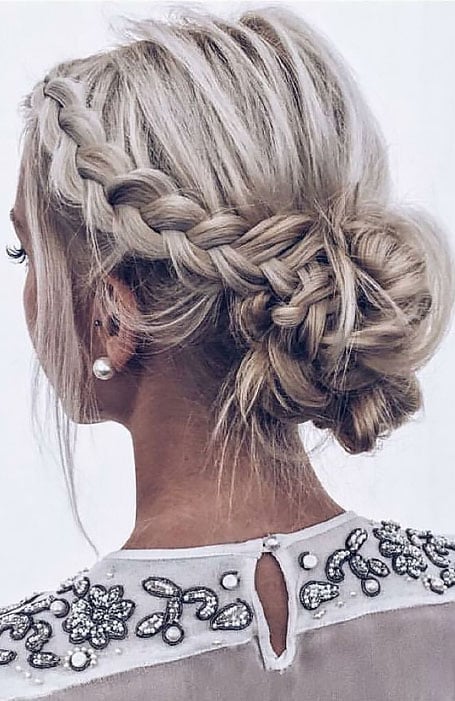 12. Side Dutch Braids
For an edgy change, Dutch braids can be used to create a faux undercut or faux hawk hairstyle. Statement and cool, it's an excellent option for a night out. Using an underhand weaving technique, small Dutch side braids look very similar to cornrows. Plait sections on both sides of your head, keeping tension in the braids. Next, build volume in the central part of your hair to create the mohawk look.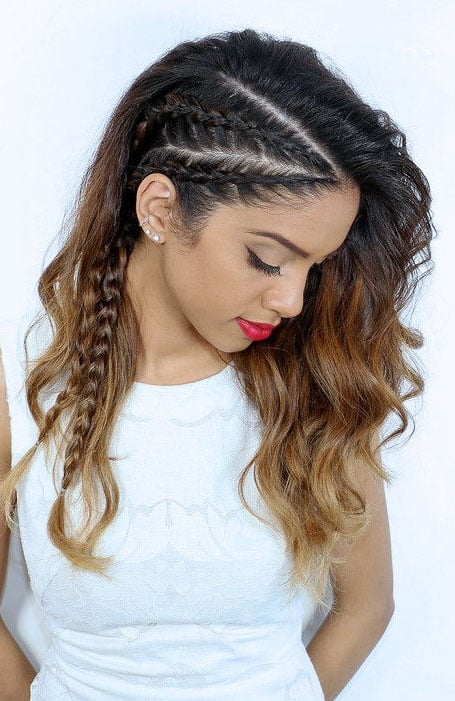 13. Dutch Braids on Black Hair
Dutch braids look fantastic on Afro-textured hair. Like other braiding techniques, Dutch braids are considered a protective style. While you can braid your natural hair in Dutch style, many women choose feed-in Dutch braids to get long, defined plaits. Add accessories like rings and beads for a stylish twist.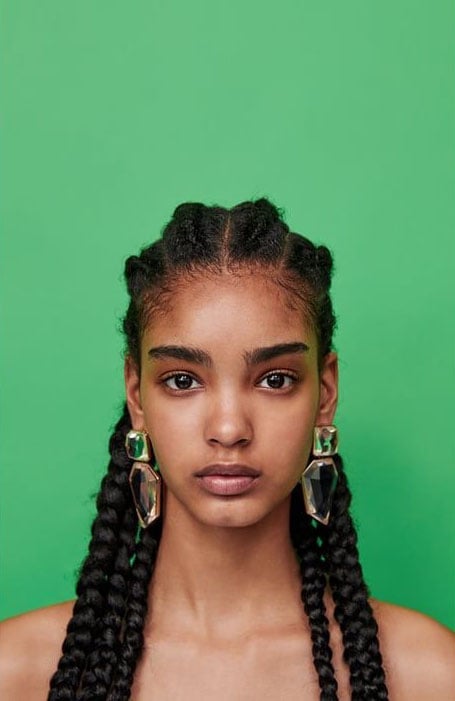 14. Easy Dutch Braid
Keep it simple with an easy braid, Dutch style. To maintain the casual look of the braid, make sure you don't pull the sections too tight. Instead, your braid should have a loose and bouncy look. You also won't need styling products, as stray hairs and flyaways add to the effortless appeal of the easy Dutch braid.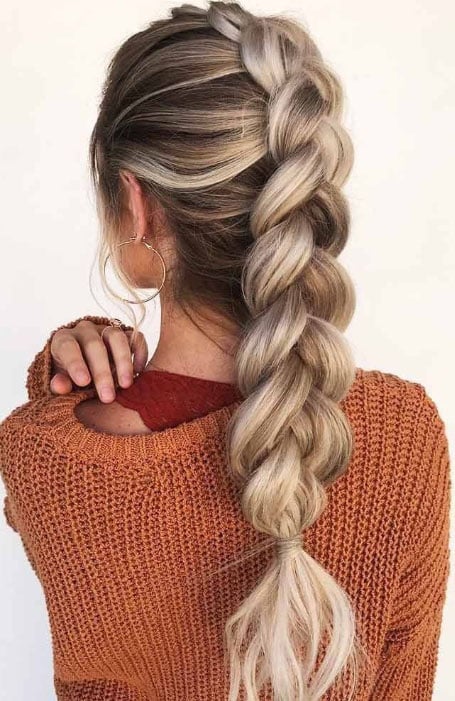 15. Loose Dutch Braid
Dutch braids look as beautiful in loose plaits as in tight, defined rows. To give your Dutch braid an ethereal look, pair it with smaller plaits or fishtail braids and loose sections too. The style suits blondes or women with grey hair or highlights, as the lighter sections show off movement and intricate weave of the braids.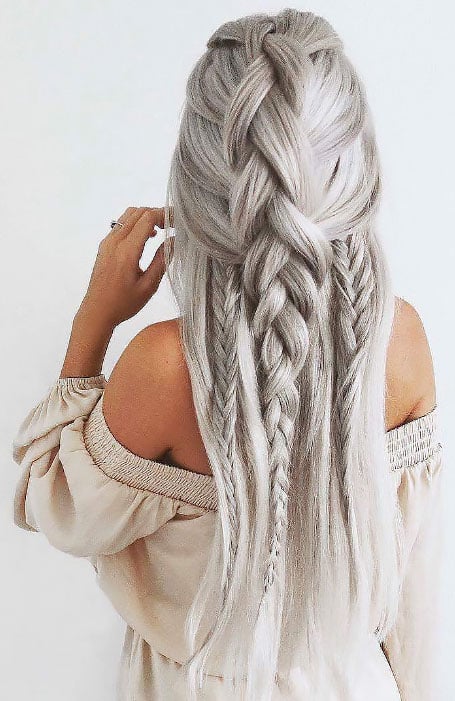 16. Tight Dutch Braids
Small, tight Dutch braids are trending and look particularly flattering on heart-shaped or oval faces. However, because they are braided close to the head, these plaits will make round faces look wider and rounder. To soften the edgy feel of tight braids, leave some small pieces of hair free at the front and sides to create wispy tendrils.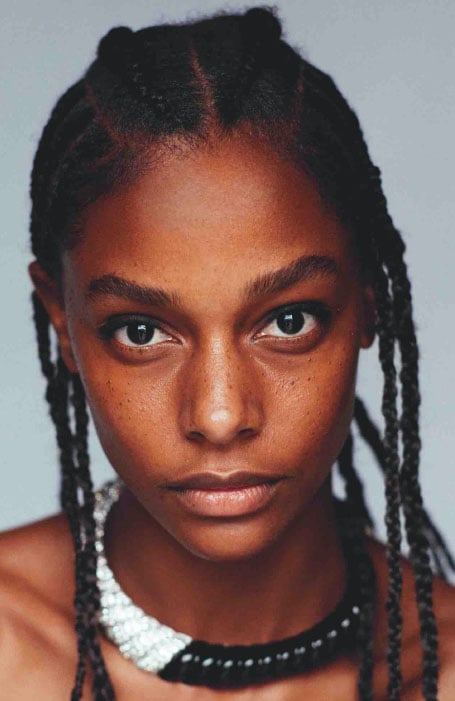 17. Dutch Infinity Braid
An infinity braid gets its name from the weaving technique used to create it. Instead of a three-strand weave, you'll plait your hair using a figure-eight pattern resembling the infinity symbol. A Dutch infinity braid begins higher up on your head than a traditional infinity plait and stands up instead of lying flat. You can continue your infinity braid all the way to the ends of your hair or combine it with a messy bun for a cool updo hairstyle.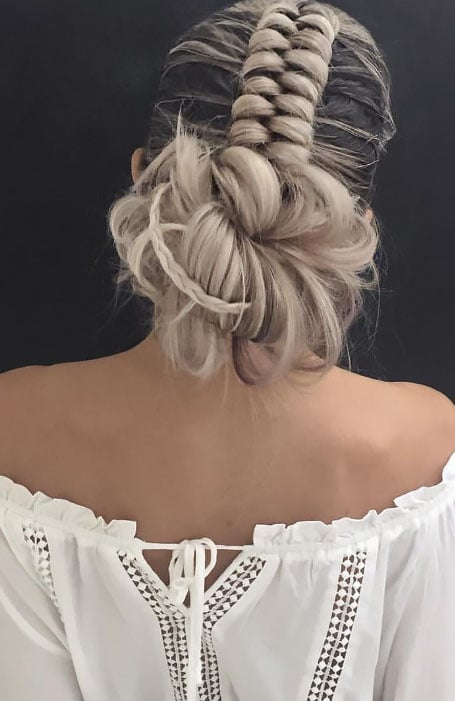 18. Dutch Braid with Bangs
A Dutch halo braid looks beautiful with bangs and gives a pretty, traditional result. It's a cute hairstyle that will make you look younger and emphasize your cheekbones. Because it's such a delicate and classic hairstyle, it's ideal for a wedding, church, or a holiday like Easter or Christmas. Plus, you can easily dress it up with flowers or ribbons to make it even more special.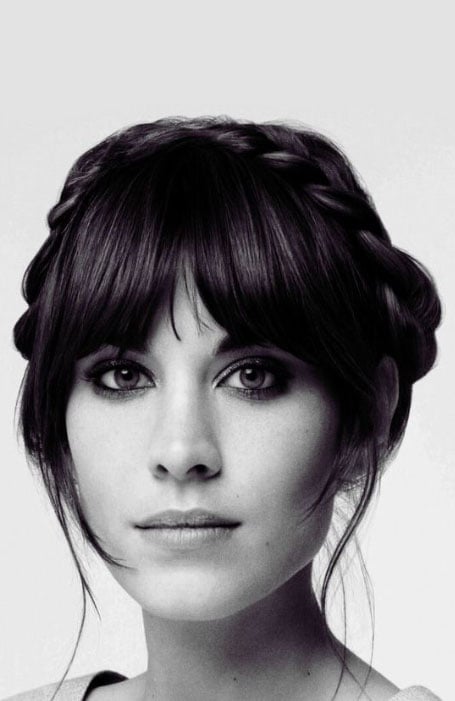 19. Dutch Braids With Coloured Extensions
Colored extensions give your Dutch braids an unusual and eye-catching look. Rainbow extensions look great for a festival or summer holiday, while single-color extensions suit every occasion. For extra visual impact, try adding the extensions in different sections, so your Dutch braids are varied in size.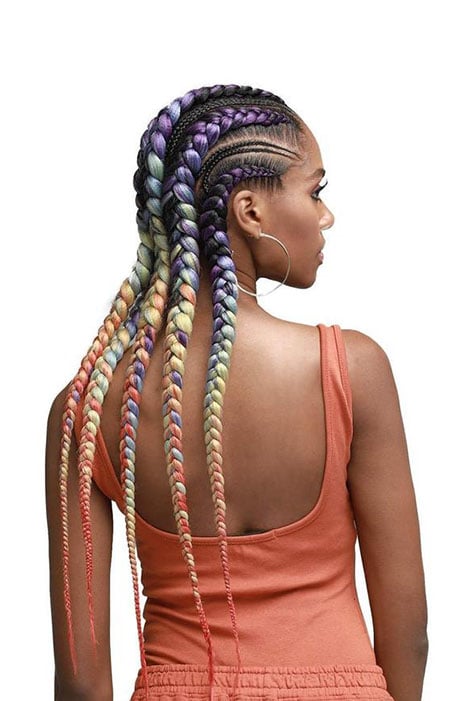 20. Messy Dutch Braids
Show off the versatility of Dutch braids with a messy hairstyle. The look combines different plaits to create a standout finish with a punk edge. Flyaway hair and spiky pieces add to the look's appeal, so you don't have to worry about being too precise.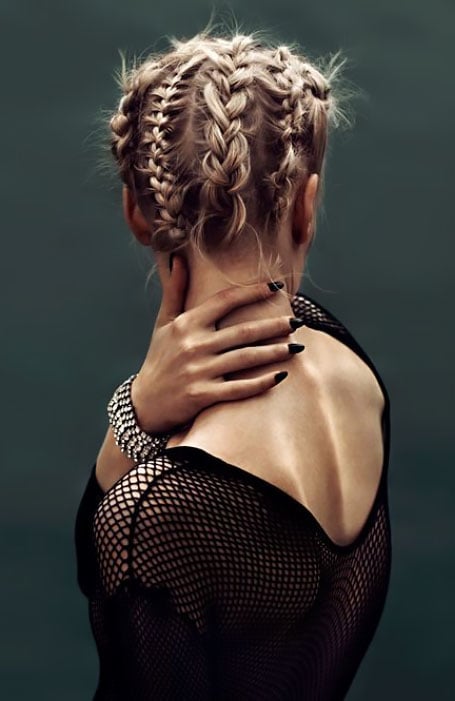 21. Reverse Dutch Braid
A Dutch braid and a French braid are strikingly similar in appearance, but there is one significant difference; the technique. The Dutch braid uses the underhand braiding method, whereas the French braid uses the overhand braiding technique. When creating a reverse Dutch braid, you will use overhand braiding, essentially a French braid. It may sound complicated, but it is surprisingly simple and versatile, and stylish.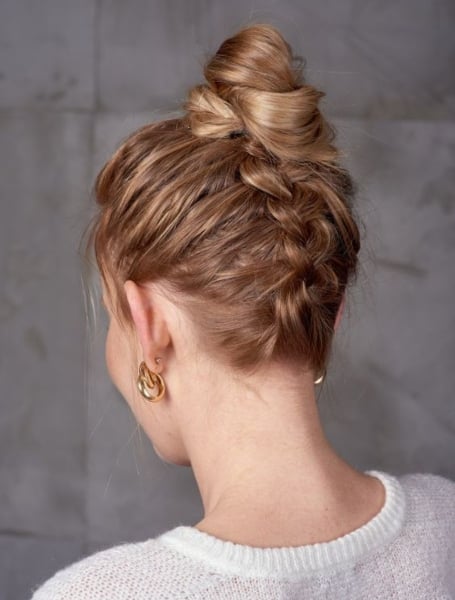 22. Single Dutch Braid
The appeal of the Dutch braid is its versatility, and there are multiple ways to create it. The three-strand braid is made with the strands crossing over, using the underhand technique, and can be styled how you wish. Most women opt for two Dutch braids, but one is a simple and elegant look ideal for formal occasions or special events. The braid will appear raised, giving it a striking finish and will draw attention to the hair.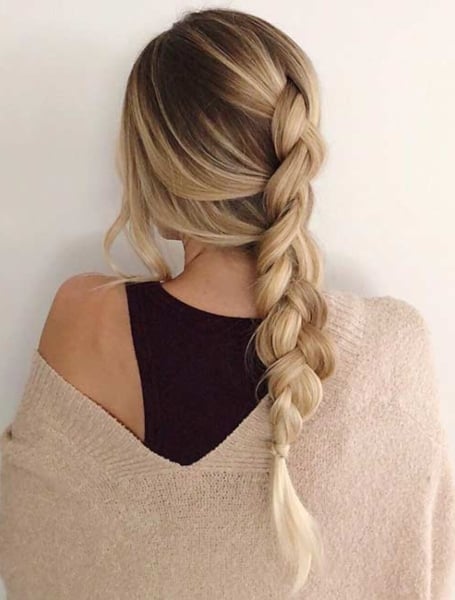 23. Dutch Braid with Black Hair
Braids can be achieved on all hair textures and types, but it is much easier to braid straighter hair than curlier textures. That does not mean it is impossible, though, and Dutch braiding is a fantastic option for braids that you want to stand out. They can be created in multiple ways, including braiding only half of the hair and leaving the bottom loose to show off your curls. This is also an alternative to protective styles, which take hours to install and last for weeks, as the Dutch braid usually lasts a few days or sometimes several weeks.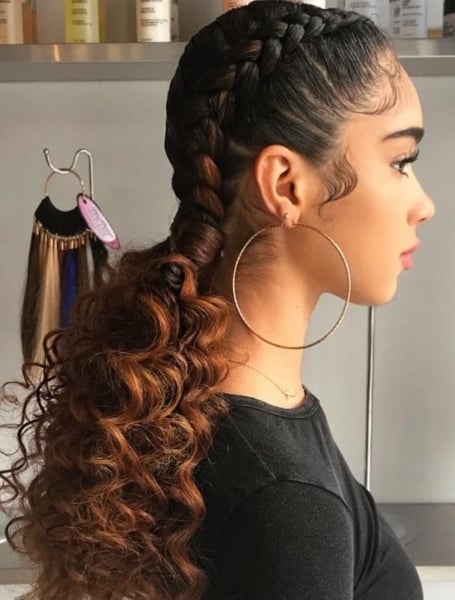 24. Dutch French Braids
There are so many similarities between the Dutch and French braids that once you know how to braid one, you will likely know how to braid the other. A Dutch-French braid could combine these braids, featuring three-strand pieces that use both the overhand and underhand braiding techniques. This is not a common approach as most women opt for either or, but not both; however, it will create a visually interesting look that gets your hair noticed.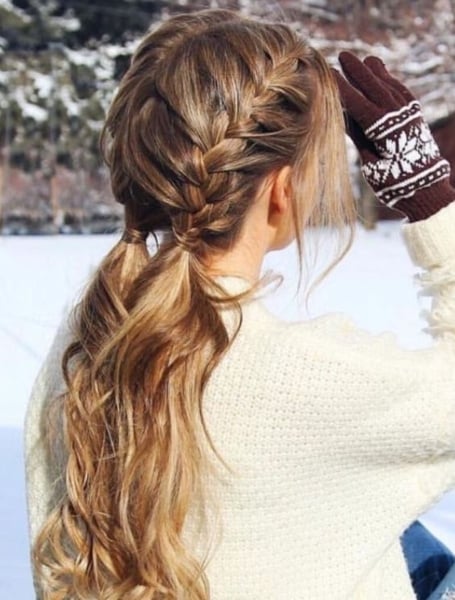 25. Dutch Waterfall Braid
The Dutch braid is an incredibly versatile and gorgeous braiding option that can be adapted to suit your hair texture, length, and preference. The braid uses the underhand technique, creating a raised braid that is easy to notice. It can also be combined with other hairstyles, from space buns and ponytails to adding elements of the waterfall braid. Waterfall braids feature a braid on the hairline and are gradually braided backward down the hair. There are pieces that create a cascading effect, giving the hair a romantic and feminine finish. Adding a Dutch braid to the hairline and creating the cascading effect is a way to combine these looks.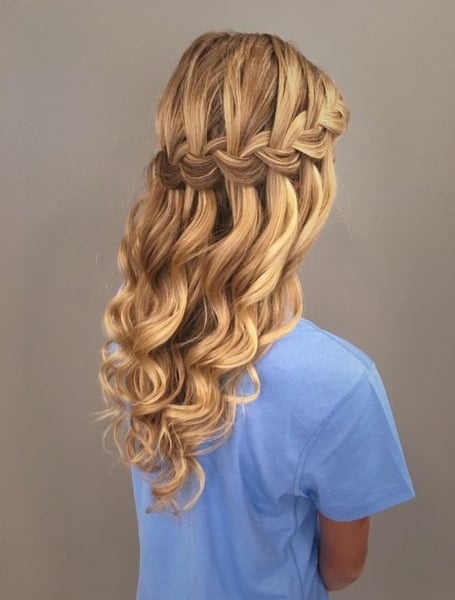 How to do a Dutch Braid
If you're a beginner to Dutch braiding, let YouTube expert EverydayHairInspiration show you how to master the technique with her simple step-by-step guide. In this video, she creates a classic two-Dutch braid look, ideal for everyday wear or dressed up for a special occasion.
Dutch Braid FAQs
What is the difference between a Dutch braid and French braid?
A Dutch braid (also called an inverted French braid or pineapple braid) is created when the three hair sections are crossed under each other instead of over. It results in the look of a braid standing up from the rest of the hair instead of being under the hair.
Is a Dutch braid the same as a cornrow?
Cornrows are very similar to Dutch braids. With Dutch braids, only some of each portion of the hair is braided, but with cornrows, all of each portion of the hair is braided to the middle of each braid, giving it a distinctive look, with visible 'rows' of skin.
How long does a Dutch braid last?
Dutch Braids will generally last between 4 days to 10 days, depending on the tightness of the braid and your sleeping style.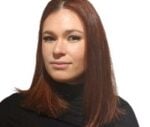 Arabella Roden is a skilled writer and sub-editor with over ten years of experience across print, digital, and B2B. She holds a Bachelor's Degree in Journalism and specializes in beauty, hairstyles, fashion, tattoos, and lifestyle topics. Arabella is currently the Chief Sub Editor at Mecca Brands and has been writing for The Trend Spotter since 2019.
SUBSCRIBE TO OUR NEWSLETTER
Subscribe to our mailing list and get interesting stuff and updates to your email inbox.