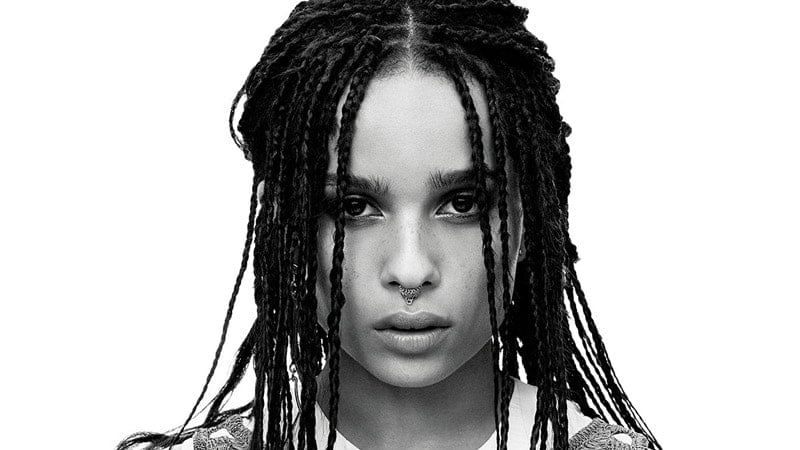 If you're after a fresh hairstyle that's protective and stylish, look no further than box braids. This '90s favorite has returned once again and it is looking better than ever before. Whether worn long or short, big or small, box braids are seriously chic and on-trend. They've been spotted on celebs like Beyonce, Alicia Keys, Solange, Zoe Kravitz, and Rihanna in recent times. So, why not give them a go yourself? All you need is some inspiration, and we can help. Below is our roundup of gorgeous box braids hairstyles to try right now.
RELATED: 30 Best Braided Hairstyles for Women
1. Small Box Braids
When deciding on the size of your braids, you should take your natural hair's health and thickness into account. If you have thin hair, opt for small braids. Doing so will help ensure that you don't damage your roots with excess weight.
2. Medium Box Braids
Medium box braids can create an eye-catching appearance without looking too bulky or thick. As such, they're ideal for those with delicate facial features. Another benefit of medium braids is that they can more easily be worn in an updo than thicker styles.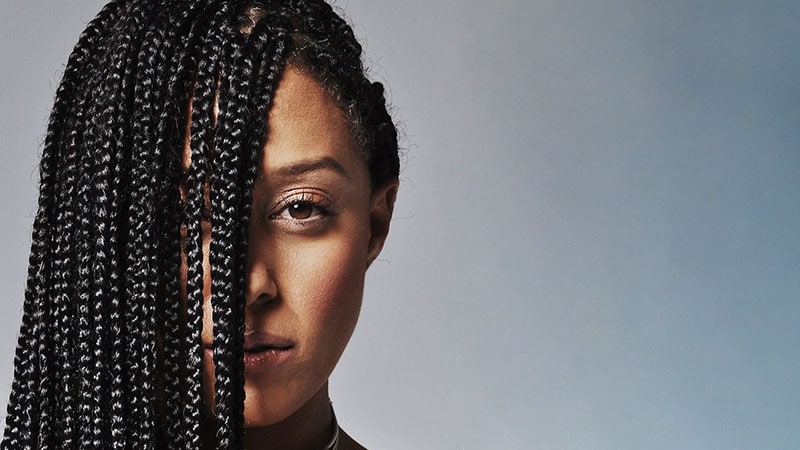 3. Big Box Braids
Big box braids not only appear boldly stylish, but they also offer your hair more protection. On top of that, their large size allows for more defined section edges, meaning that you can create clear squares and other shapes, such as triangles.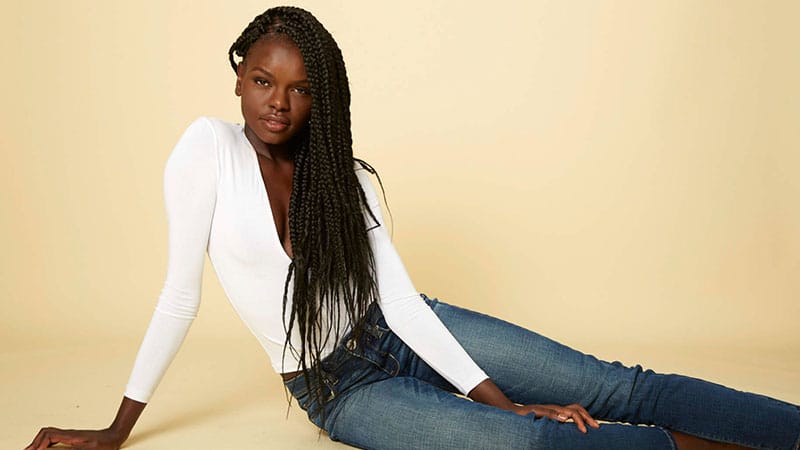 4. Jumbo Box Braids
If your hair is naturally super thick, you should consider opting for statement-making jumbo box braids. Not only will their rope-like appearance look cool but choosing supersized plaits will also save a lot of time during the creation process.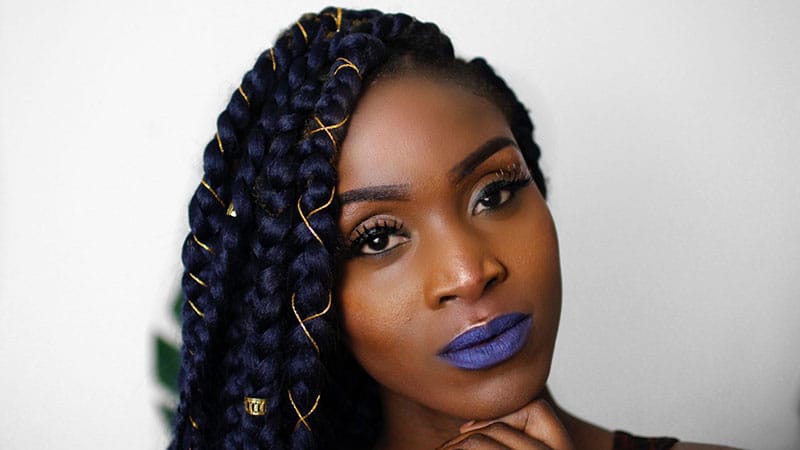 5. Short Box Braids
Not all box braid hairstyles have to be lengthy. So, if you prefer short locks, you can still consider this look. Just remember to add cropped extensions if you want big or jumbo braids.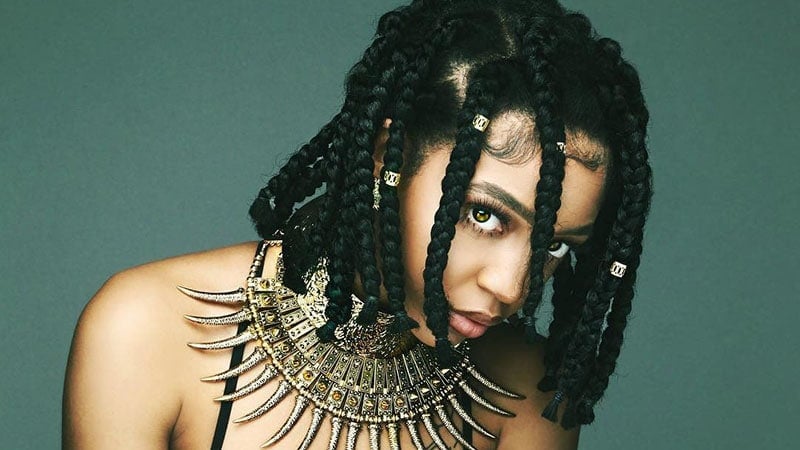 6. Long Box Braids
Are you looking for a hairstyle worthy of a queen? Long box braids are it. While it may take a lot of extra hair and a few hours of braiding to get there, the result will undoubtedly make the effort worth it. Just ask Queen Bey.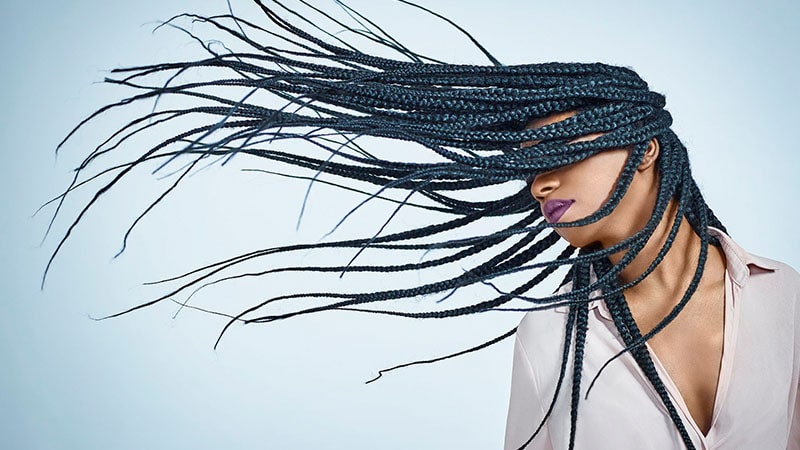 7. Triangle Box Braids
If you love box braids but want to try something a little different, consider opting for triangle box braids. The stunning style, which features triangular sections of hair instead of the usual square, is unique and chic.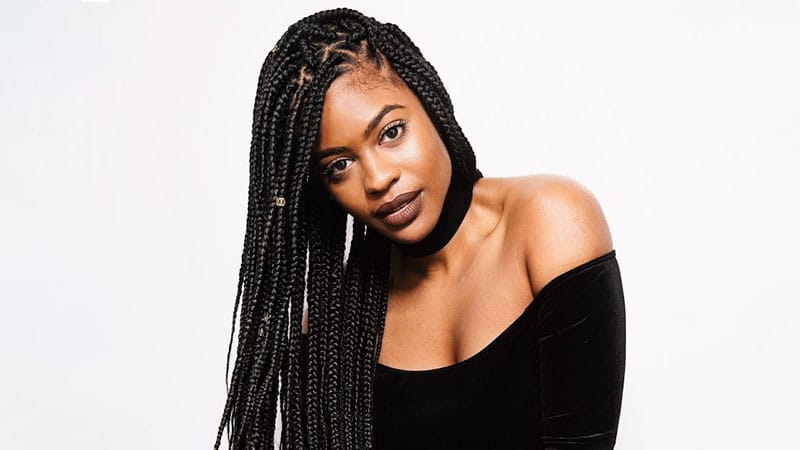 8. Crochet Box Braids
If you're looking for a quicker way to get box braids, installing crochet braids can make an excellent option. To create the look, your stylist will cornrow your head before using a hook to thread box braid extensions into your natural hair.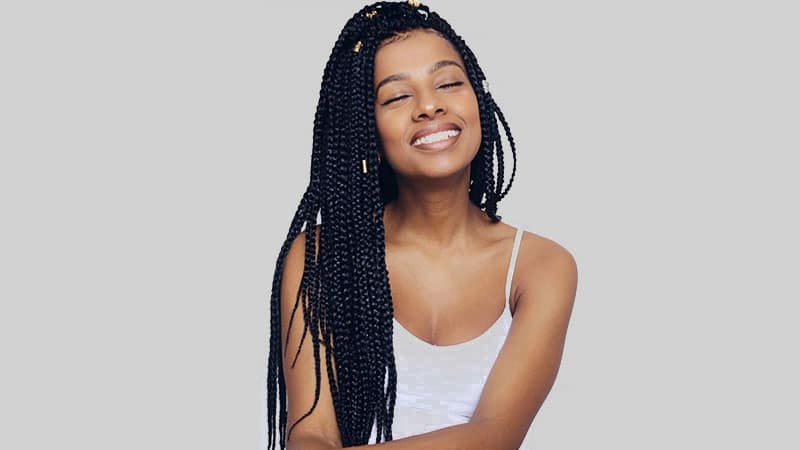 9. Curly Box Braids
For a gorgeous and feminine look, you can consider rocking curly or wavy box braids. To create the style, just weave your box braids together into larger braids. Then, dip each section in hot water and dry with a towel or hair dryer. Once dry, unravel the large braids to reveal your curled box braids.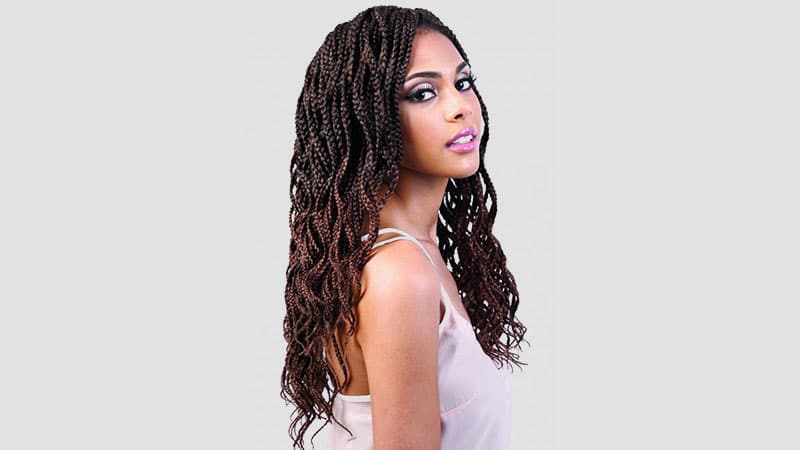 10. Bob Box Braids
The '90s are officially cool again. So, why not complete your throwback to the decade with a box braided bob? This chic look is seriously stylish and will instantly add a dose of attitude to any outfit.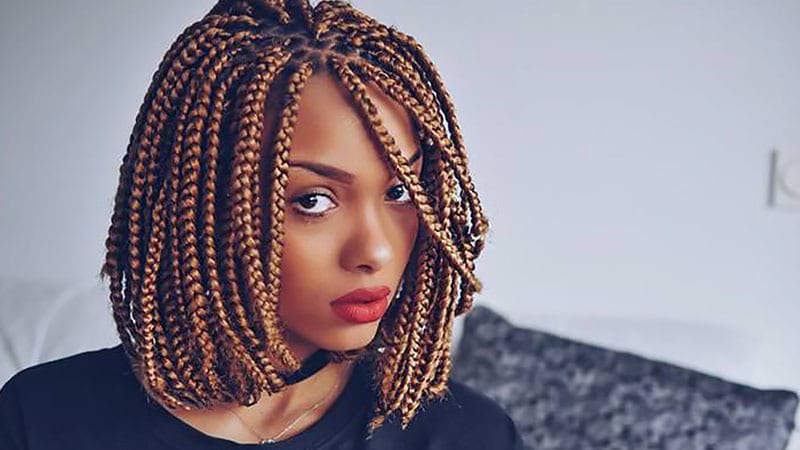 11. Cornrows + Box Braids
Pairing cornrows with braids is a fantastic way to combine two chic looks into one. While there are a lot of ways to rock the combination, a cornrow half-up with standard box braids at the back is definitely one of the best.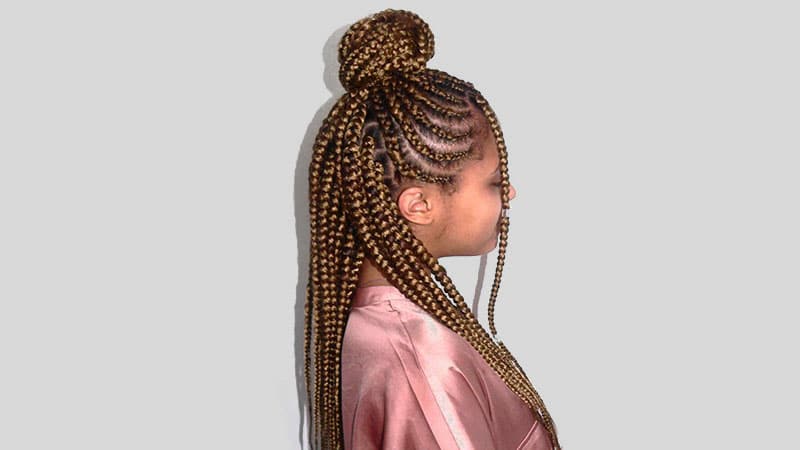 12. Blonde Box Braids
Want to lighten up your look? Blonde braids are a fantastic way to do it. The best part is, by braiding in blonde hair extensions, you can completely transform your look without a drop of dye.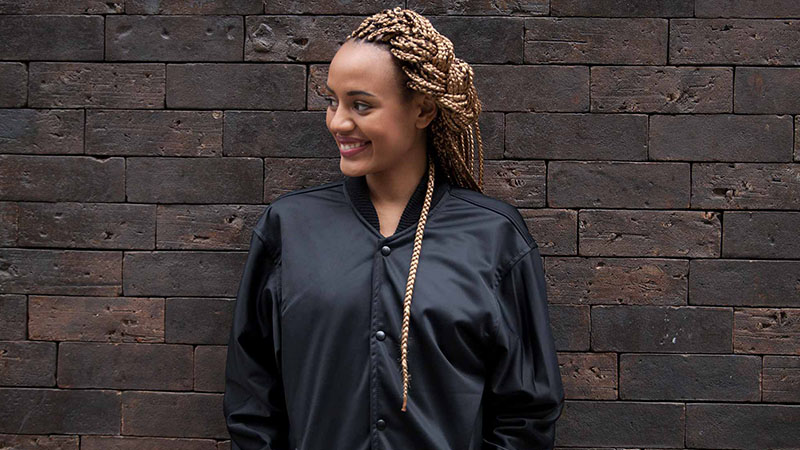 13. Brown Box Braids
You can still give your hair a lighter look without going blonde by opting for brown braids. To nail the look, just remember to choose a shade of brown that flatters your complexion and skin tone.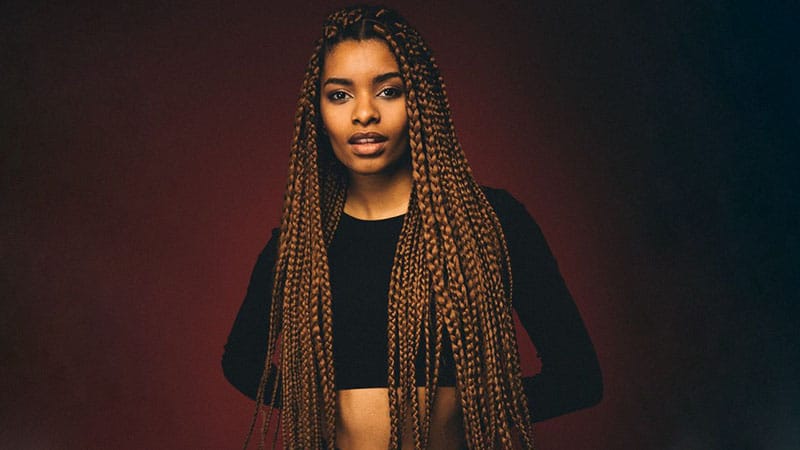 14. Red Box Braids
For those who like a statement style, red braids are an excellent option. All you need to do is pick your perfect hue. From intense cherry red colors to rich burgundy tones, there are plenty of red shades from which you can choose.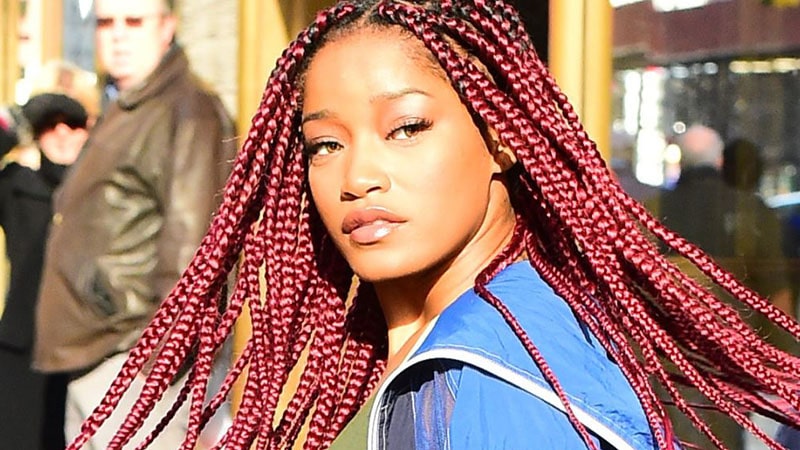 15. Purple Box Braids
Purple can also be a stunning color for braids. Like red, however, you will need to find your perfect shade. Additionally, don't forget to consider the intensity of the color you choose. While vibrant violet hues are undoubtedly fashion-forward, more subdued tones may be better if you work in an office environment.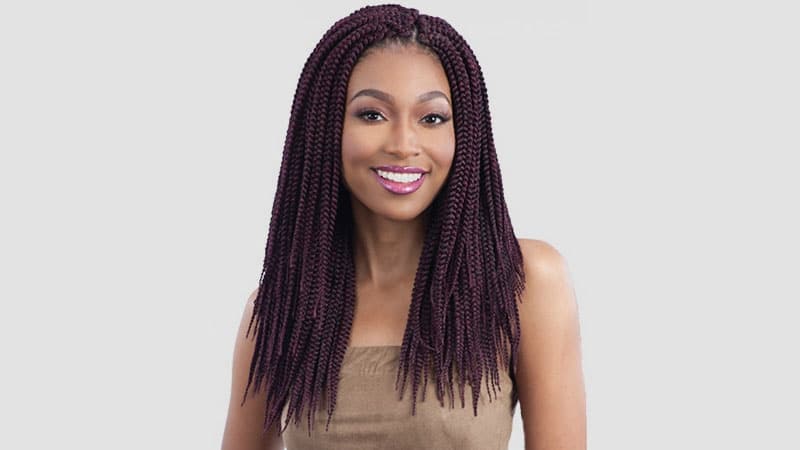 16. Ombre Box Braids
Ombre is one of the hottest hair color trends at the moment. So, why not try it with your braids? To create ombre braids, you can either buy extensions that are already ombre or weave in lighter colored extensions in the bottom half of your hair.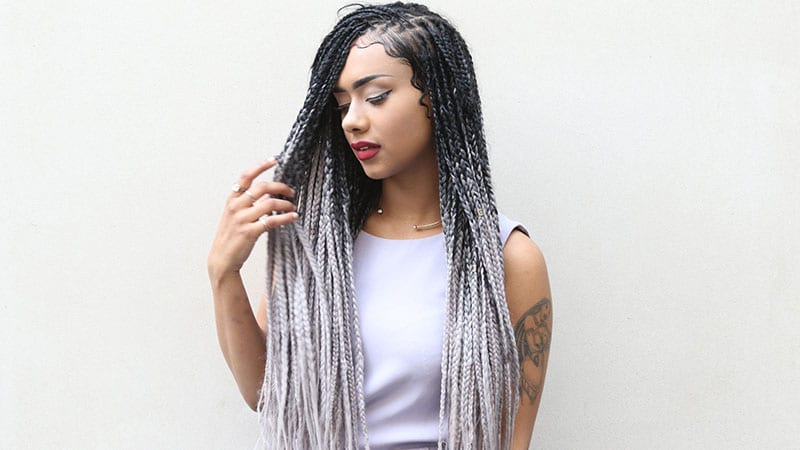 17. Black and Blonde Box Braids
For ladies with black hair, adding blonde to your braids can create a gorgeous contrast of tones. To create the look, just braid blonde extensions into your black hair. You can also consider adding black extensions or making some braids black and some blonde for more contrast.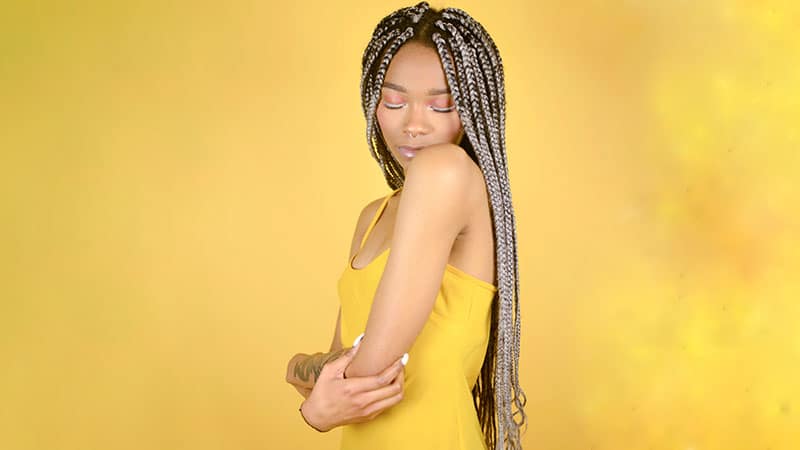 How to Style Box Braids
Box Braids Bun
Once your hair is braided, the real fun starts as you experiment with countless new styles. One particularly stylish look is a high and loose braided bun. Thanks to the braids, your bun will be full of volume and seriously eye-catching.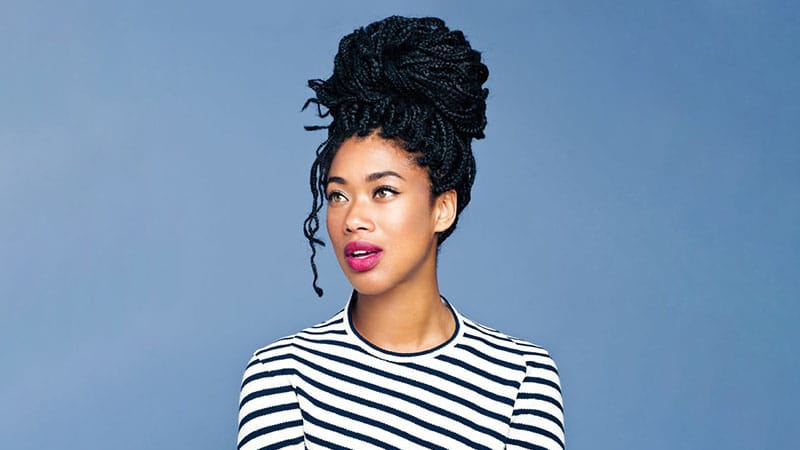 Box Braids Ponytail
A box braid ponytail can be a chic and easy look for both day and night. But, when creating the ponytail, make sure you don't pull too tight as the tension and weight can cause hair breakage and loss.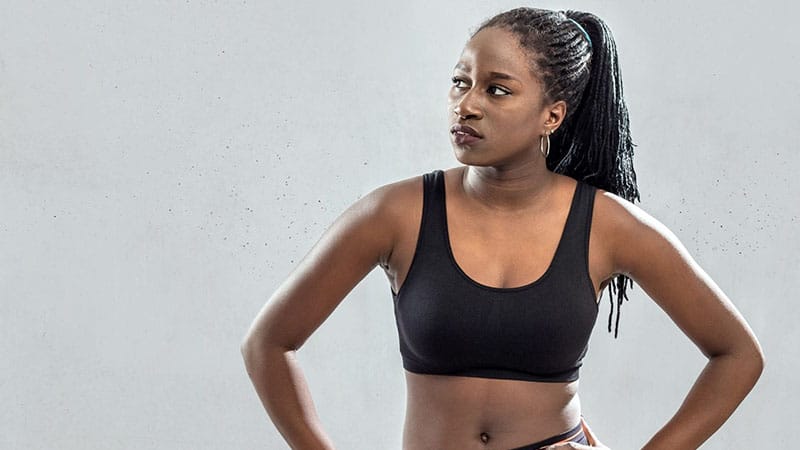 Box Braids Half-Updo
A half-up hairstyle can be a fun and on-trend way to wear your braids. To create the look, all you need to do is wrap the top half of your hair into a bun on the top of your head. Whether it's toward the front or the back is up to you.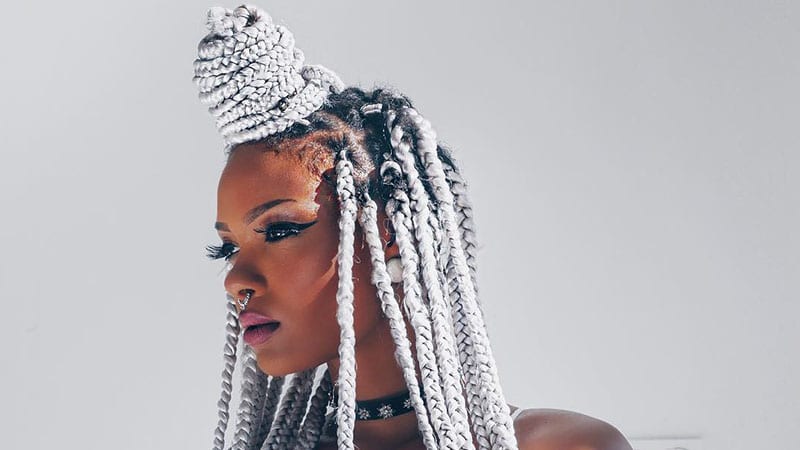 Box Braids with Beads
Styling your braids doesn't always require an updo. By just adding beads you can instantly update your look while creating plenty of interest. Best of all, you can also make the style as bold or as subtle as you like.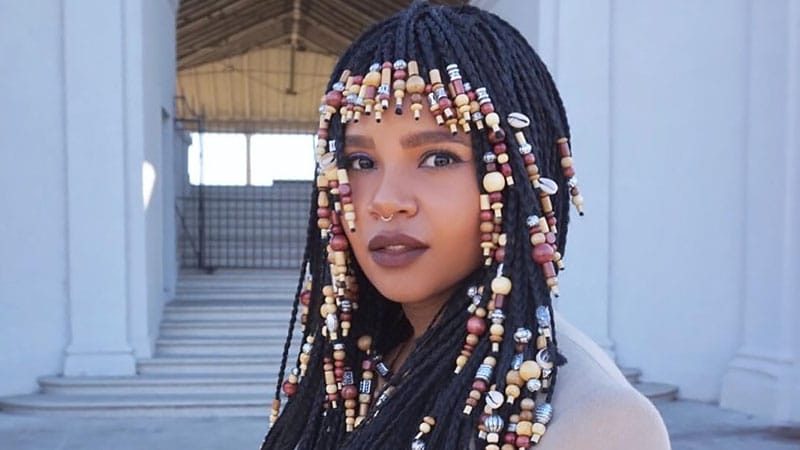 How to do Box Braids
While visiting a stylist is an excellent way to get neat and chic braids, you can also create yours at home. But, before you start braiding, it's essential to prep your locks. To do so, shampoo, detangle, deep-condition, and blow-dry your hair. Afterward, you can begin creating your braids, ensuring they're tight but not painful. Once done, your braids should last anywhere from a few weeks to a few months. When you need to wash your hair, be sure to apply oil afterward and completely dry your braids with a hooded dryer or blow-dryer on low. Also, consider sleeping on a silk pillowcase to help reduce friction and frizz.
FAQs
What are Box Braids?
Box braids are a protective hairstyle that is ideal for keeping natural hair healthy. The style features individual plaits, which are created by sectioning off hair into small squares and braiding from the roots. Although box braids can be any width and length, many women choose to add extensions to their natural hair to create box braids that are long, full, and thick. As well as being protective, box braids are also low-maintenance, requiring minimal styling and washing. However, the original process of creating the braids can be time-consuming and somewhat costly, especially if you need a lot of extensions.
How long do box braids last?
Box braids last for around six if they're properly looked after. For the health of both your hair and scalp, you should avoid leaving them in for longer than eight weeks. Doing so can damage both, and doesn't allow dead skin cells, natural oils, and shed hair to escape from beneath the braids, which can then become a breeding ground for bacteria. By this point as well, your hair will have started to grow out, and the braids will be losing their integrity.
What hair do you use for box braids?
You can use either your natural hair for box braids or add-in extensions. Extensions can be made from human or synthetic hair, depending on your personal preference and budget. There are also various techniques for adding the extra length, including knotted, feed-in, and banded. 
Can you get box braids wet?
Yes, you can get your box braids wet. Ideally, you want to wash them at least once a week. Use a mixture of clarifying shampoo diluted with water and massaged into your scalp. Then rinse it out in the shower, letting the shampoo flow through to the ends. Use the same method with your conditioner. If you're taking a dip in the pool or ocean, just remember to rinse your hair with fresh water to prevent chemical or salt sediment building up.
Can you do box braids without extensions?
You can do box braids with just your natural hair. Doing this is just as protective and more low maintenance, as you don't need to worry about looking after added length. It also places less pressure on your scalp and allows you to treat your natural hair with moisturizers and treatments more efficiently.
Do box braids damage your hair?
Overall, box braids are considered a protective hairstyle that helps to repair and strengthen damaged or fragile hair, especially for black women and men. However, they shouldn't be left in for more than six weeks at a time. By this point, the natural hair will have grown out, and the braids will have lost some structural integrity, which can lead to matting and damage. Additionally, if they're not done correctly, are too tight, or are not looked after, then this can also have a negative impact.
SUBSCRIBE TO OUR NEWSLETTER
Subscribe to our mailing list and get interesting stuff and updates to your email inbox.