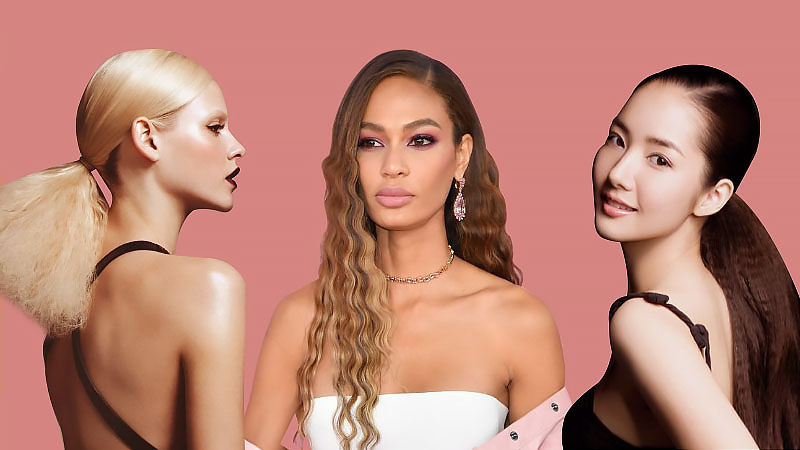 Are you bored of your standard blow-out, braid, or barrel waves? Try the revamped 80s trend that came back into style: crimping. For many of us, crimped hair brings back memories of our awkward tween phase. However, these fresh styles prove that crimped hair can be sexy, stylish, and even chic. Keep reading to discover the power of the crimp to transform your look and give it a fun and flirty twist.
1. Crimped Hair Waves
Also known as mermaid waves, crimped hair waves are a stunning style option for summer. Sexy, feminine, and flattering on all face shapes, these crimped waves will give you beachy vibes with a polished finish. Get the look using a wide crimper or a three-barrel waver to get a more defined S-shape. Finally, set everything in place with a medium-hold glossy hairspray.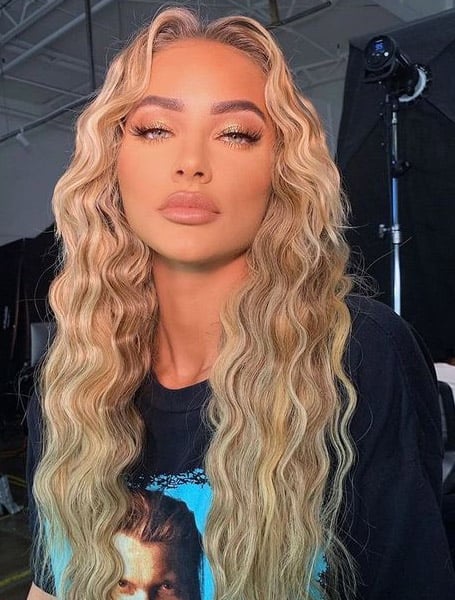 2. Feature Crimped Hair
Want to try the crimped trend without going all out? Try feature crimped hair. Similar to a feature nail manicure, this style involves crimping one section of your hair to make it stand out. The trick is to create a contrast, so it looks modern – rather than seeming like a throwback to the 2000s. Instead of pairing your crimped hair with a stick-straight blowdry, try soft waves with a spritz of sea salt spray for texture.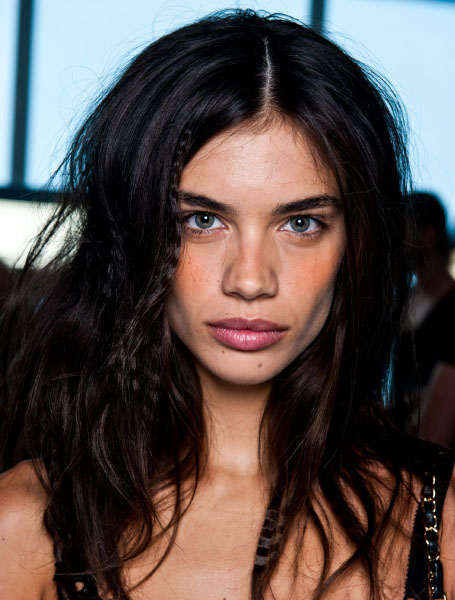 3. Crimped Hair Half up Half Down Lob
Give your lob haircut a super cute twist with crimping. Perfect for a casual date or brunch, this look will give your hair more volume and bounce while framing your face beautifully. After crimping your hair with a wide-barrel waver, gently brush out the waves to give it a relaxed 'undone' look. Then secure the top section into a mini ponytail or bun, and accessorize with a velvet scrunchie or ribbon as a pretty finishing touch.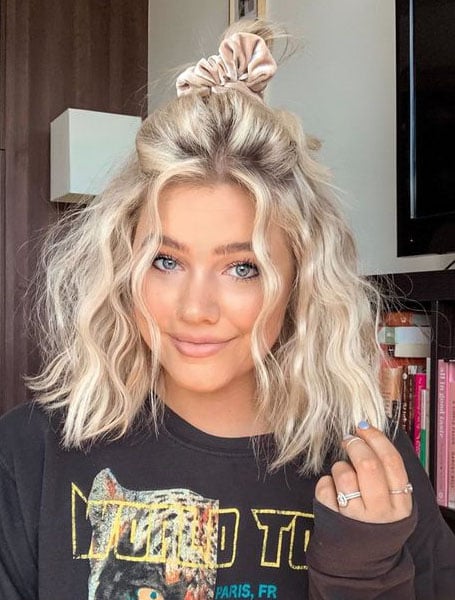 4. Crimped Red and Black Hair
Red-and-black hair is a look that always stands out from the crowd, and adding crimping makes it even more eye-catching. The structure of the crimped waves looks excellent when paired with a bold color. Waves also help to blend a more extreme ombre hairstyle. Use an extra strong hold hairspray to keep your waves looking defined.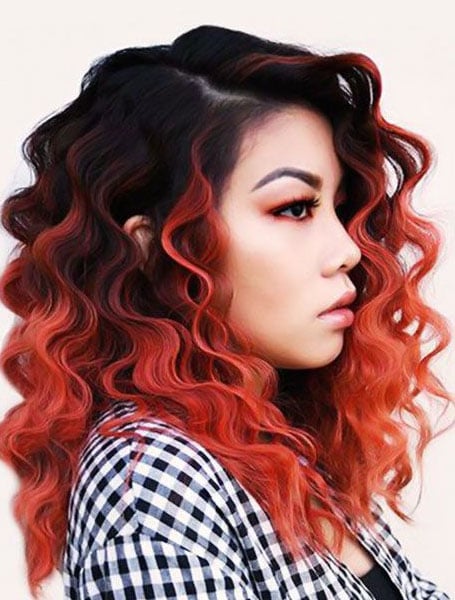 5. Crimped Hair Bob
The bob haircut is one of the most classic and timeless cuts. While it's chic and low-maintenance, the shorter length can make a bob less versatile when it comes to styling. However, crimping is an ideal way to add personality and flair to your short hair, as it requires less length than curling or waving. Try an all-over crimped look or create a statement with a feature crimp section and tease the rest of your hair.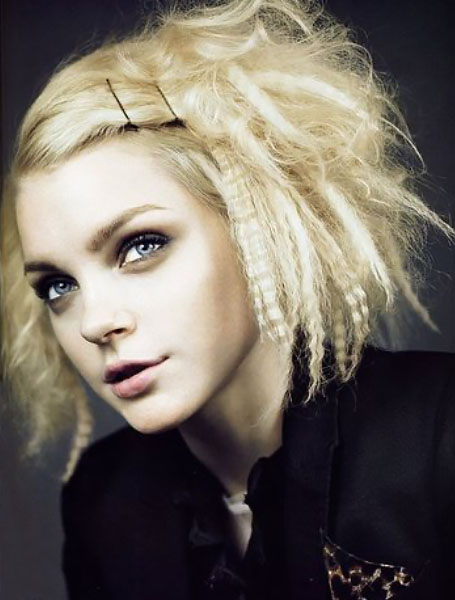 6. Crimped Black Hair
Crimped hair looks fantastic on all hair colors, from platinum blonde to deep dark brown and black. However, to get gorgeous crimped 'mermaid hair,' you may need to use a wig or clip in hair extensions – particularly if you have short, fine, or Afro-textured hair and want to avoid chemical straightening. While you can buy pre-crimped extensions and wigs, a straight real-hair option can be heat-styled so you can customize the look to suit your face shape.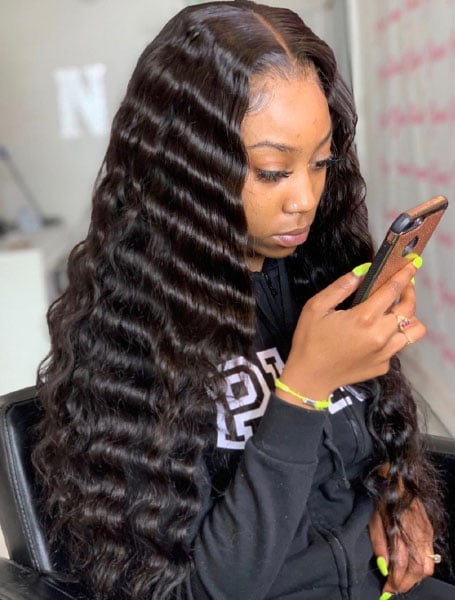 7. Crimp Accents Throughout
For those with naturally straight hair, adding crimp accents throughout is a great way to update your look. Crimp accents give your hair an edgy rock'n'roll vibe. Similar to feature crimped hair, the key to the style is the contrast between the kinky crimped pieces and the straight sections. It's also an excellent option for thick-haired ladies, as crimping all your hair can be very time-consuming.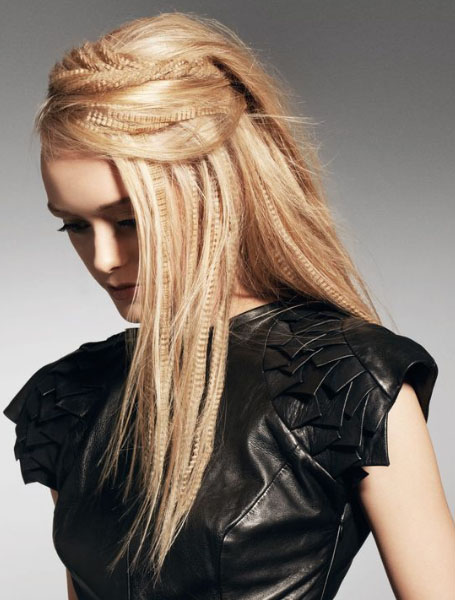 8. Big Crimped Hair
For the ultimate editorial-inspired, head-turning hairstyle, try big crimped hair. Inspired by the 1980s, it's all about volume, glamor, and attitude! As a result, it's an ideal look for a red carpet event, retro party, or big night out. A wig or extensions are a must to achieve the style, as it requires a lot of hair as well as teasing and heat-styling. Pair it with soft glam make-up and a slinky outfit to let your hair take center stage.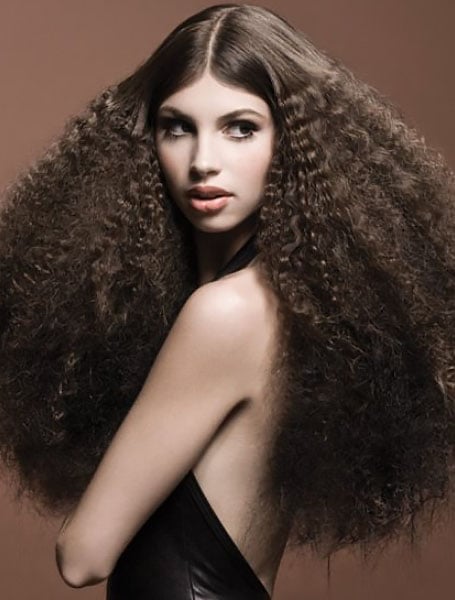 9. Crimped Hair Ponytail
One of the chicest ways to embrace the crimped hair look is with a crimped ponytail. The hairstyle plays with contrast, leaving the front sections super sleek and smooth while the ponytail section is crimped and teased out. While the classic look involves creating a low ponytail, you can adapt the style to suit your face shape with a high pony. However, because it is a pulled-back hairstyle, it will emphasize a round face, so it is best suited to those with more angular features.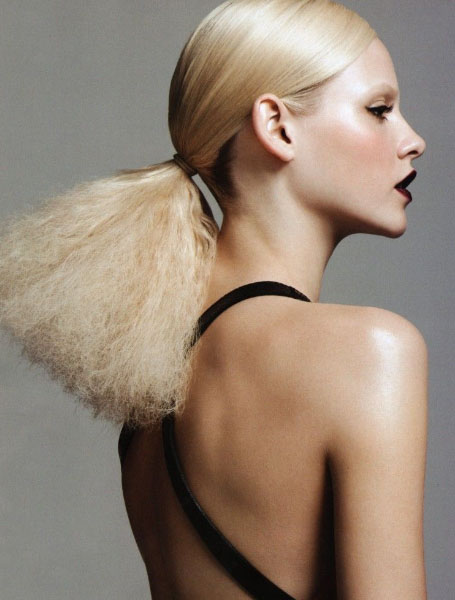 10. Backcombed Crimped Hair
Give your crimped hair a full and fluffy look by back-combing it. A more wearable take on big crimped hair, the back-combed style has an equally retro and editorial feel. To ensure your back-combed crimped hair looks chic, rather than messy, keep the top section of your hair sleek and flat. Try a deep side part or center part, depending on your face shape. And as the volume of the style is concentrated around the lower third, it's an excellent option for heart-shaped faces.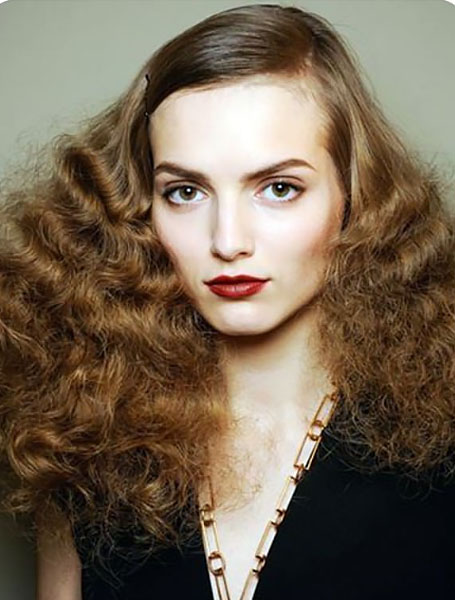 11. Crimped Ends
Start by back-combing and teasing your hair to give it fluffy volume. Then softly crimp the ends to create small kinks, rather than S-waves. The style suits those with long, fine hair as it builds volume for a fuller effect. Pair it with '80s-inspired jewelry and make-up for the final finishing touch – think a smokey eye, pink lips, and pearls.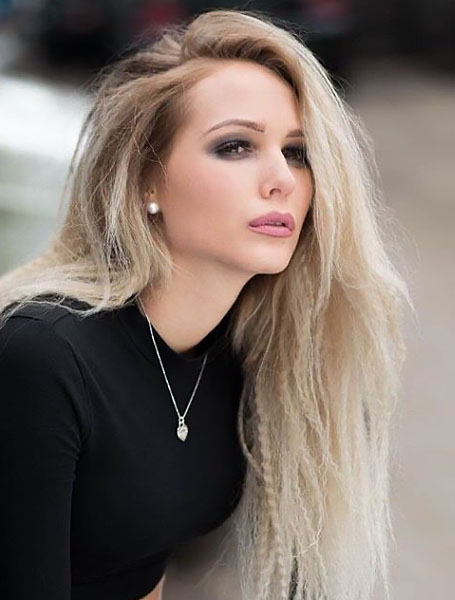 12. Crimped and Straight Hair
Straight hair is ideal for crimping because there is no natural curl pattern to disrupt the waves and kinks. For a low-maintenance crimped look on long straight hair, leave the top section flat and begin crimping just above your ears. The result is a cool 'waterfall' effect that is perfect for a casual event. If your hair is fine, rather than thick, tease, and back-comb the under sections to create more volume.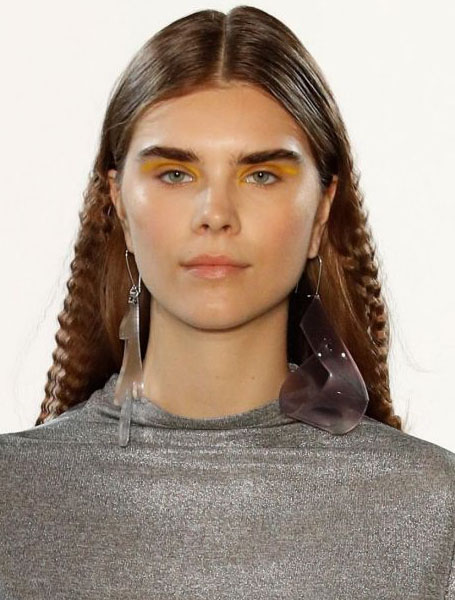 13. Crimped Long Hair Half Up Half Down
Give your crimped hair a soft and romantic finish with a long half-up, half-down look. Less structured than mermaid waves, the style has a delicate, brushed-out effect that's flattering and stunning. If your style tends toward boho or feminine, it's the perfect crimped look for you. The longer lower sections will elongate your face, which is ideal for rounder shapes. Leave some face-framing pieces loose at the front for a beautiful finish.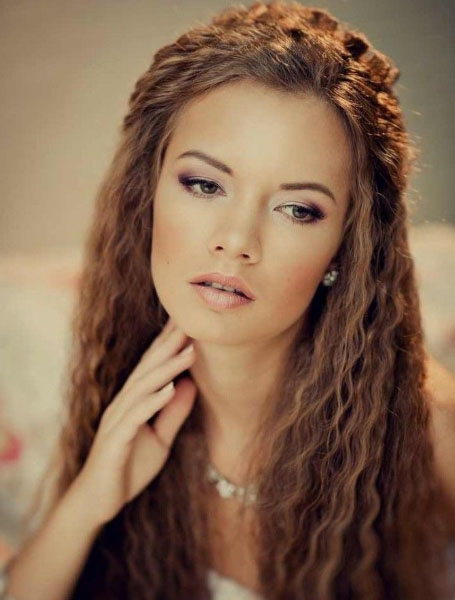 14. Crimped Ombre Hair
An out-there color deserves to be paired with an equally eye-catching style! Take your ombré hair to the next level with defined crimped waves. The structure of the waves gives the color a fluid effect and helps blend them into a smooth gradient. Start the crimping near the crown of your head, and style the waves at an angle, to create a face-flattering shape. To get the full effect, try the style on shoulder-length or long hair.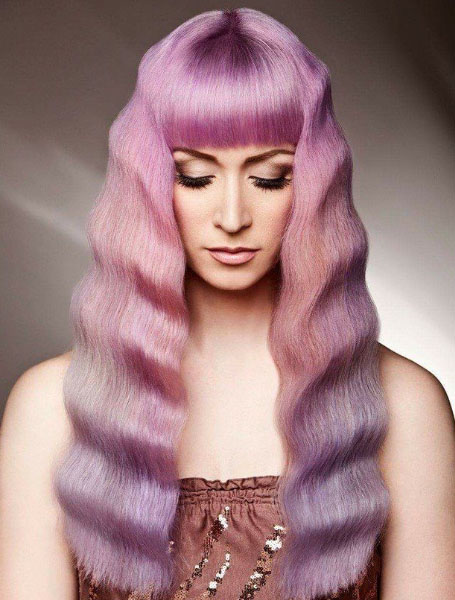 15. Fishtail Braid with Crimped Hair
Crimping adds style and flair to any hairstyle, including braids. Give your fishtail braid a fresh twist by crimping pieces and sections. To make the crimping stand out, use the underhand technique to create a raised braid and add clip-in hair extensions, so the hairstyle has more body and volume. Pair your crimped fishtail braid with dark eye make-up for an edgier look, or add ribbons and flowers for a boho feminine finish.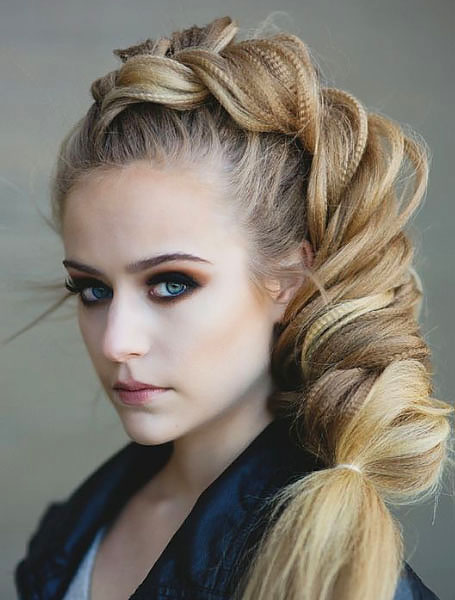 16. Green Crimped Hair Bob
Get the on-trend e-girl look with a green crimped bob haircut. This hairstyle has a quirky and futuristic feel while still being cute and flirty. Choppy texture and blunt bangs are essential to create volume and add to the youthful and off-beat feel of this style. Next, be sure to crimp random sections and pieces, rather than all over. If you're worried about damaging your hair with bleach, green dye, and heat styling, try the style out with a good quality wig.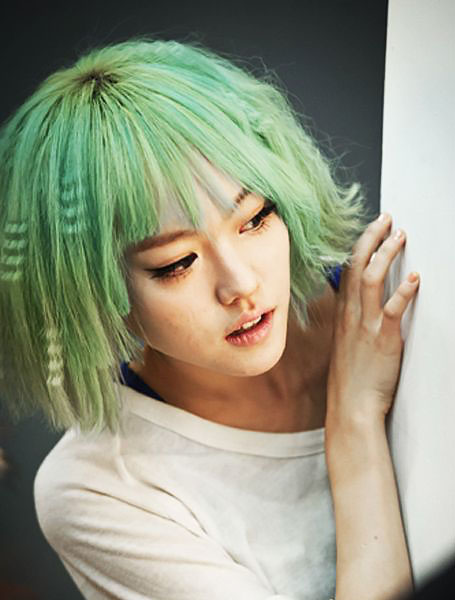 17. Short Crimped Hair
Crimping is a versatile hair-styling technique that works on all lengths, from long to short. So, ladies with a long pixie cut can still embrace the look – even if their natural texture is wavy or curly. To show off the crimping and ensure it doesn't get visually 'lost' in the rest of your hair, crimp the small front sections and your bangs. Plus, by avoiding crimping at the crown of your head, you'll stop your style from looking flat.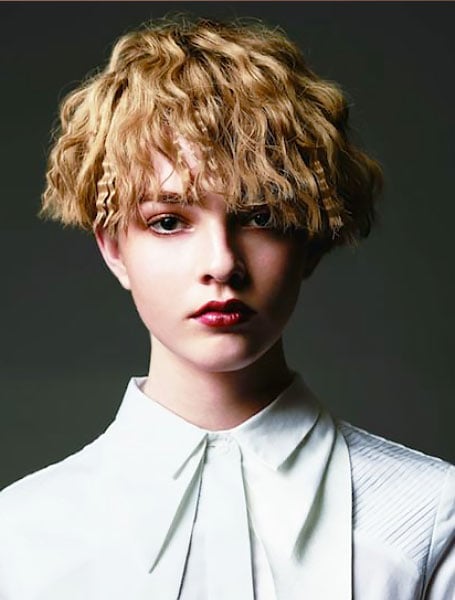 18. Long Crimped Red Hair
Long red hair is already a striking option for your hair, and crimping will make it even more eye-catching! While loose waves and curls look flattering and feminine, crimping will give your hair a more off-beat and unusual finish. Because it looks unnatural, it will make your hair stand out even more. Kinky and cool, long crimped red hair is an ideal option for fashion-forward ladies who love to make a lasting impression and express themselves with their style.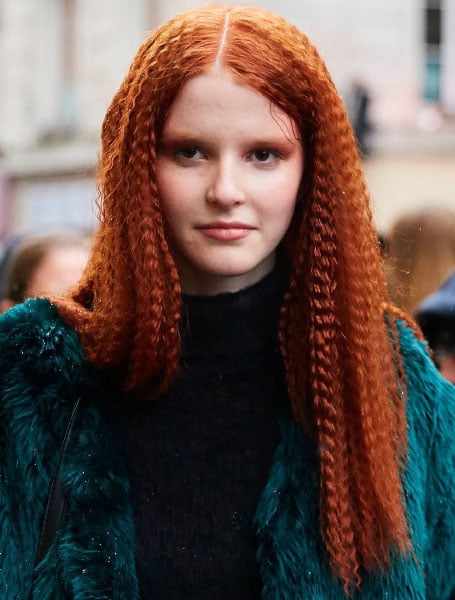 19. Side Swept Crimp Hair
Asymmetric and side-swept hair were huge trends 35 years ago, with stars like Madonna and Brooke Shields popularizing these hairstyles. Lean into the throwback, 1980s-feel of crimped hair by sweeping your kinky style to the side. Add to the wild and party-ready feel by brushing out some sections and adding both wide and thin crimps as well as S-waves, and use a volumizing mousse to add some height and body.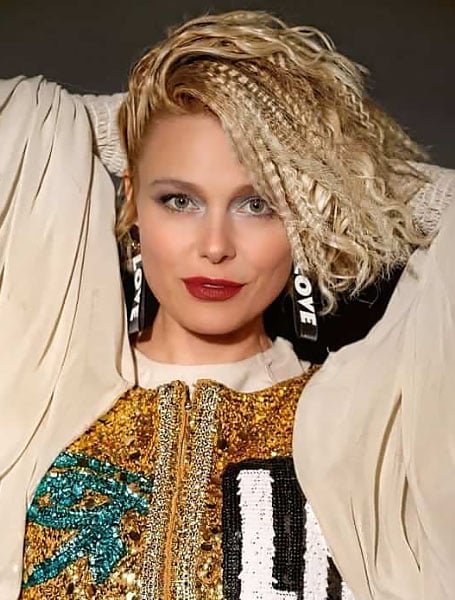 20. Tribal Crimped Hairstyle
Tribal hairstyles involve using different twisting and braiding techniques to create a unique look, which makes them perfect for a festival. Meanwhile, crimping adds extra texture and eye-catching interest to any hairstyle – so why not pair crimped sections with your tribal-inspired hairstyle to stand out from the crowd. Next, color your tresses with different pastel shades using hair chalk or temporary spray-on color. Add boho jewelry and metallic make-up as the finishing touch.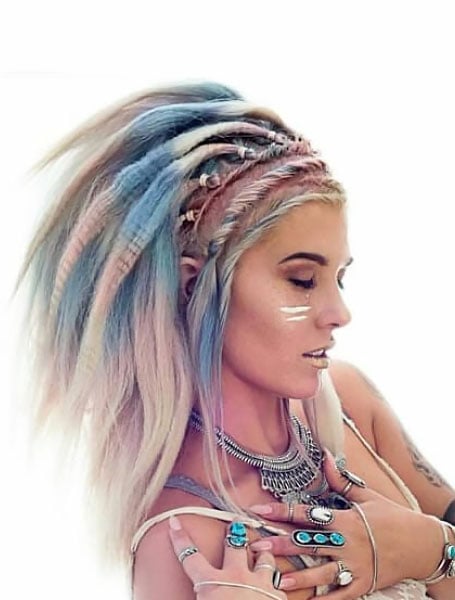 Best Hair Crimpers
There are many different ways to crimp your hair, depending on the result you want. For small, kinked crimps, try a ceramic crimping iron. Whereas if mermaid waves are more your style, a three-barrel curling iron will be your best friend. The best part is that whatever your budget, there is an excellent crimping product out there for you.
How to Crimp Hair
Crimped Hairstyles FAQs
Is crimping bad for your hair?
As heat tools are usually required to create crimped hair, it's important to use a protective spray to avoid damaging your locks. Don't leave the crimper, waver, or flat iron in contact with your hair too long to avoid scorching your strands.
Is crimped hair 80s or 90s?
Crimped hair first became popular in the '80s and is most closely associated with that decade. Back then, stars like Madonna, Cyndi Lauper, and Demi Moore rocked the style. The trend continued into the '90s and had another resurgence in the early 2000s. 
Is crimped hair in style 2020?
After decades out of the spotlight, crimped hair came back into fashion in 2020 as part of the '90s and 2000s-inspired trends. Gigi Hadid, Ariana Grande, and Beyoncé – just to name a few – have embraced the crimp, so if you want to give it a try, you're in good company! 
How do I make my hair look crimped?
There are many different ways to make your hair look crimped. A crimping iron will give you the '80s version of the hairstyle, with small, defined, and angular 'Z' waves. For a more modern 'mermaid crimp' look, use a three-barrel waver or curling iron. Another option is to tightly braid your hair in tiny plaits, then flat-iron each section. Once you unbraid, your hair will hold the wavy pattern, creating a crimped effect. If your hair is naturally curly, skip the flat-iron step and leave the plaits in overnight.
SUBSCRIBE TO OUR NEWSLETTER
Subscribe to our mailing list and get interesting stuff and updates to your email inbox.