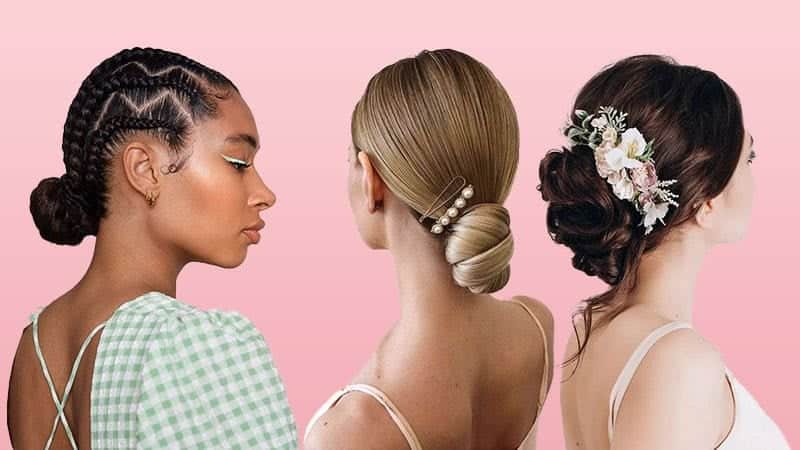 You've likely heard of the chignon hairstyle; traditionally, it was an updo that was created at the nape of the neck (from the French phrase, chignon du cou). It has been popular for decades because of its polished finish. Yes, it is the perfect look for formal occasions and will complement a delicate dress or feminine outfit, but there is also so much more to do with the hairdo than the classic approach. This style is nothing if not versatile and can be adapted to reflect you perfectly. Could this be with an on-trend accessory like a pearl clip or floral headpiece to give your 'do a modern twist? Or perhaps you want to create a messy finish to take this timeless look and make it an everyday favorite. Keep reading below to see how to rock the chignon hairstyle buns and become inspired.
1. Boho Wedding Chignon
What better way to embrace your big day's fun-loving and carefree aesthetic than with a boho wedding chignon? This hairstyle combines a classic and free-spirited look, giving you something beautiful you want to show off. Add your favorite flowers to your hair for some color to make the style feel unique and expressive, and opt for a slightly unstructured finish to create a dreamy feel.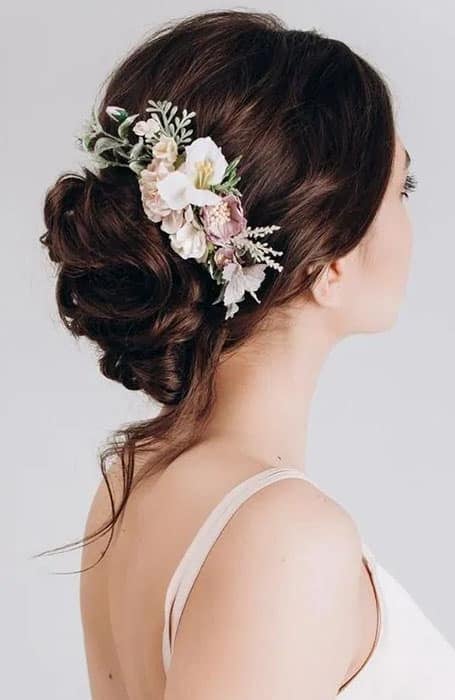 2. Braided Chignon
Elevate the classic chignon by opting for a braided version of the style. The braid you choose can be as simple or as intricate as you wish, depending on the desired result, and the hair will then be swept up and sit at the nape of the neck. This hairstyle is super glam and perfect for special occasions.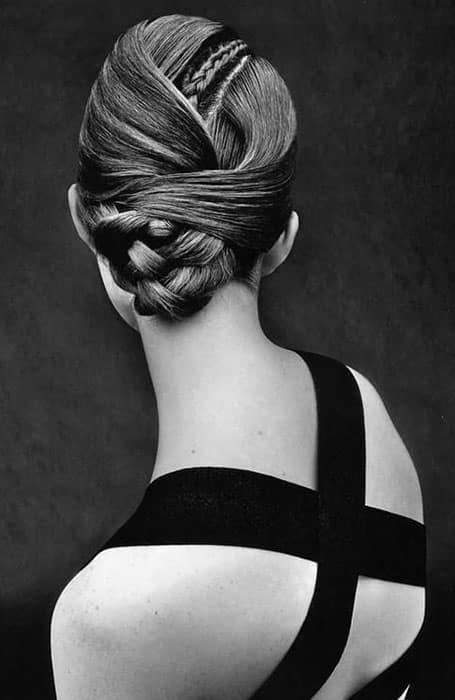 3. Chignon Updo For Medium Hair
The appeal of the chignon updo is that it is relatively simple to create but can also be done in different ways. This allows you to experiment with your finish, whether you want something super sophisticated or slightly messy and less formal. Because the hairdo sits at the nape of the neck, you do not need as much length as other updos, and medium hair will work perfectly.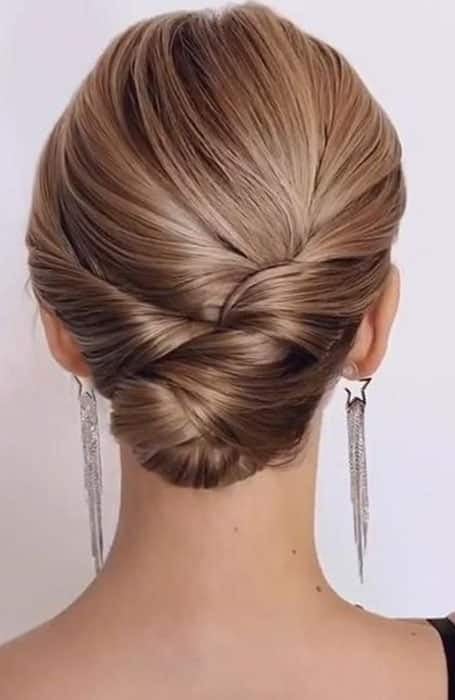 4. Chignon with a Bow
Could it get any cuter than a chignon with a bow? The accessory adds a pop of color to your look and is so girly and youthful. This is a stunning way to add a personal touch to your updo and elevate the style. Sweep the hair backward but leave a few strands loose around the face to soften the feature and add to the look's overall femininity.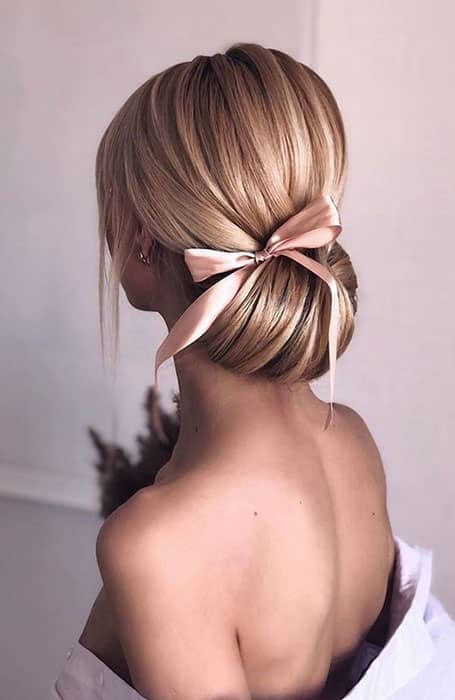 5. Chignon With Beaded Hair Jewellery
If you feel the chignon is a somewhat dated hairstyle, we are here to prove you wrong. While there is no denying that it is a classic option and can be easily worn to various events and paired beautifully with different textures, it is also a look that lends itself well to personalization. If you want to rock a tiara on your wedding day or embrace hair jewelry for a touch of sophistication, do it!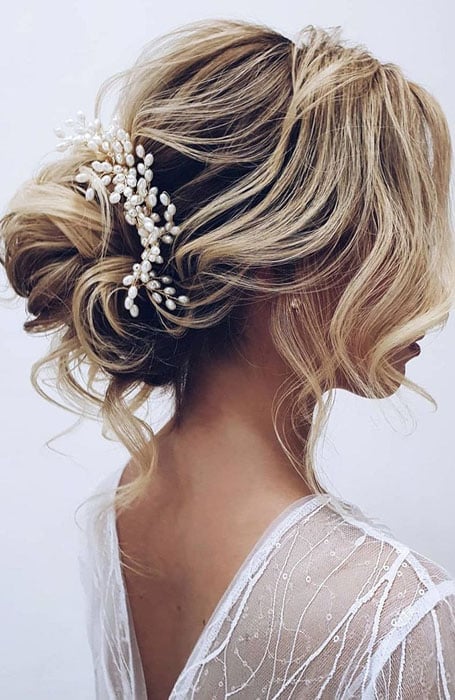 6. Chignon With Pearls
The right hairstyle should make you look and feel fabulous, and getting creative with your updo is a great place to start. The chignon with pearls is the perfect combination of sophistication and luxury. Still, the placement and the sizing of your hair jewelry also let you style the locks in a way that feels expressive and unique. This is a 'do that is made to stand out, so enjoy the attention it brings you.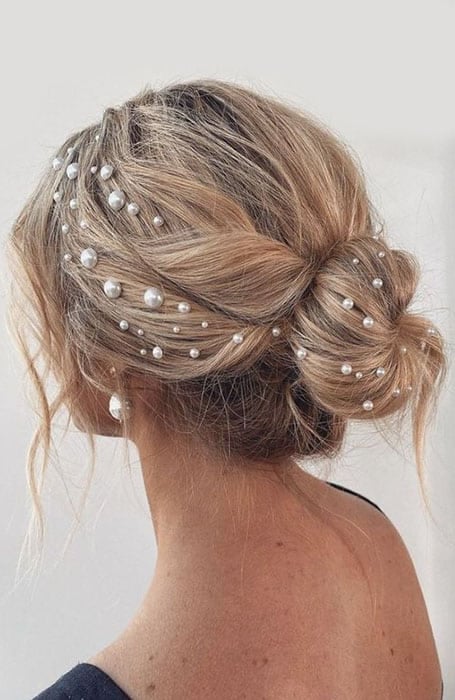 7. Chignon With Side Tendrils
Give the classic chignon style a modern finish by pairing it with side tendrils. Leaving these pieces to fall loosely on either side of the face is incredibly flattering and will soften the features while creating a face-framing effect. There is no denying this is a hairstyle that will be perfect for all your special occasions.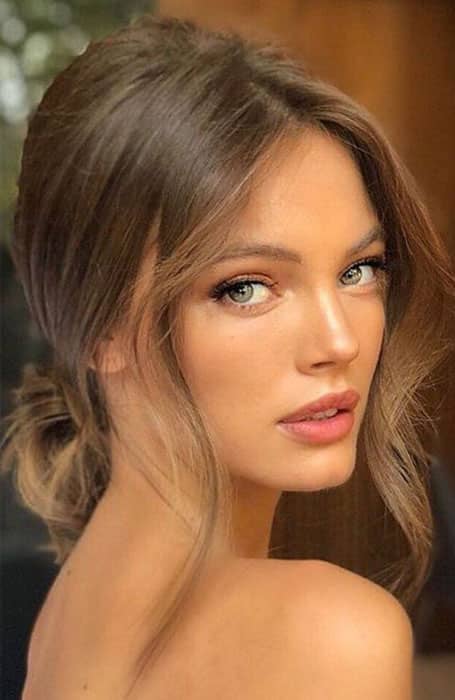 8. Chignon With Zigzag Dutch Braids
When it comes to creating updos, some people prefer the more timeless approach, while others want to have fun with their hair and create something unique and expressive. If you fall into the second category, keep reading to be inspired by the chignon with zigzag dutch braids. This youthful look is eye-catching because of the interesting shapes on the scalp but it is also textured. It is a win all-round.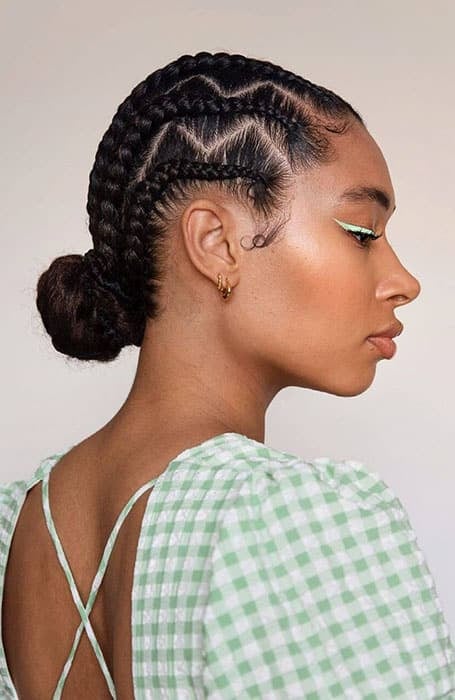 9. Curly Chignon
The chignon is an updo created at the nape of the neck, and the classic version is simple and sophisticated. The appeal of this style is that it can be adjusted in many ways, letting you experiment with the finish or embrace your texture. Curly hair is gorgeous because it is full of volume and fullness, giving your look the right amount of oomph.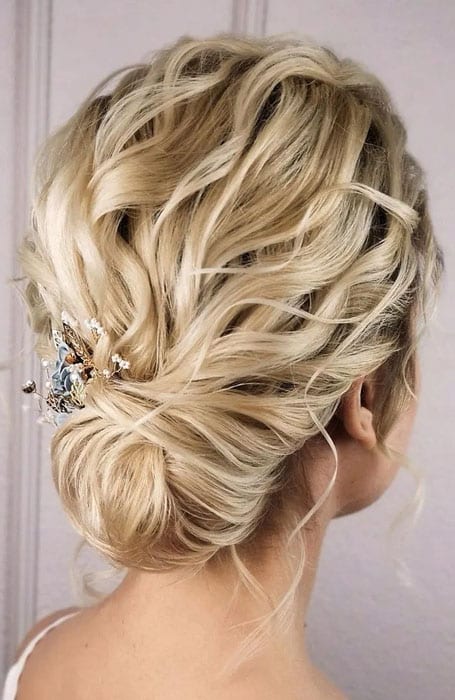 10. Easy Updo Chignon
There are many similarities between the chignon and the bun hairstyle. While buns are usually wrapped around themselves, chignons can be tucked under or styled in other ways. The classic chignon hairstyle sits at the nape, however you could experiment with the height to some extent, for an effortlessly chic and easy updo.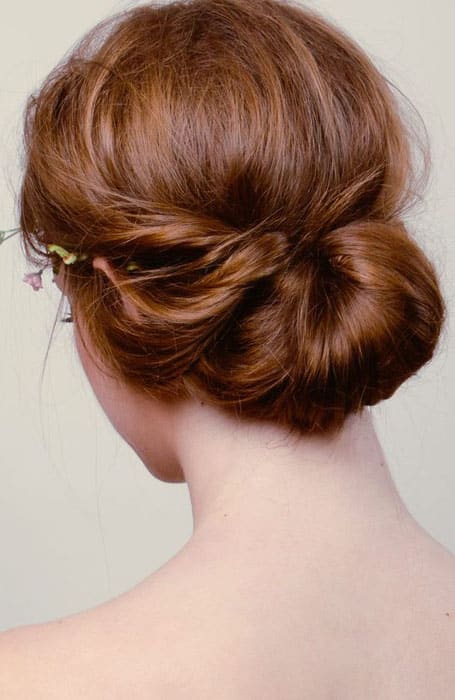 11. Elegant Chignon
The chignon can be worn pretty much everywhere. Do you have an important work function or big date coming up? Well, why not try this elegant style that will beautifully show off your neck and leave you looking stunning and sophisticated? The sleeked-back approach is often best because it will create a neat and polished aesthetic.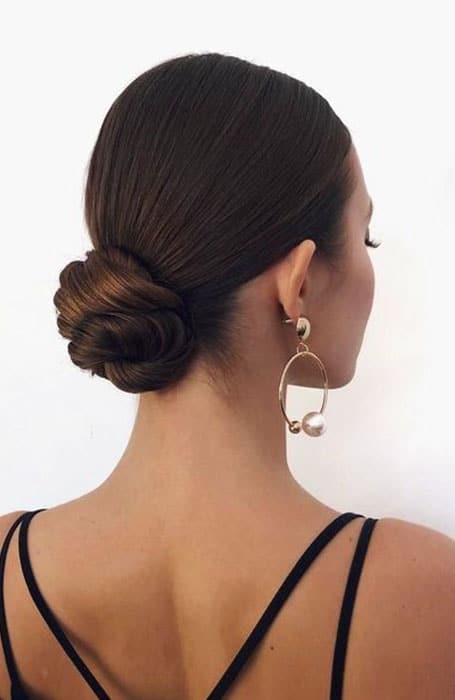 12. French Twist Chignon
Those familiar with the history of the chignon will know the word comes from the French phrase, 'chignon du cou', which means nape of the neck. French twist is a popular technique created by gathering the hair and twisting it until it turns on itself. Combining these two fabulous French hairstyles will create a stunning timeless look that is perfect for weddings and formal occasions.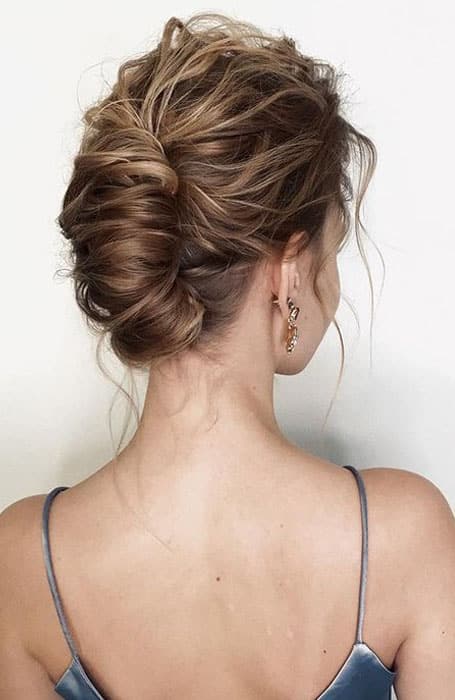 13. Everyday Chignon
You have seen examples of how the chignon is perfect for formal occasions and significant events, but what about every day? The good news is that it can look great for your daily errands. It is an excellent way to keep the hair out of your face and off your neck. Try a slightly messy finish to give it that cool girl and relaxed vibe.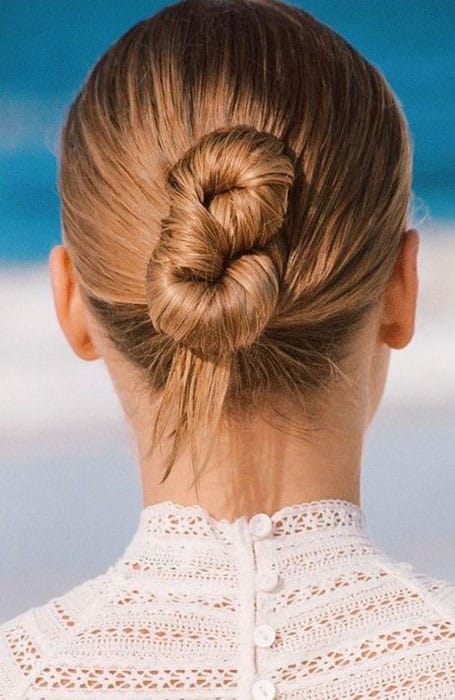 14. Loose Chignon Updo
A tight chignon will give you that polished finish ideal for formal occasions. However, creating it loose will allow you to achieve your desired femininity and softness. This can be appealing because it is incredibly flattering and practical, it will also put less tension on the scalp. For added cool points, leave a few strands to fall around your face.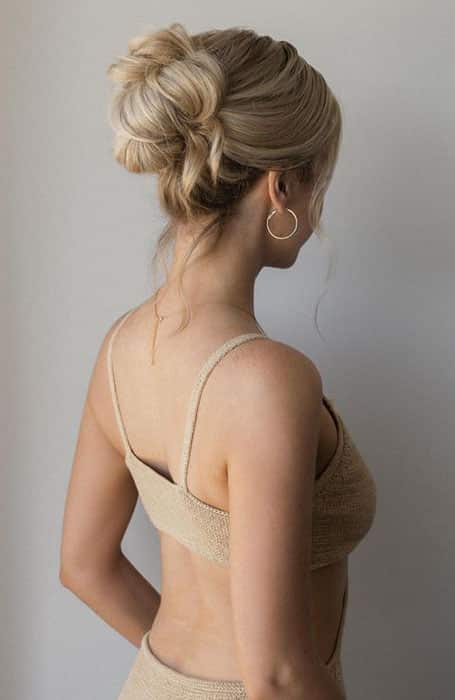 15. Low Chignon With Hair Clips
What women love about this hairstyle is how many options they are to make it feel unique! Wearing a low chignon with hair clips combines the classic element of the look, with something modern (the accessories) for a fresh and exciting twist. Try pearl details for a touch of glamor or something colorful for a bold finish.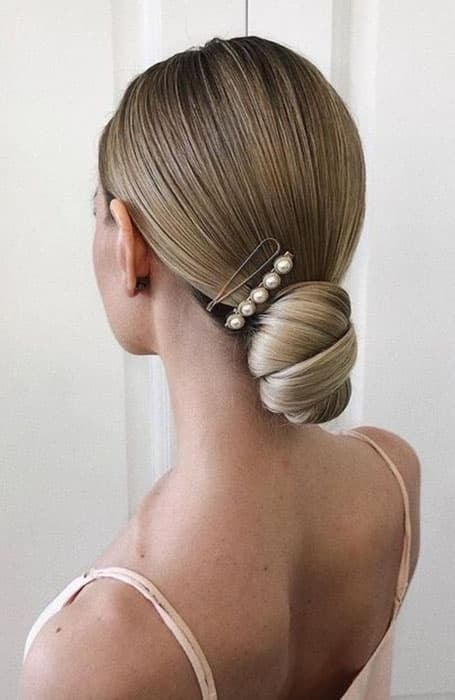 16. Messy Chignon
Messy hair, don't care? We must admit we love the unstructured finish and the carefree aesthetic that wearing the chignon in this way creates. It also gives you more room for mistakes, as each piece does not need to be perfectly aligned or included in the updo at all. It is more suited to casual settings, but the texture that it creates makes your strands feel full and voluminous. And really, who doesn't want that, right?!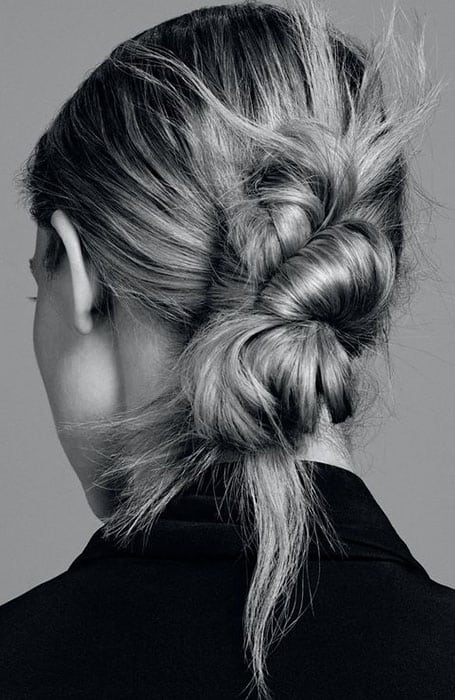 17. Middle Part With Chignon
For a sleek finish, try wearing the chignon with a middle part and smoothing down the front of the hair to create that perfectly polished feel. This parting is stunning on those with symmetrical features and can enhance your face shape. But it can be tricky to pull off. For those with the confidence it takes, this is a gorgeous way to draw attention to your face.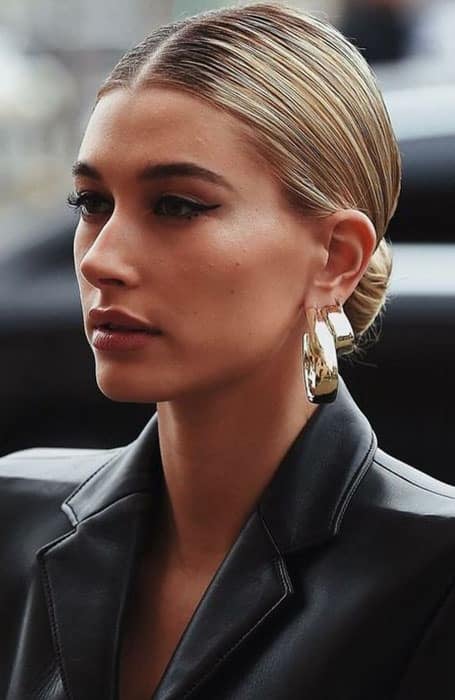 18. Natural Hair Chignon
The chignon is stunning on all textures, including natural hair. This is an excellent way to add a bit of fullness to the finish, and the bun part of the look will look fluffy and voluminous. Sleek the front to create the perfect balance, giving you a hairstyle you will want to wear every day and everywhere.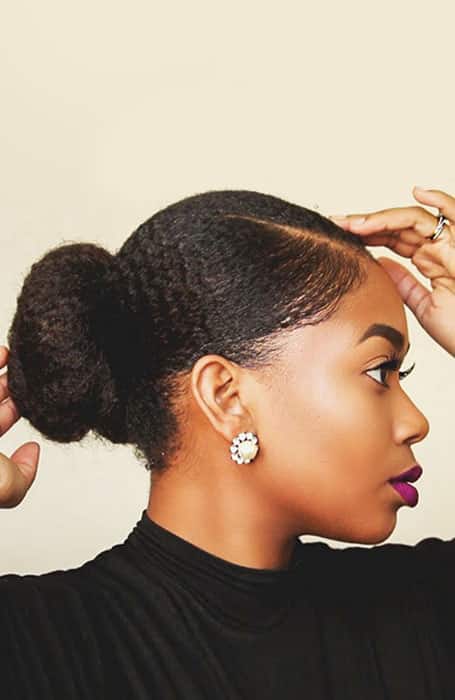 19. Neat Chignon
There is so much to like about the chignon. Opting for a neat finish will add to the classic and sophisticated look this hairdo has been known for. Ensuring all of your strands are perfectly in place can be challenging, especially on more textured locks. The result is worth it and ideal for those who prefer a minimalist aesthetic.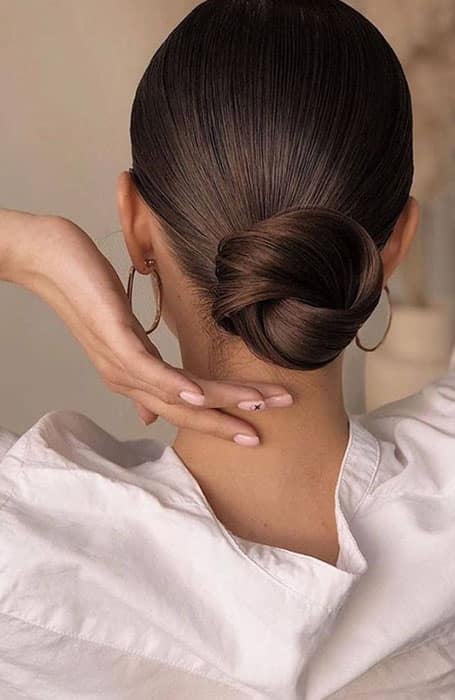 20. Side Chignon
For a little twist on the classic, try a side chignon. The defining feature of this look is that the hair is worn to the side instead of in the center at the nape of the neck. This can make the hairstyle feel more modern and allow you to show it off. How can you miss it when it's on the side? To complement your 'do sweep your strands to the same side as your bun, making it more balanced.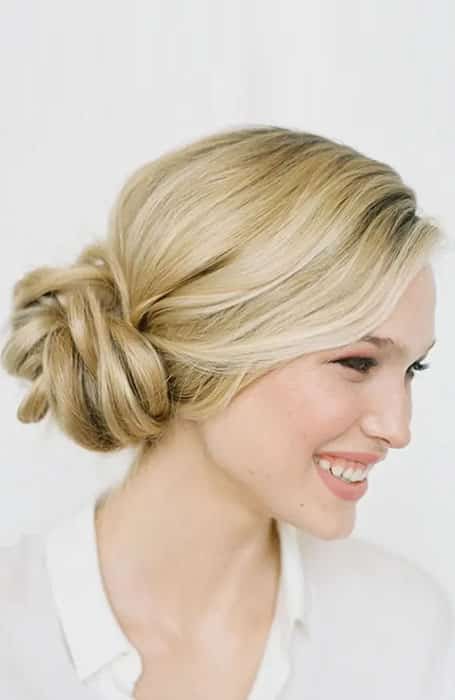 21. Slicked Back Feather Chignon
Some versions of the chignon are simple and created to appeal to those who want a minimalist aesthetic. Others are bold and daring, designed to be shown off and get you noticed. Enter the sleek back feather chignon, which is the perfect option to be paired with bold eyeliner or a bright eyeshadow. The balance of the hair appearing neat in the front and messy in the back makes this a fun and new option.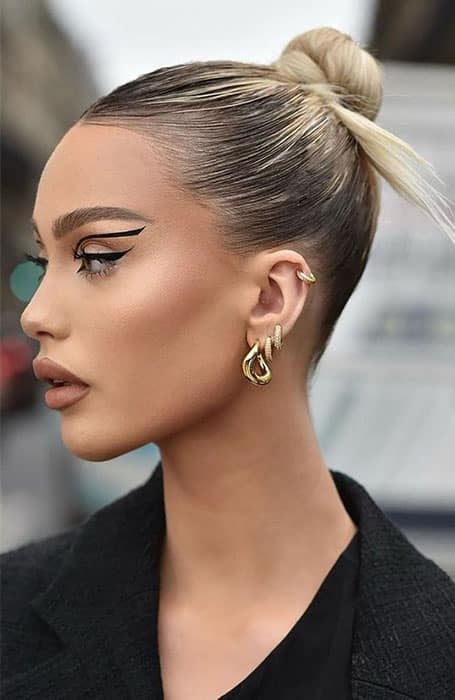 22. Sophisticated Chignon
Is there anywhere you cannot wear this updo? The answer is no, because there are so many versions that appeal to everyone and will look good everywhere. The sophisticated chignon is the approach to be taken by those who prefer timeless and classic styling options, and the low bun will be swept up and tucked in in a neat way that makes you look polished.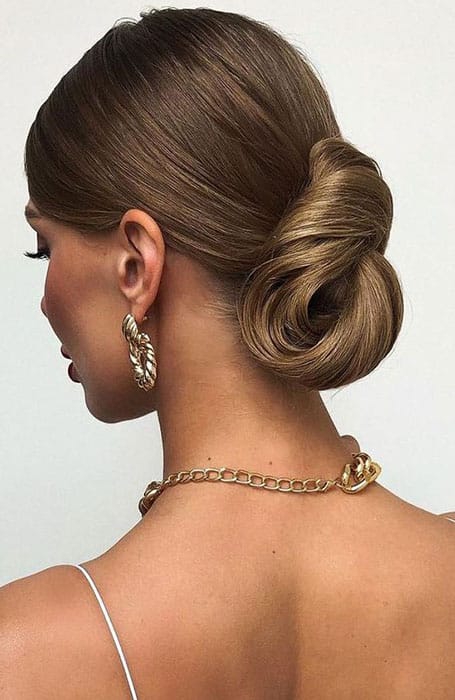 23. Low Feather Chignon
Leaving a piece of the bottom of the chignon to be loose to create a feathered effect is an excellent look. It feels modern and youthful, and it is a way to transform the classic style into something fresh and exciting.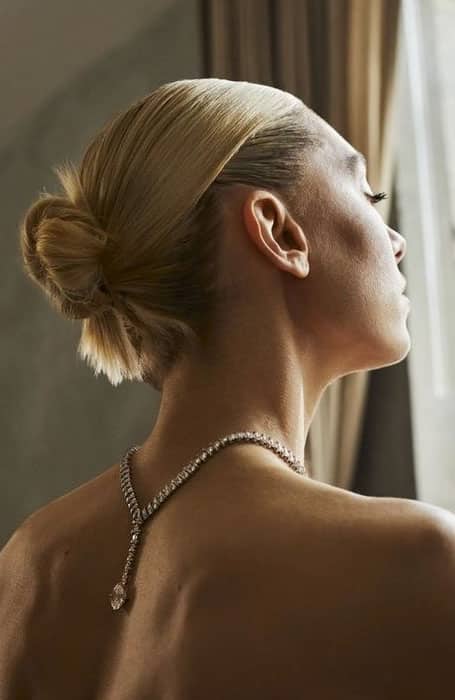 24. Twisted Chignon With Backcomb
The twisted chignon with backcomb may appear to be an intricate look that will take time and effort to get right. But once you do, this will become your go-to style for all formal occasions. There is something so simple yet beautiful about the finish. It will be complemented by leaving side tendrils to frame your gorgeous face.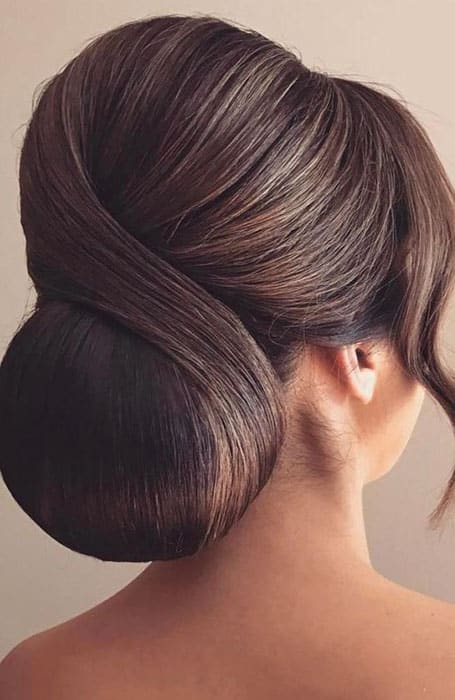 25. Wedding Chignon
Deciding on the right hairstyle for your wedding can be a challenge because there are so many beautiful looks to choose from. Some will argue that there is no better option than a classic updo, and you may agree after seeing this chignon. It is the perfect balance of style and sophistication and will work with all hair types. It is also a 'do that lends itself well to accessories, whether that is a tiara or a pearl clip.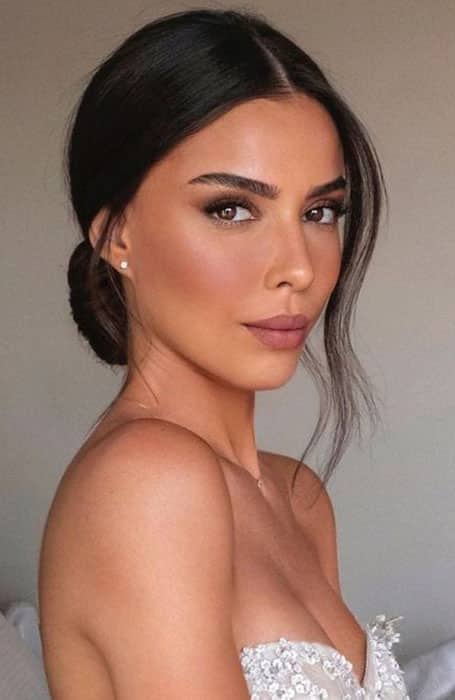 Chignon Hairstyle Buns FAQs
What is a chignon?c
A chignon is a type of updo that typically has a formal and sophisticated feel to it. It comes from the French phrase chignon du cou, which translates to the nape of the neck, which is where the classic version of this style will sit. It has a knot or coil shape and can be tucked or created around a hair accessory.
How to do a chignon?
There are many versions of the chignon, but most are created by tucking the hair and wearing it at the nape of the neck. It could take time and effort to create, depending on the detail required to do the style. The process could also differ if you want a braided style or a neat version. Some versions of the chignon use hair accessories and are built around this, for example, a hair clip. It would be best to watch a YouTube video to find a step-by-step guide on how to do one yourself.
How to do a messy chignon?
For a messy chignon, you want to create a deliberately unstructured finish with pieces of the hair appearing loose. They could also frame the face. Watch a YouTube tutorial online to familiarize yourself with the process.
How do you hold a chignon in place?
The chignon is often held in place with hair pins or accessories.
What is the difference between a chignon and a bun?
The bun is a hairstyle that is created by twisting the hair into a round shape. It can be worn in different ways, including high on the head, low, on the side, or on top. In contrast, the traditional approach to the chignon features tucked hair at the nape of the neck. They may look very similar in appearance, but they are subtle differences.
How to Pronounce chignon?
The word chignon is pronounced like Shee-Nyon.
SUBSCRIBE TO OUR NEWSLETTER
Subscribe to our mailing list and get interesting stuff and updates to your email inbox.