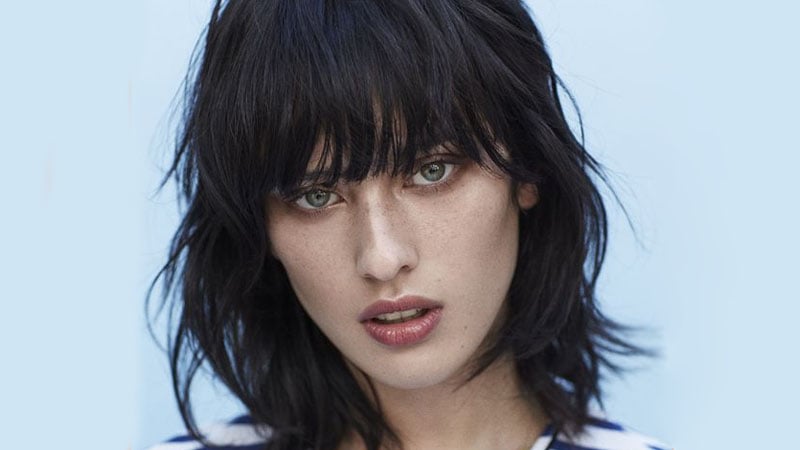 One of the simplest ways to refresh and update your haircut is with bangs. Fringes instantly change your look, and there are endless varieties of options to suit every face shape and hair type. From a blunt fringe to curtain bangs and wispy, face-framing styles, there's one to suit you. So, if you're considering getting the chop, keep reading to discover the best hairstyles with bangs right now.
RELATED: How to Style Bangs Like a Pro
1. Curly Blonde Bangs
Curly hair is gorgeous with bangs, and the texture will make your bangs appear bouncy and voluminous. It can also create a more blended cut so that your bangs look natural and flow into the rest of your hair. This is an excellent option for someone who loves the idea of bangs but doesn't want to spend a long time styling or maintaining them. Your bangs can be adapted to suit your face shape, and you can experiment with different hair accessories. Blonde can draw attention to your hair and make your cut more noticeable. It is also a great way to add lift and dimension to your hair and brighten your appearance. The downside to lighter hair is that it is easier to see the damage, whereas darker locks are better at masking this.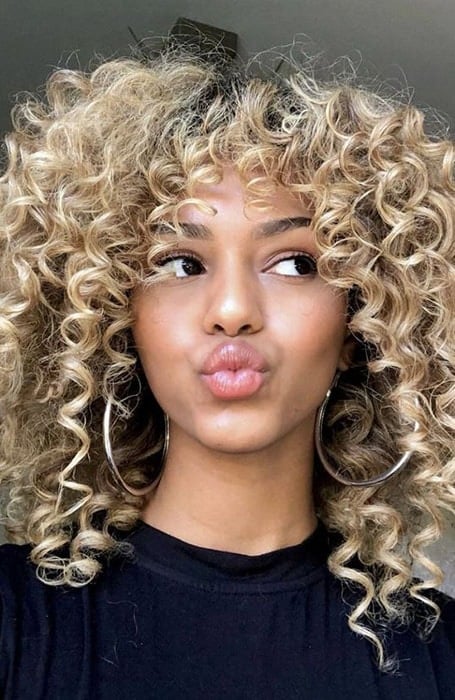 2. Beach Waves with Bangs
For a beautiful, carefree aesthetic, opt for beach waves with bangs. Bangs can be adapted to suit your face shape, hair type, length, and texture. They can transform your appearance and highlight your best features. They can also make you look younger by disguising signs of aging on the forehead, such as fine lines and wrinkles. Beach waves will complement your bangs, and the tousled appearance is gorgeous and feminine. They can be dressed up or down, with natural makeup for the daytime or a darker, more daring lipstick shade for the evening. The most appealing thing about wavy locks is that they are textured and will create movement. Use a curl-defining cream or a sea salt mist to enhance the texture and add volume.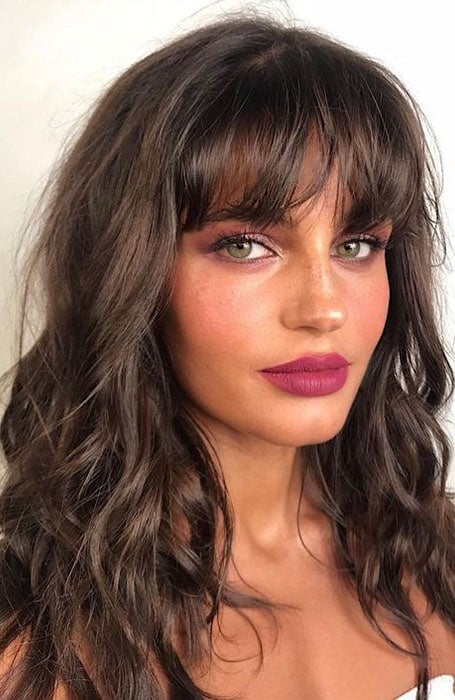 3. Half Up Half Down Hairstyle with Bangs
There are many ways to style your bangs, including with a half up half down hairstyle. The appeal of this updo hairstyle is that it is simple to achieve and is perfect for informal settings. The style is more noticeable on longer hair but can also be achieved for a simple and subtle appearance on shorter cuts. Whereas some updos can look sleek and polished, this appeals to those wanting a more relaxed aesthetic. The style can make your hair look less bulky and help make the bangs the focus of your appearance. It can also show off your neck and ears, so use this as an opportunity to wear your favorite jewelry. The right bangs can flatter your face shape and draw attention to your best features. So, work with your hairstylist to find the cut that complements your hair texture and type.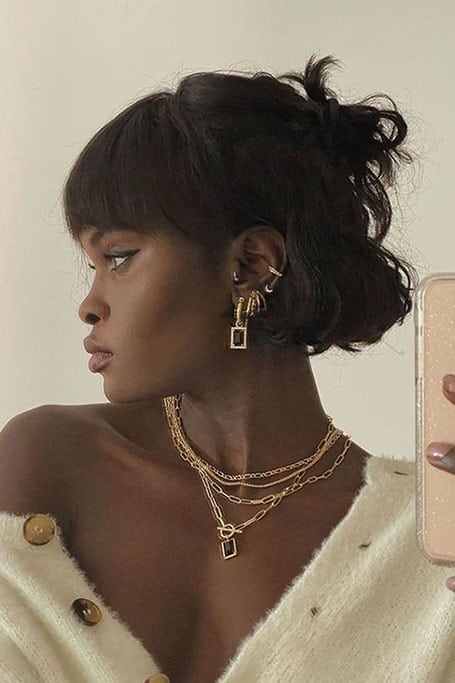 4. Backcombed Hairstyle with Bangs
For a glamorous 60s hairstyle, a backcombed hairstyle with bangs is ideal. This look is charming, sophisticated, and stunning when created with soft, messy waves, a small bouffant, and bangs; think of Brigitte Bardot's iconic style. Backcombing is achieved by brushing the hair towards the scalp and helps to create volume. Adding bangs to the look can give it a softness and will draw attention to your face. Depending on hair texture, length, and face shape, there are several different bangs to choose from, but a wispy fringe that frames your face is ideal.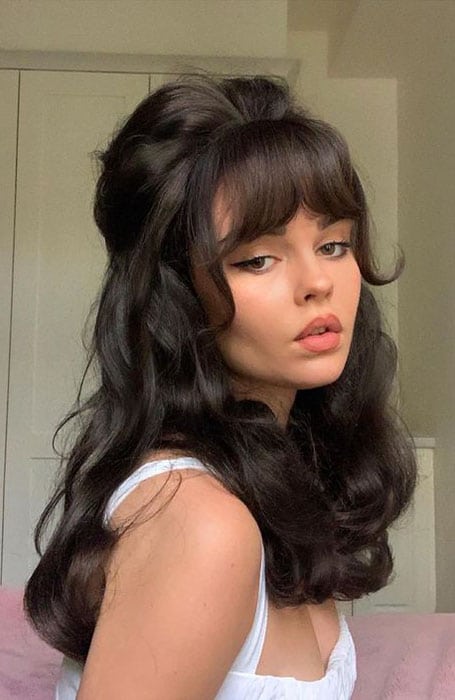 5. Pixie Cut with Bangs
The pixie cut is one of the most classic women's hairstyles. It is a low-maintenance short hairstyle that can easily adapt to suit your hair texture and hair type. You can also style it with bangs to complement your facial symmetry and create a flattering appearance highlighting your best features. The cut can add volume to your hair. Your bangs can be long or short, but keeping them longer will give the illusion of length to your haircut. For a chic but casual appearance, opt for messy bangs that add a softness to your look.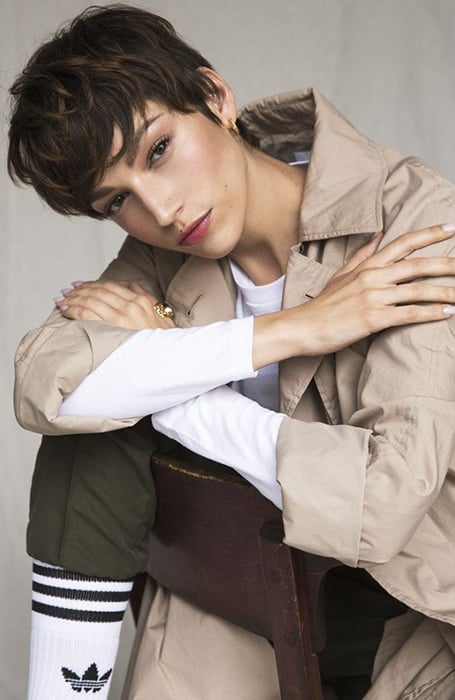 6. Grey Wavy Hairstyle with Bangs
Whether you are a woman embracing her natural grey hair or choosing to dye it grey, there are many ways to wear your hair, including with bangs. Bangs can transform your face, highlighting your facial features or helping to create symmetry. They can also disguise problem skin or signs of aging on the forehead. There are many styles to choose from, allowing you to adapt your fringe to suit your face shape, hair texture, and preferred length. Bangs with wavy hair are a great pairing, and how the hair falls can create a pretty, tousled appearance. Keep your bangs long or wispy, or create a contrast with short, blunt bangs.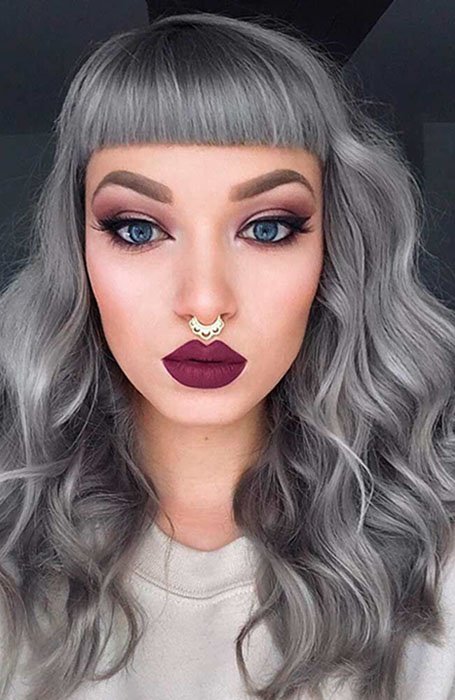 7. Ombre Bob with Bangs
The bob haircut is a timeless classic for women's hairstyles. It is easy to wear and incredibly versatile as it can be adapted to suit your hair texture and complement your face shape. You can also experiment with different partings and bangs, which can flatter your facial features. If you want to add dimension to your hair and give it a lift, the ombre hair color technique is an excellent way to achieve this. Ombre blends two colors, one light, and the other dark. It can be done with natural hair colors, or if you want to make more of a statement, try out bold and bright shades.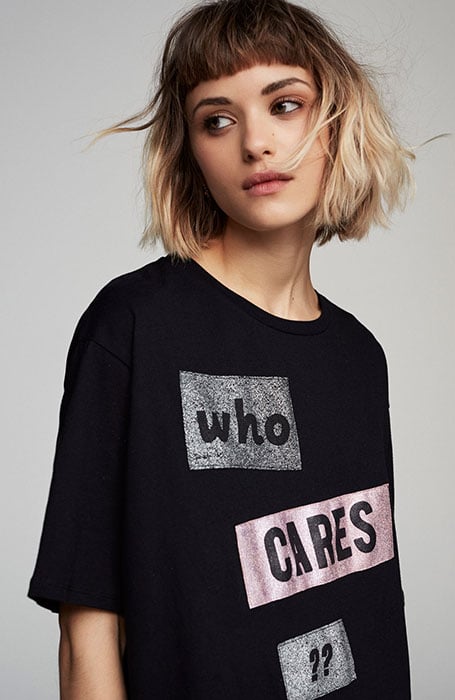 8. Side Parted Fringe with Pixie Cut
The pixie cut can be adapted to suit women of all ages. It may be a short haircut, but it has a surprising amount of versatility, allowing you to cut the hair in different lengths, add layers for dimension, and experiment with fringes. A side-parted fringe can be incredibly flattering. The fringe can also add volume and highlight your facial features. The side part will flatter most face shapes and is often easier to wear than blunt bangs cut across the face. This look can be done with various lengths, depending on how dramatic you want your appearance to be. You can also have fun with accessories, adding a cute barrette or headscarf.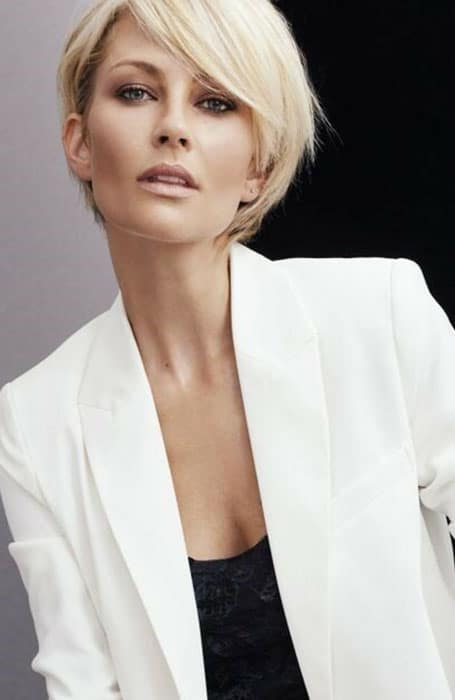 9. Updo with Short Bangs and Undercut
If you are a woman who wants a haircut that is edgy and fun, look no further than short bangs and an undercut. The undercut can be paired with any hairstyle, and it has a rebellious vibe; the hair is shaved down on a section of the hair. This helps create an interesting contrast between the undercut and the rest of your hair. It can also make your hair on top look fuller and give it volume. When deciding on bangs to complement this look, you may wish to choose something just as daring, like baby bangs or blunt bangs. Finally, to show off both your bangs and your undercut, it would be a good idea to wear your hair in an updo. This will give you an undeniably cool appearance.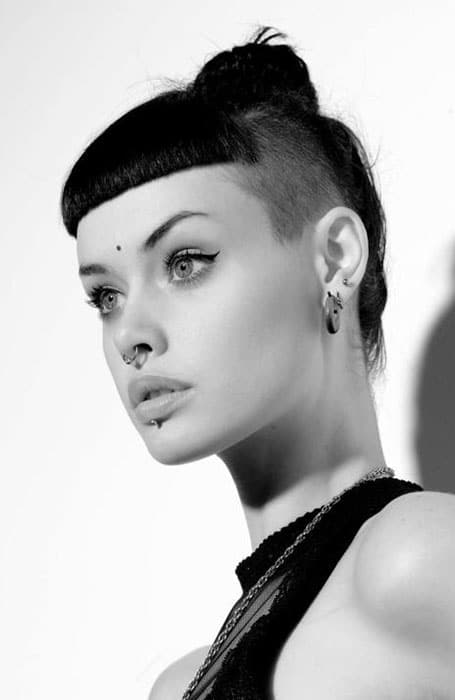 10. Bangs with Crown Braid
Bangs can be added to almost any hairstyle, allowing you to experiment with the look that will work best with your hair texture, type, and length. The appeal of bangs is that they can transform your appearance; perhaps you want a more rebellious vibe and a cut that demands attention. Or you can add a softness to your appearance and highlight your facial features. There are many options, but for a great look for formal occasions or special events, consider wearing your hair in a crown braid; it is a French braid that wraps around the head. To add texture, the braid works best on hair that have not been washed for a few days.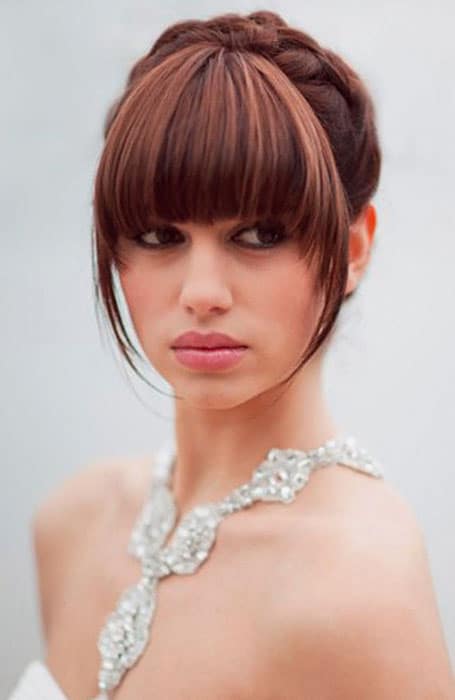 11. E-Girl Bangs
The E-girl style has become incredibly popular over the last few years because it is expressive and fun. One of the trends to emerge is hair that demands attention. This is achieved by adding bright and bold colors or experimenting with different dyeing techniques, split dye, or statement highlights. To draw attention to your bangs, you can dye them a completely different color from the rest of your hair. This could be a natural hue for a more subtle approach or a bright shade like pink or green. Your hairstyle is not meant to be blended but makes a statement and is perfect for the woman who wants to stand out.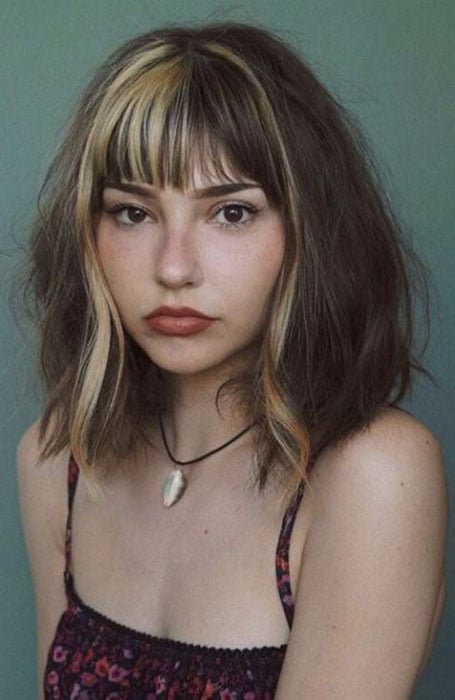 12. Curtain Bangs with a Bun
Curtain bangs have returned in recent years because they are so stylish and easy to wear. The way they are cut is also incredibly flattering, as they are parted, and help frame the face and draw attention to your features. There are several ways to cut your curtain bangs; barely there and wispy for a subtle and chic approach or thick and full for a retro vibe. You have plenty of versatility in styling, too, whether you leave your hair long and loose, cut it into an edgy short bob, or tie it up with an updo. The bun is one of the most effortless looks to try out, and it requires little skill but can look sophisticated and elegant.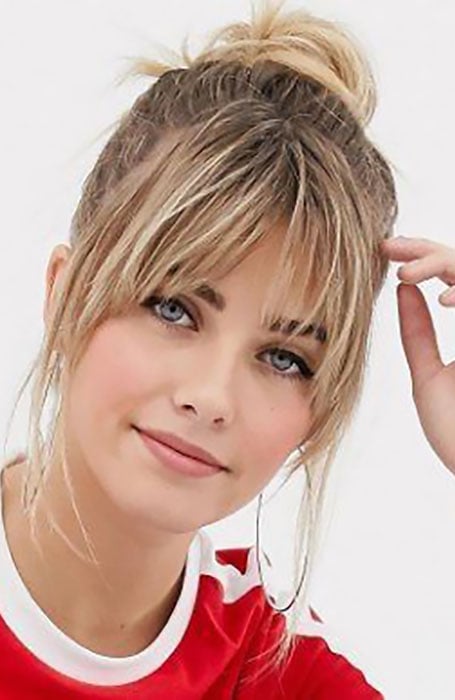 13. Protective Hairstyle with Bangs
Wearing your hair in a protective hairstyle can aid hair growth, lock in moisture, and reduce styling time. It also lets you take a break from heat styling, and most braided hairstyles last several weeks. They can also be adapted to suit various hair types and lengths, and there are many different ways to wear them. You can choose box braids created by sectioning the hair into squares and creating individual plaits—or passion twists, which are feminine and cool. You could also try out bangs, which are an excellent addition to your braids and will highlight your face. You can play around with different accessories for a more daring appearance, like bangs with beaded ends. The result is striking and bold.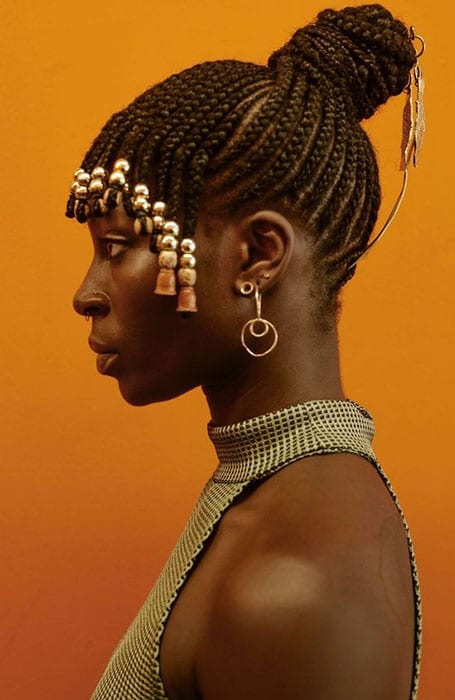 14. Bangs with Ponytail
You can wear your bangs in various styles, including simple updos like the ponytail. Wearing your hair up can also make your bangs the focus of your look, which can be incredibly flattering. The ponytail is practical and stylish and can be created in various ways, depending on the look you wish to achieve. Wearing it high is a great choice for more formal settings and can show off your neck and jawline. In contrast, a messy, low ponytail can create a more relaxed aesthetic. You can also try out the 80s favorite, the bubble ponytail, which is made with hair elastics tied down its length. This helps to create a small bubble-like appearance.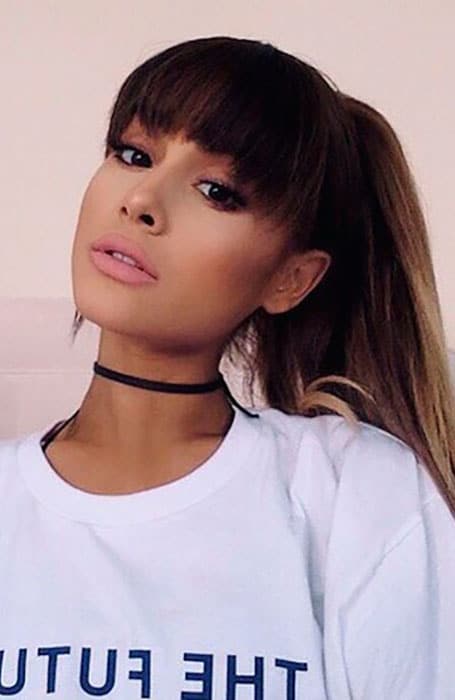 15. Bangs with Space Buns
Space buns are a 90s favorite that is super cute and will give you a youthful appearance. This hairstyle can be practical if you live in warm climates and want to keep the hair off your neck, but it is also fun. The buns can show off the texture of your hair and can be created either small or big, depending on your hair length and thickness. It is also an excellent way to tame curly hair or wavy hair. The style can be paired with bangs of your choosing, from choppy to wispy bangs; find what works best with your face shape and hair type. Wearing bangs with your space buns creates a more balanced appearance, and this is the perfect choice for festivals, summers at the beach, or a brunch date with your besties.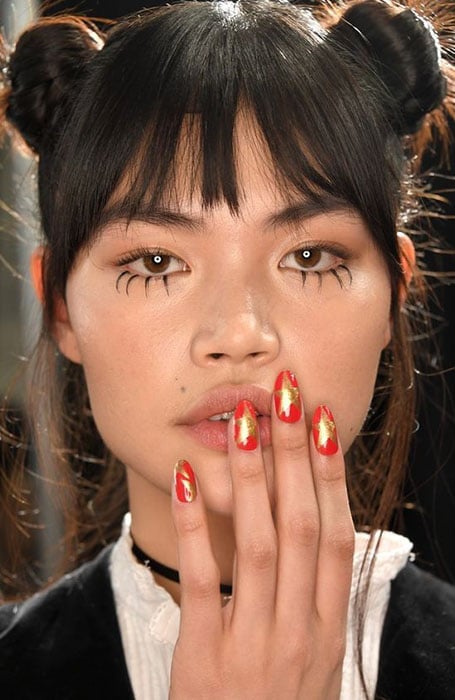 16. Coily Hair Bangs with an Updo
If you have coily hair can be challenging to style because it is often very dry. An excellent alternative would be to wear your hair in a practical and stylish updo. You can style it with bangs that draw attention to your facial features for a more relaxed aesthetic. This can be incredibly flattering. Bangs will also highlight your natural hair texture and are an excellent way to show off your curl pattern. The appeal of bangs is that they are incredibly versatile and can be worn with various hair textures and in varying lengths. Updos can keep the hair away from your face, drawing the eye to your neck, cheekbones, and jawline.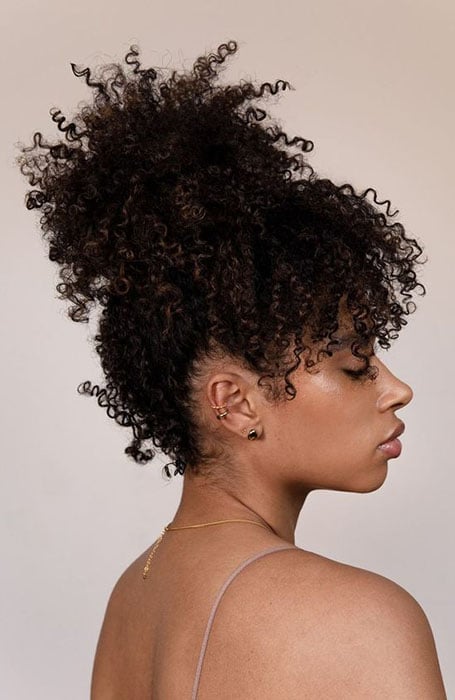 17. Pink Bangs with Platinum Blonde Bob
A platinum bob with pink bangs is a look for a woman who wants to stand out from the crowd. Choosing bright and bold hair colors is a great way to express yourself and have fun with your hair. Pink is a girly and happy hue and is associated with femininity and love. There are various shades to choose from, but picking a more muted tone will be easier to wear and create less contrast. Platinum hair is another color that gets you noticed and will be a great base color to highlight your bangs and pink hair. Wear your bangs so that they frame your face and compliment your features, or keep them short and blunt for an edgy appearance.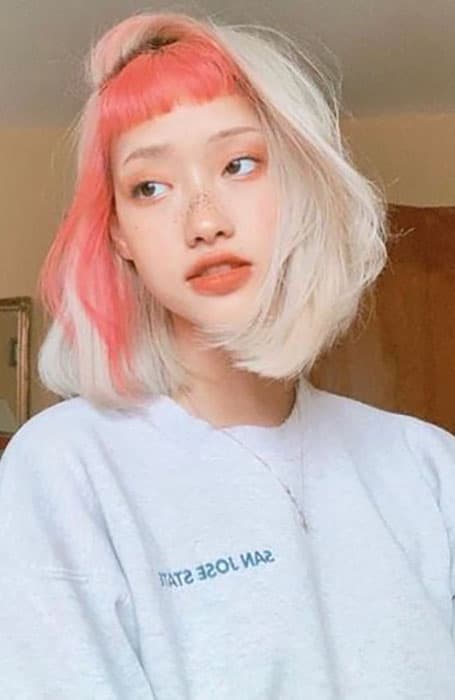 18. 60s Inspired Hairstyle with Bangs
The 60s have inspired us with fashion, beauty, and hair trends, and many of these looks are making a comeback, albeit with a modern twist. If you want a sophisticated look perfect for all occasions, look no further than this 60s-inspired hairstyle with bangs. You can pair your hair straight or with soft, messy waves with curtain bangs. These can frame the face and compliment your features, particularly drawing attention to your eyes and cheekbones. The 60s was also the time of the headband, and adding one to your look is the perfect finishing touch. Opt for a headband in a neutral color for a more subtle approach or a bright and bold print if you want to express your playful side.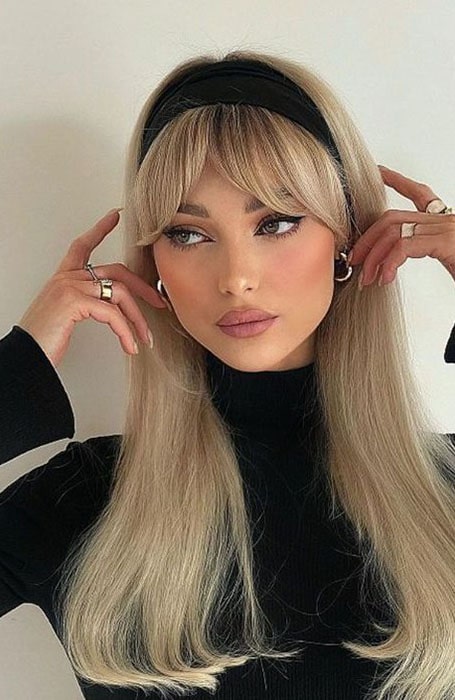 19. Ponytail Bangs with Natural Hair
Natural hair is gorgeous, and the texture can make even the most simple look attractive and voluminous. Embracing your natural locks and avoiding heat and chemical styling can also make for healthier, structurally stronger hair. Consider ponytail bangs if you are looking for a cute and youthful way to wear your hair. Putting your hair into a simple updo is a great way to keep it out of your face and draw attention to your neck and bone structure. This can be incredibly flattering and can highlight your facial features. The bangs can be altered to your preference, and the right choice can complement your face shape and hair texture.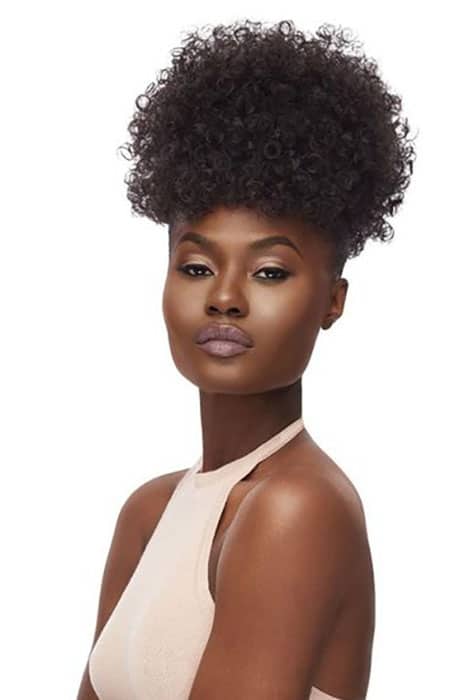 20. Long Pixie Cut with Short Bangs
The pixie cut can be adapted to suit your hair texture and is also done in varying lengths. A long pixie cut with short bangs is ideal for trying out a short haircut but still gives the illusion of length. The added length gives you more versatility for styling, while the short bangs create an interesting contrast. The length at the back can also add movement and volume to your hair, making it a full, healthy appearance. This low-maintenance short haircut is easy to style, but you must visit your hairdresser regularly to trim your bangs so they remain at the desired length.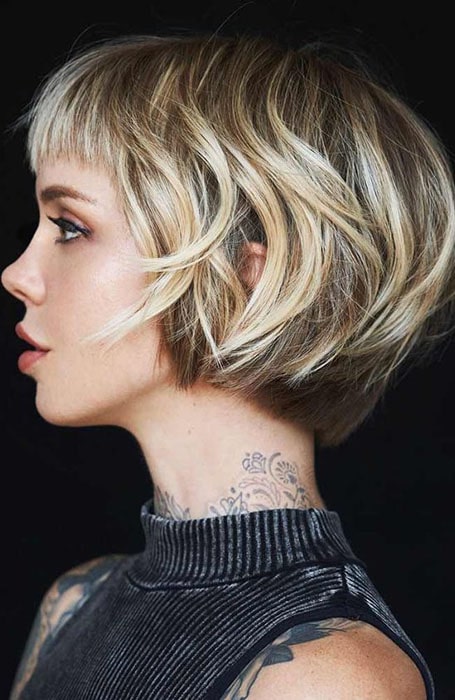 21. Pink Hair Top Bun with Wispy Fringe
Wearing your hair in a top bun with a wispy fringe is a gorgeous and feminine hairstyle. The top bun is chic and practical, a way to keep your hair off your neck, and a quick and easy style. Wispy bangs add a softness to your appearance, and they can be cut to frame your face and draw attention to your eyes and cheekbones. This hairstyle can be adapted to suit your hair texture but also lends itself well to personalization. This can be achieved by different coloring techniques or by opting to dye your hair a bold shade. There are various shades of pink hair color to choose from, from washed-out pastels to vibrant hues, depending on how dramatic you want your appearance to be. It is also a color that can brighten your appearance and add a feminine touch to your hair.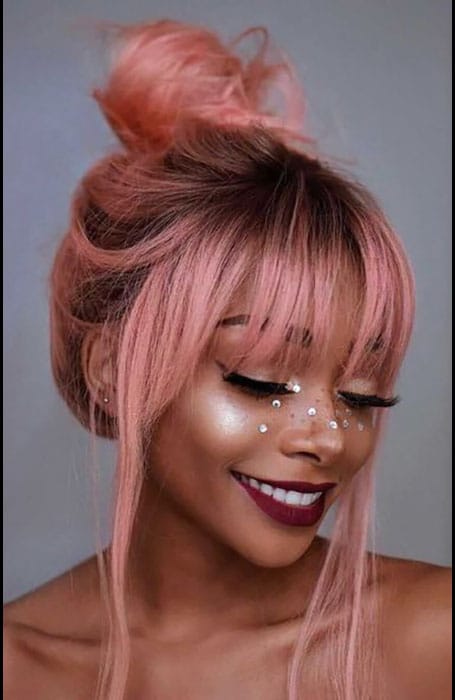 22. Short Bangs with Medium Length Hair
Medium-length hair is versatile and gives you enough length to try out interesting hairstyles, including updos, but it is not so long that it is high maintenance. One way to try out bangs on this hair length is by making them short and blunt, creating an interesting contrast. You can cut your hair with choppy layers to add volume and dimension or add highlights throughout for movement and to brighten your hair. Alternatively, you can keep it straight and sleek or opt for loose, beachy waves. There are so many options for styling that you can create the hairstyle of your dreams.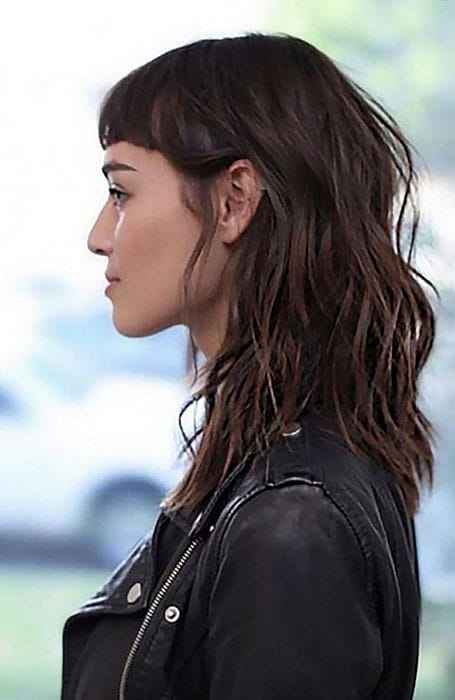 23. Very Short Bangs
Very short bangs, or baby bangs, as they are also referred to, are a trendy and edgy addition to any haircut. These bangs are cut well above the brow and can be textured or blunt. They are more daring to pull off than longer cuts and very noticeable, making them a great option if you want to draw attention to your face, especially your forehead. You can keep the rest of your hair short for a fuss-free, low-maintenance short haircut edgy, cool choice. Or create a contrast with longer hair and your super short bangs.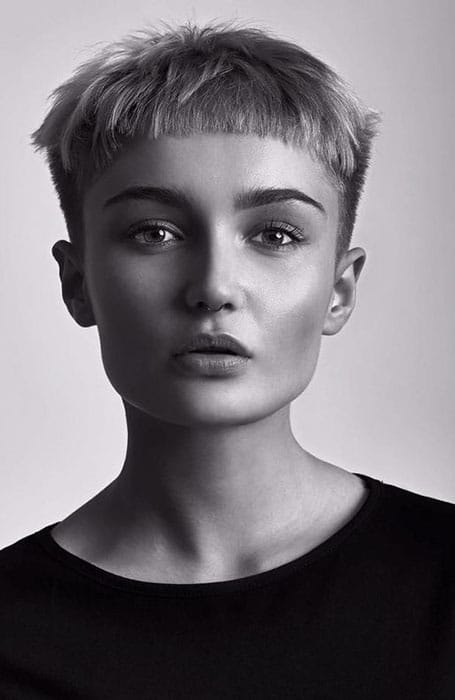 24. Y2K Hairstyle with Bangs
The Y2K fashion and beauty are fun and expressive. The term comes from the Y2K computer bug that plagued programmers in 1999, and this is a blend of fashion inspiration from the 90s and early 2000s. When styling your hair, you can get creative by adding fun accessories like little butterfly clips or experimenting with bright and bold streaks of colors. Your bangs can be long and textured or simple and wispy, depending on the look you wish to achieve. Adding bangs to your hairstyle can give it an update and can draw attention to your features. The appeal of bangs is that they can be adapted to different lengths and suit your hair type and face shape.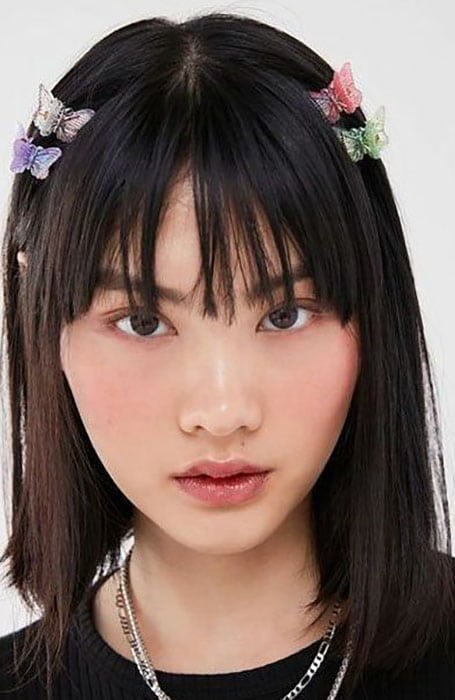 25. Bright Pink Hair with Bangs
Channel your inner Barbie with bright pink hair with bangs. There is no denying that this gorgeous shade of pink will turn heads, so you need the confidence to pull it off. That said, bold hair colors are a way to have fun with your appearance and express yourself; it also tells the world that you are a risk-taker. Color is associated with positivity and can be a way to remind yourself to look on the brighter side of life. To complement the hue, you can get creative with your makeup and wear a similar shade of pink lipstick or eyeshadow. Not that you need more ways to draw attention to your face, but thick bangs can help to do that too. They will give you a youthful appearance and highlight your eyes and cheekbones.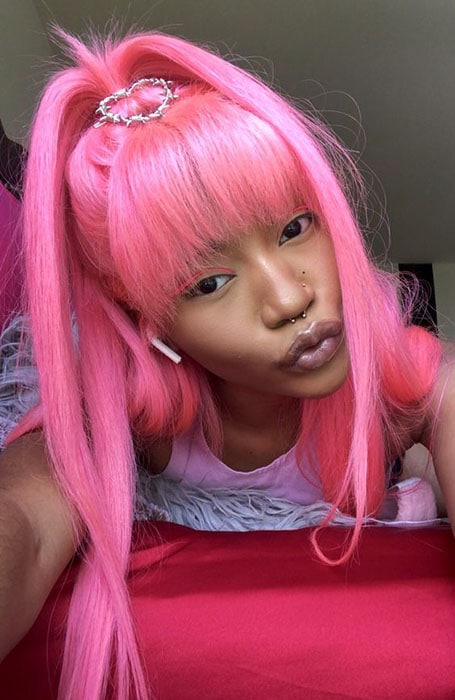 26. V Bangs
If the standard bangs are not your liking, maybe you want something more daring? If so, V bangs, also referred to as a full-pointed fringe, is the look for you. As the name suggests, these bangs are cut into the shape of a V. It is a look that creates volume and contrast between the fringe and the sides of your head and the hair on top. It is striking, edgy, and ideal for those with thin hair, as it can create the illusion of thicker, fuller strands. You can wear your hair down for a more blended approach or put it into an updo hairstyle to show off the cut even more. Although these bangs require maintenance, they are surprisingly versatile and can be worn on hair of various textures.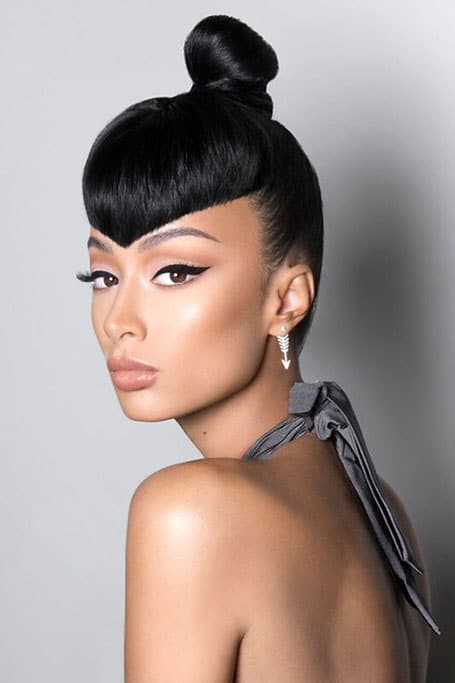 27. Curly Hair Pigtails with Bangs
Pigtails are a style you may not have worn since you were a little girl, and they indeed have a very youthful appearance. That said, there is a more modern approach to how you can wear these side ponytails, and they can be adapted to suit hair of all textures and lengths. Wearing it up can also be a way to tame unruly hair. They can be softer on curly hair and when paired with bangs. The bangs will transform your face and draw attention to your eyes. Plus, it is a great way to show off your hair's natural hair texture. Just remember when cutting your bangs to account for shrinkage.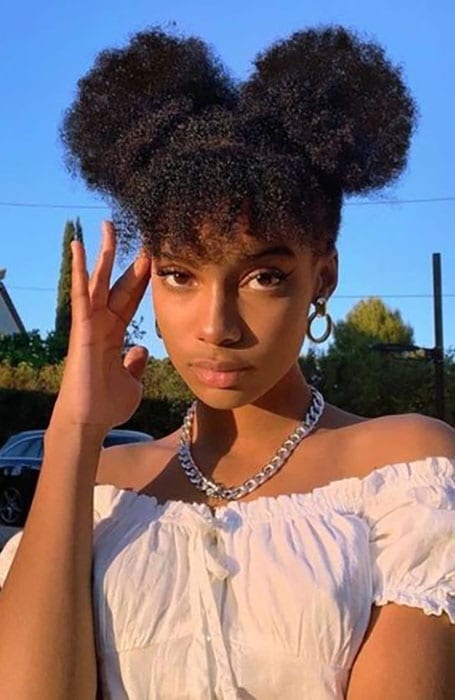 28. Rose Gold Bob with Bangs
The bob is one of the most gorgeous and versatile women's haircuts. It is exceptionally flattering and versatile and can be adapted to suit various hair textures and face shapes. You can also experiment with different lengths, colors, partings, or bangs. Bangs can make your haircut modern and can flatter your face. They can also give joy to a youthful appearance and draw attention to your best features. If you want a different look, try rose gold hair dye. The appeal of this color is that it is flattering on most skin tones. You can opt for a more washed-out, muted color for a look that is easier to wear and will lend itself well to most occasions. For a subtle approach, you could also add rose gold highlights to naturally blond, brown, or red hair to create a slight contrast and give your hair dimension.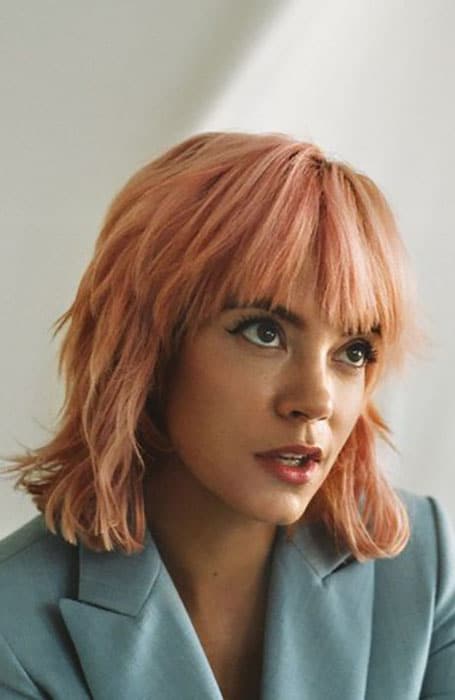 29. Faux Bangs Updo
If you love the idea of bangs but are not quite ready to head to the salon to get them cut, then a less permanent option is faux bangs. These fake bangs are a fun way to experiment with your hair and see if bangs would suit your face shape and hair texture. They are easy to create, especially with longer, more textured hair, and can be incredibly feminine and flattering. Use a headscarf to draw attention away from your forehead and highlight your eyes for a chic finish. A silk headscarf can also prevent frizz and friction. There are multiple styles to choose from, letting you pick the pattern, color, or print that appeals to you the most.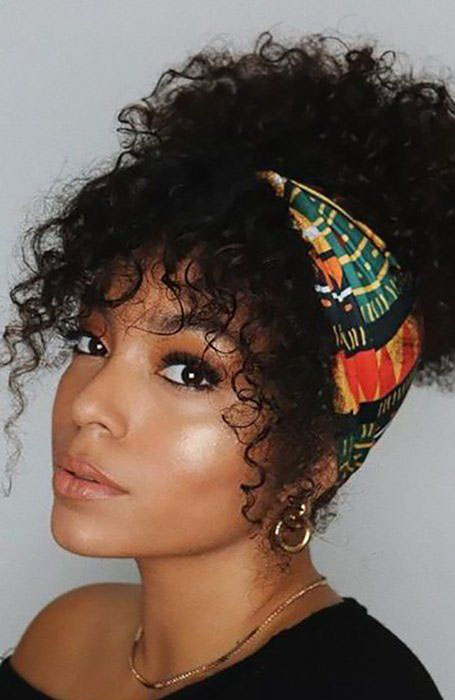 30. Side Swept Bangs
Side bangs are a pretty and versatile way to style your hair. Bangs can draw attention to your face, and when one side is longer, the way these are, it can create a flattering finish that balances your facial features. It is also one of the easier bangs to style, and you do not have to worry about getting them trimmed as often because the hair can grow out more naturally. Side bangs work best with longer hair, such as a lob, and will gradually blend in with the rest of your hair. You can adapt them to suit your hair texture, keeping them sleek and straight, or embracing your waves by styling your hair in a deliberately messy, tousled appearance. Chic and feminine, these bangs will suit women of all ages.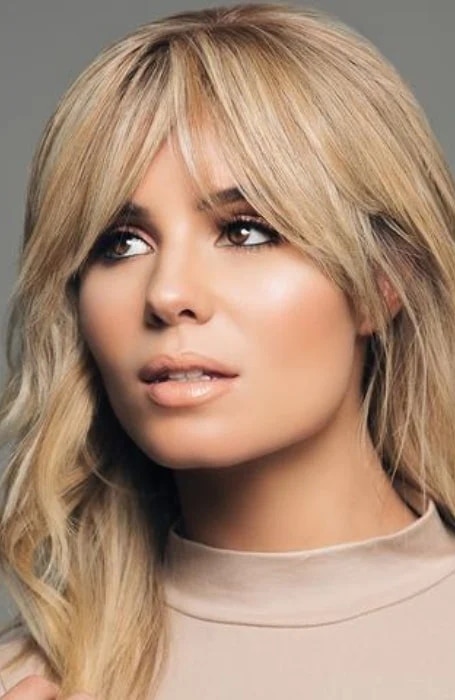 31. Side Swept Bangs with a Lob
What is not to love about side swept bangs with a lob? The lob hairstyle is one of the most versatile and chic women's haircuts. It is a timeless classic cut that gives you more length and, thus, more versatility than the bob and falls between the chin and clavicle. Side-swept bangs have a gorgeous, feminine appearance. They can be adapted to suit your face shape and hair texture and give you a youthful look. They can flatter your face and highlight your features but are also low-maintenance and easy to grow out. This makes them ideal for a woman who wants pretty bangs that don't take bucketloads of confidence to pull off.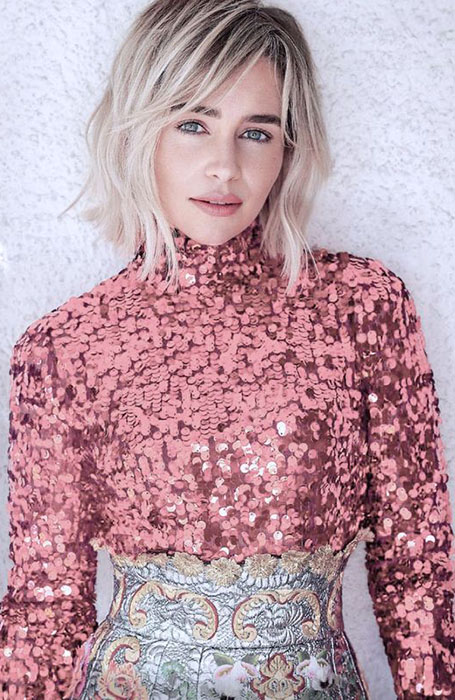 32. 80s Inspired Bangs
The 80s was a decade where it was all about doing things in excess. Big hair that makes a statement! Opting for 80s inspired bangs will leave you with gorgeous, voluminous locks. These bangs work best on curly hair, or you can create curly bangs using heat styling. They can frame your face and are incredibly flattering. They can be adapted to suit most face shapes and look flattering on women of all ages. The drawback is that this requires much time for styling and trims. However, you will likely find this worth it because all eyes will be on you whenever you enter a room. To channel the 80s, you can also have fun with oversized hair accessories, adding a personality to your appearance and making it more fun.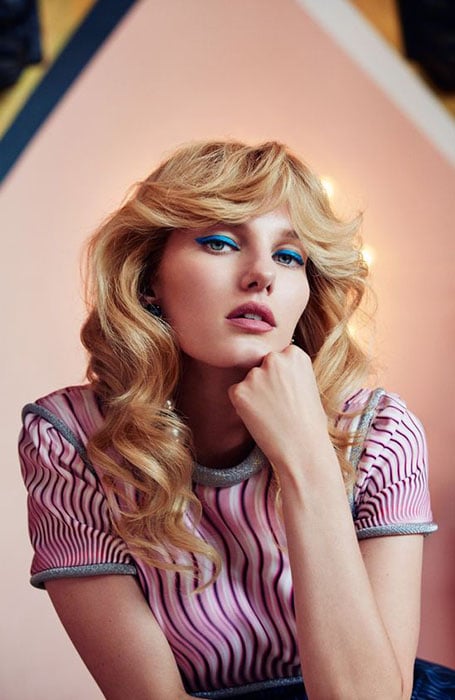 33. Long Bangs with Purple Hair Updo
Long bangs can frame your face, drawing attention to your features and creating a feminine and flattering appearance. Wearing an updo with long, wispy bangs makes for an ultra-chic look perfect for all occasions. You can try purple hair color for a more daring and expressive option. Not only will this color help to achieve a more youthful appearance, but you will also stand out from the crowd. There are various shades of purple to choose from, allowing you to find the hue that best suits your complexion. The darker colors are also easier to wear, whereas those that are more vibrant can make your appearance edgy and cool. You can also try out purple streaks or the ombre coloring technique for a more subtle approach.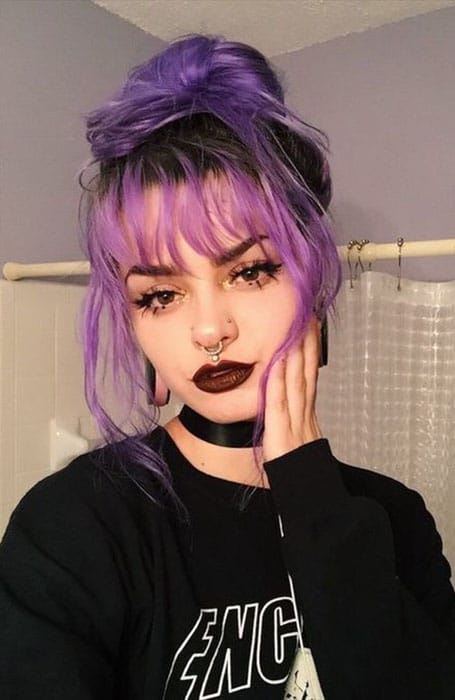 34. Long Blue Bangs with Medium Hair
What is not to love about blue hair? Blue is a color that is often associated with calmness and elegance, but when added to your hair, it can give you an edgy, grungy appearance. Dying your bangs a bright, bold shade will make them the focus of your look and highlight the cut. Pulling off this look will take some confidence, but it is expressive and fun, showing the world you're not afraid to take risks. Your hair texture does not limit you, but remember that you need a light base color for more vibrant colors. If you have naturally dark hair, this process can be time-consuming and damaging as you must use bleach. For this reason, it is always best to work with a professional to minimize the damage and prevent dryness and frizz.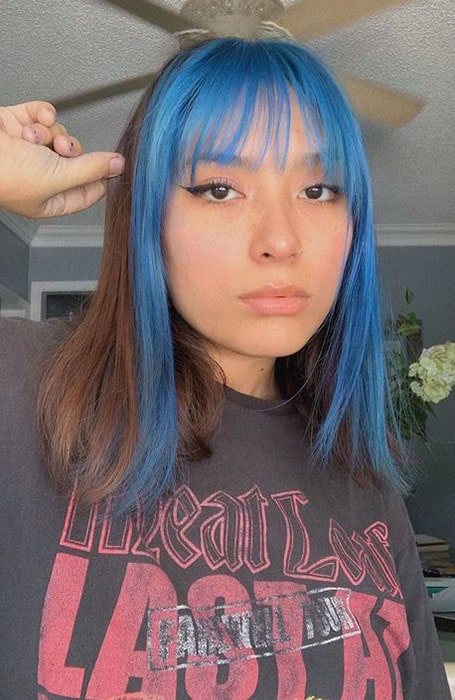 35. Red and Black Hair with Bangs
You can focus on only dyeing your bangs for an interesting approach to the split dye trend. The different colors will create a bold, contrasting look that highlights your cut and draws attention to your bangs. This can be very flattering as they can complement your facial features, especially your eyes. Red and black is a striking combination and one that demands attention. Red is associated with passion and seduction, and rocking red bangs may empower you. Try a similar shade of deep red lipstick and paint your nails black for a matchy-matchy look. The result is stunning but also different, appealing to our alternatives.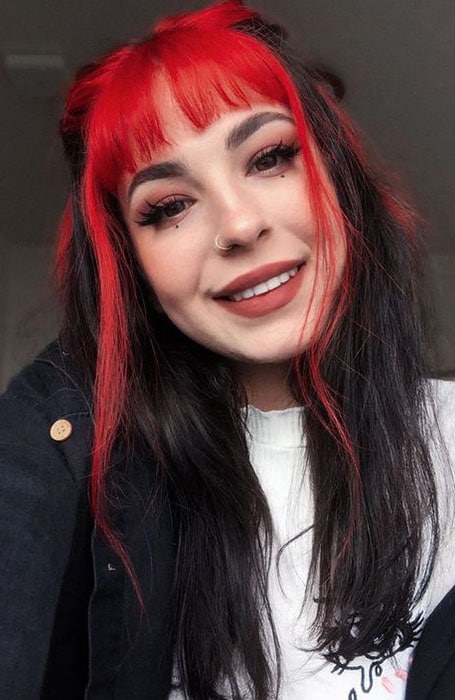 36. Long Hairstyle with Bangs
Super classic and feminine, a long hairstyle with bangs is one of the easiest ways to embrace a fringe if you've never had one before. The aim is to create a beautiful frame for your face and bring out your best features, such as your eyes or cheekbones. For an on-trend look, try curtain bangs or another center-parted style.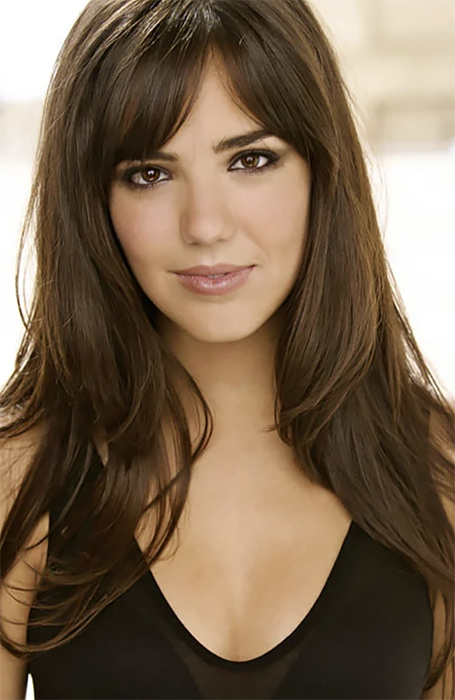 37. Short Hairstyle with Bangs
Short hair looks just as good with bangs as long hair, and bangs can make short, fine hair look thicker and fuller. For the bolder types, a shag or even a mullet with side-swept bangs is an on-trend option. An even shorter and sharper choice is an asymmetric pixie cut. Style your short bangs hairstyle wet for extra cool points.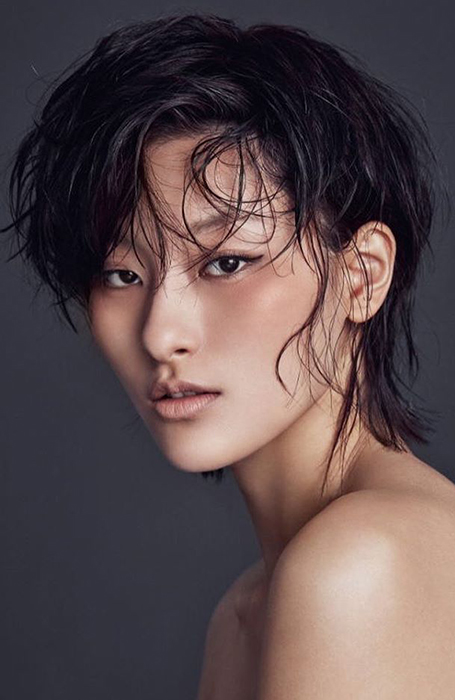 38. Medium Shoulder Length Hairstyle with Bangs
Shoulder length hair is one of the most versatile lengths, as it suits women of all ages and hair types. Bangs are a natural pairing with shoulder-length hair as they add a fresh new twist and help balance your features. For that laidback, cool-girl look, try pairing wavy shoulder-length hair with wispy bangs – also known as 'piece-y' bangs. Soft and pretty, yet effortlessly chic, it'll give you that 'model-off-duty' look in no time.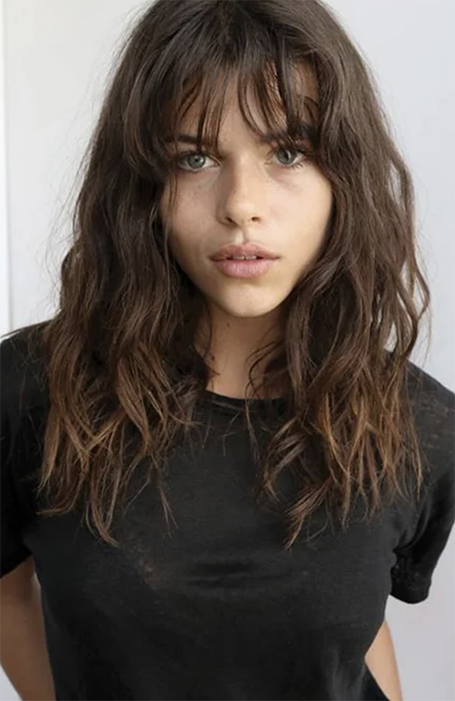 39. Bob with Bangs
The iconic bob haircut is a classic for a reason. It always looks fresh and on-trend yet is versatile enough to style in many different ways. You can't go past the bob with bangs for a cool yet sophisticated look. Add a blunt fringe to a sleek, straight, straight, or inverted bob for a bold and graphic finish that draws attention to your eyes and cheekbones. Alternatively, try feathery or piece-y bangs and tuck your hair behind your ears for a more casual finish.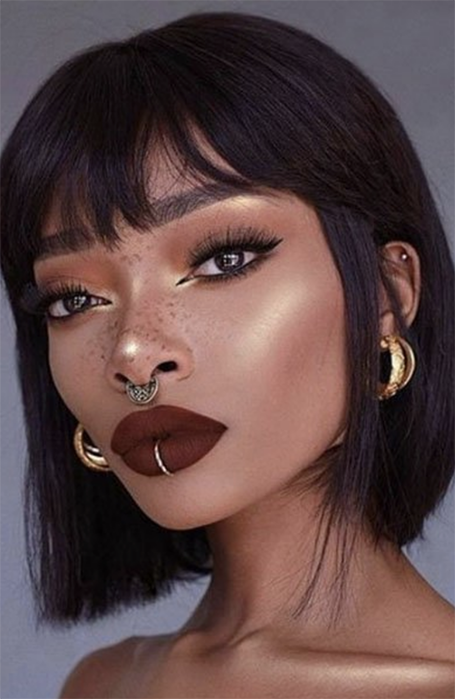 40. Curly Hairstyle with Bangs
Fringes aren't just for straight-haired ladies! Curly hair is a perfect partner for bangs because it already has plenty of volume and bounce, so your fringe will never fall flat and limp. Add bangs to shoulder-length curly hair for a pretty and contemporary look, or a messy curly bob for an effortlessly cool, cute, and fresh vibe.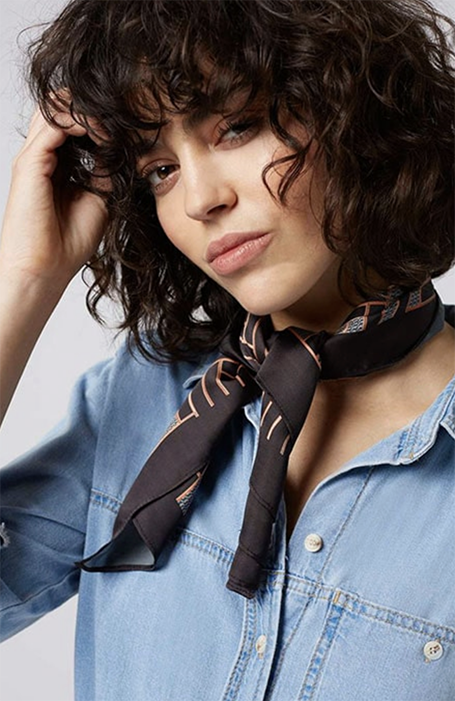 41. Long Layered Hairstyle with Bangs
Long layers are a great way to frame your face and stop thick hair from looking boring and heavy. Simultaneously, the right bangs can help give your hair some much-needed structure and draw more attention to your face. Ask your stylist to blend subtle side bangs into your long-layered hairstyle for a supremely flattering final result – particularly if you have a square face shape.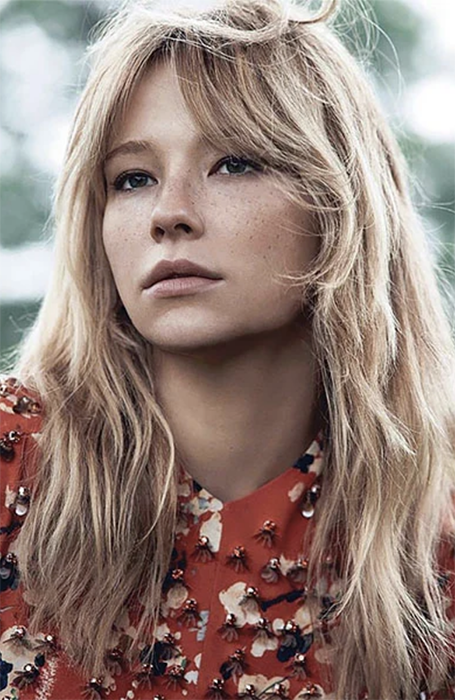 42. Layered Medium Hairstyle with Bangs
Medium-length hair is neither too long nor too short. Instead, this ideal in-between cut is the perfect all-rounder that suits straight, wavy, curly, or natural hair. Even better, medium hairstyles look great with various fringes, so you can adapt the cut to suit you. Blunt bangs with medium hair are among the most popular combinations for its 'French chic' look. Plus, it can easily disguise a large forehead and make you look younger.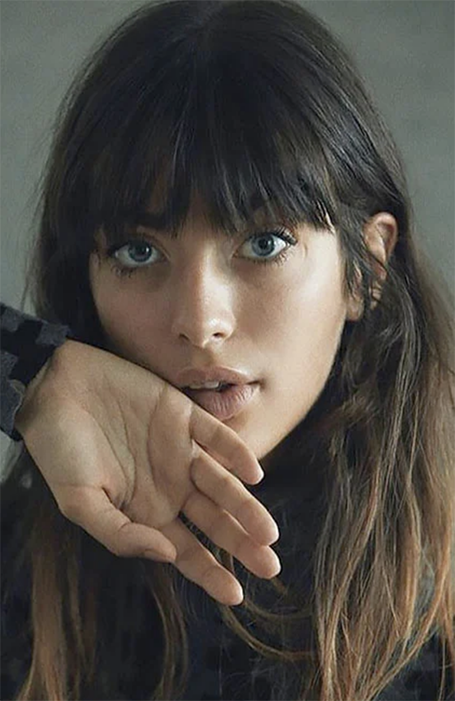 43. Layered Short Hairstyle with Bangs
Layering short hair helps give it more texture and movement for that perfect 'just got out of bed' finish. Messy bangs add to this haircut's fresh, cool, and understated vibe. At the same time, they can make your short hair more flattering. Because they have a deliberately wavy, undefined look, messy bangs soften sharp and angular features. Meanwhile, side-swept bangs work well on round faces as they draw the eye diagonally down the face, making it look slimmer and more balanced.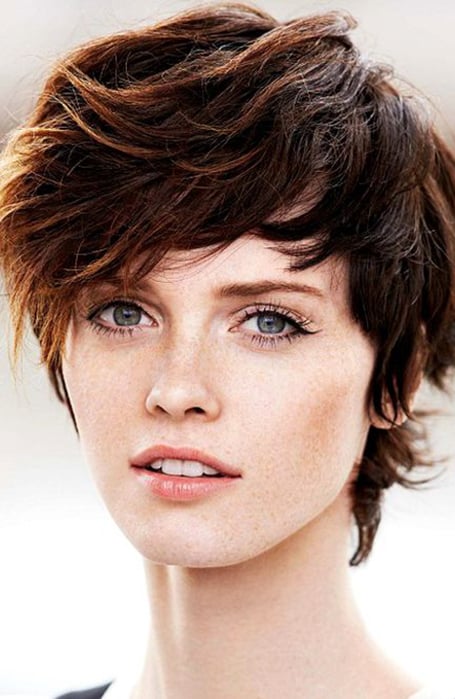 44. Textured Bangs Hairstyle
Textured bangs – feathery, layered, and deliberately messy – are undeniably cool. Relaxed, mysterious, and flattering, they are the perfect partner for a wavy, choppy hairstyle, whether long, short, or medium length. They are also ideal for fine hair types, as they don't require as much hair to create as other types of bangs.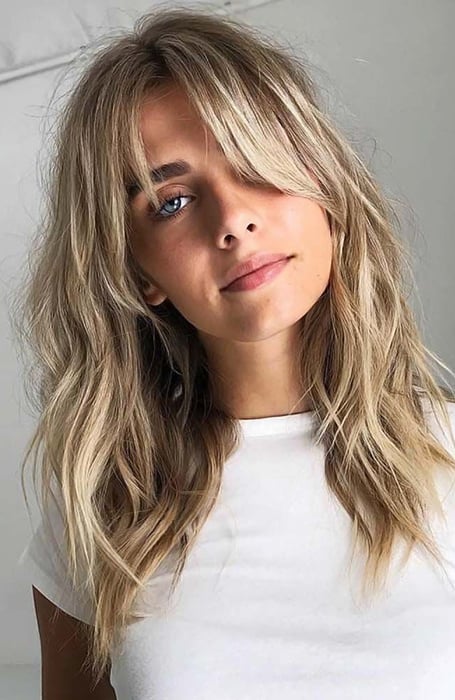 45. Curtain Bangs
Curtain bangs were everywhere in 2021. Inspired by the '90s trend, these bangs are defined by a heavy center part with a curved shape. The good news is that not only do curtain bangs look cool, but they are also flattering on most face shapes. The smooth, 'swooping' look of curtain bangs draws attention to the cheekbones and balances out a wide forehead or strong jaw.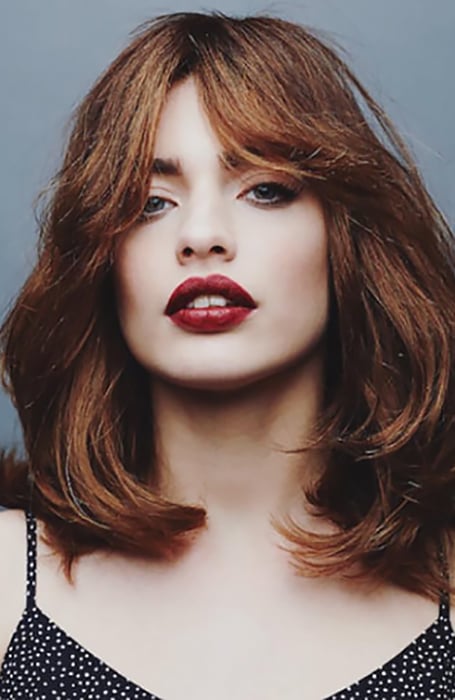 46. Retro Bangs
Who doesn't love a retro look? Vintage pin-up hair will always make you stand out from the crowd, and retro bangs are a key part of this look. Whether you opt for rockabilly-style blunt baby bangs with Victory rolls or a bombshell fringe inspired by the screen sirens of the 1960s, your hairstyle is the perfect finishing touch for creating an eye-catching retro aesthetic.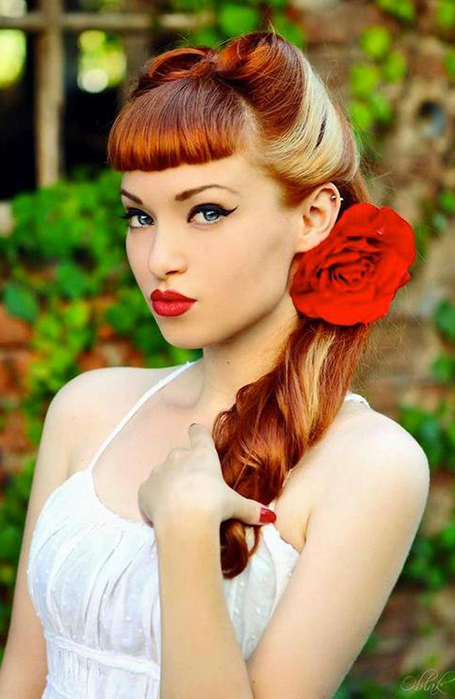 47. Feathered Bangs
Soft and fluffy, feathered bangs have plenty of movement and bounce, creating a laidback and cool 1970s vibe. They get their texture and shape by being cut vertically, which gives them a thinned-out, wispy appearance that blends in seamlessly with the rest of your hair, whether wavy or straight. Those with fine hair should also consider feathered bangs, as they are best suited to this hair type.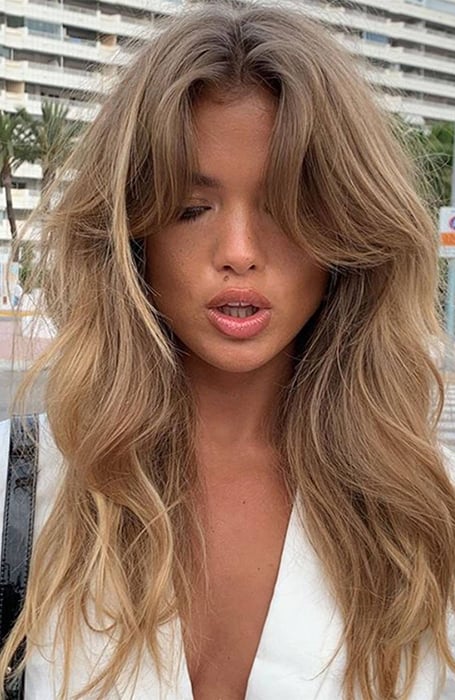 48. Hairstyle with Side Bangs
Side bangs are among the best fringe options for those with round faces. The asymmetric look of side bangs – especially when combined with a deep side part and waves – creates an ultra-flattering look as it creates a diagonal 'slice' effect. This makes a round face look both longer and slimmer at the same time. However, side bangs aren't just for those with rounder features! Square and heart-shaped faces also benefit from this look.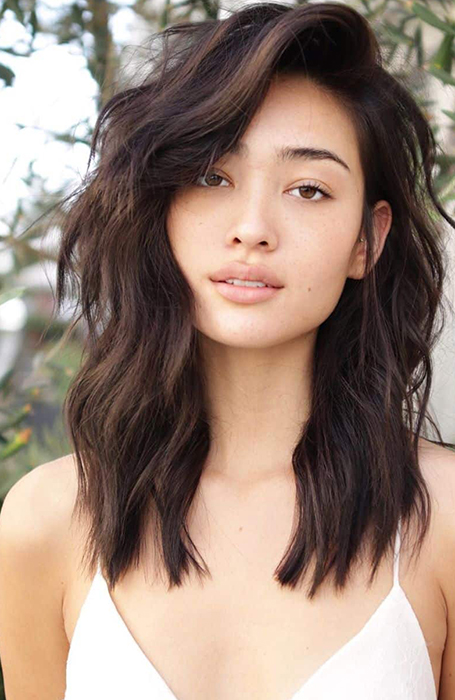 49. Wispy Fringe Hairstyle
Soft and light, a wispy fringe is a great option if you're not ready to get full, heavy bangs – or if you have naturally fine hair. Sexy and feminine, wispy bangs look fantastic when styled with an updo. Alternatively, wear them with any textured, deliberately 'undone' hairstyle, such as a low ponytail or braid, for a chic bohemian finish.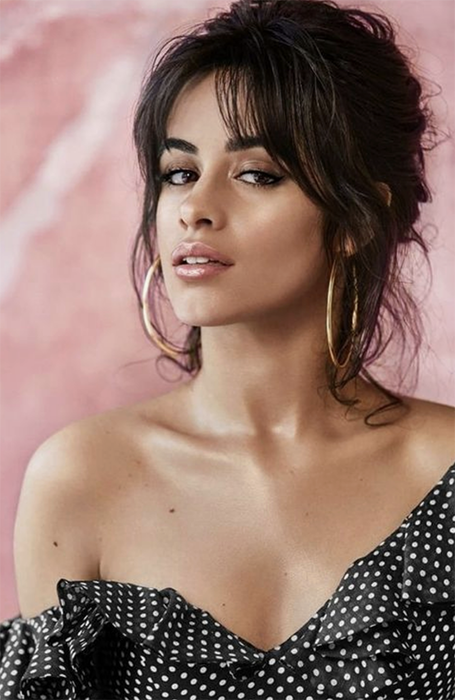 50. Faux Bangs Hairstyle
Cheat your way to a cute fringe with the faux bangs hairstyle! This genius updo creates the illusion of bangs without picking up a pair of scissors and works on curly and straight hair. Pull your hair up into a high ponytail, then divide it into a front and back section. Position the front section so that it falls across your forehead, mimicking the look of bangs. Secure it in place with bobby pins, then twist the ponytail's back section around to create a bun effect that hides the pins. Add a headscarf for extra style to ensure your faux bangs look even more convincing!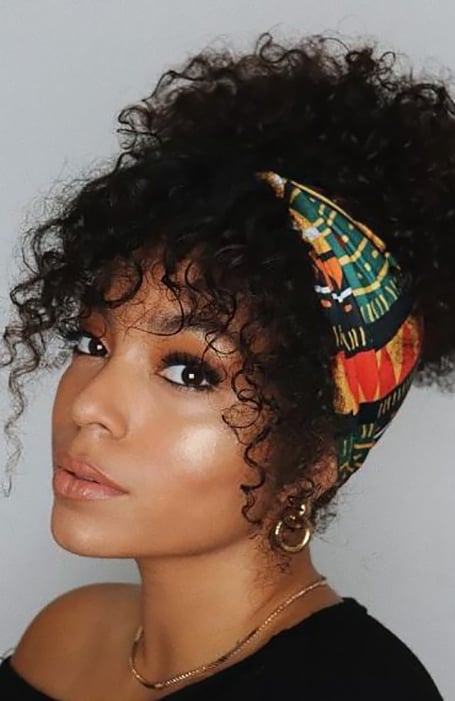 51. Weave Ponytail with Bangs
A weave is a great way to experiment with different hairstyles, including straight bangs and long, sleek ponytails, without the need for chemical relaxers. While glamorous enough to wear for a date or night out partying, the weave ponytail with bangs can also be dressed down for school, work, or a casual brunch with friends. However, like any weave, it's important to ensure you don't leave it in longer than six to eight weeks, or you will risk damaging your natural hair.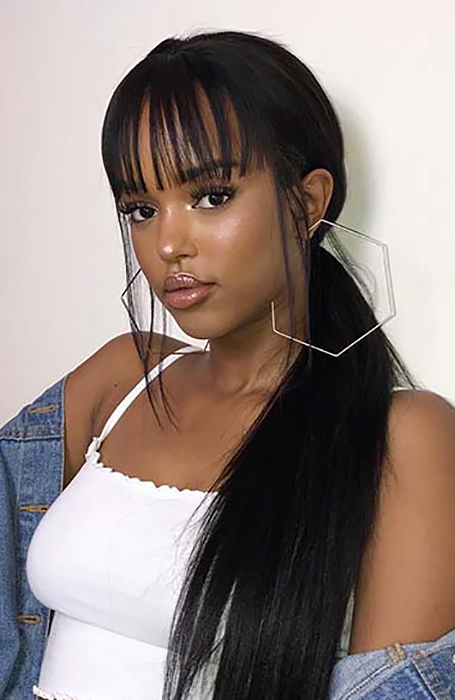 52. Fine Hair Medium Length Hairstyle with Bangs
When choosing a hairstyle for your fine hair, selecting a look that adds texture and movement and creates the illusion of more volume and thickness is important. That is because fine hair tends to fall flat and can look limp and lifeless as a result. Bangs are a great way to add some much-needed structure to fine hair, while a choppy, wavy medium-length cut creates more dimension and makes the hair seem fuller. A combination of highlights and lowlights is the perfect finishing touch.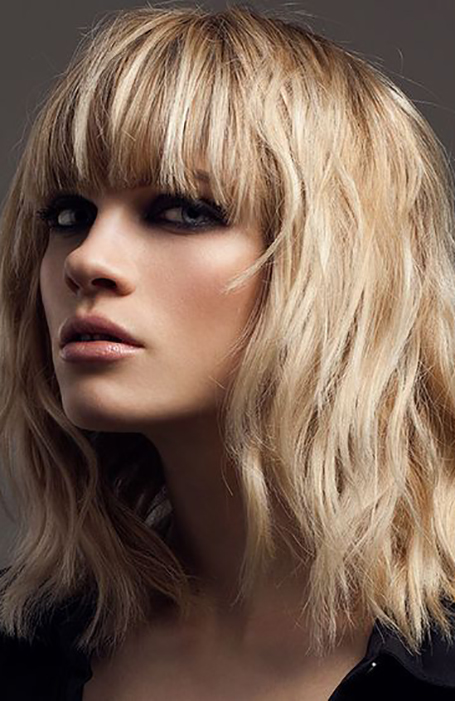 53. Messy Fringe Hairstyle
Nothing says cool like a messy fringe. Effortlessly chic, a messy fringe works with many different hairstyles – from a pixie cut to a lob, long hair, or a mid-length look. A messy fringe with a half-up, half-down hairstyle is one flattering and on-trend option. Ideal for both day and night, this style has an understated feminine elegance and is also the perfect partner for statement earrings or a bold lip.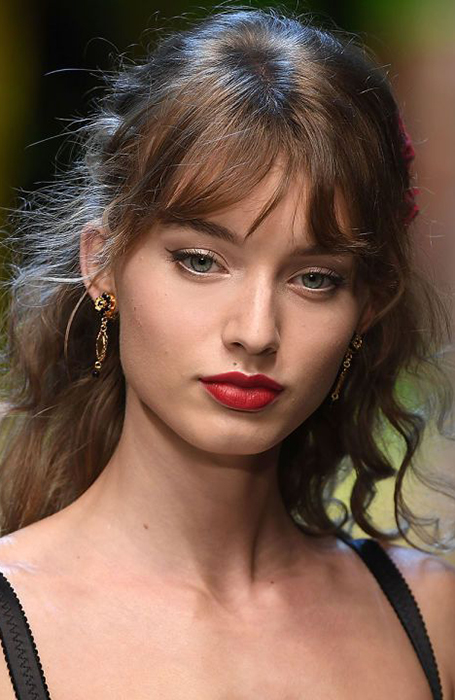 54. Wedding Hairstyle with Bangs
When it comes to your wedding day, the perfect bridal hairstyle is at the top of everyone's list. If you have bangs, there are a wide variety of options to choose from, including a chignon, updo, or braid. One of the most popular hairstyles is a loosely curled side-swept look for those with a thicker, fuller fringe. When selecting your wedding hairstyle with bangs, consider your jewelry, veil, the neckline of your outfit, and the overall feel of your wedding – whether it be modern, vintage, bohemian, or classic.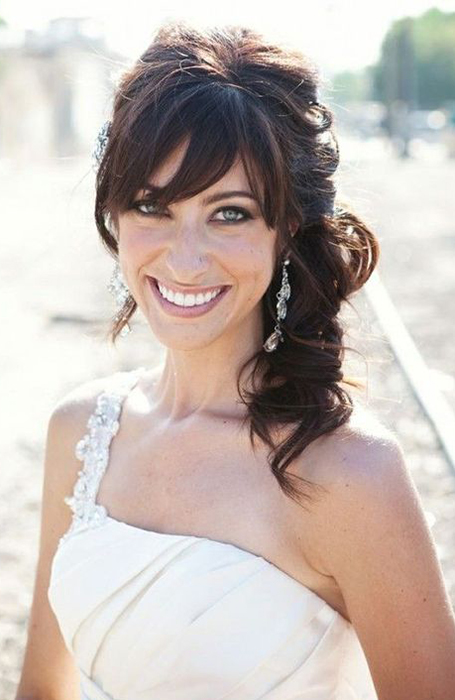 55. Shag Hairstyle with Bangs
The iconic shag haircut is cool again, and it looks great when paired with bangs. These choppy styles flatter nearly all face shapes, creating a laidback rock'n'roll vibe. Depending on the type of shag you have, you can choose full, wispy, side-swept, or even baby bangs – however, they will be more textured and uneven to blend them in with the rest of your hair.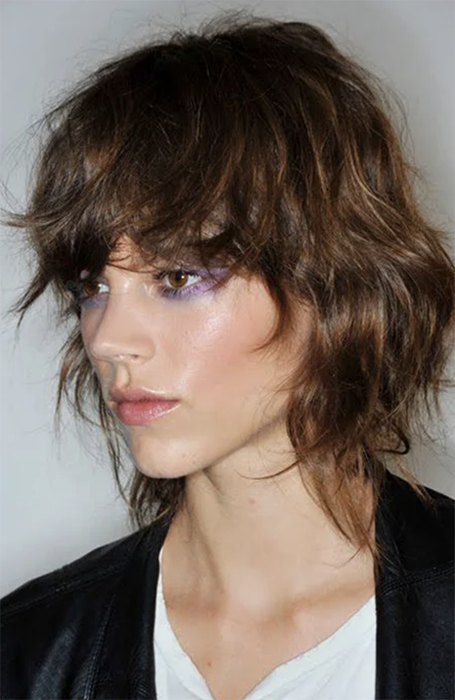 56. Small Baby Bangs Hairstyle
Small baby bangs – also known as micro bangs – are a statement-making style that always attracts attention. Perfect for those with an artistic, quirky, or off-beat aesthetic, micro bangs focus on your eyes and face, meaning they look great paired with bold, graphic make-up. However, micro bangs don't suit everyone. They are most flattering on long and oval faces, as they can make round and square faces look extra round and emphasize a larger forehead.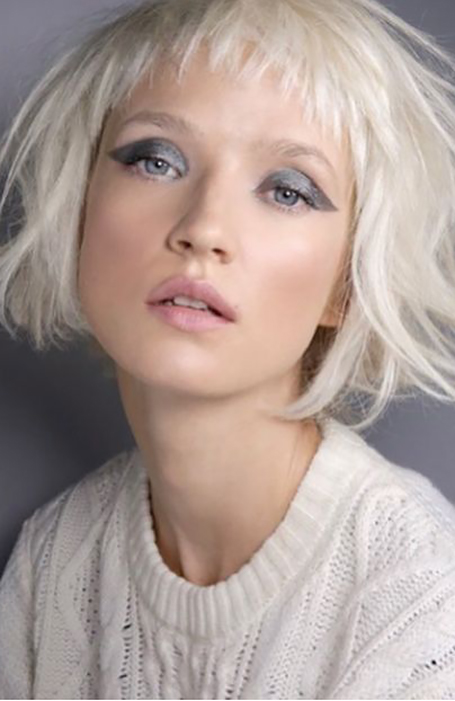 57. Curly Fringe Hairstyle
Why not add a cute fringe to your curly mane? Bangs can help remove some of the weight from thick, heavy curls and add structure and a flattering 'frame' for your face. Experts generally recommend curly bangs to be longer than straight ones so the naturally voluminous and bouncy hair falls over your face and stays in place when you style it. It's also important not to cut curly bangs while the hair is wet and to avoid cutting in a straight line as curls shrink to different lengths. A curly fringe hairstyle is a fresh, dynamic, and fun look that gives your hair a new vibe.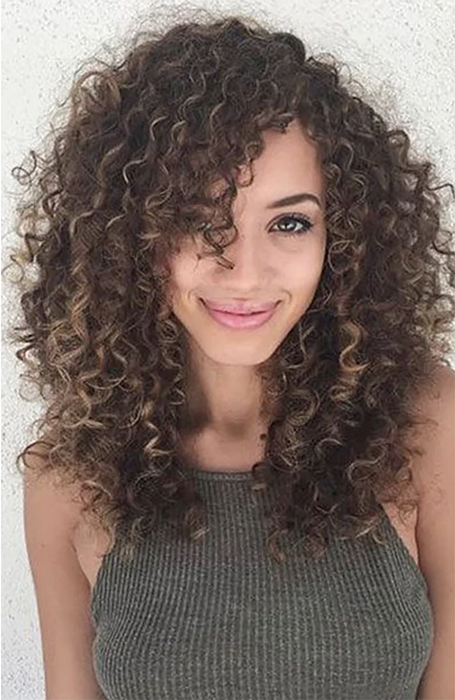 58. Thick Straight Bangs
If you're searching for a dramatic hairstyle, thick, straight bangs should be considered. Sharp and super sleek, these bangs should be paired with an equally precise cut like an inverted bob or lob haircut. Thick, straight bangs also look best on rich, deep hair colors such as scarlet, copper, or black. Before embracing this hairstyle, remember that thick, straight bangs must be trimmed regularly to keep them in line.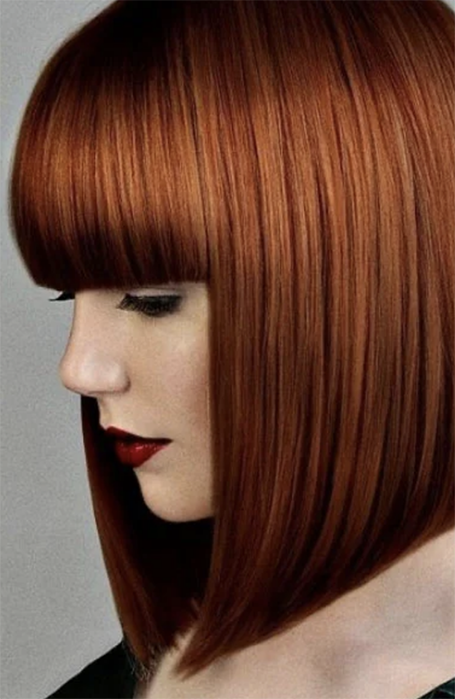 59. Updo with Bangs
One of the advantages of bangs is versatility. You can style them in many different ways to suit your mood, hair type, and preference. When it comes to an updo, match the hairstyle to the type of bangs you have. If your fringe is choppy and messy, pair it with a topknot. Alternatively, if you have a wispy fringe, delicate side bangs, or a full side-swept fringe, a beautiful hairstyle option is a soft and romantic low bun. It's understated enough to wear to class yet sophisticated and feminine enough for a date or a formal event.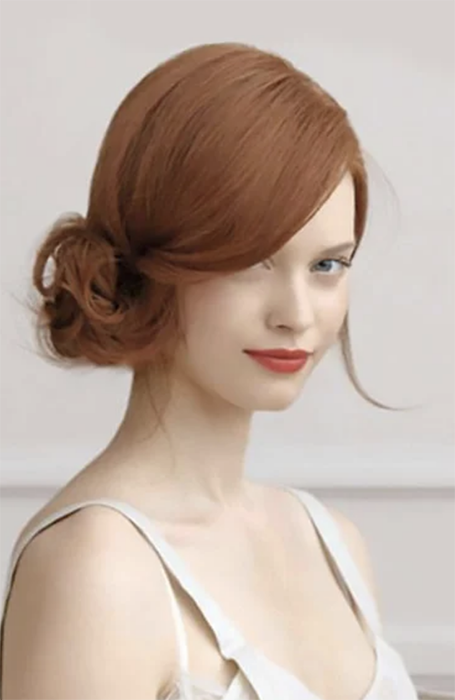 60. Bardot Center-Parted Curtain Bangs
One of the world's most iconic sex symbols, 1960s actress Brigitte Bardot, was famous for her iconic hairstyle. Her center-parted curtain bangs create the ultimate sultry, sexy frame for the face, putting all the focus on the eyes and cheekbones. While Bardot usually paired this fringe with a back-combed beehive or bouffant, you can keep it low-key with simple tousled waves for a more modern take. However, make sure there's some volume at the crown of your head to balance out the bangs.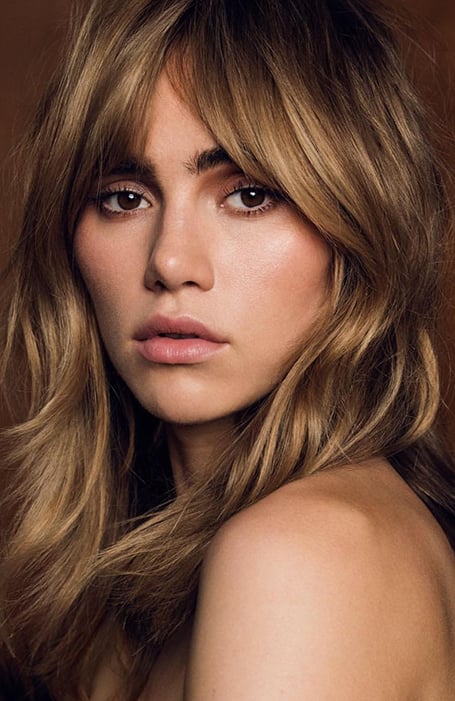 Bangs Hair FAQs
What are bangs?
Bangs – also known as a fringe – is the term given to hair that falls across the forehead from the front hairline. 
Are bangs in style?
Because there are so many different types of bangs, they never seem to go out of style! However, curtain bangs and wispy bangs have become more popular. 
Should I get bangs?
Bangs immediately change your look, so it's important not to make the decision too rashly. If you don't know how bangs will look on you, try a faux bangs hairstyle to test it out. You can also use image-editing apps to visualize how you'd appear with different types of fringes. A celebrity with a similar face shape and features to you can also be a good guide for whether or not you could pull off bangs. If you're still in doubt, consult with a hairdresser. 
What face shape looks good with bangs?
Different bangs suit different face shapes. As a general rule, oval faces can wear most types of bangs. Heart-shaped faces suit wispy curtain bangs and baby bangs, while round faces look best with full, side-swept bangs. Those with longer faces should consider straight, blunt bangs, while long-layered bangs are great for square and oblong faces.
Do bangs make you look younger?
Bangs can make you look younger for one simple reason: because they cover your forehead, they disguise wrinkles! 
Does anyone look good with bangs?
No single type of bangs looks good on everyone, but everyone can find a type of bangs to suit them. However, some face shapes are better-suited to bangs than others. 
How to cut side bangs?
Cutting side bangs is more challenging than straight bangs, so it's usually best to leave it to the professionals. However, if you want to try it at home, begin by wetting your hair, then creating a triangle-part front section as you would with straight bangs. Next, brush the hair in this section opposite to where you want the final bangs to fall. Finally, twist the section toward the back of the head and cut parallel to the hair parting. As a rule, use the tail of your eyebrow as a guide for where to cut your side bangs – don't cut any further up than that.
How to cut bangs?
The technique for cutting bangs depends on whether your hair is straight or curly, thick or fine. It also varies based on the type of bangs you want. For full, straight bangs, locate the starting point for the fringe section, which is where your head begins to round. Section it off in a triangle shape, then work out where you want your bangs to fall. Hold the hair between your fingers to create a guide and trim the section, holding the scissors at a 7 o'clock angle. This will give you a more even result than cutting straight across.
How to grow out bangs?
It takes time to grow out your bangs. How long you'll have to wait before they are completely gone depends on how quickly your hair grows. Keep your hair healthy with vitamins and a balanced diet, and use treatments to keep your scalp in tip-top shape. Disguise your bangs while growing them out by using tricks like braids, the 'tuck-and-roll' bobby pin technique, thin headbands, or clip them to the side with on-trend barrettes.
SUBSCRIBE TO OUR NEWSLETTER
Subscribe to our mailing list and get interesting stuff and updates to your email inbox.