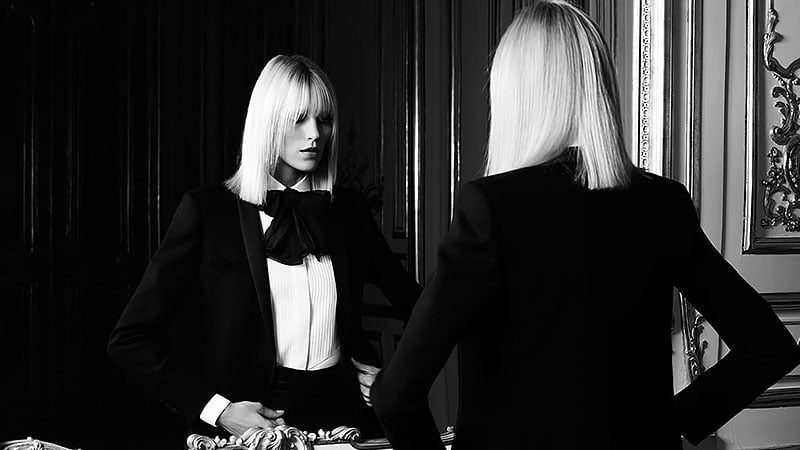 Have you ever received an invitation only to be stumped by the dress code? We don't blame you! Navigating the difference between dressy casual, smart casual, black tie and black tie optional can seem like an impossible nightmare. Luckily, we're here to make occasion dressing a dream rather than a disaster. Here is our guide to women's dress codes for all occasions and what to wear for each of them.

Casual/Informal Dress Code
The casual dress code is essentially an open invitation to dress in what you feel most comfortable. Whether you like to wear jeans and a T-shirt or a skirt, shirt, and sneakers, you'll be okay with this style code. There's no need to wear heels or overdo the accessories, just wear something that is relaxed and your style. Short of wearing your gym gear or pajamas, you really can't go wrong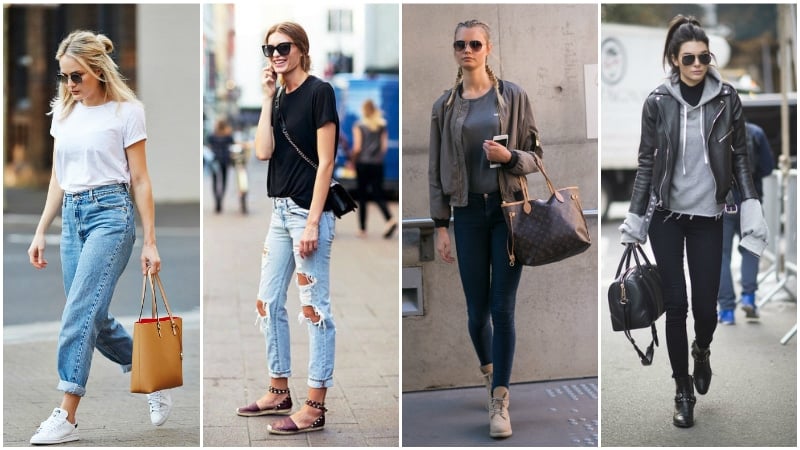 SHOP THE LOOK
Dressy Casual Dress Code
Dressy casual, also known as casual chic, is an invitation to wear that cute weekend look that you love. Slightly more dressed-up than your most casual look, this form of attire is asking you to show off your style. Choose cute separates, such as a skirt and short-sleeve, button-up shirt, and add all kinds of accessories, from jewelry and scarves to quirky sandals and hats. Still stuck? Nice jeans paired with heels is also a winning look.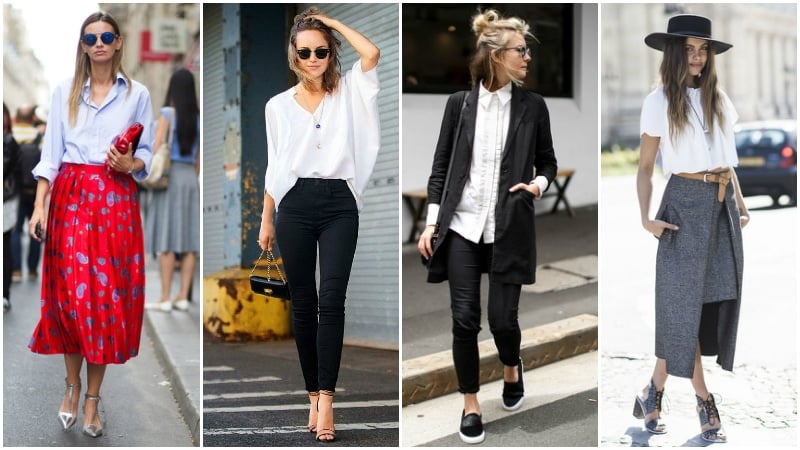 SHOP THE LOOK
Smart Casual Dress Code
Smart casual is a dress code that can often confuse. It sits a notch above dressy casual and a notch below business casual. While jeans are no longer appropriate for women, there are still a lot of options for what to wear. A simple way to pick an outfit is to dress as if you're heading to a lovely brunch with friends or an ultra-funky workplace. A pencil skirt, top and a cute jacket in pop color is always a great option. Just choose between heels or dressy flats to complete your look.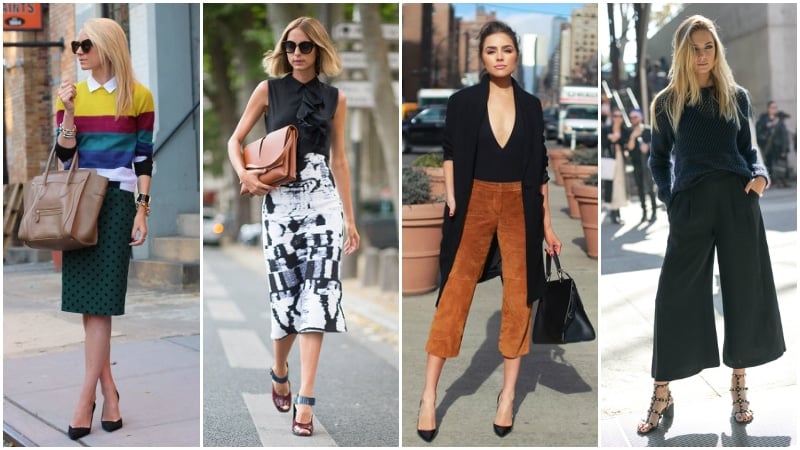 SHOP THE LOOK
Business Casual Dress Code
Business casual is a standard dress code for offices. While the term can vary depending on your workplace, it generally refers to office-appropriate clothes that are done-up without being overly formal. Aim to look polished with a few more relaxed, fashion-forward touches. A great option for dressing business casual is to wear cropped black trousers, a fun blouse, and some light jewelry. For business casual shoes, anything from a pair of timeless black pumps to a fashion-forward set of ballet flats will work.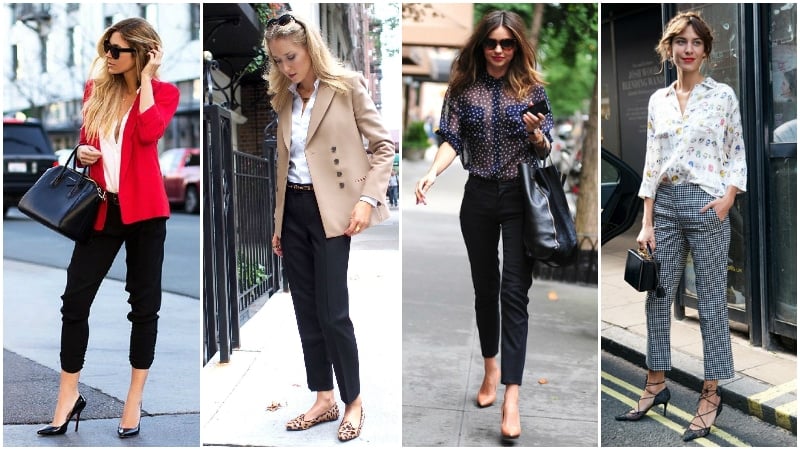 SHOP THE LOOK
Country Club Casual Dress Code
Country club casual dressing is precisely what you think it is. Men in white shirts, polo tops, and tan chinos and women in simple blouses, fitted trousers, tennis skirts, and beautiful dresses. Light colors are always preferable for this preppy look, as are lightweight fabrics, such as cotton and linen. To complete your look, add minimal accessories and comfortable shoes that are appropriate for outdoor wear.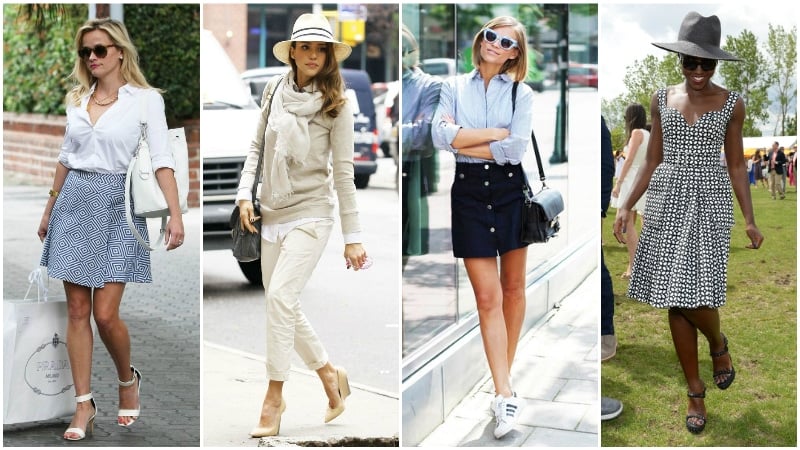 SHOP THE LOOK
Beach Formal / Dressy Resort Dress Code
Planning an outfit for a beach formal or dressy resort dress code is all about wearing the right outfit for the location. Generally reserved for summer weddings and outdoor social events, this dress code calls for a mixture of comfort and style. Your safest option is a flowing maxi dress in a fashionable print or a dressy full-length jumpsuit. Keep jewelry minimal and hair and makeup polished to elevate the look. Pair with wedges for grassy occasions and flats for anything on the beach.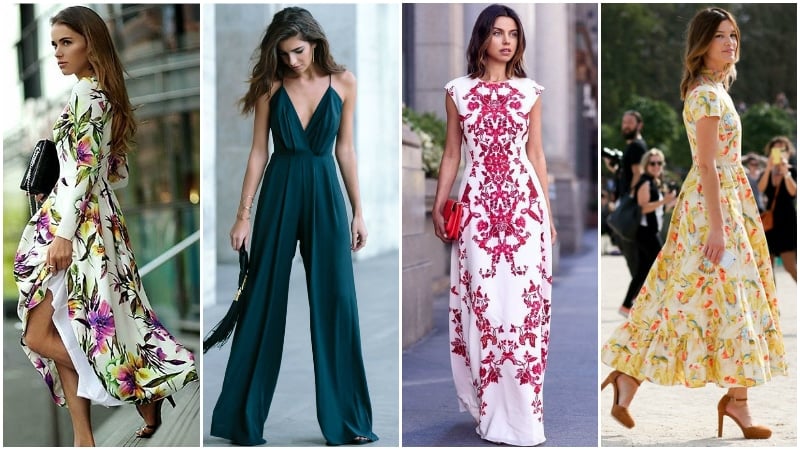 SHOP THE LOOK
Cocktail Attire Dress Code
Cocktail attire calls for at or above-the-knee dress and high heels. A standard dress code for parties, your cocktail dress should appear appropriate yet fun at the same time. When deciding what to wear, choose a playful yet polished party dress that isn't too revealing. Interesting colors, embellishments, and cut-outs are all great, as long as they stay sophisticated. If you're still feeling unsure, a little black dress will work as well.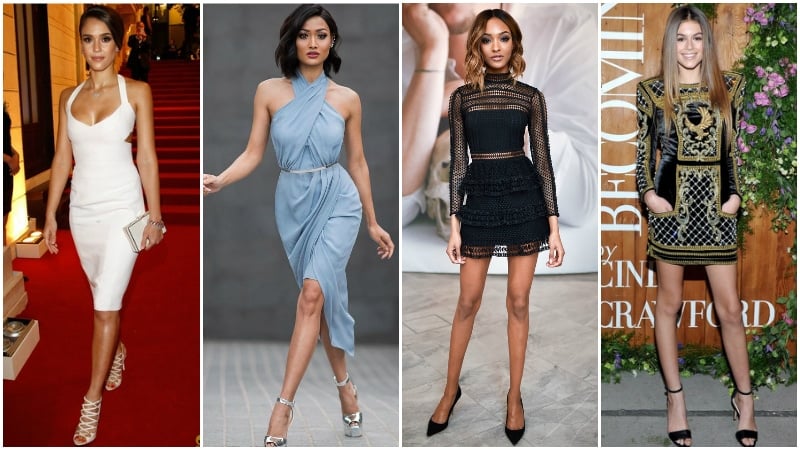 SHOP THE LOOK
Festive Dress Code
Festive is a dress code most often seen on invitations throughout the holiday period. Events that specify this dress code calls for cocktail attire with a holiday-appropriate twist. Choose a cocktail dress with an added bang for a night filled with fun and dancing. Think sequins, jewels, tartan and festive colors, like red and green. Just remember to keep it chic. No reindeer jumpers, please!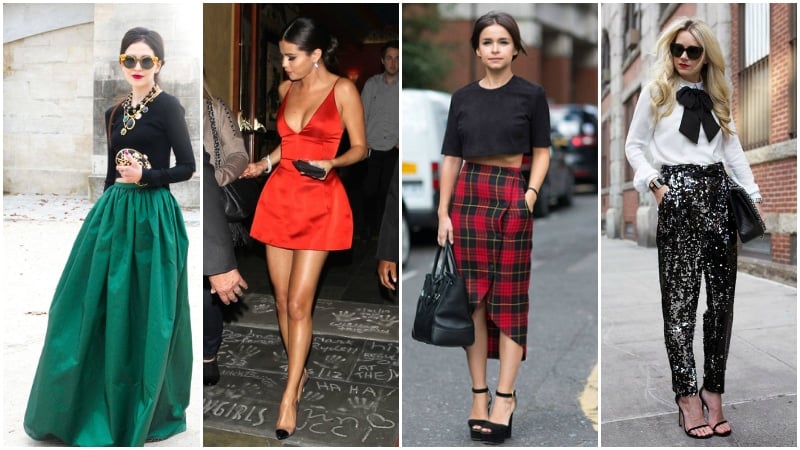 SHOP THE LOOK
Lounge Dress Code
The best way to dress for lounge attire is to wear a lovely dress that is appropriate for a nice brunch or afternoon tea. Choose one that finishes at or slightly above the knee and that is not too low-cut or sparkly. Think cute and flirty, not like you're heading for a night on the town. If you think that the dress you chose might be a bit revealing, consider adding a jacket or blazer to make the completed outfit more demure.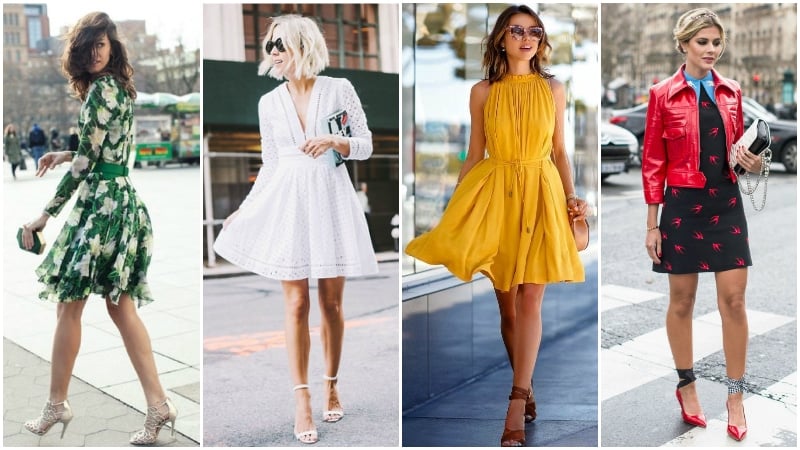 SHOP THE LOOK
Business Formal Dress Code
Business formal is a dress code that is often suggested for daytime, semi-formal events, such as work lunches and conferences. The idea behind this dress code is to wear something that is essentially a dressed-up version of your best office wear. For women, this can mean anything from a tailored dress to a pantsuit worn with high heels. Keep the color palette mostly neutral to maintain an air of seriousness.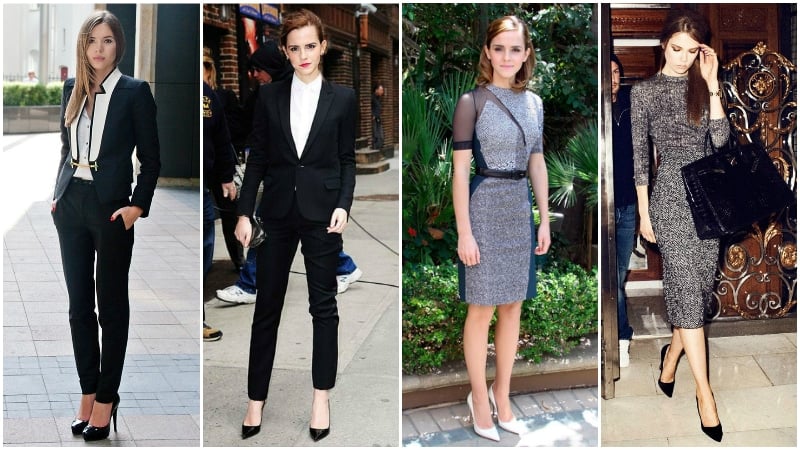 SHOP THE LOOK
Semi-Formal Dress Code
Semi-Formal can be a tricky dress code to navigate. Think of it as just a notch below black tie optional and slightly above cocktail attire. A little black dress is a quick and easy way to nail this code. Choose at or above-the-knee dress that is polished and sleek with just a little bit of spice. Remember to make sure that the hem finishes no shorter than two inches above the knee.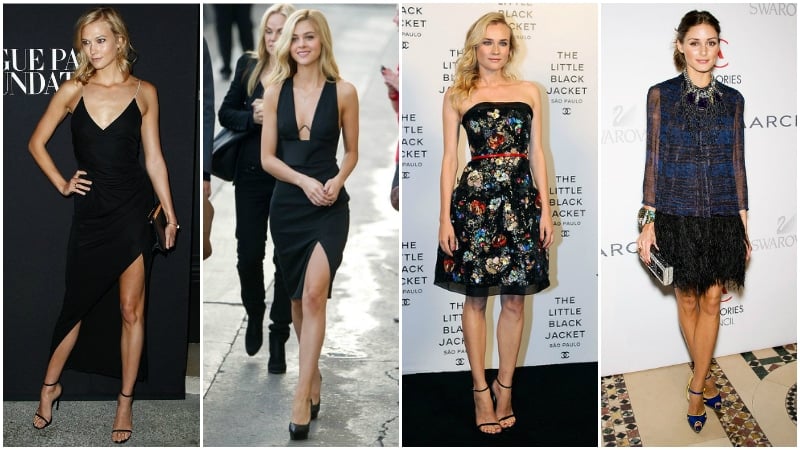 SHOP THE LOOK
Black Tie
While most people have heard of a black tie dress code, many still feel unsure as to what exactly it means. While men have strict requirements for their suits, the dress code for women is more lenient. To dress for black tie a floor-length dress or gown is the ideal outfit. While you can get away with formal cocktail attire, a long dress is more elevated for the occasion. Choose a sophisticated look with a simple and feminine silhouette in an elegant color.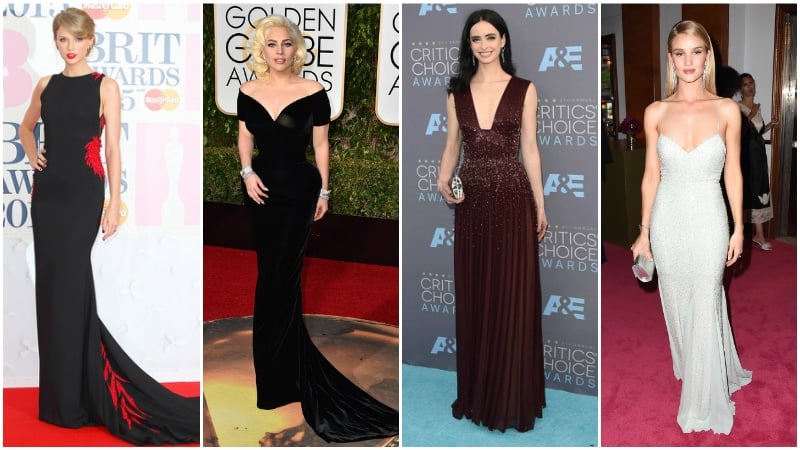 SHOP THE LOOK
Black Tie Optional
Black tie optional is more done-up than semi-formal while being a little more open and relaxed than the traditional black tie. Essentially, to choose an outfit for this dress code, you want to look formal without looking like you are on your way to the Oscars. Choose between a long dress or a formal, cocktail look to nail this dress code. A great option is to wear an ankle-grazing dress and statement jewelry.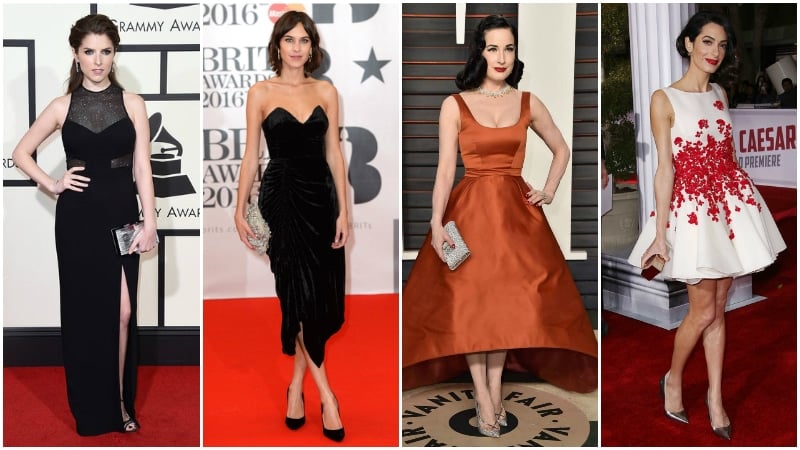 SHOP THE LOOK
Creative Black Tie
Creative, black tie is one of the more fun dress codes that you can experience. Think of it as a more contemporary and fashionable version of black tie. Don't be afraid to get creative go slightly more avant-garde with this dress code. Choose a formal gown with stand-out details, such as interesting shape or drape, unique embellishments or applique, or unusual fabric. You may also see this dress code pop up for theme parties, at which it is appropriate to dress in black tie with outfit accents that suit the theme.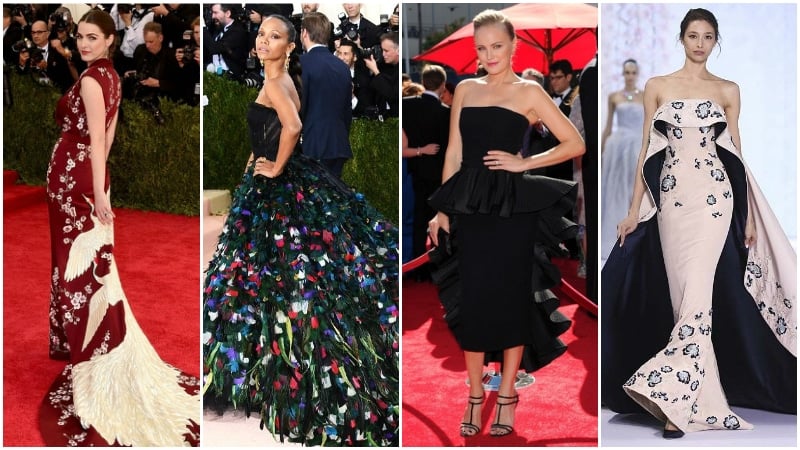 SHOP THE LOOK
Warm Weather Black Tie
Warm weather, black tie is a dress code often called on for formal events held outdoors. You may see it on invitations for prestigious occasions on cruise lines, country club dinners, outdoor formal weddings, and galas. The traditional style of dress for this code includes a lightweight, long gown, white gloves, and minimal jewelry. However, if you prefer not to wear gloves, long sleeves can be an excellent alternative.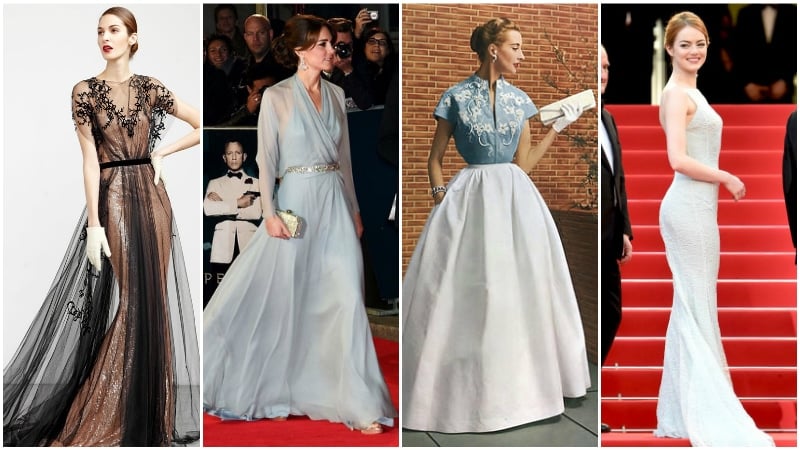 SHOP THE LOOK
White Tie Dress Code
White tie is the highest level of dress code, so if you receive an invitation with it on, you better be ready to dress to the nines. A full-length ball gown is completely essential for this glamorous occasion. Traditionally, long gloves have also been worn with this dress code. However, today they are more optional than essential. If you do wear gloves, keep them on while drinking and dancing and take them off for dinner.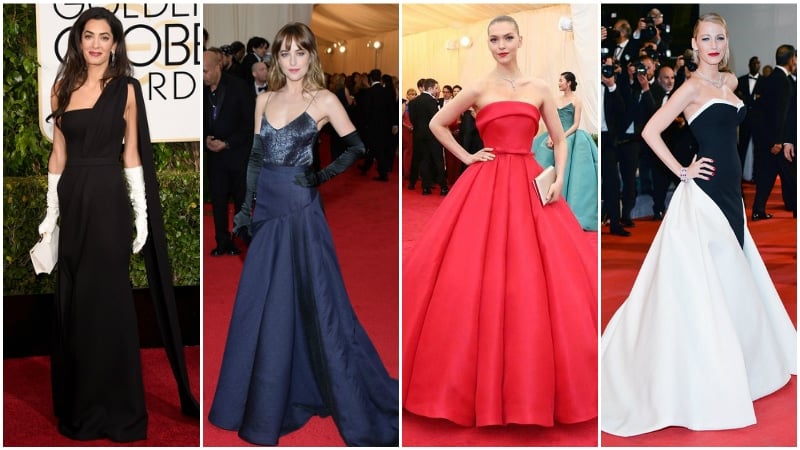 SHOP THE LOOK