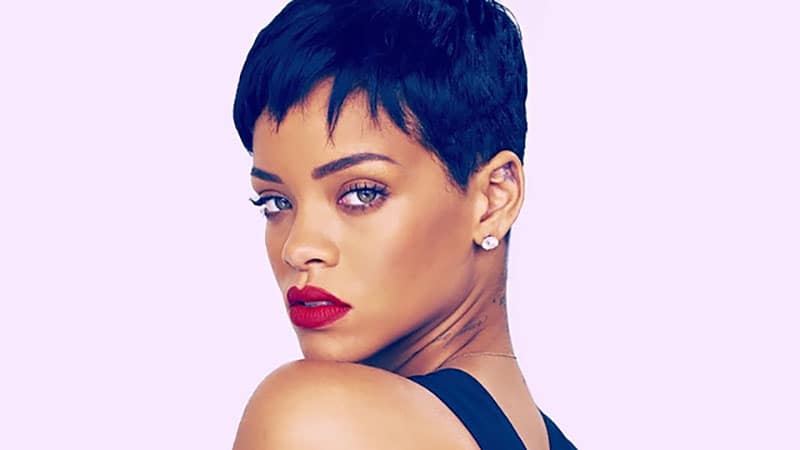 They say change is as good as a holiday, so why not retire your long locks for something a little chicer, like a pixie cut or a bob? We know the thought of cutting even an inch off your hair can be terrifying, but we can assure you a short style is sophisticated and easy to manage. Short hair suits women with thicker hair; keep in mind, that the shorter your hair, the more attention is on your face. So before choosing your style, think about what features you may like to accentuate. To inspire your new hairdo, we have put together a list of the best short hairstyles and haircuts for thick hair.

1. Platinum Blonde Pixie Cut for Thick Hair
Whether or not you are a natural or bottle blonde, the platinum pixie is a super dramatic look. The benefit of having thick locks when going platinum blonde is that your hair will still be healthy, and paired with a pixie cut, you will look striking and fierce.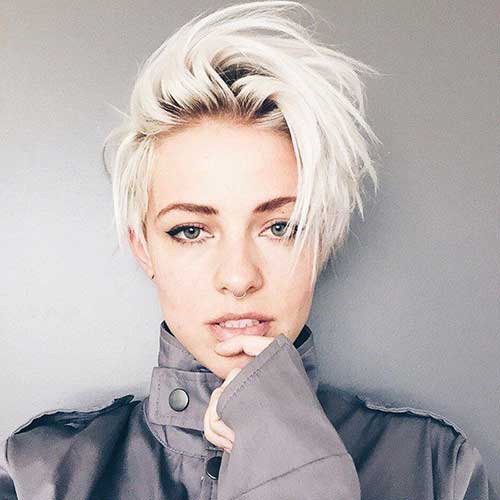 2. Pixie Cut for Thick Curly Hair
A pixie cut is a great way to tame your curly mane. Not only will it keep your curls under control, but it looks stunning too. The pixie cut means your curls will sit effortlessly where they naturally fall without being all over the place. Keep the sides cropped with the curls concentrated at the front, either falling to one side or gathered on top.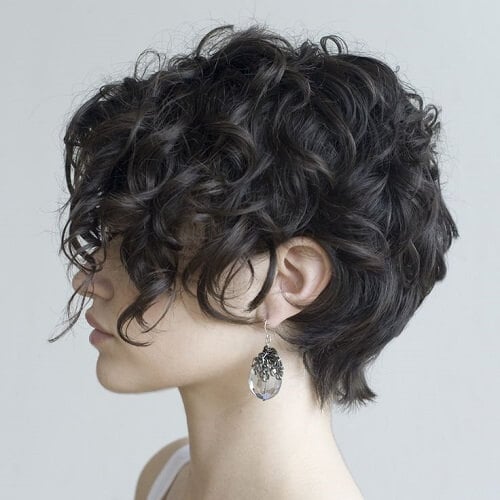 3. Short Pixie Cut for Thick Hair
We know that going short can be extra tricky when you have thick hair, but the key to nailing this look is layers. A choppy short pixie cut is a softer style that will be more suited to your voluminous locks.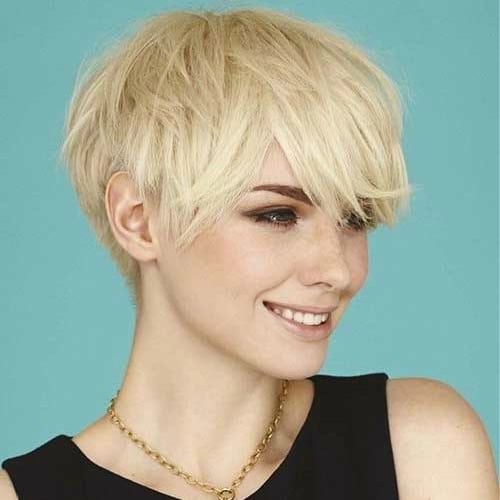 4. Asymmetric Pixie Cut for Thick Hair
The asymmetric pixie is another short style that allows you to maintain a little bit of length. The fact that it is a layered cut means it also works great with thick hair. The overall style is short, and it works best when styled with a deep side part with length on one side and volume at the top.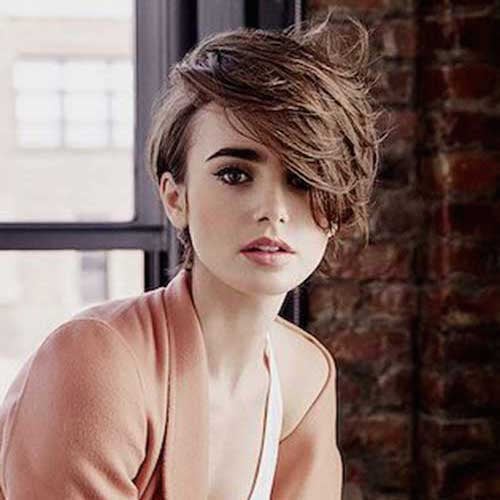 5. Pixie Cut for Thick Wavy Hair
Thick wavy hair works with pixie haircuts without needing to add layers. This easy-to-style look will have you feeling amazing. Soft waves combined with the contemporary cut are effortless, cool, and all-around chic. Let your waves sweep in one direction, falling over your forehead from the top.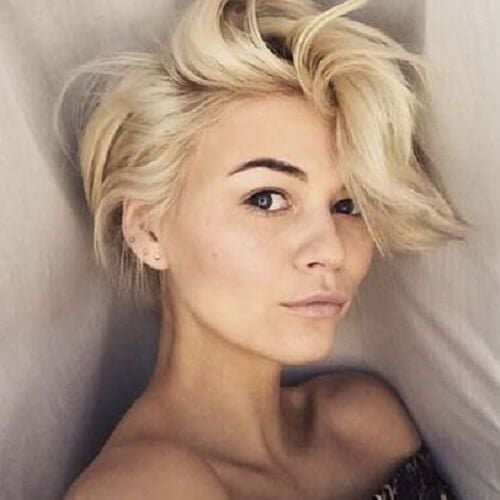 6. Long Pixie Cut for Thick Hair
If you're worried about going too short too quickly, why not go for a long pixie cut? This style is a combination of a bob and a short pixie. This gives you the best of both worlds. You get short hair's dramatic flair and the feminine appeal of long and thick hair. The longer hair at the front will also help frame your face and accentuate your features.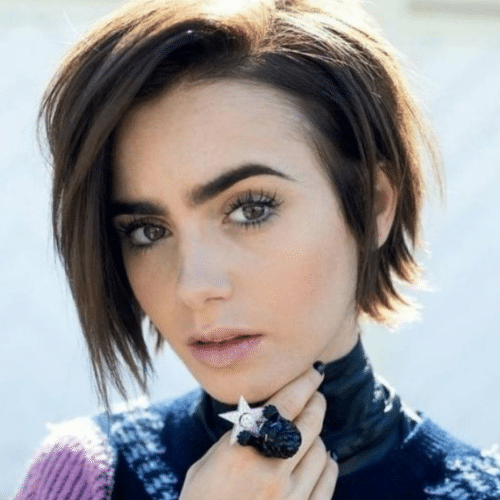 7. Front Fringed Pixie for Thick Hair
A jagged fridge is another fun way to edge up the cutesy pixie cut. A wispy feathered front fringe will also sit perfectly in thick hair and create a stunning frame for your face. Keep the sides and top neat and the fringe choppy.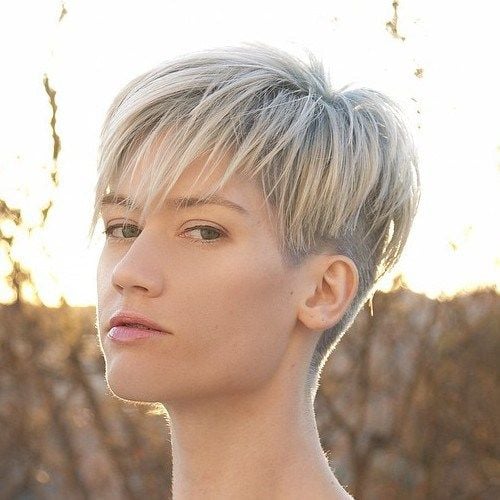 8. Undercut Pixie for Thick Hair
If you're looking to be a little edgier, why not rock an undercut? This super dramatic style works great with thick hair as it keeps the short strands from becoming tangled. It is practical, pretty, and punky. Like the asymmetric pixie, it works best styled with a deep side part, with hair pushed to the opposite side of the shaved area.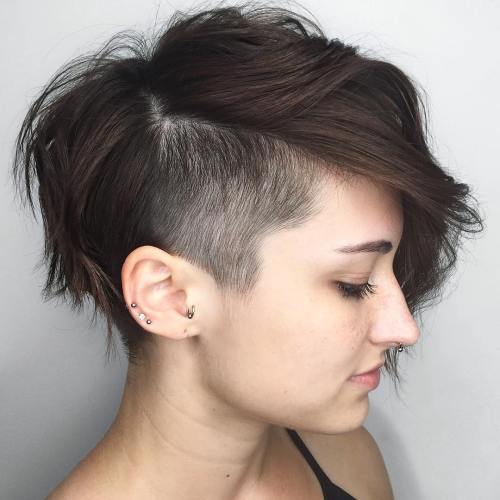 9. Side Fringed Pixie for Thick Hair.
If you have more of a round face but still want to rock a pretty pixie cut, try a short allover cut with a sweeping front fringe. Having your fringe angled in one direction will help to offset roundness; think Jennifer Lawrence.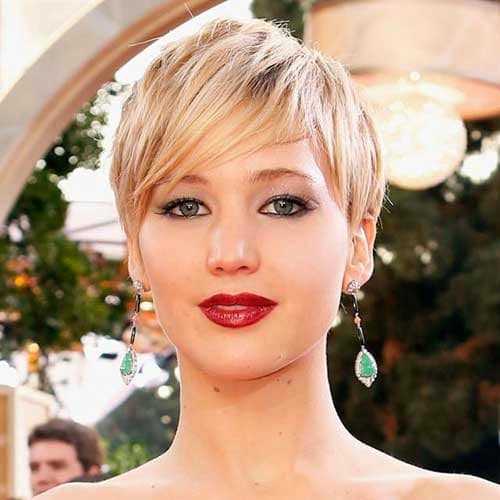 10. Half Shaved Pixie for Thick Hair
Shaved styles make thick hair so much easier to manage. The shaved layers prevent the hair from tangling with the top layer creating a sleeker and smoother style. It also looks uber cool when the hair on the top is spiked up or flicked to one side. If you're feeling extra rebellious, try a purple dye on the roots of your hair.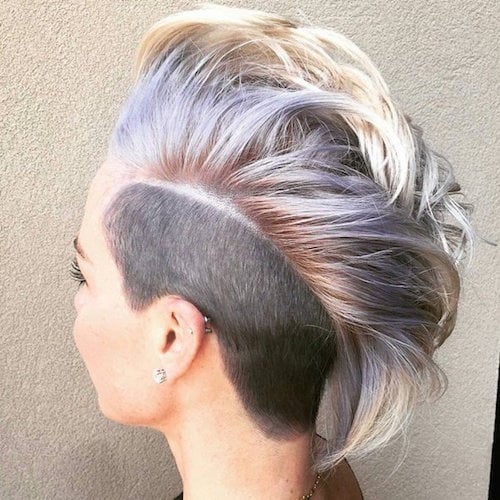 11. Layered Bob Haircut for Thick Hair
Wispy uneven layers provide the standard bob with an edgy and modern upgrade. Again, layered hairstyles work particularly well in short, thick hair too. This style works best with minimal styling. Let the layers speak for themselves!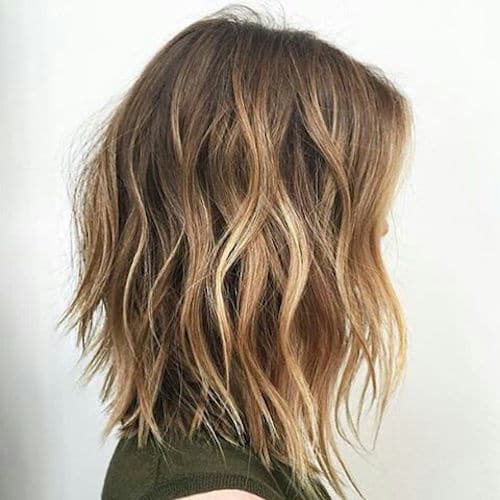 12. Short Bob Haircut for Thick Hair
Short bobs could not be more on-trend right now, and it's easy to see why. They are classic, modern, and edgy, yet simple and never go out of style. Short hair gets a bad rap for not having many styling options, but the short bob haircut can be worn with textured waves, straight and sleek, pulled back into a short pony, braided, and even thrown into a top knot.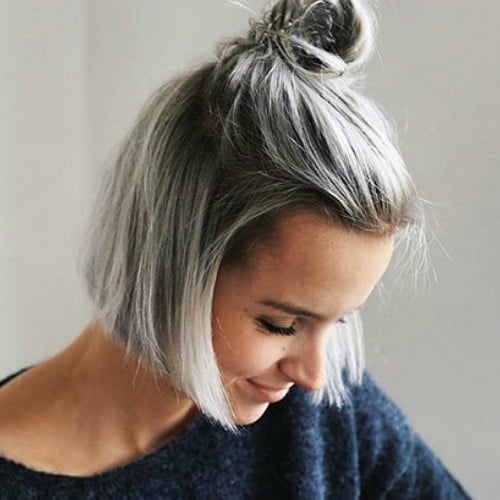 13. Choppy Bob for Thick Hair
The soft layers will create a natural texture meaning the choppy bob will sit gorgeously in your thick hair. This style works with long or short bob haircuts and looks equally stunning wavy or straight. We love it with soft bangs to frame the face.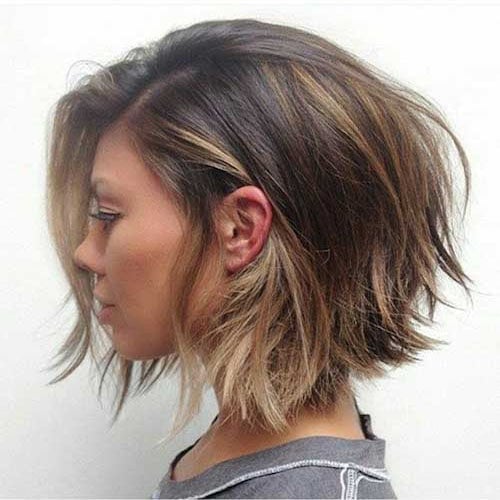 14. Undercut Bob for Thick Hair
An undercut bob means you can still have rock chick hair while maintaining some length and volume. Style with a deep side part to reveal the undercut with volume at the top with hair cascading downwards and falling naturally at the sides.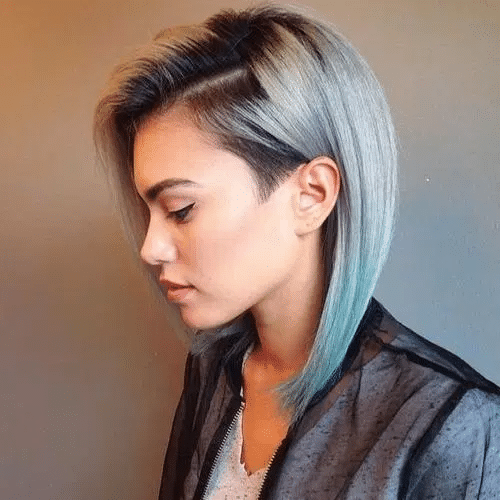 15. Blunt Bob for Thick Hair
Blunt cuts tend to make hair look thicker, so you may want to have your hair thinned out. That doesn't mean you can't still rock a blunt bob, though. In fact, with a little thinning, your hair will sit perfectly and should require minimal styling to get this laid-back, off-duty model look.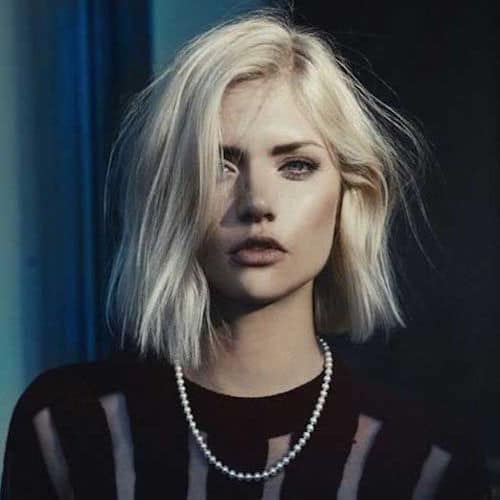 16. Textured Bob for Thick Hair
Creating texture is so easy with thick hair and looks effortlessly gorgeous when paired with a bob. Just add some volumizing powder or texturizing spray to your roots and work it throw with your hands. This looks fab in straight or wavy hair, but we love a loose textured beach wave.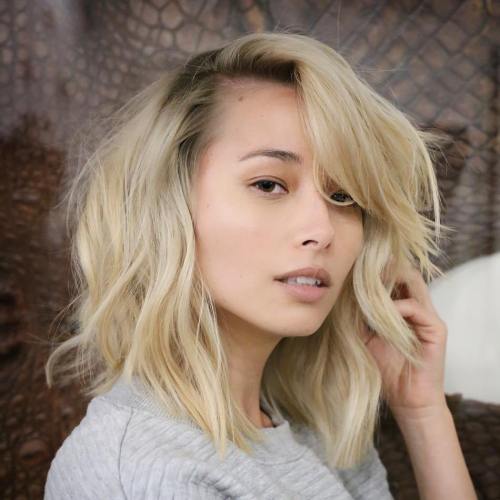 17. Concave Bob for Thick hair
Concave bobs minimize styling time, as they are already cut into a ready-to-wear look. The long at the front and short at the back style works similarly to layers in thick hair. This cut works when worn straight to elongate your face or with loose curls for added volume.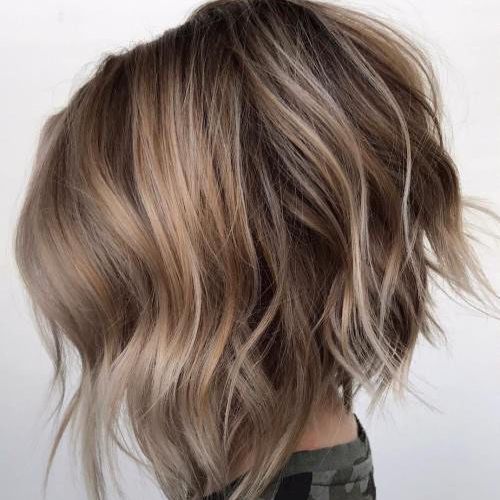 18. The Faux Bob of Thick Hair
If you are not ready to commit to the chop, try rocking a sleek faux bob. This style is much easier to achieve than you might think. Merely braid two small sections from the underlayer of your hair and pin them in place. Make sure the braids aren't visible at the front. Wave your hair and roll it upwards towards the nape of your neck. Using bobby pins, secure this layer to the braided section. Pull out a few strands at the front and around the back, and voila, you have a faux bob.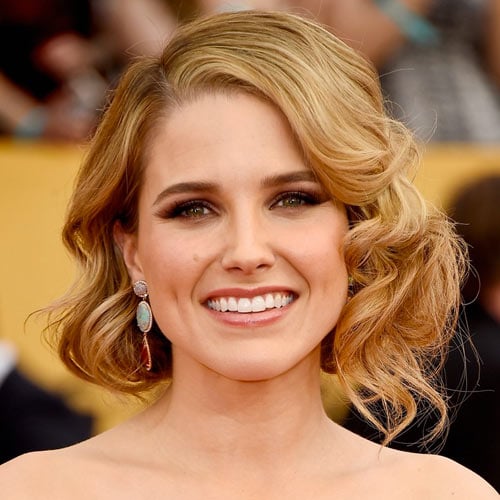 19. Long Layered Bob for Thick Hair
Longer layered bobs are probably the most universally flattering hairstyles. This is obviously why it has been the style of choice for celebrities, influencers, models, and just about everyone for the last few years. The layers create natural movement and help your thick locks sit softly around your face.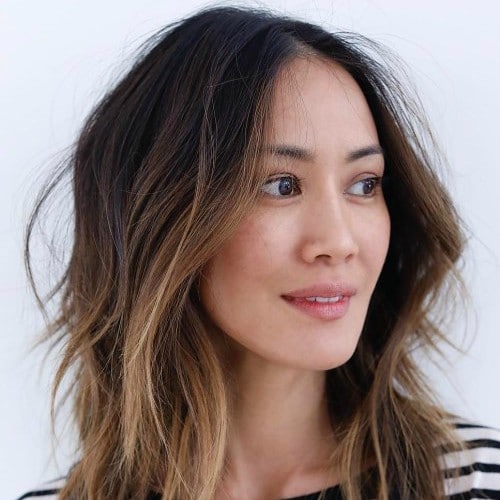 20. Long Angled Bob for Thick Hair
Varying lengths are ideal for thick hair; they minimize tangles and create softer looks. That being said, angled bobs are still very striking styles for women with thick hair. They are the most flattering on women with round and full faces. But women with thinner faces can still rock this style, especially with a little bit of extra length.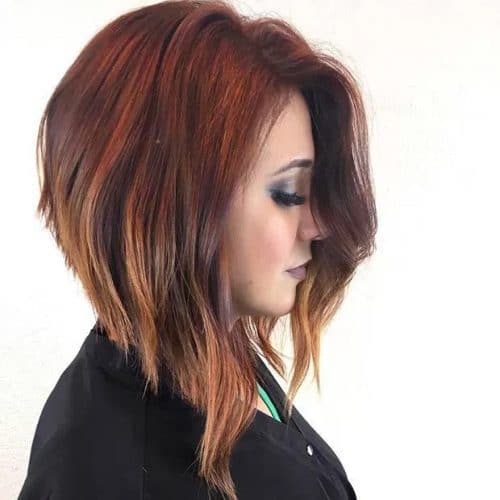 21. Slicked Back Long Bob for Thick Hair
The likes of Gigi Hadid and Rosie Huntington-Whiteley are often seen rocking slicked-back bobs. Having thick hair with a little extra length means you don't have to worry about the style looking too slicked or stuck to your head. Rather it will sit voluminous and full, looking red carpet ready.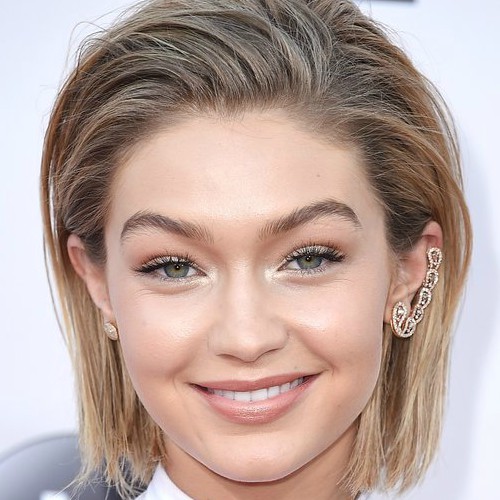 22. Long Bob with Front Fringe for Thick Hair
Blunt front fringes have been practically invented for girls with thick hair. They are fun and pretty yet edgy and sophisticated all at the same time, just like the long bob. Keep your fringe blunt and style the rest of your hair however you like, sleek and straight, messy and wavy, or with big bouncy curls.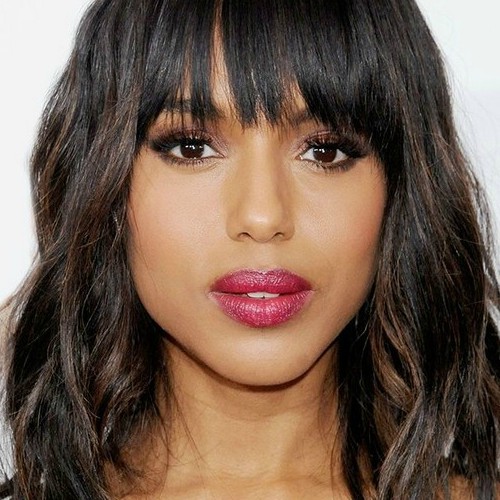 23. Short Hairstyles for Thick Hair Over 50
Many women choose to cut their hair after a certain age, and there are several gorgeous haircuts for women over 50 for thicker strands. These include classics like the long pixie cut or short bob haircut. Styling the hair with bangs is an excellent choice, giving the illusion of length while also drawing attention to the face and highlighting your features.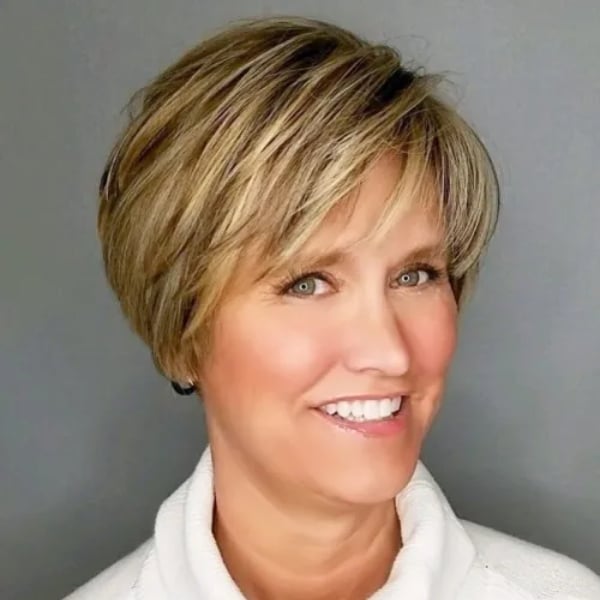 24. Low Maintenance Layered Short Hairstyles for Thick Hair
Layered hair is an excellent choice for thicker strands. How the hair is cut in layers can remove the bulk and weight from the hair, making it feel lighter and giving it more movement. There are several options to choose from, including heavy layers like the shag or wolf cut, or subtle layers which can be strategically placed.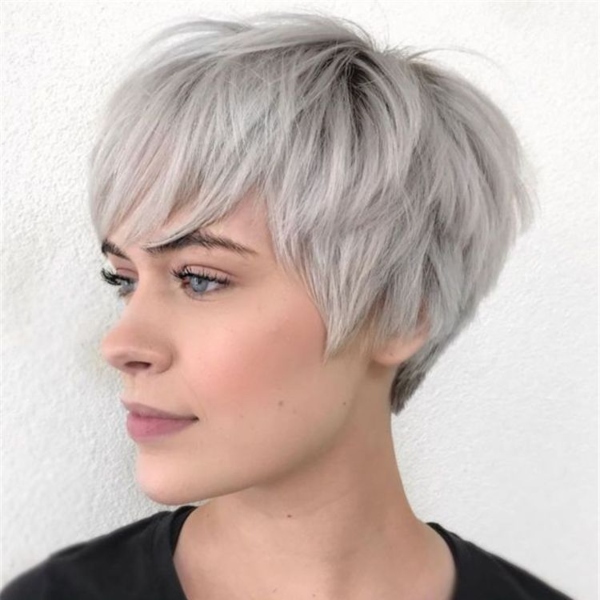 25. Shoulder Length Short Hairstyles for Thick Hair
Shoulder length hair is one of the most versatile choices. It gives you many opportunities with styling that short hair does not, but is still low-maintenance and lends itself well to various styles. This is the length that thick hair looks best at, and you can choose from a wide range of haircuts. Add subtle layers that gradually thin toward the ends of the hair for a gorgeous finish.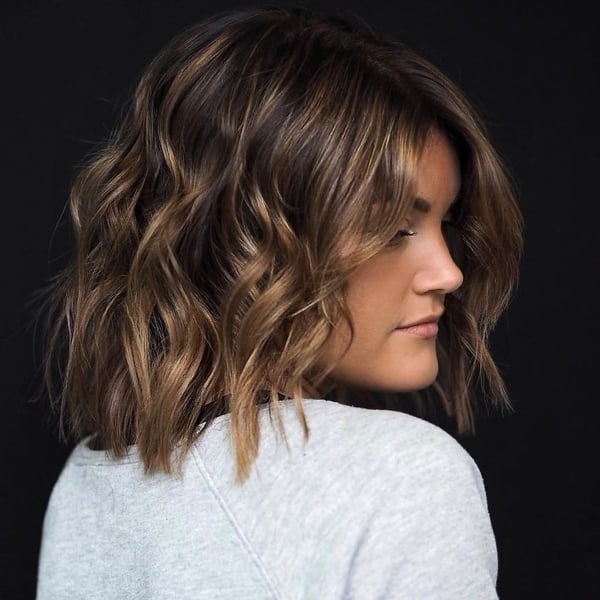 26. Round Face Short Hairstyles for Thick Hair
Thick hair can be cut in various ways, including short hairstyles. The right cut will give your hair movement but also remove some of the weight and bulk from your thick strands. For round faces, the most flattering styles are those that can elongate the face and make it look slimmer. This includes the A-Line Bob, asymmetrical haircuts, and pixie cuts.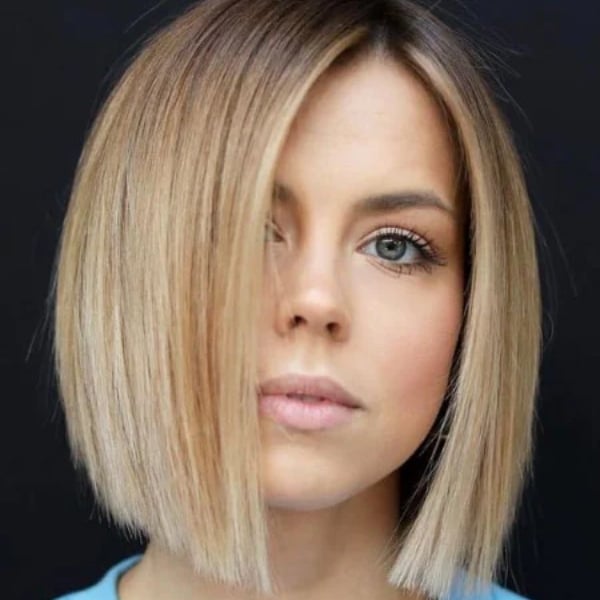 27. Short Hairstyles for Oval Faces and Thick Hair
Oval faces are fortunate in that many haircuts complement this face shape. If you have thick hair and want a short, low-maintenance haircut, some of your best options include a long pixie cut, sleek lob, and classic bob. Bangs also look great with oval faces, and you have versatility with the styles you choose, including side swept bangs, which can be particularly flattering.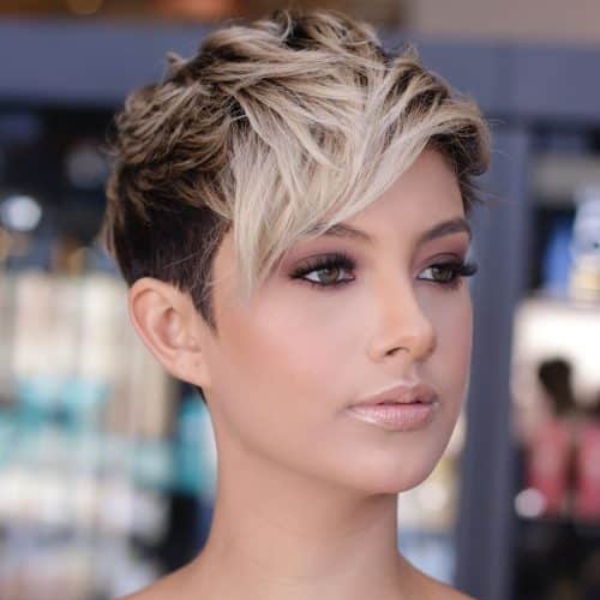 28. Easy Short Hairstyles for Thick Hair
Thick hair can be challenging to care for and feel heavy and bulky, so many women with thicker strands choose to cut it short. Short hairstyles for women are a great choice, and there are many low-maintenance and effortlessly chic looks to choose from. Adding layers to the hair is a great way to remove some of the weight and give your locks movement.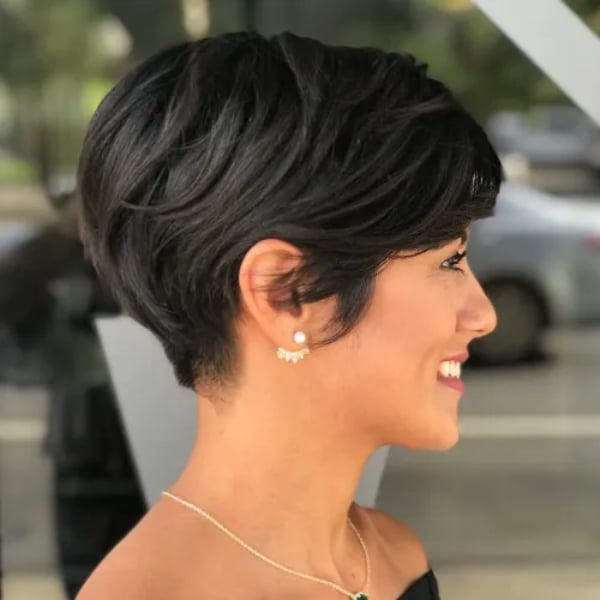 29. Short Hairstyles for Thick Straight Hair
Straight hair with a thick texture can look full and healthy. There are several ways to style your hair, including cutting it short and embracing styles that benefit from a sleek appearance, like a cropped Parisian bob. You can also add a fringe to draw attention to your features. Work with your hairstylist to find the best bangs to complement your hair texture and face shape.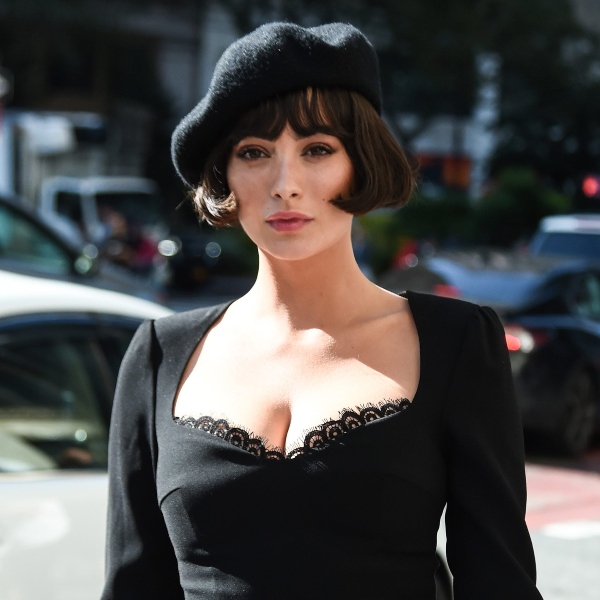 30. Short Shaggy Hairstyles for Thick Hair
Thick hair is great because it makes the hair look full and voluminous. However, it can also be challenging to style and can feel heavy and bulky. A great way to eliminate this is to opt for a heavily layered haircut, like the shag haircut. Shaggy hair is defined by the layers which keep the thickness at the crown but thin toward the ends. It is incredibly versatile and great for giving hair movement. It is also flattering for women of all ages.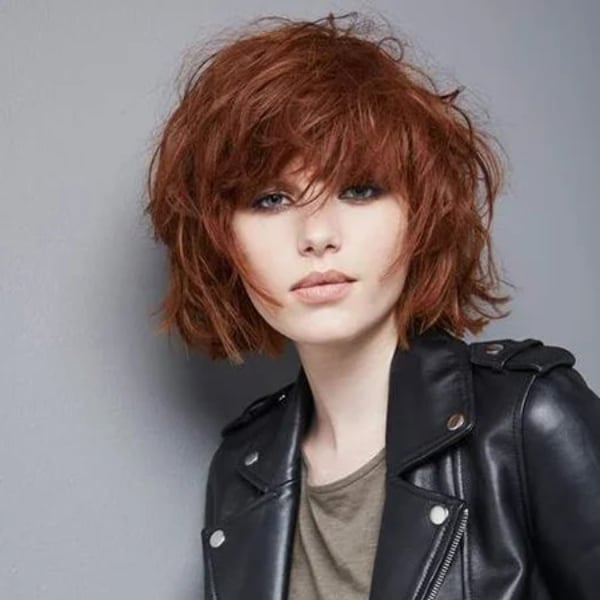 31. Cute Hairstyles for Short Thick Hair
Short hair can be restrictive with styling, and you have less versatility with updos, but you can still personalize your look with cute hair accessories. Hair accessories are an excellent way to express yourself, and you can add a pop of color to your look with hair clips, bows, and rubber bands. This will also help you create a youthful and playful finish.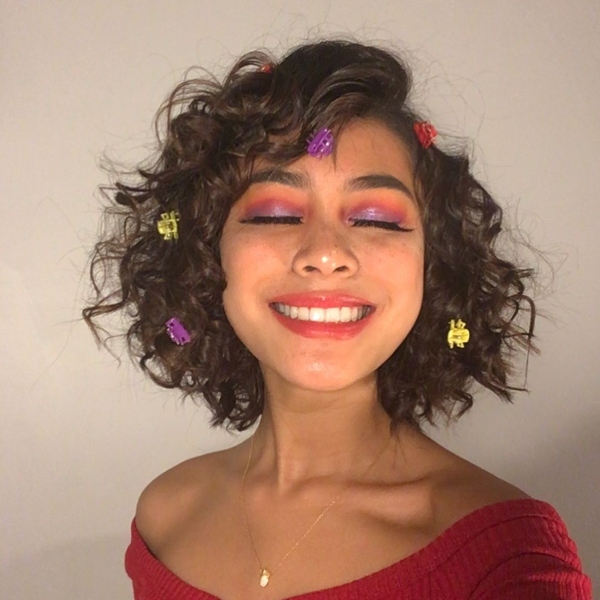 32. Short Hairstyles for Thick Coarse Hair
Thick, coarse hair can be challenging to care for because it can be prone to tangles and require many hair products. A great alternative then, is to cut the hair short and embrace the simplicity of one of the many popular short haircuts for women. If you want something edgy and cool, try shaved sides. Or stick to the classics like the pixie cut or bob.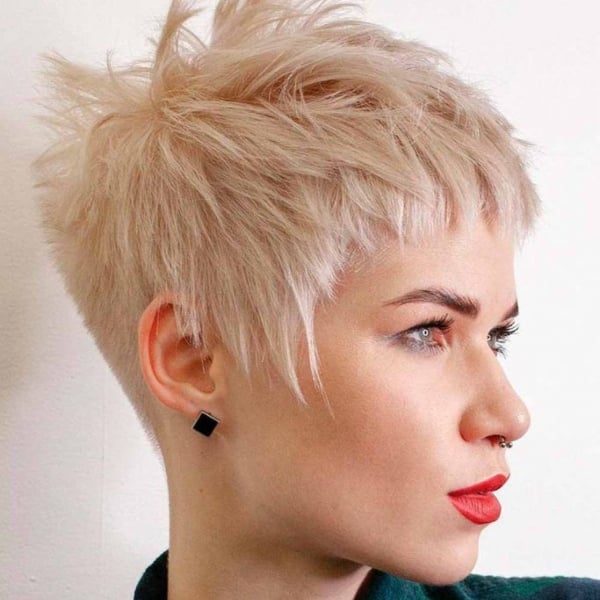 33. Very Short Hairstyles for Thick Hair
If you prefer gender neutral haircuts or minimal-fuss styles, then you can chop off your locks and opt for a very short hairstyle. Short hairstyles for women include the buzz cut, cropped pixie, and messy spikes. If you prefer slightly longer hair than the buzz cut, you want to add layers throughout your thick hair to prevent the hair from looking too bulky.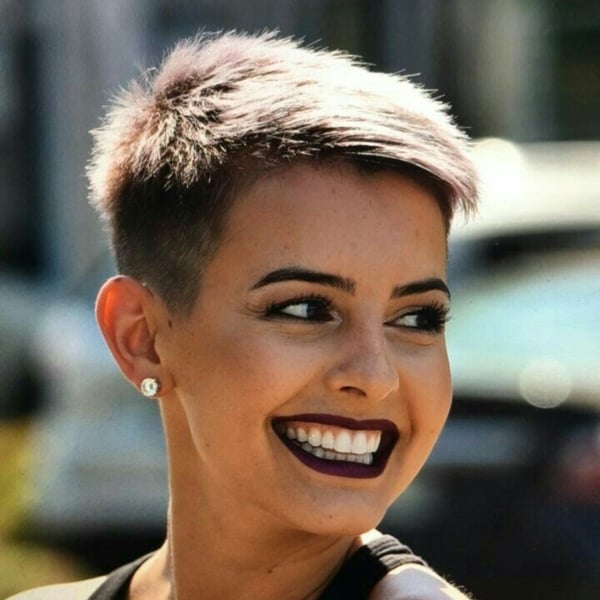 34. Short Hairstyles for Thick Frizzy Hair
Some thick hair can be prone to frizz, which can be counteracted with the right styling products. You can also choose hairstyles that can disguise or complement the frizziness of your hair. Deliberately messy and unstructured styles work best, for example, a messy bun or a short haircut with strategically placed layers and bangs.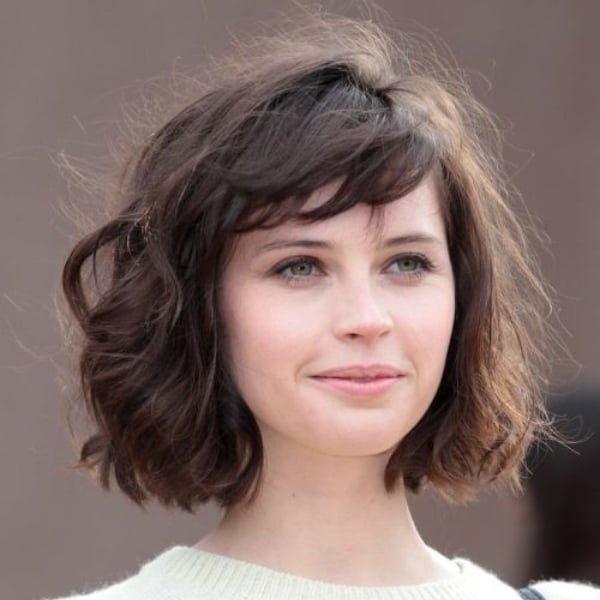 35. Short Hairstyles with Bangs For Thick Hair
Bangs can be gorgeous with thick hair. The best look is full bangs which can complement your hair texture while also giving your haircut a chic finish. You can opt for a blunt cut or style them to be deliberately messy and wind-swept. Short hair looks great with bangs because they can give the illusion of length while also drawing attention to the face and giving you a youthful finish.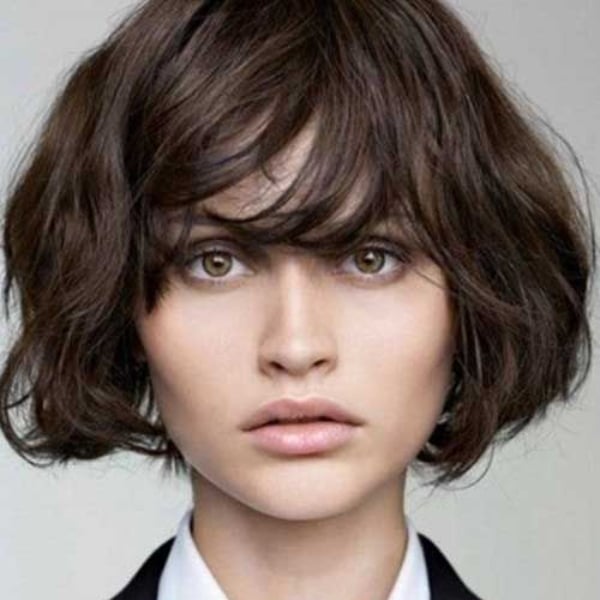 Short Hair for Thick Hair FAQs
What is the best short haircut for thick hair?
The best haircuts for short thick hair include pixies, bobs, and long bobs. Of course, within these three styles, there are endless variations. Try a blunt, asymmetric, or undercut pixie style, or opt for a concave, choppy, or layered bob. If you're keen to keep it a little longer, check out styles such as a long layered bob, thick fringe, or angled long bob.
What hairstyle is best for thick hair?
The best hairstyles for thick hair work with the natural volume or take advantage of cutting techniques to take weight out without compromising shape or style. Try a pixie cut, bob, or long layers for thick hair.
How do you fix short thick hair?
If you're blessed with thick hair, but it's feeling a bit heavy and flat, ask your hairdresser to take some weight out. They can add layers on the top or internal layers if you don't want a wispy or choppy look. You can also choose a style, such as a short pixie, which naturally takes the bulk out. You'll want to avoid volumizing or thickening shampoos and avoid sulfate products that can leave build-up in your hair, further weighing it down.
What is the hairstyle for 2020?
The most popular women's haircuts for 2020 are the pixie cut, bob, long bob, bangs, shag, and blunt haircut.
SUBSCRIBE TO OUR NEWSLETTER
Subscribe to our mailing list and get interesting stuff and updates to your email inbox.