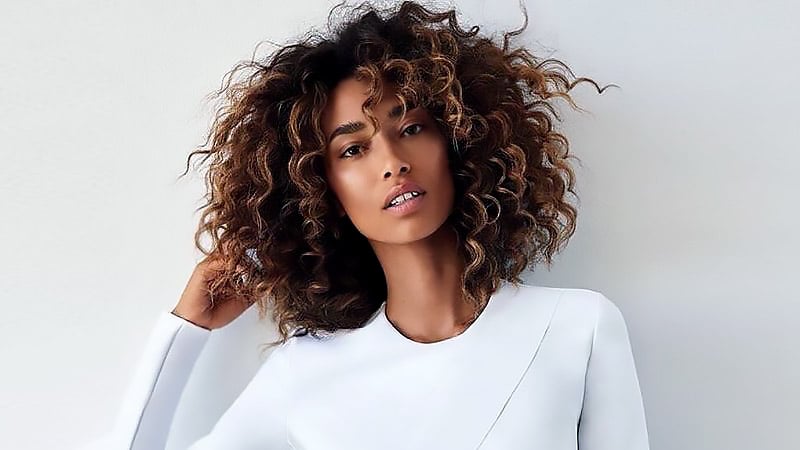 Dark hair is one of the hottest trends at the moment. Sexy, alluring, and sophisticated, it brightens your eyes and adds depth and dimension to your overall appearance. If you want to add a bit of life to your black locks, you should consider getting highlights. There are so many variations that flatter different skin tones, textures, and personal styles; it can be tricky to choose just one! Whether you're trying to add some extra depth, go lighter or inject some color, these highlight ideas add radiance to your appearance but don't minimize your beautiful base color.
1. Black Hair with Blonde Highlights
Illuminate your face with buttery blonde highlights, adding an instant glow to your complexion. Blonde is the perfect hue for those who wish to experiment with lighter shades, without the commitment of coloring all of your hair. Brighten your eyes with the highlights, and continue the shade from your eye line.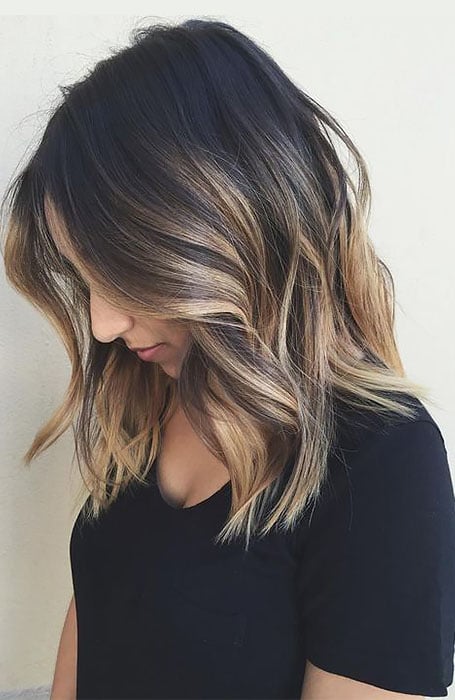 2. Black Hair with Caramel Highlights
Caramel highlights create further dimension, giving your locks instant shine and depth, as well as a youthful glow. Keeping a base color of black with creamy caramel hair color accents, which add a summery glow to your hair – the contrast is sure to attract attention. Begin the tones at the midsection of your hair to create a natural and organic-looking ombre.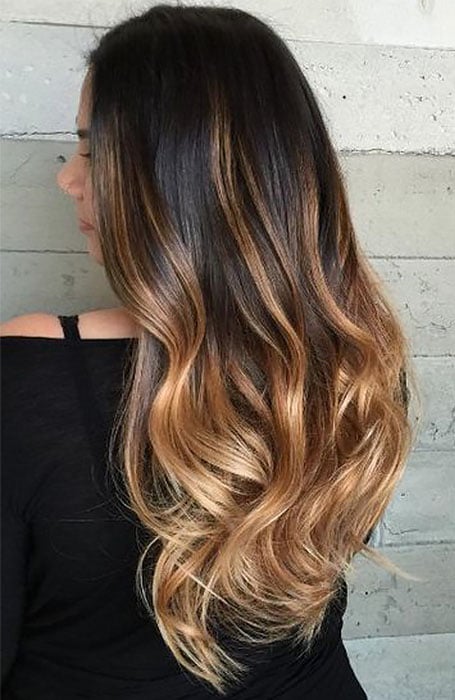 3. Black Hair with Blonde Ombre Highlights
Transition into the warmer months with a creamy blonde ombre adding a glow to your features and life to your hair. Commence the highlights near the base of your roots, and gradually lighten the further down you go. Leave your dark tones as the focus at the top of your hairline, adding ribbons of blonde where the sun would naturally hit – leaving nothing behind but beautiful blonde at the ends. Keep brassiness at bay with the help of an occasional toner.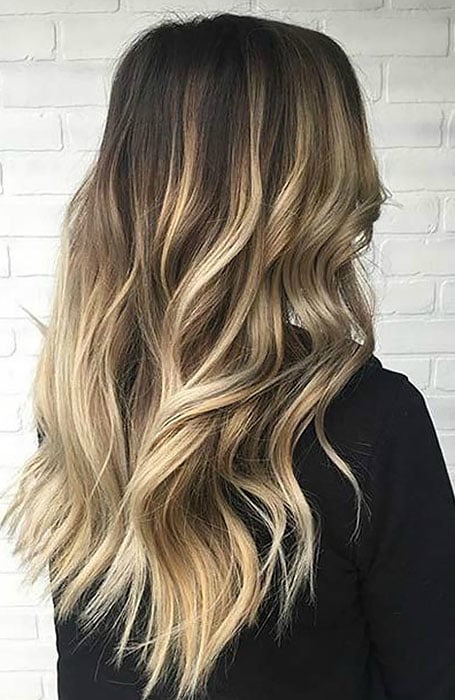 4. Brown Highlights on Black Hair
Brown highlights capture light and create a multi-faceted, dimensional appearance. Pull shades of brown near the middle of your locks and gently blend them with your ebony hair. This shade is easy to maintain and effortless like you've spent a day out in the sun, even if you've been stuck in an office all day.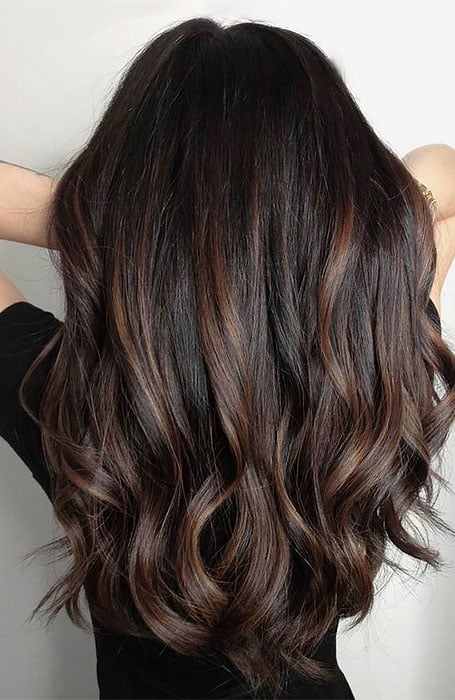 5. Platinum Highlights on Black Hair
Give yourself an edgy appeal with icy highlights; the perfect shade for those with light eyes and pale skin. This look takes a bit of work, but it's oh-so-worth-it. Start with tiny slivers of platinum a few centimeters from the root of your head, and gradually blend the contrasting shade with your darker shade. Maintain those platinum locks with the help of a silver toner, so it looks like you've stepped out of a salon every time you leave the house.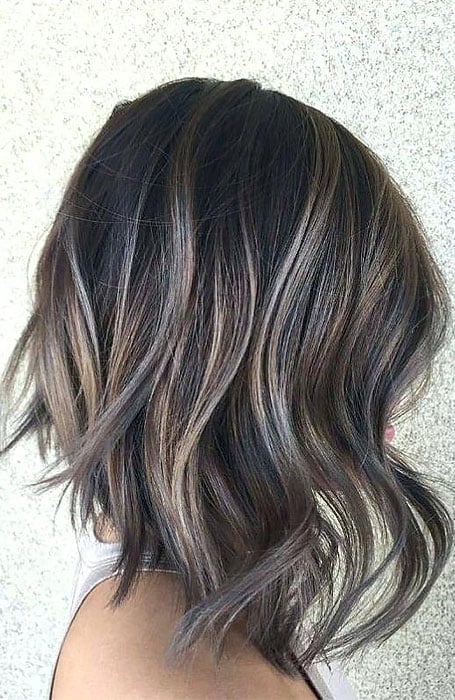 6. Honey Blonde Highlights On Black Hair
Honey blonde highlights brighten the face and look perfect with beachy waves or soft, loose curls. The tasseled, just-got-out-of-bed look is a great way to add some drama to your hair, without overpowering it or drawing attention away from your attributes. A seamless transition from dark to light should begin with a soft chassis around your features, and sporadic glimmers hitting your hair where the sun naturally would.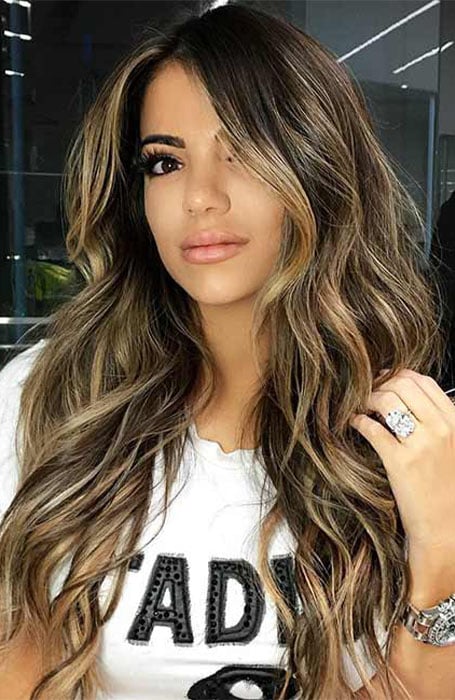 7. Copper Highlights on Black Hair
Put a twist on classic highlights with copper. Depending on the intensity you wish to convey, copper is the perfect shade for those who prefer subtlety, and synonymously for those who want to add some drama! Launch in with a slow but intense shade of burgundy near the crown of your head, adding further depth to your hair by lightening the burgundy into copper. A few golden strands will add additional emphasis to your eyes and make your hair look like a sparkling jewel.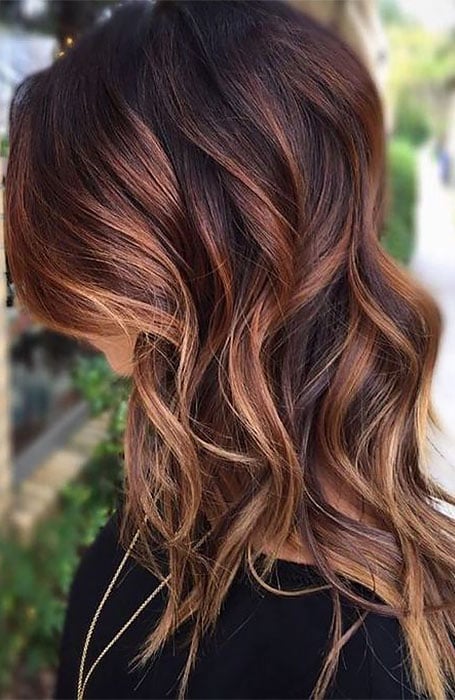 8. Full Highlights on Black Hair
Add depth to every facet of your hair with full highlights, preventing flat-looking hair. A delicate mixture of dark to light browns adds texture and dimension to the dark hair, without overpowering your base color. These highlights look best when started at your eye line, so every time you move your head, a new shade will catch the light and keep everyone's eyes on you.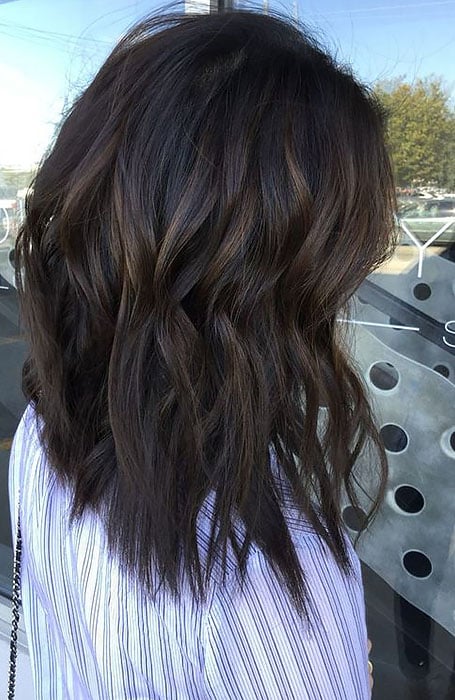 9. Burgundy Highlights on Black Hair
Ideal for those with darker skin tones, burgundy highlights give a warm and colorful glow to black hair. Starting the dark red near the front, you can begin sweeping the muted color through the midsection of your hair. This shade is so delicate; it will be a beautiful surprise for others when you move your head.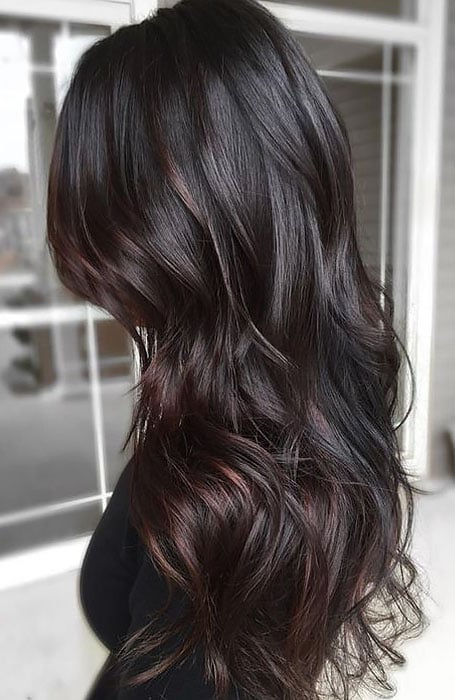 10. Balayage Highlights on Black Hair
Balayage is the perfect way to transition into a lighter shade without looking abrasive. The balayage highlights will soften your attributes and brighten your face. Unlike an ombre, balayage is a natural digression from dark to light, with illuminating colors starting near the crown of your head and naturally settling in your hair. Paint different shades and tones of your choice to create a multi-dimensional and complex combination; you'll be getting compliments all day.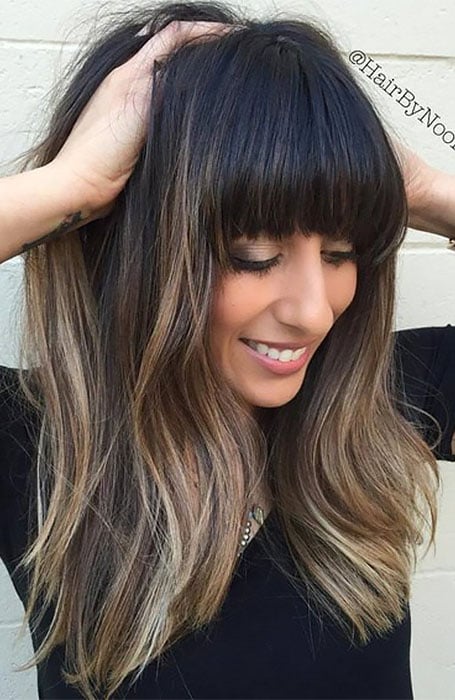 11. Natural Highlights for Black Hair
Keep it cool and collected with natural highlights that amplify your beautiful shade without overwhelming it. You don't have to go blonde to add characteristics; an ashy brown tone will do just the trick! With natural colors, you can begin brightening near the crown of your head and keep it consistent all the way down to the ends of your hair. No matter your hair type, this tint will make your hair look its healthiest.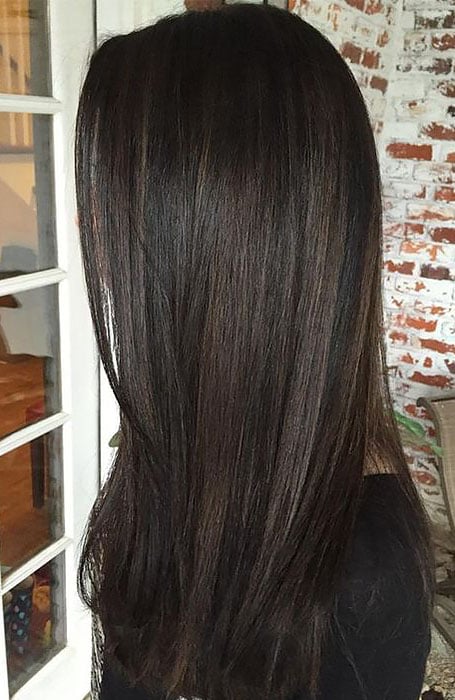 12. Black Hair with Red Highlights
Make it edgy and fun with a pop of color. Red highlights give a vampy and sexy finish to dark hair colors. For a shade that's not-so-subtle, start with highlights at the roots of your hair, with a blend throughout the remaining wash. Be sure to revive the red every few weeks with a color booster, as a shade this fiery should always look fresh.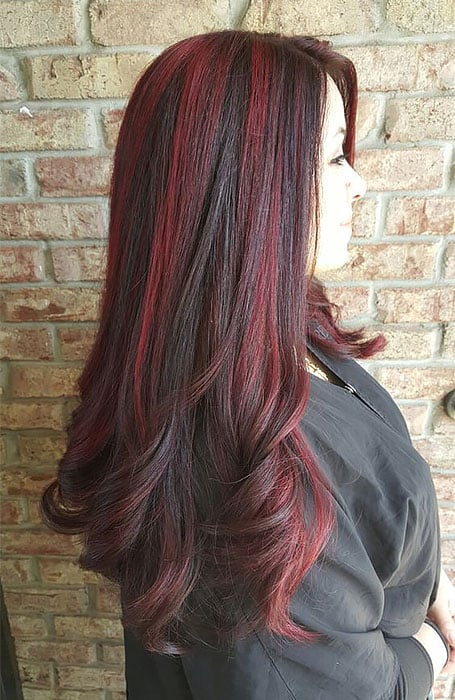 13. Dark Red Highlights on Black Hair
Deeper red hues blended with black hair are the perfect way to introduce dimension to your hair, while simultaneously bending the rules. A darker red not only draws attention to your beautiful features but also injects a creative flair to every angle of your head. Keep the focus of the deep red shade in the mid-section and ends of your hair, but be sure to emphasize your features with some slivers of red. Stand out and be ready for some well-deserved attention!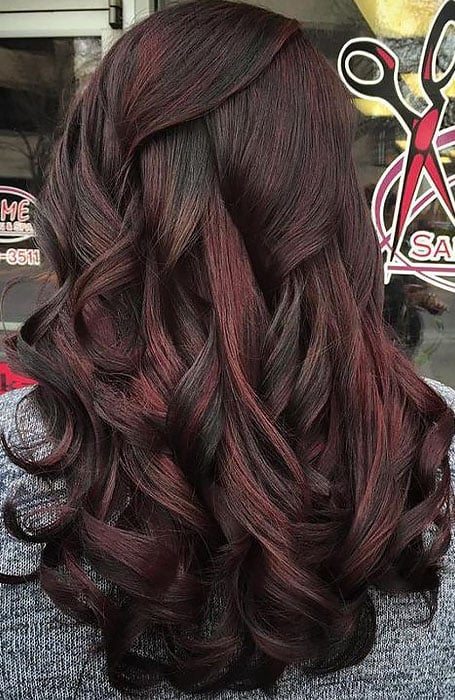 14. Black Hair with Purple Highlights
Be ultraviolet and turn heads with beautiful purple highlights. The deep shade accentuates your eyes and adds a sense of magic to your hair. You don't have to place purple shades everywhere – you can keep it sporadic and still maintain an edgy and fashion-forward approach. This color combo is ideal for all textures, so don't be afraid to add different shades of purple to create further dimension and depth to your hair.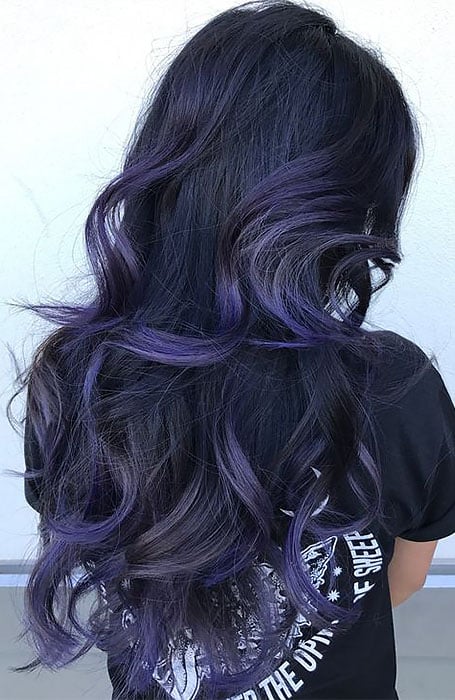 15. Black Hair with Grey Highlights
Chic and edgy, grey highlights give the instant impression of high fashion, while brightening your profile and adding life to your hair. This shade looks best when starting from the midsection to the ends of your hair, so when your hair starts to grow out, it doesn't look like you need to get your roots done. Grey, much like platinum, takes a lot of patience, but it's worth it for such a stunning outcome.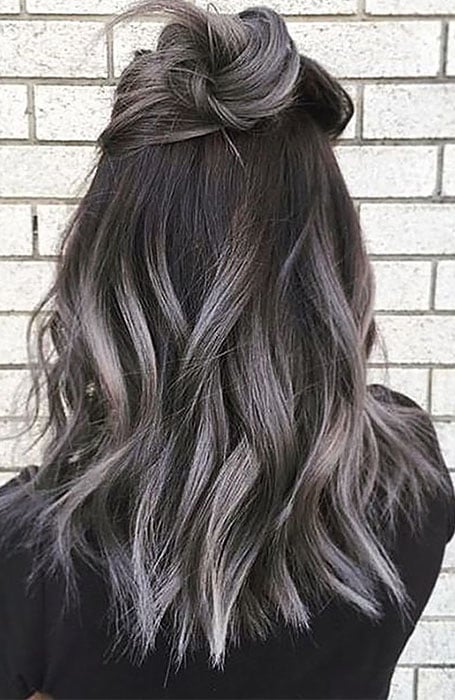 16. Black Hair with Blue Highlights
Keep it simultaneously delicate and edgy with blue highlights. The intensity of blue will catch the lights and give the instant impression of glamour. Much like purple, you don't have to focus the color on all aspects of your hair, simply throw in a few locks of blue to keep your hair looking fresh and fascinating. Start with highlights below your ear level, and sporadically lighten a few locks of hair. This combination of colors is the best way to look subtle and rock-chic all at once.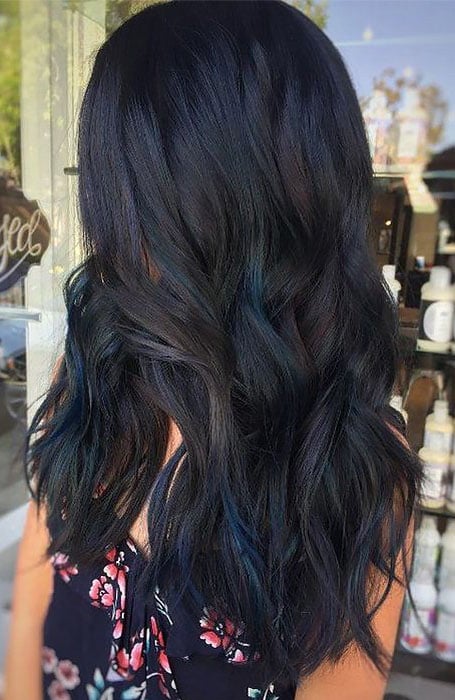 17. Black Hair with Auburn Highlights
Keep it multidimensional with auburn highlights. The shade flatters olive skin tones and adds depth to your features. Begin with the red shade near your face at the roots, and then sweep through the middle and ends of your hair with the jewel-toned shades. This red shade is the perfect way to feel vampy and sexy without too much effort – these highlights are sure to keep you on everyone's radar.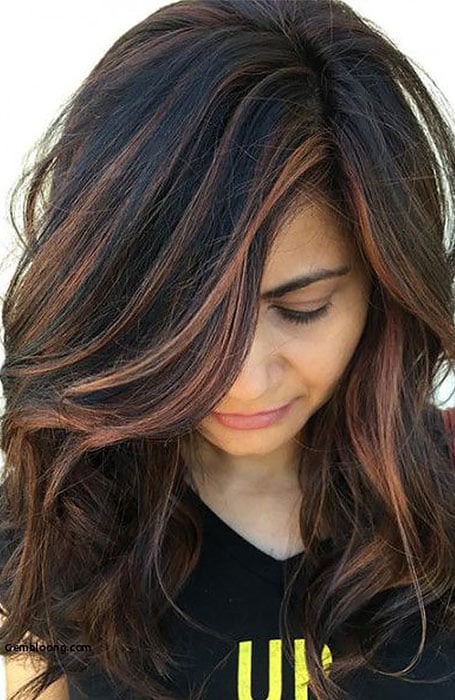 18. Icy Blonde Highlights with Black Hair
Be the ice princess you were destined to be with cool-toned blonde accents. Much like balayage, the key to keeping this shade looking effortless is the natural placement of the highlights. Begin at the roots of your hair, with one or two strands with a full, icy glow, and then work your way down subtly, leaving darker shades at the top and frostier shades from the ear to the ends. Blend honey blonde with the cooler tones to avoid a stark contrast between the tones. This combination of colors is perfect for any season and texture.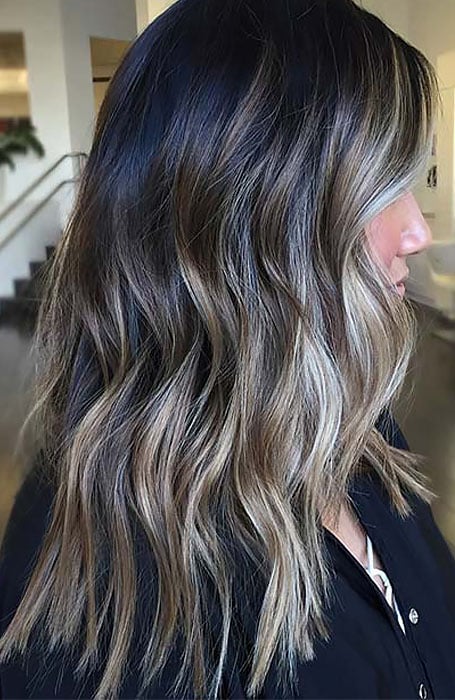 19. Golden Highlights with Black Hair
Warm up your appearance and get your glow on with golden highlights. The golden shade perfectly complements your deep black tone. This union of colors creates a youthful radiance and makes you look as if you've stepped off a catwalk. Feather the golden shades from your ear length to the ends of your hair to give a beachy and sun-kissed vibe or begin at the roots for a lived-in and celebrity-inspired 'do.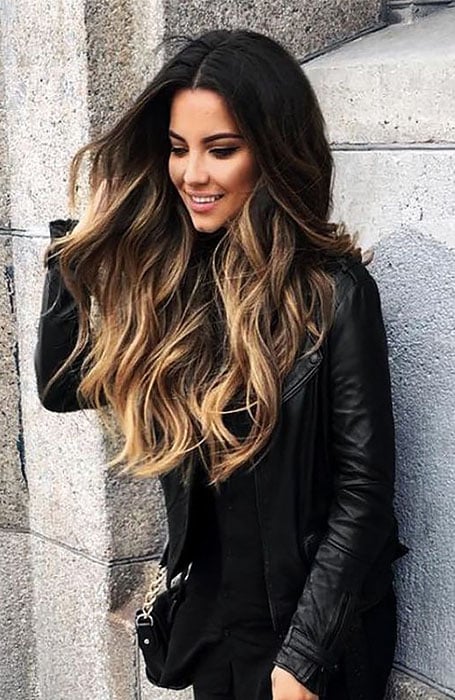 20. Black Hair with Subtle Highlights
Maintain your beautiful dark locks with muted highlights, that accentuate your deep shade and keep it multidimensional. Blonde isn't the only option for adding life to dark hair; never forget that less can be more. Ashy tones keep your hair looking fresh and sophisticated, without taking emphasis away from your natural shade. Fine-tuned highlights can begin anywhere that sun would hit your locks; a shade or two lighter than your natural base color is the perfect option for those who wish to stay low-key.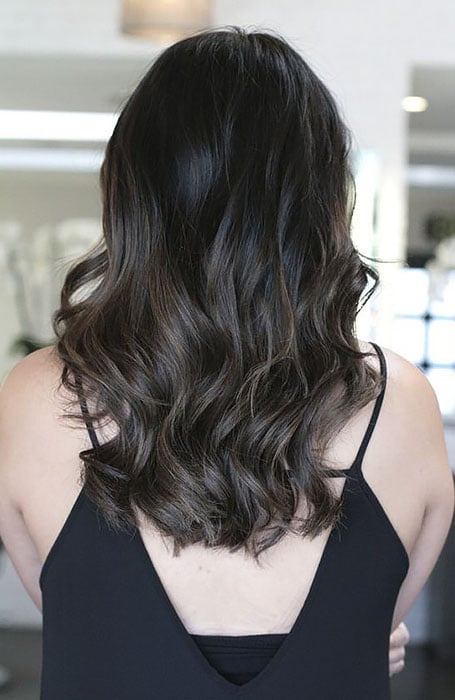 21. Black Hair with Chestnut Highlights
Add some life to your dark hair with warm chestnut highlights. These nutty colors are perfect for olive and darker skin tones and work for all hair textures. The shade can start from all angles of your head, beginning at the crown or near your eye line, working its way down towards the ends of the hair. Don't be afraid to combine earthy tones – create a rich tapestry of shades that will brighten your features and add life to your hair.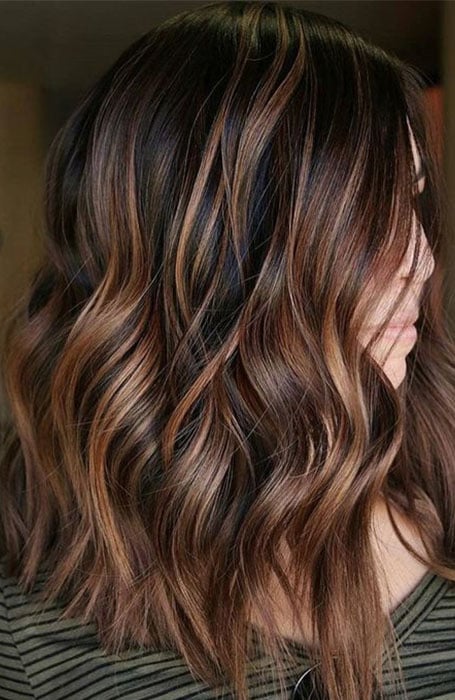 22. Short Black Hair with Highlights
You don't have to have long hair to benefit from highlights! A cute bob haircut or pixie cut paired with highlights accentuates your locks and can draw attention to you in the best way possible. The tips of your hair can take the lead with lighter shades than the roots, but the length of your hair will create a whole new dimension to your appearance. Make it edgy, sleek, and sexy all at once by coordinating your gorgeous dark color with something a few shades lighter.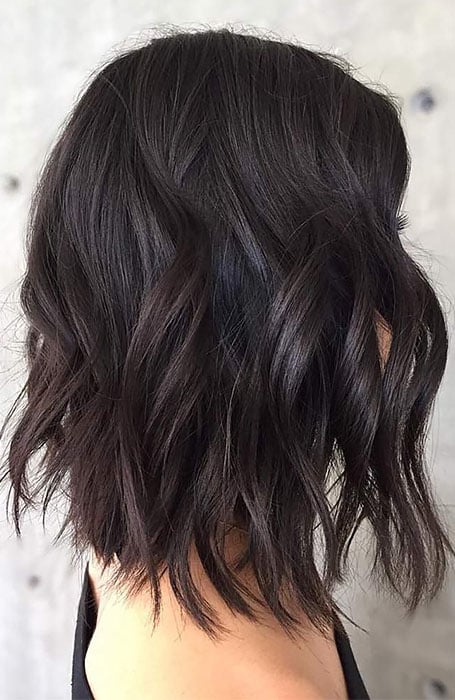 23. Short Black Hair with Blonde Highlights
Your short hair can come to life with the help of some blonde highlights. The blonde catches the light, creating a beautiful and soft hair color. With shorter hair, it's best to have lighter shades closer to the roots leaving some room for the base color to shine through. This style is the best way to achieve a sun-kissed look, without sacrificing your beautiful dark shade.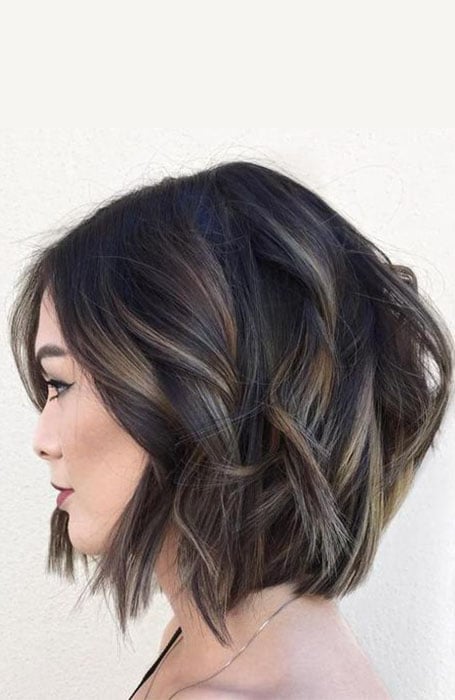 24. Partial Balayage on Dark Hair
Maintain the majority of your beautiful, dark locks with partial balayage. The soft highlights gradually lighten parts of your hair, but not all of it, giving depth and a delicate frame. Choose whichever shade you'd prefer; you don't have to always opt for a blonde to achieve a beautiful balayage. Choose grey, chestnut or chocolate brown shades to attain a style that doesn't need too much maintenance or strict treatment regime. Partial balayage is the perfect option for those who aren't fussed about going to the hairdresser every six weeks; let it grow and watch it keep its magnificence.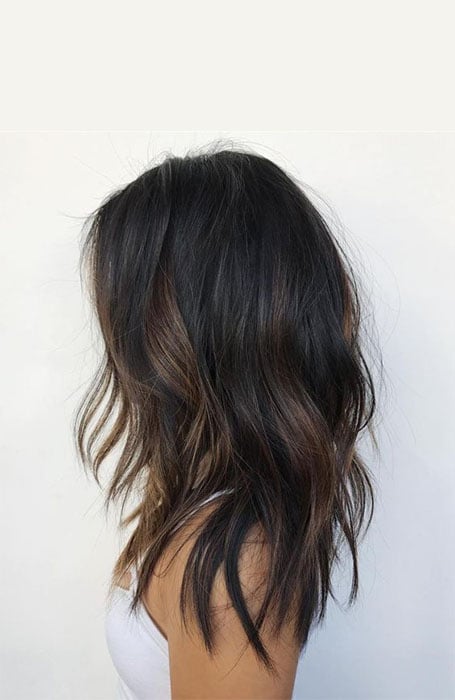 25. Black Hair with Brown Highlights
Black hair looks gorgeous with highlights which can add depth and dimension to the color. This is a great way to prevent the hair from looking flat and can be added to all textures, lengths, and styles. Opting for dark brown highlights makes the look easier to wear than adding lighter colors like blondes because they produce less contrast. Highlights will also work to brighten your appearance and lighten the hair, and can be incredibly flattering. If you are looking for a way to update your locks, this is it!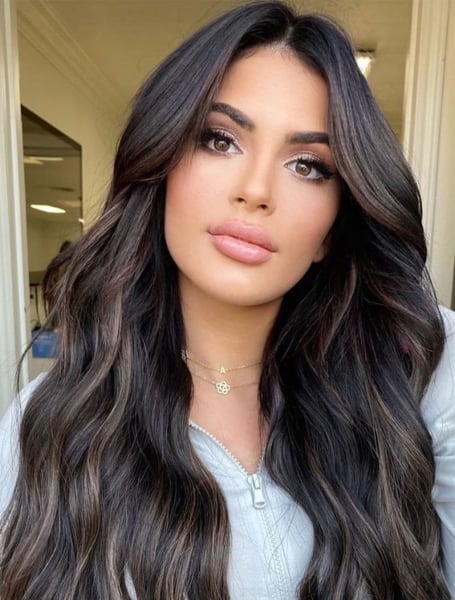 26. Natural Highlights with Black Hair
If you want to brighten your hair but wish for it to be done to look subtle and natural, you can achieve this with highlights. The key is to choose highlights that are only a shade or two lighter than your natural hair, creating a seamless blending that will add depth to the hair. Highlights on dark hair can be harsh, but this option is ideal for a natural look, making the hair appear sunkissed rather than bleached. You can add them throughout the hair or focus only on the ends, depending on the result you wish to achieve.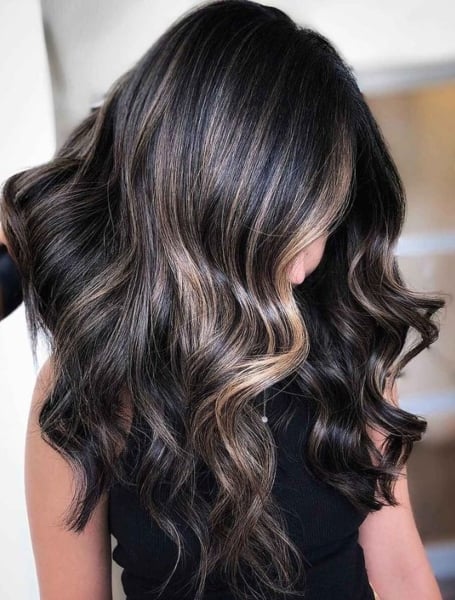 27. Black Hair with Blonde Streaks
Blonde streaks on black hair are for those who want to make a statement. It is a fantastic way for changing hair, giving it life and lift, but the difference in the color between blonde and black also makes a contrast. Adding blonde will draw the eye to your hair and enhance your texture. It can also be used to strategically frame the face, either with chunky streaks to create a face-framing effect or by focusing the color on the ends for a dip-dye approach.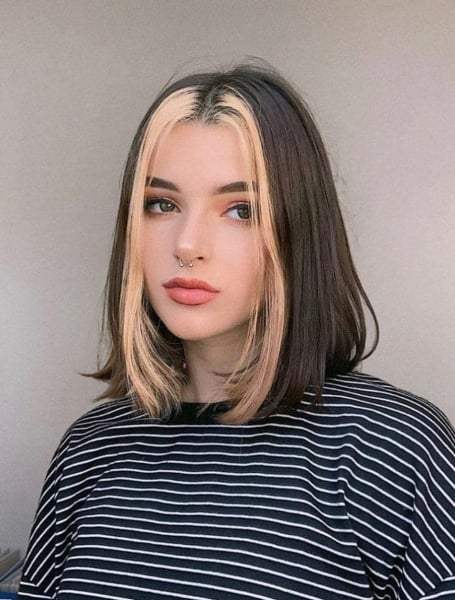 28. Golden Highlights with Black Hair
Golden hair color is a warm shade that can be of varying colors, including blonde and brown tones. It is a gorgeous addition to black hair and will add warmth to it. The color can be added in various ways, including balayage for a more natural appearance or highlights if you wish for the color to stand out. They can also be focused around the face to draw attention to the features or could be added throughout; the choice is yours. This is a wonderful way to brighten black hair and give it a softness.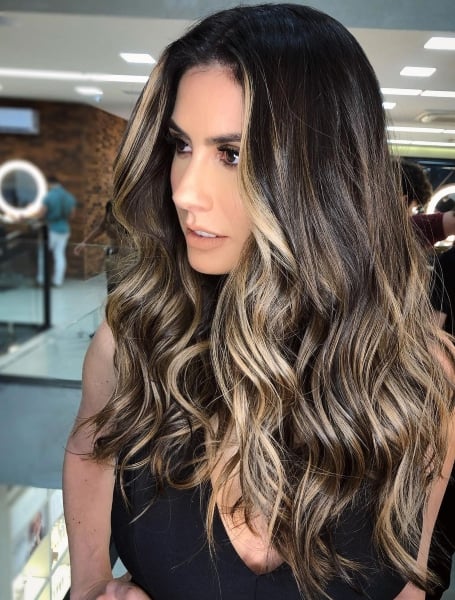 29. Subtle Highlights for Black Hair
Some hair coloring techniques are created to stand out, while others take a more subtle approach. Opting for barely-there, delicate streaks of color close to the base color is a fantastic choice. This will lighten and brighten your black hair subtly and naturally, making it ideal for all settings; chunky streaks and contrasting hues can feel restrictive and cannot be worn in more conservative environments. Highlights on dark hair are an excellent way to add depth and dimension.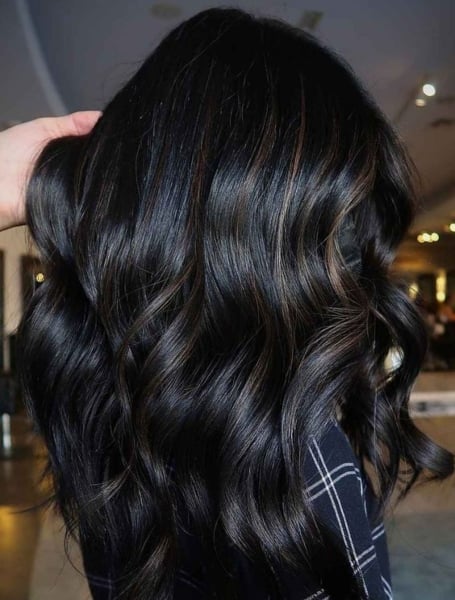 30. Chestnut Highlights on Black Hair
If you want to give your black hair a lift and create an interesting contrast, you can do this with chestnut highlights. Chestnut is a rich hue that has brown and red tones. It is flattering on most complexions and can be added to hair of all colors, including black. The combination of these two hues makes for a gorgeous finish. It will produce some contrast, most noticeable on straight hair textures, and appear blended on curly hair. It is also a fantastic way of brightening the appearance and lighting the hair. If you want to have some fun with your color, this is the approach you should take.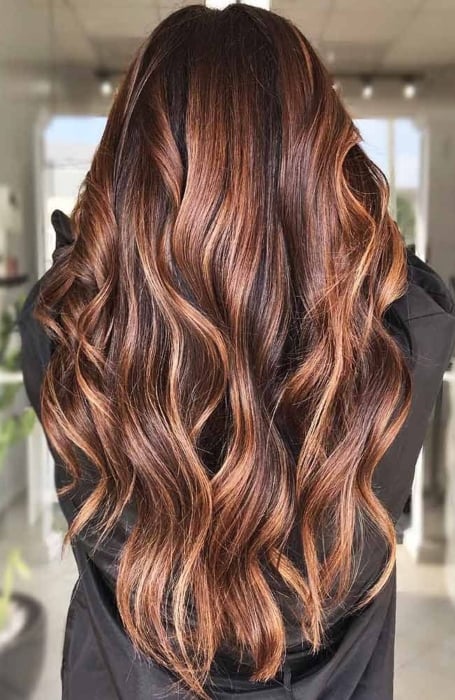 Black Hair With Highlights FAQs
Which highlights are best for black hair?
The best highlights for black hair are ones that will suit your skin tone, whether that's warm or cool. Black is a great neutral base that works with most colors. If you want more natural-looking highlights, choose a color that's only one or two shades lighter than your base. Then, place them where the sun would naturally hit. Alternatively, make a statement with blonde, caramel, or brightly colored highlights such as red, purple, or blue. Balayage or ribbon accents in black hair are a great way to make the color stand out more.
Can people with black hair get highlights?
People with black hair can definitely get highlights. However, black hair is a little trickier, so it's best to get professional help and head to your hair salon. There's also a couple of things to consider before you jump in. First, decide what kind of look you want — natural or statement. This will influence your color selection as well as highlight size and placement. Second, you'll need to manage your expectations. Both natural and dyed black hair can take a few goes to lighten and get the color right, so patience is vital. Maintenance is also essential to keep the condition of your hair healthy and maintain that famous black hair shine.
Can you highlight black hair without bleach?
You can highlight black hair without using bleach, but it's limited in its success and longevity. Bleach works by stripping the hair strands of color pigment, making it lighter and more receptive to dye. Hence, it has the best results for permanent color change. However, there are options with no bleach. If you have dyed black hair, you can try a color remover that gets rid of any artificial dye in the hair shaft. Alternatively, a high lift dye can help you lighten by a few shades. It lifts the hair and deposits new color, which is less damaging. Of course, there are also non-permanent options such as hair chalk and paste, which last until your next wash. Lastly, colored hair extensions might also be an option to add depth and movement to your black locks.
How to Highlight Black Hair?
1. Balayage is an excellent alternative to dying all of your hair. 2. Add some fun and edginess with a color like purple, blue, or red. 3. For blonde highlights, keep brassiness at bay with a toner every few weeks. 4. Keep it natural and add depth with highlights a couple of shades lighter than your base color. 5. To avoid making any mistakes, get a professional to help with your hair.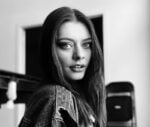 Alexandra Feiam is an experienced fashion writer who holds a degree in journalism. She has an impressive portfolio and expertise working as the Editor at Power Retail and Commercial Content Editor at Newscorp. Ally has been writing for The TrendSpotter since 2018, and her work has been featured in notable publications such as The Herald Sun, Arirang TV South Korea, Kidspot, The House of Wellness, and The Daily Telegraph.
SUBSCRIBE TO OUR NEWSLETTER
Subscribe to our mailing list and get interesting stuff and updates to your email inbox.