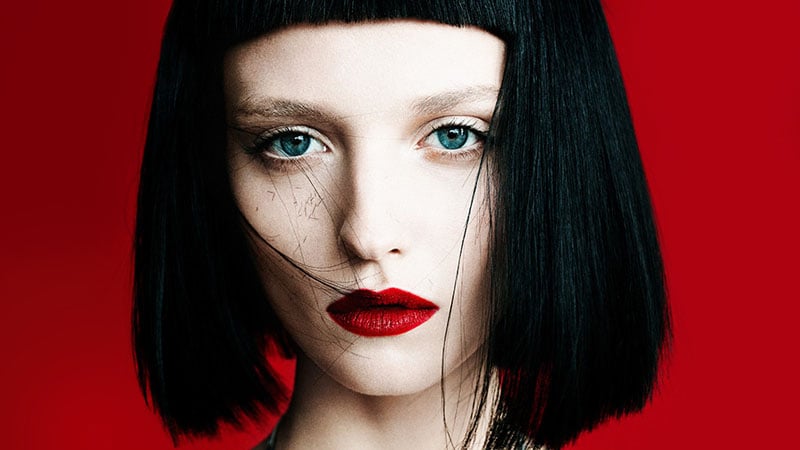 Looking for a hairstyle that's chic and trendy? Why not try a blunt cut! Super stylish and edgy, this bold 'do boast fresh, healthy-looking strands. Best of all, it's suited to all face shapes and hair textures. From a cute, curly bob to a striking, long style there's an option for everyone. So if you're ready to try something bold and new, read on to find out our favorite ways to wear a blunt cut.
1. Blunt Cut Long Hair
You don't have to sacrifice length to get a blunt haircut. Blunt cut with long hair is a very trendy option for the modern woman. Undeniably sleek and chic, this statement look will give you thick, healthy-looking strands. The only real downside to this striking style is its high level of upkeep. When your hair is all one length, you need to get regular trims to keep it growing out evenly. But when it comes to such a bold and stunning look, we think it's well worth it!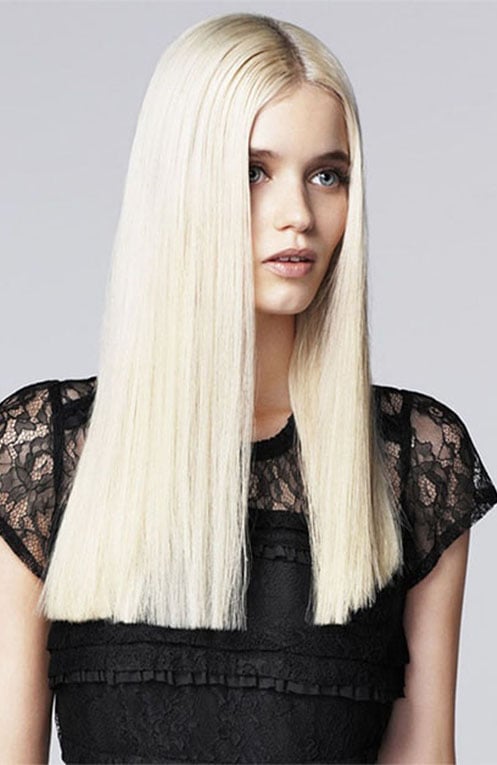 2. Blunt Shoulder Length Hair
Unsurprisingly, a blunt shoulder length cut remains one of the most popular hairstyles for women. Flattering on all face shapes and hair types, this look is as trendy as it is low-maintenance. What's best about it is it's ultra-versatile, easy to grow out of, and can be dressed up or down to suit the occasion. Style your ends inwards to help frame your face for a softer, less dramatic look.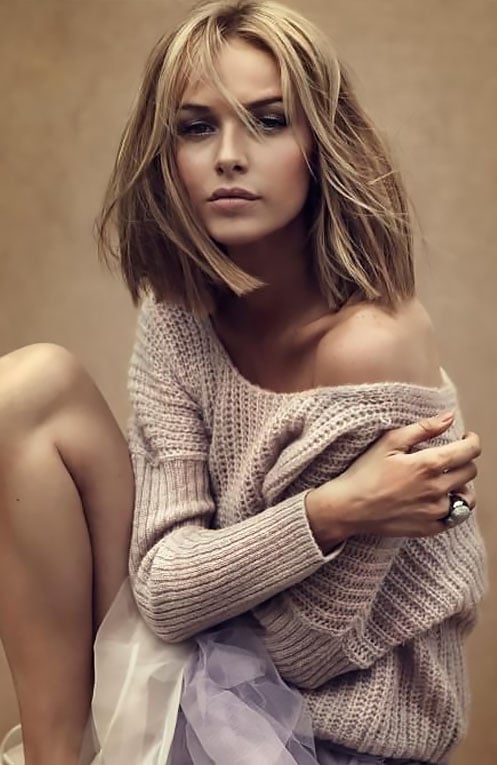 3. Blunt Short Hair
Ideal for those that are after an edgy yet trendy style, a blunt short haircut screams attitude. This eye-catching low-maintenance haircut is easy to wear and looks equally as stunning as curly, wavy, or straight hair. After a softer style? We love the short hairstyle with bangs to help frame the face.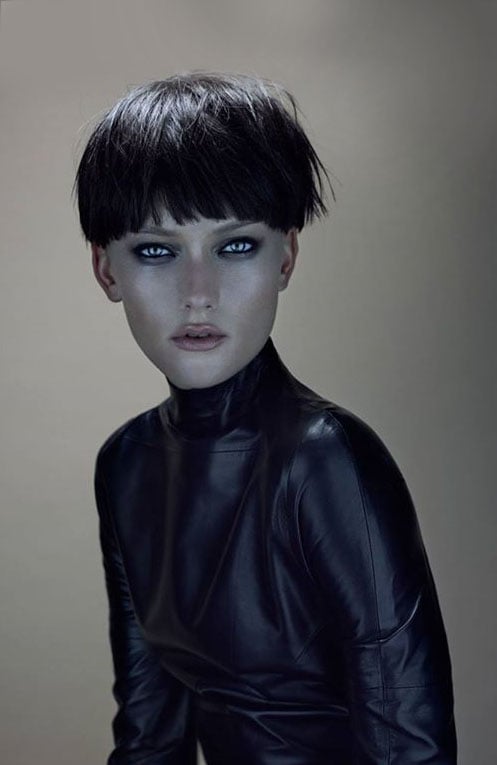 4. Blunt Cut Bob
Keen on shorter hair but not quite ready to commit to a pixie cut? Go for a blunt bob! Fashionable and sophisticated, this style works to emphasize the cheekbones and jaw. Plus, it's oh-so-versatile! After something a little more dramatic? Try a sleek, side-swept part. For extra gloss and shine, be sure to use a serum on the mids and ends of your hair.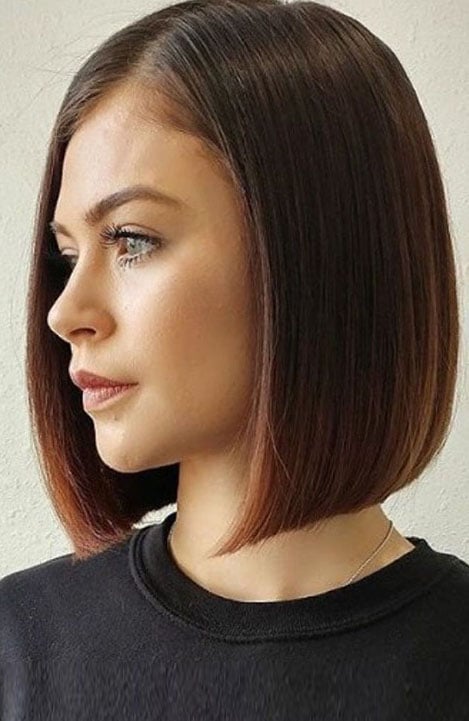 5. Blunt Haircut for Fine Hair
A blunt cut is a surprisingly great way to give fine hair some sharpness and definition. And when it comes to this particular hair type, the shorter, the better. Pin-straight hair or beachy waves work really well with this style. Classic yet simple, a blunt cut for fine hair is a laid-back look that ensures easy wear and styling. Try adding some mousse or texturizing spray to your 'do for a fuller and thicker appearance.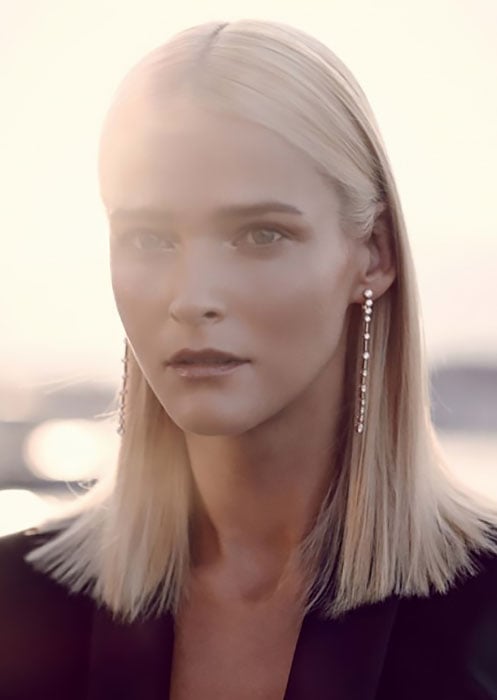 6. Blunt Haircut for Thick Hair
Got thick hair? A blunt cut is a great way to add some definition to your 'do. This style is especially perfect for reviving dry, damaged hair. And without layers to hide behind, the focus is put on the stunning fullness of your locks. Feeling especially bold? Ask your stylist for some blunt bangs. A dramatic fringe will add that extra bit of dimension to your hair.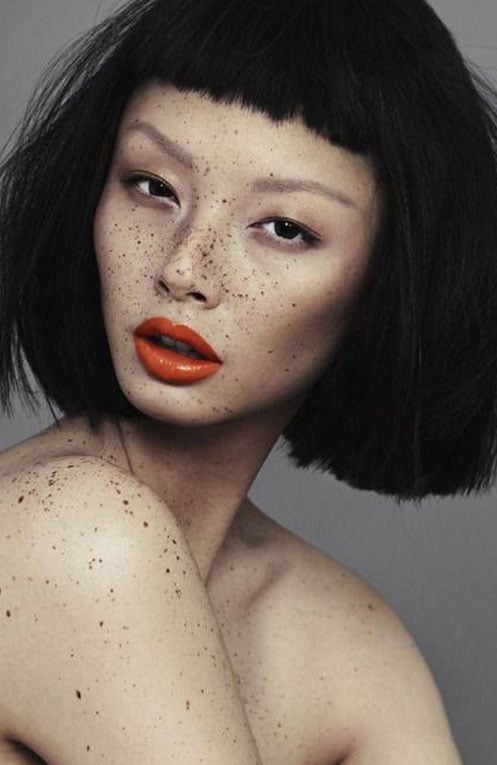 7. Blunt Haircut for Wavy Hair
Soft wavy hair that is blunt carries a natural and laid-back look. Unlike a bold, defined, straight style, a blunt cut on wavy locks carries a cute and carefree appearance. To get this look, begin with a texturizing spray. Then, use a curling iron on the mid to ends of your hair to create loose, flowing waves. Finish by separating the curls gently with your fingers.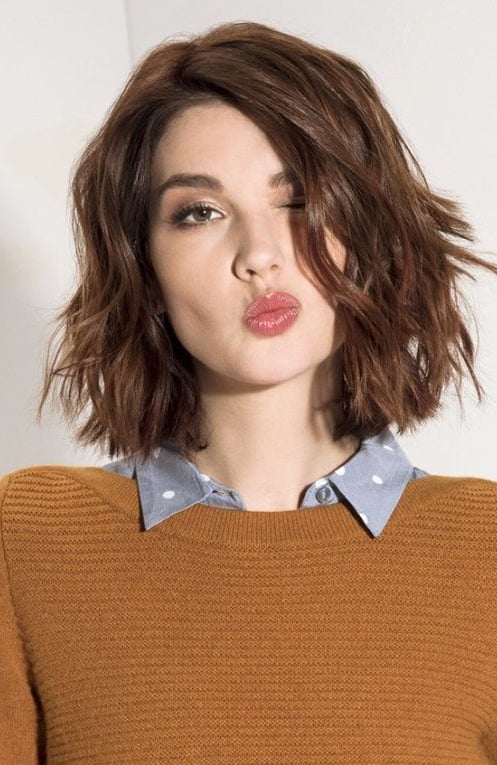 8. Blunt Cut Curly Hair
Blunt curly hair is a stand-out haircut with stunning volume and body. Being such a flattering and playful look, it's suited to any occasion! Just be sure to visit your stylist regularly for trims to help maintain the texture of your 'do. In the meantime, a curling cream will help revive your curls in between washes.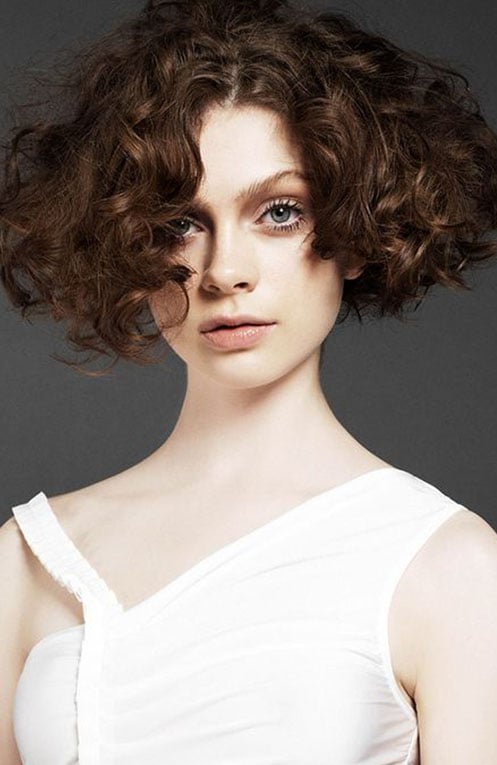 9. Blunt Straight Hair
After a dramatic look? We have the perfect style for you! Boasting sharp, thick-looking ends, blunt cut with straight hair is the perfect option for the fierce woman. For this look, a hairdryer and straightener are your best friends, but don't forget the heat-protective spray! Looking to add extra definition to your cut? Try parting your hair on one side.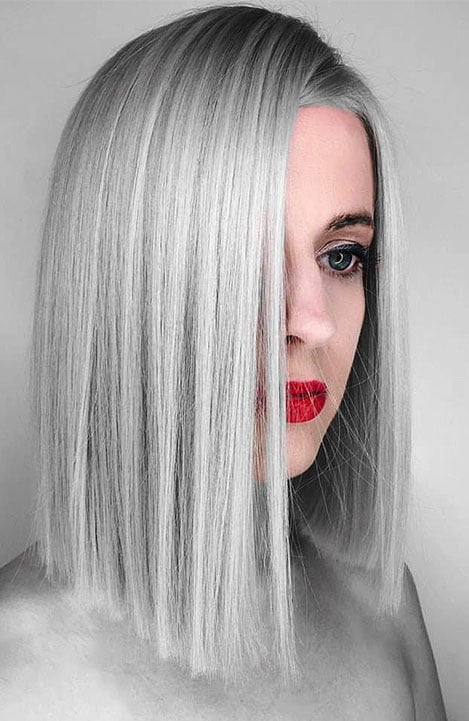 10. Blunt Hair with Bangs
What makes a blunt haircut even more sleek and stylish? Some blunt bangs, of course! A fringe makes an instant style statement, and this eye-grazing look is a great option for every hair type. Blunt bangs are ultra-edgy and cool but require a lot of maintenance, so be sure to visit your stylist regularly for trims!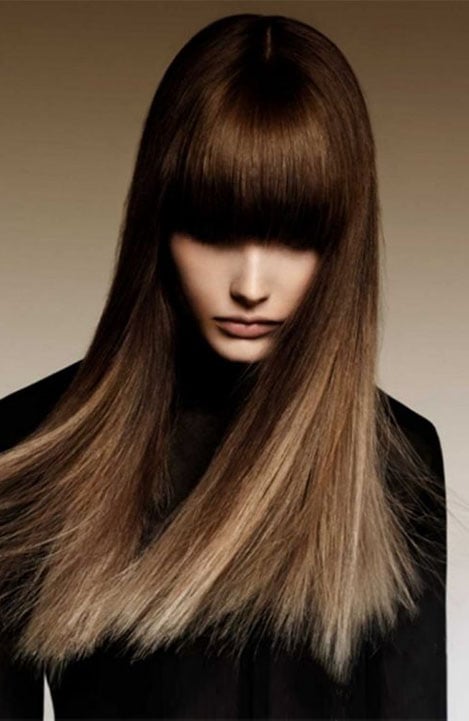 11. Blunt Cut with Layers
The blunt cut is appealing because it removes the dead ends and can give the hair a sharper and more structured appearance. The downside is the maintenance it requires; you must take regular trips to the salon to trim it as the hair is all one length. You can counteract this by adding layers to the hair, which may seem counterproductive as the point of a blunt cut is to remove layers, but you can work with your hairstylist to subtly combine the two. This will give you hair that is healthy-looking but also feels more natural with layers in the midsection but combined with blunt ends. Style the hair in face-framing layers to draw attention to your features for the best results.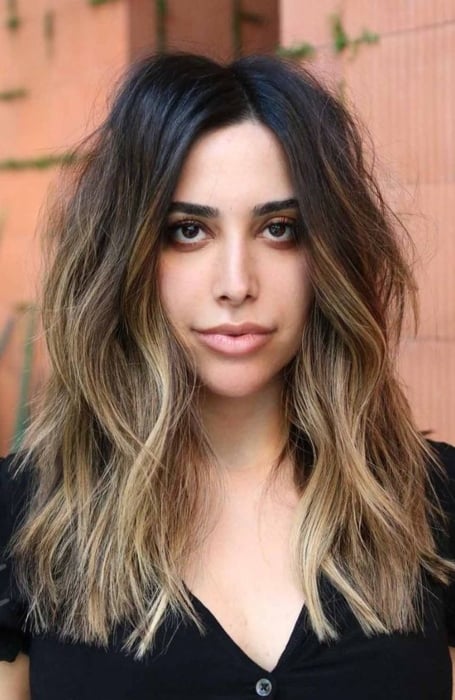 12. Medium Length Blunt Hair
Medium length hair is one of the most versatile lengths because it is not so long that it is high maintenance, but it is long enough to give you options for styling; it is the best of both worlds. The blunt cut can also be more noticeable on the hair of this length, as the hair falls around shoulder length or just above. It is also an attractive option for hair of all textures and can make thin or fine hair appear thicker by making the ends appear denser.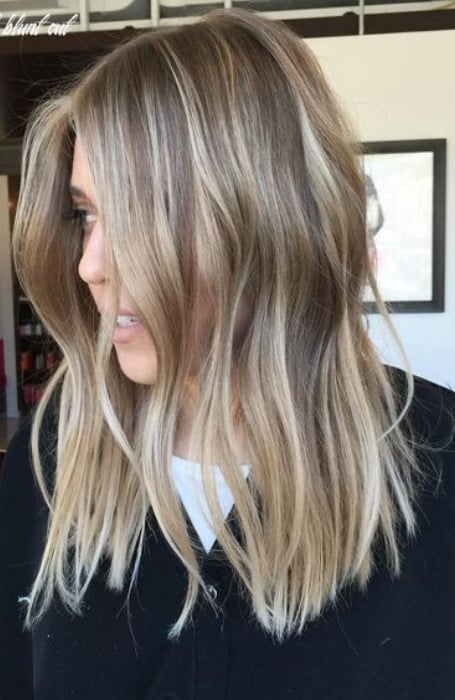 13. Blunt Cut Bob
The bob haircut is a classic hairstyle for women of all ages and can be adapted to suit your face shape, hair texture, and preference. The bob can appear sleek and structured when paired with a blunt cut. The combination makes this timeless hairstyle feel modern and effortlessly chic. The length of the hair, which falls either on chin length or just below, will highlight the blunt ends of your cut. A blunt cut will make your hair appear thick and full and is excellent for removing dead ends and damage.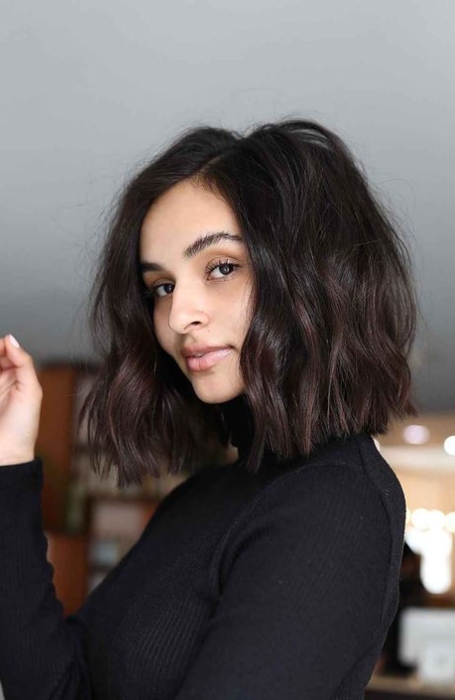 14. Side Part Blunt Cut
The side part is one of the most flattering partings. It can be created subtly or opt for a deep side part. The appeal of this parting is that it complements most face shapes and can highlight the features; it can also be created on all hair of all textures and hair types. Blunt cuts can feel very structured, and the side part can create a balance and soften the cut.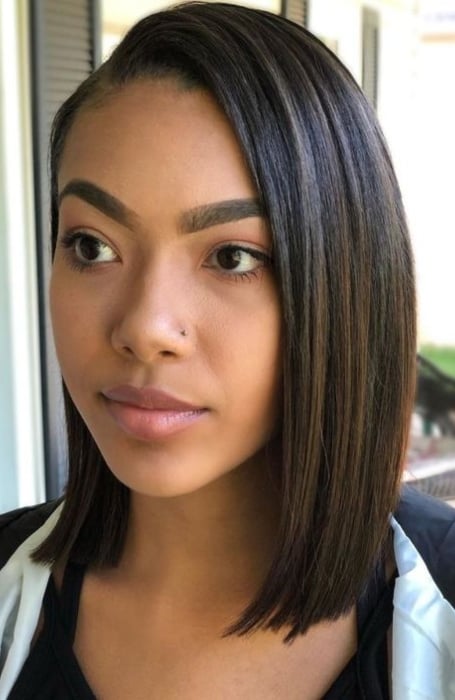 15. Shoulder Length Blunt Cut
The shoulder length haircut is a hairstyle that is incredibly versatile and flattering on all face shapes and for women of all ages. There are various ways to style and cut hair, including a blunt cut. The blunt cut makes the hair's ends appear denser, which can be incredibly flattering. The haircut works well with all hair textures but is more noticeable on straight hair, creating a sleek and sophisticated appearance.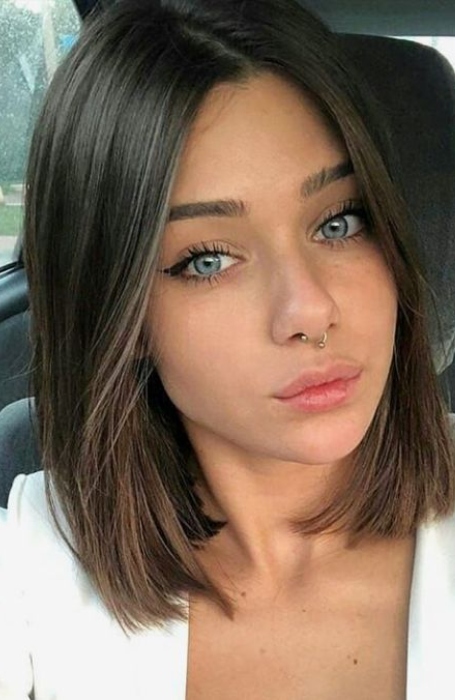 16. Middle Part Blunt Cut
The middle part is a challenge to pull off, but it is also one of the most fashion-forward and stylish ways to wear the hair. The parting is not universally flattering and only suits specific face shapes and those with facial symmetry. The appeal of the middle part is that it can add structure to the hair and can be worn with all haircuts and textures. With a blunt cut, the sharpness of the middle part is complemented by the structure of the cut, creating an effortlessly cool look.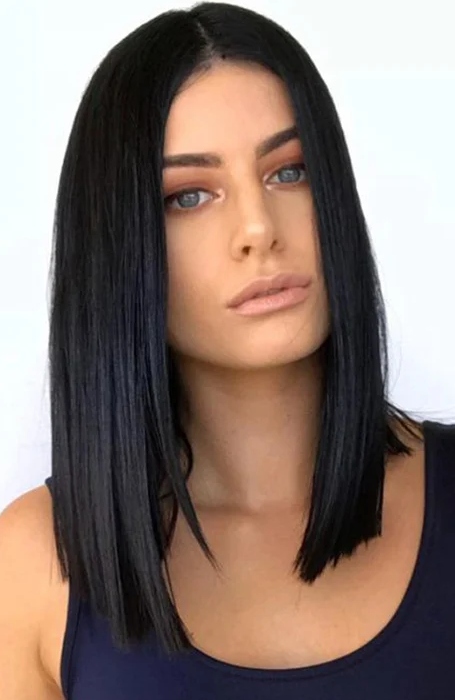 17. Short Blunt Cut Bob
Short, cropped bobs are gorgeous and will draw attention to the jawline. The hairstyle is comfortable and easy to style and can be created on all hair textures and thicknesses. However, to complement a blunt cut, straight hair looks best and creates a sleek, modern finish. This is the perfect option for women of all ages and can complement your face shape.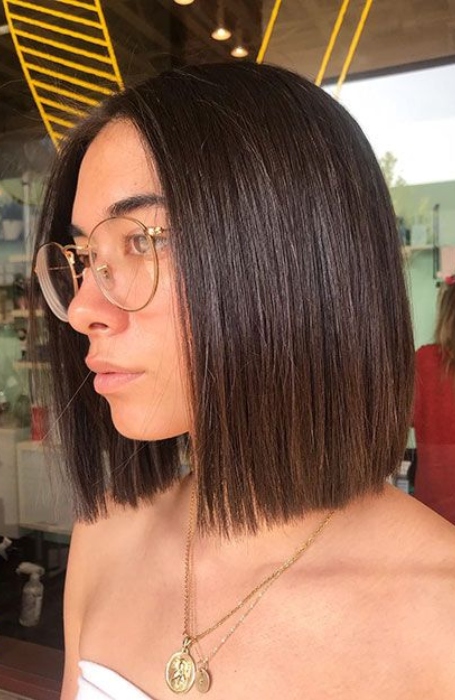 18. Blunt Cut With Bangs
Bangs are a gorgeous way to update your appearance and can give you a youthful glow. Bangs can be added to most hairstyles and created on all hair textures and lengths. There are several different bang styles, but full, thick, and blunt bangs will demand attention and highlight your facial features. These bangs are cut straight across and feel edgy and cool. They give the haircut structure and cover the forehead; although you can experiment with different lengths, bangs cut just above the brow line are the most popular option.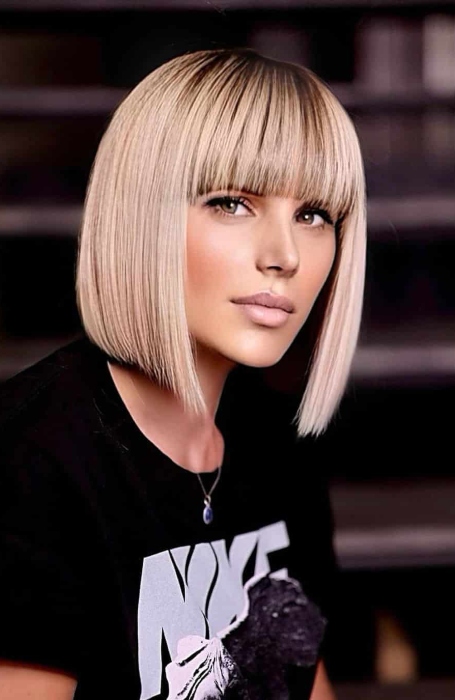 19. Blunt Cut Middle Part Bob
The bob haircut is a versatile and flattering option for any woman. The appeal of the bob is that it can be adapted to suit your preference, which can be achieved by experimenting with different partings, bangs, or adding layers to the hair. You can also opt for a blunt cut, which gives the hair structure and makes it appear sleek, thanks to the straight line at the ends. You can add a middle part to complement the smoothness of the cut. The central part is flattering on those with facial symmetry and can highlight the features. It is also practical, letting you tuck the hair behind the ears to keep it out of the face and creating face-framing layers.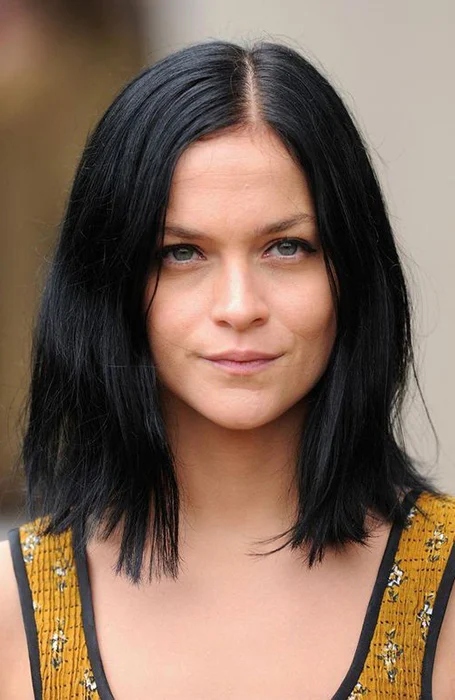 20. Blunt Cut Ponytail
The blunt cut can be styled in various ways, including updos. The appeal of the blunt cut is the precision of the cut and the straight ends. It makes it easier to grow out hair and gives you a sleek and structured cut. Adding a ponytail will add to the look's glamor, making it appear smart and sophisticated. Depending on your hair length, you can wear the ponytail high or low, but a high ponytail can create a fashion-forward appearance perfect for formal events and special occasions.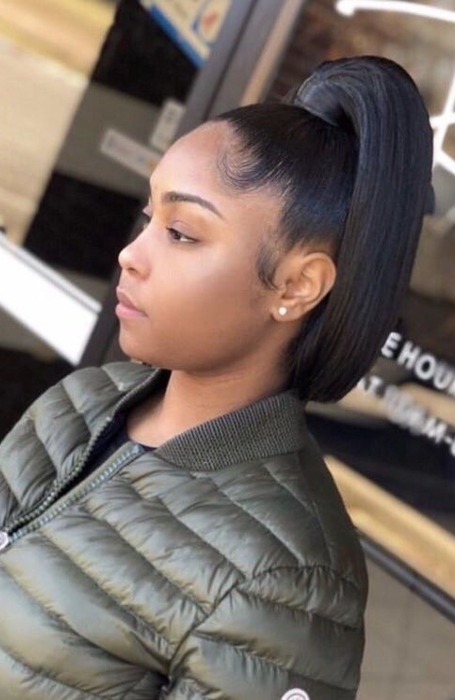 Blunt Haircuts FAQs
Can you have a blunt cut with layers?
Yes, you can still have layers with a blunt hair cut. Your hairdresser can cut internal layers through the midsection of your hair to take out extra bulk and weight. Doing this means the top layer is still one length, and the ends are still blunt — it's the best of both worlds.
How do you cut a blunt cut at home?
A DIY blunt cut can be a little tricky, so you'll need to have the right tools. This will include sharp scissors, a large mirror, a handheld mirror, and a steady hand. Start with straightened hair, and section the top away. On the base layer, cut around the bottom to the length you want, aiming for as straight a line as possible. Check the back with the hand mirror, and confirm both sides are the same length. Repeat with more layers of hair, using the previous section as a guide until it's all cut.
Is blunt cut better for thin hair?
A blunt cut can be better for thin and fine hair as it creates the illusion of more bulk. It stops the hair tapering off at the ends, which can look straggly and unhealthy if you have thin hair.
Does a blunt cut make hair look thicker?
Yes, a blunt cut will make your hair look thicker, and the ends appear denser.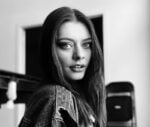 Alexandra Feiam is an experienced fashion writer who holds a degree in journalism. She has an impressive portfolio and expertise working as the Editor at Power Retail and Commercial Content Editor at Newscorp. Ally has been writing for The TrendSpotter since 2018, and her work has been featured in notable publications such as The Herald Sun, Arirang TV South Korea, Kidspot, The House of Wellness, and The Daily Telegraph.
SUBSCRIBE TO OUR NEWSLETTER
Subscribe to our mailing list and get interesting stuff and updates to your email inbox.