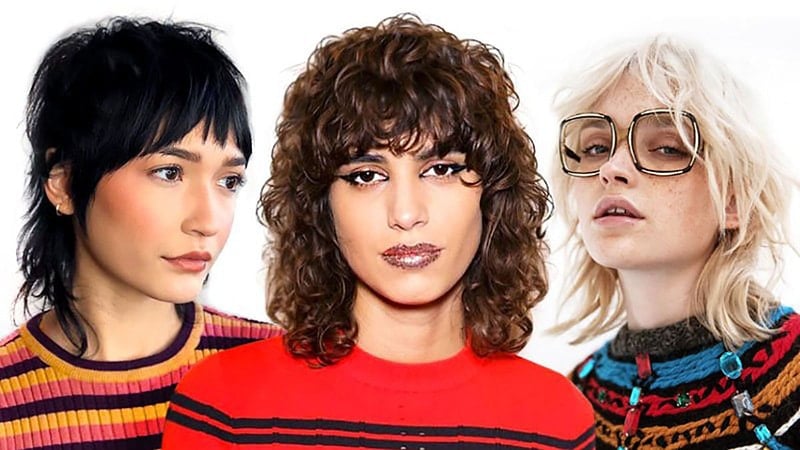 Lovers of '70s style, rejoice! The shag haircut is officially back. Best of all, the versatile cut suits a wide variety of hair types – from straight and fine to thick and curly – as well as in different lengths. If you're tired of your standard blunt cut or simple soft layers, shag haircuts for women are one of the easiest ways to transform your look, and its edgy attitude is practically guaranteed to get you noticed.
RELATED: 50 Best Wolf Haircut Ideas for Women
What is a Shag Haircut?
The shag is one of the most iconic haircuts out there. Invented in the 1970s by barber Paul McGregor for Hollywood A-lister Jane Fonda, it has become synonymous with that rock'n'roll decade due to its edgy, artistic, and deliberately messy look. While there are many different variations on the shag, they all feature the same layered finish. Today's modern shag haircut is all about choppy texture and an effortless cool-girl vibe.
Best Shag Haircuts for Women
1. Short Shag Haircuts
The shag haircut is an excellent cut to enhance volume and texture in shorter hair. Often referred to as a shaggy bob, this style exudes a timeless chicness with an edgy touch. It can be customized to flatter various face shapes by adjusting the length of the bob, layer placement, and the addition of a fringe.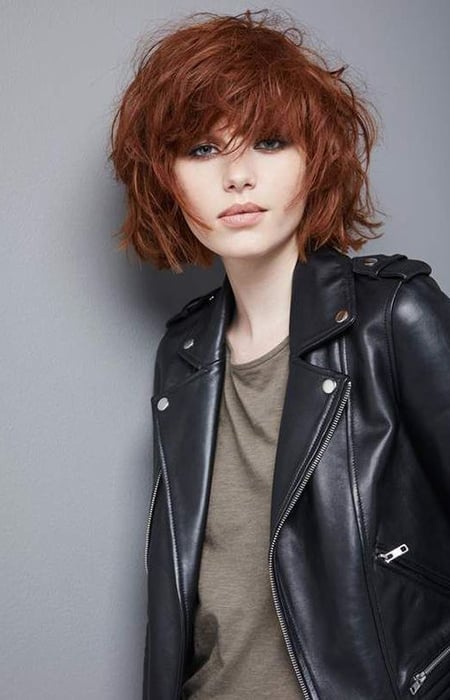 2. Medium Length Shag Haircuts
Medium-length hair is classically suited to the shag haircut as all the layers frame and flatter your face. Low-maintenance and effortlessly cool, a medium-shag haircut suits almost every face shape. Plus, it's a versatile choice as it works for different hair types. Straight, fine hair, in particular, benefits from the added texture, volume, and movement of a shag – add a spritz of sea salt spray to give it that chic 'undone' finish.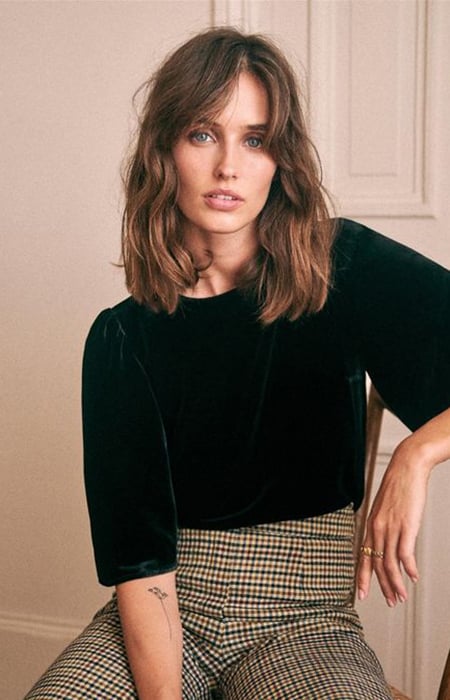 3. Long Shag Haircuts
While the classic shag haircut is usually seen on medium-length hair, long-haired ladies can also rock the layered look. The layers add movement and dimension while taking some of the weight out, making a long shag haircut ideal for those with thicker hair. At the same time, the front layers will frame your face beautifully so it doesn't get lost in the 'mass' of your hair.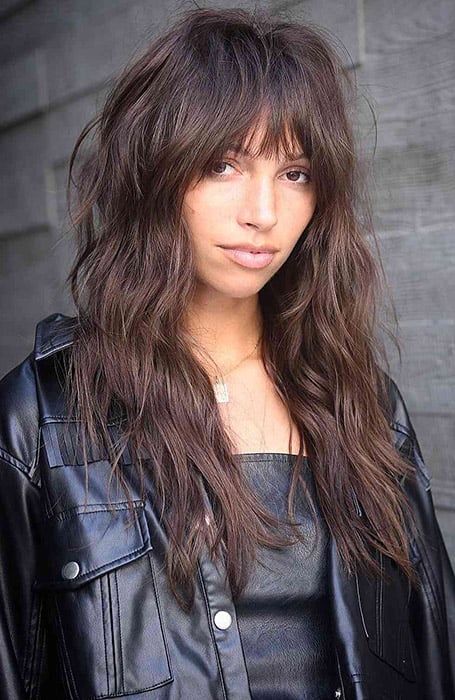 4. Modern Shag Haircut
The modern shag haircut is a little more wearable than the classic '70s version. It incorporates the choppy shag haircut and fullness at the crown but is often cut with a razor to achieve a softer, more feminine vibe. Your stylist will also shape the cut to frame your face and balance your features. The result is a fresh, youthful, and effortlessly chic haircut that can take you from day to night without any styling required.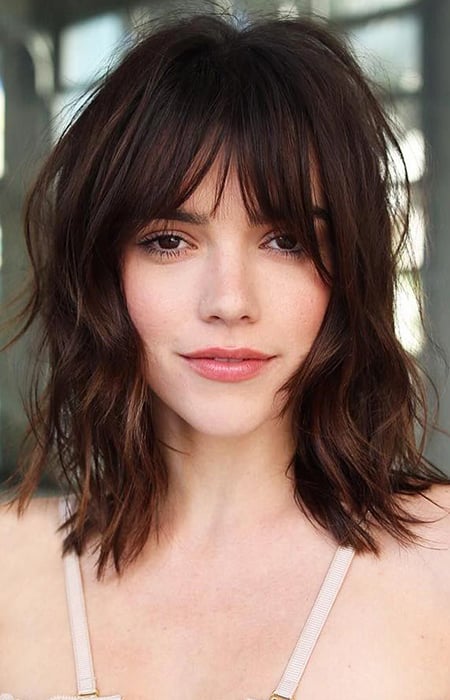 5. Curly Shag Haircut
The shag haircut is not just for straight-haired ladies – it also looks great on a full head of bouncy curls. If you're a fan of 70s hairstyles for women, a curly shag is an excellent option for you. While the layers are less visible than on straight or wavy hair, they will give your curls more movement and direction. At the same time, the shag haircut gives the hair more shape while taking out some of the 'weight' of the hair, so the curls don't look like one 'mass.'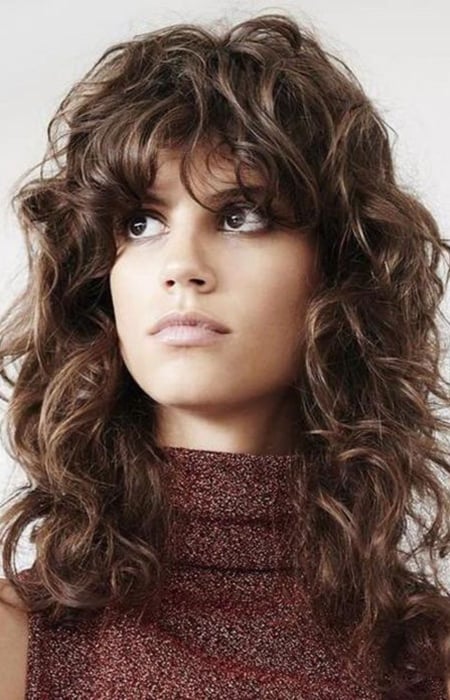 6. Wavy Shag Haircut
One of the coolest hairstyles for women is the wavy shag haircut. If your style leans more toward the retro, rock'n'roll side, or you're just looking for the perfect cut for summer, move the wavy shag haircut to the top of your list. It is ideal for those with naturally wavy hair who want a low-maintenance haircut and a laidback look that's still stylish and sexy. This layered cut will flatter you whether your hair is short, medium-length, or long.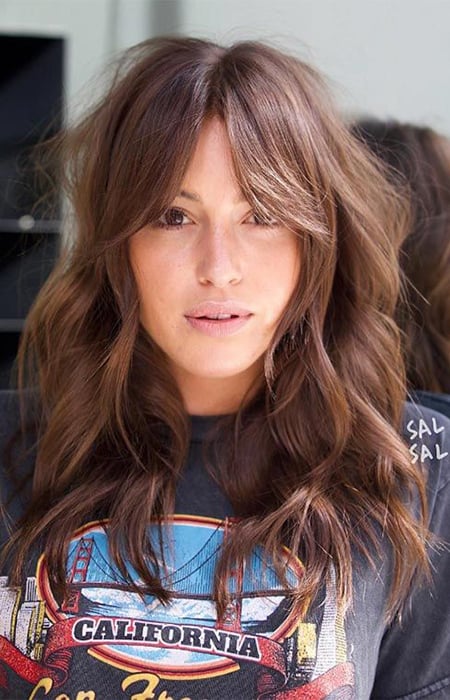 7. Straight Hair Shag
The original shag haircut was on straight hair, so the layers are the most visible on ladies with this hair type. While straight hair can sometimes look flat or lifeless, a shag cut adds fullness and direction, breaking up the surface of the hair to create a cool textured finish. For that reason, a shag haircut also looks great on fine hair. Pair your straight hair shag with wispy bangs for extra cool points.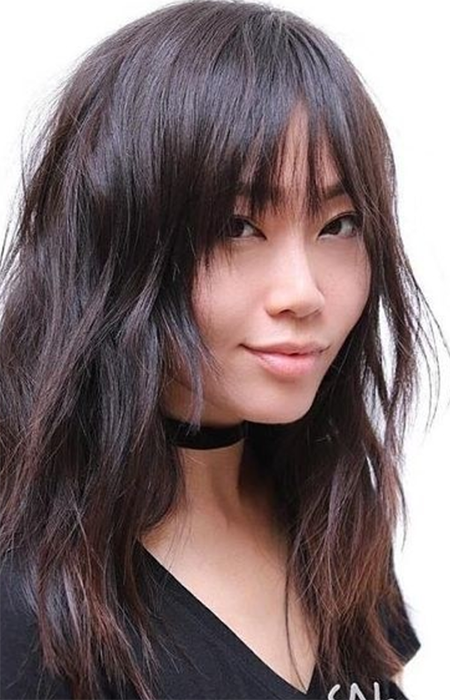 8. 70s Shag Haircut
Step back in time with a '70s shag haircut! It has a slightly more masculine feel than the modern shag haircut and has more volume at the crown and less in the ends. Ideal for ladies who love a cool, androgynous look, a '70s shag has a relaxed vibe and a retro appeal. Plus, if you're a fan of 70s fashion for women, you can complete your look with an era-appropriate hairstyle.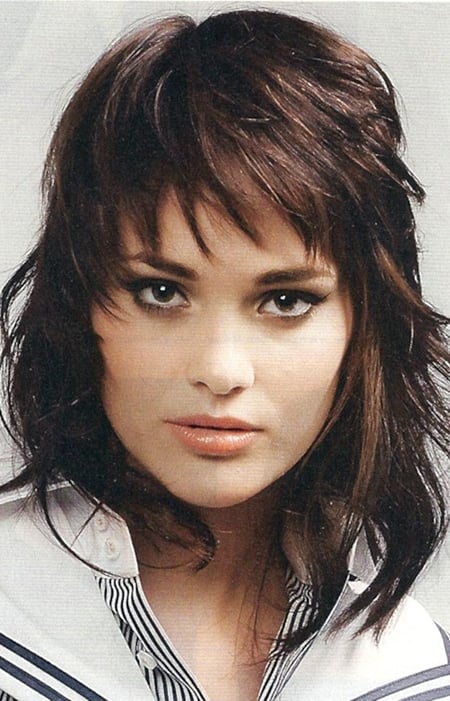 9. Shag Haircut with Bangs
Bangs are a great addition to many haircuts, including the shag. They help frame the face and make a hairstyle more flattering, balancing out different features, such as a pointed chin or minimizing a broad forehead. Heart-shaped and square faces can benefit from curtain bangs and a shaggy lob or bob, while round faces can try a wispier, piece-y fringe with a medium length shag haircut.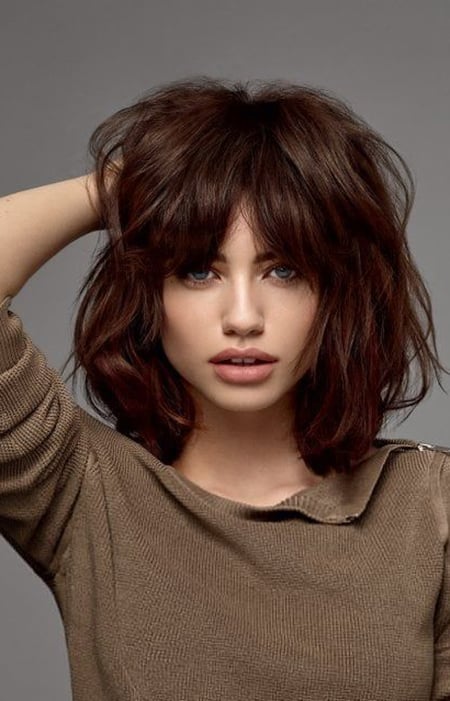 10. Blonde Hair Shag Haircut
When teamed with blonde hair, a shag haircut brings iconic rock stars like Debbie Harry and Stevie Nicks to mind. It has an undeniably edgy and rebellious feel – perfect for those with a wild sense of style and an independent spirit. Plus, if you're looking to bleach your hair to a very light blonde, a shag haircut could be an excellent choice for disguising any damage, such as split ends.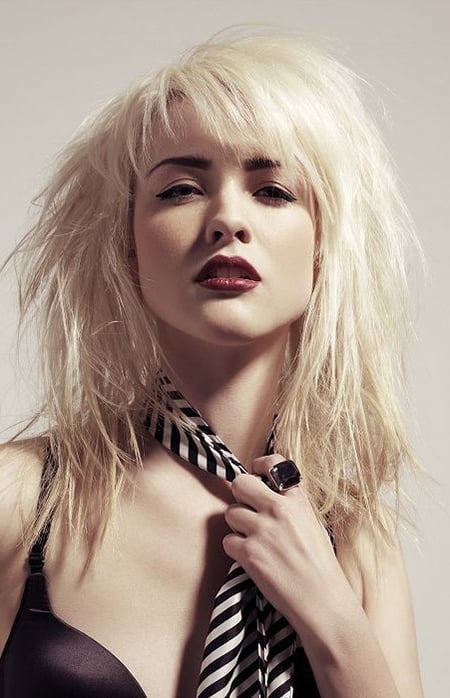 11. Brown Hair Shag Haircut
Brunettes looking for a new hairstyle that will change their look should consider a shag haircut. Because it has so much movement, direction, and texture, the cut pairs perfectly with brown hair with highlights. While its choppy layers will show off the dimension of your color – from chestnut to a deep coffee brown – it will also stop your hair from looking like one flat, solid mass, which can be an issue with darker colors.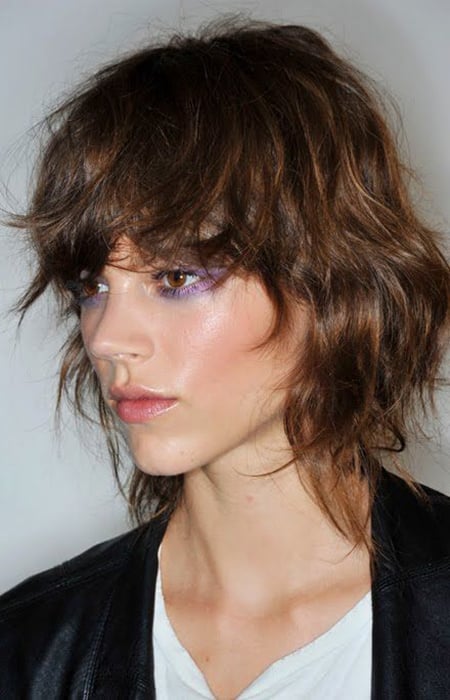 12. Black Hair Shag Haircut
Black hair always makes a dramatic statement, just like a shag haircut. If your black hair doesn't have highlights, the choppy layers will help give your mane movement and stop it from looking like a 'hair helmet.' If you decide to add highlights, the flowing, dynamic look of a shag haircut makes the lighter pieces pop. Ask your stylist to concentrate the highlights around your face and at the mid-lengths for a flattering finish.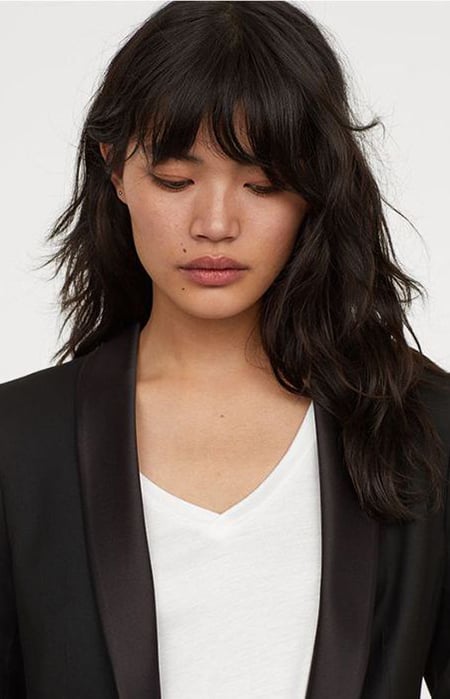 13. Red Hair Shag Haircut
If you're feeling adventurous, why not transform your hair with a super fresh cut and color? From rose gold hair color to strawberry and wine, ginger, copper, and dark auburn, there is a gorgeous red shade out there for you. Red hair always attracts attention, so it's perfect for those wanting to make a dramatic statement. When paired with a shag haircut, your new color is bound to turn heads for all the right reasons.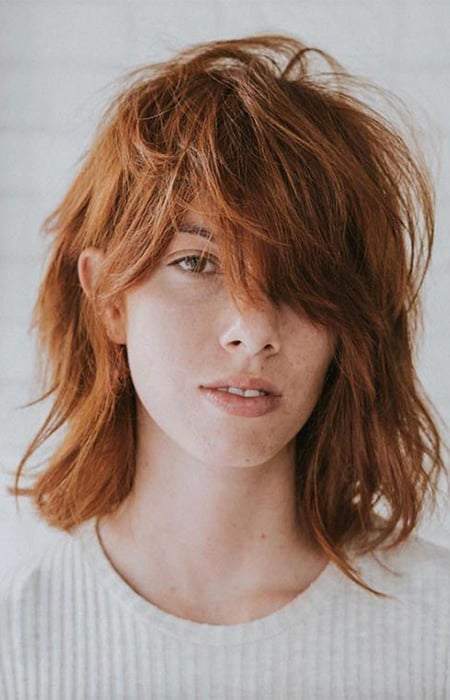 14. Pink Hair Shag Haircut
Pink hair is a fun option for those wanting an e-girl hairstyle. The edgy, choppy layers of the cut contrast beautifully with the soft and feminine color. From pastel rose to bold fuchsia, choose a hue of pink that flatters your skin tone and eye color. For extra e-girl points, have your stylist add a 'money piece' – chunky blonde highlights that frame your face.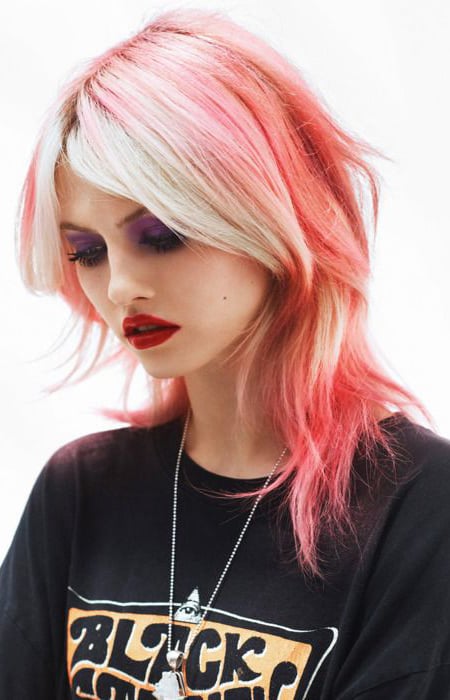 15. Shag Haircut with Balayage
The shag haircut is known for its versatility and ability to complement various hair colors, including balayage. Balayage is a technique that involves applying highlights to the hair, resulting in seamless color blending that adds depth and enhances the overall appearance. By highlighting the layers of your shag haircut, balayage can give your hair a healthy and sun-kissed look.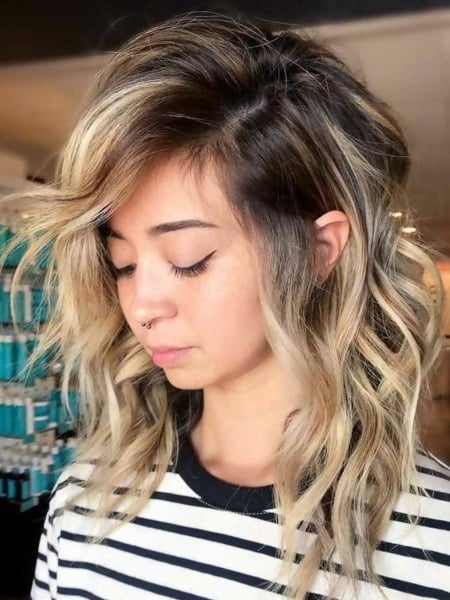 16. Punk-inspired Shag Haircut
Nothing is boring about the shag, and its choppy layers are interesting and help to create volume. If you are a woman who likes to express herself and wants a fun and simple way to do this, embrace a punk shag haircut. This is an excellent option without being too in-your-face and will lend itself well to various settings. You can style it in such a way to suit your personality, whether this is with bold or bright-colored highlights. Or run a styling mousse through the hair to make the layers even more noticeable and slightly spiky. This is the ultimate option for a cool girl.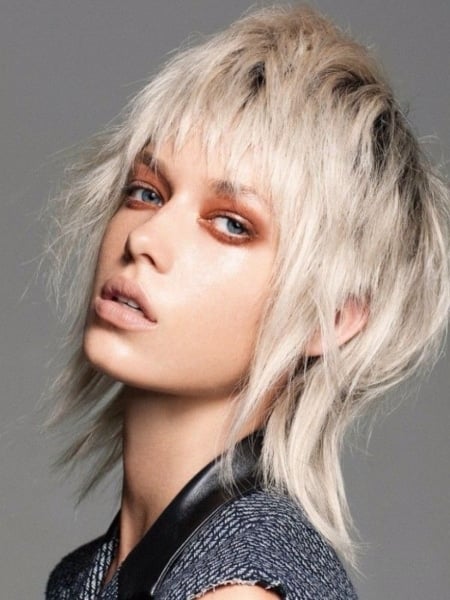 17. Shag Haircut for Thin Hair
One of the best things about the shag haircut is its versatility; women of various hair textures can wear it. The cut is highly adaptable, including for women with thin hair. The key is to limit the layers, though, as too many may highlight the thinness of your hair. Work with your hairstylist to find a subtle approach to this 70s classic that boosts the volume of your hair and adds dimension and movement. It may also be worth considering hair extensions, as these can increase the fullness and make your hair appear thicker.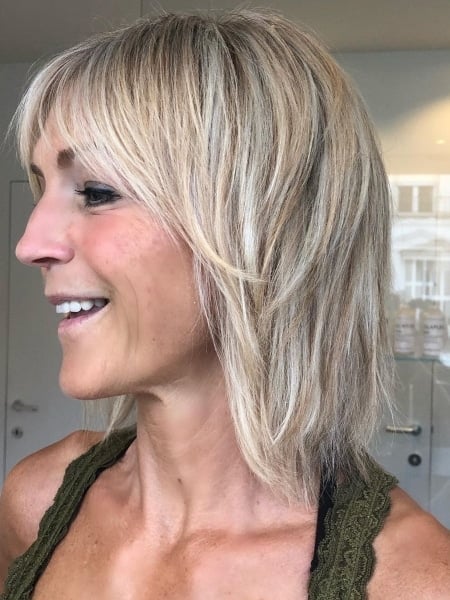 18. Shag Hairstyle for Thick Hair
The classic layered shag haircut is defined by its choppy appearance. This can benefit women with thick hair as the layers can remove weight from thicker textures, leaving you with gorgeous hair full of movement. It is also easier to manage and style. Women with thicker hair should also opt for a longer cut; a medium-length or long shag is ideal. The fringe around the face will frame it and highlight your best features; this can also be incredibly flattering. Add in a bit of styling mousse to enhance the texture of your hair, and enjoy the attention you will receive!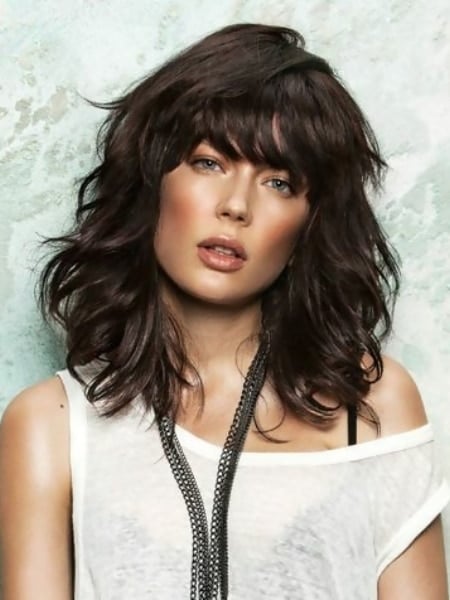 19. Shag Haircuts for Women over 50
Because of its added volume and texture, a shag haircut can be one of the best hairstyles for women over 50. That is because hair often thins over time, losing some of its body and thickness. At the same time, layers can be cut to frame and flatter the face, shaped to bring out the cheekbones and cover fine lines. Plus, if you are over 50, a shag haircut could recapture your fun memories, refresh your style, and revive the cool spirit of the '70s.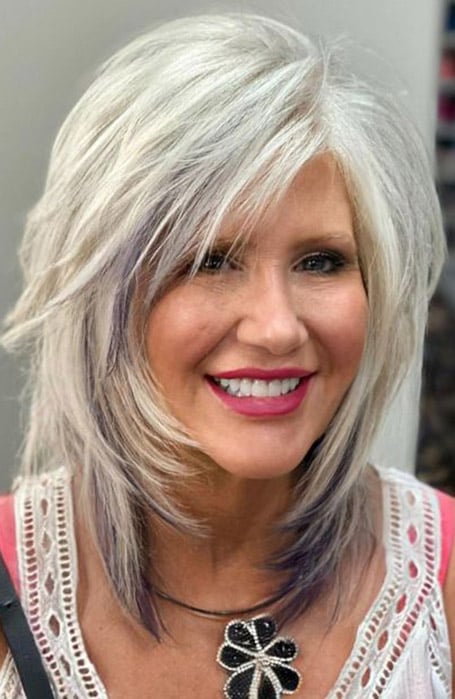 20. Shag Haircuts for Women Over 60
If you are looking for the best hairstyles for women over 60 then there are very few better options than the shag. The choppy layers can be worn on various hair textures and adapted to suit different lengths, fringes, and coloring. It is a look that helps add texture and volume to your hair, which is great for older women as the hair naturally thins when we age, and the growth rate slows. The shag can suit almost anyone and can help achieve a youthful appearance with the face framing layers.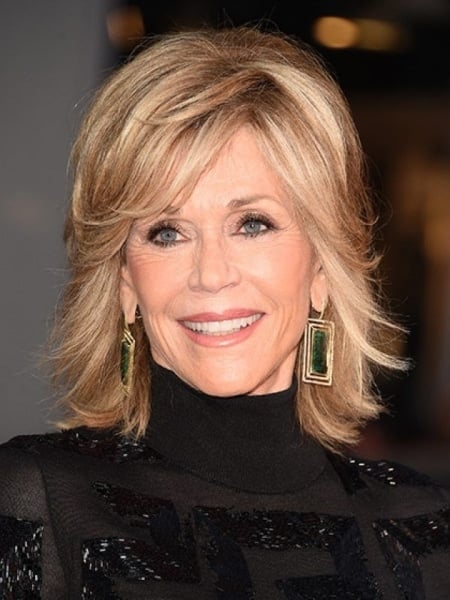 21. Bright Orange Shag Haircut
One way to ensure you stand out from the crowd is by dying your shag a bright orange hue. It is a color that is hard to miss and will highlight your cut but also demand attention. This is the perfect way to express yourself and a natural pairing with the shag because it is a cut that has long been a favorite look among rockers and fashionistas. The choppy layered finish produces volume and texture but also has an edgy feel to it. This look will take some confidence to pull off, but it will make you feel great!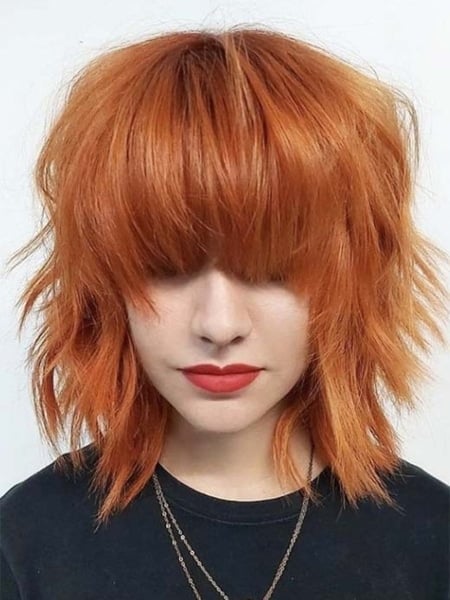 22. Shag Haircut on Natural Hair
The original shag of the 70s was defined by its layers that gave the hair plenty of movement, but this classic also inspires more modern approaches. If you have natural hair with an interesting curl pattern, you can layer it this way. This helps remove some weight from the hair but still allows for movement and dimension. It also helps achieve a softer, more feminine look. The shag is gorgeous on natural hair, and the way it falls around your face will be incredibly flattering. It can be challenging to maintain curly hair, and it can be time-consuming to style. So, opting for a short or medium-length cut can help tame your curls while still defining them.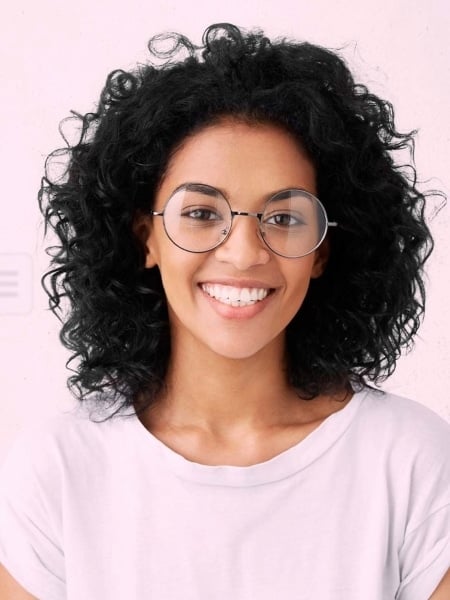 23. Split Dye Shag Haircut
The shag offers surprising versatility, allowing you to explore various hair color ideas and techniques. One popular trend is split dye, which has a grunge feel and is perfect for those seeking a fun and expressive look. This method involves dyeing your hair in two different colors, either splitting the colors directly in the middle of your head or dyeing one side while leaving the other natural, depending on the level of desired dramatic effect. It's a great way to showcase your individuality and adventurous spirit. For a more subtle approach, consider choosing complementary colors like dark blue and black.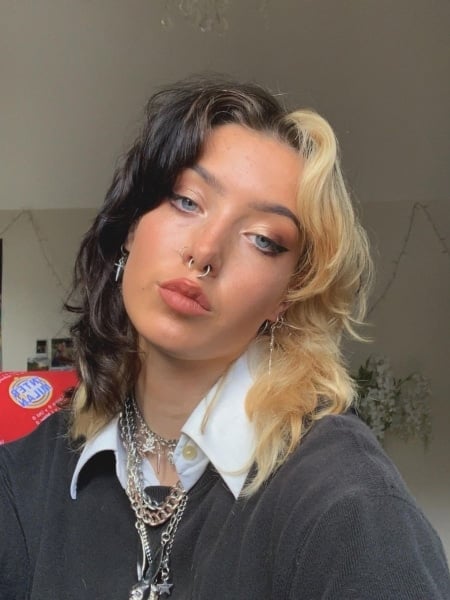 24. Blunt Bangs with Shag Hairstyle
The shag haircut is admired for its effortlessly messy look, exuding movement and texture while maintaining a fashionable and relaxed aesthetic. Combining blunt bangs with a shag creates a striking contrast. These bangs are cut straight across the face, resulting in a structured appearance. Incorporating blunt bangs adds intrigue to the overall hairstyle, showcasing the appealing difference between the layers and the fullness of the fringe. Moreover, the bangs draw attention to your face, accentuating your most attractive features including your eyes and lips.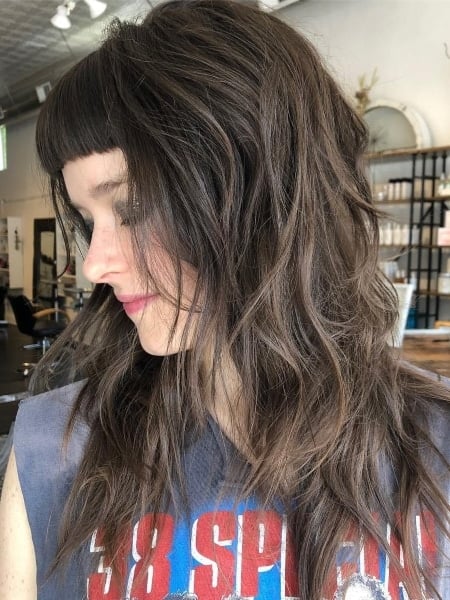 25. Shag Hairstyle with Colorful Highlights
What is not to love about the shag? Add a few colorful highlights to your cut for women who want something different. They are a fun way to add color to your appearance, draw attention to the cut, and add dimension. Choose face-framing streaks for a 90s vibe, or release your inner punk rocker chick with bold colors throughout. There are many options, so work with your hairstylist to find the look that best suits you and your hair texture.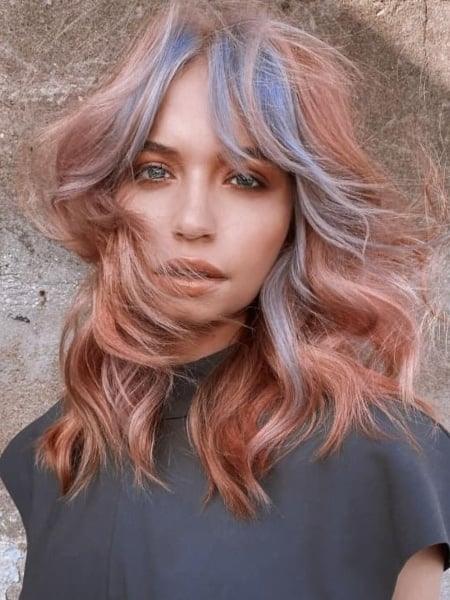 26. Wolf Shag Haircut
Characterized by heavy layers and volume at the crown, the shag haircut comes in many versions, including the trending wolf cut, which combines the shag with a mullet. It is a versatile hairstyle suitable for all hair textures and lengths, offering various styling options such as adding bangs or experimenting with different hair colors. This cut is particularly popular among younger women looking to achieve a youthful appearance.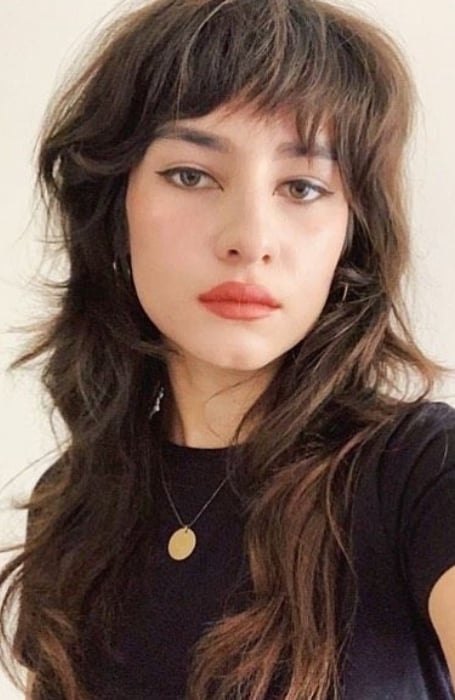 27. Permed Shag Haircut
While hair layers are more noticeable on straight hair, they blend seamlessly with curly or wavy locks, creating a softer look. If you desire to enhance your curly hair or lack natural curls, a perm hairstyle is an option. Perms have evolved from the big and voluminous styles of the 80s to more modern and natural-looking approaches. Since perming involves a chemical process that structurally alters hair texture, it is advised to have it done by a professional to minimize the risk of damage.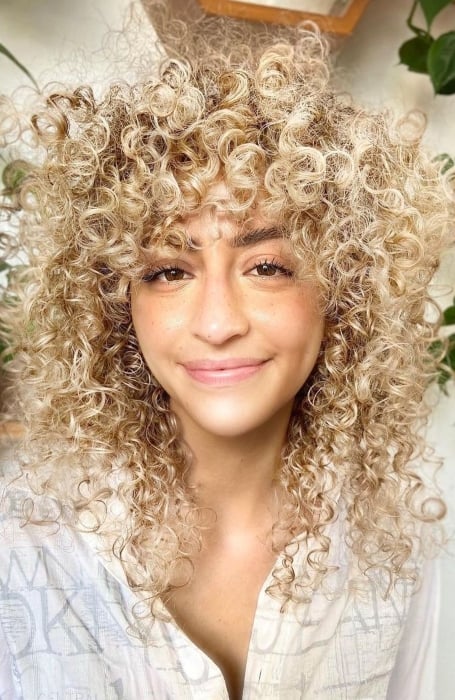 28. Pixie Cut Shag
The pixie cut is one of the most popular short haircuts for women. The pixie looks great on women of all ages and can be incredibly flattering. It can also work with all hair textures, and although it is a traditionally short haircut featuring a short back and sides with length on the top, it can also be cut slightly longer. The pixie shag haircut combines the two styles, leaving you with an edgy and voluminous appearance. It is excellent for thin hair, making it look thicker and fuller, but it can also remove weight and bulk from thick hair.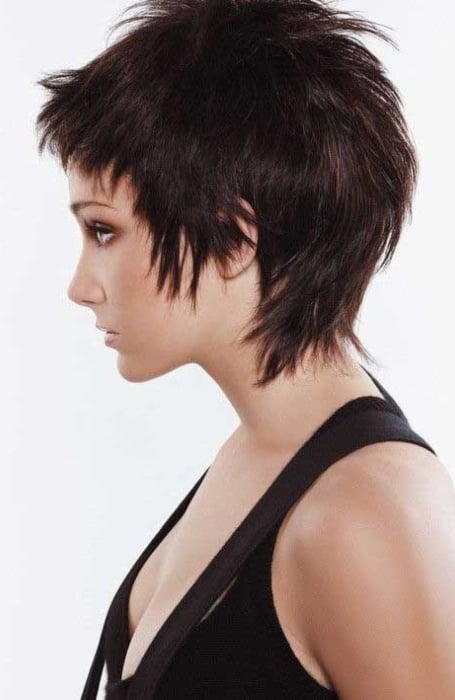 29. Shag with Middle Part
The shag is an excellent match for middle part hairstyles for women. This type of parting works well on straight, wavy, and curly hair textures. When combined with curls, the parting helps balance sharpness and can be quite flattering. Adding a middle part adds stylish face framing layers and draws attention to facial features. However, it may pose challenges in terms of wearability, and individuals with asymmetrical facial features should avoid it, as it emphasizes symmetry.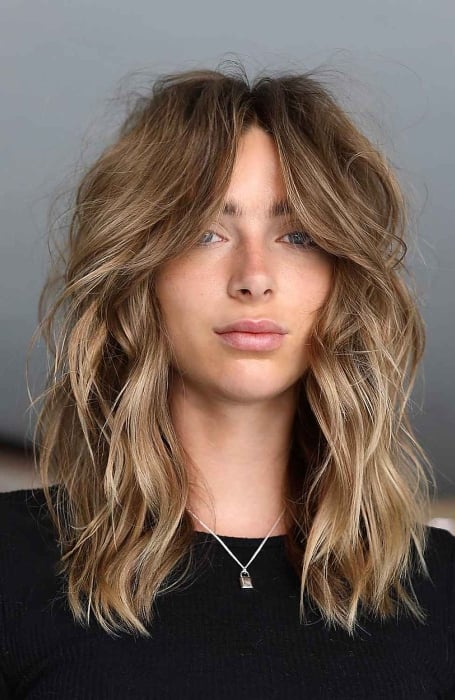 30. Shag with Side Part
A side parting is one of the most flattering ways to part the hair. You can create a more dramatic parting on long hair, whereas on short hair, it can look simple and natural, brushing the hair to one side. The way the parting falls can create a softness, complementing your shag haircut, which will emphasize your facial features.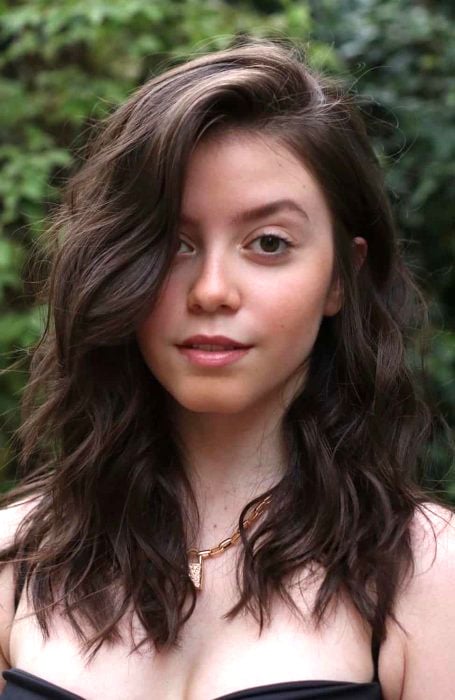 31. Shaggy Bowl Cut
The bowl cut is defined by the hair of the same length around the head with a straight cut and defined bangs. It is a challenging hairstyle to pull off, but it demands attention and can highlight your hair texture. To create a more voluminous appearance, you can pair it with a shag hairstyle, combining the best elements of both cuts. The shag will add layers to the cut, creating volume movement and producing a deliberately messy look. This is also a style that will give you a youthful glow.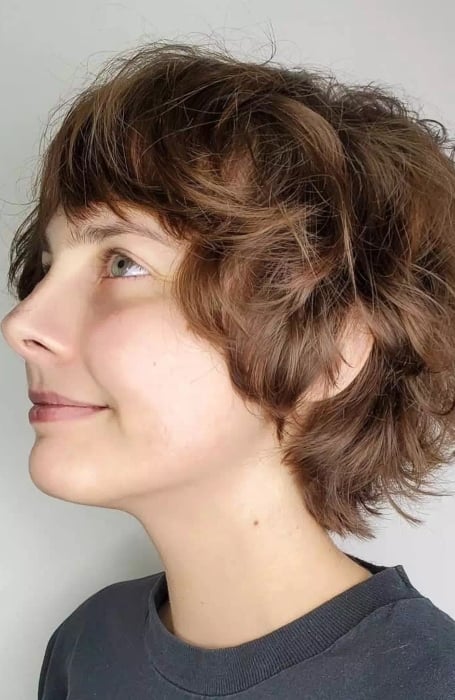 32. Shag Haircut with Extra Long Bangs
Long hair with bangs is a wonderful way to draw attention to the face and can complement your features. Opting for a very long fringe that falls over the eyes is not the most practical look, but it will make a statement. Combining long bangs with a shag haircut is one of the sexiest messy hairstyles for women.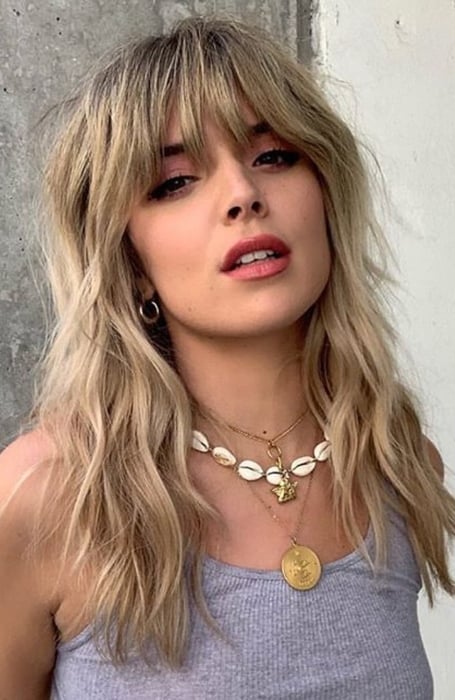 33. Violet Hair Shag Style
The shag haircut looks great with all hair colors, but opting for an artificial hue will draw even more attention to your cut. Violet is a lovely light shade of purple. It is a soft, pretty color and an excellent addition to any hairstyle. This is an ideal option for someone who wants to have fun with their appearance and experiment with color, but it is easier to wear than other brighter and bolder tones. There are many ways to introduce this hue to your shag, either with strands, dip-dye effect, or dyeing the entire head purple hair color.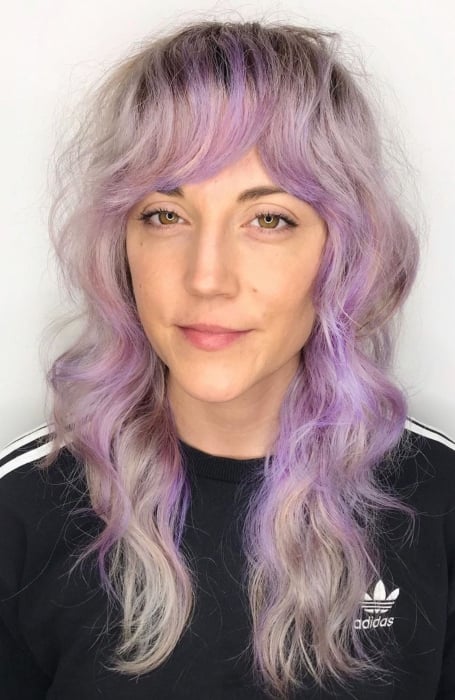 34. Ombre Shag
The ombre hair color technique is a popular method to add depth and dimension to your hair. It involves combining two contrasting shades, typically a lighter and darker color, creating a subtle contrast. It is recommended to choose colors that are slightly lighter than your natural hair color for the best outcome. One advantage of ombre hair is that it requires less maintenance compared to traditional foil highlights, as regrowth is not a concern. Moreover, it complements shag haircuts exceptionally well, providing a stylish look by lightening the ends and accentuating the iconic layers.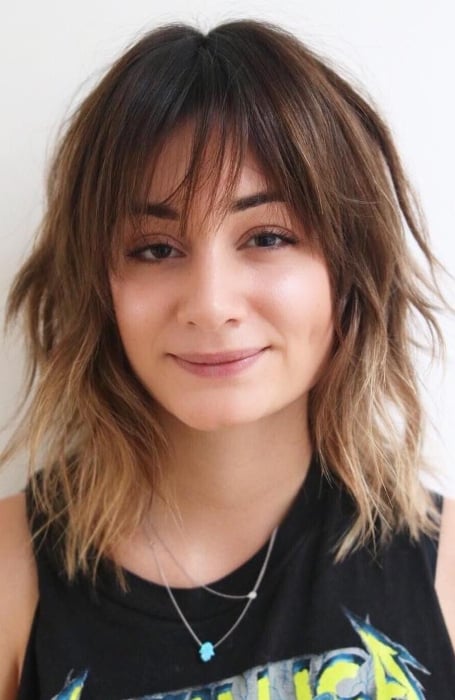 35. Rainbow Shag Haircut
The best thing about the shag haircut is its versatility, and there is nothing you cannot do. A rainbow-colored hairstyle is ideal for those who love expressing themselves through their hair and do not mind standing out from the crowd. This is a cool way to wear your hair and give you a youthful appearance. It can also be a way to show pride and support for the LGBTQA community. How you add the colors depends on your preference; you could dye your entire head or strategically place the color to frame your face, highlighting your features.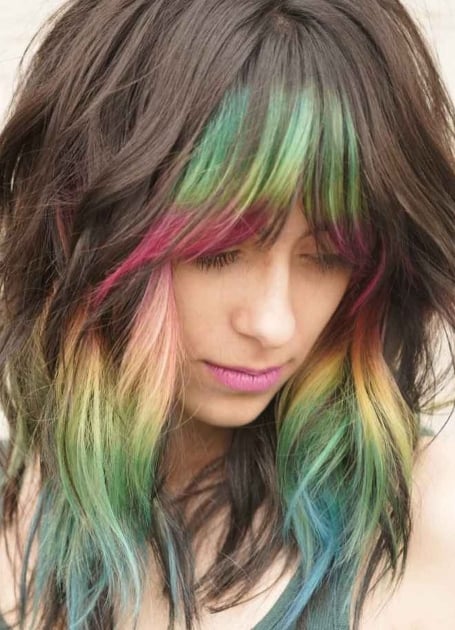 36. Vibrant Pink Shag with Braids
Pink hair is associated with love and femininity. There are multiple shades to choose from, depending on how vibrant you want your hair to be, and the deeper pink you choose, the more noticeable your hair will be. The shag haircut benefits from color, allowing you to show off your natural hair texture and highlighting the heavy layers of the cut. You can wear the shag at multiple lengths but appear less choppy with longer hair. Longer hair also gives you versatility with styling; this includes adding finishes like braids.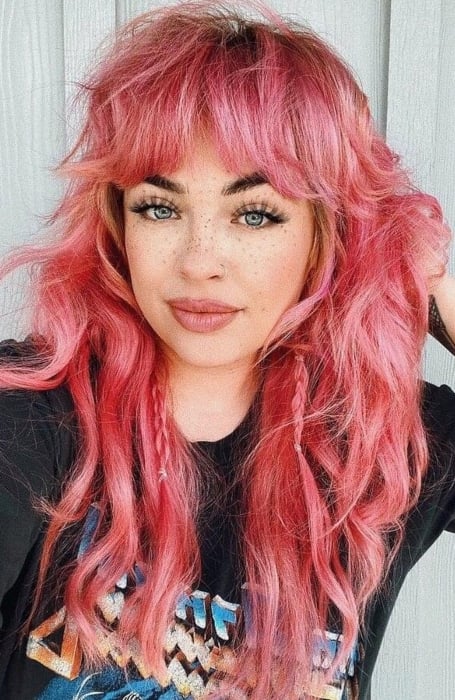 37. Peekaboo Highlights Shag
Peekaboo hair highlights add color to the underneath of the hair. It peeks out and is often a more subtle way to try out bright or bold shades that contrast with the rest of the hair. Your highlights can also be placed strategically, focusing them around the face and creating a framing effect. This can be incredibly flattering and can also lighten and brighten your appearance. The colors you pick for your highlights can be of your choosing and as contrasting or as subtle as you wish.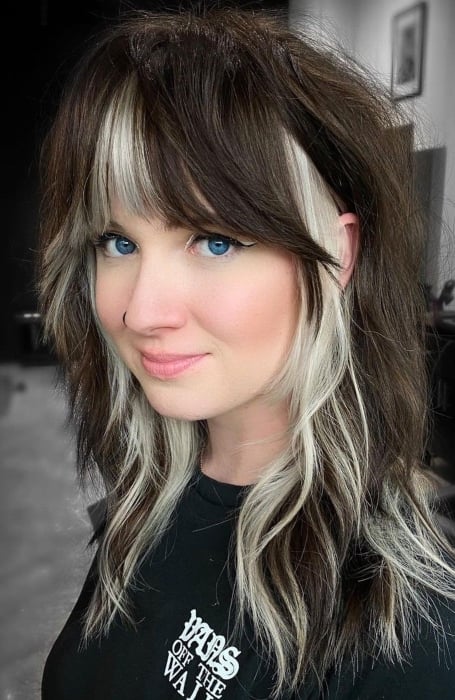 38. Shaggy Bob Haircut
The bob haircut is a versatile and enduring hairstyle that is suitable for women of all ages. It can be customized to your liking, such as incorporating a shag style. With the shag-inspired layering, the bob maintains its classic length and shape but has a more tousled appearance. To create volume, concentrate on the top of the head, adding fullness at the crown. For added depth and dimension, consider adding subtle hair highlights throughout the hair.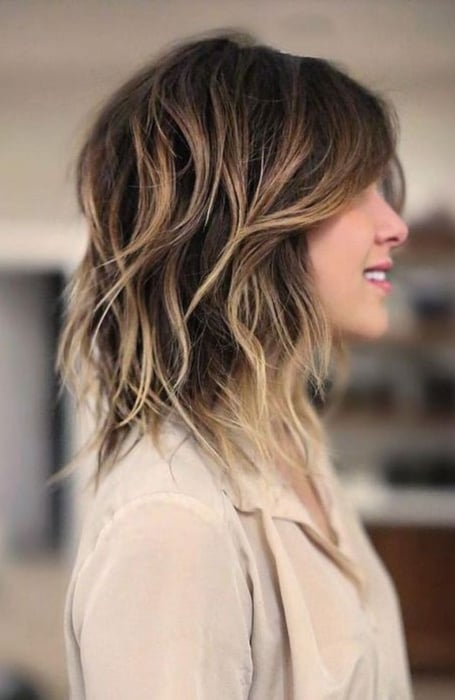 39. Shag with Wispy Bangs
The shag haircut is a 70s hairstyle favorite that has been adapted over the years to feel fresh and modern. The same benefits of the original cut remain, though, creating a textured and heavily layered appearance that can frame your face and balance the features. This can be enhanced by pairing the haircut with bangs. You can choose from full bangs to piecey, wispy bangs; the latter option is less maintenance and ideal for those with thin or fine hair. Wispy bangs can also soften the cut and look romantic and feminine.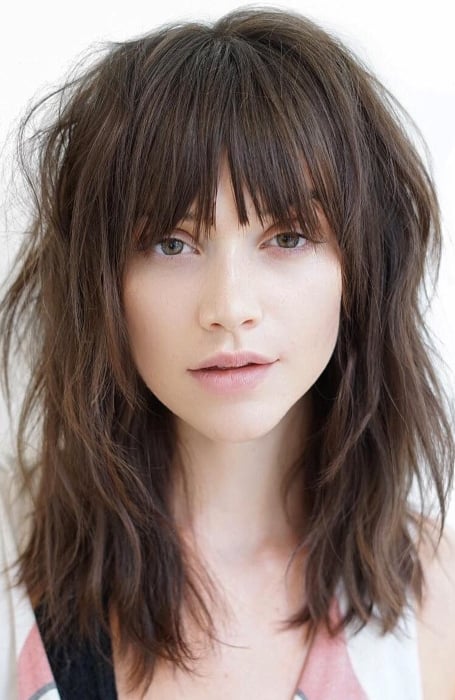 40. Shag with Curtain Bangs
The curtain bangs is one of the most popular haircuts for women and has been trending heavily on social media. The appeal of these bangs is their youthful appearance, and the way they are parted helps frame the face and draw attention to the facial features. These bangs are also incredibly versatile and can be worn with all hair textures and varying lengths. Plus, curtains can be added to most hairstyles, including the shag, giving it more structure.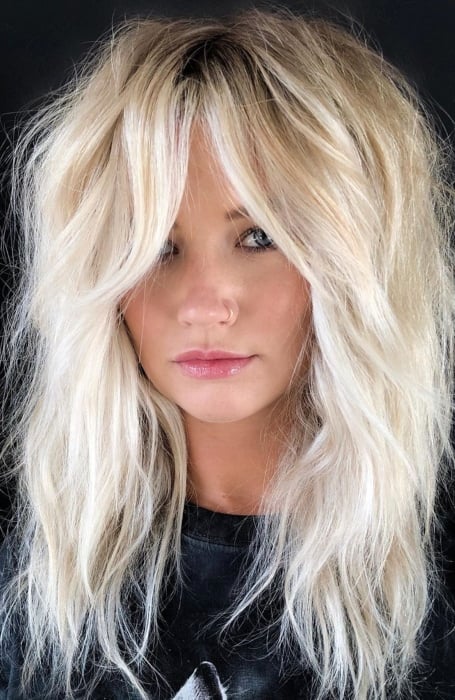 41. Blue Hair Shag
Blue hair color is highly attention-grabbing and serves as an excellent means to highlight your shag haircut. Additionally, it provides a platform for self-expression and the display of your unique personality. Bold hair color speaks to your playful nature and willingness to challenge societal norms. The shag haircut, with its substantial layers, enhances the edgy and distinctive appearance particularly well.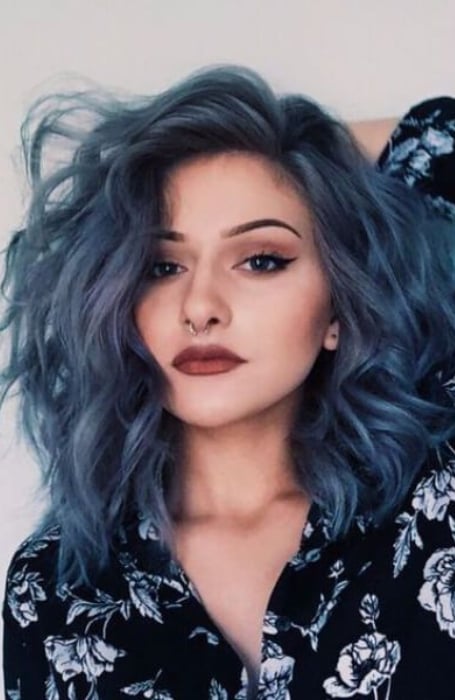 42. Dip Dye Shag Haircut
The dip-dye coloring technique presents an opportunity for individuals to explore a wide array of colors. Unlike traditional methods that incorporate streaks of color throughout the hair, this technique specifically targets the ends. Typically, vibrant artificial colors are used, but by concentrating the color solely on the ends. However, to truly make the shag haircut stand out, you can start the dip dye at your eye level to really make it pop.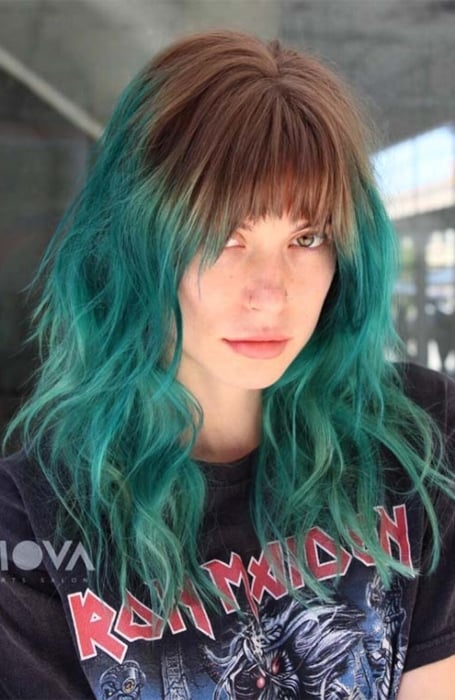 43. Two-Tone Shag Hairstyle
Two-tone hair refers to the incorporation of two different colors in the hair. These colors can be similar, with only slight variations in shades, or they can be contrasting. There are different ways to achieve two-tone hair, either through subtle blending by dyeing selected sections or through a more distinct approach by focusing on specific parts of the hair, such as adding a second color to just the bangs. The addition of two-tone hair can bring a fun and expressive element to the shag haircut, giving it a youthful appearance.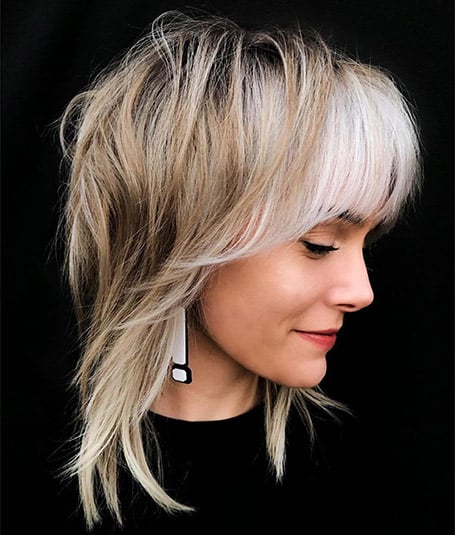 44. Voluminous Shag Haircut
The shag haircut is an excellent choice for adding volume to the crown. By maintaining more length on top, you can enhance the voluminous effect of the cut. What makes the shag appealing is its ability to frame the face and create balance, making it suitable for all face shapes. Additionally, despite the heavy layers, this style is on e of the most low-maintenance hairstyles for women.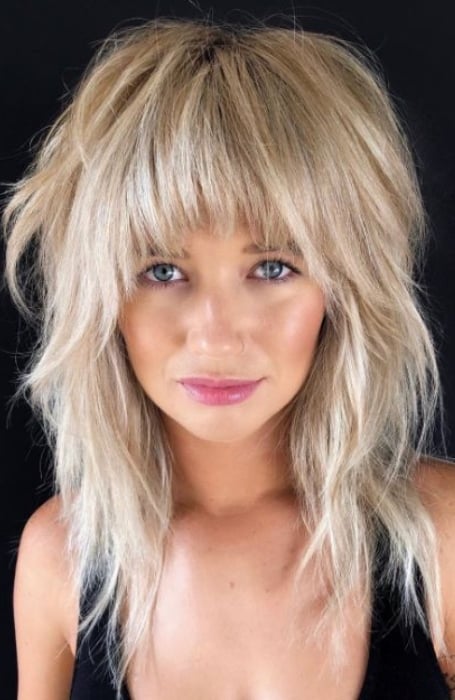 45. Shag with Shaved Sides
The shag can be styled in various ways but you can make it even more rebellious by adding shaved sides to the hair. Combining a shag with shaved sides creates contrast and results in even more fullness at the crown. Shaved sides can also add structure to the look and are an excellent option for women who want an expressive hairstyle.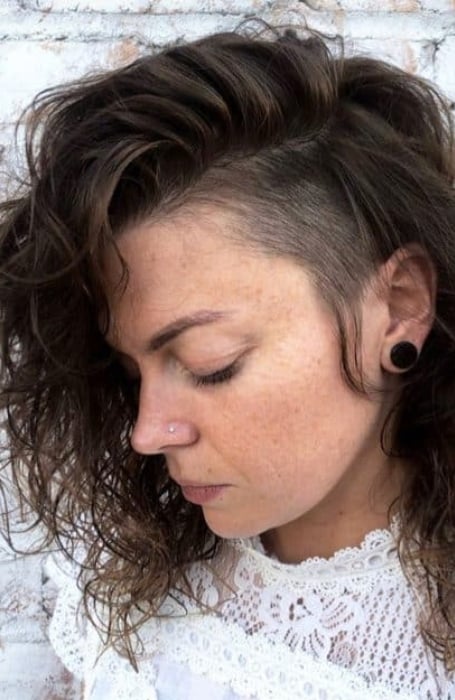 46. Shag with Braids
There are multiple ways to personalize your shag haircut, and one option is incorporating braids. Although unconventional, a braided shag can be stunning. You can choose to add a crown braid that wraps around the top of your head or include thin plaits throughout your hair. To achieve this look, your hair should be of medium to long length. Braids can bring some structure to the iconic layers and intentionally messy appearance of the shag, creating an intriguing contrast.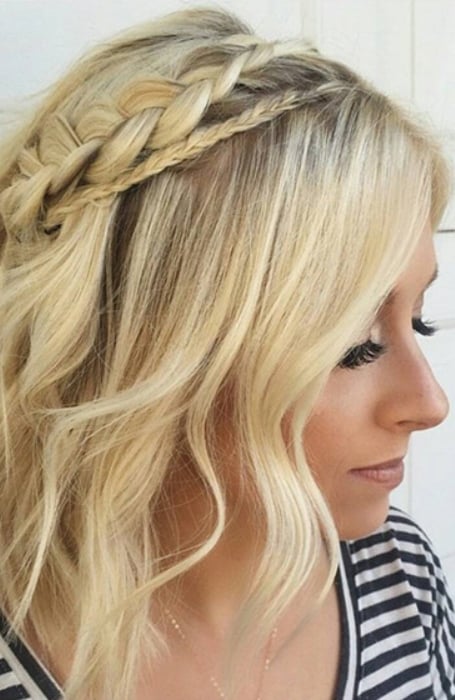 47. Cropped Shag Haircut
The cropped shag is a low-maintenance hairstyle with more structure than longer lengths and appears less choppy and undone. Cropping the hair can be flattering, framing the face and drawing attention to the jawline and mouth. The look is best with long, textured bangs, which can soften the facial features and show off your hair texture. Long bangs can also give the illusion of length despite if your hair is short.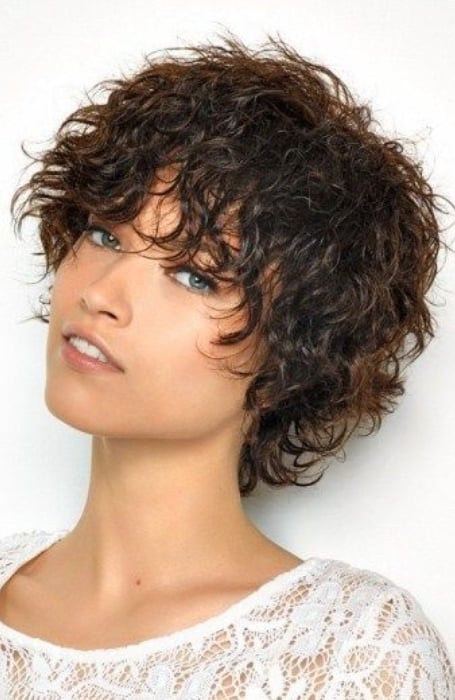 48. Grey Shag Hair
Many women opt to embrace their grey hairs rather than dyeing them, appreciating the inherent depth and dimension provided by the silver shades. Grey hair also makes a powerful statement and but showcasing it can be liberating. As we age, our hair naturally thins, and the shag haircut can effectively conceal this with its heavy layers.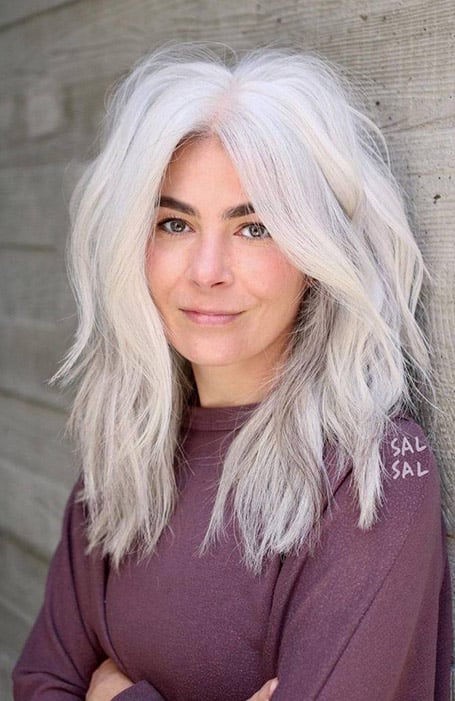 49. Shag Haircut with Highlights
Statement hair highlights are an excellent way to draw attention to the face without the hassle of bangs or layers. It is a simple and easy look to create, inspired by the 80s. Choose a shade, or several shades, lighter than your natural hair and strategically place these highlights around the face to frame it. This will draw the eye in and complement your facial features, which can be incredibly flattering. The shag is so textured and layered already that the highlights tend to have a more natural and blended appearance, but this is a pro as it makes the look easier to wear.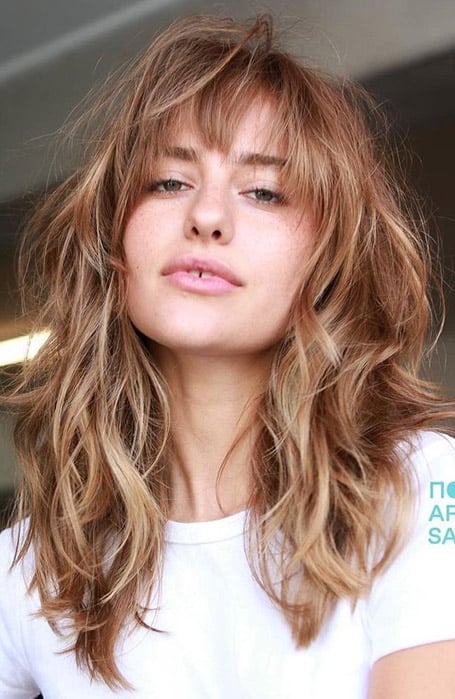 50. Shag with Choppy Bangs
Incorporating bangs with a shag haircut is an excellent way to add a youthful look to your face and conceal signs of aging, such as fine lines and forehead wrinkles. Choppy bangs, characterized by their angled and textured appearance, harmonize with the rest of the hair, which features heavy layers. These bangs have a relaxed structure, making them easy to style and grow out effortlessly. Unlike straight or blunt-cut bangs, they do not require frequent salon visits to maintain their shape.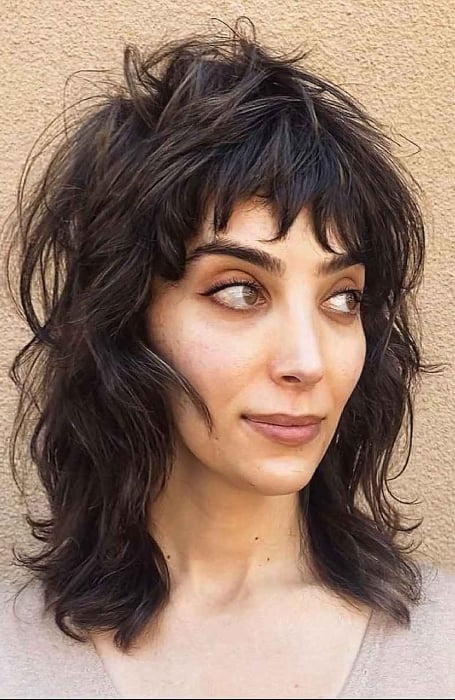 51. Asymmetrical Shag
The asymmetrical hairstyle adds an interesting and unbalanced element to your shag. It is defined by the hair being longer on one side of the head and shorter on the other and letting you play with proportions. It can focus the attention on your jawline and balance the features. There is a lot of versatility with the asymmetrical shag, and it can be worn long or short and created on various hair textures and types, although the cut has precision when on straight hair. When styling the hair, consider pairing it with a fringe or side parting, which can soften your face.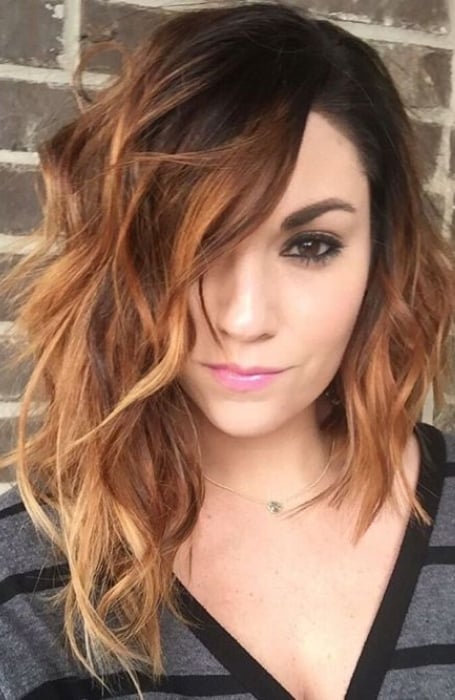 52. Burgundy Shag Haircut
Burgundy hair, a deep shade of reddish-brown, has gained popularity due to its sexy appeal. Combining burgundy hair color with a shag haircut will further enhance the hairstyle making you stand out in the crowd and have everything asking what salon you visit.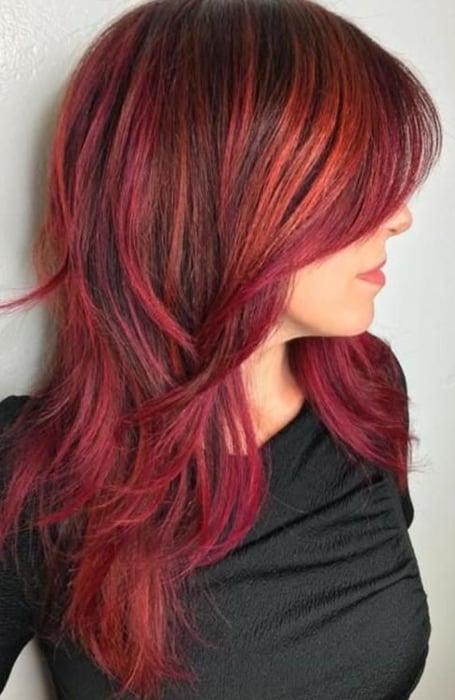 53. Shag with Pinned Fringe
The shag haircut is often paired with a fringe, which can enhance volume at the top of the head. Fringes have the ability to transform your appearance by adding a youthful touch, framing your face, and complementing your features. You have various options when it comes to choosing bangs, ranging in thickness, length, and angle. If you prefer to keep your fringe away from your eyes while still enjoying the softness it provides to your face, you can try pinning it back. You can achieve this by using cute hair clips that evoke styles from the 80s or 90s, or by opting for sophisticated pieces that add a touch of glamour to your overall look.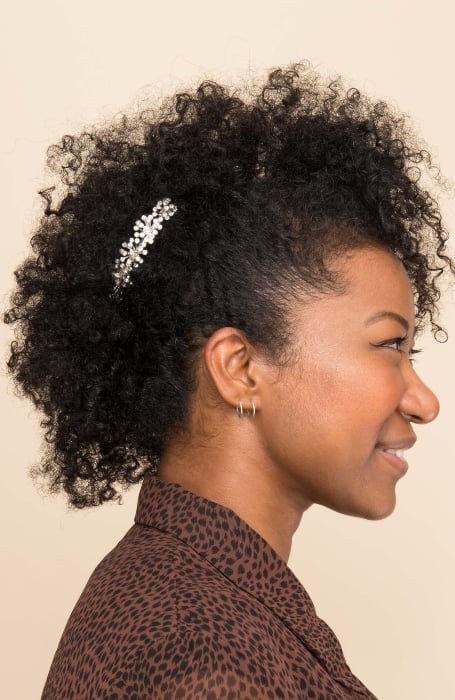 54. Windswept Shag Hairstyle
If you are looking for hair with a lot of texture and volume, the windswept shag haircut is for you. The appeal of this hairstyle is its messy and deliberately undone appearance, and the windswept look only adds to this. You can achieve this look by brushing up the hair at the front of the hairline, creating a voluminous finish. Let it fall naturally to the side to soften your features and complement your face.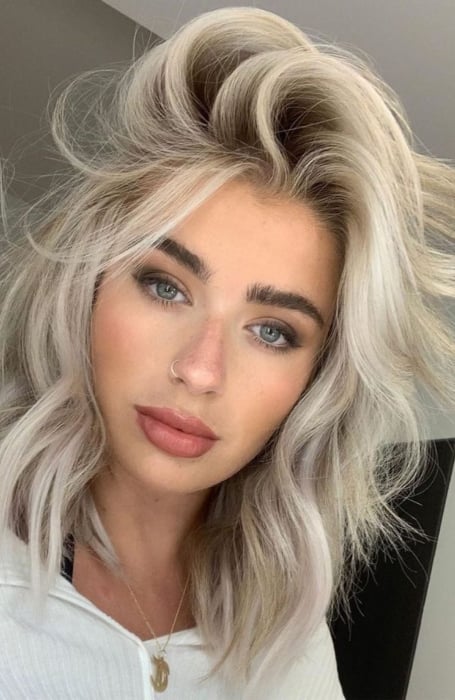 55. Razor Cut Shag
Many shag haircuts for women are cut with a razor, producing softer layers. This gives the look a more delicate and often feminine appearance compared to other gender neutral haircut. This could include layers positioned to flatter the face shape or soften the features. You can also opt for a more edgy and rebellious feel, styling the hair with fullness at the crown and very thin, piece-y strands at the bottom of the head.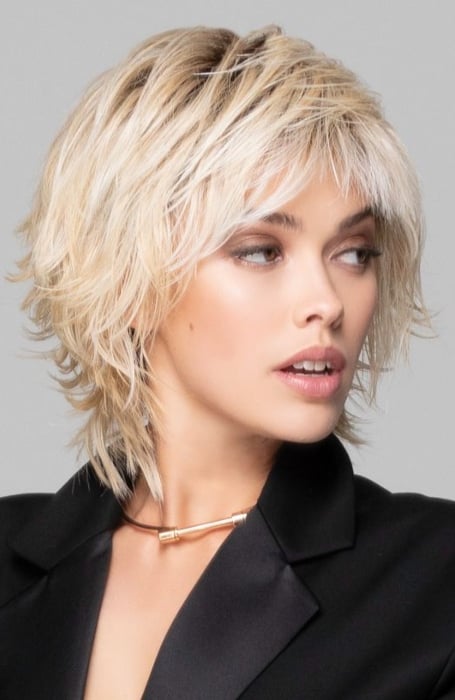 56. Chocolate Brown Shag Haircut
There is no denying that the shag haircut is one of the most versatile looks this year. It suits women of all ages and works with different hair types and hair color shades, especially chocolate brown, which is a rich and warm color that is full of dimension and will complement the layers of the shag.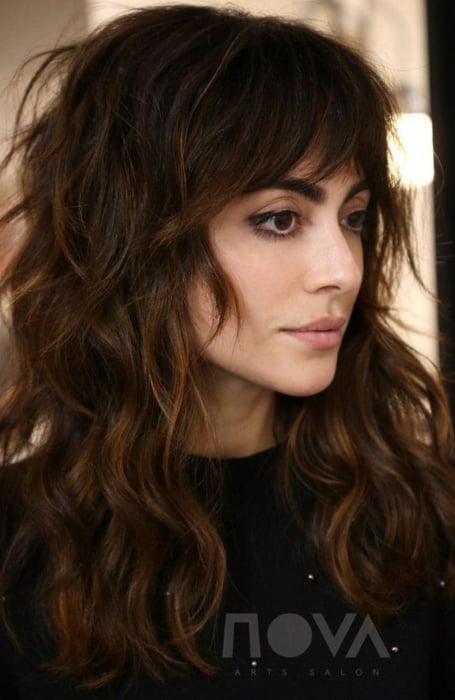 57. Edgy Mullet Shag
The mullet is a haircut similar to the shag but with some slight differences; it is longer at the back and shorter on the back and sides. You can combine elements of these two haircuts for a modern approach giving you an edgy and cool look. The mullet is somewhat controversial and has a bad reputation, but it is surprisingly easy to wear and can be very flattering.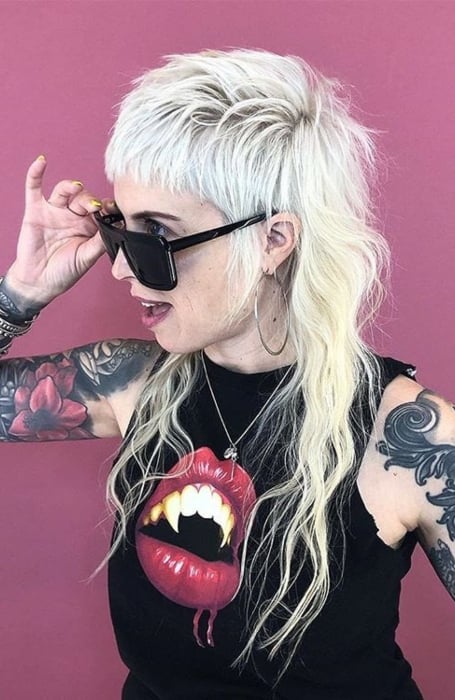 58. Spiky Shag Haircut
Spiky hair is great for creating volume on the top of the head but also has a rebellious feel. The look was popular in the 90s, but the modern approach requires less gel and produces no hard or rigid spikes, giving the look a softer appearance. Combining spikes with a shag haircut is an effortless combination, as the shag is already known for being a heavily textured and layered cut.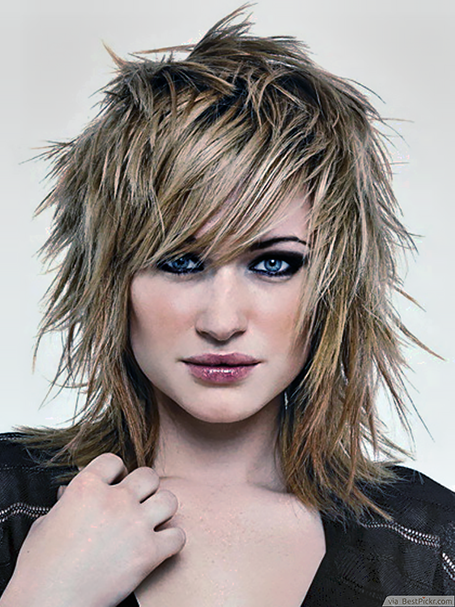 59. Shag with Dark Roots
Creating depth and dimension to your shag haircut can be achieved by embracing your natural dark roots while coloring the rest. If you prefer an ombre hair color effect, lightening the hair from the mid or lower point is an option. For a more subtle contrast, you can keep only a small section of the roots exposed. Not only does it look great, but it also eliminates the need to regularly maintain the color, as you can let it grow out naturally.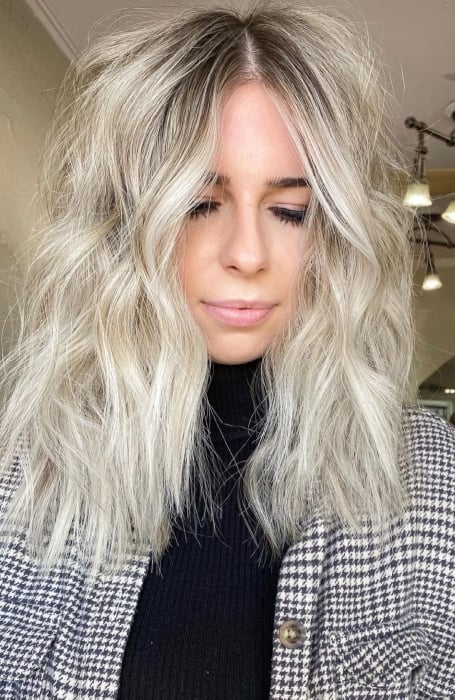 60. Shag in Low Ponytail
The shag haircut can look great when pulled back into a low ponytail. This ponytail hairstyle is easy to do and is a great option for keeping the hair off the neck and can highlight your jawline. The deliberately undone appearance also softens the hairstyle and can look feminine and romantic.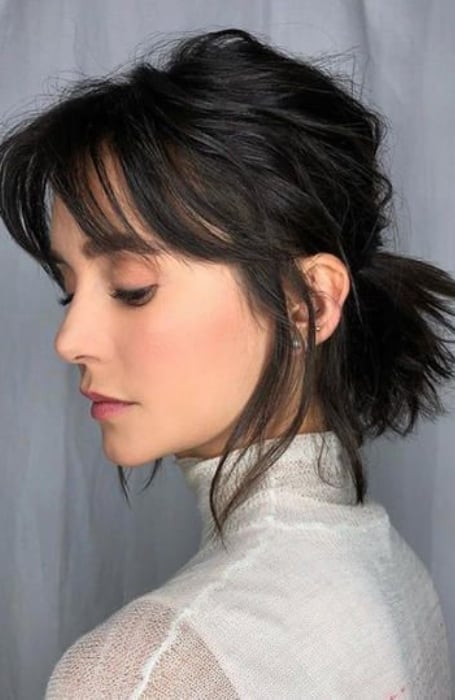 Styling a Shag Haircut at Home
If you would like to know how to style a shag haircut at home, you can follow this Youtube video by AnaMolina.
Shag Haircut FAQs
What is a modern shag haircut?
A modern shag haircut is a wearable update from the original '70s version – think less glam rock and more Paris chic. While it retains the classic cut's choppy layers and fullness at the crown, the overall effect is softer and more feminine than edgy androgynous. The layers are often cut with a razor and positioned to flatter your face's natural shape. While it keeps the shag cut's iconic messy texture, it has a more put-together, sophisticated, yet carefree feel. 
How do you ask for a shag haircut?
When you visit a salon for a shag haircut, ask your stylist for a heavily layered, choppy cut with plenty of movement. You should also request volume at the crown, sliced ends, and soft bangs, with a 'lived in' or textured finish. It's important to consider the natural texture, curl pattern, and thickness of your hair and your face shape when trying a shag cut for the first time. Ask your stylist for their advice on where the layers should end, how thick your bangs should be, and where they should fall. And as always, if in doubt, bring a photo!
How do you style a short shag haircut?
Also known as a shaggy bob, a short shag haircut is on-trend right now – and luckily, it couldn't be easier to style. Ensure there is plenty of volume by applying a small amount of mousse to the crown of your head, focusing on the roots. Then, allow your hair to air dry or loosely blow dry it on a cool setting using a diffuser. The final result will be a messy, textured hairstyle showing your hair's natural movement. 
What face shape do shags look good on?
The shag haircut flatters most face shapes, except those with a notably round face shape. This style, especially when paired with a fringe, may make the face appear shorter due to the cut. However, if you have longer hair or a slightly more angular chin, the shag haircut can be a great choice.
Does a shag haircut have bangs?
The traditional shag haircut typically includes fringe bangs, but this style has transformed into various other shag variations. If you desire a shag haircut but prefer not to have bangs, consider longer, choppy layers around the face instead.
What's the difference between a shag and a lob haircut?
A classic lob is a hairstyle that resembles a longer version of a bob, with the front slightly longer than the back. It has fewer layers compared to a shag and does not include bangs. On the other hand, a classic shag features many choppy layers and includes fringe bangs.
What's a true shag haircut?
The classic or true shag hairstyle is characterized by choppy layers, fringe bangs, a center part, and ample volume on the top.
SUBSCRIBE TO OUR NEWSLETTER
Subscribe to our mailing list and get interesting stuff and updates to your email inbox.