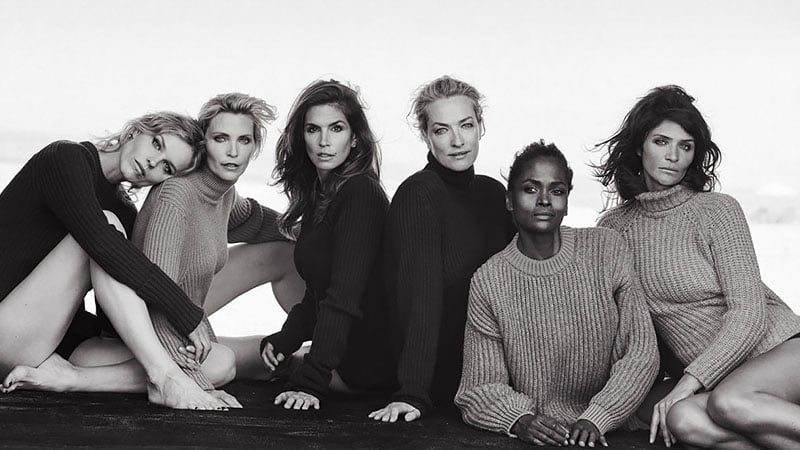 Many women say that once they hit 50, they begin to enjoy life to its fullest. They stop worrying about what people think of them so much and focus on their happiness. This doesn't mean they don't want to look stylish and attractive; it just means that they know when to pass on a fading trend and choose a look that suits them. Hairstyles are no exception to this rule. Although styles and cuts go in and out of fashion, choosing a classic look that suits your face is timeless. Just ensure that it has the right modern touches to ensure that it's fresh and chic rather than old and outdated. Below are the best hairstyles for women over 50.
RELATED: 23 Glamorous Hairstyles for Women over 60
1. Long Hair with Curls
Long, straight hair can have a tendency to drag down the face, particularly in older women. If you feel like this is happening to you, combat the problem by adding some youthful curls to your long hairstyle. Their bouncy style will help add life to your hair and keep your face looking young and bright. They also have a luxurious and glamorous feel that is perfect for special occasions. To wear your long hair with curls, ask your stylist to cut in a few long layers for shape and texture. If you have thin hair, ask for blunt ends to maximize your volume. When styling your hair, use a large curling iron and remember to curl your hair away from your face to keep the look open and light.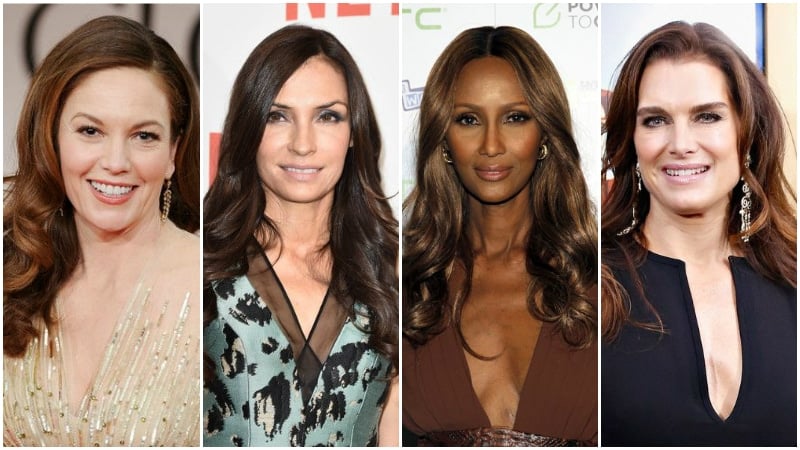 2. Straight and Face-Framing
Straight, long hair is a hard look to pull off whether you're 20 or 50. While curls can be a great way to make long hair work for you, they can also be time-consuming to create, particularly if you have naturally straight hair. If you're in need of a more low-maintenance look, consider keeping your long hair straight and adding some face framing layers. Doing so will soften the severity of your straight hair to create a gorgeous feminine look. To style, this look after cutting, simply blow dry your hair smooth with a round brush to create a slight curl at the ends of strands for movement and shape.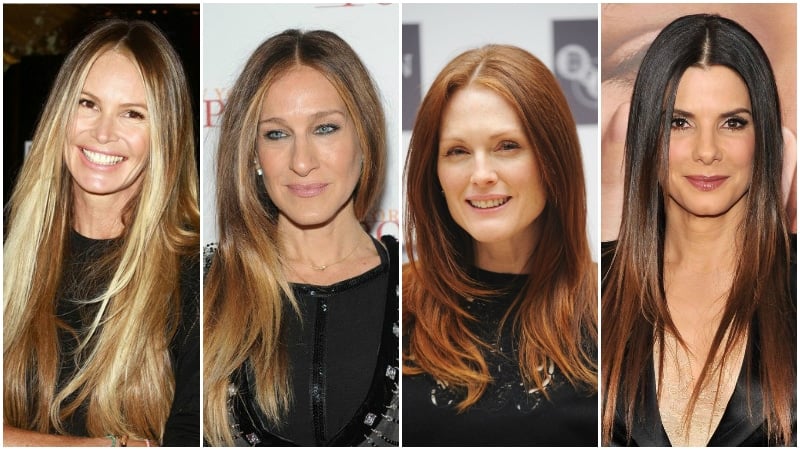 3. Long Hair with Bangs
If you love your long hair but find it looks a little bland, consider adding some bangs to modernize your style. Bangs are a great way to update any hairstyle and can make an exciting change without cutting your hair short. They also have the bonus of hiding lines that you may feel self-conscious about and beautifully highlighting your eyes. When considering changing your hairstyle to include bangs, choose between side and front styles. As hair naturally thins out as you age, side bangs are the best option, blending in with the rest of your hair. Front bangs can still look great if you have thick hair. If you have thin hair, ask your stylist to cut your bangs choppy rather than full. For this style to work, also make sure that you tame any oily-ness as it will make your bangs sit flat and limp instead of full and bouncy.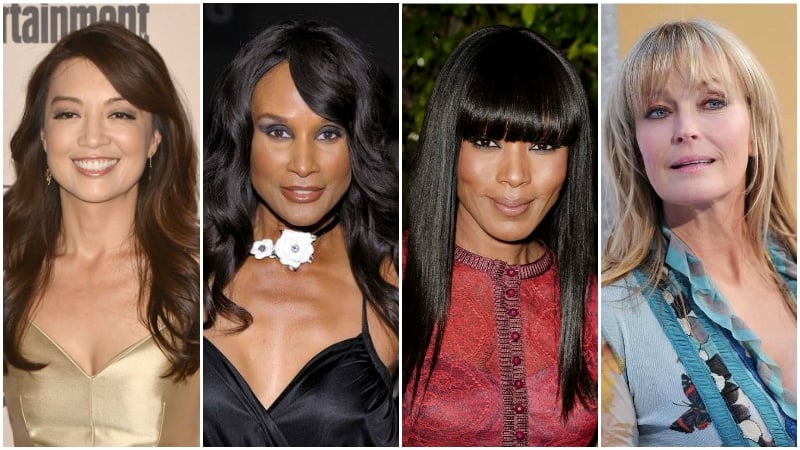 4. Medium Layered Cut
As you age, your hair changes and can lose some of its shape and volume. Adding layers is the best way to give your hair back its life and bounce. A medium-length haircut with layers is a great option for many women. It's light and youthful while still being womanly and polished. To achieve this look, have your stylist cut your hair so that the longest pieces graze your shoulders. This length will add more movement to your hair as it breaks on your shoulders. The top layers should then be cut gradually shorter, discreetly finishing around the cheekbones and jaw.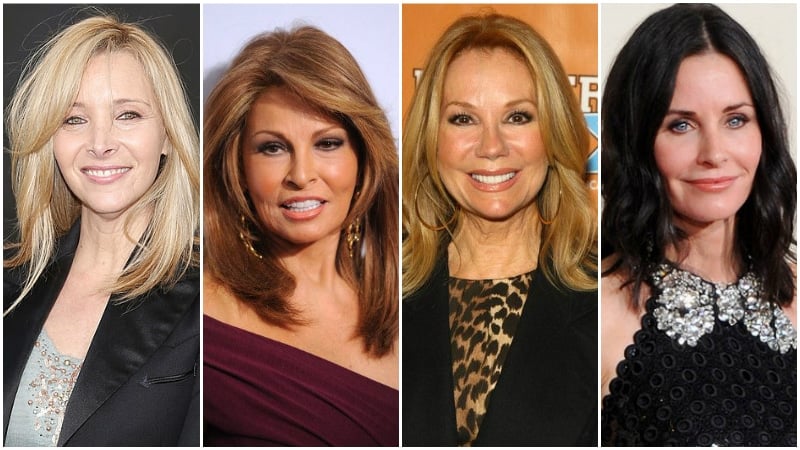 5. Medium Length with Bangs
Medium length hair with bangs is a timeless style that looks great season after season. Easily worn curly or straight, this style is versatile and requires low maintenance. To nail this look, have your stylist cut your hair to finish a couple of inches past your shoulders to balance out your bangs. Heavy bangs can drag down the face and cast dark shadows, so choose between side-swept or light front bangs. If you pick side swept bangs, opt for either a shorter length that just hits the eyebrow or a longer length that seamlessly tapers into the rest of your hair. However, if you choose front bangs, ask your stylist to keep the look light, soft, and choppy to suit your medium length.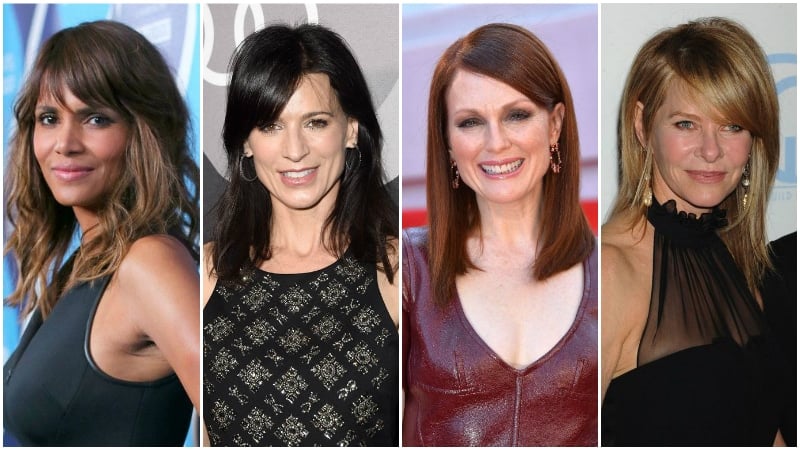 6. Lob
A lob haircut is a gorgeous and very stylish haircut to try. This look is modern and chic, falling in between a bob haircut and traditional medium-length hairstyles. Working best on healthy, shiny hair, a lob accentuates volume and frames the face. To get the most out of this look, have your stylist cut your lob slightly shorter in the back than in the front with long layers around your face. This cut will be the most flattering and have a youthful appeal. Keep ends blunt and choose between a middle part for a striking look or a side part for a softer style. Wear your hair straight or opt for a slight wave when it looks a little lifeless.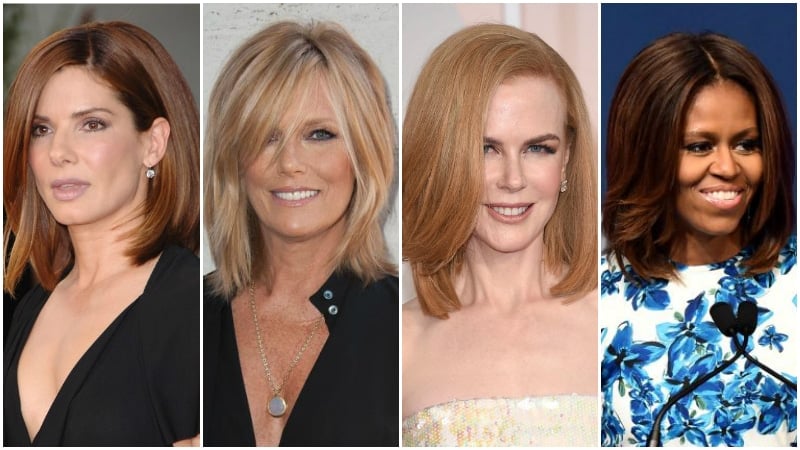 7. Choppy Pixie
From Hallie Berry to Kris Jenner, women over 50 are rocking the choppy pixie cut. Fun, stylish, and a little bit flirty, this cut is a great option for women looking to go short with their hair. Keeping the extra length in this choppy pixie will allow you to style it messy for a fantastic youthful feel. Light, wispy bangs will also help you nail the pixie cut look with a great feminine appeal. You can even try styling them back for a unique variation on this look. If you choose this pixie cut, just remember to run some product through your hair with your hands before leaving the house. Doing so will give your hair the desired texture and stop it from looking flat and lifeless.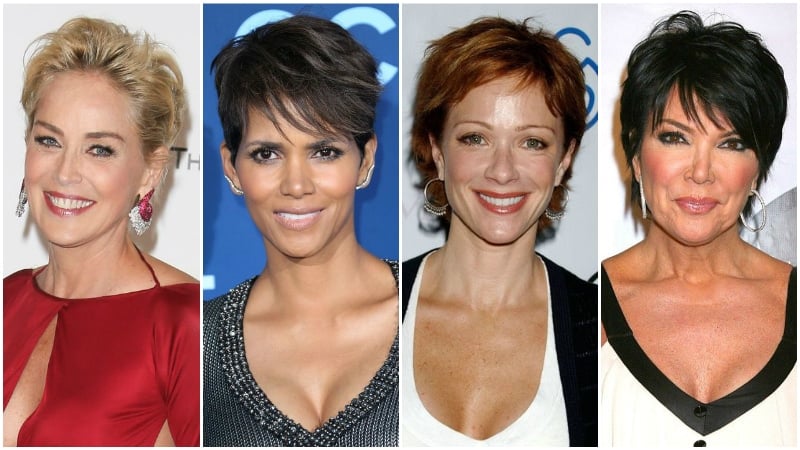 8. Classic Sleek Bob
Nothing beats a classic, and a sleek bob haircut is definitely a classic. This timeless style is forever flattering and chic, regardless of the trend. Smooth bobs finish around chin height and are the perfect face-framing style. They show off your face but aren't as exposing as a pixie cut. Gently sitting around your face instead of covering it, a classic bob is a highly flattering style for women over 50. If this is your regular style, try mixing things up with a different part or by adding different layers. Just remember to be careful if you have thick hair. Too short, and it could end up looking puffy rather than sleek.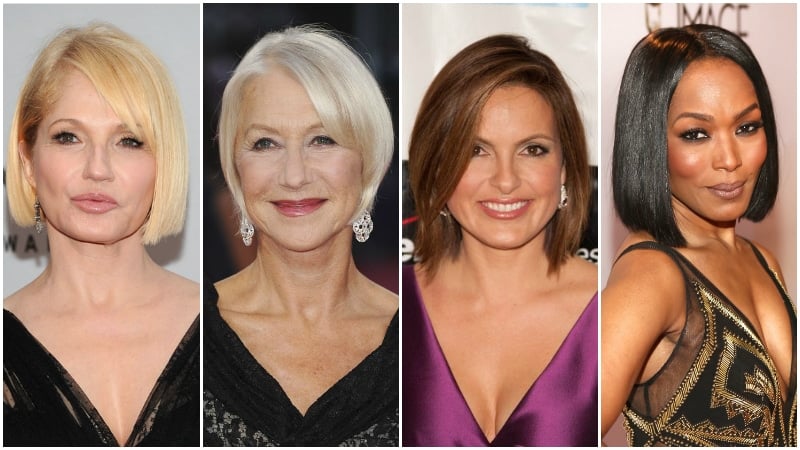 9. Curly Bob
While a classic bob is sleek and polished, curly bob is sexy and feminine. Soft curls that finish at the neck make this style a winning look for women over 50. The curls add movement and bounce to hair, creating desirable volume and style. Keep the look smooth and full at the roots by blow-drying your hair with a round brush while pulling your hair upwards. Then add a few large curls to the bottom half of the locks to complete the look. Curl hair both inwards and outwards at the back for a natural and thick-looking finish and away from the face at the front to keep the look open and light.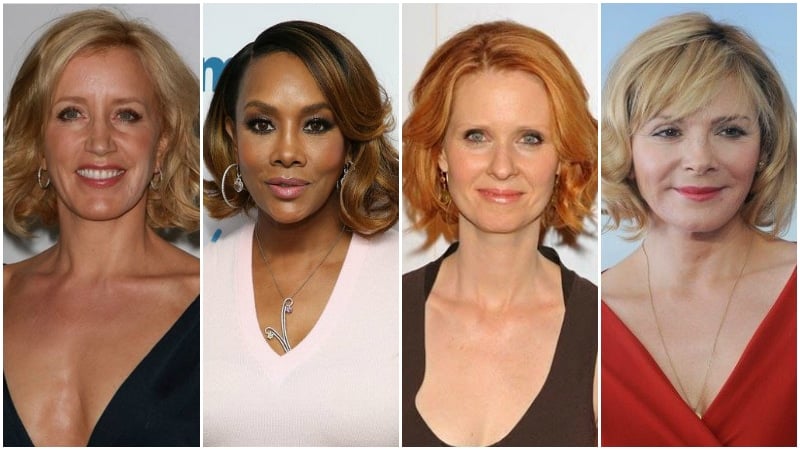 10. Classic Pixie Cut
The classic pixie cut features short hair on the sides and back, short bangs, and more length on top of the head. It is flattering on most face shapes and great for women of all ages. This classic style remains a favorite because it is practical and versatile. Keeping your hair short also makes it easy to maintain and reduces styling time. A pixie cut can look fantastic on all hair textures and types and is perfect if you want to embrace your gray hair. The look is simple but stylish, drawing attention to your neck and face shape. Highlight this by wearing statement jewelry such as big earrings or a gorgeous necklace.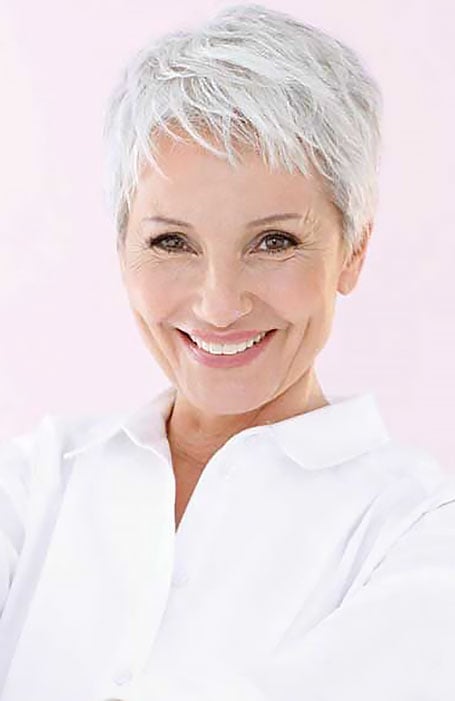 11. Backcombed Hair with Bangs
Backcombed hair has a retro-chic appearance and is gorgeous if you want to create volume. The hairstyle also has a 60s feel; think of Brigitte Bardot's iconic style. Backcombing is created by brushing the hair backward toward the scalp. It can be complemented with bangs, giving a softness to your appearance and highlighting your features. What bangs you choose are entirely up to you, but some of the best options are curtain bangs or a side-part fringe; both of these looks are very flattering and work well with most face shapes. They can also frame the face, drawing attention to your features. Bangs are fantastic at creating a more youthful appearance and can hide fine lines and wrinkles on the forehead.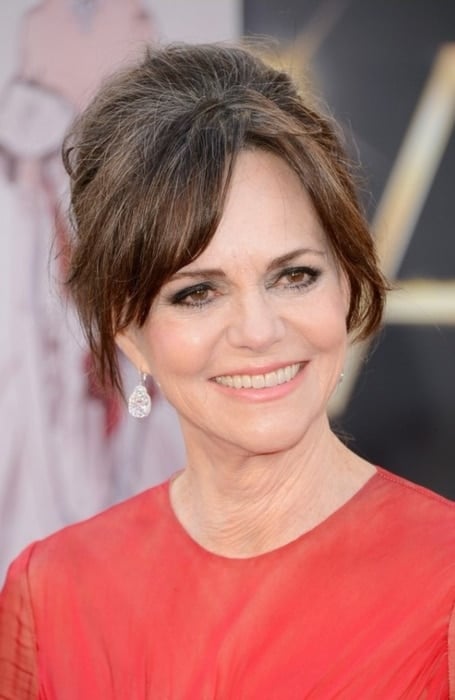 12. Hairstyle with Volume
If you want to make a statement with your hair and get noticed, then do it with volume. Adding volume to your hair and making it big demands attention and is a way to highlight your hair texture and cut. This glamorous style can complement your face shape and features. The right cut and grooming products can give you the fullness you desire while also giving your hair movement. You can also use heat styling for volume. You may want to offset this with dry shampoo if you have naturally greasy hair.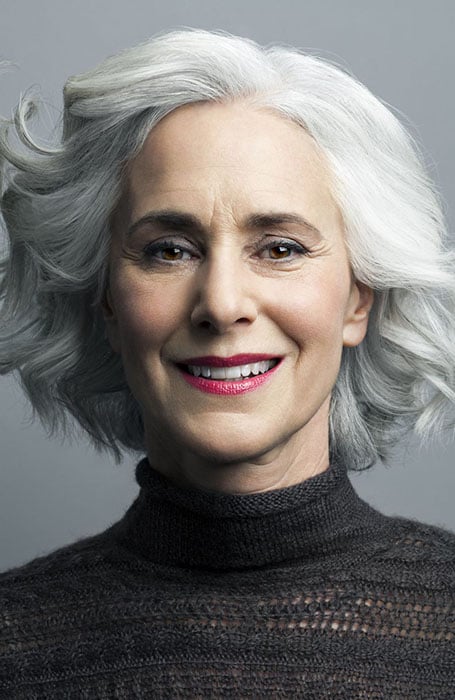 13. Combed Back Hair with Volume
Combed back hair can be incredibly flattering, making your face appear more open. This can highlight your facial features and complement your face shape. In particular, your cheekbones, lips, and eyes; you can make them the focus of your appearance even more by opting for a bold shade of lipstick or by using eyeliner. The appeal of combed-back hair is that it can help achieve volume, making your hair look thick and full while also giving it movement. This is a fantastic look for formal events and is very sophisticated and glamorous.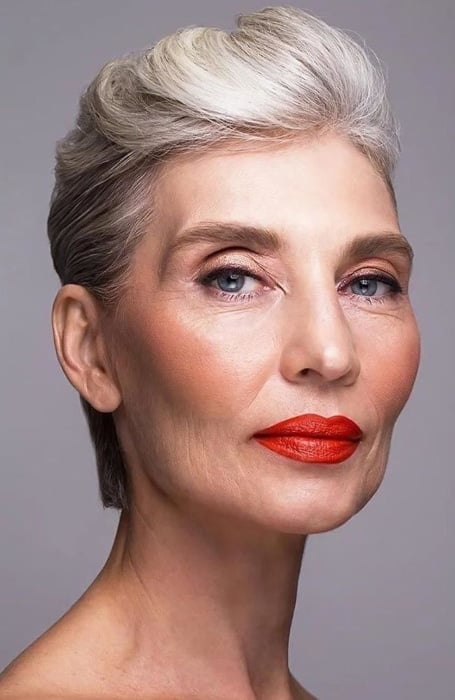 14. Slicked Back Hair
Slicked back hair is a simple yet effective way to make a statement. It can be created on most hairstyles and is achieved by using a strong gel or similar product. The idea is to brush the hair away from the face, opening it up and highlighting your features, specifically your eyes, and jawline. The hair will also have a slightly wet, glossy appearance, perfect for more formal settings. It has a very sophisticated feel and keeps the hair out of your eyes, which is also practical. Although most women love bangs to help them achieve a youthful glow, this hairstyle can be just as flattering and does not require maintenance or regular trips to the salon for touch-ups.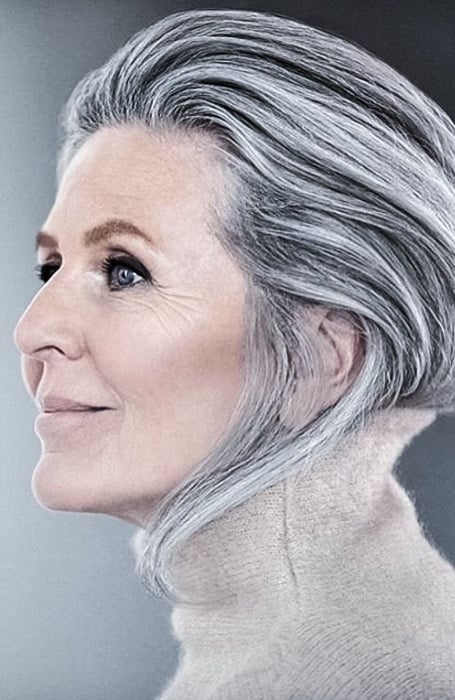 15. Short Wavy Hair
Wavy hair is a sought-after texture because it looks great even with simple cuts. Consider cutting it short if you want a stylish and practical way to wear your hair. This could be with a classic hairstyle like the bob or pixie, or you can get more adventurous by working with your hairstylist to add other elements, like a temple shave for contrast. When styling your hair, consider letting it fall around your face, which can be incredibly flattering and soften your features. You can also work it into a simple updo hairstyle, leaving a few waves to fall around the face.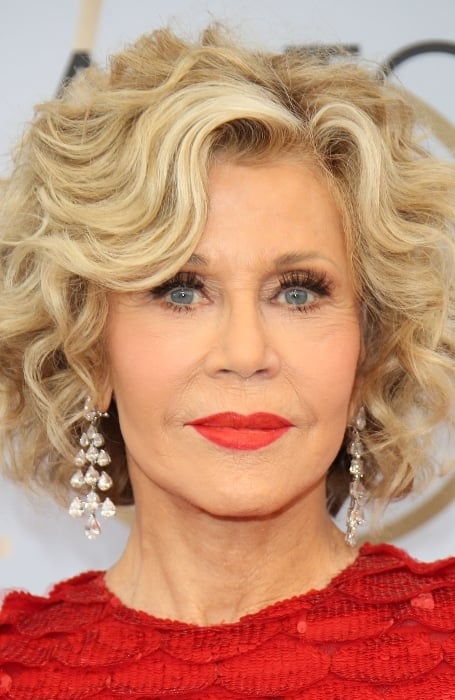 16. Blunt Hairstyle
A blunt cut is a straight cut without any layers and is excellent for someone looking to achieve a style that demands precision. It is best to highlight the cut with straight hair, but it can be done on all hair types. It is also a low-maintenance cut; you do not need to worry about regular touch-ups. There are various ways to wear a blunt cut, including the bob. The bob haircut is incredibly chic, looks good on women of all ages, and can be adapted to suit all face shapes. The blunt bob features straight ends and is versatile and fashionable. Blunt ends can also give you the illusion of thicker hair.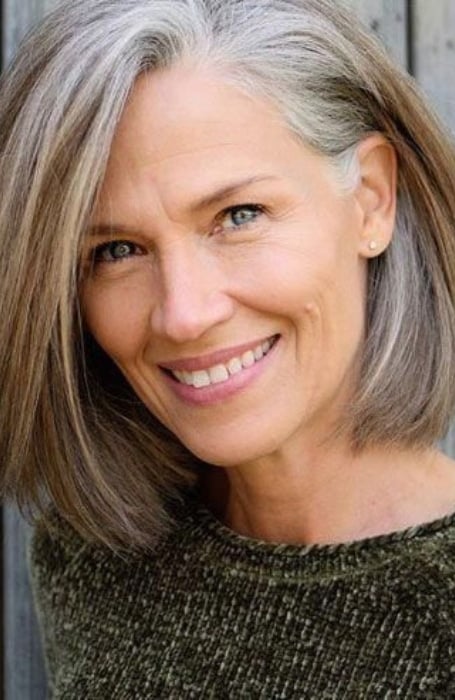 17. Messy Spikes
Consider messy spikes for the woman who wants a fun and edgy look. It is an expressive option for someone who wants to experiment with different textures but is less dramatic than opting for a temple shave or bold hair color. This modern approach to spiky hair is also much more wearable, with the spikes less structured and stiff than in the 90s, instead having a soft, tousled look. It is excellent for adding volume to short hair. Keeping your hair short can be incredibly flattering, leaving it looking thicker, fuller, and overall healthier.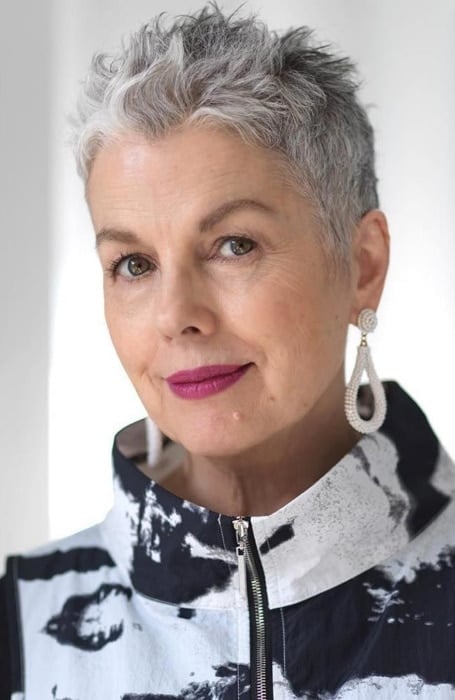 18. Short Natural Curls
Avoiding heat styling and chemicals will leave you with structurally stronger hair. Natural hair, especially curly, looks gorgeous and can soften your features. You can keep it at the length you choose, but most women find that short hair is more practical once they reach a certain age. This is often because hair thins with age, and the growth rate slows. Choose a cut that highlights your facial features and complements your face shape. You may also wish to let a few curls fall around your face for a framing effect.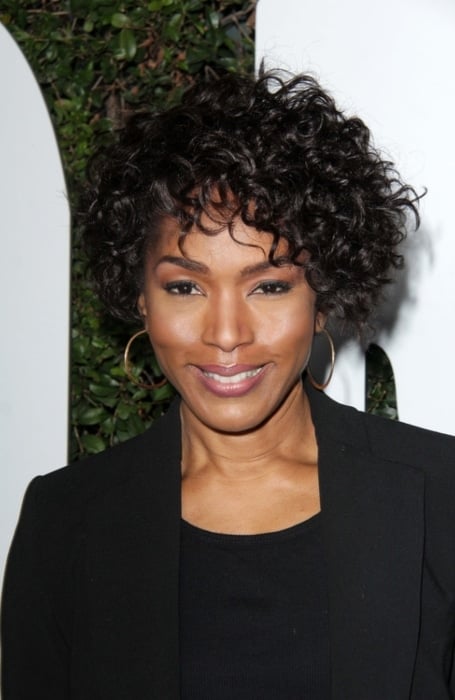 19. Bob Haircut for Thick Hair
The bob haircut is a timeless classic and is great for women of all ages. It can also be adapted to suit your hair texture and type, and for short thick hair, a good idea would be to add layers. Layers help remove weight from the hair, making it appear less bulky. It also makes your hair easier to style and enables you to achieve healthier hair. The bob is practical and chic for older women, and you can change it to suit your preference. A great choice would be to style it with a fringe; this can give you a youthful appearance and hide wrinkles or fine lines on the forehead. You can embrace your natural hair color or add highlights throughout your hair to give it depth and dimension.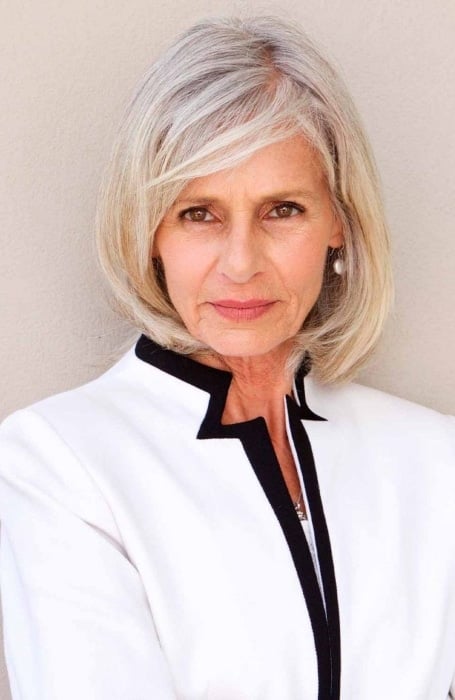 20. Middle Parting
The middle parting is practical and stylish; as the hair falls on either side of the face, it is easy to tuck behind your ears and opens up your face. It is also a fantastic way of drawing attention to your features, including your eyes. The appeal of the middle part is that it is low-maintenance and can be worn on many cuts, lengths, and hair textures. It looks most dramatic with straighter hair and tends to blend more with curly locks. The downside to the middle part is that it does not look good on everyone and will not complement all face shapes. It can also highlight parts of your face that are not symmetrical.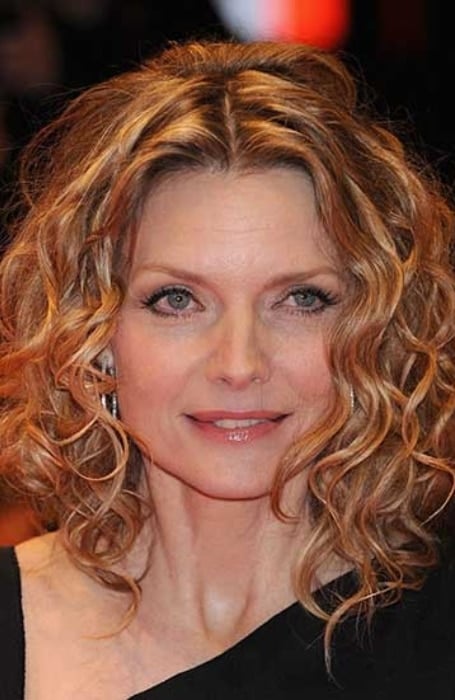 21. Messy Updo
There is something pretty about a messy updo. The deliberately undone appearance can be very flattering and helps create a relaxed and romantic aesthetic. This updo can be as simple or complicated as you wish and can be done with hair of varying lengths and textures. Leaving hair to fall around your face can also soften your features, and the messy updo feels less restrictive and is effortless to create compared to sleek and sophisticated hairstyles. Before doing your updo, consider that it is best on hair that is not freshly washed to give you more grit and make styling easier.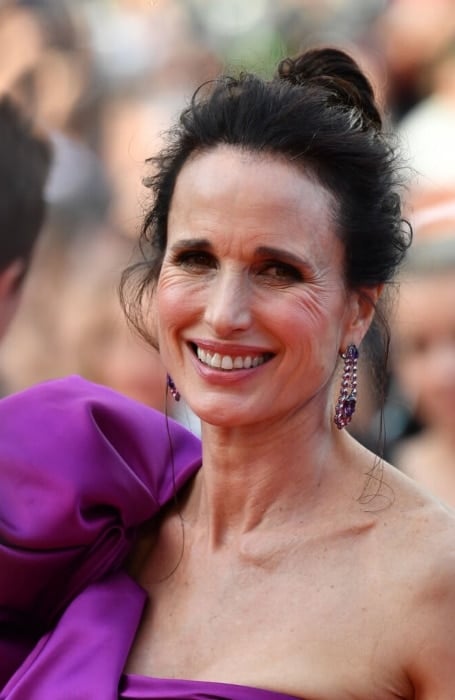 22. Side Swept Bangs
Most hairstyles benefit from the addition of bangs. Bangs can transform your appearance, giving you a youthful glow. They can also do wonders for the face, highlighting your features or disguising areas like fine lines or forehead wrinkles. Choosing the right bangs can be daunting as you want them to complement your face shape and hair texture. That said, one of the most universally flattering options is side-swept bangs which can balance your facial features. They look gorgeous on women of all ages and on all hair textures; wavy and curly hair will have a less structured and tousled appearance, whereas straight hair will highlight your cut better.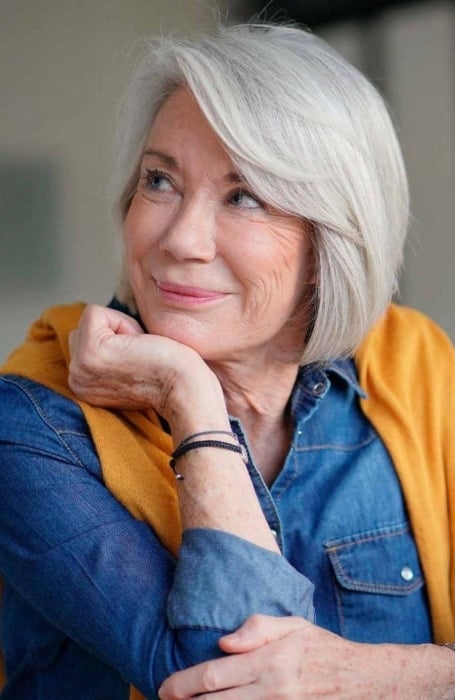 23. Buzz Cut
A buzz cut is a daring option for women but is also stylish and practical. The shaved haircut can shift the focus away from your hair and onto your face and features. This look works best with good bone structure and strong features and can be incredibly flattering, although it takes some serious confidence to pull off. It is also low-maintenance and perfect for the woman who wants a fuss-free look that requires no styling time. Our hair can become thinner and more brittle when we age, and a buzz cut is a way to eliminate this. Before getting this hairstyle, you must consider your head shape and any imperfections you do not want to draw attention to.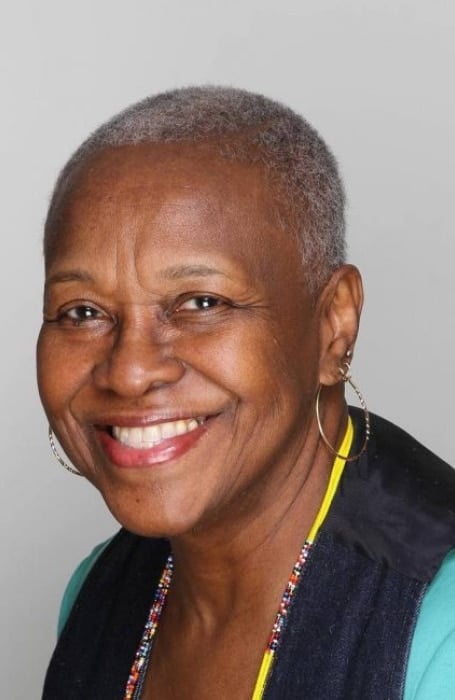 24. Pixie Cut with Side Part
A parting that is incredibly flattering for most face shapes is the side parting. It is also effortless to wear, can be added to several haircuts, and is achieved with various lengths and textures. A side part on curly hair can give a softer, more blended appearance, whereas it can be more noticeable on straight hair. Consider a pixie cut when deciding what haircut to pair this parting with. Keeping length in the front of this classic short hairstyle gives the illusion of longer locks. This is a great way to embrace short hair while still maintaining some of the benefits of long hair, like the versatility of styling. Depending on your preference, your side parting can fall across your face with a fringe or be more subtle and swept back.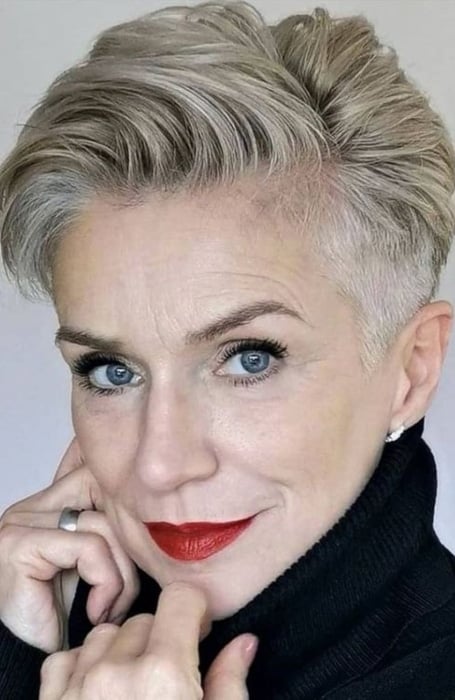 25. Ponytail
The ponytail is one of the most simple updos. Depending on your hair length and preference, this look can be practical and flattering. Those with longer hair can wear a high ponytail for a sophisticated and more formal hairstyle, whereas a low ponytail is great for working out or relaxing. Keep a few wispy pieces on the side for a soft and feminine look, or wear your ponytail with blunt bangs for an interesting contrast. The ponytail is effortless to create, and pulling the hair away from your eyes and off of your neck can be incredibly flattering; it can draw attention to those areas on the body. You can have fun wearing large earrings or a statement necklace to highlight your face and neck.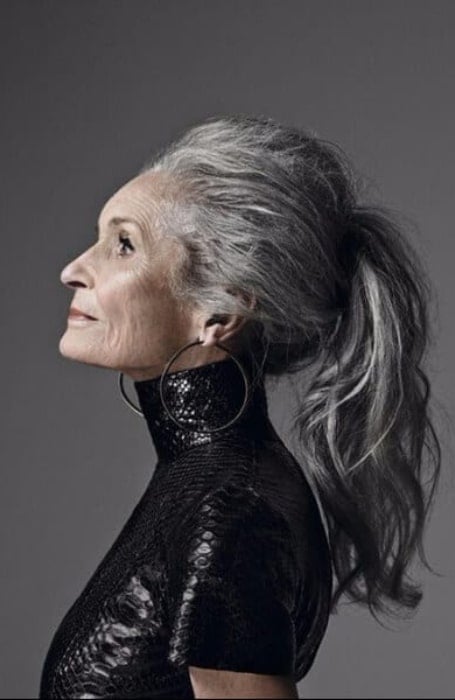 26. Hair Accessory Hairstyle
Adding fun and colorful hair accessories to your hair is practical and stylish. Depending on your choice of accessories, from head scarves to scrunchies, they are designed to keep the hair out of your face, off your neck, or both. This gives you a lot of versatility with how you want to style your hair, and it can be the perfect finishing touch. There is also a lot of choices with colors and prints, letting you express yourself with a bold accessory; this is a subtle way to experiment with bright colors. You can also match your hairpiece to your clothing for a matchy-matchy finish which can be incredibly chic.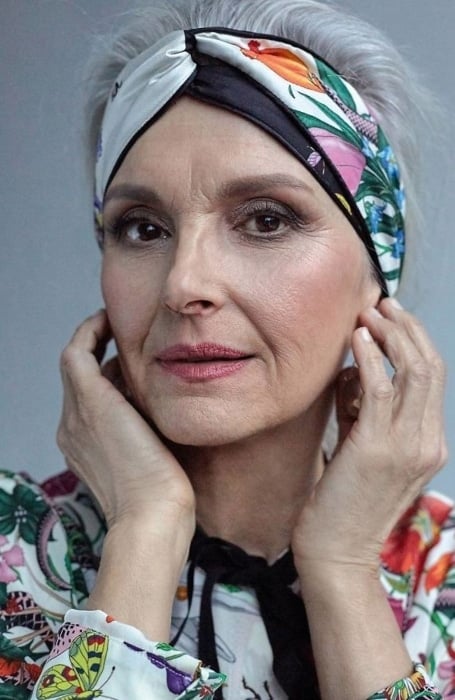 27. Modern Bob
The bob is a classic and versatile women's haircut that has withstood the test of time. The appeal of this cut and one of the reasons it is still relevant is that it can be adapted to suit your hair texture, face shape, and preferences. You can include more modern elements to make the look less dated. This can be done by experimenting with different lengths of your cut, the addition of bangs, and the angles at which you cut it. Bangs are a fantastic way to transform your look and give you a youthful appearance. The right bangs can complement your best features and will give you confidence.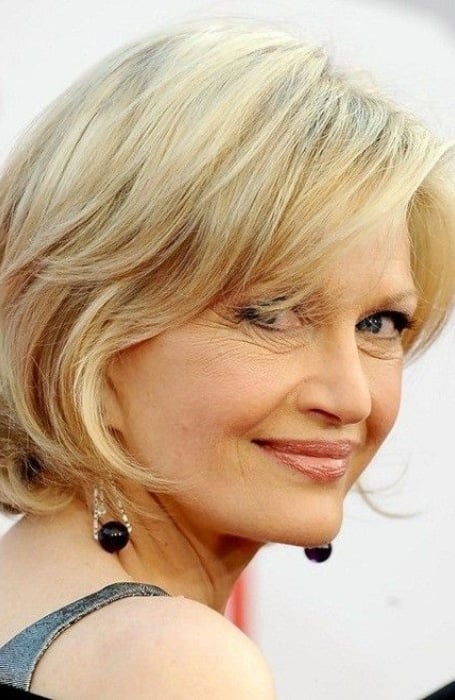 28. Natural Long Curly Hair
If your hair has turned gray at 50, this is not something you need to hide. While there is no shame in dying your hair, more and more women choose to embrace their natural color and wear it with confidence. Gray hair can be incredibly gorgeous, and the color can highlight your hair texture and cut. The lightness of gray also means that any dryness or frizz will be accentuated, so be sure to use a good conditioner and nourishing hair mask to keep it looking its best. There is no hairstyle you can or cannot wear, but many women find that keeping their hair shorter is more practical. Hair growth also tends to slow with age, and you may experience some thinning and hair loss, which is completely normal.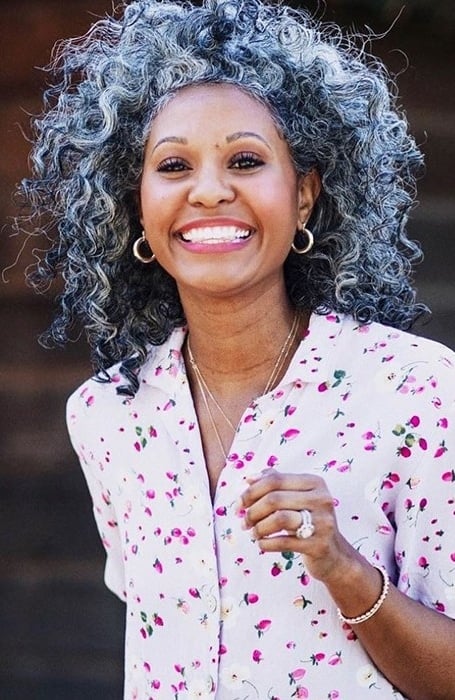 29. Pixie Haircut with Bangs
The classic pixie cut does have a slight fringe, but the beauty of this look is that it can be adapted to suit your preference. This could be by experimenting with different bangs, whether with the length or the shape. Wispy bangs are fantastic if you want a subtle and romantic look, while blunt bangs can make a statement and draw attention to your face. The right bangs can also transform your look and complement your face shape. For example, a side-swept fringe is fabulous on most women but best suits heart and square-shaped faces, while blunt bangs are fantastic on oval faces. Bangs can also give your hair structure or add volume or movement, so work with your hairstylist to find the option that suits you best.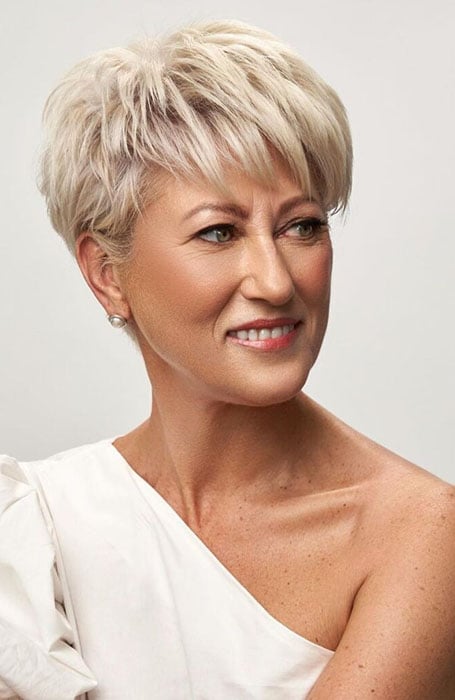 30. Strawberry Blonde Hair with Highlights
If you are not a natural strawberry blonde, you may be drawn to this color because it is stunning, especially for those with pale skin and light eyes. The color can lighten and brighten your hair, giving it a lift and highlighting the wave pattern. Several color variations include fiery reds and lighter, muted tones, so you can find the hue that best complements your features. You can also tone down the color by adding highlights to your hair, giving it more depth and dimension.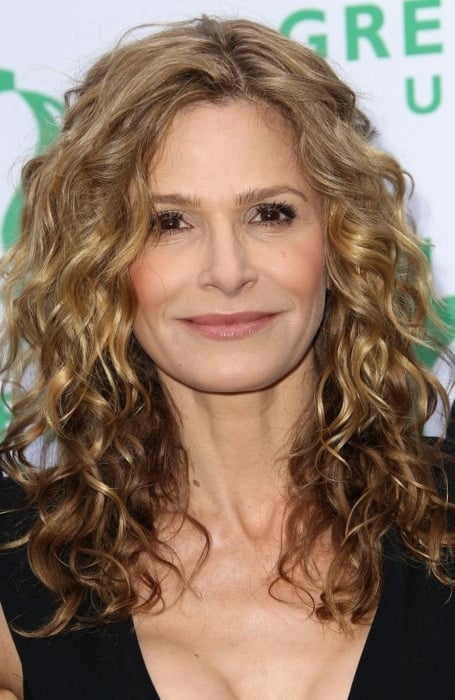 31. Long Straight Hair
Don't listen to the nonsense about not wearing your hair long when you are past a certain age. You should do what you want, and long hair is incredibly gorgeous. Long straight hair can give you a sleek and sophisticated appearance and is perfect for various occasions. It can also reflect light, giving your hair a lovely shine to it. The important thing to consider is the thickness of your hair, as our hair tends to be thin when we age. This can be particularly noticeable on straight hair. If you feel your hair is thinning, incorporate layers into your cut to add movement and volume. Strategically placed layers can give your hair texture and make it look thicker and fuller.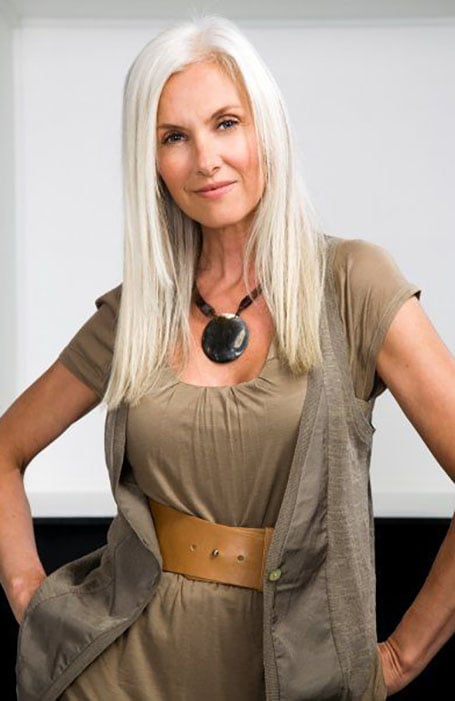 32. Bowl Cut
The classic bowl cut is not for the faint-hearted. Instead, it is for daring women who do not mind standing out from the crowd. The hairstyle is defined by having the same length all around the head, but the modern approach to the mushroom-looking 80s classic lets you experiment with length, more texture, and different fringe options. This makes them more wearable but retains their cool and quirky vibe. Letting the length of the bangs of your bowl cut to skim your brows is a great option and will draw attention to your eyes. You can also personalize the look with shaved sides. The appeal of the bowl cut is that it can be created on all hair textures and adapted to suit most face shapes.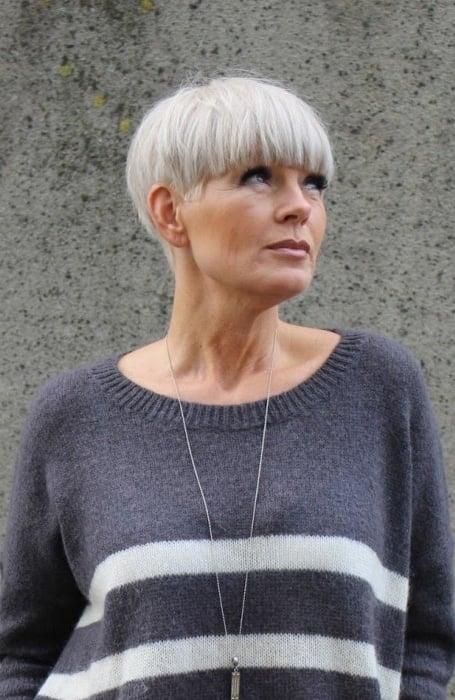 33. Sophisticated Updo
There is always a suitable time for a sophisticated updo hairstyle. It could be worn to attend a wedding, a formal function, a work event, or even date night. What defines this updo is based on your preference, hair type, and hair length, but in general, this will be a sleek and put-together look. While messy updos are appealing, they have a much more relaxed aesthetic; for this one, you want to ensure that all the hairs are in place and look smooth and polished. Depending on the occasion, you can add hair accessories like a baby's breath or even a fascinator. Let your makeup compliment your hairstyle by keeping it natural but opting for a bold shade of lipstick; think simple and classic.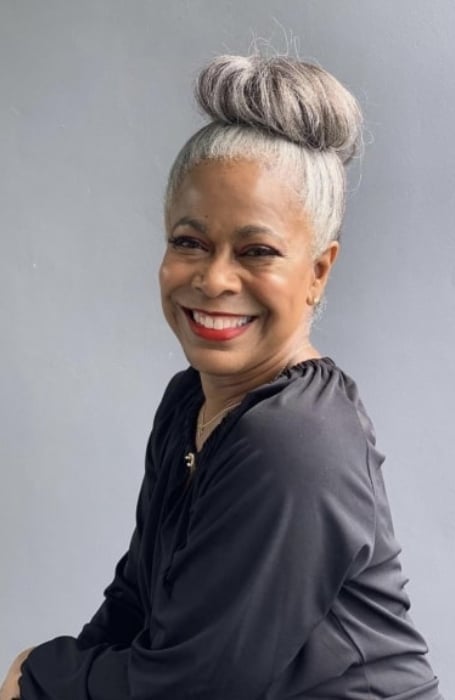 34. Asymmetrical Hairstyle
The asymmetrical hairstyle is all about interesting angles and is created with one side being longer than the other. This lets you play with proportions and can give you an edgy yet stylish appearance. Your cut can be created on various hair textures and lengths, but straighter hair looks best as it makes it more visible. If you want a more subtle and blended appearance, curly hair can help achieve this. An asymmetrical haircut can have a youthful look and balance your features. It will also draw attention to the eyes and jawline. It is excellent for women of all ages and feels very modern.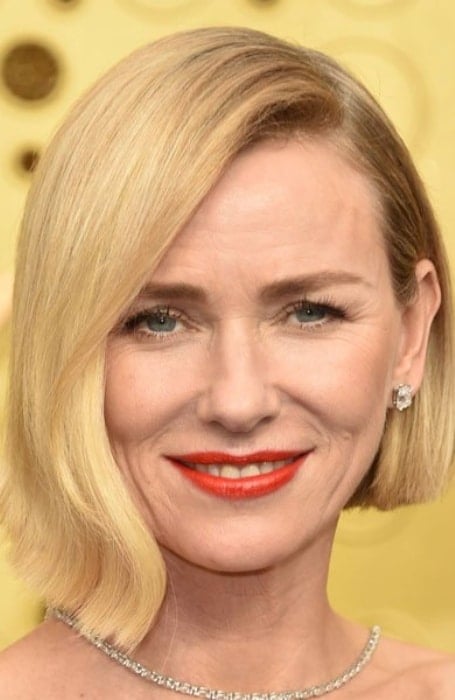 35. Wavy Pixie Cut
The pixie cut is one of the most popular short hairstyles for women. It is versatile and personalized to suit your face shape, hair texture, and type. It can also highlight your features, specifically your eyes, and cheekbones. You can experiment with different lengths for the fringe and shave the sides or play around with color for those who want something more daring. Wavy hair is gorgeous and feminine, and wearing it in a pixie cut can give you a textured, voluminous, and stylish look. This is also a low-maintenance haircut, and if your hair is prone to tangling, this is a great way to tame it.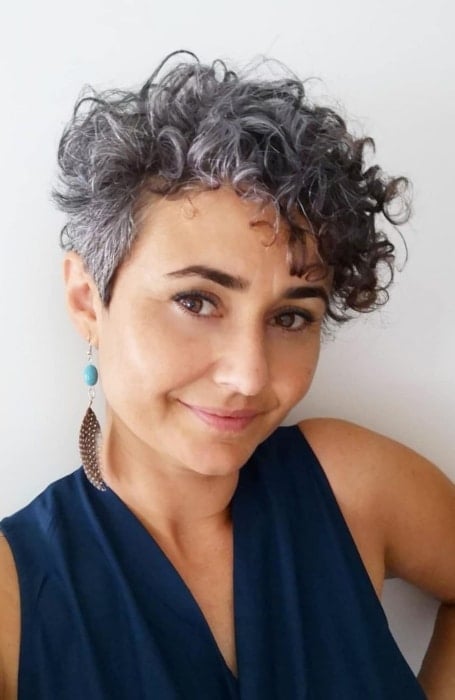 36. Short Straight Pixie Cut
Straight hair works just as well in a pixie cut as curly or wavy hair. A short straight pixie cut is easy to maintain and a great option if you want to cut your hair short. Short hair can also be healthy and look fuller and thicker. This is an excellent option if you find that your hair has been thinning with age. You can work with your hairstylist to find the cut that best suits your face shape and complements your hair texture. For example, an angled cut is best if you have a round face, while oval face shapes may prefer a classic approach to the pixie cut. In addition, your hair will look gorgeous when left gray or white.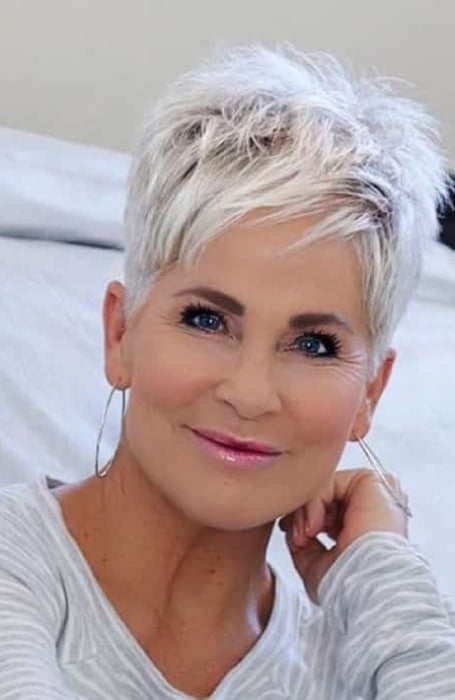 37. Short Layered Fine Hair
If you have fine hair, the right haircut can help you prevent it from looking thin and delicate. One way to do this is by choosing a cut that features choppy layers. Layers are fantastic for adding dimension and movement to the hair, making it look thicker and fuller. The different angles can also draw the eye to the hair's ends. Try a short haircut, which will leave your hair in better condition and look healthier. It is also good to add highlights throughout to create the illusion of depth and dimension. When deciding on the color of your highlights, it is best to stick to one or two shades lighter for the most natural appearance.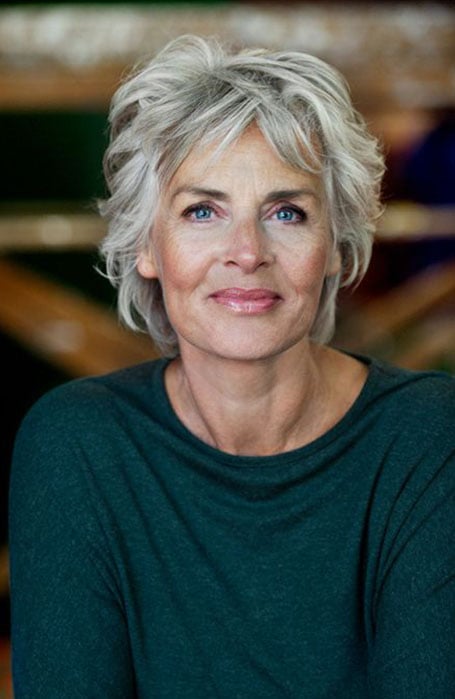 38. Light Brown Hair Tips
If you want to update your hair without it being too dramatic, then a great choice would be to lighten just the tips. Light brown hair is a gorgeous color that is universally flattering and will suit most complexions, and adding it to darker hair will brighten your appearance and hair. This will give you a fresh and updated look and frame your face. In addition, it is a low-maintenance color option, quicker to get done, and less expensive than opting for highlights or color throughout the hair. For the best results and to achieve a more natural appearance, only lighten your hair by a shade or two.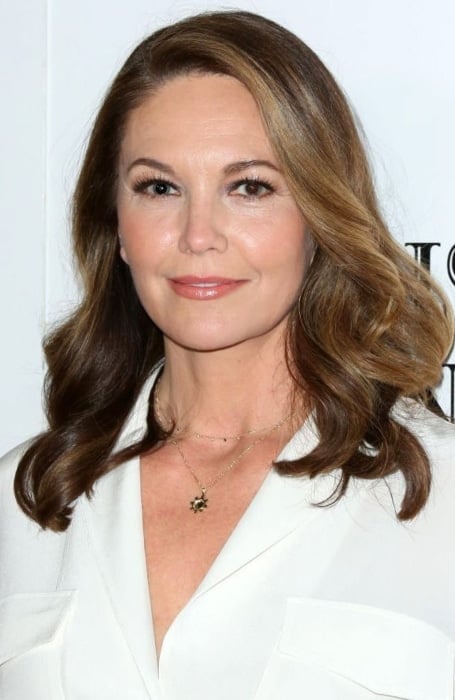 39. Fluffy Short Hair
Fluffy hair is voluminous and full, and the texture can also add a softness to your appearance. It can complement your face and contrast with sharp features, making it the perfect look for many women. You can achieve fluffy hair by using rollers, brushing it back, or blow-drying, which helps to add volume. When deciding on the right hairstyle, consider a classic short style like a pixie or bob haircut, which can be adapted to suit your face shape and hair type. You may also want to wear it with bangs, which can transform your look and give you a youthful glow.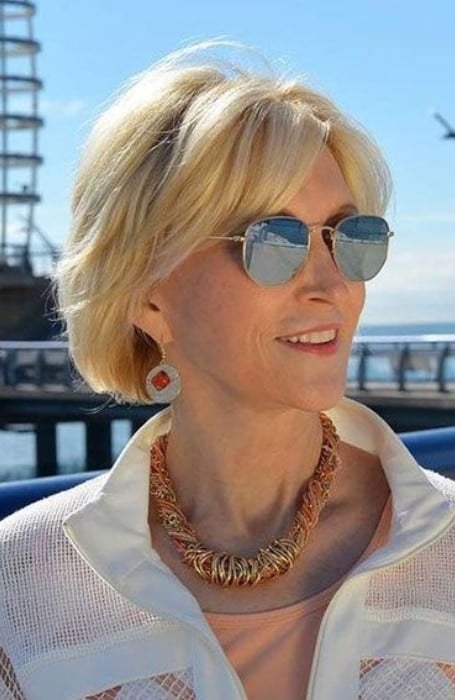 40. Brown Hair Balayage
Balayage is a gorgeous coloring technique that hand-paints the color onto the hair. Unlike traditional highlights, the result is much more natural-looking and low-maintenance; you can go months without salon touch-ups. If you have naturally dark hair and want to lift it, you can do this with brown balayage. This is a more subtle alternative to adding blonde to your hair while still lightening it and giving dimension and depth. The result is luscious-looking and healthy hair that you will want to wear down and show off.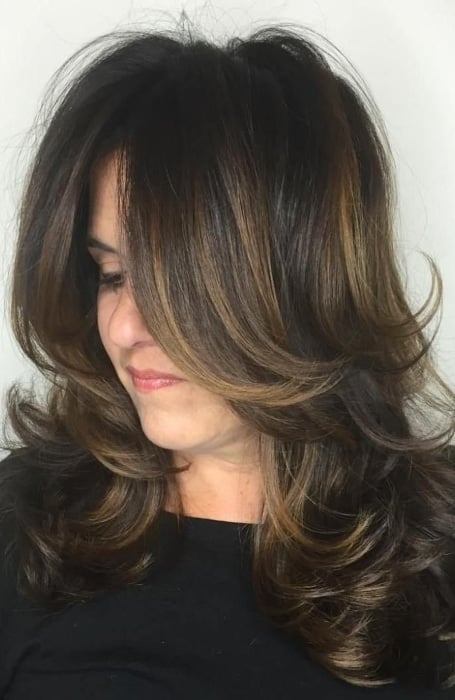 41. Fine Hair with Bangs
Fine hair can be challenging because you want to ensure that it doesn't look wispy or thin. There are several ways to achieve this, and the right cut is essential. Most women will benefit from highlights and lowlights to give their hair depth and dimension. Layers are also fantastic because they can add movement to your hair and make it look thicker, but wearing bangs is also great for giving it structure. Bangs can make your hair seem fuller and give you a youthful appearance. Choose bangs that are eyebrow-grazing for a manageable but flattering look that will draw attention to your face.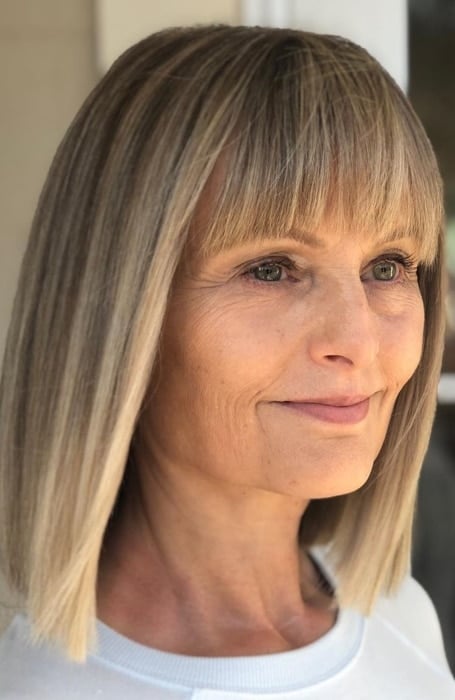 42. Very Short Bob
What is not to love about the short bob haircut? This style is so versatile that it can be adapted to every face shape, hair texture, and hair type. It can also be cut to various lengths and benefit from color, whether this is something simple like balayage or highlights or if you prefer bold statement streaks. Cutting your bob very short is a practical, easy-to-maintain option that can also be incredibly flattering and highlight your bone structure. Keep the hair away from your eyes to open up your face. You can create this look on all hair, but if you want to draw attention to your cut, a sleek finish is best; it will make it appear more precise.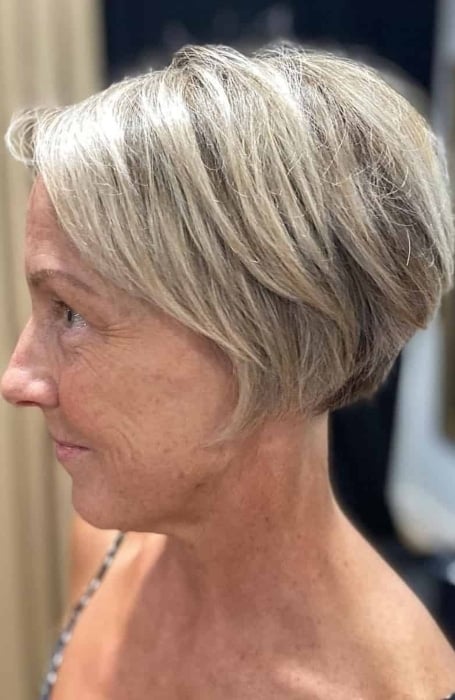 43. Shaggy Bob
The shag haircut is a 70s favorite defined by its very textured appearance. Why not combine two hairstyles to give you a modern and fresh finish that is gorgeous and voluminous? This can be achieved with a shaggy bob. The cut has choppy layers and looks fantastic on older women, drawing attention to the face and complementing your best features. It can also be adapted to suit various hair types and suit most face shapes. The textured finish makes your hair appear thicker and fuller, which is great for those who find their hair thinning with age. If you want to stand out from the crowd, have fun experimenting with color, either a rich shade like copper or strawberry blonde, or unleash your inner punk with green or blue hair.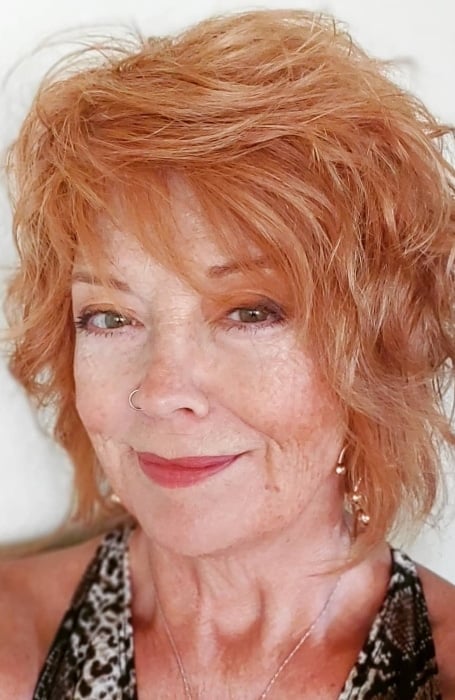 44. Bob Haircut with Layers
The right hairstyle can make you feel confident and powerful, which could be it! The bob haircut benefits from layers that add movement and volume to your hair. If your hair is lifeless, this is a great way to change that. For thin hair, layers can make it look thicker and fuller, whereas layers can remove the weight of thick hair. This makes your hair easier to manage. In addition, layers make for a more textured and interesting appearance and can be incredibly flattering. Wear your bob with wispy bangs to soften it, or try out curtain bangs to frame your face and highlight your features.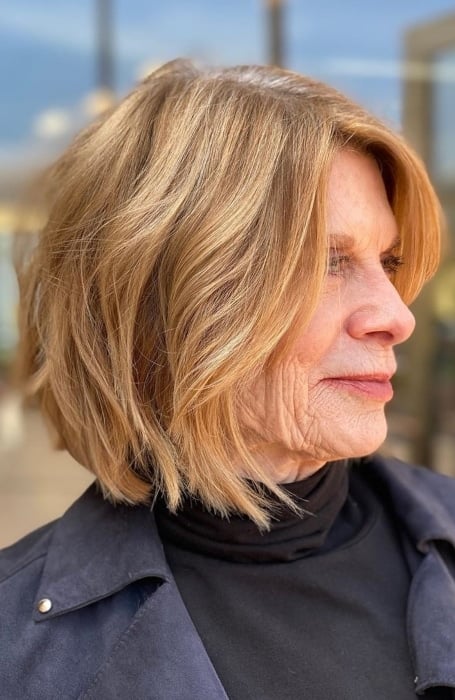 45. Long Pixie Cut with Bangs
If you love the idea of short hair but are not ready to fully commit to the chop, meet halfway with a long pixie cut with bangs. The pixie cut can be adapted to varying lengths, and keeping it slightly longer can make for a more versatile and less dramatic cut. You can also focus the length in the front of your hair, opting for full and thick bangs. This is an excellent option for drawing attention to your face and making you look younger. Wear them swept to the side for a chic and feminine look that will work well on all hair textures and suit most face shapes. These bangs are also less maintenance than shorter ones, requiring regular trips to the salon for trims; you can grow these out naturally.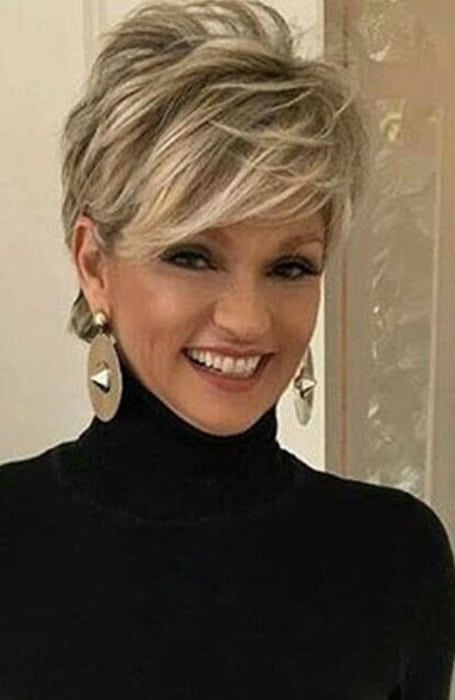 46. Crimped Hairstyle
Crimped hair was big in the 80s, but it has returned. It is perfect for any woman who wants to give her hair texture and volume, and the modern approach is more subtle and wearable. It will give you a wavy, zigzag appearance, and you can wear it loose and undone or make it more precise and noticeable. Crimping can also be achieved on the hair of various lengths; for example, if you have a pixie cut, you can try mini crimps. Or, you may like to create contrast by wearing your hair with shaved sides or a nape design.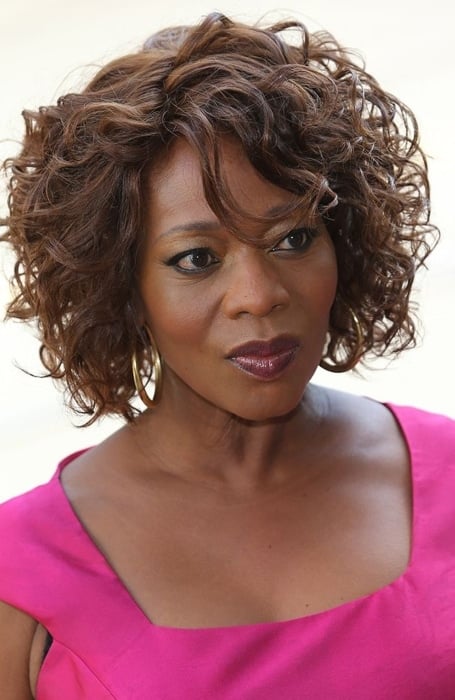 47. Stacked Bob
The bob haircut has many variations, which is why it is a timeless and classic choice for women of all ages. The stacked bob looks great on older women and is defined by the layers in the back of the hair, with the front appearing longer. The contrast between the back and front adds an angular aspect to your hair and gives it movement and bounce. It is gorgeous for thick or thin hair as the layers can either remove weight or give an illusion of thickness. You can also benefit from adding highlights throughout your hair to brighten your appearance. If you want to add softness and give your hair a romantic finish, you can do it with wispy bangs.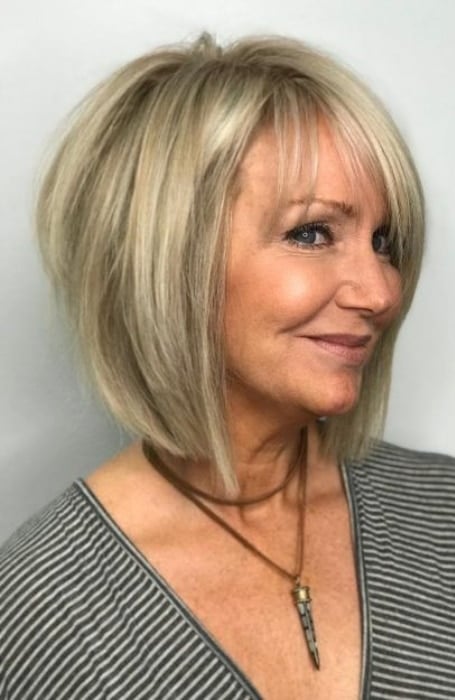 48. Shoulder Length Bob
The shoulder-length bob haircut is a slightly longer classic bob typically cut around jaw level. It is incredibly flattering, looks great on women of all ages, and suits most face shapes. Plus, this cut can be done on various hair textures, from curly to straight. A longer bob is also an excellent alternative for someone who wants to cut their hair short but still retain some length. You can also pull it into a loose updo or wear it in a low ponytail, making this haircut perfect for all occasions. Play around with different bangs, opting for full and brow-grazing ones to give you a youthful appearance. Bangs can transform your look and be flattering, helping to disguise fine lines and wrinkles.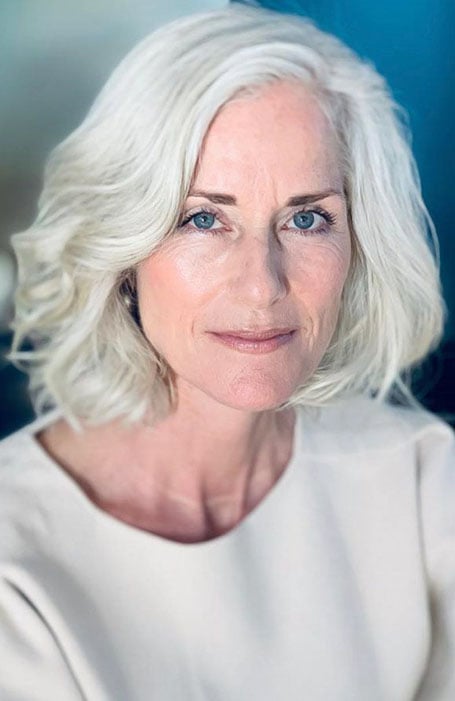 49. Spring Twists
Spring twists are an excellent hairstyle for the woman who wants a low-maintenance, feminine look. You can opt for varying lengths, but a medium-length is a manageable and lightweight option that is versatile and pretty. They are created using pre-twisted hair extensions instead of your natural hair, and the appeal is that this is a protective style that can help prevent damage and friction. It is also a fantastic way to reduce daily style time and lock in moisture. Your twists can be created in various colors and styles, letting you find the look that best suits your face shape and preference.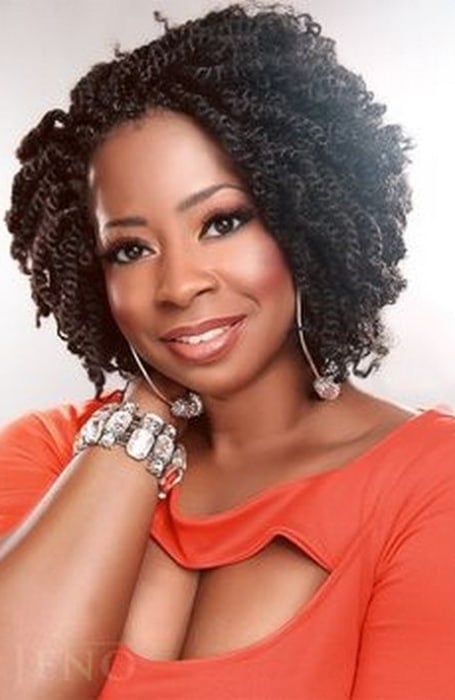 50. Shag Haircut
What is not to love about the shag haircut? Fashion icons and rock stars have long favored it, and for a good reason, this hairstyle demands attention. Yet it is simple to achieve and easy to wear. Defined by the choppy layers, the shag works well on all hair textures, from straight to wavy, and will give your hair volume and movement. This is appealing for anyone, including older women, as hair thins as we age. It is easy to maintain but great for those who want a look with attitude and edge. Wear this 70s favorite with bangs that frame the face and highlight your features. Bangs also give you a youthful appearance and cover fine lines or wrinkles.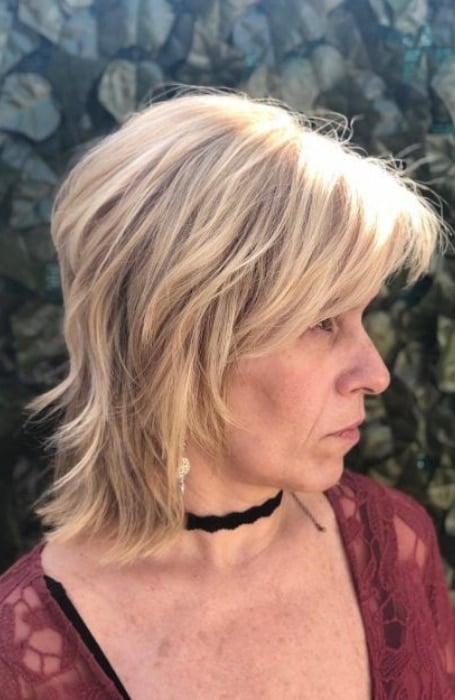 51. Tomboy Haircut
If you prefer a more androgynous appearance, opt for a tomboy haircut. This look is simple, effortless to style, and low-maintenance. Plenty of hairstyles fall under this category, but they are often defined by masculine and feminine elements, including the cut's sharpness and the angles. Work with your hairstylist to find a look that complements your face shape and features. Your cut can also benefit from interesting finishes, including shaved sides, a hard part, a nape design, and more. If you have gray or white hair, you may want to embrace it, as this cut can complement it. Or have fun trying out different hair colors, from natural to bold and statement-making.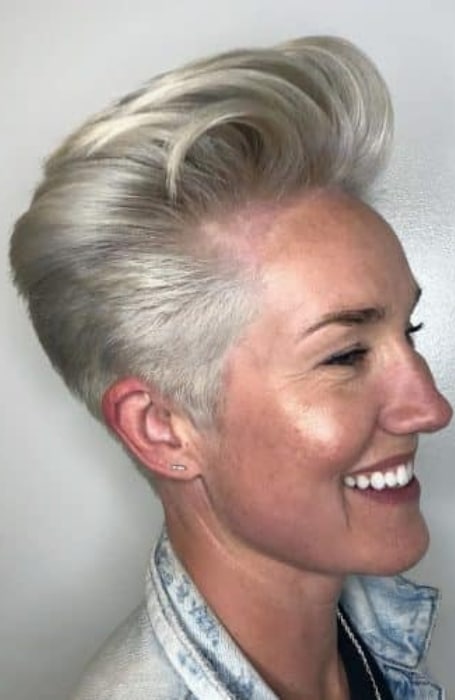 52. Blonde Balayage
Balayage is a gorgeous coloring technique that creates a more natural appearance to traditional highlights. This is achieved by hand-painting the color onto your hair, creating a subtle, sun-kissed glow. It is a more graduated color and lower maintenance, perfect for women of all ages who want to give their hair a lift. Balayage can be created with multiple colors, but blonde hair is one of the most striking. It is a great way to brighten your appearance and highlight your cut and hair texture; the right placement can also draw attention to your face. For a face-framing effect, you can focus the color around the sides of your face.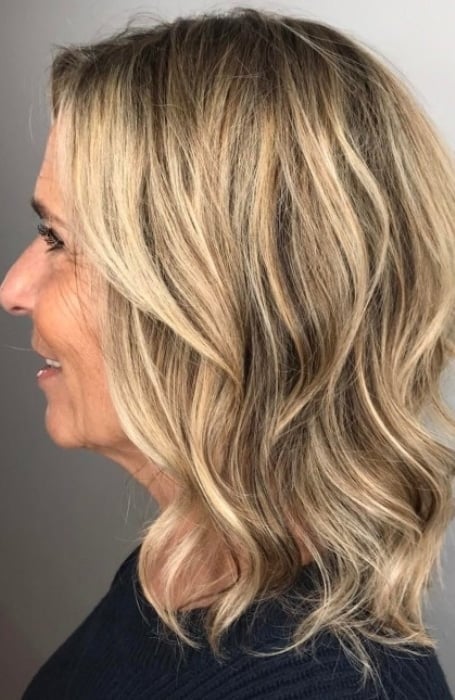 53. A-Line Haircut
An A-line haircut is defined by the shape, which is shorter at the back and longer in the front. This is a very flattering and versatile option for women of all ages, and it can be created on all hair types. The cut and its angles will be more noticeable on straight hair and have a less precise feel on curly hair, but all textures are great. The appeal of how your hair is cut is that it tapers toward the face, with hair falling along your chin. This can highlight your facial features and achieve a modern and chic finish. It is a great look for women who want to try out short hair and retain the illusion of length. Although the A-line haircut can be high-maintenance and will take some time to style, you will likely find it worth it.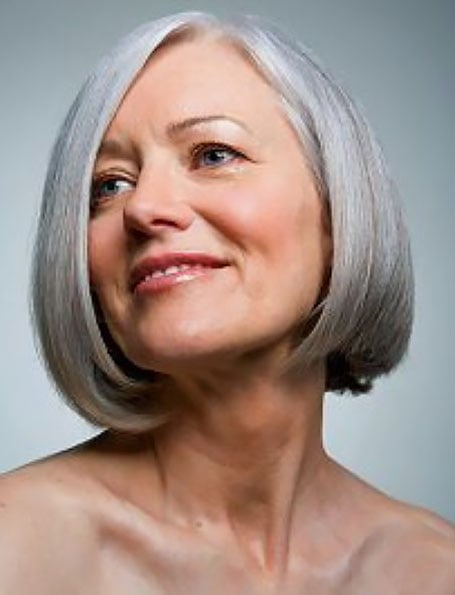 54. Long Pixie Cut
The pixie cut is perfect for older women. If you are not yet ready to take the plunge and chop your hair off to rock the classic pixie, then change the look to suit your preference by keeping it longer. This can be done by giving the illusion of length with a longer fringe or by keeping the hair at the top longer, which will also give you more volume, or you can do both. The length can give you more flexibility in choosing how to style it. This cut is more feminine than the classic and will frame your face. It is still easy to style and simple but ideal for someone who wants to transition into short hair gradually.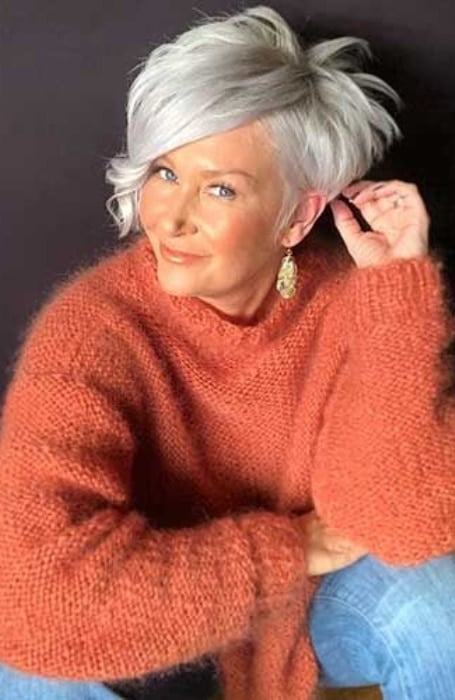 55. Textured Updo
Working your hair into an unstructured and textured updo is perfect for informal and semi-formal occasions. The deliberately messy appearance of this hairstyle creates a more relaxed aesthetic and works best with hair that is curly or wavy. You can still achieve this look with the right products or heat styling to create texture with naturally straight hair. It is easier to do it on hair that has not been washed for a day or two to allow some grit. It is a playful and modern look perfect for a dinner date or a cocktail party.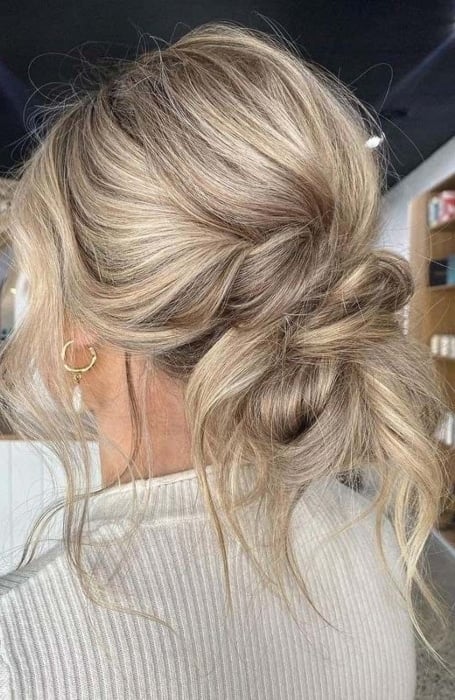 46. Protective Braids
Wearing your hair in braids is a great choice if you want to take a break from heat styling or aid natural hair growth. There are several protective styles to choose from, allowing you to find something that best suits your preference and will complement your features. These could be box braids or passion twists created in various lengths and thicknesses. The appeal of braided hairstyles is that they lock in moisture, prevent friction and breakage, and reduce daily grooming time. Many look last several weeks after installation. They can also be expressive and look good with various finishes, including adding beads or cuffs to your hair.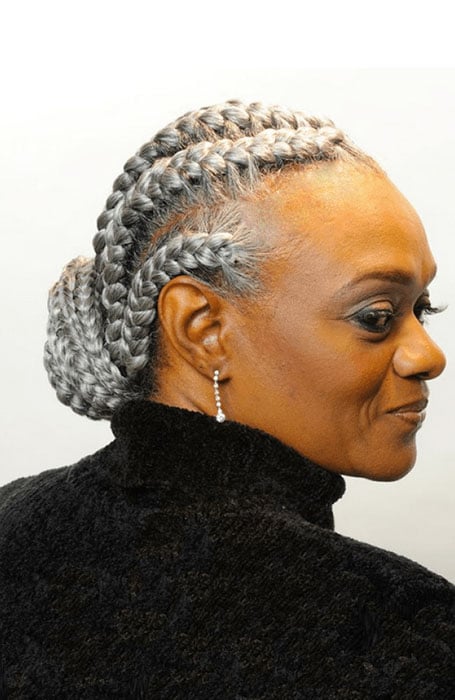 57. Edgy Short Haircut
Women of a certain age are often told that there are hairstyles that they can and cannot wear, but this is not true. Your hair is an extension of your personality; you can experiment with it and have fun, regardless of age. Consider adding interesting elements like a temple shave, an undercut, or even styling it into a faux hawk for those who prefer an edgy style. The appeal of these hairstyles is that they can help create contrast between the hair on the top of the head and on the sides and back. This can highlight your natural hair texture. Add streaks of color to your hair for a more dramatic appearance.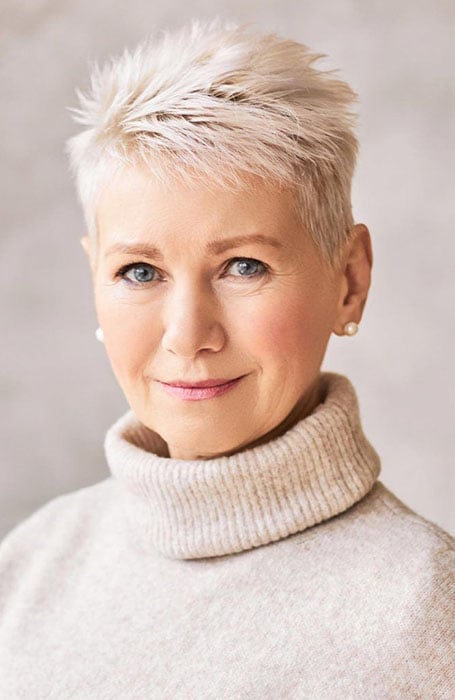 58. Long Wavy Hair
Wavy hair looks great long or short, but keeping it longer can be a way to show off your texture. Long and loose waves are voluminous and full of life and movement. The texture makes even the most simple cuts interesting, but an attractive option would be to style your hair so that it falls gently on the sides of your face. This can create a framing effect, which is particularly flattering. Try out a side or middle part, or add structure with full bangs. There are many options to try, allowing you to personalize your look to reflect your preference best and complement your features. Long and wavy hair is also an excellent way to embrace your natural hair color and look stylish with gray coloring.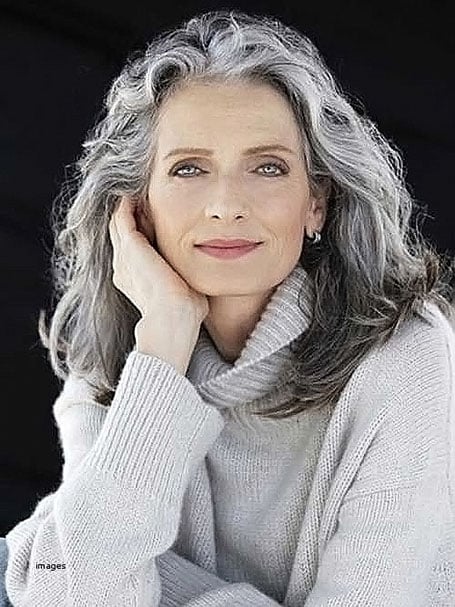 59. Temple Shave
For the daring among us, a temple shave hairstyle is for you. As the name suggests, this is a look that is defined by shaved hair around the temples. There are many ways to wear it, including keeping length on the top of the head and with a fringe. This helps create a contrast, leaving you with a chic but edgy appearance. For a more dramatic approach, you can add a temple shave to long hair; this makes the contrast more noticeable. A temple shave is a fantastic way to highlight your hair texture and allows you to express yourself and have fun.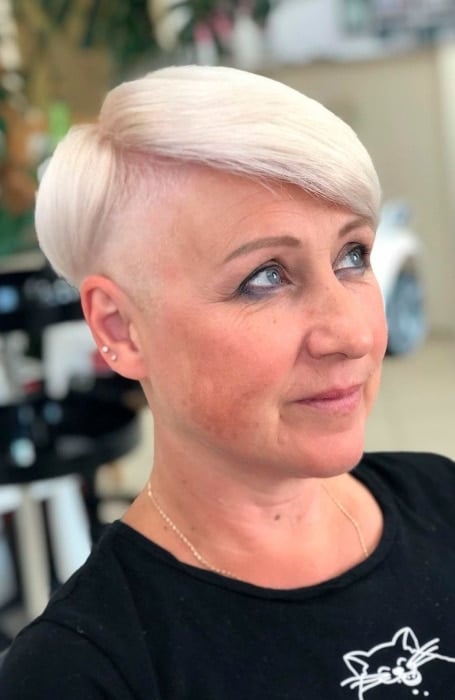 61. Curtain Bangs
Bangs can transform your appearance and make even the simplest cut look interesting and chic. Curtain bangs are by far one of the most versatile and stylish options and have been trending on social media because of their versatility. The bangs are cut to be shorter on the inside, creating an arch shape and working to frame the face. It is an incredibly flattering style and will complement most face shapes and hair textures. This fringe will also help create a more youthful appearance.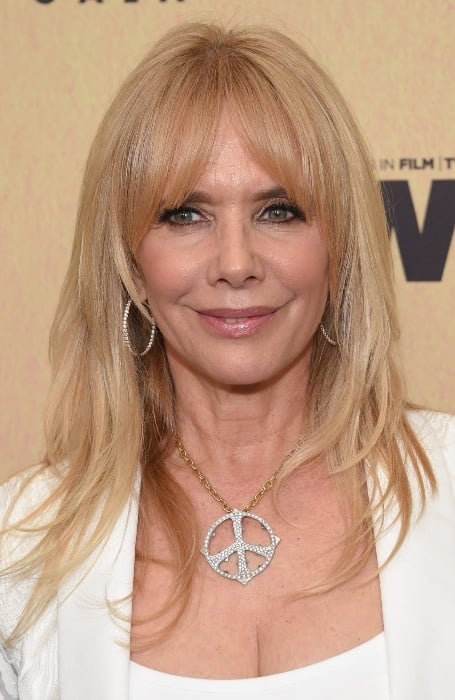 62. Wolf Cut
As women age, the growth rate of the hair tends to slow, and the hair can thin. For this reason, hairstyles with layers can be so flattering, and the wolf cut is one of the best options for older women. The cut is a mixture of the shag and mullet hairstyles and is defined by the heavy layers with volume around the crown. The hair thins toward the ends, creating an interesting contrast between the length on top. This look will give your hair volume and movement, regardless of whether you have a straight or curly texture.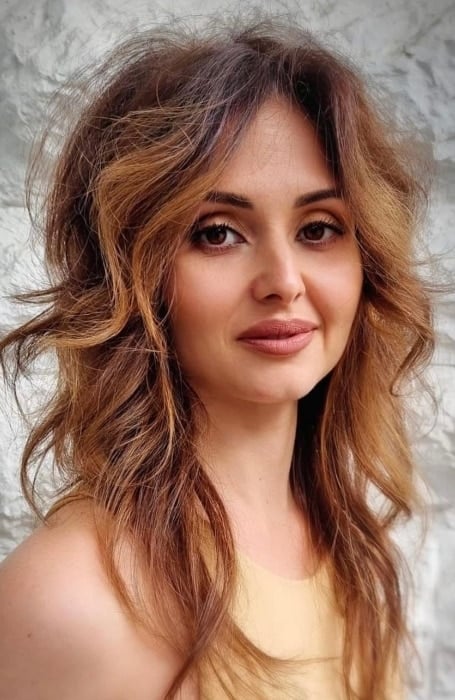 63. Permed Hair
Permed hair has a bit of a bad reputation for being stiff and damaging to the hair. However, the modern-day perm gives you more versatility. Depending on your preference, it will let you create everything from spirals to beach waves. The appeal of a perm is you can have any texture you want while also giving the hair volume and bounce. This is something that the hair often lacks as we age, so a perm can help counteract this. Depending on the desired result, you can choose a hot or cold perm. Discuss the results and the process with a hairstylist before your appointment.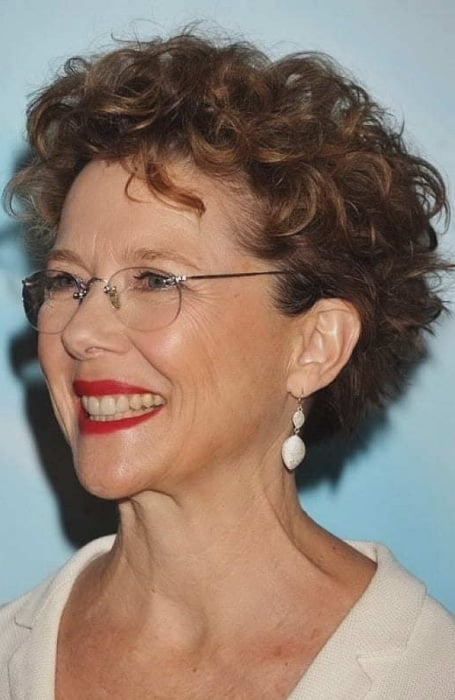 64. Pixie Bob
If an effortlessly chic hairstyle is what you want, then the pixie bob is the ideal choice. The hairstyle combines the classic pixie and bob haircut, both timeless short hairstyles for women of all ages. The pixie bob is a longer version of the pixie and is styled to look like a bob, cut around the ear or above chin length. It will be longer in the front and shorter in the back to create the illusion of length and give you versatility with how you style the hair. It will look gorgeous with bangs which will create a youthful appearance.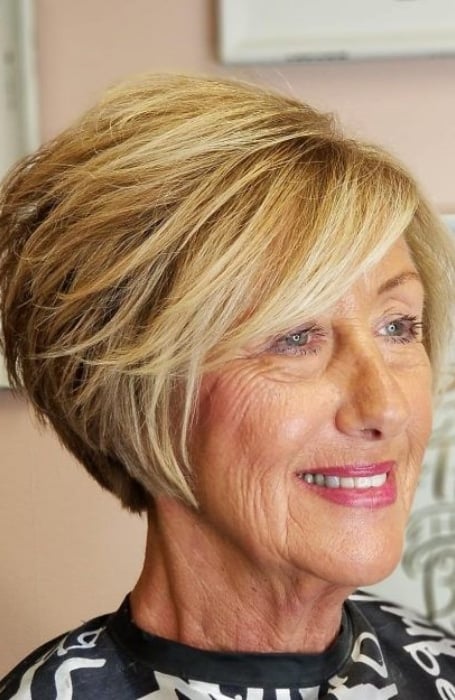 65. Loose Waves
For those with naturally wavy hair, it is time to embrace this gorgeous texture. Wavy hair is full of movement and will look amazing when cut long or short. Leaving the hair to fall naturally and styling it with a product enhancing your texture is a stunning option. You can pin the hair away from the face to bring attention to your features. Or you can style it with a fringe. The result is a pretty and carefree aesthetic that will let you embrace your waves.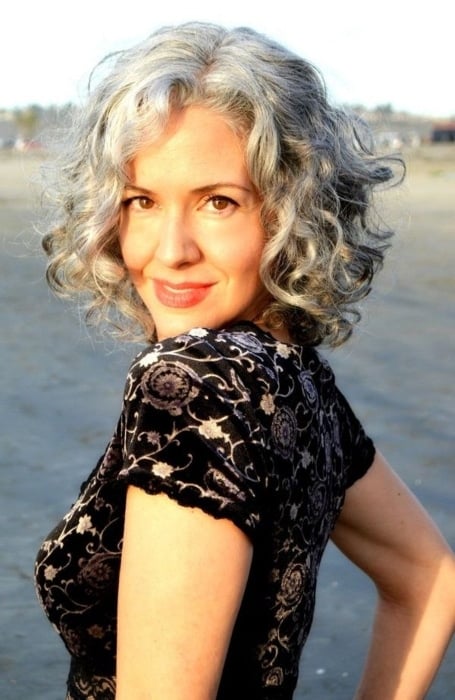 Hairstyles for Women Over 50 FAQs
What is the best haircut for a 55-year-old woman?
The best haircut for a 55-year-old woman is one that suits her face shape and aesthetic, fits in with her lifestyle, and makes her feel beautiful. It could be long curls, straight and face-framing, long with bangs, a medium layered cut, medium length with bangs, a cute pixie, a long bob, a curly bob, or a sleek bob.
What haircut makes you look younger?
Embracing texture such as waves and layers can make your hair look fuller and more youthful, as do textured pixie cuts. Shorter styles such as medium length, long bobs, and bobs can also be anti-aging. They're not as heavy, so they don't drag your look down, and it's easier to add volume. Finally, bangs can also make you look younger, so long as you choose the right style. They make your face appear smaller and can hide fine lines while drawing attention to your eyes.
Does long hair make a woman look older or younger?
Long hair is usually associated with youth, health, and fertility. As such, it can add youthfulness to your look. However, if your hair is starting to thin with age or become less healthy and more brittle, it's better to go for the chop. Plus, if your hair is thinning, it's easier to add volume and the illusion of thickness with shorter styles, as they don't have all the length weighing it down.  
How should I wear my hair over 50?
If you're over 50, you should wear your hair any way you feel comfortable, and that makes you happy. Try a sexy pixie cut, maintain your long length, add waves and curls, frame your face with layers and bangs, or go for the chop and embrace a bob or lob.
SUBSCRIBE TO OUR NEWSLETTER
Subscribe to our mailing list and get interesting stuff and updates to your email inbox.