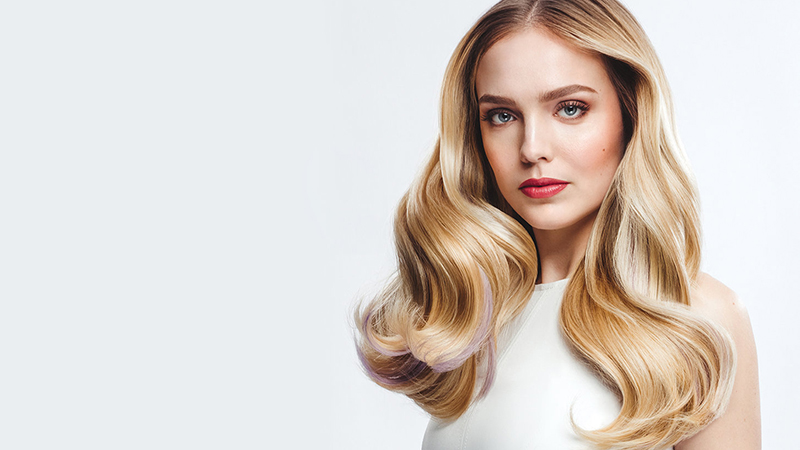 There are many kinds of hair extensions, but clip-ins are the easiest way to get the hair you've always dreamed of. Less expensive than other types of extensions, clip-ins are wefts (groups, rather than single strands) of hair that can be clipped to your real hair at the root. There's no need to go to a salon as you can snap your extensions in yourself. Perfect for a night out, they add plenty of length and volume to your mane, and best of all, you can pop them out before bed! They're a great temporary option if you've cut your hair short and miss your long locks – or if you've never had long hair and want to try it out. It's also a great way to test out a new color like ombré or balayage. Long, thick, luxurious hair in minutes – what's not to love?

Clip-in Human Hair Extensions
Salon professionals recommend human hair extensions over synthetic hair. This is because human hair won't cause any allergic reactions, is less likely to tangle and has a gorgeous natural look. You can also style human hair extensions, just like your real hair. Most synthetic extensions will melt when exposed to heat, but you can use a straightener or a curling iron on human hair. You can also dye human hair extensions darker to match your color, whereas this will cause permanent damage to synthetics. However, clip in human hair extensions might not hold their style when it's raining or humid. Look for Remy human hair – this is a higher quality type, where each strand has the same texture.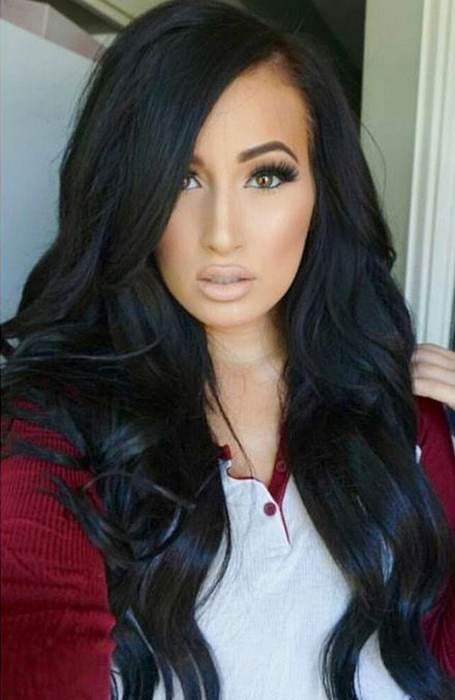 TOP BUYS
Natural Curly Clip in Hair Extensions
Natural hair already has tons of volume, but you can add even more beautiful curls, coils, and kinks – and get longer hair – with natural curly clip in hair extensions. Choose a brand that caters to your hair's texture and your curl type. Clip them in to ensure the extensions blend with your natural curls, and go from there. You can wear them loose, or shake it up with Bantu knots or crown braids.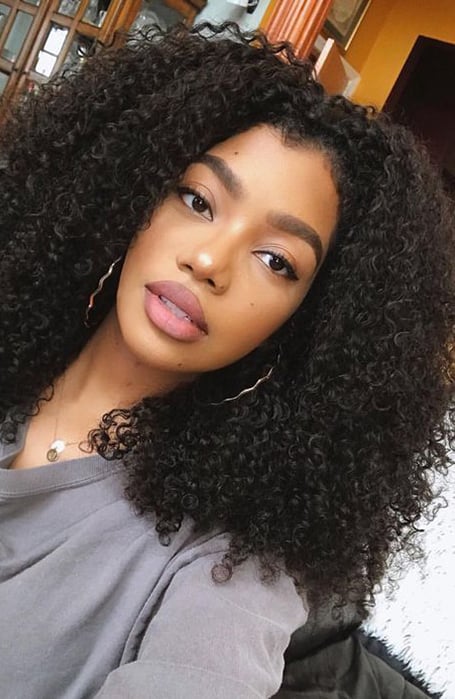 TOP BUYS
Curly Clip-in Hair Extensions
You can buy curly clip-in hair extensions that already have a permanent wave set into them. Go for big, loose curls for a bouncy, bombshell look. These types of clip-in extensions are great if you have naturally straight hair, or if you've chemically straightened it and miss your waves. Clip-in your extensions and curl your normal hair with a heat tool to ensure it blends in. This will give you a naturally wavy look.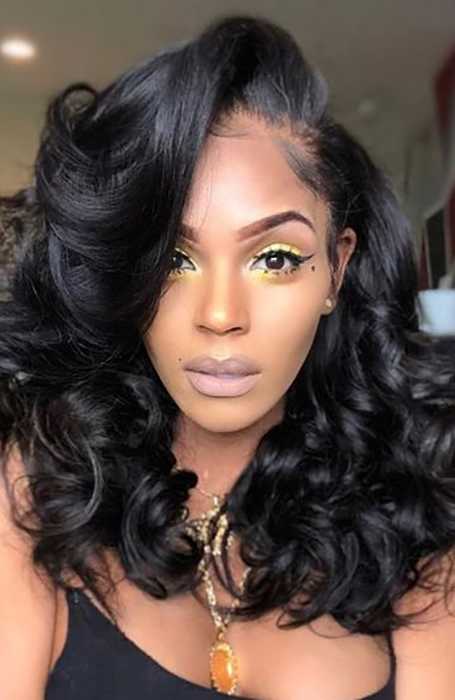 TOP BUYS
African American Clip-in Hair Extensions
Women with natural hair should always choose extensions that match their texture and curl pattern to get a seamless result. When buying African American clip-in hair extensions, bear in mind that the length – for example, 20in – is the length when stretched out, not when it's in its curled form. Clip-in hair extensions can be a great option if you don't want to commit to a weave or wish to recreate styles like the infinity ponytail. They're also a good option if you have relaxed hair and want to add some volume.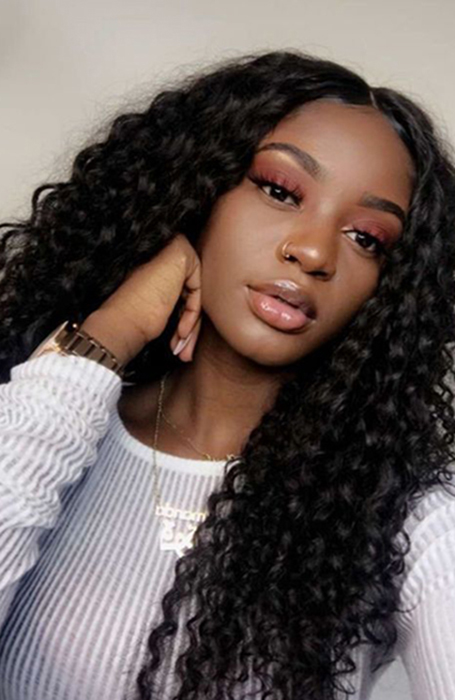 TOP BUYS
Short Clip-in Hair Extensions
Hair extensions are supposed to make your hair longer, right? Not necessarily. You can use short clip-in hair extensions or crown hair extensions to make your hair look thicker. These work best on medium-length tresses. Choose 8-inch to 10-inch extensions. You can also cut your extensions to the length you want. To add even more dimension to your style, try clip-ins that are one or two shades darker or lighter than your colour. This will give it a highlighted or low-lighted look and make your hair seem thicker. Use a heat tool to add subtle waves for an on-trend look.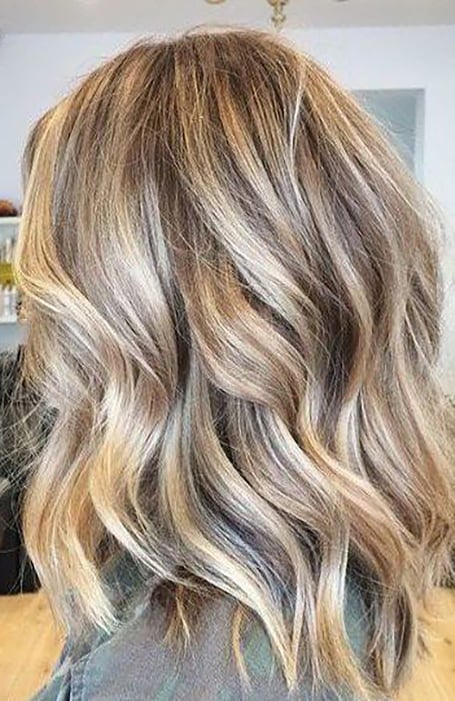 TOP BUYS
Black Hair Clip-in Hair Extensions
Black clip-in hair extensions are the perfect way to get show-stopping, dramatic locks. Make sure your extensions match the undertone of your hair – black can be warm or cool, with either reddish or blueish/violet undertones. Because the color is so dark, black hair extensions will make your mane look much thicker. Create subtle loose waves to break up the heaviness of the color and add a sexy finish.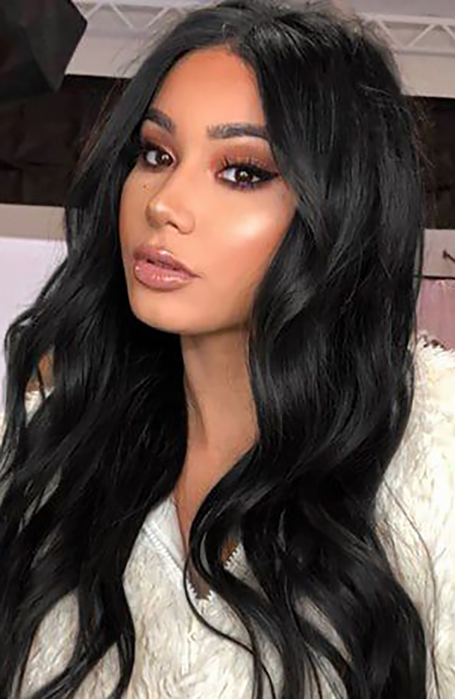 TOP BUYS
Dark Brown Clip-in Hair Extensions
Mermaid hair, here you come! Go for extra long dark brown clip-in hair extensions to add natural fullness and weight to your hair. Dark brown hair suits a wide variety of skin tones, from fair to olive and deep. So these hair extensions are great for most women. Real human hair extensions can also be dyed darker just like normal hair, so you can easily match it to your real hair.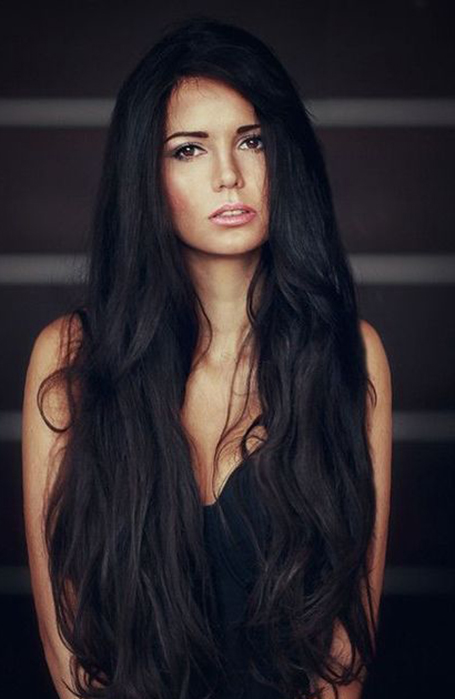 TOP BUYS
Blonde and Grey Clip-in Hair Extensions
Blonde and grey hair is a huge trend, and it's easy to see why. This is a sexy look with an edge, and extra-long locks in this shade are sure to have all eyes on you! Clip-in hair extensions make it easy to add volume and length, especially if your hair is on the thin side. You can bleach human hair extensions, so take yours to the salon and have a professional match to the color to your existing hair for a flawless look. Blonde and grey clip-in hair extensions are a great option if you're heading to a festival too. Pop them in at the start of the day for a fresh look, then unclip them when you go to bed.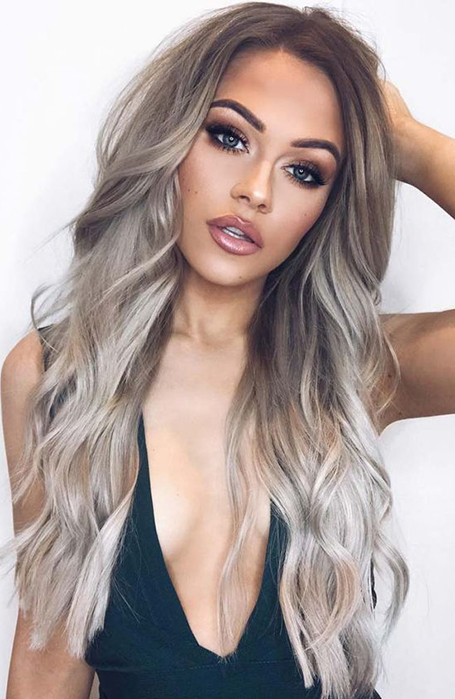 TOP BUYS
Red Clip-in Hair Extensions
Redheads turn heads, and that's even more true for those with long, luscious hair! Clip-in hair extensions are available in every color of the rainbow. So if you're rocking the scarlet look – or ginger, or copper, or burgundy – they'll make your mane even better. When choosing red clip-in hair extensions, it's even more important to match them to your existing color. Order a sample before you purchase a full set to make sure you get a perfect result.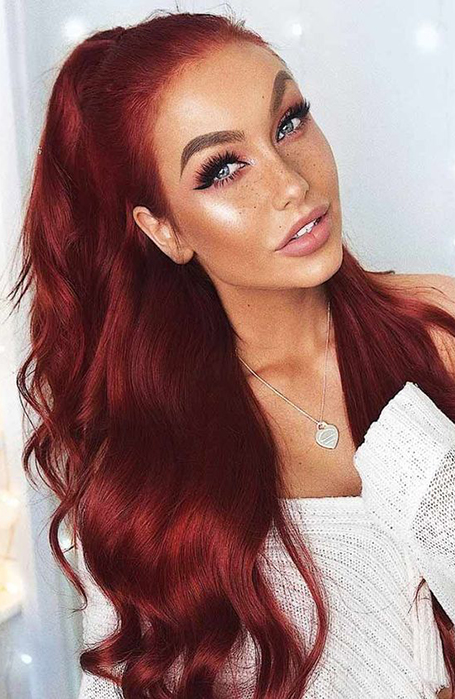 TOP BUYS
Blue, Pink, Purple Clip-in Hair Extensions
The ultimate summer festival look is multicolored hair. Clip-in extensions are the easiest way to get this cool style without damaging your locks. Buy extensions that are already dyed the color you want – whether that be blue, pink or purple. Alternatively, go for human hair extensions that blend with your root color, then ombre dye the mid-lengths and ends to the colors you want. This is especially helpful if you have light hair, as it means you won't need to bleach your ends before applying bright dyes like hot pink.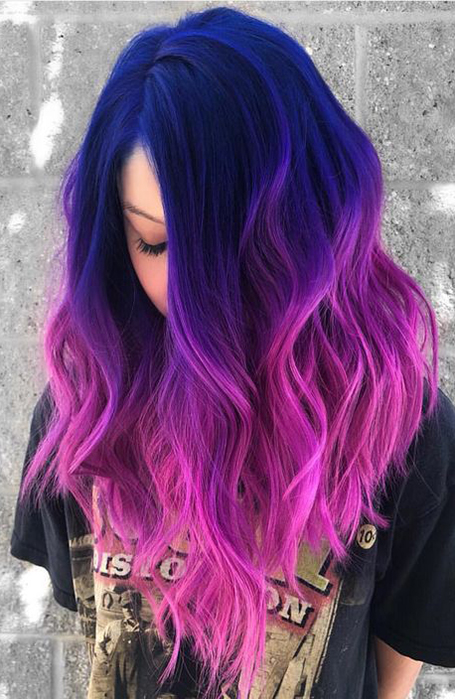 TOP BUYS
Ponytail Clip-in Hair Extensions
A thick, bouncy, wavy ponytail is a beautiful and classic hairstyle. But if you have short or thin hair, it's impossible to get this look. That's where ponytail clip-in hair extensions come in. All you need to do is style your real hair in a ponytail, then clip the extensions in at the base, so they lie over the top of your hair. Finally, twist a small weft of the extensions around so you can't see where the extensions and your real hair join up.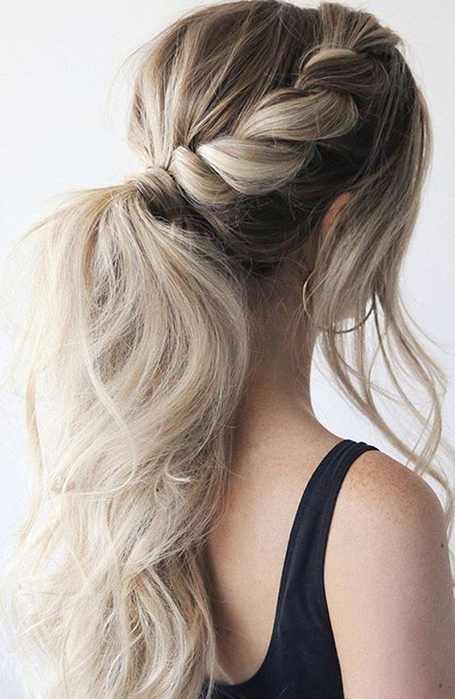 TOP BUYS
Balayage Clip-in Hair Extensions
Balayage has been a popular hair color option for years. Women all over the world love this look because it gives your locks a lift. You don't need to commit to going fully blonde, but you still get that beautiful sun-kissed look. It also enhances naturally wavy hair. Balayage clip-in hair extensions are a great way to experiment with this style. Choose balayage extensions that match your root color and clip them in as usual, or blend two colors. If you have highlighted hair, buy two different colors of extensions – for example, chestnut and golden blonde. Clip the darker shades on at the bottom, nearest to your neck, and the lighter shades on top to mimic how hairstylists usually apply highlights. Then, use a heat tool to curl and wave the extensions together for a seamless blend.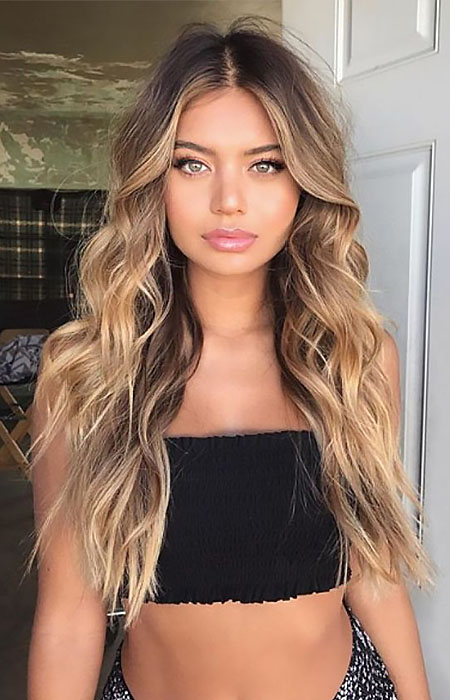 >
TOP BUYS
Cheap Clip-in Hair Extensions
It's worth it to splurge on clip-in extensions for a very special occasion, like your wedding. But you don't always have to spend a fortune! If you want a new style for a night out, go for the more affordable options. There's a wide range of cheap clip-ins available online, and less money doesn't always mean lower quality. You might sacrifice some thickness and manageability, but you can still create beautiful looks with lower-priced extensions.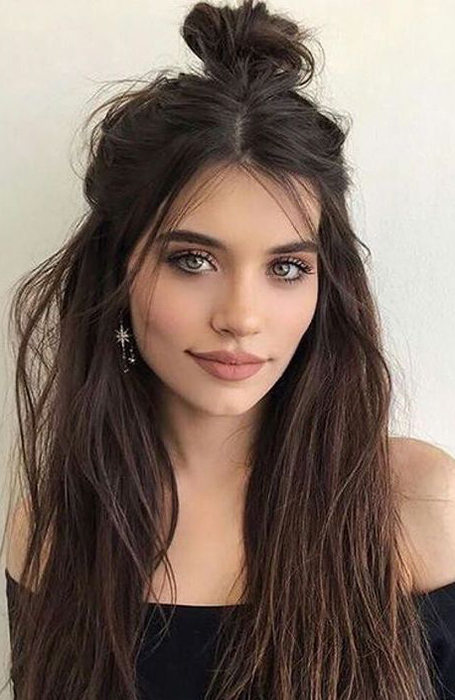 TOP BUYS
How to Clip-in Hair Extensions
This simple tutorial from YouTube beauty favorite Amy, aka AmysMakeupBox, will show you how to get started with clip-in hair extensions. Once you've mastered the technique, keep watching to find out how to style your extensions. Amy's favorites include gorgeous braided styles, ponytails, and a topknot half-up, half-down look.
FAQs
How long do clip in extensions last?
Clip-in extensions usually last from three to six months. However, they can last up to a year if they are made from real human hair and are taken care of properly.
Do clip in hair extensions damage your hair?
One of the advantages of using clip-in hair extensions is that they do not damage your hair like glued or bonded extensions. However, it's important to note that clip-in extensions aren't designed for everyday use. Due to their weight, clip-in extensions can cause breakage and even bald spots if overused. 
How often should you wash clip-in extensions?
Wash your clip-in extensions around every 15–20 wears or when you notice product build-up. Gently wash each weft of hair in a clean sink filled with lukewarm water – not too hot – mixed with 2–3 pumps of sulfate- and alcohol-free shampoo. Then apply a moisturizing conditioner and wait 10 minutes before rinsing. Finally, apply a deep-conditioning treatment and leave the extensions coiled in a plastic bag or shower cap overnight. Thoroughly rinse them the next morning and leave to air dry completely. As a rule of thumb, the less you wash the extensions, the longer they will last. 
Are clip-in extensions good for thin hair?
If you have thin hair, clip-in extensions are a good option as they won't cause damage. However, it's important to choose clip-in extensions that are designed for your hair type. These extensions have fewer wefts of hair in each bundle, and less hair in each weft, making them more lightweight and easy to blend. They will also be more comfortable to wear. Thin hair can make the tracks of your extensions more visible, so ensure you don't place them too high on your head. 
Can you keep clip-in hair extensions in?
Clip-in extensions are not designed for long-term wear. Avoid wearing them for more than a few hours at a time and never leave them in overnight. While they can be worn every day, it's best to give your hair a break a few times a week, especially if you have fine hair. 
SUBSCRIBE TO OUR NEWSLETTER
Subscribe to our mailing list and get interesting stuff and updates to your email inbox.