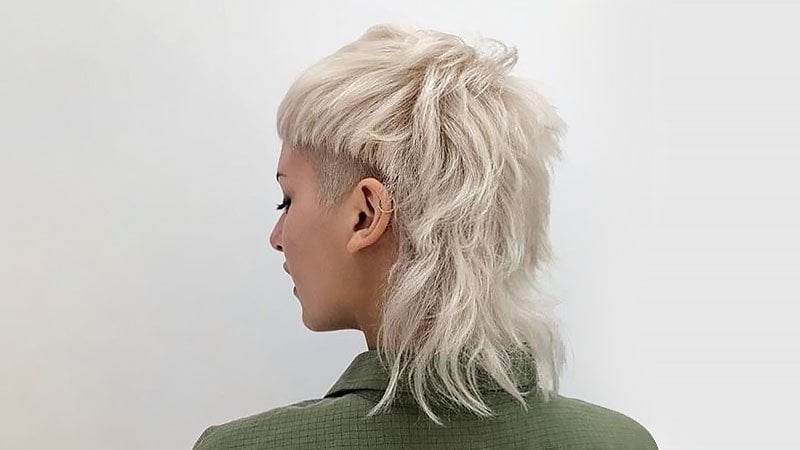 The mullet has gotten a bad reputation over the years, often described using unfavorable adjectives. But you would be wrong to not give this haircut a chance, as it is incredibly versatile and low-maintenance. The cut is defined by short hair on the top and sides with length in the back, but it can be easily adapted to suit your preference and complement your hair texture. You can experiment with different lengths, opt for bangs or shaved sides, or combine it with other cuts to give it a shaggy and highly textured finish. The mullet has been favored by some of the world's biggest style icons, who have personalized the cut to make it their own. Effortlessly cool and a little edgy, the mullet haircut for women is for those who want to stand out from the crowd.
1. Curly Mullet
The mullet hairstyle is known for being short on the top and sides and longer on the back. It is a controversial cut but has come a long way since the 80s and it is now much more wearable and versatile. It can be worn with hair of all textures, including curly. Curly hair will soften the cut so that it does not look as choppy and layered and the change in length will appear more gradual.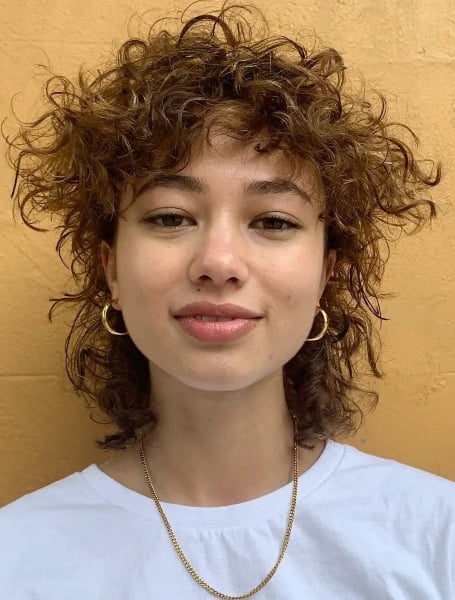 2. Mullet Fade
The appeal of the mullet is that it can be adapted to suit your preference and you can get creative with the finish. This includes adding a fade to the sides of the hair to give it structure and create a slight contrast. There are several fades to choose from, depending on how noticeable you want your look to be, but this is an edgy and cool addition.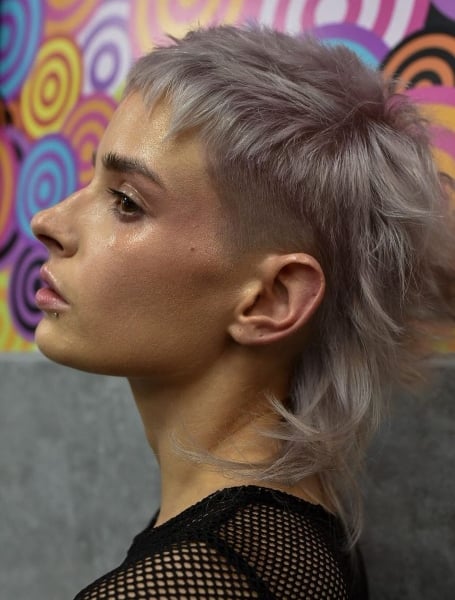 3. Permed Mullet
The permed hairstyle is an excellent choice for altering your hair structure and creating waves or curls. Perms are great for achieving volume and fullness and the modern approach is a far less damaging process and results in curls that are bouncy and full of movement. A permed mullet will be a cute look that will draw attention to your features.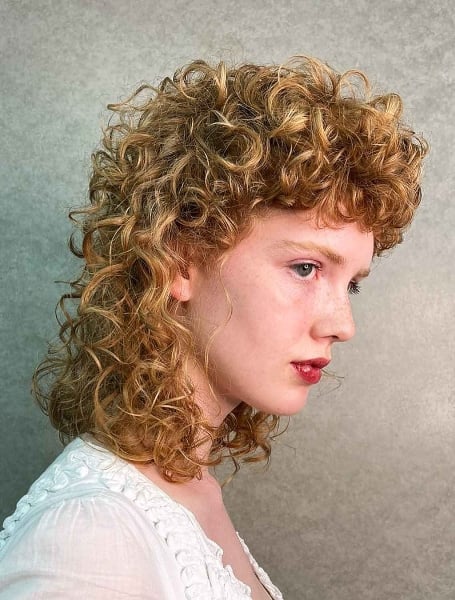 4. Short Mullet
Short hair for women is gorgeous. The act of cutting off your hair can be freeing and will challenge outdated gender stereotypes. At the same time, a short mullet is low-maintenance and easy to care for. The length will be short on the top and sides and longer on the back, giving you versatility with how you style the hair.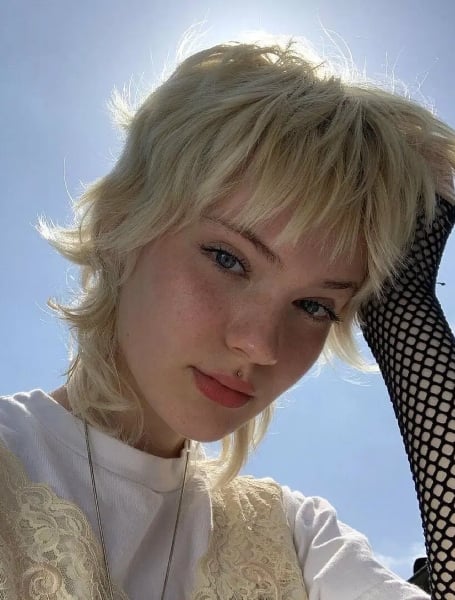 5. Asian Mullet
Asian hair is generally known to be thick and straight. It looks gorgeous, full, and healthy, and can be styled in various ways. On straight hair, the cut is more defined. The appeal of the mullet is that it is a low-maintenance look that is flattering on most face shapes and can be easily adapted to suit your hair texture.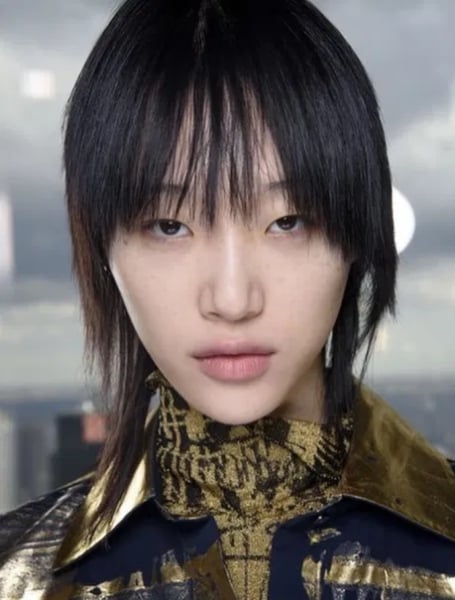 6. Mohawk Mullet
The mohawk mullet is a combination of two hairstyles and is the ideal choice for someone who wants to make a statement with their hair. It is a look that is defined by a strip of hair running from the front to the back of the head and paired with shaved or faded sides to create a brilliant contrast. The mullet part of this hairstyle is created by keeping the back of the hair longer than the front to produce a slight contrast.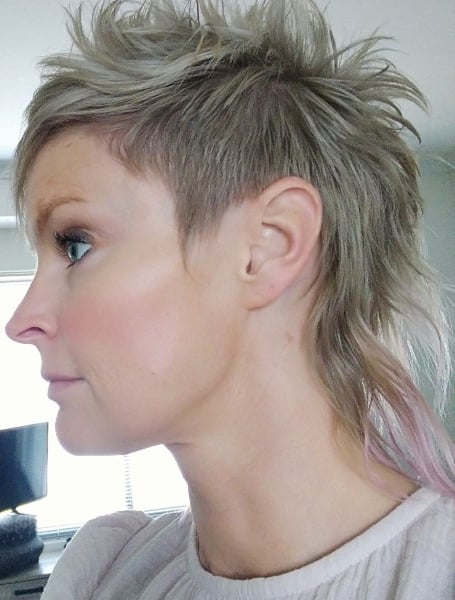 7. 80s Mullet
The mullet was first popularized in the 80s and was known for being professional in the front and party in the back. It was a controversial look but was also surprisingly flattering and incredibly versatile, working well with all hair textures and lengths. Keep your hair short on the top and sides and longer on the back and add choppy layers for movement.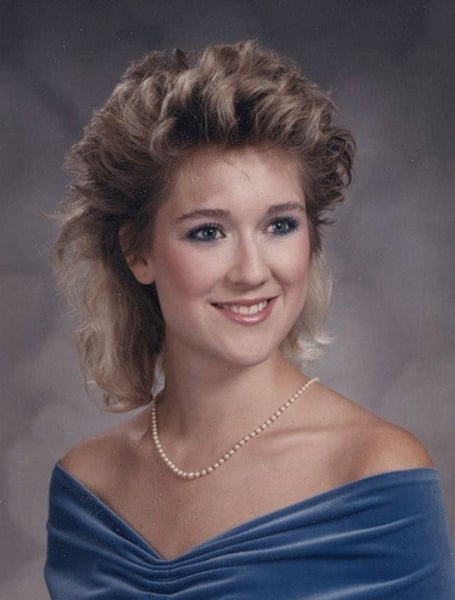 8. Modern Mullet
The modern mullet is a variation of the traditional cut which has distinct differences in length from the top and sides to the back of the hair. The modern approach is more versatile, letting you experiment with different lengths, adding layers, and incorporating fades. This allows you to personalize your haircut and it can be easily adapted to suit your face shape and highlight your features.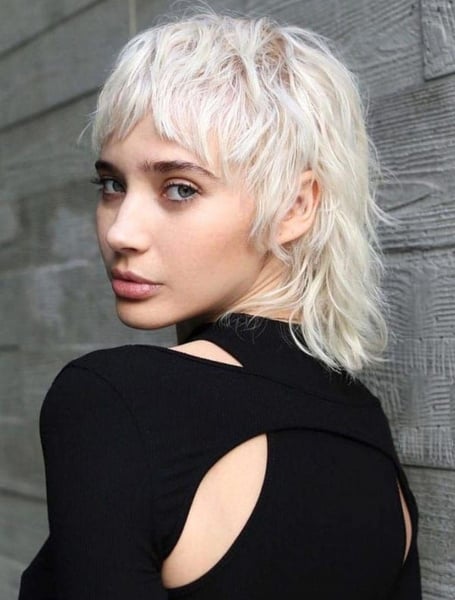 9. Wolf Cut Mullet
The wolf cut hairstyle combines the mullet and the shag, giving you a wonderful, heavily layered finish. The hair on the top and sides is slightly shorter than the hair on the back, but the layers create a contrast. It is an excellent hairstyle for creating movement and boosting volume. The layers are beneficial on thin hair, making it appear thicker and fuller, and can remove weight from thick hair.
10. Korean Mullet
The K-Pop music scene has inspired countless people with its expressive style and the mullet has become a favored look too. This is a hairstyle that is created to stand out, and you can show your playful side with a bright and bold haircut. Add a few chunky highlights to the hair to create contrast and dimension and to lighten naturally dark hair.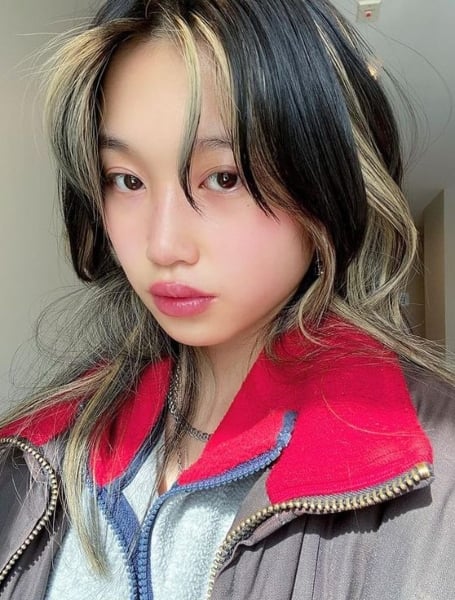 11. Shag Mullet
The shag haircut is a 70s favorite loved by musicians and fashion icons because it is low-maintenance and effortless to style. It is defined by the hair being heavily layered, keeping fullness at the crown and then thinning out toward the ends. You can combine the classic shag with a mullet style to create more contrast with the hair on the top and sides with the back.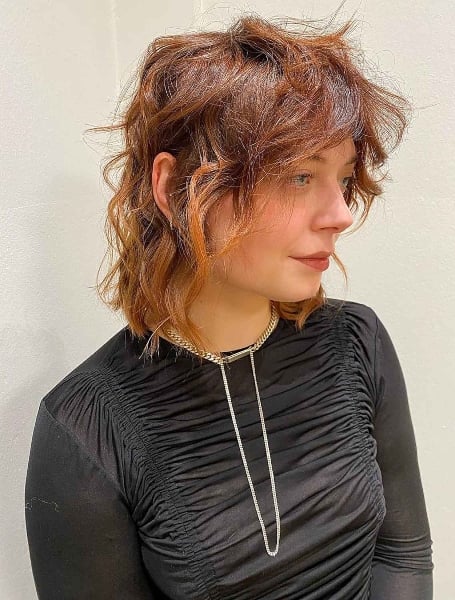 12. Straight Hair Mullet
The mullet is loved because of its versatility. There are many approaches to this cut, letting you easily adapt it to suit your hair texture and face shape. It works with all textures but the cut will be more defined on straight hair. A straight hair mullet is an excellent way to give your hair movement that it may not naturally have.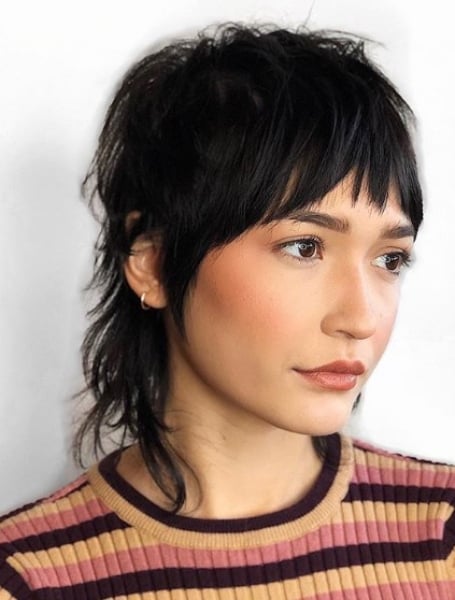 13. Long Mullet
The mullet is typically created on medium-length hair but it can be cut shorter or longer. On longer hair, the mullet will be more noticeable because there will be a definite shift between the fullness at the crown and the hair at the back. It can be achieved on the hair of all textures and types.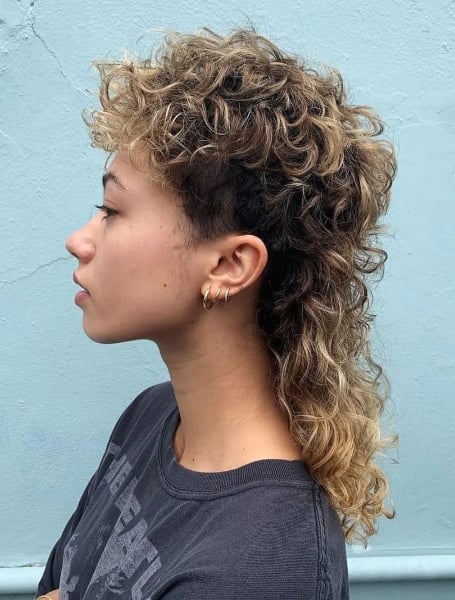 14. Middle Part Mullet
The middle part is one of the most stylish and noticeable ways to wear your hair. Having hair on either side of your face can create a framing effect and draw attention to your features. It works best on those with symmetrical faces. The modern approach is to opt for a less-defined middle part which gives you more versatility with styling.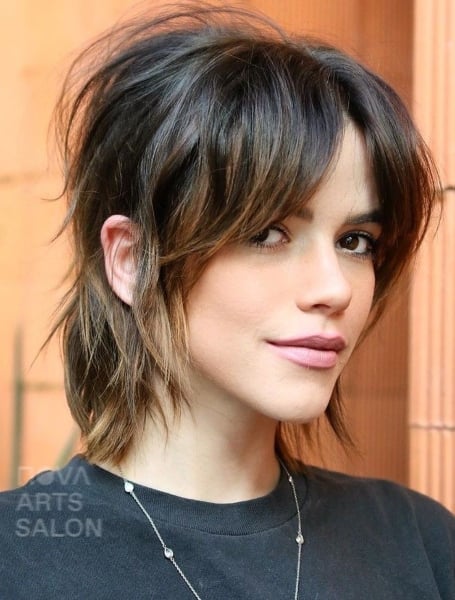 15. Red Mullet
Choosing a bright hair color is a guaranteed way to ensure you stand out from the crowd. Red hair is an excellent choice because it is expressive, fun, and symbolic, often associated with passion and love. You can choose a natural shade of red or a saturated hue to draw attention to your haircut; the choice is yours.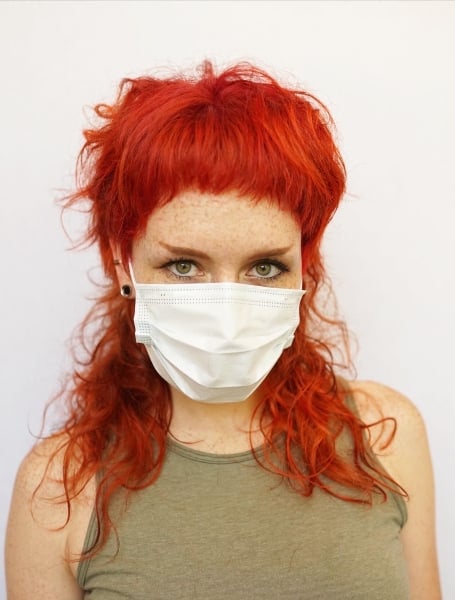 16. Blonde Mullet
Blonde hair is an excellent color because it will highlight the layers in your cut and make the mullet look more defined. It is also a way to lighten the hair and brighten your appearance and can draw attention to your features. Add blonde highlights to dark hair for depth and dimension, or embrace a full head of blonde for those who want something gorgeous and different.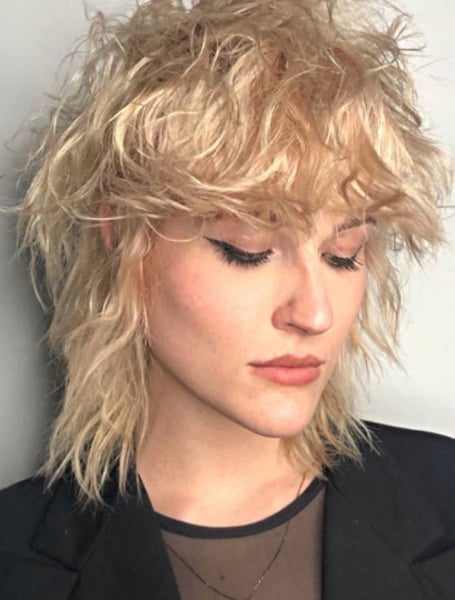 17. TikTok Mullet
TikTok has been the platform where many fashion and beauty trends have started and the popularity of the mullet has also increased thanks to it. Several videos are showing how people have cut their hair into a mullet, and you can use them to inspire you, although heading to the salon and having a professional do the cut is always advisable.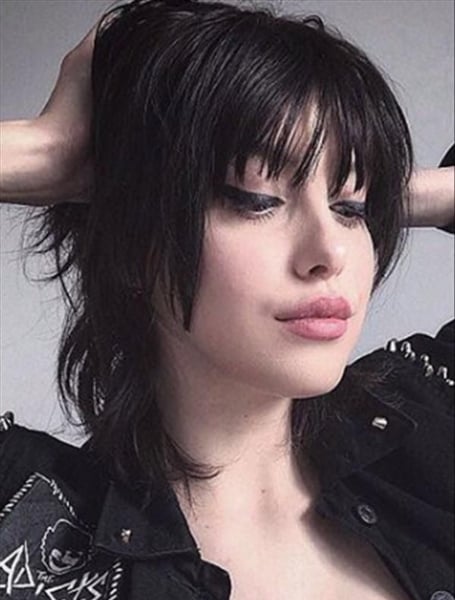 18. Fluffy Mullet
Fluffy hair is one of the most sought-after looks because it gives the hair fullness and volume. It has a bouncy appearance, which is great for achieving movement, and the fluffy texture will be complemented by the mullet hairstyle. It will also give the look a softness and make the style appear more graduated.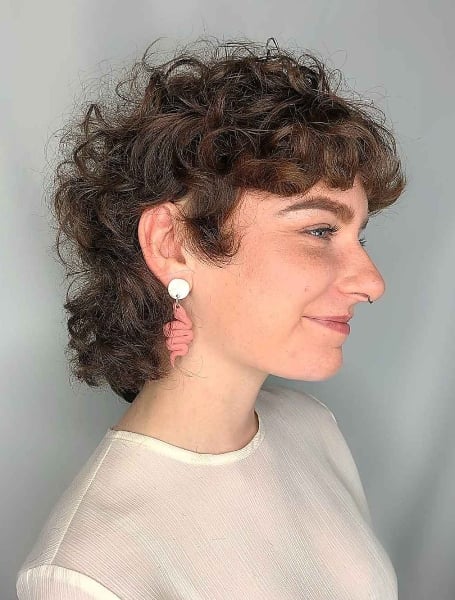 19. Mini Mullet
A mini mullet is an approach to the mullet hairstyle which is easy to wear and incredibly versatile. It is a short cut with only a slight difference in length between the top and sides of the hair and the back. This makes this a more subtle version of the classic mullet and is great for those wanting to experiment with their hair without opting for something too dramatic.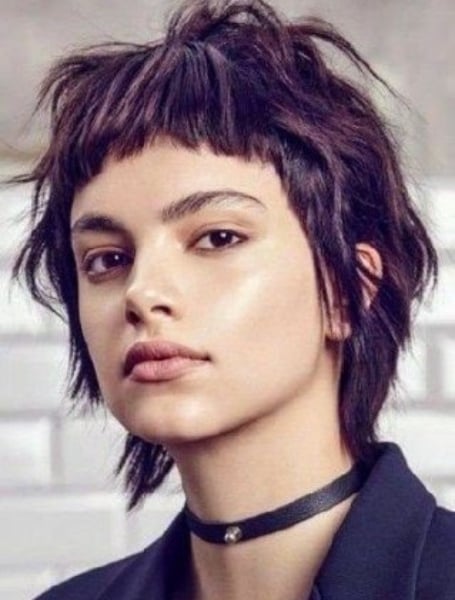 20. 90s Mullet
The 90s was a decade that has given us some of the most memorable beauty and fashion trends, including the approach to the mullet. This was a mullet that was often styled to look full and voluminous and best complements wavy hair texture, giving you that laidback and low-maintenance finish.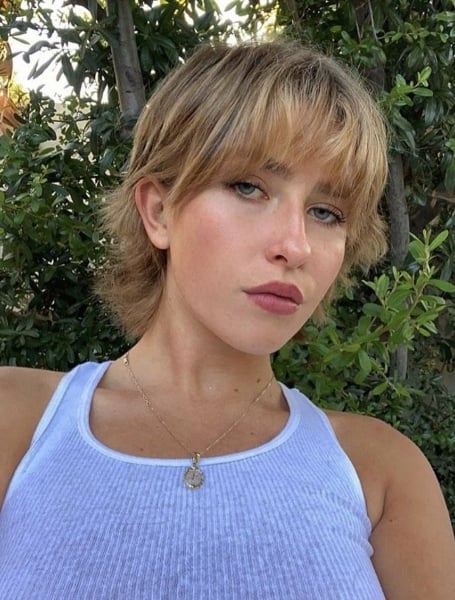 21. Mullet With Bangs
Bangs are an excellent addition to any haircut and can transform your appearance. They are ideal for drawing attention to the face and can give you a youthful look. A mullet with bangs can be used to soften the cut, or to emphasize the disconnection. You can choose blunt bangs for a fashion-forward finish, or long, curtain bangs to frame the face.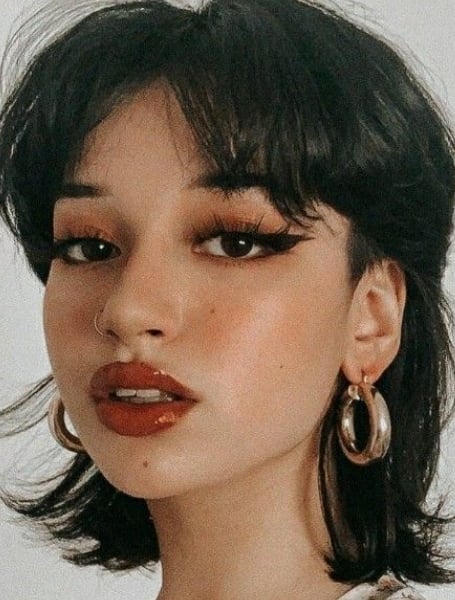 22. Pixie Mullet
The pixie cut is one of the most popular haircuts for women because it can be adapted to suit all hair textures and can be styled in various ways. You can also combine the pixie with a mullet for an interesting, textured finish. The pixie mullet is defined by its choppy layers and is shorter on the sides and longer on the top and back.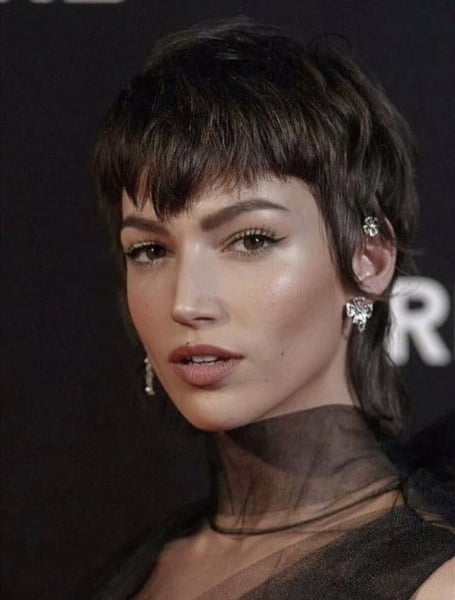 23. Textured Mullet
A textured mullet is a great look because it will give the hair movement and make it look full and healthy. Enhance your hair's natural texture with volumizing products and sprays, or cut layers into the mullet to give the hair shape and texture. You can experiment with different lengths and personalize the cut to complement your face shape and suit your preference.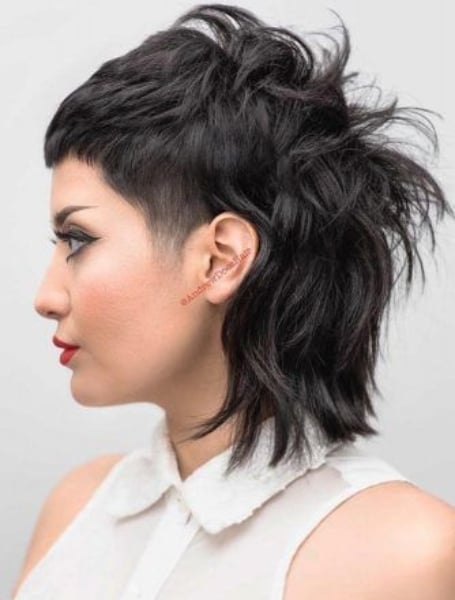 24. Bowl Cut Mullet
Bowl cuts have a straight fringe and are often cut so that the hair is the same length all over. The bowl cut can be challenging to pull off, but it is a hairstyle that can be easily adapted, letting you experiment with texture and even length. For a soft, feminine approach to the bowl cut, you can combine it with a mullet, keeping the hair short on the top and sides but longer in the back.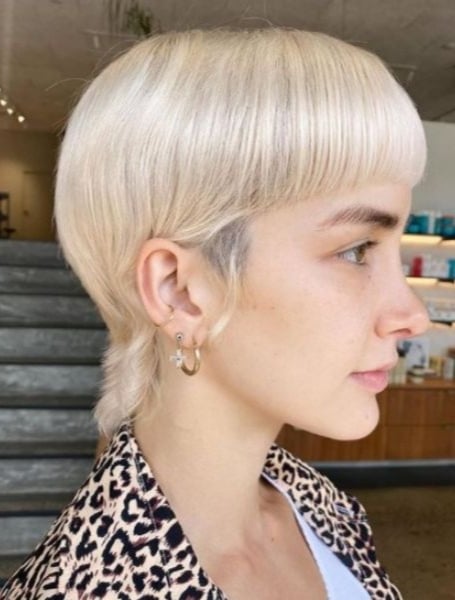 25. Pink Mullet
Pink hair is a color associated with femininity and love. There are multiple shades to choose from, making it easy to find a hue that best suits your complexion and preference; whether you want a soft pale color or a vibrant hue. The cut will also draw attention to your cut and is an expressive and fun look.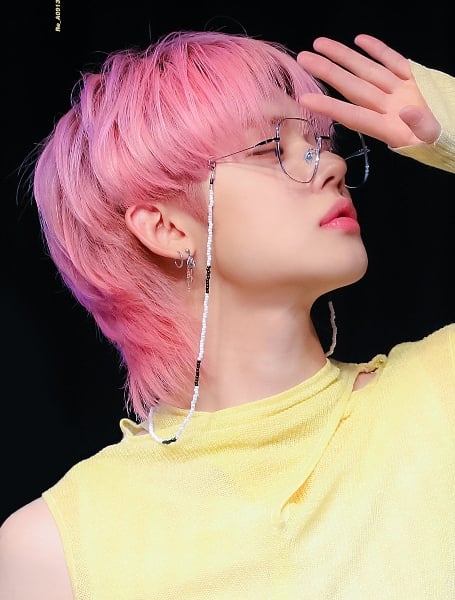 26. Soft Mullet
A soft haircut refers to a style that has soft layers that are blended and create a smooth appearance. On the mullet, the hair on the top and sides is kept shorter than the hair on the back. However, this approach makes the hair look less choppy and edgy. You can experiment with various lengths and it looks best on hair that is lightly textured.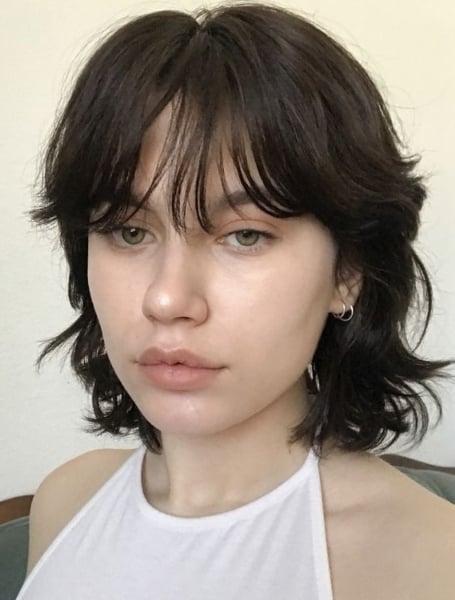 27. Wavy Mullet
Wavy hair works well with a mullet and it is one of the most natural-looking approaches because the texture creates a blended finish. You can experiment with different lengths and the way you style your hair, including keeping it slightly longer on the top and brushing it back to create volume. Or style it with long, piece-y bangs to frame your face.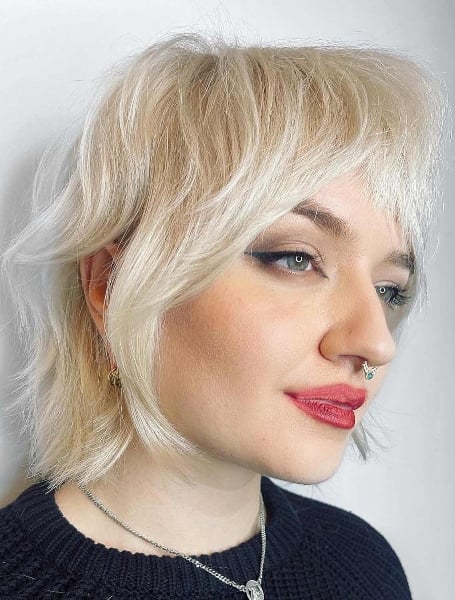 28. Leigh-Anne Mullet
Leigh-Anne Pinnock is as much a talented singer as she is a style icon. She has had many memorable looks over the years, including her mullet hairstyle. Leigh-Anne opted for a long mullet for a photo shoot with Little Mix. The look had piece-y bangs and was heavily textured, but look glamorous and super feminine. If she ever decides to make this look permanent, she could pull it off.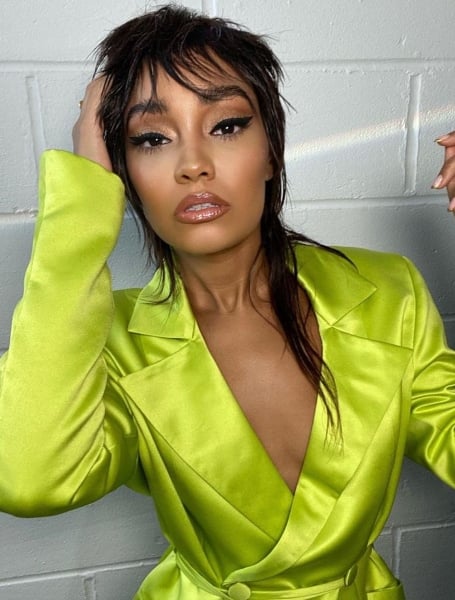 29. Doja Cat Mullet
Doja Cat wowed everyone with her 2021 Grammy look, which included a trendy mullet hairstyle. She opted for a dark chocolate mullet that had layers and a shaggy appearance. The top appeared full and gradually thinned so that there was a slight contrast between the hair on the top and sides of the head and the back. This subtle, graduated effect makes the mullet more wearable. The addition of the baby bangs also gave her a youthful finish.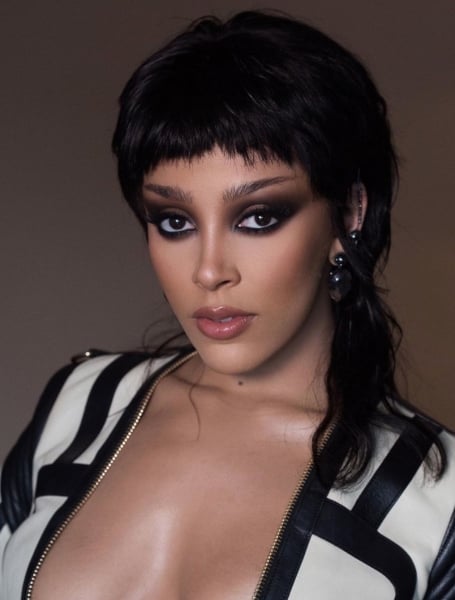 30. Halsey Mullet
Halsey is yet another celeb to have tried out the mullet and hers was inspired by the 90s. She kept her hair long and layered, which made the change of length between the front and back of the hair appear less obvious. Her long, sweeping bangs and strategically placed layers draw attention to her face, creating an incredibly flattering look.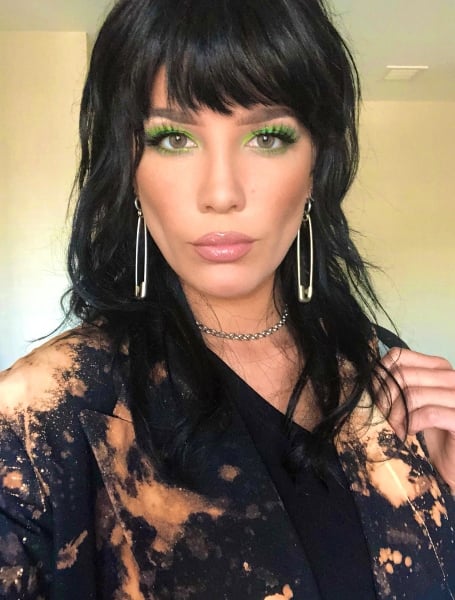 31. Taraji P. Henson Mullet
Taraji P. Henson opted for a heavily textured mullet with choppy layers. She kept it at medium length and styled it so that the hair on the top appeared textured. This was a great look for her and highlighted her facial features. It also proves that mullets can be edgy but glamorous, so use Henson as your inspiration if you want an effortlessly chic haircut.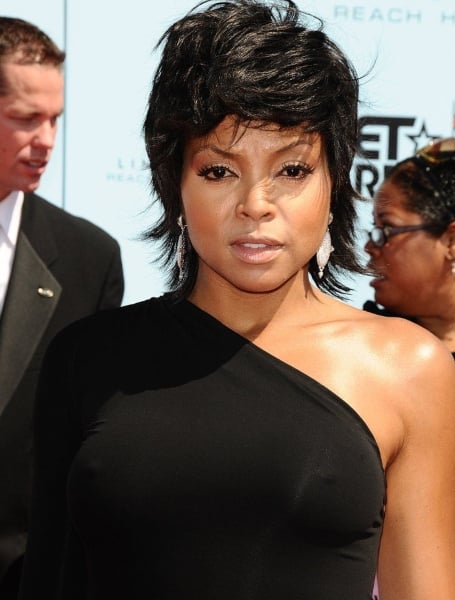 32. Zendaya Mullet
Zendaya'a mullet was daring.Especially because she was ahead of her time before the mullet comeback. For the 2016 Grammy Awards, she opted for brow-grazing bangs, fullness at the top, and hair that thinned toward the back. It had classic 80s vibes but also felt fresh and modern. The combination of blonde and brown gave the hair depth and dimension.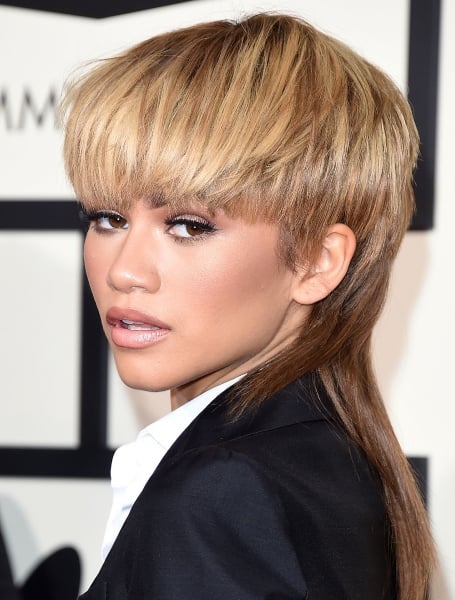 33. Cara Delevingne Mullet
Cara Delevingne has rocked several mullet hairstyles over the years when walking the catwalks and many have been memorable. However, her bleached blonde mullet stands out because it was edgy and demanded attention. The combination of the volume at the crown and the spiky styling on top, paired with baby bangs, and contrasted with long pieces of wavy hair makes this a statement hairstyle.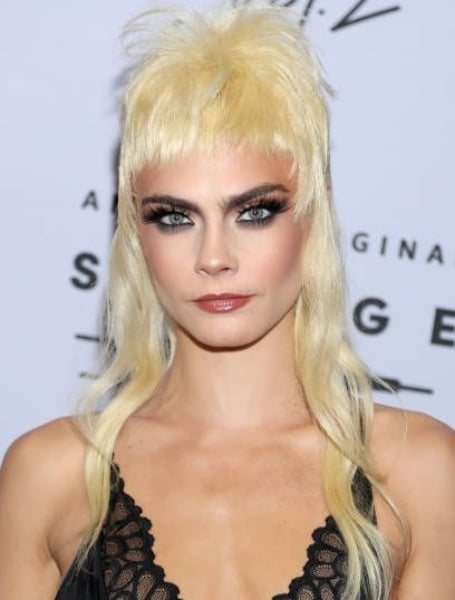 34. Barbie Ferreira Mullet
Barbie Ferreira's shaggy mullet is layered and low-maintenance. It has an effortlessly chic vibe but also feels youthful because she added dark green to the hair. The mullet is an excellent cut to give your hair volume and movement, but it is also an opportunity to personalize your hairstyle. Bold colors are expressive and fun and will show your playful side.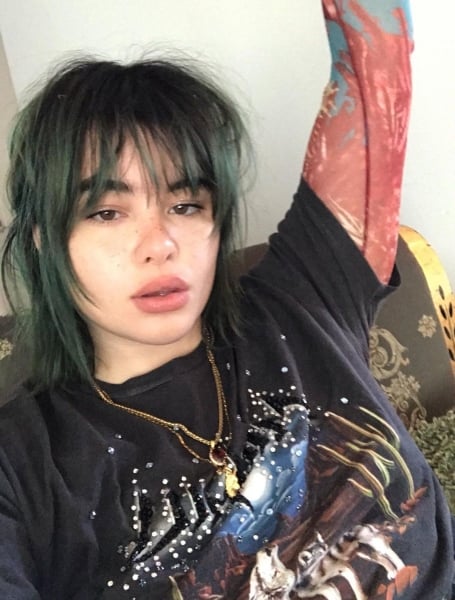 35. Debby Ryan Mullet
Debby Ryan has tried several styles of mullet hairstyle but her shaggy mullet with curls is one of the best looks and complements her features. This is an excellent look for achieving volume and will draw attention to the curls. Curly hair is a great texture for the mullet because it naturally softens the change in length from the top to the back.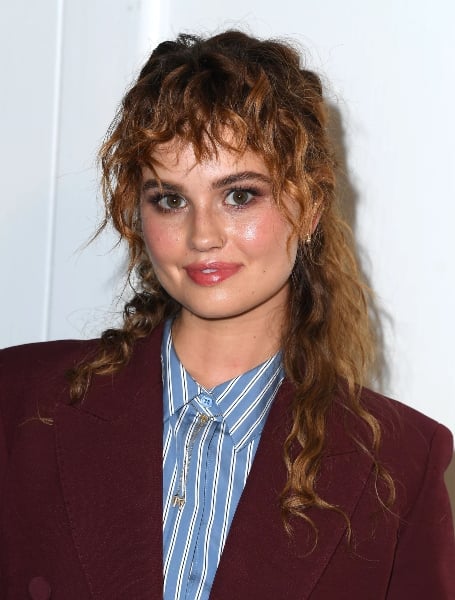 36. Rita Ora Mullet
Rita Ora is gorgeous and confident and there are few looks she cannot pull off, which is why it comes as no surprise that she rocked a platinum blonde mullet. Platinum blonde is a high-maintenance color but it is great for making a statement and drawing attention to your hair texture. It will also brighten your appearance.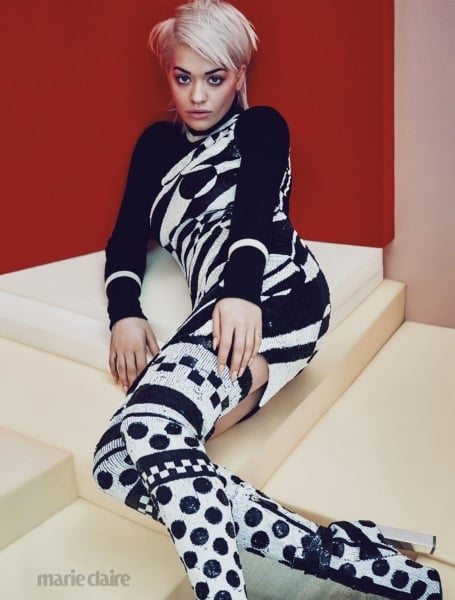 37. Demi Lovato Mullet
Demi Lovato opted for a short mullet to draw attention to their face and highlight their features. The short style was textured and had a natural change in length from the top to the back. The sides also appeared longer which created less contrast and structure and made their hairstyle have more movement.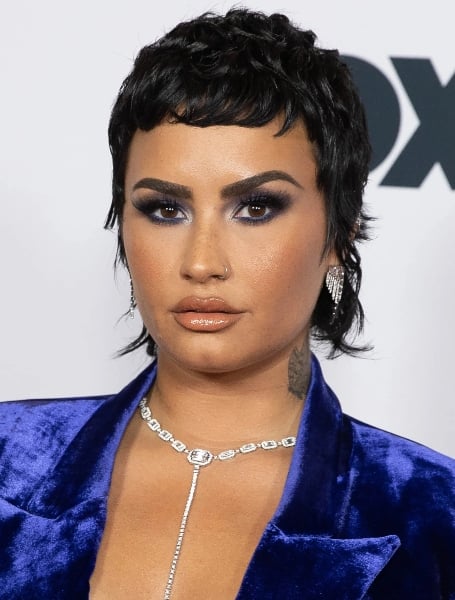 38. Miley Cyrus Mullet
Miley Cyrus has renewed the love of the mullet thanks to her edgy and effortlessly cool hairstyle. Her look is a combination of the traditional mullet and the shag, with heavy layers and volume at the crown, thinning toward the ends. Her look has a retro feel to it, but has been adapted to be less voluminous and low-maintenance.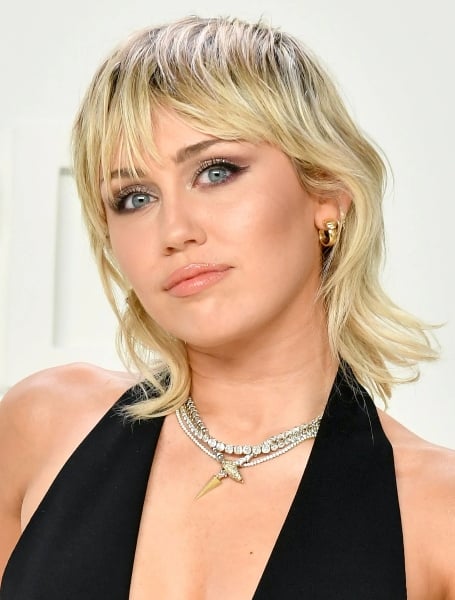 39. Scarlett Johansson Mullet
It may be difficult to picture Scarlett Johansson with a mullet now, but she rocked the look when she was 19. Her textured mullet suited her and drew attention to her face. She has described her inspiration for the cut as a "Bowie-meets-'Silkwood' vibe." Her hair also look full and thick and the blonde color made the cut even more noticeable.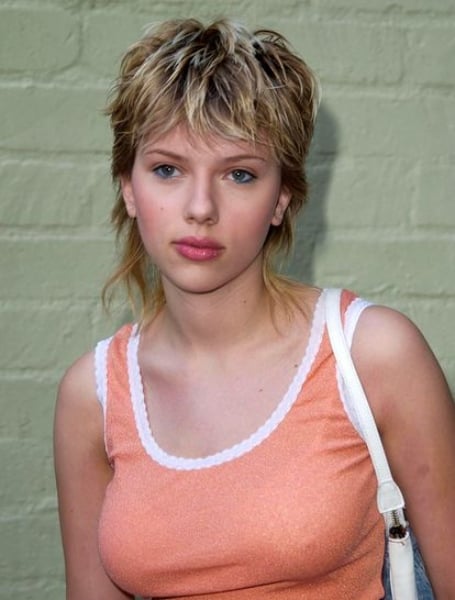 40. Kesha's Mullet
If you like the idea of the mullet hairstyle but feel it is too challenging to pull off, then let Kesha's hairstyle inspire you. She opted for a long black mullet that is wavy and filled with layers. This creates movement and gives the hair fullness. Pairing it with bangs will create a youthful finish but also enhances the volume on the top of the head.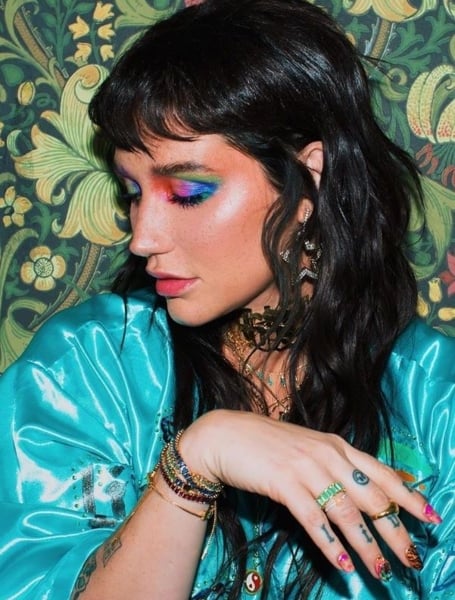 Mullet Hairstyles for Women FAQs
What is the female mullet called?
The female mullet is called a mullet, but it can be adapted to suit your preference including making it have a softer, more feminine appearance. This includes adding bangs to the cut or strategically placing layers to frame the face.
Do mullets look good on women?
Mullets do look good on women and there are many variations of the style, allowing you to find a look that best complements your face shape and hair texture.
Can a girl get a mullet?
Girls can get mullets and the hairstyle is incredibly versatile. You can wear it at various lengths, and experiment with bangs from baby bangs to the long, brow-grazing fringe. You can also try out different colors, opt for a heavily textured appearance or create soft layers and subtle graduation in length from the top and sides to the back. The beauty of the mullet is that there is an option to suit almost everyone.
Is a mullet a professional haircut?
The mullet is effortlessly cool and chic, but it is not a professional haircut. This is because it looks unstructured and deliberately messy.
What is a modern mullet haircut?
A modern mullet is a different approach to the 80s style which was defined by a clear distinction between the length on the top and sides of the head with the back. The top was voluminous and full and the hair at the back appeared thin, while the modern approach is often more blended and the graduation in length more subtle. This makes the look more wearable and it can be easily adapted to suit your preference.
SUBSCRIBE TO OUR NEWSLETTER
Subscribe to our mailing list and get interesting stuff and updates to your email inbox.