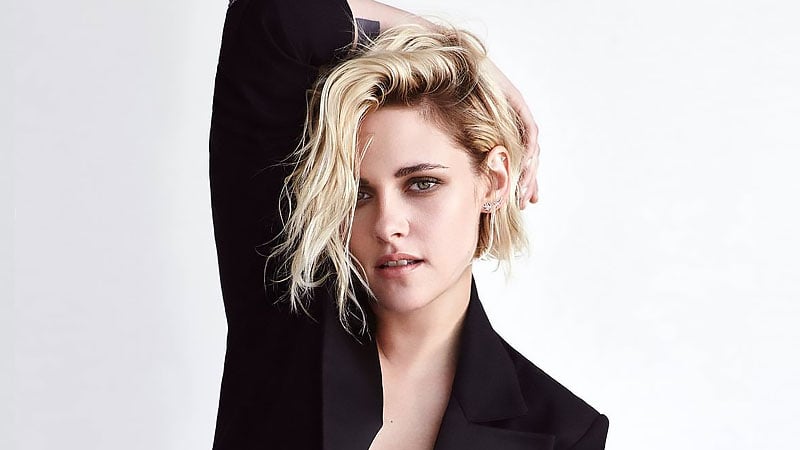 Whether it's Jennifer Lawrence's short wavy bob or the glam of Margot Robbie's shoulder-length waves, it is safe to say that wavy hair is seriously on-trend. It does not matter if you don't naturally have wavy hair or you do, there are several alterations to the style that will suit any woman. With a little help of hair product, hair straightener, or curling iron, you are just minutes away from rocking this modern, chic look. Read on to find out how you can, with minimal effort, take the short wavy hairstyle and make it your own.
RELATED: 30 Best Short Hairstyles & Haircuts for Women
RELATED: 60 Best Hairstyles & Haircuts for Wavy Hair in 2022
1. Short Wavy Bob
The key to a trendy short wavy bob haircut is how your hair is cut. For a different thickness of hair, try a new layering technique. We love the feathery layers throughout the ends of the hair for a messy, almost bedhead look. Style hair with a deep part for added drama, and spritz the roots with a sea salt spray to amplify your waves. Alternatively, have your hairdresser cut layers around the face for a cute, playful bob.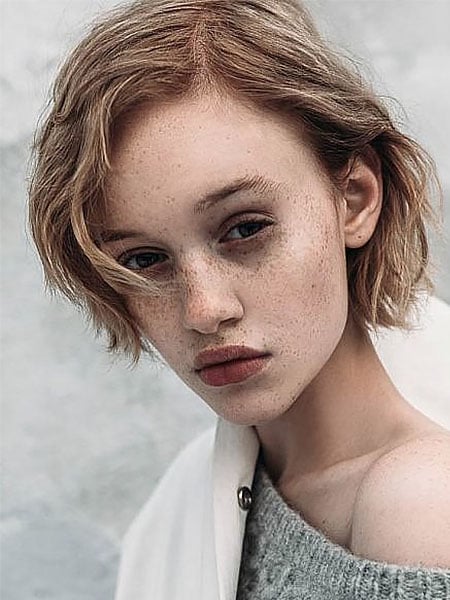 2. Medium Wavy Bob
Minimal upkeep and effortless to style, a medium-length bob haircut is ideal for waves. If your hair is naturally wavy, make sure to use a wide-toothed comb, not a brush, to avoid frizz. If your hair lacks movement, apply a sea salt spray on damp hair and blow dry hair upside down for volume. When drying, scrunch sections of your hair with your hands to encourage waves throughout your tresses. This look is incredibly minimalist, meaning you can still ooze sophistication but without all of the hassle.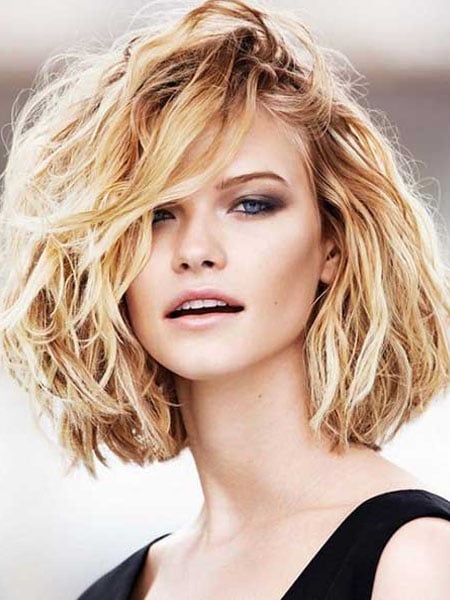 3. Long Wavy Bob
The long wavy bob or 'lob' look is modern and relaxed. To get this chilled vibe, we suggest keeping things as casual as possible. Use a hair straightener on clean hair, and curl sections of your hair starting from the ears down, for a natural appearance. Finish with hairspray, and brush through your hair with your fingers for the ultimate shaggy look. The result will be on-trend and fashionable.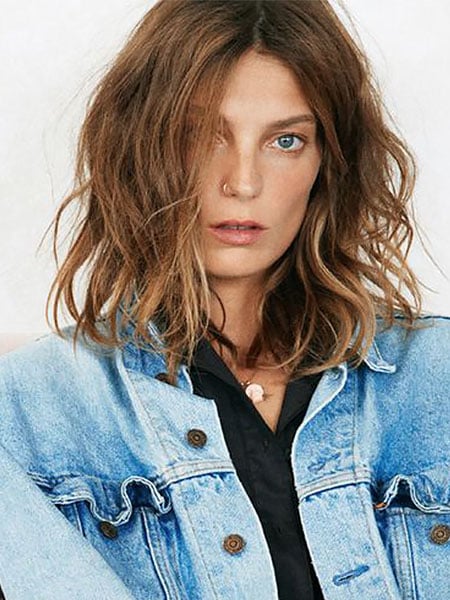 4. Wavy Bob with Bangs
Bangs bring an extra element to a bob haircut and are an excellent option for edgy ladies. Short hairstyles with bangs are easy to achieve, with the choice of different length bangs, meaning there is a look to suit women of every face shape and vibe. Keep your bangs short and blunt for a bold statement, or opt for longer, thin bangs for a sleek, sophisticated look. Either way, your bangs will be complementing your short 'do, letting the waves be the star of the show.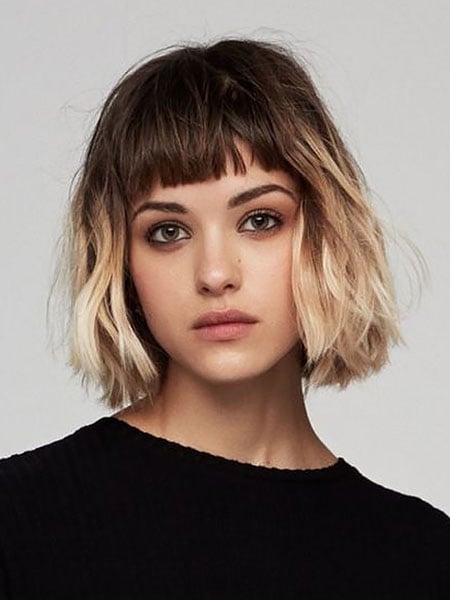 5. Wavy Bob with Side Bangs
It could be argued that side bangs are a touch more feminine than normal, making this style perfect for the chic woman. To rock this look, keep your bob haircut shoulder-length rather than shorter. This way, the side bangs will blend in seamlessly with the rest of your hair, making this look pretty and soft.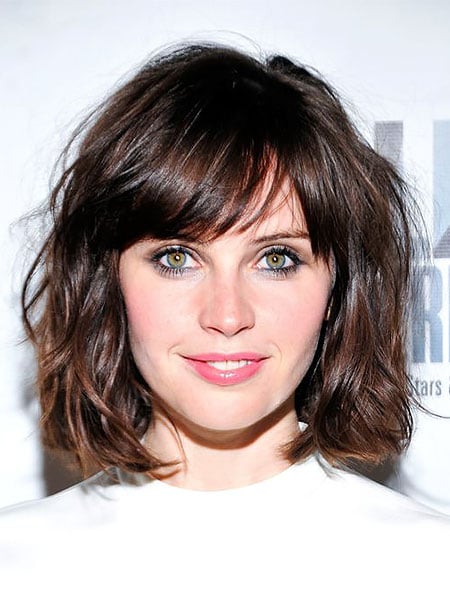 6. Wavy Asymmetrical Bob
A unique and quirky style, this wavy asymmetrical haircut is a modern take on the bob. Sometimes a sleek, straight asymmetrical hairstyle can be somewhat bold to some, so adding a wave throughout softens this look. However, you can still make a statement. We suggest opting for subtle side bangs with this look so the asymmetric shape isn't too lopsided. To get the cut, have your hairdresser layer throughout the hair on the longer side for an even more beautiful style.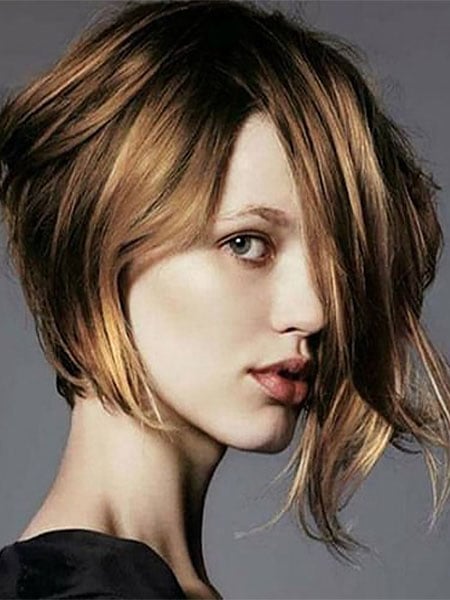 7. Wavy Inverted Bob
The favorite of many female celebrities, the inverted bob is seriously on-trend. With length at the front and shorter hair at the back, this haircut requires minimal styling in the morning, meaning you can hit that snooze button. Having long layers cut throughout the ends and back means a natural wave will occur, however, reach for that trusty sea salt spray if needed.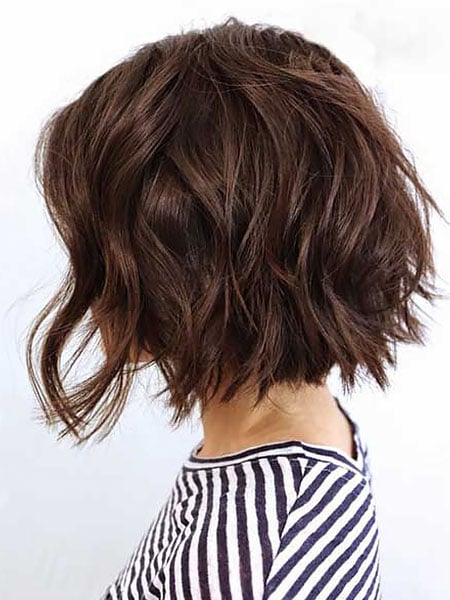 8. Wavy Pixy Cut
A pixie cut can be whatever you want it to be. Short all over or longer throughout the front, you can go for the bedhead look or opt for something sleek and chic. However, to get the wavy look everyone is lusting over, keep business in the back, and party in the front. Waves and length on top of the crown mean you can style into a side part or straight back for a sexy vibe.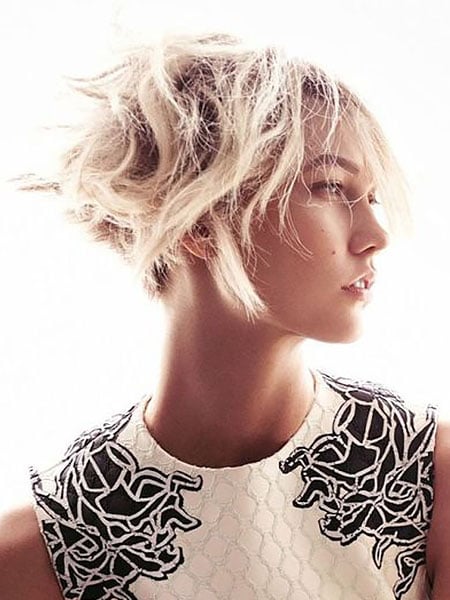 9. Short Thick Wavy Hair
Thick haired ladies, don't stress. You can also get the short, wavy style, just think Jennifer Lawrence Circa 2014. For this look, have your hair blunt cut, with subtle, long layers around the face. For thick hair it's best to have your tresses lightly layered to encourage the waves, otherwise, you can style with your favorite hair straightener for loose movement. We love the voluminous look, so switch your shampoo to one that boosts your roots for added drama.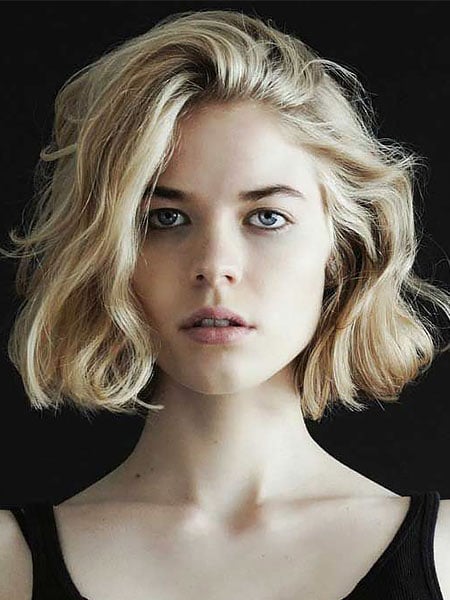 10. Short Fine Wavy Hair
The trick to managing fine hair is to make sure you get the right haircut to fake volume and texture to otherwise flat hair. Whether you have straight or curly hair, you can still get a short wavy hairstyle that amps up the appearance of your tresses. The beauty of a short haircut is that the shorter the cut, the thicker the hair will seem. Opt for a blunt cut across the ends to create the illusion of volume, and styling waves with your favorite hair straightener or curling iron will give it even more depth.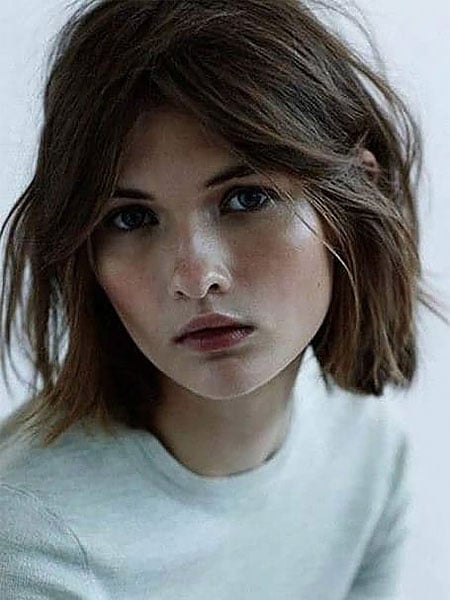 11. Short Wavy Blonde Hair
Blondes have more fun, right? So why not rock this look, whether it is in sandy blonde or bold platinum color. If you're not a natural blonde, make sure to maintain your color with a blond shampoo and conditioner to draw out unwanted brassy tones. Additionally, if coloring your hair, invest in a good hair mask if you are also regularly rocking the glamorous waves.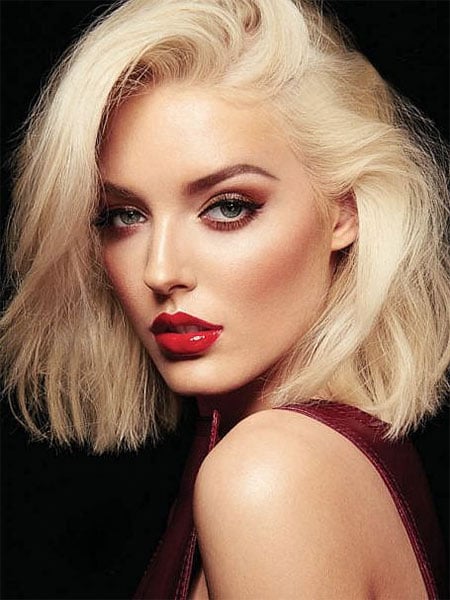 12. Short Wavy Brown Hair
The fact is, any color you decide to dye your hair, a short wavy haircut is going to suit it no matter what. Such a versatile cut suits women of any age, you can't go wrong. However, with brunettes, you can go for a block color for a seamless look, or play with highlights. When styling hair in waves, adding highlights and lowlights to the mix will amplify your look – just make sure the colors are subtle and complement each other.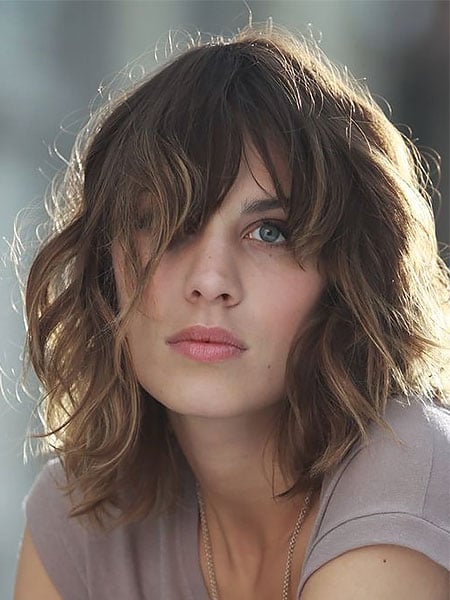 13. Short Wavy Black Hair
Oozing attitude and edge, a short, wavy black cut is ideal for the modern woman. Whether you want to add more depth with blunt bangs that is up to you. However, in keeping with the theme of the sleek black, we suggest adding a shine serum to get a smooth, glossy finish to your hair. The waves will only add to the texture to complete your edgy look.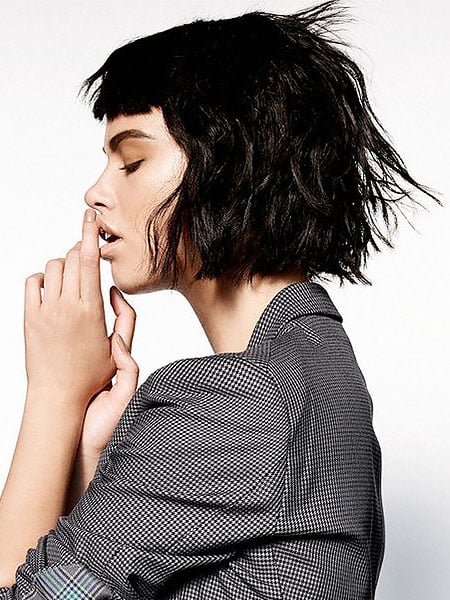 14. Short Wavy Hair with Side Part
If your face shape is long and rectangular rather than round, a side part is perfect for you. With the hair being swept to the side, it creates the illusion of volume and movement. Additionally, for ladies with heart-shaped faces, this style also suits them. To mix things up, why not try playing around with a zig-zag part for a fun, youthful vibe.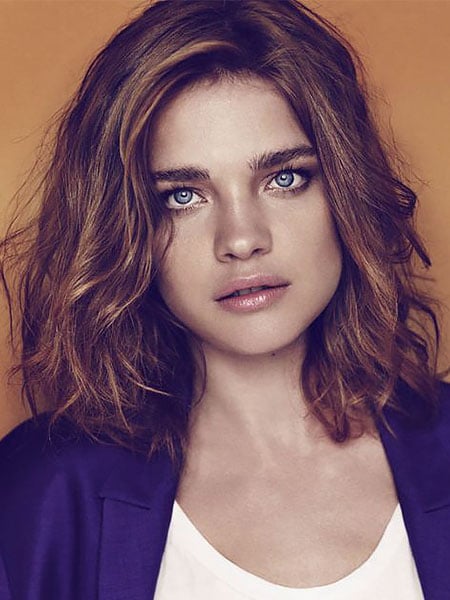 15. Short Wavy Hair with Middle Part
The classic middle part is versatile as it is trendy. For oval-shaped faces, this style is ideal, however, it suits most of the face shapes out there. How you wish to style your waves is up to you, whether you want smooth, refined waves or a shaggy, beach babe look. To style, take a large barrelled curling iron to sectioned hair, but only heat for a few seconds. Go in with some hairspray for a hold that lasts all day, and your curls will naturally drop into casual waves for a cool, chic result.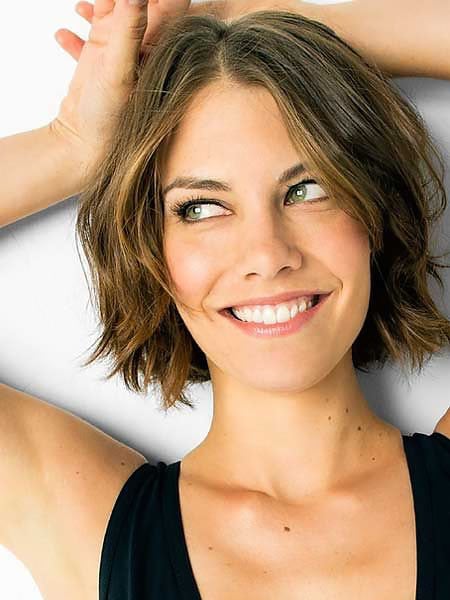 FAQs
Should wavy hair be layered?
Layered cuts are ideal for both thick and fine wavy hair, although your stylist may cut your layers on a different angle than if your hair was straight. That is because they take some of the 'weight' out of thick hair, ensuring the waves aren't weighed down and bringing more movement and dimension into the cut. Meanwhile, finer hair tends to lack volume and fall flat, and can also have a frizzy, flyaway look. For that reason, layers are a great option as they create the illusion of more volume and structure on fine wavy hair. Generally, longer layers are recommended for wavy hair over short layers.
What is the best haircut for wavy hair?
Any cut that works with the natural movement and texture of wavy hair is the best option for this hair type. Natural, chic, and easy to style, these cuts are low-maintenance for wavy-haired ladies and also look amazing. Wavy hair also looks beautiful when paired with face-framing bangs, as the blend between the cut and the fringe is seamless. Alternatively, for a more edgy look, try contrasting your wavy cut with a blunt fringe. 
How do you style short wavy hair without heat?
One of the easiest ways to style short and wavy hair without heat is by putting damp or dry hair into a bun and leave it overnight. You can also create small plaits to the ends, with the help of some mousse, and leave it for a few hours. When you take out the hair ties, you will be left with soft and stunning waves without damaging anything. To add a bit of volume to the roots, add boosting powder or dry shampoo for extra oomph.
What happens when you cut wavy hair short?
Don't be shy when it comes to cutting your wavy hair short! Wavy bobs and lobs are a super chic, stylish option that will give you a more sophisticated and modern look. Like most shorter hairstyles, these cuts take less time and effort to style than long hair and appear more structured and defined. Plus, your face won't get lost behind your mane – instead, your haircut will flatter your features and bring out your best. 
Is a pixie cut good for wavy hair?
For those with slightly curly hair, a pixie cut is a perfect option. This style immediately adds more volume, and the length around your ears can help frame your face. Add some soft highlights to brighten the features on your face. For more buoyancy in your locks, add some pomade or dry shampoo for an instant root boost.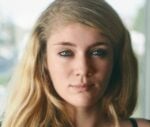 Cailyn Cox holds a degree in journalism and has been working with The Trend Spotter as a writer for over ten years. She has worked with some of the most prestigious women's and men's lifestyle publications. For her, writing is not just a job; it's a passion, which is why each article she writes is approached with such enthusiasm and dedication. She has extensive knowledge of hairstyles, tattoos, and beauty and has made a career out of creating informative articles that appeal to women and men of all ages.
SUBSCRIBE TO OUR NEWSLETTER
Subscribe to our mailing list and get interesting stuff and updates to your email inbox.