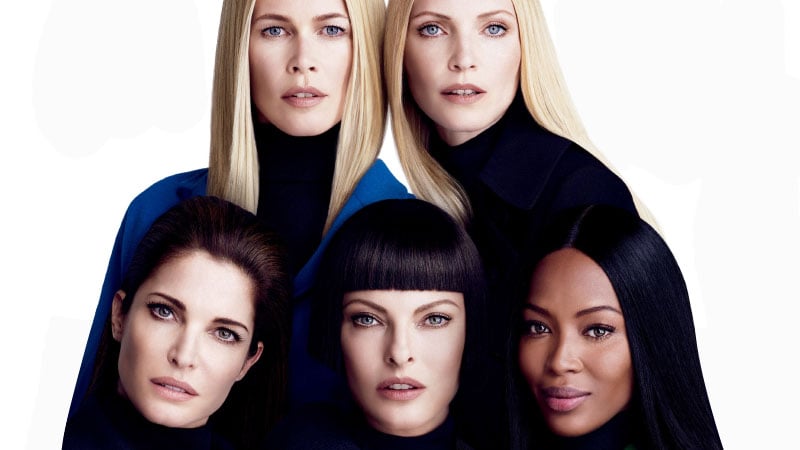 Feeling uninspired by your stick-straight locks? Never fear! Nothing is boring about straight hair. In fact, straight hair can be as versatile and stylish as its wavy or curly counterparts. From ultra-sleek to artfully undone, make your straight strands stand out from the crowd with these gorgeous hairstyles for straight hair.
1. Straight Layered Hair
Layers are a great way to give dead-straight hair some volume and movement. Straight hair can look limp and lifeless – particularly if it's long and fine. So, by cutting in layers, your stylist can create the illusion of thicker, bouncier hair that frames your face in a more flattering way.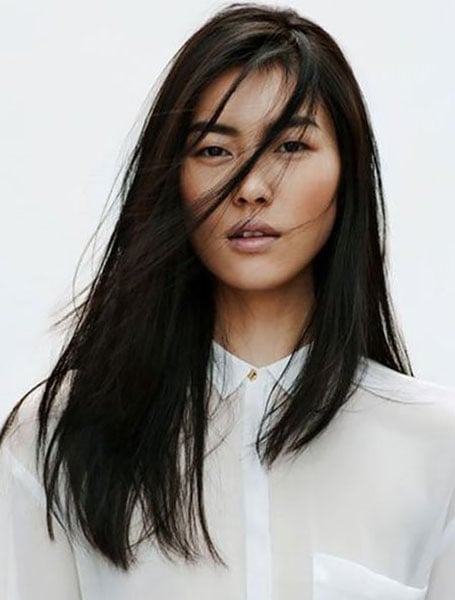 2. Straight Hair with Butterfly Clips
Embrace the '90s trend with cute butterfly clips! There are a wide variety of styles you can create with these accessories. However, one of the best options for straight hair is a half up half down hairstyle. By teasing the hair at the crown and adding clips on the top, you'll create the illusion of more volume and look cool. Plus, the teasing will give the clips something to 'grip,' as straight hair tends to be smoother and more slippery than curly hair.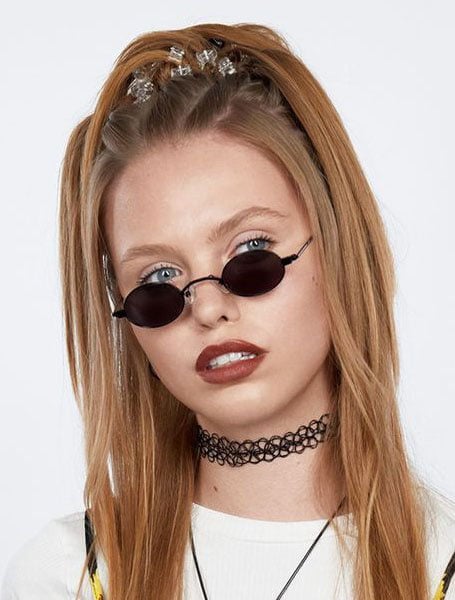 3. Urban Straight Ponytail
Classy yet full of attitude, the urban ponytail hairstyle combines a super-sleek, extra-long high ponytail with brushed baby hair. Use a flat iron to minimize flyaways if you have naturally straight hair. Add extra-long extensions for a statement look and team with glam make-up to ensure you turn heads on the city streets.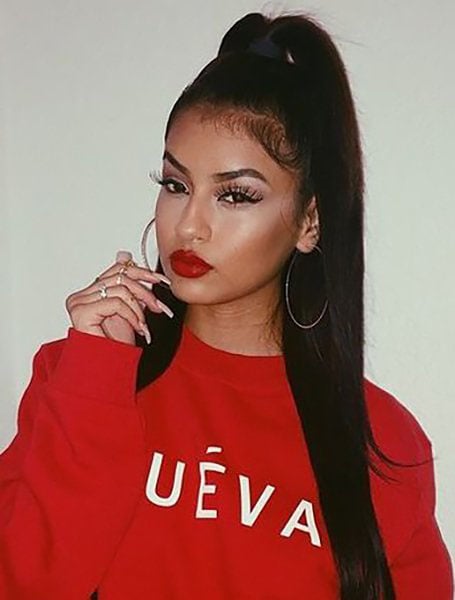 4. Blonde Goddess Braids
Blonde hair is a perfect match for braids of any kind, as the multiple tones in this hair color give the braids even more dimension. While most are familiar with goddess braids for natural Afro-textured hair, there is a version of these braids for straight blonde hair. Straight hair goddess braids are French braids or Dutch braids plaited from front to back. While they follow traditional cornrows' classic direction, they are not as tight or raised, as cornrowing can cause breakage on straight hair.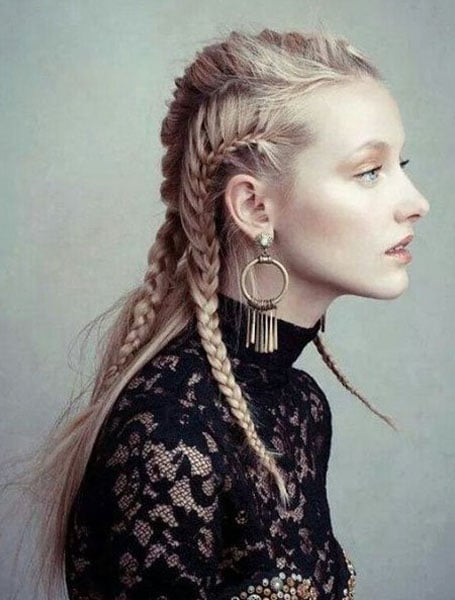 5. Undercut with Ponytail
For the more daring straight-haired ladies, an undercut is a bold look that can be styled in many different and eye-catching ways. One great option is an undercut paired with a ponytail. A high pony draws attention to your undercut while softening it playfully. Add a scrunchie for a cute '90s vibe, or keep it simple with a clear hair tie for a cool 'topknot' effect.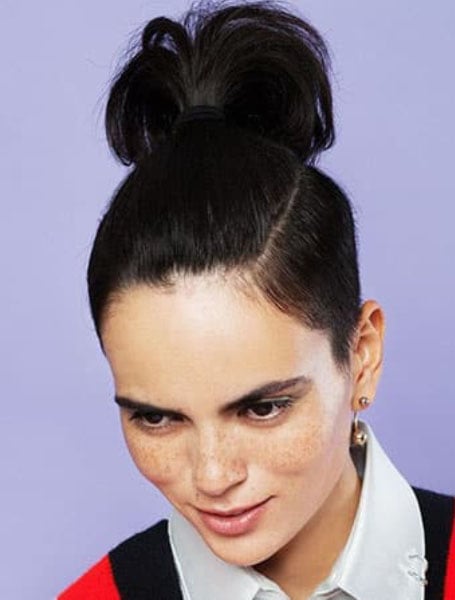 6. Long Straight Hair with Layers
Layers are a great way to make your long, straight hair more flattering to your face shape in a subtle way. They start below the chin and softly graduate into longer lengths, making your face look longer and more defined – perfect for round face shapes. Layers that fall away from your face – rather than curving in – are great for softening a triangular face. Layers throughout your long straight hair will also help make it look thicker and less flat.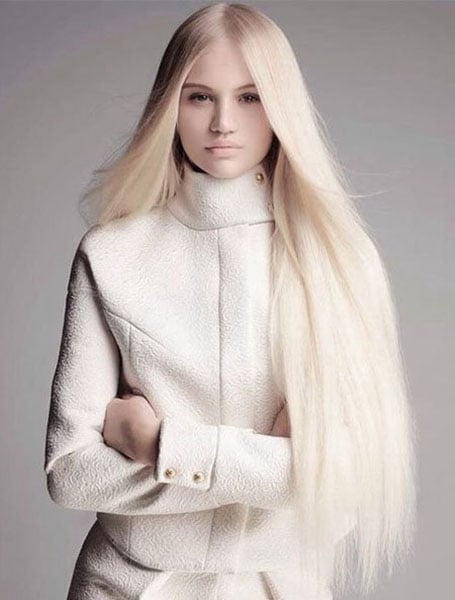 7. Dark Green Asymmetric Straight Bob
An asymmetric bob – also called an A-line bob or inverted bob – is a classic hairstyle that's particularly flattering on round faces. Super straight and sleek hair means the graduated line of your haircut is even more visible and eye-catching. If you already have a sleek asymmetric bob, try shaking up the color – dark green is one of the biggest trends, and you can adapt the shade to suit your skin tone.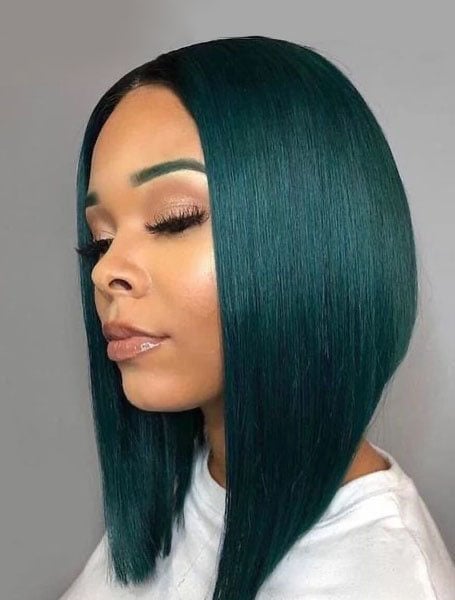 8. Short Messy Straight Spiky Hair
Short, messy spikes aren't just for the boys! This textured, edgy look is a standout option for ladies with cropped, straight hair. Easy to style for day or night, it also works for both fine and thick hair. The key is to make your spikes look intentionally messy and 'undone' – uniform spikes can make you look like a cartoon character!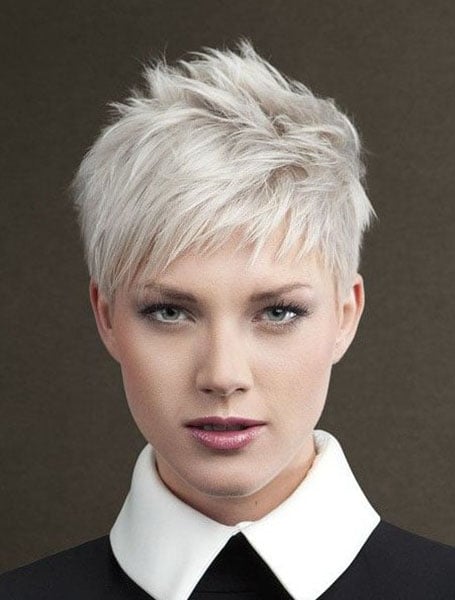 9. Straight Fishtail Side Braids
Fishtail braids pair perfectly with straight hair. That is because straight hair sections are easier to separate and plait, while there's no natural curl or wave pattern 'competing' with the braid. Beachy and bohemian, fishtail side braids look equally good at a summer festival or under a hat in the cooler months. Even better, they are some of the easiest braids to create!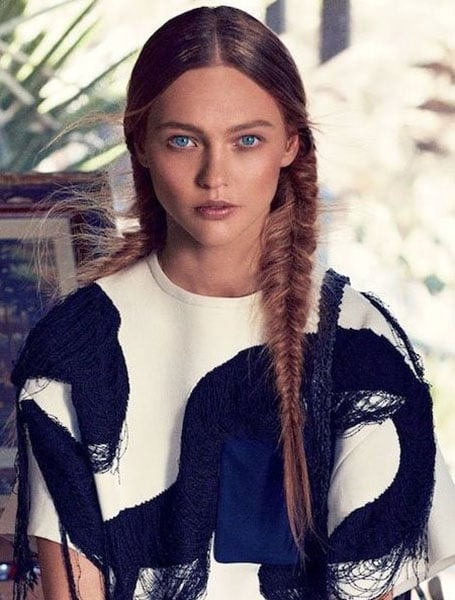 10. Long Blunt Straight Hair
While layers are often advised if you have long hair that's straight and fine, thick hair can look fantastic with a blunt cut. Blunt cuts have a very modern, editorial vibe that makes them stand out from the crowd – so if that sounds like your style, consider it! Make sure to straighten your hair, apply a smoothing serum, and have regular trims to keep your locks free of split ends, uneven growth, and flyaways, which can ruin the blunt edge of your cut.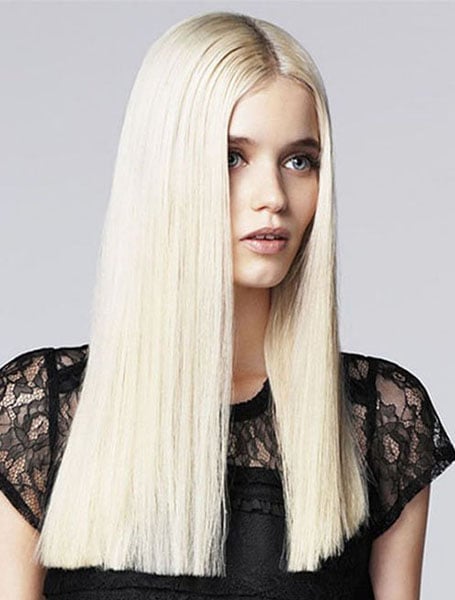 11. Straight Hair Bun
While it's often fun to lean into straight hair's sleek and smooth finish, a messy bun is a great way to introduce some texture and is perfect for brunch, a casual date, or a class. However, it's a fine line between stylishly messy and unkempt, so make sure you pay attention to the details. Use a brush to gather your locks up, and twist a section of your hair around the bun's base to make it look seamless. Finally, spritz a little hairspray onto an old toothbrush and smooth it over the non-messy section to keep flyaways and frizz at bay.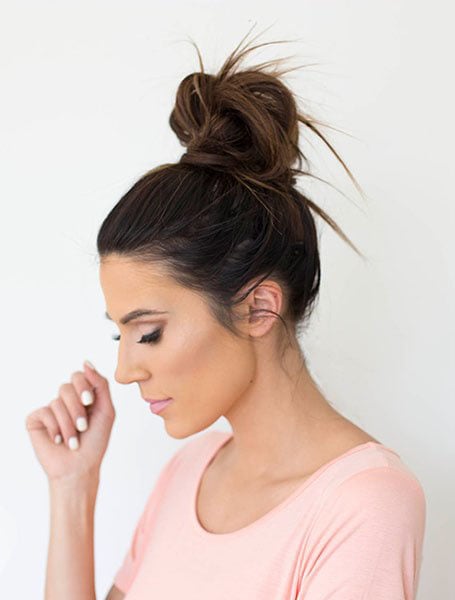 12. Straight Dutch Braid with Ponytail
Dutch braids suit all hair types, including straight. One of the coolest Dutch braid hairstyles involves combining it with a ponytail. Ideal for long or short straight hair creates a cool contrast between the braided section and the sleek sides. Simply Dutch braid the crown section of your hair from front to back and secure the end in a low ponytail with the rest of your hair. Simple and quick, yet cool and chic!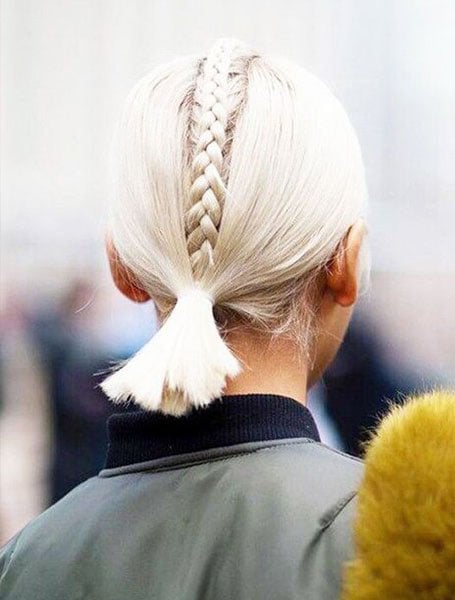 13. 90s Straight Bob with Butterfly Clips
Cute, playful, and ultra-feminine butterfly clips add a quirky touch to even the simplest hairstyle, like a fringed bob haircut. The key to adapting this classic '90s look for 2020 is to pair it with on-trend make-up, like pink blush and glossy lips, and then contrast it with edgier fashion – think all black or streetwear. Think of it as the subtle version of the e-girl style.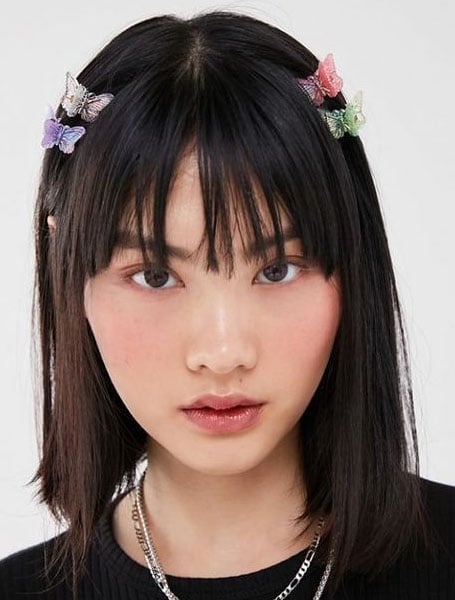 14. Long Layered Straight Hair with Bangs
One of the most timeless haircuts, long layered hair with bangs is an incredibly flattering look. The term 'long layers' means that there is a lot of variation in the length of the layered pieces – some are very short, while others are very long. This helps to break up and add movement to the haircut and create a beautiful 'frame' for your face. Meanwhile, bangs help balance your proportions and draw attention to your eyes and lips – perfect for hiding a large forehead.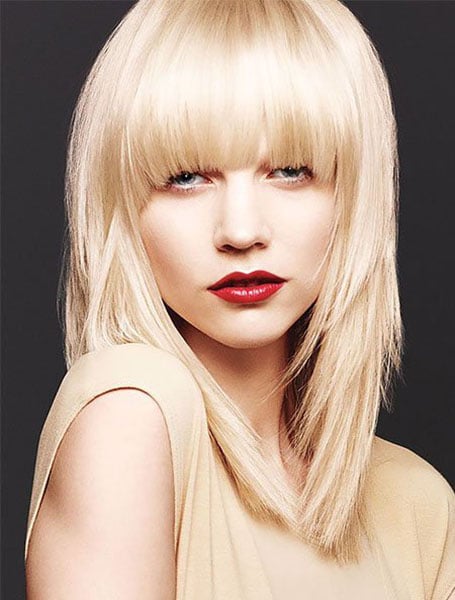 15. Straight Blunt Shoulder Length Hair
A blunt shoulder-length cut on straight hair flatters every face shape and is versatile. There are many different styling options, from a half up half down hairstyle to mini braids, a ponytail, or a low bun. Make your blunt shoulder-length hair even more flattering by adding dimensional highlights, lowlights, and soft, face-framing bangs.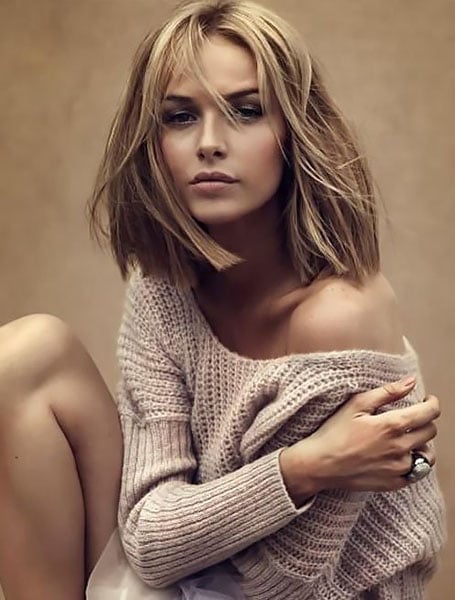 16. Straight Side Swept Undercut
A side-swept undercut is one of the boldest and most eye-catching hairstyles for straight hair. As an asymmetrical hairstyle, it has an exciting and unusual appeal that's bound to draw attention. Side-swept hair creates a mysterious vibe that's also very flattering on most face shapes – and is a great way to show off highlighted sections of your hair. Meanwhile, the undercut adds the final edgy finishing touch.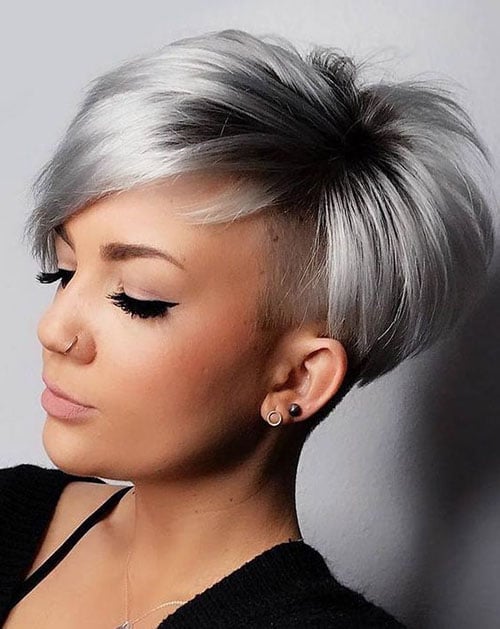 17. Short Choppy Blunt Straight Hair
A short, choppy, blunt haircut adds plenty of movement and definition to straight hair. Shaggy and dynamic, these cuts have a cool yet stylish vibe. For those reasons, this type of haircut is a great option if you're looking to shake up your usual look. Especially suited to fine hair, a choppy cut has the added benefit of creating the illusion of thickness and body. Try a balayage or ombré color to refresh your locks even more.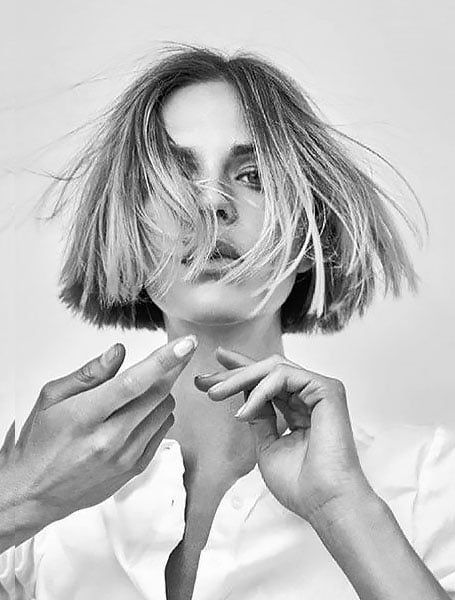 18. Straight Side Pigtails with Colored Hairclips
Want a simple, throwback festival style that's full of sass and attitude yet takes only minutes to style? Try side pigtails with colored hair clips. Pigtails – also called double ponytails – have a playful, youthful, '90s hairstyle appeal – even more so if you pair them with neon scrunchies. Meanwhile, colored hair clips are back in fashion and are a great way to add an extra touch of personality to your look.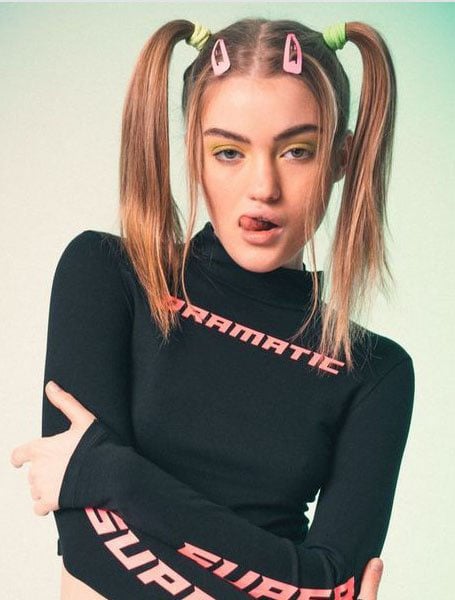 19. Straight Asymmetrical Lob
The asymmetrical lob haircut is a classic hairstyle that's all about glamour – and it's perfect for ladies who love to stand out while still looking professional. It's a cut that can take you from the office to the club, with no re-styling required. Asymmetrical lobs are especially flattering on wider and rounder face shapes, making your face seem longer and narrower.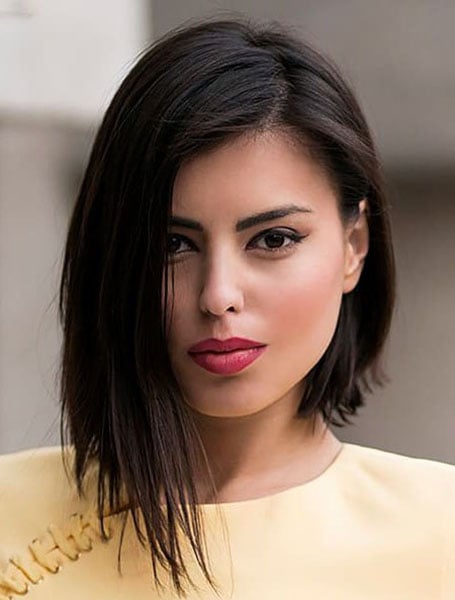 20. Straight Pompadour
Very few styles can compete with a pompadour for sheer style and flair. The height and volume of a pompadour command attention, making this style perfect for those who don't mind being the center of attention. As a pompadour focuses on your face, it looks great paired with bold eye makeup and defined brows.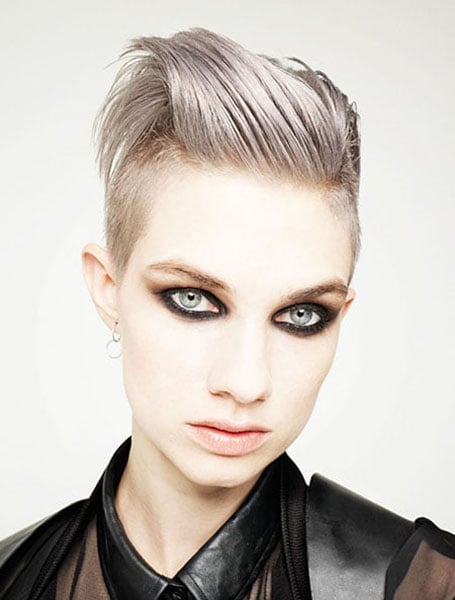 21. Straight Blunt Hair
One of the toughest haircuts to pull off is the blunt short haircut. Like a bowl cut, it's a bold, graphic style that will turn heads – so be prepared to attract glances! Ideal for those who prefer a more androgynous look, a blunt short haircut draws attention to your eyes and cheekbones. Therefore, it's a perfect option if your eyes are your best feature and you have a more angular face.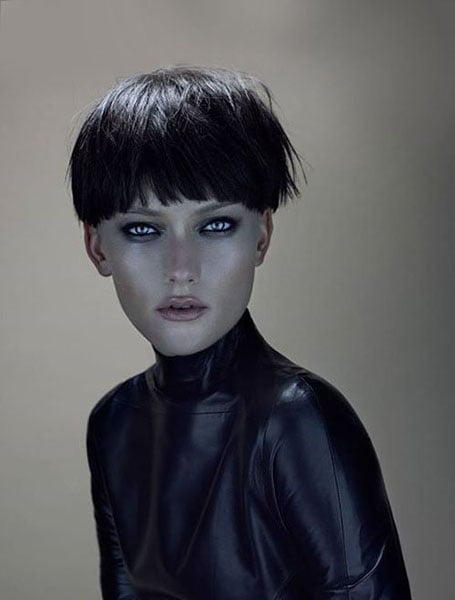 22. Platinum Blonde Long Straight Bob
Platinum blonde is a huge hair trend this year. If you're ready to embrace the ice-queen look, a long straight bob haircut could be perfect for your new hue. Bleaching your hair – particularly if your natural color is on the darker end of the spectrum – can lead to split ends and damage. Therefore, stylists generally recommend cutting off a few inches when you go blonde. For a universally flattering option, a long straight bob works a treat.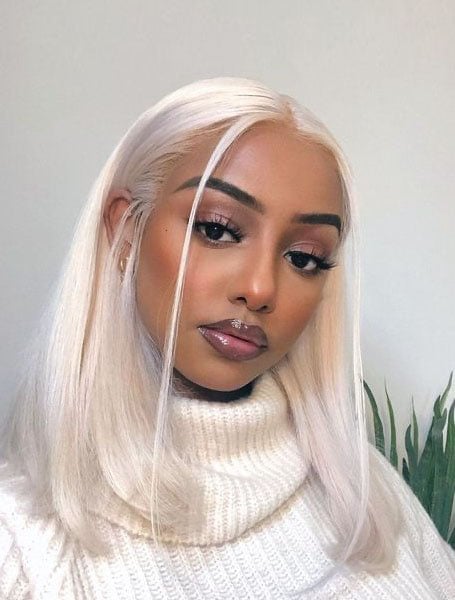 23. Straight Lob with Top Knot
Shake up your straight lob haircut – add a top knot! Cute yet pretty, a top knot makes your face look longer – meaning it's a flattering style for round and square face shapes. At the same time, leaving the rest of your hair loose creates a flattering frame for your face, keeping the focus on your features. To make this style work on straight hair, use a curling wand to create a subtle wave and add a texturizing spray so it's not too sleek.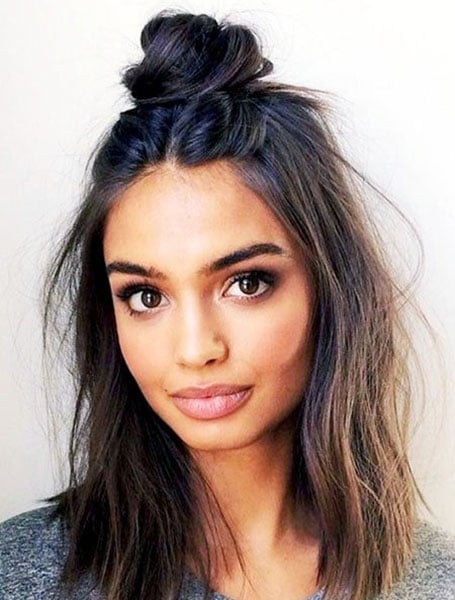 24. Unique Straight Ponytail
Straight hair and ponytails are a perfect pairing. Whether you want a high, medium, or low pony, there's a style to suit every occasion. To take your ponytail to the next level for a special event or show off your creative side – why not try a unique ponytail hairstyle, like a helix braid? Also called a DNA braid, this type of ponytail will attract attention and gives your ponytail a cool twisted look.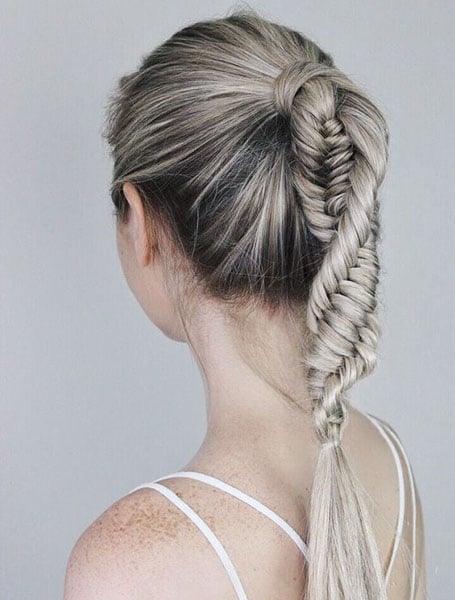 25. Straight Middle Part Bob
No time to style your hair? No problem! A middle part straight bob haircut is the perfect low-maintenance hairstyle for stylish women who want to go from desk to dancefloor in a flash. Sleek and sophisticated, this hairstyle is feminine and flattering – especially if your face is round or oblong shaped. All you need to make your middle part straight bob work is a smoothing serum and a flat iron to ensure no hair is out of place.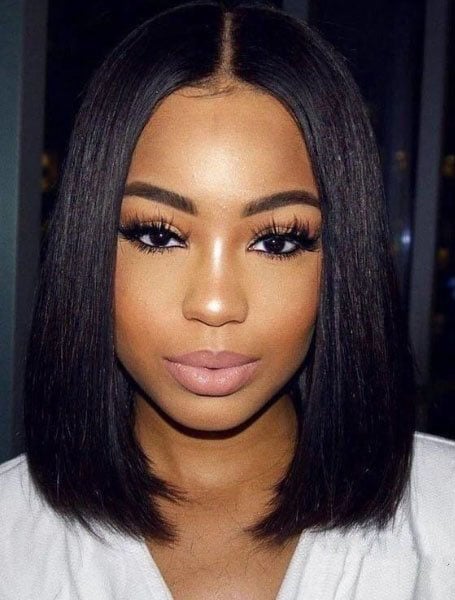 26. Straight Hair Space Buns
Also called double buns, space buns are cute and cool, with '90s appeal. Ideal for the gym, a casual day out, or a festival, space buns couldn't be simpler to create. Part your hair in the middle and create two pigtails. Then twist each one around itself to create the buns. For a fun twist, you can combine your space buns with braids. To make them even more flattering, leave some pieces free at the front to frame your face.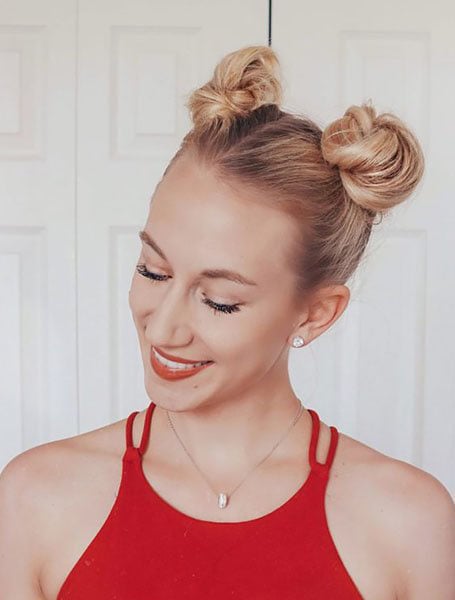 27. Rubber Band Straight Hair
While most rubber band hairstyles are for Afro-textured hair, there are some options for straight hair too. One of the most eye-catching and dramatic is a bubble ponytail. After sweeping your hair in a sleek high pony, secure 'rubber bands' – that are small, thin, strong-hold hair elastics – at intervals down the length of your hair. Then, gently pull each section sideways to create the 'bubble' effect.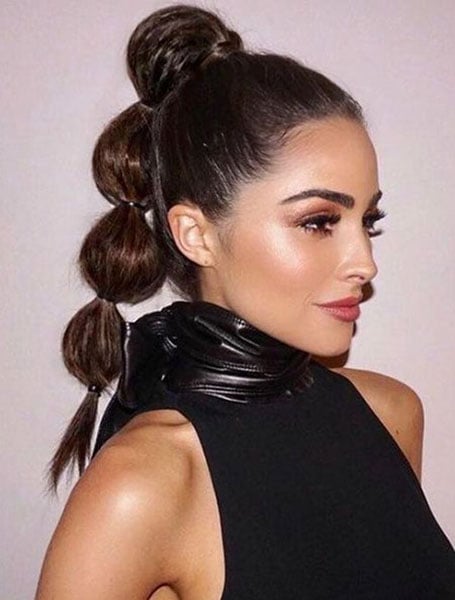 28. Top Bun with Straight Fringe
A top bun is a versatile option for styling straight hair. You can create a gorgeous and glamorous look for a night out or a more casual option for the day. Add a fringe to make a top bun flattering for your face shape. Graduated, natural curtain bangs are a great option that suits most people. Plus, they are some of the easiest bangs to style.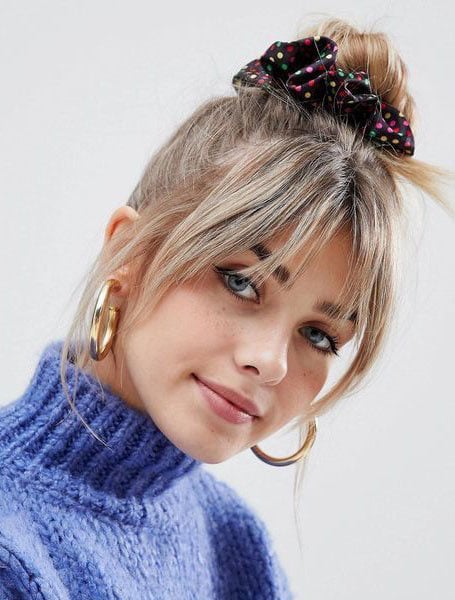 29. Straight Blunt Hair with Bangs
Blunt bangs are a timeless haircut that's ideal for thick, straight hair. The fringe's heaviness hides a large forehead and is also very flattering on those with longer faces. That is because it balances the proportions and emphasizes your features, like your cheekbones and lips. Embrace the retro appeal of the cut by pairing it with '60s-inspired make-up and fashion.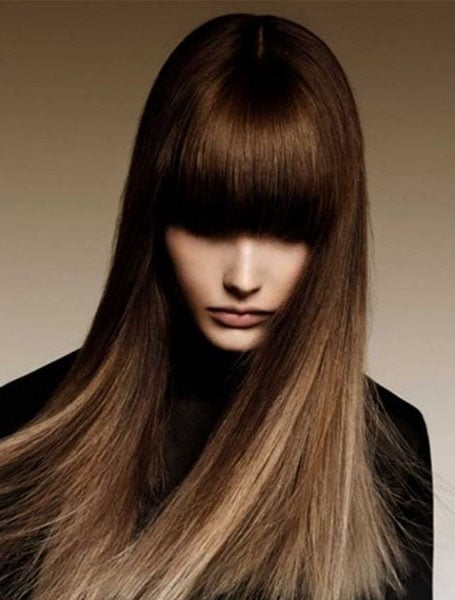 30. Side Swept Straight Bob
A side-swept bob is one of the most versatile short haircuts for women. Your stylist can tailor the cut to suit your needs, adding layers to create shape and definition. For that reason, a side-swept bob is ideal for women with finer hair. As an asymmetrical cut, it's also great for making your face look longer, slimmer, and more balanced. As a result, it's perfect for square and round faces.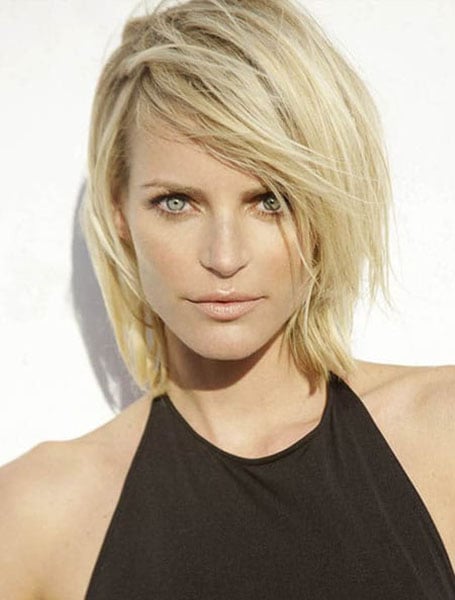 Hairstyles for Straight Hair FAQs
What hairstyle can you do with straight hair?
There are many hairstyles you can do with straight hair. Lean into its natural texture with super-sleek looks like a slicked ponytail or straight bob, or try more casual looks like a messy bun. 
How to make my straight hair look nice?
It's easy to make straight hair look nice – the key is to prep it properly before styling. For a super-sleek look, use a flat iron and smoothing serum to eliminate frizz. Meanwhile, a messier look may require texturizing spray to give your hair some 'grip' and hold the style.
Is straight hair boring?
Straight hair may be simple, but it's far from boring. To give your straight hair some extra personality, try a fresh cut – bangs, layers, or going shorter – or mix up your color with highlights. 
How can I naturally straighten my hair?
You can't make naturally curly hair straight without heat tools, as the curls come from the shape of your hair follicle. However, if your hair is naturally straight, you can make it look straighter by brushing it while wet or rinsing with milk.
Is straight hair rare?
There are a few different types of straight hair, and some are more common than others. The rarest type of straight hair – often called '1A' hair – is ultra-fine, has no natural curl pattern, and won't hold curls or waves when styled. In people of Caucasian descent, around 45 percent have straight hair. The majority of people of Asian descent have straight hair, whereas straight hair is very uncommon in those with African heritage. 
Can you get your hair permanently straightened?
The straightness – or curliness – of your hair is determined by the shape of your hair follicles. For that reason, it's impossible to straighten your hair permanently. In hairdressing terms, 'permanent' hair straightening refers to chemically processes that 'relax' the curls, which means your hair will remain straight until new hair grows.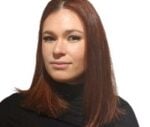 Arabella Roden is a skilled writer and sub-editor with over ten years of experience across print, digital, and B2B. She holds a Bachelor's Degree in Journalism and specializes in beauty, hairstyles, fashion, tattoos, and lifestyle topics. Arabella is currently the Chief Sub Editor at Mecca Brands and has been writing for The Trend Spotter since 2019.
SUBSCRIBE TO OUR NEWSLETTER
Subscribe to our mailing list and get interesting stuff and updates to your email inbox.