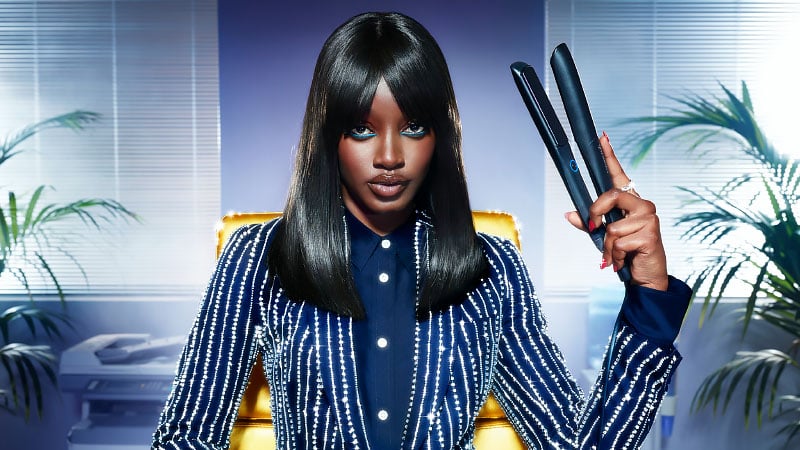 Leaving the house with frizzy and unruly hair can affect your mood, so it may be the time to update your styling routine and find a salon-quality straightener or iron. The best thing about hair straighteners and irons is that they have provided women the ability to tame their tresses and create looks that give them confidence, all from the comfort of their own homes. You don't need to spend a small fortune on finding a product that works either, and many devices on the market are affordable, easy to use, and adjustable, depending on your hair type and texture. What are you waiting for? Create smoother, sleeker locks with minimal time and effort, thanks to these fantastic buys.
1. GHD Classic Flat Iron Styler
Every woman knows that a good hair day is not just a saying; it can be easily achieved with GHD Classic Flat Iron Styler. GHD is a trusted brand that has been favored by hairstylists and fashionistas for a long time, and this hair styler uses advanced ceramic heating technology to create straighter locks. Another highlight is the automatic shut off mode, which happens after 30 minutes. It's a versatile design that takes only 30 seconds to heat up, plus, it's the perfect product to travel with since it has universal voltage.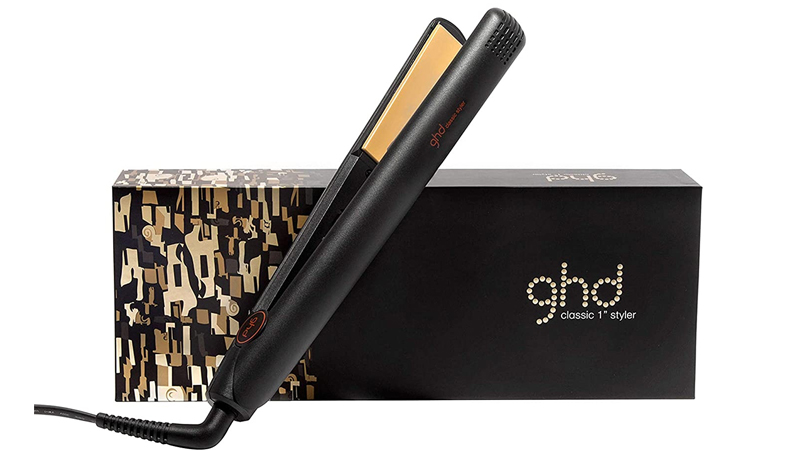 2. BaBylissPRO Nano Titanium Mini Straightening Iron
Babyliss is yet another hairstyling brand that is tried and trusted, and the Babyliss Pro Nano Titanium Mini Straightening Iron is a fantastic product. Not only is it affordable, but it's also an excellent device to travel with since it's just 6 inches in length with a width plate of 1 inch. You can get great hair on the go, or touch up whenever you need to with this little iron, which has even heat disruption, up to 226 °C.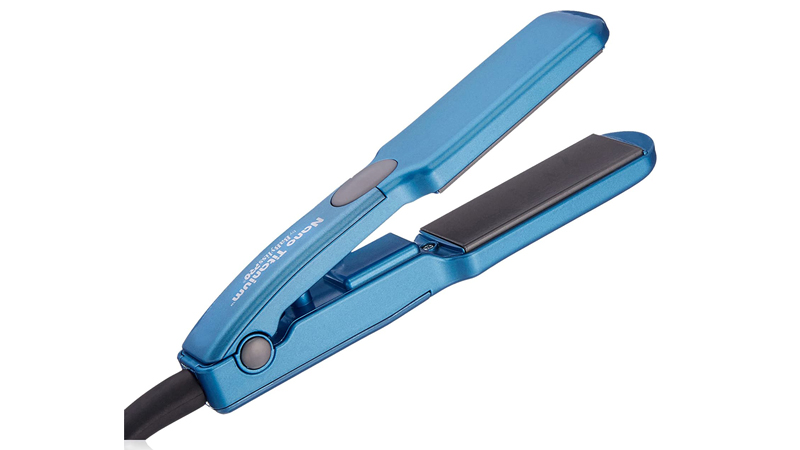 3. HSI Professional Glider Flat Iron
The HSI Professional Glider is a tool that can do it all; create curls and waves or straighten your locks. It's also a product that is easy to use and will deliver results quickly, thanks to the ceramic and tourmaline crystal ion plates. You can alter the temperature, depending on your preference, from 60°C to 230°C, which makes it perfect for different hair types and textures. Another highlight is that the plates evenly distribute heat, so you won't have as much damage or have to stress about hot spots.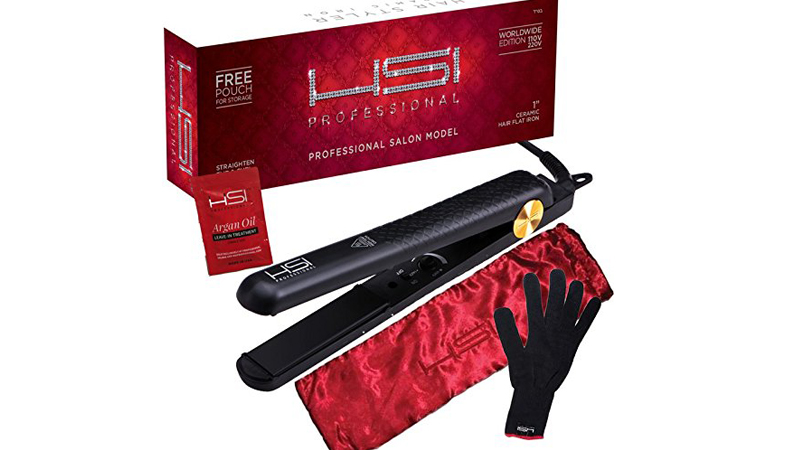 4. Xtava Steam Flat Iron Hair Straightener
An excellent hair straightener is worth every penny, but you don't have to spend a small fortune to find a product that will work for your tresses! The Xtava Steam Flat Iron Hair Straightener is at the lower end of the price range, but it does its job well. Xtava was designed to focus on straightening hair without causing unnecessary damage. How it works is simple; you can choose the temperature you need, depending on your hair texture, between around 176 and 204°C. Then place the straightener downward to start the steam function while tightly moving it across the hair between the nano ceramic and tourmaline plates.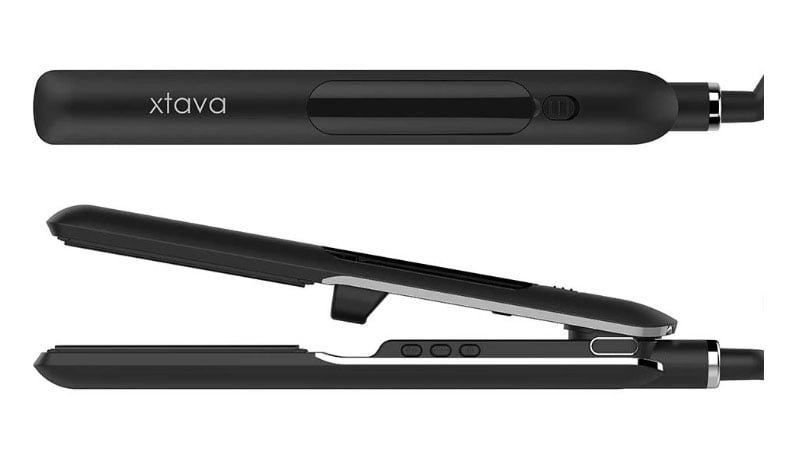 5. HSI Professional Ceramic Flat Iron
It takes just a few seconds for the plates of the HSI Professional Glider to warm up, and it will deliver even heat to tame your frizzy or unruly hair. It is simple, easy to use, and will be a welcome addition to your hair styling collection. Unlike some of the other designs on the market, this one does not come with an automatic shut off. Make sure to turn off your product and store it correctly.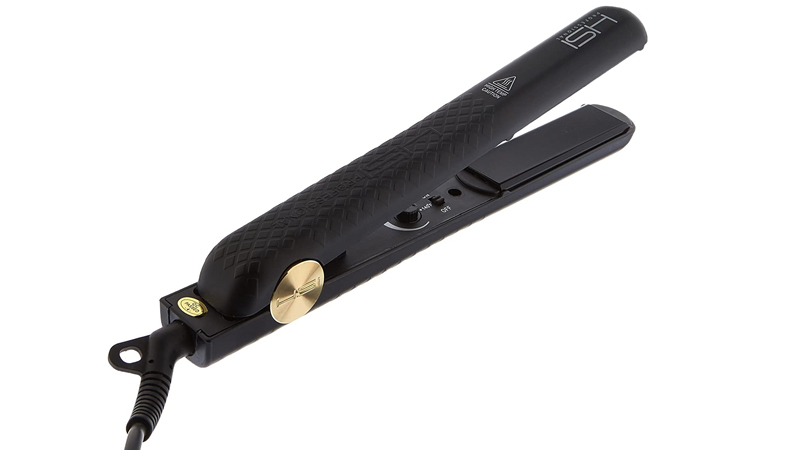 6. Remington S9520 Pro 2″ Pearl Ceramic Flat Iron
Remington S9520 Pro 2″ Pearl Ceramic Flat Iron is a pretty device, but it's also functional. It has a high heat of 230°C, which takes just 15 seconds to heat up, and a fantastic 2-inch floating ceramic plate to enhance effectiveness while ensuring less damage and frizz. The result creates silky smooth hair with minimal effort, and the flat iron will effortlessly glide over the hair. If you have thick and coarse hair, this also helps to save time!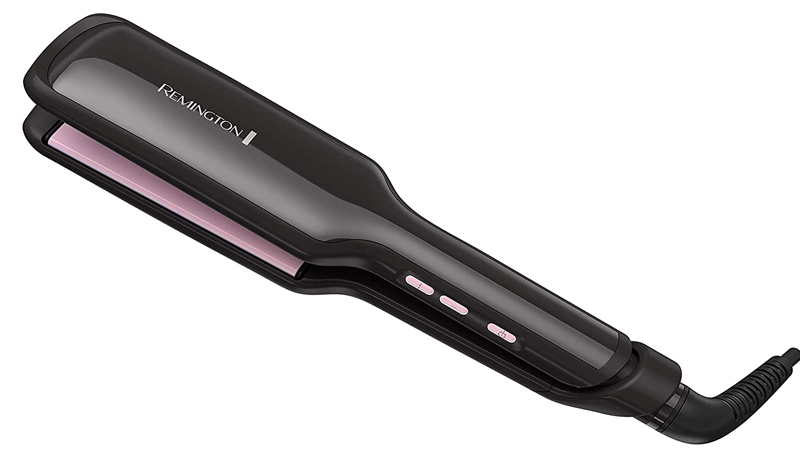 7. Furiden Professional Hair Straightener
Furiden prides itself on creating tools that can help you style your hair effectively and with ease. For this reason, they offer a 6-month warranty on their products and encourage users to contact their customer support if they have any issues. Excellent service aside, the Professional Hair Straightener model also includes a directional switch, a 360° swivel long cord, and floating plates to ensure heat is balanced but also gives you more control. The offer consists of clips, a flat iron bag, a comb, and a heat-resistant glove, so you get everything you need to create luscious locks.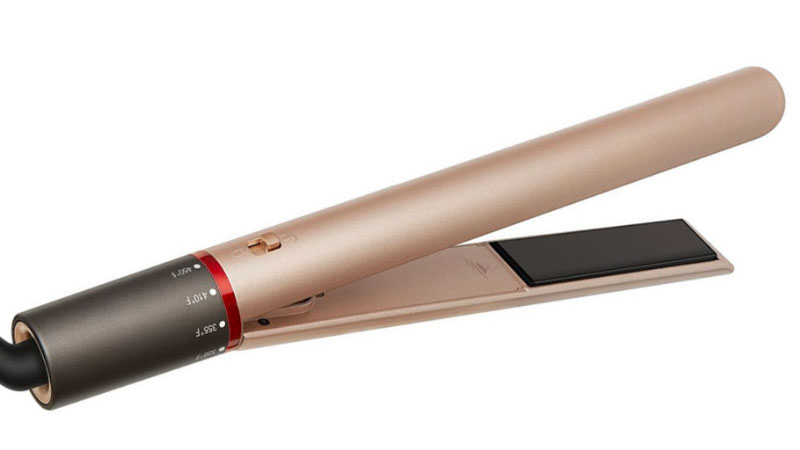 8. KIPOZI Pro Nano Titanium Flat Iron Hair Straightener
The color alone may be enough to draw you to the KIPOZI Pro Nano Titanium Flat Iron Hair Straightener, but this product does much more than just look good. The device comes with an LCD digital display, so you know what temperature you're using and when the iron is ready. The heat settings are adjustable, depending on your hair type or need. Other highlights include a travel pouch, auto shut off capabilities, and a 360-degree swivel cord for ease of use. Buy this straightener for gorgeous, smooth locks.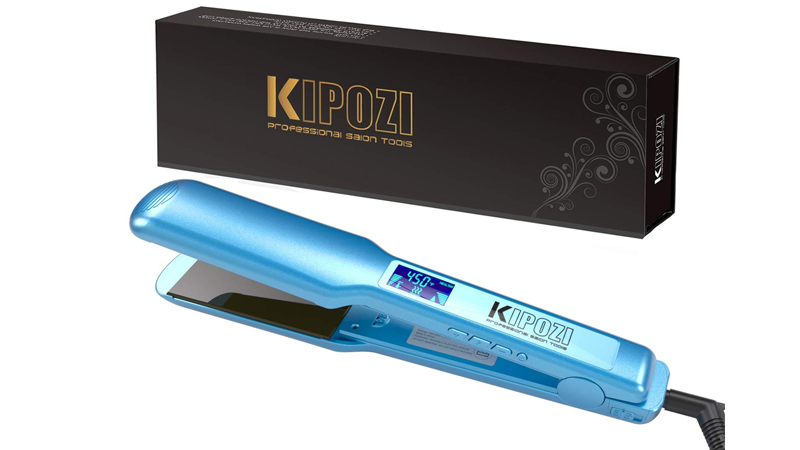 9. LumaBella Keratin Dual Touch Hair Styler
LumaBella has not been around as long as some of the other hair care brands; that said, they are an innovative company that is standing out in the hair industry. The Keratin Dual Touch Hair Styler is an appealing product because it has been designed with ceramic plates filled with infused keratin micro-conditioners. These transfer into the hair when using the product. Another highlight is the heat sensor strips within the product, which can automatically adjust the temperature to protect the hair from damage. It is a flexible tool with a variety of options, so you can great voluminous curls or sleek and straight hair.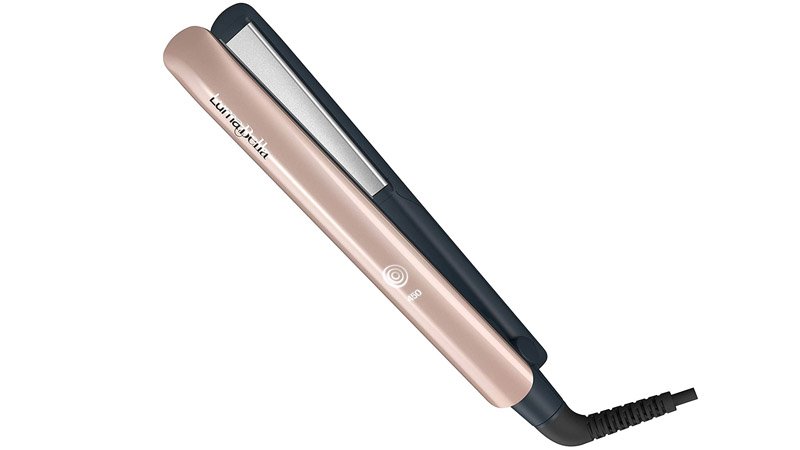 10. Remington Flat Iron with Anti-Static Technology
If you are looking for a cost-effective and straightforward way to tame your tresses, the Remington Flat Iron with Anti-Static Technology is for you. The product has been designed with a reduction of static in mind and is believed to be able to minimize the negatively charged particles, and static. The results create less flyaway hair and frizz! The ceramic plates are longer for ease of use and efficiency. There are eight heat settings to choose from — ranging from 155°C to 230°C. The flat iron warms up in just 30 seconds and comes with a 2-year limited warranty.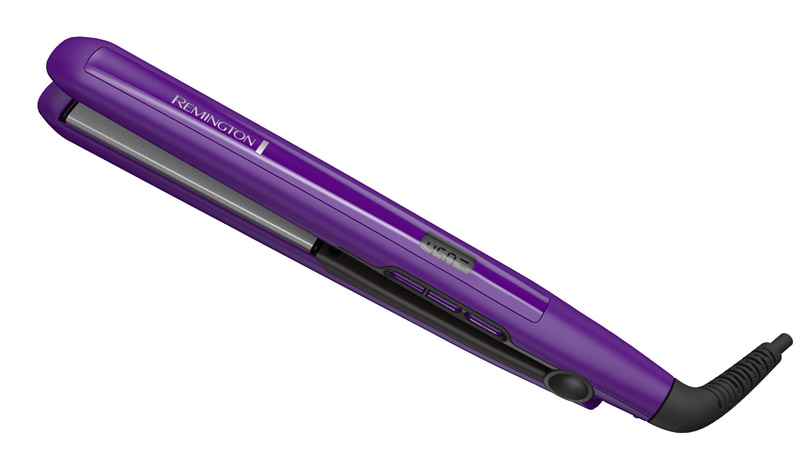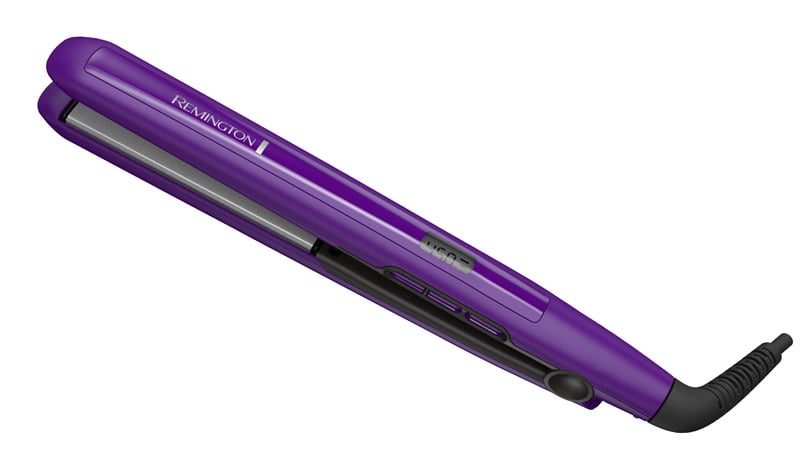 11. Conair Instant Heat 2-inch Ceramic Flat Iron
Great hair is just a flat iron away. There are many appealing things about Conair's Instant Heat 2-inch Ceramic Flat Iron; for starters, the product comes with 25 heat settings, making it easy to choose what you need. It takes just 30 seconds to heat up and has extra-wide coated plates, which allow for even distribution and help to create a smoother look, faster. Other pros include the auto-shutoff control for better safety and the power-on light indicator.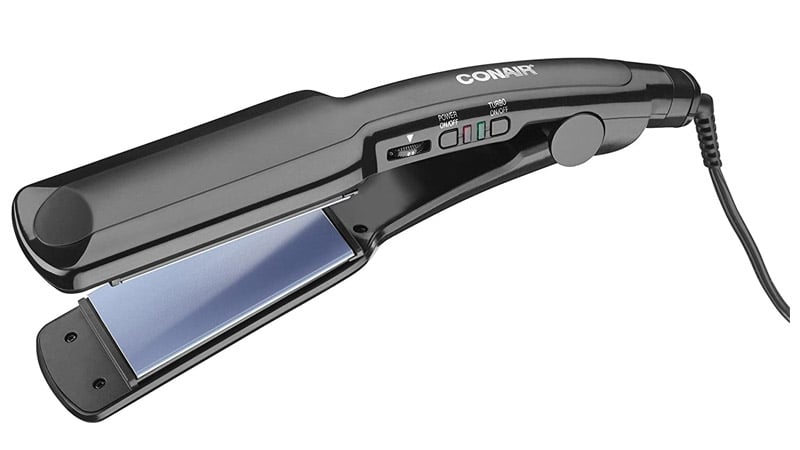 12. BIO IONIC Onepass Straightening Iron
The BIO IONIC Onepass Straightening Iron is equipped with silicone speed strips, which ensures that you can straighten your hair faster and more efficiently. At the same time, it will help to increase the overall shine of the hair. This iron technology is a major pro, but the device also wants users to have more control over their hair. Plus, you'll benefit from a reduction in damage, thanks to the OnePass Iron plates, which use a combination of natural negative ions and far-infrared energy, designed to hydrate locks and reduce frizziness.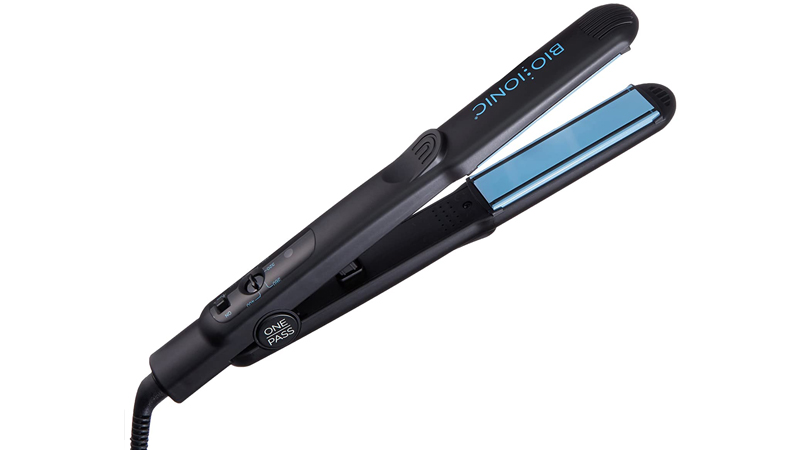 13. CHI G2 Ceramic and Titanium Straightening Iron
As the name of the CHI G2 Ceramic and Titanium Straightening Hairstyling Iron suggests, this device uses a combination of ceramic and titanium infused plates to help you create silky smooth or beautifully curly hair. The product has an option for preset temperatures and takes less than a minute to heat up. Select the temperature that's right for you. You can do this by opting for either fine and fragile hair on low heat, to coarse and resistant hair on the highest setting. It is one of the easiest ways to get frizz-free hair without the fuss!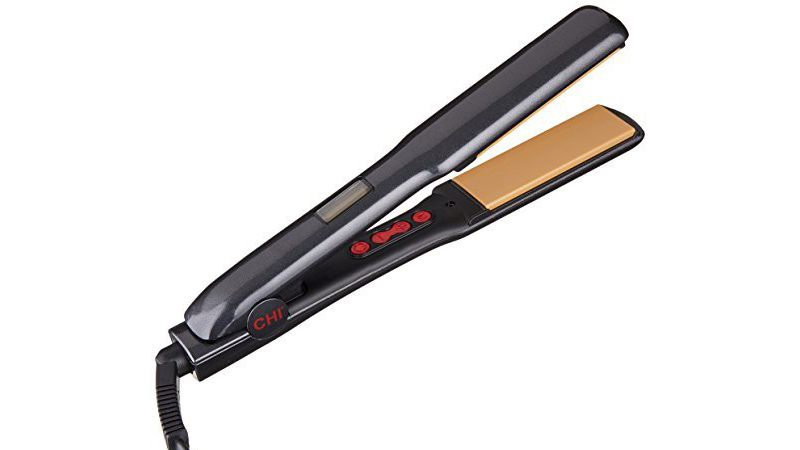 14. INFINITI PRO BY CONAIR Tourmaline Ceramic Flat Iron
You don't have to spend hours in the salon to get smooth locks; all you need is the INFINITI PRO BY CONAIR Tourmaline Ceramic 2 inch Flat Iron. The combination of Tourmaline Ceramic help reduce the frizziness and prevents flyaways, for shiny, smoother hair. You will love this flat iron because it is suitable for all hair types. There is also a handy auto-off safety option and five heat settings. As a bonus, this high-quality device comes in an eye-catching color.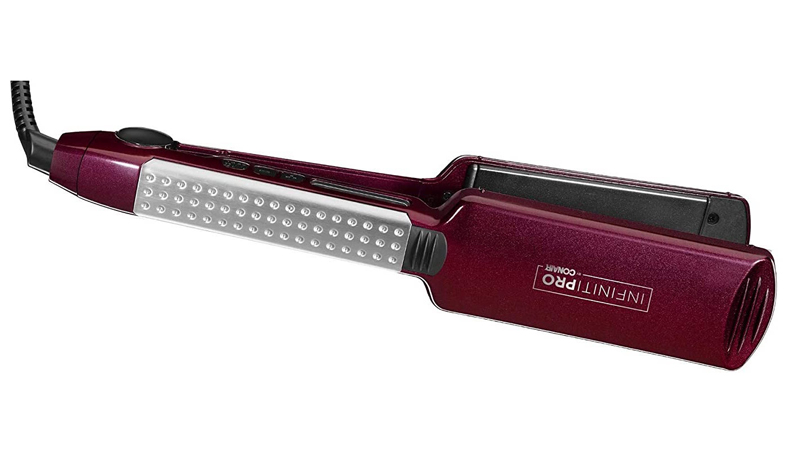 15. Bestope Hair Straightener
The wide plate of the Bestope Hair Straightener makes it ideal for effortlessly styling long and thick hair. It features salon-grade ceramic technology and heats up to 230°c which means it sails through even the curliest or thickest locks. It features salon-grade ceramic technology for even heat distribution and a swivel cord for easy styling.
FAQs
What is the best flat iron on the market?
The best flat irons on the market are ones that are simple to use, reach your desired temperature quickly, and distribute heat evenly, which helps to prevent hair damage. When choosing a flat iron, it's also important to take into account your personal needs. The best flat irons are lightweight and easy to manoeuver and come with handy features like variable temperature control or automatic safety shut-off. 
What is the best type of hair straightener?
The term 'hair straightener' refers to many different products that can straighten your hair, including hot brushes and hot combs – even hairdryers. However, the best hair straightener for achieving super-sleek tresses is a flat iron. 
Are GHD still the best straighteners?
GHD is perhaps the most well-known premium hair straightener brand, and its flat irons are still incredibly popular with both professionals and customers alike. High-quality and reliable, GHD straighteners deliver outstanding results every time. Plus, they often have useful bonus features. However, GHD does have competition from other brands, some of which are more affordable. 
Is titanium or ceramic better for flat irons?
While both ceramic and titanium flat irons are very effective when it comes to achieving super smooth, silky locks, there are some differences. Titanium heats up faster than ceramic and can reach higher overall temperatures. It also emits slightly more negative ions, which are responsible for minimizing frizz by capturing moisture and reducing static. For those reasons, titanium flat irons are usually recommended for taming very thick, coarse hair. On the other hand, ceramic flat irons are better suited to fine and sensitive hair that is more susceptible to heat damage. While ceramic flat irons tend to be more affordable than titanium ones, they are not as durable – titanium plates are less likely to break if dropped. 
SUBSCRIBE TO OUR NEWSLETTER
Subscribe to our mailing list and get interesting stuff and updates to your email inbox.