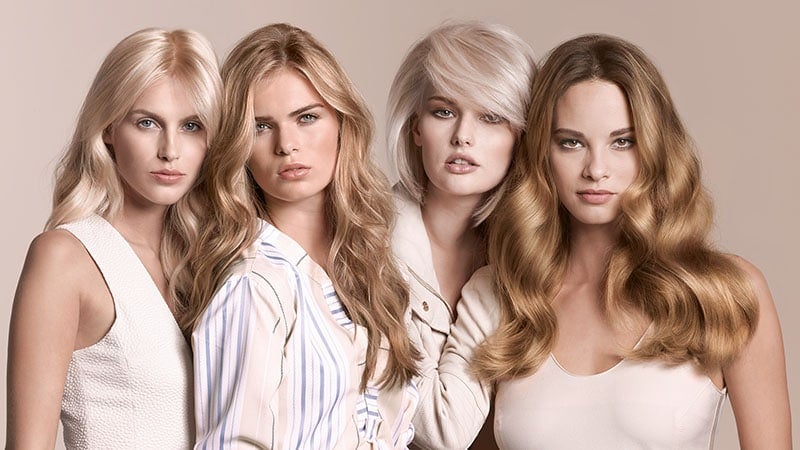 While dark hair can look rich and sultry, only blonde hair has the power to convey energy, youth, and fun in such an incredible way. Light, bright, and gorgeous, blonde hair is a tempting color that most women try at least once in their lives. These days, thanks to some incredible advances in hair coloring, going blonde needn't be scary. All you need to do is find the right shade of blonde to suit you and you'll be looking like a bombshell before you know it.
RELATED: How to Get Platinum Blonde Hair in 6 Easy Steps
Light Blonde Hair Colours
Perfect for ladies who were born blonde, light blonde colors can be soft, feminine, and striking all at once. If you have fair skin and light-colored eyes, such as blue or green, these shades will most likely hit your sweet spot.
Platinum Blonde Hair
Platinum blonde is one of the lightest shades of blonde possible and looks best on fair skin tones and some medium skin tones with a yellowish tint. The color also looks particularly striking when paired with bright blue eyes to create an "icy" effect. Made iconic by Marilyn Monroe, this unique hue is a perfect bombshell blonde color but can also work well with edgy, modern styles.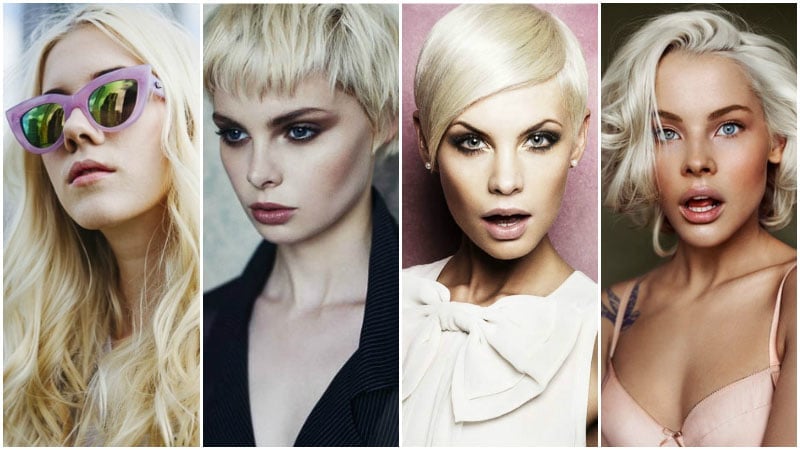 Ash Blonde Hair
Sort of like a cool shade of platinum, ash blonde hair is a whiter blonde hue that features a grey or ash-colored tint. This light hair color looks best with light complexions and light eye colors, such as blue, green, and light hazel. If you've already got light blonde hair, you can quickly achieve this look through balayage. For those with darker hair, the transition may take longer but you have the option of leaving your roots dark to add dimension.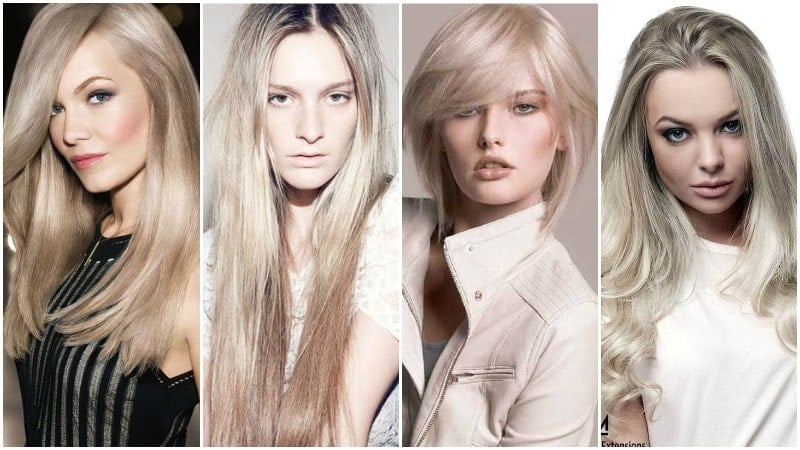 Silver Blonde Hair
Silver-blonde hair colors are cool, edgy, and modern. Like a dramatic version of ash blonde, silver-blonde is perfect for when you want a striking look that's sure to grab attention. The daring tone best complements light complexions with blue or green eyes. If you have a medium to dark complexion or brown eyes, however, consider trying this look with some subtle darker blonde tones mixed in.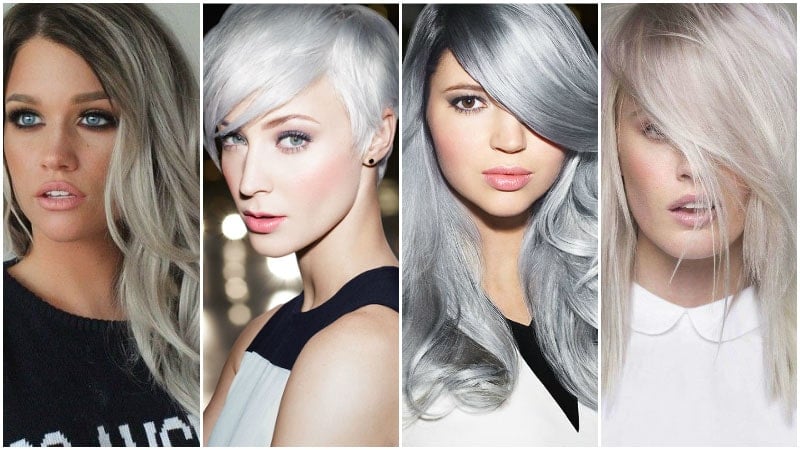 Natural Blonde Hair
Natural blonde hair is designed to look like you were born with it. Also known as "baby blonde", this look is best achieved with a mixture of highlights and lowlights all around the same tone. For this look to work, you want the change in color to blend seamlessly and be hardly noticeable. Natural blonde can work on any skin tone as long as you choose the right shades. For fair skin, choose lighter tones, and for darker complexions, choose deeper hues.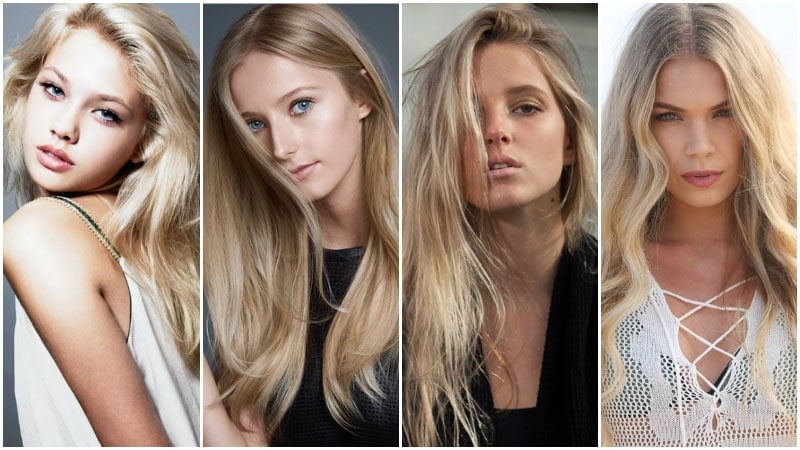 Medium Blonde Hair
While light blonde colors can often wash out medium skin tones, medium blonde colors provide a great option. Light enough to be undoubtedly blonde, but dark enough to provide a complementary contrast to your skin, medium blonde hues are perfect for tanned ladies and those with reddish undertones.
Dirty Blonde Hair
Dirty blonde hair is a medium-toned shade of blonde with wheat or "dirt" hues blended throughout. The color is perfect for light to medium skin tones and has a gorgeous natural appeal. While the hue can work well with any eye color, it's a particularly good option for ladies with hazel or brown eyes.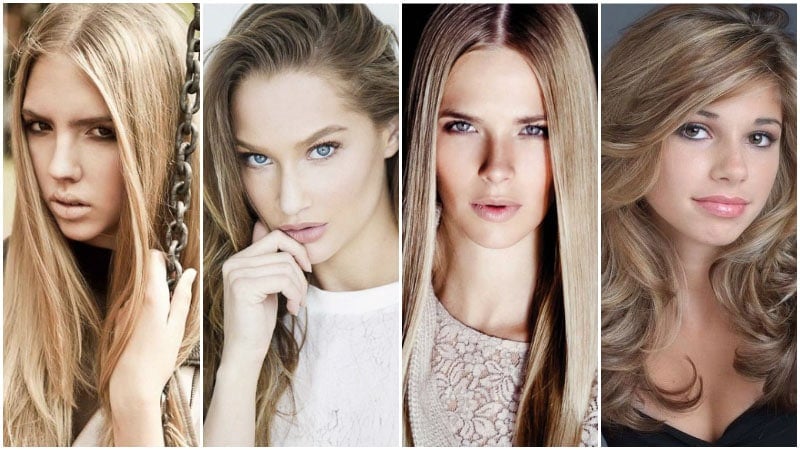 Golden Blonde Hair
Golden blonde is a wonderful multi-tonal color. Featuring shades of butter, gold, and honey blonde, golden blonde hair is warm and natural-looking. The color looks best when paired with fair to medium complexions and light eye colors, such as pale blue and green. To achieve this radiant, sun-kissed blonde, ask your colorist for balayage highlights throughout your hair.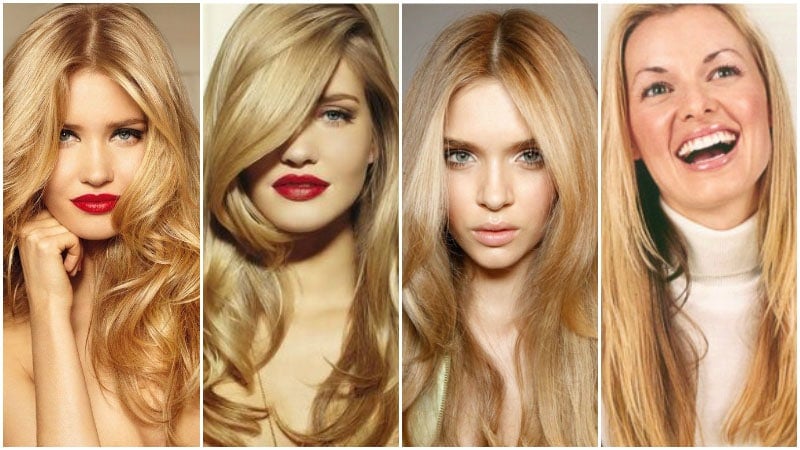 Honey Blonde Hair
Honey blonde is a gorgeously warm blonde hair color. The shiny hue is perfect for those with medium skin tones and works best if you naturally have dark blonde or light brown roots. The cute color also looks fantastic with darker eye colors as its warmth has the ability to bring out golden flecks in brown eyes.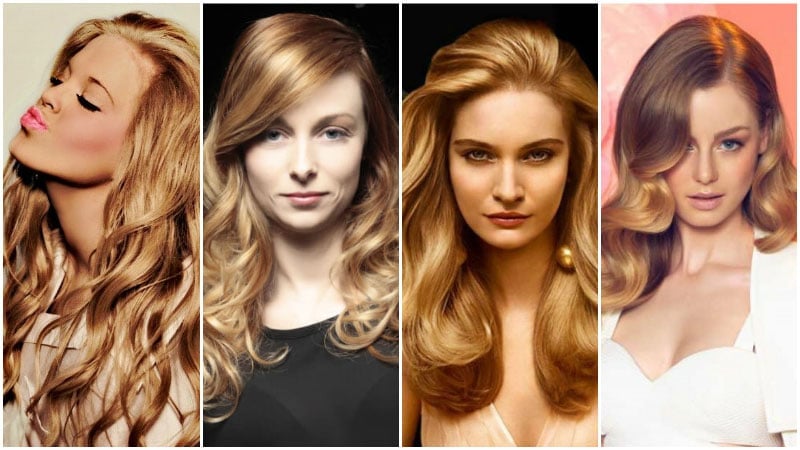 Sandy Blonde Hair
Sandy blonde hair is quite a rich shade of blonde with a subtle warmth. Best paired with light complexions that feature a yellowish undertone, this color is perfect for slightly tanned beach babes. If you also have blue eyes, all the better. To achieve this gorgeous blonde hue, ask your colorist for a dark, warm blonde base with cool, beige-toned highlights on mid-lengths and ends.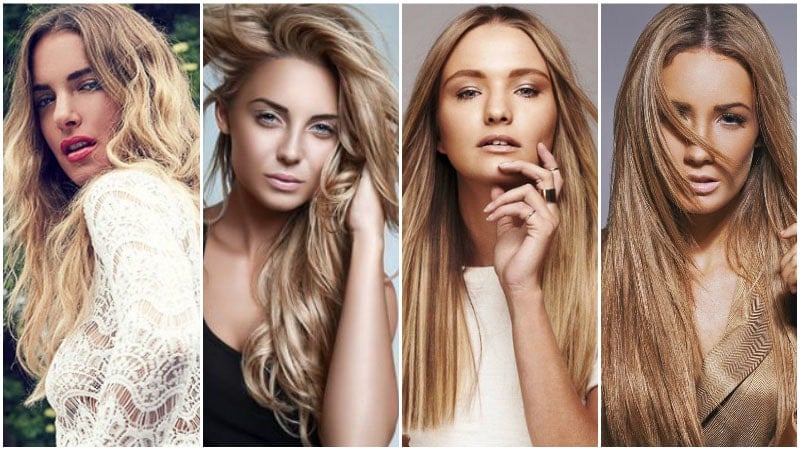 Auburn Blonde Hair
Auburn blonde is a rich, warm color with a slight brassy appeal. The shade is similar to that of both copper and strawberry blonde hues but features a more orange/yellow tint instead of red. The unique color can work for any skin tone but looks particularly good with fair to medium complexions. Auburn blonde can also be a great way to transition between light blonde and darker hues.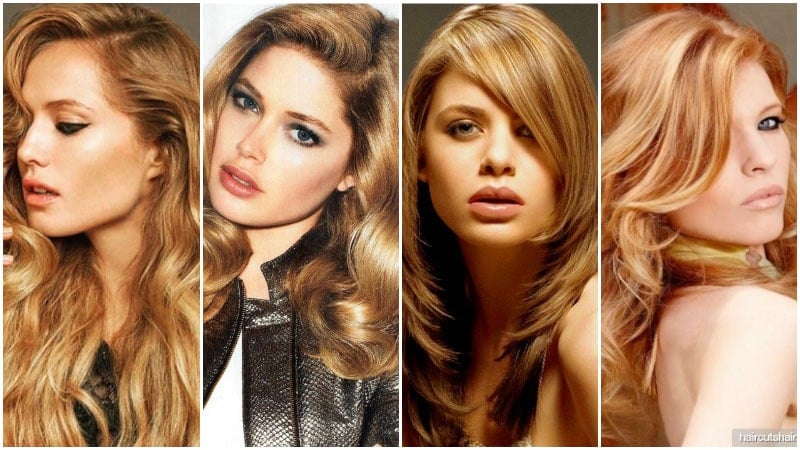 Copper Blonde Hair
Copper blonde is a vibrant blonde hue that features amber undertones. The rich and warm color is perfect for medium-toned complexions and both deep blue and light brown eyes. The pretty color is also a great way for ladies with dark hair to go blonde without it looking too brassy.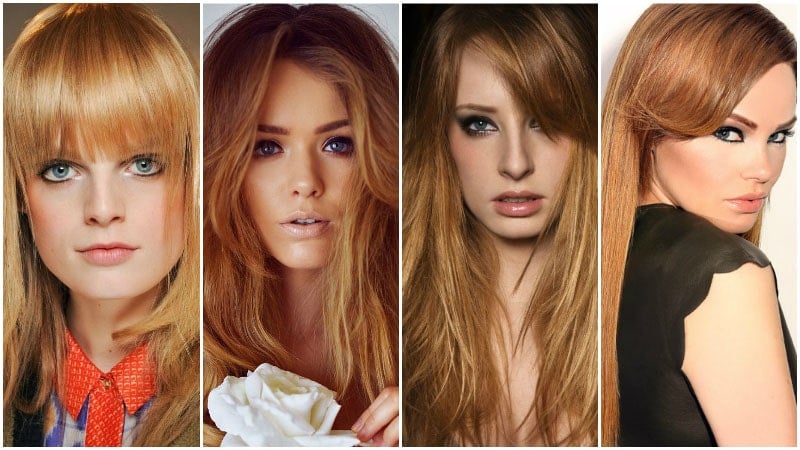 Strawberry Blonde Hair
Strawberry blonde is a very warm shade of blonde. Featuring a reddish/brown tint, strawberry blonde appears almost like a sunset tone. The light, warm color tends to look best with fair skin tones and light eye colors. Easy to achieve if your hair is already a light color, this lovely color can be created by applying red tones to a soft blonde base.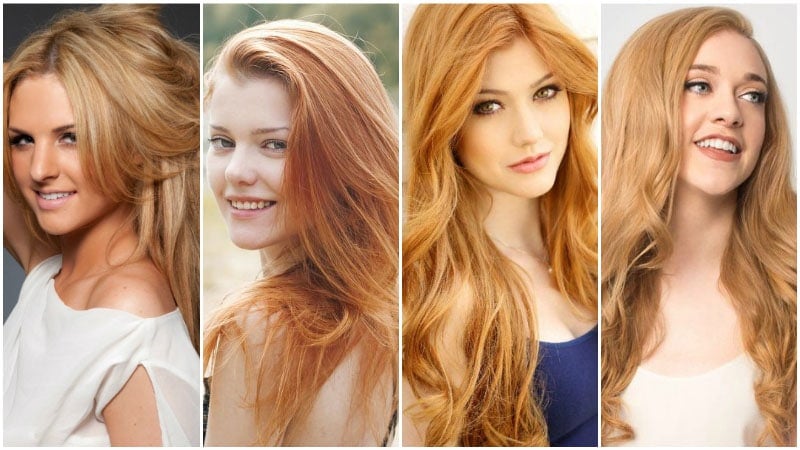 Blonde Ombre Hair
Ombre hair has been one of the biggest hair trends of recent years. Perfect for bridging the gap between brown and blonde locks, ombre starts dark and fades into a much lighter hue. While this color can look great on just about anyone, it best suits those with medium or olive skin tones and dark eyes.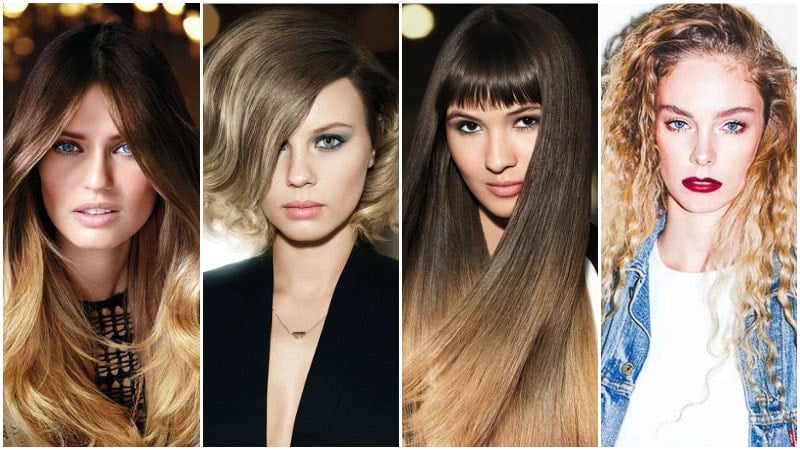 Dark Blonde Hair
These days, blonde hair is for everyone, not just the fair-skinned. If you have a medium, olive, or dark skin tone, you can still rock blonde locks, all you need to do is choose a dark hue.
Chocolate Blonde Hair
Chocolate blonde is a mixture of both brown and blonde tones. Both darker and cooler than golden, caramel blondes, chocolate brown hair looks best with medium skin tones and either dark or light eye colors. By lightening or darkening the shades of blonde and brown used, however, this color can be adjusted to suit just about anyone.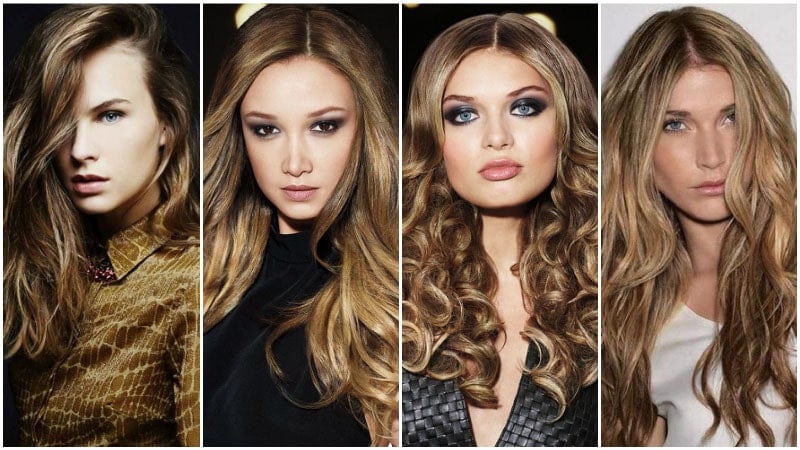 Caramel Blonde Hair
Falling somewhere between a lustrous blonde and golden brown, caramel blonde is a warm, dark shade. This color can look good on any skin tone but appears most natural on medium and dark complexions. The color can be created by starting with a dark, gold blonde base and adding soft brown lowlights and beige highlights throughout.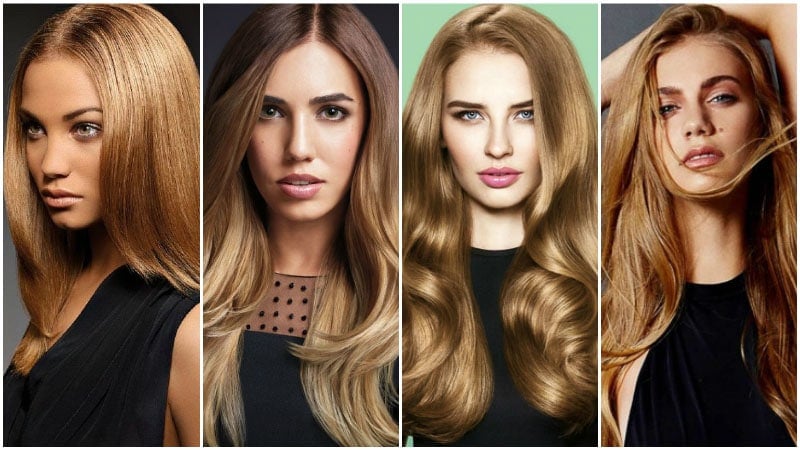 Cherry Blonde Hair
Cherry blonde hair features a rich red or "cherry" hue. More vibrant and deep in color than strawberry tones, cherry blonde is less natural looking and more striking. Perfect for medium skin tones and brown or hazel eyes, this color can be created by dying hair blonde and adding a cherry tone over the top.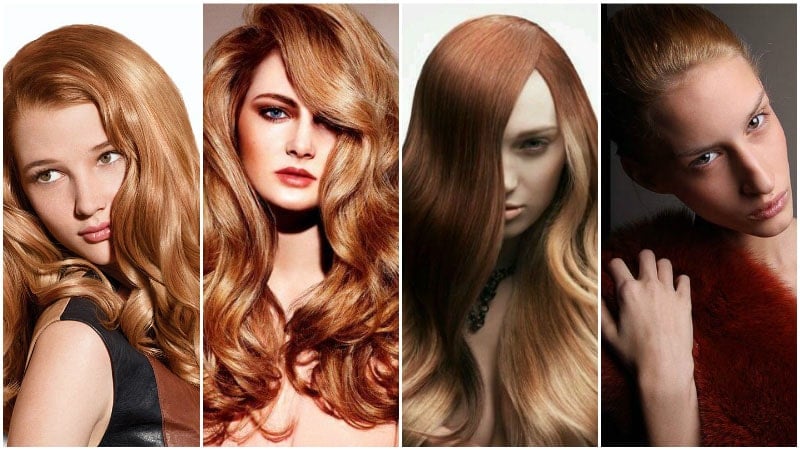 Black Hair With Blonde Tips
Black hair with blonde tips is one of the most striking hair colors. The dramatic look is ideal for ladies with lighter skin and dark eyes but can be worn by anyone. The look can be created with either ombre, dip dye, or highlight techniques.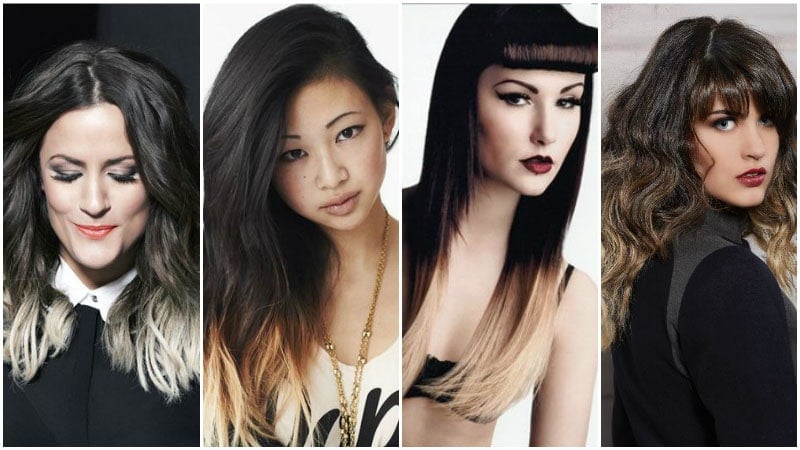 Dark Strawberry Blonde Hair
Like regular blonde colors, strawberry blonde can also have different hues. A dark strawberry blonde can provide a great, more radiant alternative to regular strawberry blonde. Featuring a more vibrant tone, this shade of strawberry blonde is better suited to medium skin tones.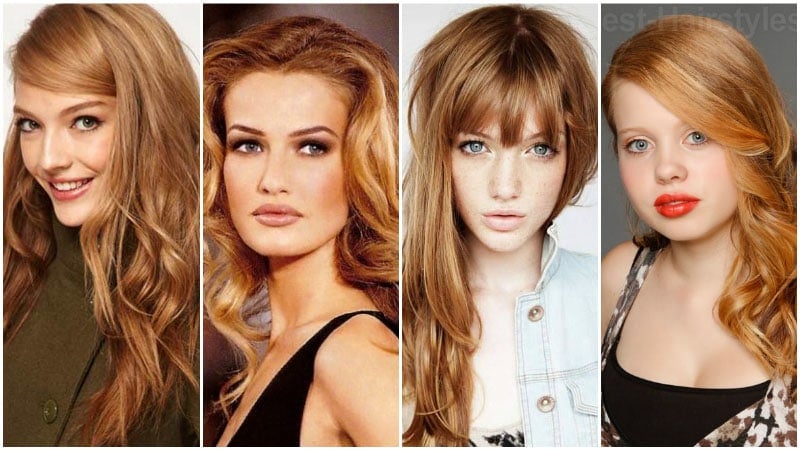 How to go Blonde
Visit a good colorist and ask for their advice.
Think about what kind of image you want to create with your blonde hair.
Be sure to consider your eye and skin color in order to choose your perfect shade.
If you're naturally blonde, try to stay close to your regular shade while enhancing it.
Highlights and lowlights will add great definition to blonde hair.
Colour maintenance is essential to keeping your blonde looking great.
Blonde Hair FAQs
What is the most popular blonde hair color?
All shades of blond are always pretty popular. However, on-trend shades at the moment include ash, silver, platinum, strawberry, golden, natural, and dark blonds.
What shade of blonde is right for me?
The right shade of blond will depend on your colorings and undertones. Cool shades are generally best suited for pale skin with pink undertones, while warm and darker blonds are better for warmer, more golden skin. The right shade will also depend on how much maintenance you want to do. Blond can have more upkeep, especially if you have naturally dark hair, so keep the time and cost in mind when deciding. Finally, if you already have damaged or brittle hair, avoid significant color changes that will require a lot of bleach, as this will cause more harm.
Is it blond or blonde?
Blond has its origins in the French language, which uses grammatical gender. As such, there are different spellings for the same word when talking about women versus men. If a woman has light-colored hair, she is blonde with an 'e'; however, if a man is blond, there is no e. When it comes to the use of the word in English, it differs again. In American English, blond is the preferred spelling for all applications, while in British English, blonde with an 'e' is correct.
What does ashy blonde hair look like?
Ashy blond hair is very light in color but with cool undertones that are almost silver.
SUBSCRIBE TO OUR NEWSLETTER
Subscribe to our mailing list and get interesting stuff and updates to your email inbox.