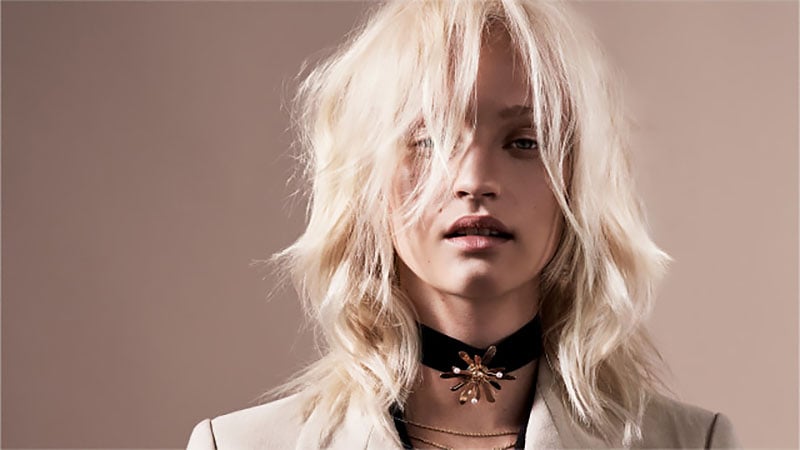 Medium length – also known as mid-length hair – is having a moment. Beloved by fashion editors and influencers, it's the perfect not too long, not too short haircut. In general, a medium-cut sees the ends of your hair at your collarbones or your shoulder blades. This type of hairstyle works with all hair types – from straight to wavy, curly, and natural – as well as all hair textures. It also flatters all face shapes and is less high-maintenance than long hair. Check out these beautiful and stylish medium-length hairstyles and get inspired for your next visit to the salon.
1. Layered Bangs + Medium Hair
Layered bangs give your haircut more movement than a blunt fringe and frame your face beautifully. Combine them with wavy medium-length hair to create a relaxed and beachy look. Texturizing products, such as sea salt spray, are essential and add to the laidback, California-cool vibe. The final result gives a subtle nod to the '70s shag cut but with a modern twist.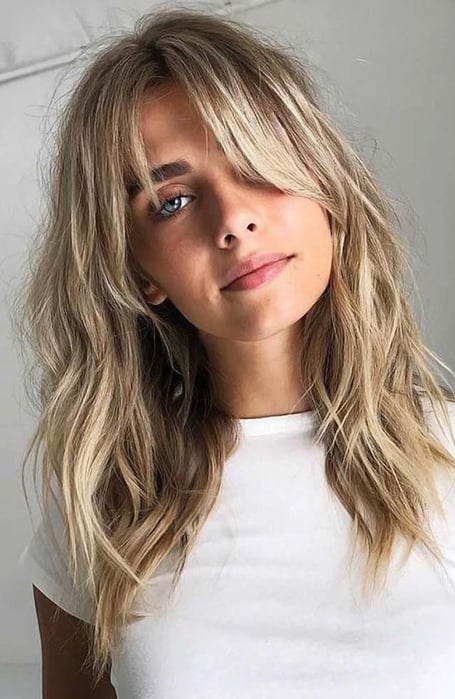 2. Medium Length Hair + Blunt Bangs
Blunt bangs – also known as thick bangs – are the perfect complement to medium length hair. A favorite of French models and influencers, the blunt bangs-medium length combination makes your hair look thicker and draws attention to your eyes. It also gives you a more youthful appearance. For best results, try the cut with brunette color, like rich chocolate or chestnut.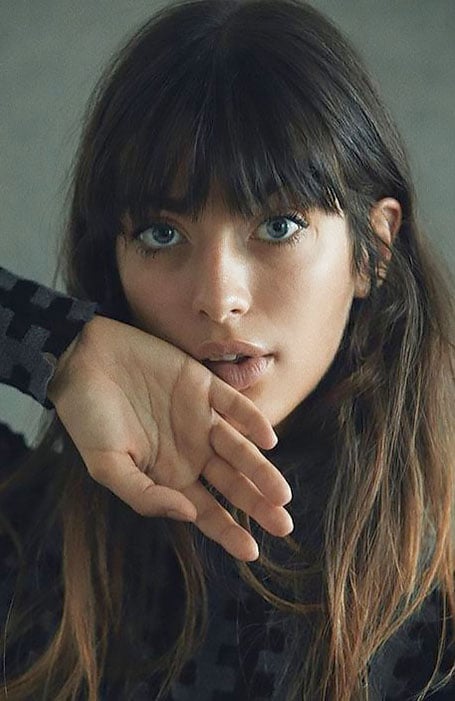 3. Wispy Bangs + Medium Length Hair
Wispy bangs are also known as thin or 'piece-y' bangs. They differ from blunt bangs in that they don't cover your whole forehead. Instead, they fan out and create a lighter, softer, and more relaxed effect – especially when combined with wavy medium-length hair. Wispy bangs suit those with the fine and thin hair types, as they don't require as much hair to create the fringe itself.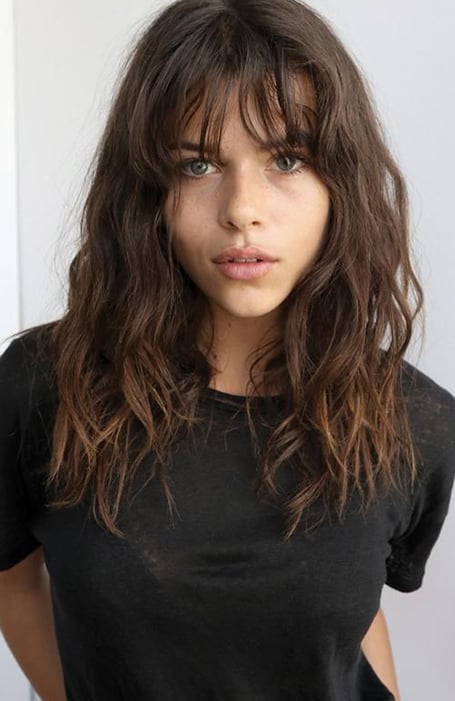 4. Medium Length Cut for Fine Hair
Hair that's fine or thin can look limp and lifeless if grown too long. As a result, a medium-length cut suits those with that hair type. To create the illusion of thickness and volume, use mousse at the roots when you blowdry and add a spritz of texturizing spray. You can also try clip-in hair extensions as medium-length hair is long enough to blend in seamlessly with them.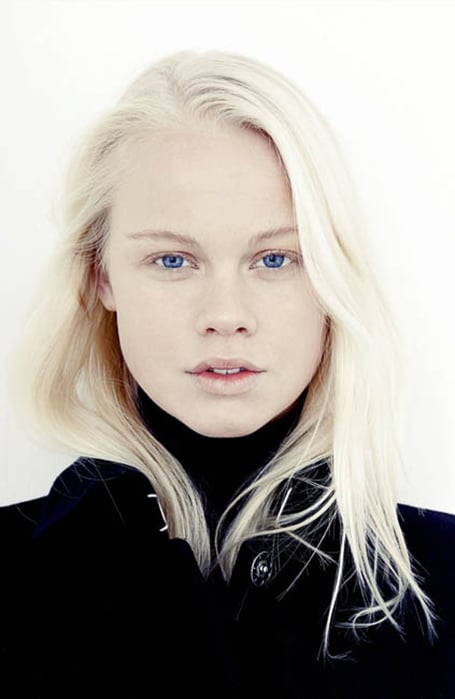 5. Medium Hair + Long Layers
Long layers are ideal for those with naturally thick locks, as they visually 'break up' the hair and add more movement and direction. At the same time, a medium-length cut works well for thicker hair as it won't take as much time to wash, dry, or style as long hair. If you opt for the medium hair with long layers cut, try adding some face-framing pieces or even long side bangs too for a flirty and flattering finish.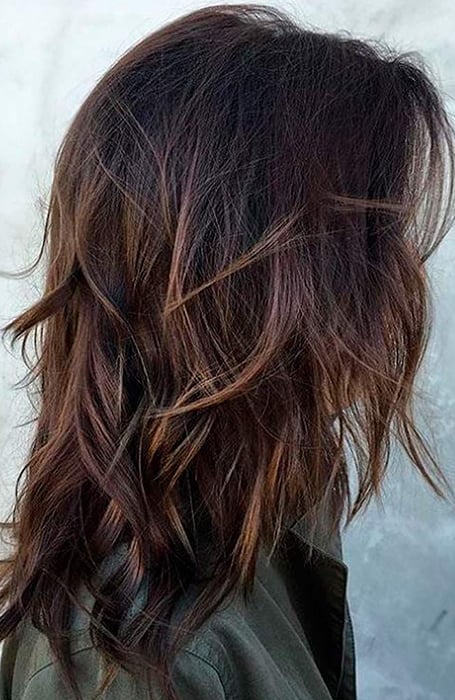 6. Medium Length Hair + Short Layers
In hair cutting terminology, the length of your layers – long or short – refers to the difference between the longest and shortest pieces, rather than where the layers themselves end. The shorter the layers, the smaller the difference between them. A medium length haircut with short layers will add volume and body, making it ideal for those with hair that tends to fall flat. Additionally, short layers tend to flick out at the ends, so this cut has a fun '70s vibe.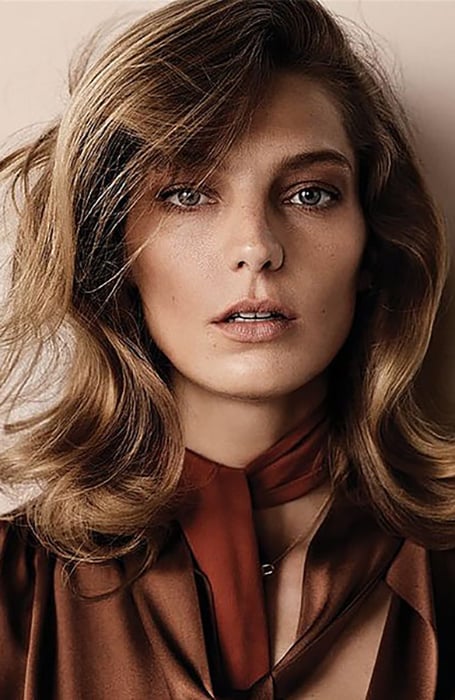 7. Medium Length Straight Hair
There are many options for styling medium length straight hair. If you're looking for a more polished and professional finish, try a smooth and glossy blowdry. Otherwise, a '90s-inspired style – combining relaxed texture with a side parting – makes for a low-maintenance and laidback weekend look.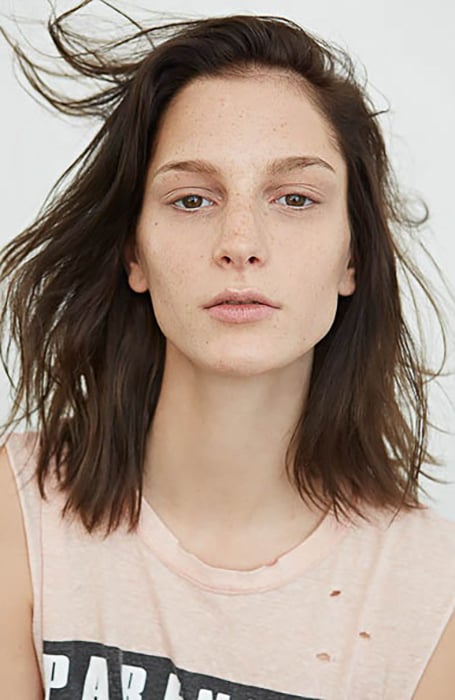 8. Curly Medium Length Hair
Curly-haired ladies have many options when it comes to medium length hair. From unstructured, deliberately disheveled ringlets to defined coils, a mid-length cut allows you to show off your curls in style. While medium-length curly hair is more high-maintenance than shorter cuts, using curl-defining products and hydrating treatments helps reduce the styling time and will ensure your mane stays frizz-free.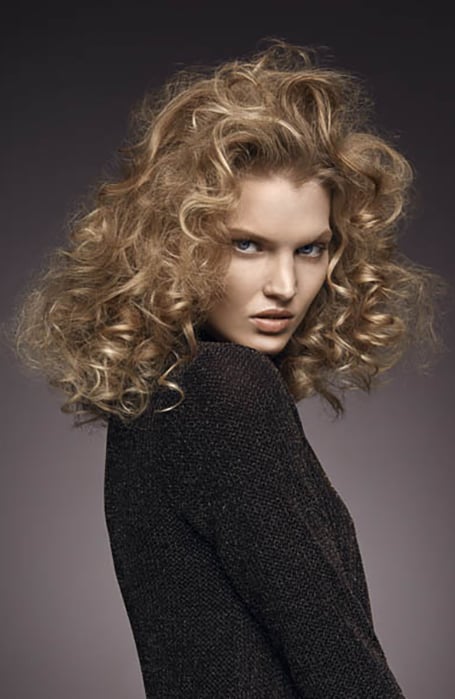 9. Medium Wavy Hair
If your hair is naturally wavy, a medium-length cut is an ideal length for you. That's because it is short enough to be manageable yet long enough to show off the beautiful movement in your locks. Those with naturally straight hair can create waves using heat tools like a curling wand or flat iron. Alternatively, braiding your hair while wet and applying a sea salt spray can also give you the beachy waves of your dreams.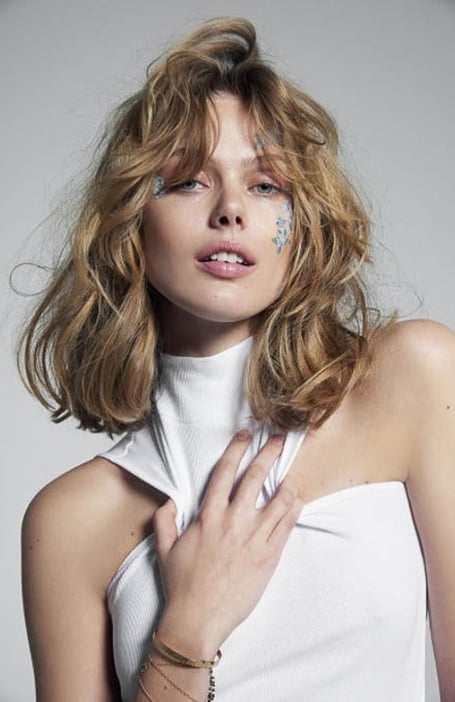 10. Short Bangs + Medium Length Hair
Short bangs end in the middle of your forehead and draw attention to your eyes and brows. They have a fashion-forward and arty vibe, so they're perfect for women who want to show off that side of their personality. While short bangs can look very dramatic and edgy, medium-length hair balances out those qualities for a softer and more feminine result. If it's you're experimenting with short bangs for the first time, pairing them with a mid-length cut is an excellent option.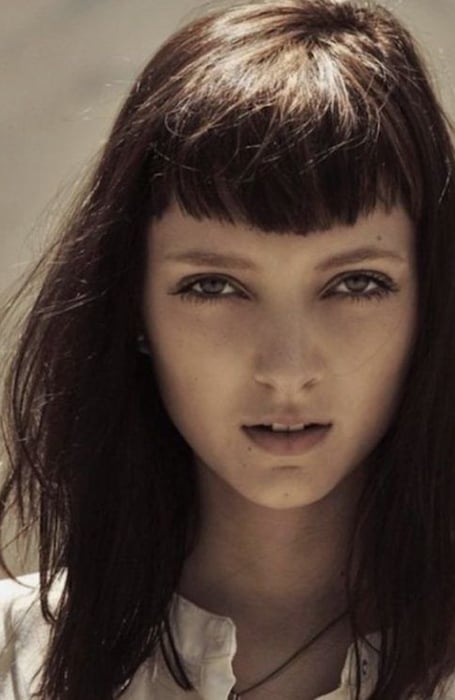 11. Medium Length Asymmetric Cut
Looking for a hairstyle that stands out? Try an asymmetric cut. These hairstyles attract the eye because they are deliberately unbalanced. Plus, an asymmetric cut has many variations, including different side lengths or different lengths at the front and back. Almost all asymmetric cuts look great on medium-length hair.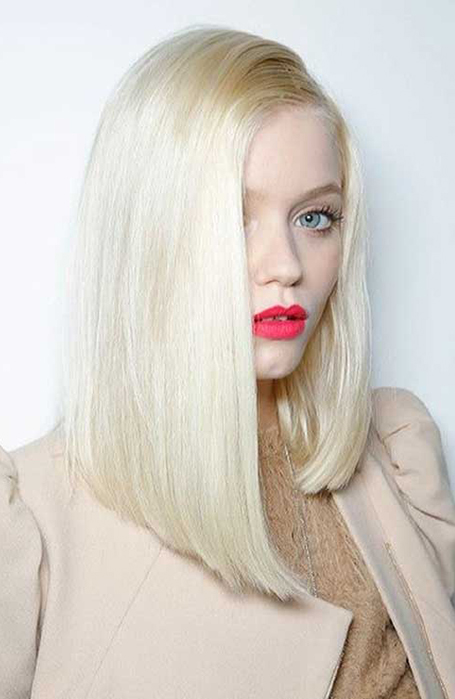 12. Long Front Short Back Haircut
Another variation on the asymmetric haircut is the long front short back style. Also called an A-line or inverted cut, it gives you the best of both worlds – longer pieces to frame your face, with the volume and bounce of short hair. If you are not quite ready to take the plunge to a lob haircut, the long front short back cut can be the first step.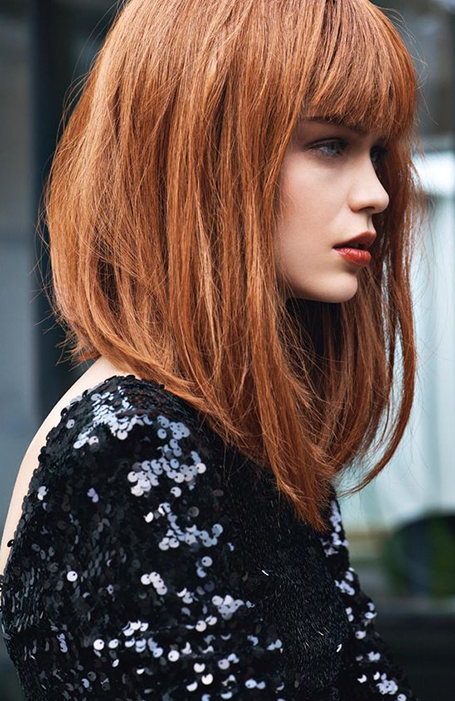 13. Medium Length Natural Hair
Growing out natural hair to medium length can take a little longer than other hair types, but the results are worth it. You'll have a wide variety of styling options to choose from, whether it's a classic Afro or a braided look. To maintain your natural hair's length, avoid over-trimming. Instead, snip off split ends as you see them. Additionally, make sure you avoid damage from chemicals and heat and gently detangle using a wide-tooth comb to prevent breakage.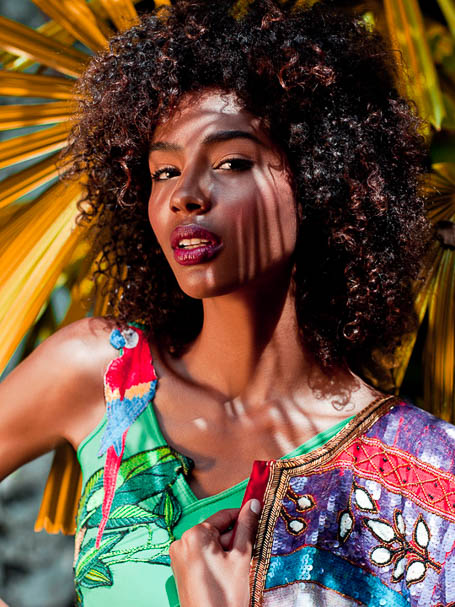 14. Medium Length Dreadlocks
Dreadlocks are one of the most iconic hairstyles for women with Afro-textured hair. They are also considered a protective style as they don't require any chemicals to be used, don't put too much stress on the scalp and help natural hair retain moisture. While the different dread styles look great at any length, tighter, thinner locs suit medium hair.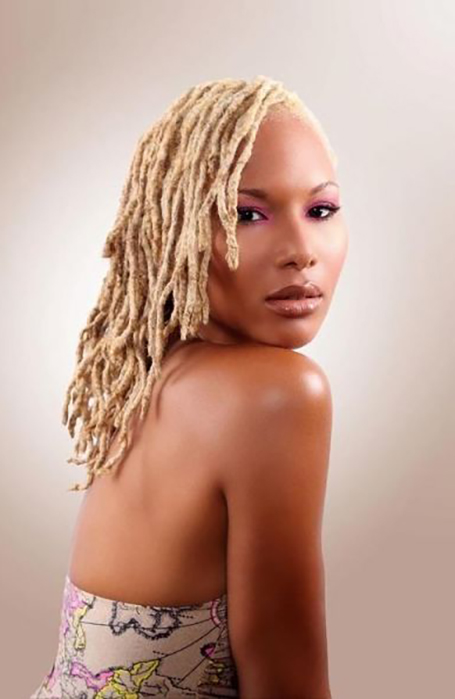 15. Medium Length Cut for Asian Hair
The Asian hair type tends to be thicker than Caucasian hair, meaning it's ideal for a medium-length cut with long layers. They introduce movement and stop your hair from looking like one solid mass. Additionally, framing layers can make your face look longer and slimmer. As Asian hair also tends to grow faster than other hair types, it will need to be trimmed more regularly to maintain medium length.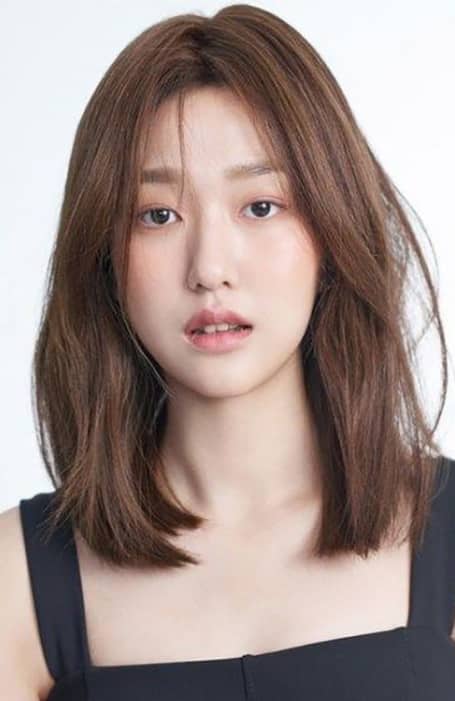 16. French Braids on Medium Hair
Braiding medium-length locks can be trickier than long hair, mainly if it is fine or damaged. That's because there isn't enough hair to create a long, thick plait or a more elaborate style. However, simple plaiting techniques, like French braids, look beautiful on medium-length hair. That's because they only require three sections of hair, and you can braid from your hairline rather than the base of your neck.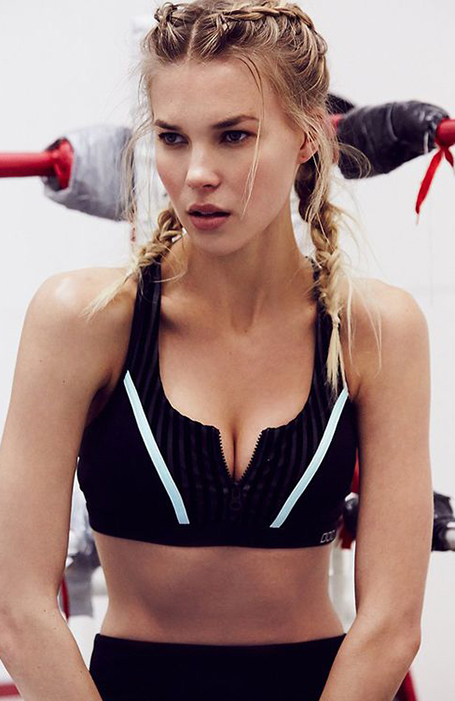 17. Waterfall Braid on Medium Hair
A waterfall is one of the simplest braids and does not require long locks to create. You can also start it at your hairline or the side of your head and braid back or from one side to the other. For those reasons, it's ideal for medium-length hair. It's also a favorite for bridal parties and wedding guests for its soft, pretty, and romantic appearance.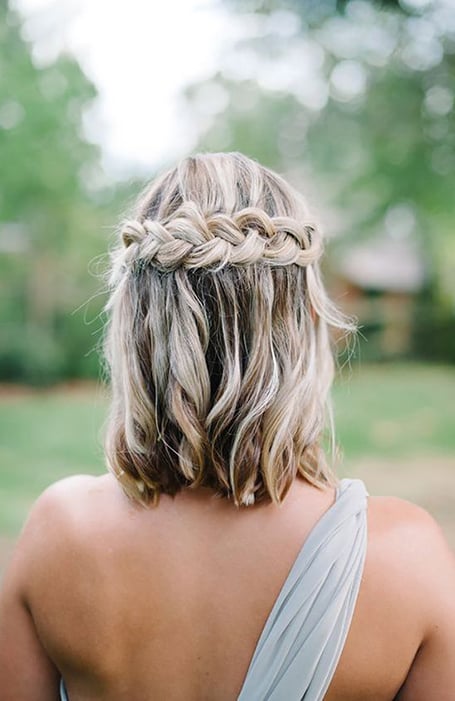 18. Medium Length Fulani Braids
Fulani braids are a traditional African hairstyle and look stunning on medium length natural hair. They combine small side braids with braids down the center parting. Beads are added to the ends for a unique and eye-catching finish. This style looks elegant and sophisticated, making it perfect for everyday wear or formal events.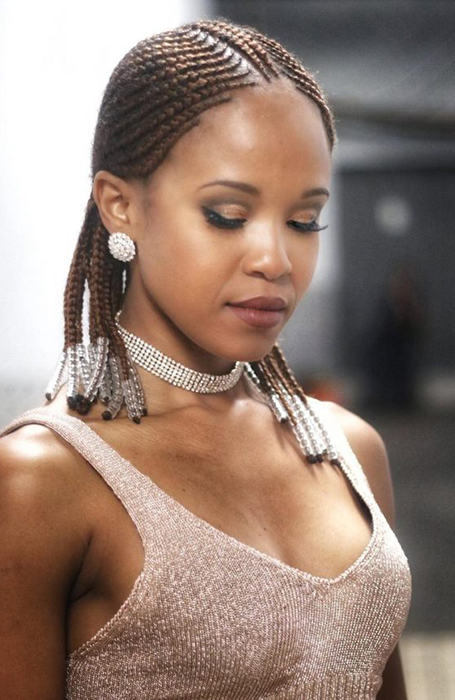 19. Medium Length Box Braids
Box braids are a classic style for long and medium hair. Not only are they a protective, but they also have a '90s cool vibe due to their popularity in that era. If your natural hair is four to five inches long, you can comfortably get very long extensions box braided in; however, shorter hair can support medium-length extensions. Try colors like metallic grey or purple for an unusual twist on the box braid trend.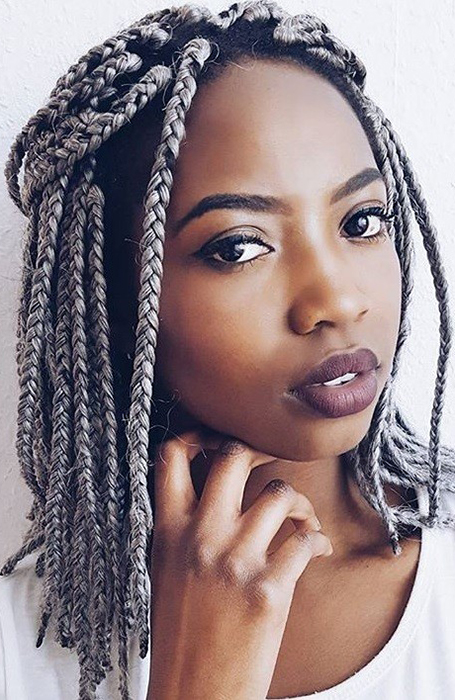 20. Half Up Half Down
A soft and romantic option for hair of any length, the half-up half-down hairstyle looks particularly beautiful on medium hair. It also suits both thin and thick hair types. The key to any half-up half-down style is building volume in the 'up' section. Doing so ensures that your hair doesn't look weighed down and draws the eye up, balancing out your face shape.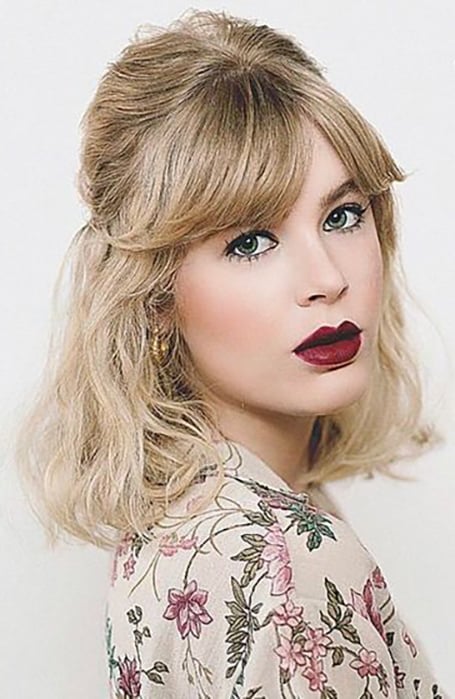 21. Ombre Hair Medium Length
Medium length hair is the perfect partner for your ombre color. Ombre comes from the French word meaning 'shaded' and involves combining hair shades to create a beautifully blended result. The classic ombre combines brunette roots with blonde mid-lengths and ends. It's a timeless look that never goes out of style. You can also add temporary hair color to the lighter ends if you want to change up your look for a special event. Medium length hair allows you to show the full spectrum of your color, and because there's less hair to dye, you'll spend less time in the salon than if you had ultra-long locks.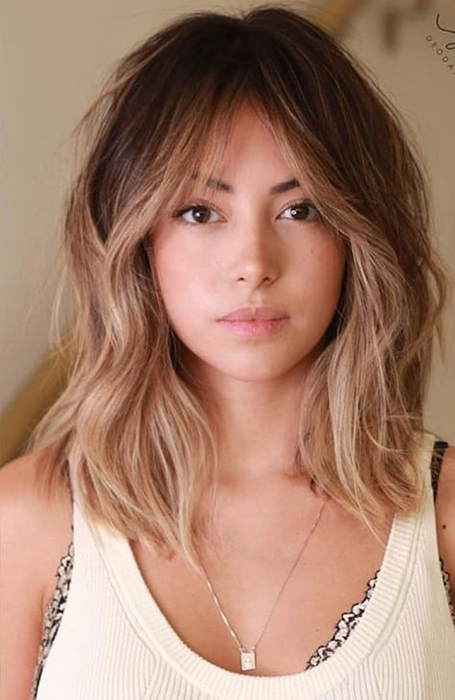 22. Medium Blonde Hair + Highlights
Unless you're going all-over platinum, it's vital to include multi-dimensional highlights to avoid your blonde color looking flat. Your colorist will lighten pieces to lift the base shade and help your new hair color complement your skin tone. If you're switching to medium-length blonde hair, make sure you have your hair cut before it's dyed so your colorist can place the highlights correctly.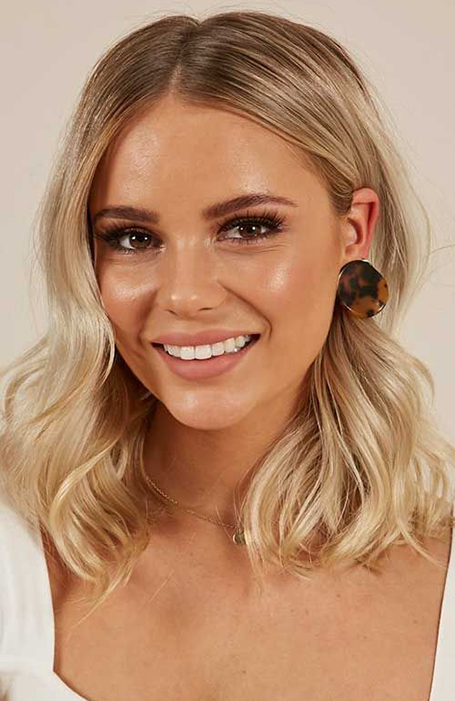 23. Platinum Blonde Medium Length
For ladies who want to make a bold style statement, platinum blonde hair is the ultimate standout look. Because your hair undergoes so much bleaching and toning – especially if you are a natural brunette – to achieve the platinum look, your stylist may recommend a haircut at the same time. Going from long to medium length hair when you go platinum not only gives you a fresh look, it also eliminates any dry or split ends.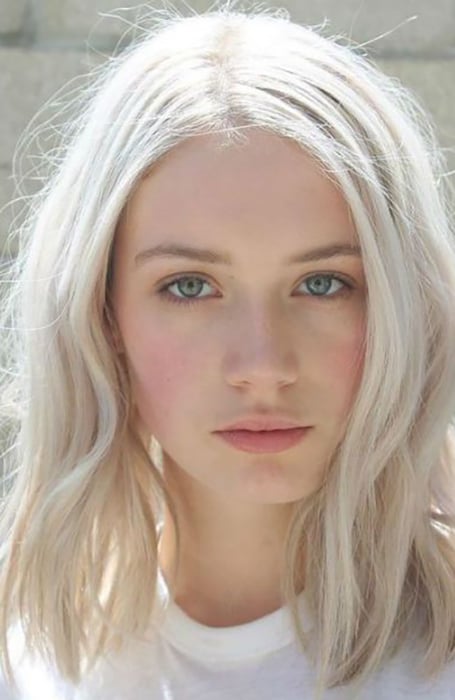 24. Medium Length Brunette
Medium length brunette hair is the ultimate chic and sophisticated combination – which may be why it is favored by models and fashion editors all over the world. For 2020, cool chocolate has been named as one of the biggest brunette trends. However, your perfect brunette shade will depend on your skin tone and eye color, as well as your base shade.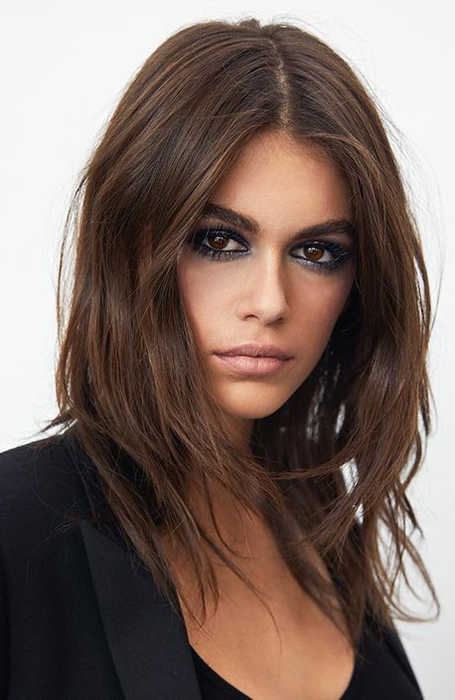 25. Medium Length Brunette + Balayage
Balayage is a freehand technique used by hair colorists to create subtle and natural highlights. Inspired by the way artists use light, balayage can be used to frame the face, add dimension, and create movement in your haircut. A brunette base color creates the perfect canvas for balayage, and when your hair is medium-length, there's plenty of space for the professionals to work their magic. The result is a California cool hairstyle that has a relaxed and lived-in look.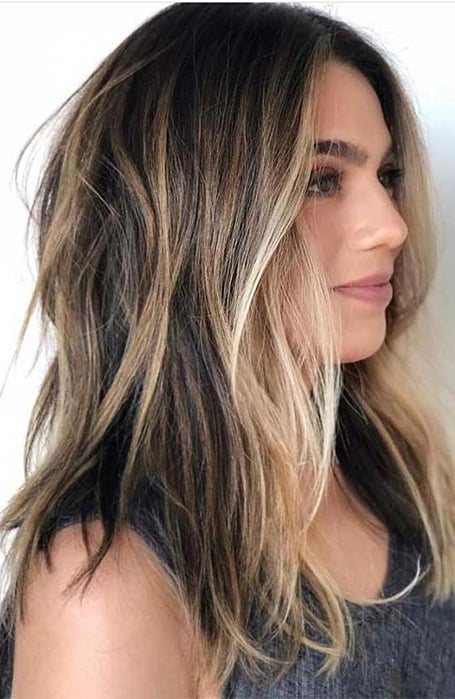 26. Brunette + Caramel Highlights
Warm and inviting, caramel highlights give brunette hair a soft and pretty look while adding dimension and vibrancy. Your colorist can use foils or the balayage technique to apply the caramel tones, which will subtly lighten your hair and brighten up your overall look. Perfect for brunettes who want a subtle change for spring or summer, caramel highlights also suit those who have a warm undertone to their skin.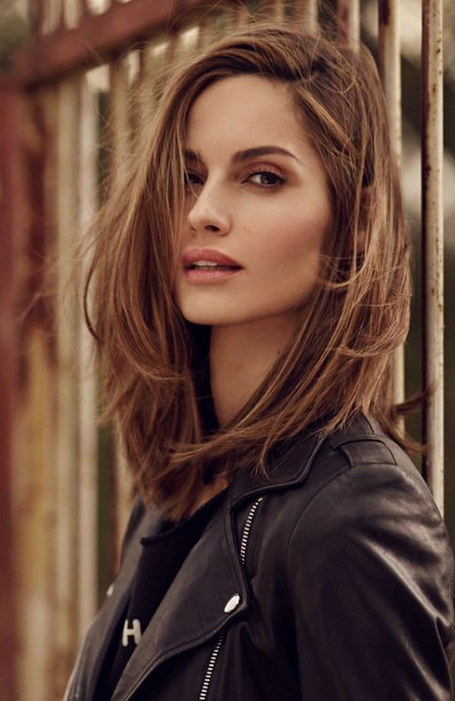 27. Red Hair Medium Length
Hairstylists predict that warm, natural copper-gold will be a big trend this year. Because going red is such a dramatic color change, you don't need ultra-long hair. The impact of the fiery hue means medium-length hair is ideal. As one of the most saturated colors, red also suits those with thin or fine hair.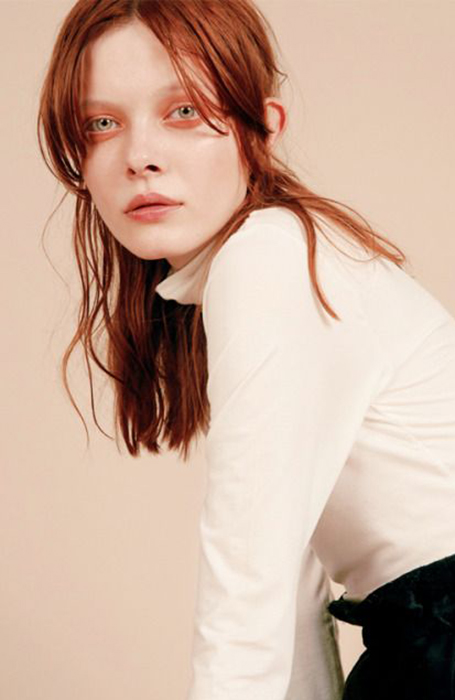 28. Black Hair Medium Length
Black hair looks fantastic on any hair length, including medium. To break up the heaviness of the color, ask for a choppy or shaggy cut. Loose waves and subtle highlights can also add movement and dimension to black hair. Alternatively, you could lean into the drama and go for a super smooth blowdry with a heavy, blunt fringe.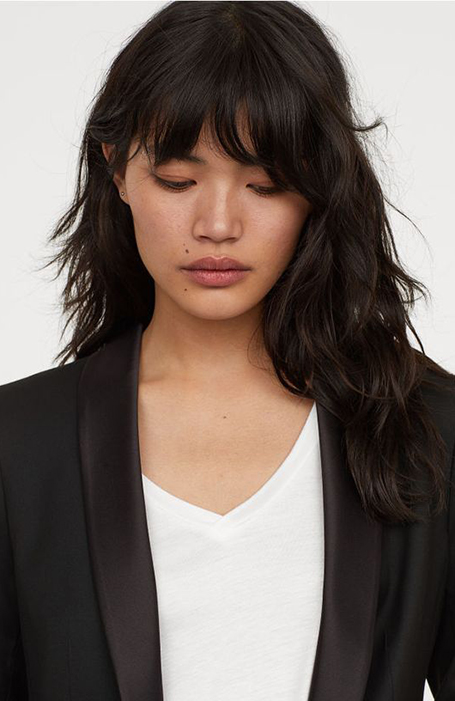 FAQs
What is a medium length haircut?
A medium-length haircut sees the ends of your hair at your collarbones or your shoulder blades.
Which haircut is best for medium hair?
A medium-length haircut works well with all hair types. Some of the most popular haircuts include bobs, lobs, bangs, topknots, shaggy styles, and wavy hair.
SUBSCRIBE TO OUR NEWSLETTER
Subscribe to our mailing list and get interesting stuff and updates to your email inbox.