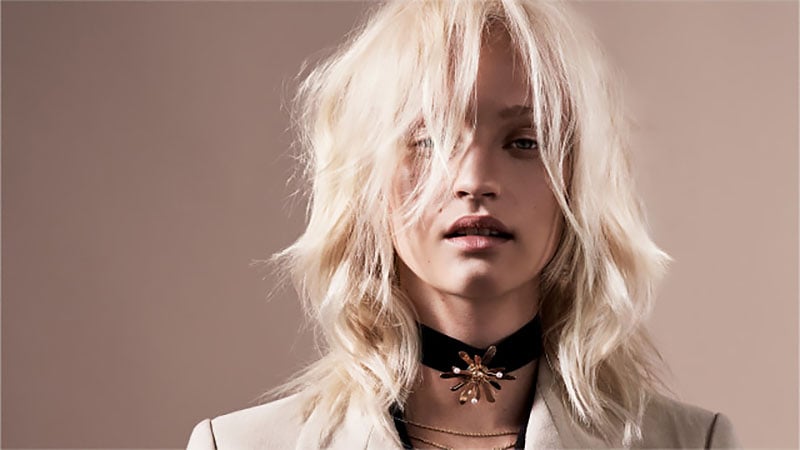 Medium length – also known as mid-length hair – is having a moment. Beloved by fashion editors and influencers, it's the perfect not-too-long, not-too-short haircut. Generally, a medium-length haircut sees the ends of your hair at your collarbones or shoulder blades. This type of hairstyle works with all hair types – from straight to wavy, curly, and natural – and all hair textures. It also flatters all face shapes and is less high-maintenance than long hair. Check out these beautiful and stylish medium length hairstyles for women and get inspired for your next visit to the salon.
RELATED: The Best Shoulder Length Hairstyles for Women
Medium Length Hairstyles for Women
1. Layered Bangs
Layered bangs give your haircut more movement than a blunt fringe and frame your face beautifully. Combine them with a wavy, medium length hairstyle to create a relaxed, beachy look. Texturizing products, such as sea salt spray, are essential and add to the laidback, California-cool vibe. The final result slightly nods to the '70s shag cut but with a modern twist.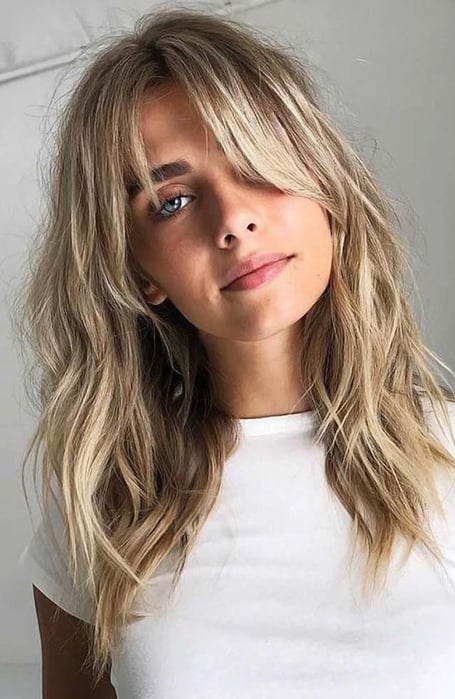 2. Blunt Bangs
Blunt bangs are the perfect complement to medium length hairstyle. A favorite of French models and influencers, the blunt bangs-medium length combination makes your hair look thicker and draws attention to your eyes. It also gives you a more youthful appearance. Try the cut with brunette colors, like rich chocolate or chestnut, for the best results.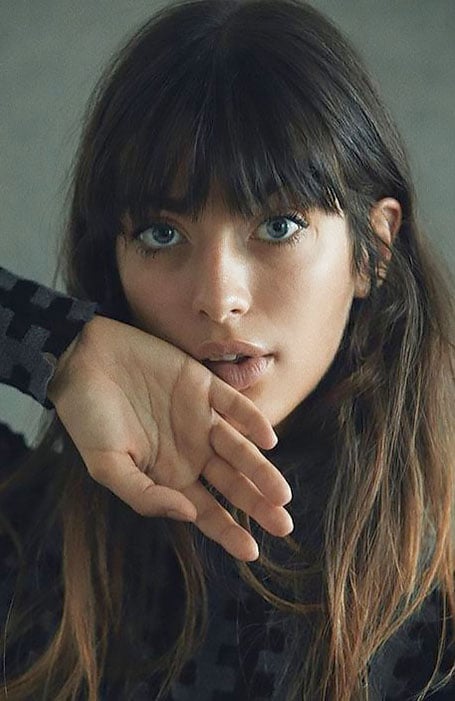 3. Wispy Bangs
Wispy bangs are also known as thin or 'piece-y' bangs. They differ from blunt bangs because they don't cover your whole forehead. Instead, they fan out and create a lighter, softer, and more relaxed effect – especially when combined with a wavy medium length hairstyle. Wispy bangs suit those with fine and thin hair types, as they don't require as much hair to create the fringe itself.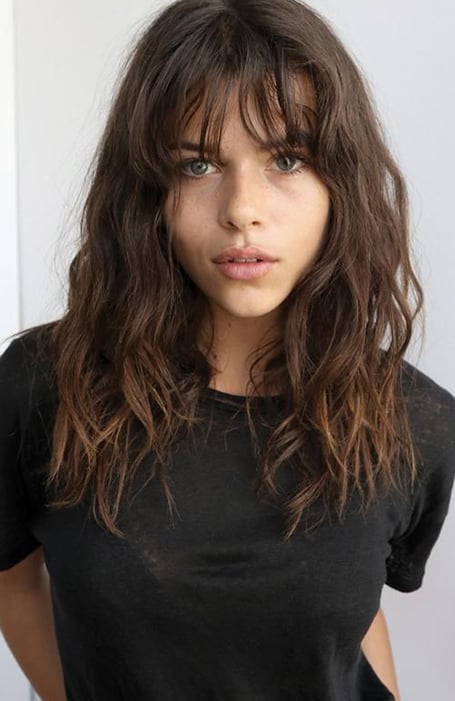 4. Medium Length Haircut for Thin Hair
Fine hair can look limp and lifeless if grown too long. As a result, a medium length haircut suits those with that hair type. To create the illusion of thickness and volume, use mousse at the roots when you blowdry and add a spritz of texturizing spray. You can also try clip-in hair extensions, as medium length hair is long enough to blend in seamlessly with them.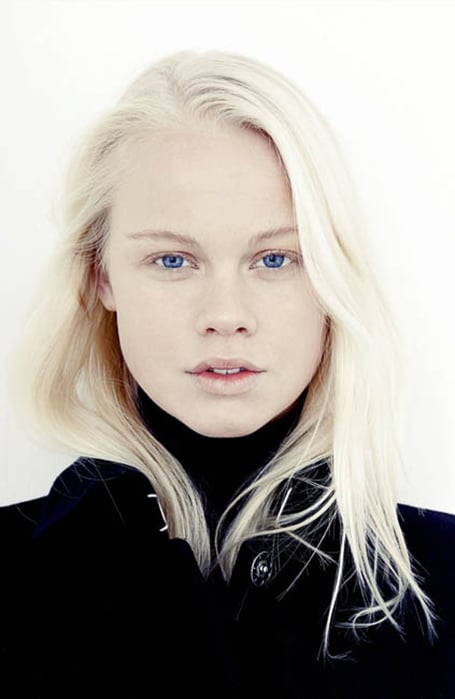 5. Medium Length Textured Layers
Long layers are ideal for those with naturally thick locks, as they visually 'break up' the hair and add more movement and direction. At the same time, a medium length hairstyle works well for thicker hair as it won't take as much time to wash, dry, or style as long hair. If you opt for medium hair with long layers cut, add face framing layers or even long side bangs for a flirty and flattering finish.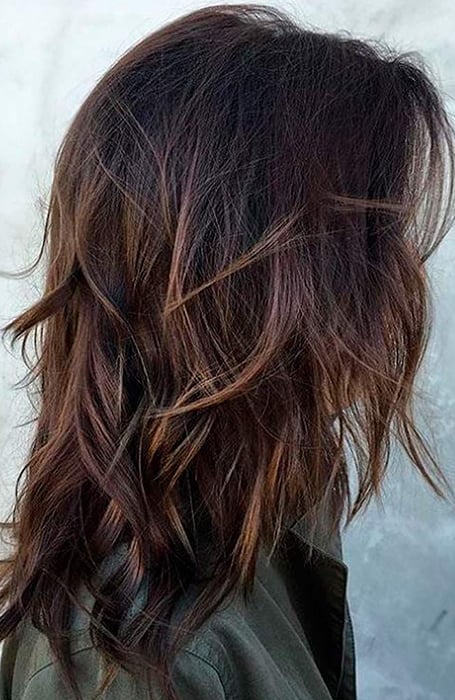 6. Medium Length Short Layers
In hair-cutting terminology, the length of your layers – long or short – refers to the difference between the longest and shortest pieces rather than where the layers themselves end. The shorter the layers, the smaller the difference between them. A medium length hairstyle with short layers will add volume and body, making it ideal for those with hair that tends to fall flat. Additionally, short layers tend to flick out at the ends, so this cut has a fun '70s vibe.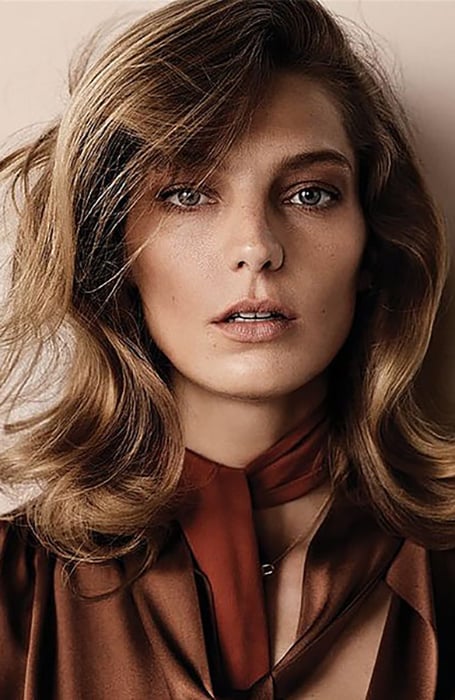 7. Medium Length Straight Hair
There are many options for styling medium length hairstyles with straight hair. Try a smooth and glossy blow-dry if you want a more polished and professional finish. Otherwise, a '90s-inspired style – combining relaxed texture with a side parting – makes for a low-maintenance haircut and laidback weekend look.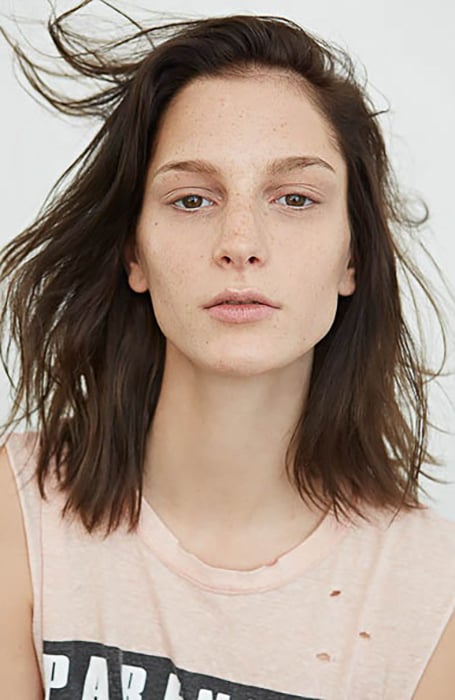 8. Medium Length Curly Hair
Curly-haired ladies have many options when it comes to medium length hairstyles. From unstructured, deliberately disheveled ringlets to defined coils, a mid-length cut allows you to show off your curls in style. While medium length curly hair is more high-maintenance than shorter cuts, curl-defining products and leave-in conditioner treatments help reduce styling time and ensure your mane stays frizz-free.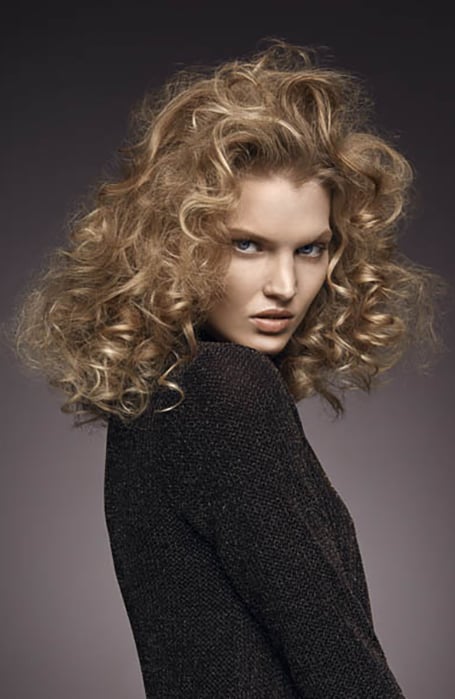 9. Medium Length Wavy Hair
If you have wavy hair, a medium length hairstyle is ideal for you. That's because it is short enough to be manageable yet long enough to show off the beautiful movement in your locks. Those with naturally straight hair can create waves using heat tools like a curling wand or flat iron. Alternatively, braiding your hair while wet and applying a sea salt spray can also give you the beachy waves of your dreams.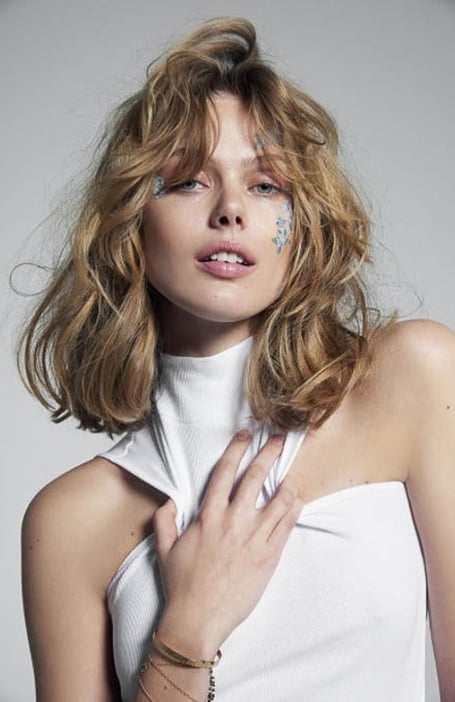 10. Short Bangs
Short bangs end in the middle of your forehead and draw attention to your eyes and brows. They have a fashion-forward and arty vibe, so they're perfect for women who want to show off that side of their personality. While short bangs can look very dramatic and edgy, medium length hairstyles balance out those qualities for a softer and more feminine result. If it's you're experimenting with short bangs for the first time, pairing them with a mid-length cut is an excellent option.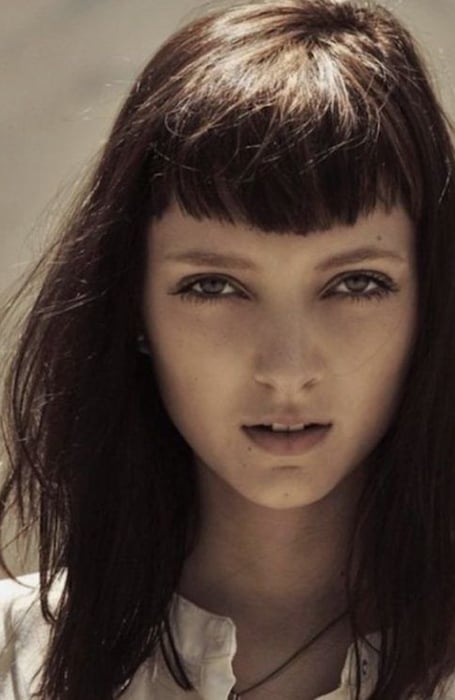 11. Asymmetric Haircut
Looking for a hairstyle that stands out? Try an asymmetric cut. These hairstyles attract the eye because they are deliberately unbalanced. Plus, an asymmetric cut has many variations, including different side lengths or different lengths at the front and back. Almost all asymmetric cuts look great on medium length hairstyles.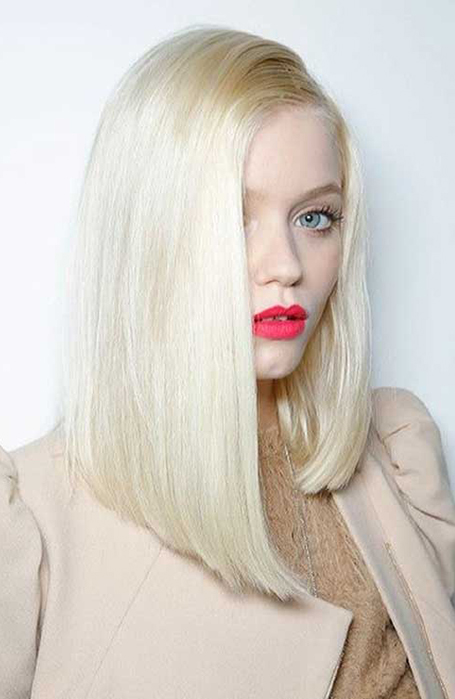 12. Long Front Short Back
Another variation of the asymmetric haircut is the long-front short-back medium length hairstyle. Also called an A-line or inverted cut gives you the best of both worlds – longer pieces to frame your face with the volume and bounce of short hair. If you are not quite ready to plunge into a lob haircut, the long front short back cut can be the first step.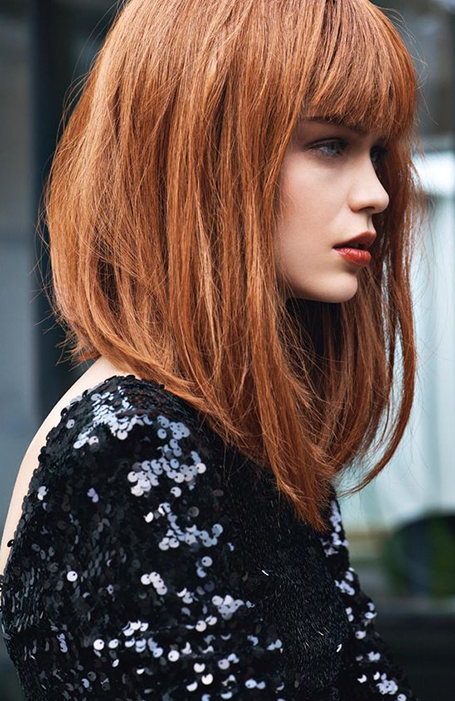 13. Medium Length Afro
Growing out natural hair to medium length can take a little longer than other types of hair, but the results are worth it. You'll have a wide variety of styling options to choose from, whether it's a classic Afro or a braided look. To maintain your natural hair's length, avoid over-trimming. Instead, snip off split ends as you see them. Additionally, make sure you avoid damage from chemicals and heat and gently detangle using a wide-tooth comb to prevent breakage.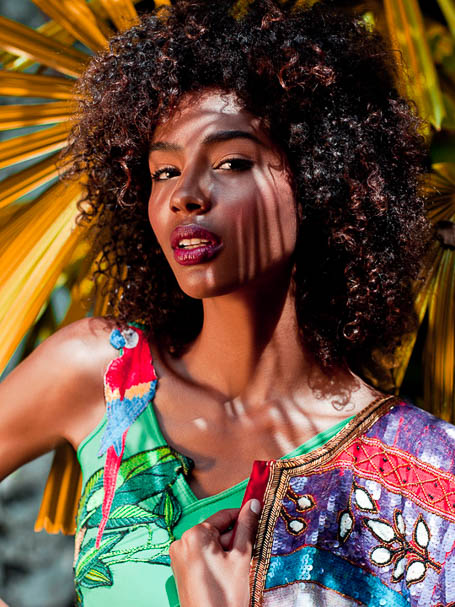 14. Medium Length Dreadlocks
Dreadlocks are one of the most iconic hairstyles for women with Afro-textured hair. They are also considered a protective style as they don't require any chemicals to be used, don't put too much stress on the scalp, and help natural hair retain moisture, while the different dread styles look great at any length, tighter, thinner locs suit medium length hairstyles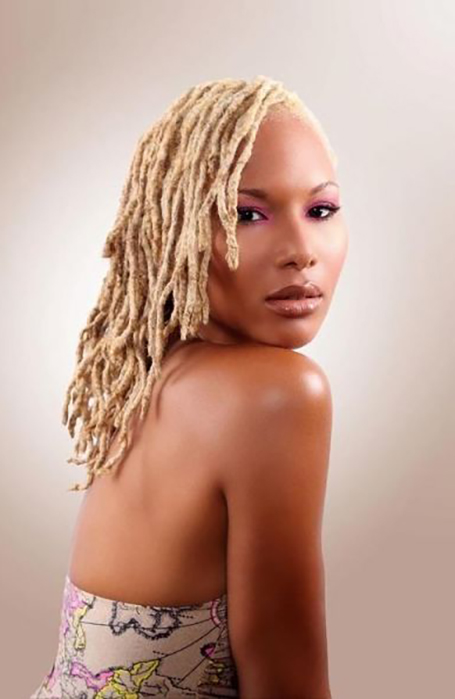 15. Medium Length Hairstyle for Asian Hair
The Asian hair type tends to be thicker than Caucasian hair, meaning it's ideal for a medium length hairstyle with long layers. They introduce movement and stop your hair from looking like one solid mass. Additionally, framing layers can make your face look longer and slimmer. As Asian hair also tends to grow faster than other hair types, it will need to be trimmed more regularly to maintain medium length.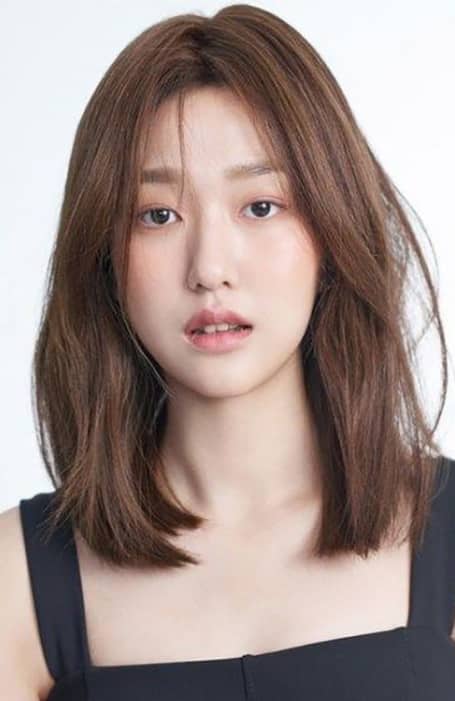 16. French Braids
Braiding medium length locks can be trickier than long hair, mainly if it is fine or damaged. That's because there isn't enough hair to create a long, thick plait or a more elaborate style. However, simple plaiting techniques, like French braids, look beautiful on medium length hairstyles. That's because they only require three sections of hair, and you can braid from your hairline rather than the base of your neck.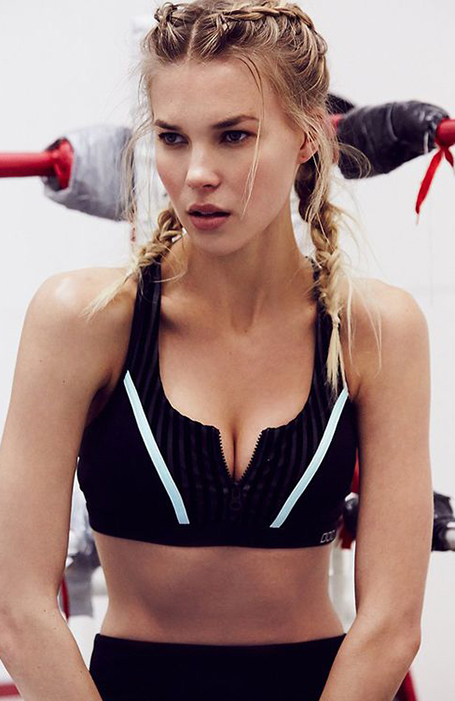 17. Waterfall Braids
Waterfall braids are one of the simplest braids and do not require long locks to create. You can also start it at your hairline or the side of your head and braid it back or from one side to the other. For those reasons, it's ideal for medium length hairstyles. It's also a favorite for bridal parties and wedding guests for its soft, pretty, and romantic appearance.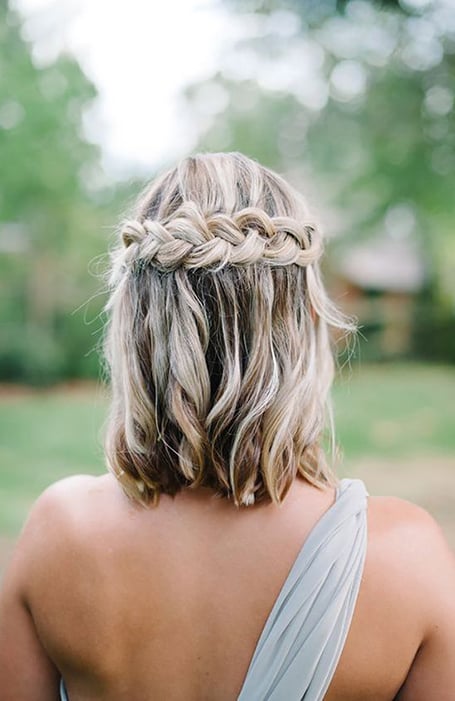 18. Fulani Braids
Fulani braids are a traditional African hairstyle and look stunning on medium length hairstyles. They combine small side braids with braids down the center parting. Beads are added to the ends for a unique and eye-catching finish. This style looks elegant and sophisticated, making it perfect for everyday wear or formal events.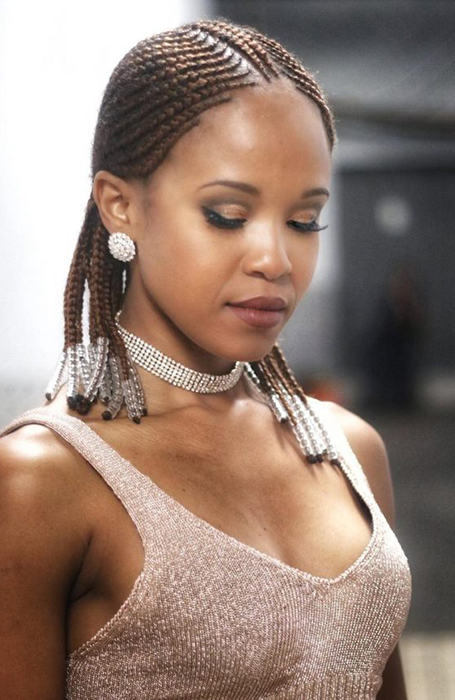 19. Box Braids
Box braids look great on medium length hairstyles. Not only are they protective, but they also have a '90s cool vibe due to their popularity in that era. If your natural hair is four to five inches long, you can comfortably get very long extensions box braided in; however, shorter hair can support medium length extensions. Try metallic grey or purple colors for an unusual twist on the box braid trend.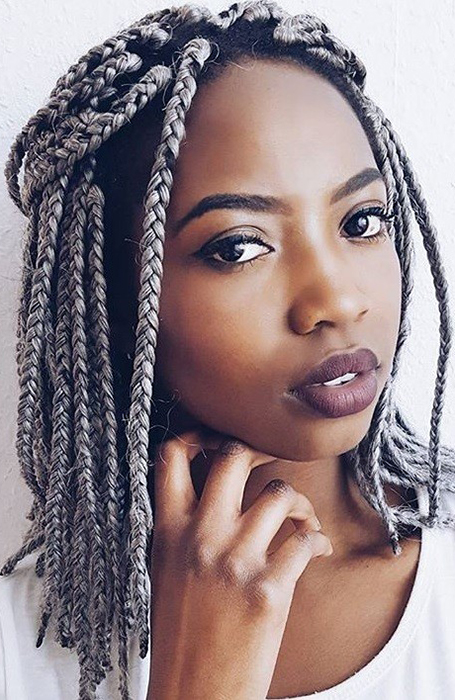 20. Half Up Half Down Hairstyle
A soft and romantic option for hair of any length, the half up half down hairstyle looks particularly beautiful on medium length hairstyles. It also suits both thin and thick types of hair. Building volume in the 'up' section is the key to any half-up half-down style. Doing so ensures that your hair doesn't look weighed down and draws the eye up, balancing out your face shape.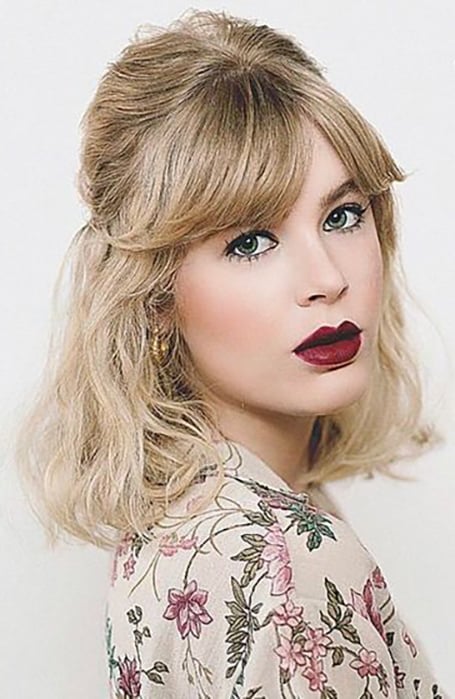 21. Medium Length Ombre Hair
Medium length hair is the perfect partner for your ombre hair color. Ombre comes from the French word 'shaded' and combines hair shades to create a beautifully blended result. The classic ombre combines brunette roots with blonde mid-lengths and ends. It's a timeless look that never goes out of style. You can also add temporary hair color to the lighter ends to change your look for a special event a Medium length hairstyle allows you to show the full spectrum of your color, and because there's less hair to dye, you'll spend less time in the salon than if you had ultra-long locks.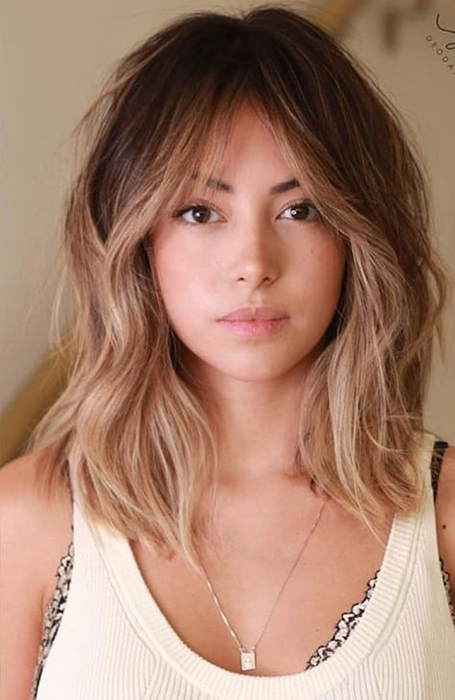 22. Lob
The lob hairstyle is one of the most versatile and flattering styles for women of all ages. The cut is longer than the classic bob, usually falling between the chin and clavicle, but it is just as stylish and lends itself well to personalization. This allows you to experiment with different angles, layers, colors, bangs, and partings. This could be it if you are looking for a low-maintenance haircut to wear with your medium length hairstyle. To draw attention to your features and brighten your appearance, consider placing highlights toward the side of the face; this will frame it.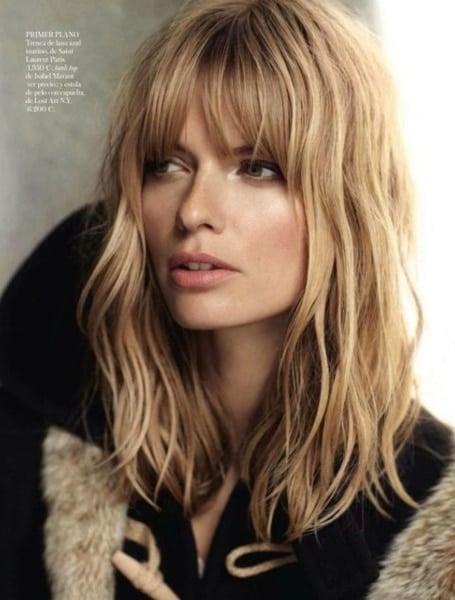 23. Curtain Bangs
If you want to transform your medium length hairstyle, consider wearing it with curtain bangs. The style was first popularized in the 90s but has since returned with a more modern and versatile approach. The bangs are parted, which helps frame the face and can be incredibly flattering. You can also create them in various lengths and with all hair textures; the straighter your hair is, the more precise the cut will look, whereas on curly hair, it will be more soft and subtle. You also have a lot of versatility with styling, letting you wear your hair up in a messy ponytail, making the curtain bangs the focus of your look.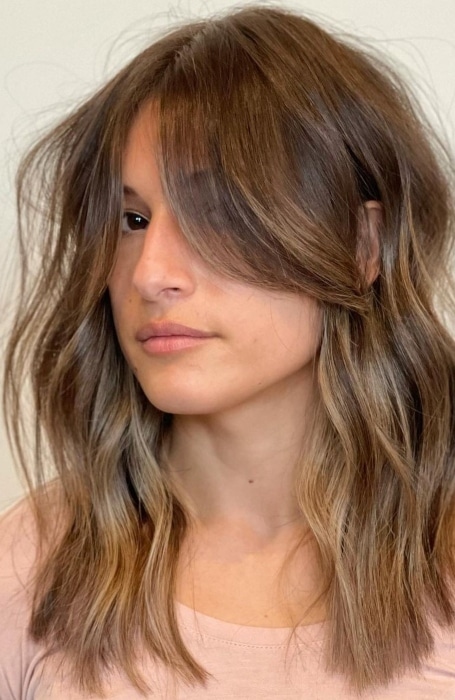 24. Slick Back Hair
Regarding stylish and sleek looks, you do not get much better than a slick back. The hairstyle is achieved by brushing the hair backward at the front and securing it with a strong gel or a similar product. It is best on straighter hair, making it easier to style and keep in place, but the look can be created with various hair textures and types. This is a fantastic hairstyle for more formal occasions and is neat and polished. It will also open up your face and highlight your features, especially the eyes and jawline. Although the look requires some styling time, it is very low-maintenance and can be achieved on the hair of various lengths, including medium length hairstyles.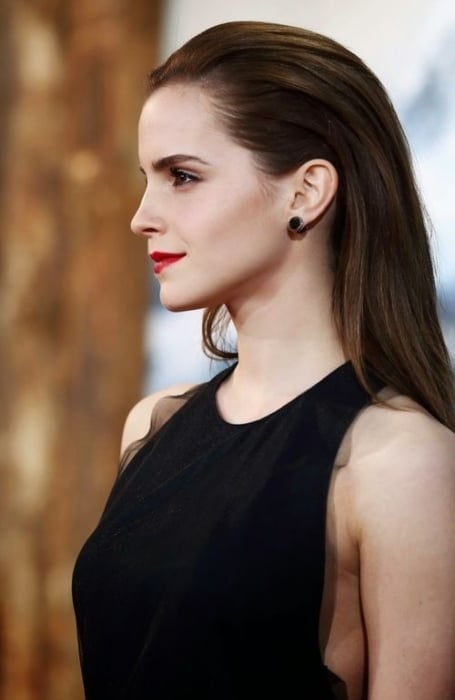 25. Mullet
The mullet haircut is an 80s hairstyle favorite that is somewhat controversial and is a style that demands attention. Defined by the hair longer in the back and shorter on the top and the sides. If you are going to wear your hair in a mullet, you probably do not mind attention as this is a daring look bound to turn heads. However, it has evolved a lot over the decades and has now been adapted to make it more subtle in appearance and wearable. You can experiment with different cuts and angles, complementing your face shape and hair texture. The result is an edgy, cool haircut filled with attitude and surprisingly flattering on women of all ages.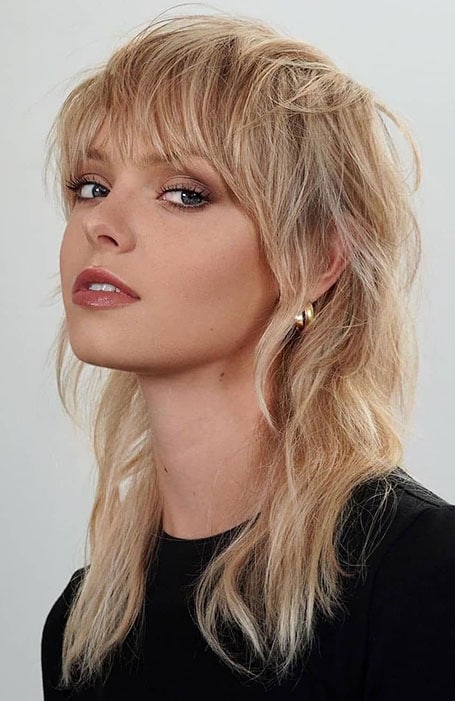 26. Blowout
The blowout is achieved with heat-styling, giving your hair a voluminous appearance. After washing your hair, blow-dry it to achieve your desired fullness, texture, and volume. It can be created on all hair textures and is an excellent way to change your look with minimal effort. You can make curly hair straight or transform straight hair into big, glamorous curls if you want to channel the 80s with your blowout; the more volume, the better, and it works well for medium length hairstyles.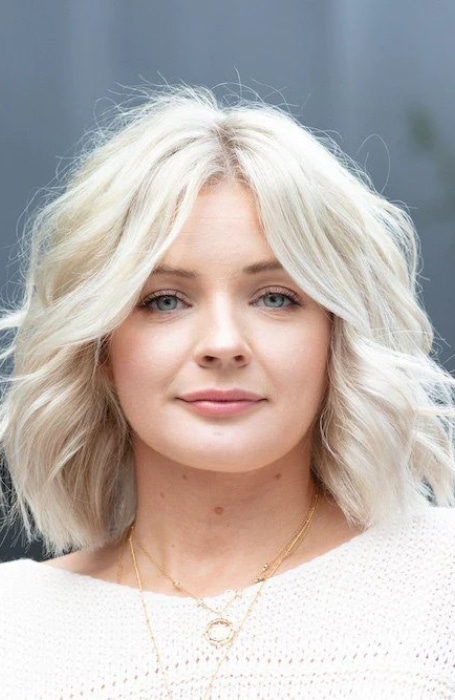 27. Passion Twists
Passion twists are a protective style that is gorgeous and versatile. Created in 2018 by Miami hairstylist Kailyn Rogers the hairstyle gives women a new way to wear two-strand twists. The twists can be added in various lengths, thicknesses, and colors. If you want an easy look to maintain, then a medium length hairstyle is ideal. The length gives you the versatility you want to wear your hair up or down but is not so long that it becomes high maintenance and will not create added tension on your scalp. You can also use the crochet installation method, reducing the time spent in the salon chair. As an added pro, these twists are water-friendly.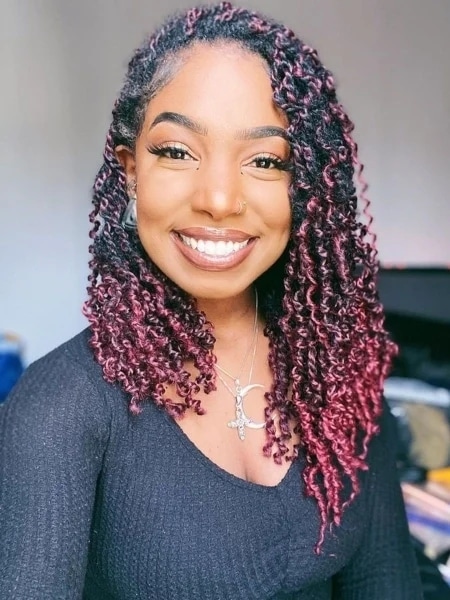 28. Side Part
Wearing your medium length hairstyle in a parting can be incredibly flattering, and the right parting can complement your face shape and draw attention to your features. A side parting is one of the most versatile and easy to wear, suiting most face shapes and women of all ages. Wearing your hair in this way can create balance and soften your facial features. The side part can be achieved with hair of various textures and lengths and is an excellent alternative to bangs; you get all the benefits without committing to a fringe. Curl the hair slightly on either side to give your look a romantic finish, or try out highlights around the sides of the face for a framing effect.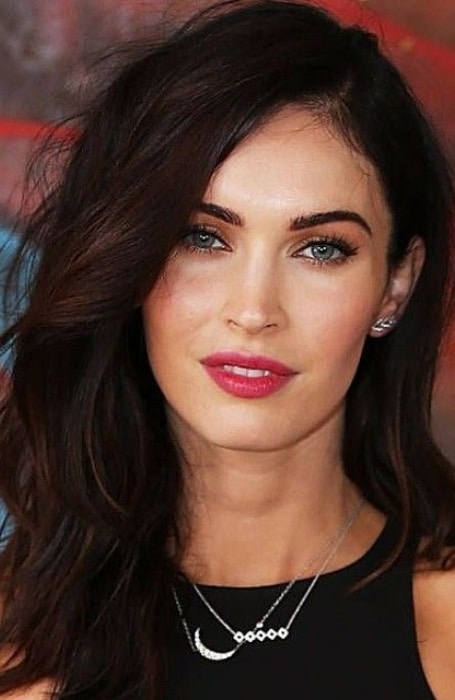 29. Ponytail
The ponytail is one of the most simple but effective updos. It can be achieved within minutes and takes little to no skill to pull off, making it the perfect no-fuss look. It will keep the hair out of your eyes and off your neck, drawing attention to these areas. The ponytail can also be dressed up to down; pulling your hair into a loose ponytail will create a relaxed aesthetic and is ideal for days at the beach or working out. A sleek, high ponytail is fashion-forward for more formal occasions; think Ariana Grande's signature style. You can also leave a few strands of hair loose to frame the face and add a softness to your look. Just take care when wearing your hair in a tight ponytail not to do this for extended amounts of time, as this can cause traction alopecia.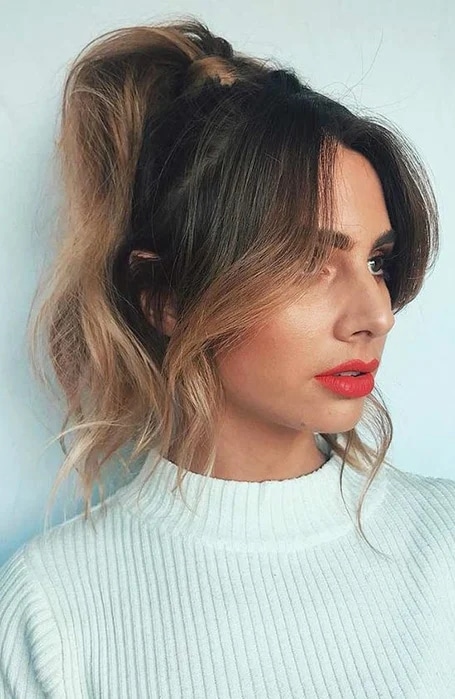 30. Straight Lob with Babylights
If you are looking for a subtle way to add color to your hair and brighten and lighten your appearance, you can achieve this with babylights. These delicate highlights are a great look for anyone who wants a subtle glow. Focusing them around the sides of your face is also a wonderful way to frame the face and highlight the features. The thin streaks of color will make your hair look sun-kissed and healthy, adding depth. It can be achieved on the hair of all textures and colors to lift the hair. Do not use highlights that are lighter than a shade or two from your natural color for the best results. It can also be worn on various cuts and styles, with one of the prettiest and most versatile being the lob haircut. This cut can draw attention to the face.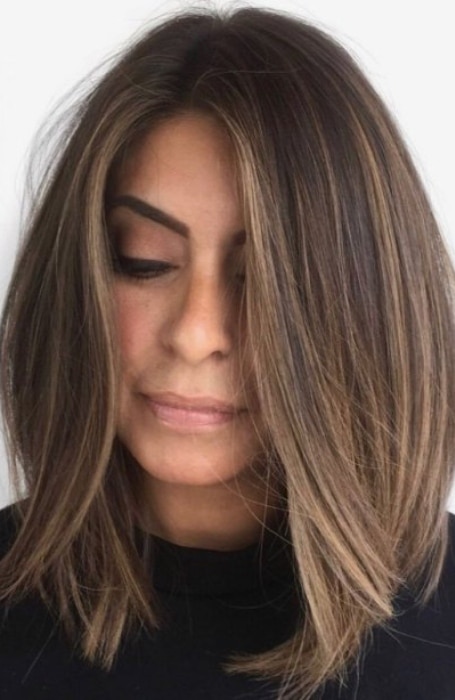 31. Shag
The shag haircut is a 70s hairstyle favorite defined by its choppy layers. It is a medium length hairstyle and fantastic for highlighting the texture of your hair. It is also great for removing weight from thick hair, or the layers can be cut to make thin and fine hair appear thicker and more voluminous. The haircut has an edgy vibe, and the way the layers fall will give your hair movement and depth. It is ideal for anyone who wants a relatively low-maintenance haircut but also a lot of fun.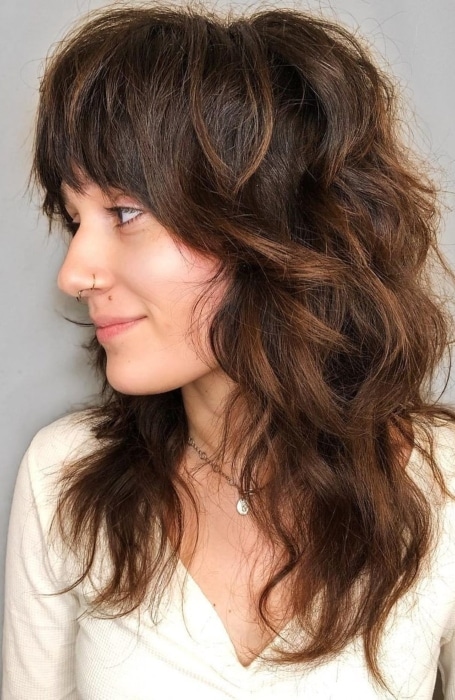 32. Half Down Hair with Twists
If you are looking for a pretty way to wear your medium length hairstyle, consider adding twists to it. Leaving the hair down and creating twists at the side will give you a boho appearance ideal for formal and informal events. Twists will take the hair away from the face, which can open it up. It can be achieved on all hair textures but looks best with slightly wavy hair for a dreamy and relaxed aesthetic.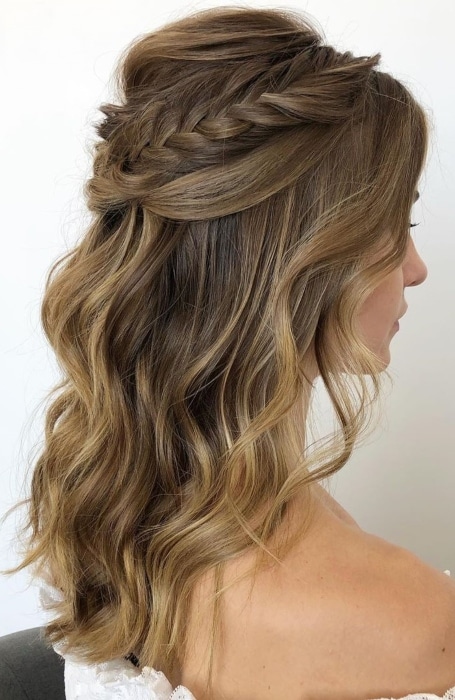 33. Faux Locs
If you love the idea of dreadlocks but do not have the patience or commitment needed to grow them, faux locs are a great alternative. These fake dreads are created using artificial or human hair, which can be crocheted into cornrows that form the foundation. This great protective style can protect the hair from damage and breakage while aiding natural hair growth. Your faux locs can be worn in varying thicknesses and lengths, including medium length. You can also add accessories like wire, cuffs, and beads to give your hairstyle a personalized finish.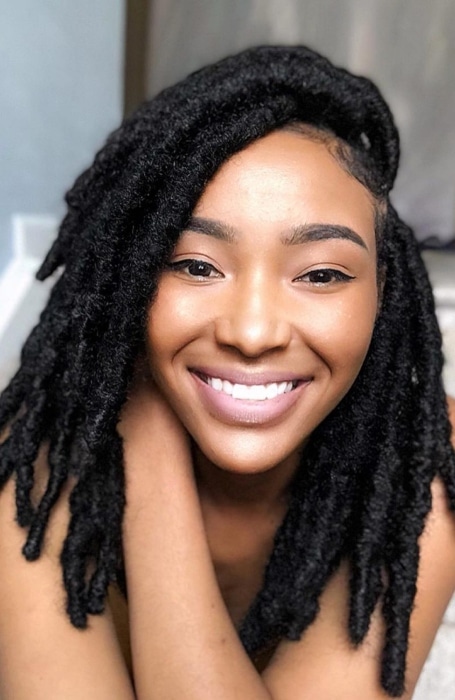 34. Goddess Braids
Goddess braids are a protective style ideal for women who want versatile and flattering braids. They can be created in various lengths and thicknesses, but keeping them at medium length is an excellent choice because it allows you to style your hair however you want without it being too long and high maintenance. Protective styles prevent breakage, lock in moisture, and aid natural hair growth. Goddess braids are not as long-lasting as other styles, but they will last several weeks, give you a break from heat styling, and reduce grooming time. Leave the ends curly for a textured look, slightly contrasting the rest of the braids.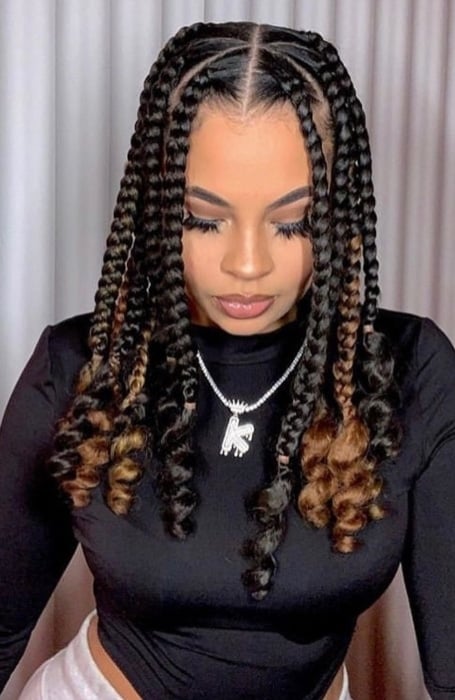 .
35. Crimped Hair
If you love a lot of texture, look no further than crimped hair. The mermaid-esque appearance of this hair makes it appealing for women who want to have fun with their hair, as it creates a wavy, zigzag appearance that can be fantastic for creating volume. Crimping was first popular in the 80s, and although you can channel your inner diva and go big and bold, it can also be achieved more subtly and wearable way. You can try it out on most hair textures, but your look will be much more noticeable and easier to create on straight hair. Take care to ensure your hair is in good condition, as the effect can highlight any damage.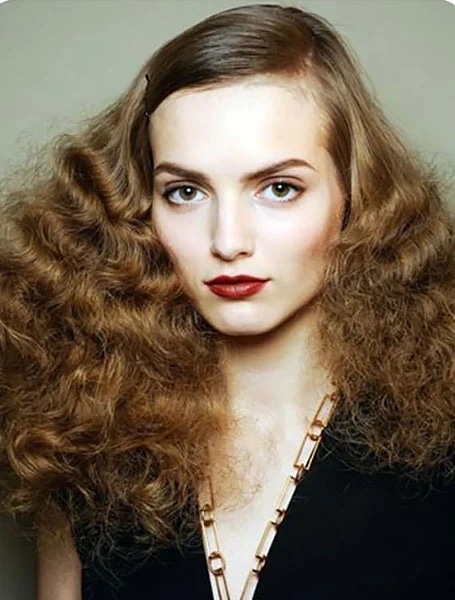 36. Curly Bangs
Bangs are an excellent way to transform your appearance; they can complement and balance your features, frame the face, and give you a youthful glow. This makes bangs perfect for women of all ages and useful for disguising fine lines or forehead wrinkles. Bangs can be worn long or short and as well as medium length hairstyles. The appeal of curly bangs is that they have a softness to them and a less precise shape than when worn on straighter hair. The texture can boost volume and make your hair appear fuller and thicker.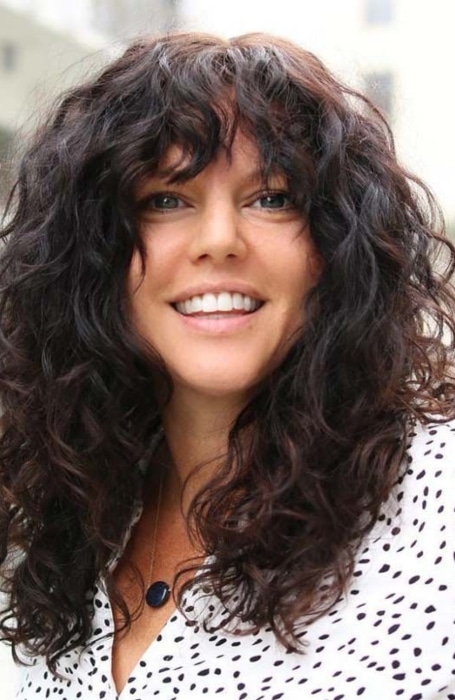 37. Medium Length Haircut with Shaved Sides
For rebellious people who want an edgy look, consider adding shaved sides to the hairstyle of your choice. Keeping hair long on the top and back of the head and shorter on the sides is a modern approach to a mohawk but is more wearable and less dramatic. This is a great way to express yourself, and when worn with a medium length hairstyle can create an interesting contrast. It can also be symbolic, freeing yourself from the past by removing the hair and showing that you are strong and resilient. If you want your hair to be even more noticeable, consider dying it a bright color. Or adding streaks of your favorite shade to your hair.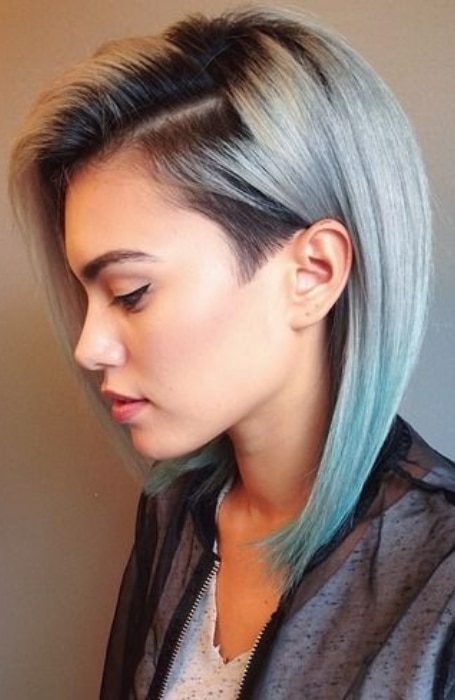 38. Viking Braids
The Viking hairstyles have inspired series and films, but they have also served as inspiration for hairstyles. A Viking braid is a great choice if you want an edgy and rebellious style that will make you look tough and cool. This has multiple interpretations, including braids on the side paired with shaved hair or working the hair into a top knot. The great thing about medium length haircuts is their versatility. You can also opt for a softer and more feminine approach by wearing braids with curls. Add highlights throughout to give the hair a lift and added dimension. Alternatively, you can try out a bright hair color that demands attention.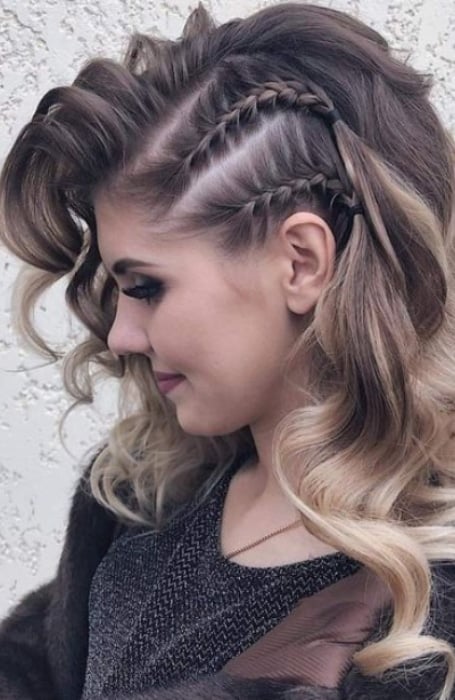 39. Retro Curls
Big, retro curls can give you a glamorous appearance and are a wonderful way to show off your hair. These curls can also be incredibly flattering and give softness and complement or balance your features. The style is best on medium length hairstyles, which provides you with enough length to create gorgeous curls but is not too long that they feel heavy. As for where you can wear them? Retro curls are perfect for formal occasions like weddings and work events but are just as great for when you want to dress to impress on date nights.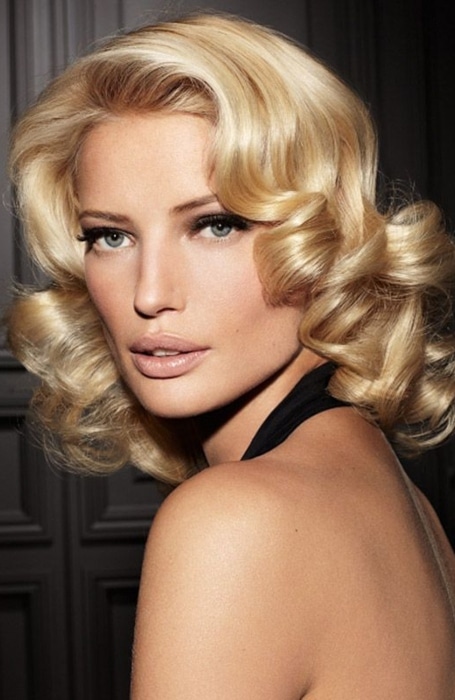 40. Blunt Cut
A blunt cut refers to how the hair is cut straight, without layers, and often at precise angles. This is a great look for anyone who wants to show off their cut and works best with straight hair. If you have a medium length haircut, there is a lot of variation in the cut you choose, allowing you to personalize it to suit your face shape and hair color best. The cut can have a sleek and elegant appearance, making it ideal for all occasions. It is also easy to grow out and low-maintenance.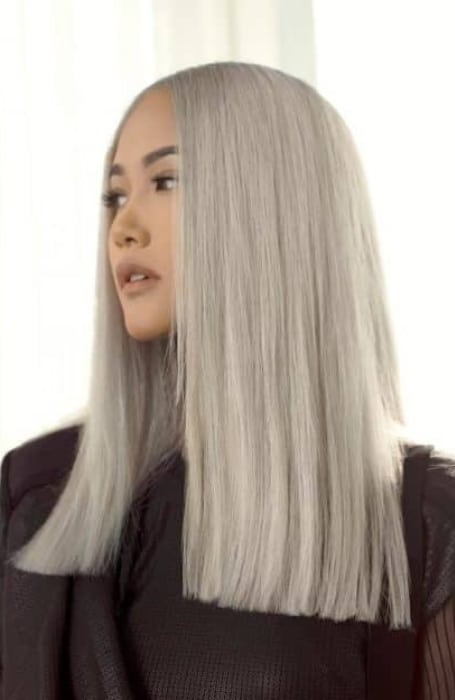 41. Middle Part
If you want to wear your medium length hairstyle in a parting, a practical and stylish choice is the middle parting. With this look, hair falls on either side of the face, and medium length hair is more wearable as you can tuck the hair behind the ears. Keeping the hair away from the face can draw attention to your features and complement multiple hair textures and cuts. The downside to the middle part is that it does not compliment all face shapes or look good on everyone. You need symmetrical features to pull off this look; a side parting is a better option for those who want to create balance and softness.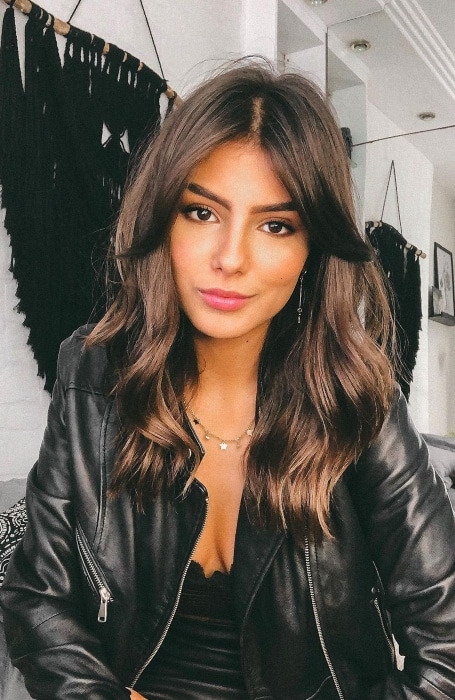 42. Wispy Fringe
Wearing your medium length hairstyle with a fringe can be incredibly flattering, but there is also a wide range of fringe styles to choose from. Some women love full and thick fringes that can give you volume and can be dramatic, while others prefer a more subtle approach, like a wispy fringe. These thin streaks of hair can soften your features, drawing attention to the eyes and cheekbones. It can also complement several hair textures, lengths, and cuts. Styling your hair in a choppy cut with a wispy fringe is perfect and will work well with the textured effect.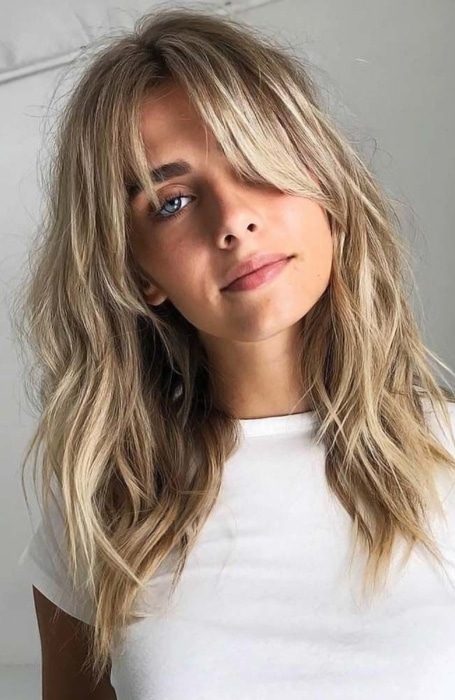 43. Medium Length Textured Cut
If you want to change your appearance, one of the easiest ways to do it is by dying your hair in your favorite shade. Choosing bold hair colors is expressive and lets you show the world your playful side. Your selected color can also say much about you; pink hair is a pretty choice. If your hair is naturally textured, your color can draw attention to the curl pattern. Or you could add movement and depth to the hair by adding choppy layers. Regardless of your hairstyle and texture, it can work with your favorite pink hue, making for a standout medium length hairstyle.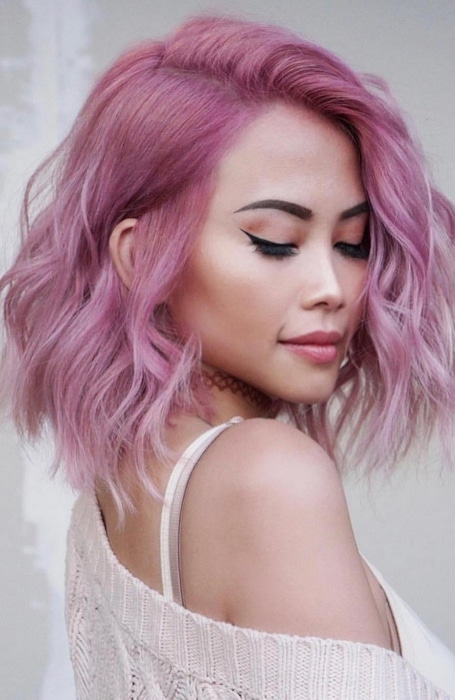 44. Very Short Bangs
For those who want your medium length hairstyle to make a statement, a great way to do this is by adding very short bangs that will give any haircut an edgy update. They are cut well above the brow and can be full and blunt cut or textured and wispy; this depends on your preference and hair texture. They demand attention, drawing you to the forehead and the eyes. It can create an interesting contrast when worn with long hair because of the proportions.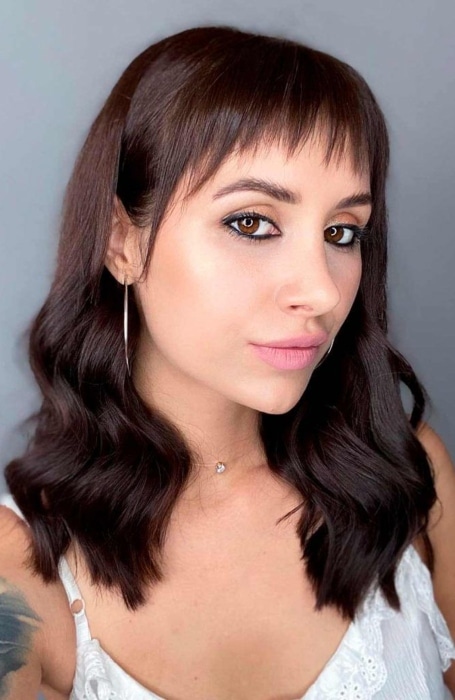 45. Bob for Thin Hair
There are some tips and tricks to ensure thin hair looks fuller and thicker, and one of the easiest ways to achieve this is with layers. Layers are a fantastic addition to any haircut and can help create the illusion of fullness. They also add dimension and movement to the hair and draw the eye toward the ends instead of the roots. It is often best to keep thin hair shorter, but the right cut can have you rocking a medium length hairstyle, too; a few examples include a shag, mullet, or bob haircut.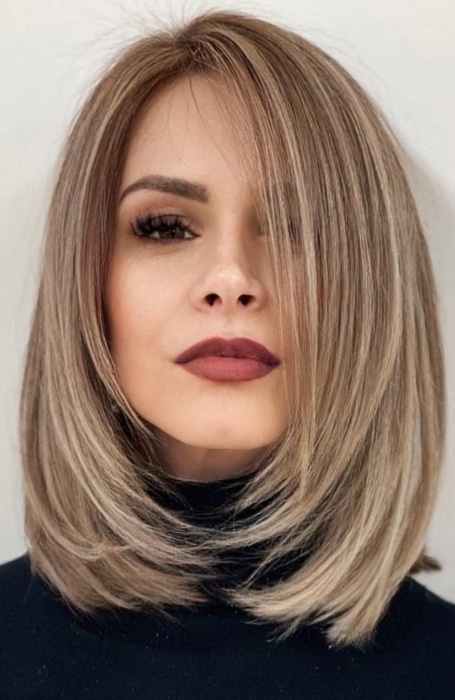 46. Split Dye Bob with Middle Part
The bob is one of the most versatile medium length haircuts and can be adapted to suit your hair texture and personalized with colors, including the split-dye trend. Colorful hair dyes are a wonderful way to have fun with your appearance. Opting for bright hues that demand attention lets you show off your playful side. You can dye the entire head, focus on just the tip, include streaks or different color statement highlights, or try out the split dye trend. The concept of split dye is to dye the hair on one side of the head; This could be with two artificial colors like pink and green, or you can leave one side of your natural hair color. This look is nothing if not versatile, allowing you to mix and match with combinations of your choosing. Choose colors that work well together if you wish to create a more blended appearance.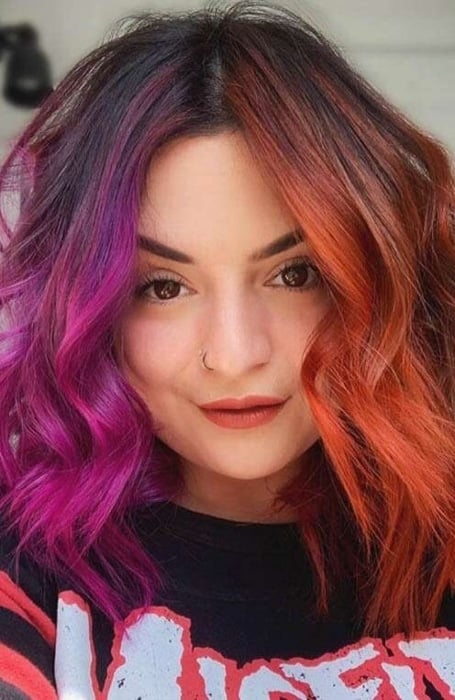 47. Permed Hair
Another 80s hairstyle favorite is permed hair, which is all about volume and texture, as it sets waves or curls into the hair. Big hair is a lot of fun and can also be expressive because it demands attention; when you walk into the room, people will notice. A medium length permed hairstyle can also be flattering and youthful, complimenting multiple face shapes and women of all ages. The modern approach is not as loud and in-your-face as the 80s, and you can tone down the perm to create a more balanced look. A downside to permed hair is that the process, which involves chemicals to alter your hair structurally, can be damaging and drying. It is best to work with a reputable hairstylist to minimize the chances of this.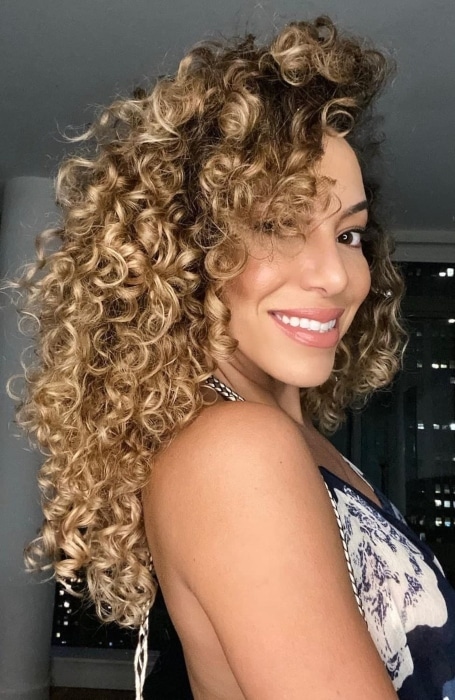 48. Black to Blonde Balayage with Middle Part
A medium length hairstyle with a middle part will draw attention to your face. And one way to complement a middle part cut is with balayage. Balayage is a popular coloring technique for several reasons; it is low-maintenance, lasts a long time, is natural-looking, and can be achieved on all hair colors. Adding foil highlights to dark hair can be damaging, and the colors are often not blended, making it look very obvious and unnatural. However, you can brighten and lighten black hair with balayage, creating a more subtle and blended appearance. You do not have to cover the roots and work with your colorist to achieve the perfect blonde shade to match your hair and preference.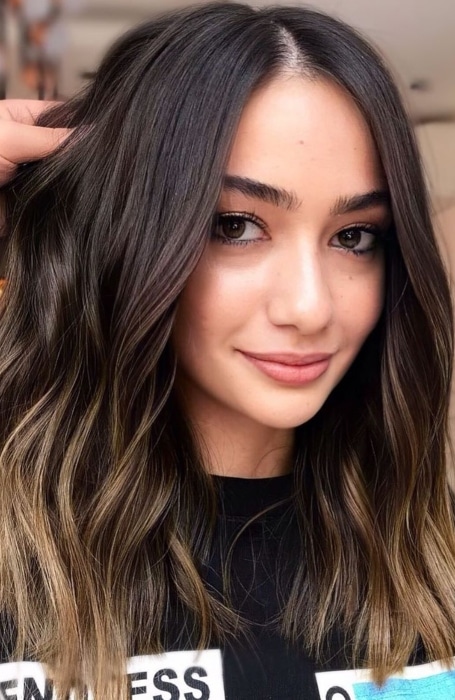 49. Backcombed Hair
Backcombed hair is created by brushing the hair backward, away from the scalp. This helps to achieve volume and fullness and looks excellent in various hairstyles. Leaving your hair down with a small bouffant and bangs is also chic and can soften the hairstyle. Or you can have big hair that is completely brushed away from your face without bangs; think a beehive. The great thing about backcombed hair is that it can be created in various ways and adapted to suit most hair textures. Your chosen medium length haircut should complement your face shape and highlight your best features.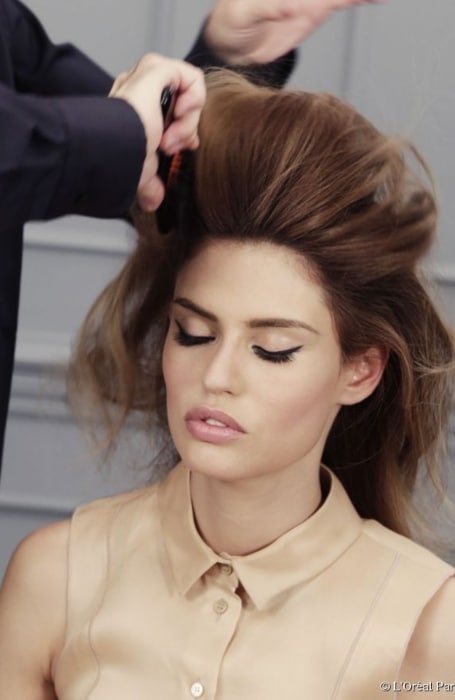 50. Beach Waves
Beachy waves help you achieve hair that is soft and feminine and will create a relaxed aesthetic. Adding these waves to your hair can make it look like you have spent the day at the seaside, and the way they fall about your face can be incredibly flattering. It can add a softness to your appearance and give your hair volume and movement. Play around with how you want to style your hair; this could be left long and loose or a medium length hairstyle which is the ideal length. It could also be styled to the side or with a middle part. Work your beach waves into a loose updo for a romantic finish that can lend itself well to more formal occasions.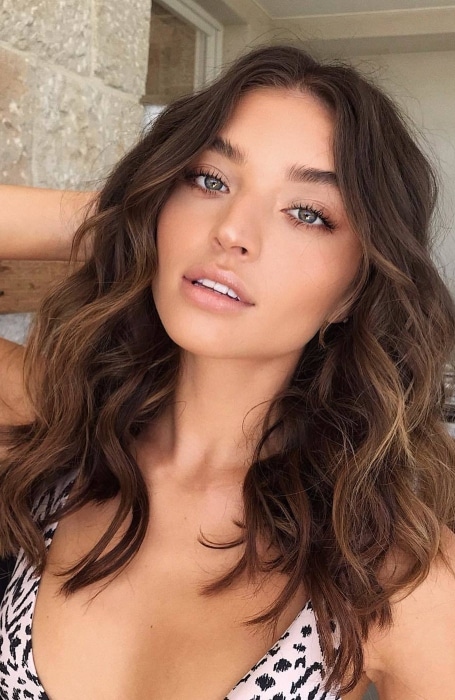 51. A-Line Hairstyle
The bob haircut is typically short but incredibly versatile and adapted to various lengths and textures. Cutting your hair in an A-line shape is ideal because it can frame the face and draw attention to the cheeks and jawline. The angular cut is shorter on the back, with more length at the front, giving the illusion of more length. This medium length haircut is best on straight hair to show off the precision of the cut. It can work with most face shapes, making them appear thinner and elongated.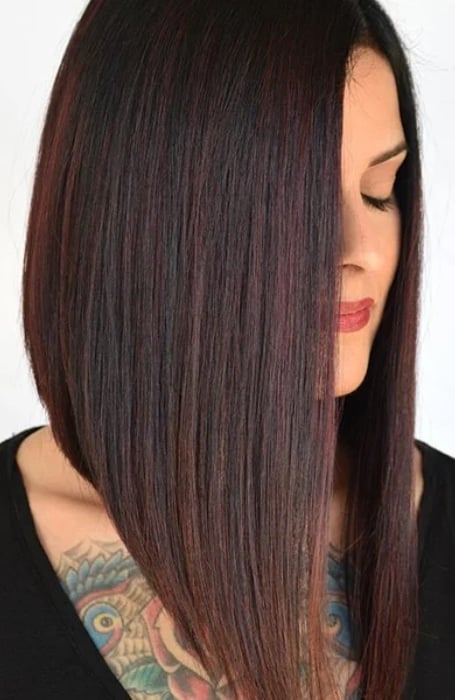 52. Side Swept Bangs
Bangs are a great addition to any medium length hairstyle, and there are so many different ways to wear them. Side swept bangs are an attractive and easy-to-wear option that will complement most face shapes and are a low-maintenance haircut. Keeping the hair to the side makes them easier to style than blunt and horizontal cut bangs. Side-swept bangs can also naturally grow out. These bangs can look especially impressive when paired with a blunt cut. The cut can leave your hair looking and feeling healthy, but it will also slightly contrast the style's sharpness and the bangs' softness how the hair falls can also soften your features and draw attention to your eyes.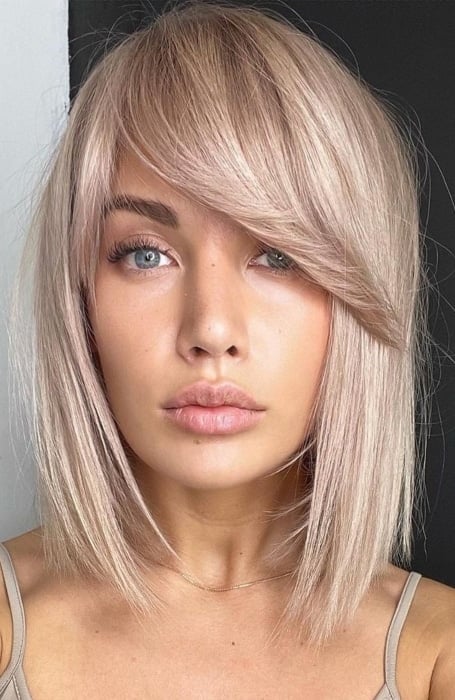 53. E-girl Hairstyle
The E-girl hairstyle is creative and fun. It can say a lot about what you like, and it is for someone who stands out from the crowd, not blends in. The trend merges several things, including bold fashion choices, colorful makeup, black nails, and hair with bright streaks. Of course, this is a simplified example of what this aesthetic is all about, and there is much room for freedom and creativity with how you look and what you wear. That said, if you want a new, youthful look that can draw attention to your medium-length hairstyle, adding streaks of your favorite color is a great idea. You can opt for multiple colors throughout the hair for a rainbow style. Or stick to one, placing the color strategically around the face to create a framing effect.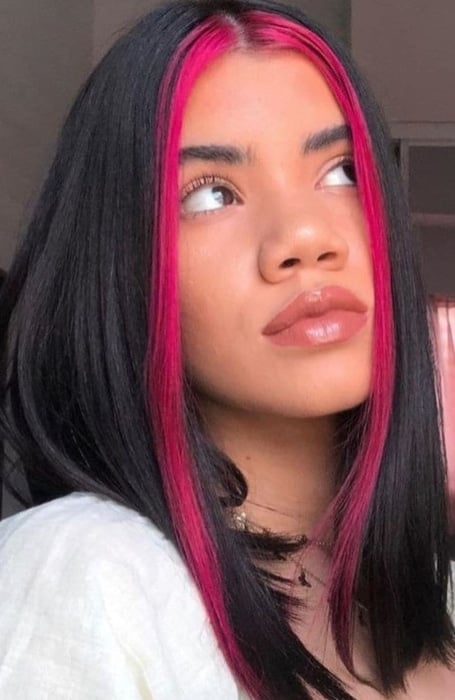 54. Space Buns
The space bun works wonders with a medium length hairstyle and is a fun and fresh way to wear your hair. They were first popularized in the 90s but remain relevant today, with a few modern twists and personalization. Perfect for festivals, days at the beach, or hanging out with friends, space buns are incredibly versatile. The hairstyle features two buns on either side of the head, and your hair can be entirely up, or you can use them to create a half up half down look. It is also a youthful style, perfect for younger women and teenagers who want something cute and easy to create. You can also pair space buns with thick or full bangs to draw attention to the face. Or a wispy fringe or tendrils; this will create softness and can be exceptionally flattering.&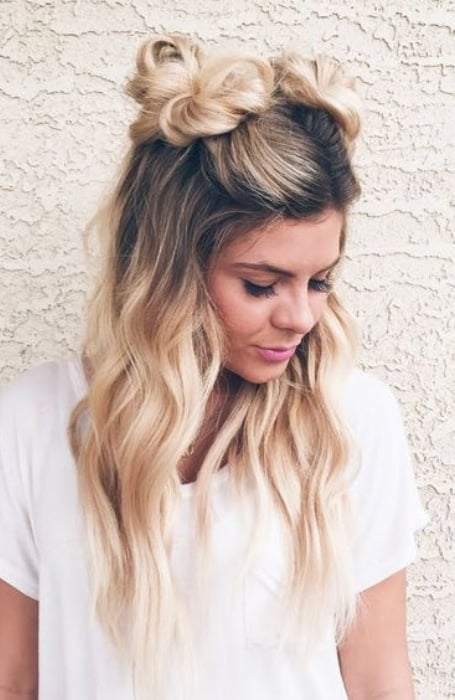 55. Crown Braid
The crown braid is a romantic medium length hairstyle; it's perfect for formal occasions like weddings or if you love the cottagecore aesthetic. It is created by plaiting the hair into a French braid first, then lifting them to the sides and wrapping them around the head. The braid can be dressed up or down, making it ideal for all occasions and a great way to draw attention to your face. You can create it on various hair textures, and it is a simple and easy way to tame curly or wavy hair. For a softer approach, leave a few strands of hair to fall around the face, adding a softness to it and creating a deliberately undone feel. For the best results, do the braid a day or two after washing, giving you more grit and making it easier to work with.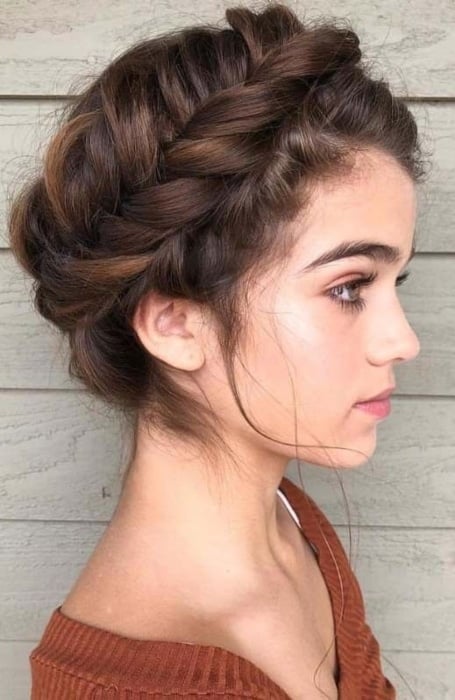 Medium Length Haircuts for Women FAQs
What is a medium length hairstyle?
A medium length hairstyle sees the ends of your hair at your collarbones or your shoulder blades.
Which haircut is best for medium hair?
A medium length haircut works well with all hair types. Some of the most popular haircuts include bobs, lobs, bangs, topknots, shaggy styles, and wavy hair.
SUBSCRIBE TO OUR NEWSLETTER
Subscribe to our mailing list and get interesting stuff and updates to your email inbox.