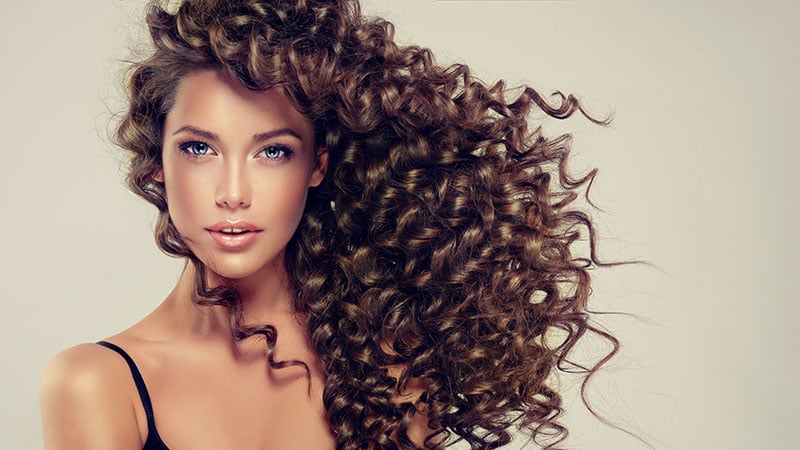 Curly hair is having a moment. From waves to ringlets, women everywhere are embracing styles that give their locks more movement, texture, volume and bounce. Straight-haired ladies looking for a significant change should consider a perm, making their curly dreams come true without needing daily heat styling. Meanwhile, naturally curly textures can also benefit from a perm's curl-enhancing and smoothening powers. If you want to change your look, these best perm hairstyles will give you all the inspiration you need.
RELATED: 11 Different Types of Perms You Need to Know
RELATED: 80 Natural Curly Hairstyles for Women
Perm Hairstyles
1. Curly Hair Perm
A perm can enhance your natural curl hair, making it more consistent or defined. Alternatively, those with natural curls can change to a looser style, like beachy waves, with a perm. It's all about the technique your stylist uses to create your new hair texture.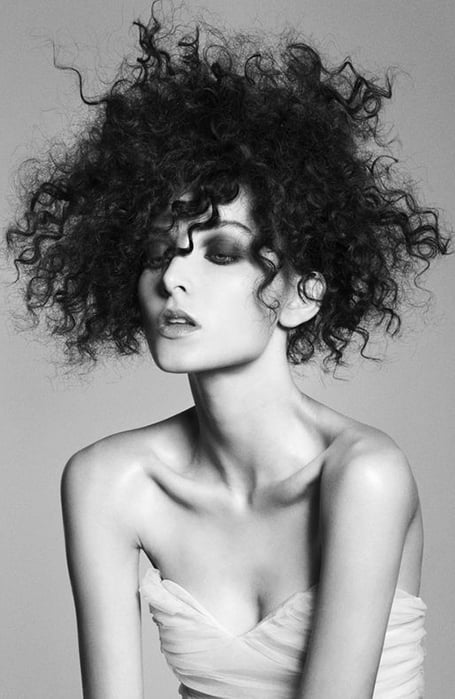 2. Wavy Hair Perm
Like straight hair, wavy hair responds well to perming. Depending on the type of material your stylist uses to set the curls, you can go from mermaid waves to ringlets, finger waves, or spiral coils. A perm will give you a more defined look and completely refresh your hairstyle.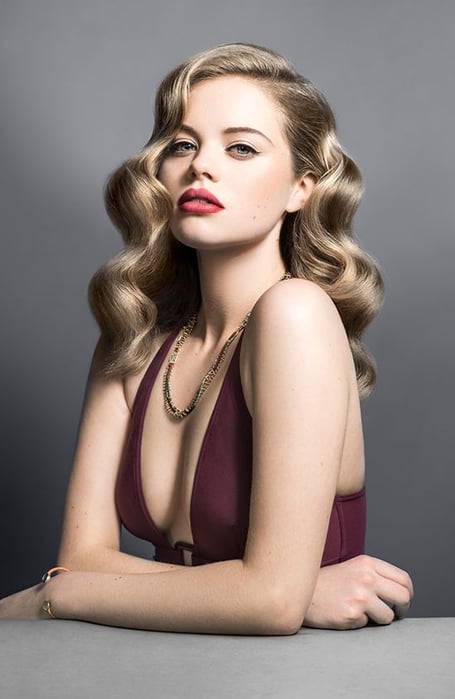 3. Long Hair Perm
Perms suit hair of all lengths, so if you've always wanted to have a mane of cascading curls, your dream can come true. Lengthy locks look fantastic with tighter curls, looser waves, or a very natural mixed perm. However, remember that the perm process can take several hours on very long, thick hair.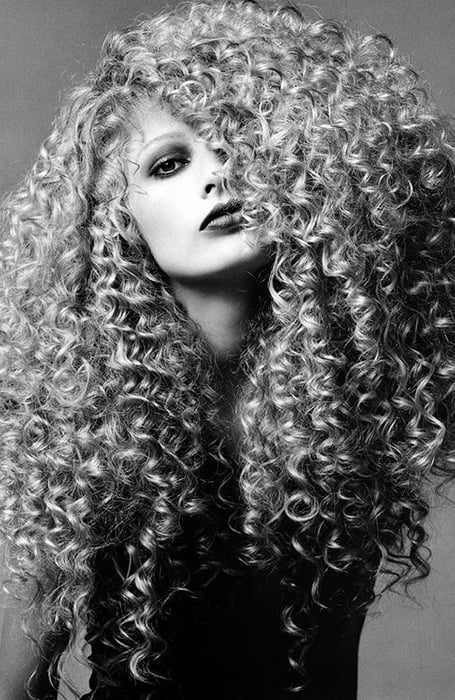 4. Short Hair Perm
Short hair looks fantastic with a perm. However, because there's less hair to work with, your stylist will need to use smaller rods to set the curls – meaning you'll get more of a ringlet-style look. The result is a cute mop of retro-style curls with a youthful, free-spirited finish.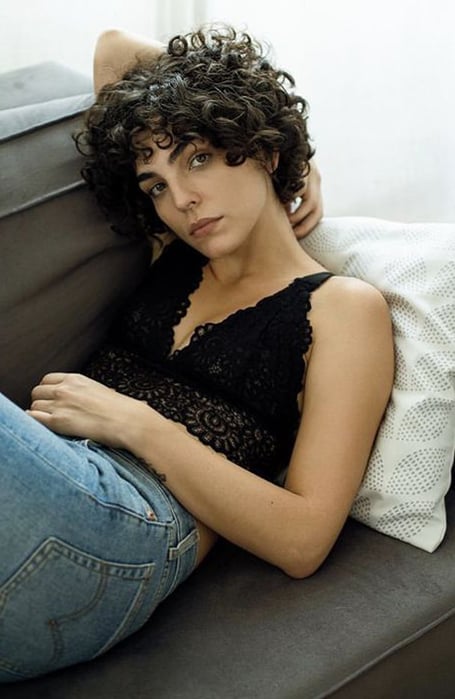 5. Shoulder Length Hair Perm
Shoulder length hair suits almost every style, including curls. If you want to change up your length and your hair's texture, a perm could be the answer. The curling process will make your hair look shorter than it is without needing a cut. Plus, curly hair looks thicker and has more volume than straight hair.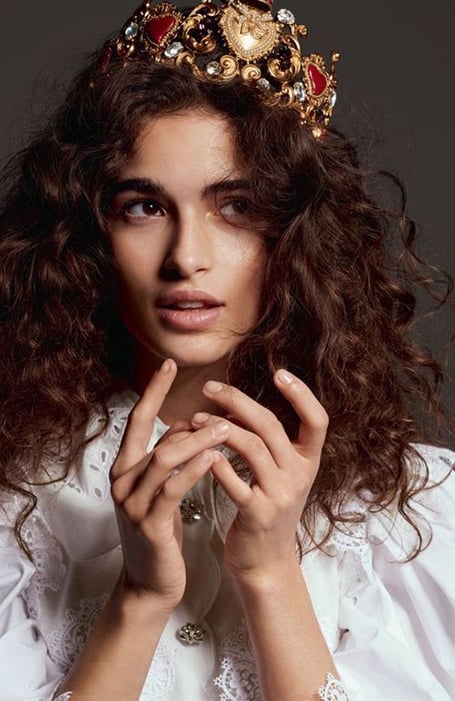 6. Medium Hair Perm
For women who love the fashion of the '70s, a medium hair perm complements the style perfectly. Take your cues from Penny Lane in Almost Famous and opt for softer curls with plenty of texture. You'll have a mane that looks effortlessly cool, wild, and free.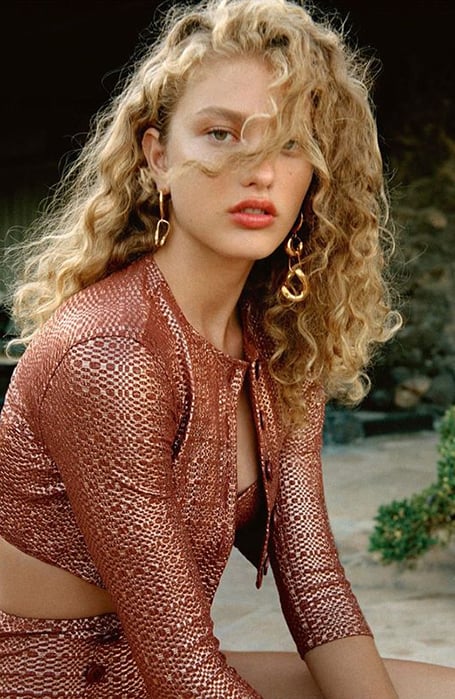 7. Perm for Fine Hair
Spiral perms and beach waves are the best options for fine hair as they immediately add volume. The decision depends on the final result you want to achieve. While beach waves look more casual and effortless and won't change the length of your hair too much, a spiral perm will give you defined, bouncy curls and make your hair look much shorter.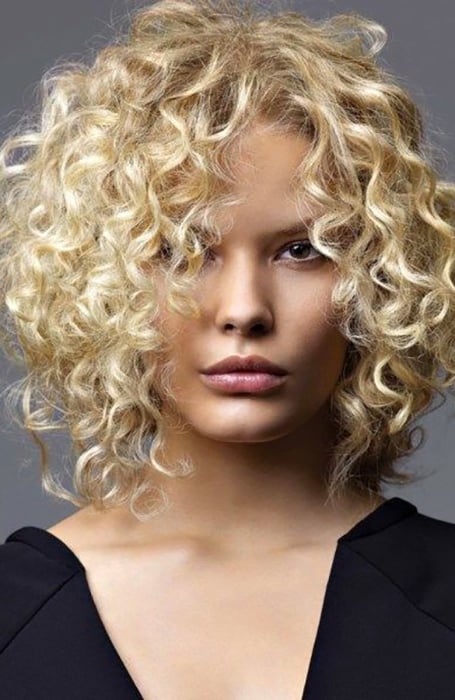 8. Black Hair Perm
Black hair can be permed to loosen the curls or change the natural curl pattern. You can also get a straight hair perm if you have natural Afro-textured hair and want super straight results – similar to those achieved with a relaxer. Like all chemical processes, however, a perm will cause some damage. Use deep conditioning treatments and keep your hair moisturized to avoid breakage.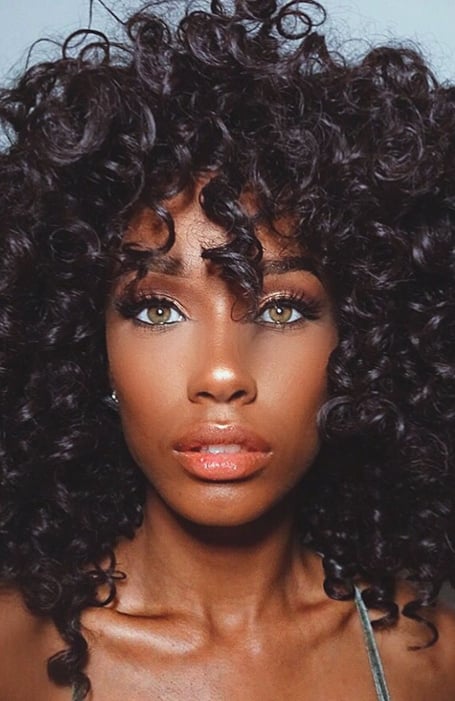 9. Bleached Permed Hair
Curly blonde locks look stunning, but your hair transformation won't be overnight. That's because perming and bleaching are chemical processes, and both will damage your hair to an extent. As a result, it's recommended that you space the treatments several weeks or months apart to avoid breakage. Some salons will also apply a bond-restoring treatment, like Olaplex, before and after the bleaching to ensure your hair stays as healthy as possible.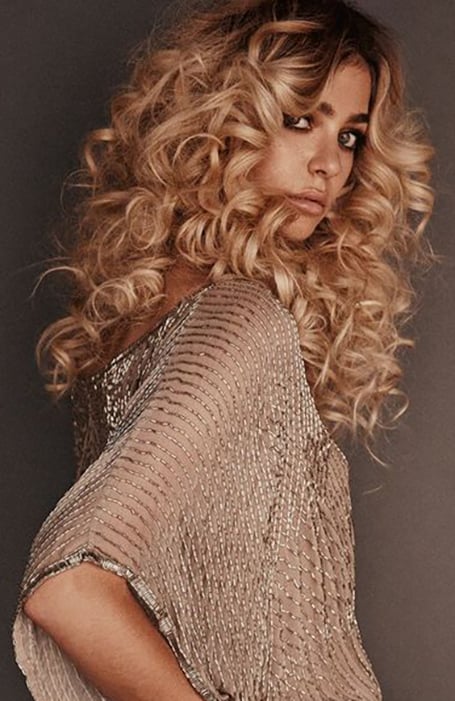 10. Asian Hair Perm
Because the Asian hair type tends to be straighter, thicker, and stronger than Caucasian hair, new perming processes were developed to give more effective results. The hot perm – also known as a 'digital perm' – is an enduringly popular option. The technique uses a heat tool to seal in the curly style, which looks softer and more natural than a traditional perm.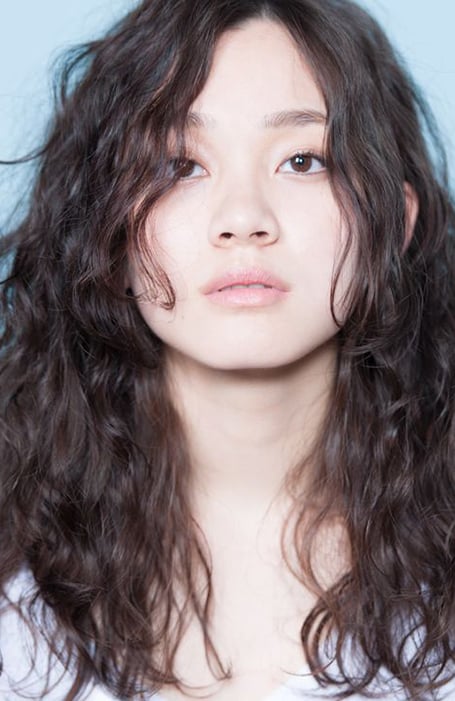 11. Spiral Perm for Long Hair
A spiral perm gives your hair a retro, defined, corkscrew curl. It instantly adds volume to fine hair and makes your locks look thicker. While the original version was popular in the '80s, today's take has a more natural finish. To give your spiral perm a modern twist, brush out the curls instead of leaving them intact.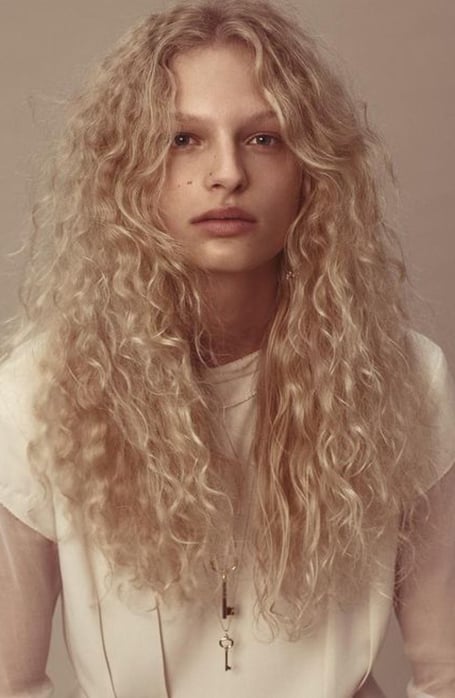 12. Loose Waves Perm Long Hair
For most women, loose waves are the perfect hairstyle. Flattering and feminine, it's a soft, low-maintenance hairstyle that makes hair look thicker. Instead of daily heat styling, those with naturally long and straight hair should consider a loose wave perm. The result will look natural and effortless and save you time.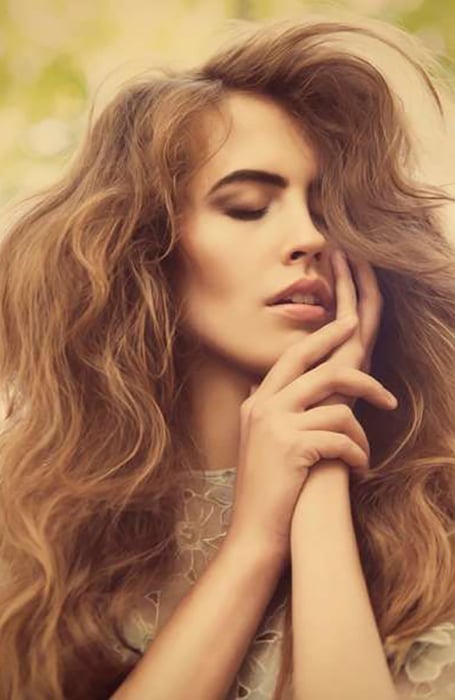 13. Beach Wave Perm for Short Hair
A lob cut with beachy waves is a timelessly chic hairstyle, and it's ideal if your hair is finer. Short, curly hair appears thicker and has more body and movement than long, straight hair. Curls also make you look younger and help balance a thinner face. A beach wave perm will give you beautiful results that last for months instead of hours.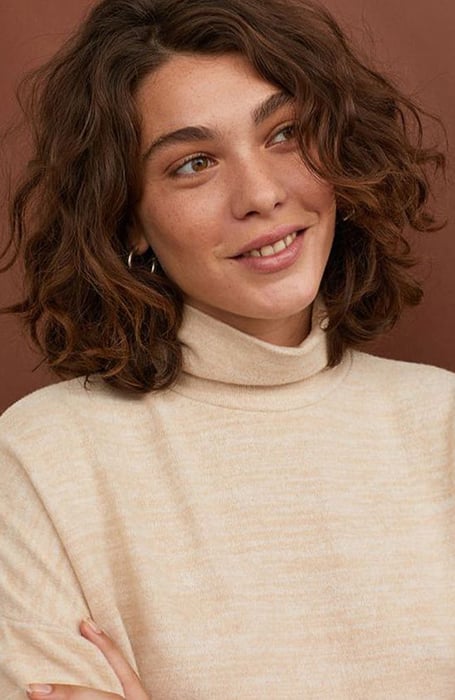 14. Short Permed for Black Hair
Perming is one of the methods of changing the curl pattern of Afro-textured hair. One option for short black hair is a soft curly bob haircut. Effortlessly glamorous and flattering, you'll still retain all the bounce and movement of your natural hair. Add a subtle side parting or bangs for an even more stunning finish.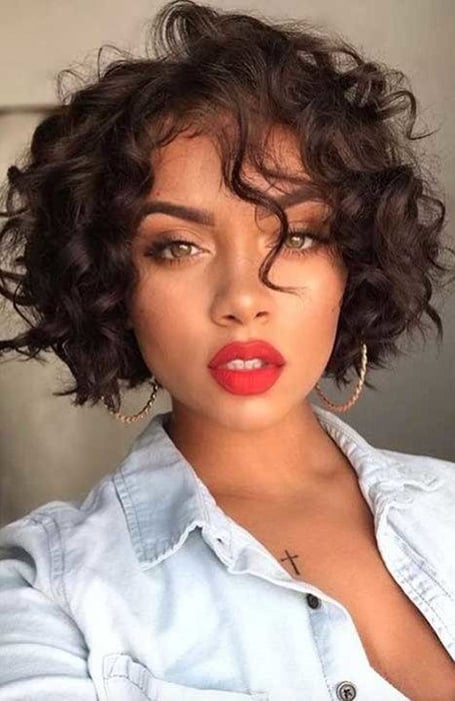 15. Beach Wave Perm for Medium Hair
Find yourself reaching for your curling tongs every day? A beach wave perm will give you ocean-ready locks all summer, with no required heat-styling. Soft and natural, the beach wave perm looks effortless and sexy on medium hair. It will provide straight hair with much-needed body and texture or give some structure to messy and uneven curls.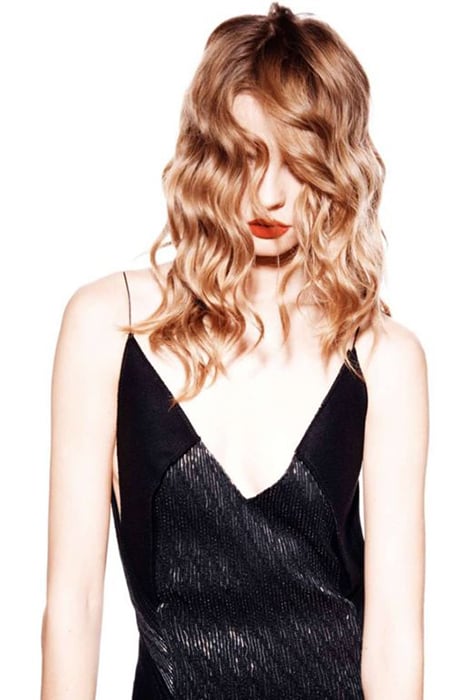 16. Hairstyle for Long Permed Black Hair
Long permed black hair has many styling options, but why not show off your fresh curls by wearing them loose? It's an effortlessly cool and beautiful style that makes the most of your hair's length. For a subtle change, try parting your hair differently, too.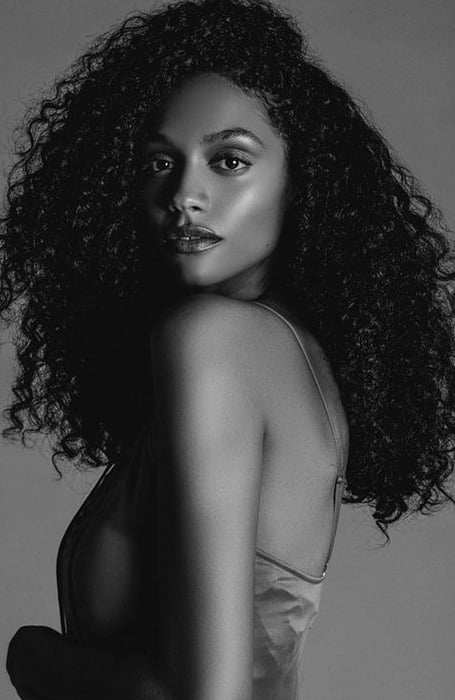 17. Straight Hair Perm
Perms aren't just for turning straight hair curly – the treatment also works the other way. Because the chemicals in a perm alter the structure of your hair, it can also make it straight. This type of perm uses different chemicals to a relaxer but is still suitable for Afro-textured hair, unlike other processes like Japanese Straightening.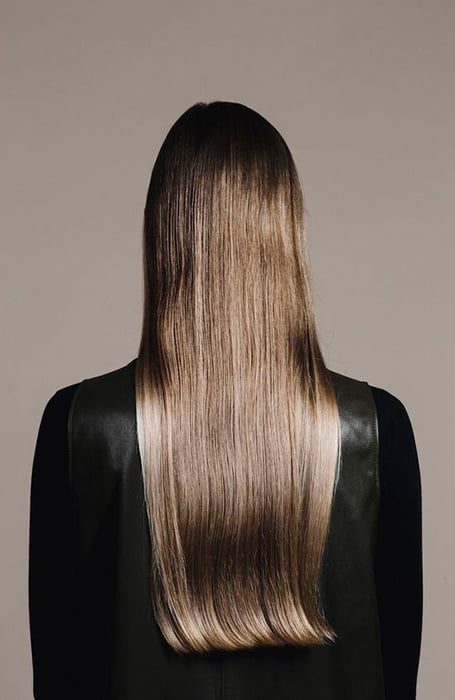 18. Permed Hair with Deep Side Part
Perms were all the rage in the 80s, but they have made a big comeback recently for all the right reasons. The process involves a chemical treatment that alters the hair's natural pattern, giving you the curly or wavy locks of your dreams. The modern approach to the perm is much more wearable but still sees your hair looking voluminous and full. You can also style it in various ways, including with a deep side part. This parting is flattering on women of all ages, helping to create symmetry. It can also soften features and complement your bone structure. For round faces, it can give the illusion of a slimmer face. Plus, the deep side part is a great way to increase the hair's volume.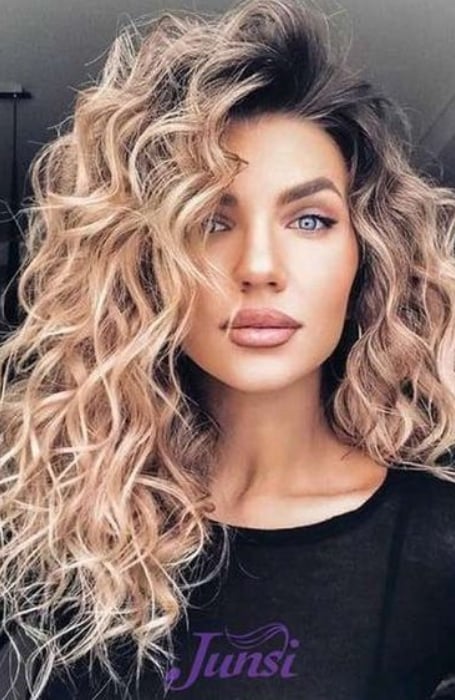 19. Medium Permed for Black Hair
Because a perm loosens tight and kinky natural curls, your hair will be longer. That, in turn, gives you a variety of new styling options. One of the most beautiful styles for medium permed black hair is a messy bun. Leave some front pieces free to help frame your face and keep the look soft, pretty, and casual.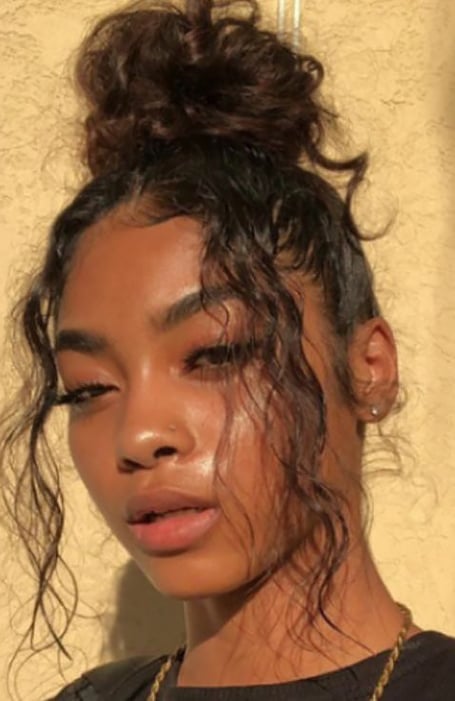 20. Spiral Permed Hair
A spiral perm is a wonderful option for anyone who wants big hair that makes a statement. This perm has a defined curl pattern that appears in different sizes and lengths. These are the perms favored in the 80s because they are voluminous. This hairstyle can be more challenging to pull off than the modern approach to perms, but it's a lot of fun. It makes the hair look full and gives it movement, but it also draws attention to your face. The spiral perm can look youthful and is flattering to women of all ages but works best on longer hair.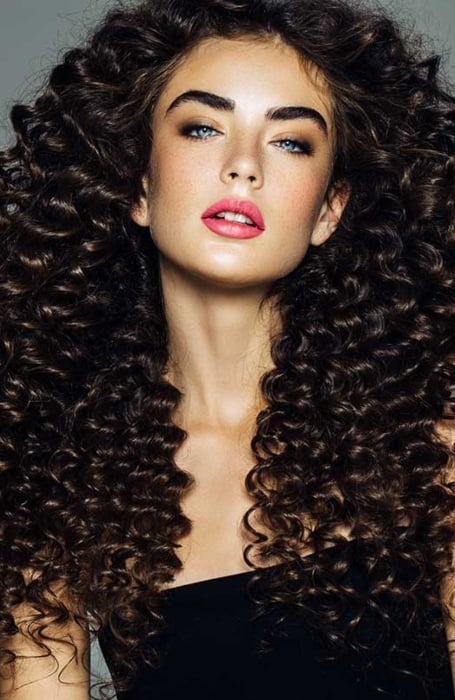 21. Permed Lob Hairstyle
Perming involves a chemical process to structurally alter your hair, giving you curly or wavy locks. The pros of the perm are that it makes the hair look full and voluminous while also highlighting the texture. A permed hairstyle can be styled in various ways, including a classic cut like the lob hairstyle. The lob is a universally flattering and easy-to-maintain haircut that is excellent for women of all ages. The length falls between chin and clavicle and can be personalized with different angles, colors, bangs, and partings.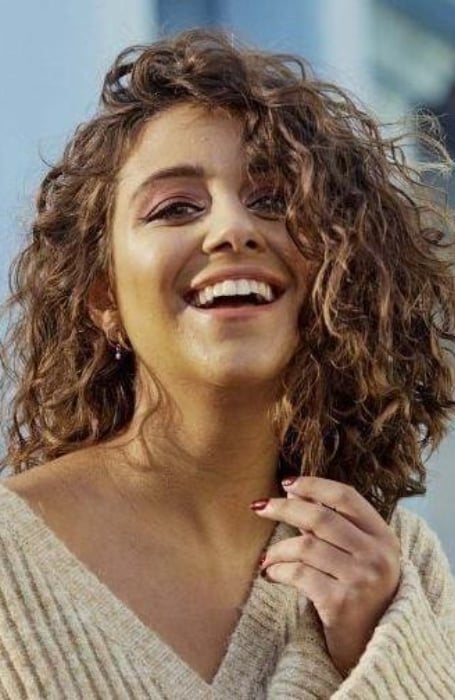 22. Pretty in Pink Permed Hair
Perms can be a way to enhance your hair texture or structurally alter your hair to create waves or curls. A perm can be worn short or long, complementing multiple haircuts and colors. Pink hair is associated with love and femininity and can be a great addition to your perm. It will make you stand out and highlight the curl pattern in your hair. The color is also fun and expressive, allowing you to show your playful side. There are multiple shades to choose from, with the lighter, more muted tones being much easier to wear and complementing a wide range of hairstyles.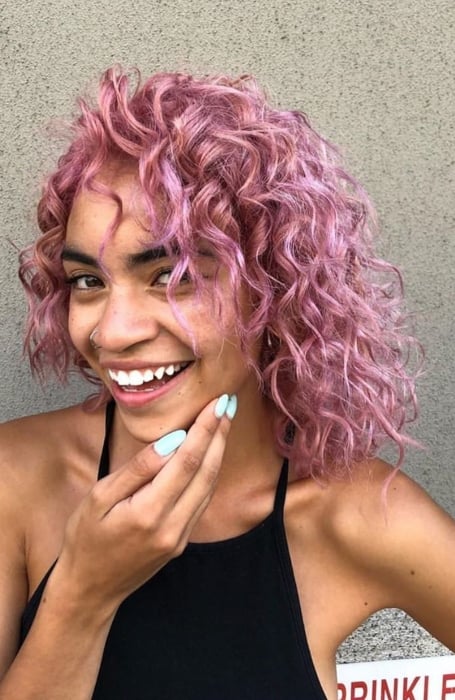 23. Statement Perm Hair with Volume
Bigger is better when it comes to permed hair. For women who love big, voluminous hairstyles and want hair that demands attention, this is easy to achieve with a perm. The modern approach to the perm is subtle and easier to wear, but there is something to say about the original version from the 80s. It was a great way to highlight your hair texture, making it appear full, thick, and healthy. Curly hair can also be incredibly flattering and has a youthful appearance. But the most appealing thing about the old-school perm is its fun and expressive nature. You were not made to blend in, so don't!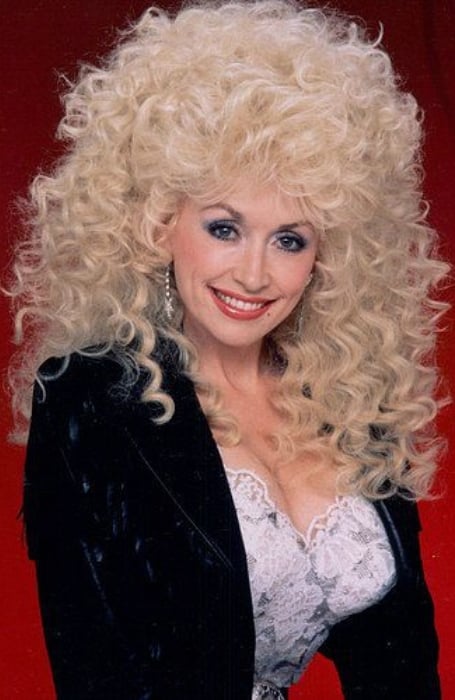 24. Edgy Mullet Hairstyle with Perm
The mullet hairstyle is not for the faint of heart. The 80s favorite is defined by shorter length on the top and sides of the head and longer in the back. Despite being a somewhat controversial style, it is versatile and can be worn in various lengths and with different hair textures. Permed hair creates a softer appearance as the lengths between the top and back of the hair appear less obvious. This makes the cut easier to wear but still gives you an attitude. Try this look if you want something edgy and different and love hairstyles with volume.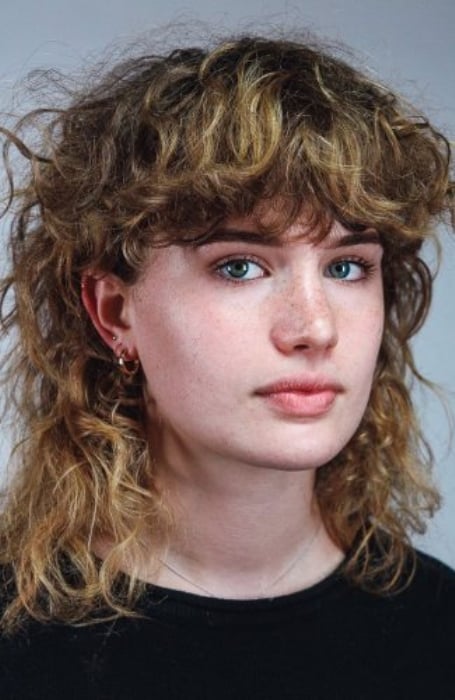 25. Big Permed Shag Cut
The shag haircut first emerged in the 70s but remains popular because it is versatile and easy to wear. The cut is defined by the heavy, choppy layers, complementing thin and thick hair and being worn with varying lengths and textures. On curly hair, which can be created with a perm, the shag will appear thicker and voluminous. The cut will give your hair movement and direction, but the layers will be less visible than on straighter hair textures. The perm is feminine and flattering for women of all ages and can soften your features and flatter your face shape.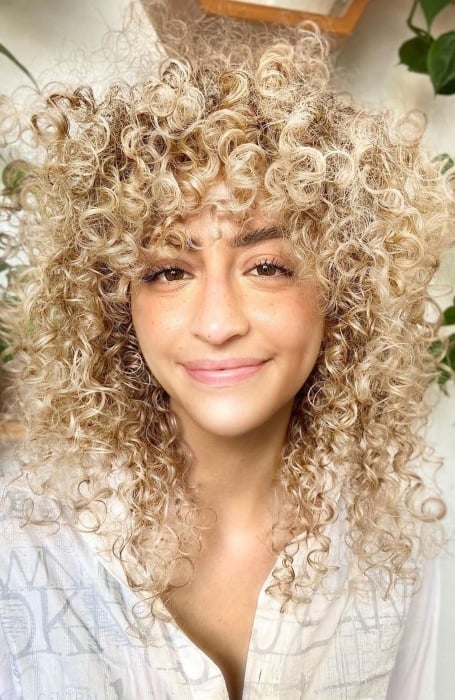 26. Fluffy Pixie Cut Perm
One of the most versatile short haircuts for women is the pixie cut. This is a cut defined by the hair short on the back and sides with slightly more length on the top, giving the hair volume and making it appear thicker and fuller. The pixie cut can be recreated with various textures and types and looks great with permed locks. Although most women choose to add a perm to longer hair, the short haircut can create a fluffy appearance that can accentuate your curl pattern. It is also a low-maintenance alternative, making caring for and styling your hair easier.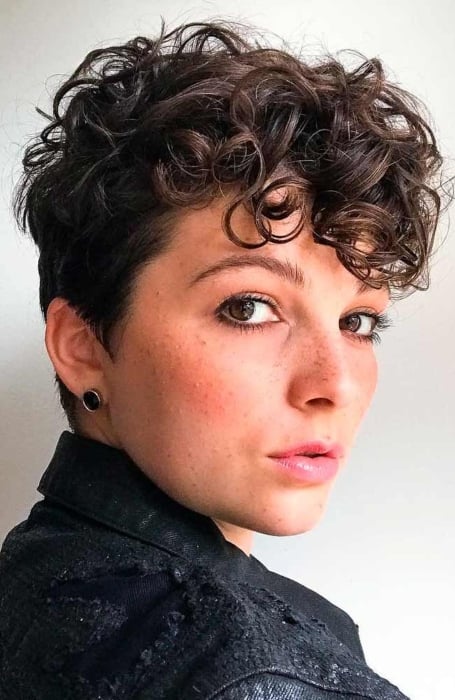 27. Perm Hairstyle for Older Women
In previous decades older women have favored perms because it can make the hair look thicker and more voluminous; as we age, our hair becomes naturally thinner. The modern approach to the perm can be much more flattering and easier to wear than the 80s original, focusing on a more unique and tailored experience for each individual. The perm does not need to be as big or voluminous but will still make the hair look healthy and give it lift and movement. Discuss your options and the results with your hairstylist beforehand, working with them to minimize any damage and dryness caused by the chemical process.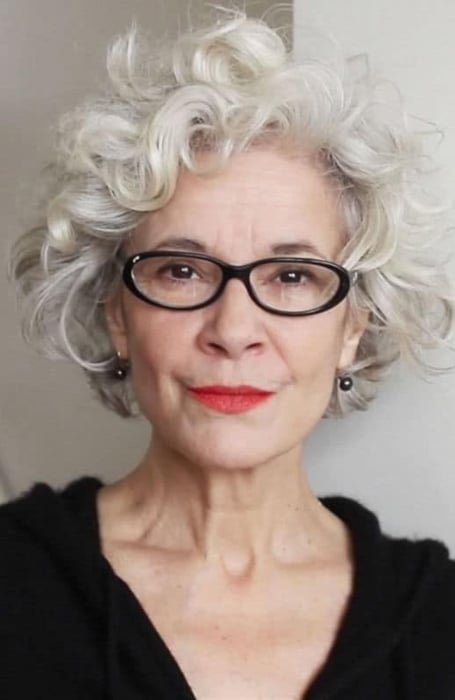 28. Subtle Perm with Blunt Bangs
The modern perm is tailored to each individual, letting you create your look exactly how you want it. Hair does not have to be big or bold and can benefit from subtle curls or waves, which can be easier to wear. You can style your perm in various ways, including with blunt bangs. This look will create contrast as the bangs are more structured and cut across the face. They are also chic and feminine and can hide signs of aging like fine lines or wrinkles and problematic skin. Your blunt bangs are a great addition to any hairstyle, giving you a youthful glow and drawing attention to the eyes.
29. Edgy Perm with Shaved Sides
The perm is great for achieving volume, and pairing it with an edgy haircut like shaved sides will boost that volume even more. The contrast between the shaved sides of the head and the top will draw attention to your curl pattern and make the hair appear fuller and thicker. The hairstyle also makes it easier to try out a perm with little maintenance. You do not have to worry about hair getting tangled, and a look like this can reduce styling time. In addition, this is a fun and expressive look, showing the world you are not afraid to take risks and do not mind standing out from the crowd.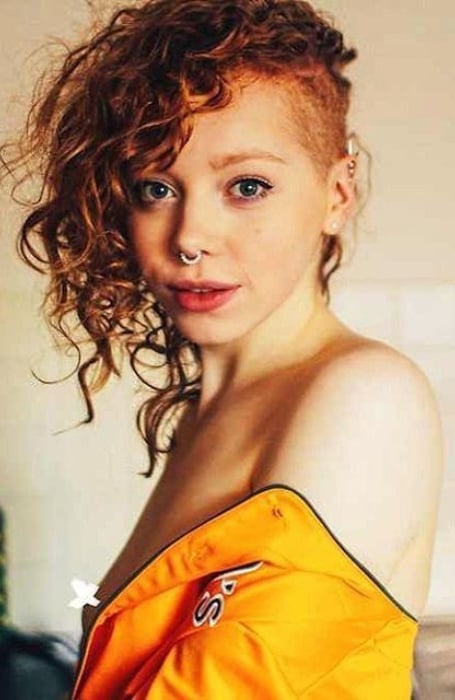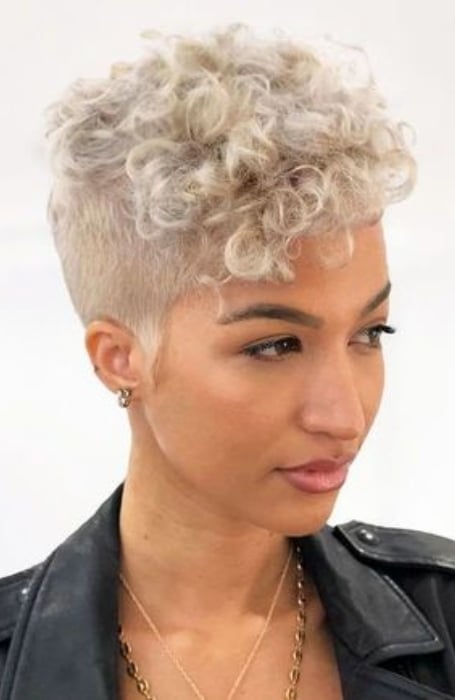 30. Voluminous Natural Hair Perm
The appeal of the perm is how versatile it is. It can be added to hair of various lengths and thicknesses and styled how you like. For some women, it is all about achieving volume and drawing attention to the hair texture. Big hair makes a statement, and it can also be incredibly expressive. Showing off your curls, which the perm can enhance, will make the hair look full, thick, and super healthy. You may find that your look requires some maintenance and could be prone to tangles, but the result is likely worth the hassle.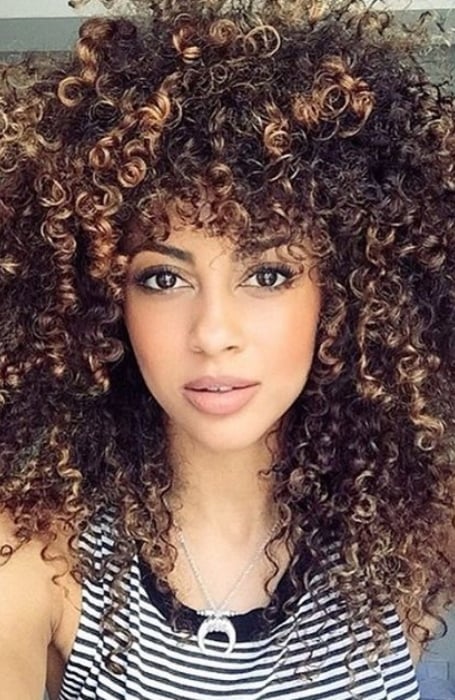 31. Youthful Permed Updo
Permed hair can give you a youthful appearance, softening the features and complementing most face shapes. Depending on your hair length, you can style it up or down; working the hair into a messy and deliberately unstructured appearance can look gorgeous. Leaving a few strands of curly hair to fall around the face will frame it, or you can wear your perm with bangs and an updo. To finish the look, add a colorful headscarf or hair accessory of your choosing; this is a way to add a pop of color to your appearance and also lets you bring some of your personality to your hair, as there are many different colors, patterns, and prints to choose from.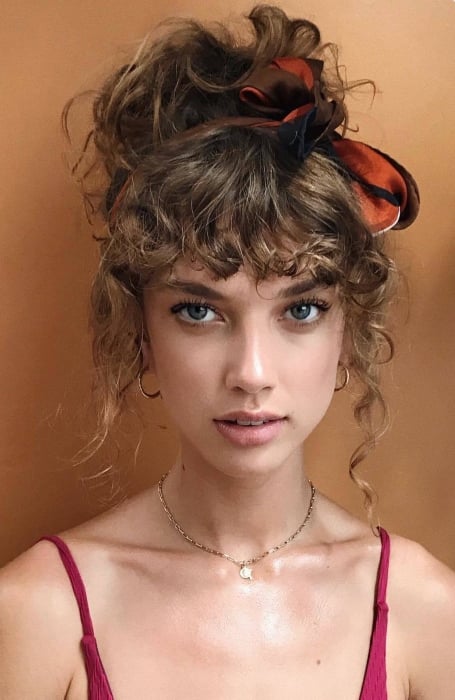 32. Retro 80s Perm Hairstyle
Perms were trending in the 80s, and for a good reason, they let you change the structure of your hair, either transforming straight hair or accentuating natural curls. The result is that big hair is voluminous and appears thick and healthy, often working best on medium to long hair. The decade was all about excess and making a statement, and if you want to draw attention to your hair and face, this is the look for you. Your thick curls can frame your face, softening your features. You can also style your hair in various ways, including a side parting that is universally flattering and can complement your bone structure.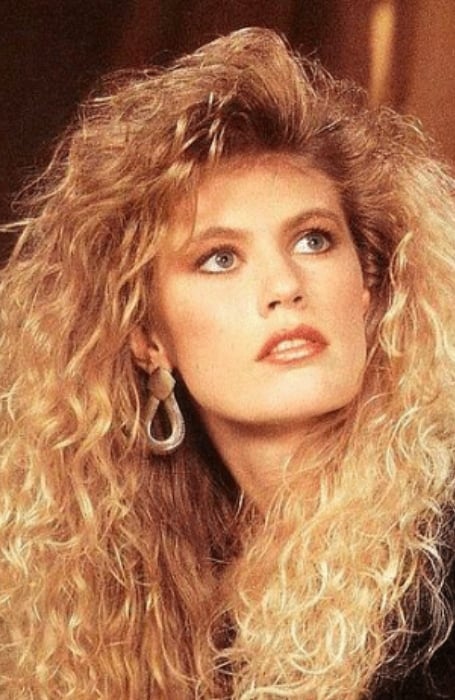 33. Permed Hair with Curtain Bangs
Pretty and romantic, what is not to like about permed hair with curtain bangs? Perms are all about hair texture and volume. They are great for enhancing your natural curl pattern or transforming your straight hair; the right approach can be flattering for everyone. Wearing your hair with curtain bangs can change your appearance, giving you a youthful glow and drawing attention to your face. These bangs are parted and on either side of the face, framing it. Depending on your preference, they can be full and thick or subtle and wispy. With a perm, your bangs will appear soft and blended with the rest of the hair.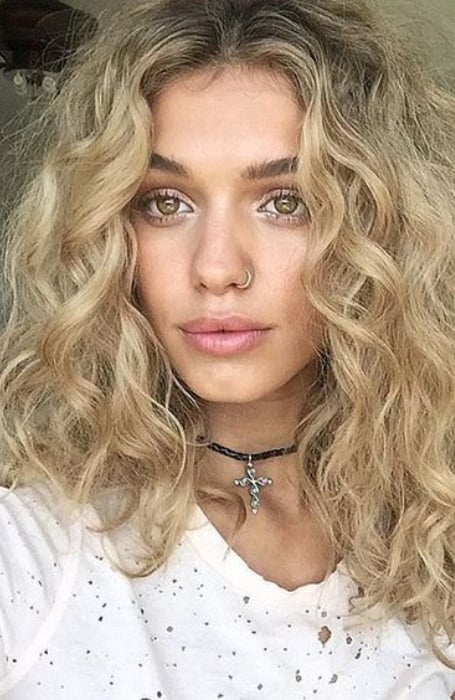 34. Long Perm with Wispy Bangs
Perms are gorgeous and feminine when worn with long hair. Keeping the hair longer also allows you to show off the volume and movement that the perm creates, which can be incredibly flattering. There are several ways to style permed hair, including wispy bangs. These thin strands of hair do not cover the whole forehead making them easier to style, and there is a more seamless transition between these bangs and the rest of your hair. Wispy bangs create a softer appearance instead of adding structure to your hairstyle. Plus, they can make you appear younger.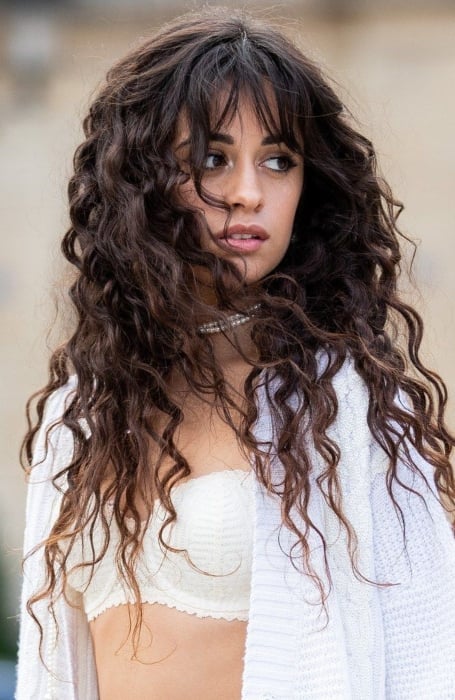 35. Asymmetrical Perm Hair
An asymmetrical hairstyle is a great way to experiment with angles in your cut and produce an edgy and cool look. The cut is defined by hair that is longer on one side than the other; you can determine which side. This is a great way to draw attention to the jawline and complement your bone structure. With permed hair, the precision of the cut appears more blended and unbalanced. It can still be incredibly effective and gives you the freedom to experiment with your cut; how long you want one side and how short you want the other can differ depending on your preference.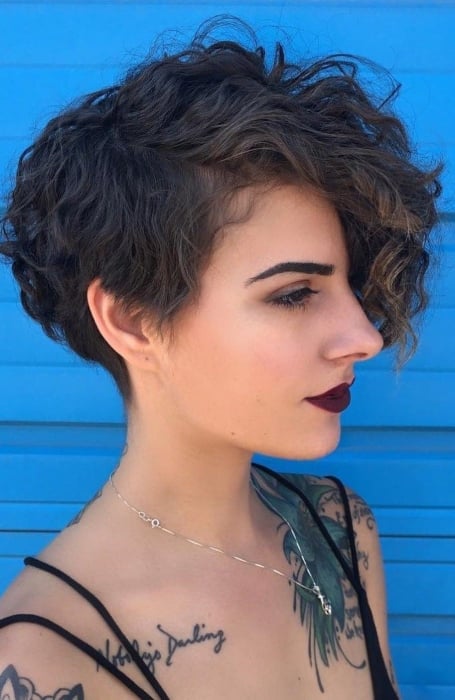 36. Bold Split Dye Permed Hair
Experimenting with your hair color is a wonderful way to show your personality. Permed hair is appealing because it makes it look voluminous, but you can draw even more attention to your locks with an interesting color. For those who are daring, the split-dye approach is for you. This hair coloring technique has been gaining popularity thanks to social media like TikTok and Instagram and is favored by younger women. As the name suggests, the hair is dyed in two colors, split in the middle. These can be hues of your choosing, whether two similar and complementary colors or contrasting shades, and create a dramatic effect.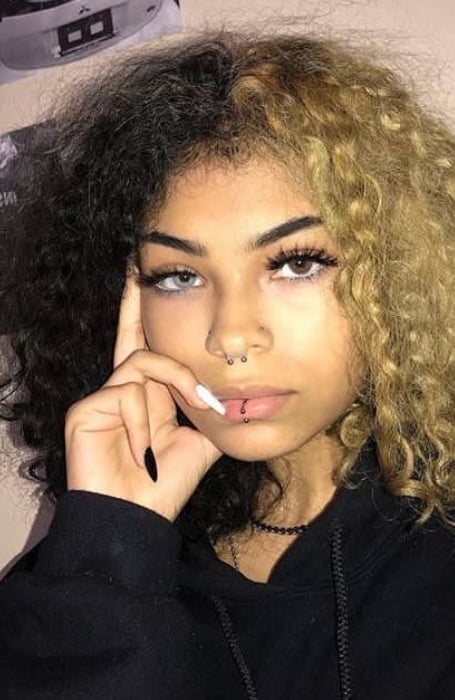 37. Permed Hair with Scrunchies
The appeal of permed hair is its versatility. There are many different ways to wear it, including interesting updos. Styling your hair in buns, pigtails, or ponytails will benefit from adding scrunchies. This 80s and 90s hair accessory can add a retro vibe to your hairstyle, but it is practical and fun. They are less likely to cause damage to the hair, and there is a wide range of colors and patterns to choose from, which lets you find the combination that best reflects your personality. This will make a cute look for a weekend brunch or hanging out at the mall with friends.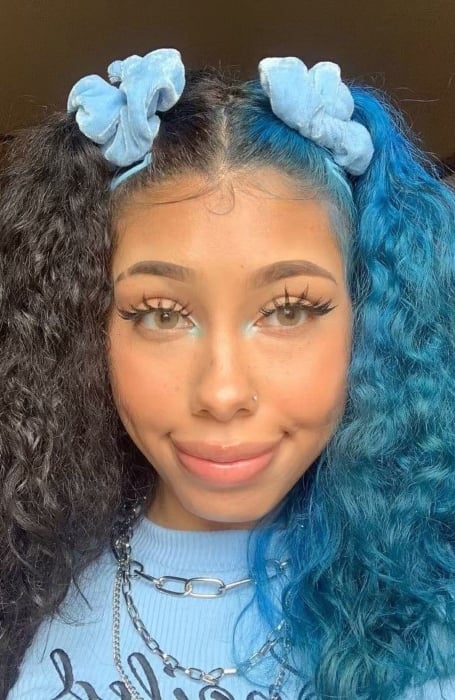 38. Fashion-Forward Permed Hairstyle
Perms are a gorgeous way to accentuate your curls or achieve your dreams' wavy or curly look. There are many ways to style your hair, and you can focus on the volume by opting to style it so that it has a lot of height. You may need to use styling products, like hairspray, to keep it in place. Wear it parted to the side with a deep side parting to soften your features and draw attention to the eyes. This parting can also help create balance and facial symmetry. Experiment with different colors and lengths, and add fun hair accessories to reflect your personality through your look.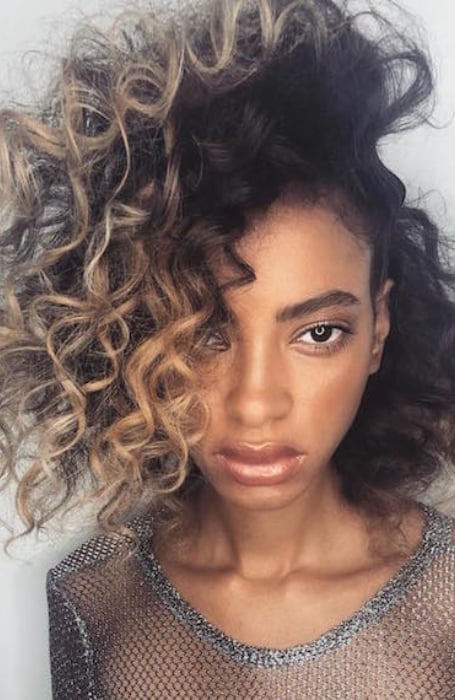 39. Permed Hair with Middle Part
The middle parting is practical and stylish. It is a great way to wear your hair because you can tuck it behind the ears, opening up your face and making it the focus. The middle part can work with multiple hair lengths and textures but is most noticeable on straight hair, which can also be harsh. On longer, curly hair, the middle part can be softer and appear more blended, which is particularly flattering. It can also give the hair some structure. The downside to the central part is that it does not suit everyone. It can also, unfortunately, highlight features that are not symmetrical.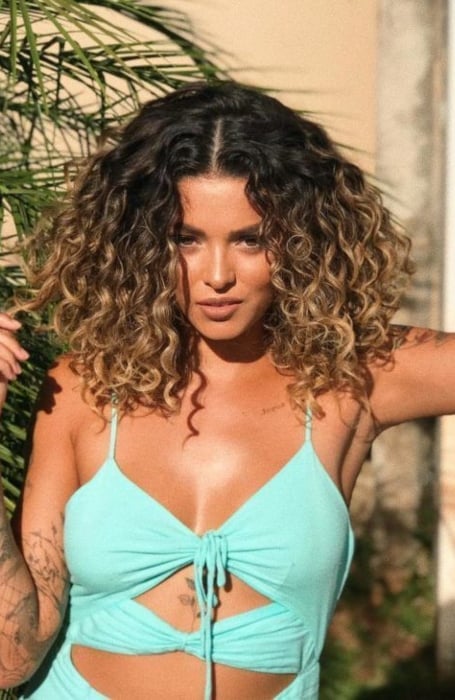 40. Permed Wedding Hairstyle
If you are attending a wedding or your big day is coming up soon, you are likely searching for wedding hairstyle inspiration. Depending on your hair length and texture, there are many looks to choose from. Permed hair can be challenging to style, but opting for a deliberately messy and unstructured look is the way to go. Braids or simple updos can look gorgeous with curly hair textures and create a soft, romantic appearance. You can also add hair accessories like a floral crown or baby's breath and vines for a boho-chic finish.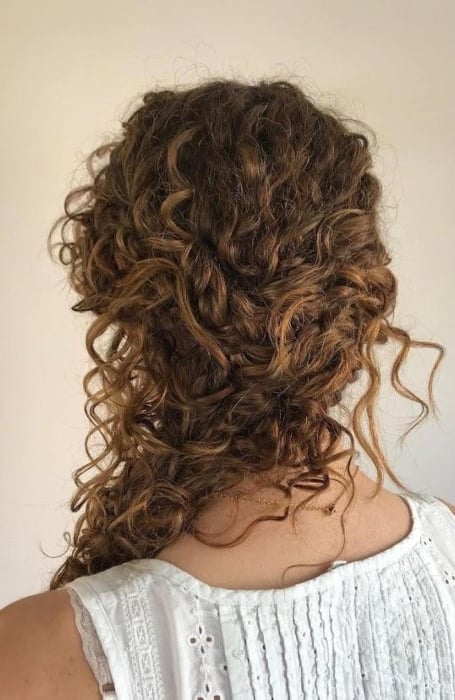 41. Side Swept Permed Hair
Side swept hair is a beautiful way to show off your hair texture and is simple and easy to style. You want to wear the hair to one side but can experiment with different finishes, including styling it in a side ponytail or braid or leaving it down. How the hair falls over one side of the face is incredibly flattering, softening your features and creating a youthful appearance. This look will also draw attention to your eyes. It has most of the benefits of bangs but none of the hassle of styling them or maintaining them.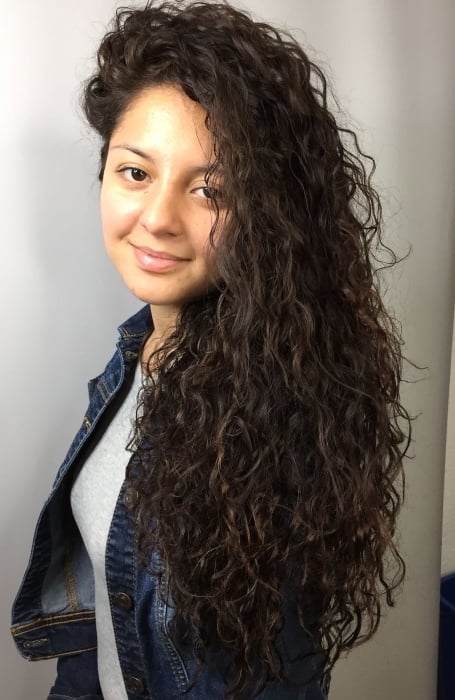 42. Cute Space Buns with Permed Hair
Space buns are a 90s favorite and are still a cute way to style your hair. This is a look favored by younger women and can give you a youthful glow. Depending on your hair length, these buns can be achieved in various thicknesses and will suit all hair textures. With permed hair, your space buns will feel less structured, and you can create a deliberately messy look. You can also leave strands of permed hair to fall around the face, softening the features. Or opt for a half up half down hairstyle to show off your hair texture.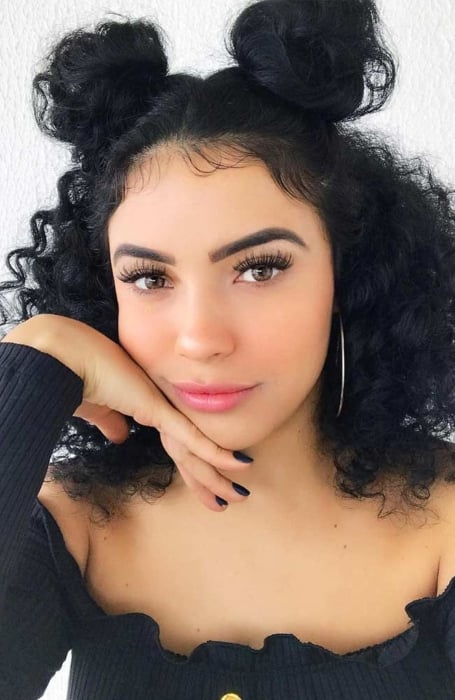 43. Soft Permed Bob Hairstyle
The bob haircut is a classic style that is universally flattering and suits women of all ages. The cut is easy to wear and incredibly versatile and can be adapted to complement your hair texture and thickness. This is a great way to show off the texture and create volume with permed hair, but the hair is short enough to remain low maintenance. The cut with curly hair can be glamorous, drawing attention to your face and softening your features.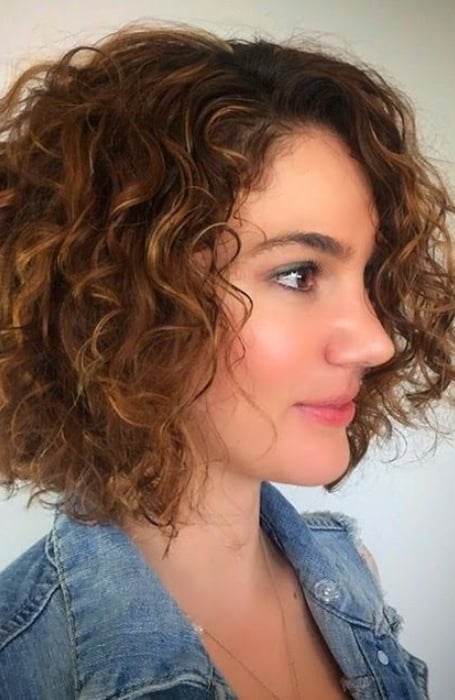 44. Angular Permed Hair
Haircuts with sharp angles and different lengths can create an edgy and cool appearance. They are for those who want to try out something different and can be a way to express yourself. Angled cuts can also be flattering, highlighting your features and drawing attention to specific sides of the face. Plus, they can create the illusion of length. The precision of your haircut is more noticeable on straight hair, which makes a permed hairstyle a great alternative for those who want a softer, more blended approach.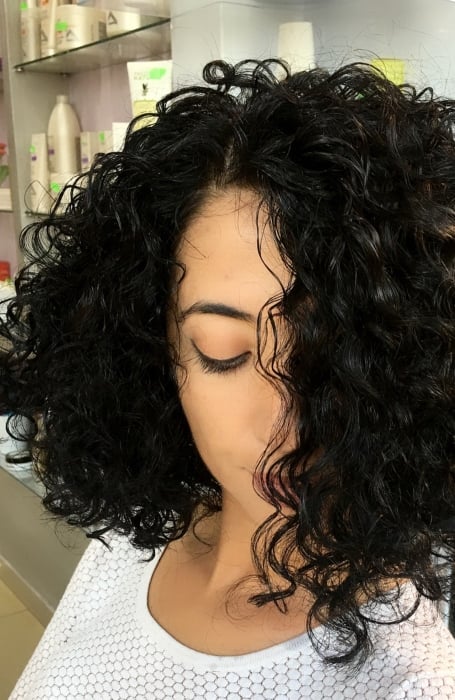 45. Perm with Spiral Fringe
Spiral coils are a gorgeous option for permed hair, although they are one of the most challenging to pull off. This is because this look is incredibly voluminous, which makes it both the pro and the downside. Big hair makes a statement and is expressive, but you may find it takes longer to style, is harder to tame, and can be somewhat restrictive with how you wear it. However, the hair is full of movement and can soften your features, especially when you cut it in a fringe. Working with a stylist specializing in curls is best for the best results when cutting curly hair. Also, account for shrinkage when cutting.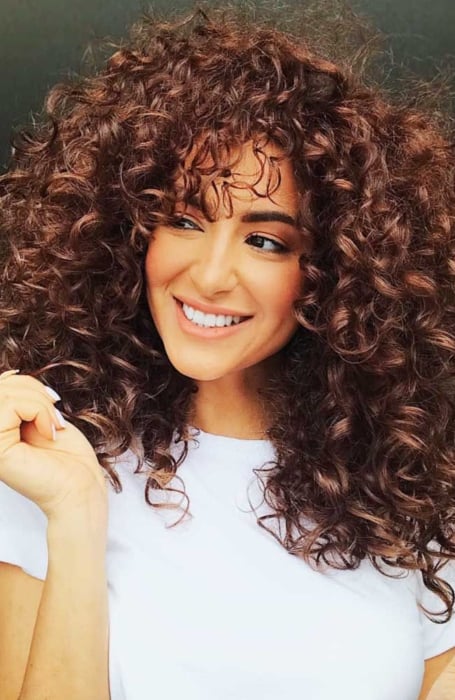 46. Blended Two-Tone Perm
Having multiple colors in your hair can add depth and dimension. This can be achieved by adding light colors to a darker base tone or vice versa. The goal is to choose two very similar shades to complement each other rather than create a contrast. This results in hair that appears beautifully blended and lets you lighten and brighten your appearance. With permed hair, this will accentuate your curls. Keeping the hair medium or long will create the best results, letting you show the full spectrum of your color.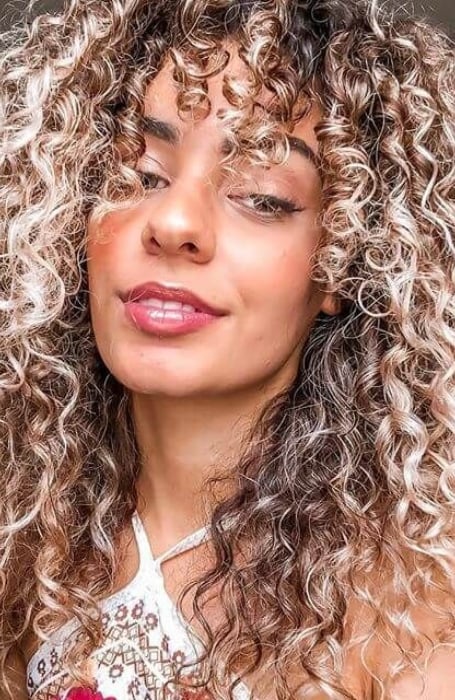 47. Mohawk With Permed Hair
The mohawk is an edgy hairstyle, defined by a strip of hair running down the middle of the head, with the sides clean-shaven. This rebellious look has many variations, all of which will make your hair stand out and give you an attitude. The look is much easier to wear with permed hair and shaved sides instead of clean-shaven. The short sides will draw attention to the hair on the top of the head, highlighting your curl pattern and creating volume. The curls, which can be made with a perm, will also soften the look. Keep length in the front to let it fall against your face, which can be gorgeous and flattering on women of all ages.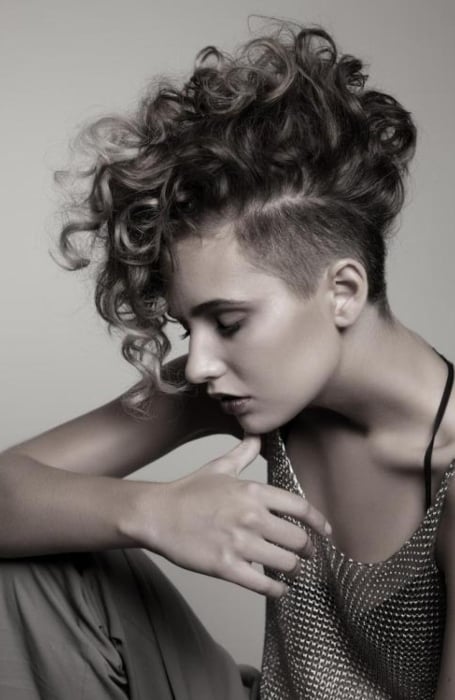 48. Permed Bowl Cut with Fade
The bowl cut is a haircut that features hair that is relatively the same length around the head. The traditional approach to the cut was challenging to pull off and not particularly flattering, but the modern version of this hairstyle offers a lot more versatility. You can create the bowl cut on all hair textures and experiment with different finishes, such as pairing it with a fade. This combination will give the hair structure and contrast the hair on the top, back, and sides. This accentuates your curls and results in even more volume.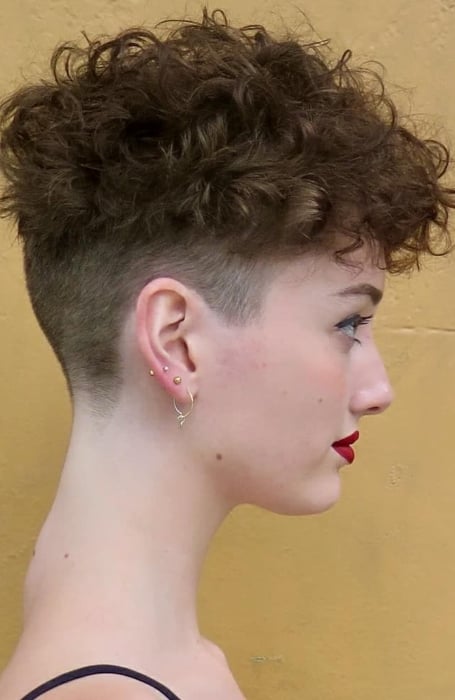 49. Stylish Slicked Back Perm
Perming your hair is a wonderful way to accentuate your natural curls or entirely achieve a different hair texture. There are many ways to style your perm; the biggest pro is the volume you get with it. Perms can be created in varying lengths and styled as you wish; consider leaving the hair loose but then slicking it back in the front for a look that creates contrast. The slick back is defined by the hair brushed back at the front of the head and kept in place with gel or a similar strong-hold product. With the perm, this does not have to be as precise, instead of creating a subtle contrast between the hairline and the rest of the hair.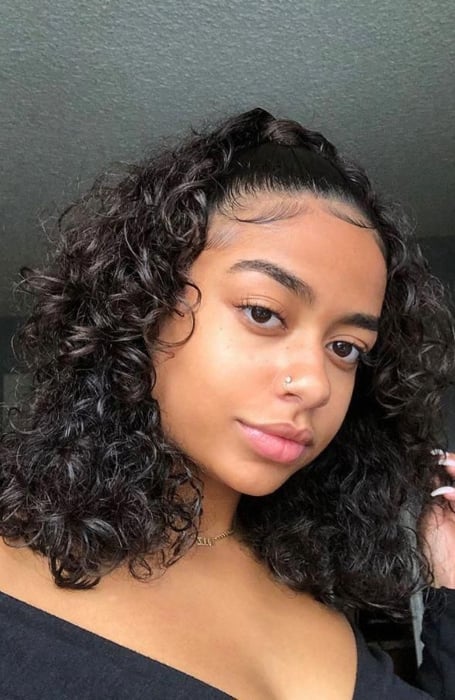 50. 90s Permed Hair with Butterfly Clips
The 90s was one of the most fun decades. It was a time known for its funky and cute accessories, which can create a youthful appearance and are a welcome addition to most hairstyles. Adding a few butterfly clips throughout your permed hair will give you a flirty and girly appearance. It is a wonderful way to draw attention to your curls with minimal effort. In addition to looking good, these clips can also be practical, pinning the hair away from the eyes and opening up your face. Choose from a wide range of colors, either picking your favorite or combining several, leaving you with a colorful and expressive hairstyle that is achieved with minimal effort.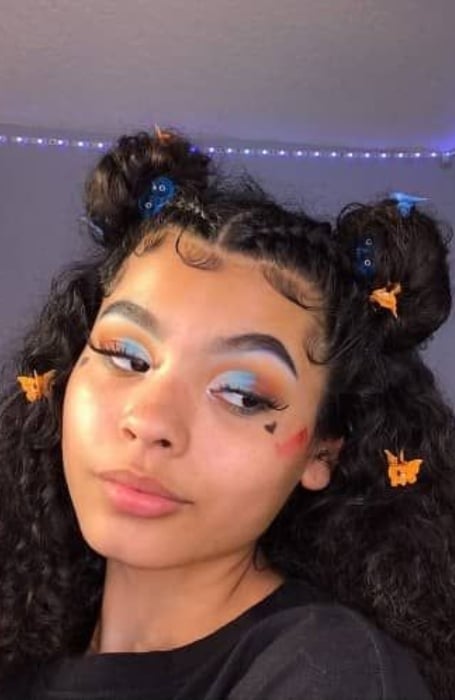 51. Ponytail Hairstyle with Perm
The ponytail is one of the simplest updos to create. It can be worn with hair of varying lengths and textures and achieved with minimal effort or skill. The look is also incredibly versatile, letting you personalize your ponytail; you can wear it tight, loose, high, low, or to the side. This is a stylish way to keep the hair off the neck with permed hair. The texture creates a more relaxed and carefree aesthetic, perfect for various occasions. When styling your hair, leave a few strands loose at the front to frame the face. This can add a softness to your features and is incredibly flattering.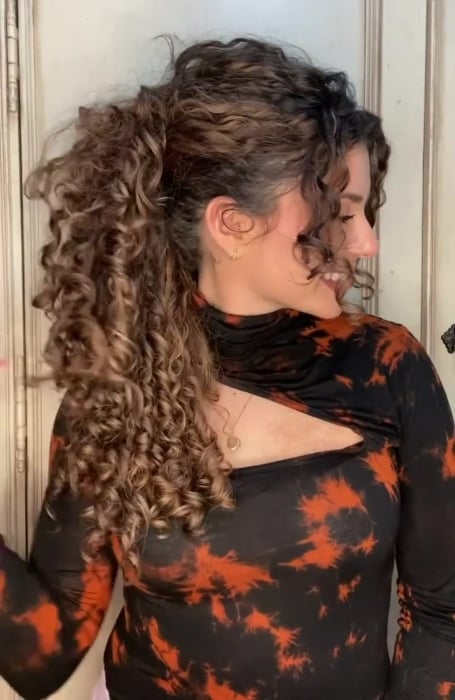 52. Very Short Permed Hair
Perms are often best on medium to longer hair lengths, letting you show off your hair texture. It can be incredibly challenging to style on very short hair, and you will likely not achieve the volume you expect. However, this can also be a pro. Curls are hard to style and high-maintenance, but wearing them short lets you avoid this. It is also a way to make your short hair appear fluffy and somewhat messy. Keeping the hair short can also draw attention to your face and complement your bone structure. This is an excellent option for those with strong features.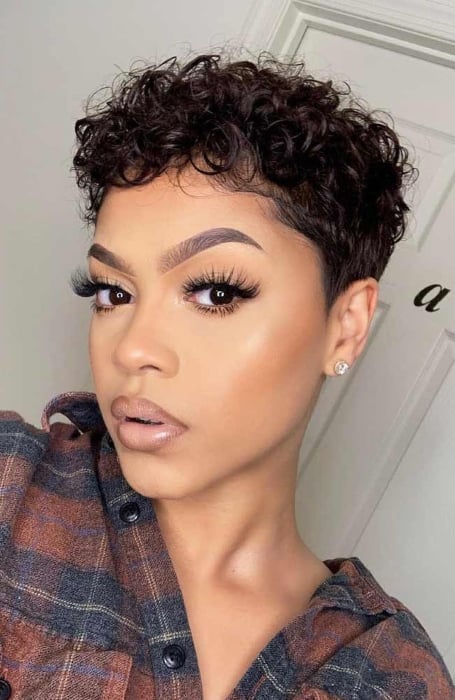 53. Permed Hair with a Colorful Headscarf
Updos are gorgeous with textured hair because they create a less structured and more laid-back aesthetic. Your look will also benefit from a hair accessory like a headscarf, letting your personality shine. They come in a wide range of colors, patterns, and prints, and you can add the scarf to your hair in various ways, depending on the occasion. Channel the signature '50s rockabilly and pin-up styles, or opt for something more boho. A colorful headscarf is a pretty way to show off your permed hair and a fun option for the summer, keeping the hair off your neck. A fabric like silk or satin is also a wonderful way to prevent friction and reduce frizz.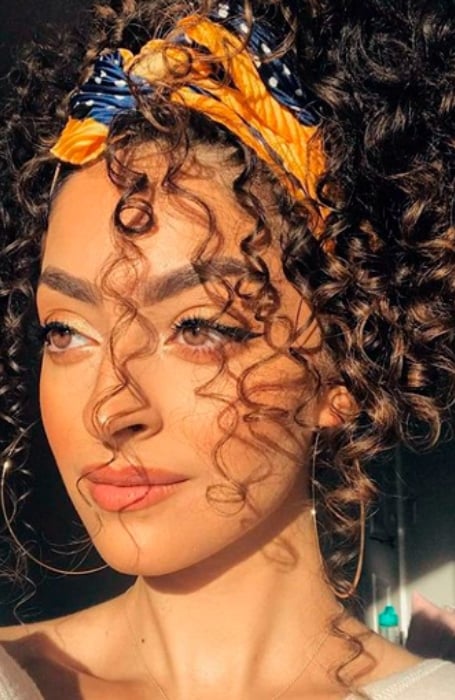 54. Long Silver Face-Framing Hair
Getting your perm done by a professional can result in minimal damage to your hair. The modern approach is also more versatile, letting you tailor your look to your preference; this could be with big, voluminous hair that makes a statement or a simple and subtle approach. You can also experiment with different finishes, including how you style them and your chosen color. Silver hair is a color that demands attention. It will lighten and brighten your appearance and is a way to express yourself and have fun. The cool tone is also flattering on most complexions and easy to wear. The downside is that it can be expensive and high-maintenance, with the color fading quickly and needing to be retouched regularly.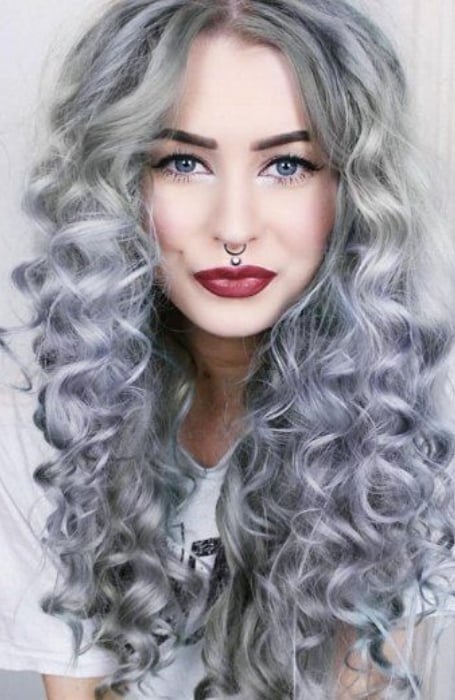 55. Viking Braids and Subtle Perm Hairstyle
Braided hairstyles can be feminine and romantic or edgy and cool. The Viking braids fall into the latter category, giving your hair a cool and even rebellious look. Many variations include pairing it with shaved sides and undercuts or working the hair into a top knot. Your Viking hairstyle will appear less structured with permed hair, creating a softer and more feminine approach. Braids are also a great way to wear your curls, making it easier to style them. To show off the texture, you want to leave some of the hair loose, either with a half-braided look or leaving the rest of the hair loose. Or by pulling out a few strands of hair around the face for a framing effect.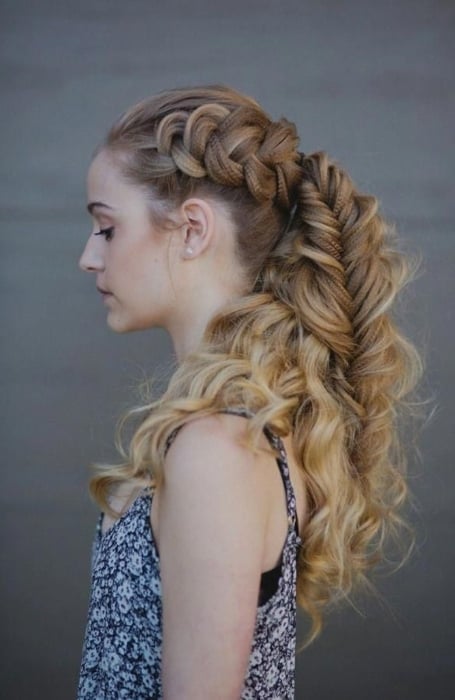 Perm Hairstyles FAQs
Do perms damage your hair?
Any treatment that chemically changes the properties of your hair can cause damage. However, there are steps you can take to minimize any negative effects. Always use sulfate-free chemical-friendly shampoo and conditioner, and invest in some nourishing treatments and heat protection. Also, if your hair is colored or lightened, check with your stylist about possible effects this might have on your results and hair condition.
How long does a perm last?
A perm should last between three to six months. Of course, this depends on several factors, including how long your hair is, how well you look after it, and what kind of hair you have. It will also vary depending on how quickly your hair grows out.
How much does a perm cost?
A perm can cost anywhere between $60-$200, depending on the type, length, stylist, and brand used. It can also vary between geographical location. Most salons will be able to do an initial consult and give you an idea of how much to budget.
How do you sleep with a perm?
A few methods for sleeping with permed hair ensure you wake up looking like a goddess rather than a frizz ball. Sleeping on silk is a good tip – you can use either a silk bonnet or pillowcase. The smooth texture won't grab your hair as you snooze like cotton or synthetic options. You might also want to wear your hair up in a pineapple, loose top knot, or even braids depending on your curl. Lastly, plopping is also a great option to let your hair dry and settle.  
Can I wet my hair after a perm?
The golden rule of getting a perm is not to get it wet or wash it for at least 48 hours after the treatment. This will allow the altered shape to set fully.
Will my perm get curlier after I wash it?
Washing your hair won't make your perm any curlier, but they may take on a more natural shape. Of course, washing will also remove any styling products that could be weighing the hair down, making your curls appear lighter and bouncier.
SUBSCRIBE TO OUR NEWSLETTER
Subscribe to our mailing list and get interesting stuff and updates to your email inbox.