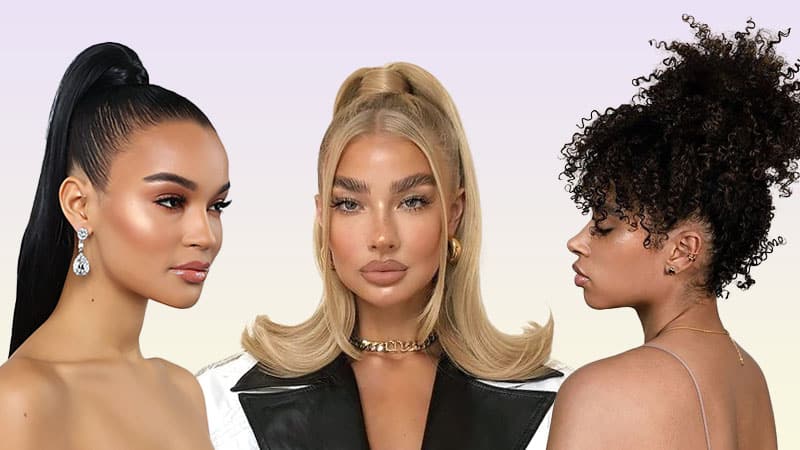 The high ponytail is an updo that has been around for a while and has been favored by some of the world's most stylish women (think Ariana Grande's signature look). And it is not going anywhere because it is incredibly chic and undeniably versatile. You can style it in several ways, depending on your hair length and texture, and it can be paired with bangs, add braids, or even experiment with different colors for a standout finish. The ponytail is a simple look to create and can be done with minimal effort, but the downside to wearing it higher on the head is that it will cause tension on the scalp and result in potential breakage. Sure, it may not be a hairstyle for every day, but it is definitely worth trying out, and these are some of the best high pony hairstyles to inspire you.
High Ponytail Hairstyles
1. High Ponytail
Pulling your hair straight back and wearing it high can be incredibly flattering. It will open up your face more and highlight your features. The style also looks more sophisticated and formal than lower, looser options, making it an excellent choice for special events. At the same time, it is practical, keeping unruly strands away from your eyes.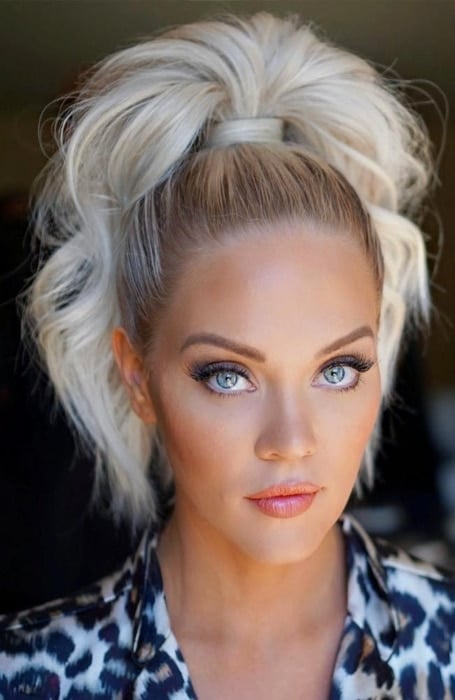 2. High Ponytail With Weave
High ponytails are super stylish but not really good for the hair. This is because they cause tension on the scalp and can result in breakage. If your heart is set on trying the style (and there is definitely a good reason to do so, just not every day), you can achieve the desired length and thickness with a weave. This option may also cause less damage to your natural hair.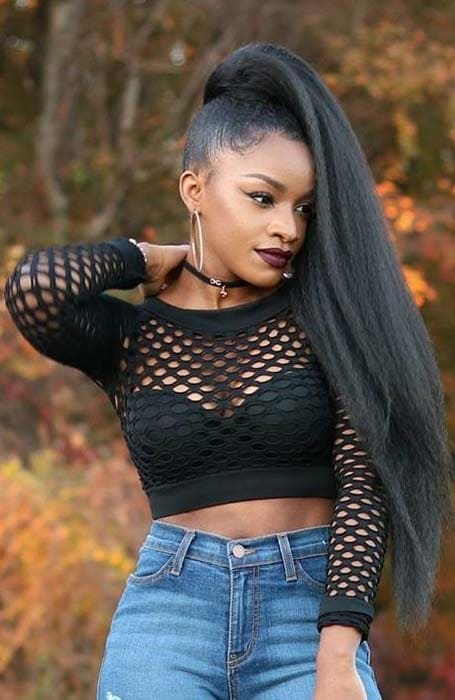 3. High Braid Ponytail
The traditional approach to the high ponytail is simply to gather the hair away from the face and secure it tightly, wearing it higher on the head. The classic is still popular, but there are also versions of the style which let you personalize your look. This includes trying a braided ponytail to show off the texture and create a modern finish.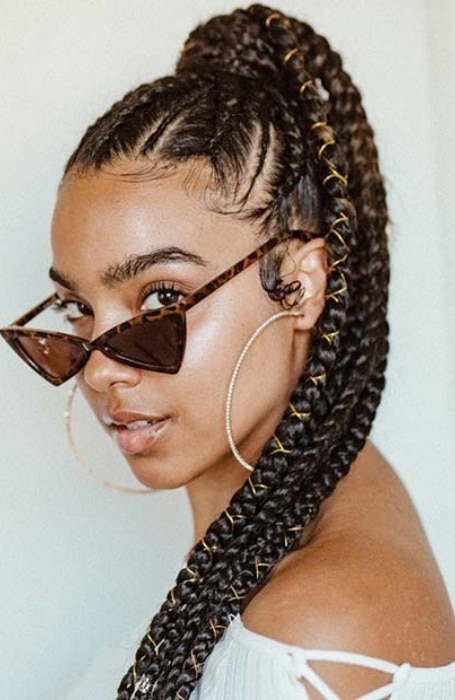 4. High Curly Ponytail
Curly hair can be styled in many different updos, but one of our favorites is the high ponytail. Not only is this look practical, but it is also incredibly stylish and will work with medium to long lengths and most textures. Curls are great because they will achieve a softer, more blended finish, making your ponytail more glamorous than dramatic.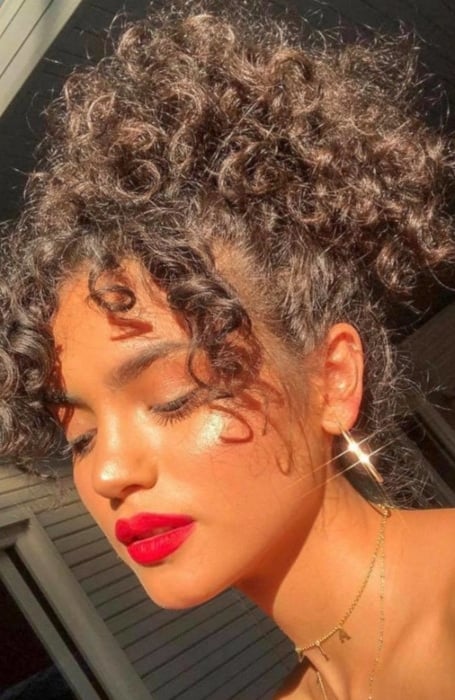 5. High Ponytail With Bangs
The high ponytail looks super chic when worn with bangs, and they can soften the look. The standard approach often pulls the hair away from the face and secures it tightly, whereas this option creates a more laid-back finish. Bangs are an excellent way to transform your appearance and are favored because of the youthful effect they can have.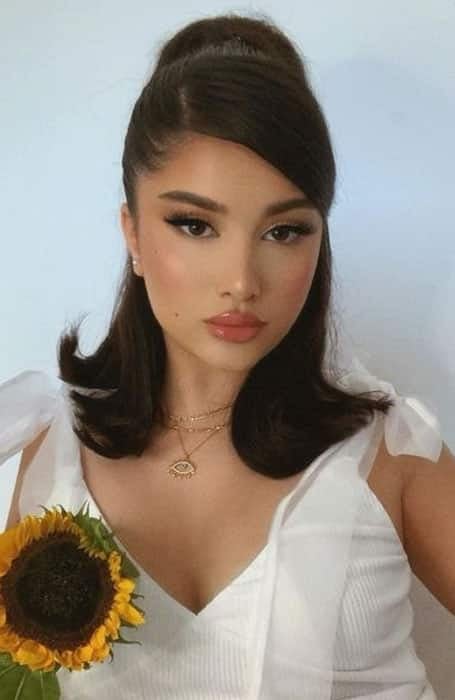 6. High Braided Ponytail Weave
If you want to try out a cute new braid but your natural hair is not long enough, a great alternative would be a weave. A weave is made using real or artificial extensions, which can be added to the scalp in many ways. This is an excellent opportunity to add length or thickness and will let you create the high ponytail of your dreams.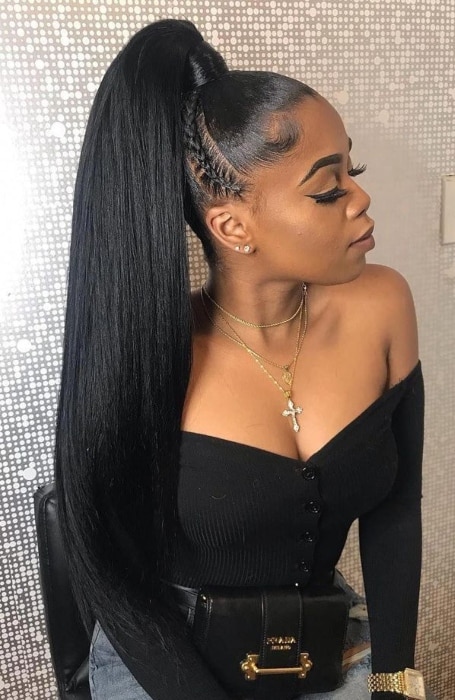 7. High Ponytail With Swoop
The hair swoop refers to how the hair is parted and then swooped across from one side of the head. It is an excellent option for those wanting to achieve volume and give their hairstyle a retro feel. This can work well with a high ponytail. Pair it with a colorful headband or an interesting hair clip to better reflect your style.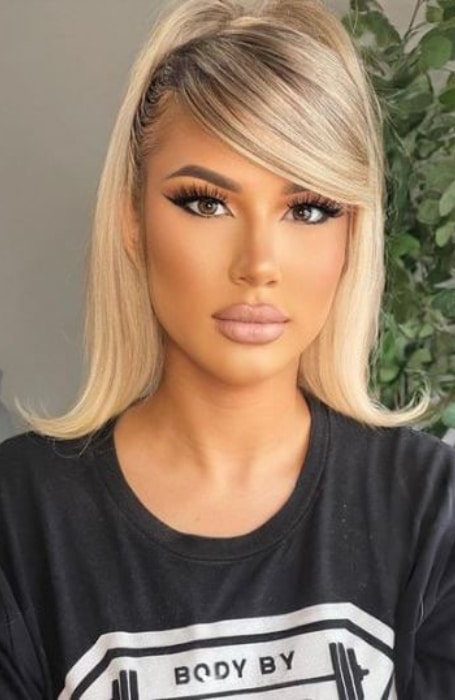 8. Sleek High Ponytail
Sleek hair is really having its moment in the spotlight, and for good reasons. It looks polished and sophisticated and can be styled in various ways. This includes a high ponytail. Having the strands on the top of the head neatly secured makes this the perfect option for more formal occasions and will let you unleash your inner diva (think Ariana Grande's signature look).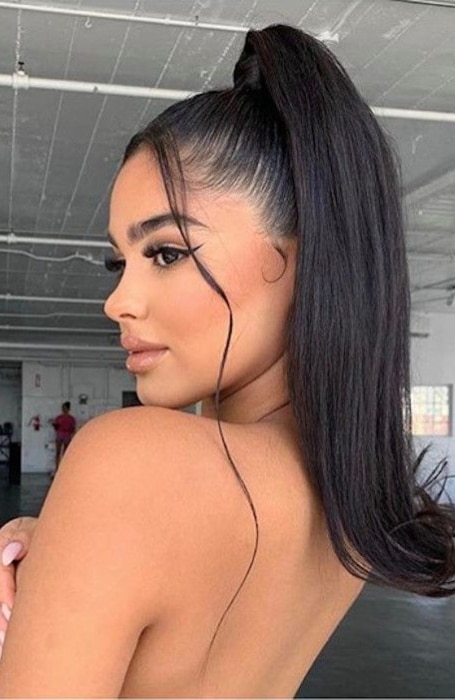 9. High Ponytail Hairstyles For Black Hair
The high ponytail can be all about drama and glamor when sleeked down, or you can use it as a way to embrace your natural texture. Show off the fullness and volume of your curls by wearing them in a high ponytail. You can sleek down the front to contrast with the strands in the back or opt for an unstructured finish throughout. Both options are gorgeous, and this may be your new go-to look.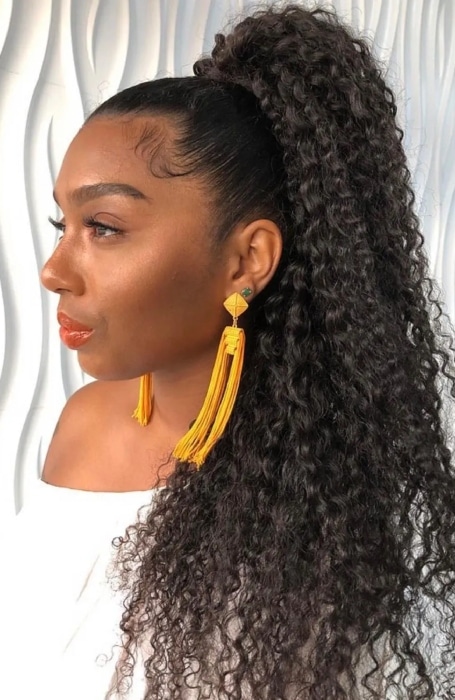 10. Short Bangs With High Ponytail
A fringe is an excellent addition to any hairstyle and can soften your features, update your cut, or make you look more youthful. The great thing about short bangs is that they are more noticeable because they are cut higher on the forehead. This is an excellent option for disguising fine lines and forehead wrinkles but will also highlight your eyes and eyebrows.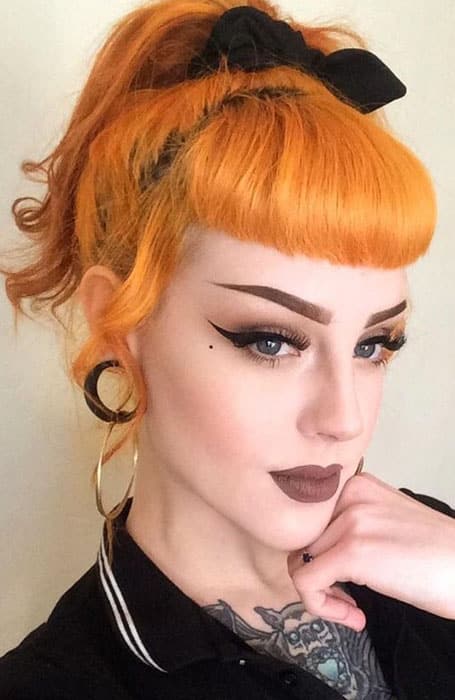 11. Sleek Curly High Ponytail
The combination of a sleek high ponytail with curly hair is stunning. This is achieved by neatly securing the strands at the front of the head, using a strong hold product if necessary. You will then tie up your curls into a high ponytail. The texture can be very flattering and is a great way to soften the features.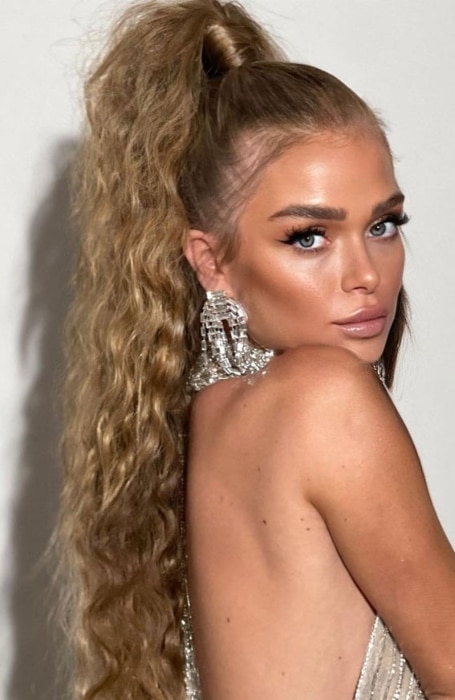 12. Elegant High Ponytail
The high ponytail is a simple updo worn higher on the head. This look is incredibly glamorous, making it perfect for formal occasions and events where you want to look polished and elegant. To achieve this look, the neater your hair is, the better, so consider securing the front with a strong hold product to keep your strands in place.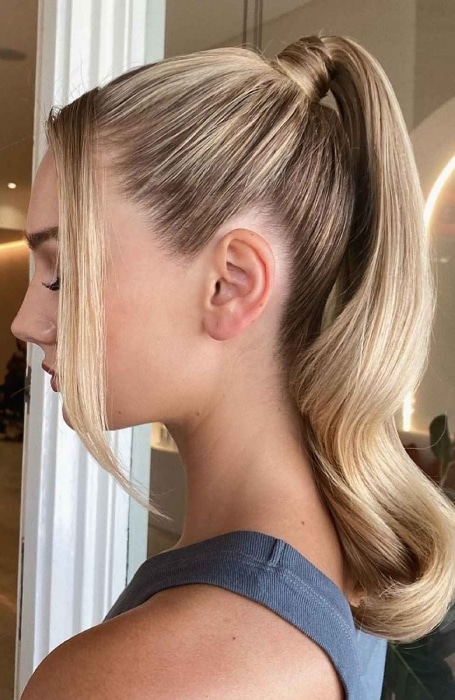 13. Diluc High Ponytail
Inspiration for your hairstyles can be taken from anywhere, including your favorite character. Diluc Ragnvindr is from the video game Genshin Impact and is instantly recognizable thanks to his long red hair. He wears it in a high ponytail, which looks messy and full of movement. You probably don't need us to remind you, but adding a bold color to your strands can transform your appearance and give you an expressive and undeniably cool finish.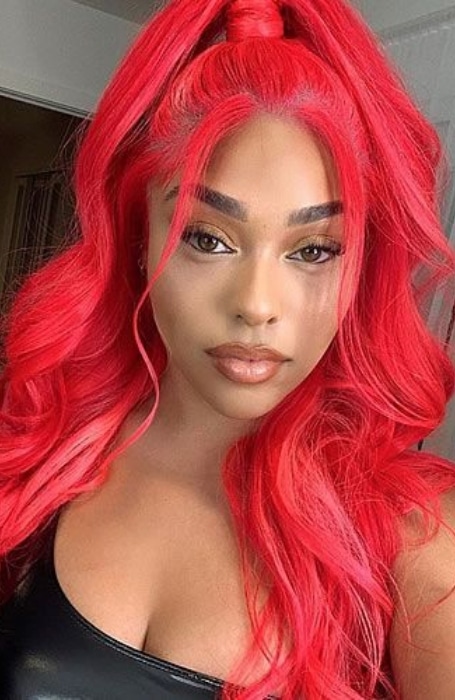 14. High Frontal Ponytail
A frontal ponytail is an excellent option for those who want to create their perfect high ponytail. It is a hair extension that is added and can last around two to four weeks. During this time, you can experiment with new looks, find one you love, or stick to the sleek, classic version; the choice is yours.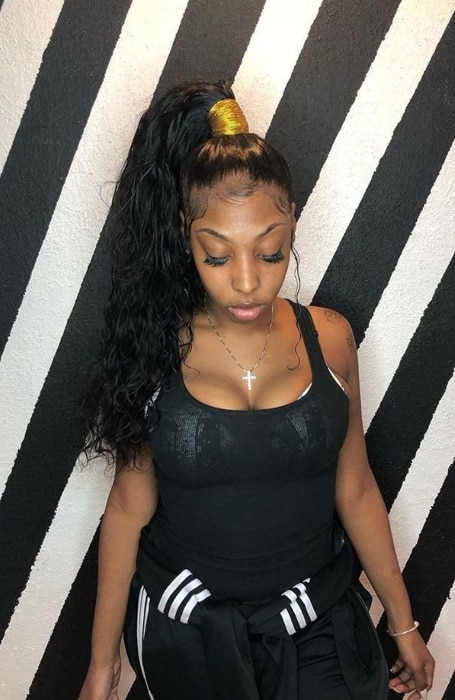 15. High Messy Ponytail
The high ponytail is often worn with the hair rightly secured and pulled away from the face. This look will feel polished and make a statement, but it is not the only option. For those who prefer a more relaxed aesthetic, you can style it to look unstructured. Messy hair is great because it is full of texture and movement.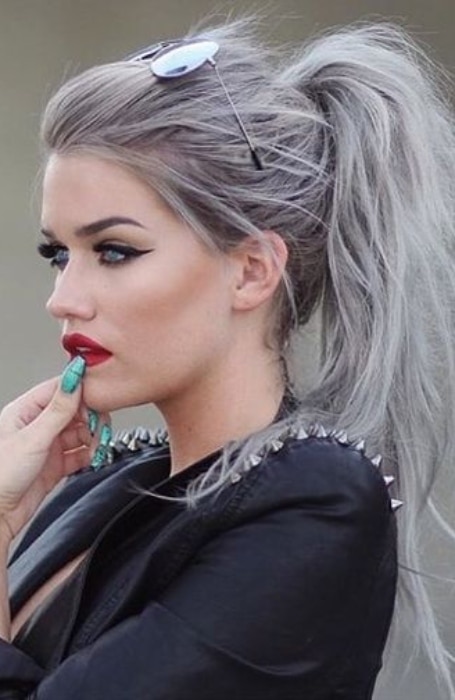 16. High Ponytail With 2 Side Bangs
One of the most wearable options for bangs, and a gorgeous way to frame your face, is to wear two long pieces on either side. It will draw attention to your eyes while softening the features and creating a feminine finish. When paired with a high ponytail, it makes it look modern and youthful.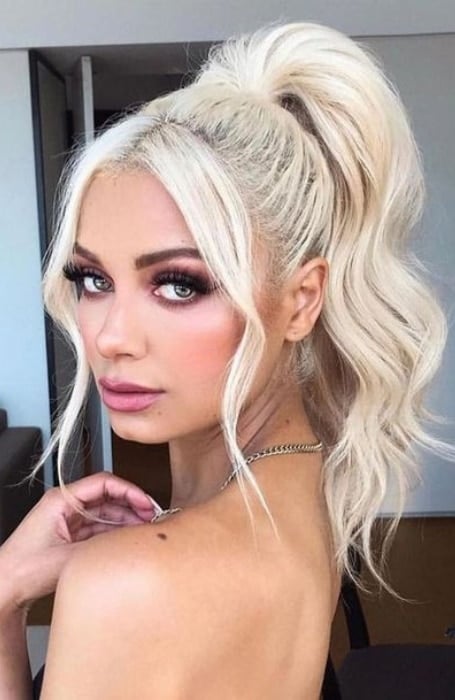 17. High Ponytail With Extensions
The high ponytail requires longer hair than the classic version of this updo. Not everyone has the natural length or fullness to rock this style, and while this may initially put you off, the good news is that the right extensions can help you achieve your desired fullness and will let you experiment with your look. They come in different colors and textures, making it easy to find the right fit.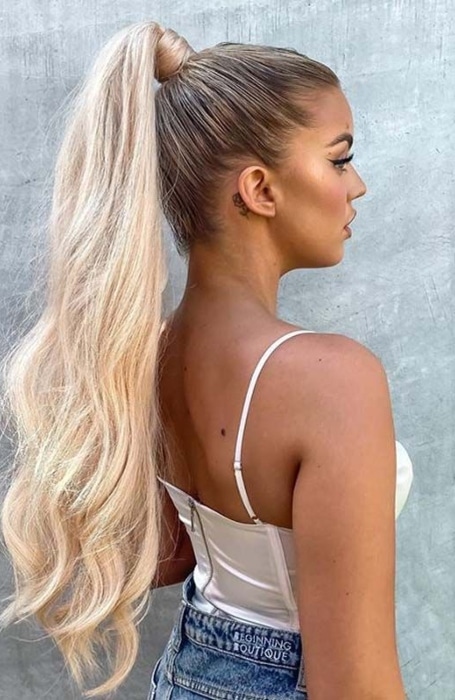 18. Curled High Ponytail
What better way to draw attention to the hair in the ponytail than by giving it a curled end? The way the strands will flip upward makes this an aesthetically pleasing look but also one that feels a little retro chic. It is a great way to create a unique finish and will have the best results when done on sleek, straight strands.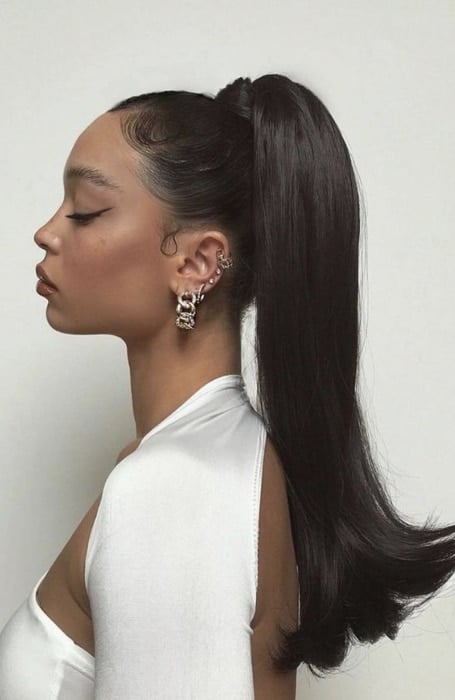 19. French Braid High Ponytail
You can combine a French braid with a high ponytail for a pretty and relaxed finish. This option will not be as tight and, therefore, not put as much tension on the scalp or hair. The French braid will also give you an interesting pattern at the top and back of the head and is created by using the overhand technique.
20. High Ponytail Updo
The high ponytail is a simple and practical updo, which is why it is so popular. It is often favored by younger women and is great for achieving a polished finish and a youthful glow. The best part is that you can adapt the look, including adding braids or wearing it with a flipped end. How no two versions are the same is what makes this an exciting style to try.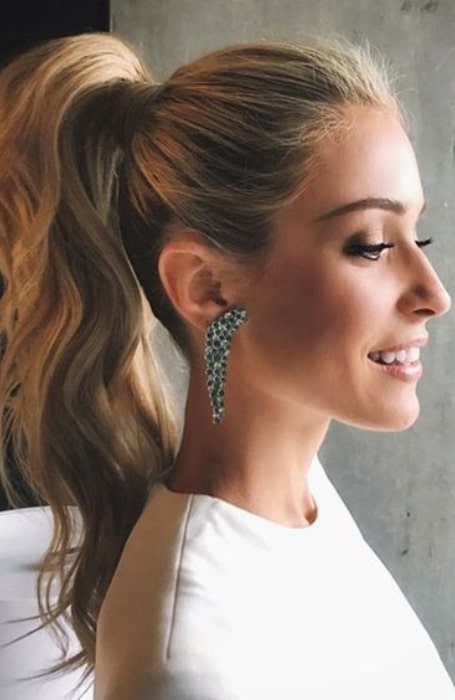 21. Middle Part High Ponytail
The middle part is one of the most stylish and excellent additions to most hairstyles and cuts. This includes the high ponytail; the result will be sleek and sophisticated, working to frame the face. It complements those with symmetrical features and can be flattering on oval, round, heart-shaped, and diamond face shapes. But it does offer some versatility, as it works with all textures and lengths.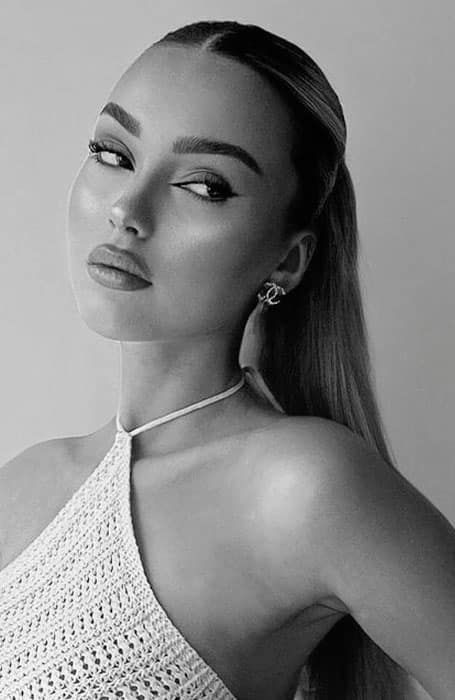 22. High Ponytail Bun
To take your high ponytail to the next level, you want to wrap it around to create a bun. This look is a high bun, worn higher on the head, and exceptionally flattering. It is easy to achieve and will be made with minimal effort or time. Plus, it is stunning on all textures and can be smoothed down in the front or left slightly messy to achieve volume.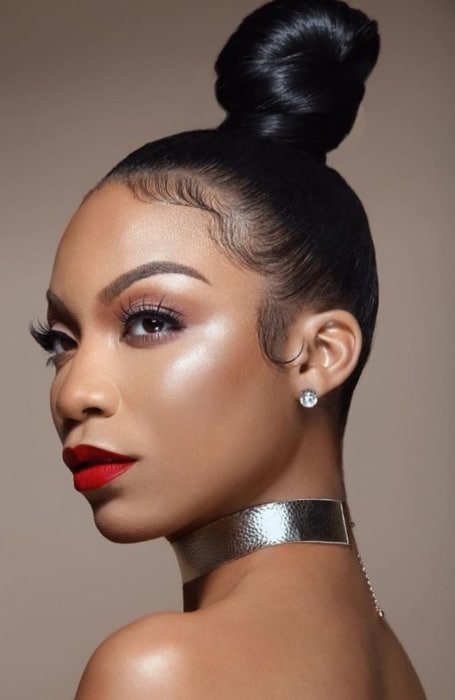 23. High Genie Ponytail
A genie ponytail is a term given to a style that is worn high and tight on the head. It is created with natural hair and is a look designed to stand out. You can experiment with different lengths and colors, but also choose to keep the hair smoothed on the top of the head and paired with baby hair for a stylish finish.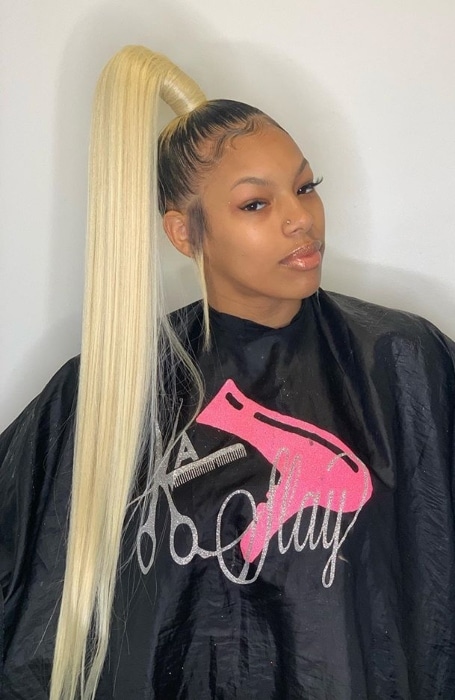 24. High Wavy Ponytail
Wavy hair is one of the dreamiest textures, making the simplest style look interesting. It is excellent for achieving volume and movement and can be styled in several ways, including trying out different updos, like the high ponytail. The combination of the position of the ponytail and the waves make for a cute yet laidback aesthetic.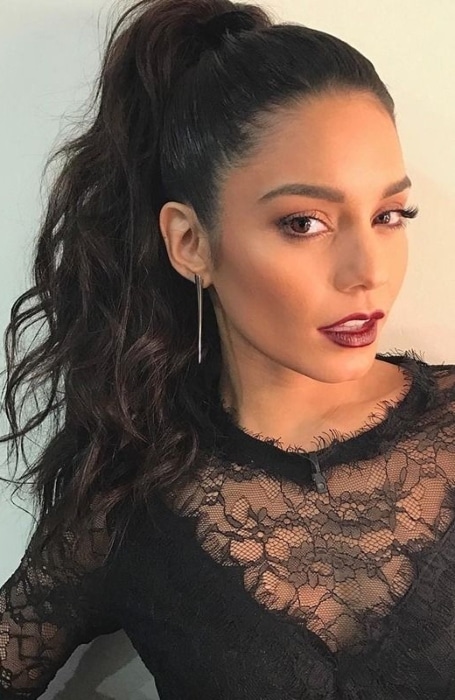 25. 80s High Ponytail
There are several ways to create an 80s high ponytail, but the most popular version was worn slightly to the side. This was great for creating movement; you could flick your hair and make a statement whenever you wish. Use your favorite big scrunchie to create this look, and have fun with it.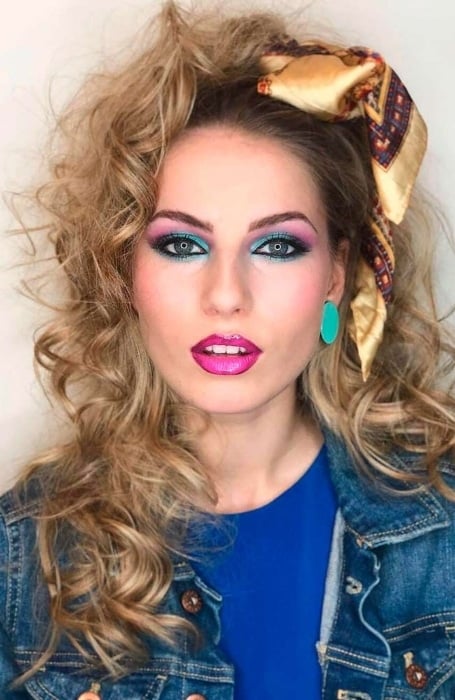 How to Do a High Ponytail
If you have been looking for inspiration on creating your very own high ponytail, look no further. It is one of the simplest updos to try and can be done with minimal effort. All you need is the right hair length (and extensions can be added if it's too short or thin) and a hair tie. You want to pull the hair away from the face and secure it tightly, much higher on the head than in a traditional ponytail. To learn more, watch this helpful YouTube video, which will give you all the tips and tricks you need to make this your new favorite hairdo.
High Ponytail FAQs
Is it okay to wear a high ponytail?
It is perfectly fine to wear a high ponytail as long as it is not your everyday look. This is because wearing the hair tight and higher on the head can cause tension on the scalp. This can result in a receding hairline, hair loss, discomfort like headaches, and breakage. However, if you stick to this updo for special occasions, the damage should be minimal, if anything.
What does wearing a high ponytail mean?
The high ponytail is often more sleek and glamorous than the traditional ponytail, and as such, it is associated with confidence and sophistication. Exactly what it means will depend on your styling, which could include pulling the hair away from the face and securing it tightly or opting for a messy and unstructured finish that shows off your texture.
Does a high ponytail make you look younger?
A high ponytail can do wonders and can give you a youthful glow by opening up your face and pulling the hair away from your neck. If you are worried about fine lines and other signs of aging, try wearing it with bangs, which will detract from this.
Is a high ponytail bad for your hair?
A high ponytail can be bad for your hair, causing stress and breakage if you wear it daily. Try to mix it up with down days, or substitute your hairstyles with high and low alternatives such as braids or pinned-up dos. Doing this will give your hair and scalp a chance to relax. You'll also want to ensure you're using hair ties that won't snag or pull your hair, as this can cause the strands to break.
How do you tie your hair in a high ponytail?
A high ponytail can be a very flattering look, making your skin appear smoother and tighter. To get the perfect high pony, bend over and gather your hair into a ponytail while it's upside down, using a brush to smooth any lumps and bumps. Gravity is on your side using this technique, and you should be able to position the ponytail at the crown of your head, securing it with a strong bungee hair elastic. Flip your hair back and secure a regular hair elastic about half an inch above the bungee to reinforce your ponytail and stop it from falling flat.
SUBSCRIBE TO OUR NEWSLETTER
Subscribe to our mailing list and get interesting stuff and updates to your email inbox.