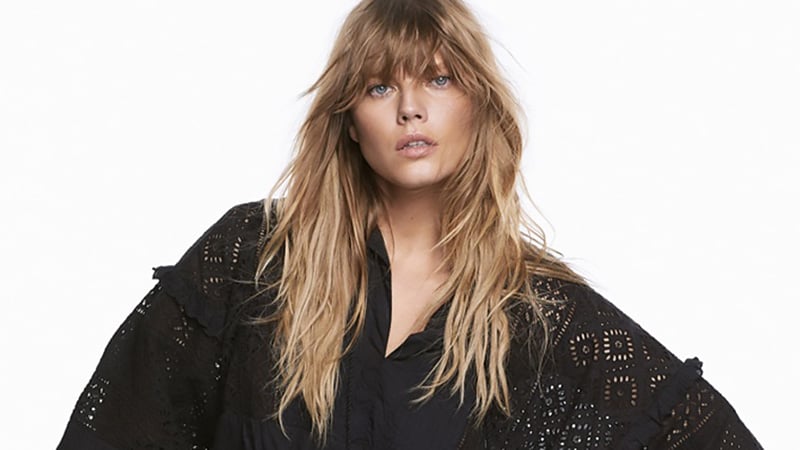 Long hair is officially back in fashion. If you're looking to freshen up your lengthy locks, why not add bangs? There's a style of fringe out there to suit everyone, so keep reading to find out which of these trending hairstyles for long hair with bangs is right for you.
RELATED: How to Style Bangs Like a Pro
RELATED: 60 Most Popular Hairstyles With Bangs
1. Long Hair with Side Bangs
This classic, girl-next-door style is low maintenance and suits most face shapes, especially round and square ones, as the side bangs draw the eye along the face diagonally, while long hair creates an appearance of a narrower face. Side bangs are also a great option if you love the look of a fringe but have thin hair, as it gives the illusion of more volume. Work with the natural parting and direction of your hair when styling your side bangs – all the styling products in the world won't make them stay in place if you're forcing them in the opposite direction!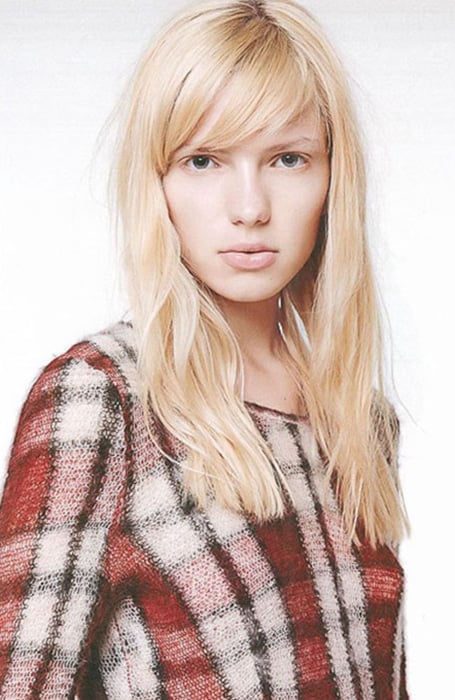 2. Long Layered Hair with Bangs
Long layers are a great way to frame your face. The shortest pieces should end past your chin, which is great for adding length to round or short faces. Add a sleek blow-dry for the ultimate chic finish that's crisp and structured. Pair this '60s-inspired look with equally retro makeup – straight brows and lots of black eyeliner and mascara look excellent with a blunt fringe, as this combo draws attention to your eyes.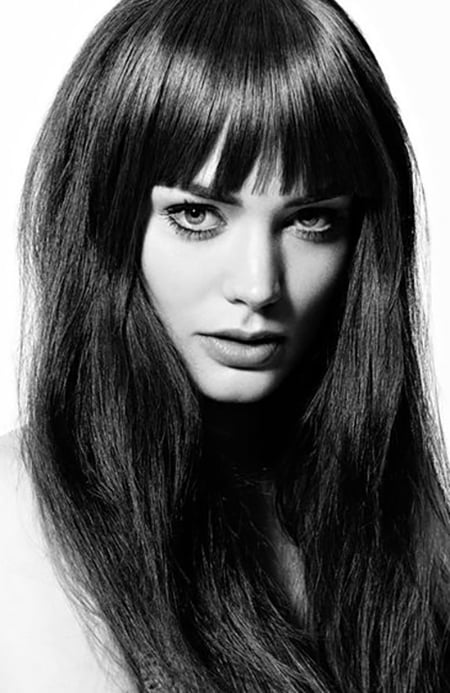 3. Short Bangs Long Hair
This is a bold cut that commands attention – wallflowers, beware! Having your bangs end in the middle of your forehead draws attention to your eyes and brows, so if those are your best features, this is a great look to try out. The short, blunt fringe has a rockabilly, retro vibe and was popular in the 20s and the late 50s. Put a modern spin on it and team it with long, wavy locks and unusual color, like blue or grey.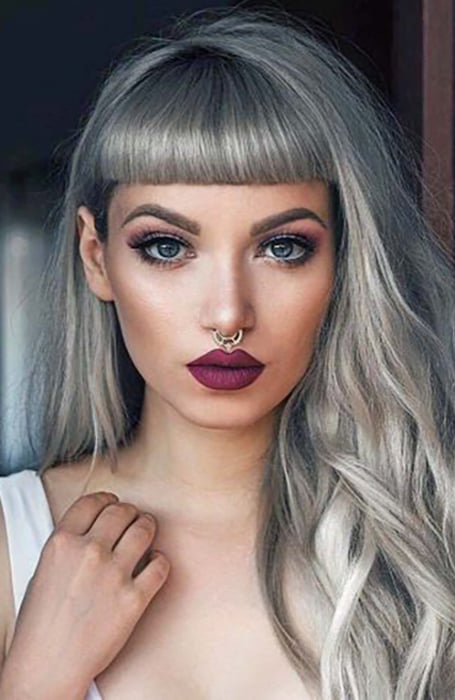 4. Long Curly Hair with Bangs
The natural bounce and volume in curly hair make it perfect for bangs. You'll need an expert stylist to get the length and shape right – if you cut them too short, you could risk them growing straight out instead of down! A textured, brow-grazing fringe, cut to fall straight across your forehead, is a tricky cut, but worth it if you get it right. This look has a cute, playful finish with an '80s vibe. Lean into the throwback feel and make sure your mane doesn't overwhelm your face by keeping the rest of your hair swept back at the sides and securing a section at the crown.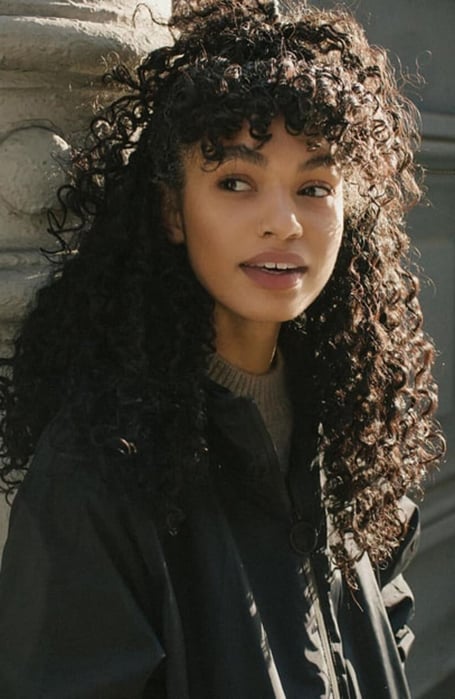 5. Long Curly Hair with Side Bangs
Another way to style long curly hair is to go for side bangs: a graduated fringe that tapers in to join the rest of your tresses is a cute style that suits full, outward-growing curls. Make sure you work with your face shape, and side-part your hair as naturally as possible. It's generally recommended to cut curly hair dry as the length can seem a lot longer when it's wet, and that's especially true when getting bangs. To make sure you end up with the perfect length, ask your stylist to cut your bangs longer than you actually want, then refine them down to the final length.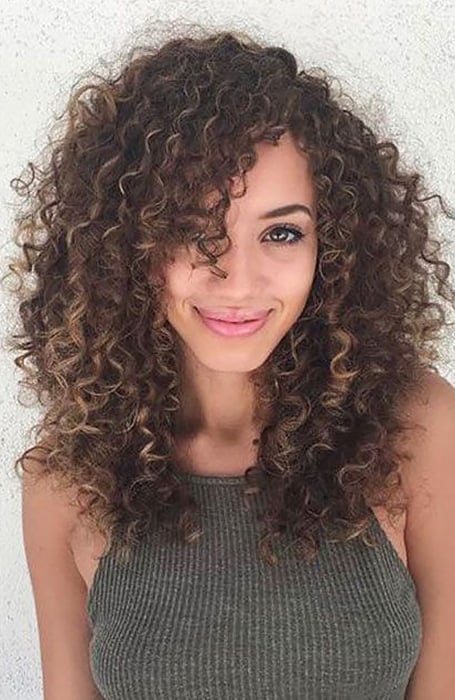 6. Long Straight Hair with Bangs
This style is a classic for a reason! Long, straight hair looks great paired with bangs and is a low-maintenance look if you have naturally sleek locks. However, long locks draw the gaze downwards, so if you have fine hair, make sure you keep some volume at the crown with a volumizing powder or spray to stop your hair from looking flat. This look is particularly flattering if you have a long or wide face.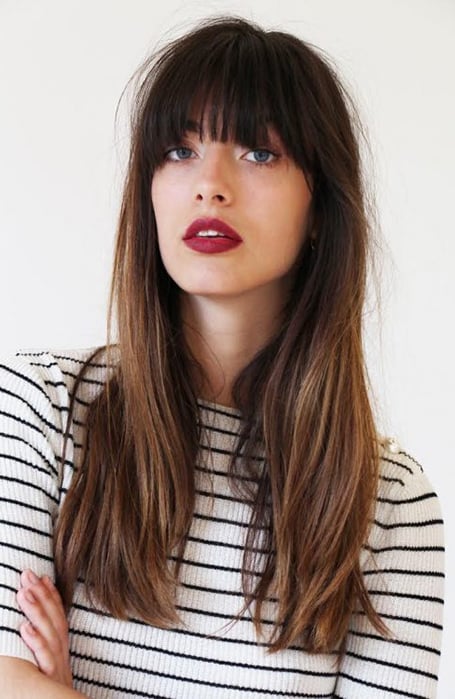 7. Long Wavy Hair with Bangs
Long wavy hair with bangs is a youthful and feminine hairstyle that you can dress up or down. Work with the natural curve of wavy hair to style a rounded, full fringe – use a cylinder brush and blow-dry in a downward direction to make sure your bangs don't fall flat. Next, add some highlights to your hair to show off the movement of your waves – this will also keep them from looking too heavy. Make sure you finish with a frizz-control serum every time you style your hair and work it through with your fingers, as a brush or comb can cause your waves to lose volume and definition.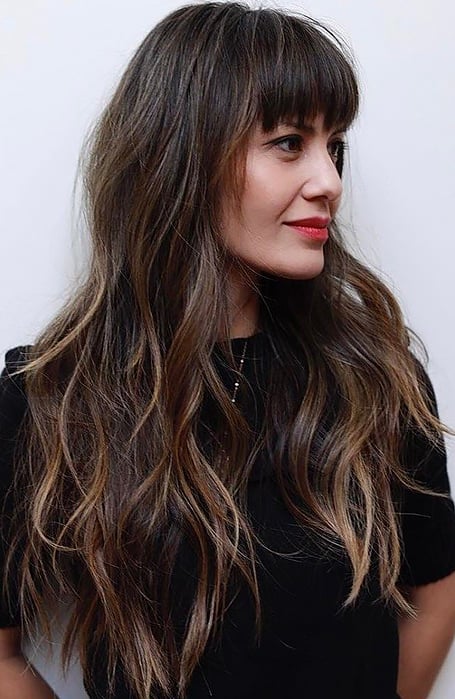 8. Long Wavy Hair with Side Bangs
Deep, side-parted bangs look great on heart-shaped faces as they balance out a pointy chin and a wide forehead. Wavy hair also works to soften out angles and looks beautiful when worn long. If your hair is naturally wavy, you're in luck! Use a curl-defining product to enhance your twisty locks: scrunch through while your hair is wet and let your it air dry for a gorgeous, voluminous finish. If your mane is straight or lacks volume, you can create long, beautiful waves using a curling wand and a mousse or root-boosting spray.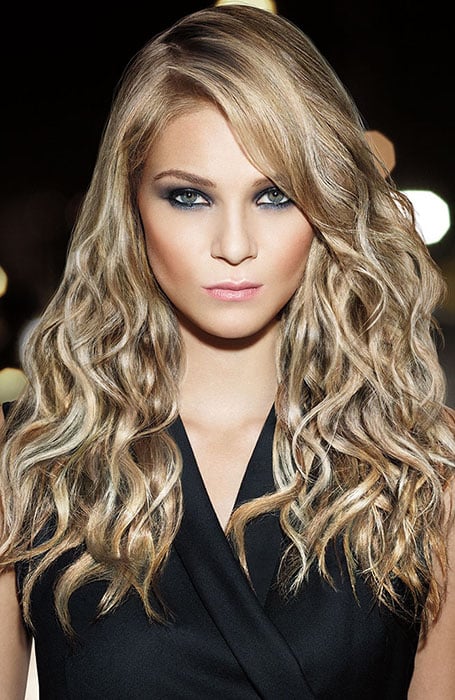 9. Long Side Bangs with Long Hair
This is a beachy, '70s-inspired style with a relaxed vibe. Long side bangs visually cut your face on a diagonal, making it seem longer, which flatters square and heart-shaped faces. Meanwhile, the feathery mid-lengths and ends give this cut movement and softness that throws back to the Charlie's Angels era. If you're worried about looking a bit too retro, don't be – keeping the flicked-out elements away from your face ensures this style is modern and chic.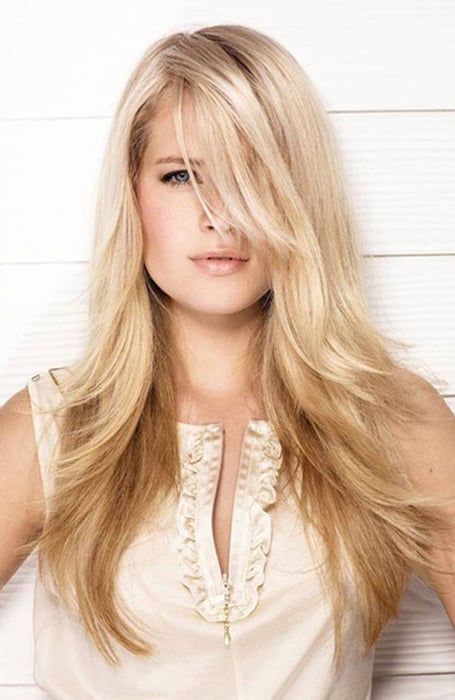 10. Side-Swept Bangs with Long Hair
Ideal for a rounded face, side-swept bangs create a flattering frame for your features. Add some longer pieces that end just above your jaw, at the side of your face. This will create a contoured effect and make your cheekbones pop. To create this classic style, it's best if you have thicker hair for long, luxurious waves, but those with finer locks can also achieve it using strategically placed extensions for extra volume rather than length.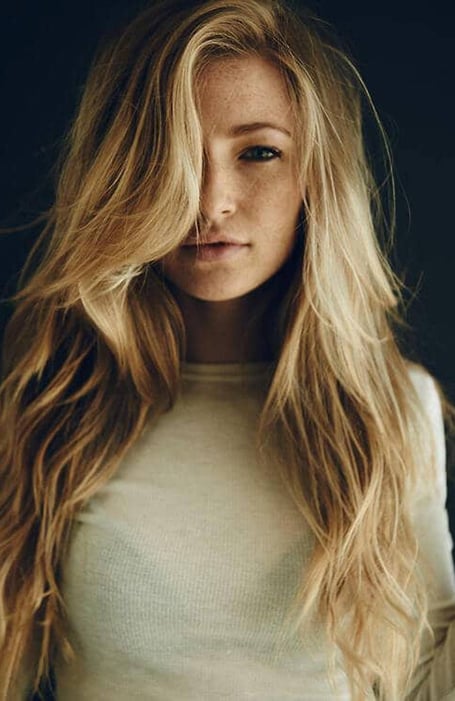 11. Cute Bangs for Long Hair
Youthful, playful, and sweet, cute bangs look great when paired with a half up half down hairstyle. This fringe is in between baby and classic eyebrow-length bangs. It's also in between wispy and full, so you don't need thick hair to try it out. The ends are lightly feathered to make the look seem more casual and less 'done up'. To make this mini fringe pop, use a little mousse or hairspray to build up some volume at the crown of your head and the roots of your bangs so the hair doesn't sit flat.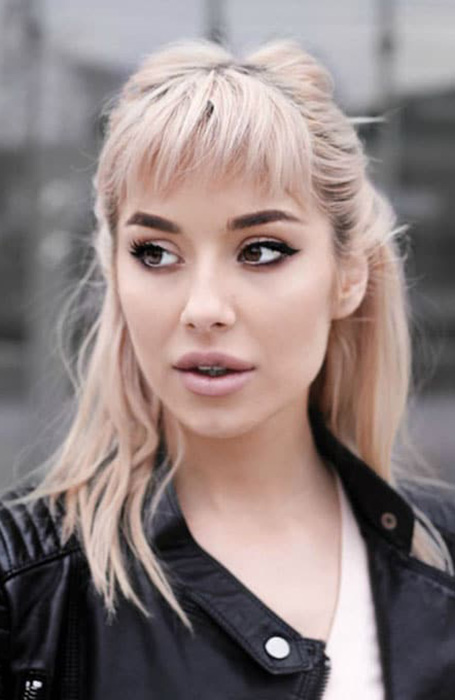 12. Short Choppy Bangs for Long Hair
Choppy bangs are all about attitude. Cutting the hair to all different lengths gives it lots of texture. Shaggy and edgy, this look will add definition to your fringe and make it the focus – particularly if you opt for short or baby bangs. This type of fringe is frequently teamed with a bob haircut or lob haircut, but it looks equally good with long hair. Make sure you keep the messy, rock'n'roll vibe going when you style it: use a sea salt spray or texture mist and work it through with your fingers for a grunge finish.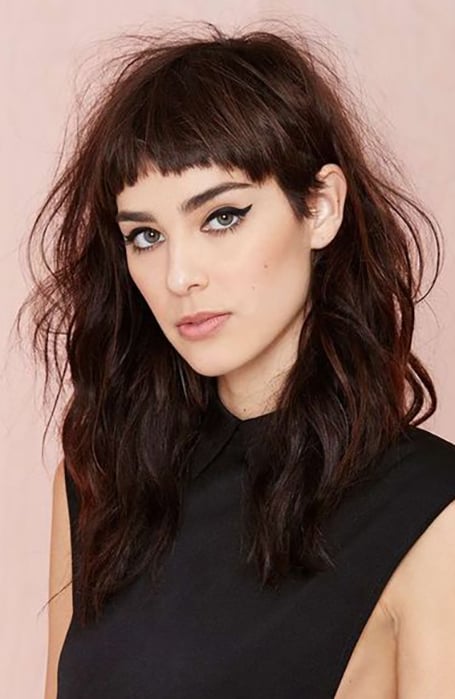 13. Thick Choppy Bangs for Long Hair
These bangs are a fresher take on the full fringe, but not as extreme as ultra-short, choppy bangs. You'll need to have medium to thick hair so that the fringe doesn't look stringy. Cutting an uneven edge on your bangs draws attention to your forehead, so keep your brows looking neat and groomed. This type of fringe has an arty, DIY feel, so it's a good choice if you're a creative type. It's also easy to maintain as you don't need to keep it all one length with regular trims. Keep the rest of your hair long for a feminine finish.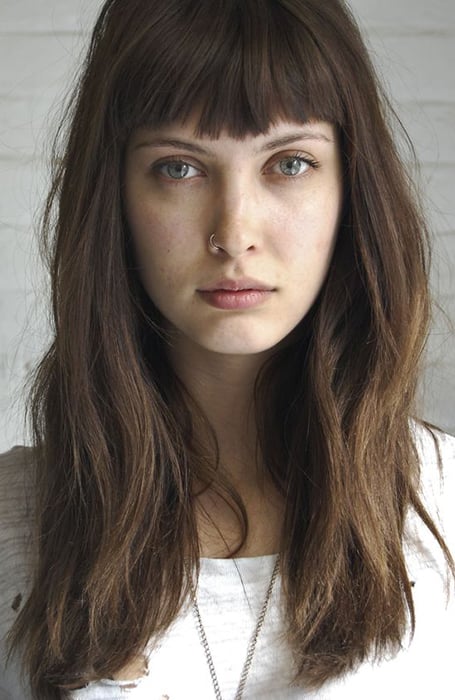 14. Long Choppy Bangs for Long Hair
Leave your choppy bangs longer and taper them at the sides – this helps to blend them in with your hair, especially if it's long. This style of fringe works well on a rectangular face shape as it balances out the length, and it also covers a more prominent forehead. Long, choppy bangs with long hair is also a great style if you want to draw attention to the center of your face, particularly your nose and lips. Keep some texture throughout your hairstyle, as choppy cuts are meant to look a little bit messy and undone.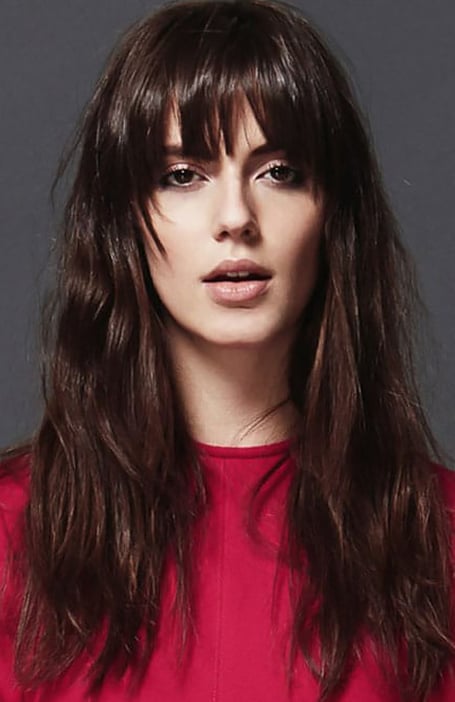 15. Angled Bangs for Long Hair
This asymmetric fringe follows the diagonal line of long side bangs but in a more defined, dramatic way. While most of us remember the angled fringe from the 'Emo' era of the early 2000s, the modern update is all about pairing it with long, full hair that's textured rather than blow-dried super sleek and straight. And forget black hair with bright streaks – pair it with a multi-dimensional color like a sun-kissed, golden blonde to keep it natural and flattering.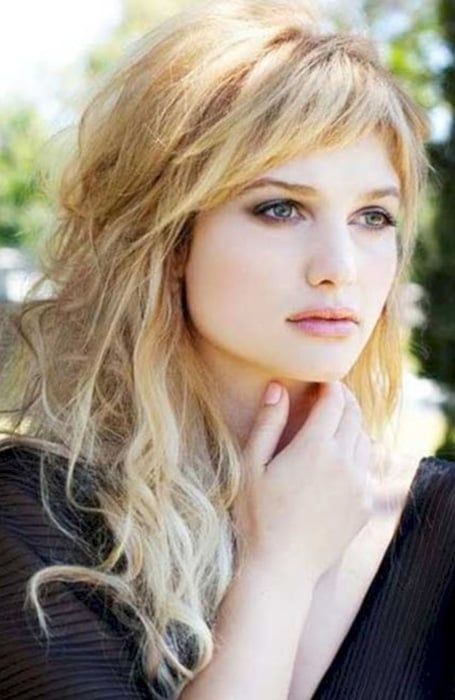 16. Triangle Bangs for Long Hair
This sharp, angular style of fringe is not for the faint of heart, which is why it pairs well with bold and unusual colors, like purple, cartoon red, grey, or rainbow. These bangs flatter a triangular face shape and draw lots of attention to the eyes and nose – almost like an arrow – so if they are your best features, give this cut a try. When it comes to the rest of your hair, go for an equally angular cut with razor-sharp ends.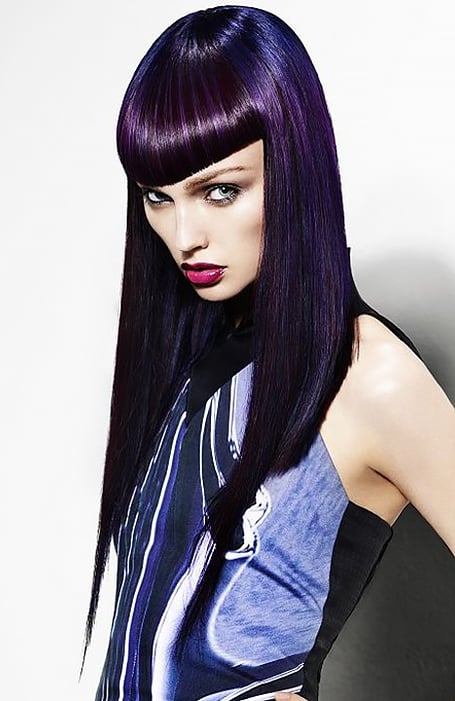 17. Thick Bangs for Long Hair
Thick, heavy bangs, cut bluntly across the forehead, became popular in the '60s and still look great today. Ideal for thicker hair, the fringe should fall at the eyebrow or just below it to draw attention to your eyes. Thick hair is also great if you want to maintain length, as it's not prone to dryness or frizziness. This style plays to the strengths of denser locks, creating a heavy frame around the face for a dramatic finish.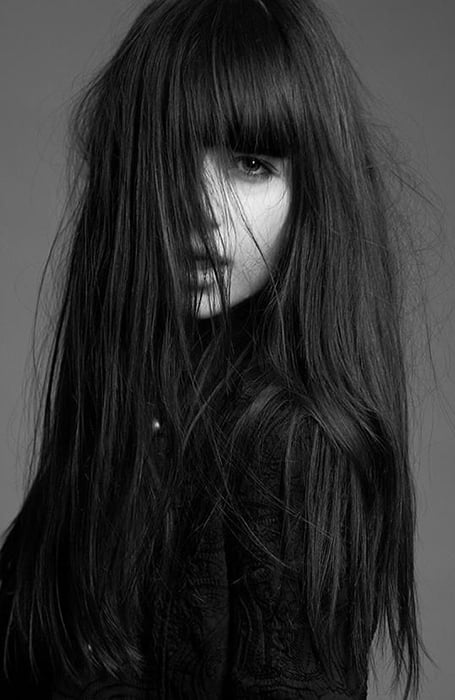 18. Thin Bangs with Long Hair
Also known as 'wispy' or 'piece-y', thin bangs fan out over your forehead rather than creating a heavy, blunt line. While a full fringe can sometimes overwhelm your face, thin bangs open it up and blend in seamlessly with the rest of your hair. It's a universally flattering look that becomes especially soft and romantic when paired with long, loose waves. Thin bangs are also a great transition style if you're growing out your fringe, as you can gradually part them to form face-framing layers.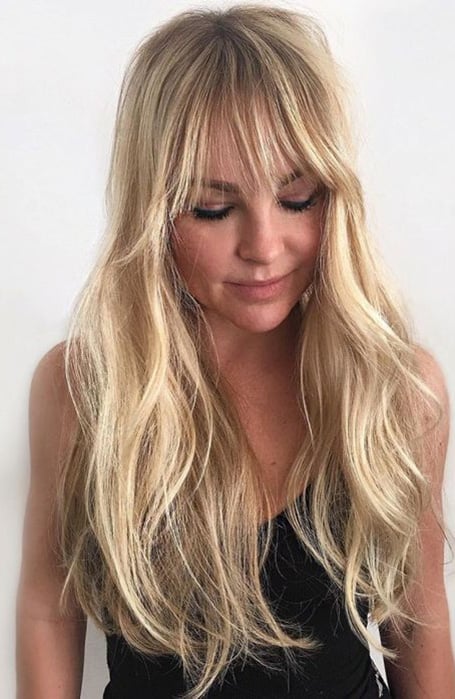 19. Long Brown Hair with Bangs
French models and street-style stars love this look for its understated and natural elegance. A cut like this can help you look younger, as long hair softens out an angular face, while bangs keep any forehead wrinkles out of sight. Meanwhile, people perceive brunettes as more sophisticated and confident, so if you're looking to shake up your color as well as your cut, this could be the style for you. Best of all, brown hair has the broadest, most flattering shade range for every skin tone and complexion, whether you're fair, deep, cool, warm, or neutral.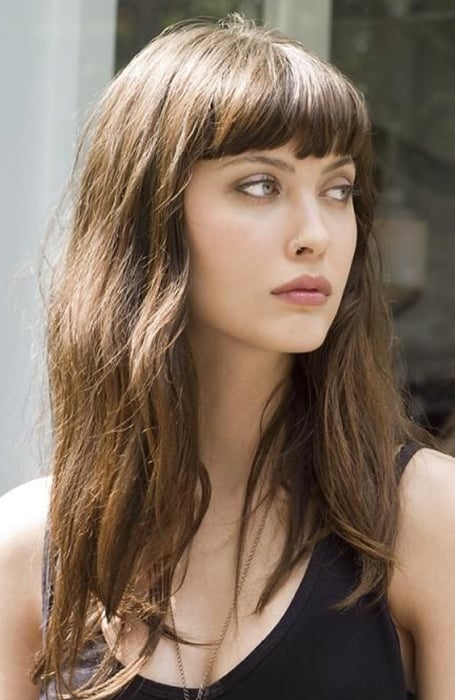 20. Long Black Hair with Bangs
Eye-catching, mysterious and Gothic, black hair is all about drama. Inky cool-toned locks contrast well with pale skin, while a warmer black brings out deep skin tones. Due to the blue undertones in many black dyes, blondes may end up with a dull grey result when going ultra dark and may need to apply a 'filler' color first. If you're embracing the dark side for the first time, be aware that lightening your hair again will cause it serious damage, so be prepared to commit and let it grow out naturally. That said, the effort will be worth it – when paired with bangs, black locks are all bombshell! Go for a sleeker finish and have a full fringe cut to just below your eyebrows as this will draw attention to your cheekbones.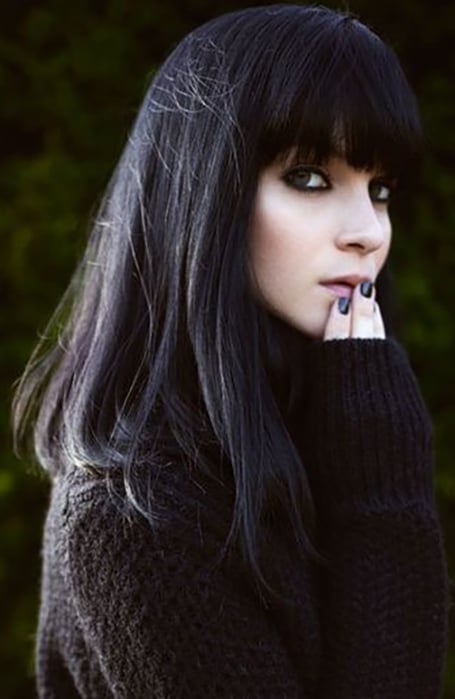 21. Long Blonde Hair with Bangs
If you're already blonde, try adding some buttery highlights and soft caramel lowlights to give your bangs – and the rest of your mane – some dimension. This will also create the illusion of thicker hair. If you're going blonde, this multi-tonal look will give you a natural effect and make growing out your color easier. Take note, though: long bleached hair needs extra care to keep it healthy, which is where a post-color treatment like Olaplex comes in handy. Regular trims are also advised to get rid of dry ends, so get an extra snip when you go to the salon to have your fringe maintained.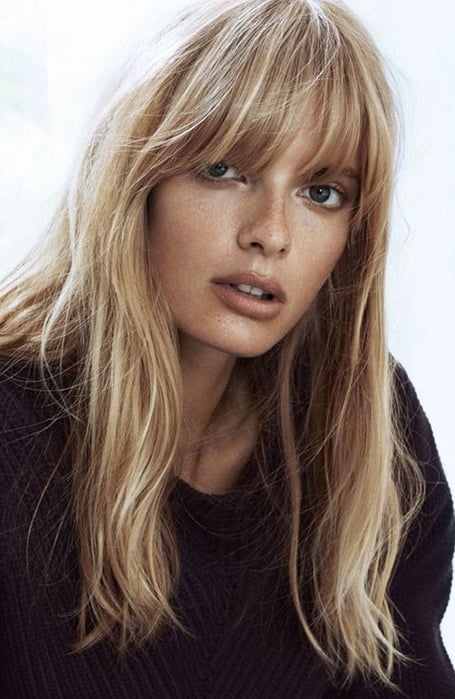 22. Long Red Hair with Bangs
From fiery copper to deep auburn, red hair makes a bold statement, especially if your hair is long. Add bangs for a sexy, mysterious finish. A center-parted fringe that finishes just below the cheekbones flatters a rectangular face shape. Check your skin's undertone to work out the best shade of red for you: golden undertones look best with a warm, true red, while cherry hair flatters the green undertone in olive skin. Those with a cool complexion – that's skin with blue undertones – should try rich reds with a violet hue.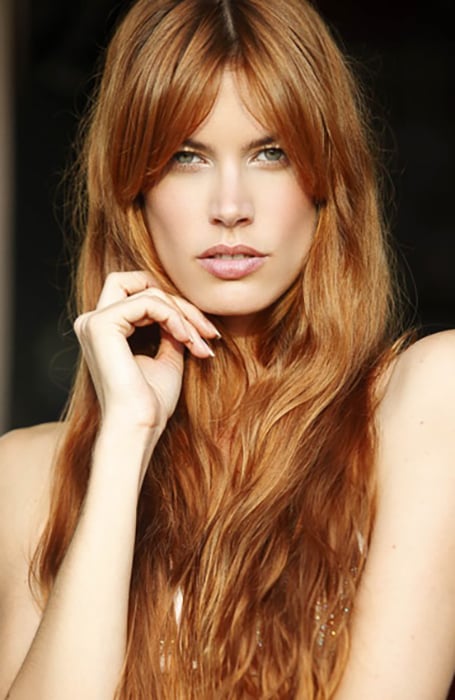 23. Long Hair with Parted Bangs
Parted bangs look great on a rounder face, as they don't visually shorten it like blunt fringes do. Longer, chin-length pieces will frame your face and add length, while choppy layers draw the eye down and keep this cut fresh. The texture is key here: this is a low-maintenance style with a chilled out, festival feel. No blow-dry necessary – just spritz through some sea salt spray, tousle, and go!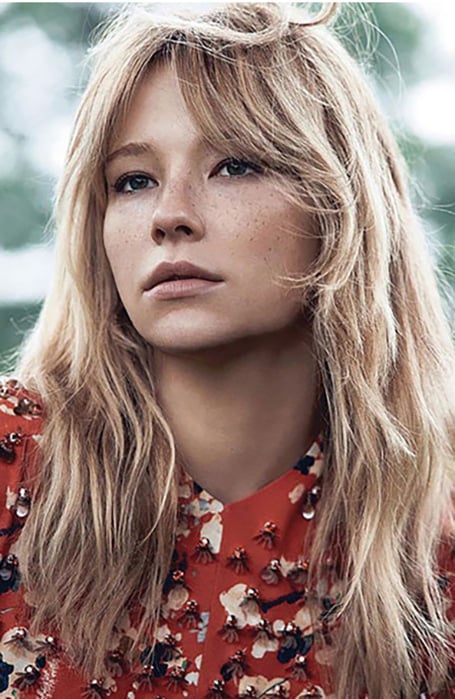 24. Long Fine Hair with Bangs
It can be challenging to cut bangs into fine hair as there's not enough there to create a full, thick fringe. Opt for a subtle, temple-length side fringe instead, making sure there's no harsh line where your bangs end. Add to the illusion of a fuller head of hair by styling your long locks with subtle waves – as a bonus, this also softens out a strong jawline and looks beautiful with subtle highlights and lowlights mixed into the color.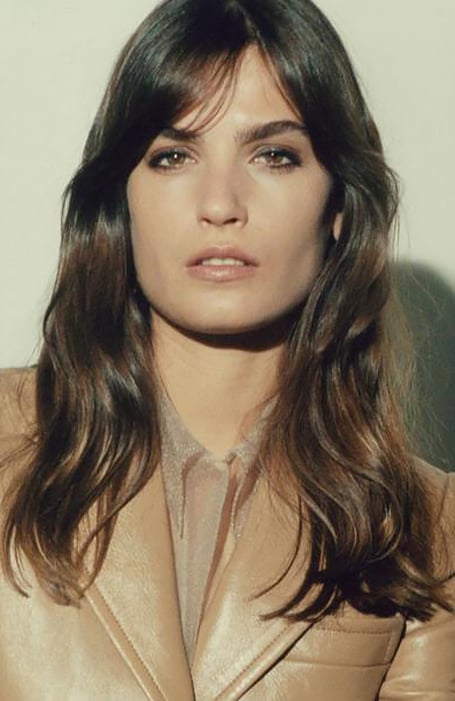 25. Long Thick Hair with Bangs
Take some of the weight out of thick hair by cutting in layers, which give your locks a lighter, less dense finish. When styling, add movement and volume with big, bouncy waves – this will ensure your hair doesn't look like one big mass. For a modern update of the '70s bombshell look, lightly curl your long, center-parted bangs outwards so that they blend in with the rest of your hair. It's a gorgeous, feminine style with plenty of lift, without looking messy.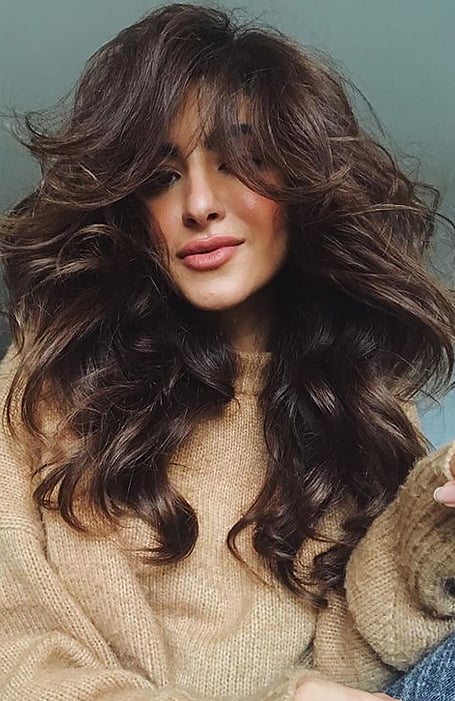 FAQs
Do bangs look good with long hair?
Bangs look amazing with long hair, as it balances out the length and draws attention to your eyes. Plus, it's versatile because you can try different styles of long hair and different fringes to create a truly unique look.
Are bangs in for 2020?
Bangs are very much on-trend for 2020. Curtain bangs are one of the most popular, as it allows you to keep the length, while still framing your face. Meanwhile, side-swept bangs can work with most faces and balance our broad foreheads, while short bangs look ultra-cute.   
Do bangs make you look younger?
Bangs can make you look younger, so long as you choose the right style. They make your face appear smaller and can hide fine lines while drawing attention to your eyes. Choose a longer length that sits around your eyebrows, as too short can draw attention to the wrong places, and too long will cover your eyes.
Who should wear bangs?
Anyone can wear bangs; it's just a matter of choosing a type that suits your face shape and committing to the styling requirements. Side-swept fringes are great for heart, square, and round faces as it balances out the width. Heart shapes can also rock baby and curtain bangs. If you're blessed with an oval face, you can wear more straight and blunt fringes thanks to the versatility of your visage. Lastly, ladies with square and oblong faces can soften their look with longer, feminine framing curtain bangs.
SUBSCRIBE TO OUR NEWSLETTER
Subscribe to our mailing list and get interesting stuff and updates to your email inbox.