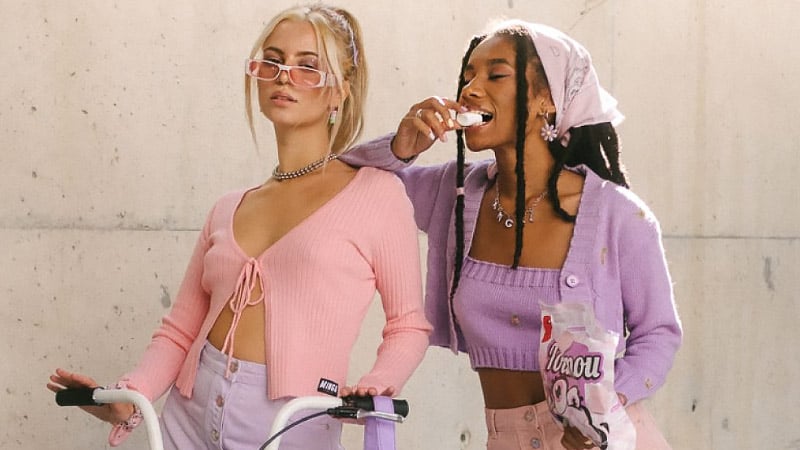 Don't you just wish you could go back in time? Well, the futuristic and tech-loving fashion from the late 90s and early 2000s is back for a second round. This distinctive style blends pop culture and tech advancements from the millennium. From the Y2K bug in 1999 to the launch of Bratz dolls in 2001, plenty of nostalgic influences are present today. If you're aching for the return of metallic clothing, bubblegum pink, and velour tracksuits, you're in luck. The Y2K aesthetic is back – here's how you can wear it today!
RELATED: 2000s Fashion Trends for Men and Women
What is Y2K Aesthetic?
The Y2K aesthetic is radically distinctive and inspired by the mid-'90s and early 2000s when the internet became more popular during the dot-com boom. This style is typically quite futuristic with a slightly retro edge – think shiny materials, chunky sneakers, pleated skirts, baguette bags, and colorful sunglasses. With the massive technological advancement peak, viewers were optimistic and cautious about the future and how it could transform our lives. This came through with changes in music, films, decor, and, of course, fashion. Some of this era's biggest influences include Carrie Bradshaw, Bratz Dolls, and films like The Matrix and Mean Girls.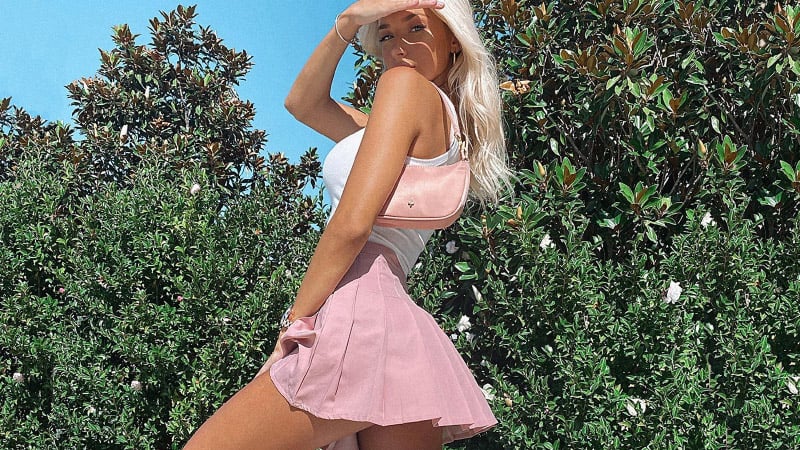 Why is Y2K Aesthetic Back?
It's no surprise when the biggest fashion trends from decades past circle back with a fresh take. The early 2000s were very experimental, and with Gen Z and Millennials welcoming a nostalgia for the era, it was only a matter of time before the style returned. Some of the key pieces from the Y2K aesthetic are bigger than others, including wide-leg jeans, shiny jackets, baby tees, and velour tracksuits.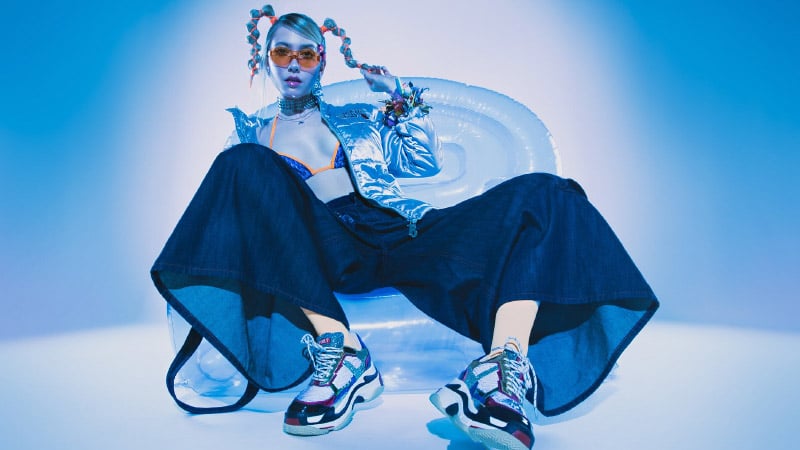 Y2K Outfits
Baby Tees
These teeny-tiny t-shirts are some of the cutest trends from the early 2000s to make a comeback. Typically, these shirts are cropped above the belly button and are higher fit across the chest. You can find tops with quirky quotes, cute characters or patterns on the front, or graphics of the iconic Y2K brands like Fiorucci or Juicy Couture. Style these with a pair of loose-fitting jeans, pleated skirt, or denim cut-offs – it's a versatile option for your wardrobe and suits almost anything.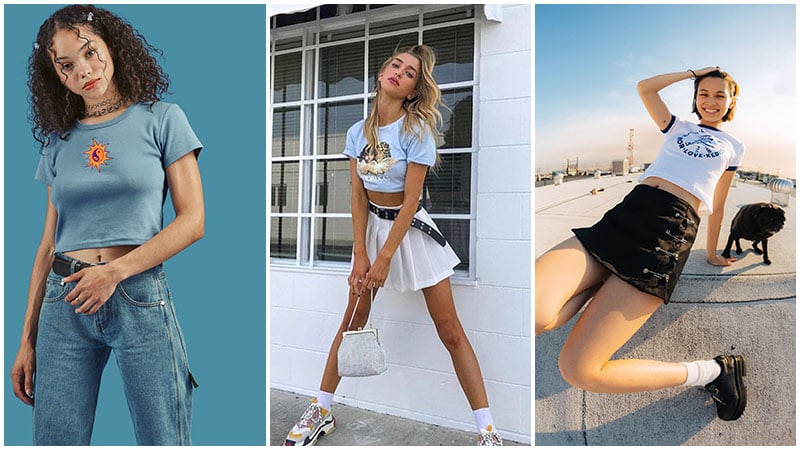 Shiny Materials
With the tech boom in the early 2000s, the idea of futuristic fashion was a huge trend. Shiny materials in silver or pearlescent shades are a great way to make your outfit pop and add a touch of nostalgia. Try a metallic puffer jacket or a pair of pants. Wear them with other bright colors like pink, blue or purple. Wear accessories or a crop top in the luminous fabric if you prefer to keep it subtle.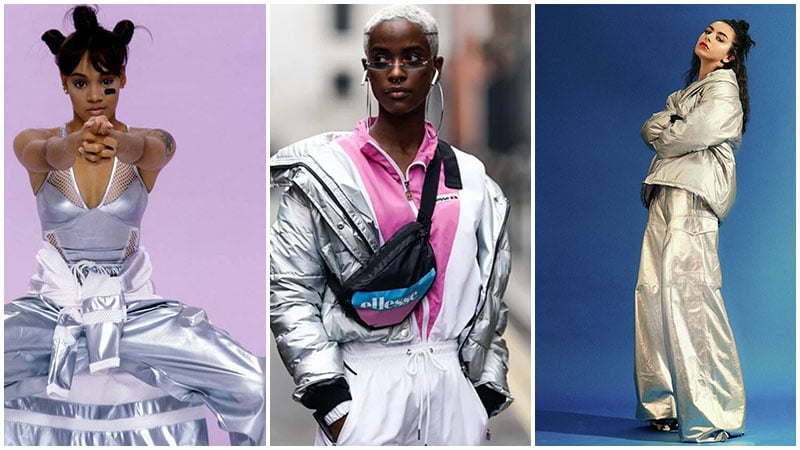 Baguette Bags
The first-ever 'it' bag is back and bigger than ever. The iconic baguette bag is a true symbol of the Y2K aesthetic, thanks to its surge in popularity by Carrie Bradshaw in Sex and the City. These little bags nestle under your arm and are the perfect accessory for your daily getup. For a truly nostalgic feel, you can opt for a vintage Louis Vuitton Pochette or Fendi Baguette – pastel shades are a great option for lovers of the era. If you prefer futuristic touches, shoulder bags feature metallic colors and shiny fabrics that work well with almost any outfit.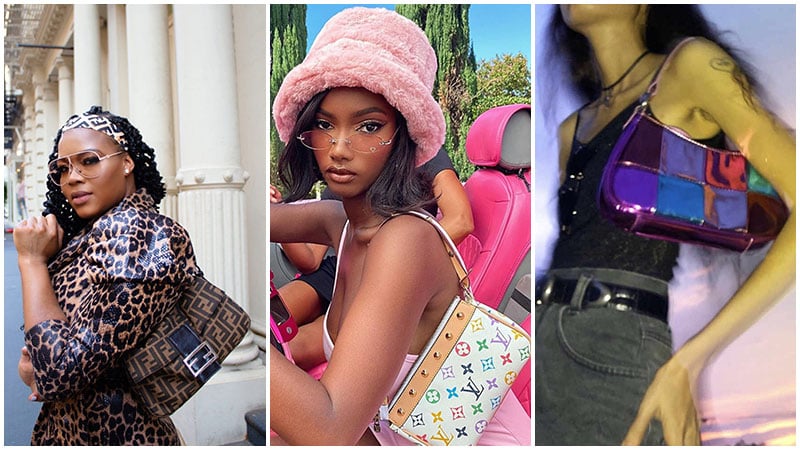 Pleated Colourful Skirts
The early 2000s fully embraced the styling of Bratz Dolls, which included pleated colorful skirts. You can find varying styles that best suit you – whether you like them micro-mini or a little bit longer, it's all about you feeling your cutest. These uniform-esque pieces are great when paired with an oversized sweater, crop top, or baby tee. Wear them with chunky sneakers or boots.
SHOP: Pleated Colourful Skirts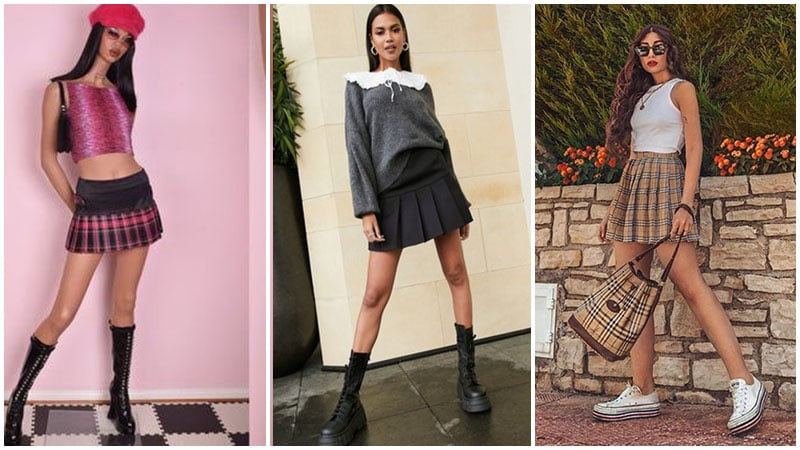 Tie Front Tops
One of the biggest trends from the 2000s making a comeback is the tie front tops. In 2021, they have got a fresh update with pastel tones and ribbed fabrics. Style them with a cute bralette, T-shirt, or nothing underneath, and look fresh. Rock them with high-waisted jeans, a mini skirt, or patterned wide-leg trousers – this is a style you can wear repeatedly, and it will never go out of fashion.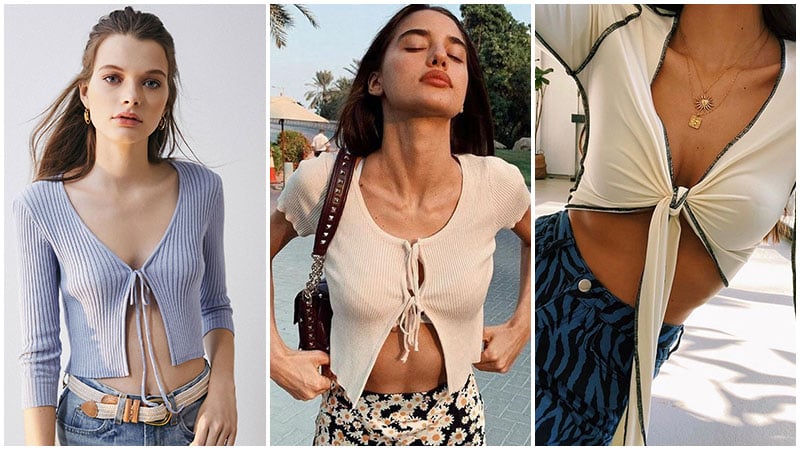 Velour Tracksuits
If the 2000s were famous for one fashion choice, it would be the velour tracksuit. This iconic trend has made its way back 20 years later with a little makeover. Brands like Juicy Couture, Baby Phat, and celebrities like JLo, Paris Hilton, and Britney Spears made this ensemble famous. Now, you can style them with matching crop tops and bralettes, denim jackets, and chunky sandals. Choose bright shades like pink, blue, or green – try a monochrome style for the true Y2K aesthetic.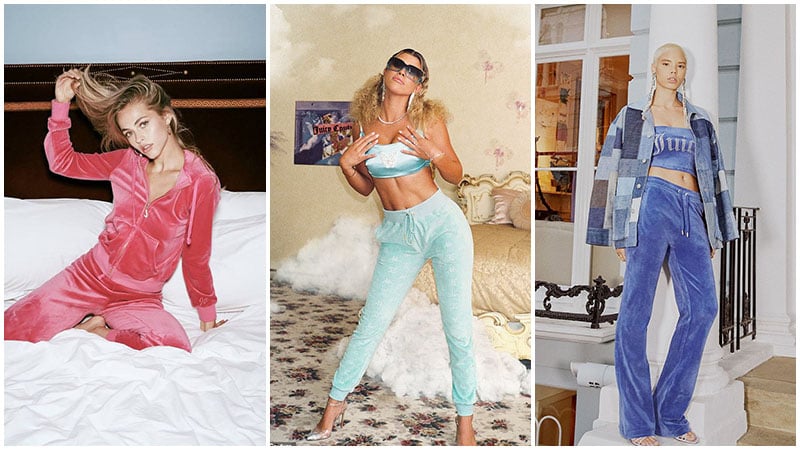 Double Denim
Double denim is a polarizing trend, but it can look fierce when styled correctly. The Y2K aesthetic has a particular way of styling the ensembles – it's all about creating a silhouette. Try matching shorts and cut-off vests, flared jeans, crop tops, and low-rise bottoms with an oversized jacket. When rocking this look, try to keep the fabric's color consistent to complete an outfit seamlessly. Polish the look off with colorful sunglasses, a baguette bag, or chunky heels.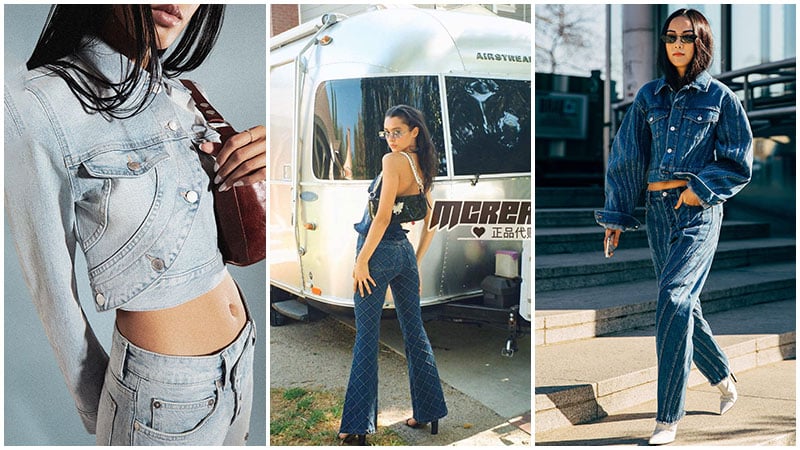 Bandanas
One of the staple accessory trends of the early 2000s was the bandana. It's a versatile headscarf that can completely change your outfit. You can rock it in many ways, including folding it into a triangle and wrapping it on top of your head. Add some skinny sunglasses and keep your hair loose below for the Y2K aesthetic. Alternatively, you can twist the fabric into a thin strip and wear it as a headband. For a fun take, match the colors or pattern with the rest of your ensemble for a polished look.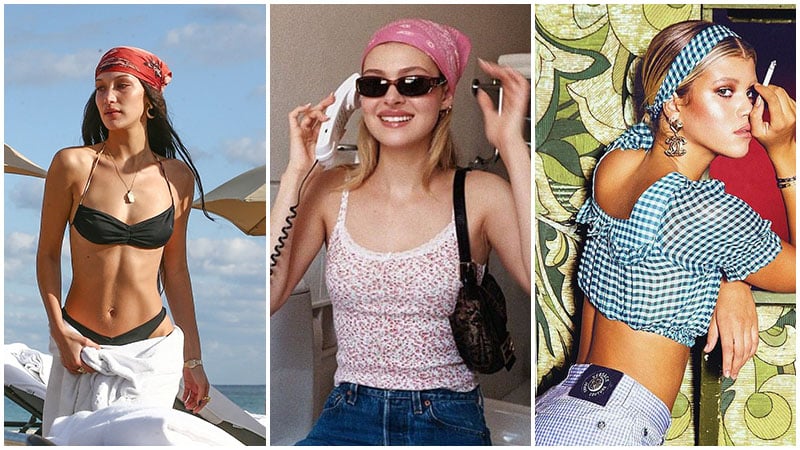 Translucent Clothing
The late 90s and early 2000s were an experimental time for fashion. One of the biggest trends of the era is translucent clothing, which can be worn in many ways. Rock a mesh or lace baby tee with a cute bralette underneath, try on a transparent slip dress – they're the perfect option for a date or a night out with friends. For a more casual setting, wear a transparent button-down shirt, with a crop top and trousers. Find patterns and colors that you enjoy wearing, and let your imagination run wild.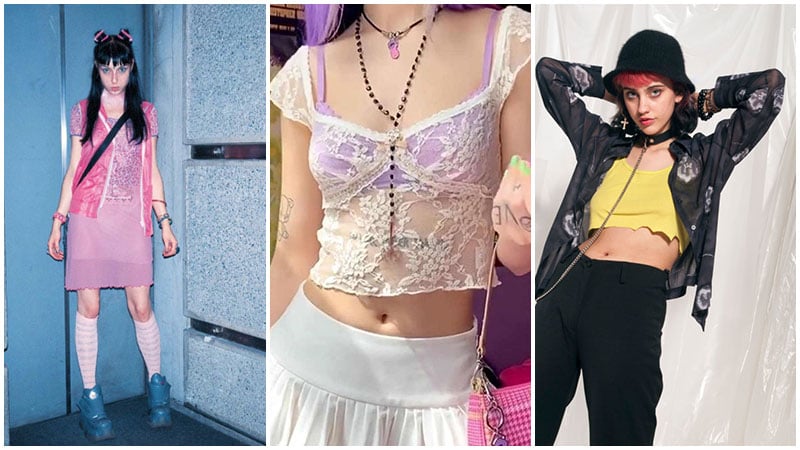 Butterfly Hair Clips
From the '90s to today, these accessories have always been a favorite. Butterfly clips are a cute addition to your Y2K style and can be worn in many different ways. Try placing the clips on the lengths of your locks, or pin your hair behind your ear with the help of the delicate barrettes. You can replicate the biggest trends from the era with a half-up half-down hairstyle for a true nostalgia trip. Wear these cute clips in so many ways, have some fun, and experiment – that's what the aesthetic is all about.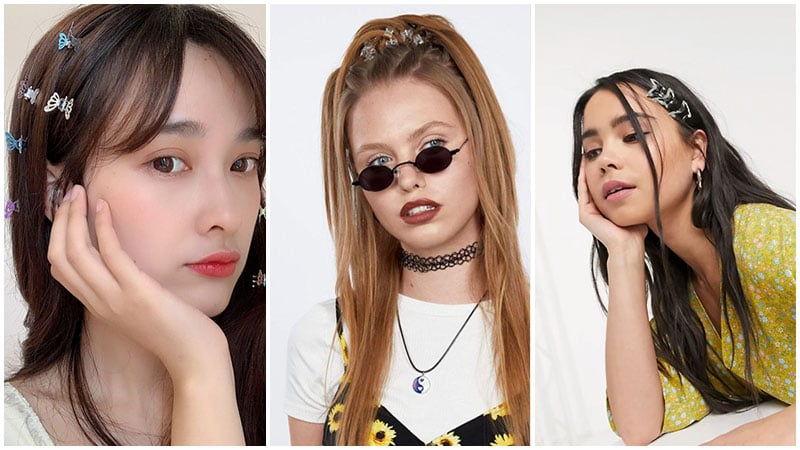 Y2K Fashion FAQs
What is the Y2K era?
The Y2K era was the nickname for the decade following the year 2000. This name began in the late 90s, thanks to the increasing popularity of the internet and the worldwide technology boom. In the lead up to the year 2000, there was some concern that calendars wouldn't be able to format the date properly following 1999 - it is commonly referred to as the Y2K bug. This era in fashion reflected technological advancements, seen with silver clothing, futuristic fabrics, and collections inspired by films like The Matrix. The Y2K era is also characterized by oversized flared pants, platform shoes, designer logo prints, and small accessories.
Where is Y2K clothing sold?
You can buy Y2K fashion almost anywhere now - it is a style that is trending once again. However, if you're on the lookout for authentic clothing from this era, be sure to look online at second-hand stores such as Depop and Etsy, where they sell vintage pieces from the late 90s and early 2000s. For a more updated version of the aesthetic, opt for retailers such as ASOS, Nasty Gal, Revolve, and Missguided. Here, you can find an elevated version of the Y2k aesthetic, blended with trendy styles that are sure to turn heads.
Is Y2K fashion coming back?
It's common to see styles from 20 years prior come back into fashion. It's no exception to the Y2K trend - it is a nostalgic era for many people and coming back for another round. While some of the less fashionable pieces remain in the decade's past, you can find the core ingredients on the runways and over the internet today, such as baby tees, flared jeans, and chunky sneakers. This year, expect to see everyone dancing like it's 1999, because Y2K fashion is back in a big way.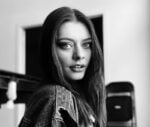 Alexandra Feiam is an experienced fashion writer who holds a degree in journalism. She has an impressive portfolio and expertise working as the Editor at Power Retail and Commercial Content Editor at Newscorp. Ally has been writing for The TrendSpotter since 2018, and her work has been featured in notable publications such as The Herald Sun, Arirang TV South Korea, Kidspot, The House of Wellness, and The Daily Telegraph.
SUBSCRIBE TO OUR NEWSLETTER
Subscribe to our mailing list and get interesting stuff and updates to your email inbox.