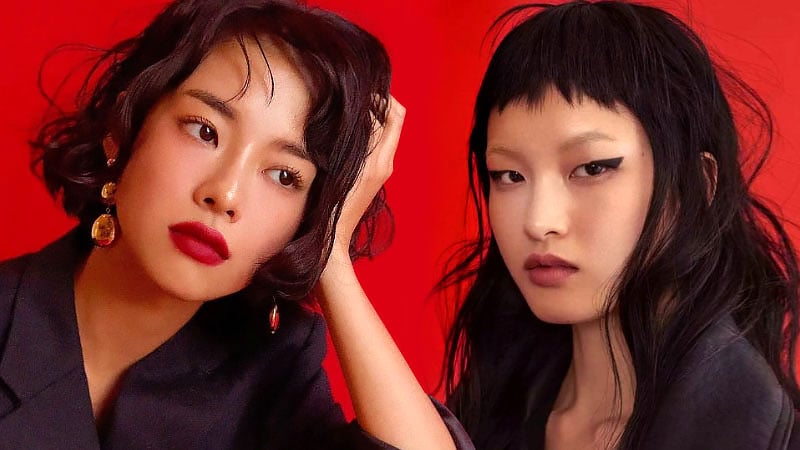 Fringes are more beautiful and versatile than ever. Check out our guide on how to style your bangs like a pro. Whether you've already got a fringe, or you're thinking about going for the chop, our guide covers a variety of styles and hair types. From natural bangs and vintage styling to updos and faux fringes, we've got you covered.
RELATED: 60 Most Popular Hairstyles With Bangs
1. Natural Curtain Bangs with Hair Down
Curtain bangs are one of the most natural and versatile fringe styles. Styling curtain bangs is easy. Simply wash and dry your hair, parting it down the middle. You can use a styling product that will give a natural look, such as a lightweight mousse. If your regular part is not in the center, just use your blow dryer to dry your bangs to each side. Additionally, you can smooth your fringe down with flat irons if it's playing difficult. Give your hair a gentle tousle, and you're good to go and looking effortlessly chic.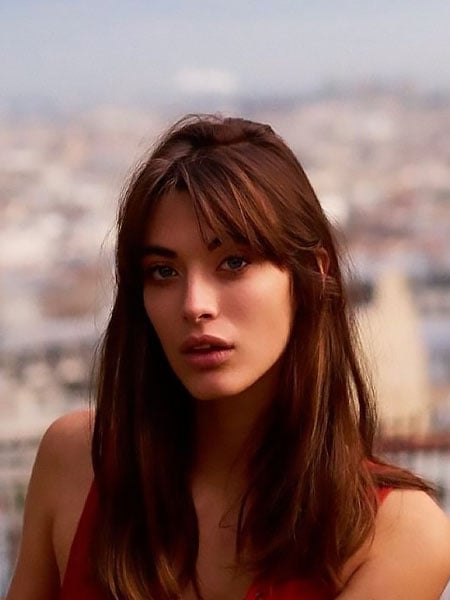 2. Curtain Bangs with Ponytail
Create a sweet but sexy look by styling your curtain bangs with a perky ponytail. This is an excellent style for day two or three hair when you can use some dry shampoo for added texture. You can do this with straightened hair or curl it first — either will work. Rake your hair back into a high pony with your fingers, and secure it with a hair tie. Separate the bangs and brush them out, parting in the center, smoothing them down with a flat iron if you need to. Gently loosen sections of hair from the hair tie. To make your ponytail perkier, you can loop a hairpin through the top of the elastic and tuck it down into the base of the ponytail to pull it up. Alternatively, add volume by securing a small butterfly into the mid-section of the pony, close to the elastic.
3. Straight Fringe with Side Buns
Throwback to the '90s by styling a straight fringe with side buns. Also called space buns, the formidable Princess Leia inspires this cute hairdo. Start by breaking out your flat iron to straighten your hair. Then, split your hair in two, from your forehead to the nape of your neck. Pull both sides up into high pigtails, securing with a hair tie. Twist, then wrap the hair around the hair tie on each side, to create the buns, and hold them in place with a couple of hairpins. Feel free to make this look more casual by pulling a few strands out. Finally, if you need to, run your flat iron through your bangs again, to get it smooth. Pair this look with a leather choker for the ultimate Gwen Stefani/No Doubt vibes.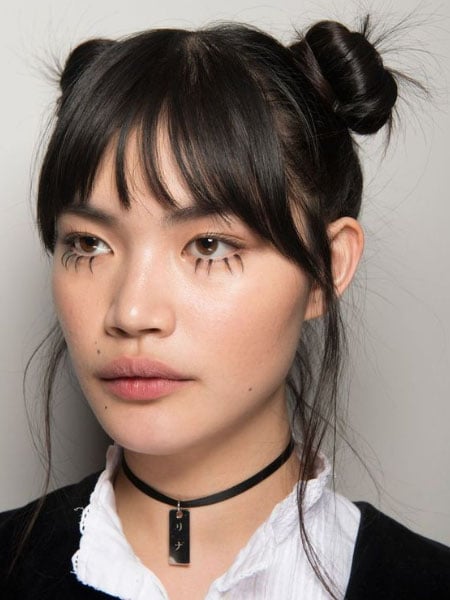 4. Side-Swept Bangs with Hair Clip
Add a bit of bling to your bangs with a gorgeous hair clip. Side-swept bangs are perfect for this elegant look, and styling couldn't be easier. This look is best done with freshly washed hair. Once it's clean but still damp, add a heat protector as well as smoothing serum or mousse, and part your hair down the side. Blowdry your hair straight, but add a little volume to the side with the majority of your hair. Depending on the texture of your hair, if blowdrying doesn't get your hair smooth enough, you can also straighten it with your flat iron. Then, simply sweep your fringe across your forehead and secure it with your chosen hair clip tucked in by your ear.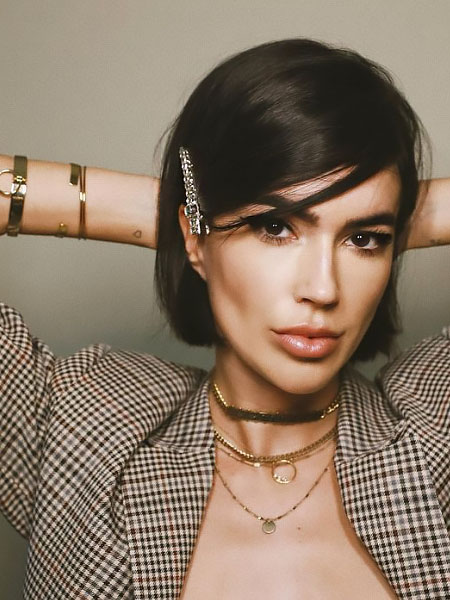 5. Face-Framing Fringe with Ponytail
Effortless but classy, a face-framing fringe with a ponytail is a stylish, everyday look. To get the best results, chat with your hairstylist about what length and shape of fringe will suit your face the most. To style this look, it works best with textured hair and loose waves. Try curling your hair with your flat iron, rather than a wand, to get a less structured wave. Then, add some texture with a sea salt spray or dry shampoo. Tie your hair in a low ponytail, just above the nape of your neck. Create a more relaxed look by pulling a few sections looser from the ponytail. If you want additional volume, gently back-comb the mid-section of the ponytail. Finish by wrapping a small segment of hair around the hair tie to hide it.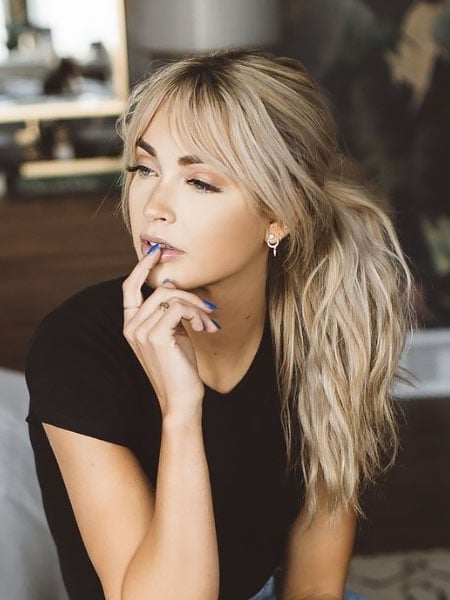 6. Face-Framing Fringe with Bun
Pair your face-framing fringe with a bun for a pretty and youthful look. The great thing about this style is that you can have any bun hairstyle, from messy to neat ballerina. Buns are also great for getting your hair up and off your neck, especially when it's hot. Create a messy topknot by scooping your hair up, and as you twist your hair tie around to make a ponytail, twist your hair with it. Alternatively, for a neat bun, pop your hair in a sleek ponytail to start. Then, twist your hair to the end, then wrap it in circles around the hair tie, and secure it with pins or another elastic. Give either look a fun finish with a cute scrunchie — one of the greatest fashion reruns from the '90s.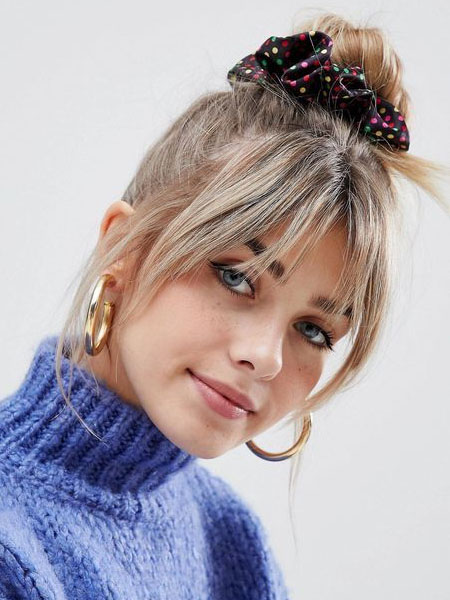 7. Bangs with Updo
Elegance inspires this look, for a blunt fringe combined with a stylish updo. Reminiscent of the swinging '60s, a beehive is a fun hairdo for an evening out. Separate your fringe and clip it away for the moment. Then, brush your hair up as high as you can, as if you're going to put it into a ponytail. Instead, you're going to take an elastic and create a looped bun towards the end of your hair. Then, roll that under on itself until you reach your scalp. Pin the bun in place, and use extra pins to neaten up the sides. Use the handle of a sectioning comb to pull sections gently out to create more volume. Unclip your fringe, and use a round brush and hairdryer with directional attachment to give it the correct shape. Finally, spritz it with hairspray to keep it all in place.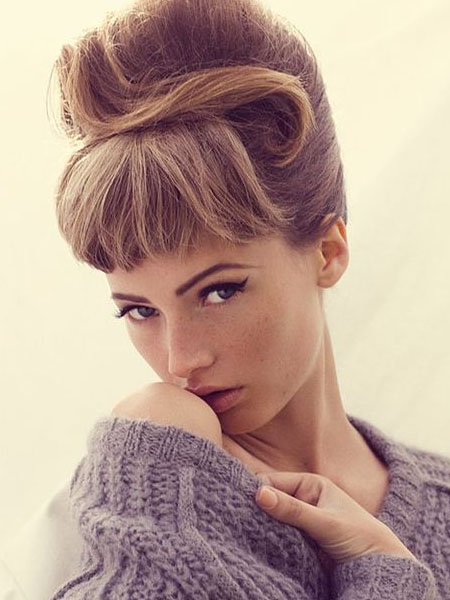 8. Textured Fringe
A textured fringe is another casual, effortless look. Ask your stylist to make your fringe textured and slightly choppy on the ends, perhaps using a razor rather than scissors. Use your fingers to rub through a texturizing product, such as sea salt spray or dry shampoo paste. Twist small sections of the ends to make it more piecey. Combine this fringe with a textured wave for relaxed weekend chic.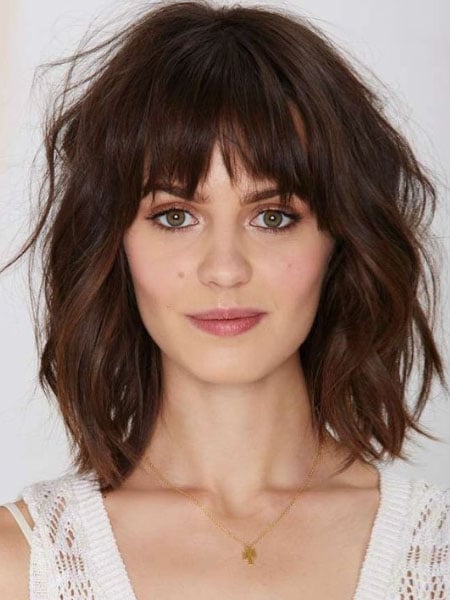 9. Soft Blow Out Bangs
Who doesn't love feeling ultra-glamorous with a blowout at the hair salon? Get almost the same feeling at home with a DIY blowout. Wash and towel dry your hair and add a heat protection product. Then, section your hair into four layers, from top to bottom. Use a hairdryer with directional attachment and large, round, vented brush. Start with the bottom section, and brush from underneath the hair. Aim the dryer at the hair as it passes through the bristles. The key to a smooth finish is to always aim the hairdryer down, as this smooths the cuticle. Finally, dry your bangs by brushing under, then on top of the hair, so it drys without being too voluminous. Alternatively, you can just finger-comb it side to side as you aim the dryer down on that section. Complete the look with a high-shine serum and enjoy that glamorous feeling.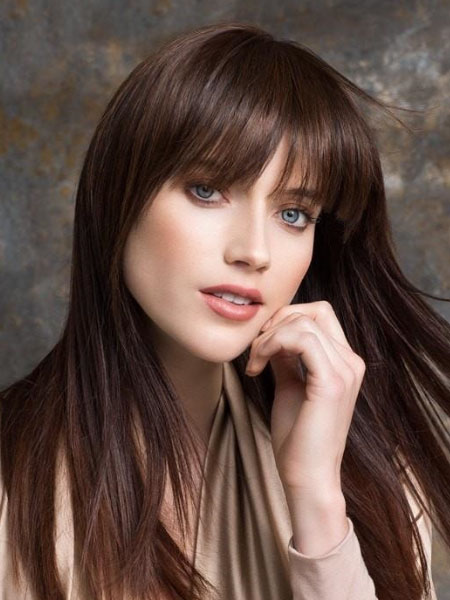 10. Vintage Hairstyle with Bangs
Step back in time by styling your bangs in a vintage style. Bangs have been prevalent throughout history. There were the blunt fringes of the roaring '20s and wispy, baby bangs of the '50s. Then it was feathered fringes in the '70s and side-swept 'Rachel' of the '90s, so there's plenty of inspiration. Up the ante by combining whatever hairstyle you choose with clothing inspired by the same era. For example, feel the swinging '60s by creating a bouffant half-up ponytail with a blunt fringe. Section the top half of your hair, and gently back-comb the underneath to create volume. Then tie it high with an elastic band and finish with a ribbon. Comb your bangs down, and pair the look with a pussy-bow blouse to round out the aesthetic.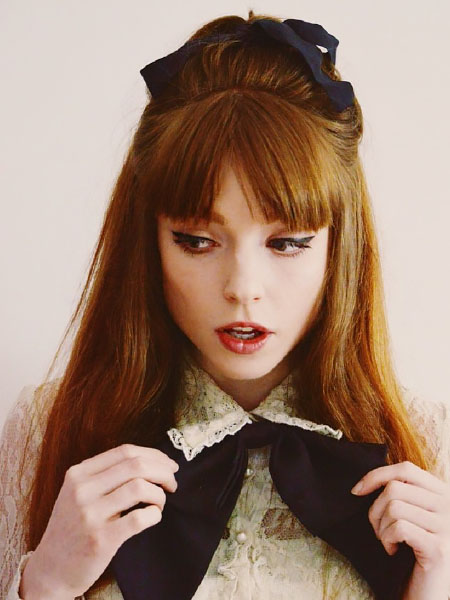 11. Bangs with Beach Waves
A longer, piecey fringe works excellently with soft, beachy waves. Achieve this look by creating loose curls with your curling wand or flat irons. Brush them out and give them a good spritz with a sea salt spray, and tousle your locks through with your fingers. When it comes to styling your bangs, simply play with the distribution of your hair. You can use a bit of hairspray sprayed directly onto your fingers, then work through the ends for a little extra hold. Once you're done, you'll look like you just wandered off a white sand beach on a South Pacific island.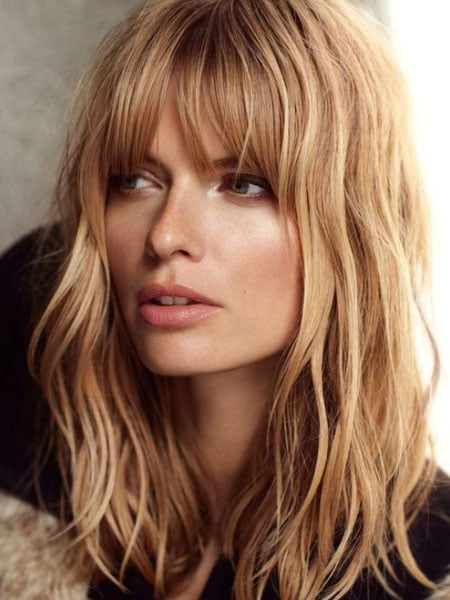 12. Faux Fringe Bun
The faux fringe is the perfect hairstyle to wear if you're contemplating cutting bangs or just want to rock a different look for the day. This style creates a fake fringe with the ends of your hair. As such, you do need long hair to make this work. To get this look, start by tieing your hair up in a high ponytail. Next, twist your ponytail into a bun, finishing the twist at the front of your ponytail, leaving out enough of the ends of your hair to create a fringe. Secure the bun around the base with a hair tie. Spread the ends of your ponytail across your forehead, creating the fringe, and flat ironing it, if needed. Secure it with a headband, scarf, or bandana. Finally, finish with tweaking the messiness of your bun, and a quick spritz of hairspray to get it all to stay.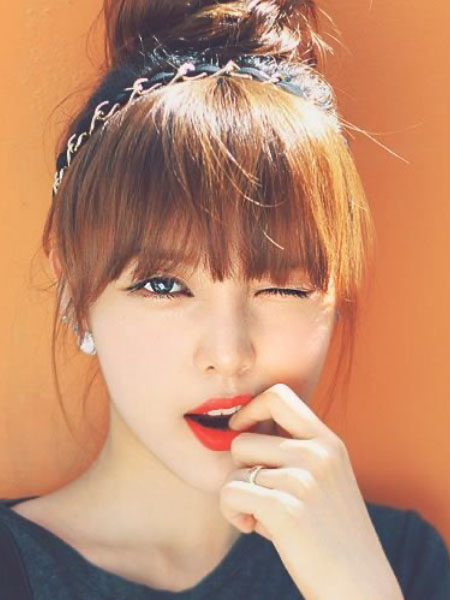 13. Straight Bangs with Bob
Embrace your fierce and edgy side with straight bangs and a blunt bob haircut. Ask your stylist at the hair salon to forgo layers and keep the edges sharp. This look is best styled as sleek and smooth. Use your flat iron to straighten your hair, turning the barrel under slightly as you get to the very end. Make sure you use a heat protection spray or cream so that your hair is protected and doesn't get flyaways. A smoothing serum will also help keep your look glossy. Choose a bold color such as red or black for an extra edge. Pair your straight bangs and blunt bob with bright red lipstick, and sharp winged eyeliner, and you'll be looking both stunning and formidable.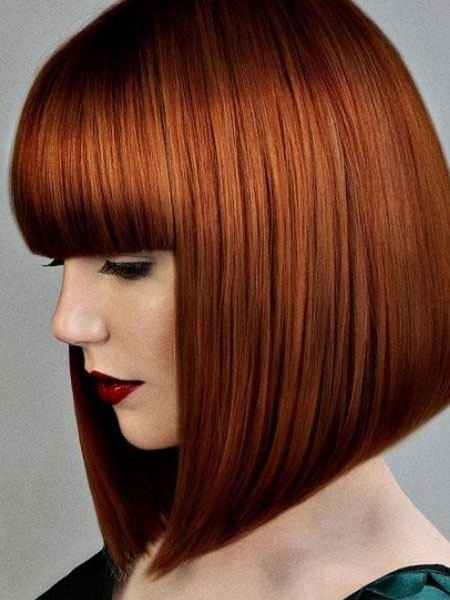 14. Soft Bangs with Side Braid
Impress your partner on date night with this beautiful, romantic look. You'll want to create soft curls all over, except for your fringe, and comb them out with a wide-tooth comb. Then, straighten your fringe, creating a lovely contrast with the curls. Next is your side braid. Make a deep side part, take a two-inch section of hair behind your bangs, and split it into three. A simple three-strand braid works best; however, you could do a Dutch braid if you prefer. Braid the hair until it reaches the bottom of your ear, and secure it with a clear elastic. Pancake the braid so it's big and loose. Then, tuck the end under a section of hair at the back of your head and secure it with hairpins. Fluff your curls back over it to cover it up. Finally, spray all over with a light-hold hairspray.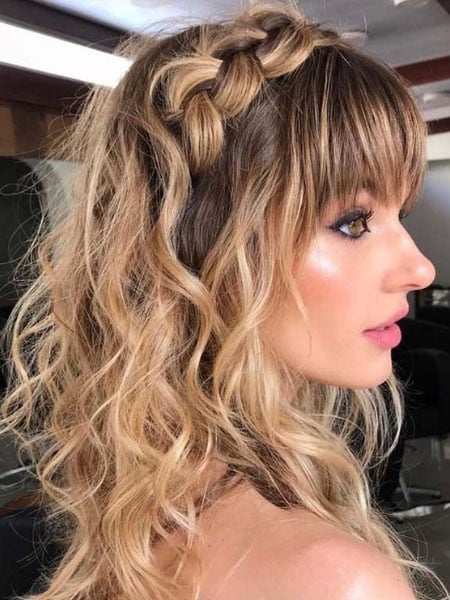 15. Straight Bangs with Half Up Half Down Hair
Go for a relaxed yet sophisticated look with a half up half down bun, and straight bangs. This style is best done with clean, fresh hair. Once you're washed and dried, work your way through all of your hair with your flat iron. You could add a little kick-out on the ends for something different or keep it dead straight. Next, section out your hair from the top of your ears and pull out your bangs. Brush the remaining section up into a loose topknot. The cheat's version is to twist your hair in with the hair tie, as you loop it around. Alternatively, you can do a half-up ponytail and loosely wrap the bun around from there. Brush your bangs forward, and loosen a few longer pieces on each side, re-straightening if you need it. Top this look off with some dangly earrings for a touch of glam.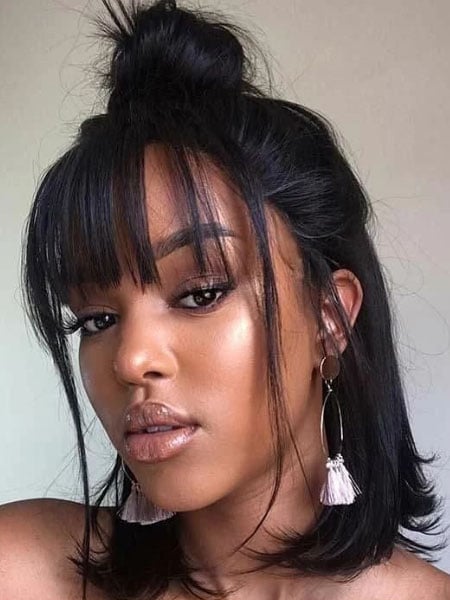 16. Bangs with Side Buns and Half Up Half
Styling half-up side buns with heavy bangs is a cute and fun look. You can wear this straight or curled, whatever tickles your fancy. Once your hair is ready, section off the top half of your hair. You can start the section anywhere from the temples to the tops of your ears. Clip the bottom section off, as well as your fringe. Next, split the top portion in half down the middle of your head. Then, use the same process as you would for full-side buns. Make a high pigtail on each side, wrap the hair around it, and secure it with hairpins. Release your bangs and the bottom section of hair, running your fingers or straightener through to get the shape just right. You'll get bonus fun points for rocking this with colored hair.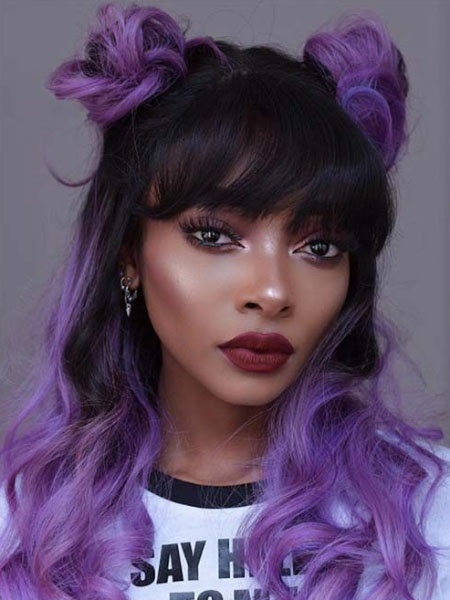 17. Curly Bangs with Hair Down
Girls with curls needn't shy away from bangs. Wearing your curly fringe with your hair down is a stunning look. Just make sure you go to your trusted hairdresser when it's time to cut your bangs, as all that bounce adds extra complexity. To style your look, wash your hair, run through some curl-defining mousse, and blowdry upwards using a diffuser and a scrunching motion. Then, gently blowdry your bangs with the dryer pointed down but still scrunching. You want the curls without the same volume as the rest of your hair. If you're having one of those days where your hair has a mind of its own, tame the wild with a half-up messy bun.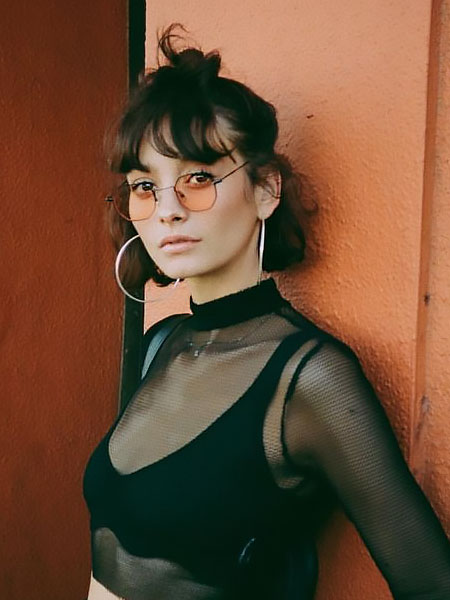 18. Wavy Bangs with Bun
Rock some serious Lily James in Yesterday's energy with a messy bun and curly fringe. An updo like this is forgiving on slightly dirty hair and looks casually effortless. To style, simply finger-comb your hair through to eliminate any large tangles. Then, tie it up in a loose bun, twisting the hair gently around a ponytail. The beauty of this style is that if stray hairs fall out, it just adds to the charm. Finally, finish by finger combing your bangs down so they're sitting how you want them.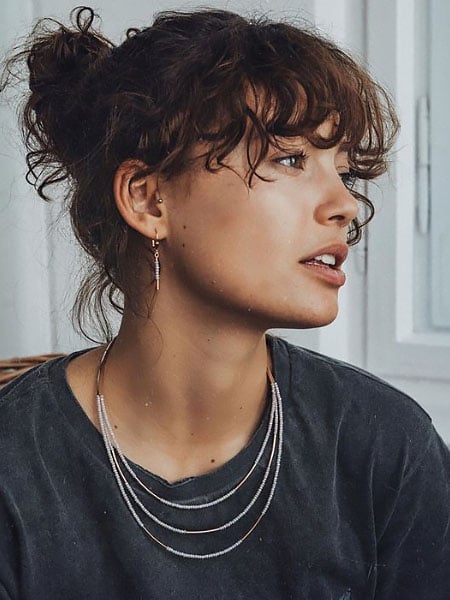 19. Natural Messy Bangs
Easy-going ladies will love the natural, messy bangs look. This relaxed style is unpretentious and great for lazy days. It does work best with naturally wavy hair because it has a bit of shape already. Styling natural messy bangs are super easy. Run a wide-toothed comb through to detangle, and then add more texture if you feel you need it. Try using sea salt spray, a bit of hairspray, or perhaps even some putty. Team the look with natural make-up, a bit of BB cream and mascara, or just a bare face to complete the easy-going, natural look.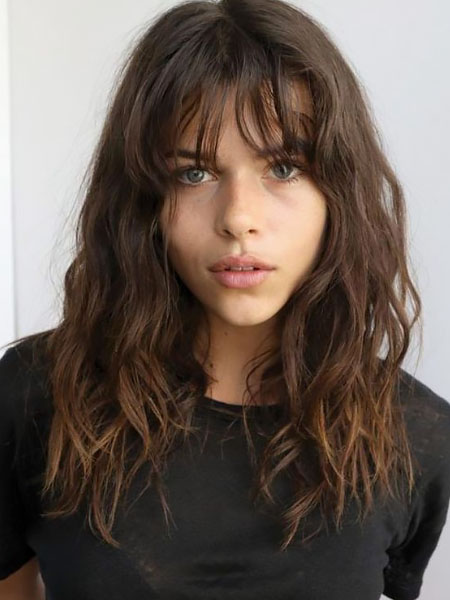 20. Braided Bangs
Braided bangs are the perfect look for women of color. Being such an essential part of African and Caribbean identity, cornrows, or box braids, hold a special place in these cultures. Cornrow braiding can feature an incredible depth of creativity and styles, which is limited only by your imagination. While cornrows and micro braids can be done yourself, part of the appeal is the sense of community when getting it done in a specialty salon. Ask your stylist to run wild when styling your bangs — request beads, add colorful extensions, or include silver rings.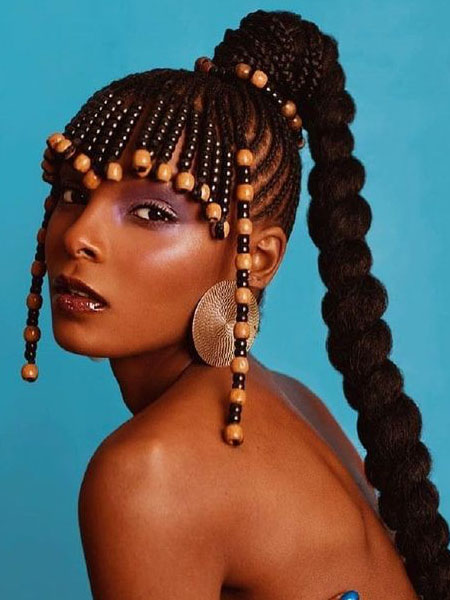 How to Style Bangs FAQs
How can I style my bangs everyday?
There are a couple of simple steps to follow to tame your bangs each day. First, if you've freshly washed your hair, blowdry your fringe with a dense, round brush instead of leaving it to airdry. Attach the nozzle and direct the air in a downward motion, and brush your bangs from side to side as you dry. This will keep your bangs laying flat and straight. You could also use a flat iron if you have particularly unruly bangs. Next, apply a touch of styling serum or cream to smooth and set your fringe in place. Bear in mind that your fringe may get greasy faster than the rest of your hair, so keep dry shampoo on hand for touch-ups during the day or between washes.
What type of face do bangs look best on?
Different types of bangs look best on different face shapes. Side bangs suit round faces, while feathery baby bangs are especially flattering on heart-shaped faces. Ladies with square or oblong faces should consider long, layered bangs, while a heavy, blunt fringe looks great on an oval face.
What to do if you hate your bangs?
Getting bangs is a big decision as they take a long time to grow out – usually three to four months at a minimum. If you change your mind about your fringe, there are some simple ways to disguise them. You could try braiding them back from your forehead into Dutch or French braids, or using gel to create a slicked-back look. Another option is to use a volumizing mousse and blowdry them up and back into a side-parted style. As your bangs grow out, your stylist can gradually blend them into the rest of your hair by cutting layers into the front sections.
How do you keep bangs in overnight?
The trick to waking up with presentable bangs is in preparation the night before. If you have a full or blunt fringe, apply a spritz of dry shampoo and wrap your bangs around a medium- or large-sized roller. If you have side bangs, sweep them to the side and secure with a tissue and a duckbill clip. This will hold them in place without leave a dent in your hair.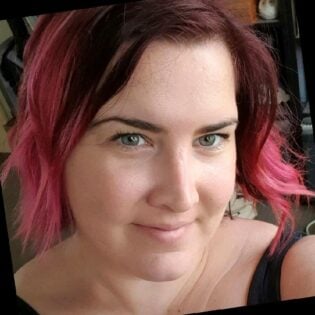 Alexandra Linde is an experienced writer holding a bachelor's degree in Journalism. She is the owner of Alexandra McKiterick Creative and has expertise in travel, fashion, fitness and lifestyle. Alex has previously written for Flightcenter, Travello, and Backpacker Deals.
SUBSCRIBE TO OUR NEWSLETTER
Subscribe to our mailing list and get interesting stuff and updates to your email inbox.