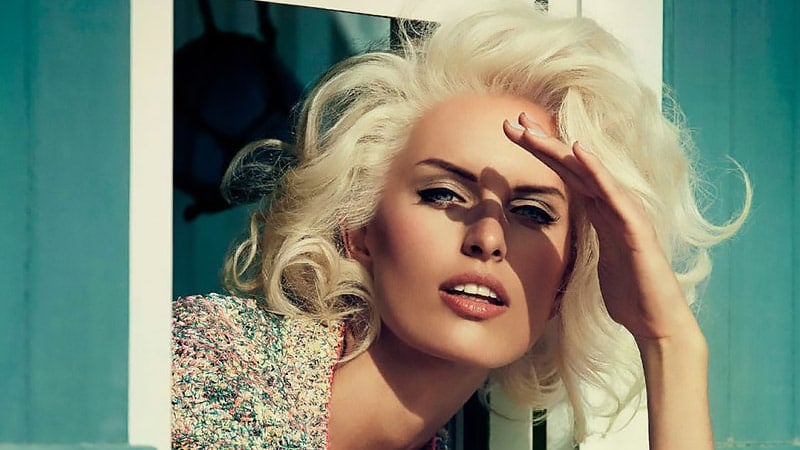 When it comes to vintage beauty, the '60s are an undeniable treasure trove of inspiration. From feline flicks of eyeliner to beautiful doll-like lashes, the decade's makeup looks are iconic and still popular today. However, it wasn't just the makeup that made the '60s one of the best times for beauty. The decade also saw the creation of many new, exciting, and seriously chic hairstyles. From bombshell waves to bohemian bangs, hair in the '60s was bold, sexy, and as free-spirited as attitudes. So, if you're after a stunning new look, it only makes sense to turn to this fashionable decade for inspiration, which is why we've rounded up the best '60s hairstyles for vintage lovers.
RELATED: The Coolest Vintage Hairstyles of All Time
60s Hairstyles for Long Hair
Brigitte Bardot Backcombed Half-Up Hairstyle
When you think of '60s hair, Brigitte Bardot's backcombed half-up hairstyle instantly comes to mind. Completing her sex symbol look, the gorgeous hairstyle featured soft messy waves, long parted bangs, and a small bouffant.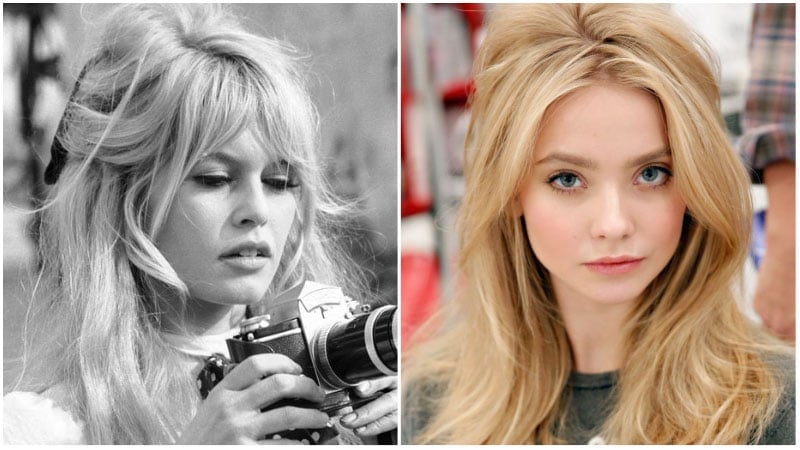 Jean Shrimpton Blowout with Bangs Hairstyle
Jean Shrimpton's glamorous mod style was envied by many women, as was her chic hairstyle. The model and British bombshell, whose hair featured a teased crown, flipped ends, and an eyelash-grazing fringe, was an early champion of the blowout. To wear her signature look yourself, opt for loose waves with lightly flicked ends, and avoid teasing your roots.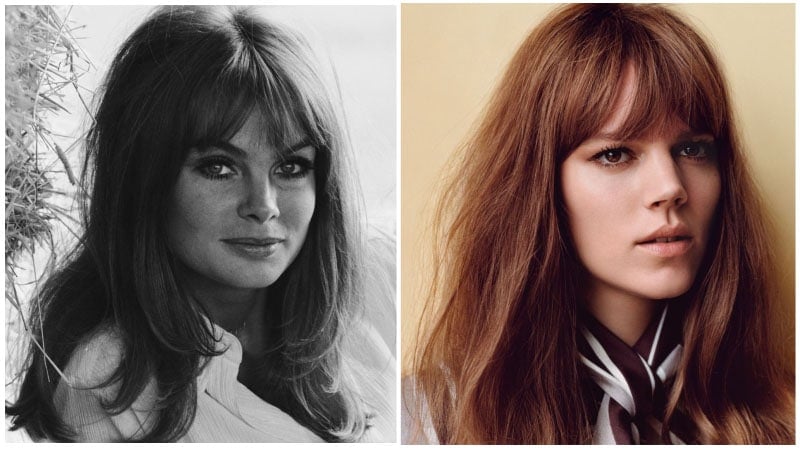 Jane Fonda Soft Curls with Side-Swept Bangs Hairstyle
Jane Fonda's soft curls and side swept bangs are quintessentially '60s. To rock the look today, add more definition to your curls to appear smooth and silky instead of fluffy or frizzed.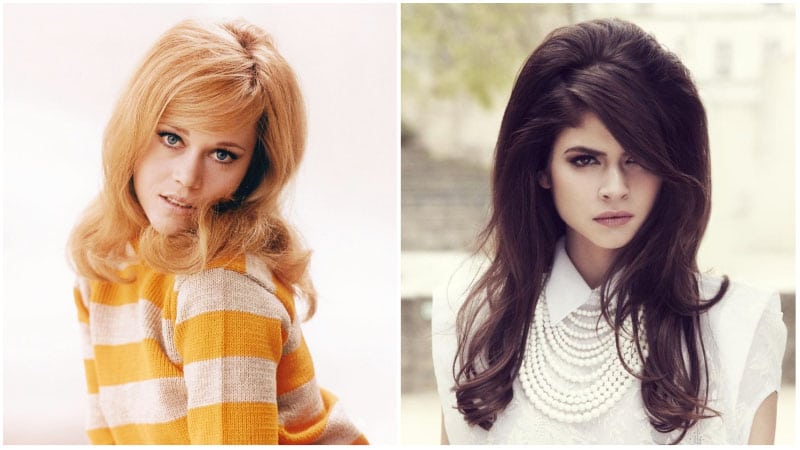 60s Hairstyles for Short Hair
Twiggy 60s Hairstyle
When it comes to short '60s hairstyles, none is more iconic than Twiggy's side-parted pixie cut. Worn straight, smooth, and neatly combed to one side, the model's look was sleek and stylish. It also allowed her eyes to "pop" with her famous doll-like lashes.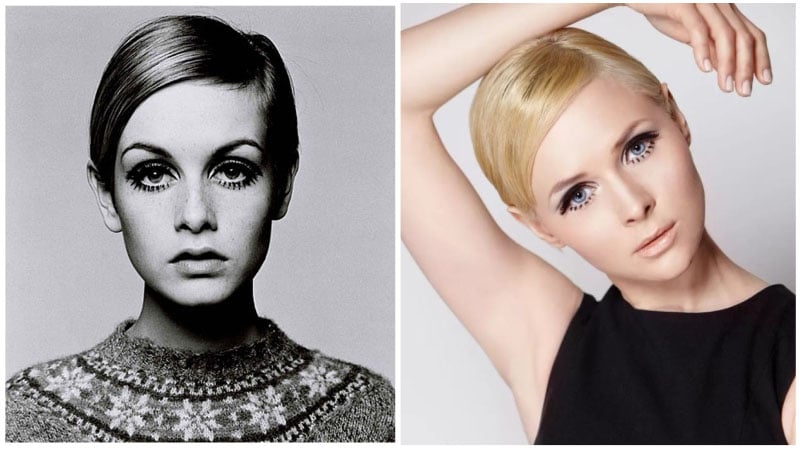 Liza Minnelli 60s Pixie Hairstyle
Liza Minnelli's '60s pixie hairstyle is another famous short look from the decade. The stylish crop, which became legendary, featured layers and short, choppy bangs. It cemented her as a style icon and is a fantastic source of inspiration if you consider going short. The style is especially ideal for those with thin straight hair.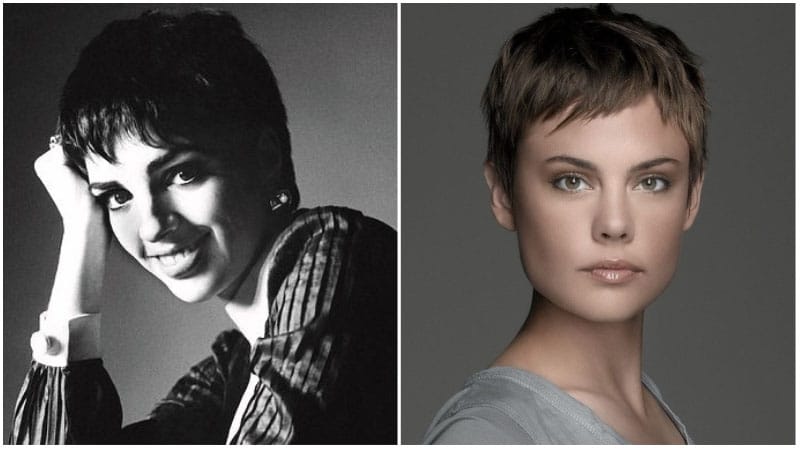 The Supremes Short Hairstyles
The Supremes were one of the biggest female music groups of the '60s, and their hair inspired young ladies of all backgrounds. Today, their highly styled and straightened bobs can still appear stylish with a few minor tweaks. Just opt for a smooth short bob with bangs and avoid adding extra volume at the crown.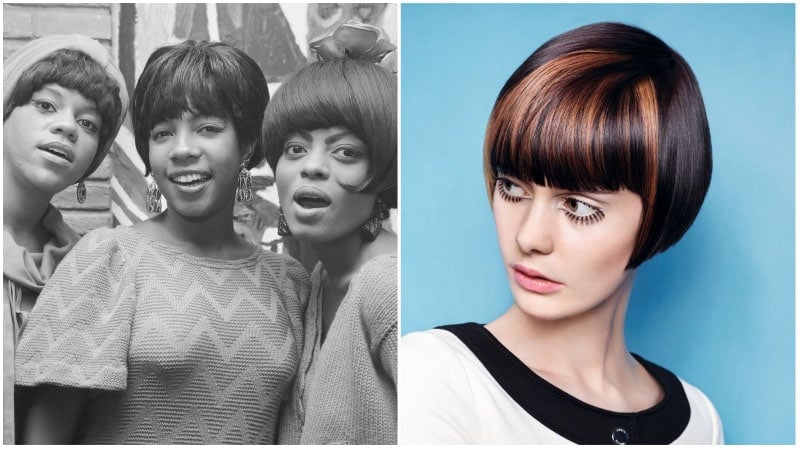 60s Hairstyles for Medium Length Hair
Marilyn Monroe Blonde Curly Hairstyle
Although Marilyn Monroe tragically passed away in 1962, her style and legacy lived on throughout the decade and beyond. Today, you can channel her iconic look for a glamorous aesthetic. You only need to style your medium-length blonde hair with thick curls and sweep it to one side.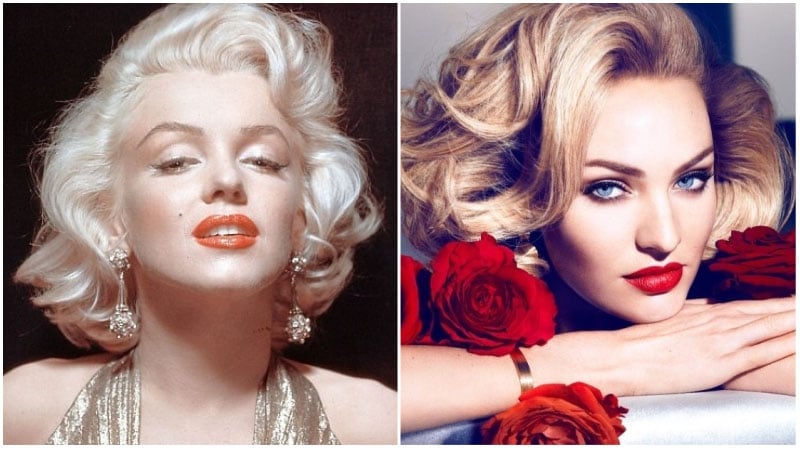 Elizabeth Taylor Curly Bob Hairstyle
Elizabeth Taylor may have worn straight black hair like Cleopatra, but her usual style was a long curly bob. To rock her lovely vintage look today, just opt for smoother curls and a more defined side part.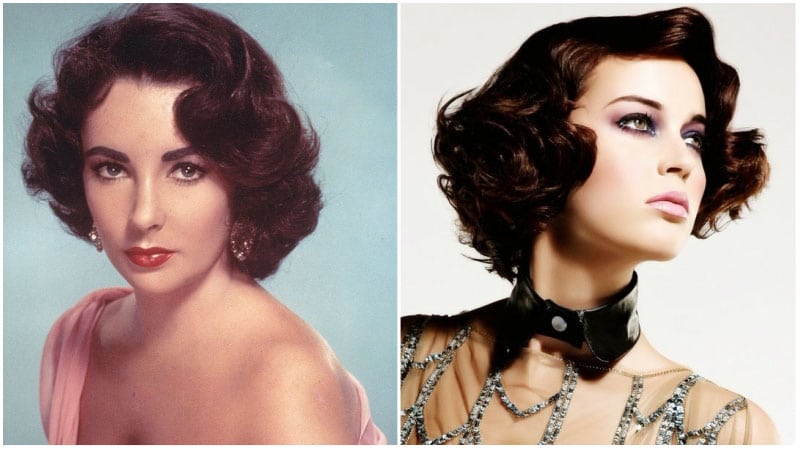 Nancy Kwan Vidal Sassoon 60s Hairstyle
When Vidal Sassoon cut actress Nancy Kwan's hair for her role in the Wild Affair, it created an instant trend. Dubbed the "Nancy Kwan" hairstyle, the short geometric bob became internationally recognized and sought after. Today, this look is still a popular choice for many women.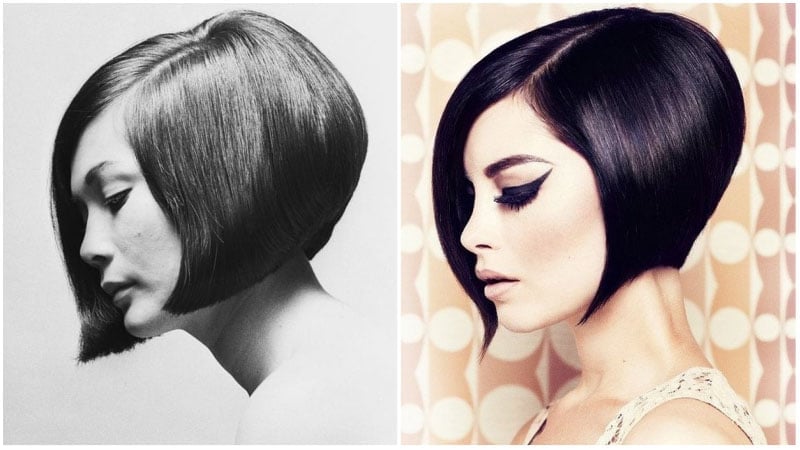 60s Updo Hairstyles
Audrey Hepburn Updo Hairstyle
If you're looking for a chic '60s updo to reference, you can't go past Audrey Hepburn's famous Breakfast at Tiffany's look. Opt for a full fringe and a voluminous, messy bun to wear the style with a modern twist. Oh, and ditch the tiara, of course.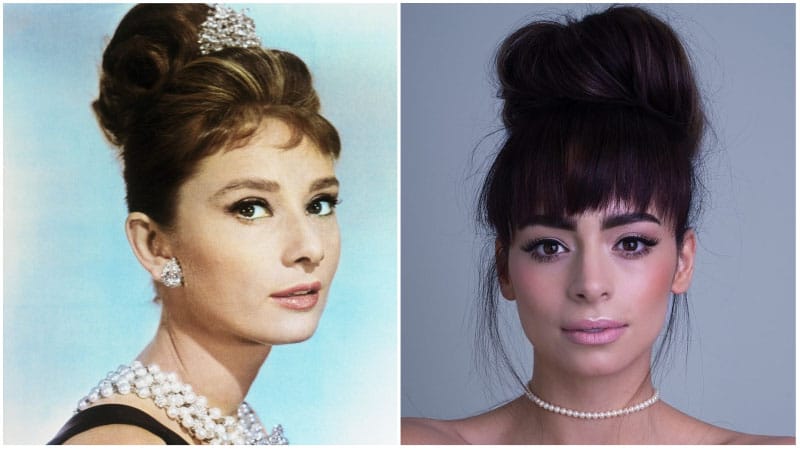 Betty Hutton Updo Hairstyle
Betty Hutton's updo hairstyle provides excellent inspiration for ladies with curly locks. The simple pinned-up style is easy to create and shows off feminine ringlet curls perfectly. It's also ideal for your next wedding or formal function.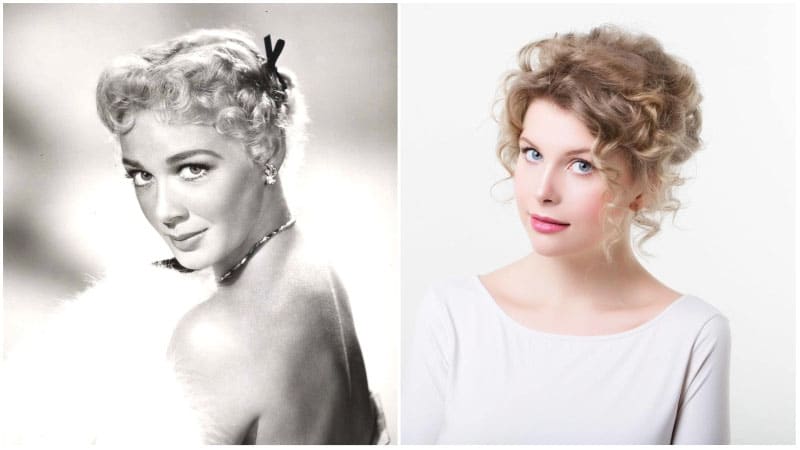 60s Bangs Hairstyles
Jane Birkin Wispy Bangs Hairstyle
Jane Birkin has long been a style iconic thanks to her beauty, fashion sense, and hairstyle. Today, her signature long locks with wispy bangs appear just as stylish as they did in the 1960s. The look requires minimal styling and is also perfect for achieving that lust-worthy French cool-girl aesthetic.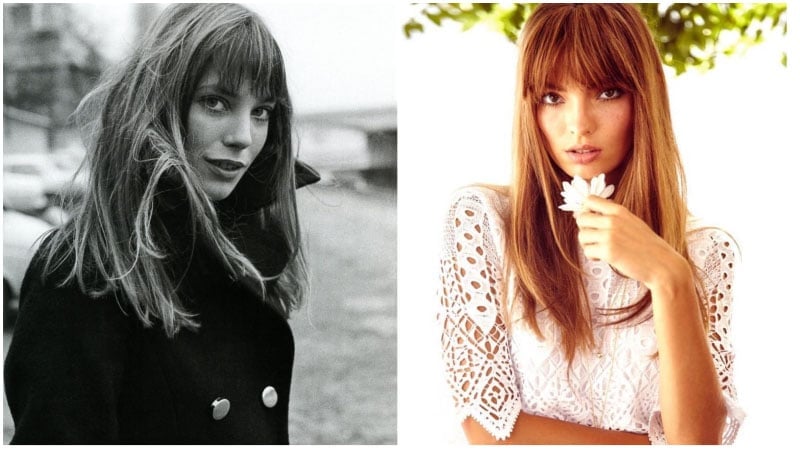 Marianne Faithfull Eye-Grazing Bangs Hairstyle
Nothing screams the '60s quite like Marianne Faithfull's eye-grazing bangs. The gorgeous full, yet choppy look perfectly framed the singer's eyes and can do the same for you. Just ensure you're ready to have your bangs trimmed regularly, though, as maintaining this length takes work. To complete the look, just add loose waves.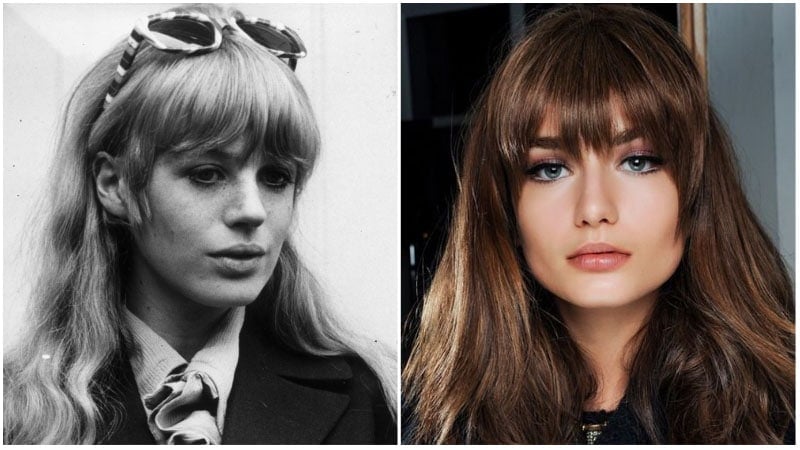 60s Hippie Hairstyles
Anita Pallenberg Long Bob with Bangs Hair
You don't become a muse to the Rolling Stones without having incredible style, and Anita Pallenberg had just that. The Italian actress, who dated Brian Jones and Keith Richards, had a gorgeous hippie style completed with a shaggy, long bob with blunt bangs.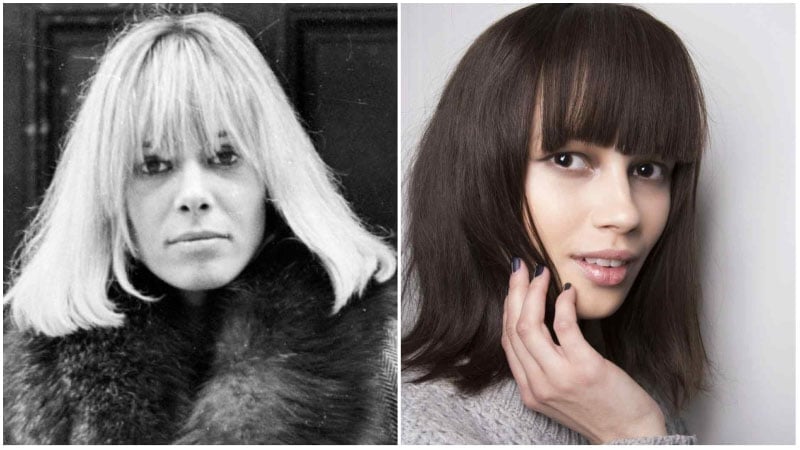 Joni Mitchell Long Straight Hair with Bangs
Joni Mitchell is one of the most iconic folk singers of the 1960s. During that time, she was also a style icon with a signature beauty look that consisted of long straight hair with blunt bangs, glowing skin, and prominent cheekbones. To channel her style today, select a similar haircut but blow-dry your hair smooth to add shine and bounce. Then, pair the look with natural eye makeup and contoured cheeks.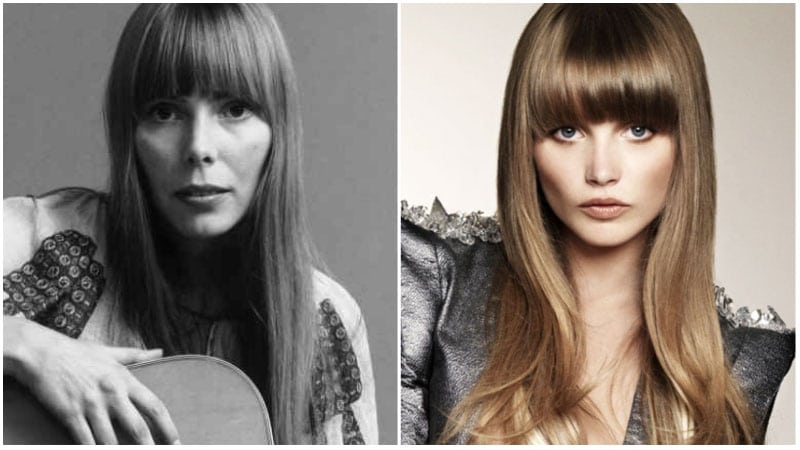 Yoko Ono Middle Part Hair
Peace activist and artist Yoko Ono, who was also a wife to John Lennon, grew her hair long and wild during the '60s before chopping it off in 1970. While long, Yoko wore her hair with natural frizzy waves and a defined middle part. This hippy style looks best today with lightly tousled waves and minimal frizz.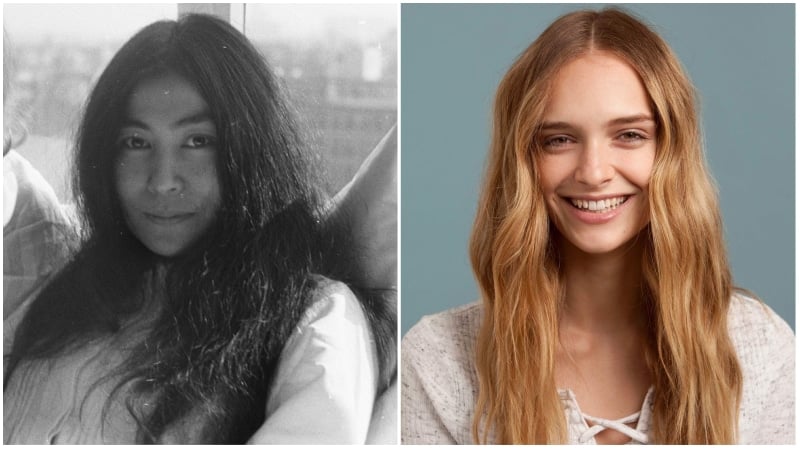 Easy 60s Hairstyles
Creating a chic '60s hairstyle needn't be difficult. All you need is a good tutorial to follow, and creating a gorgeous sixties style will soon be simpler than you ever imagined. To start, just pick which look you want to try first. Then, it's as easy as following a few instructions.
60s Hairstyles FAQs
What were popular hairstyles in the 1960s?
Some of the most popular styles of the 60s included short pixie cuts, lots of volume and curls, bangs, short tight bobs, glamorous updos, and long hippie hair with a center part.
What was the hairstyle in the 60s?
No one hairstyle defined the 60s, but some of the most iconic include Brigitte Bardot's back-combed half-up style, Audrey Hepburn's glamorous up-do, and Marilyn Munroe's beautiful curls. Other iconic looks were Twiggy's pixie cut, Marianne Faithfull's bangs, and Joni Mitchell's long straight hair.
SUBSCRIBE TO OUR NEWSLETTER
Subscribe to our mailing list and get interesting stuff and updates to your email inbox.