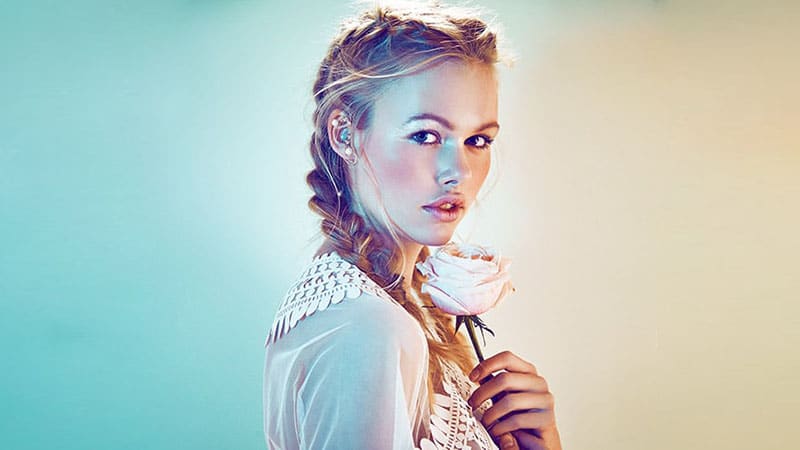 Although the French braid is far from a new hairstyle, it has recently increased in popularity. From celebrities to street style stars and just about everyone in between, ladies worldwide are once again practicing their braiding techniques and nailing this timeless hairstyle. Loved for its intricate appearance yet relatively simple creation, the French braid is a fantastic style for all women, not just those who are experienced braiders. Additionally, with plenty of options for how to rock the style, there's a French braid for every taste and occasion. So, why not give this trend a try? All you need is some inspiration to get you started; we can help. Here is our roundup of the most stunning French braids to try right now.
RELATED: 60 Best Braided Hairstyles for Women
French Braids vs Dutch Braids?
Before you can start braiding your hair, you need to understand what a French braid is. Also, it's essential to know the difference between French and Dutch braids, as they are similar and often confused. To create both French and Dutch braids, you use three sections of hair, gradually adding more to each section each time you move it to the middle. However, a Dutch version works as an inside-out or reverse French braid. You weave the outer sections over the top of the center section with a French braid, but with a Dutch braid, you twist them underneath the center strands. The result is that the Dutch braid stands out more than the softer appearance of the traditional French braid.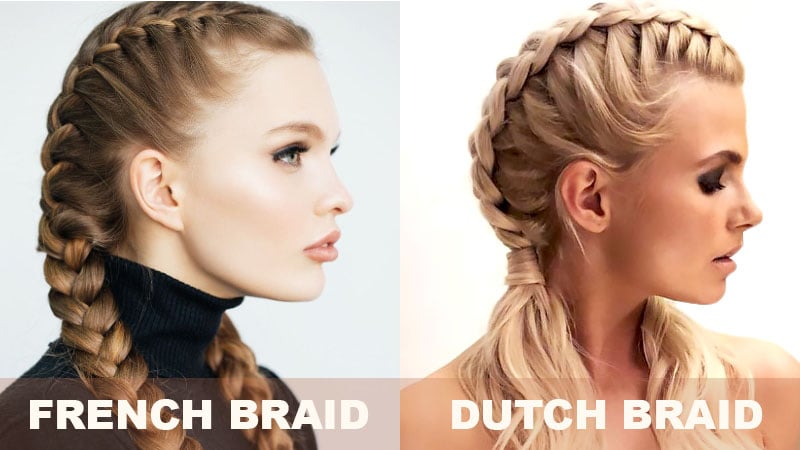 How to French Braid
Begin by brushing your hair and separating it into three sections, one at the crown and two at the sides of your head.
Take the section closest to your face and divide it into smaller strands.
Cross the left strand under the middle strand. Then take the right strand and cross it over the new middle strand.
Take the left section again, hold it with your left hand, and add a new piece of hair from the same side of your head in between your fingers.
Then cross this section under the middle strand and begin braiding like a regular three-strand braid until you reach near the end of all your hair, then secure it with an elastic band or clip.
Repeat steps 3–5 on the right side to complete the french braid pattern!
French Braid Hairstyles
2 French Braids
What could be better than a single French braid? How about two? While double French braids may have been a look you wore back in your early school days, don't rule it out as something to try today. The lovely style is seriously on-trend right now and perfect for casual occasions. Make sure you carefully part and section your hair when creating this look. While French braids aren't hard to do, they can be challenging to make even, so take your time to do them right. If you're after an edgier take on double French braids, you can consider opting for double Dutch braids, also known as boxer braids.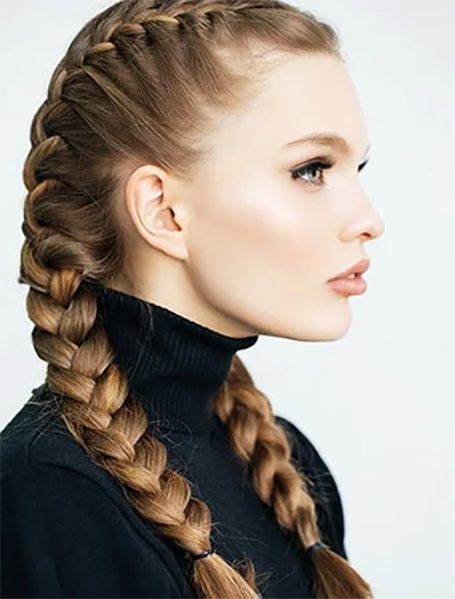 French Braid Pigtails
You should consider rocking French braid pigtails for a cute and youthful take on the French braid hairstyle. To create the look, start by creating a middle part. Then, French braid each side back to the nape of your neck. Instead of plaiting the rest, tie off your hair into two pigtails. The result will be a fun and stylish look that's perfect for weekend outings, concerts, and more. Best of all, this style can work with various hair lengths. So, whether you're rocking a lob or long flowing locks, you'll be able to achieve this chic look.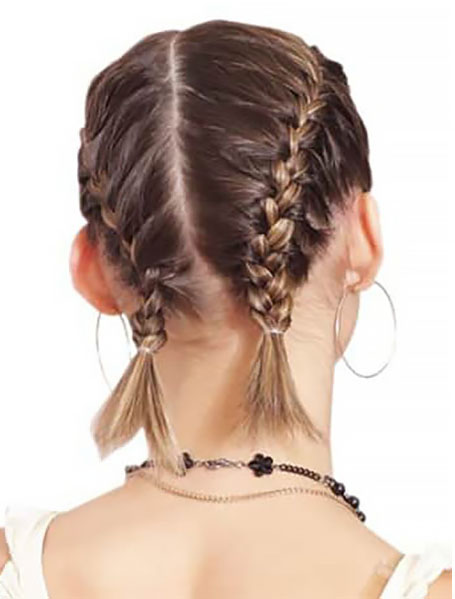 Fishtail French Braid
A French fishtail braid is a stunning look that combines two braid types into one. To create the style, start with a regular fishtail braid at the top of your head. To do so, split a section of your hair into two sides. Now, take a piece from the outer edge of one side and cross it over to join the other. Repeat on the other side. Add the French braid element by repeating these steps while adding in extra loose hair from the sides of your head each time you cross a piece over. Repeat this process on either side until no free hair is left to grab. Then, finish with a regular fishtail braid.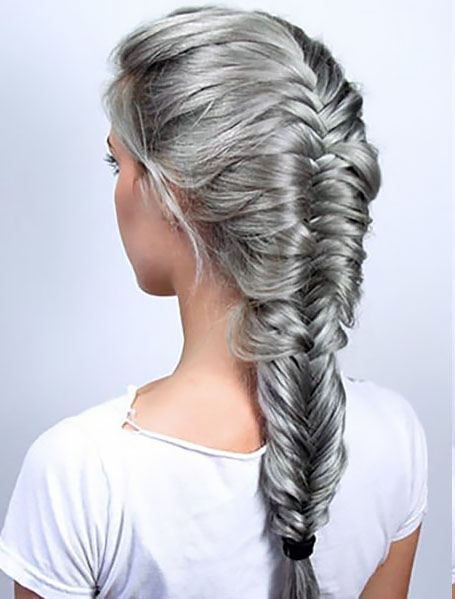 French Braid Bun
Whether you're off to a special occasion or like dressing up, a French braid bun can make a spectacular hairstyle. Combining both a bun and braid, the look is detailed and sophisticated. Of course, there are countless ways you can combine these two iconic hairstyles into one. Try creating a French braid that runs up the back of your head for a modern take. Then, tie your hair off into a topknot. Alternatively, you can try a French crown braid partnered with a low chignon for a romantic appearance.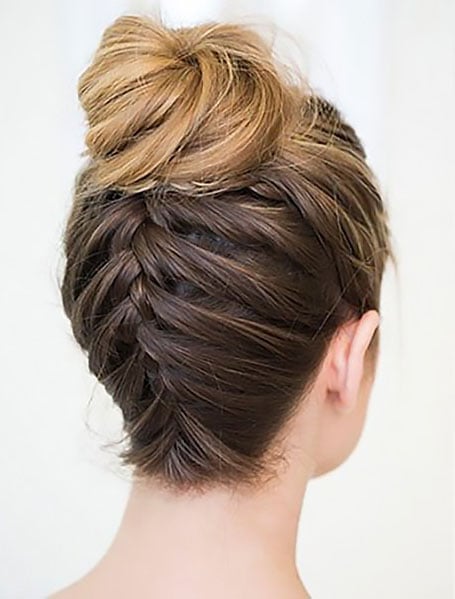 Side French Braid
If you're new to the world of French braids, you may want to start with a simple style, such as a French side braid. While still looking stunning, this style is also seriously easy to create. Along with using less hair, it will also be easier to see what you're doing at the side of your head rather than the back. Additionally, as the braid will be shorter and lower than a traditional French braid, it will be less strenuous on your arms. Once braided, you can leave your hair loose or tie it into a ponytail, bun, or half up half down hairstyle.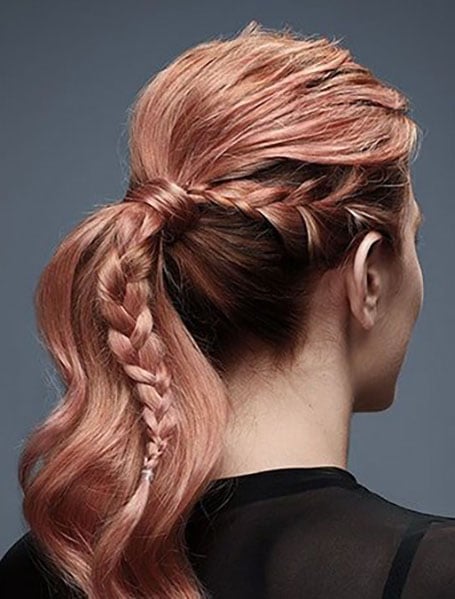 French Braid Ponytail
Another simple variation on the standard French braid is to combine it with a ponytail. This smart style is perfect for work and can quickly be created in the morning. All you need to do is braid the top of your head, then tie the rest of your hair off in a ponytail. To change up this look, you can also play with the thickness of your braids and the height of your ponytail. While a thin braid and high pony will appear playful and contemporary, a thick braid and low ponytail will look smart and timeless.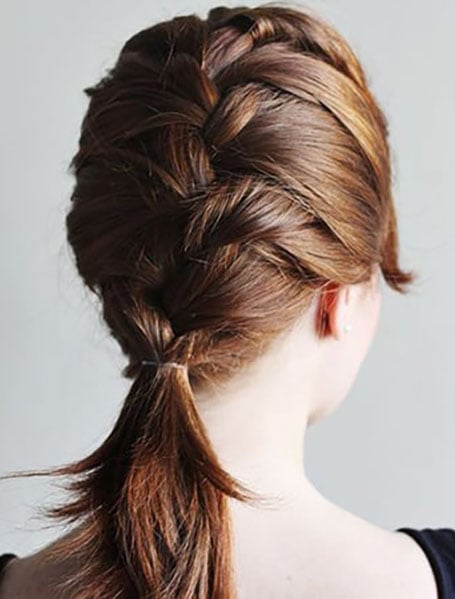 Reverse French Braid (Dutch Braid)
As mentioned, the reverse French braid, or Dutch braid, is a fantastic alternative to the traditional French braid. Thanks to the braid's raised appearance, it is especially ideal for ladies who love a bold look. Additionally, creating Dutch braids can be relatively easy once you know how to French braid. You must only remember to pass sections of hair underneath rather than over the top. To try this look, we recommend opting for double Dutch braids, which are also known as boxer braids and a favorite look of Kim Kardashian.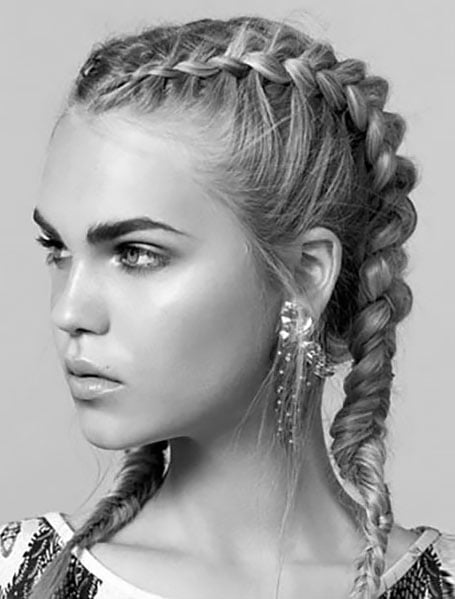 Half Up Half Down French Braid
Both braid and half up half down hairstyles are cute and on-trend. So, by combining them into one, you can achieve an amazing look that you're sure to love. All you need to do to create the style is separate a section of hair at the top of your head. Then, start French braiding from your forehead back. Once you have reached the crown of your head, continue with a regular plait. Alternatively, you can tie your braid off into a ponytail and wrap it around its base before securing it with bobby pins to create a cute topknot.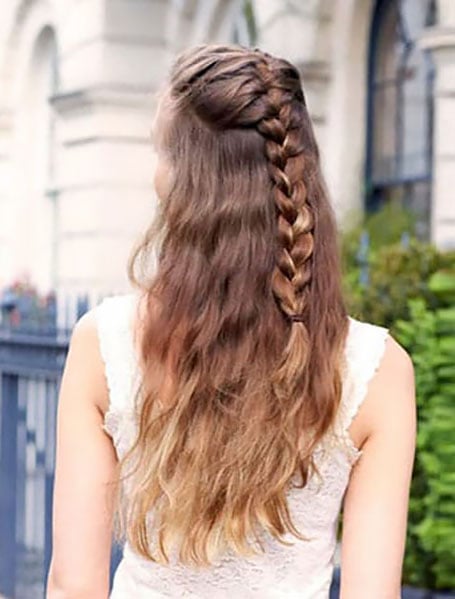 French Braid for Short Hair
Don't think you must miss out on this gorgeous hair trend just because your locks are short. French braids can work for most hair lengths, even those that are above the shoulders. However, you must be smart about your preferred French braid style. While intricate braids will be challenging to create, a short side or crown braid can work well. But, to be sure your braid will last instead of falling apart, use hair products, such as a defining hair lotion, which will add smoothness and grip.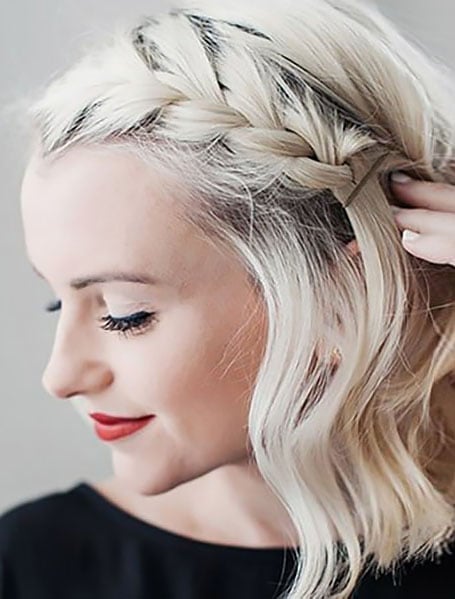 French Braid with Bangs
If braiding all your hair back isn't particularly flattering for your face shape, you may want to consider adding bangs. Side bangs can look particularly stylish and will help soften your overall appearance. Additionally, they will draw attention to your cheekbones and away from your forehead and jaw. Front bangs can also work well with braids, especially double French ones. They'll also draw attention to your eyes, which can be especially lovely. But be aware that a straight fringe and tight braids can appear quite severe if you have sharp facial features.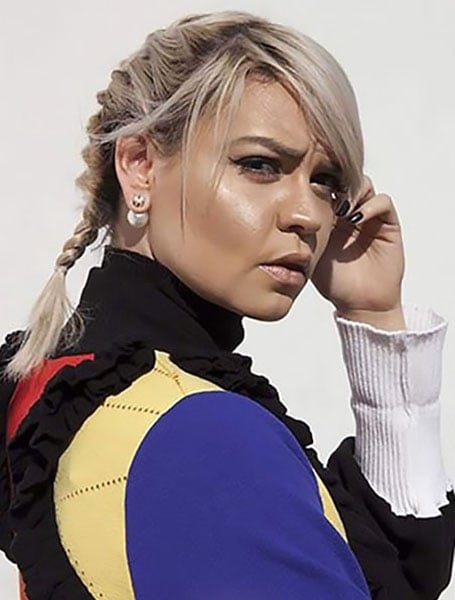 French Braids with Weave
French braids are three-strand braid that appears smooth and flat. It is a versatile style created using the overhand braiding technique, and it can be done on hair of various lengths and textures. If your natural hair is too short, you can also use extensions, like a weave, to achieve the braided hairstyle you want. A weave is a braided hair that is sewn onto the scalp and can help you achieve your desired texture and length. This could include braiding only the top of the head and leaving the bottom to fall loosely, showing off your curls.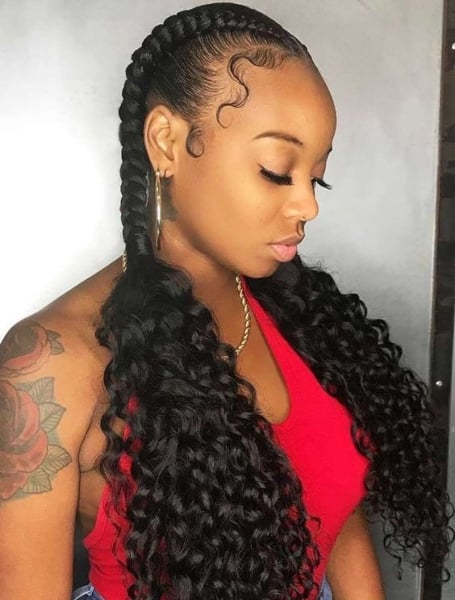 Feed-In French Braids
Feed-in braids involve the process of braiding hair extensions in a seamless and natural-looking way. They are appealing because they can make the installation process faster and easier, and they can be achieved with various hair lengths and textures. This lets you create the braided look of your dreams, which may be working the extensions into a simple French braid.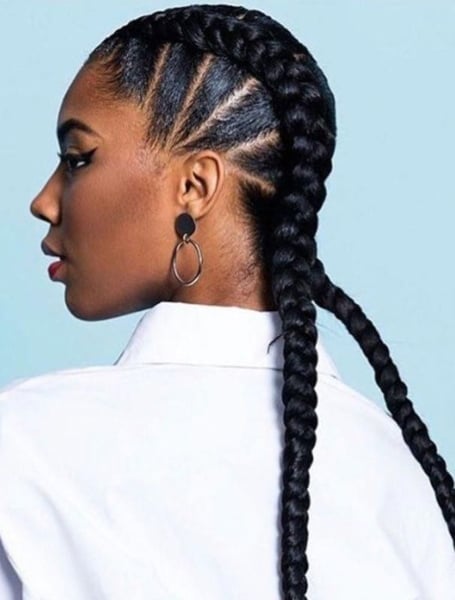 French Braids with Black Hair
French braids look great on Afro-textured hair and can be created in various lengths and thicknesses. These braids are done using the overhand braiding technique and can also be a protective style, keeping the hair in place, reducing friction, and preventing breakage. A French braid will not last as long as many other protective styles, but it is a gorgeous, feminine look for the short term. This can also be achieved by using feed-in French braids for longer plaits. You can also personalize your hair as you wish, either with accessories like beads or cuffs or with color.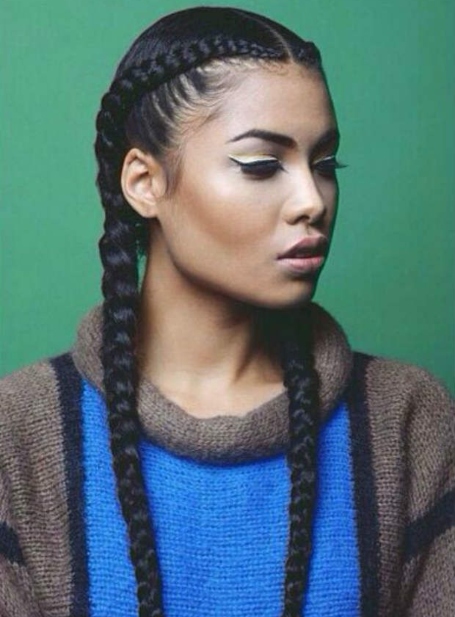 3 French Braids
French braids use three strands to create a gorgeous, feminine appearance. There are many variations, giving you freedom with how you style them. Most women opt for a single French braid or one on either side of the head, but you can also create a detailed look that combines three. This will create a thick braid at the center of the head, and you can braid it to the ends or leave the ends loose to show off your hair texture. The appeal of this hairstyle is that it is a fresh and modern approach to French braids and lets you get creative with the hair.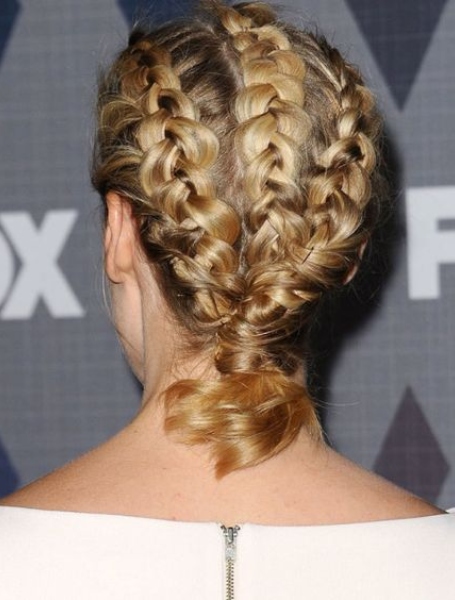 Long French Braids
French braids can be created short or long, but longer lengths have more impact. This is because the detailing of the braids is more noticeable on long hair. It can also appear glamorous and feminine or edgy and cool, depending on how tight your braid is. You can experiment with different colors, including ombre, which will be more visible on long hair. There is also versatility with styling, letting you try out multiple updos.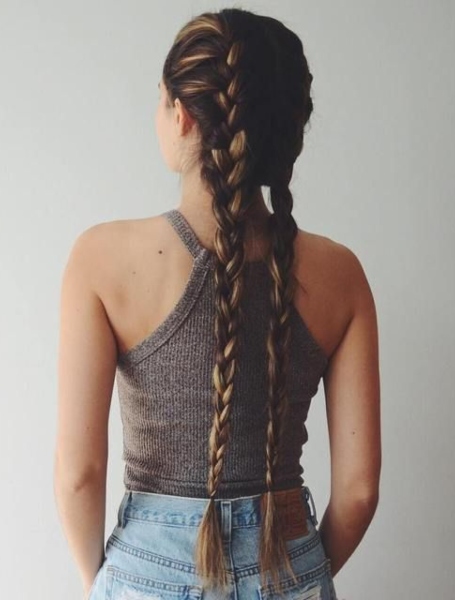 Natural Hair French Braids
French braids are an excellent look for natural hair and can serve as a protective style. They can reduce styling time and prevent frizz and friction, but they also look gorgeous. French braids can be achieved in various lengths and with all hair textures, but it is often harder to braid curlier textures, and the finished result will not appear as flat and smooth as it would have on straight hair. You can also opt for loose braids for a soft and romantic finish.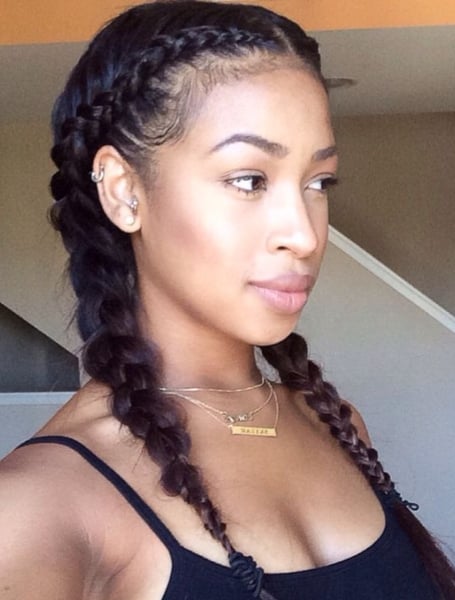 Side Part French Braids
French braids are nothing if not versatile, and there are multiple ways to style them. This includes wearing them with a side parting. The side part is flattering on most face shapes and will complement your features, creating balance and softening the face. To achieve this look, you want to leave some hair loose at the front of the head to show off the parting. The part can be subtle and barely noticeable, or you can opt for a deep side part, depending on your preference. The finish is a romantic and feminine hairstyle ideal for weddings or special dates.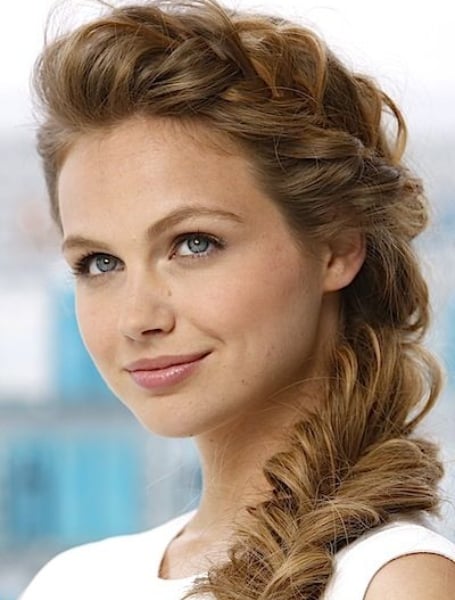 Tight French Braids
Tight french braids are ideal for those who want to keep their hair in place and lock in moisture. They are achieved by braiding the hair tightly together, creating a more defined plait. The style is achieved using the underhand braiding technique. You can also create a contrast with the tightness of the braid by opting to leave a few strands of hair loose around the front of the face. This will add a softness to your look and can be incredibly flattering.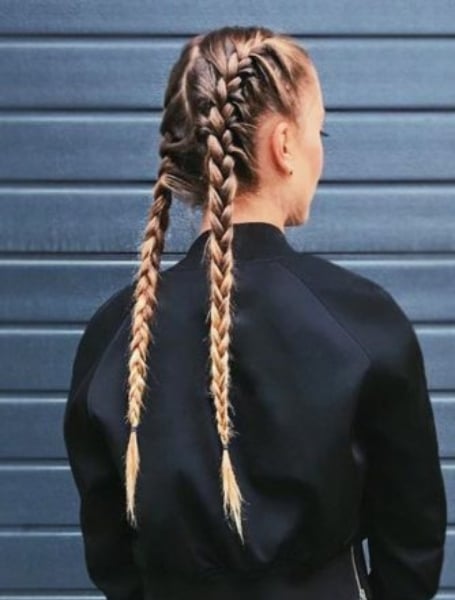 Updo With French Braids
There are many ways to style French braids depending on your preference; this includes working them into an updo hairstyle for a pretty and romantic finish. The appeal of French braid updos is that the hair is often braided looser to create a messy and deliberately undone appearance. This can complement your features and add a softness to your look. It will also look gorgeous with the addition of hair accessories like flowers or vines and is a fantastic option for a wedding or special event. Wearing your hair up can show the neck and draw attention to the jawline and mouth. It is also a way to show off a statement necklace or earrings.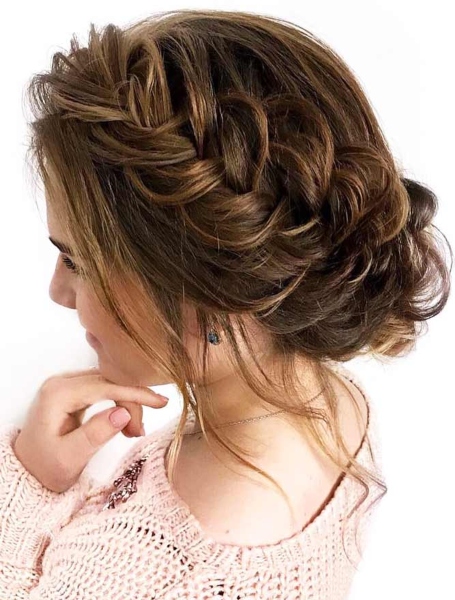 French Braid with Colored String
The appeal of French braids is that they can be created in many different ways, letting you personalize your look to reflect your personality best. You can create them to the side, use multiple braids, try out different colors, and experiment with hair accessories, including colored string. This is a fun way to add a pop of color to your hair without any of the damage that dyeing causes. Braid the string with one of the three strands of hair to create an eye-catching look that is perfect for summer vacations.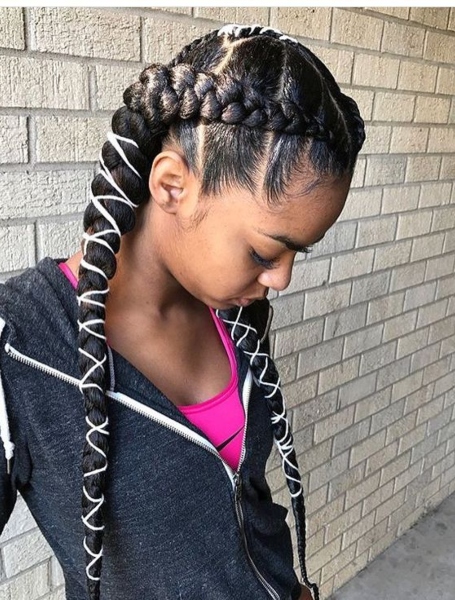 French Braid Long Hair
French braids can be created on the hair of various lengths, but they are much easier to do on long hair. Long hair will also make the biggest impact, letting you show off your braids and style them as you wish. With short hair, braids can be challenging to keep in place and will often require the help of bobby pins, but you have none of the hassles with long hair. If you want to experiment with different coloring techniques or hair accessories, these will also show up better with long hair. In addition, you can style the hair up or down as there are endless possibilities thanks to the length.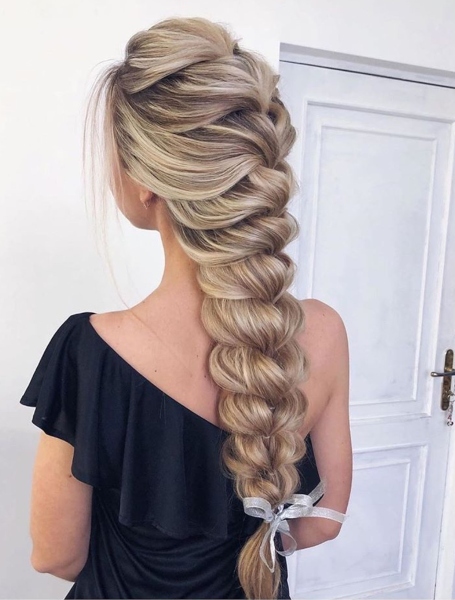 French Braid Middle Part
A middle part is a striking addition to any hairstyle and will draw attention to the face. It can be challenging to pull off because it should be avoided by those who do not have facial symmetry, but it can also give the hairstyle structure. Middle parts look great with French braids, and if you wear the hair long and loose, the sharpness of the parting will complement the softness of the braid.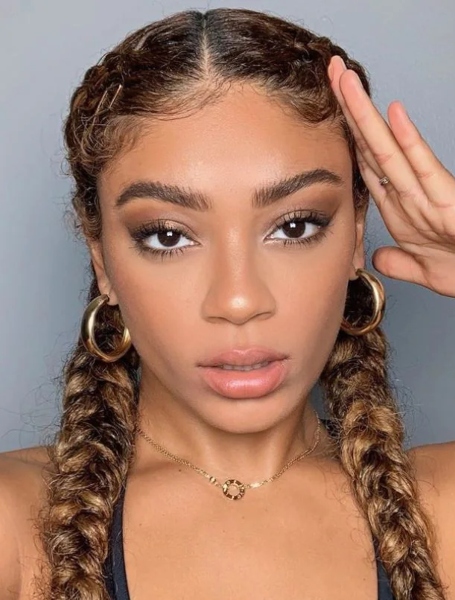 French Braid Ombre
Ombre is a hair coloring technique that blends light and dark colors. These colors can be of your choosing, either natural hues that can lighten the hair or brighten the appearance. It is also fantastic for adding depth and dimension. It is less maintenance than traditional foils as there is no root touch-up. Or you can try artificial colors, which can make a bold statement and let you express yourself. Ombre can be styled as you wish, and with a French braid, it looks great and can make your braid more noticeable.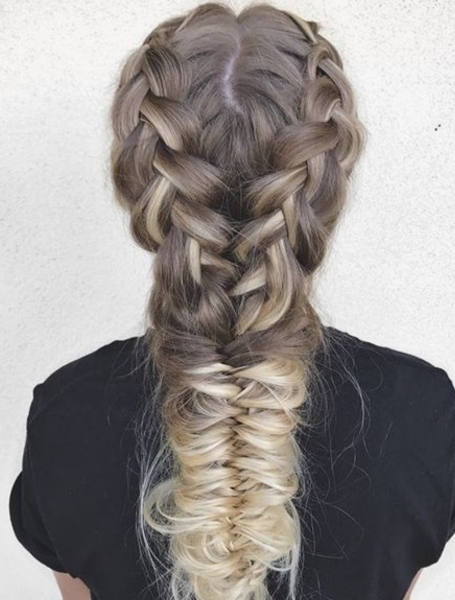 French Braid Medium Length Hair
Medium-length hair is appealing because there is enough length that you are not restricted with your hairstyle, but it is not so long that it is challenging to care for or prone to dryness in the way that some long hair textures can be. It offers you the best of both worlds and lets you create a cute braid that is ideal for every day. Your French braid will not be so long that it demands attention, but you still have versatility with how you wish to wear it, including a simple braided updo.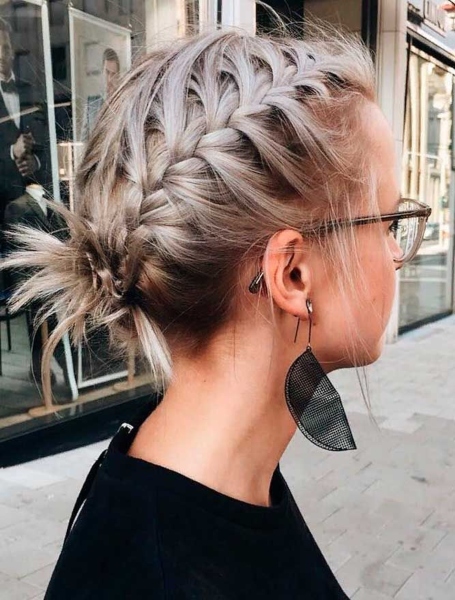 French Braid Shaved Sides
The French braid is often soft and romantic and is a popular hairstyle for weddings and special events. However, you can adapt it to suit your preference, including shaved sides. Adding shaved sides to the hairstyle gives it an edgy and cool vibe. It is fantastic for giving the hair structure but will also produce a contrast with the hair on the top and back of the head. This is a perfect look for a woman who wants a look that feels tough and rebellious but it is also expressive. It shows the world you are not afraid to stand out from the crowd and that taking a risk doesn't faze you.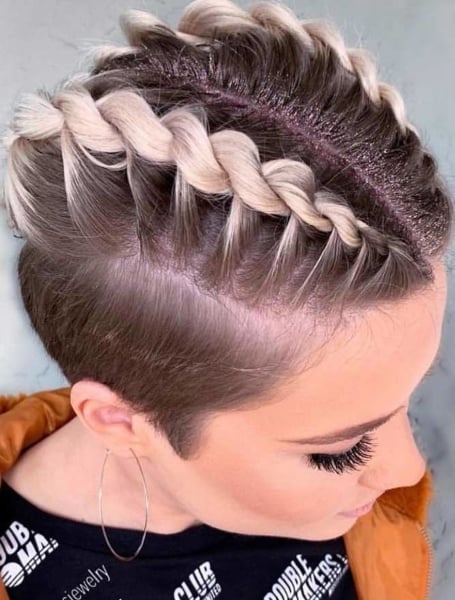 French Braid Bandana
There are many ways to style your French braid, letting you pick your favorite hair accessories to give your braids a personal touch. This is beads, cuffs, or colored string for some, but you can also opt for a bandana. The bandana is practical and stylish as it keeps the hair down, prevents friction, and is a fun way to wear your braids. There are multiple colors, patterns, and prints to choose from, allowing you to find a bandana that best reflects your style.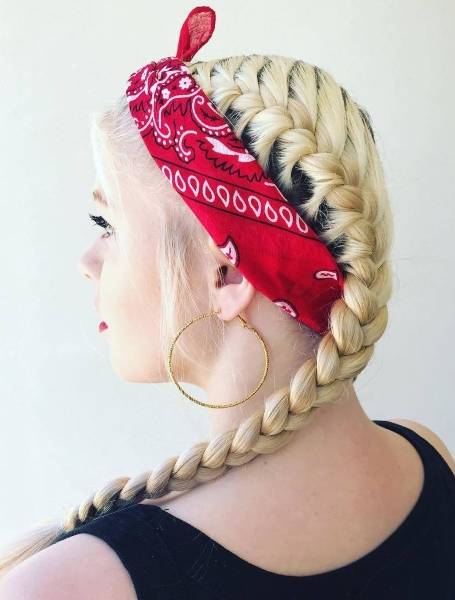 French Braid Space Bun
Space buns have a cute and youthful look, perfect for summer parties and music festivals. They can be styled using the hair of various lengths and thicknesses, determining how big the buns will be. The traditional approach features a bun on the top of the head at either side, but you can combine your space buns with a French braid for something different. This creates a more detailed appearance which will get your hair noticed. The braid can be on either side of the head, worked into the buns, or featured in the middle.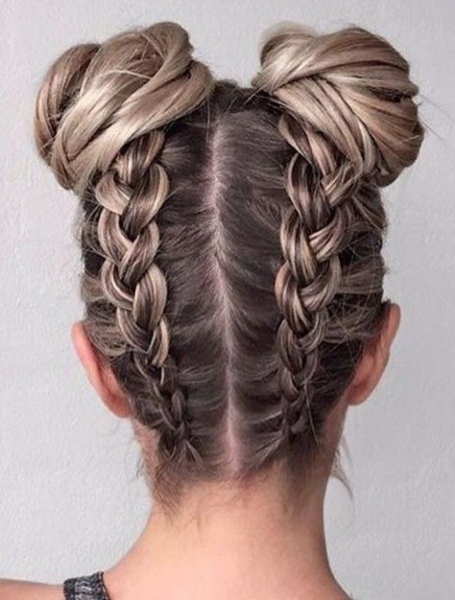 French Braid Bow
Look no further if you want a creative style for your French braid. Working the hair into a bow at the end will take some practice and skill to perfect, but the result is an ultra-cute look that will give you a youthful appearance. It is pretty and different, giving your French braid a modern touch. This hairstyle works best with long hair as it needs length to create the bow, and the best results will be achieved on straight hair.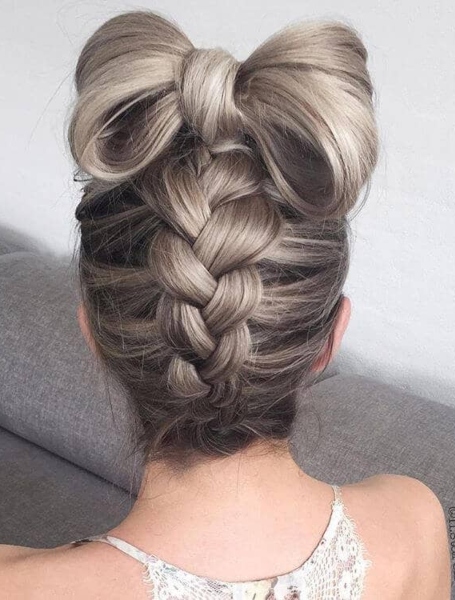 Voluminous French Braid
Chunky, voluminous French braids are fantastic for those with long, thick hair. Braiding the hair in a loose French braid and creating a messy, undone appearance will help achieve the volume. This braided look is romantic and feminine and will be perfect for formal occasions like weddings or special events like birthday parties or date nights. To give the hair a boho feel, add flowers or wear them with a simple headband.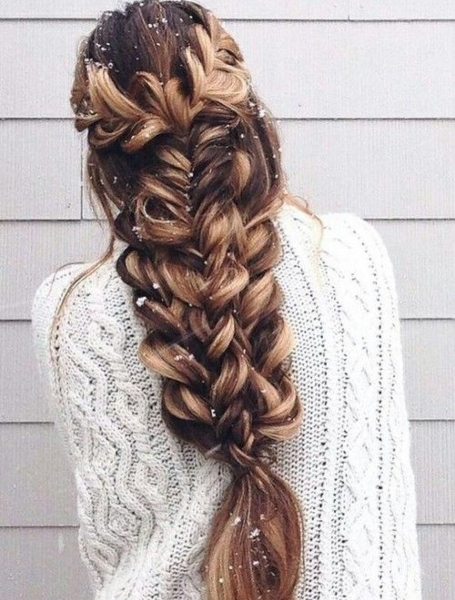 Messy French Braid
The French braid can have a stylish and sophisticated appearance, perfect for formal occasions and special events. It is created using three strands and the overhand braiding technique and can be achieved in various thicknesses and tightnesses. It also looks great when you make it looser for a deliberately undone and messy appearance. This approach will give the hairstyle volume and make it feel more romantic and relaxed. Ideal for those with curly hair, you can also leave a few strands loose around the face for a framing effect that will highlight the features.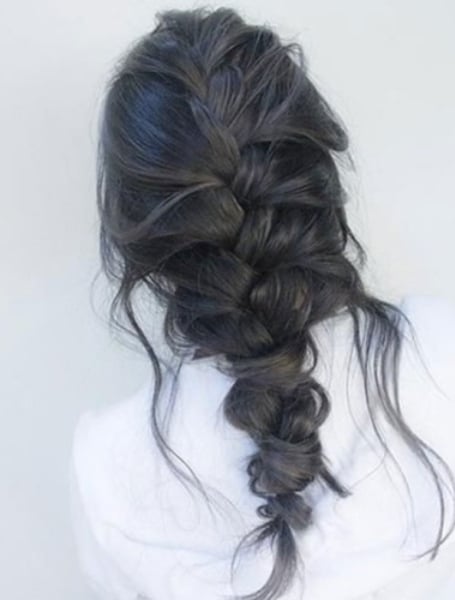 French Braids FAQs
What are two French braids called?
Two French braids are either called double French braids or French braided pigtails.
Does French braiding help hair grow?
French braiding won't make your hair grow faster but can help prevent breakage and environmental damage. It helps limit how often you need to brush your hair and prevent tangling. Braiding your hair before bed and sleeping on a silk pillowcase is also great for avoiding frizz and weakening the hair strands.
Can you French braid with bangs?
French braids look incredible with bangs. It's an excellent method for styling your hair back while still framing your face. Plus, they work with most styles of bangs, from heavy and blunt, to wispy and curtain.
How Long do French Braids Last?
Depending on the style of a French braid, they can last up to a few days. If it's a tighter braid, you're not doing a lot of physical activity, and you sleep with a silk scarf or bonnet to prevent frizzing, you'll probably get two or three days of wear. However, loose braids will only last a day. French braids are one of the easiest braiding types but aren't intended to be a long-lasting hairstyle.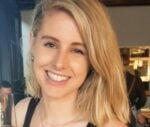 Taylah Brewer holds a bachelor's degree in fashion and business and is a skilled writer with several years of experience in the world of online content creation and copywriting. She is passionate about fashion, beauty, and all things lifestyle-related and has been writing for The Trend Spotter since 2016. She currently works as the Head of Digital & Ecommerce at White & Co.
SUBSCRIBE TO OUR NEWSLETTER
Subscribe to our mailing list and get interesting stuff and updates to your email inbox.