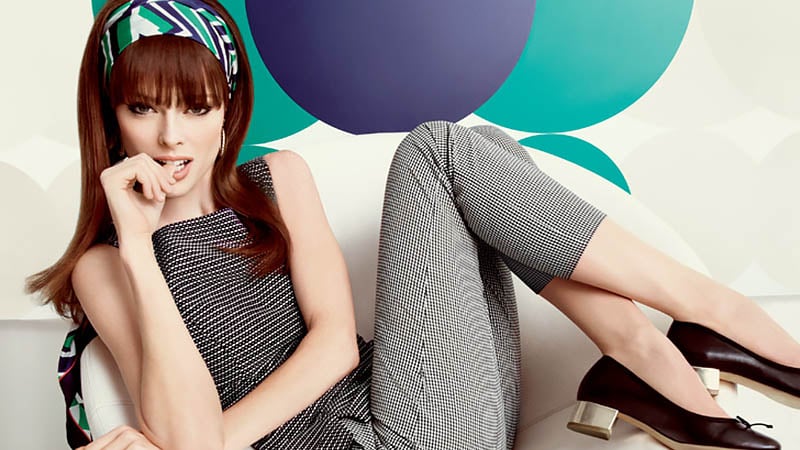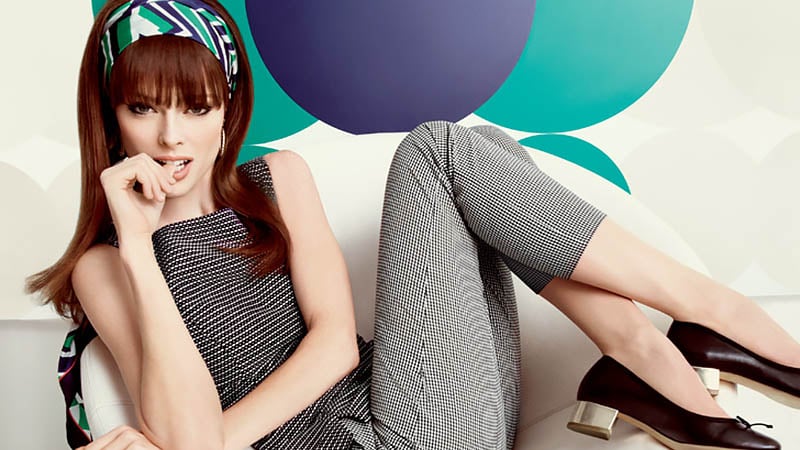 There's no denying that the '60s were one of the most impactful eras in fashion. Setting the tone for modern style, the decade revolutionised womenswear with bold colours, striking cuts and a rebelliously youthful attitude. So, it comes as no surprise that 50 years on, key trends from the time continue to influence designers, stylists and fashion-lovers the world over. To channel the era's unforgettable aesthetic for yourself, take a look at our guide to '60s fashion for women.
RELATED: 50s Fashion for Women
1960s Women's Fashion
The swinging sixties were a time where traditions were broken, and self-expression was encouraged. Influenced by the youth of the day, the decade dished up plenty of style inspiration. Moving away from the prim and proper '50s and into rebellious new times, '60s fashion was revolutionary. Key fashion styles of the decade included mod, beatnik and hippie looks, all of which captured the artful, fun and free spirit of the time.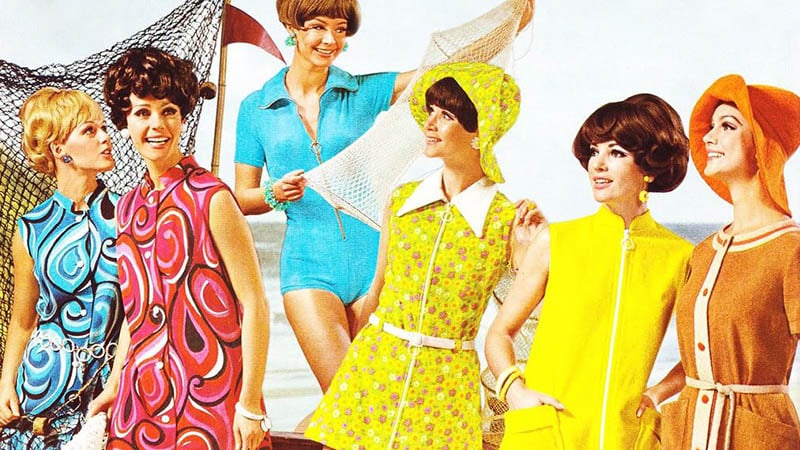 60s Style
Mod Fashion
The mod subculture kicked off in London in the late '50s before spreading around the world throughout the '60s. A signature style for the era, the mod "London look" made a lasting impression that continues to influence fashion today. The look, which was creative and bold, was a favourite amongst the youth of the day, who wore modern designs, bright colours, and raised hemlines.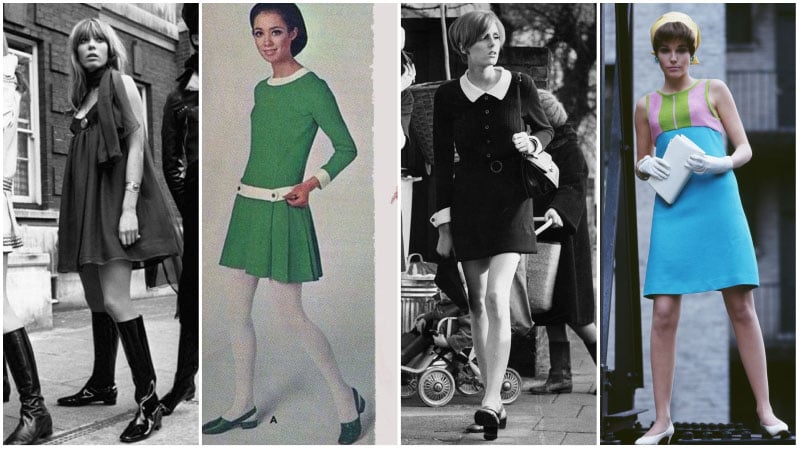 SHOP THE LOOK
Beatnik Fashion
The beat generation and beatnik fashion continued from the 1950s into the early to mid-1960s. The style was worn by young individuals who were interested in arts, literature, poetry, and music, particularly jazz. Their unofficial uniform consisted of black turtlenecks and trousers, berets, and striped tops amongst other items.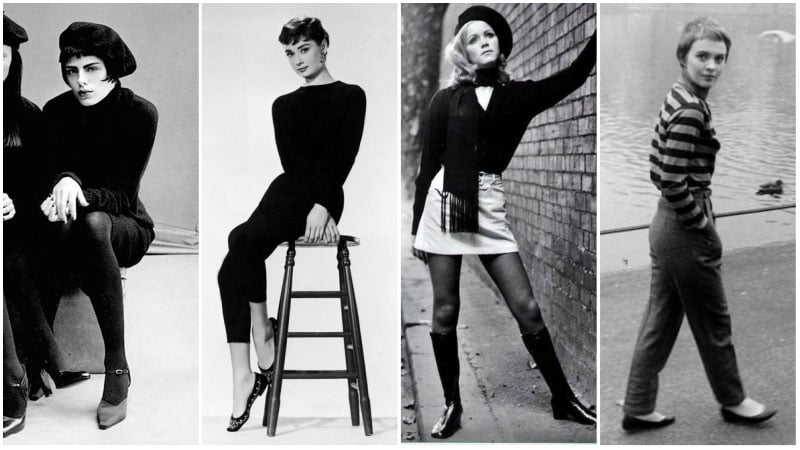 SHOP THE LOOK
Hippie Fashion
Stemming from the beat movement, the hippie counterculture defined the late '60s. The group was known for its rebellious attitude toward repressive societies and celebration of freedom, nature and peace. Both hippie men and women let their hair grow long and wild. They wore bell-bottom jeans, fringing, floral prints, peasant blouses and other colourful designs.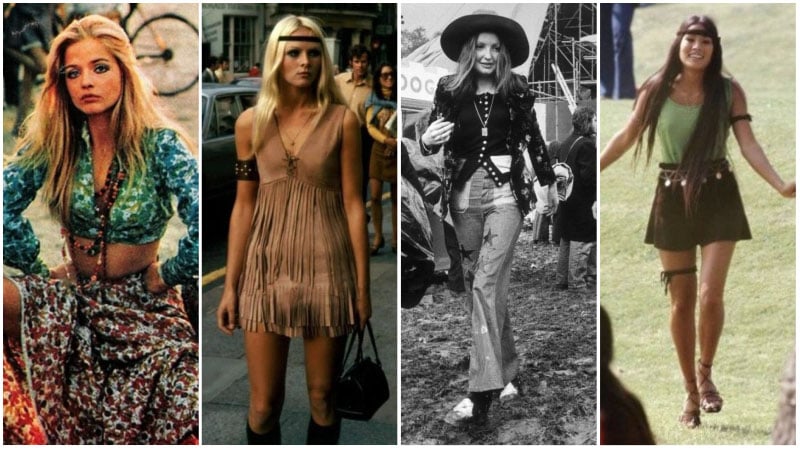 SHOP THE LOOK
60s Outfits
Miniskirts
The miniskirt debuted in the '60s and changed women's fashion forever. Thanks to its daringly short design, the skirt shocked conservatives by allowing ladies to show off their legs in defiance of conformity. Today, the mini shirt is still an incredibly popular women's fashion item. To wear one as they did in the '60s, pair it with sandals in summer and knee-high boots in colder weather.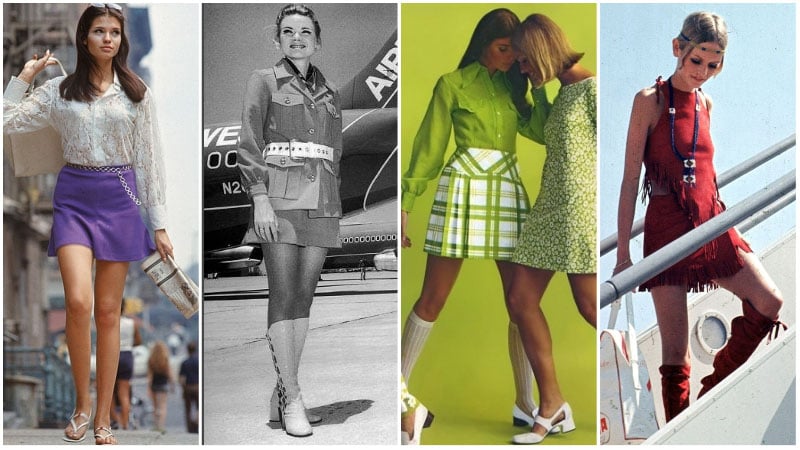 TOP BUYS
Shift Dresses
A favourite garment for the mods of the decade, shift dresses were a signature '60s style. Cut short with an A-line silhouette; these shapeless dresses proved the perfect alternative to the restrictive styles of previous years. Today, thanks to their chic and comfortable design, shift dresses are still popular. Choose one in a bold hue or block colour design for a fun '60s style.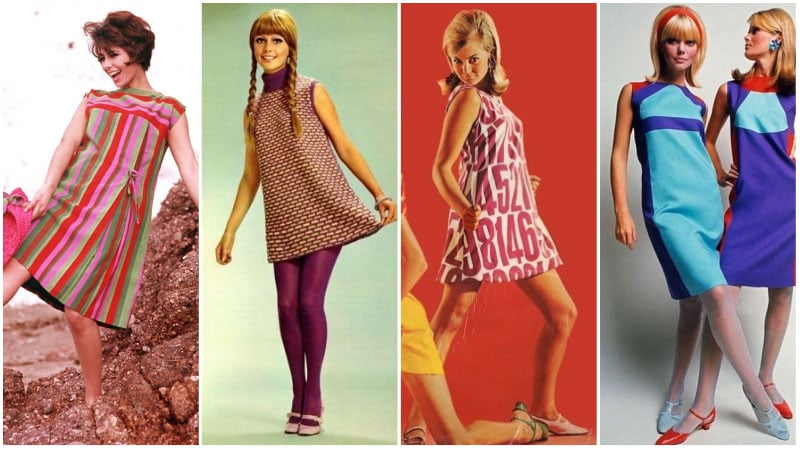 TOP BUYS
Bold Prints
Bold and striking prints were an essential element of sixties style and they appeared on a variety of garments. Perfect for turning heads, these loud and proud prints ranged from psychedelic designs to striking florals, tie-dye, bold stripes and colourful checks. To embrace the look today, choose an eye-catching multicolour or black and white print dress, top or matching set.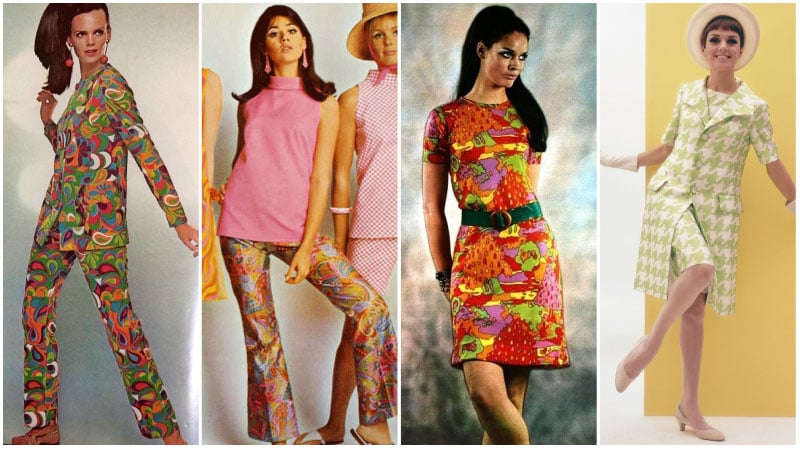 TOP BUYS
Coloured Tights
The '60s love of colour didn't stop at dresses and tops. It also found its way onto colourful tights. A quirky and youthful addition to outfits, coloured tights were a modern alternative to stockings with suspenders, which weren't ideal to wear with miniskirts and short dresses. You can channel the look today with a pair in a striking hue, such as purple, orange, red or yellow.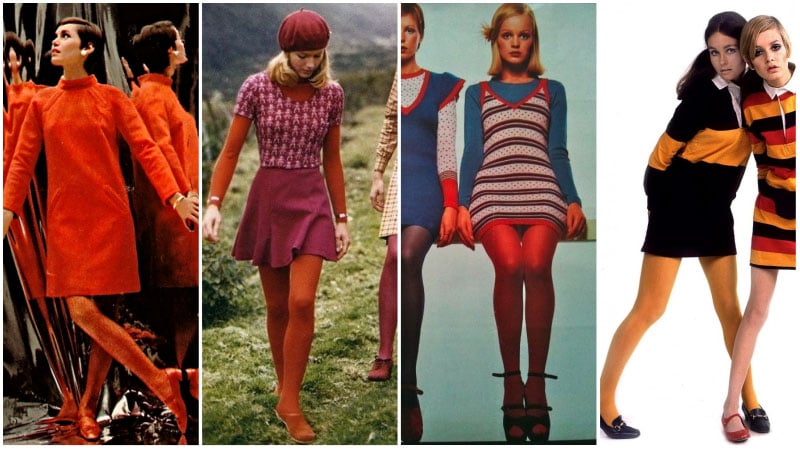 TOP BUYS
Go-Go Boots
Go-go boots are an iconic '60s footwear style. Introduced in the middle of the decade, these shoes were traditionally white, low-heeled and finished mid-calf. However, over time, the term has grown to include a variety of similar styles, including knee-high versions, other colours and kitten-heeled designs. Choose your favourite to rock with a mini skirt for a chic throwback outfit.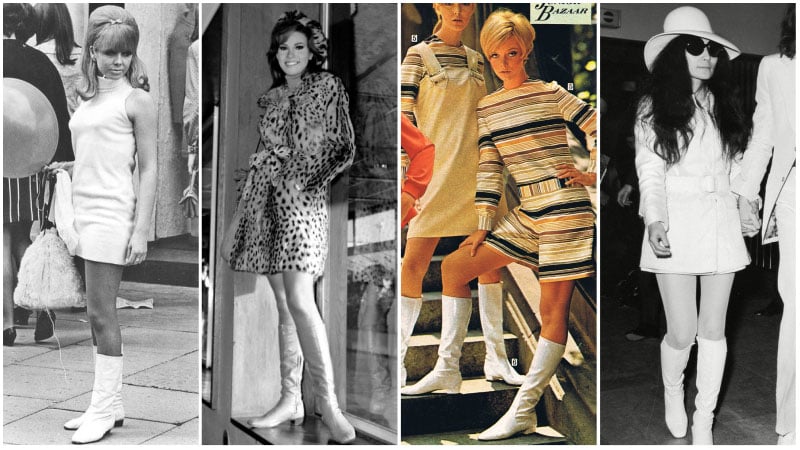 TOP BUYS
60s Hairstyles
'60s hairstyles were exciting and iconic. From big bouffant styles and bohemian bangs to long hippie waves and chic pixie cuts, the decade produced many unforgettable looks. Today, several of these bold styles are still seriously popular. So, if you're looking for a '60s touch, try rocking curtain bangs like Brigitte Bardot or a Twiggy-esque crop, or add some back-combing to your usual wavy locks.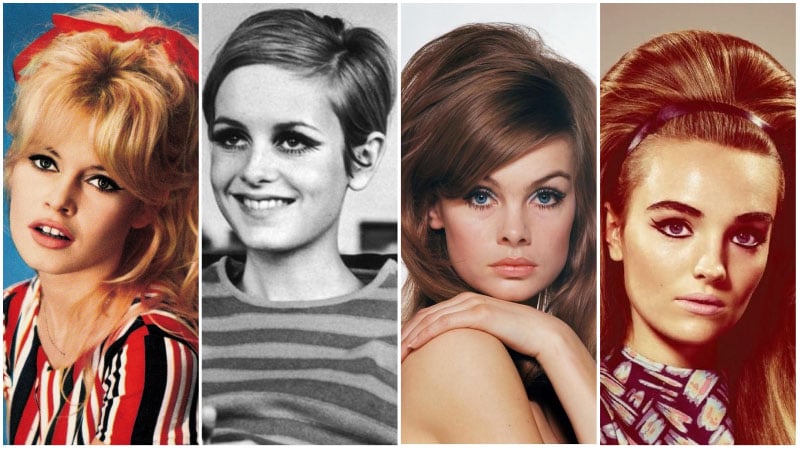 60s Makeup
Makeup in the '60s was all about big eyes, pale lips and matte complexions. As such, thick, winged eyeliner was a prominent look for the decade. But, that wasn't the only way ladies of the '60s made their eyes pop. Long, spidery lashes à la Twiggy, eyeshadow in cool tones like blue, and bold cut crease makeup were all also popular trends. Of course, with so much focus on the eyes, the rest of the face was kept subtle with pale matte foundation, groomed natural brows, and nude lips.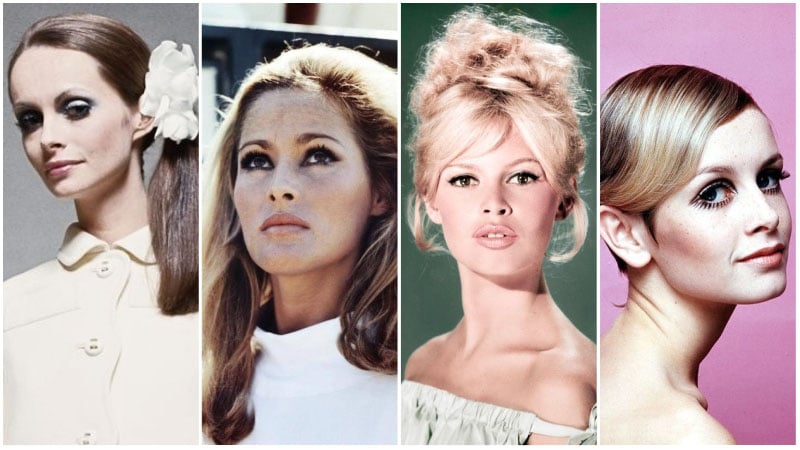 1960s Jewellery
During the '60s, jewellery trends changed dramatically. At the beginning of the decade, glamour reigned supreme with glitzy, gold designs and feminine pearls. However, as the decade moved forward, and mod fashion caught on, jewellery became all about eye-catching plastic creations. These bold accessories were influenced by pop art and featured striking designs, geometric shapes and bright colours. Key pieces included large earrings, big rings and bangles. Of course, these styles weren't for everyone, so hippies opted for more simplistic designs, including handcrafted beaded pieces and peace symbol necklaces.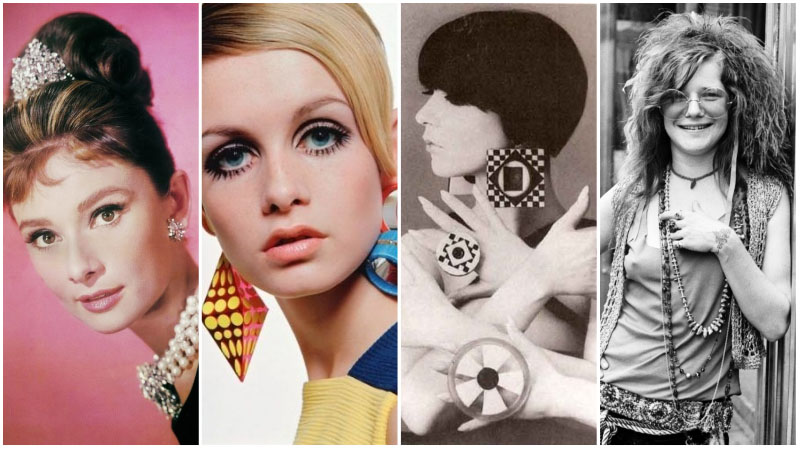 1960s Fashion Icons
The '60s had a slew of fashion icons, including models, actresses, musicians, and more. One of the most prominent was undoubtedly Twiggy, who became the face of '60s style and the mod look. Of course, she wasn't the only one influencing the way women dressed. Model Jean Shrimpton, singer, and actress Jane Birkin, and designer Mary Quant all also had an impact on the English fashion scene. In America, Audrey Hepburn and Jackie Kennedy lead the way while in France, blonde bombshell, Brigette Bardot ruled.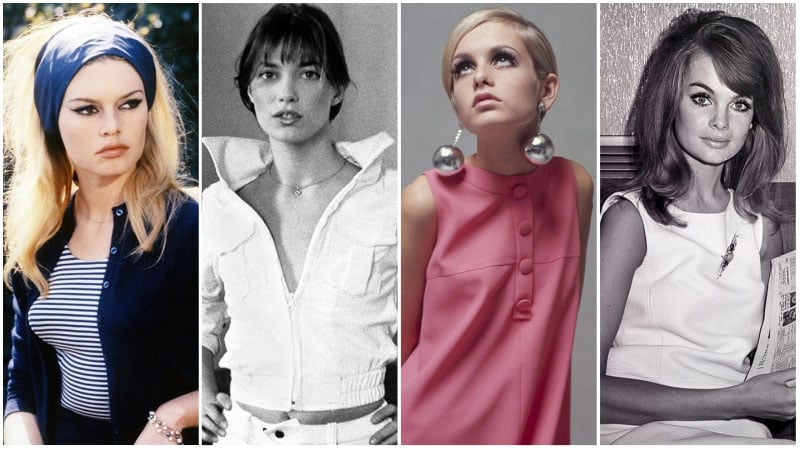 FAQs
What did women wear in the 60s?
The 60s was an interesting and transformative decade for fashion. It helped set the tone for modern womenswear, and bold colors and prints were embraced by women of the time. There was a rebellious approach to clothing and a more relaxed aesthetic, with free-spirited hippie looks and fashion styles that included mod and beatnik. Key garments included mini skirts, shift dresses, colored tights, and go-go boots.
How do you dress like the 60s?
If you want to dress like you are in the 60s, then get inspired by the key movements at the time, including mod, beatnik, and hippie. You can also embrace bold colors and interesting prints, including floral, tie-dye, and checks. An example of an outfit would be a simple shift dress, paired with colorful tights, or a mini dress paired with go-go boots. When it comes to hair, there was a variety of choices, from pixie cuts and big bouffant styles to long waves. Makeup focused on the eyes, natural eyebrows, matte complexions, and pale nude lips.
What were some fashion trends in the 1960s?
Some of the trends to emerge from the 1960s included mod and shift dresses, skirts paired with colorful tights, bold patterns, and prints, including tie-dye, go-go boots, and mini skirts. It was a decade that revolutionized womenswear and had a rebellious and youthful attitude.
SUBSCRIBE TO OUR NEWSLETTER
Subscribe to our mailing list and get interesting stuff and updates to your email inbox.